https://origin.slh.com/hotels/albergo-san-montano-hotel/
Hotel Highlights
Luxury spa getaway with volcanic springs
The only sea view spa on the island with 7 Swimming pools, both Thermal and Sea Water
Authentic Mediterranean cuisine using local "Km 0" ingredients
San Montano Resort & Spa - luxury hotel in ischia
An exclusive spa with spectacular views of the sea, Naples and Mount Vesuvius
San Montano Resort & Spa is all about location, location, location. In a secluded part of a rugged outcrop overlooking the Neapolitan Coast, this serene hideaway has stunning Ischia and Naples views. Take them in from one of the six outdoor pools, while eating lunch alfresco, or from your very own room terrace.
The island's volcanic waters don't just circle the hotel – they inspire many of the exclusive treatments at its wellness centre. The only sea view spa in Ischia, its therapies make use of the hot springs, with a natural grotto sauna and cleansing mud treatments. Wellbeing is the focus and the San Montano Resort bedrooms are light and breezy spaces designed to help you unwind. Two restaurants are the remaining ingredients in this boutique retreat's recipe for a relaxing Mediterranean break.
You don't have to go far outside San Montano to find one of Ischia's best beaches. The curving sands and crystal sea of Bay of San Montano are a leisurely walk away. In fact, you'll have postcard-worthy coastline and wooded mountains to explore all around. When visiting the Bay, venture further into the thermal park of Negombo. It's a sensational natural spa complex set in the great outdoors.
73

rooms

2

restaurants

4

floors
The rooms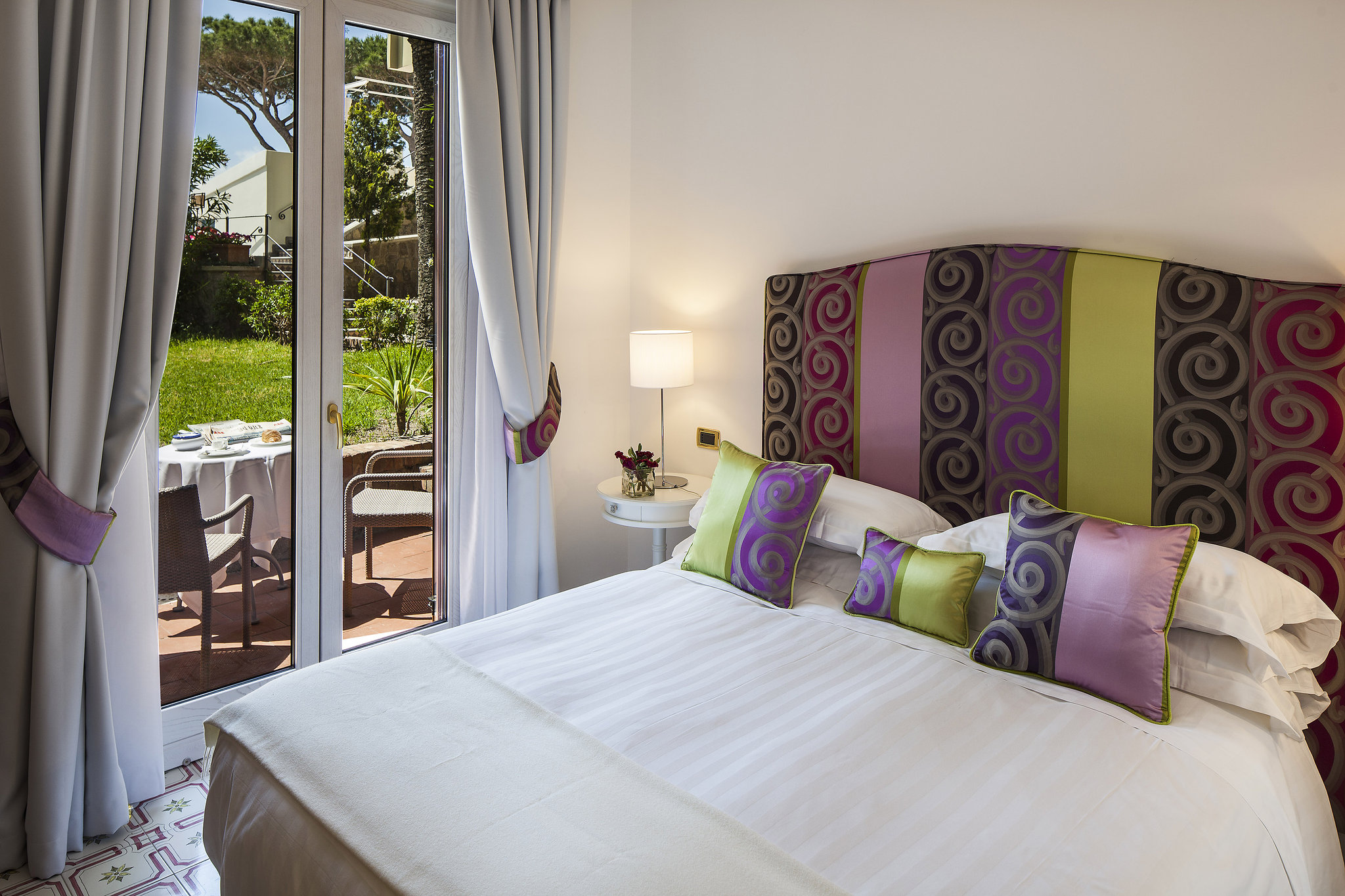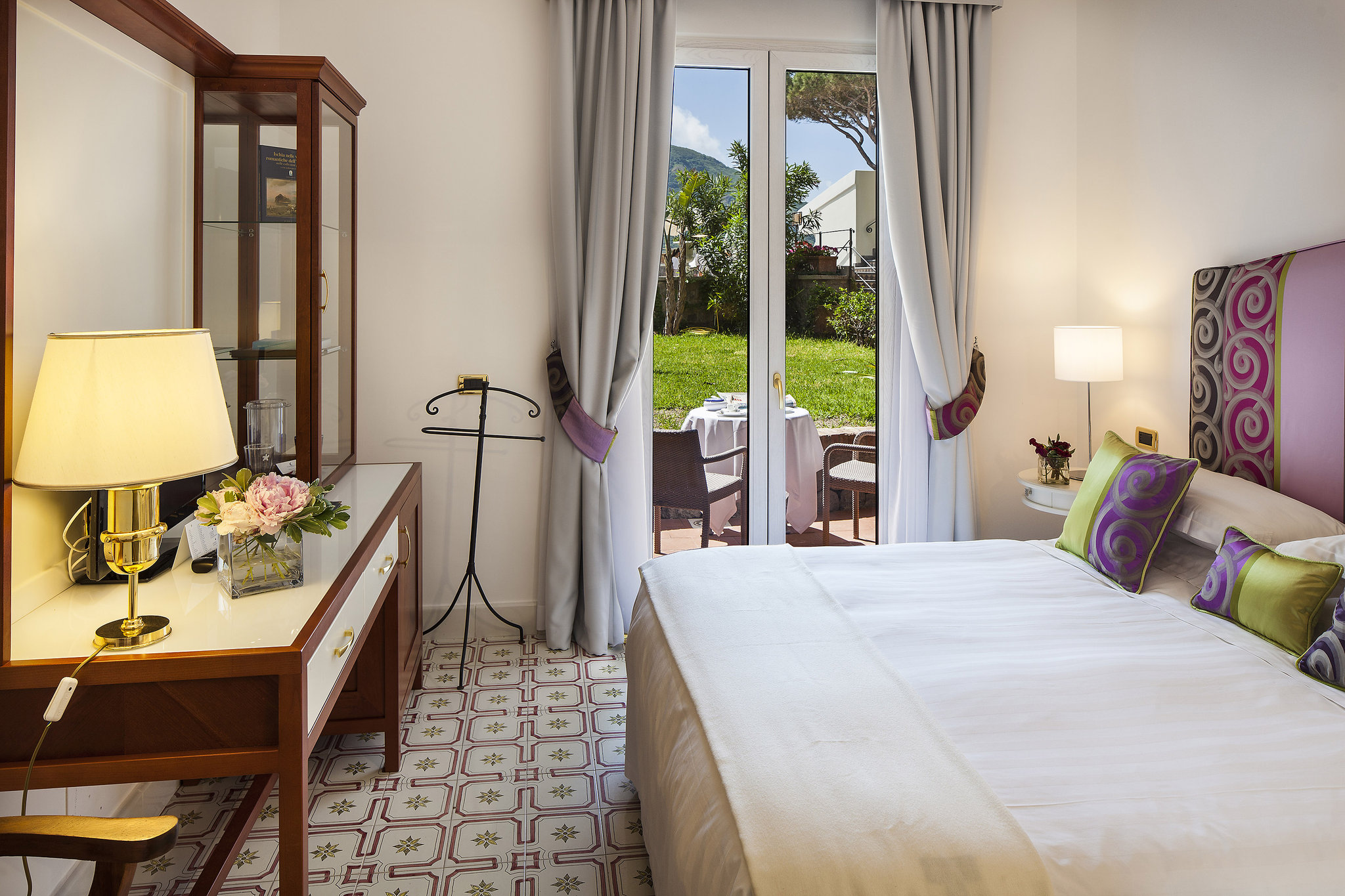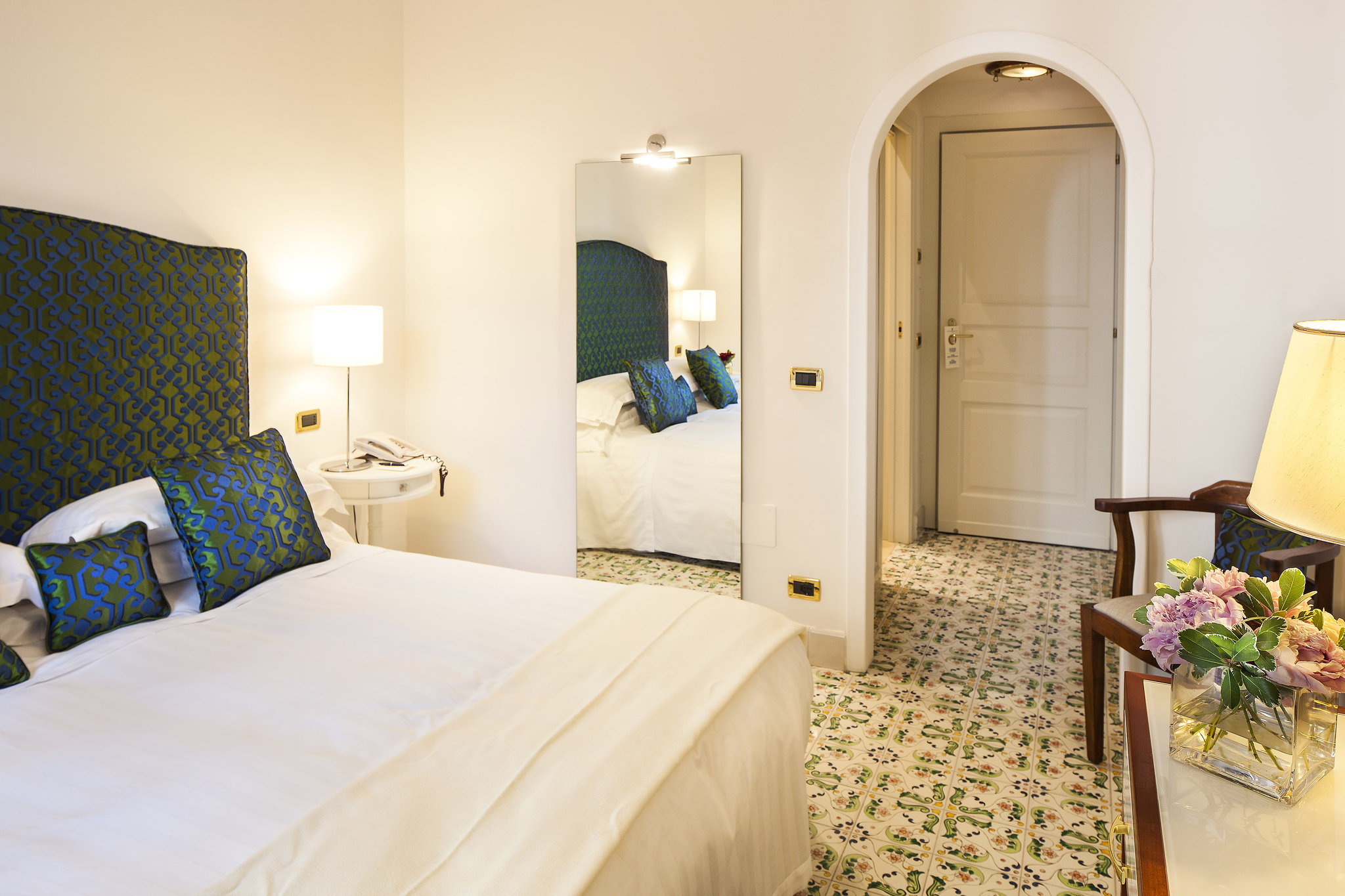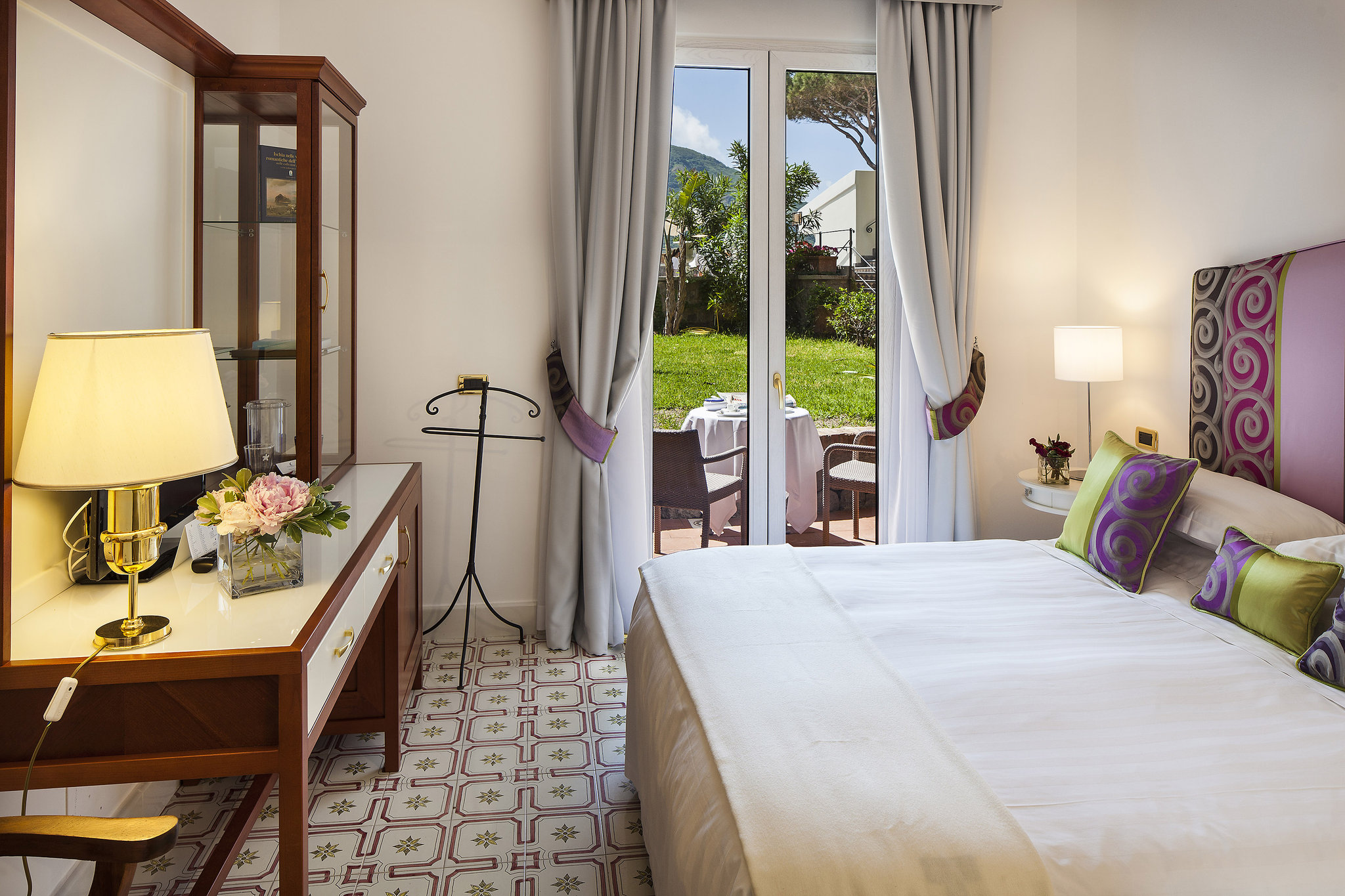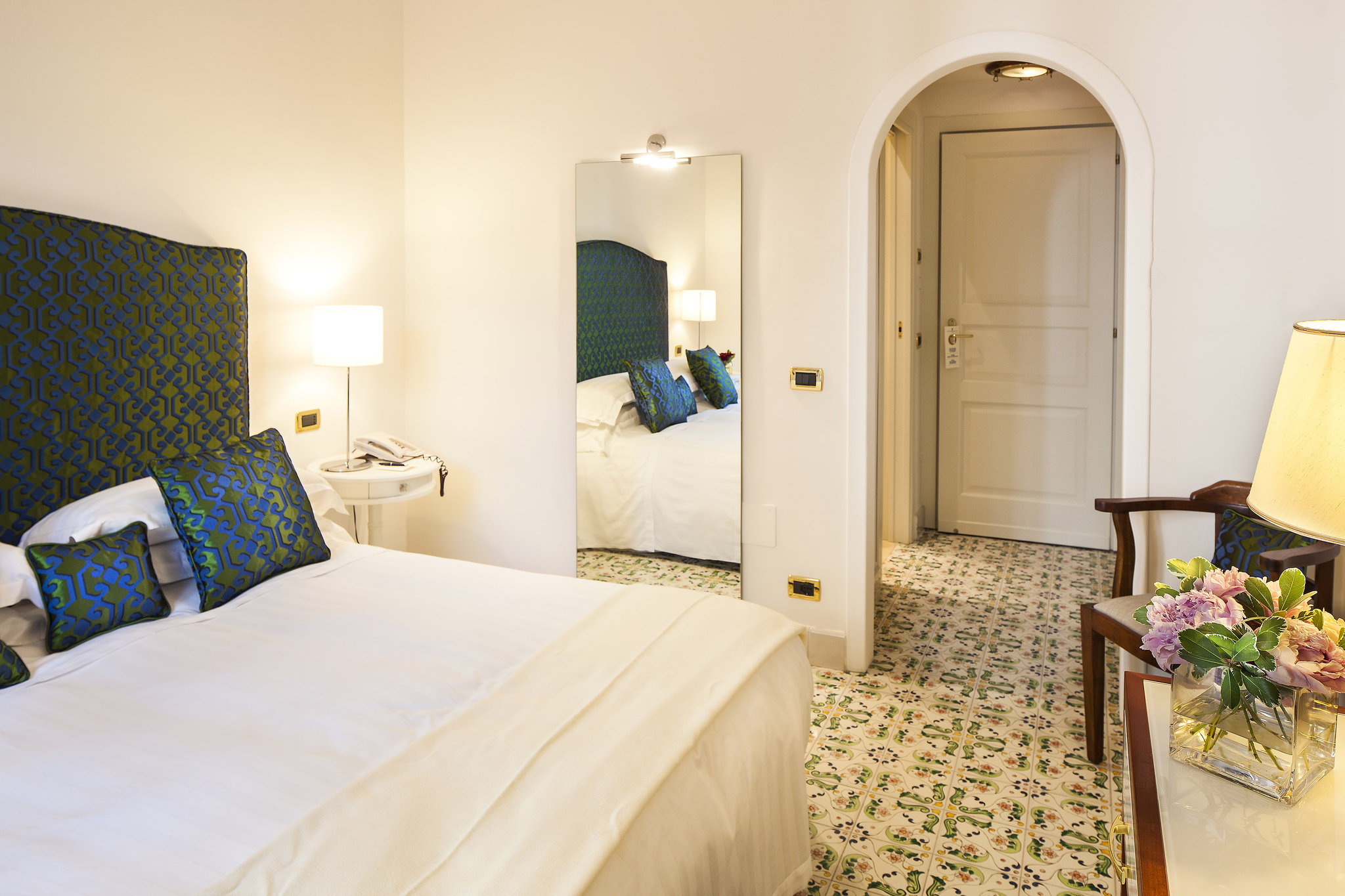 Comfort Garden View
Sleeps: 2 People.
These rooms measure about 20 square meters, they have a balcony or small terrace overlooking the internal garden

or garden entrance Hotel. They are equipped with bathroom with bath and / or shower. Air conditioning and minibar. Furniture: modern and bright style. Free WIFI. Beds: Double Queen bed or two single beds.
From per night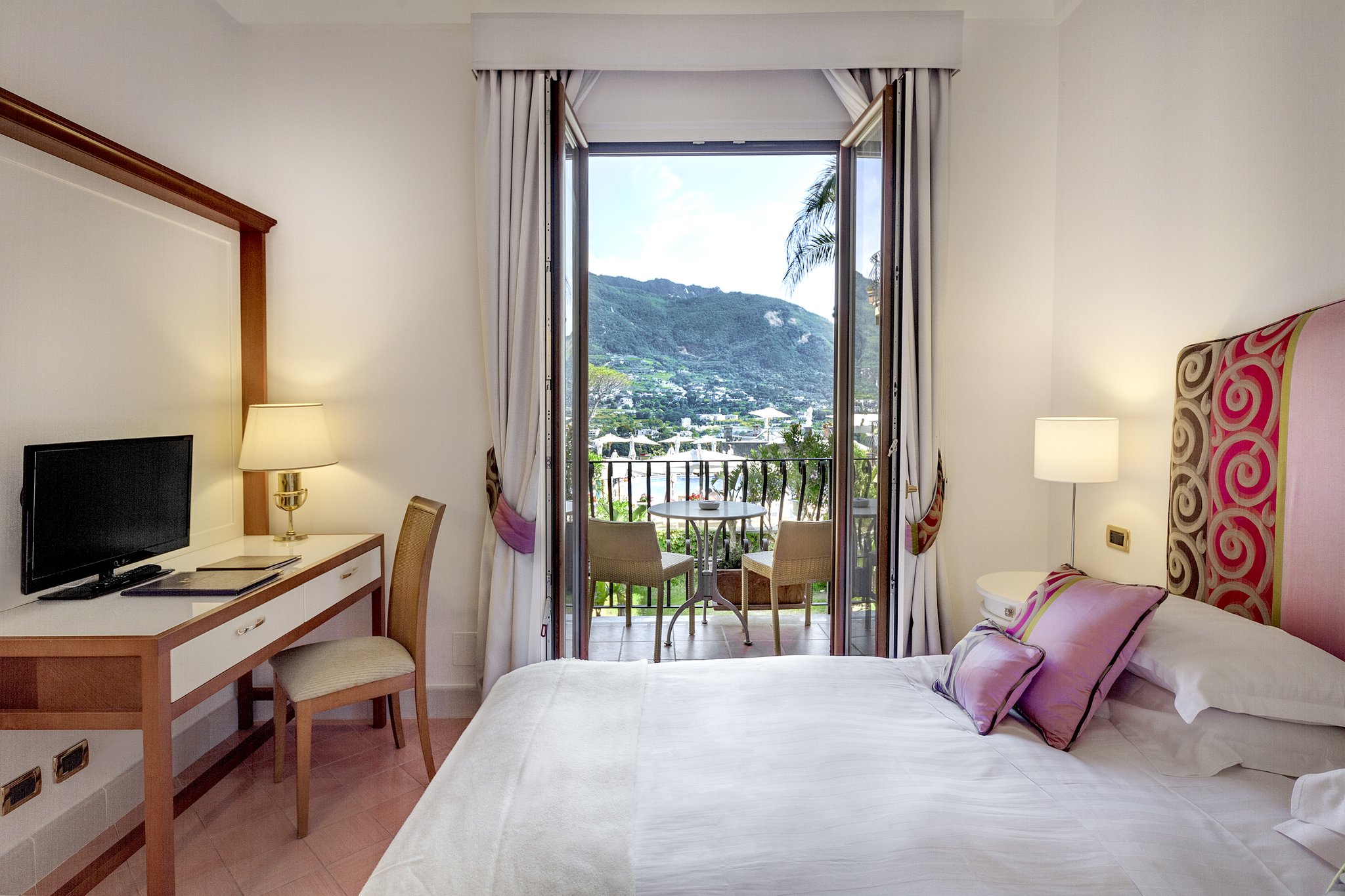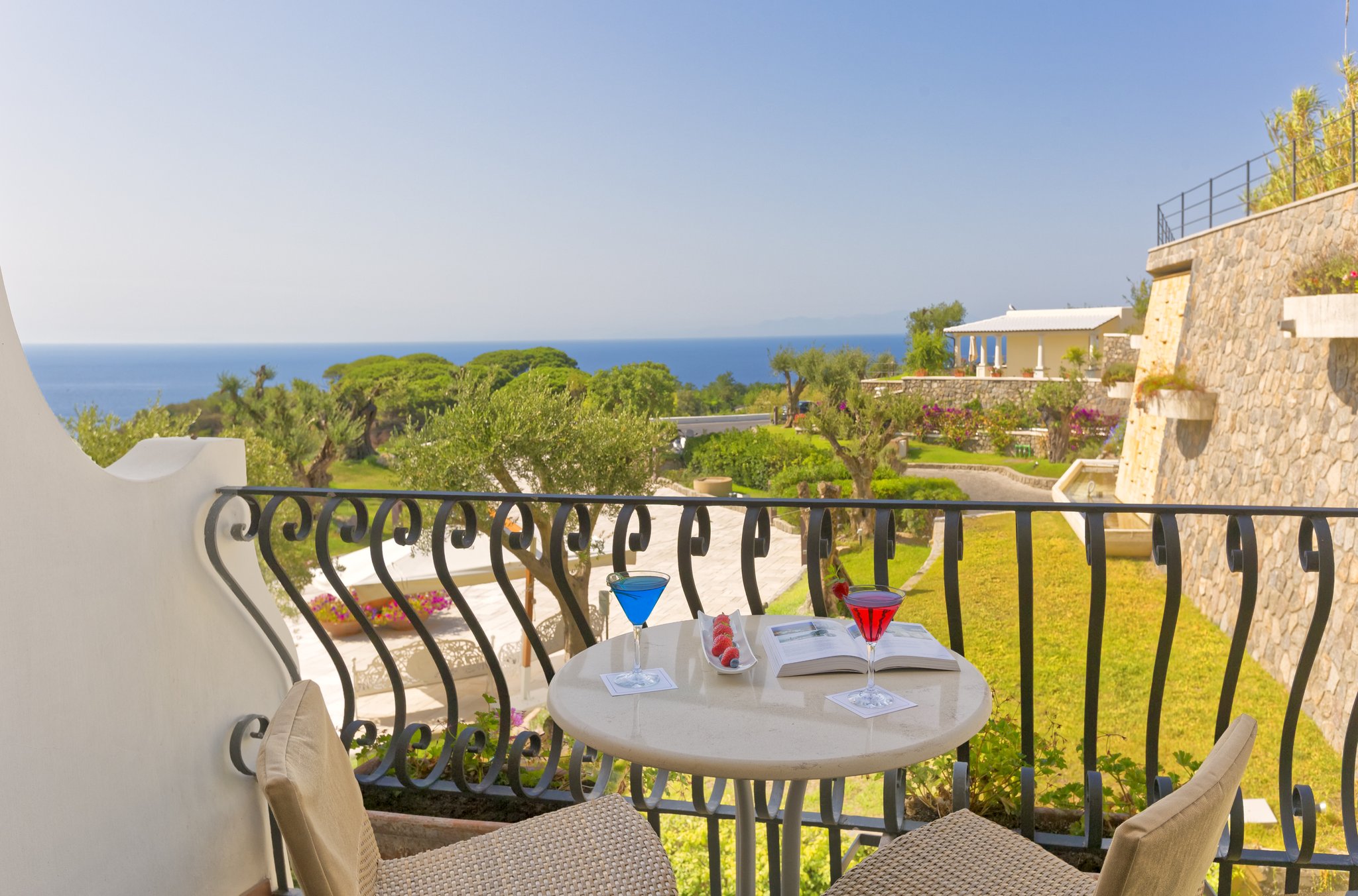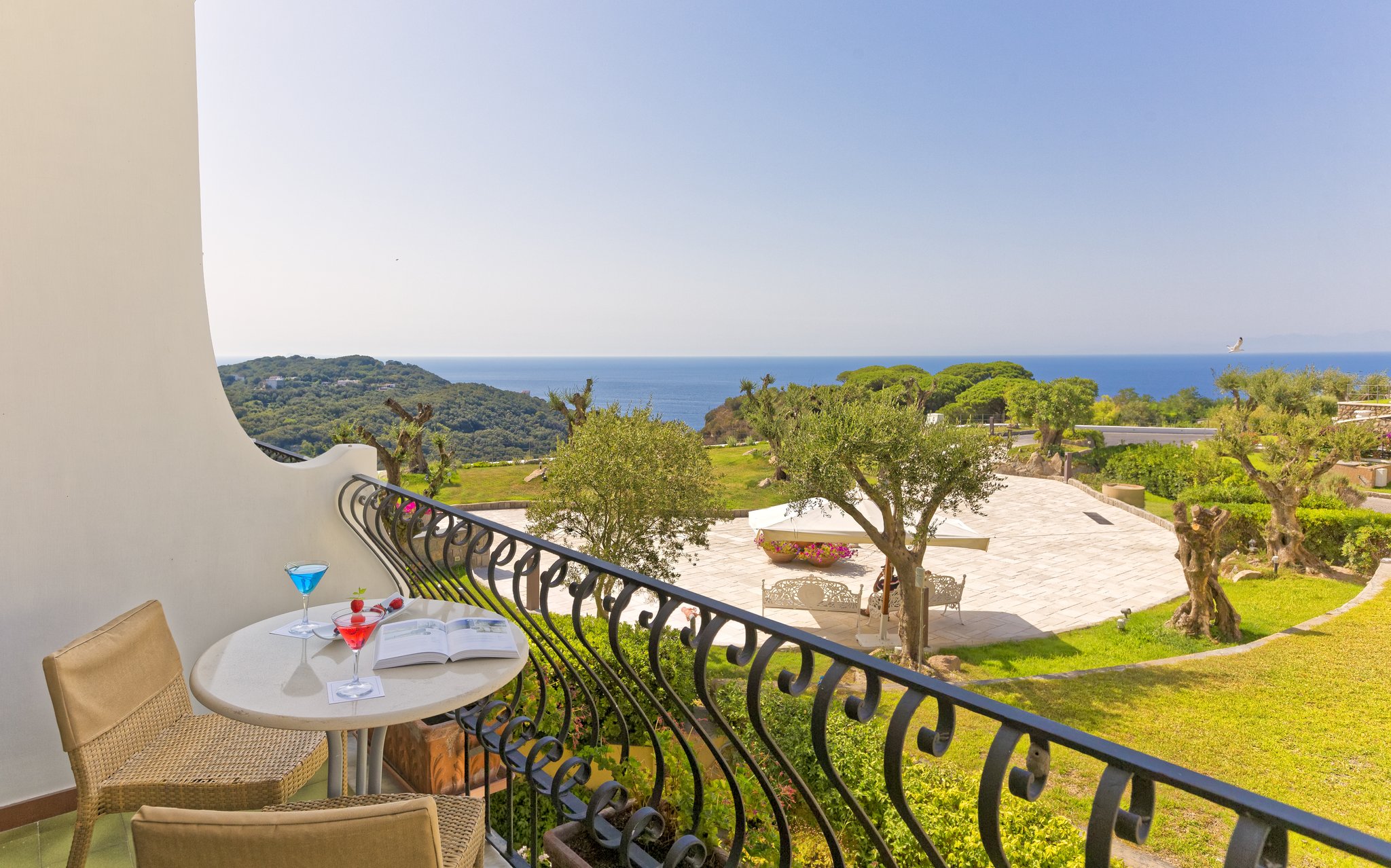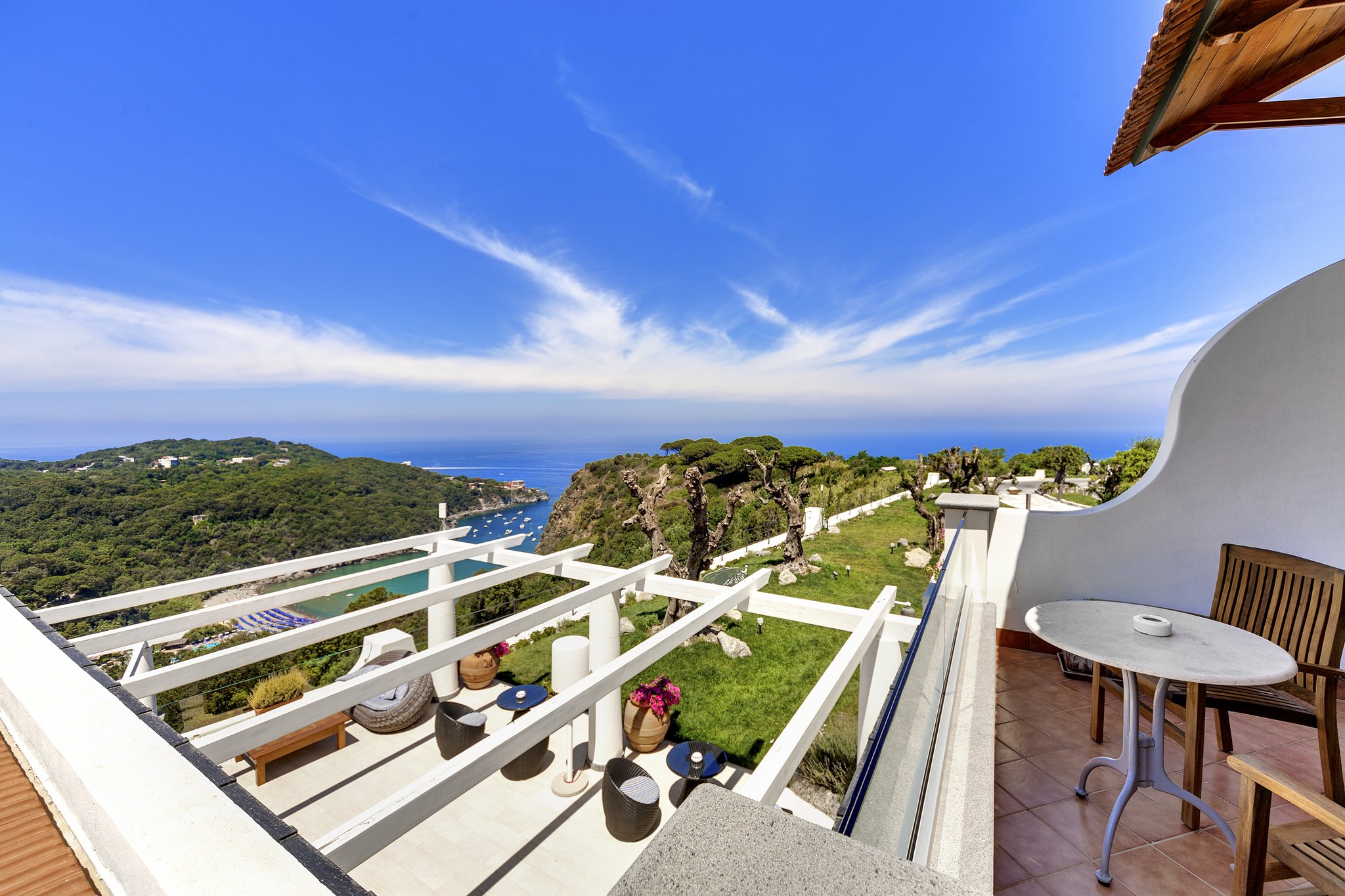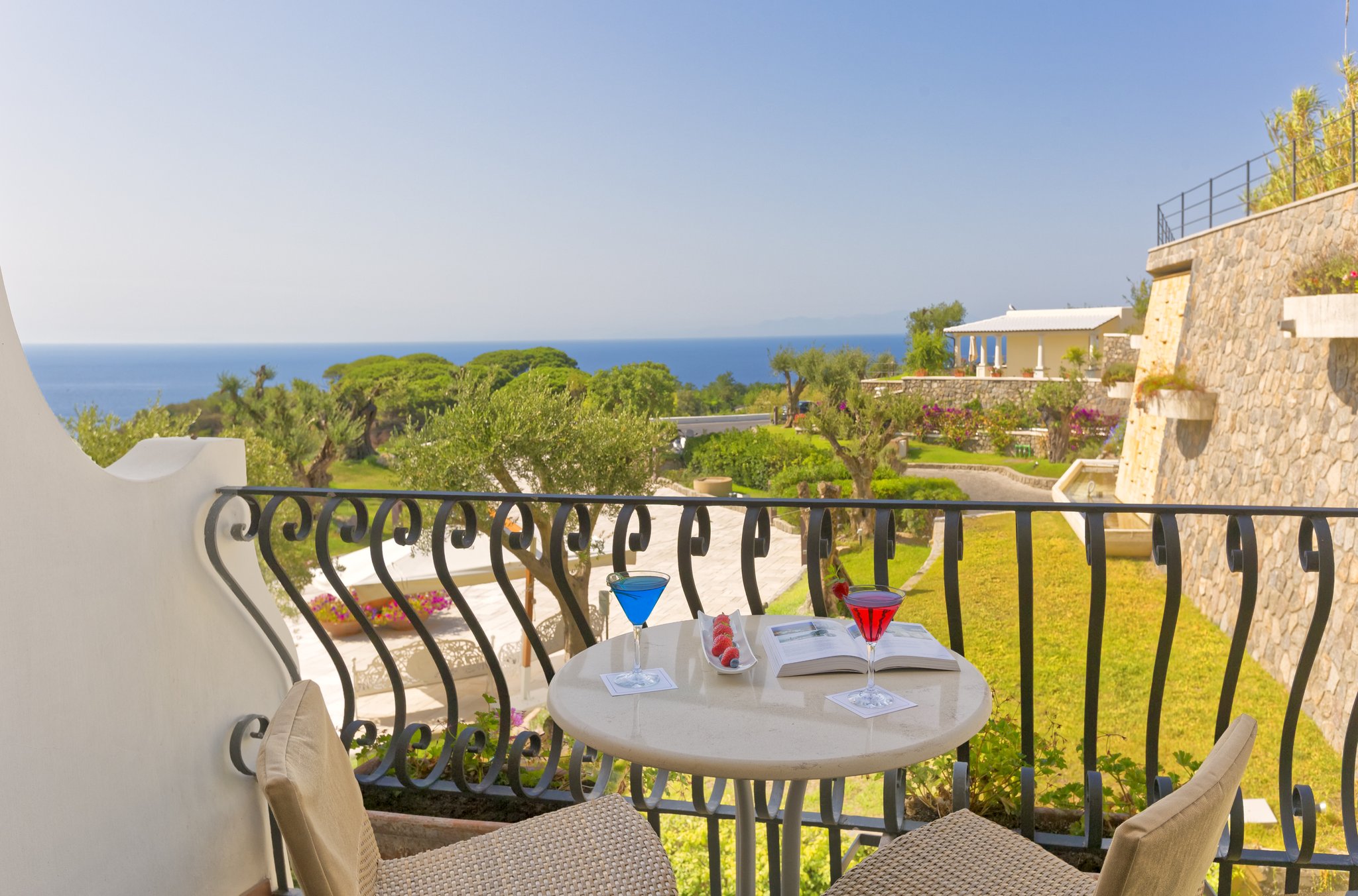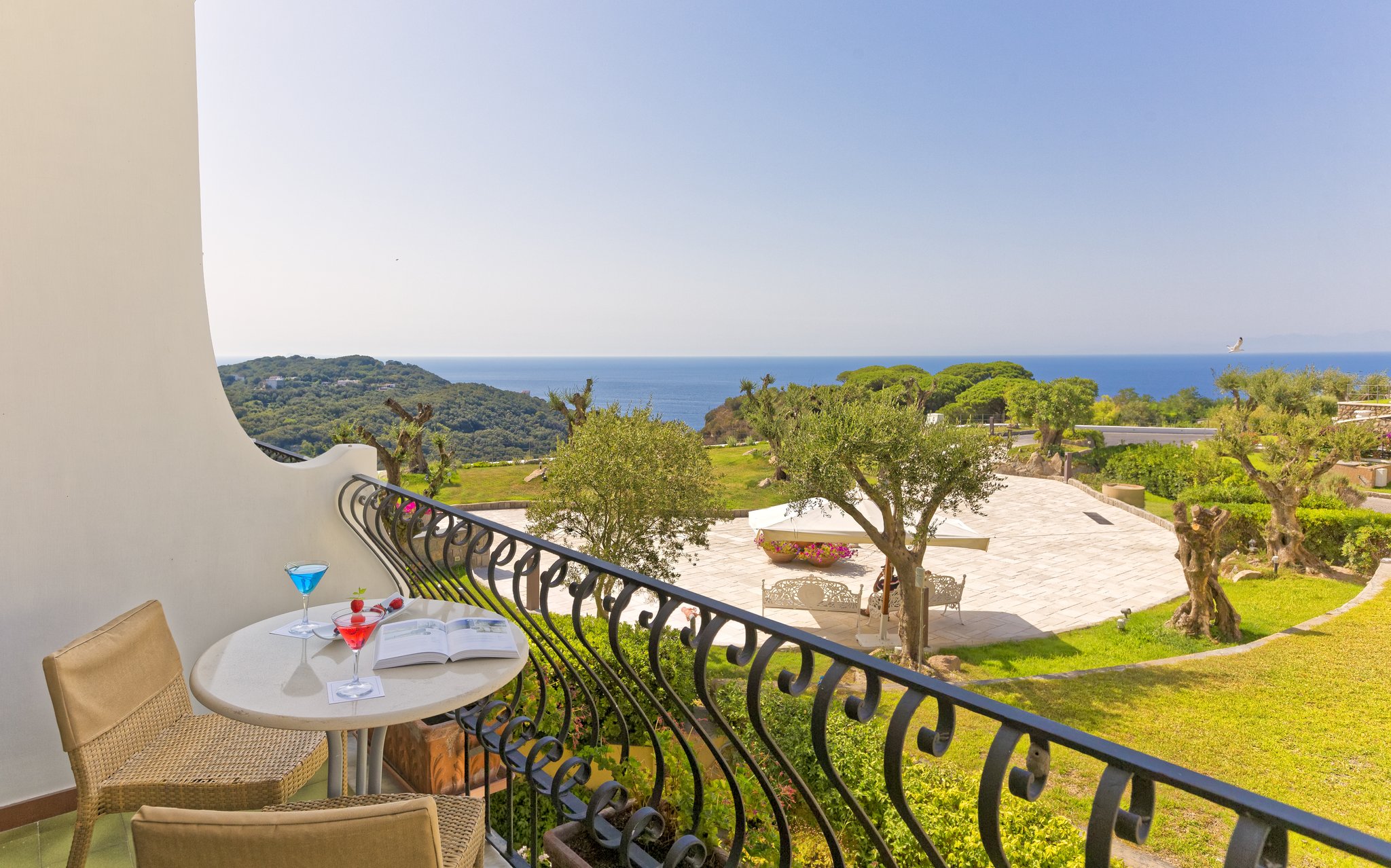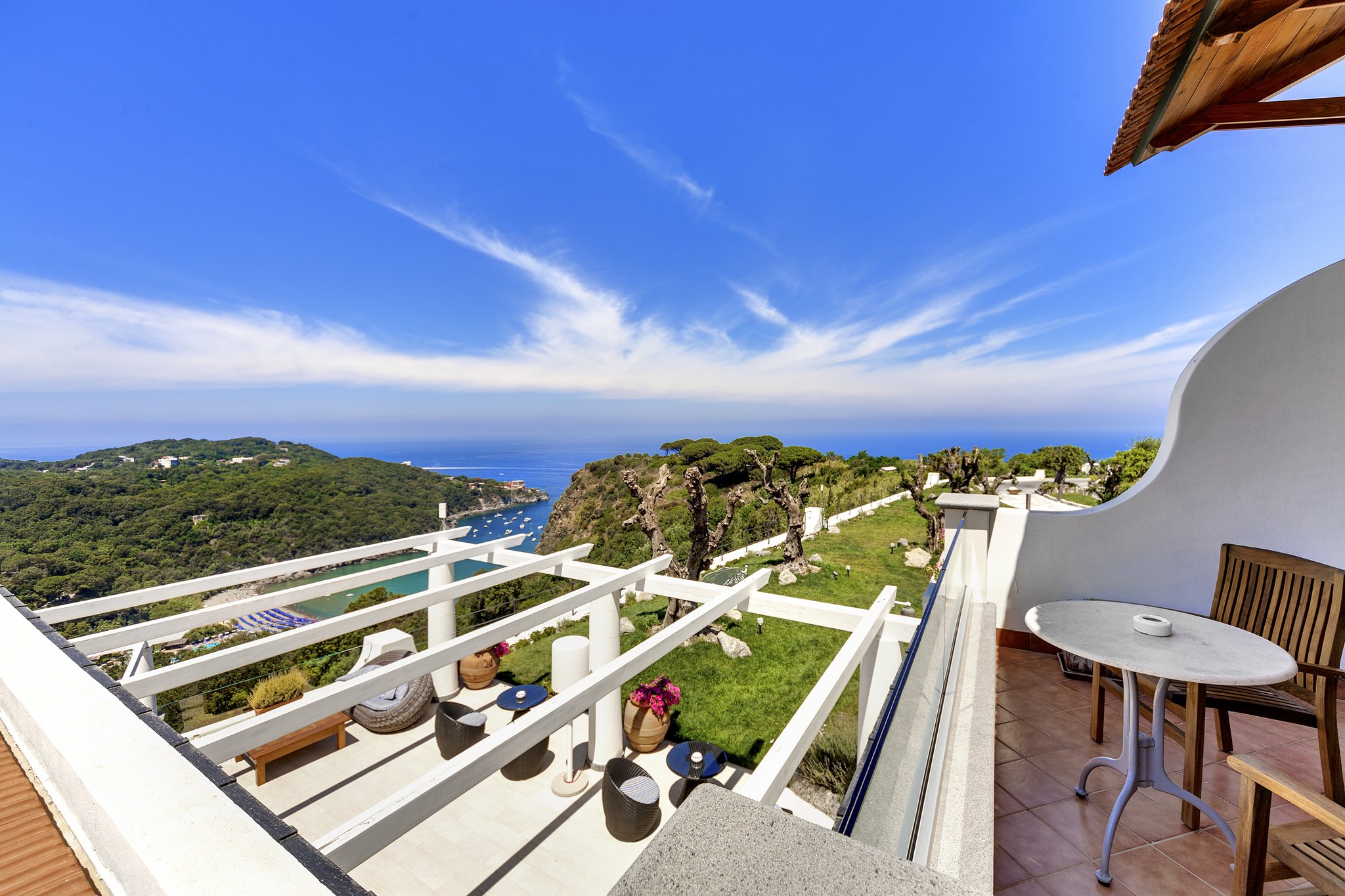 Side Sea View Double
Sleeps: 2 People.
Side Sea View Double, 22 - 24sqm queen bed, balcony, Aircon, Wifi.
From per night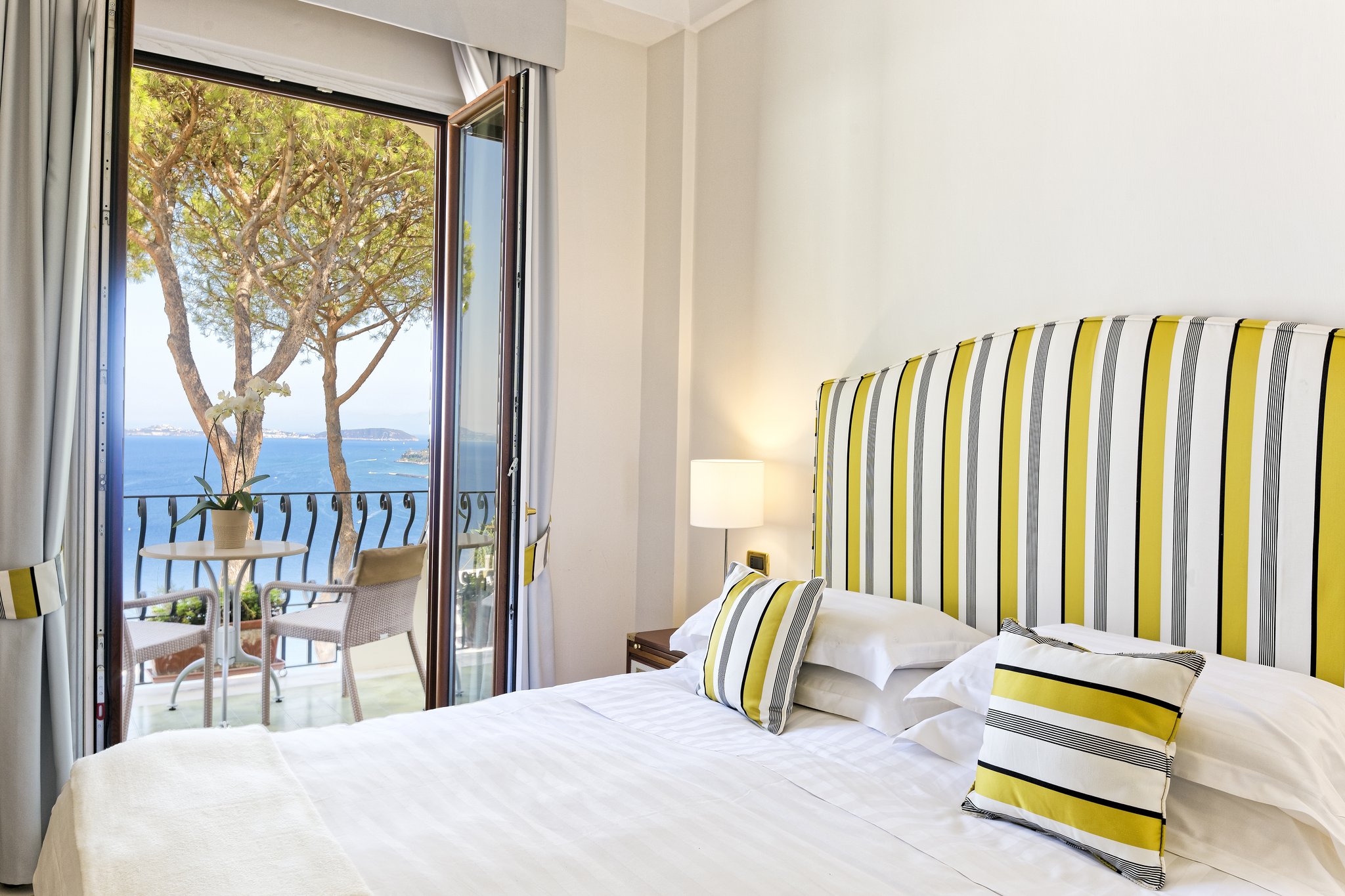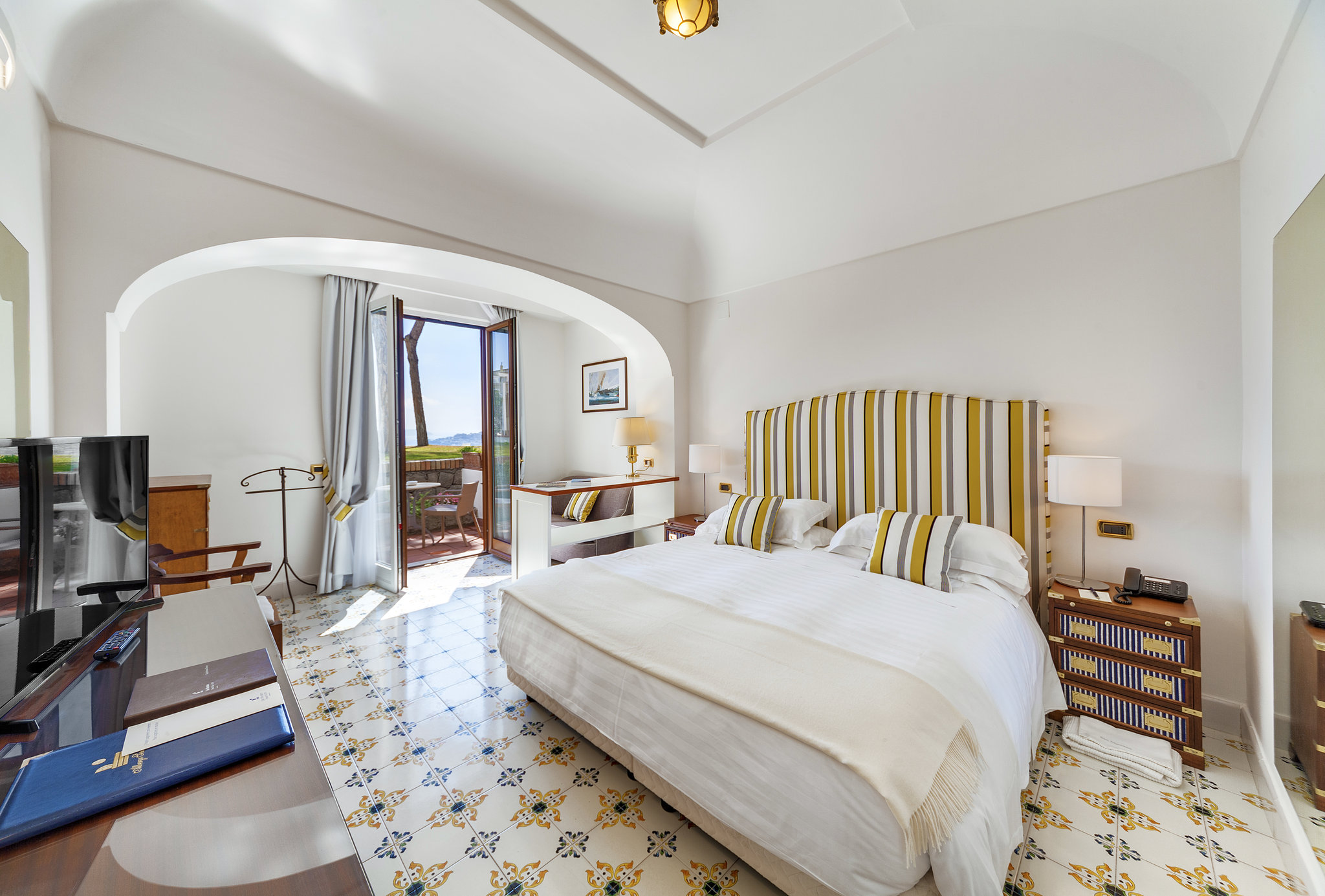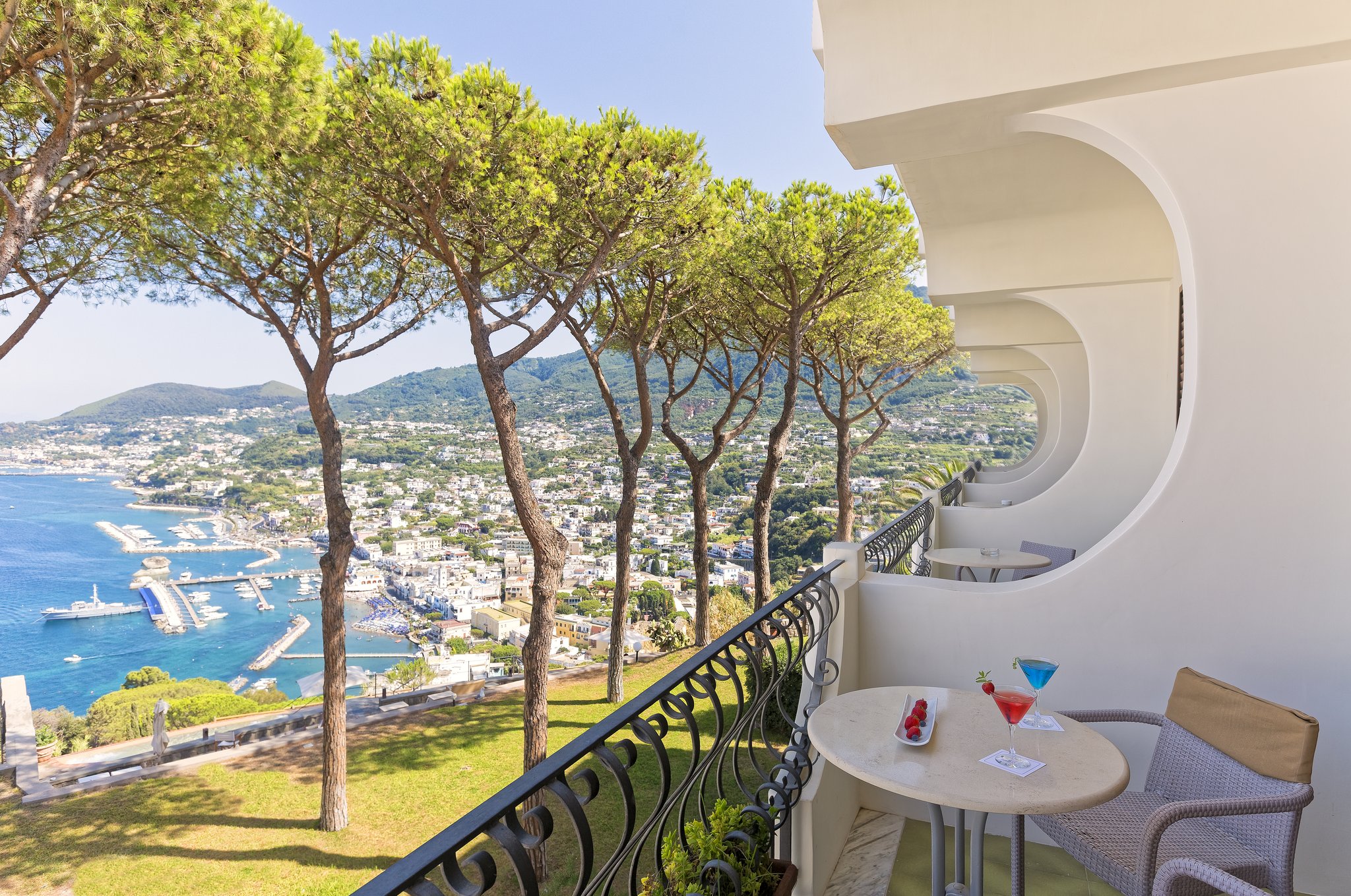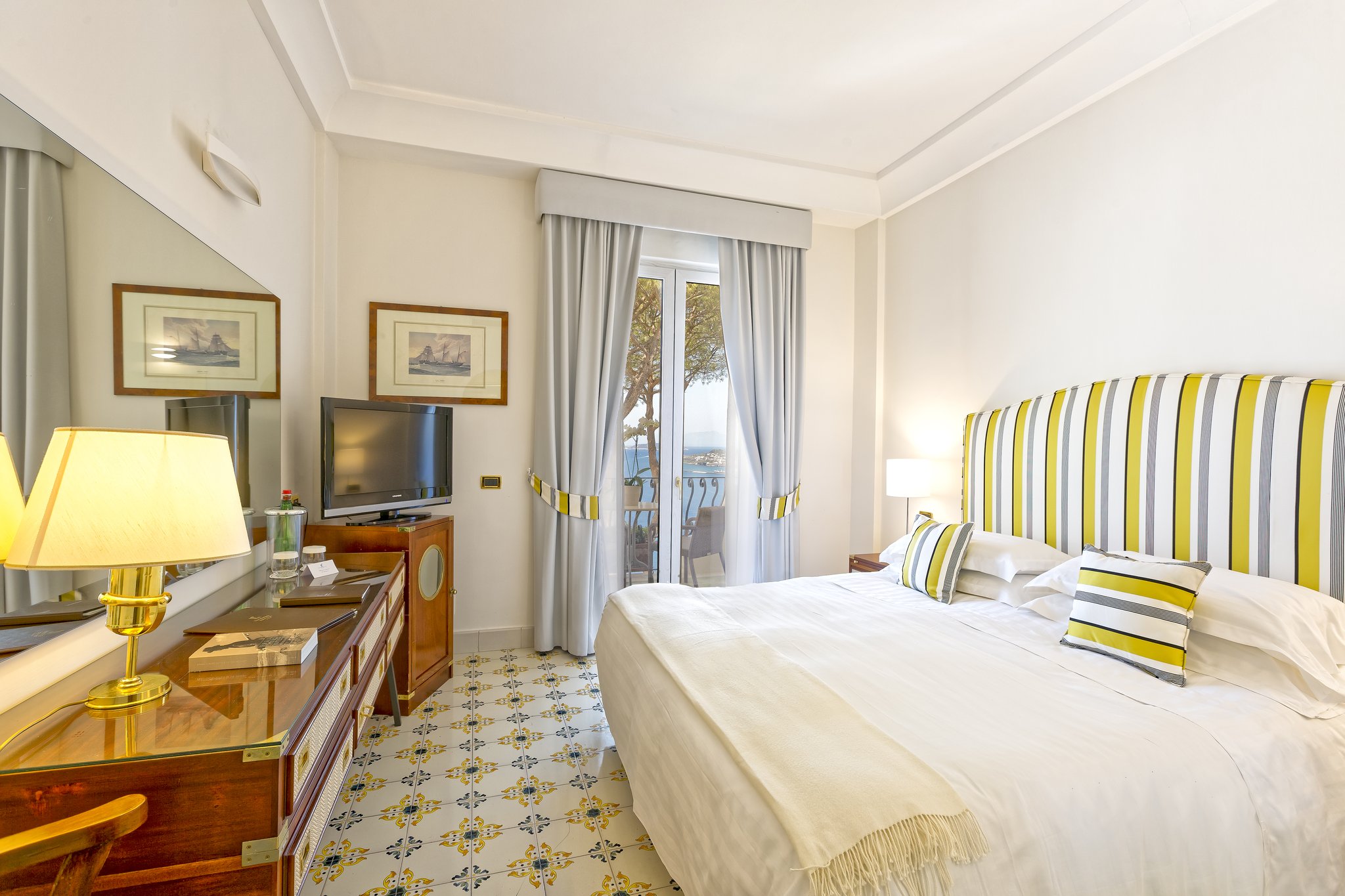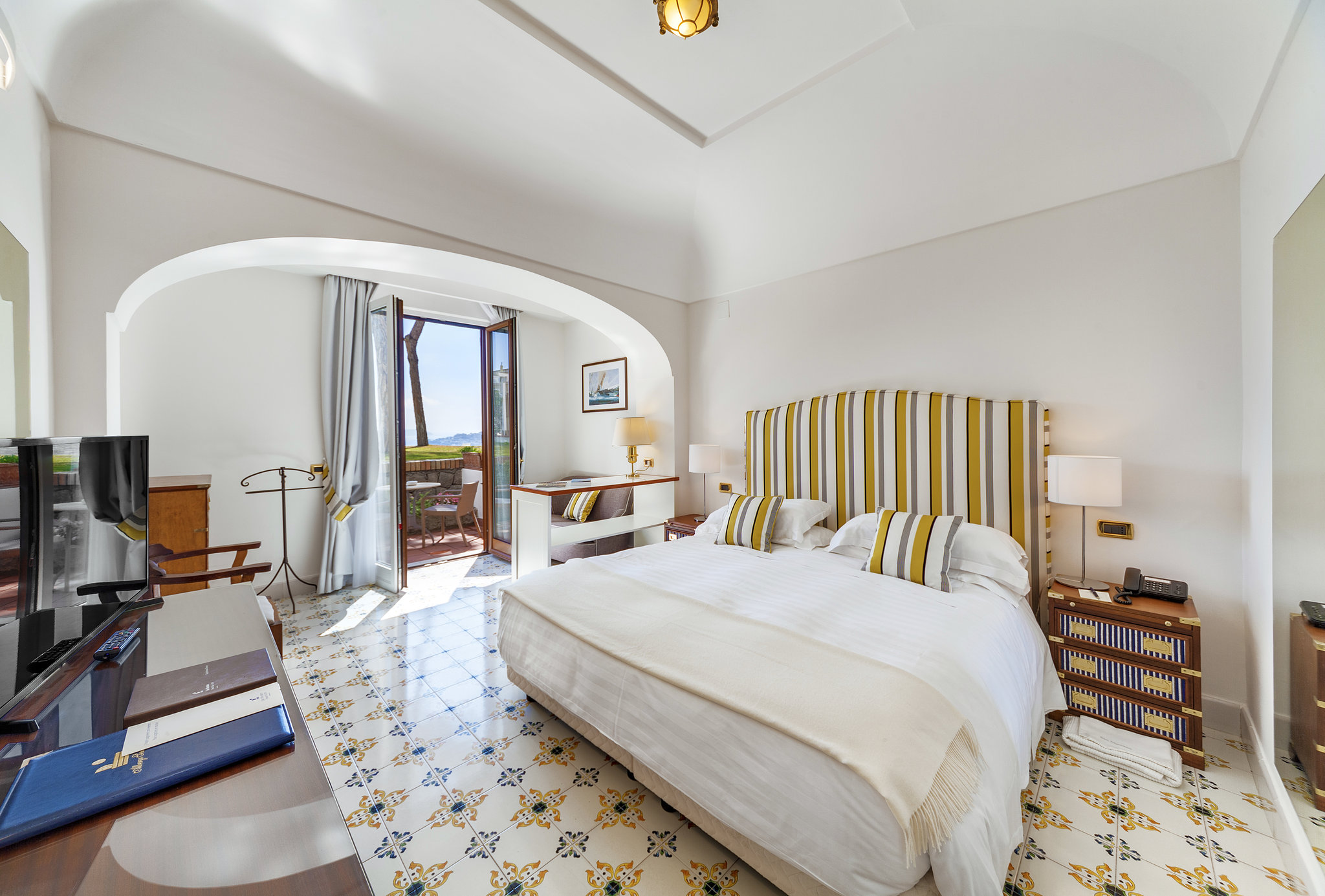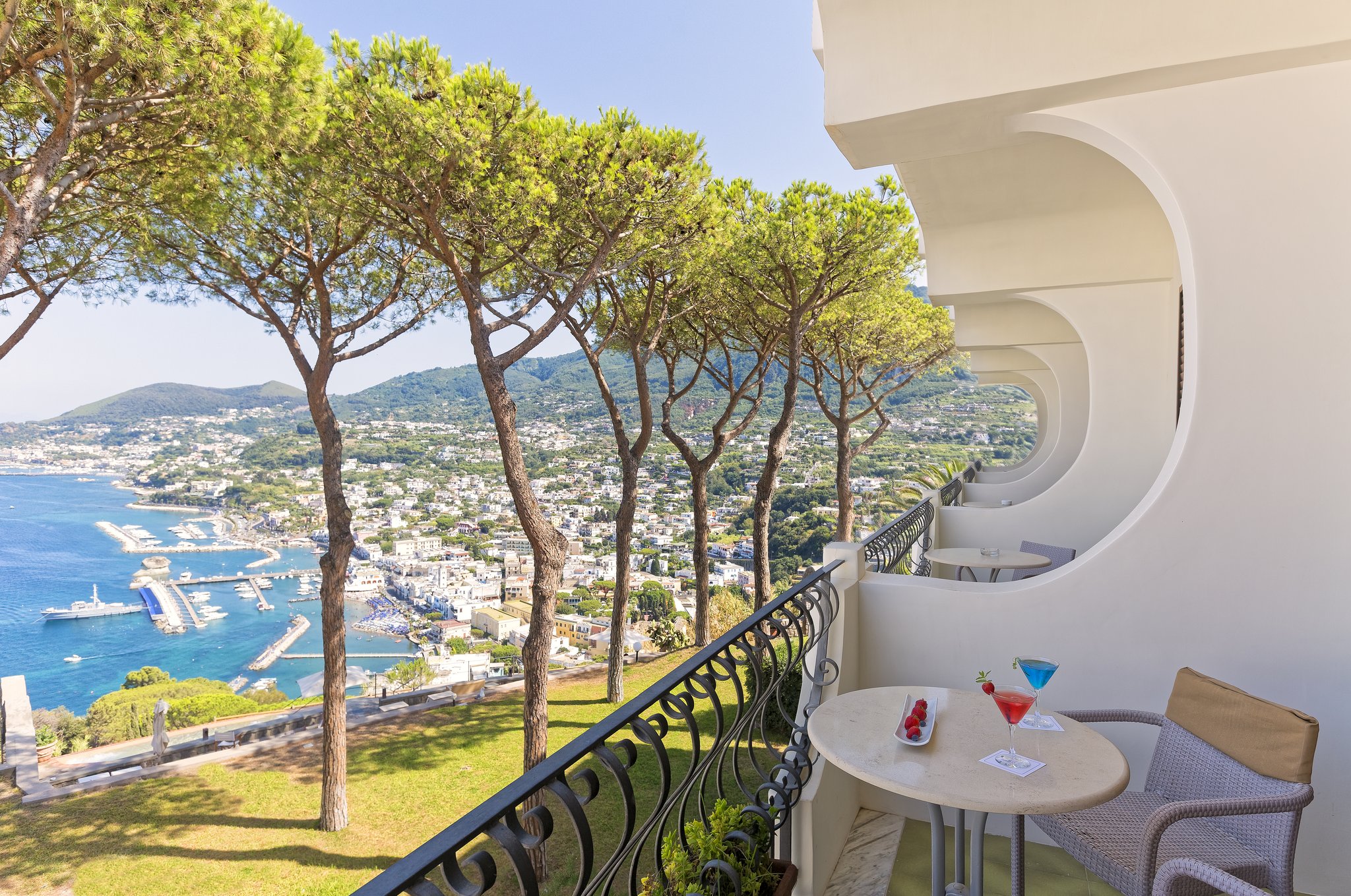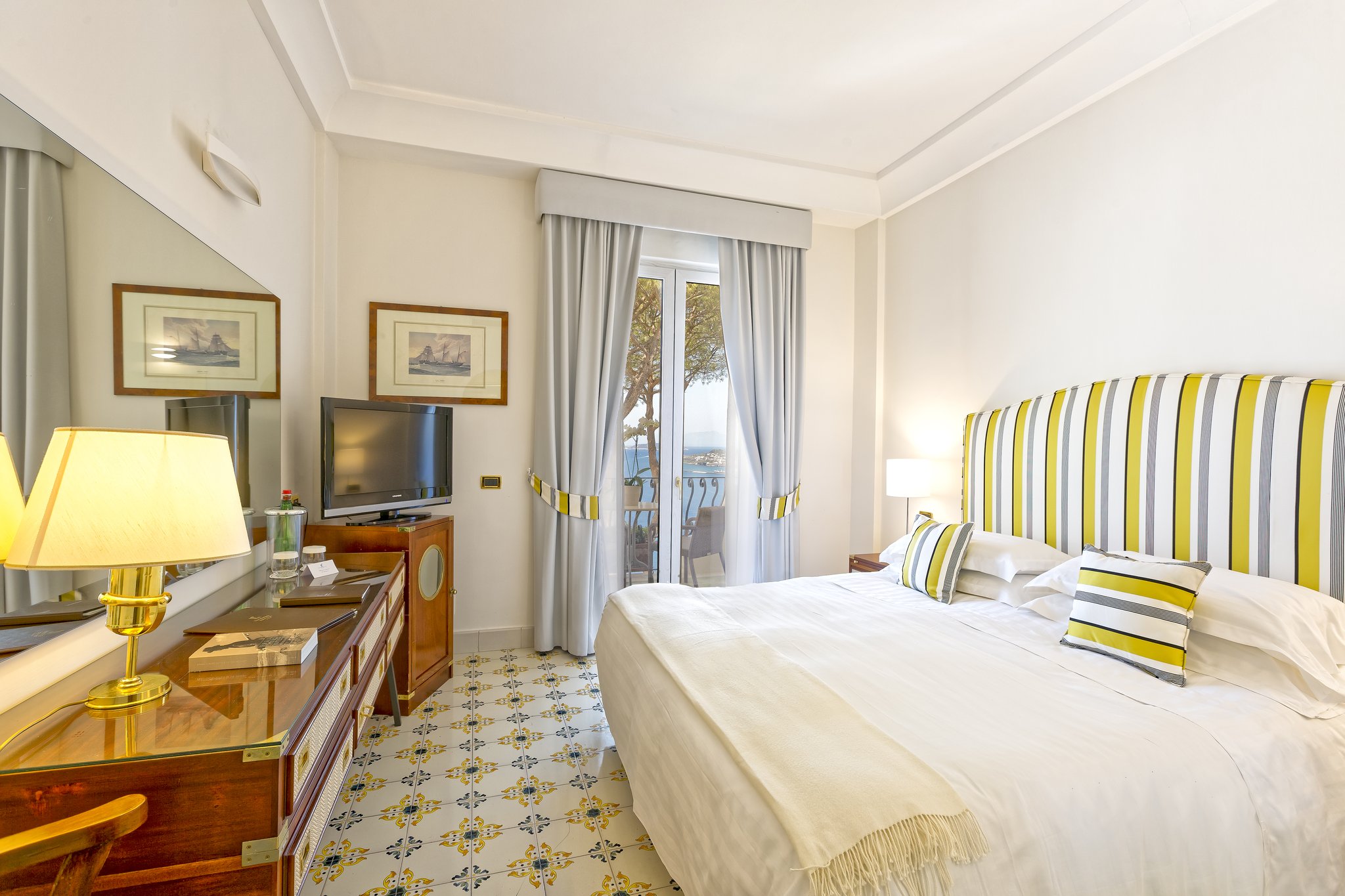 Superior Seaview Room Balcony
Sleeps: 2 People.
Superior Sea view Room with balcony, located on higher floors, queen/twin bed, 22-24 sqm
From per night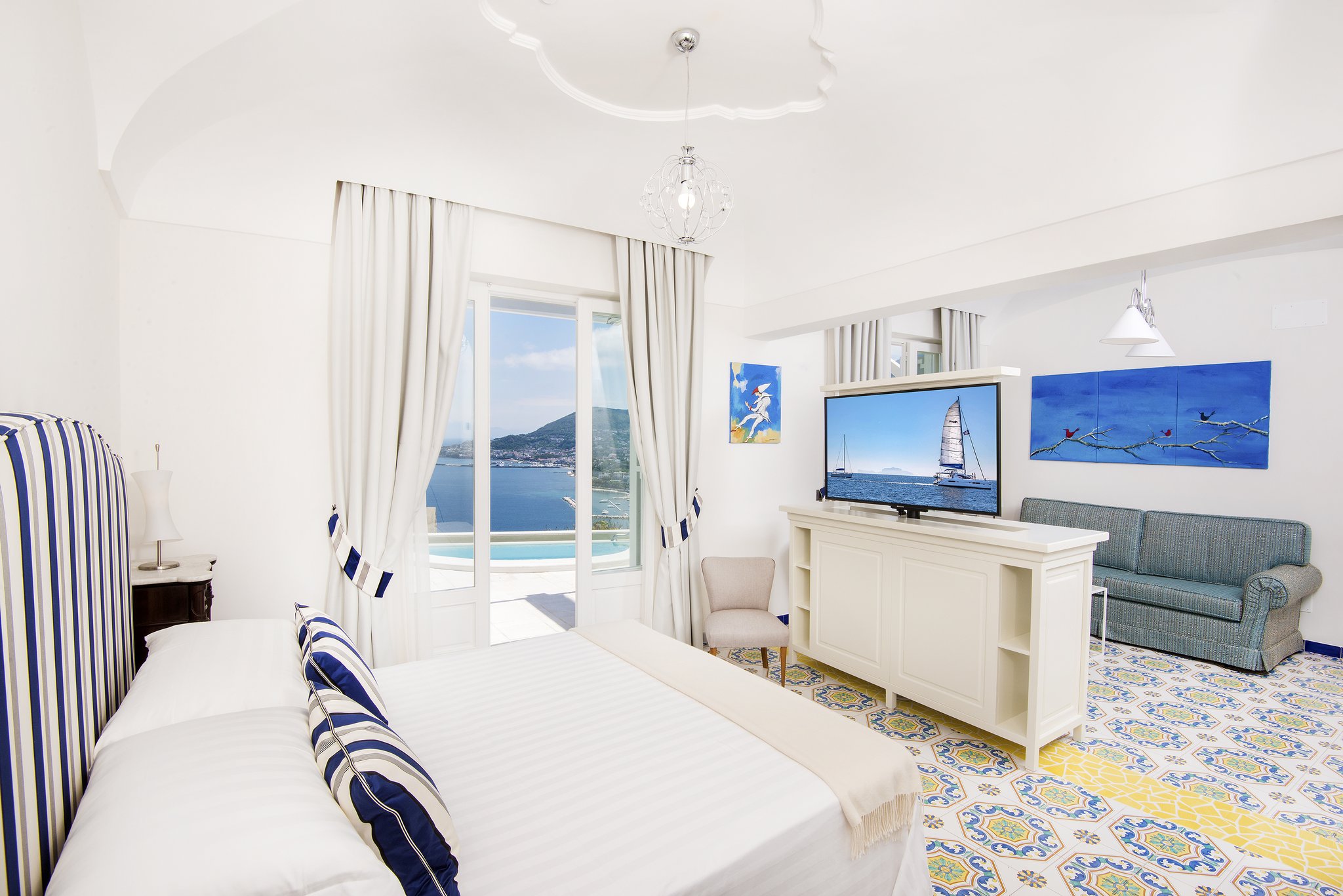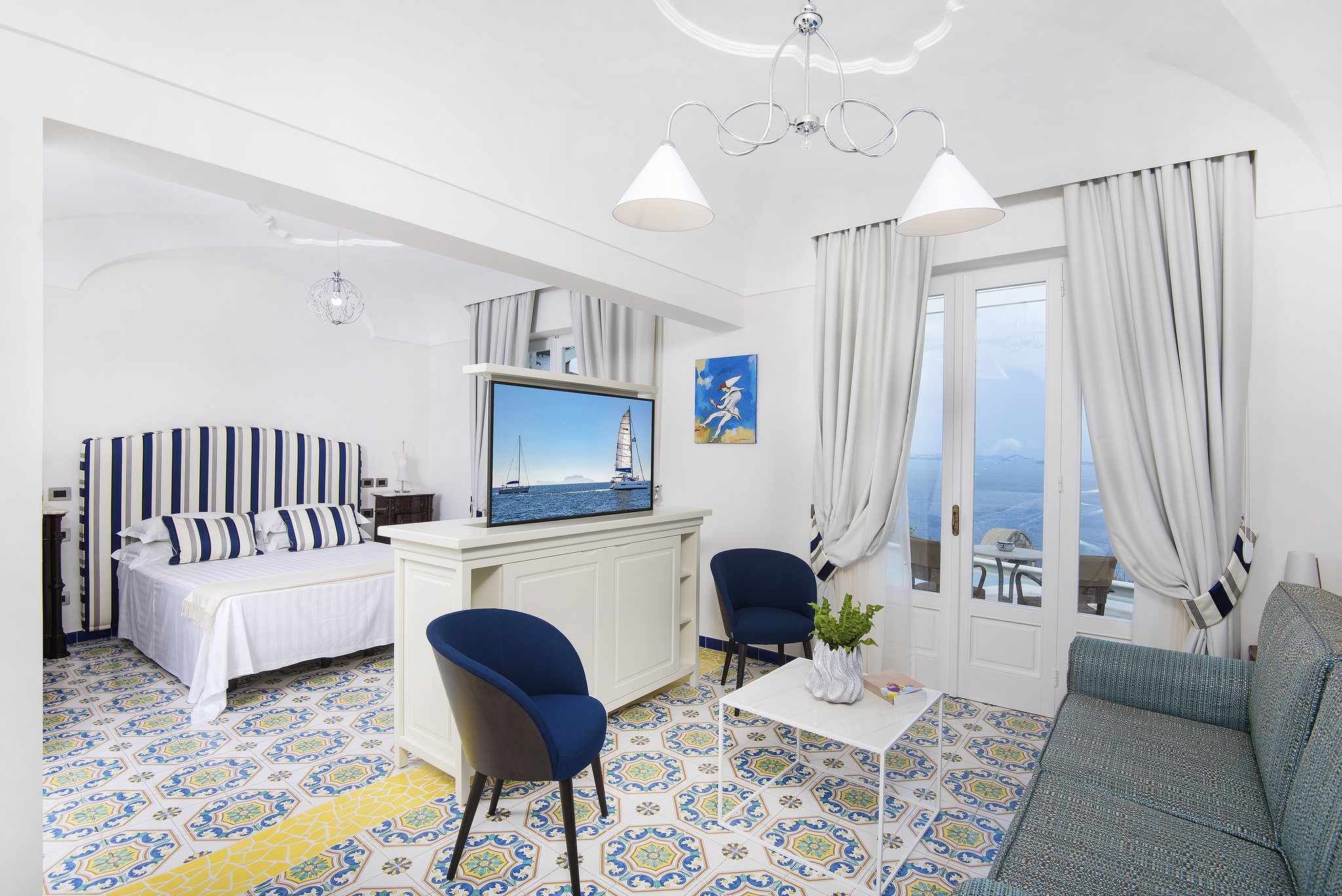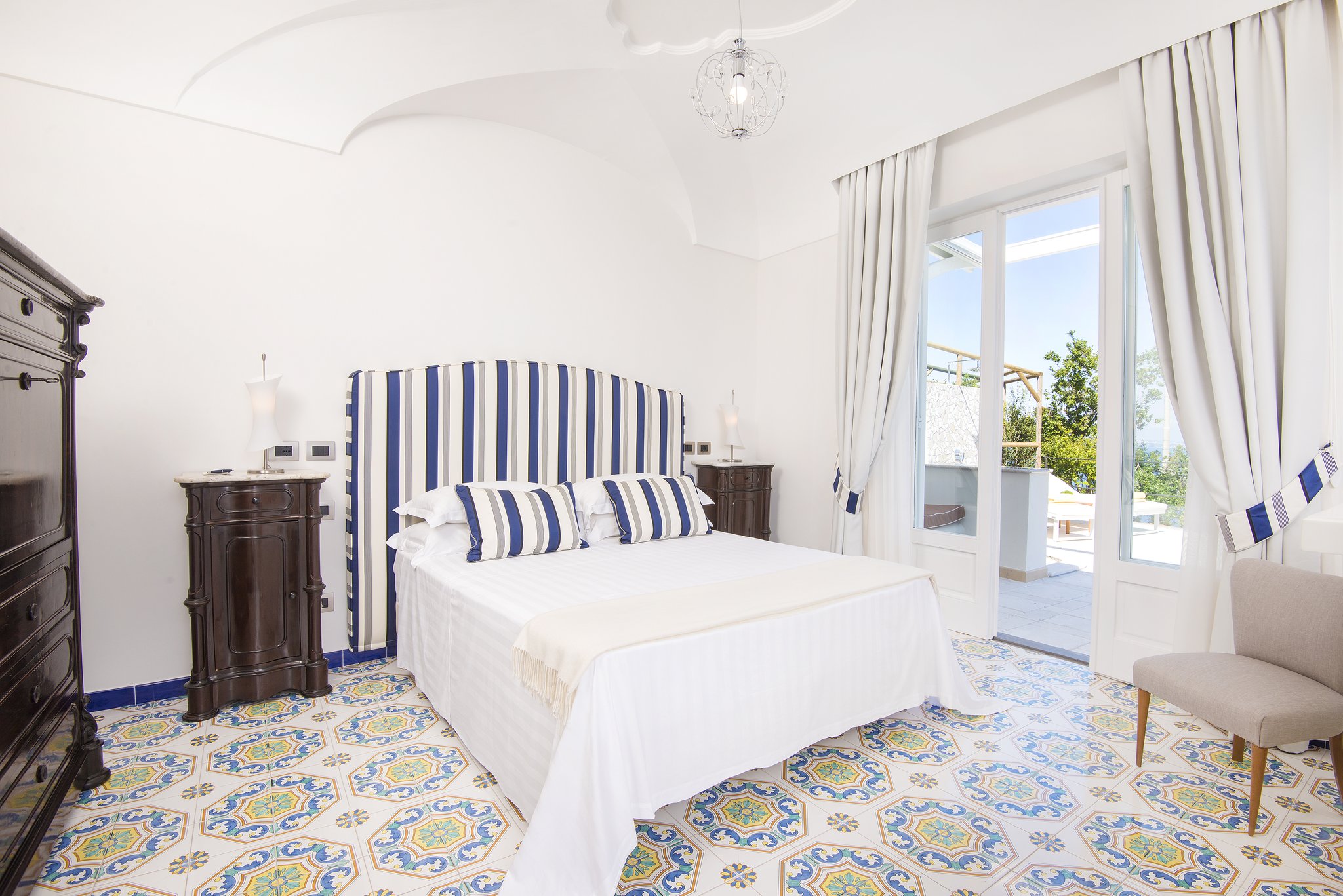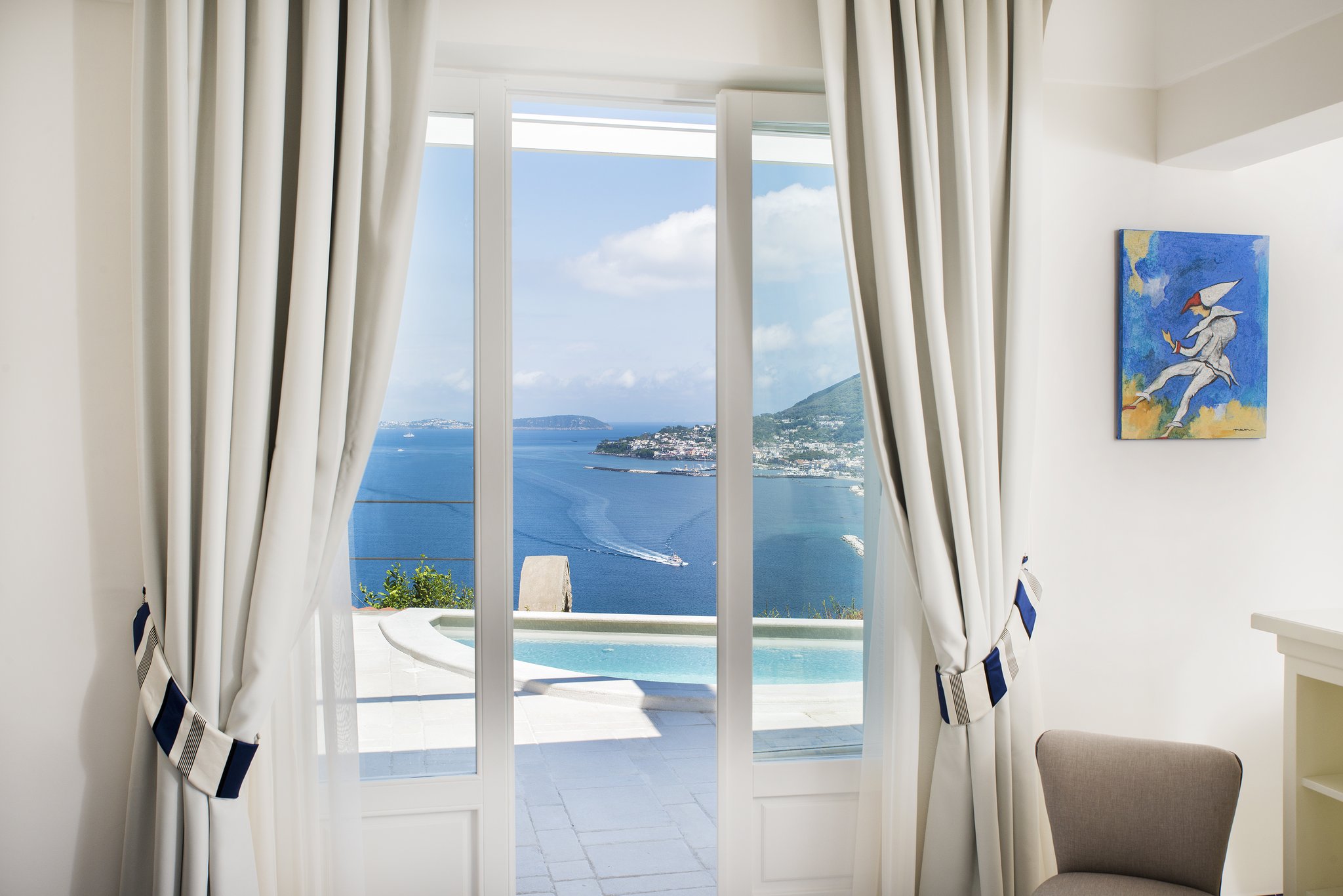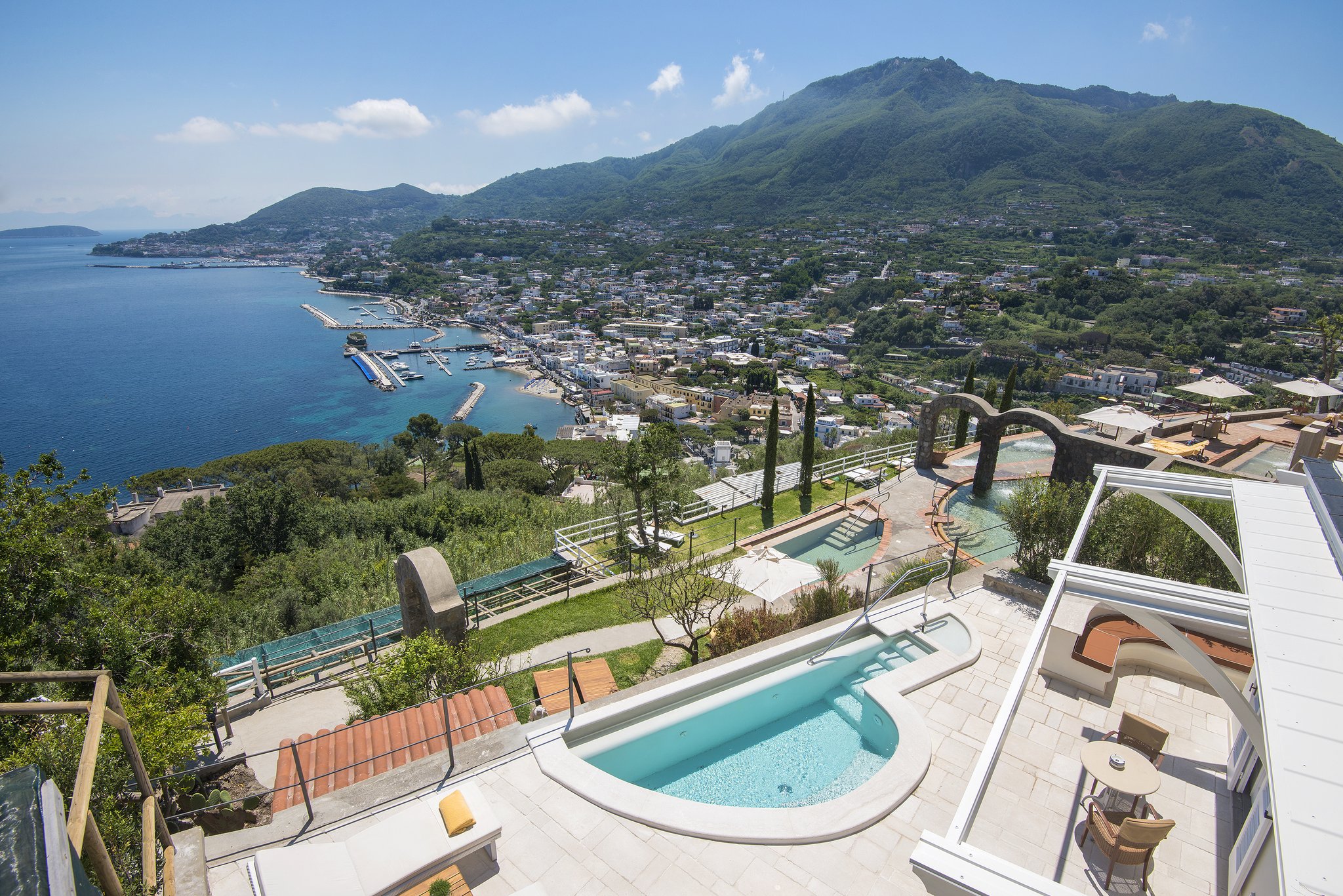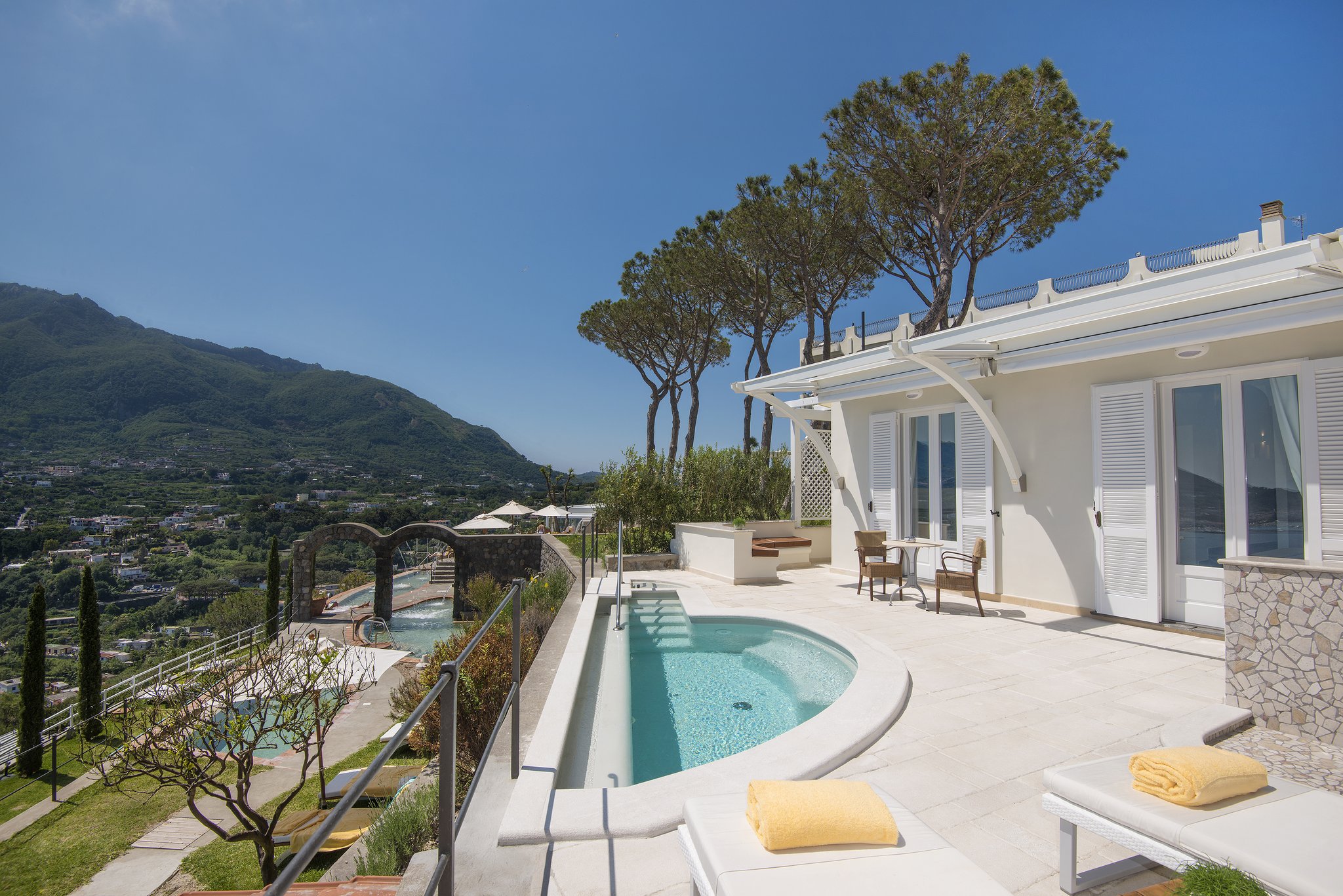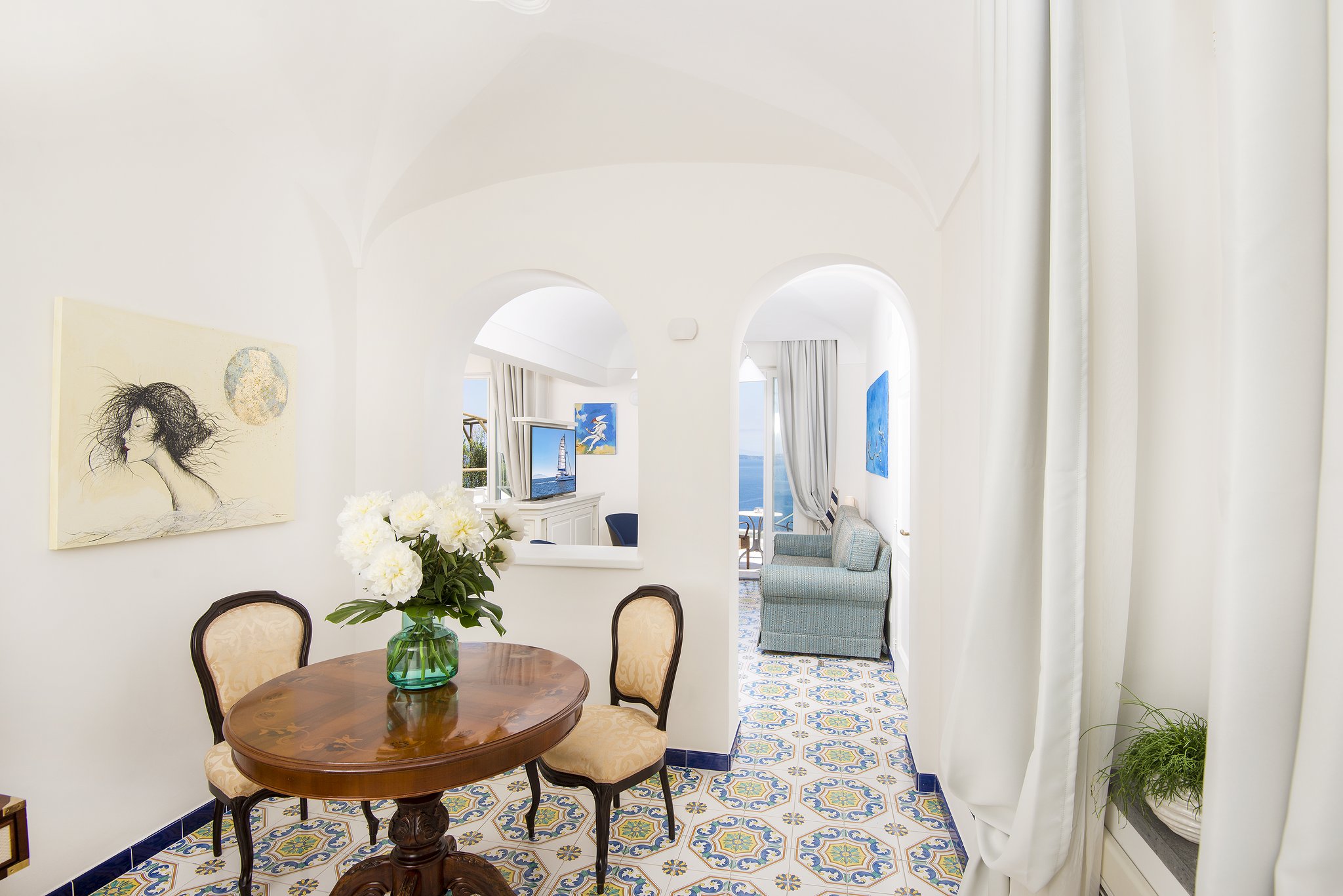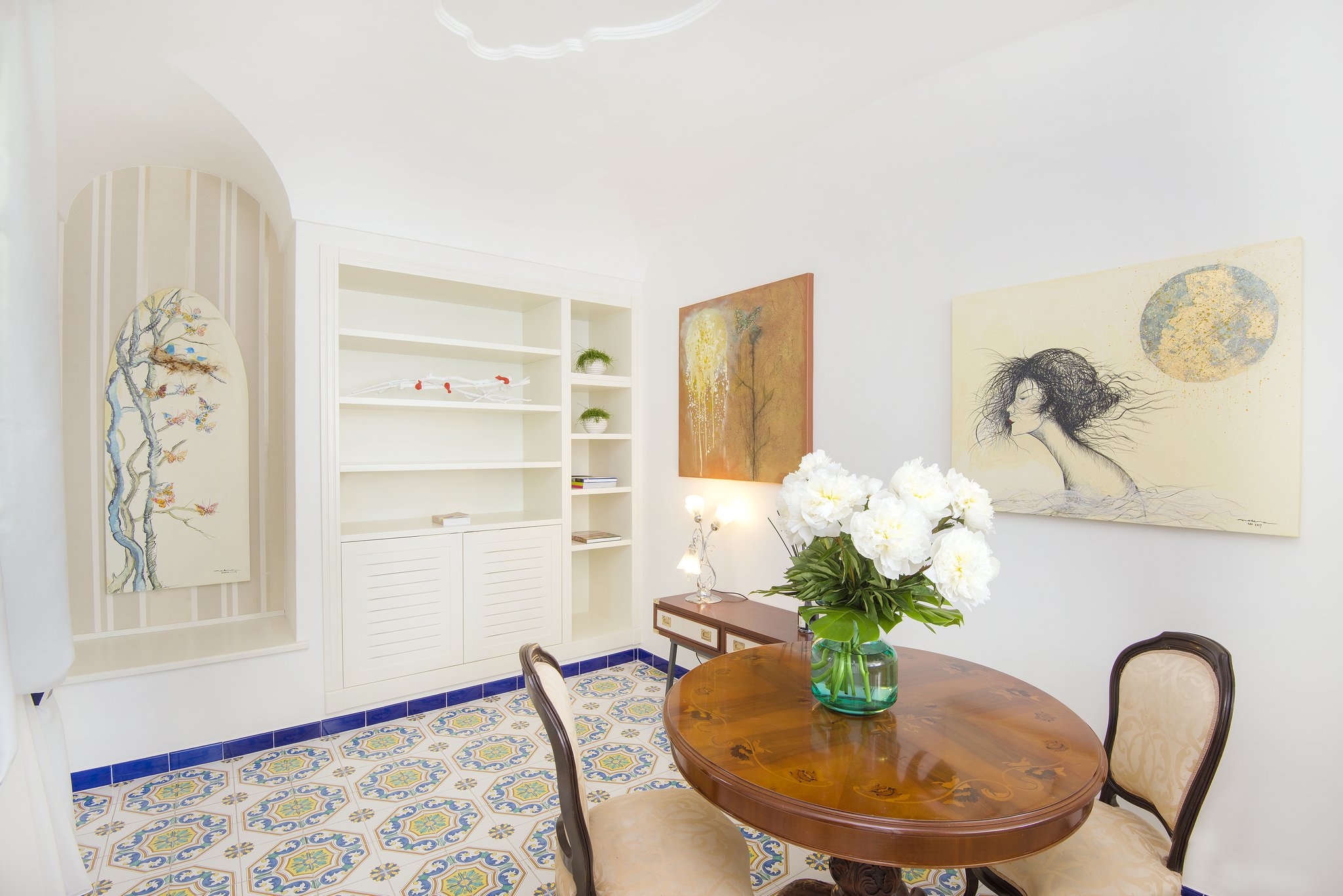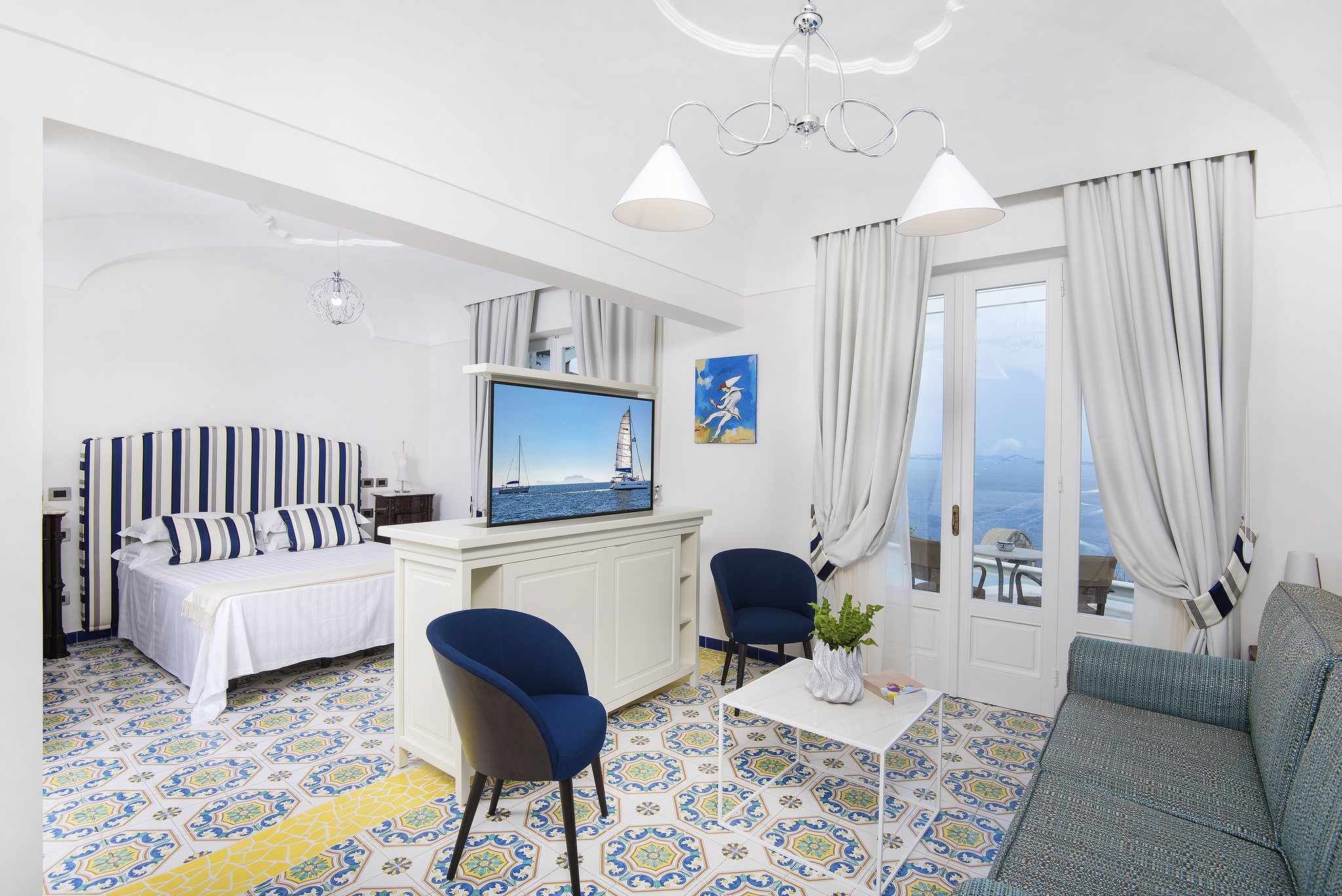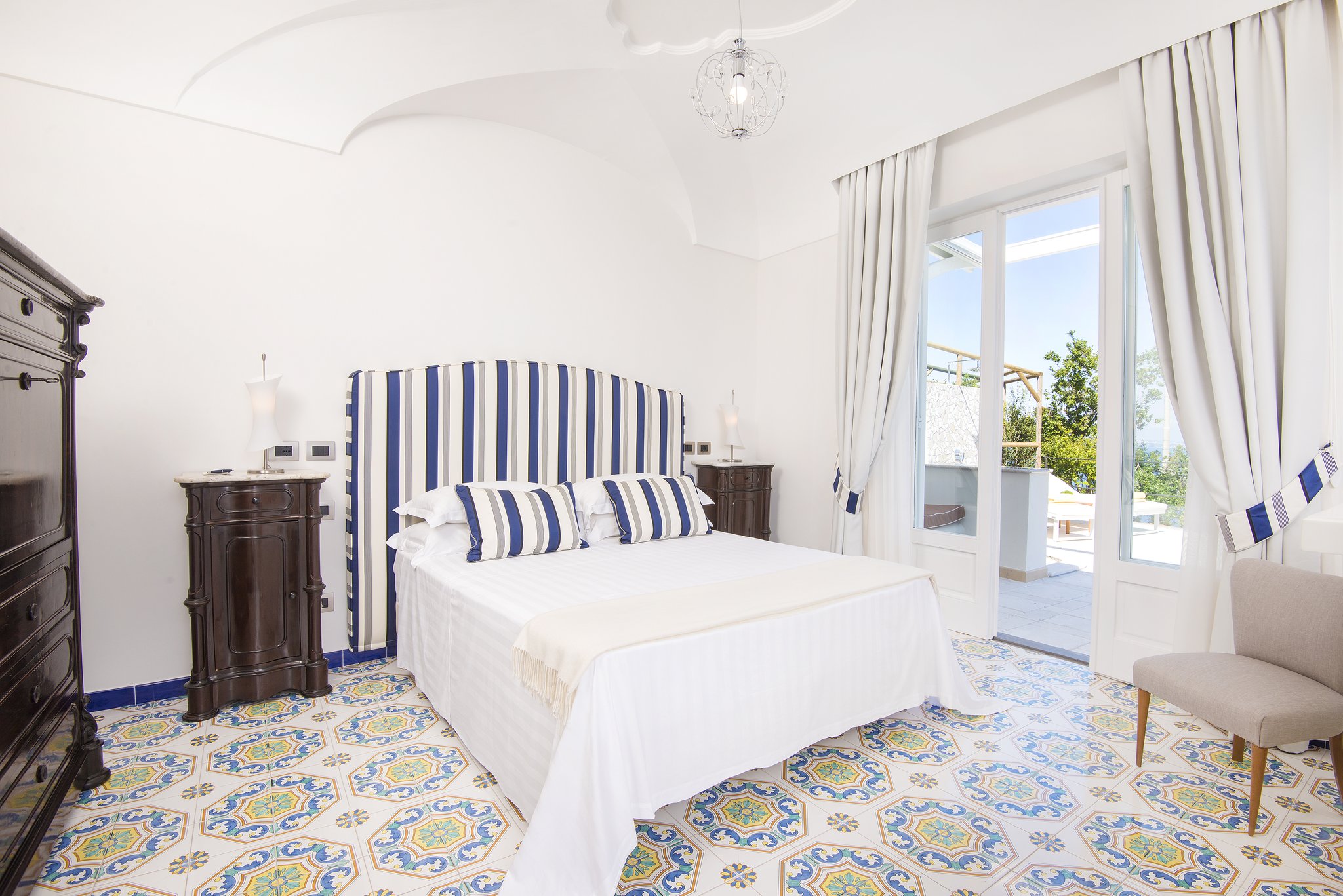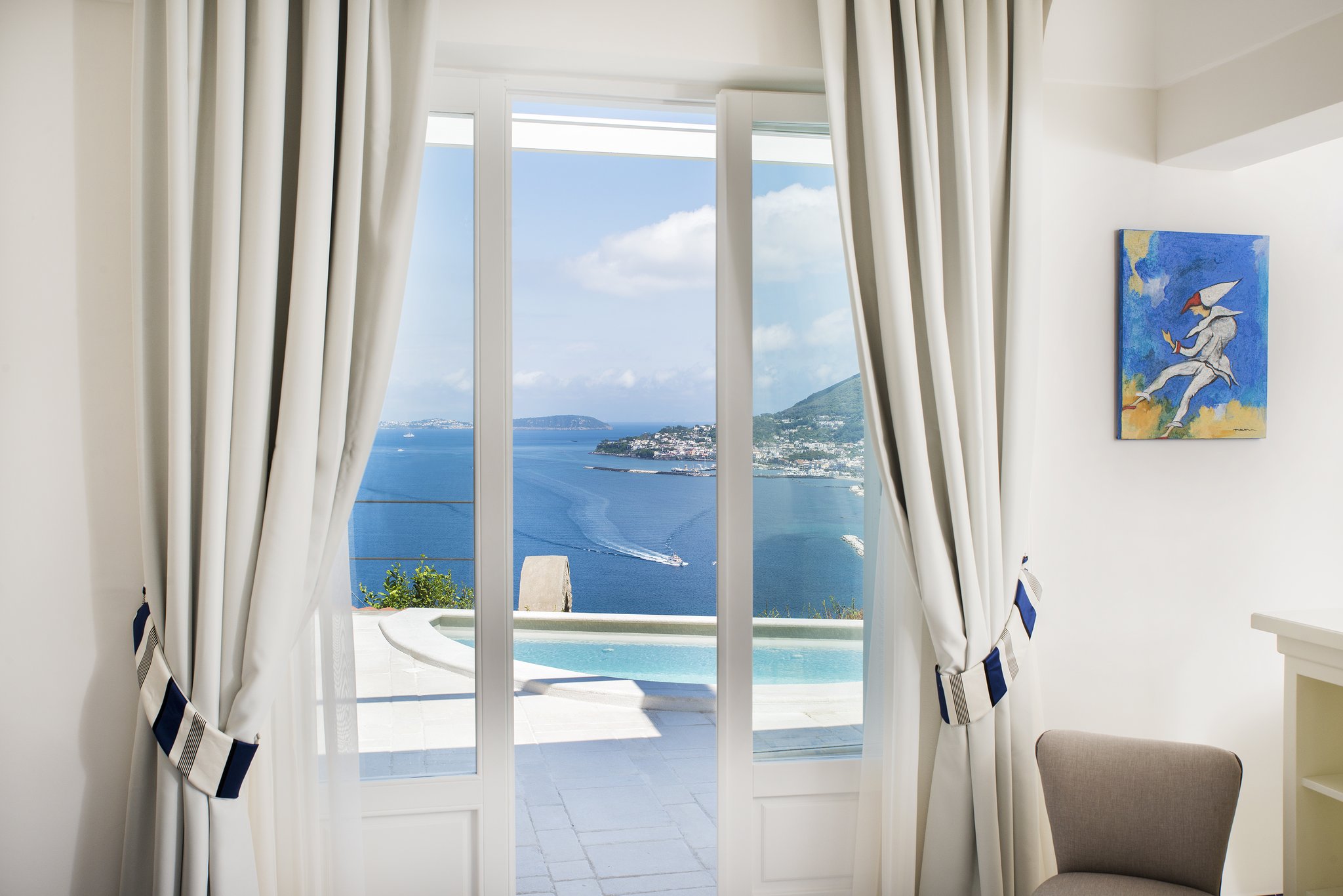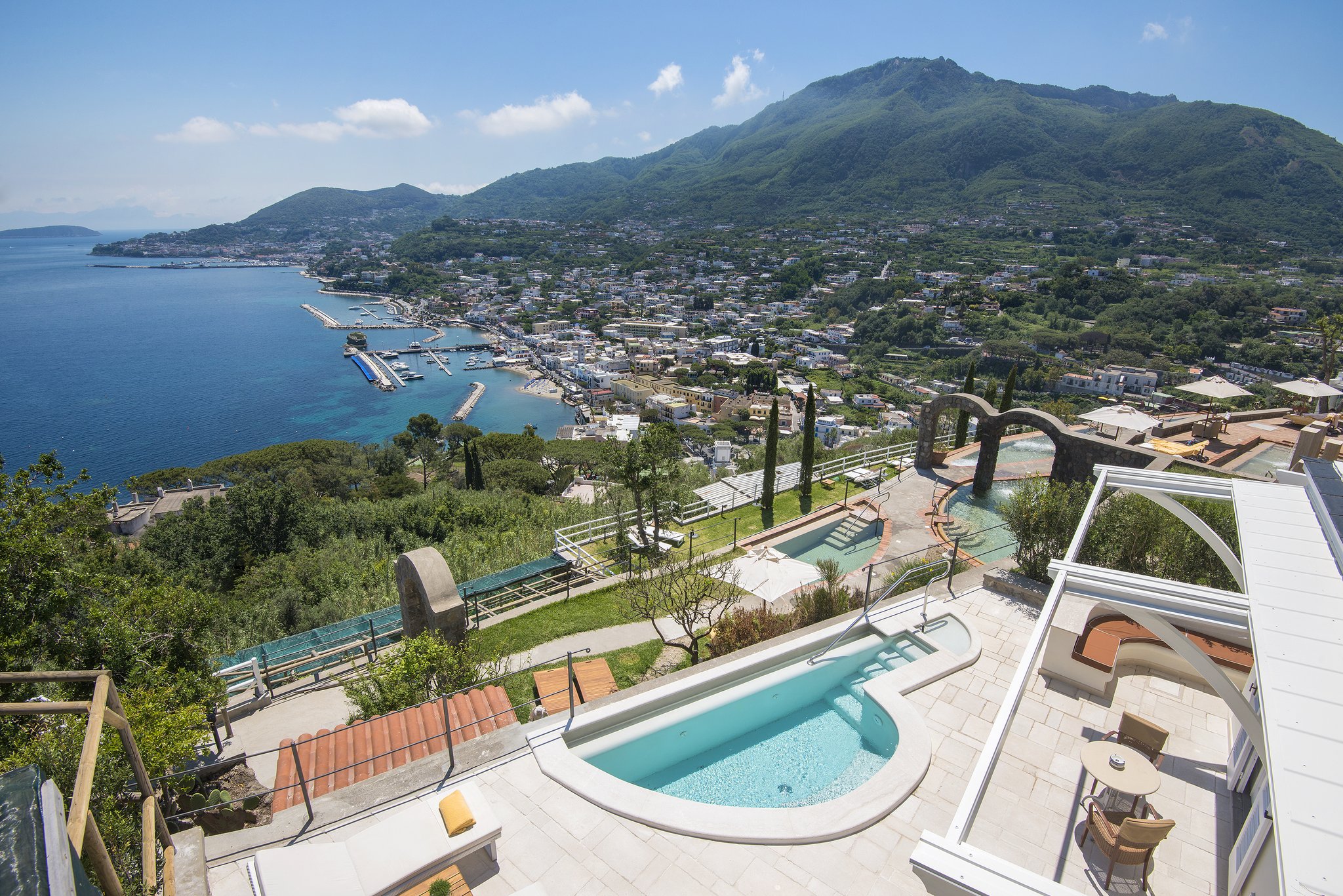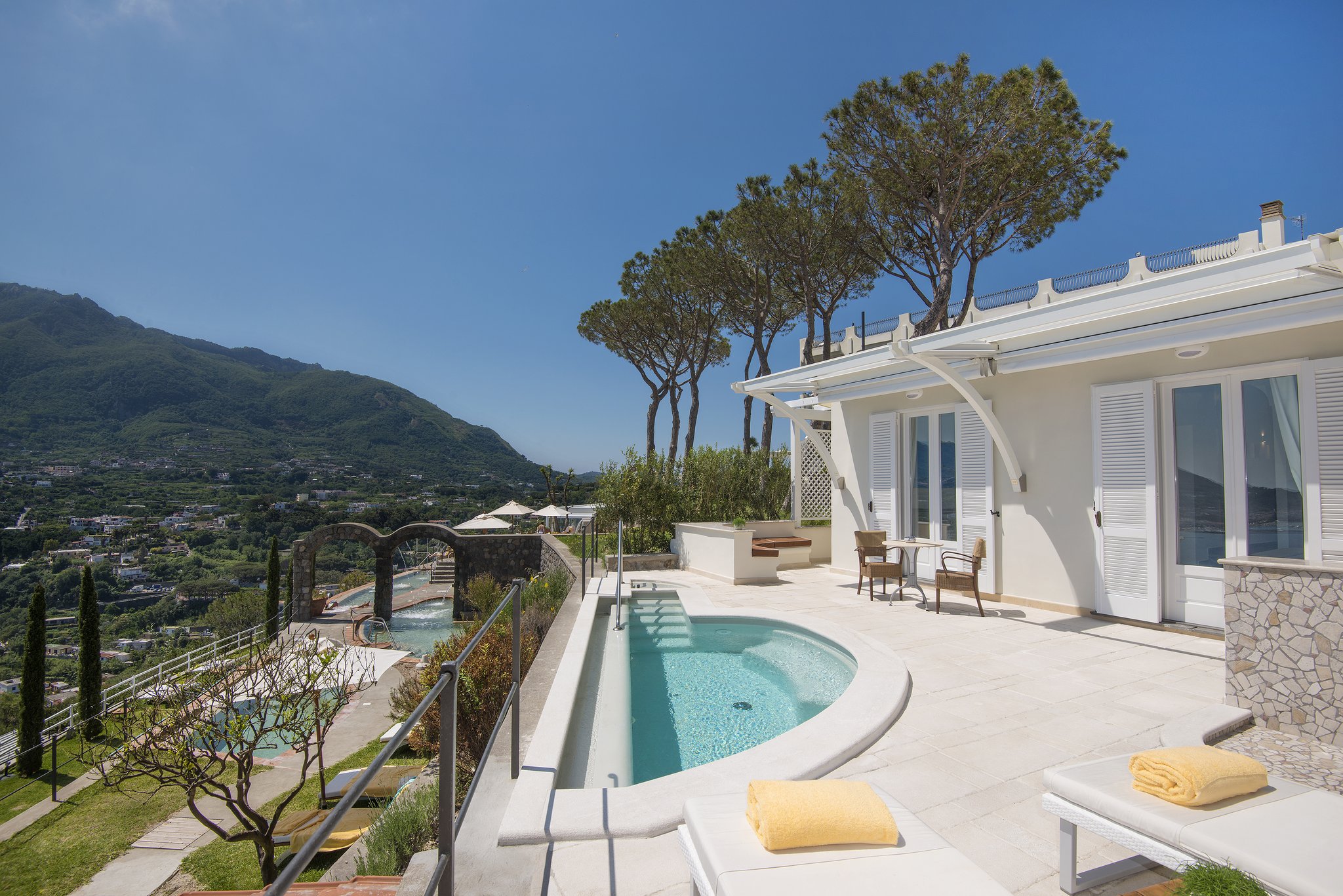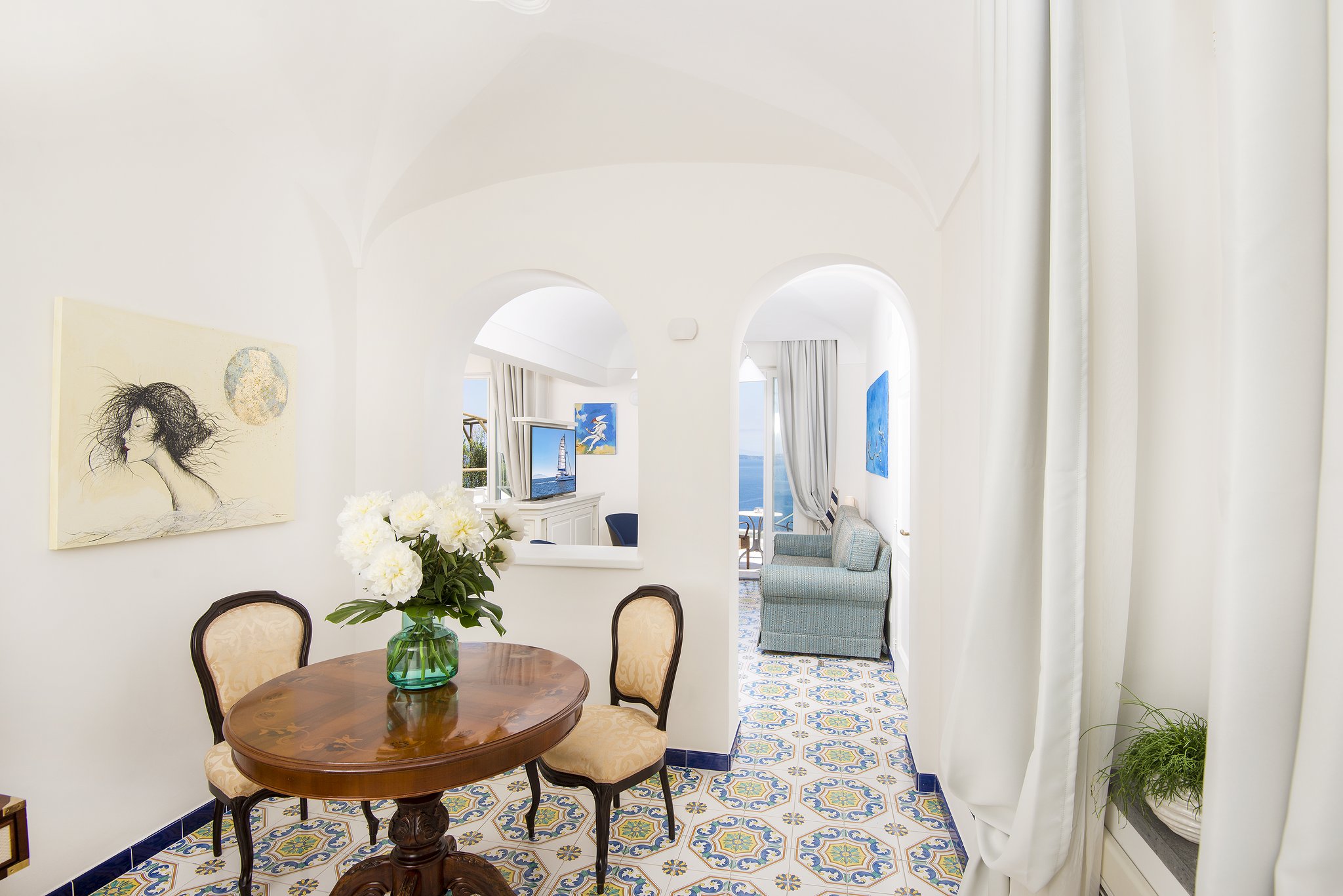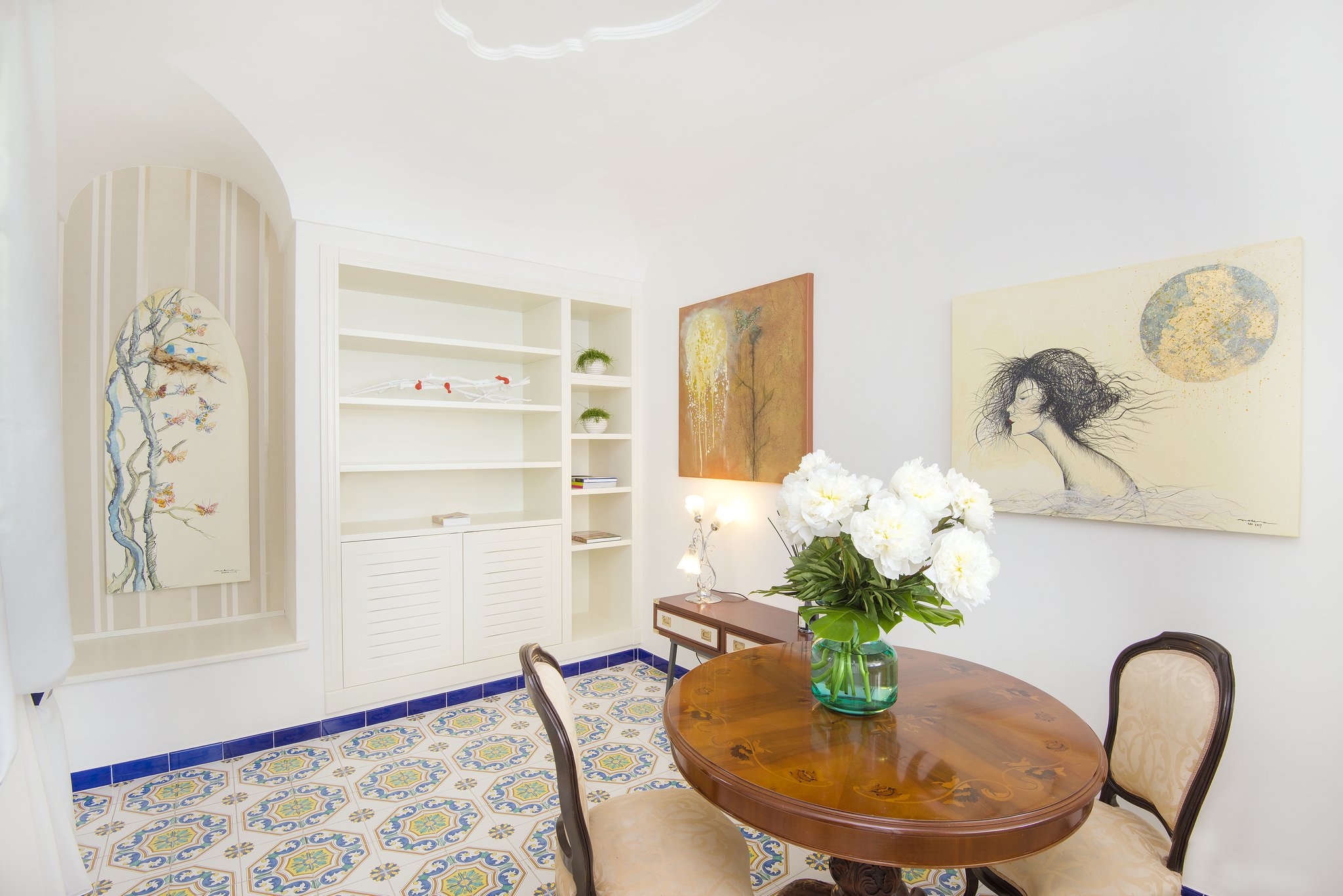 Sunrise Executive
Sleeps: 2 People.
Sunrise Executive Sea view bedroom and living room, four poster bed, 35Sqm
From per night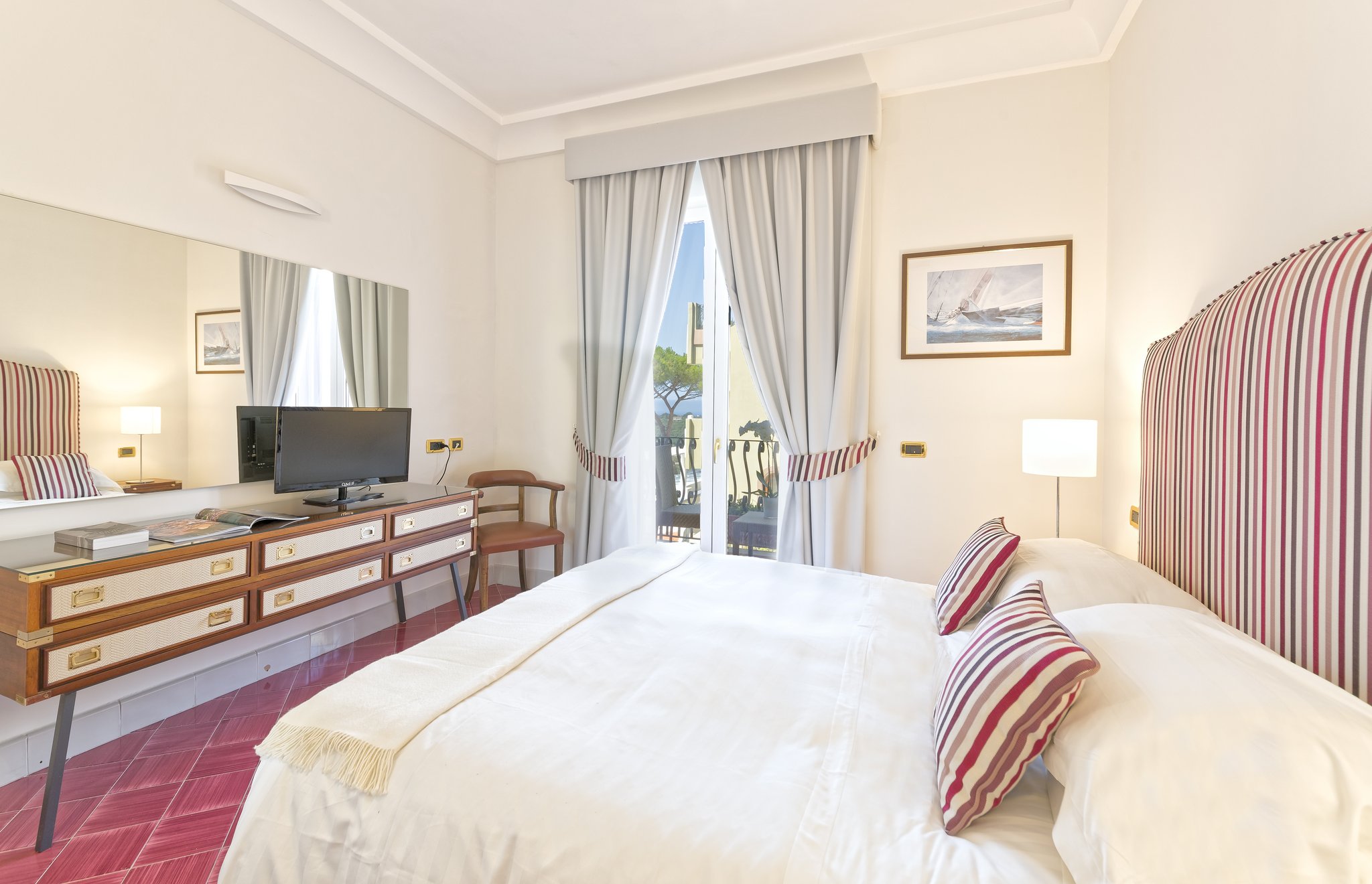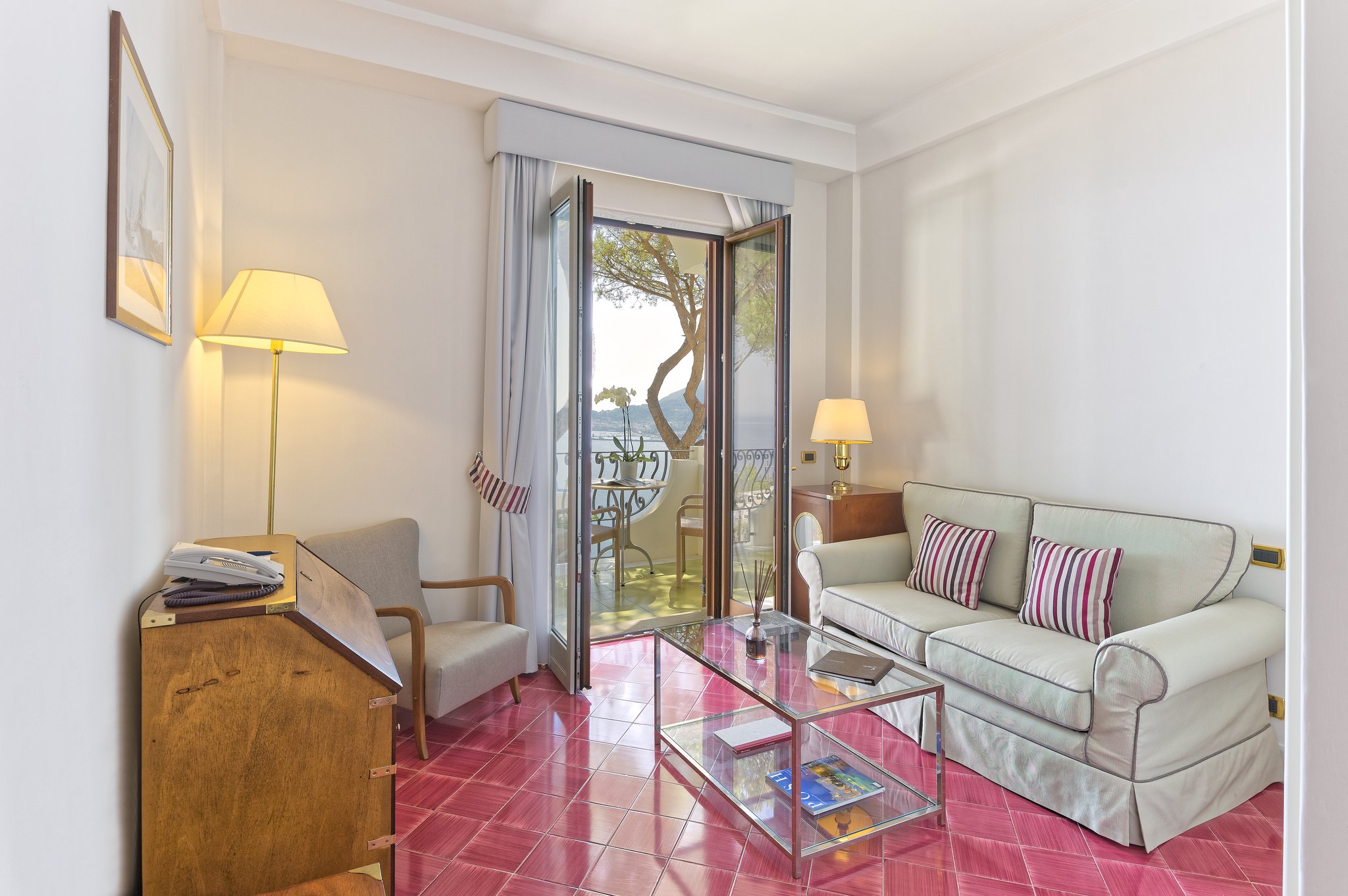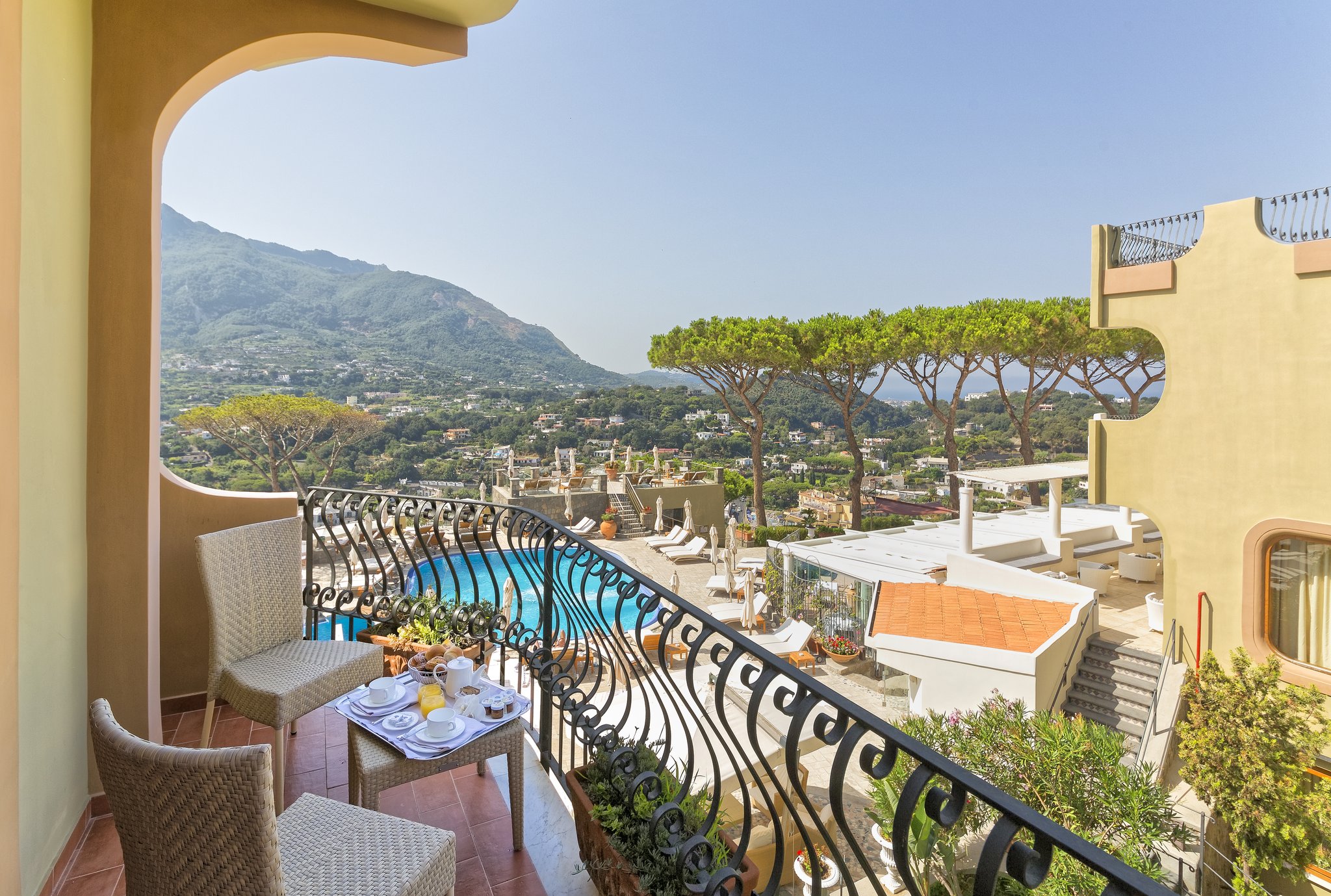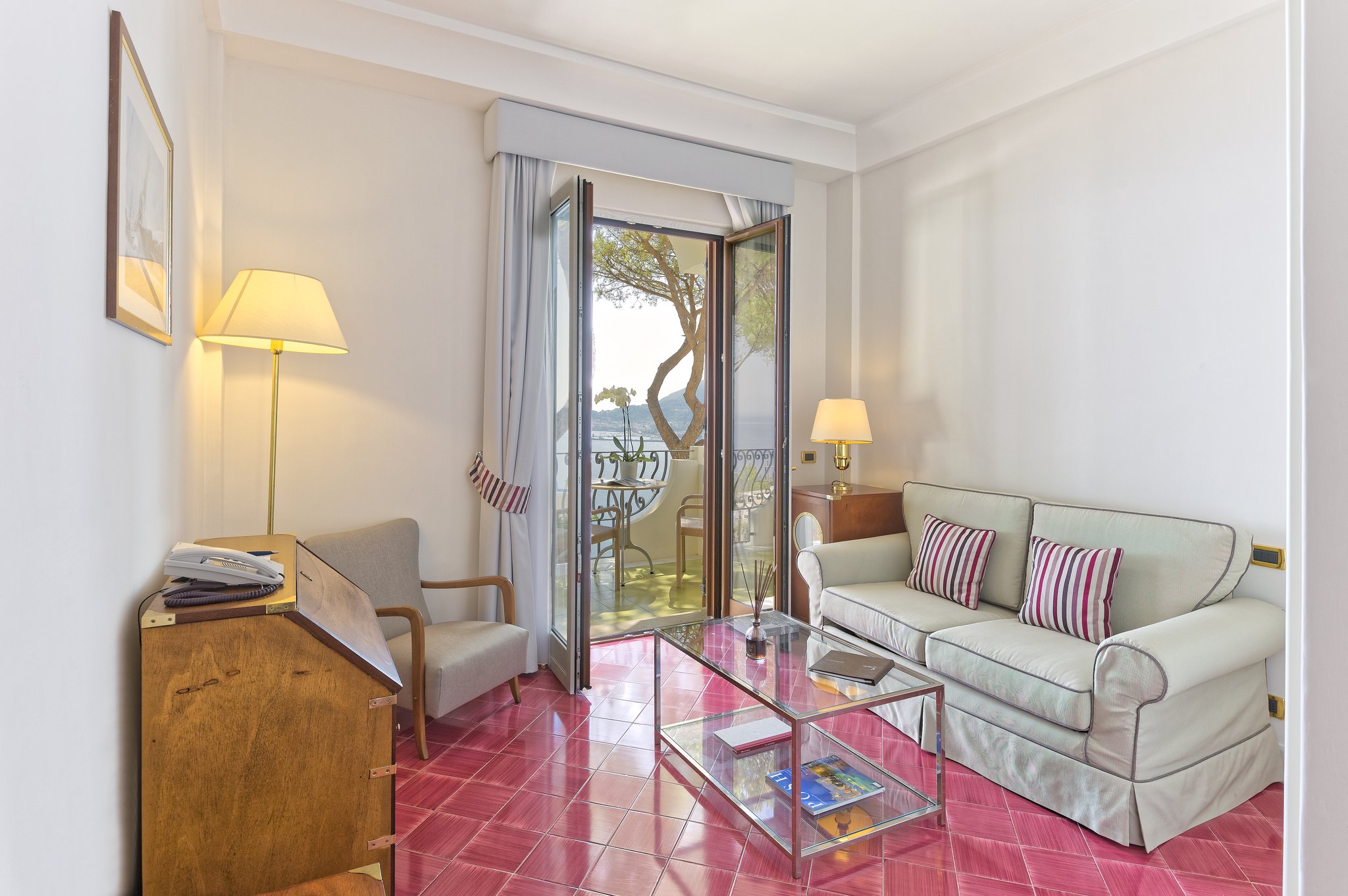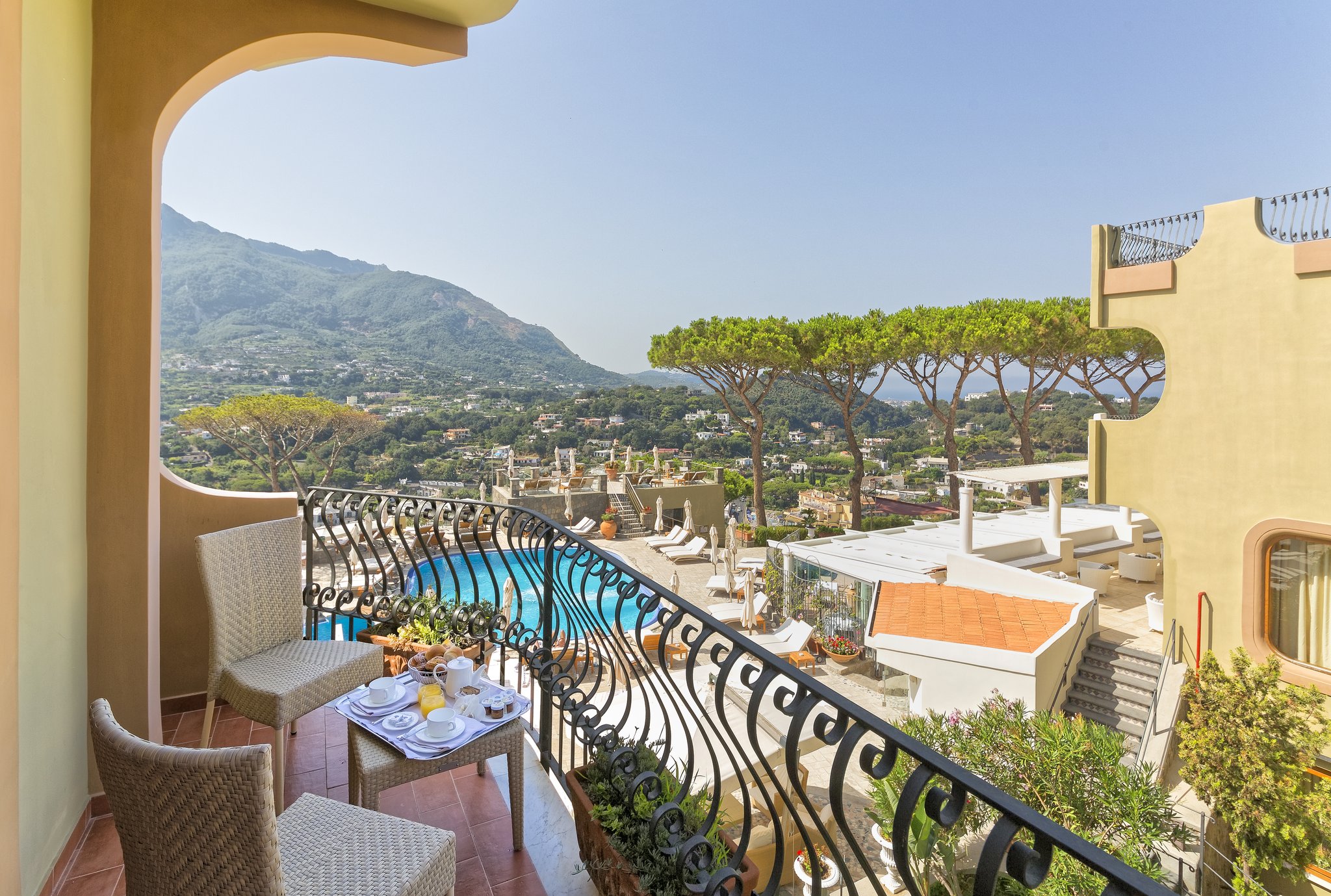 Prestige Suite
Sleeps: 3 People.
Prestige Suite, 40-50 sqm, garden view, King bed, living room, ac, free WiFi.

The suite face the inner private garden. The room has air conditioning and Wi-Fi access.
From per night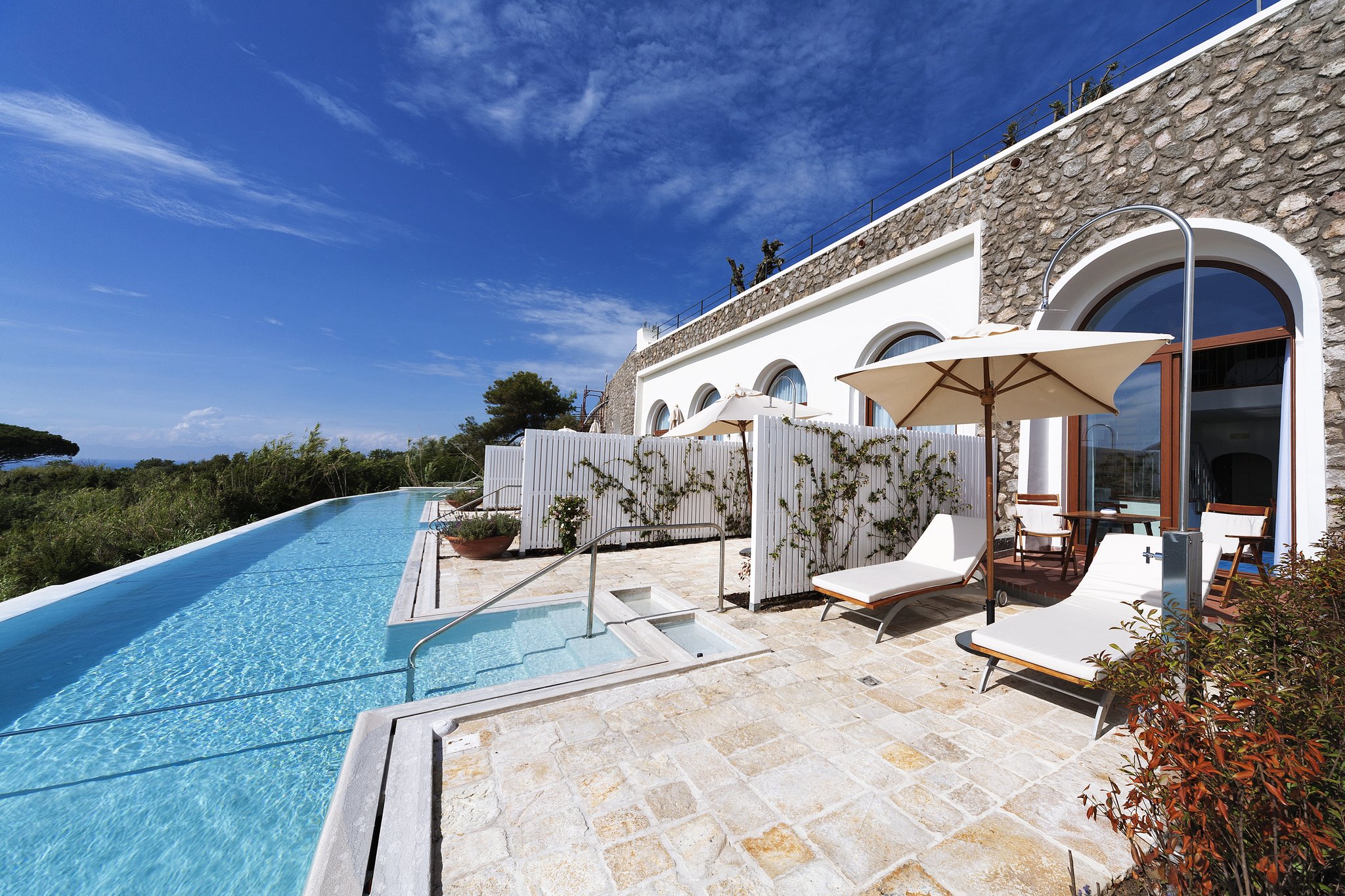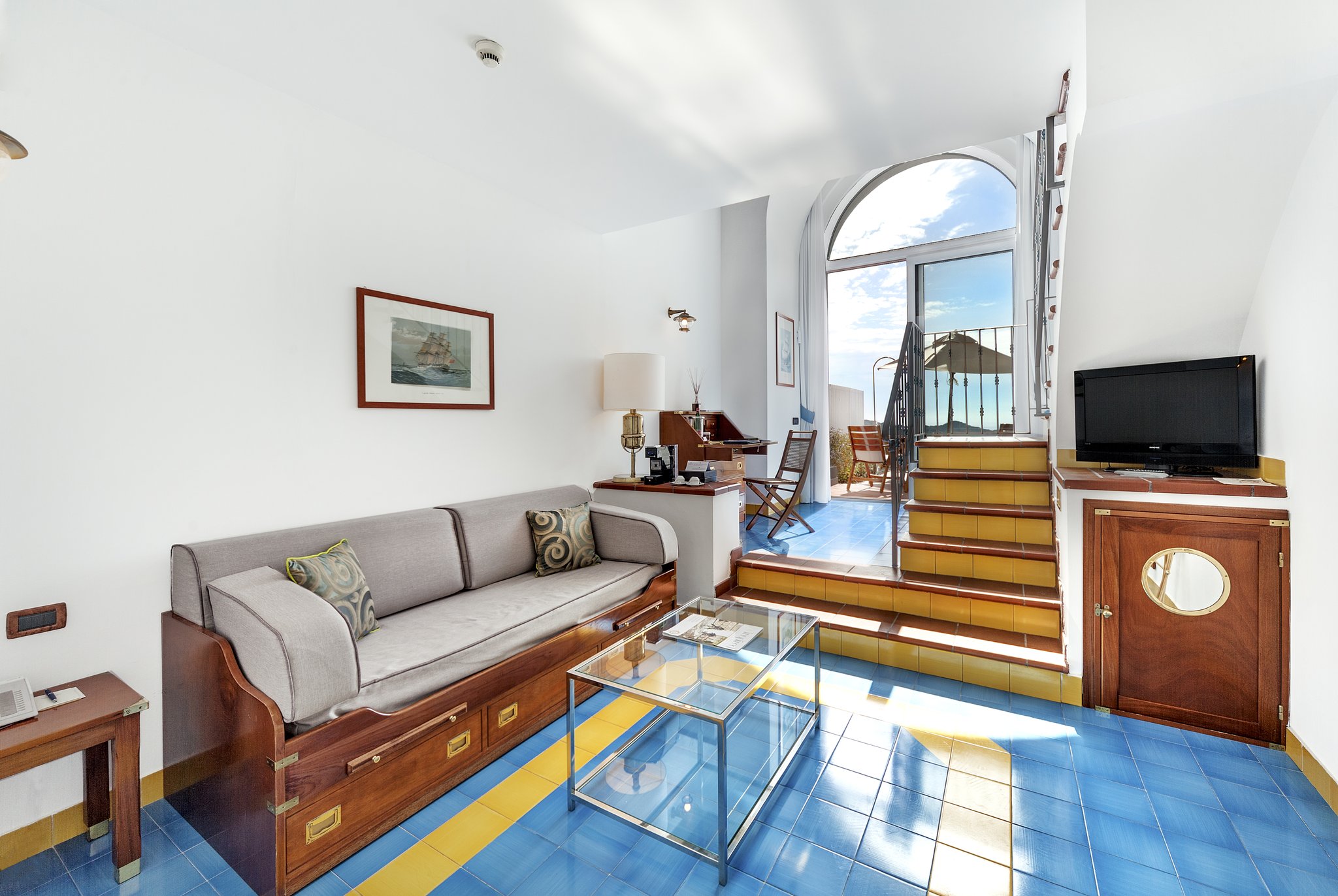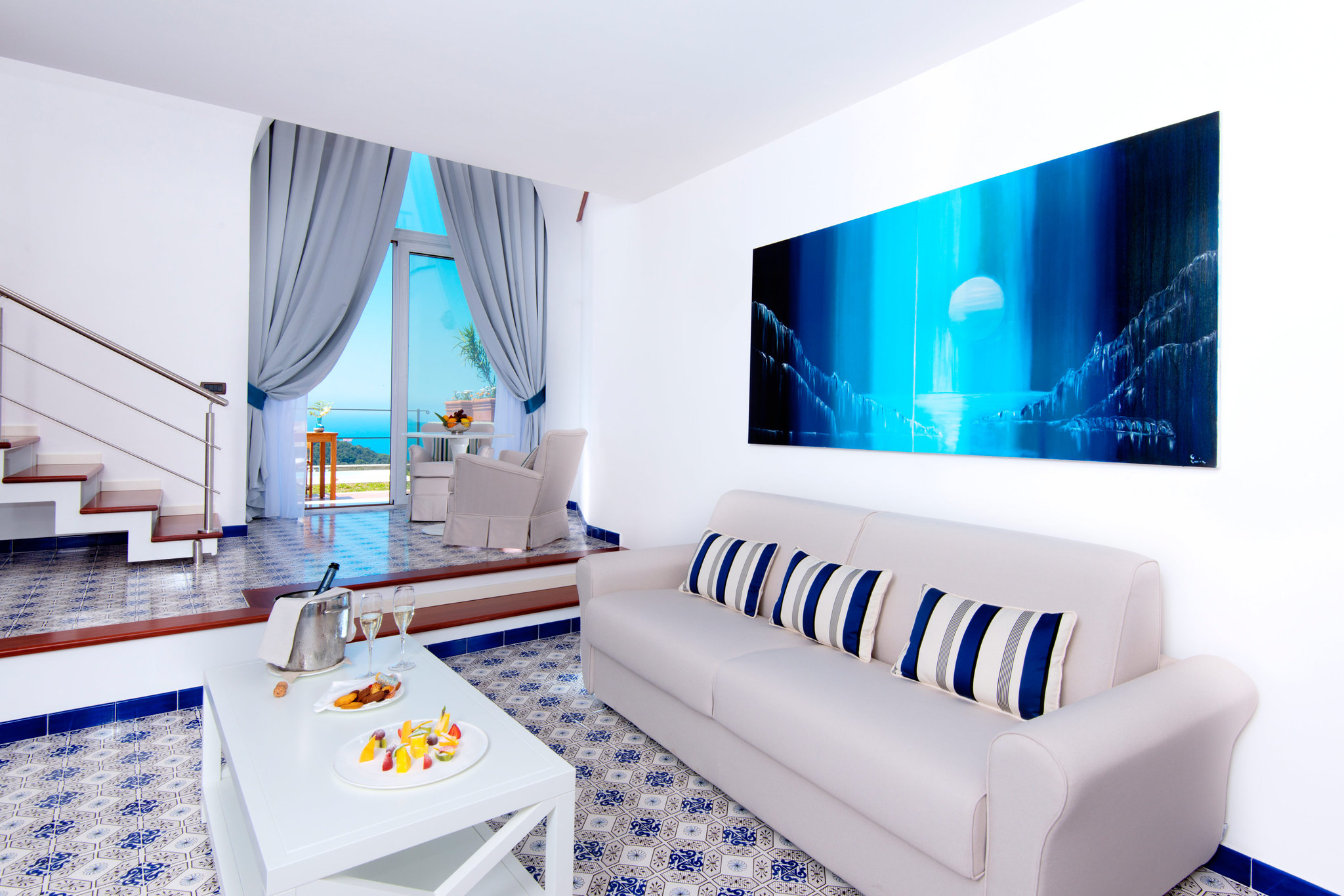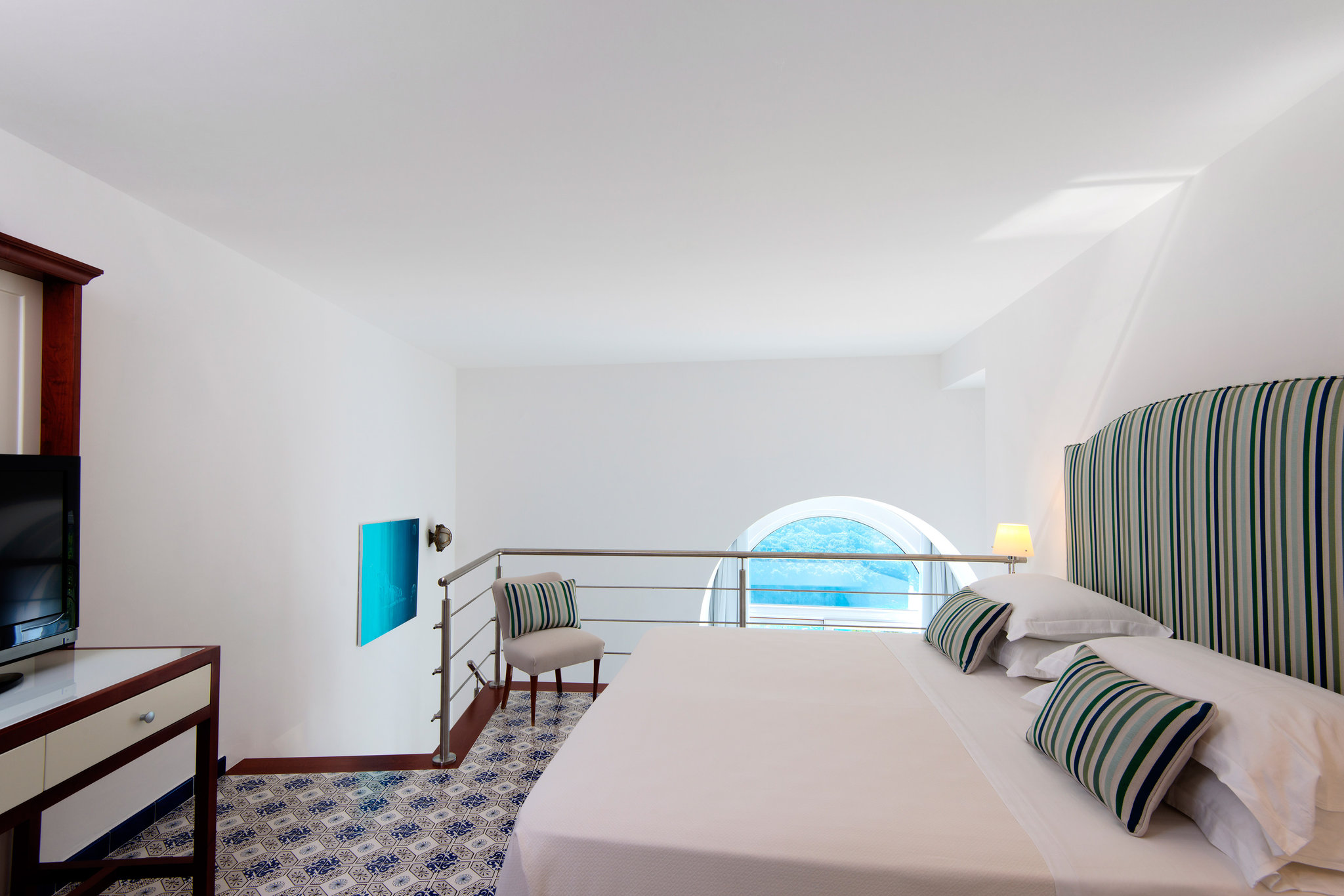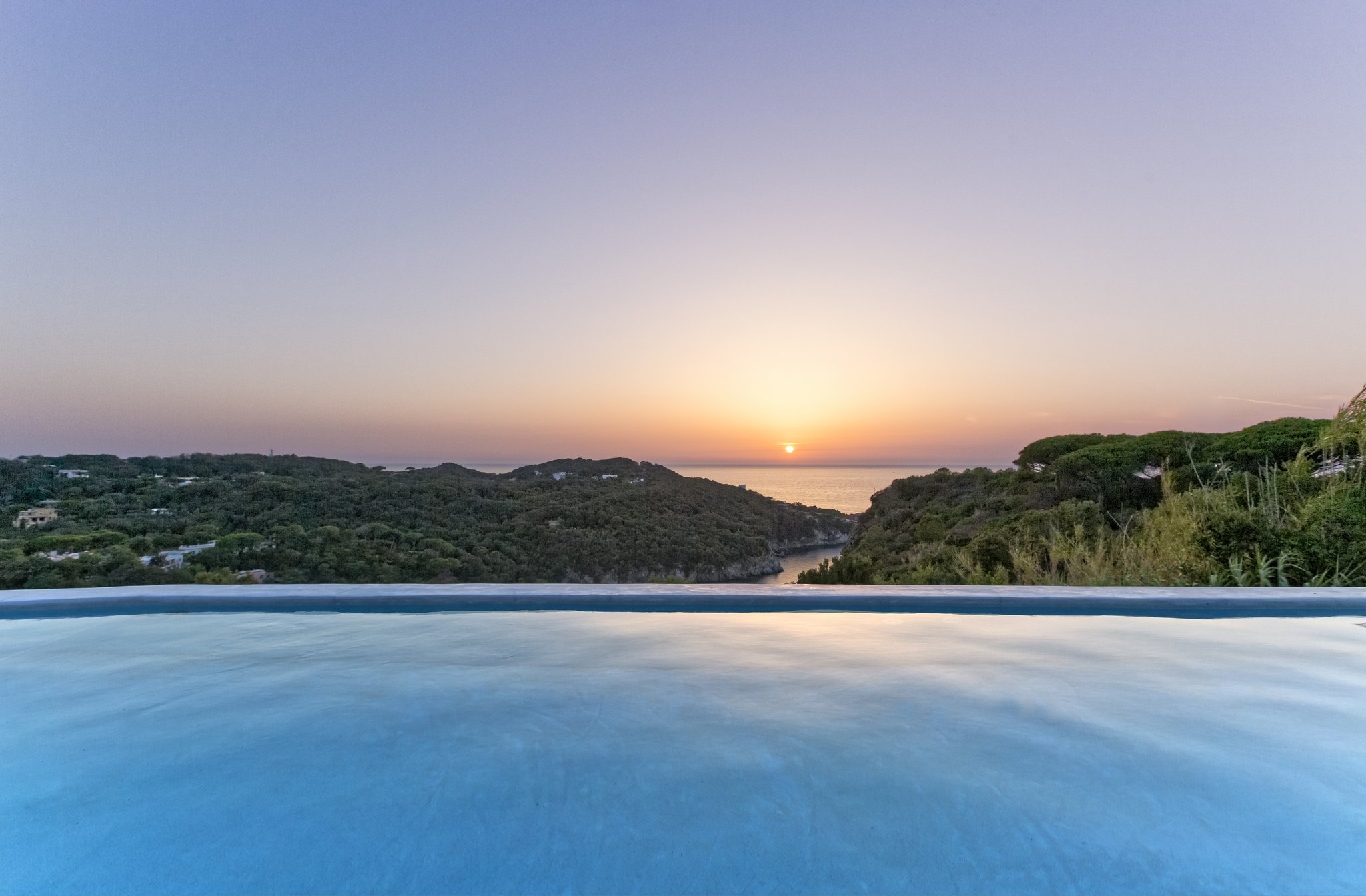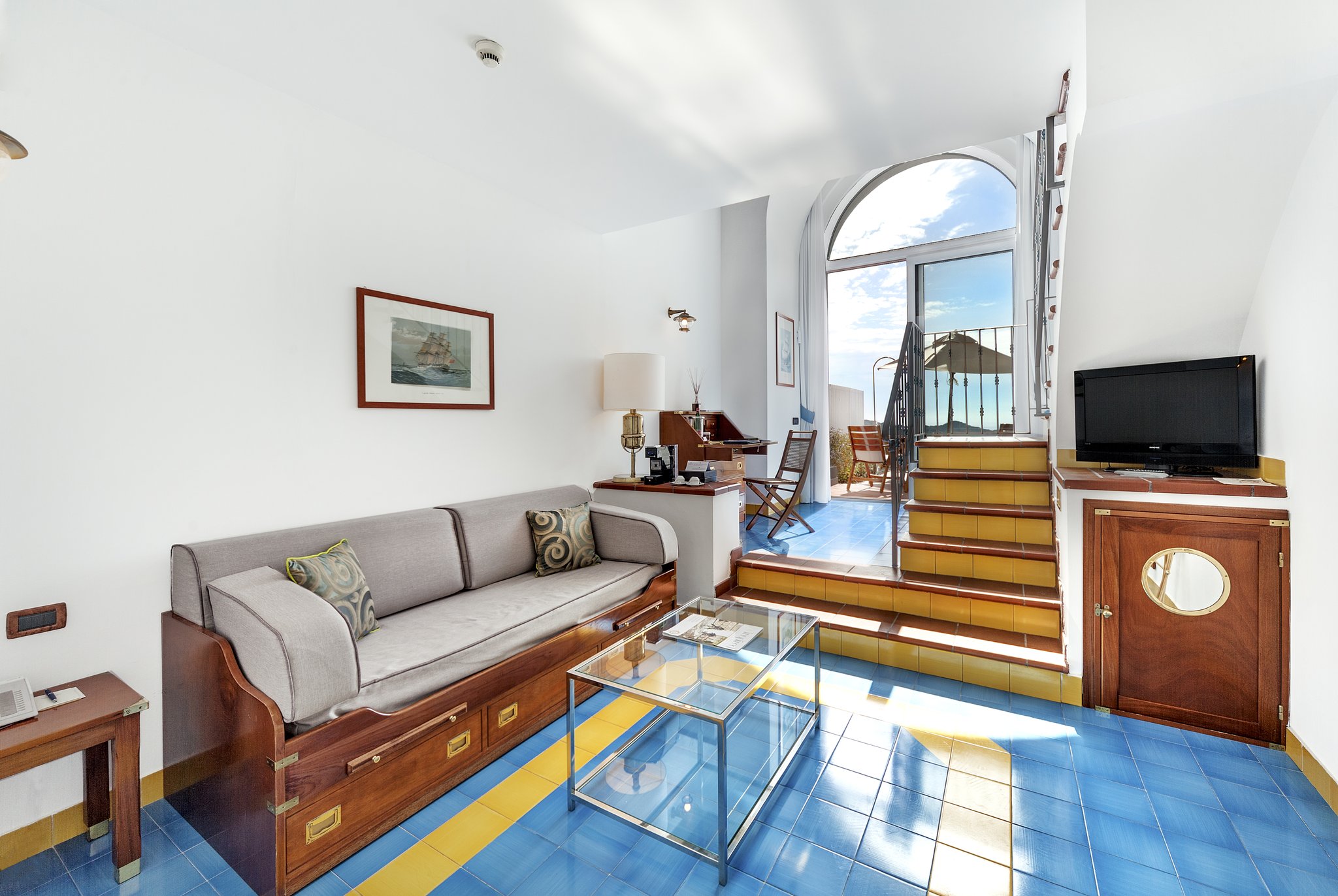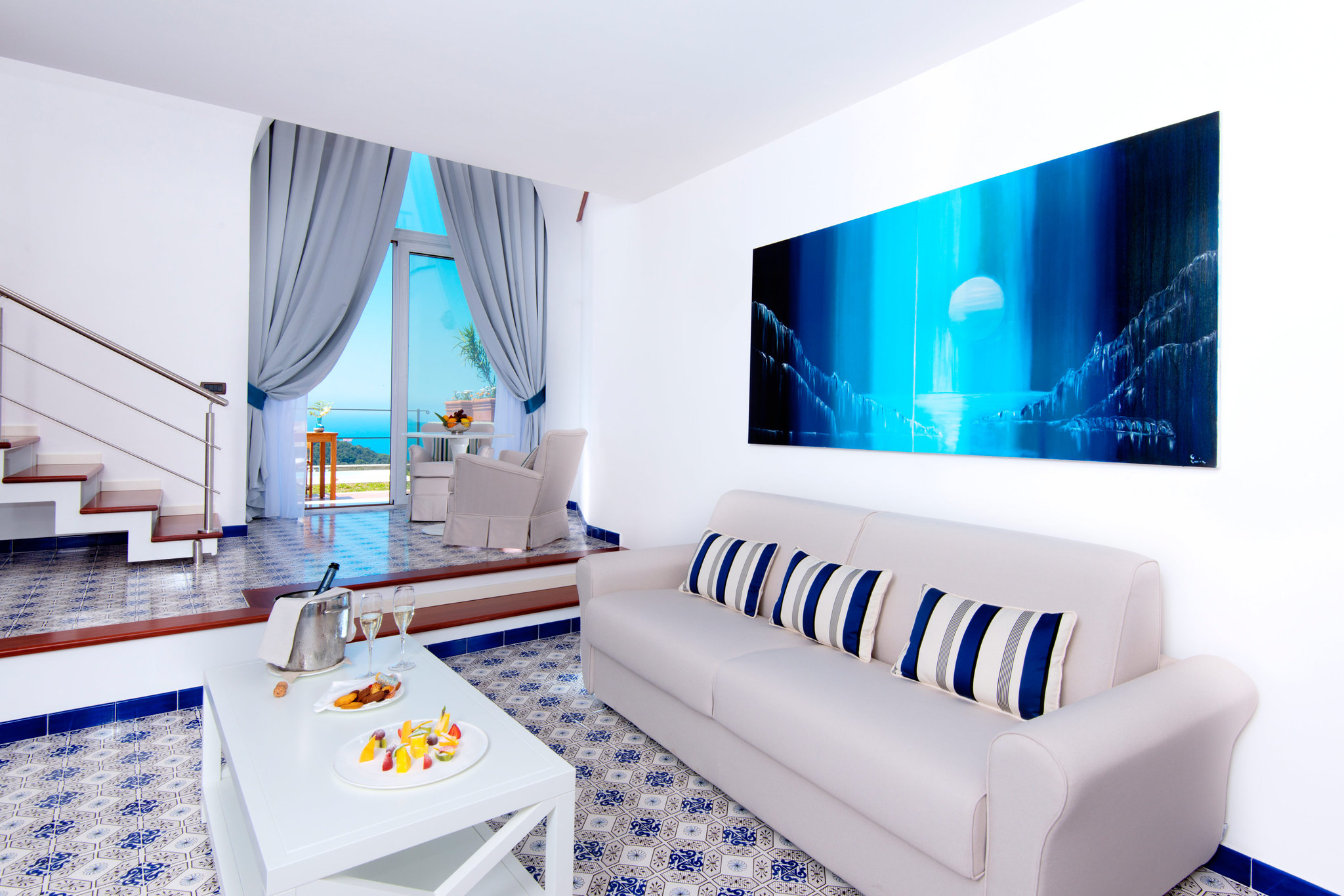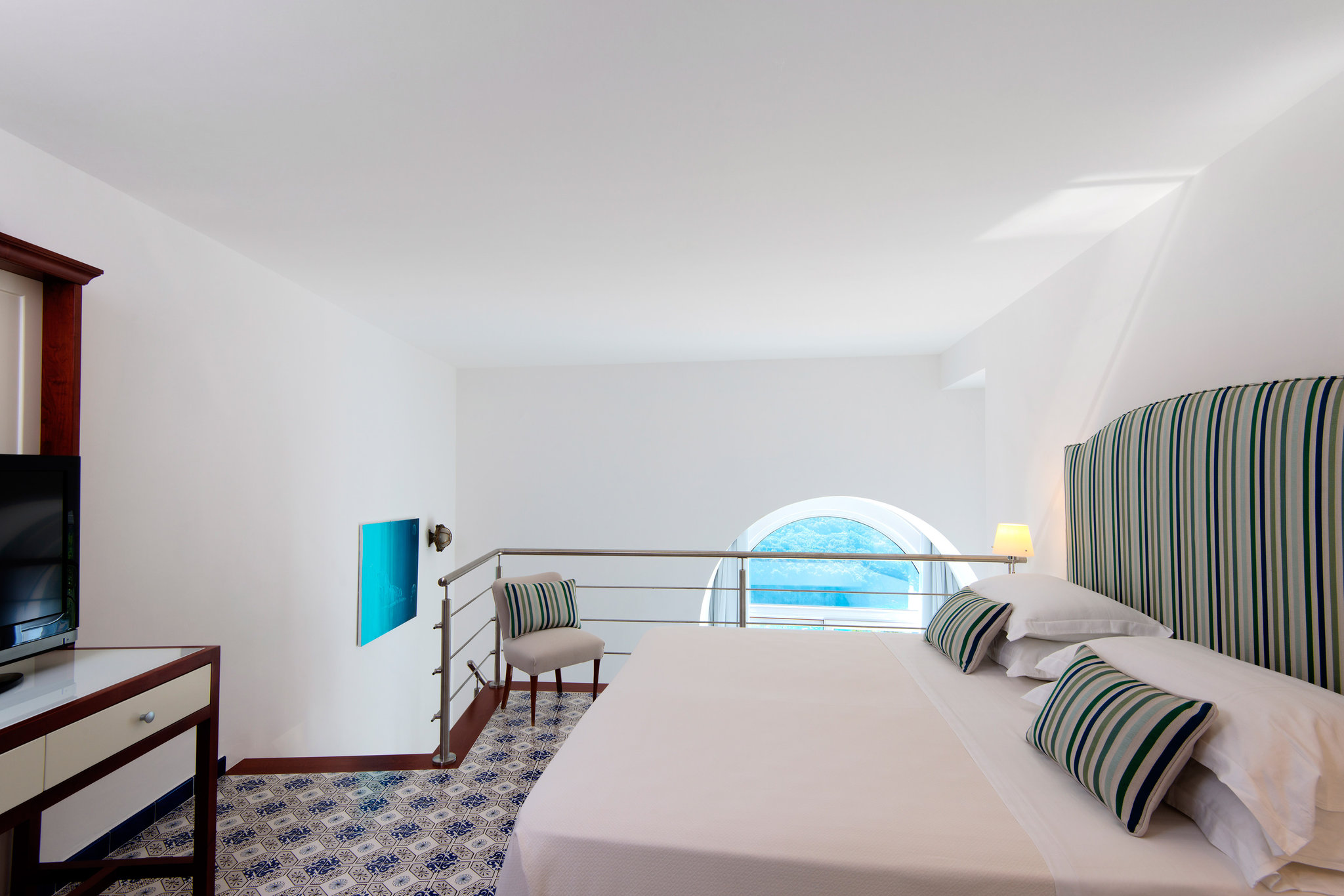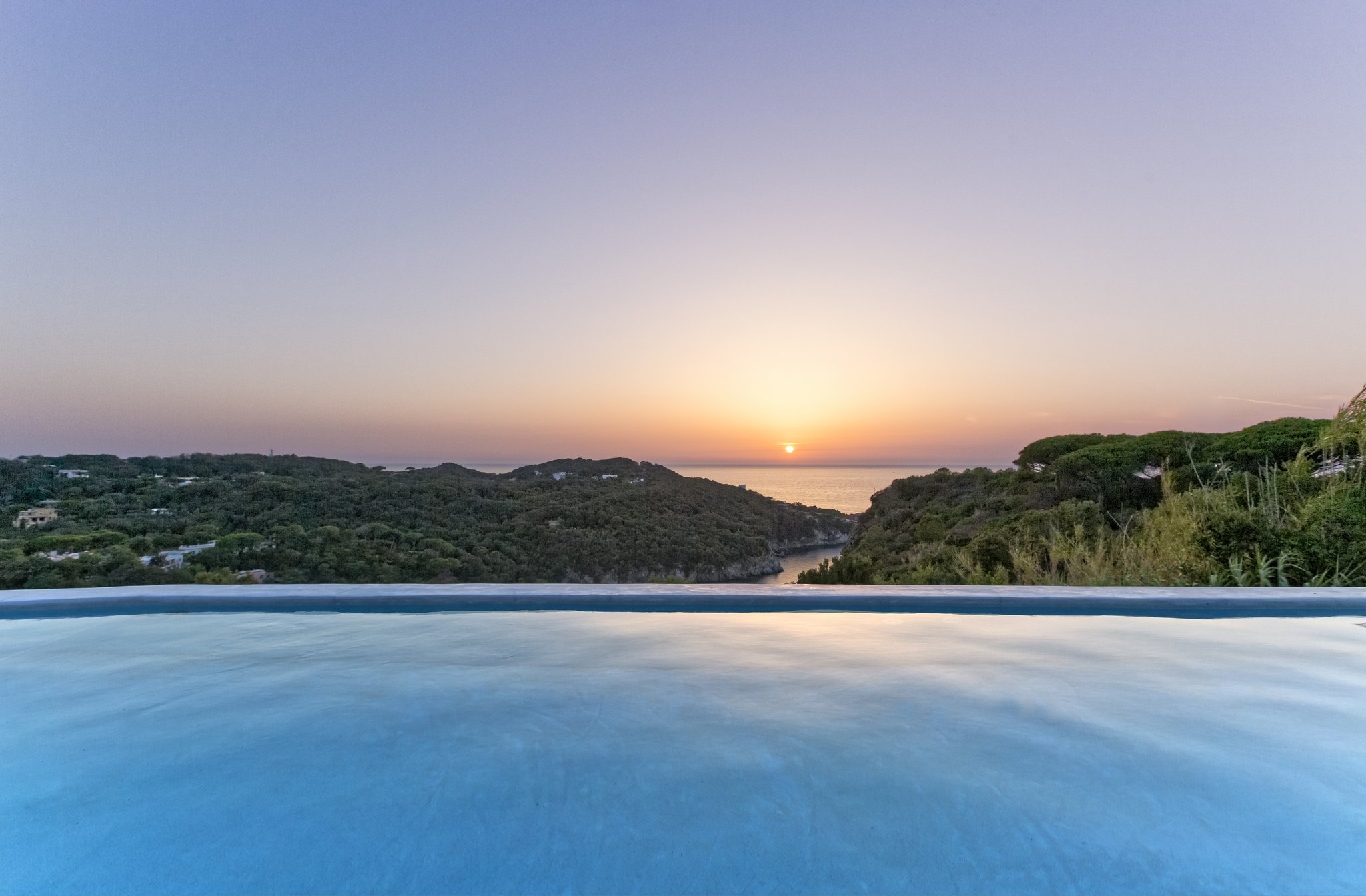 Infinity Pool Suite
Sleeps: 4 People.
Suite San Montano Bay queen bed, living room, sea view, 52 sqm, Bilevel.
From per night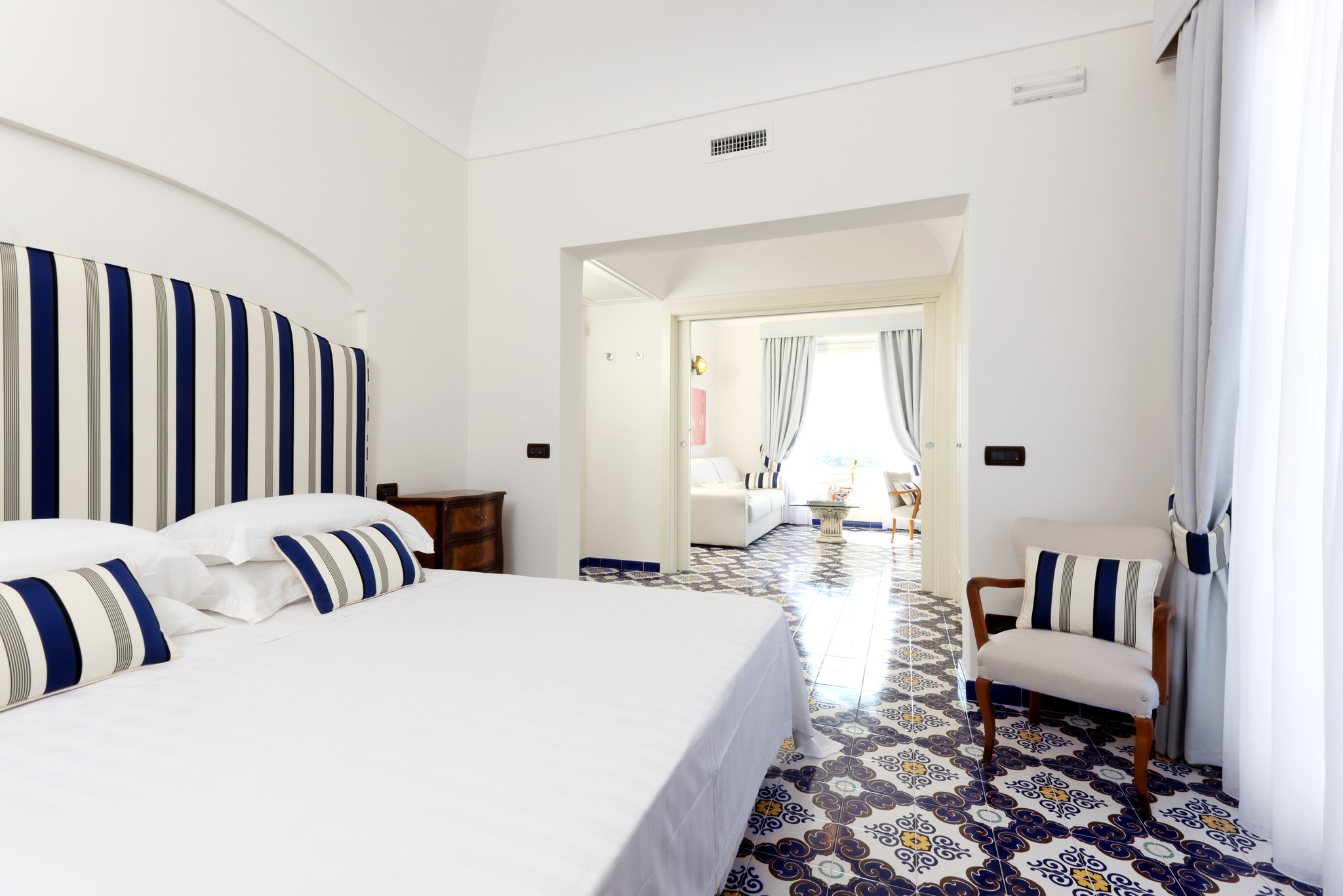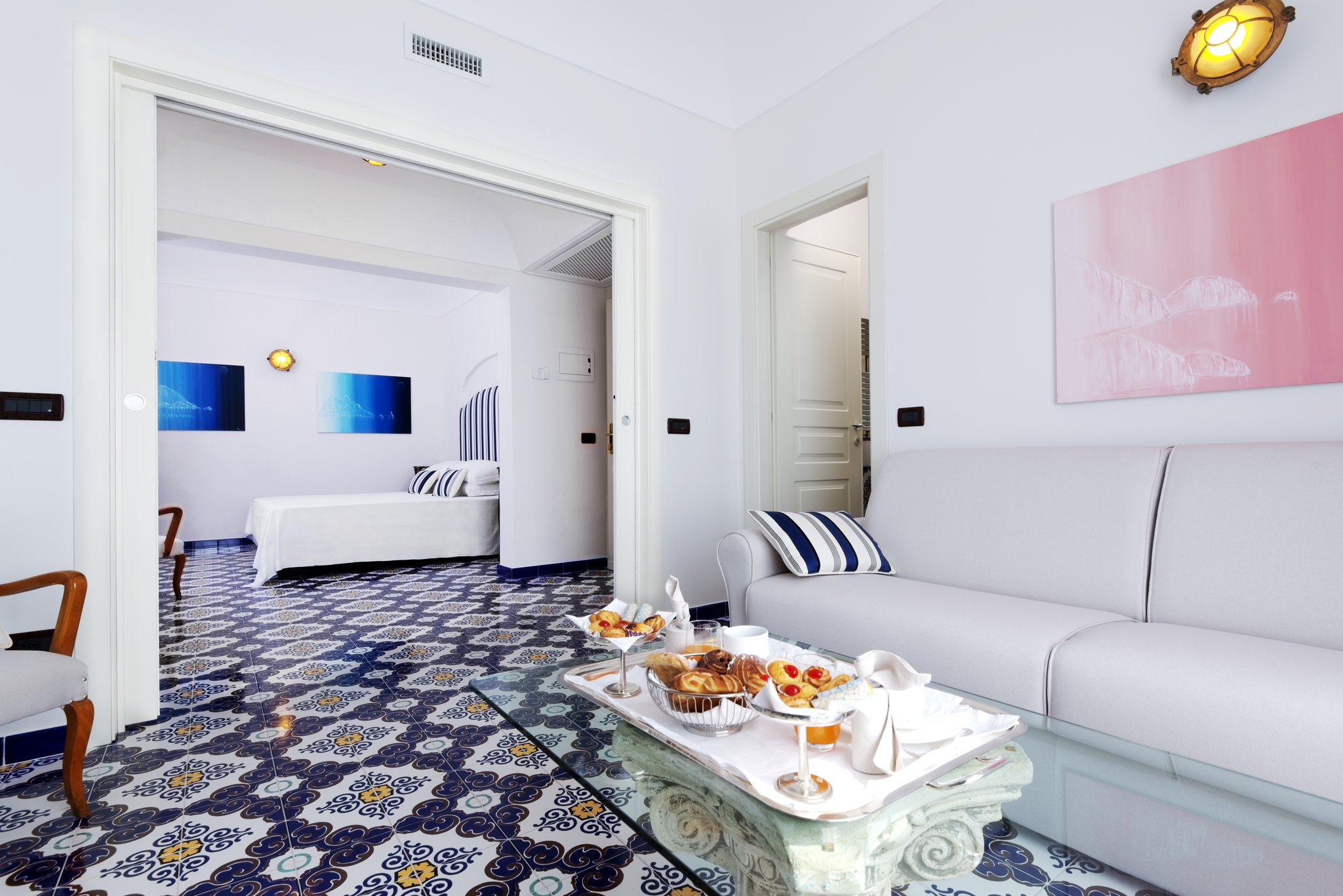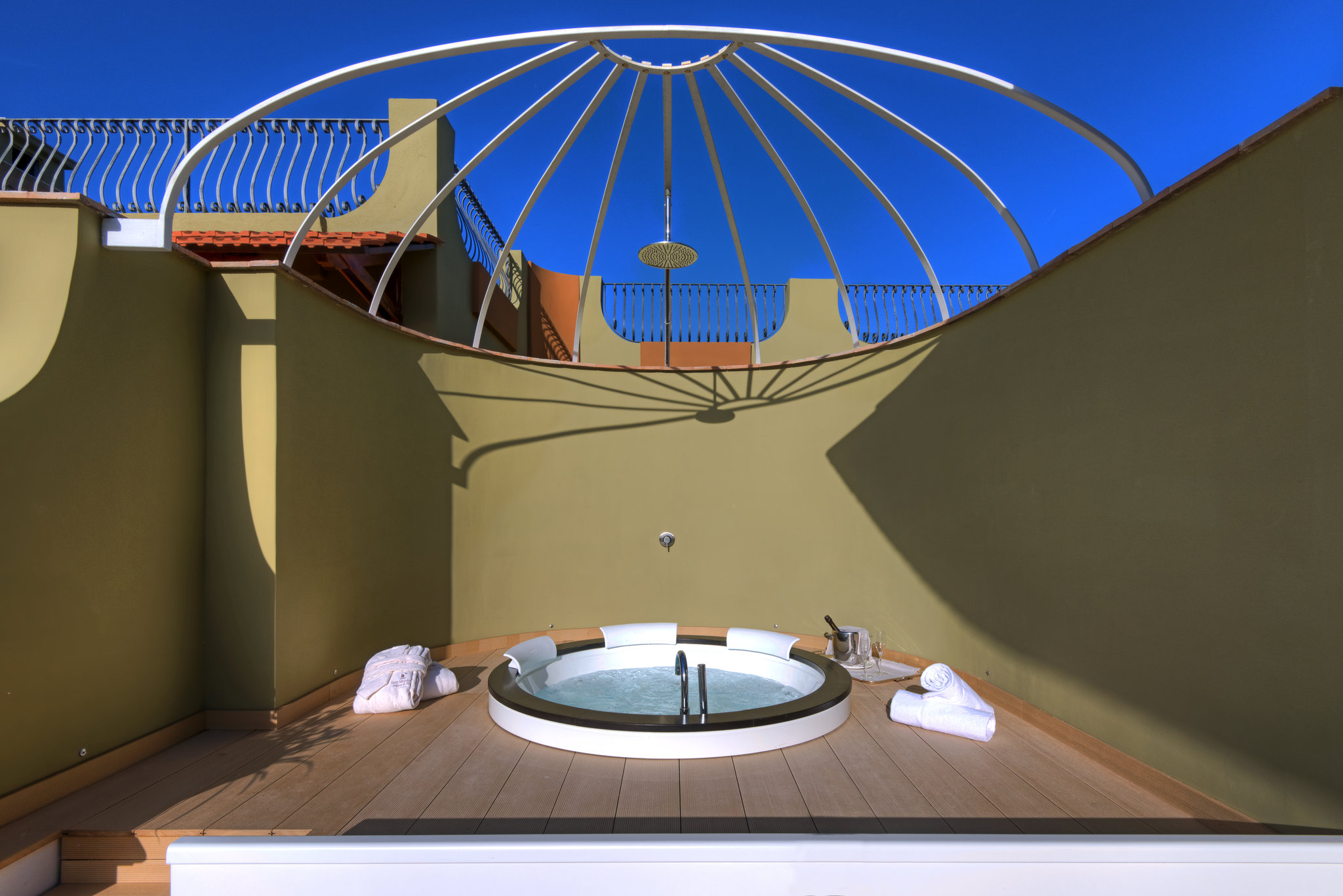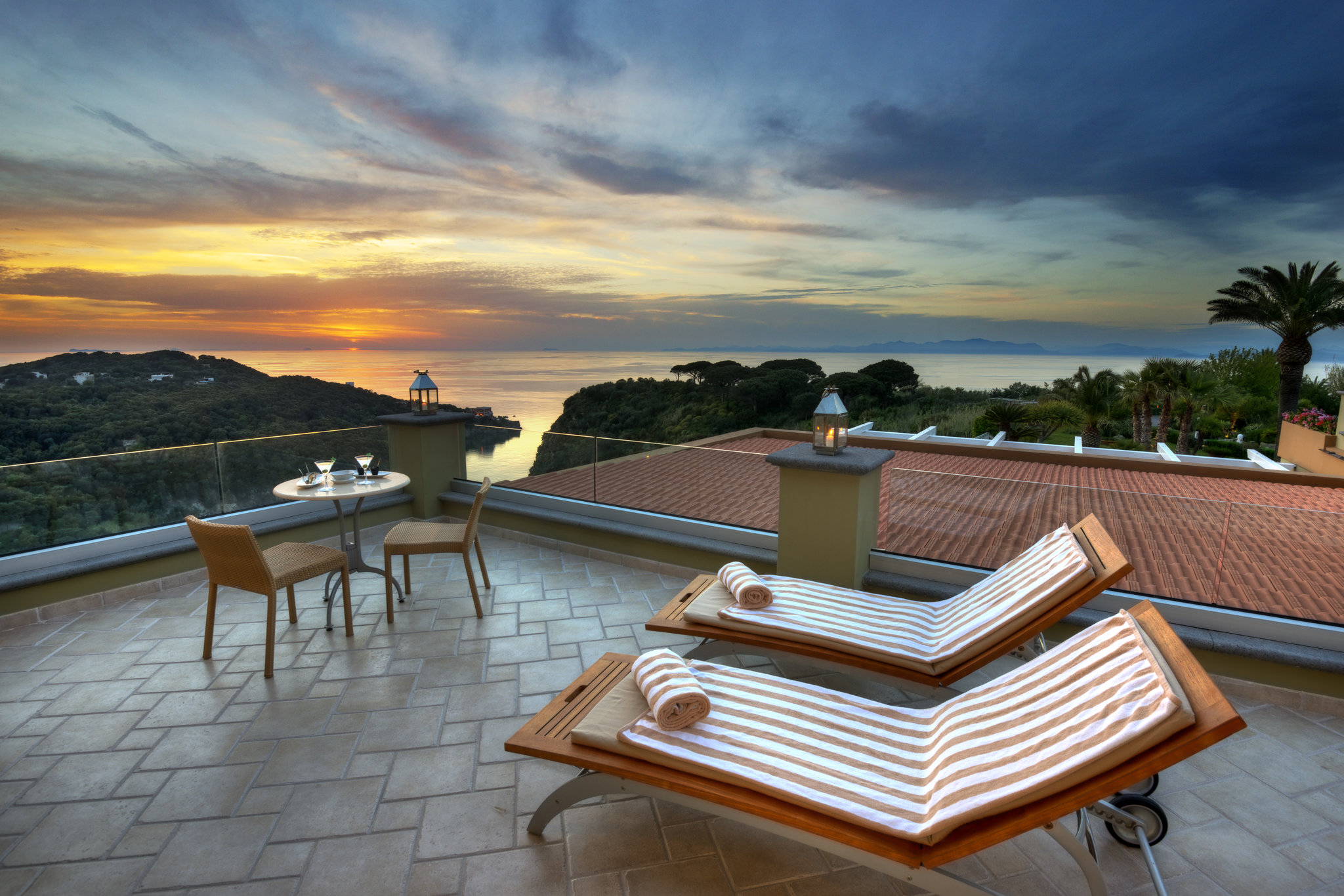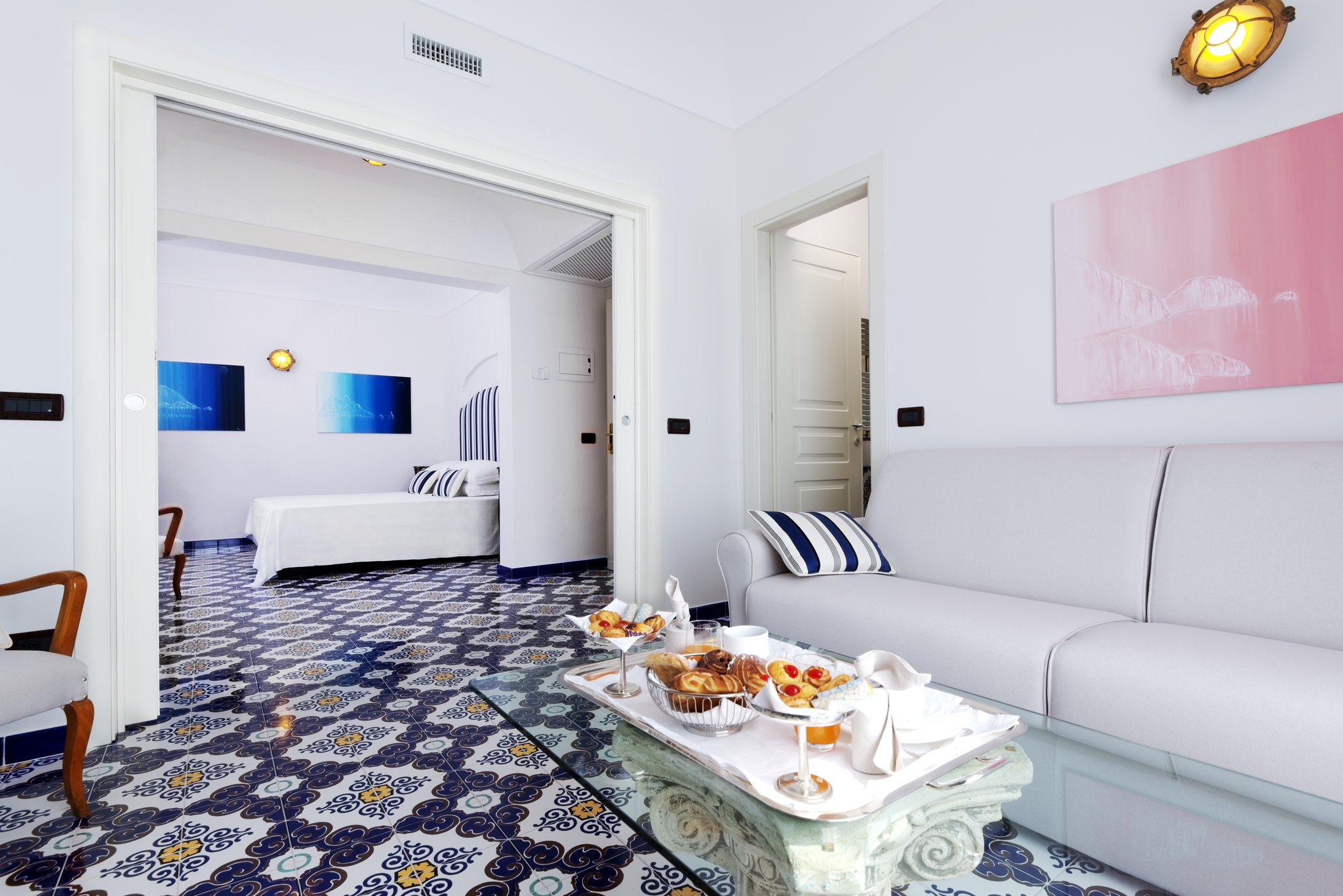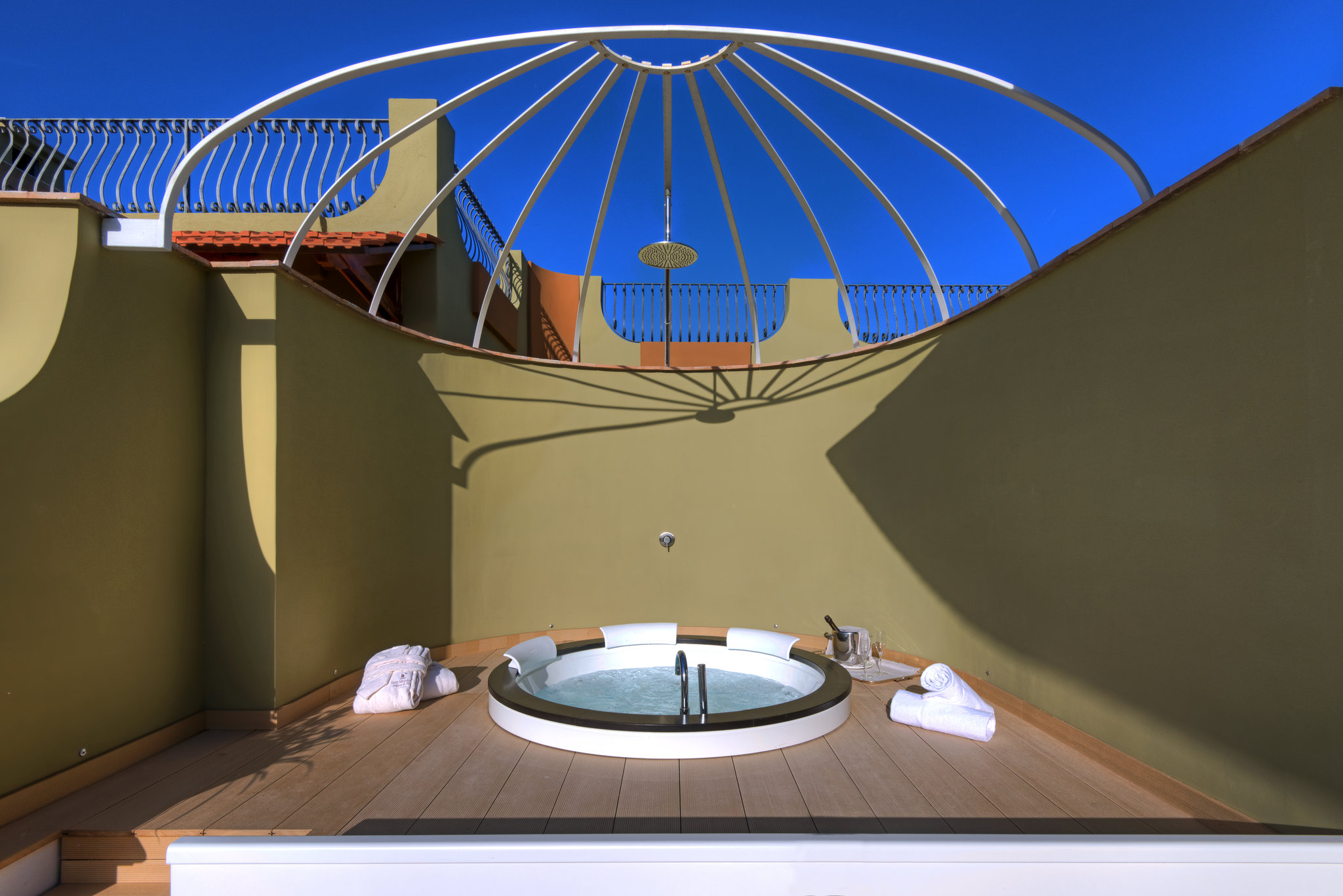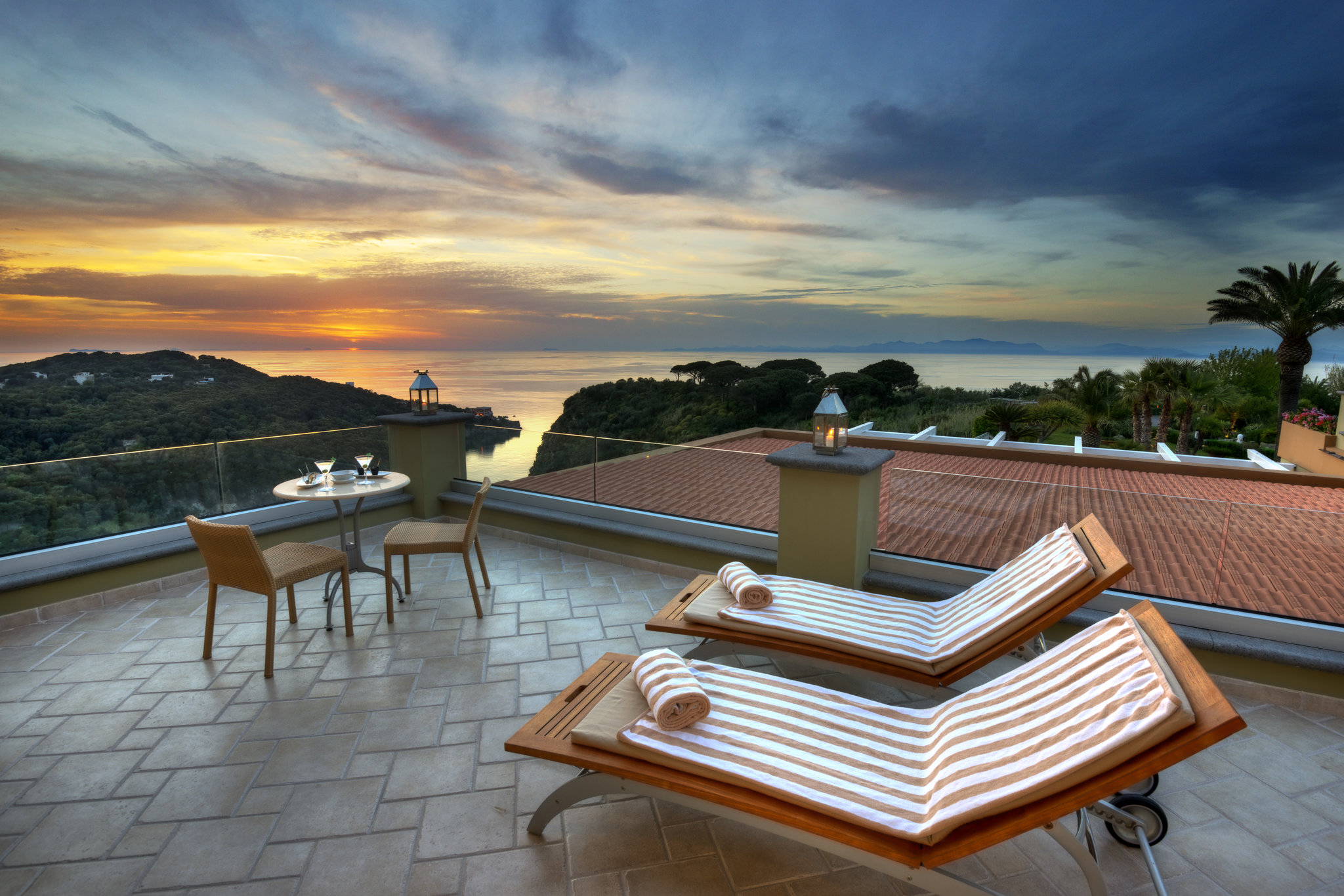 Executive Suite
Sleeps: 3 People.
Executive Suite, 55 sqm, garden view, King bed, living room, free WiFi. Well-lit, cosy living area, 46 inch 3D.The suites face the inner private garden. Air conditioning.
From per night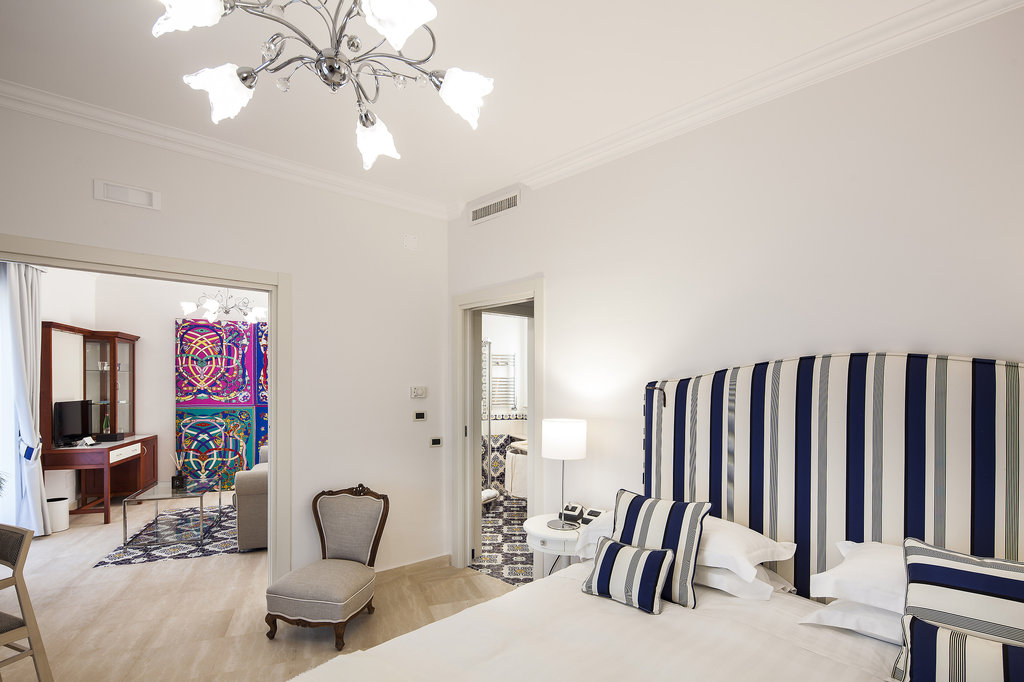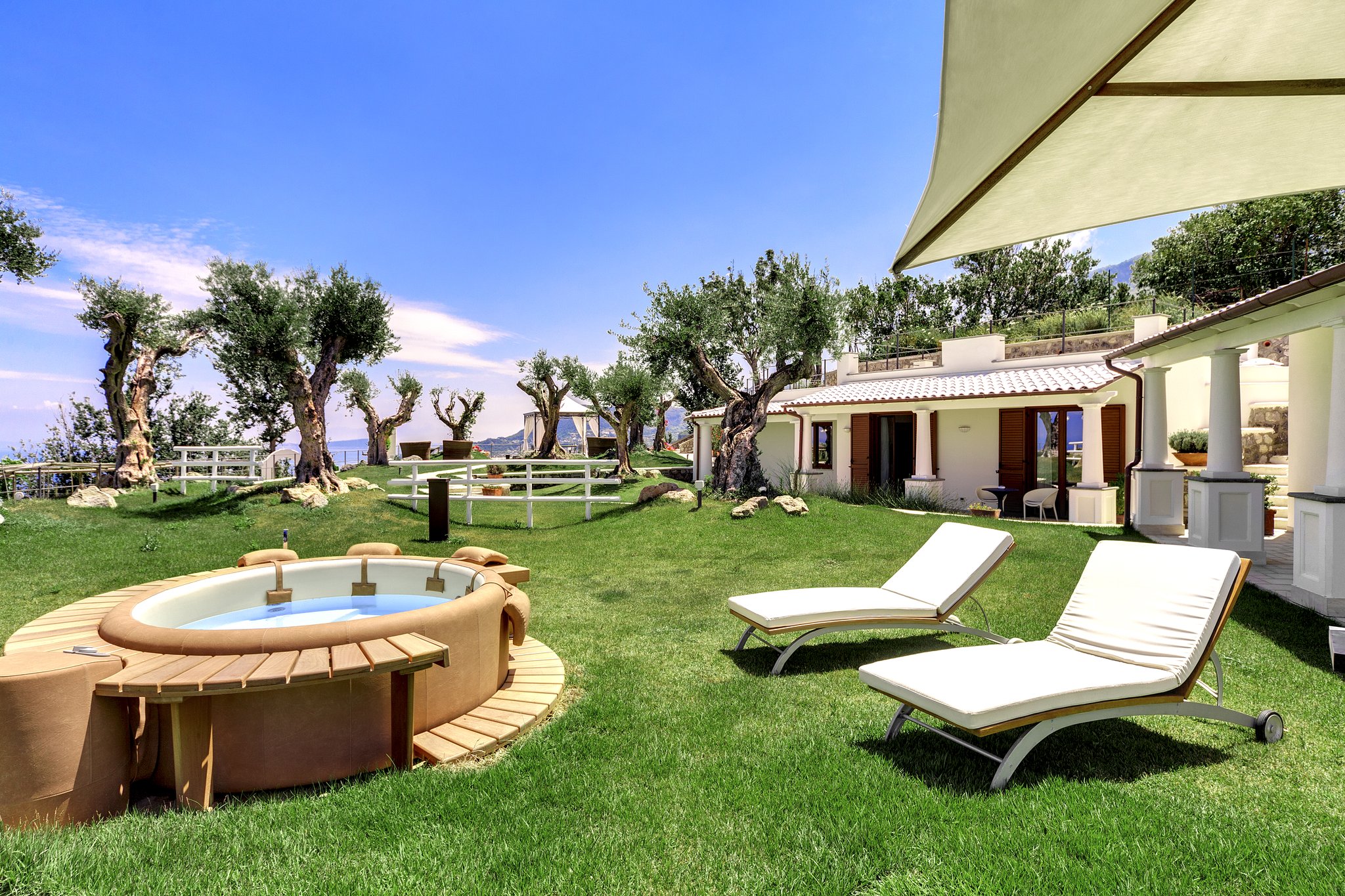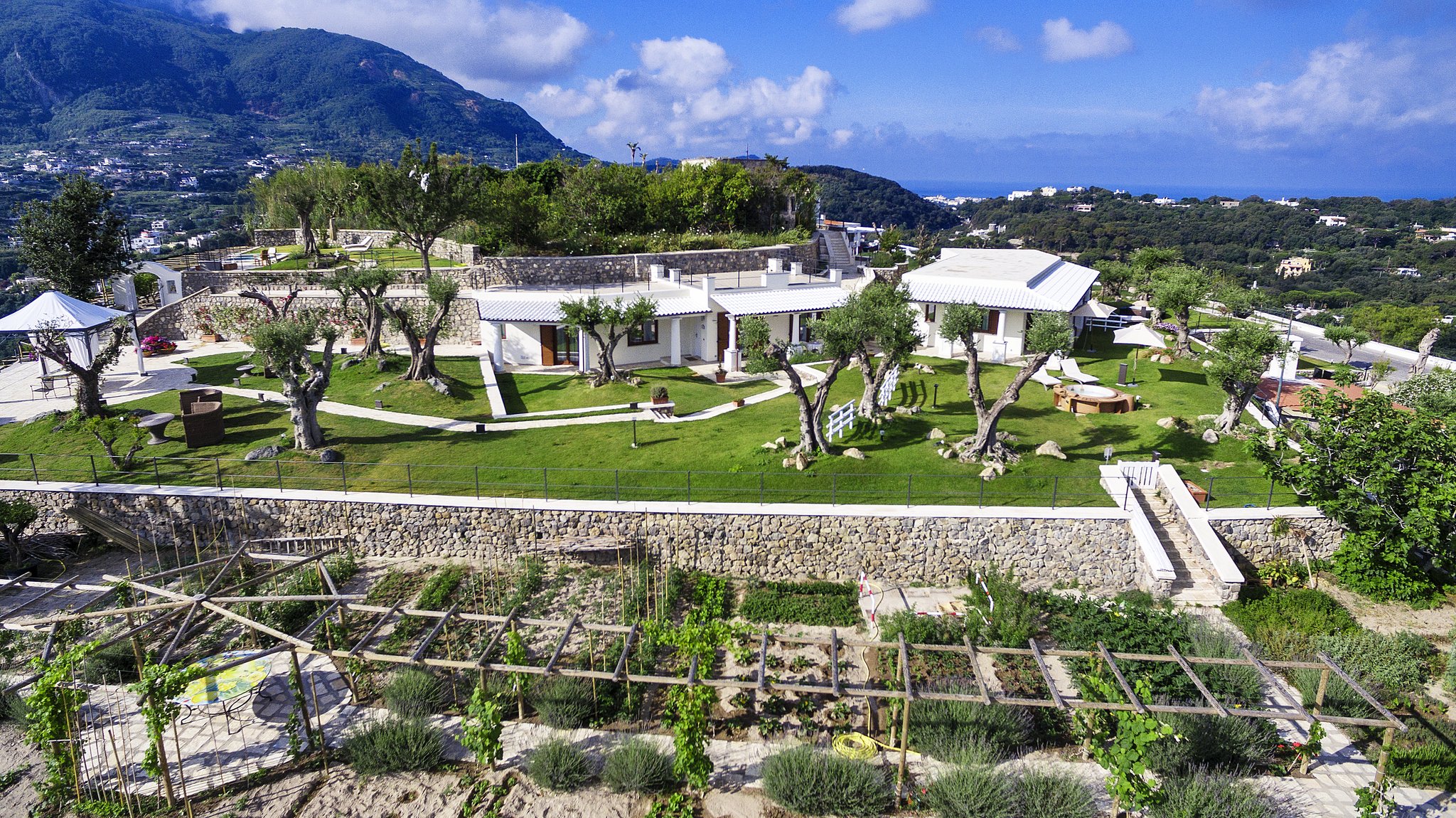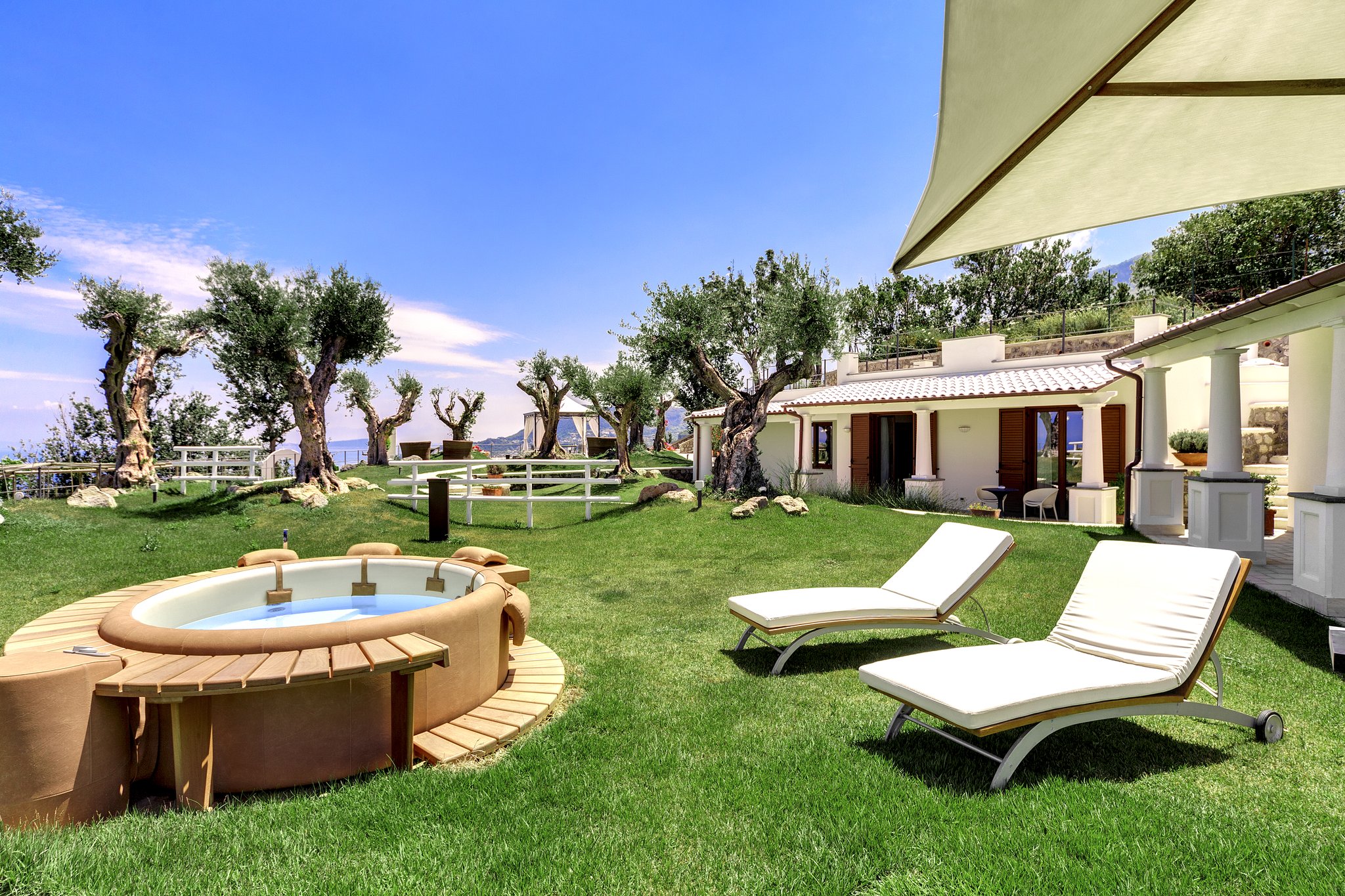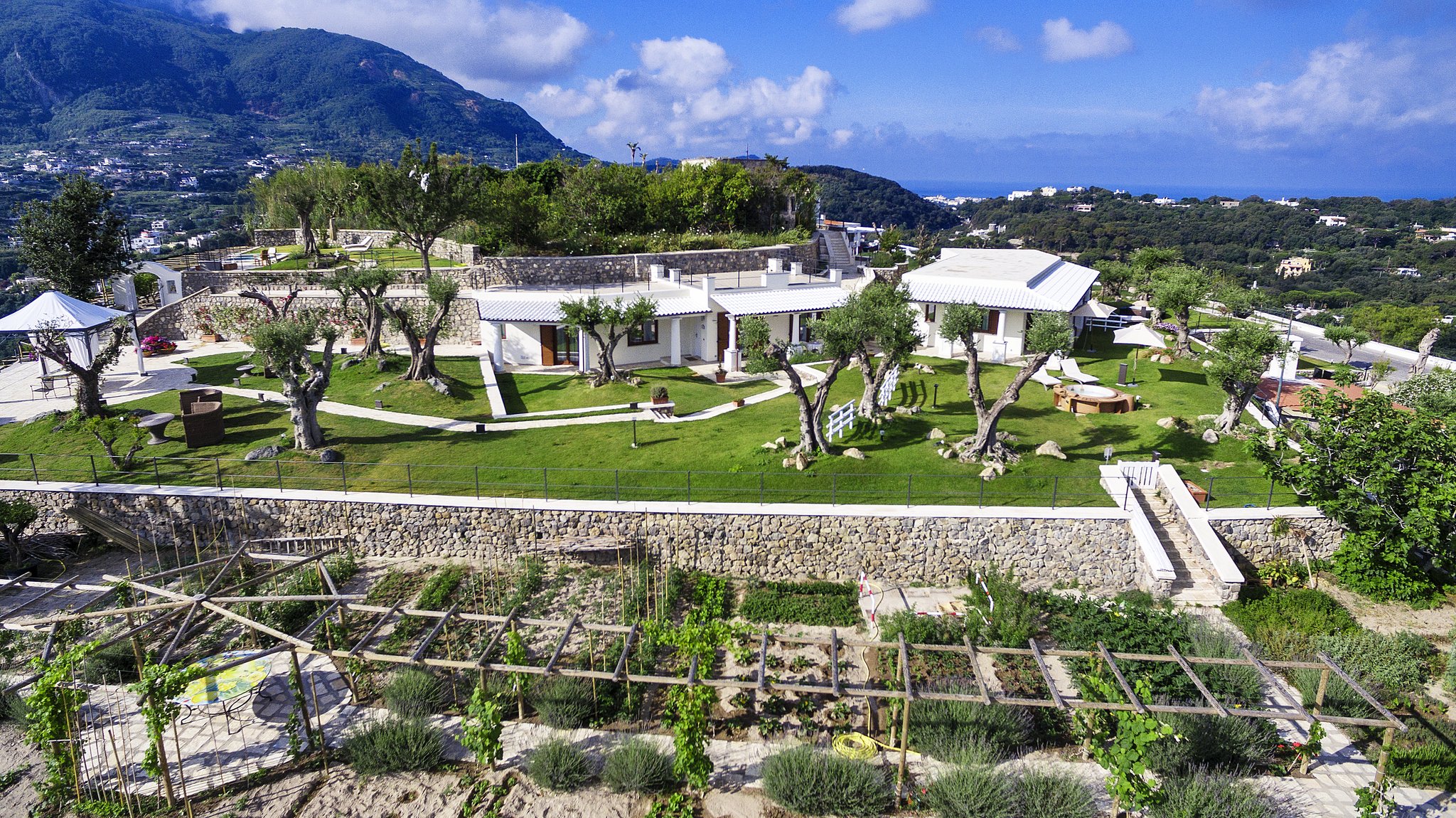 Olea Suite
Sleeps: 3 People.
The OLEA suite has double bedroom, 1 Living area with Sofa Bed and 1 Bathrooms with shower.

The exterior is surrounded by white Trani stone that blends with the classic Ischia rocky stone, characterized by a large garden with english lawn, sunbeds and umbrellas surrounded by Orange, Lemon and Olive trees.
From per night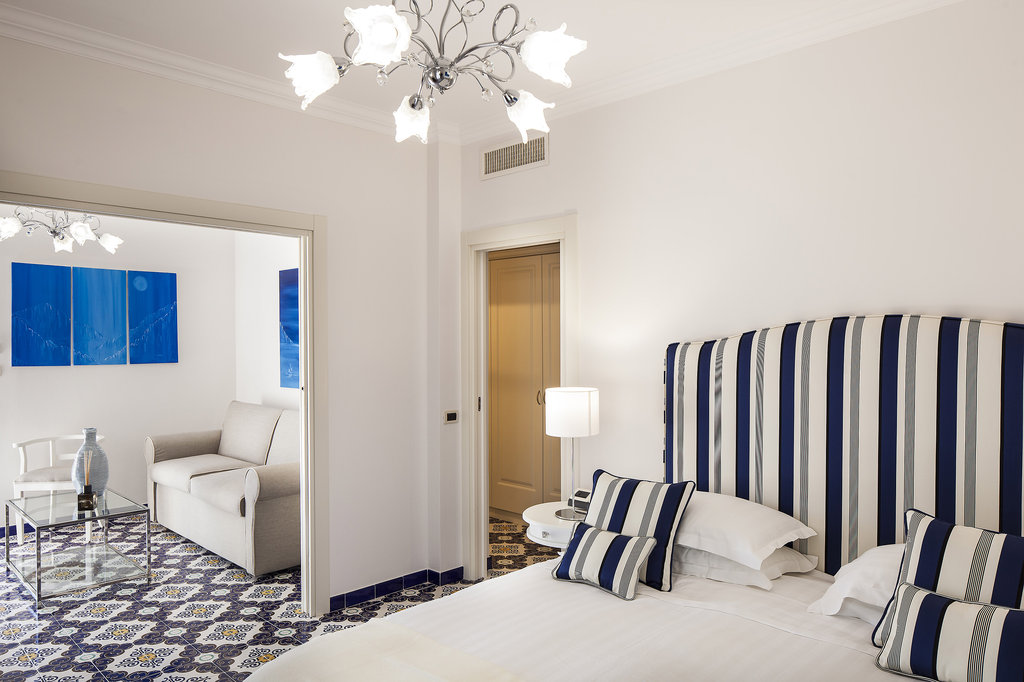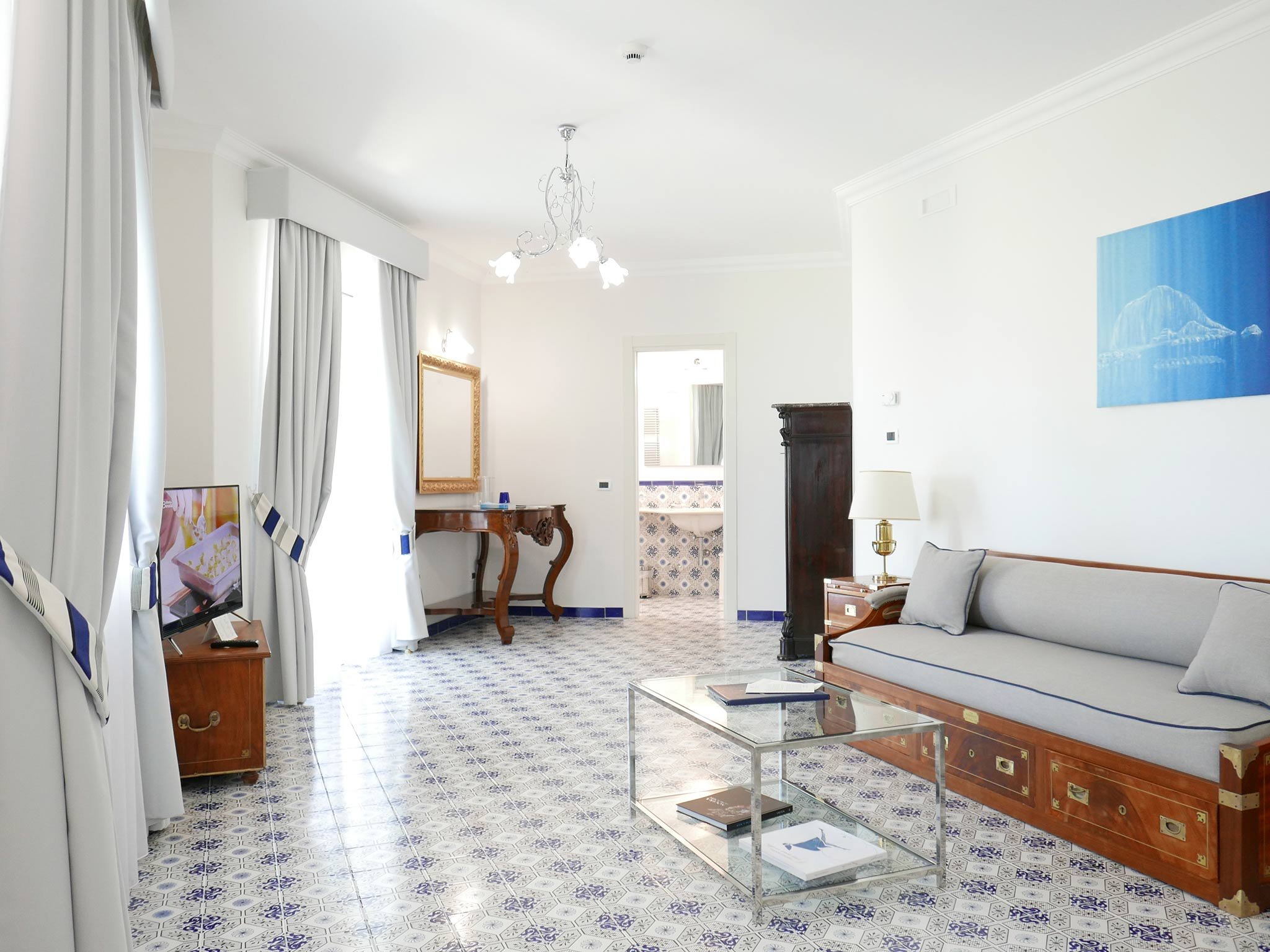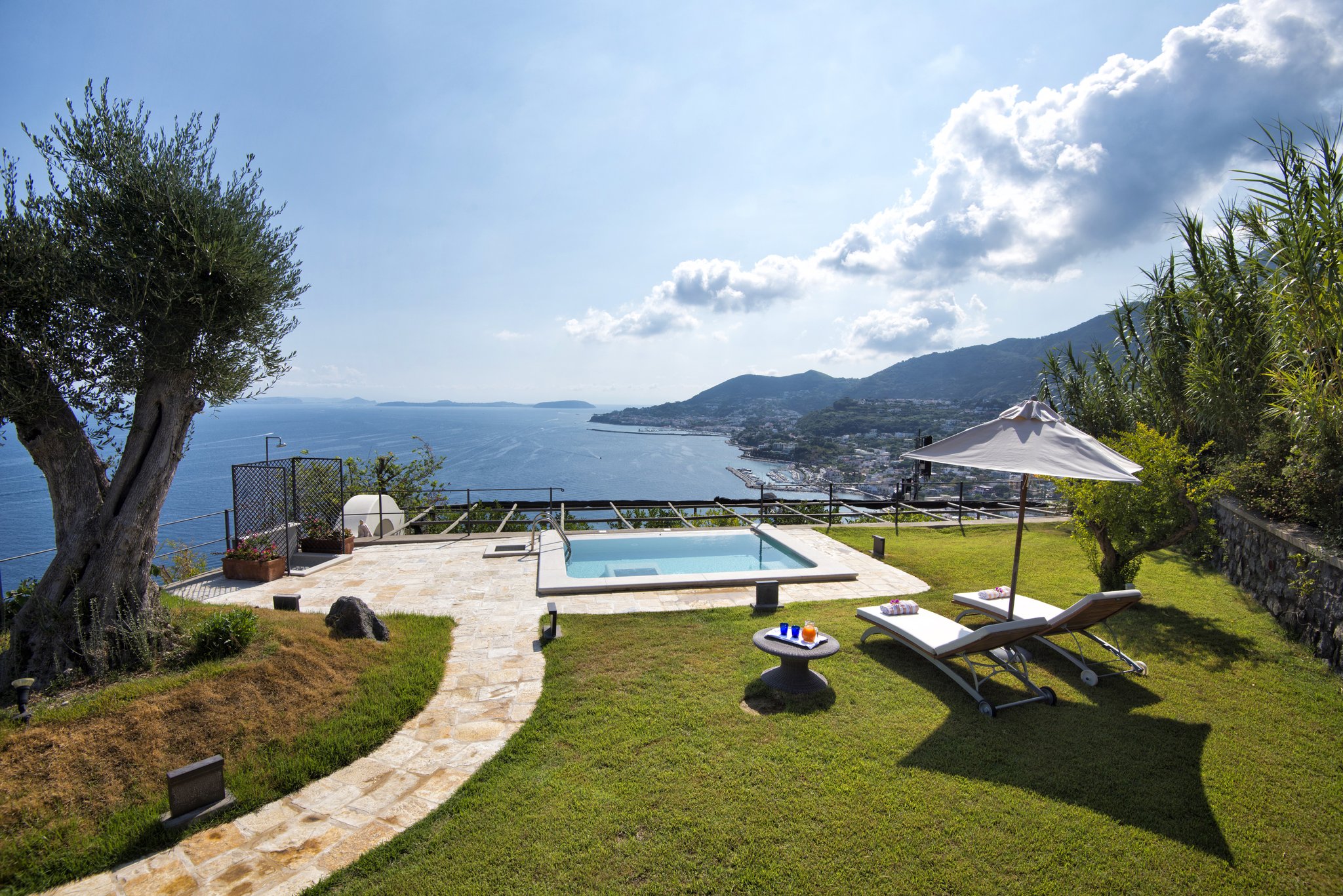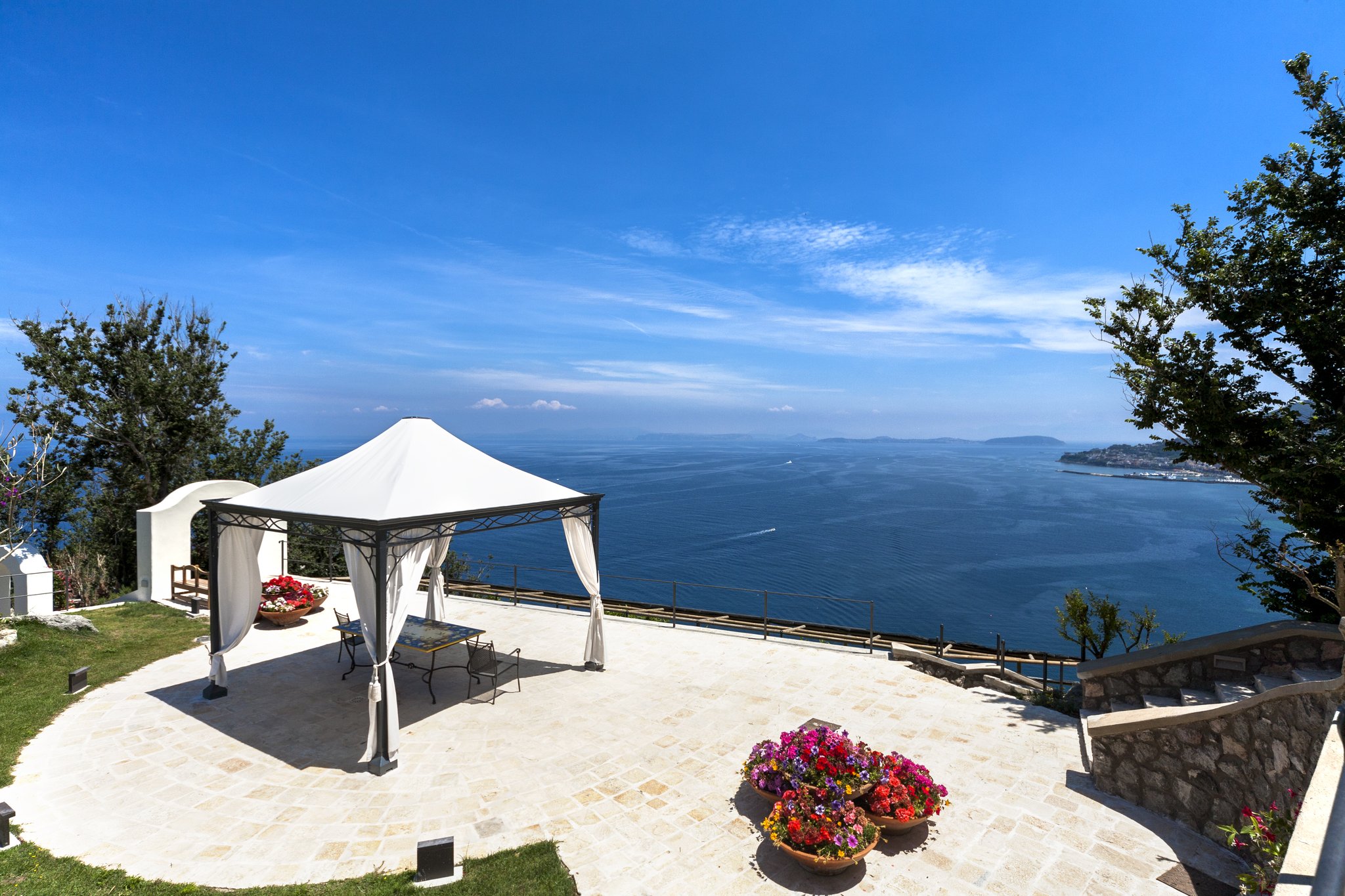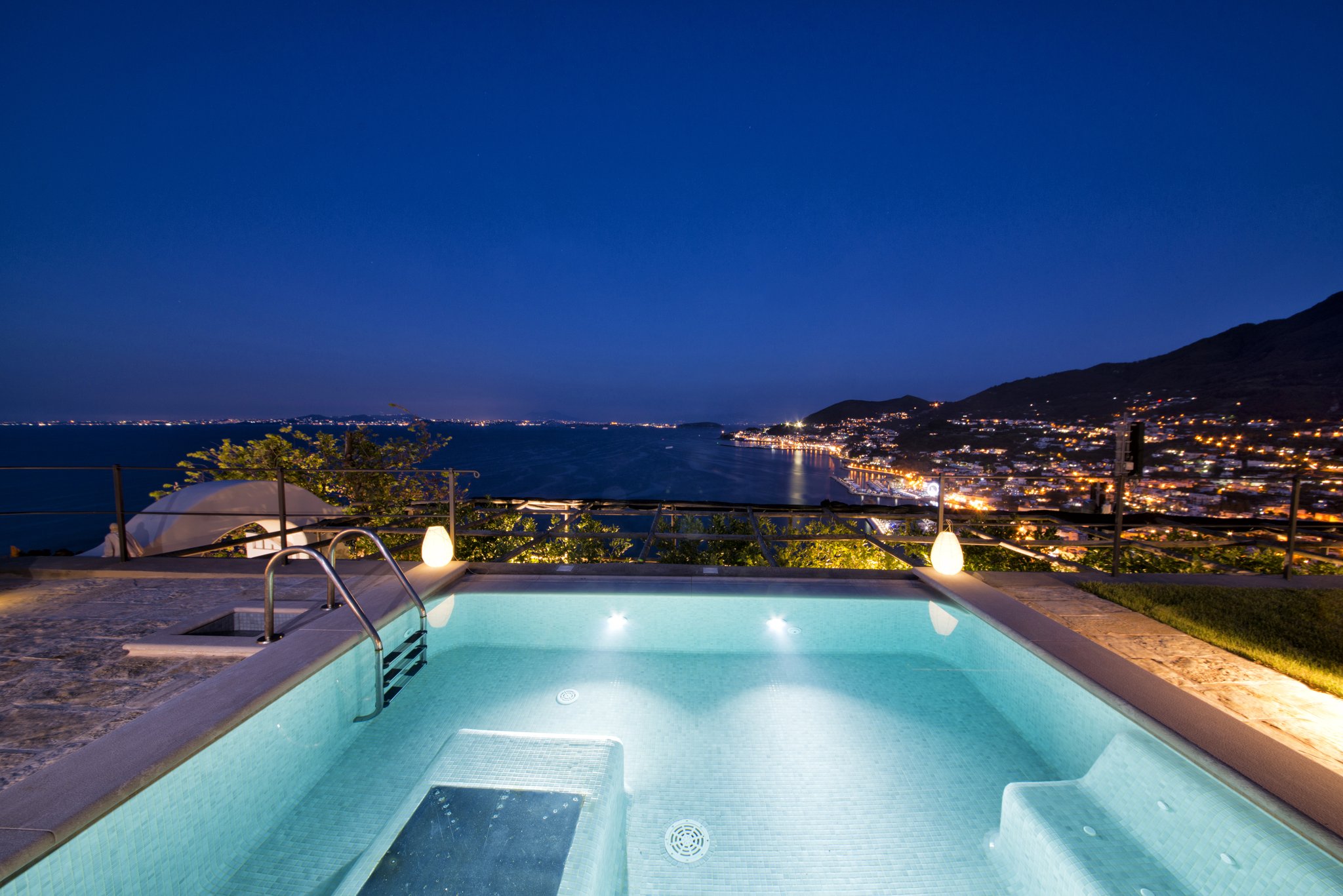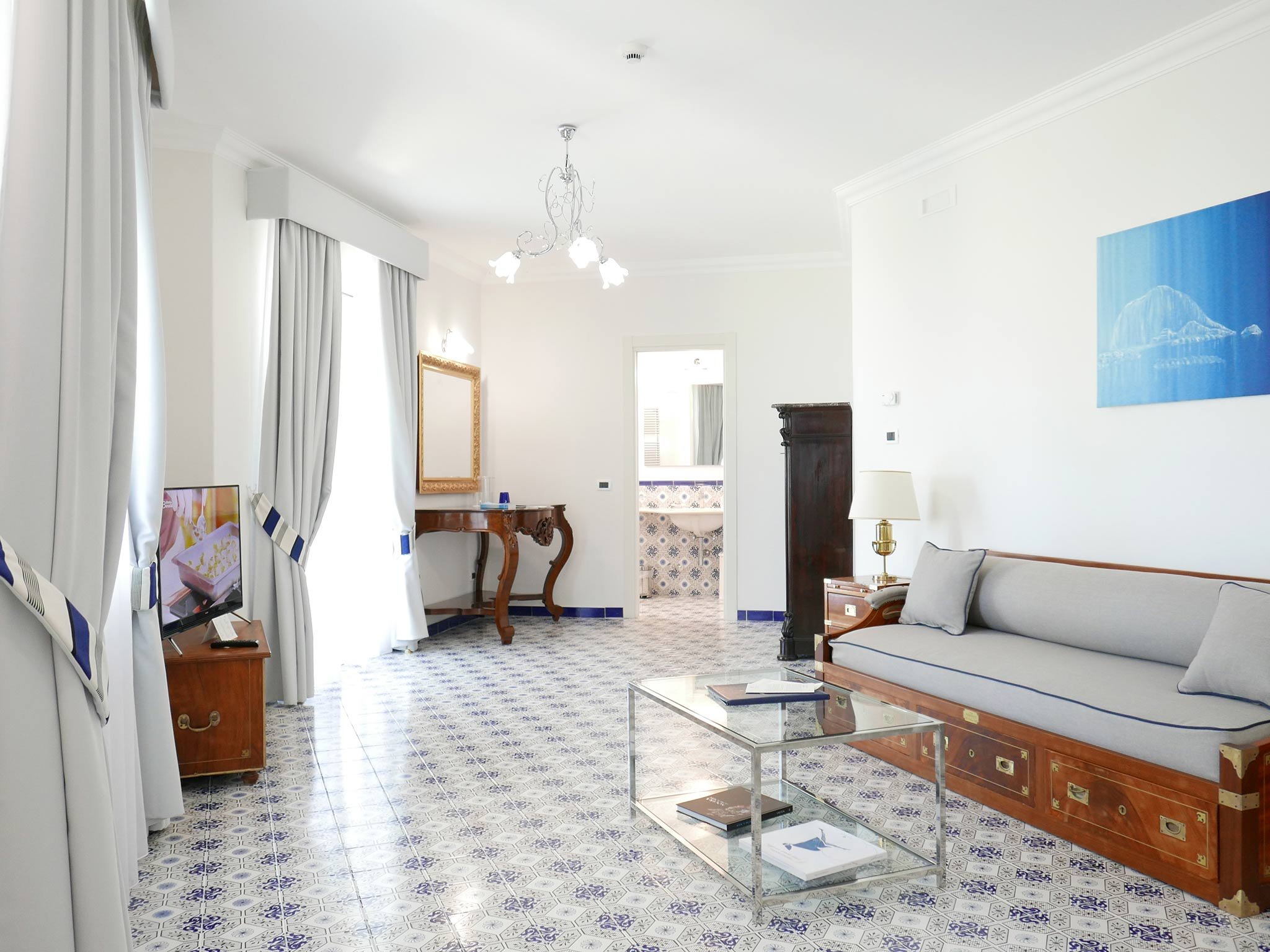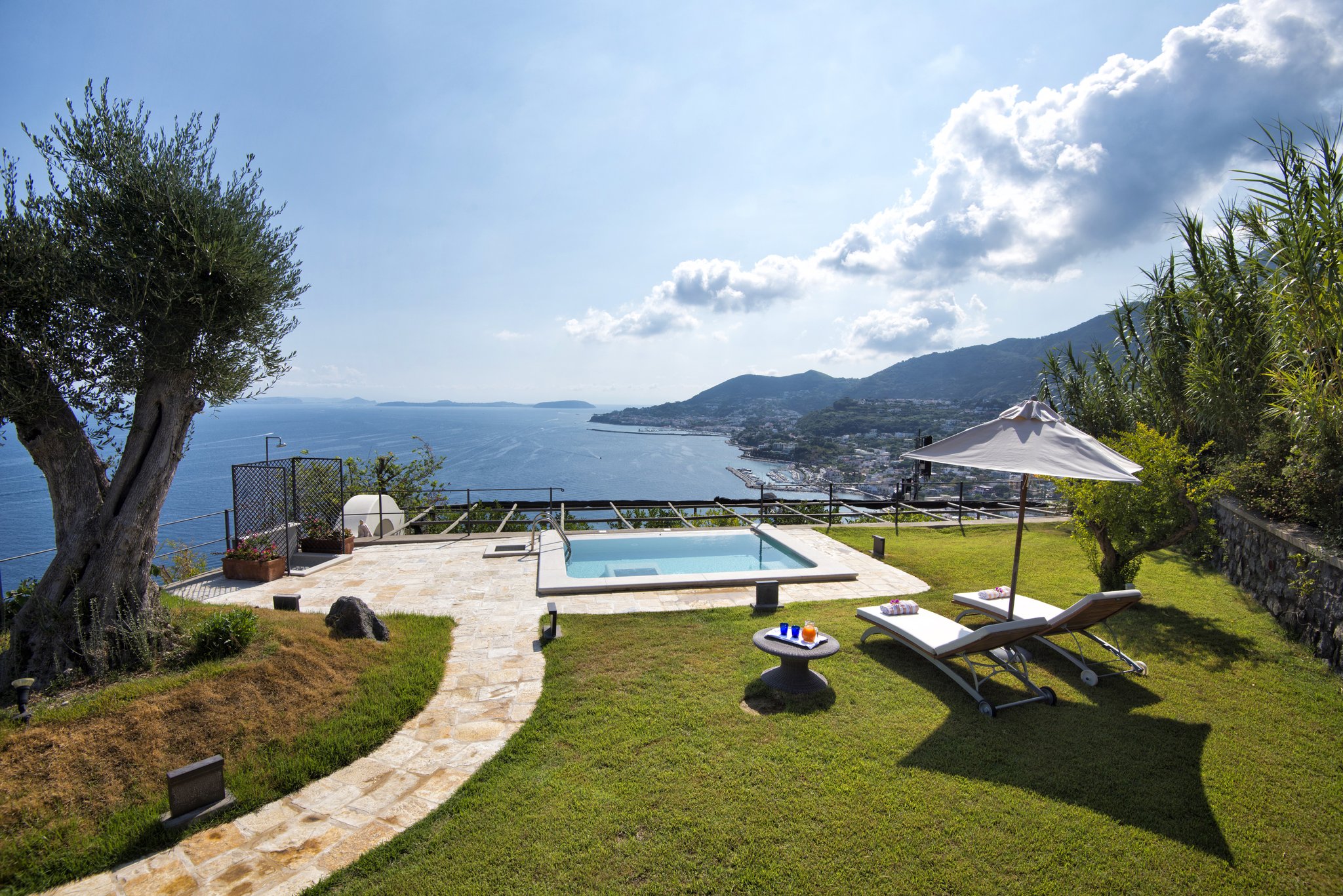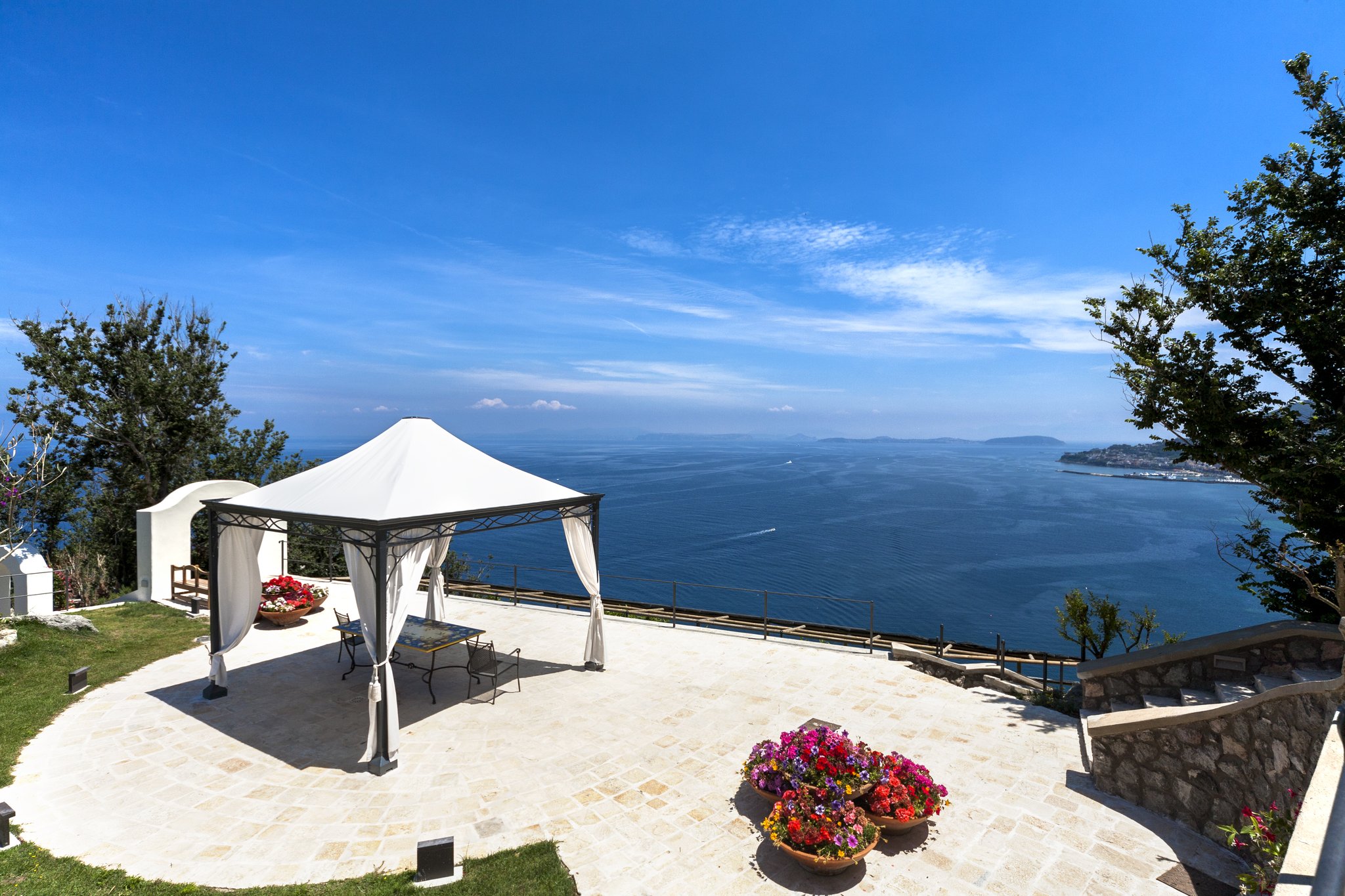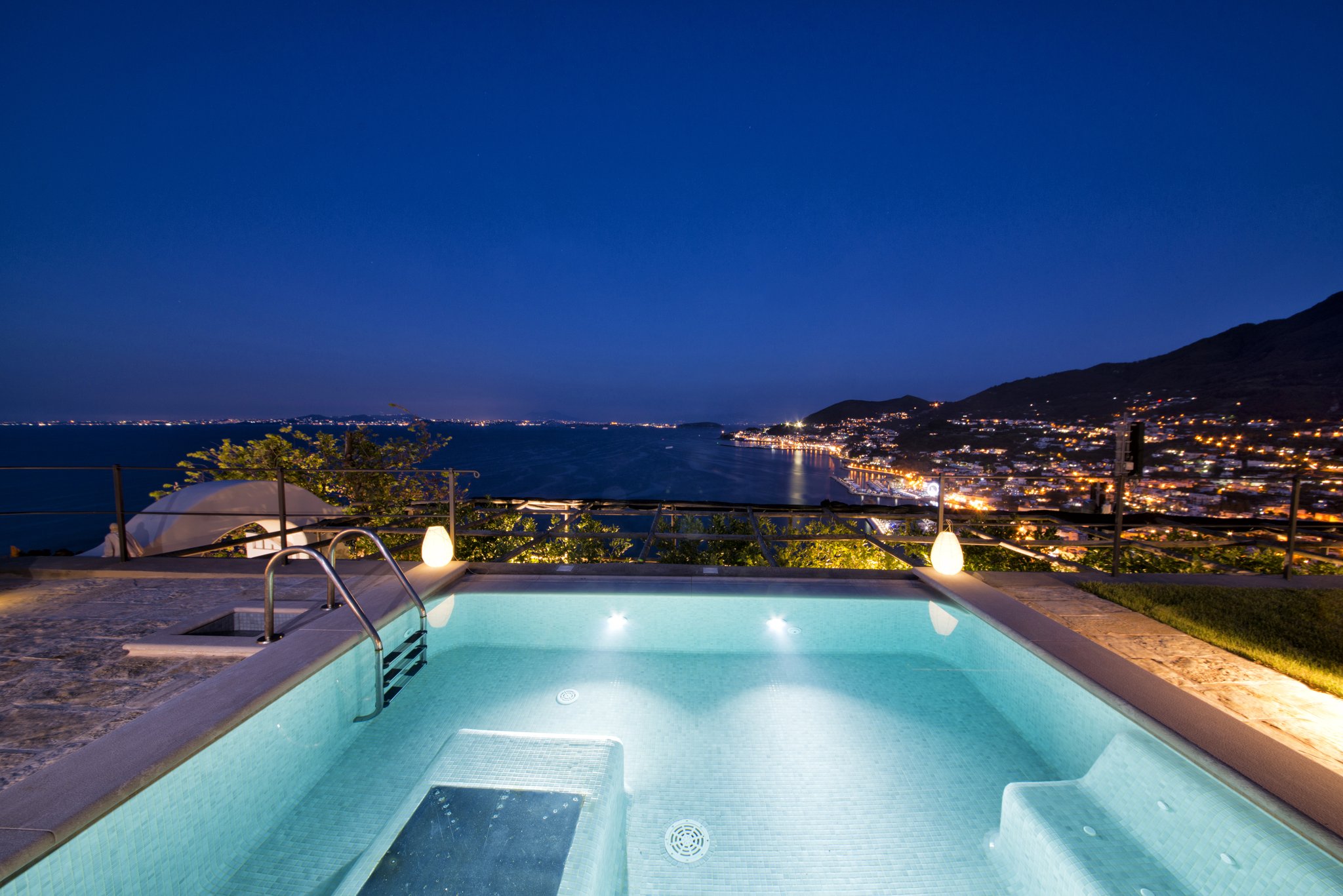 Zagara Suite
Sleeps: 2 People.
The Zagara Suite has 1 Double Room, Living area, bathroom with waterfall shower and walk in closet. The exterior area has a large garden with English lawn, sunbeds and umbrellas

surrounded by Orange, Lemon and Olive trees, as well as a private area with Jacuzzi overlooking the stunning bay and harbor views, size is 80 square meters.
From per night
Air conditioning
Sauna
Exercise gym
Parking
Join INVITED and get 10% off exclusive rates. Plus early check-in and late check-outs among other benefits.
24-hour front desk

Accessible facilities

Aerobics instruction

Air conditioning

Analog data port

Audio visual equipment

Bell staff/porter

Buffet breakfast

Business Center Services

Children welcome

Computer

Computer rental

Concierge desk

Currency exchange

Doctor on call

Elevators

Executive floor

Exercise gym

Fax service

Full service housekeeping

Half board/modified American plan

Health club

High speed internet connection

Housekeeping - daily

Jogging track

Massage services

Meeting rooms

Nightclub

Parking

Pets not allowed

Photocopy center

Restaurant

Safe deposit box

Secretarial service

Security

Shuttle to local attractions

Solarium

Sports trainer

Turndown service

Wakeup service

Water sports

Wi-Fi is available in the guest rooms only and is free of charge.
Air conditioning

Balcony/Lanai/Terrace

Bathrobe

Bathroom amenities

Bathroom telephone

Bathtub

Cable television

Color television

Desk

Direct dial phone number

Hairdryer

Internet access

Jacuzzi

King bed

Phone in bathroom

Queen bed

Remote control television

Safe

Satellite television

Shower only

Sitting area

Slippers

Smoke detectors

Sofa bed

Telephone

TV

Twin bed
Jacuzzi

Sauna

Spa

Sun tanning bed
Fresh fish and local vegetables, bronze die Gragnano pasta and modern takes on Mediterranean staples are Bougainvillea Restaurant signatures. Breakfast is a bountiful buffet – taken alfresco on warm mornings. During the day, you can linger near the pool for snacks at the Acropolis Pool Bar. Stay here or head to La Terrazza for drinks at sunset.
The Veranda
Cuisine type: Mediterranean
Meals served: Breakfast, Lunch, Dinner
The cuisine hat the Veranda is Mediterranean- the accent on time- honored recipes from Naples and southern Italy revitalized with a contemporary twist Guests can enjoy affording peerless vistas of the Amalfi Coast from the Veranda Restaurant- with an elegant indoor dining room and a stunning outdoor terraces- perfect for sunny days and warm evenings to create a magical atmosphere to fulfill the desire for a good and genuine cuisine.
Acropoli Pool Bar
Our guests can enjoy a light lunch or snack at the Acropoli Pool Bar. The menu offers light lunches and a variety of tasty snacks inspired by traditional Mediterranean cuisine with particular reference to Ischitan and Neapolitan fare. Neapolitan pizzas the service starts from May 10th cooked in woodfired oven according to the traditional recipe are an unmissable feature. An extensive selection of drinks and beverages is available for sipping by the pool throughout the day.
Francos
Francos was created with the idea of presenting the tradition of contemporary island cuisine in an elegant setting with a modern kitchen surrounded by Ischias luxuriant nature and a breathless panorama. The aim is to offer you a sensational evening of discovering recipes crafted with an obsessive focus on the very finest raw ingredients and seasonal produce enhanced by herbs from our new kitchen garden overlooking the sea accompanied by attentive and discreet service. Appropriate clothing is r
Treatments at Ocean Blue Spa range from the traditional to the technological. Locally-sourced ingredients such as mountain herbs and mineral-rich volcanic mud are used for rejuvenating scrubs, wraps and face masks. Or, if you've deeper transformation in mind, explore electromagnetic and radiofrequency-based slimming and toning treatments. With treatment rooms offering far-reaching views, the naturally relaxing Ischia landscapes are never far away.
Reviews
These reviews are the real opinions of INVITED members and we have verified their stay at the hotel.
What I liked most :

Location (12)
Breakfast (9)
Leisure facilities (8)
General service (7)
Welcome and departure (7)
Restaurant and dining (6)
Guestroom and bathroom (5)
Local knowledge and experiences (5)

What I might improve :

Internet and wifi (4)
Guestroom and bathroom (3)

Read Reviews

Fantastic stay, breathtaking views

May 2019

My Trip Type:

Friends

Upgrade to suite with plunge pool. Also the best massage I have ever had in the Spa

Top tip for other guests:

Suites with plunge pool, unbelievable!!!

What I liked most

Welcome and Departure
Location
General Service
Local knowledge and experience
Guest Room and Bathroom
Breakfast
Restaurant and dining
Leisure facilities

What I might improve

London

My Trip Type:

Couple

Perfect in every way - the service, setting, pools / facilities, food and decor all absolutely fantastic. One of those magical moments when the hotel chauffeur drives you up to the hotel. The thermal spas are amazing and many options. Incredible pool side bar / terrace. Breakfast is excellent. Lunch menu was also excellent. We didn't try the dinner, but the set menu is very reasonably priced. All day & any time shuttle down to the inviting town below (2-3 min) - allowed us to mix things up. Overall, a fantastic stay and would highly recommend!

Top tip for other guests:

Don't plan too much while there, as you'll just want to enjoy the hotel

What I liked most

Leisure facilities
General service
Welcome and departure
Local knowledge and experiences
Restaurant and dining
Location
Guestroom and bathroom
Breakfast

Beautiful with exceptional service

Stay date: September 2016

My Trip Type:

Couple

We stayed for 5 nights after a hectic but interesting 3 night stay in Naples. From the moment we were greated at the port by the driver to the moment we left the shuttle at the port we were taken care of in a 5* way. Upon arrival we were greated by a friendly italian driver and were present some refreshing bottles of water while still at the port. After a short 20min drive we arived at the top of the mountain in Lacco Ameno. Right now it already feels like something special. We were greated by 3 staff members at the front desk who presented some lovely non alcoholic Limoncello drinks. After a friendly welcome by Vincenzo, Marco and Maria we got a nice tour of the hotel. The natural beauty and very friendly Maria showed us the pools, spa and our room.(her smile just lights up your day) We felt very welcome for a couple of 20ish years old in a hotel with at the time mostly elderly people. The hotel looks great and not nearly as old as it is. The renovation work that already has been done really freshens up the building and there is more to come! Views from the restaurant(breakfast/dinner) are stunning. Same goes for the pools, they feel modern and clean and not a single one without that breathtaking view. Even though it feels secluded on the top of a hill, they are ready to transport you to or from the town or beach whenever you want. Sometimes we didn't even had to ask. Exceptional. It feels like a luxury hideout but within 2min acces of the cosy town and beach. If you want to see more of the island you can walk small parts but I suggest renting a scooter. Ofcourse Vincenzo at the front desk took care of everyting and 30min after asking there was a scooter ready to go on the parking lot. Again, impressive! Marco gave us a map and showed all the best spots on the island we had to visit. Our suite was very roomy, clean and comfortable. I was very happy to come back at the end of the day and relax on the terrace or in our bed while watching SKY on a +- 42" LED tv. Free WIFI was fast and flawlessly during our stay. I can go on and on but in short: Nice pools, views and rooms but the staff really makes all the difference. Not a single person hesitated to greet us enthousiastically EVERY SINGLE DAY. I had talks with people from the housekeeping to the general manager and they were al very helpfull, friendly and motivated. Definately going back.

Top tip for other guests:

Stop looing for other hotels in Ischia, this is the one.

What I liked most

Welcome and departure
General service
Location
Local knowledge and experiences
Guestroom and bathroom

Stay date: September 2016

My Trip Type:

Couple

Our second stay at this great hotel, we loved it the first time two years ago but this time it was even better. The most notable change is the food, it was good before but now it is fantastic and always beautifully presented and served. Would highly recommend staying on a half board basis. All the hotel staff are friendly, professional and always really smartly dressed and the whole place is spotless. The hotel is in a great spot at the top of a hill, with free, on demand courtesy transport to the town and beach. The views are exceptional. It's a very, very relaxing environment.

Top tip for other guests:

Definately opt for HB, the food is delicious!

What I liked most

Leisure facilities
Guestroom and bathroom
Welcome and departure
Restaurant and dining
Local knowledge and experiences
General service
Breakfast
Location
Internet and wifi

A spa brake in a wonderful location

Stay date: September 2016

My Trip Type:

Family

The views are absolutely fabulous and the service is very efficient friendly. We had a bi-level suite with a stunning sunset view and fragrant jasmine. The swimming pools and SPA installations are beautiful and the seawater pool is a plus. The nearby beach (shuttle) is a gem with transparent water. The restaurant has beautiful views over the island and piano in the evening make a cosy experience for dinner. Very relaxing.

Top tip for other guests:

DON'T MISS THE NEARBY BEACH IN THE MORNING : CRISTAL WATER IN A SMALL BAY

What I liked most

General service
Location
Leisure facilities

What I might improve

Amazing views and wonderful service!

Stay date: September 2016

My Trip Type:

Friends

We had a great stay at the SanMontano. Rooms were spacious, comfortable and well maintained. Great views from our balcony of the bay and mountains. Staff were always helpful and the shuttle to beach and into town was always available after very short wait. Breakfast was good though we thought the dinner in the restaurant was expensive, with small portions and not many choices. Overall a lovely hotel - many people come to use thermal pools (we didn't!) - there is only one 'normal' temperature outside pool (seawater). Lots of steps so would be difficult for anyone with mobility issues. Did not sample spa.

Top tip for other guests:

The beach used by hotel is fantastic - great for swimming and there's a wonderful restaurant there with a varied and delicious lunch menu!

What I liked most

Guestroom and bathroom
General service
Location
Breakfast

What I might improve

Stay date: July 2016

My Trip Type:

Family

hotel's general manager maurizio was extremely helpful with our needs. to be honest, this is the 1st time I see such a hard working hands on general manager. he was great. hotel rooms need an update, renovation. the location of the hotel is so beautiful, stunning view, beautiful sunset

Top tip for other guests:

watch the sunset, get sea view rooms with balcony

What I liked most

Restaurant and dining
Local knowledge and experiences
Welcome and departure
Breakfast
Location
General service

What I might improve

Internet and wifi
Guestroom and bathroom

Stay date: October 2015

My Trip Type:

Couple

We had an amazing stay. We spent hours in the many pools enjoying the panoramic views as well as the gorgeous private beach. Hotel staff were very friendly and helpful and the shuttle service to and from the town and beach as well as ferry transfers were excellent. We were delighted to receive an upgrade to a room with an unbelievable view. Going for breakfast was a pleasure each morning with the views as well as the great food. Highlights were the views and the pools!

Top tip for other guests:

Try to get a seat close to the window at breakfast

What I liked most

Leisure facilities
Welcome and departure
General service
Guestroom and bathroom
Breakfast
Internet and wifi
Local knowledge and experiences
Location

Stay date: June 2015

My Trip Type:

Couple

What a beautiful, relaxing hotel. Perfect setting, wonderful food and fantastic staff. We had to drag ourselves home.

Top tip for other guests:

Take all of your swimsuits, you won't be able to drag yourself away from the pools!

What I liked most

Welcome and departure
Restaurant and dining
Location
Breakfast
Leisure facilities

What I might improve

Fantastic view, great hospitality

Stay date: October 2014

My Trip Type:

Family

Excellent location on top of a hill delivering a 360 ° view. Lot´s of thermal pools, nicely upgraded spa area. Staff is very friendly and the shuttle has been readily available at all times. Breakfast selection fine, dinner (antipasti selection & a la carte) ok. Room (superior double) and room service is good.

Top tip for other guests:

Liostasi Ios

What I liked most

Breakfast
Welcome and departure
Location

What I might improve

Internet and wifi
Restaurant and dining

Stay date: July 2013

My Trip Type:

Single

I enjoyed a week of relax in a wonderful location.

Top tip for other guests:

Try the restaurant at lunch.

What I liked most

Breakfast
Location
Leisure facilities
Restaurant and dining

What I might improve

Internet and wifi
Guestroom and bathroom

fantastic location and view

Stay date: May 2013

My Trip Type:

Couple

location, facilities and services are optimal for a relaxing holiday-break. rooms are not yet comparing to resort standards, but does well for small holiday breaks

Top tip for other guests:

sea view is amazing

What I liked most

Location
Leisure facilities

What I might improve