https://origin.slh.com/hotels/aleenta-resort-and-spa-hua-hin-pranburi/
Hotel Highlights
Award-winning boutique hideaway with stylish thatched villas, many with plunge pools or beachfront decks
Dishes created using produce and herbs grown on the hotel's organic farm
Private barbecues on the beach
Aleenta Resort and Spa Hua Hin - LUXURY HOTEL IN HUA HIN, THAILAND
Nestled in captivating Paknampran Bay, close to Hua Hin
Unwind in the lap of sophistication at Aleenta Resort & Spa Hua Hin, the ultimate secluded getaway overlooking the Gulf of Thailand, and home to a nature-inspired spa, modern Thai and international cuisine and beautiful sunrises.
This is a tropical paradise surrounded by sand, sea and swaying palms. Aleenta Resort & Spa's 23 suites are in a superb collection of villas, some with pretty thatched roofs and others with a rooftop deck. Pool Suites have their own private plunge pools while Ocean View Suites are just steps from the sea.
Lie in a hammock on your terrace watching the waves lapping the shore while listening to music from your supplied iPod. Join a cookery class and learn to master delicious Thai recipes, or enjoy an enlightening Vinyasa Yoga class held here at Aleenta Resort & Spa Hua Hin. Khao Sam Roi Yot National Park, with its steep limestone mountains, numerous caves, marshland and beaches, is 40 minutes away.
19

rooms

3

restaurants

3

floors
The rooms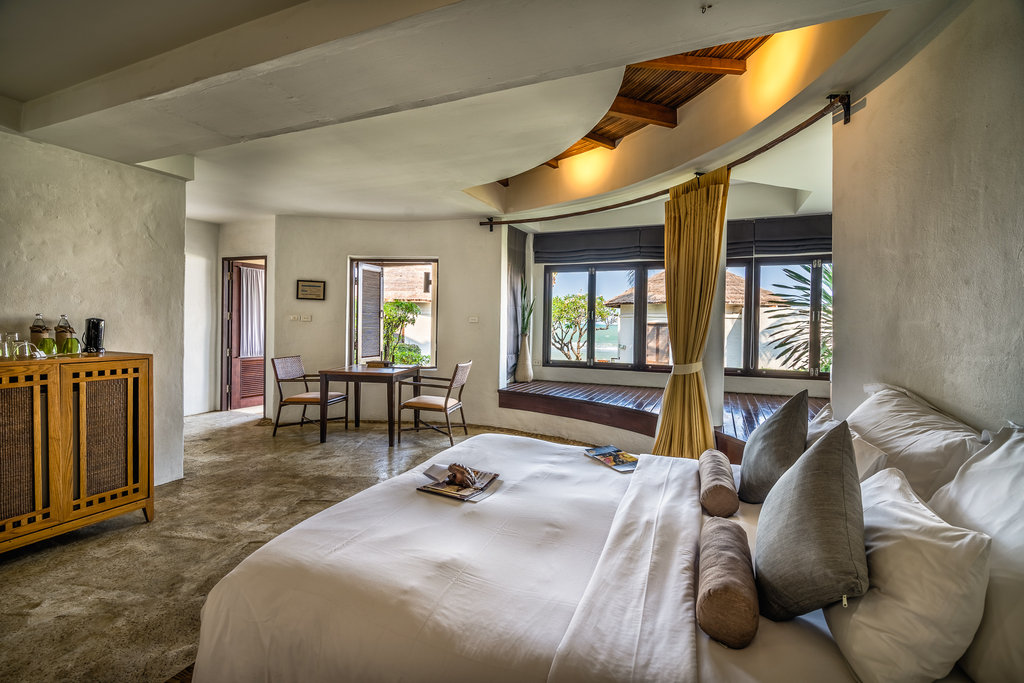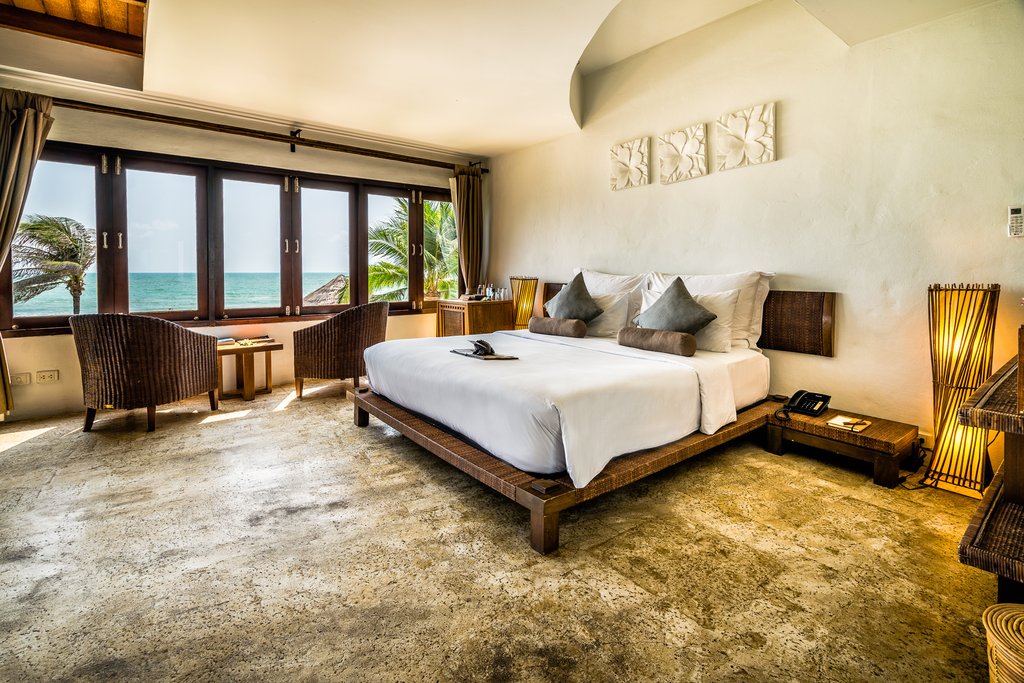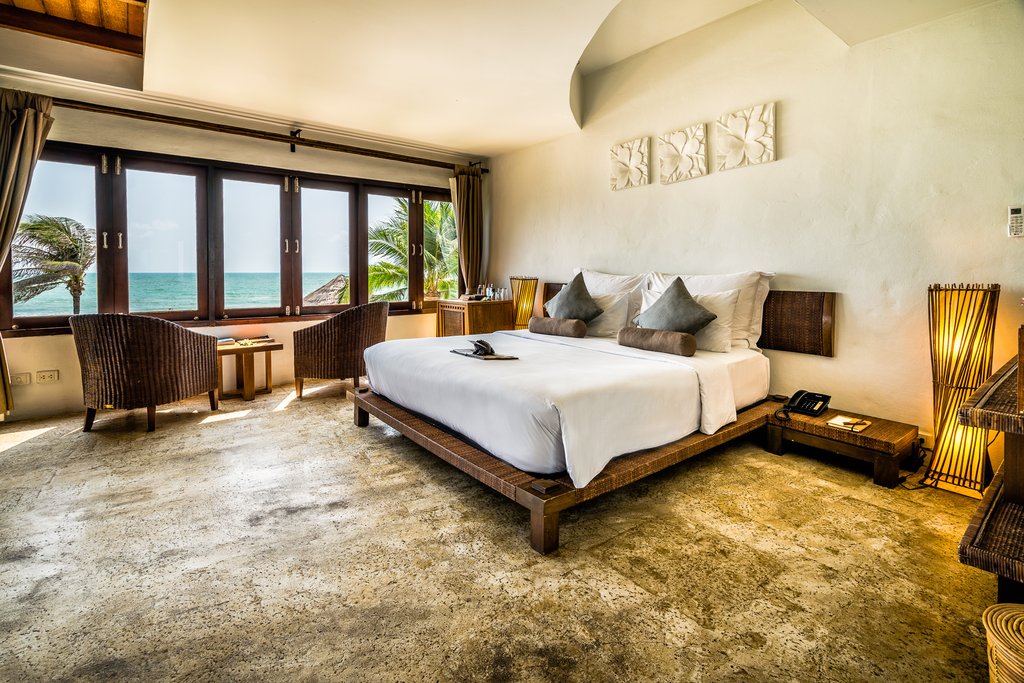 Ocean View Residence
Sleeps: 2 People.
Intimate, 45 SQM one-bedroom suites discreetly tucked away within the resort's flower-filled courtyard.

There are two Ocean View Residence on the ground level and two suites upstairs overlooking the sea. Children under 12yrs not allowed.
From per night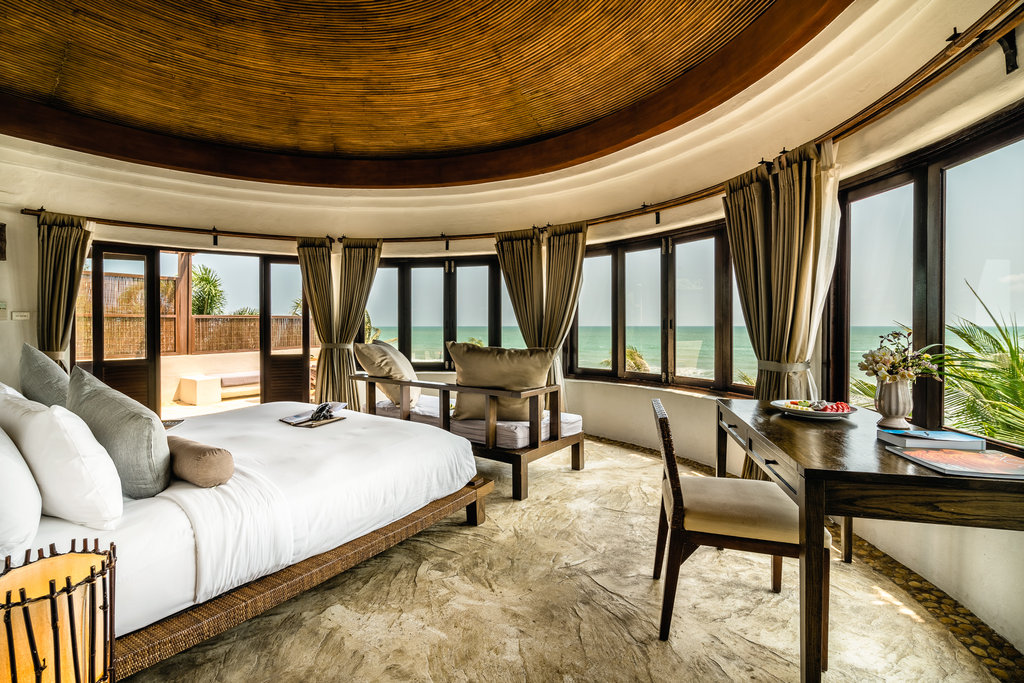 Beachfront Pool Residence
Sleeps: 2 People.
Exotic, one-bedroom, thatched roof bungalows set directly on the beach. The 62 SQM Pool Residences are designed for total relaxation with plush king size beds.

Large private verandahs and Jacuzzi plunge pool. Not allowed for children under 12 years.
From per night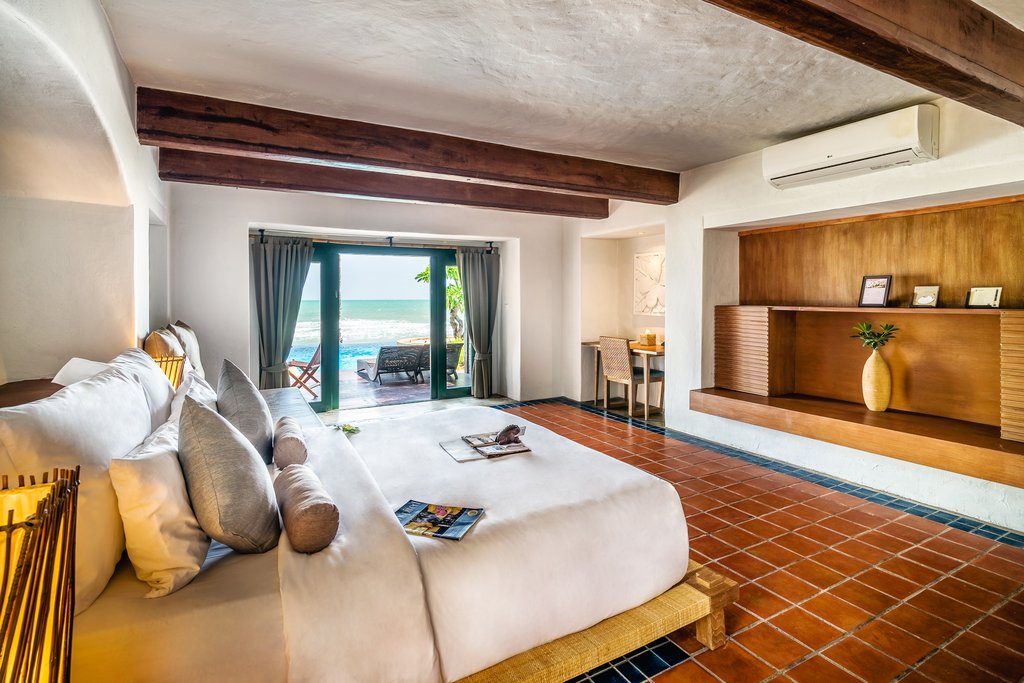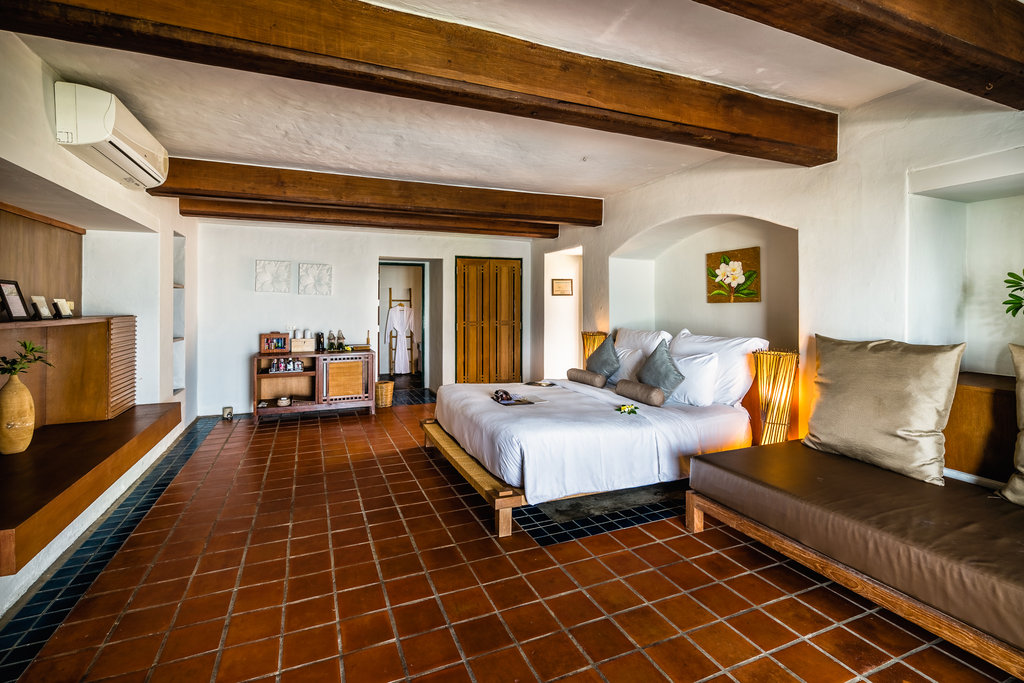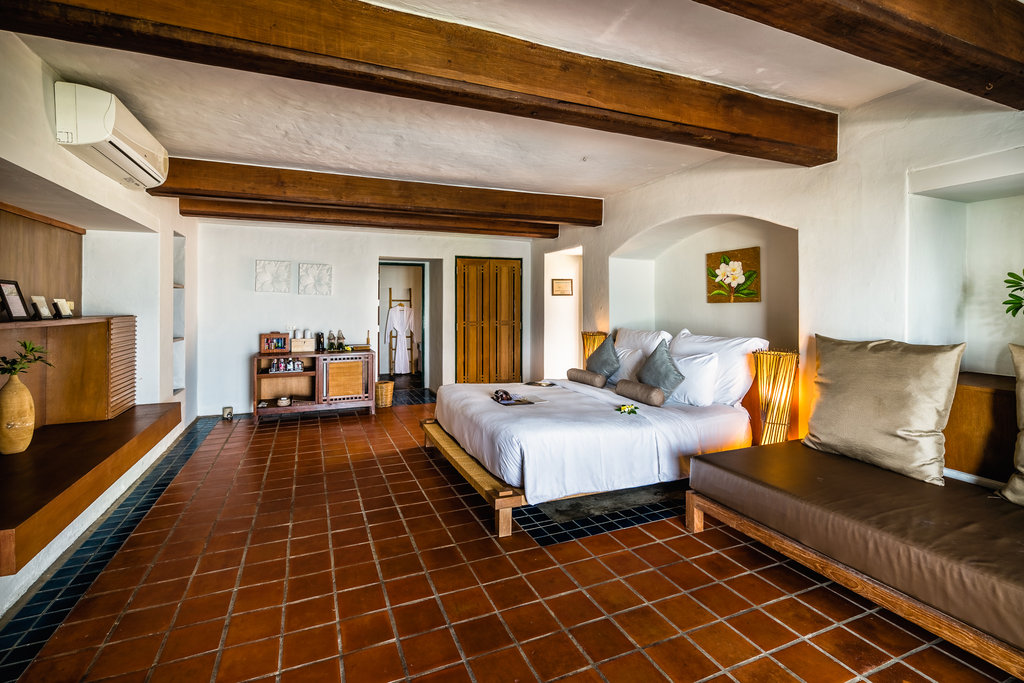 Frangipani Residence
Sleeps: 3 People.
Extra beds: 1 (Not suitable for adults/Maximum 1 Child)
Each of the Frangipani Residence at Aleenta is unique, offering a sense of space and privacy, featuring large windows which open up to private sundecks and gorgeous sea views.

They also overlook the main resort pool. All bedrooms are 75SQM and have King Size bed which can accommodate an extra bed. Children under 12 are welcome at the Frangipani Residence.
From per night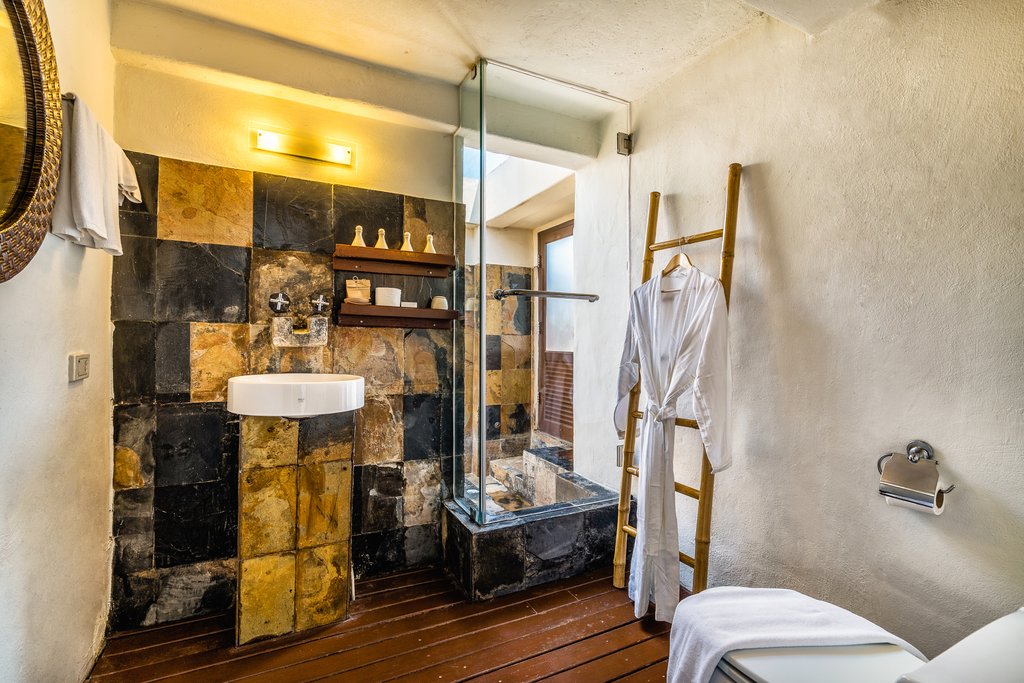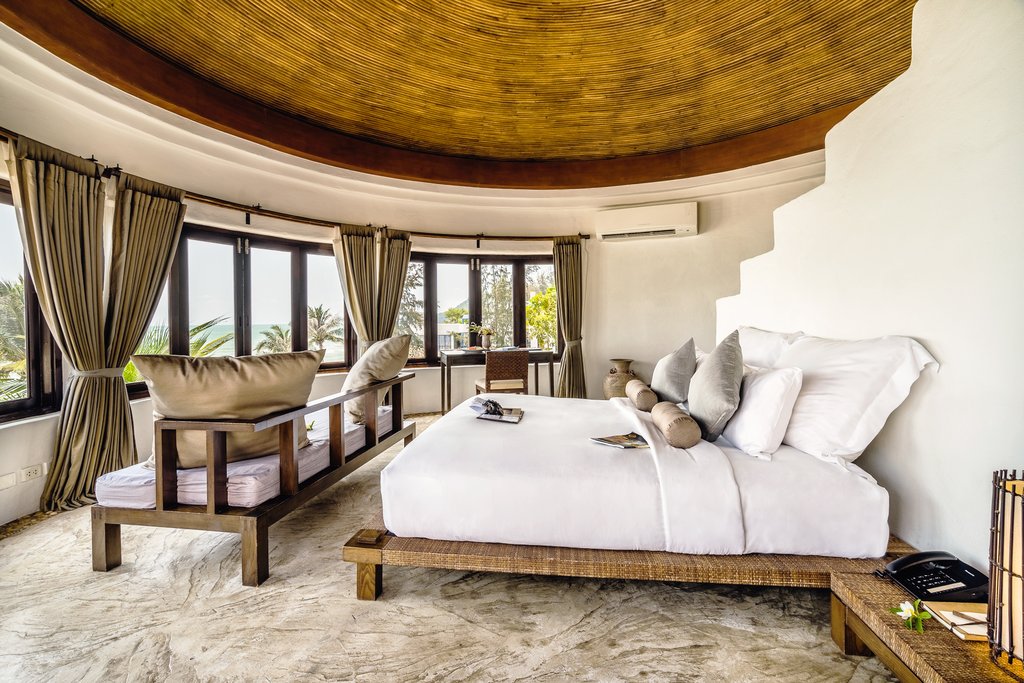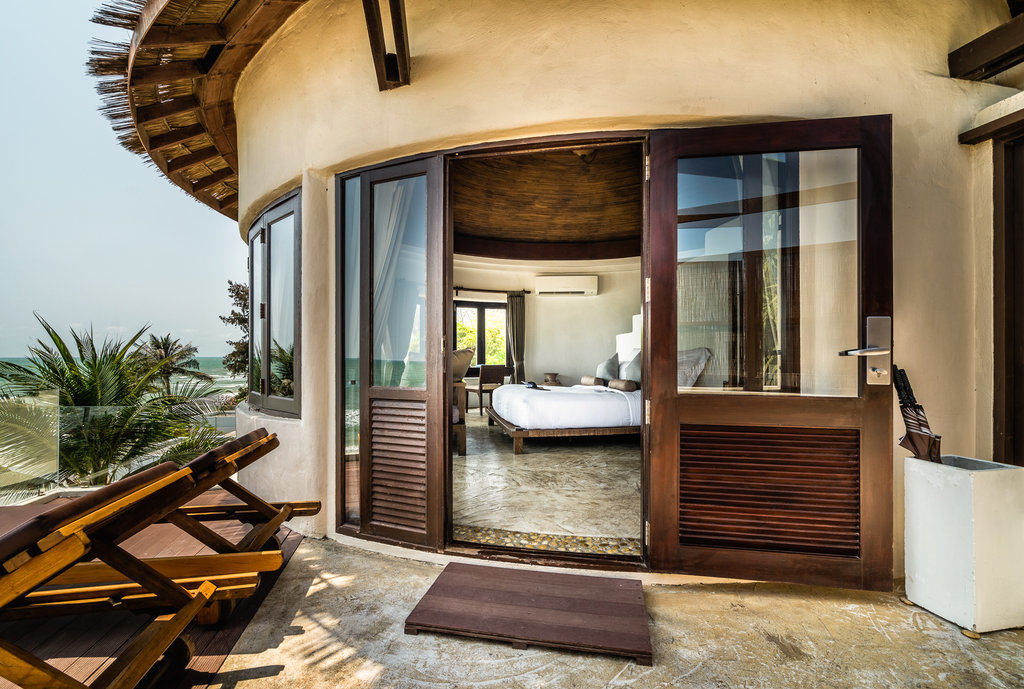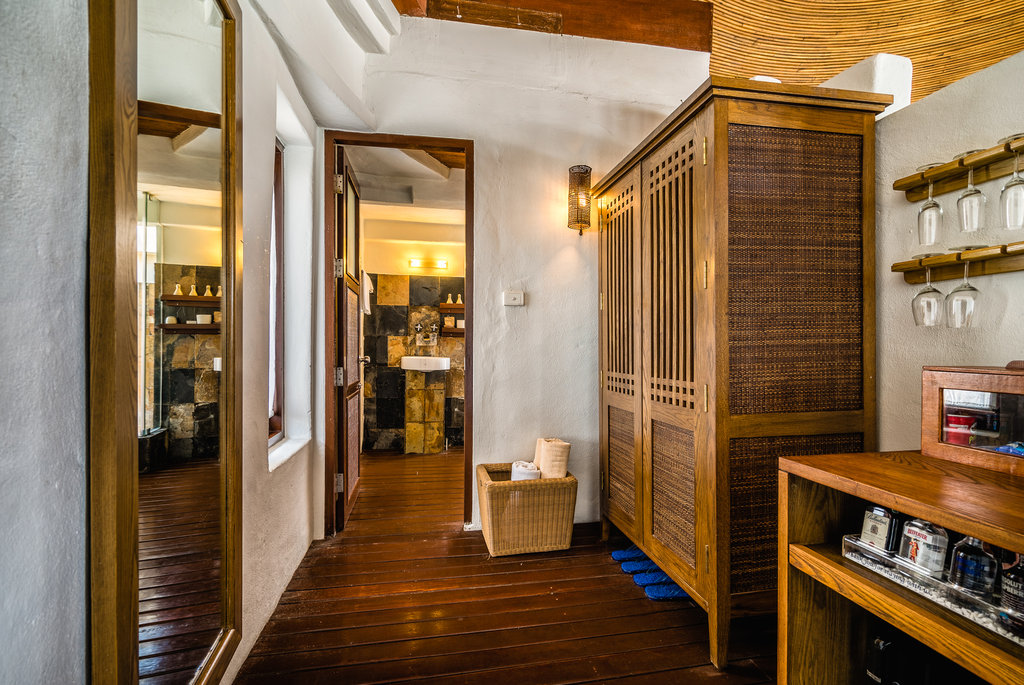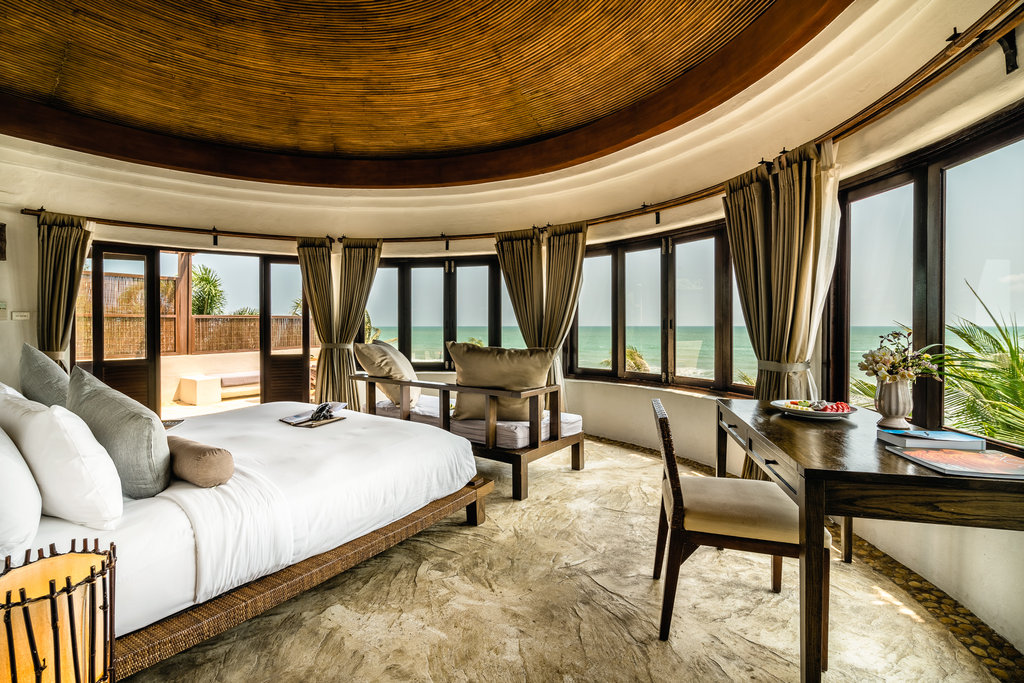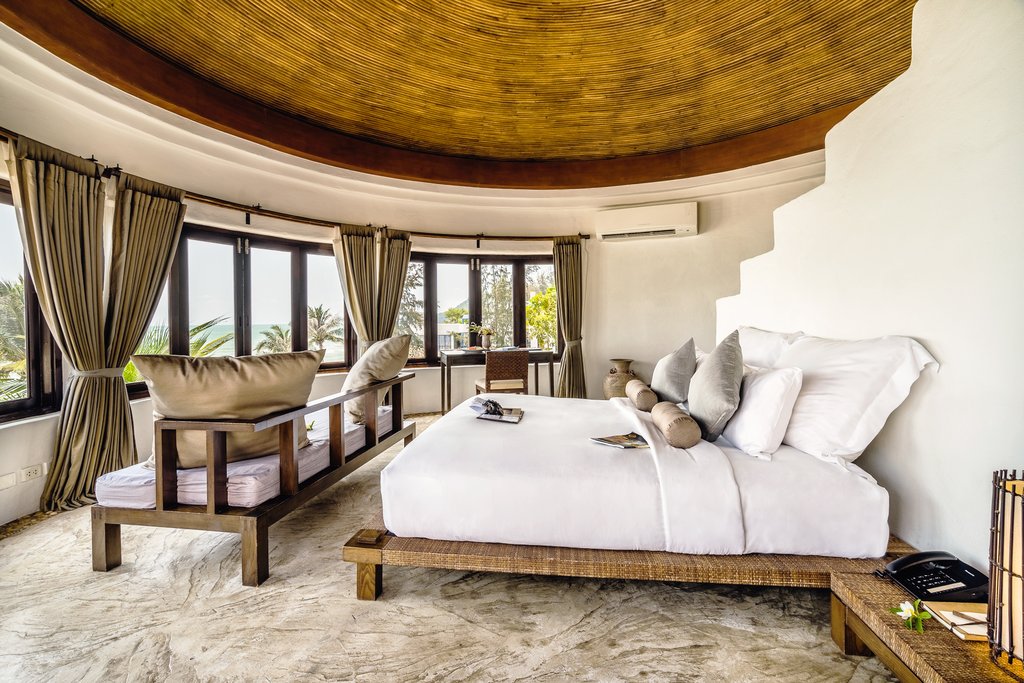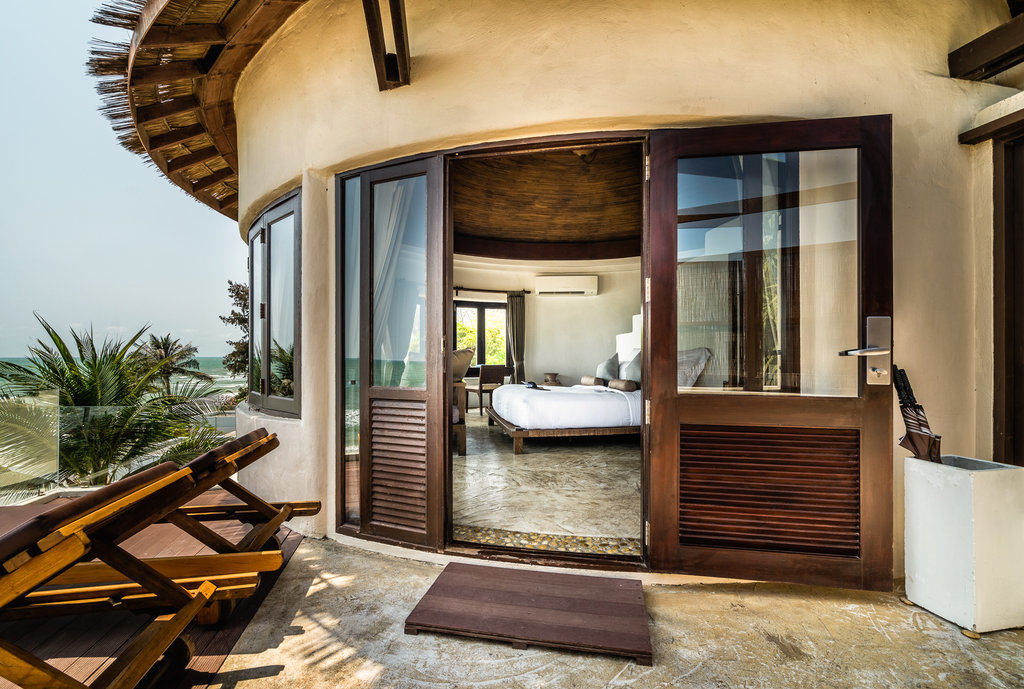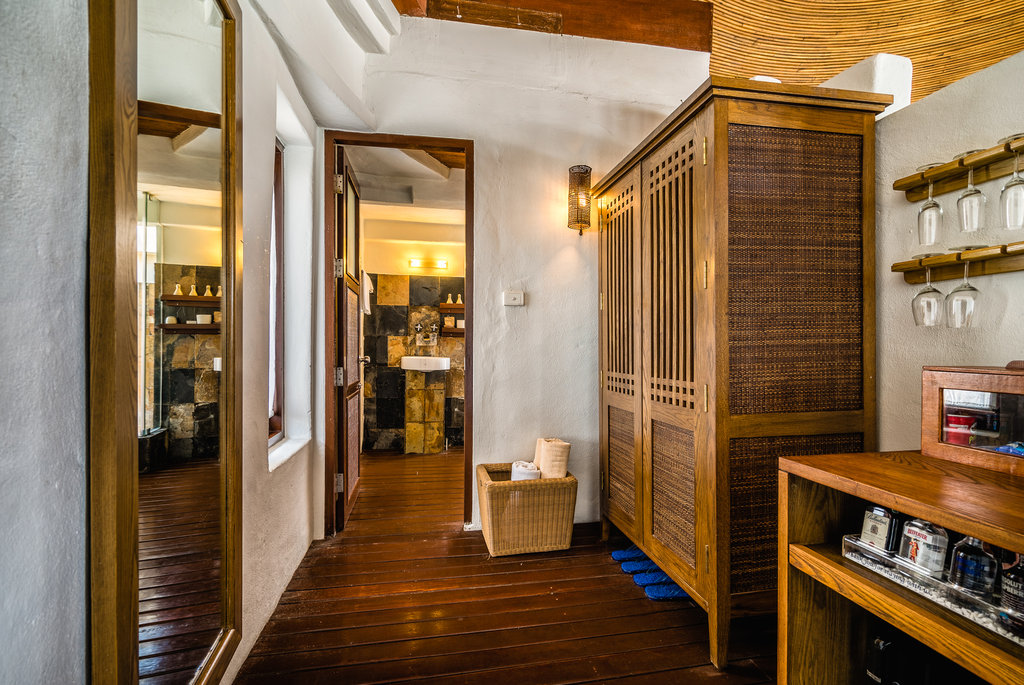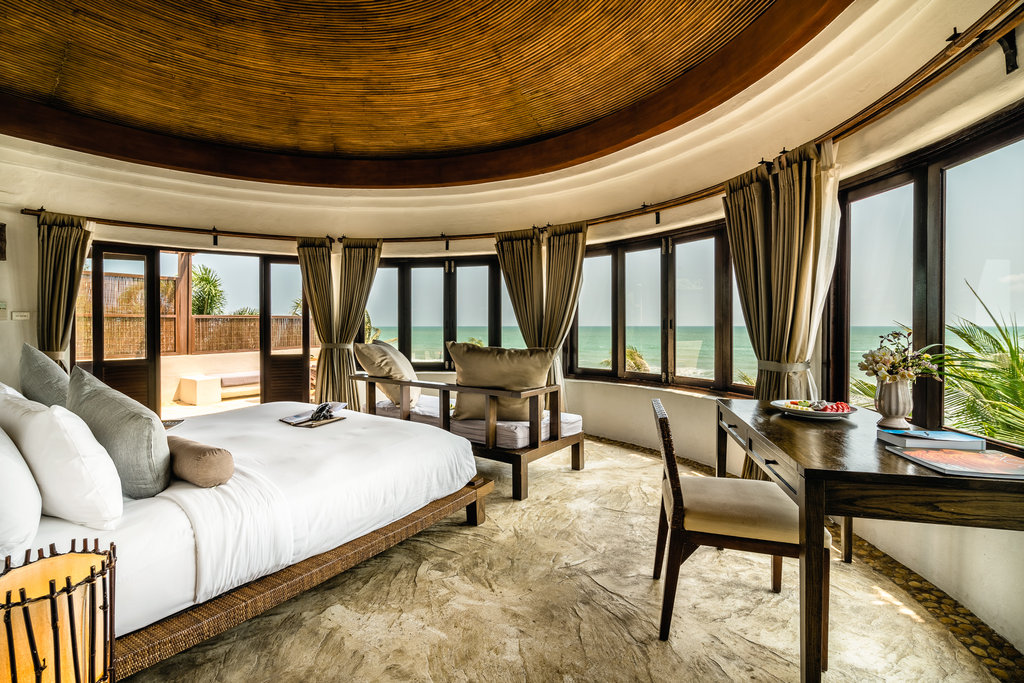 Penthouse
Sleeps: 2 People.
A large and very private circular-shaped suite set high above the resort's grounds.

Special features include a stone tub for two, a spectacular 180 degree-view of the Gulf of Thailand and a backdrop of the Three Hundred Peaks National Park. Children under 12yrs not allowed. 67SQM
From per night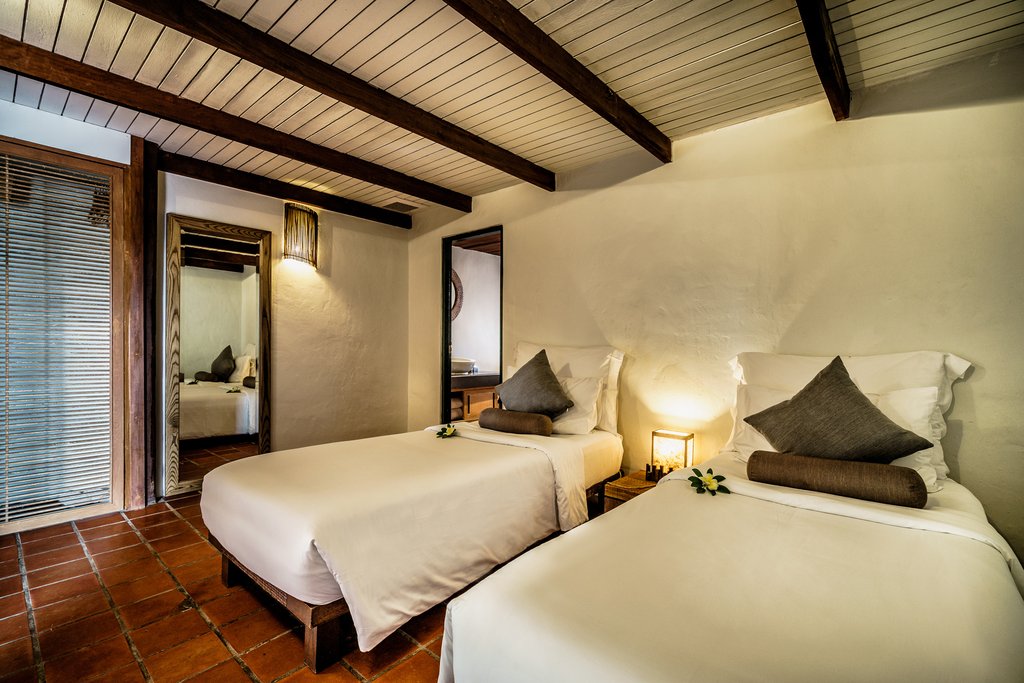 2 Bedroom Frangipani Suite
Sleeps: 5 People.
The 80 square metre Frangipani Suite is split over 2 levels. Each level has 2 Large Bedrooms with a en-suite bathroom, a large Living Room suited with ocean views.
From per night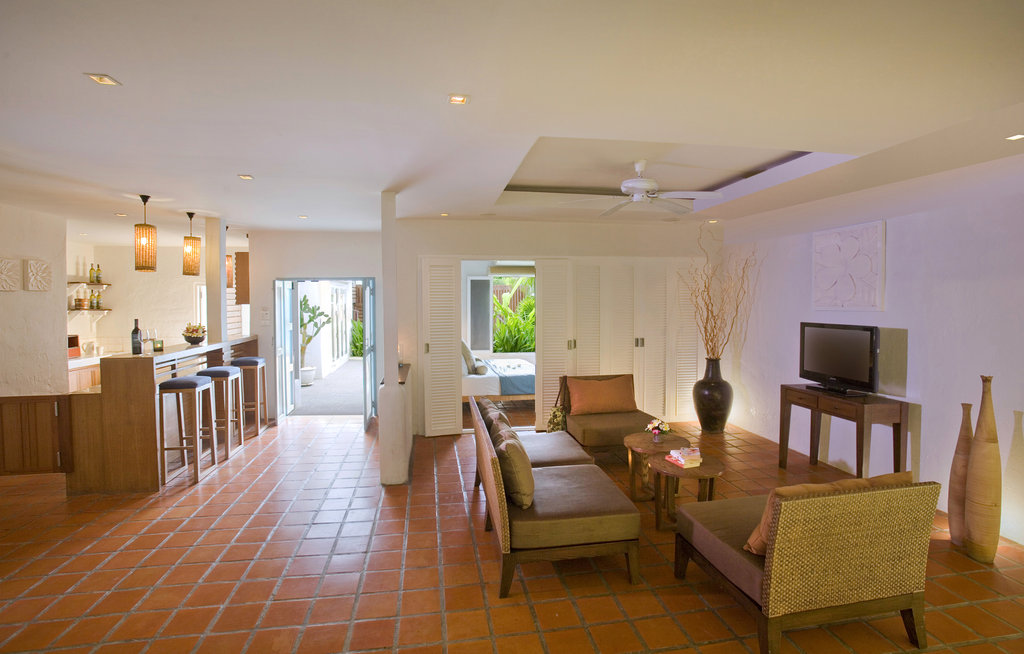 Chaba Villa
Sleeps: 5 People.
Chaba Villa is part of the Frangipani Wing, the villa is 120SQM, has a ground level patio and lawn leading to the beach.

The small villa is full of character and color. It has all the comforts of home including a living room, dining room and kitchen. Welcomes children of all ages
From per night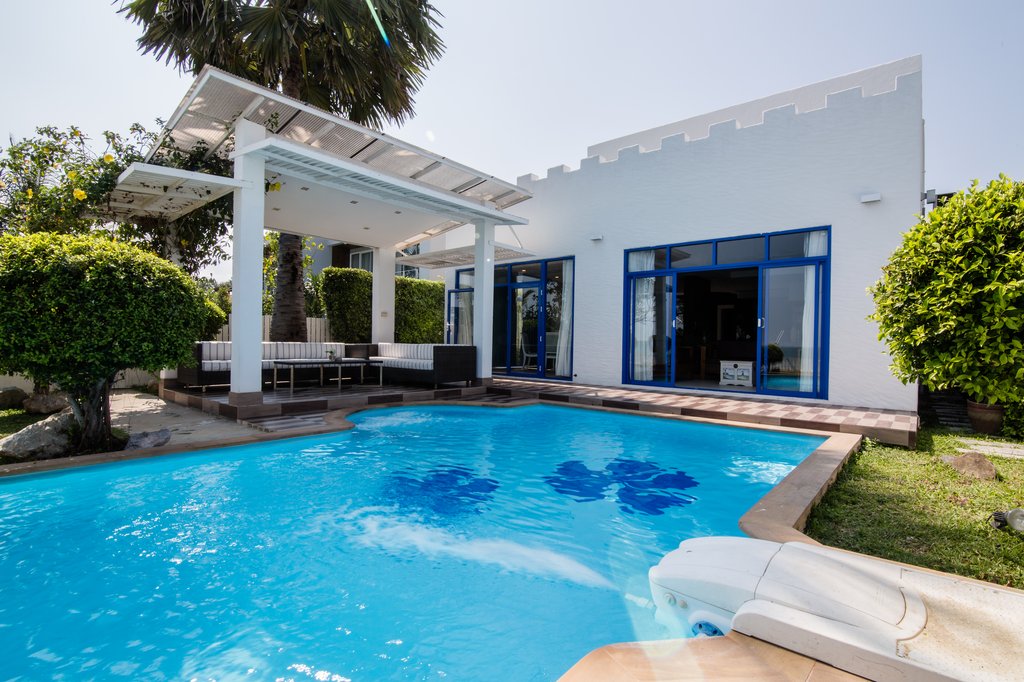 4 Bedroom Beachfront Villa
Sleeps: 9 People.
The 4 Bedroom ocean front villa has all the comforts required, including living room, dining room, and the best sundeck seen in the area.

The spacious rooms all have en-suite bathrooms; the villa has a ground shaded patio and lawn leading onto a 12 x 5m jacuzzi infinity pool overlooking the ocean with private beach access. The 680sqm Beach Villa features an outside dining area and communal washroom with unspoilt views of Pak nam Pran bay. Guests at the villa enjoy full access to all resort services and facilities. Breakfast can be served at the villa or can also be enjoyed at the resort. Tailor-made dining and spa services can also be arranged. The Villa also has private parking for 3 vehicles. The use of 8 bicycles and sunbeds on the beach on request with your own private Tailor to arrange your every need during your stay this is, living beach side in style.
From per night
Air conditioning
Sauna
Tennis court
24-hour room service
Wedding services
Join INVITED and get 10% off exclusive rates. Plus early check-in and late check-outs among other benefits.
24-hour room service

24-hour security

Accessible facilities

All inclusive

Bell staff/porter

Beverage/cocktail

Buffet breakfast

Business Center Services

Car rental desk

Child programs

Children welcome

Concierge desk

Doctor on call

Dry cleaning

Fire safety compliant

Free high speed internet connection

Free parking

Full service housekeeping

Half board/modified American plan

High speed internet access for laptop in public areas

Hotspots

Housekeeping - daily

Massage services

Meeting rooms

Pets not allowed

Restaurant

Room Only

Room service

Security

Tennis court

Valet parking

Wakeup service

Water sports

Wedding services

Wireless internet connection
Air conditioning

Air conditioning individually controlled

Alarm clock

Balcony/Lanai/Terrace

Bathrobe

Bathroom amenities

Bathtub

Bottled water

Cable television

CD player

Ceiling fan

Closets in room

Coffee/Tea maker

Complimentary high speed internet in room

Desk

Double beds

Hairdryer

High ceilings

Jacuzzi

King bed

Luxury linen type

Minibar

Mini-refrigerator

Non-smoking

Outdoor space

Safe

Sitting area

TV

Wake-up calls
Awards
This hotel has been awarded:
World Luxury Hotel Awards 2016 Winner
Aleenta Restaurant
Cuisine type: International
Meals served: Breakfast, Brunch, Lunch, Dinner
Delivering delicious traditional and modern Thai and international cuisine created using the fresh ingredients and organic herbs and vegetables from the Aleenta garden. Dining available from morning to night starring delectable dishes in delightful locations.
Private Dining
Meals served: Dinner
Add a touch of magic to your holiday with an evening of private dining. Whether you would like a romantic meal for two at your place an exclusive beach barbeque with your family or even a sophisticated cocktail party with friends Aleenta will gladly fulfil your private dining request.
The Aleenta Bakery
Meals served: Breakfast, Brunch, Lunch
Located at the main wing of Aleenta Hua Hin Resort and Spa fresh bread and pastries are served daily and complimented with an extensive coffee range. Enjoy home-made cakes and pastries with an ocean view. Fresh bread rolls and croissants for take away.
Personalised, holistic healing is the order of the day at Aleenta Resort's Ayurah Spa. What really makes this luxury wellness centre stand out is its use of freshly prepared, chemical-free products made using ingredients grown on their own organic farm. Savour soothing, time-honoured treatments that harness the healing power of nature, complemented by gentle exercise such as yoga classes.
Reviews
These reviews are the real opinions of INVITED members and we have verified their stay at the hotel.
What I liked most :

General service (11)
Location (11)
Guestroom and bathroom (9)
Restaurant and dining (8)
Welcome and departure (8)
Breakfast (6)
Internet and wifi (5)
Room service (4)
Leisure facilities (3)

What I might improve :

Internet and wifi (3)
Restaurant and dining (3)

Read Reviews

January 2020

My Trip Type:

Individual

Aleenta's location and ambience is serene and unpretentious. Bicycles are available for exploring this beautiful and quiet part of Thailand. The beach is uncrowded and perfect for a morning or late afternoon walk. Boss and Pau took great care of us in the restaurant. Aleena Is perfect for couples or for individuals traveling on their own. We would be happy to return...

Top tip for other guests:

If you are looking for a quiet pace to unwind, Aleenta would make a great choice.

What I liked most

Welcome and Departure
Location
General Service

Small hotel with great service and good location

Stay date: December 2016

My Trip Type:

Couple

Really nice hotel overlooking the beach near Pranburi. We stayed in a very comfortable beachfront room with it's own plunge pool. Staff were very friendly and helpful and food in the restaurant was excellent. Breakfast was good with an ala carte menu and freshly baked bread and pastries. Strongly recommend taking a hotel car to the national park to go elephant spotting. The hotel pool is very small which was the only negative of the stay.

Top tip for other guests:

Take a trip to the Kui Buri national park to see the wild elephants

What I liked most

Restaurant and dining
Guestroom and bathroom
Breakfast
Location
General service

Stay date: August 2016

My Trip Type:

Friends

it is 30 mins from Hua Hin city, less people with really nice view. warm welcome with a temp room for us to clean up. overall the service is nice, but the food quility is really not that good. we had a really bad experience with the set "dining around", which means u will have appretizer, main dish and dessert in three different locations. the idea is quite nice, its not cheap tho. The waiting time is way too long, and we couldn't get chance to choose our mian dishes and desserts. Plus with some un-professional service such as provide us a knife(really like a butter knife) for steak. We asked to speak with manager but theres no people in charge, its very dissppointed. Thanks to SLH we got thing solved after our trip, but the experience happened is still real

Top tip for other guests:

try to dine outside of the hotels, theres not a lot of food, but still some small bars. Others are quite nice

What I liked most

Internet and wifi
Guestroom and bathroom
Welcome and departure

What I might improve

Breakfast
Restaurant and dining

Stay date: July 2016

My Trip Type:

Single

I have travelled a lot through more than 80 countries and out of the seaside hotels this certainly is the best one. It has very relaxing atmosphere and everything you would possibly need for vacation (including your own small garden and plunge pool, with sea views and sea just few steps away). I enjoyed the organic food options, sourced straight from nearby gardens and the sea. Intimate atmosphere as it has just limited number of rooms. Very friendly staff, who really feel like your good friends rather than "service providers" like in big faceless hotels. And you can hear the sound of the waves while eating in their restaurant, in your room and while enjoying SPA pampering. Simply the best you can find. Trust me, after your stay there, you want to return ASAP to this property again.

Top tip for other guests:

I totally enjoyed my seafront room, seeing the sea directly from the bed.

What I liked most

Guestroom and bathroom
Breakfast
Restaurant and dining
Welcome and departure
Location
Leisure facilities

Stay date: July 2016

My Trip Type:

Friends

I was upgraded to a bigger and better room and it was located on the other side of the main facility. The staff were superb, really, the drivers, waitress, receptionist and etc were outstanding. To commute between the main facility to the carpark and also the frangipani side need the hotel shuttle. At first I thought it would be troubled, but it's quite efficient in fact. The breakfast was also very good. It's a la carte, so you don't end up wasting food and get superior quality than standard buffet.

Top tip for other guests:

There is a small pool on frangipani side, the main facility seems to have just private jacuzzi.

What I liked most

Welcome and departure
Location
Breakfast
General service
Guestroom and bathroom

What I might improve

Beautiful property nestled away from the World

Stay date: May 2016

My Trip Type:

Couple

The Property was amazing from the second they picked us up in bangkok. James the GM set up a car to pick us up and bring us to his beautiful hideaway on the beach. The staff was very attentive and friendly and were ready to help in anyway possible. The room was great as it sat right on a private beach that is away from the hustle and bustle of Hua HIn just 30 mins north. We would recommend this place to anyone trying to have a nice getaway from the city or for a romantic getaway.

Top tip for other guests:

rent a moped and tour around the city on your own. It was only 400 Baht and well worth it for the day.

Hotelier reply:

Dear Vic, Our attention to detail and our love for our surrounding landscape is what makes us unique and we never take that for granted for food to service. Feedback like yours gets past all the way through the chain and creates pride and drive within the team. You are true Aleenta converts and we are glad you saw the effort and the attention needed to create a sustainable yet high end resort nestled on the shore of the gulf. We are waiting for your return and anticipate it being soon. Regards from the whole team! James Douglas Noble General Manager

What I liked most

Welcome and departure
Location
General service
Guestroom and bathroom
Breakfast

What I might improve

Wonderful boutique resort on a quiet stretch of beach

Stay date: January 2016

My Trip Type:

Couple

We stayed at Aleenta for four nights at the beggining of 2016 and thoroughly enjoyed our stay. It was certainly a place that grew on us as. Upon arrival we were a little unsure whether the quality of the hotel was up to our expectations (being part of SML Group) - the hotel was situated right on the beach but accessed by a rather beaten-up road in a rather unsightly location. We were also not greeted with the same warmth we had recieved in similar establishments and our room could certainly not be desacribed as 'luxury', more 'rustic'. However, within a few hours our firsts impressions had changed substancially and that positive trend continued throughout our trip. We stayed at one of the Frangipani Residences which are located for 500m down the road from the main hotel or a 5 minute walk along the beach. These are grouped around a central infinity pool and right on the beach. We were in the room on the second floor which meant we had plenty of privacy and were not overlooked by those in the pool. The food was a mix of western and thai cuisine. Unfortunatly the thai cuisine wasn't the best we had tried however there were were some things on the menu which were sublime, including the calamari and a particular highlight were the Lychee martinis! The beach was very clean but really quite windy which is ideal for those who want to try kite surfing. Our overall experience was very positive and we thank James for his hospitality and hard work for making what turned out to be a really unique and restful stay.

Top tip for other guests:

Book a beachfront villa or the upstairs Frangipani residence

What I liked most

Restaurant and dining
Leisure facilities
Room service
General service
Guestroom and bathroom

What I might improve

Stay date: December 2015

My Trip Type:

Family

Stayed over Christmas with family. A real treat having an attentive owner who genuinely cares about his hotel and all that goes with it. Excellent Christmas Eve dinner with locally made food served by cheerful, attentive and well drilled staff. Breakfast truly exceptional What a treat being able to wake, jump in the pool , swim across to the beach and straight in to the sea ....all in about 2 minutes!

Top tip for other guests:

Don't miss breakfast !

What I liked most

Welcome and departure
Internet and wifi
Local knowledge and experiences
Breakfast
Restaurant and dining
Location
General service

What I might improve

Very good service and near the beach!

Stay date: November 2013

My Trip Type:

Couple

Aleenta started as a family beach villa that was upgraded and now boasts 23 unique suites. The beach is just steps away from every residence, and every room offers a spectacular view of the Gulf of Thailand. We were ushered to the Ocean View Room in the Frangipani Room, which is on Level 2, above the Pool View Room. The room had a viewing balcony, with deck chairs overlooking the beautiful, strong waves of Pranburi Beach. Aleenta @ Hua Hin's decoration kept its roots as a family villa – comfortable, cosy and earthy colours. As with many Thai resorts, I really enjoyed the hospitality and warmth of the resort crew. As we arrived at 10pm, when we reached our room, there were sandwiches on the house on the table, in case we were hungry and the kitchen was already closed! I have never stayed in a resort that went to such details to think about whether we would need supper! Overall enjoyed the stay very much. Please find more pics and details at http://www.eatprayflying.com/aleenta-resort-and-spa-hua-hin/

Top tip for other guests:

Be clear if you want to stay in the main wing or frangipani wing as the two decor/look and feel are different

What I liked most

Restaurant and dining
General service
Room service
Location
Internet and wifi

What I might improve

Stay date: September 2013

My Trip Type:

Couple

The resort was great starting from the smile of the receptionist all the way to the departure. Also the effort the hotel does for saving the environment is fantastic. I sincerely hope the food would have been on the same level with everything else. I found many of the foods tasting bland and could have been visually more attractive.

Top tip for other guests:

Try the spa, perfect massage!

What I liked most

General service
Welcome and departure
Room service
Location

What I might improve

Restaurant and dining
Breakfast

Stay date: May 2013

My Trip Type:

Couple

Beautiful, peaceful location with rooms right on the beach. The staff could not be more friendly and helpful. Nothing was too much trouble. Also great food in the restaurant with a varied menu and fantastic views.

Top tip for other guests:

Try a cycle ride on the bikes that are available to borrow.

What I liked most

General service
Guestroom and bathroom
Restaurant and dining
Location
Welcome and departure

Stay date: April 2013

My Trip Type:

Couple

The Aleenta Hua Hin is situated right at a serene beach, away from the noise & hassle of Hua Hin. It is perfect for a relaxing couple or family stay. The friendly team does everything to spoil you and fulfill all your wishes - especially the restaurant staff is excellent. We especially loved the option of having our breakfast delivered to us in the morning to start the day at the beach. There are local restaurants in walking distance, and the Aleenta also offers a wide program of activities. You will note that we liked check-in and check-out least - this is due to a problem with accepting our vouchers. However, the staff at SLH has done an excellent job putting everything straight after we returned home. This was truly good customer service!

Top tip for other guests:

It is definitely worth the money to book your own private villa. We were very happy with our coconut palm villa.

What I liked most

Guestroom and bathroom
Restaurant and dining
General service
Breakfast
Internet and wifi
Room service
Location

What I might improve

Stay date: April 2013

My Trip Type:

Couple

We enjoyed our stay very much. We stayed first in a Palm Suite with the plunge pool with direct access to the beach, The room was beautiful and has enough space. The people are really friendly, but we had some problems withy understanding each other, I guess it was the language, There were some misunderstandings with receiving another dish than we had ordered and with the upgrading, even if they repeated the order. But as we understand from the owner, they train local people and that is, at the other hand, sympathetic and a good thing. And after all, the food was delicious! Not cheap, but very good. We have some more advises: there were some small musquitos and we had brought some repellent. But it would be a nice gesture to the guests to give the repellent in the room for free, instead of asking 350 Bath for a tiny tiny bottle. The bath room of the Acai suite, where we could stay another two nights, needs repair, since you couldn't close the windows and door, and again at night with musquitos that is not a good thing. A very nice gesture was the free use of bikes, we used them to bike to the different restaurants and small harbour. But overall we had a very good time, being away from Hua Hin was not a problem at all for us.

Top tip for other guests:

Bike to the small harbour at sunset, going out to the left. About a ten minites drive, lovely with a little wind

What I liked most

Restaurant and dining
General service
Internet and wifi
Location

Friendly service on a beachfront

Stay date: April 2013

My Trip Type:

Friends

I think this resort is great for a couple retreat that's very into mother nature - the resorts gives out a romantic vibe and brings joy to the stay this is not your typical mordern beach resort- it doesnt have all the fancy bits its all about getting back to nature

Top tip for other guests:

Prepare to be eco-friendly

What I liked most

Welcome and departure
General service
Leisure facilities
Guestroom and bathroom

What I might improve

Location
Internet and wifi
Restaurant and dining