https://origin.slh.com/hotels/brooks-hotel-dublin-ireland/
Hotel Highlights
Located just minutes from Grafton Street and Dublin's must-see sights
Exclusive cinema with seating for 26 people
130-strong collection of whiskeys, available to sample at private tasting sessions
Brooks Hotel - LUXURY HOTEL IN DUBLIN
Elegance and style in Dublin city centre
Experience authentic Irish hospitality at its finest at Brooks Hotel, a stylish retreat in Dublin's buzzing creative quarter. With cool yet classic interiors, friendly staff and a restaurant that celebrates local produce, this boutique hotel is made for luxury city breaks.
Discover a vibrant mix of rooms and suites, each with its own individual personality. Handcrafted Irish wooden furniture and sumptuous fabrics create a heritage feel, while quirky touches such as dressmakers' mannequins and modern artworks add a contemporary twist. Start your day feasting on homemade Irish brown bread and fresh coffee, before exploring the city. While away the afternoon in the exclusive Residents Lounge, complete with library. Or enjoy a jog nearby in Stephen's Green, before a relaxing sauna. As evening draws in, follow your senses to Francesca's restaurant. Acclaimed chef Pat McLarnon cooks up Irish and international cuisine using fresh produce from the nearby Wicklow Mountains and the hotel's own urban herb garden.
When you're ready to step outside and explore, you'll find many of Dublin's must-see sights on the doorstep. Stroll along the tree-lined avenues of St Stephen's Green. Pay a visit to Trinity College to see the Book of Kells. Or discover the boutiques, up-market bars and theatres in the vicinity of the hotel. Then, finish your day in style back at Brooks Hotel, with a fine whiskey nightcap at Jasmine Bar.
98

rooms

1

restaurant

6

floors
The rooms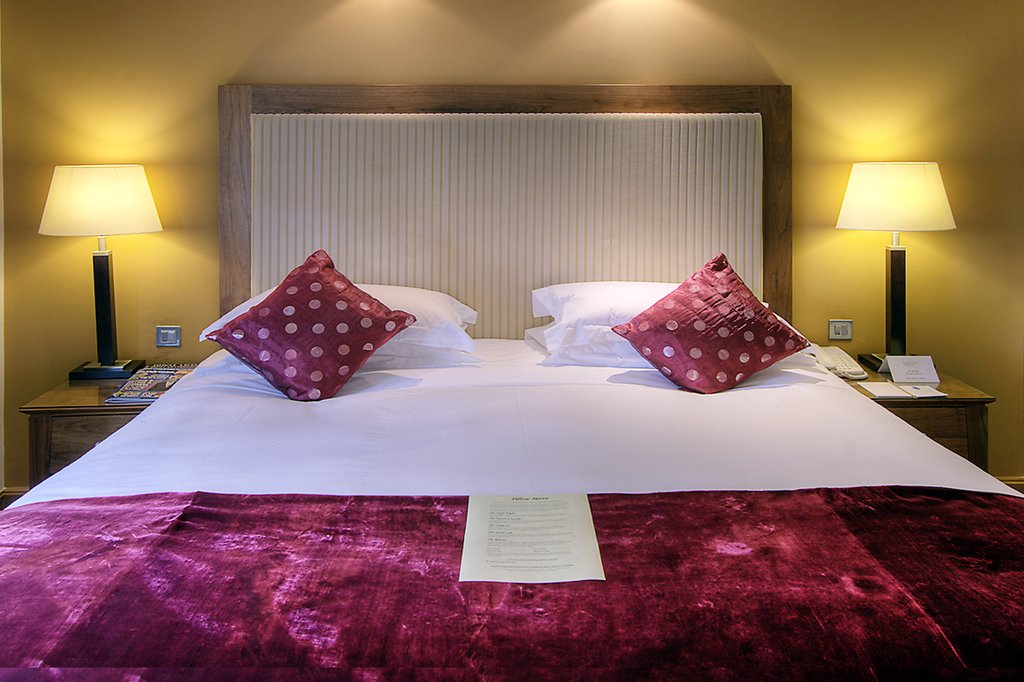 Classic Room
Sleeps: 2 People.
Classic Rooms are spacious with either Queen bed or two singles. Air condition, Complimentary WiFi, DD phone, 32 LCD TV, Tea and coffee facilities .Size: 21 sqm

Trouser press, iron, mini safe, pillow menu and mini bar.
From per night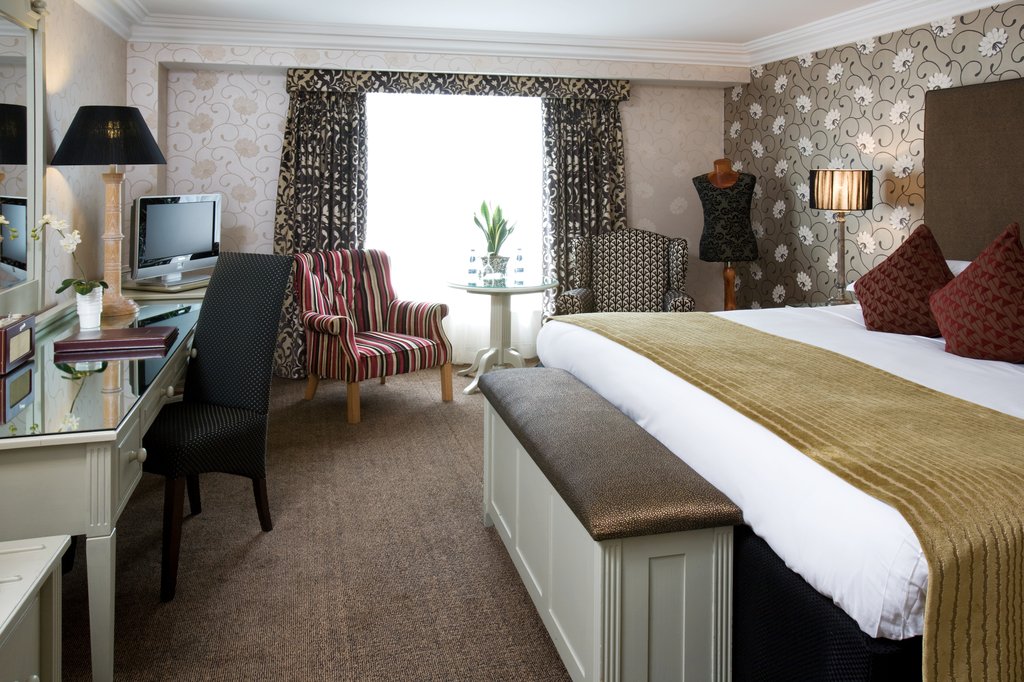 Deluxe Room
Sleeps: 2 People.
Deluxe bedrooms have either a king bed or two singles, seating area in bedroom.Complimentary WiFi, Air condition, DVD VCR, 32 LCD TV , radio , Tea and coffee facilities, and mini bar.Size 25 sqm

Trouser press, iron, mini safe and pillow Menu.
From per night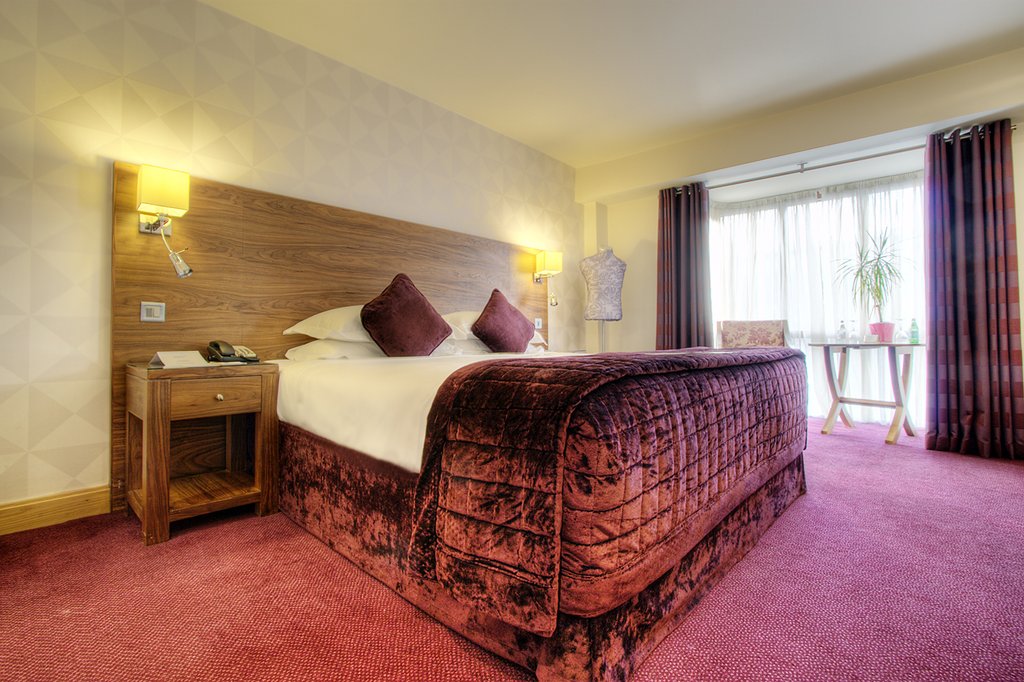 Executive Room King or twn
Sleeps: 2 People.
Executive rooms have either a king bed or two singles, seating area in bedroom.Complimentary WiFi, Air condition, Tea and Coffee facilities, DVD VCR, Radio,CD,air con,DD phone,TV. Size: 30 sqm

Trouser press, iron, mini safe, pillow menu and mini bar.
From per night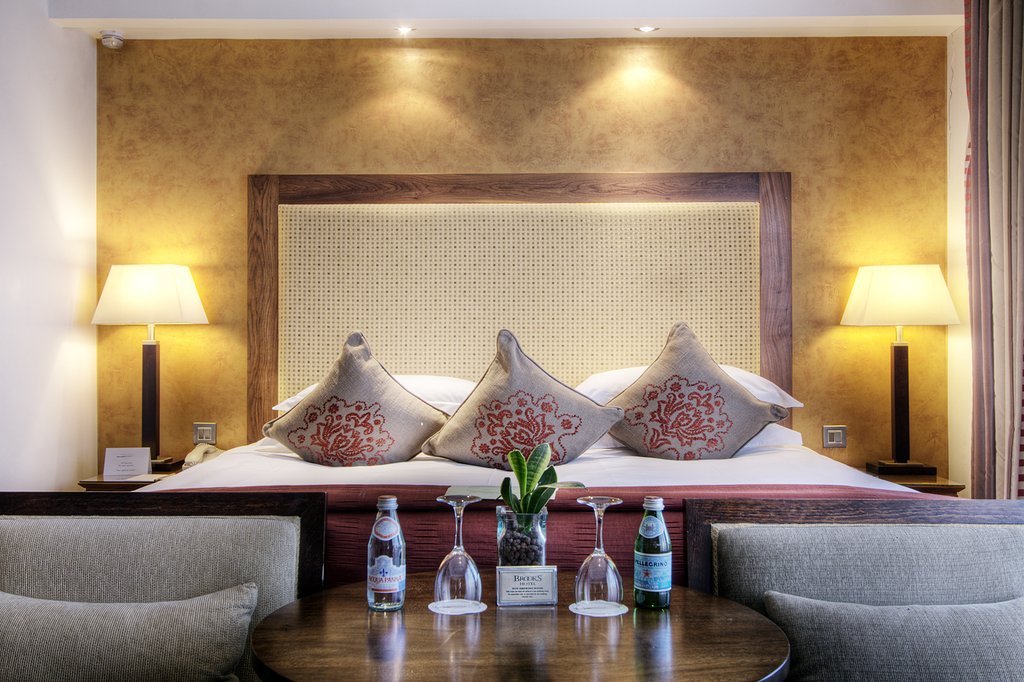 Junior Suite King
Sleeps: 2 People.
Junior Suites feature a King size bed. Complimentary WiFi, Air condition, Large Plasma TV, DVD Player, City view from the suites balcony. Generous size seating area.Size: 33 sqm.

Luxurious bathroom with separate shower sunken bath, Tile TV in bathroom.
From per night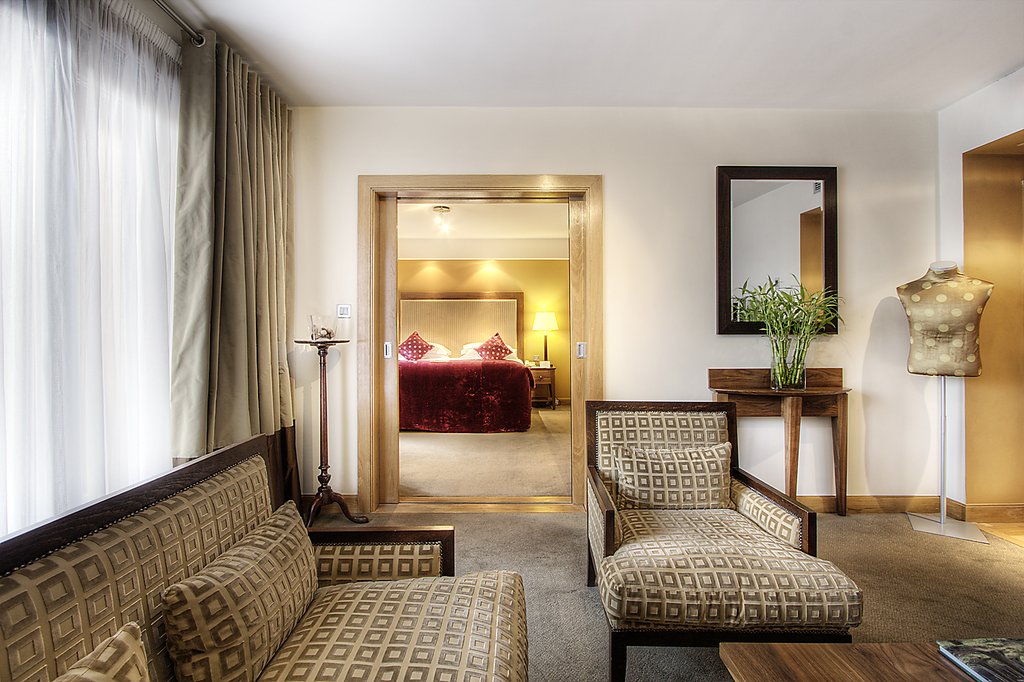 Master Suite King
Sleeps: 2 People.
The Master Suite feature a King size bed . Sitting room with fireplace, sofa w armchairs and coffee table ,large balcony with city view, bathroom with sunken bathtub and separate Shower.Size: 70 sqm

Plasma TV,phone,desk, TV above bath .
From per night
Air conditioning
Sauna
Exercise gym
24-hour room service
Join INVITED and get 10% off exclusive rates. Plus early check-in and late check-outs among other benefits.
24-hour front desk

24-hour room service

Accessible facilities

Air conditioning

Airline desk

Audio visual equipment

Bell staff/porter

Business Center Services

Car rental desk

Child programs

Children welcome

Concierge desk

Continental breakfast

Currency exchange

Doctor on call

Dry cleaning

Elevators

English breakfast

Exercise gym

Family plan

Fax service

Fire safety compliant

Flip charts

Free high speed internet connection

Full service housekeeping

Hairdresser/barber

High speed internet access for laptop in public areas

High speed internet connection

Hotspots

Housekeeping - daily

Jogging track

Meeting rooms

Overhead projector

Pets not allowed

Photocopy center

Restaurant

Room service

Safe deposit box

Security

Shoe shine stand

Shuttle to local attractions

Turndown service

Wakeup service

Wi-Fi is available in the guest rooms only and is free of charge.
Air conditioning

Alarm clock

AM/FM radio

Bathrobe

Bathroom amenities

Bathtub

Coffee/Tea maker

Color television

Desk

Direct dial phone number

Fax machine

Hairdryer

Lighted makeup mirror

Minibar

Non-smoking

Phone in bathroom

Private bathroom

Remote control television

Safe

Satellite television

Sitting area

Slippers

Smoke detectors

Sofa bed

Stereo

Telephone

TV

Voice mail
Francescas Restaurant - Modern and stylish in design, Francescas specialises in innovative Irish and International cuisine featuring the best of local and organic produce.
Francescas Restaurant
Cuisine type: International
Meals served: Breakfast, Dinner
Francesca s Restaurant is a modern and stylish restaurant featuring innovative- Irish and international cuisine led by Head Chef Pat Mc Larnon. Described as a Chef Who Cares by John and Sally Mc Kenna -Mc Kenna Guides- and Catherine Cleary -Irish Times- where she noted that Mc Larnon was quietly making lovely Irish Dinners with great ingredients. The hotel is a member of Good Food Ireland which promotes locally sourced and fresh produce.
Reviews
These reviews are the real opinions of INVITED members and we have verified their stay at the hotel.
What I liked most :

Location (40)
Breakfast (28)
Welcome and departure (20)
Internet and wifi (19)
General service (18)
Welcome and Departure (15)
Guestroom and bathroom (14)
Local knowledge and experiences (11)
General Service (9)
Guest Room and Bathroom (9)
Restaurant and dining (7)
Local knowledge and experience (5)

What I might improve :

Breakfast (5)
Guest Room and Bathroom (4)
Guestroom and bathroom (4)
Internet and wifi (3)
Leisure facilities (3)

Read Reviews

Great hotel in the center of Dublin

October 2019

My Trip Type:

Couple

During our first stay for 2 nights we were in the old Victorian style room. The room was comfortable with great bed and no noise from outside. There were some fruits and water In the room which made me feel welcomed. The internet speed was great. However the bathroom was so outdated that I mentioned this fact in the survey card and received a reply from a manager who invited us to stay in a room with modern bathroom. We already had another 1-night stay reserved at this hotel in a week. We received a very nice upgrade to a Junior suite with the street view and great modern bathroom. There were some noise from the street during night however the overall stay was very satisfactory. Both stays we had breakfast which was prompt, plenty and delicious. I would stay at this hotel again and I recommend it to anyone (couples, singles, family, business travelers, etc.)

Top tip for other guests:

If you will forget a converter for electric outlets, the reception can provide it for you.

What I liked most

Welcome and Departure
Location
General Service
Guest Room and Bathroom
Breakfast
Internet and wifi

What I might improve

Welcome and Departure
Guest Room and Bathroom

September 2019

My Trip Type:

Couple

The Brooks is a wonderful place. Staff is so welcoming and friendly. We spent a short stay and I felt I could live there forever. Centrally located to any activity and area in central Dublin. Would definitely return.

Top tip for other guests:

Try for the master suite. We were lucky to be upgraded and next time I vow to try out the tub.

What I liked most

Welcome and Departure
Location
Guest Room and Bathroom
Breakfast

What I might improve

September 2019

Top tip for other guests:

What I liked most

Welcome and Departure
Location

What I might improve

August 2019

My Trip Type:

Couple

Stayed three nights. Not really value for money. Was too expensive for what we got. Room was average (though they offered us a junior suite, it looked more than a deluxe room). Hotel looked tired. Continental breakfast was a bit of a letdown. Coffee was weak, no espresso facilities. The only highlight was the receptionist, Monica. She was cheerful, helpful and genuine. Otherwise, location was central. Do not think we are going to stay there again. Small, perhaps, Luxury certainly not.

Top tip for other guests:

See above

What I liked most

Welcome and Departure
Location

What I might improve

Guest Room and Bathroom
Breakfast

Stylish hotel in a city centre location

July 2019

My Trip Type:

Business

Staff are very welcoming and helpful. My room was upgraded to a syndicate suite which was delightful.

Top tip for other guests:

Amazing location to make the most of Dublin's lively nightlife

What I liked most

Welcome and Departure
Location
Breakfast

June 2019

My Trip Type:

Couple

Surrounding area great for exploring

Top tip for other guests:

Get suite

What I liked most

Welcome and Departure
Location
General Service
Guest Room and Bathroom
Breakfast
Leisure facilities

June 2019

My Trip Type:

Couple

people at front desk always helpful

Top tip for other guests:

great location

What I liked most

Welcome and Departure
Location
General Service
Local knowledge and experience
Guest Room and Bathroom
Breakfast
Internet and wifi

Terrific service in a great location

April 2019

Received a room upgrade and complimentary full breakfast. Welcome fruit tray was also a nice surprise. Staff were extremely friendly and welcoming.

Top tip for other guests:

We were able to check in early which was very helpful after a long journey.

What I liked most

Welcome and Departure
Location
General Service
Local knowledge and experience
Guest Room and Bathroom
Breakfast
Internet and wifi

Right in the middle of Dublin

April 2019

My Trip Type:

Business

Loved being wished Happy Easter by all the staff.

Top tip for other guests:

Book through SLH and get treated very well !

What I liked most

Welcome and Departure
Location
General Service
Guest Room and Bathroom
Breakfast
Internet and wifi

April 2019

My Trip Type:

Business

I unfortunately only stayed for one night...

Top tip for other guests:

The front desk employees in this chain, as well as the concierge are a wealth of information.

What I liked most

Welcome and Departure
Location
General Service
Local knowledge and experience

What I might improve

Breakfast
Internet and wifi

Friendly and stylish central retreat

April 2019

My Trip Type:

Business

I've been fortunate enough to stay here a few times recently and the staff now recognise me on arrival. Most recently I was treated to an upgrade to a master suite with fireplace, outdoor terrace and dressing room. Elegant styling, superior service and a great central location make this place a must visit when in Dublin.

Top tip for other guests:

Don't miss breakfast!

What I liked most

Welcome and Departure
Location
Guest Room and Bathroom
Breakfast
Internet and wifi

Relaxing and very comfortable

March 2019

My Trip Type:

Couple

Pleasant and friendly staff, great central location, first rate cooked Irish Breakfast!

Top tip for other guests:

None

What I liked most

Welcome and Departure
Location
General Service
Local knowledge and experience
Guest Room and Bathroom
Breakfast
Restaurant and dining

Great location. Charming friendly staff

November 2018

My Trip Type:

Couple

Visiting James Joyce's Martello tower in Dun Laoghaire in November and seeing swimmers in the sea.

Top tip for other guests:

Dinner at Pichet restaurant. Highly recommended.

What I liked most

Welcome and Departure
Location
General Service

October 2018

Reception was good at arrival.

Top tip for other guests:

In the centre of Dublin. Near Trinity College

What I liked most

Welcome and Departure
Location

What I might improve

Guest Room and Bathroom
Breakfast

Great hospitality and local

April 2018

The staff very were helpful and colorful. Everyone friendly. Rooms updated and modern. Great location for walking to many of the local attractions and shops. Easy access everywhere.

Top tip for other guests:

Wear your walking shoes. Just go out the door and you are in the middle of everything yet you are off the main tourist routes enough.

What I liked most

Welcome and Departure
Location
General Service
Local knowledge and experience
Guest Room and Bathroom

Lovely Hotel in the heart of Dublin

Auckland New Zeaand

My Trip Type:

Couple

Brooks was our first stay after a particularly long flight. We had a junior suite. The beds are very comfortable. Much appreciated was the fruit and tea and coffee making facilities in our room. The room was spacious and bathroom facilities right up there. Fantastic Breakfast and Irish hospitality at it's best. The hotel is close to many of the sights and good restaurants and pubs. A happy customer. Thank you.

Top tip for other guests:

Try for a higher floor. Great views

What I liked most

Internet and wifi
Guestroom and bathroom
Location
Restaurant and dining
Welcome and departure
Breakfast
General service
Local knowledge and experiences

First rate hotel in an ultra-convenient location!

Halifax, Canada

My Trip Type:

Couple

Service at the hotel was exceptional. Staff were kind, efficient and professional. Amenities included in the room were well-thought-out. Room itself was spacious with lots of storage for luggage.

Top tip for other guests:

Walking distance to most attractions on the south bank of the Liffy

What I liked most

Guestroom and bathroom
Internet and wifi
Location
Local knowledge and experiences
Breakfast
General service
Welcome and departure

Houston Texas

My Trip Type:

Couple

Wonderful hotel close to everything. Conner was fantastic in advice and information. Recommended the Hairy Lemon for dinner and it was great. Also ate one night at the hotel and it was also great.

Top tip for other guests:

Listen to Conner for great tips and info

What I liked most

Local knowledge and experiences
Breakfast
Restaurant and dining
Location
Welcome and departure

Stay date: August 2016

My Trip Type:

Couple

My husband and I stayed at the Brooks Hotel in Dublin for three nights in early August. The hotel is very well located with many major sight seeing attractions within walking distance. The room was beautiful, quiet and well appointed. But what really made our stay was the fantastic breakfasts that we enjoyed each morning. The breakfast staff are very professional and serve you with a smile of their face; you only have to wait 5-10 minutes and your cooked breakfast arrives - and it's made to order so is always fresh. On the last day I tried the crepes - they are to die for!! On our way back through Dublin after we toured around Ireland we stayed at The Greesham Hotel - this doesn't even compare to the Brooks Hotel.

Top tip for other guests:

Don't skip the breakfast!

What I liked most

Location
Breakfast
Guestroom and bathroom

What I might improve

in the centre of dublin,, staff were perfect

Stay date: June 2016

My Trip Type:

Couple

have stayed there before and will stay there again

Top tip for other guests:

relax and enjoy

What I liked most

Breakfast
Welcome and departure
General service
Location

Friendly service in a great location

Stay date: March 2016

My Trip Type:

Couple

Wonderful place for a visit in Dublin. Excellent services. A good base discover this city. One day we will come back.

Top tip for other guests:

Enjoy the breakfast.

What I liked most

Guestroom and bathroom
Breakfast
Location
Welcome and departure
General service
Internet and wifi

Stay date: March 2016

My Trip Type:

Family

This was my fourth stay at The Brooks. It never fails do be outstanding. When they realized I was traveling with my neice to celebrate her birthday & first trip to Ireland, they left a lovely letter and a delicious dessert plate in her room. Connor is always charming and the entire staff is very helpful. There will be a fifth visit to The Brooks in the near future!

Top tip for other guests:

Don't hesitate to ask for suggestions or directions! They are more than happy to help.

What I liked most

Welcome and departure
Local knowledge and experiences
General service
Breakfast
Location
Guestroom and bathroom

What I might improve

Stay date: February 2016

My Trip Type:

Business

Great location in the heart of Dublin but surprisingly quiet. The service from arrival to departure and everything in between was among the best I've experienced. Staff couldn't be more helpful but not intrusive. Lovely breakfast. Very comfortable bed.

Top tip for other guests:

Rooms at the back (ie not streetside) are nice and quiet.

What I liked most

Breakfast
Welcome and departure
General service
Location
Restaurant and dining
Internet and wifi

What I might improve

in the centre of dublin,, staff were perfect

Stay date: December 2015

My Trip Type:

Couple

the hotel was just what we wanted for a short break , lots of shopping close by , local pub on the next corner , some very nice restaurants with in walking distance ..

Top tip for other guests:

relax and enjoy

What I liked most

Guestroom and bathroom
General service
Location
Welcome and departure
Breakfast
Local knowledge and experiences
Restaurant and dining

Stay date: December 2015

My Trip Type:

Couple

An excellent hotel that catered very well for a gluten free diet, and did their best to accommodate all requests.

Top tip for other guests:

Perfect for city centre shopping.

What I liked most

Internet and wifi
General service
Guestroom and bathroom
Breakfast
Location

What I might improve

Stay date: November 2015

My Trip Type:

Family

Our stay at the Brooks was everything we had hoped for -- open and welcoming hospitality, quiet and cozy accommodation, great Irish breakfast, and a knowledgable barkeep to help us select the perfect Irish whiskey to complete the day. We will be back for sure!

Top tip for other guests:

Be sure to book tours in advance regardless of time of year. Tours to Glendalough and Kelkinny are very popular and are sold out days in advance even in winter.

What I liked most

Breakfast
Local knowledge and experiences
Location
Welcome and departure

What I might improve

Great hotel. Great staff. Perfect location!

Stay date: October 2015

My Trip Type:

Couple

We had a wonderful stay. It is the perfect, central location to tour Dublin. The room was modern and cozy. The staff was welcoming and helpful. Great breakfasts.

Top tip for other guests:

If you are in Dublin eat at the Green Hen

What I liked most

Breakfast
Location
General service
Guestroom and bathroom

What I might improve

Stay date: July 2015

My Trip Type:

Couple

Everything and everyone was wonderful

Top tip for other guests:

staff is very helpul

What I liked most

Restaurant and dining
Location
Welcome and departure
General service
Breakfast
Internet and wifi

Excellent boutique hotel in the heart of Dublin

Stay date: May 2015

My Trip Type:

Couple

From arrival to departure, everything was as it should be. The saff was friendly and courteous, breakfast was as ordered (although there could be a better selection of fruit), the room was comfortable and well maintained and the bar was friendly and fairly priced. We would surely stay at Brooks again.

Top tip for other guests:

A little hard to find, but well worth the "search."

What I liked most

Guestroom and bathroom
Location
Breakfast
Internet and wifi
Welcome and departure

Perfect location in city centre.

Stay date: April 2015

My Trip Type:

Couple

The staff is helpful; nice people with a personal approach. We felt really welcome. The location in the city is ok. But the frontview is on the parking garage. We were lucky to stay on the fifth floor with a balcony: we could see the rooftops of the surrounding buildings. We recommend the manager to do something about the airco system. The room was quite warm so we slept with the open balcony-door. Room service is good, so is the breakfast.

Top tip for other guests:

Go for the 5th floor at least!

What I liked most

General service
Location
Welcome and departure

What I might improve

Great starting place to explore Dublin

Stay date: April 2015

My Trip Type:

Couple

The Brooks Hotel is a great place to stay when wanting to explore the Dublin sights. It's very conveniently located right in the middle of a busy neigborhood full of bars, pubs, restaurants and clubs. The room itself was quite spacious, the TV channel selection was very limited, though. The hair dryer in the bathroom is not powerful at all so bring your own if you need one. All the staff were super helpful when we had questions or issues with the room. They were genuinely interested in us as their guests and gave great tips. The breakfast was tasty but the buffet selection was rather limited. I did like the crepes off the menu, though. All in all, a decent city hotel, would definitely recommend for a quick city trip to Dublin.

Top tip for other guests:

Make sure you have breakfast included in your booking, this also includes the menu with Full English, etc.

What I liked most

Internet and wifi
Location
Welcome and departure
General service

What I might improve

Breakfast
Guestroom and bathroom

Very nice hotel, great location

Stay date: April 2015

My Trip Type:

Friends

Everything was really very good, rooms, staff, breakfast... The only disappointment were the shabby, old chairs in the Jasmine bar (some of them had to be covered as the leather on the armrest was peeling off). We liked the room decoration - especially the wallpaper!

Top tip for other guests:

Great hotel, great location

What I liked most

Breakfast
Welcome and departure
General service
Local knowledge and experiences
Internet and wifi
Location

Friendly, great service and great locati

Stay date: January 2015

My Trip Type:

Couple

Warm breakfast was not a buffet but on order, much better. Friendly staff and great location

Top tip for other guests:

It's important that you book with SLH, breakfast incl, late checkout...

What I liked most

General service
Local knowledge and experiences
Location
Internet and wifi
Welcome and departure
Breakfast

Perfect location, breakfast included

Stay date: January 2015

My Trip Type:

Couple

Location is perfect and we didn't take a taxi except to/from the airport. They provide a buffet and cooked breakfast which is included in the room price which make it a great value if you take advantage of it. The room was a bit small and dated (what hear is the hairdryer from) but for the price it was a great value! TV channels were pretty bad (no BBC, CNN etc) but that could be the region and not a big deal. They also have free wifi which is important especially when traveling abroad.

Top tip for other guests:

Take advantage of breakfast, don't expect a high quality hairdryer.

What I liked most

Internet and wifi
Location
Breakfast

What I might improve

Stay date: October 2014

My Trip Type:

Single

From start to extended finish, room, staff and location were just perfect. The staff went above and beyond to accommodate. From locating a hiking guide, storing luggage and finding a room when my flight was cancelled. Hotel is just around the corner from almost everything. Empty mini fridge is very handy.

Top tip for other guests:

Dublin is a great walking city.

What I liked most

Welcome and departure
General service
Guestroom and bathroom
Location

Stay date: June 2014

My Trip Type:

Friends

The service at this hotel exceeded any I've had anywhere else in the world. If you asked a question and they didn't know the answer, they went out of their way to find out. They were all very friendly and helpful. Nothing seemed to be too much trouble. Shortly after arrival I called the desk over a concern I had about the view from my room.. Within 5 minutes one of the managers was at my room and showed me an alternative. I ended up staying in the original room because I liked it better and it turned out to be fine. The rooms were well appointed and clean and the beds were very comfortable. The breakfast was so good that we couldn't wait to repeat it. The hotel gave us very good recommendations for places to eat. Everything was really wonderful. They are also very well located, a short walk to Trinity College and not near the noisy areas like Temple Bar. The only downside to the hotel is that the views are not good, probably because they are so centrally located. If the view is important to you - this could be a problem. Otherwise, altogether a wonderful experience. Will definitely stay here again if I return to Dublin.

Top tip for other guests:

Must try the porridge with whiskey and the vegetarian sausages.

What I liked most

Breakfast
General service
Guestroom and bathroom
Internet and wifi
Welcome and departure
Location

Great server for a larger venue

Stay date: March 2014

My Trip Type:

Friends

This is one of the larger SLH hotels I've stayed at, but the attention and level of service made you feel like it was much smaller. We received some fantastic dinner recommendations, and the central location simply can't be beat. However, I'd skip both breakfast and their bar and head out into Dublin as there are many better options for both.

Top tip for other guests:

Get a larger room or an upper floor - and enjoy the pillow menu!

What I liked most

Location
Welcome and departure
Guestroom and bathroom
Local knowledge and experiences
General service

What I might improve

Stay date: December 2013

My Trip Type:

Couple

The hotel is beautiful and in an excellent location for adventures in Dublin...but the greatest asset to this establishment are the staff. After getting us settled at breakfast following a very early check-in, we were quickly whisked upstairs to an upgraded room by the exceptional concierge (Connor) who then proceeded to provide us with all the information we needed for our stay. Some hotels are fine for staying in after spending the whole day out and about; Brooks though is the sort of place that's hard to leave in the first place. Thanks to all for a fantastic stay - we will be back.

Top tip for other guests:

Nothing seemed to be too much trouble - Just ask.

What I liked most

Guestroom and bathroom
Welcome and departure
Local knowledge and experiences
Restaurant and dining
General service
Breakfast
Internet and wifi
Location

Stay date: November 2013

My Trip Type:

Couple

Our stay at the Brooks Hotel was wonderful. The staff was excellent and very friendly. The concierge gave us great ideas on things to do in Dublin. The hotel has a nice charm and the room was very comfortable. The location is excellent--right in the heart of downtown-- a short walk to shopping on Grafton street, Trinity college, and St. Patrick's Cathedral. I would definitely return again.

Top tip for other guests:

There's a great steak house on Lord Edward street called the Bull and Castle.

What I liked most

Internet and wifi
Guestroom and bathroom
Local knowledge and experiences
Location

Stay date: December 2012

My Trip Type:

Couple

Centrally located and a reasonable standard. Would stay again.

Top tip for other guests:

N/A

What I liked most

Location
Welcome and departure

What I might improve