https://origin.slh.com/hotels/chateau-dartigny-hotel/
Hotel Highlights
18th-century mansion in the heart of the Loire Valley
Unique wine cellar filled with over 20,000 bottles
Rooms have breathtaking views of the river Indre
Château d'Artigny - Luxury Hotel in the Loire Valley
A palatial mansion set in a 65-acre private estate with manicured gardens, Château d'Artigny Hotel is a majestic castle in the heart of the Loire Valley. Lavish architectural features, a superb new spa in the vaulted cellars, inventive cuisine and an impressive wine cellar are just some of the incentives for staying here.
Every room at Château d'Artigny Hotel is a tribute to 18th-century splendour. Elegance and grandeur in a regal style is evident at every turn with sweeping staircases, trompe l'oeil frescoes, pillared bedrooms, opulent salons and enormous windows with stunning views of the River Indre, the French gardens, the chateau or the park.
Visit Château d'Artigny's new spa and enjoy the pool with a built-in Jacuzzi, the steam room, sauna and spa treatments. There are a number of therapies specifically designed for men and women. In the evening, dine on excellent locally sourced, regional cuisine in the sumptuous Origan Restaurant complete with wood panelling, gold leaf reliefs, fluted columns and delightful river valley views.
56

rooms

1

restaurant

3

floors
The rooms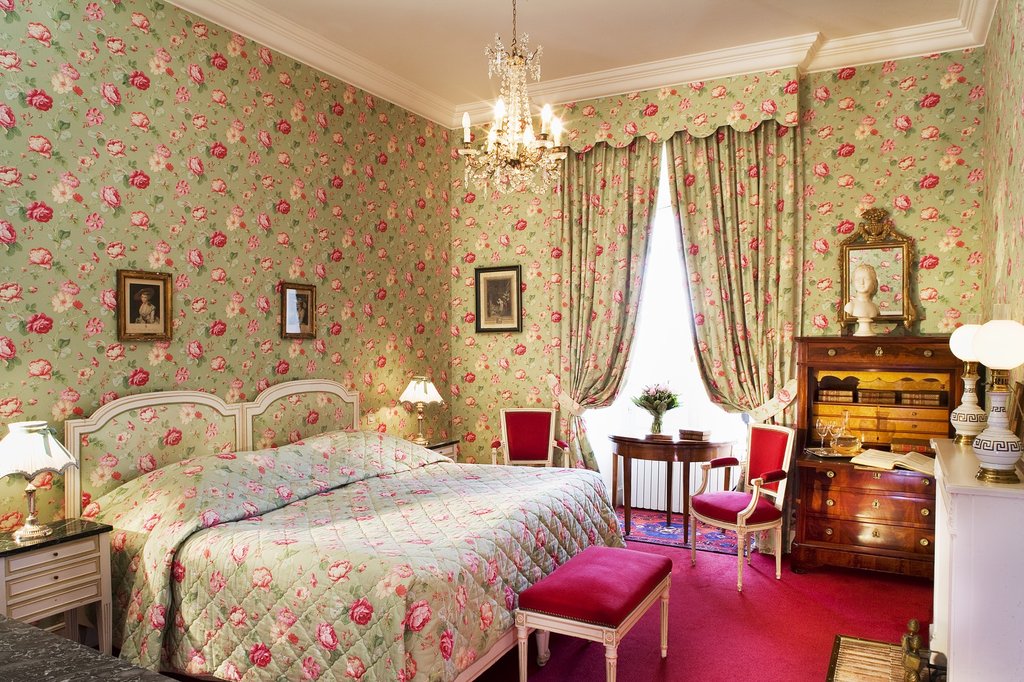 Deluxe Room
Sleeps: 2 People.
The Deluxe king or twin bedded rooms are spacious charming, elegant with stylished furnitures. Located in the main Chateau or in The Fragrance House

nearby tennis and swimming pool. Overlooking the river, gardens, park or woods. Flat screen, air conditioning. 20 to 25 square metres.
From per night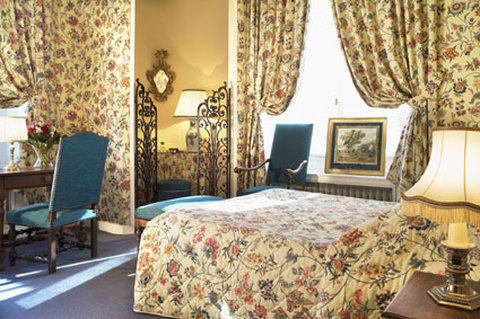 Superior Room
Sleeps: 2 People.
Superior double or twin bedded room, period furniture located in the chateau and in Ariane Pavilion over the Spa.

Overlooking Indre valley, gardens, park or woods. Equipped with mini bar, hairdryer, flat screen television.
From per night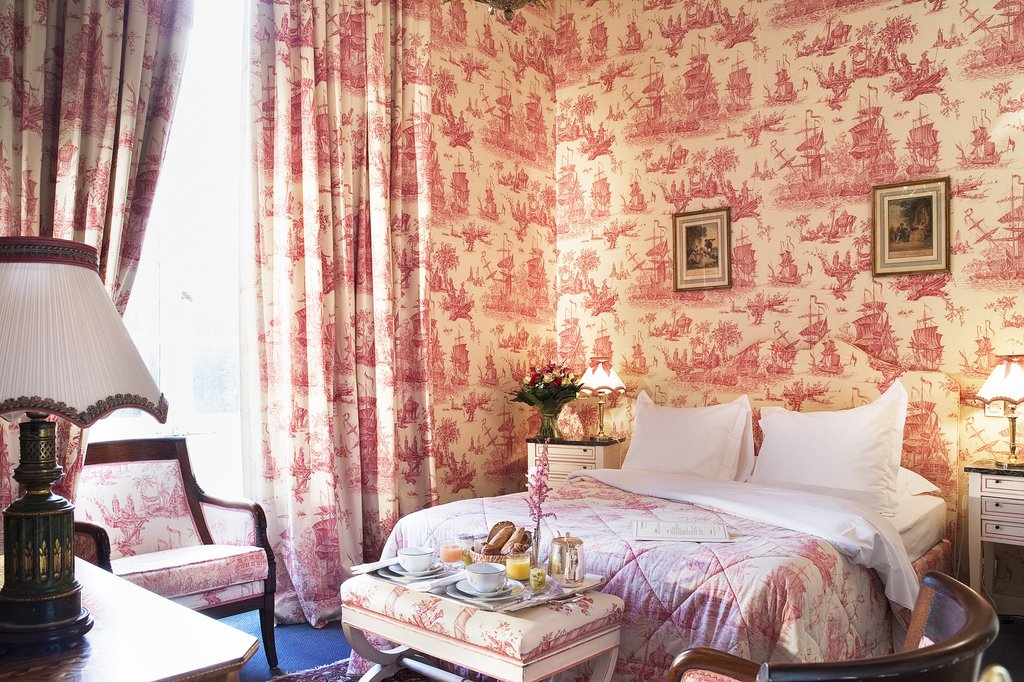 Traditional Standard Room
Sleeps: 2 People.
Nice and charming rooms with double bed only, located in the chateau or in the Ariane Pavilion.

Overlooking river, park, gardens, woods or chateau. Each equipped with mini bar, hair-dryer, flat screen television. No twin beds in this category.
From per night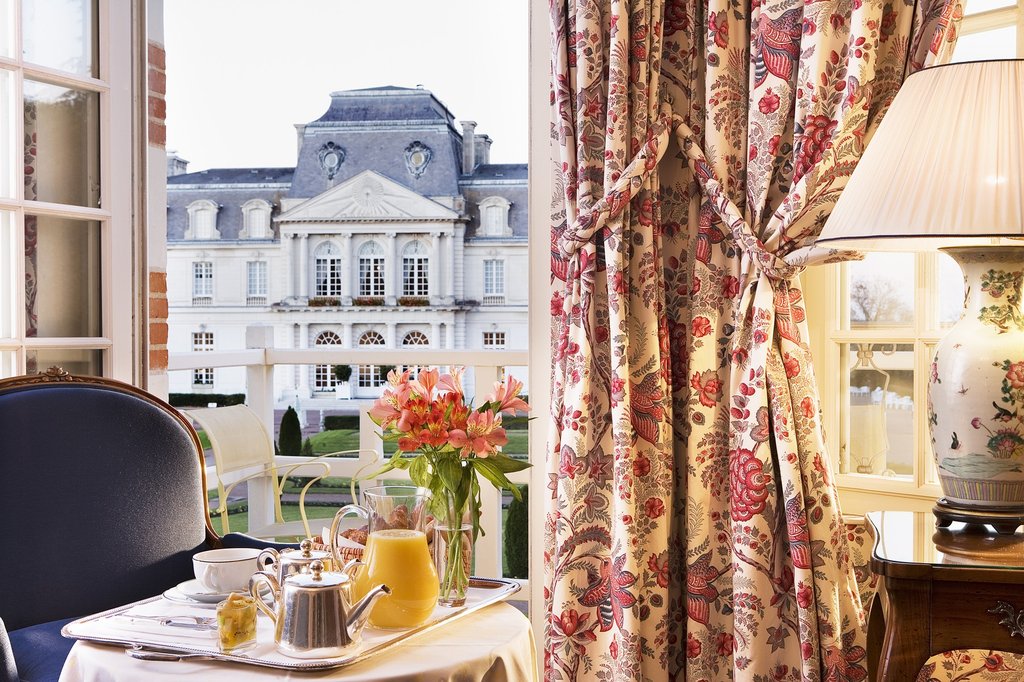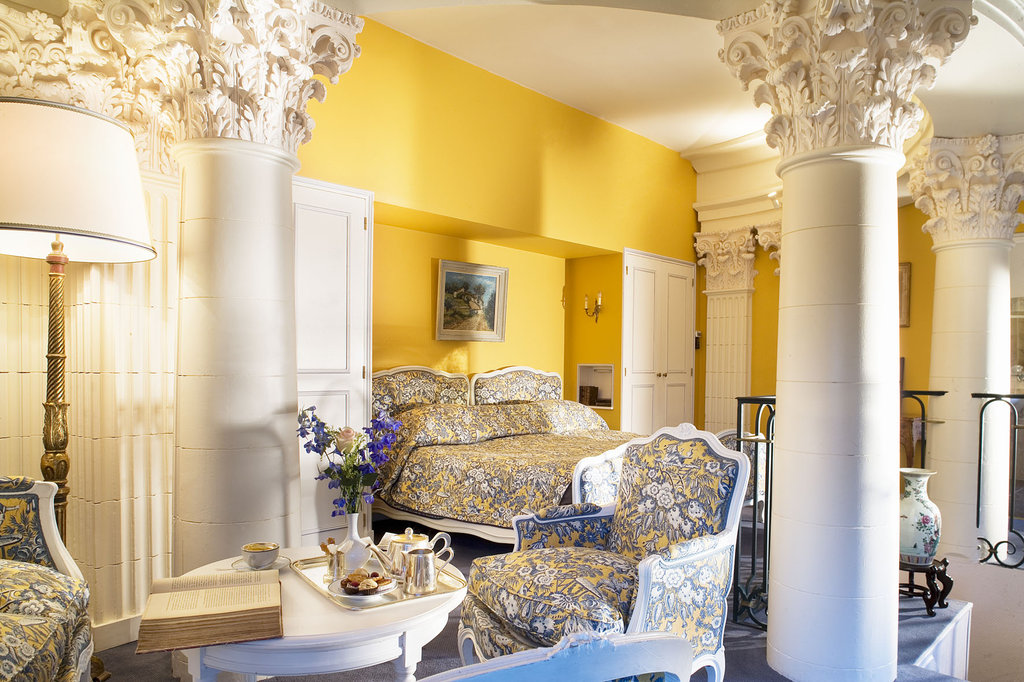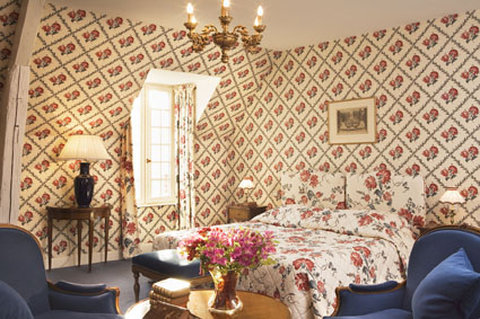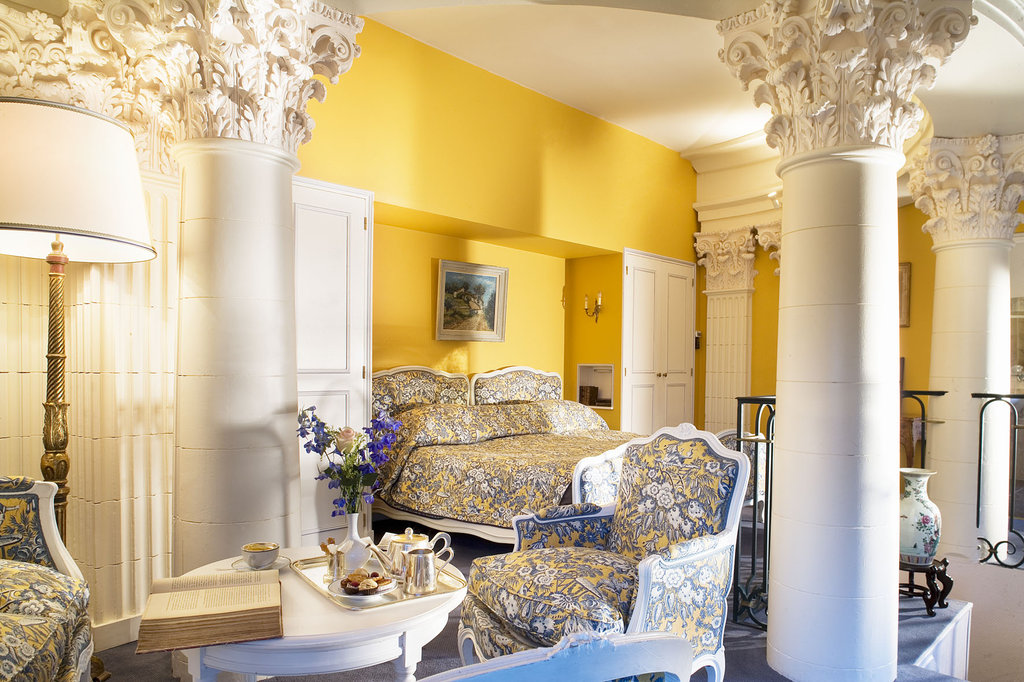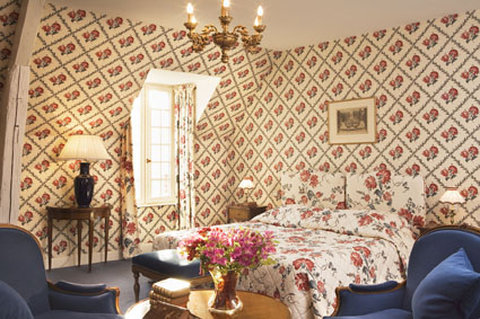 Junior Suite
Sleeps: 3 People.
The Luxurious Junior Suites and duplex are spacious, located in main chateau, Ariane Pavilion or Fragrance House.

Overlooking the Chateau, gardens, park or woods. Sofa bed possible for children under 12. Flat screen, Air conditioning.
From per night
Pets allowed
Join INVITED and get 10% off exclusive rates. Plus early check-in and late check-outs among other benefits.
24-hour front desk

Accessible facilities

Audio visual equipment

Bell staff/porter

Buffet breakfast

Business Center Services

Catering services

Child programs

Children welcome

Concierge desk

Continental breakfast

Currency exchange

Doctor on call

Elevators

Family plan

Fax service

Free parking

Full service housekeeping

Gift/News stand

Half board/modified American plan

Housekeeping - daily

Late check out guarantee

Laundry/Valet service

Newspaper

Parking fee managed by hotel

Pets allowed

Photocopy center

price in local currency. Per person, per night

Restaurant

Room service

Room service - limited hours

Safe deposit box

Secretarial service

Security

Shoe shine stand

Translation services

Turndown service

Wakeup service

Wireless internet connection
Bathrobe

Bathtub

Bathtub/shower combination

Cable television

Color television

Desk

Direct dial phone number

Free newspaper

Hairdryer

King bed

Minibar

Queen bed

Remote control television

Safe

Satellite television

Sitting area

Smoke detectors

Sofa bed

Telephone

TV
The "Origan" restaurant welcomes you into sumptuous surroundings. How could you not be seduced by the magnificent, delicately coloured wood panelling, decorated with gilt gold leaf reliefs, the exquisite fluted columns with Corinthian capitals and above all, the beautiful view over the valley of Indre.
ORIGAN Restaurant
Cuisine type: French
Meals served: Lunch, Dinner
Chef Richard Prouteau succeeded Francis Maignaut at Chateau d Artigny in September 2010. Very attached to the fundamentals of French culinary art- Richard Prouteau is passionate about regional products.He adores linking the technical sleight of hand with the wish to provide pleasure. Smart dress required - no shorts and trainers. Reservations are necessary. Our Restaurant will be exceptionnally closed the evening of March 14th 2019
Poolside Bar
Cuisine type: International
Meals served: Lunch
Lunch buffet each day in July and August by the swimming pool
Reviews
These reviews are the real opinions of INVITED members and we have verified their stay at the hotel.
What I liked most :

General service (11)
Location (10)
Restaurant and dining (9)
Welcome and departure (9)
Breakfast (7)
Guestroom and bathroom (5)

What I might improve :

Guestroom and bathroom (4)
Internet and wifi (3)
Leisure facilities (3)

Read Reviews

Stay date: December 2016

My Trip Type:

Couple

The castle is nice and historic but, despite the smile and good service of employees, the level ks lower than expected for Slh. Dinner and breakfast were below expectation, mainly breakfast! The room was cold and cannot heat more... We did not get opportunity to test Spa.

Top tip for other guests:

If you are not demanding for gastronomy, the place can be appreciated. Good place for Spa, from what we heard

What I liked most

Internet and wifi
Welcome and departure
Location
Room service

What I might improve

Breakfast
Guestroom and bathroom
Restaurant and dining

Splendid retreat in our wonderful setting

Stay date: April 2016

My Trip Type:

Couple

Wonderful hotel in a beautiful countryside. Very romantic with a splendid restaurant. The staff is very friendly and attentive. We loved it. The reason I gave not five stars is that the bathroom showed some wear and tear- they need to fix this!

Top tip for other guests:

Wonderful cuisine! Must try the restaurant.

What I liked most

What I might improve

Absurdly splendid but seriously good

Stay date: October 2015

My Trip Type:

Couple

Described as a luxury hotel, the Château d'Artigny is sensational rather than luxurious, in that it was built at ruinous expense in the 1920's as an imitation of a 17th century château of great splendour, into which the necessities of modern comfort and safety have since been rather awkwardly included. Nevertheless there is nothing ersatz about the surrounding woodland and the magnificent views. Every comfort is, however awkwardly, provided; our bathroom was almost the same size as the high ceiling and spacious bedroom. Of particular note is the standard of the cuisine; if it misses the fine furbelows of the plus haute, it makes up for it in good food with its flavours enhanced by sound and careful technique. All the staff are particularly pleasant and helpful.

Top tip for other guests:

Ask for a room with a view over the countryside

What I liked most

Welcome and departure
Location
Restaurant and dining
Guestroom and bathroom
General service
Breakfast

What I might improve

Beautiful property, wonderful stay

Stay date: October 2015

My Trip Type:

Couple

Our first visit to the Loire Valley was made wonderful by the staff, especially Moustafah and Bunot. This stately chateau is also well situated in that we felt "central" and enjoyed the drive to historical landmarks elsewhere. Fabulous food, beautifully presented. Extensive wine list.

Top tip for other guests:

Arrive early in the day; Garmin let us down. Harder to navigate at night.

What I liked most

Breakfast
General service
Room service
Restaurant and dining
Welcome and departure

What I might improve

Stay date: September 2015

My Trip Type:

Couple

The Chateau is quite simply stunning. The drive up to it from the main road makes it feel special immediately. As you approach the entrance it is breath-taking and worth staying almost for the arrival alone. We were welcomed by Thibaus (not sure of the spelling) who provided some of the best service we have experienced. He could not do enough for us and was brilliant. He made the stay even more special and is an asset to the Chateau. We received an upgrade and our room was lovely with a huge bathroom. The view from the room extended right over the valley and was amazing. In my opinion the room felt a bit dated and some aspects of the hotel could maybe do with being updated (room, outdoor pool and bar). However the restaurant looked very nice and the spa area was great (bit of a walk down an underground tunnel but worth it). The staff were all very friendly with lots of attention to detail. There is plenty of parking and the local village has some really nice restaurants/patisseries.

Top tip for other guests:

If you want to eat in the local village ask reception to book somewhere for you as they get booked up.

What I liked most

Local knowledge and experiences
Leisure facilities
General service
Welcome and departure
Location

What I might improve

Guestroom and bathroom
Leisure facilities

Beautiful hotel and lovely dinner

Stay date: August 2015

My Trip Type:

Couple

We stayed in the main building and the room had very high ceilings and was nicely appointed but down a very long hall with steps up and down. The room was quiet which was nice. Dinner there was wonderful. Very formal in a beautiful dining room. The place would be wonderful for a wedding or other special event. Wifi was quite slow however.

Top tip for other guests:

ensure your room is in the main chateau building

What I liked most

General service
Restaurant and dining
Guestroom and bathroom

What I might improve

Stay date: May 2015

My Trip Type:

Couple

the chateau and property are beautiful. we were not thrilled with the first suite we were shown. they were very accomodating when we asked to see what else was available. we found the dining experience to be fabulous - the surroundings, the service and the food were wonderful.

Top tip for other guests:

after 8:00 p.m. you won't have access to the connecting tunnel and will have to walk outside to go from the chapel to the chateau - that can be an issue in inclement weather

What I liked most

Restaurant and dining
General service
Location

What I might improve

Beatiful building and setting

Stay date: March 2015

My Trip Type:

Couple

Beautiful building and decor, staff helpful, dissapointing gym and spar, enjoyable lunch served well. Breakfast excellent, bedroom good but some maintenance problems (fridge and shower) no tea or coffee making facilities in bedroom.

Top tip for other guests:

Bring your own travel kettle.

What I liked most

Location
Breakfast
Welcome and departure
Restaurant and dining

What I might improve

Leisure facilities
Guestroom and bathroom

Stay date: March 2015

My Trip Type:

Couple

We loved the grounds and the friendly and professional service. It's only 30 mins from Tours and close to major highways, and yet feels very secluded and peaceful. The chateau was warm and cozy, yet a bit run down. The amenities and services were far from 5 star. No soy milk, poor TV reception, bitter coffee, no real room service (just a plateau with meat or fish), no snacks available. Not really any vegetarian options on the menu. However, the restaurant was very accommodating and our dining experience there on Saturday night was very nice. The bar area is very nice and the mixologist is passionate and talented. Too bad the fireplace is no longer working!

Top tip for other guests:

Take snacks! There is nothing to eat on site other than a meat or fish plate and very limited option in the neighbouring areas from what we found.

What I liked most

Internet and wifi
Location
Welcome and departure
General service

What I might improve

Room service
Local knowledge and experiences
Restaurant and dining

gorgeous facility, marvelous staff

Stay date: October 2014

My Trip Type:

Couple

From the initial greeting at the front desk, to the final goodbye as we checked out, the gracious, happy, friendly, and helpful staff at the hotel stands out as the best thing about our stay here. And that's a huge thing given the stunning setting, the gorgeous building and grounds, the exquisite food, and luxurious accommodations. All first class, and beyond our expectations. We'll return, over and over again.

Top tip for other guests:

The wine steward is one of the most helpful sommeliers ever: ask for and heed his sage advice

What I liked most

General service
Guestroom and bathroom
Breakfast
Local knowledge and experiences
Location
Restaurant and dining
Welcome and departure

Stay date: September 2014

My Trip Type:

Couple

We stayed here for the first 2 nights of a a month long trip to France and it was the best start to our holiday. Very luxurious and special place. Our room was beautiful and had amazing views over the front of the property. Dinner in the restaurant was very impressive.

Top tip for other guests:

Also recommend Restaurant La Chanceliere in Montbazon wonderful Michelin starred restaurant

What I liked most

Guestroom and bathroom
Location
Restaurant and dining
Breakfast
General service
Welcome and departure

What I might improve

Internet and wifi
An Outside Bar Area

Excellent location to reserach Loire

Stay date: March 2014

My Trip Type:

Couple

We stayed in Chateau for one day in March. It was one of the few options available in that area around that time of the year which was very convenient for us travelling for our statutory holiday break at the beggining of March. Our room was small but nciely decorated and with an excellent view over the river, the dinner was lovely and also service was very welcoming. The park around is large and beautiful. Chateau is located in the lovely area and you can travel easily to any Loire Valley sites from it.

Top tip for other guests:

Plan some trips around the place use scenic routes not highway you will enjoy it much more - very convenient location

What I liked most

Restaurant and dining
Guestroom and bathroom
Breakfast
General service
Welcome and departure
Location

Stay date: September 2013

My Trip Type:

Couple

Wonderful dining experience - room and quality of food, wine and service-- all excellent. Fantastic outlooks Excellent breakfasts also Spa services were very good and included in the package. Overall a very good experience -- staff were great, cheerful and "fun"

Top tip for other guests:

Highly recommended - try the wine selection

What I liked most

Breakfast
Restaurant and dining
Location
General service
More hotels in Loire Valley