https://origin.slh.com/hotels/chateau-de-fere/
Hotel Highlights
Overlooking the ruins of a medieval castle, in 70 hectares of elegant grounds
Guided tours in the wine cellar with in-house sommelier
A wide range of spa treatments, Turkish bath, sauna, indoor and outdoor pools
Château de Fère Hôtel & Spa - LUXURY HOTEL IN CHAMPAGNE REGION
A fairy-tale castle in a romantic setting in Champagne country
Château de Fère Hôtel & Spa sits adjacent to the evocative ruins of a 13th-century fortified castle that fell into ruins in the 17th century. Formerly a wing of the old castle, the chateau was restored in 1863 and nestles amidst woodland and manicured lawns with an ancient bridge that spans the moat.
With many of the rooms of Château de Fère overlooking the the Château's garden or ruins of the medieval castle, the atmosphere here is incredibly romantic. Rooms are tastefully decorated with works of art and antique furniture in the spacious suites.
Enjoy a bike ride in the park or gardens or try your hand at a game of tennis. Refresh yourself with a dip in the outdoor pool or request a massage in your room. In the afternoon, take a trip to the famous Champagne houses in nearby Epernay and Reims. Return to Château de Fère for a gastronomic dinner in the restaurant.
29

rooms

1

restaurant

2

floors
The rooms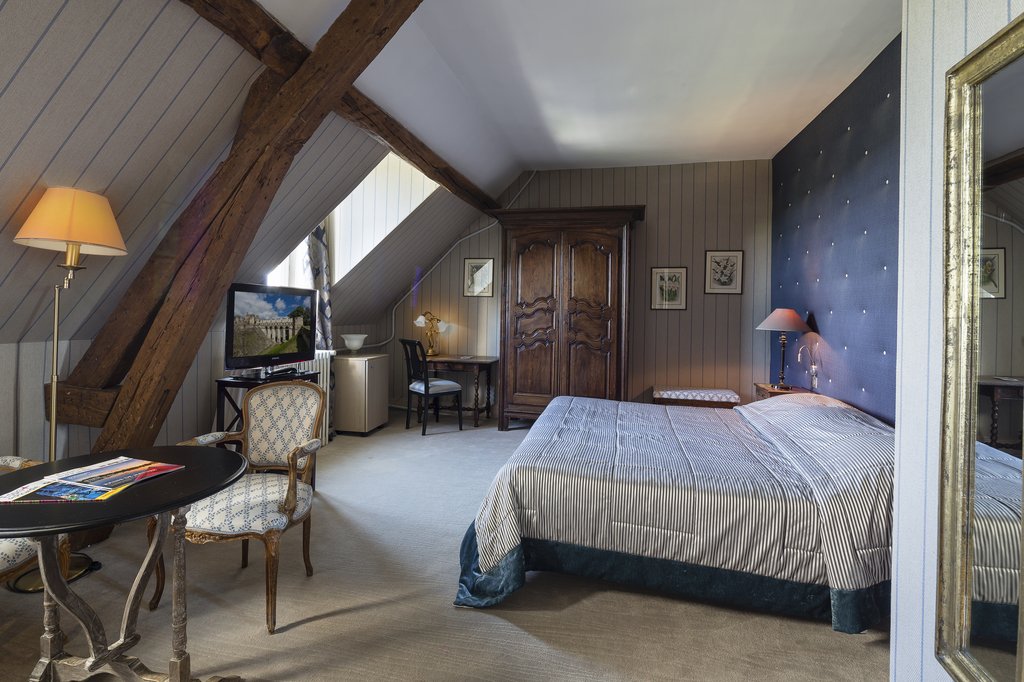 Luxe Double
Sleeps: 2 People.
All rooms are perfectly equipped in 5* with a flat screen television and a satellite connection, a minibar, a safe, and, of course, free Wi-fi.

The Luxe Rooms, from 15 to 20 square metres, boast a classic, recently renovated decoration.
From per night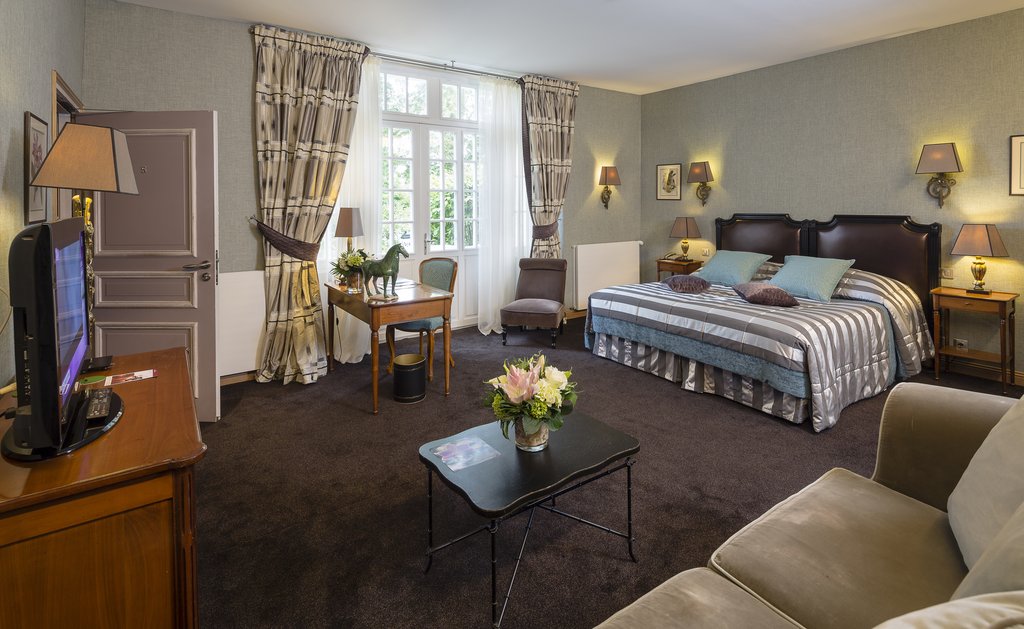 Superior Double
Sleeps: 3 People.
A refined environment and a high class presentation: These rooms are prettily decorated, offering a truly comfortable privacy.

They give their occupants a view over either the medieval ruins or the surrounding gardens. Three of them include private terraces. Flat screen television and a satellite connection, a minibar, a safe, and, complimentary Wifi. 32-44 sq. m.
From per night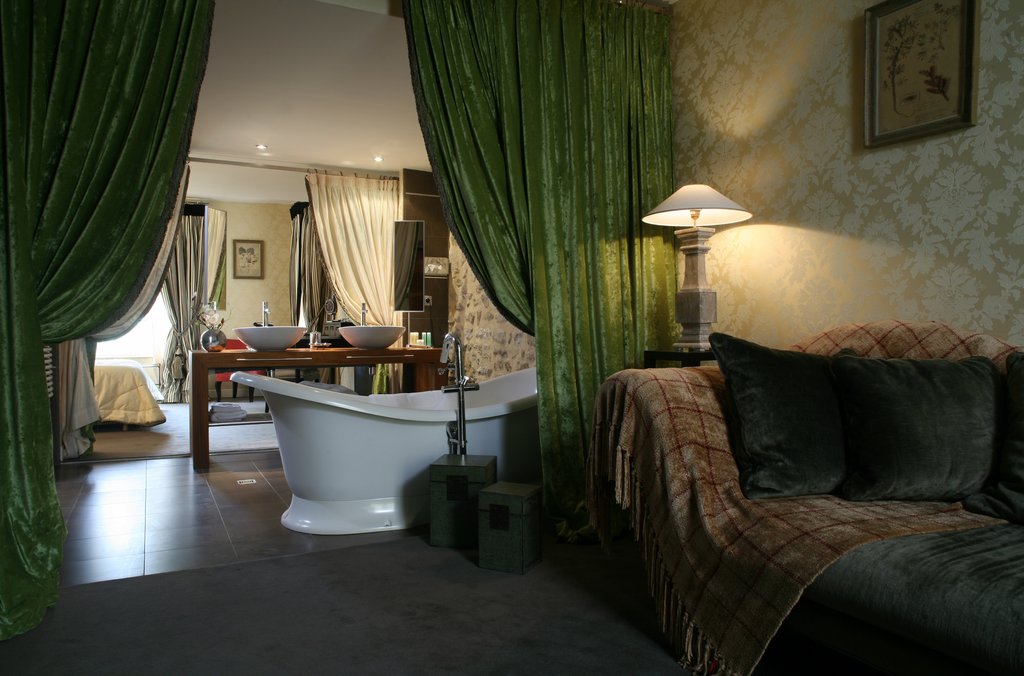 King Room
Sleeps: 3 People.
Spacious rooms with a living room corner, charm, comfort and overlooking the surrounding nature or the picturesque remains of the fortress. Private bathtub and toilet.

Flat screen television, Wifi, a telephone, a minibar, and a safe. From 35 to 46 square metres.
From per night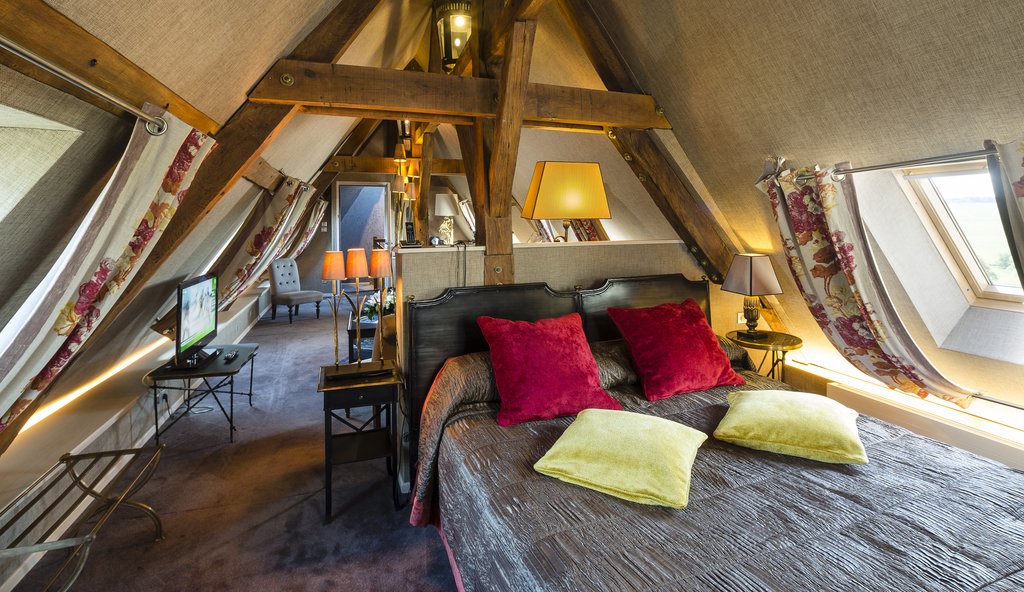 Queen Room
Sleeps: 2 People.
Luxury elegant suites with period furniture and modern comfort, spacious 60 square metres. One bedroom corner with a living room corner.

Magnificent bathroom equipped with a shower a separate toilet and a balneo bathtub with hydromassage baths. Overlooking the historic castle ruins. Flat screen television, Wifi, a minibar, a safe. 45 sq. metres
From per night
Lounges/bars
Sauna
outdoor
Tennis court
Pets allowed
Pool
Wedding services
Join INVITED and get 10% off exclusive rates. Plus early check-in and late check-outs among other benefits.
24-hour front desk

24-hour security

Accessible facilities

Accessible parking

Audio visual equipment

Bell staff/porter

Buffet breakfast

Business Center Services

Catering services

Child programs

Children welcome

Computer

Computer rental

Concierge desk

Conference space

Continental breakfast

Doctor on call

DVD/video rental

Family plan

Fax service

Fire safety compliant

Flip charts

Free high speed internet connection

Free parking

Full service housekeeping

Gift/News stand

Hairdresser/barber

Handicap Parking

High speed internet access for laptop in public areas

High speed internet connection

Hotspots

Housekeeping - daily

Jogging track

Laundry/Valet service

Lounges/bars

Massage services

Meeting rooms

Newspaper

outdoor

Overhead projector

Parking fee managed by hotel

Pets allowed

Photocopy center

Pool

Restaurant

Safe deposit box

Secretarial service

Security

Shoe shine stand

Tennis court

Valet parking

Wakeup service

Wedding services

Wireless internet connection
Alarm clock

AM/FM radio

Balcony/Lanai/Terrace

Bathrobe

Bathroom amenities

Bathtub

Cable television

CD player

Color television

Desk

Direct dial phone number

Double beds

DVD player

Free newspaper

Grab bars in bathroom

Hairdryer

Internet access

Jacuzzi

King bed

Minibar

Phone in bathroom

Remote control television

Safe

Satellite television

Sitting area

Slippers

Smoke detectors

Speaker phone

Telephone

TV

Twin bed
A French Gastronomic Experience in the heart of the Champagne region.
RESTAURANT
Cuisine type: French
Meals served: Breakfast, Lunch, Dinner
French Gastronomy served in the 3 lounges with fireplace and chandelier. Terrace is opened in summer. 50 seats. Closed for lunch time on Monday and Tuesday. Lunch from 12.30 to 13.30 PM and Dinner from 19.30 to 21.30 PM
Cing Monde Spa - Jean Louis Poiraux who founded CINQ MONDEDS is a keen fan of Massages, Aromatherapy and cosmetics, and has spent over ten years cross crossing the globe to find the best treatments and massages from all over the world. Today Cinq Monde Spa, Rituels de Beaute du Monde bring together a wonderful palette of well-being treatments and traditions, imbued with quality authenticity and ceremonial. The SPA with the values it conveys, is a subtle transposition of the universe of well being and a treatment with an emotional and sensory approach. The treatments are offered in-room. The bathroom is opened onto the bedroom which becomes, with the presence of a treatment bed, a private room reserved for your massage. Priority is given to treatments designed to favour relaxation. Bodily treatments, however, such as rubbing and modelling, are also given. The exceptional environment, with a view on the castle ruins and the majestic forest, contributes to this sensation of peace and well-being.
Reviews
These reviews are the real opinions of INVITED members and we have verified their stay at the hotel.
What I liked most :

Location (45)
Restaurant and dining (35)
Welcome and departure (35)
General service (26)
Guestroom and bathroom (25)
Breakfast (22)
Internet and wifi (9)
Leisure facilities (9)
Local knowledge and experiences (7)
Guest Room and Bathroom (4)
Welcome and Departure (4)
General Service (3)
Room service (3)

What I might improve :

Restaurant and dining (15)
Internet and wifi (14)
Leisure facilities (12)
Breakfast (10)
Guestroom and bathroom (8)
Welcome and Departure (8)
Guest Room and Bathroom (6)
General service (5)
General Service (5)

Read Reviews

October 2019

SLH have become known for having very inconsistent service towards its Indulged members and not respecting member benefits. Wise from a few very bad experiences, I contacted this hotel beforehand to ensure the benefits I had in mind were indeed included (like complimentary breakfast etc.). I also had a USD 300 voucher to redeem, which also was confirmed with the hotel beforehand. We selected this hotel because its claimed proximity to the Champagne district. This turned out to be less than convenient, with both Reims and Epernay being 45 minutes each away. After a night's sleep (note that the rooms do not have AC, which means they feel rather claustrophobic if you don't sleep with the windows open), we headed for breakfast. Europe is not known for good breakfasts, but this was bordering the pathetic. Half the laid out buffet was only butter, a very limited selection in bread and some marmelade jars. No cheeses or cold cuts, anything remotely edible and filling was charged extra. I took a small piece of bread and a marmelade jar. The jar was only half full when I opened it and to my horror I found mould in it... Needless to say, I was too scared to try anything else from this kitchen, given the weak selection and what seems to be very poor internal procedures for even minimal levels of hygiene. Upon checkout, the reception told me they had heard about the breakfast incident and that they would gladly waive of one breakfast buffet. I reminded them that the breakfast was complimentary and that they had themselves, in writing, confirmed this. It was only when I showed them the confirmation mail they themselves had sent that they agreed it should be included. Secondly, they did not want to honor the USD 300 voucher, which again, they had in writing confirmed beforehand. So one more round of arguing before they finally agreed to honor and respect their own promises. I used to blindly book SLH earlier and be confident I would have a good stay. After a few successive poor experiences, and this disaster in particular, I am convinced SLH has no control of its internal procedures and that very moderate properties can maintain the brand label despite repeated poor service.

Top tip for other guests:

Beware of the pathetic breakfast and don't expect your SLH Indulged privileges to be respected

What I might improve

Welcome and Departure
General Service
Breakfast

October 2019

a very cold hotel with very rudimentary service

Top tip for other guests:

none

What I might improve

Welcome and Departure
General Service
Breakfast
Restaurant and dining
Other

Poor service in the restaurant

September 2019

Sitting there with closed menu's watching two other tables of guests seated after us having their orders taken before us. Seeing others given bread, whilst we sat there looking at the basket sitting 5 feet away, but not offered. In the room, not being able to clean teeth with cold water, the clever taps being maintained warm to hot. There was a warning that the water wasn't drinkable. We had to use bottled water, it felt like being in Egypt.

Top tip for other guests:

Don't eat there, the head waiter allows only himself to take orders for food and wine, and to serve cheese. Be prepared to wait Don't eat there

What I liked most

What I might improve

Guest Room and Bathroom
Restaurant and dining

August 2019

My Trip Type:

Couple

The hotel is located in a unique area next to the ruins of an ancient castle. We were upgraded to the King's room/suite and this was un unforgettable experience. Everything was perfect: the staff, the restaurant, the room, the other guests. Highly recommended!

Top tip for other guests:

Dining at the restaurant

What I liked most

Welcome and Departure
Location
Guest Room and Bathroom
Breakfast
Restaurant and dining

Amazing location but this hotel should not be on the SLH list - it is not a luxury hotel

August 2019

This is a poor hotel. I've stayed in many SLH and luxury hotels across the years and this is the poorest 5 star hotel I have stayed in. There are a couple of reasons for my negative feedback - 1. Arriving at the hotel late at night there are absolutely no lights to guide you to the car park or the reception. I spent about 10 minutes finding the car park in complete darkness. Eventually a young lady came from reception with a torch to the car park once I had parked to guide us to the hotel. 2. Upon check-in we were told the pool was inaccessible. Considering the pool features quite heavily in pictures of the property and was one of the reasons I picked this hotel in the summer that was extremely disappointing. The reason given was that the pool water had been emptied for maintenance but there was a problem refilling the pool. Over the next 2 days that we were there was no work being carried out on the pool at all - it was just left half empty with rainwater. I would expect an email from the property informing us that the pool was out of action or at least some sort of gesture such as a complementary 30 min massage due to the inconvenience. 3. The room was large (as is typical of most rooms in these chateaus) but there were dead flies in the bathroom, no air conditioning (just a large fan and in the French summer heat you will have trouble sleeping in the evenings) and even though there was a coffee machine and teabags no cups to pour your coffee or tea in. The shower head was poorly fitted and was actually dangerous as it takes a couple of minutes to get it to stand in the fixture but if you touch the head accidentally it falls out of the socket potentially falling on your head or your feet and you can hurt yourself pretty badly. 4. I popped to the spa underground where you have another great photo of a lovely Jacuzzi on the website but the water was cold in the Jacuzzi and the jets were not working. So another example of a feature that has been advertised but either not working or not up to a luxury standard. 5. The continental breakfast was OK but again the service was poor as you would get cornflakes but no milk, or you would ask for a cappuccino and get an americano. The young staff working in this hotel were all very nice individuals but you could tell they lacked experience and that there was no senior management to guide or train them. 6. Food options are extremely limited so if you don't want to fine dine for lunch and dinner there are no other options in this hotel and you will have to drive for about 20 minutes to find something to eat. If French fine dining is not for you (i.e. you are vegan or vegetarian) then do not stay here unless you have bought your own food. 7. Unless both of you are tennis players there is no point in bringing a tennis racquet as there is no one to play with and the court is not actually a hard court or any court I have seen before. It is an interlocking plastic carpet court that if you are anything other than a beginner will not be pleasant to play on. This hotel has been a SLH hotel since 1992 however it reminds me of the ancient ruins it sits in front of. It was maybe great once but now is nothing more than a 3 star hotel with poor amenities, poor service but with expensive French prices. Do not be taken in by the French chateau vibes, if you are used to true luxury service pick somewhere else to stay.

Top tip for other guests:

Do not stay here! At 8 euros for a cup of tea pick another hotel with the level of service we expect for a SLH hotel!

What I liked most

What I might improve

Welcome and Departure
General Service
Guest Room and Bathroom
Breakfast
Room Service
Leisure facilities
Internet and wifi

great place, beautiful surroundings

July 2019

My Trip Type:

Couple

beautiful property, and great views on the ruins of Chateau de Free. Great breakfast outside on the terrace. Spacious rooms.

Top tip for other guests:

We stayed on a themed night, with an exclusive dinner outside. Too bad that for other guests the terrace is completely closed so we had no chance of sitting outside and only inside. The 12 euro per glass house wine in a plastic cup was overpriced in my opinion. I would return for sure for the ambiance but on a regular night when there is no themed dinner...

What I liked most

Guest Room and Bathroom
Breakfast

What I might improve

Guest Room and Bathroom
Leisure facilities

July 2019

My Trip Type:

Family

Besutiful building and surroundings

Top tip for other guests:

Family place

What I liked most

Local knowledge and experience

What I might improve

Welcome and Departure
Leisure facilities

I had high expectations based on my last stay here. Won't be staying again. Management or something changed, not good anymore.

June 2019

My Trip Type:

Couple

I stayed at the Chateau in April of 2017. My Mother and Sister and I had a wonderful stay. Champagne upon arrival as specified in the contract. This time, we arrived, I walked in and checked in. We were taken to our rooms to choose who would be staying where. There were 5 adults and 1 child. We had help to unload everything and had asked to have dinner in the dining hall of which they made a reservation for us all. They advised us the table was ready but to take our time, change and be down there before 9:30 pm closing. We went down about 9 pm. I went to put our name down that we were there and the waiter came over and shut the book in front of me and said I don't have a reservation no one told me you all were coming. I said oh well I am sorry but can you please check with the reception desk because they had us reserved. He was so rude, went over checked with reception of which they confirmed. He came back apologized and pushed tables together and sat us. We sat there after receiving our menu for about 15 minutes or so, no water was brought by, no bread, no communication so we got up and left at this point it is close to 9:30 pm now we are in a small town in France, and found a McDonald's about 20 minuntes away that was open until 11 pm and ended up going there. Nothing on the menu at the chateau was like before and everything was about 50 - 100 Euro in price. Chicken was 55Euro , absurd prices no one could tell what they wanted to eat which is also why we left. No AC in the rooms. I asked for fans for both rooms, 1 room never got a fan, it was blazing hot we couldn't sleep. Only think is the front desk was super nice and friendly, they brought us our breakfast on time in the am. Then wanted to charge us of which it was included. I had that removed from the bill. I had told them the night prior it was included but no note was left for the woman whom checked us out the next day obviously. No champagne upon arrival. The list goes on and on. I was very very frustrated and disappointed. My stays at this castle are over. The guests and friends I had with me were disappointed as well. Wifi never worked either. It is like they shut it off at a certain time of the night.

Top tip for other guests:

Read thoroughly through the contract and the hotel that you will be staying at in the season you will be staying if you get hot easily do not stay at this castle since there is no AC. Wifi never worked either.

What I might improve

Welcome and Departure
Guest Room and Bathroom
Restaurant and dining
Internet and wifi

June 2019

Offhand check-in, incorrect room, slow bar aervice, very slow dinner service (and totally lacking in atmosphere), funereally slow check-out. The whole experience was so bad that it must be atypical. The only explanation is that it was the Sunday night of a holiday weekend, and we very obviously got the second team that afternoon and evening.

Top tip for other guests:

I have recommended it to friends in the past. I certainly wouldn't recommend it today.

What I liked most

Location
Guest Room and Bathroom
Breakfast

What I might improve

Welcome and Departure
General Service
Restaurant and dining

November 2018

My Trip Type:

Couple

Top tip for other guests:

one night is ok.

What I liked most

Location
Guest Room and Bathroom

What I might improve

Welcome and Departure
Other

A great stay but somewhat disappointing

November 2018

My Trip Type:

Couple

The location is wonderful and both the food and service throughout our stay was excellent, just a few too many things not working properly in the hotel!

Top tip for other guests:

Don't rely on wifi access.

What I liked most

Welcome and Departure
Location
General Service
Breakfast
Restaurant and dining

What I might improve

Leisure facilities
Internet and wifi

Beautiful location, quiet, very friendly staff

November 2018

My Trip Type:

Family

A beautiful castle in a very large, nice park. The staff was very friendly. We got a room upgrade. Breakfast and dinner is expensive. The service was excellent, the quality of the food is good but not extraordinary.

Top tip for other guests:

What I liked most

What I might improve

Breakfast
Internet and wifi

November 2018

My Trip Type:

Family

The service was exceptional at reception, in the restaurant, spa and all other areas. We took our young daughter and they provided an excellent bed with mattress as well as good high chairs. Heating up food and cleaning bottles was no problem for them. Plus they were able to book a baby-sitter for us so that we could make the most of the spa facilities.

Top tip for other guests:

Book a massage and enjoy the restaurant

What I liked most

Welcome and Departure
Location
General Service
Local knowledge and experience
Restaurant and dining
Leisure facilities
Internet and wifi

October 2018

My Trip Type:

Business

Hotel not so bad but very cold, breakfast is poor and rooms not very good...

Top tip for other guests:

Not recommanded

What I liked most

What I might improve

Welcome and Departure
General Service
Guest Room and Bathroom
Breakfast
Restaurant and dining

Great dinner and a nice stay.

November 2018

Friendliness of the staff

Top tip for other guests:

Highly recommended for couple to get out in a calm environment

What I liked most

Welcome and Departure
Location
Restaurant and dining
Internet and wifi

What I might improve

Beautiful and elegant property in a stunning location

London

My Trip Type:

Couple

This was our second stay at the property, but this time we travelled with a couple who brought their 8-month old baby along. The hotel and grounds continue to be beautifully maintained. The food at both dinner and breakfast was exquisite, but it was slightly disappointing that, upon arrival at 2PM, we would only able to get cold plates of meat and cheese for a late lunch. The service was also a bit uneven, both in the bar area (we had to go and find someone to serve us there multiple times) and also at dinner. But the welcome could not have been more friendly.

Top tip for other guests:

Walk around the ruins in the early morning at sunrise, with a camera

What I liked most

Restaurant and dining
Location
Guestroom and bathroom
Welcome and departure

What I might improve

Internet and wifi
General service

Not quite worth the journey

Stay date: November 2016

My Trip Type:

Couple

The hotel itself was great. Room was beautiful, staff courteous and attentive and kind. Set next to the ruins of an old castle, the location is very picturesque. The disappointment was with the restaurant. The food was mediocre at best, nothing terrible but nothing to write home about either (we had a better meal at a roadside Inn the next day for a tenth of the price!) At first service was fine, but after two little appetizers the wait began. After three hours, we decided we were too tired to continue waiting and canceled the rest of my husband's set menu I(main course and dessert) . We weren't the only ones because we were surrounded by guests staring at an empty table. One would have thought that as a courtesy, the staff would have adjusted pricing but no, we were charged the full exorbitant price for a menu we didn't get. A bit much for three mediocre appetizers and a main course! A pity - as we were celebrating a special occasion.

Top tip for other guests:

Stay here, eat elsewhere

What I liked most

Welcome and departure
General service
Guestroom and bathroom

What I might improve

Nice stay in a charming setting

Stay date: November 2016

My Trip Type:

Couple

Charming hotel that needs to work on the facilities. The Spa is way to small and not very inviting. There is not a quiet relaxing room after the Sauna. Unfortunately we couldn't use the outside pool as it was November. The massage we had was excellent, though! Although the room was spacious and nicely decorated there was no room to put the clothes. The closed was very small and had only 4 hangers. The shower had no shelf to put the shampoo or shower gel. The little water that came out of the faucets (full of calcium) didn't get very hot. The reception upon arrival was very nice but after that we had trouble finding someone to take care of our needs as the reception desk was often empty. The stuff was very friendly and the service was very good.

Top tip for other guests:

Wine selection is excellent.

What I liked most

Welcome and departure
Location

What I might improve

General service
Breakfast
Guestroom and bathroom
Leisure facilities

Stay date: October 2016

My Trip Type:

Couple

Romm and decoration is excellent, friendly service. The Sauna is a little problem: People go in without towels (not hygienic) and no cold water when you come out. The hotel must look for this. Breakfast is o.k., but the brad offered was old and didn`t taste at all. No change after we told the service. WiFi was qite slow in our Suite with many cuts.

Top tip for other guests:

There are nice small restaurants in the area you should try

What I liked most

Location
General service
Welcome and departure

What I might improve

Internet and wifi
Leisure facilities
Breakfast

Stay date: October 2016

My Trip Type:

Couple

great place! the dinning menu could be better

Top tip for other guests:

eat a la carte

What I liked most

Guestroom and bathroom
Welcome and departure
Breakfast

What I might improve

GREAT FOOD, GREAT LOCATION

Stay date: September 2016

My Trip Type:

Couple

We were impressed with the ruins, they are only a few steps from the Chateau. The spa was great.

Top tip for other guests:

WALK THE RUINS. HAVE DINNER PLEASEEEEEE

What I liked most

Restaurant and dining
Location
Welcome and departure
Leisure facilities
Guestroom and bathroom

Stay date: September 2016

My Trip Type:

Friends

It's one of the most memorable stay ever! The "chateau" locates right next to a medieval castle ruins so the view was spectacular no matter the time of the day you look at it! It has such a mesmerizing effect on us! As Club member, we're upgraded to the next room category which was spacious and very cozy! The room has the view of the castle ruins to make it even better. Staffs at reception was fabulous and courteous. They helped us with bookings of the famed "champagne" road to visit the best local champagne vineyard. Breakfast was excellent with all the French "cold cuts" you can imagine! We had dinner at the chateau gastronomic restaurant and the food was exceptional. However, it had been a long wait for the food, almost an hour after the order was taken so the wait kind of wore you out! However, I would like to point out that to get to the chateau was not an easy feast! You either need to drive yourself there as there was no convenient train service or taking a taxi from Paris but the choice of taking a taxi is prohibitively expensive! It would be perfect if the hotel offers some kind of pick up service that's more affordable!

Top tip for other guests:

Make sure to arrange transportation to get there

What I liked most

Breakfast
Location
Restaurant and dining
Local knowledge and experiences
Guestroom and bathroom
Welcome and departure

What I might improve

Lovely place with authentic charm

Stay date: September 2016

My Trip Type:

Couple

We stayed there for two nights. The staff was perfectly friendly and provided very helpful information about the beautiful region. On the second night we had dinner in the restaurant and fully enjoyed the great service and delicious meal. We will definitely come back soon!

Top tip for other guests:

We missed to visit the spa, but it would be definitely worth to come back!

What I liked most

Guestroom and bathroom
Welcome and departure
General service
Local knowledge and experiences
Restaurant and dining
Location

Living historical chateau

Stay date: November 2015

My Trip Type:

Couple

A quiet location and a wonderful setting to enjoy the countryside and the nearby champagne locations

Top tip for other guests:

A quiet Chateau in the countryside of the area

What I liked most

Breakfast
Local knowledge and experiences
Location

What I might improve

Guestroom and bathroom
Welcome and departure
Restaurant and dining

Even better than we remember it!

Stay date: October 2015

My Trip Type:

Family

We had stayed at Fere twice previously in the 1980s, thirty years ago. We had a wonderful time then, remembering particularly the meals and the ruins. For no particular reason, we just had not gotten back until just now. Fere was even better than we remembered. The meals were wonderful, the woman chef doing a top notch job for quality as well as variety and innovation for a small venue. When traveling in the 80s we were on a tight budget. Now in retirement we have a little more monetary flexibility and were able to reserve a more expensive room. The complimentary upgrade with the LH membership moved us to an outstanding suite that was very comfortable and welcome during our 2 day stay. And having essentially private ruins at our disposal to enjoy was a real treat.

Top tip for other guests:

Schedule the MAP booking. For our second day stay the folks in the restaurant suggested we just order off the menu so we were able to really vary our selections.

What I liked most

Location
Breakfast
Welcome and departure
Internet and wifi
Restaurant and dining
General service
Guestroom and bathroom

What I might improve

Stay date: September 2015

My Trip Type:

Couple

Lovely location and potentially a lovely hotel. Everything was looking a bit tired. We had an upgraded room (9) which was very nice but several "faults" inlcuding head of one of the taps was not properly attached; plunger for sink plug wasn't working; lid came off waste bin; looked like chrome in shower room hadn't been cleaned for some time (lots of water and limescale marks); one sink waste seemed to be blocked. Also hotel was still clearing up after a wedding the previous day - still dismantling a marquee until about 21:00. Restuarant was very good and the food excellent as was breakfast - a great choice of breakfast items. The "chateau" ruins in the ground were very interesting and are in the process of being restored where possible. Grounds looked a little tired and the swimming pool did not look very inviting. Might stay again but when there are some many untried alternatives it may be a while before we'd go back. Maybe we caught the hotel at the end of a long season.

Top tip for other guests:

Make sure there isn't a wedding going on

What I liked most

Breakfast
Welcome and departure
Restaurant and dining
Location

What I might improve

Location
General service
Leisure facilities
Guestroom and bathroom

Nice historical place in a countryard environment

Stay date: September 2015

My Trip Type:

Family

Very nice castle located within a historical place in a big green natural park and wood. The room was really big and we appreciated to have a separate bedroom (inside our room) for our child (age 4). The room and the jaccuzzi were great. The bathroom too. Diner was really nice, inside the plate and the decoration too. Same for the breakfast with not many products, but all were organic and very tasteful. The only things which were not ok were as follows: the 2 TVs were not easy to turn on and to use (too complicated with all these tools) no wifi in the room, the swimming pool outside was cold (the heating system was out of service due to technical reasons).

Top tip for other guests:

Ask if the pool outside is in service before taking your bathing wuits !

What I liked most

Welcome and departure
Breakfast
Guestroom and bathroom
Location
Restaurant and dining

What I might improve

Internet and wifi
Local knowledge and experiences

Stay date: September 2015

My Trip Type:

Couple

What a wonderful place - clean, large, newly renovated rooms, suber Service and a unbelievable setting! Walk in the closeby forest, explore the ruins of Chateau de Fere and have Dinner in their wonderful restaurant! Small, but really lovely spa!

Top tip for other guests:

have a dinner in their awesome restaurant!

What I liked most

Location
Guestroom and bathroom
Restaurant and dining

Stay date: July 2015

My Trip Type:

Couple

Great location, beautiful scenery. Service was good. Pool didn't really look like a place you want to relax, was deserted and not very well maintained. Ate in the restaurant, food was very good, staff not really. Had the full menu with a different wine for every course, they sometimes forgot to bring the wine, or brought it when I was allready done with the course. When I explained they didn't really seem to care.

Top tip for other guests:

Go visit the Champagne houses!

What I liked most

Location
General service
Welcome and departure
Guestroom and bathroom

What I might improve

Leisure facilities
Restaurant and dining

Stay date: June 2015

My Trip Type:

Couple

Wonderful location and warm welcome, however staff seemed to be struggling to serve requested pre-dinner drinks, lovely restaurant, but ordered dessert didn't materialise. Unfortunately there was no water in the morning, so couldn't use the splendid shower, or clean teeth etc. I got the impression this could have been a regular occurrence. Such a shame.

Top tip for other guests:

A bit different in every sense.

What I liked most

What I might improve

Restaurant and dining
General service

Stay date: June 2015

My Trip Type:

Couple

Top tip for other guests:

very recommended

What I liked most

General service
Breakfast
Internet and wifi
Welcome and departure
Guestroom and bathroom
Location
Restaurant and dining

Stay date: May 2015

My Trip Type:

Couple

The entire place seems time-worn and ill-maintained: unpleasant mouldy smell in the entrance hall, blotchy wallpapers, 1980s bathroom, swimming pool out of order, ... The location however is very pleasant and so was the dining experience. Does not live up to price and 5-star status.

Top tip for other guests:

Offer yourself a trip along the "Route du champagne".

What I liked most

Location
Restaurant and dining
General service

What I might improve

Guestroom and bathroom
Leisure facilities

excellent service in a great location

Stay date: May 2015

My Trip Type:

Couple

I have 2 remarks which concern SLH rather than the hotel: 1. on the SLH internet site, I was unable to book half-board with the hotel 2. I noticed that SLH is asking for the full booking amount in case of cancellation of the reservation. This seems exaggerated to me and I am wondering whether will book with SLH in the future if this condition subsists !

Top tip for other guests:

great hotel location close to the Champagne region

What I liked most

Location
Welcome and departure
Guestroom and bathroom
Restaurant and dining

Stay date: September 2014

My Trip Type:

Couple

Concierge was very helpful, as were the restaurant staff. Spa facilities were very good. Room could do with a little maintenance, eg. power socket hanging out of wall, mirror was discolored in a few places, empty flower vase seemed out of place (perhaps some flowers??). Ruins unfortunately had no lights at night. We asked on the second night, and they confirmed there was an issue that would need to be looked at. Interesting that it takes a guest to highlight this. We had booked with the ruins at night as a feature we hoped to photograph, it was not to be. Wifi was good strength, room was lovely and spacious.

Top tip for other guests:

Ask for ruins view. Whilst our pool view was nice, hopefully the lights are fixed for an evening view of ruins for future guests.

What I liked most

Restaurant and dining
Breakfast
General service
Internet and wifi
Leisure facilities

What I might improve

Welcome and departure
Guestroom and bathroom

Great country chateau in Champagne

Stay date: September 2014

My Trip Type:

Couple

A beautiful chateau out in the peace and quiet of the country but near to Reims and Epernay. Very welcoming staff, well appointed rooms and delicious food.

Top tip for other guests:

Make sure you eat there at least once in the evening - superb food.

What I liked most

Restaurant and dining
Welcome and departure
Breakfast
Location

Stay date: September 2014

My Trip Type:

Couple

Beautiful hotel and grounds. Inside getting a bit tired although very grand. We had a Classic room with loads of character and a great view. Good general service. Dinner was a disappointment with the gastronomic menu poorly executed. Wine was very expensive and not good value for money. 60 Euros for something you wouldnt pay 10 for in a shop. Didn't like the attitude of the Maitre D'. But then I'm picky. Overall a very nice place to stay for 1 or 2 nights.

Top tip for other guests:

Its not gastronomic.

What I liked most

General service
Guestroom and bathroom

What I might improve

Breakfast
Restaurant and dining

Excellent service in a unique setting

Stay date: September 2014

My Trip Type:

Couple

My husband and I only stayed at the Chateau for one night en route elsewhere, yet with such a short exposure we were still impressed. We arrived late in the evening, yet the staff were waiting for us, welcomed us as members of the Club and we received an upgrade to our room. As we had alerted them that we would require something to eat upon arrival, they also had a menu prepared for us to choose Room Service. The breakfast was also very good. This hotel is a definite must and we will return for more!

Top tip for other guests:

Request a view of the ruins

What I liked most

Guestroom and bathroom
Breakfast
Welcome and departure
General service
Room service
Location

Good location , superb restaurant

Stay date: August 2014

My Trip Type:

Couple

Excellent location for the champagne region. hotel and grounds lovely and staff very accommodating. Food in the restaurant and breakfast was first class

Top tip for other guests:

Try to get an upstairs room as views would be better than downstairs

What I liked most

General service
Breakfast
Welcome and departure
Restaurant and dining
Location

What I might improve

Perfect for romantic luxury getaway

Stay date: August 2014

My Trip Type:

Family

Amazing restaurant to explore French cuisine, classical countryside with anything from golf to champagne, spectacular spa or pool to enjoy. Only downside is cobwebs, creepy crawlies which perhaps comes with the territory in French countryside.

Top tip for other guests:

Explore vineyards in region, enjoy restaurant to the fullest.

What I liked most

Local knowledge and experiences
Restaurant and dining
Leisure facilities
Internet and wifi
Location
Welcome and departure

What I might improve

gorgeous grounds, okay rooms

Stay date: July 2014

My Trip Type:

Couple

Starting with the positives: the grounds are gorgeous and the view of the ruins from the terrace makes this a sepctacular place. The service was also brilliant. Any request was granted with a smile: picnic blanket, ice bucket, whatever. I even saw a guy ask for a bucket of water to wash the windshield of his rental car-- no problem. The food was delicious, reasonably priced, and accompanied by wine from an extensive (French) list. A little less positive were the rooms. Ours was big enough, but a bit dark and would benefit from an update. Especially the bathroom showed its age. Some details would be easy to improve. The hairdryer for example, which was one of those vacuum-cleaner-looking things that made more noise than air. Last but not least, a couple of disappointments after reading the website. We were under the impression that there would be plenty of trails to wander in the forest 'reserverd for guests' but there is only one jogging trail which you'll cover in less than half an hour. Furthermore, the spa is pretty tiny with one sauna cabin in which one person can lie at a time and a steam cabin which was not working properly during our visit. All-in-all worth a day or weekend visit for sitting on the terrace sharing a bottle of champagne watching the sunset behind the ruins. You'll want to live on the terrace, so who really cares about the room?

Top tip for other guests:

take a picnic blanket and a bottle of champagne over to the ruins

What I liked most

Restaurant and dining
General service

What I might improve

Very nice hotel with good service

Stay date: June 2014

My Trip Type:

Couple

We were very pleased with the service, the resturant was good, but could have had a larger menue.

Top tip for other guests:

Ask for help to visite champagnehouse

What I liked most

Guestroom and bathroom
Restaurant and dining
General service
Welcome and departure

What I might improve

Internet and wifi
Leisure facilities

Stay date: May 2014

My Trip Type:

Family

We loved Chateau de Fere. The hotel and grounds were beautiful, the staff were lovely and the food was great.

Top tip for other guests:

I recommend asking for a room not on the ground floor.

What I liked most

General service
Location
Leisure facilities

What I might improve

Stay date: May 2014

My Trip Type:

Couple

This is a lovely romantic hotel in the middle of the countryside. Yes, it is in the middle of nowhere - on the road about 45 minutes from Paris and Reims and the main Champagne houses so it breaks up the journey quite nicely - but that is exactly the point. Where else can you get to wine, dine and walk around the ruins of a medieval castle at your leisure at any time? As a brief stopover or romantic break, this is perfect. The spa was beautiful, we had it all to ourselves and it has all you need, 2 treatment rooms, large jacuzzi, hamman and sauna, it provided a wonderful relaxing area after a day's visit. Their restaurant and the menu served wonderful food, and do follow their sommelier's recommendation when it comes to local champagne houses rather than the usual big names which you can get everywhere anyway. Staff were very attentive to our needs. Wifi could be improved as it didn't work in the rooms and not very well in the lounge area, but honestly you're not at one of these places to be stuck on your computer! All in all, a wonderful romantic stay.

Top tip for other guests:

Wonderful romantic hotel for a few days

What I liked most

Restaurant and dining
Welcome and departure
General service
Leisure facilities

What I might improve

Stay date: April 2014

My Trip Type:

Family

We loved the place and our stay there. The service was very high class and polite. We liked our room a lot and overall the hotel was in a very beautiful place. This hotel is situated perfectly for daily visits to champagne houses. We will come back next year.

Top tip for other guests:

Great place to visit champagen houses nearby

What I liked most

Welcome and departure
Room service
General service
Location
Restaurant and dining

What I might improve

Local knowledge and experiences

Amazing spot, amazing service

Stay date: April 2014

My Trip Type:

Couple

This really is one of the best small hotels we have ever stayed at. The location looking up into the ruined castle is just amazing. Brilliant service; managing to be both attentive and also giving you privacy. Excellent Spa facilities. The room we had (room one) is long and narrow, but tastefully done making an interesting space. The private decking outside has a view of the castle.

Top tip for other guests:

Ideal for a romantic weekend and for collecting brownie points from your loved one! :)

What I liked most

Location
Leisure facilities

Stay date: December 2013

My Trip Type:

Couple

Atmosphere and location are beautiful

Top tip for other guests:

An atmosphere hotel in a splendid location

What I liked most

General service
Welcome and departure
Location

What I might improve

Stay date: November 2013

My Trip Type:

Couple

Overall, we had a really nice stay at the hotel. Our room was upgraded to a family room, so we had a lot of extra space. However, the room was a bit dark and the bathroom was in need of some upgrading. We enjoyed a nice dinner at the hotel and the staff was very attentive and accommodating. Overall, we had a really nice time

Top tip for other guests:

the hotel is hard to find (even with gps)

Excellent service, food and facilities

Stay date: October 2013

My Trip Type:

Family

What a wonderful and relaxing location. Sit outside in the evening with a glass of wine and watch the setting sun silhouette the ruins of the 12th century castle. The rooms have been redone and are very comfortable. The staff was extremely friendly and helpful. The only downside is that their Wi-Fi/Internet service is horrible.

Top tip for other guests:

Get there early enough to enjoy wandering the grounds

What I liked most

Location
General service
Restaurant and dining
Guestroom and bathroom
Welcome and departure

What I might improve

Stay date: September 2013

My Trip Type:

Friends

Had a good time at this hotel with nice food and wine. The ruins were very interesting to visit especially when you know a bit of its history. The rooms are spacious and ours had a small private terrasse in front. Personnel were very kind and attentive. Spa is also delightful.

Top tip for other guests:

Good place to start your tour of the Chanpagne region

What I liked most

Location
General service
Welcome and departure
Local knowledge and experiences
Guestroom and bathroom
Restaurant and dining

Stay date: September 2013

My Trip Type:

Couple

The rooms are lovely and brand new but that's the only good place in that hotel. NO real bar, the food was correct but not the as good as it was supposed to be. The SPA doesn't work and the services wasn't at the level of a 5 stars!

Top tip for other guests:

In the area of the hotel, Epernay and the visit of Moët & Chandon!

What I liked most

Guestroom and bathroom
Breakfast

What I might improve

Leisure facilities
Restaurant and dining
General service

Great view and very pleasant staff

Stay date: August 2013

My Trip Type:

Couple

Really nice chateau with excellent views and very friendly and pleasant staff. Excellent restaurant and nice terrace in front of Chateau. Nicely decorated room, only bathroom could be more up to date.

Top tip for other guests:

Nice chateau for trip to or through Champagne area

What I liked most

Welcome and departure
Location
General service
Restaurant and dining

What I might improve

Nice and friendly, a joy to be there

Stay date: August 2013

My Trip Type:

Couple

Chateau de Fere did it again. This was my 4th visit to this gorgeous castle in the midle of Chapagne Area in France. Like before, the room was perfectly clean and gorgeous. All the club member benefits where provided. This is a place you feel welcome (sometimes rare in France)... Absolute "must do" is enjoying the dinner at the restaurant of the hotel. Very correct price for gorgeous foods, lovely wines and excellent service. As my partner does not drink, I was offered a gmass of matching wine with each course... and at a very friendly price... We will definatly come back to this place.

Top tip for other guests:

Check in early and enjoy the garden and ruins.

What I liked most

Welcome and departure
Guestroom and bathroom
Leisure facilities
Restaurant and dining
Breakfast

What I might improve

Highly recommended – part II

Stay date: August 2013

My Trip Type:

Couple

We ended our French holiday with another stay at this hotel (see my other review). This time round we were given room 12 on the first floor – somewhat disappointed because we enjoyed sitting on our 'private terrace' outside our previous room (no 5) – but this feeling soon disappeared. This modern and spacious room, which was nicely decorated, beat the previous one – it had not only lovely views over the rolling fields, there was a huge bath room with a spacious shower, double washbasins, bath and a separate toilet. There was also a fan already placed in the room which was very attentive. The complimentary bottle of champagne was another fine gesture. Last time we stayed here we had some fine dining on our patio and decided this time to eat in the restaurant 'al fresco'. Outside - at the front of the hotel and overlooking the ruins of the fortified castle - there is a shaded seating area (both for pre-dinner drinks and a dining area) so a very pleasant area to sit outside, relax and enjoy the views (or company). Dinner was delicious – what can I say (I knew this already from last time). The staff were very courteous and joined in 'the banter' when ordering which makes a difference from those 'stuffy' dinner places. During dinner the peacocks appeared in the garden which was a lovely 'add-on' to the whole dinner experience. The following morning breakfast was well catered for. A wide range variety of food was displayed. Once again, the staff were brilliant and all spoke English to my relief as my French is not great or non-existent! They were very very helpful. On this occasion we also decided to enjoy the facilities a little bit more and spend some time at the swimming pool. Before we did this we asked if we could have a late check out and this was no problem at all. Overall this hotel is brilliant! The location of this hotel is lovely, is in the middle of nowhere and just a peaceful place to spend some [romantic] time with your loved one!!! How much do I like this hotel? I might consider this hotel as an excellent viable wedding venue for my daughter.... what can I say.

Top tip for other guests:

Due to the fact that this is an old building with THICK walls - Wi-Fi might be a problem. Accept it - ignore it and enjoy the scenery!!

What I liked most

Room service
Guestroom and bathroom
Location
Welcome and departure
General service
Restaurant and dining
Breakfast

What I might improve

Stay date: July 2013

My Trip Type:

Couple

The setting for this chateau is incredible with your own ruins in the grounds which are very impressive. The whole stay was lovely, polite and friendly staff, room was beautiful, the food was great. Only downside was its not air-conditioned they did provide a fan so it was okay and we fully understand that airconditioning units would not be an attractive feature so we can forgive them this as the stay was so enjoyable.

Top tip for other guests:

Enjoy it totally relaxing and peaceful

What I liked most

Restaurant and dining
Welcome and departure
General service
Guestroom and bathroom
Breakfast
Location

Stay date: July 2013

My Trip Type:

Couple

An amazing 2-day stay at the Chateau de Fere during summer is all one needs. Suggestions on what to do are available and tailored to ones wishes, the food is great, the rooms are superb and the atmosphere just great. One minor point was that on the first morning our shower didn't get cold, but we could shower in another room and were afterwards straight upgraded to a suite. Fixing problems is therefore, also not a problem. All in all a very relaxed and wonderful long weekend stay, although I also couldn't imagine to stay there a week.

Top tip for other guests:

Visit the recommended champagne houses!

What I liked most

Welcome and departure
Local knowledge and experiences
Location
General service

What I might improve

Restaurant and dining
Internet and wifi

Stay date: June 2013

My Trip Type:

Couple

A most astounding setting and a pleasant Hotel. Service generally good to very good but we found the House Keeping of our room not up to standard. We were very well received and as SLH member we were upgraded to a suite. We can recommend this hotel.

Top tip for other guests:

n/a

What I liked most

Welcome and departure
Guestroom and bathroom
Location
Restaurant and dining

What I might improve

Stay date: June 2013

My Trip Type:

Friends

It was like going back in time. The staff made you feel as if you were indeed the Lady of the manor. My sister and I had only one night to stay, regretfully, due to complications in our flight,. The thrill of exploring the ruins was beyond words. We felt like children again, coming upon marvel after marvel. My knowledge of the times helped us in our exploration, but I suggest perhaps that a mockup of how the chateau ruins looked at the time would help others in their exploration. The food was delicious and our room, spacious and lovely, with just the right touch of 'modern' to keep s comfortable among the antiquity. We stayed in three different SLH during our trip, Le Pavillion de la Reine, in Paris and The Palace Luzerne in Lucerne and each was fabulous..comfortable, lovely and with caring staff! We will only sojourn in your hotels from now on due to our experiences. Thank you.

Top tip for other guests:

Make sure you get ample directions, the chateau is very hard to find!

What I liked most

Breakfast
General service
Guestroom and bathroom
Welcome and departure
Location
Leisure facilities
Restaurant and dining

Stay date: May 2013

My Trip Type:

Couple

From arrival to departure, the Chateau de Fere is stunning; the location, the ruins, the building itself, and the superb service made this a stay to remember. Dinners were first rate, and the staff was unbelievably professional and gracious.

Top tip for other guests:

Take the stairs down from the ruins bridge and walk around the entire facility. SPECTACULAR.

What I liked most

Location
Guestroom and bathroom
Internet and wifi
Welcome and departure
Breakfast
General service
Restaurant and dining

Deserted and relaxing retreat

Stay date: April 2013

My Trip Type:

Family

Hotel is located in a really deserted and quite place. No disturbing noise. Beautiful landscapes. We had a two room's apartment on the second floor with garden view. The rooms were clean and tidy but there was a strange smell, like naphthalene, in the room. So we had to open windows to let it go. The dinner was OK but I'm not sure it worth this money.

Top tip for other guests:

Stay for maximum 2 nights and check the bill in the restaurant

What I liked most

Welcome and departure
Internet and wifi
Location

What I might improve

Stay date: September 2012

My Trip Type:

Couple

Stunning hotel in fantastic setting, will be sure to return. Wish we had more time to explore the grounds etc. restaurant food outstanding setting a very high standard for our weeks trip !!

Top tip for other guests:

Don't be too late for breakfast !

What I liked most

Welcome and departure
Breakfast
Location
General service
Restaurant and dining
Guestroom and bathroom

Amazing castle in stunning surroudings

Stay date: September 2012

My Trip Type:

Couple

Chateau de Fere is located beautifully, close to some ancient ruins , which especially in the morning fog can give an unforgettable impression. We were two couples travelling together , we chose the hotel as a base for visits in the Champagne-region. Chateau de Fere met all our expectations , fairy-tale like with beautiful gardens , we might add that the swimming-pool was somewhat fresh in september , even for Norwegians ! A champagne at the sunny pool-side helped a quick recovering .. We would also like to mention a helpfull staff , assisting with driving-information and general assistance. We were most pleased with our stay at Chateau de Fere.

Top tip for other guests:

Chateau de Fere is an excellent starting point for trips in Champagne country and visit to Champagne-houses in Epernay and Reims.

What I liked most

Local knowledge and experiences
Location
Welcome and departure
Restaurant and dining