https://origin.slh.com/hotels/club-maritimo-de-sotogrande/
Hotel Highlights
Chic yet comfortable décor created by interior designer Pascua Ortega
Every room has sweeping sea views
Massages, manicures, facials using AVEDA brands available in the spa
Club Marítimo de Sotogrande - LUXURY HOTEL IN SOTOGRANDE
A stylish and contemporary haven overlooking Sotogrande Marina
Overlooking the picturesque marina, Club Marítimo de Sotogrande is located right on the Mediterranean with views of Gibraltar in the distance. A delightful boutique hotel, it provides a contemporary-styled restaurant, wonderful terraces overlooking the marina, stylish rooms and is close to some of the best golf courses in the area.
Club Marítimo de Sotogrande's collection of rooms and suites are beautifully decorated and each one has a panoramic view of the sea and marina. The restaurant, with its modern design, serves Andalusian cuisine with gastronomic finesse.
Sit on the restaurant terrace and enjoy tapas while watching the comings and goings in the marina. Take a day trip along the Ruta de los Pueblos Blancos, Seville or Cadiz. It is also possible to arrange an excursion to Malaga or Morocco. Or, simply head to the beach, just a few metres from Club Marítimo de Sotogrande. It is worth noting that Sotogrande is renowned for its polo practising facilities.
41

rooms

2

restaurants

3

floors
The rooms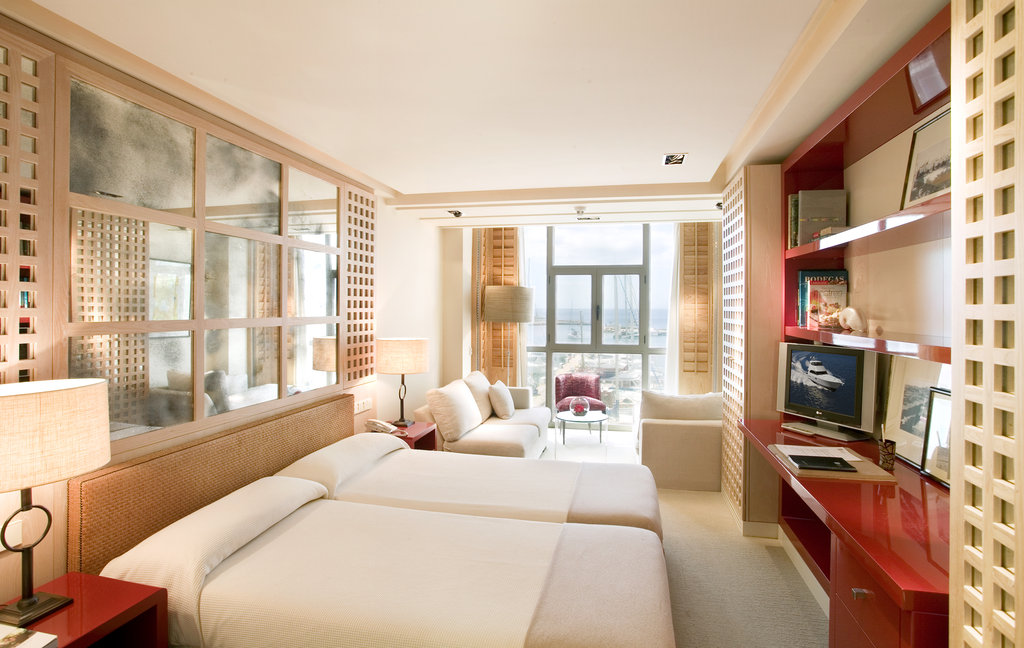 Deluxe Double Room
Sleeps: 2 People.
Very spacious deluxe double room with twin beds and sitting area, writing desk, twin beds, flat screen colour TV, ac, sea or marina view.

The decor is contemporary modern and very cosy. Approximately 35 m2 in size.
From per night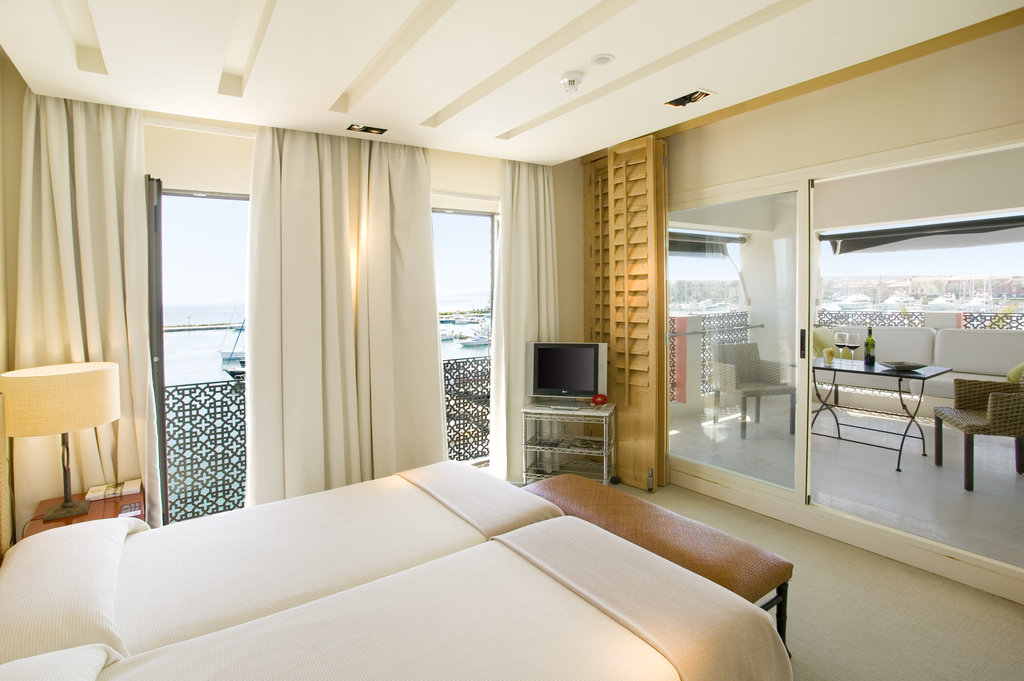 Two Bedroom Suite
Sleeps: 4 People.
Very cosy 2 bedrooms separated by a living room. Each bedroom has its own bathroom. Beautiful terrace with sofa and a table.

Flat screen TV in living room and bedroom, ac. The room overlooks the sea or the marina. Approximately 66 m2 in size.
From per night
Air conditioning
Lounges/bars
Exercise gym
Wireless internet connection
Pets allowed
24-hour room service
Join INVITED and get 10% off exclusive rates. Plus early check-in and late check-outs among other benefits.
24-hour front desk

24-hour room service

Accessible facilities

Air conditioning

Audio visual equipment

Bell staff/porter

Buffet breakfast

Business Center Services

Car rental desk

Catering services

Child programs

Children welcome

Coffee shop

Computer

Concierge desk

Conference space

Currency exchange

Doctor on call

Dry cleaning

Elevators

Exercise gym

Family plan

Fax service

Fire safety compliant

Flip charts

Free international calls

Full service housekeeping

Hairdresser/barber

High speed internet connection

Housekeeping - daily

Jogging track

Laundry/Valet service

Lounges/bars

Massage services

Meeting rooms

outdoor

Overhead projector

Pets allowed

Photocopy center

Restaurant

Room service

Safe deposit box

Secretarial service

Security

Shoe shine stand

Sports trainer

Translation services

Turndown service

Wakeup service

Water skiing

Water sports

Wireless internet connection
Air conditioning

AM/FM radio

Balcony/Lanai/Terrace

Bathrobe

Bathroom amenities

Bathtub

Bathtub/shower combination

Bidet

Cable television

Color television

Desk

Direct dial phone number

Hairdryer

Internet access

Minibar

Remote control television

Safe

Satellite television

Self-controlled heating/cooling system

Separate tub and shower

Shower only

Sitting area

Slippers

Smoke detectors

Stereo

Telephone

TV

Twin bed

Wireless internet connection
Cafeteria El Maritimo - Cafeteria with magnificent views over the Marina of Sotogrande. Here typical Spanish tapas are being served. Clients can also enjoy a variety of menus for an informal lunch and coffee breaks. Opened every day from 07:30 to 23:30.. Restaurante El Maritimo - Main restaurant of the hotel situated in the first floor with a huge dining terrace overlooking the Port of Sotogrande and the Mediterranean Sea. Opened every day from 08:00 till midnight.
El Maritimo
Cuisine type: Mediterranean
Meals served: Breakfast, Lunch, Dinner
Stunning restaurant for Buffet Breakfast with terrace overlooking the port of Sotogrande and the Mediterranean Sea.
Zaldia
Cuisine type: Mediterranean
Zaldia is situated next to the Midas restaurant and is a drinks only Bar. Great place to wind down and enjoy the views over the port
Midas
Cuisine type: Mediterranean
Meals served: Lunch, Dinner
Beautiful restaurant with views over the port of Sotogrande. The interior is colonial style. The restaurant is on the ground floor and can be reach from the outside or from the Patio of the Hotel
Reviews
These reviews are the real opinions of INVITED members and we have verified their stay at the hotel.
What I liked most :

Location (22)
Breakfast (16)
Guestroom and bathroom (16)
Welcome and departure (13)
General service (11)
Internet and wifi (11)
Restaurant and dining (6)
Local knowledge and experiences (3)
Room service (3)

What I might improve :

Leisure facilities (6)
Guestroom and bathroom (4)
Restaurant and dining (4)
Breakfast (3)

Read Reviews

Stay date: October 2016

My Trip Type:

Couple

After a friendly welcome we were upgraded to a very nice corner suite overlooking the marina and we enjoyed a relaxing stay. We liked the quiet location, the views over the sea from the breakfast terrace, the casual vacation spirit of the Sotogrande complex and its architecture and the easy access to places such as Marbella, Gibraltar, Tarifa and the pueblos blancos in the back country. We also liked one of the two nearby beaches, the one opposite the hotel across from the marina. We were not impressed by the lounge section of the restaurant where we had a drink in the afternoon after our arrival; nonchalant service and furniture in very poor condition. So we skipped the restaurant during our whole stay and used a very friendly place located just opposite the hotel. Breakfast is pleasant due to the nice location of its terrace but the service is minimal (we had never experienced a SLH property where you have to set up your own table with knives, forks, napkins all available on a nearby tray; we got used to it...). We were puzzled by the presence of a completely rusted white metal bench in the reception area, obviously meant as a decorative item, but never used by any guest... We liked the central patio area decorated in a completely different style.

Top tip for other guests:

Rooms on top of the restaurant terrace might hear some conversation noises

What I liked most

Guestroom and bathroom
Location

What I might improve

Restaurant and dining
General service
Breakfast

Perfect Hotel for people who like being beside water & boats

Stay date: September 2016

My Trip Type:

Couple

We were given an upgrade to a 'Two Bedroom Suite' when we arrived - and the Suite was excellent - very spacious, very comfortable and well equipped. One bedroom had a bath, the other a 'rainhead power shower' which meant we had a choice of bathroom. The large balcony overlooked the Marina and was a perfect spot to have a drink. Their delightful breakfast was taken on a large 1st floor veranda/balcony overlooking the harbour/marina. Quite frankly this was the best Hotel Room/Suite we have stayed in for a LONG time and for the price - absolutely stunning value.

Top tip for other guests:

Try some 'other' restaurants 'out of resort' rather than those that are right beside the marina waterfront..... The La Verandah in nearby Playa Guardiaro - the cheapest and the BEST of all we tried.

What I liked most

Location
Restaurant and dining
Guestroom and bathroom
General service
Room service
Breakfast
Welcome and departure

What I might improve

Stay date: July 2016

My Trip Type:

Friends

Great location, friendly and helpful staff, contemporary design.

Top tip for other guests:

Right by the beach with a good restaurant.

What I liked most

Local knowledge and experiences
Internet and wifi
Breakfast
General service
Welcome and departure
Guestroom and bathroom
Location

Stay date: October 2015

My Trip Type:

Couple

This was our second visit . and we will definitely be back ,all the staff are friendly the rooms are fantastic . close to great restaurants and bars you won't be disappointed.

Top tip for other guests:

Use there push bikes and explore Sotogrande

What I liked most

General service
Welcome and departure
Room service
Location
Restaurant and dining
Guestroom and bathroom
Internet and wifi
Breakfast

Stay date: September 2015

My Trip Type:

Single

Although for only one night, I received an upgrade into one of the beautiful (and huge) corner-suites. The Sunrise in the morning was spectacular, not only from the room, but also during breakfast on the terrace.

Top tip for other guests:

enjoy a peaceful evening walking around the harbor and the beach, the light is usualy beautiful

Perfect service in a great location

Stay date: July 2015

My Trip Type:

Family

We have been several times in Club Maritimo and it is always a great experience for all the family to stay there !!!

Top tip for other guests:

Breakfast

What I liked most

Location
Guestroom and bathroom
Breakfast
Internet and wifi

What I might improve

great hotel with a great view

Stay date: August 2015

My Trip Type:

Family

Very nice hotel, and excellent service. Breakfast very good, multiple choices, and with a view on the marina. The suites are excellent, with 2 large bedrooms, and an amazing terrasse. No swimming pool, but the beach is nearby. Windy destination as close to gibraltar.

Top tip for other guests:

if possible, take the suite

Hotelier reply:

Dear Mrs Tahri, Thank you very much for your kind review! It is always our goal to reach complete guest satisfaction and we are very pleased to learn that we have achieved it again this time. The whole team of the Hotel Club Maritimo de Sotogrande hope to be able to welcome you again soon here to "Your" Hotel Club Maritimo de Sotogrande. Warm regards Christine Vespermann Director of Sales & Marketing

What I liked most

Breakfast
Location
Guestroom and bathroom

Stay date: July 2015

My Trip Type:

Family

Simply one of our best SLH Hotel we ever been !

Top tip for other guests:

Breakfast

What I liked most

Location
Welcome and departure
Breakfast
Internet and wifi
Guestroom and bathroom

What I might improve

Perfect getaway to relaxing oasis with a view

Stay date: June 2015

My Trip Type:

Family

I liked almost everything about this hotel: beautiful surrounding, spacious room, friendly and helpful staff. The drawbacks worth mentioning are slight exhausting of the hotel itself (need renovation), poor wifi and limited breakfast variety.

Top tip for other guests:

Balcony in the room makes it all!

What I liked most

General service
Location
Welcome and departure

What I might improve

Restaurant and dining
Internet and wifi
Guestroom and bathroom
Breakfast

Stay date: May 2015

My Trip Type:

Couple

Don't do many reviews but this hotel is very special the rooms the location, the staff were very friendly plenty parking as we hired a car . Next to the beach where there is great beach bar , if you want a hotel in this area . don't hesitate just book it you won't be disappointed

Top tip for other guests:

Book a suit wow

What I liked most

Restaurant and dining
Breakfast
Internet and wifi
Welcome and departure
General service
Guestroom and bathroom
Location
Room service

Exellent place for relax. The staff - friendly and helpful

Stay date: April 2015

My Trip Type:

Couple

The hotel is exellent, all facilities in exellent condition. The staff is extremly helpfull.

Top tip for other guests:

The best place for relax

What I liked most

Restaurant and dining
Welcome and departure
Location

Friendly hotel in a fabulous location!

Stay date: September 2014

My Trip Type:

Couple

Fantastic room (we were upgraded on arrival), overlooking the marina and sea. We both had a beauty treatment whilst there which were first class. The hotel does not have a pool but the beach is 3 minutes walking distance. Very friendly and helpful, and exceptional value. Breakfast was also excellent and a lovely location. The only thing is that they could have had more business from the spa as no-one came back to us about a further beauty treatment request we had.

Top tip for other guests:

All have views but the direct sea facing ones are fantastic.

What I liked most

Welcome and departure
Internet and wifi
Guestroom and bathroom
Location
Breakfast

What I might improve

Stay date: September 2014

My Trip Type:

Couple

We were upgraded to a suit on arrival which was absolutely beautiful, very modern and luxurious. The staff were very welcoming and helpful and the food and cocktails were absolutely wonderful. The views of the marina were absolutely beautiful also. We went out to dine in the evening and noticed how quiet it was. We enquired with our waitress who advised the area is only busy in August. I would highly recommend a stay at this hotel.

Top tip for other guests:

This area is only busy in August

What I liked most

Breakfast
Restaurant and dining
Guestroom and bathroom
Location

Stay date: May 2014

My Trip Type:

Friends

I stayed in a two bedroomed suite with some friends and that worked really well. The beds were comfortable and the showers powerful. Staff were very friendly and helpful and breakfast was good. Would definitely recommend this place as the location is superb and you can just walk out to restaurants. I will definitely stay here again.

Top tip for other guests:

Friendly hotel in a great location

What I liked most

Welcome and departure
Location
Breakfast
General service

What I might improve

Stay date: April 2014

My Trip Type:

Couple

Top tip for other guests:

Ask for a balcony room

What I liked most

What I might improve

Stay date: March 2014

My Trip Type:

Couple

On check in I was not offered the promised upgrade or the cava. After a request they provided the cava....even though it was clear from their web site that the hotel was hosting very few guests...so an upgrade would have been easy. Rooms are odd...a second bath in the room behind the bed blocks the view of the marina so you cannot see the view unless bathing...! In addition the bed is backwards so you wake up looking into the room rather than at any sort of view (which of course is of the second bath....). Breakfast was basic and not very generous.

Top tip for other guests:

Stay in real Spain!

What I liked most

Internet and wifi
Location

What I might improve

Breakfast
Welcome and departure
Guestroom and bathroom

lovely hotel right on the marina

Stay date: March 2014

My Trip Type:

Couple

great hotel right on the marina, the staff so friendly and couldn`t do enough for us. We had the upgraded room and it was fantastic breakfast good too.

Top tip for other guests:

look out for the signs just as you enter the marina as not very well signposted

What I liked most

Welcome and departure
Location
General service
Guestroom and bathroom
Internet and wifi

Stay date: October 2013

My Trip Type:

Family

great location ! large rooms - very clean. Staff was very friendly ! Had dinner at Restaurant Midas - friendly personal and good food !

Top tip for other guests:

Nice hotel at a wonderful marina

What I liked most

General service
Guestroom and bathroom
Breakfast
Location

What I might improve

Leisure facilities
Internet and wifi

Excellent hotel - v good value for money

Stay date: July 2013

My Trip Type:

Couple

We really enjoyed staying at this hotel. It was at a great price - we got upgraded due to my slh membership and had a suite to ourselves. The breakfast was really good and the view over the marina was stunning. In quite a quiet area, this was a very peaceful stay but it was very easy to drive out to Gibraltar and surrounding Spain. The only complaint was that our french doors, leading out to our patio, in the first suite we were offered did not lock so we were moved to another suite (no marina view). Oh, the trials life sends you! ;-)

Top tip for other guests:

Ask for a marina view. Make sure your french doors lock if you're in a suite!

Hotelier reply:

Dear Ruth, We would like to thank you for having taken the time to post your review about us on Small Luxury Hotels of the World Web Site. Our goal is to make our clients happy a very nice and memorable one and It make us very happy to see that we have achieved it this time. We are glad we could change your suite to another one where the door closed well. Hopefully we will be able to welcome you soon back to the "Your" Hotel Club Maritimo de Sotogrande. Warm regards and hasta pronto Club Marítimo de Sotogrande

What I liked most

Breakfast
Guestroom and bathroom
Welcome and departure
Location
General service

What I might improve

Great location, perfect to be away

Stay date: June 2013

My Trip Type:

Couple

All I can tell is that it is amost the perfect place to stay, staff very helpfull.

Top tip for other guests:

ENJOY while places like this still exist

What I liked most

Location
Leisure facilities
General service
Internet and wifi
Guestroom and bathroom
Welcome and departure
Local knowledge and experiences
Breakfast

What I might improve

Stay date: April 2013

My Trip Type:

Couple

We could not of had a better place to stay. The staff were very friendly and helpful. Our room was beautiful with a fantastic view of the Rock Of Gibraltar. The girls in the breakfast room became like family, it was very hard to leave there. I hope to someday go back to this overlooked paradise.

Top tip for other guests:

engage with the people they are so open and frienly

What I liked most

Internet and wifi
General service
Guestroom and bathroom
Breakfast
Restaurant and dining
Location
Welcome and departure

What I might improve

Stay date: September 2012

My Trip Type:

Couple

The hotel is perfectly situated for a week's worth of excellent golf at Valderama, San Roque and Sotogrande -- all within a ten minute drive. The marina location of the hotel is quite beautiful, easy to get to, has convenient parking and is surrounded by truly excellent restaurants and shops. Breakfast in the morning on the terrace includes a stunning view of Gilbraltar and the Pillars of Hercules. The two bedroom, two bath suite overlooking the harbor was very comfortable. The staff is most pleasant, agreeable and helpful.

Top tip for other guests:

Let the hotel make your golf tee times and caddy arrangements.

What I liked most

Internet and wifi
Local knowledge and experiences
Breakfast
Guestroom and bathroom
Location

What I might improve