https://origin.slh.com/hotels/grande-roche-hotel/
HOTEL HIGHLIGHTS
Suites sit among vineyards and a working fruit farm
Fine dining from Michelin-trained Executive Chef Roland Gorgosilich
Award-winning wine list and an in-house sommelier
Grande Roche Hotel - LUXURY HOTEL IN PAARL, SOUTH AFRICA
Truly stunning retreat set in the heart of the Cape Winelands
An immaculately restored Dutch homestead with an award-winning restaurant, Grande Roche Hotel is set in immaculately manicured gardens in the famous Paarl wine region. With gourmet dining, an informal bistro, two outdoor pools and spa treatments, this is an exceptional base from which to discover the region's very best Shiraz, Cabernet Sauvignon and Malbec wines.
Surrounded by vineyards and with an impressive mountain backdrop, Grande Roche Hotel's setting is truly stunning. The ambiance here is undeniably luxurious yet there is a relaxed and welcoming feel. The service is second-to-none with a knowledgeable and efficient staff.
Do try a private wine tasting session with the in-house Sommelier, as Grande Roche Hotel has an extremely well-stocked wine cellar of vintage wines and champagnes. Make the most of the surrounding countryside and go mountain biking or horse riding. For more leisurely pursuits, visit a nearby wine estate and return for a special dinner in Bosman's Restaurant.
28

rooms

2

restaurants

1

floor
The rooms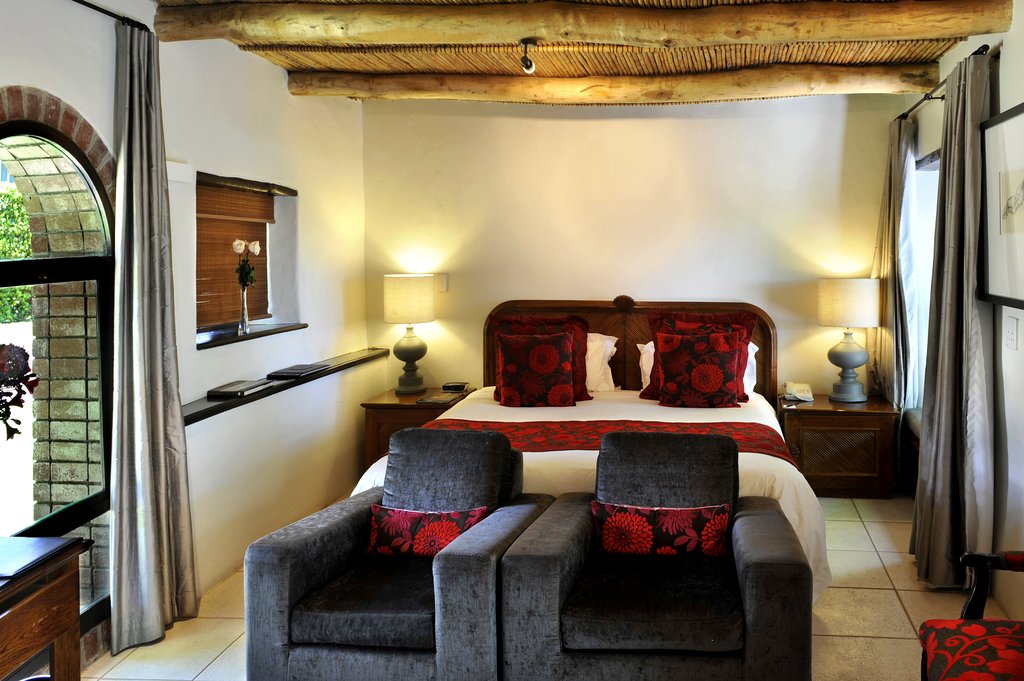 Studio Suite
Sleeps: 2 People.
Studio Suite, approx 35 sqm plus 45 sqm terrace or lawn, WIFI, A/C, integrated lounge/bedroom, King size beds, bathroom with shower only.

Furniture is modern contemporary, under floor heating.
From per night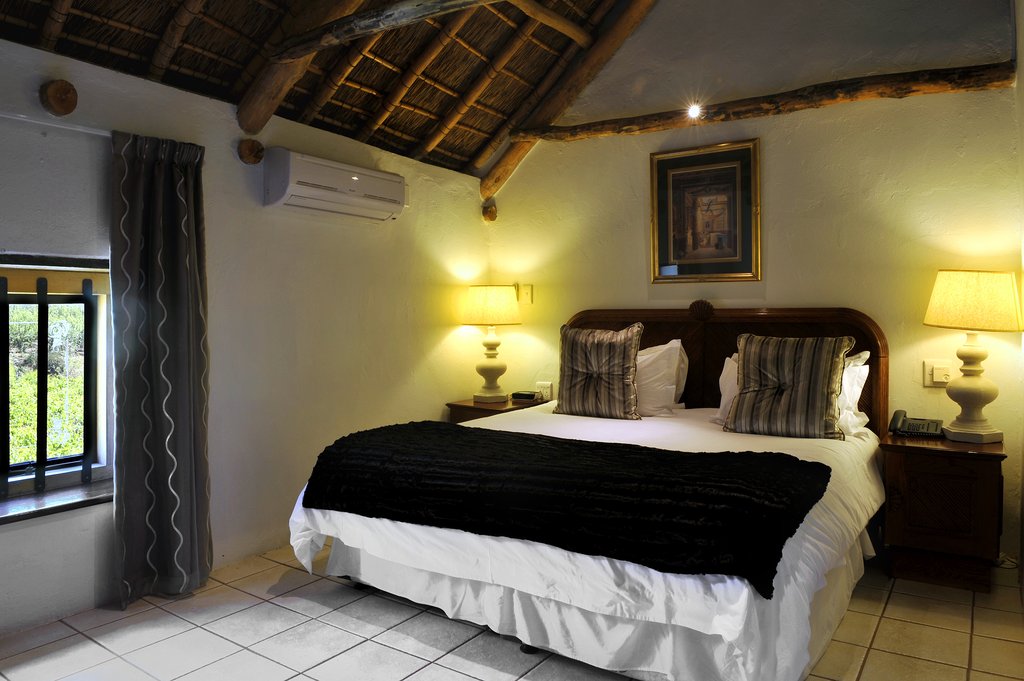 Duplex Suite
Sleeps: 4 People.
Duplex Suite, Suite on two levels, approx 65 sqm, ground level with lounge, AC, Wifi, Garden Views, Comp Wine, guest toilet upper floor with bedroom.

Bathroom with separate shower and bath facilities, 2 wash basins. Furniture is classic, under floor heating.
From per night
Terrace Suite
Sleeps: 2 People.
Terrace Suite, Modern contemporary furniture, lounge and bedroom under floor heating, front terrace with with garden furniture and ceramic and terracotta flooring.

King bed, some with shower only, some shower and bath, overlooking the vineyards, 51 sqm plus 27 sqm terrace, AC, wifi.
From per night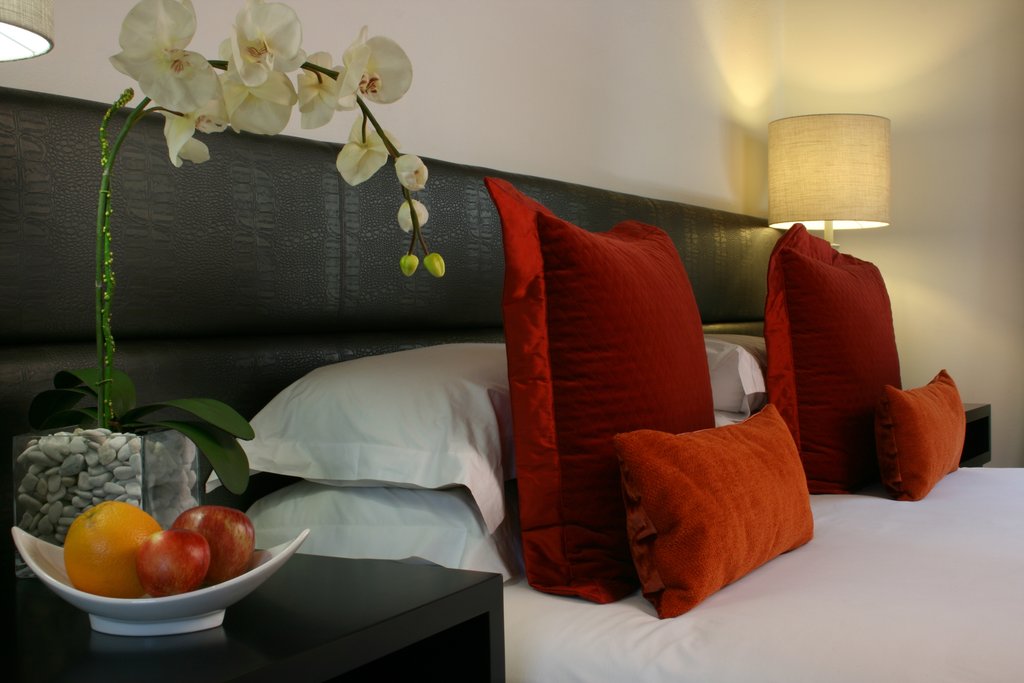 Lux Garden Suite
Sleeps: 2 People.
Luxury Garden Suite, 50 sqm, lounge, bedroom, King bed, double shower and spa bath, private 28 sqm sun terrace, AC, wifi.
From per night
Wireless internet connection
Pool
24-hour room service
Airport shuttle
Wedding services
Join INVITED and get 10% off exclusive rates. Plus early check-in and late check-outs among other benefits.
24-hour front desk

24-hour room service

24-hour security

Accessible facilities

Accessible parking

Air conditioning

Airline desk

Airport shuttle

Audio visual equipment

Bell staff/porter

Buffet breakfast

Car rental desk

Catering services

Child programs

Children welcome

Complimentary shoeshine

Concierge desk

Currency exchange

DVD/video rental

Family plan

Fire safety compliant

Full service housekeeping

Gift/News stand

Housekeeping - daily

Laundry/Valet service

Onsite laundry

Pets not allowed

Poolside service

Post/parcel service

Restaurant

Room service

Security

Shuttle to local attractions

Turndown service

Wakeup service

Wedding services

Wireless internet connection
Alarm clock

Balcony/Lanai/Terrace

Bathrobe

Bathroom amenities

Bathtub

CD player

Coffee/Tea maker

Color television

Desk

DVD player

Free newspaper

Grab bars in bathroom

Hairdryer

Internet access

King bed

Minibar

Phone in bathroom

Remote control television

Safe

Satellite television

Sitting area

Smoke detectors

Speaker phone

Telephone

TV

Wireless internet connection
Fine dining

Outdoor pool

Pool

Tennis court

Wine tasting
If you want to hear your taste buds sing, then Grande Roche is the place to be. It is here that you will have a culinary experience like no other. Award winning, Michelin-trained chef Roland Gorgosilich infuses classic cuisine with imagination and innovation. The gastronomic delights are enhanced by the inspired wine pairings of our SommelierJosephine Gutentoft. From the fine dining of the world-renowned Bosmans Restaurant to the more relaxed Bistro Allegro or the intimate sophistication of the WA de Klerk private dining room, each mouthful you take will be a journey to a sensory paradise.
Bosmans Restaurant
Cuisine type: International
Meals served: Breakfast, Lunch, Dinner
Set with a breathtaking view of the Drakenstein Mountains the Grande Roche has for the past two decades- been distinguished for not only its sublime setting. Bosmans Restaurant at the Grande Roche is not only an award-winning restaurant but one of the Capes most magnificent settings for fine cuisine. For dinner- there is the Harmony of the South menu- the 6 course Tasting menu- the vegetarian menu as well as the a la carte menu.
Bistro Allegro
Cuisine type: International
Meals served: Lunch, Dinner
Bistro Allegro enjoys a more casual atmosphere to go with the more casual choice of menu. The bistro fare offers lighter variations and also caters to savoury and sweet tastes with salad dishes- seafood- pasta- hot and cold main dishes- delicious desserts and cakes- ice creams and cheese platters. The wine list offers a selection of first and second label wines- half bottles and wine by the glass. The bistro seats 18 people inside with tables and chairs around the pool for the sunny days.
Reviews
These reviews are the real opinions of INVITED members and we have verified their stay at the hotel.
What I liked most :

Breakfast (15)
Location (14)
Restaurant and dining (14)
General service (11)
Welcome and departure (11)
Guestroom and bathroom (8)
Internet and wifi (5)
Leisure facilities (3)
Local knowledge and experiences (3)

What I might improve :

Internet and wifi (4)
Guestroom and bathroom (3)

Read Reviews

March 2019

My Trip Type:

Couple

Great hotel a quiet oasis beautiful accommodation friendly staff

Top tip for other guests:

Great hotel for relaxing away from the busy city Cape town

What I liked most

Welcome and Departure
Location
General Service
Guest Room and Bathroom
Breakfast
Restaurant and dining
Internet and wifi

Stay date: March 2016

My Trip Type:

Couple

as expectations were high we were rather disapoite by our stay. We booked a duplex suite and found both the ground floor as the upstairs very dark, very little daylight coming in. The place smelled as if the door had not been opened in a long time. Possibly this is due to the thatch roof and the sun on it. The upstairs window could not be closed as the lock was broken, so we "enjoyed " a lot of dog barking noice. The upstairs, under the roof is very hot but the airco is so noisy that it cannot be left on during the night. In the bathroom the bath surface was cracked, the shower moldy and the lighting insufficient for shaving or make up. We fled the pool aerea because of the continued noise from leaf blowers and other machinery. When leafs and sand were blown of the paths they were blown into the room (under the door) and left there for days. The reception aerea is very amateuristic and not up to standards. I would like to stress that everybody was very friendly and that our stay was not unpleasant on the whole, but we expect more from a 5-star hotel. We think the place needs a new management and a serious invester.

Top tip for other guests:

Overpriced and overrated

Hotelier reply:

Dear Roger, Thank you very much for your email. I truly regret the state in which you found your room during your visit to the Grande Roche Hotel. This room has been scheduled for immediate upgrade and I wish to offer you my very sincere apologies for having accommodated you in that room. A meeting has been scheduled to ensure that further guests are not met with a similar dissatisfactory situation. Thank you once again for taking the time to write this review. Constructive feedback such as yours is greatly appreciated as it aids us in improving and maintaining the standard and quality of both the hotel and the service we offer. We look forward to the pleasure of welcoming you back to this gem in the heart of the winelands. Yours sincerely Elemencia Mukwekwe

What I liked most

Location
Internet and wifi
Breakfast

What I might improve

Welcome and departure
General service
Restaurant and dining
Guestroom and bathroom

Stay date: March 2016

My Trip Type:

Couple

Being our 20th Anniversary, the staff went out of their way to lookafter us. We had beautiful petals strewn on our table for breakfast and dinner one day, and had a private tasting with Job the sommelier. After dinner on our anniversary, the staff brought a beautiful slate tile to our room, with Happy Anniversary written in chocolate, and covered in chocolatetruffles and figs! Delicious, thank you. Food, whether breakfasts or dinner at Bosmans, was excellent, in presentation, taste, and quality. Excellent arrangement of various tea`s and coffee in the room, (and they would send someone down with fresh milk for us), complimentary half botle of wine, cookies, and a large sparkling water. Pretty candles put in the bathroom at night, plus small bottles of still water, but let down by cheap chocolates left for us. Twio down sides - firstly, the paintwork on the day loungers at the heated pool left black paint marks on my arms, staff said that it was because they were in the sun?? And secondly, my wife couldn`t bath as the hot water tap in the bath spewed out chunks of black bits!

Top tip for other guests:

Go for the 6 course tasting menu, paired with wines! Superalitiive.

Hotelier reply:

Dear Mr Key, Thank you very much for your very positive comments about our staff and your Grande Roche experience. Your comments regarding the paintwork on the day loungers at the heated pool and the hot water tap in the bath spewed out chunks of black bits were read with regret and I wish to apologise most sincerely for this as it definitely spoiled what I can only imagine would otherwise have been a perfect 20th Anniversary stay. Mr Key, thank you once again for taking the time to write to us. Constructive feedback such as yours is imperative to us to ensure that we can improve the standard and quality of our service. We hope to welcome you back to our beautiful hotel in the near future. Kind regards, Elemencia Grande Roche Hotel

What I liked most

Location
Restaurant and dining
Leisure facilities
Breakfast
Internet and wifi
General service
Welcome and departure

What I might improve

"Friendly service in a great location"

Stay date: April 2015

My Trip Type:

Couple

Fantastic staff and service, and one of the best meals I've ever had. Very neat and clean rooms.

Top tip for other guests:

Have at least 1 meal at Bosman's...sublime!

What I liked most

Welcome and departure
Breakfast
Location
Restaurant and dining
General service

What I might improve

Beautiful Cape Dutch style hotel

Stay date: February 2015

My Trip Type:

Couple

We have visited the hotel many times and experiences the hotel to be one of our favorites in the world ( we have been around the world 16 times ). The service and location give at the best feelings for a calm vacation. The staff is doing the uttermost to pleas us.

Top tip for other guests:

Try it and you will be really satisfied.

What I liked most

Location
Guestroom and bathroom
Restaurant and dining
General service
Breakfast
Welcome and departure

Stay date: December 2014

My Trip Type:

Couple

Beautiful site with wonderful facilities. We used the hotel as a base for our sunrise balloon flight - perfect start to the day! Cottage was lovely - large and well equipped. Dinner and breakfast were both excellent.

Top tip for other guests:

Whilst Paarl itself didn't have much to offer; this is an excellent base from which to explore the nearby vineyards

What I liked most

Location
Room service
Restaurant and dining
Breakfast
Guestroom and bathroom

Stay date: November 2014

My Trip Type:

Family

Amazing friendly staff, always welcoming and nothing is ever too much. Very early landing in South Africa but as requested the room was ready for us to go to on arrival to get over the flight. Staff were so happy and couldn't do enough to make our stay more than we could have hoped for.

Top tip for other guests:

Relax and enjoy the views, service and everything around you.

What I liked most

Local knowledge and experiences
Location
Breakfast
Guestroom and bathroom
General service
Restaurant and dining
Welcome and departure

What I might improve

Stay date: November 2014

My Trip Type:

Couple

It was great to be here. The is excellent. Very friendly people and service. Very helpful in getting our lost bagage. The wifi connection in the room is difficult and limited. Wifi in mail building is ok.

Top tip for other guests:

Excellent for the first days in ZA after a long flight.

What I liked most

Restaurant and dining
Location
General service
Guestroom and bathroom
Breakfast

What I might improve

wonderful stay - truly unforgettable!

Stay date: October 2014

My Trip Type:

Couple

really beautiful boutique hotel with wonderful views over the Winelands and the spectacular mountains, very luxury and spacious garden suite with huge terrace, wonderful garden with many beautiful plants and flowers. There are so many nice things to explore around this perfectly well-kept property. The friendliness of the whole staff and the perfect service were outstanding and over the top! Last but not least the food was absolutely excellent - a huge compliment for the kitchen team! Thank you very much for a wonderful and really unforgettable stay, we will come back for sure!

Top tip for other guests:

luxury garden suite

What I liked most

Welcome and departure
Guestroom and bathroom
Breakfast
Wonderful Garden
Restaurant and dining
Location
General service

Perfection in the Winelands

Stay date: May 2014

My Trip Type:

Friends

Had such a wonderful stay at the Grande Roche - from the moment we arrived we were greated by the GM with glasses of champagne and a tour of the beautiful grounds. Our room, the Dauphine suite, was three rooms of pure luxury. The bathroom had all the amenities that one could wish for - massive bathrub, double sinks, heated towl rack, and waterfall shower. The view from the outside terrace was gorgeous both in the evening and the morning. We had a wonderful wine tasting with Jean and the morning breakfast was splendid - fruits, cheeses, breads, and oysters (and more champagne).

Top tip for other guests:

bring a swimsuit with you as there are two pools and one is heated year round

What I liked most

Internet and wifi
Local knowledge and experiences
Leisure facilities
Guestroom and bathroom
General service
Location
Breakfast
Restaurant and dining
Welcome and departure

friendly service in a tranquil environs

Stay date: May 2014

My Trip Type:

Couple

Great hotel, with exceptional and very friendly staff. would definitely consider staying there again if i am in Paarl.

Top tip for other guests:

Spoil yourself and book the terrace suite

What I liked most

Internet and wifi
Welcome and departure
Breakfast
Restaurant and dining

Stay date: April 2014

My Trip Type:

Friends

A great Hotel with top service!!

Top tip for other guests:

Bosman

What I liked most

General service
Location
Welcome and departure

What I might improve

Stay date: January 2014

My Trip Type:

Friends

Being a repeater should be a good answer why we love this hotel. The atmosphere, the whole staff and the location give us a wonderful experience each time we come back. We have already ordered for November 2014.

Top tip for other guests:

Do not hesitate to reserve for a room in the coming future.

What I liked most

Welcome and departure
Location
Restaurant and dining
General service
Breakfast

What I might improve

Leisure facilities
Internet and wifi

Stay date: November 2013

My Trip Type:

Couple

from our welcome where were asked to wait in the terrace with a glass of bubbly whilst we were checked, to the click song at dinner, to the owls that surprised us in the grounds, and the surprise we were given because we mentioned we were celebrating our anniversary our stay at the Grande Roche was an experience to remember and a memory we will cherish for years to come. we hope can stay again soon enough and for a lot more days! :)

Top tip for other guests:

ask for the click song at dinner time :)

What I liked most

Welcome and departure
Restaurant and dining
Location
Breakfast
Guestroom and bathroom

Fantastic service in a charming hotel

Stay date: September 2013

My Trip Type:

Couple

The hotel is located just off Main St, Paarl on a slop side. GR is a beautifully restored building, grounds are fabulous as are the cottages in the gardens. Front of house staff are excellent and service is second to none. We ate at the restaurant, great meal with a wonderful recommendation on wine from the sommelier - he brought character to the local wines. We had one issue with the hotel which they sorted out beautifully the mark of a well run hotel.

Top tip for other guests:

Go for Garden Cottage

What I liked most

Restaurant and dining
General service

Stay date: August 2013

My Trip Type:

Couple

The Grande Roche in Paarl is not only luxury, but true hospitality. staying over an extended weekend, we experenced a very warm welcome and felt at home and comfortable within no time. Given that it was low season, staff had quiet time to taking care of us, but still keeping up a very poisitive spirit. It definitely is to mention, that all of the staff are very skilled, highly professional and one can tell that they enjoy working at the Grande Roche. This is one of few places where I think about returning to.

Top tip for other guests:

Definetly do not miss the dining experience at the Bosman's restaurant

Hotelier reply:

Dear Valued Guest, My team and I are delighted to read your review of the Grande Roche Hotel. Thank you for taking the time to share your positive experience. We look forward to your next visit to the hotel. It is our passion to ensure that all guests depart the Winelands with such happy memories. Kindest regards, Anja Bosken General Manager

What I liked most

General service
Breakfast
Restaurant and dining
Welcome and departure

Stunning setting and totaly relaxed

Stay date: January 2013

My Trip Type:

Family

The hotel settings are stunning with its own vineyard all around the grounds. Numerous pools to cool down in and the wine tasting was perfectly balanced with all the wines local and great knowledge behind them. All the staff were really friendly and accomodating to anything we needed although the room wasnt quite ready in time the view we had while we waited too any stress away. Very easy access to Cape Town and the airport. Easily the best hotel in and around the Cape Town area. I will definatly stay again and would say if you stay anywhere alse you're missing out.

Top tip for other guests:

Le Quartier Francais restaurant in Franshook. Ranked in the top 100 restaurants in the world and definatly worth a visit.

Hotelier reply:

Dear Stevyn, My team and I are delighted to read your review of the Grande Roche Hotel. It is our passion to ensure that all guests depart the Paarl Winelands with such happy memories. Kindest regards, Anja Bosken General Manager

What I liked most

Local knowledge and experiences
Location
Guestroom and bathroom
Breakfast
Leisure facilities

What I might improve