https://origin.slh.com/hotels/hotel-and-spa-des-pecheurs/
HOTEL HIGHLIGHTS
Built with rock sourced from the island, located right on the coastline
Italian and French cuisine served in the restaurant and terrace, with spectacular sea views
Pristine beach right on the doorstep, with activities such as scuba driving and boat excursions available
Hôtel & Spa des Pêcheurs - LUXURY HOTEL IN CORSICA
A peaceful hideaway on a private Mediterranean island
With a captivating setting on the Island of Cavallo, off the southern most tip of Corsica, Hôtel & Spa des Pêcheurs is a delightful hideaway sitting right on the water's edge. It has an enticing white sand beach, a renowned restaurant with an excellent reputation, a serene spa with indoor thalassotherapy pool and an emphasis on privacy for its guests.
Built in the stone from the island, Hôtel & Spa des Pêcheurs blends beautifully into its island surrounds. The elegant rooms and suite are decorated in varying shades of blue, white and beige reflecting the colours of the sea, sky and rocks. A number benefit from a terrace or balcony from which to take in the glorious sea views.
Wander through the gardens of Hôtel & Spa des Pêcheurs, down to the hotel's private beach with its very own beach bar. Then, enjoy a spot of tennis, swim in the pool or hire a golf cart to explore more of the island. Sea excursions can also be arranged. At night, sit on the terrace of the piano bar with an aperitif and enjoy magical moments watching the lights create dancing shadows on the rocks next to the water.
50

rooms

2

restaurants

2

floors
The rooms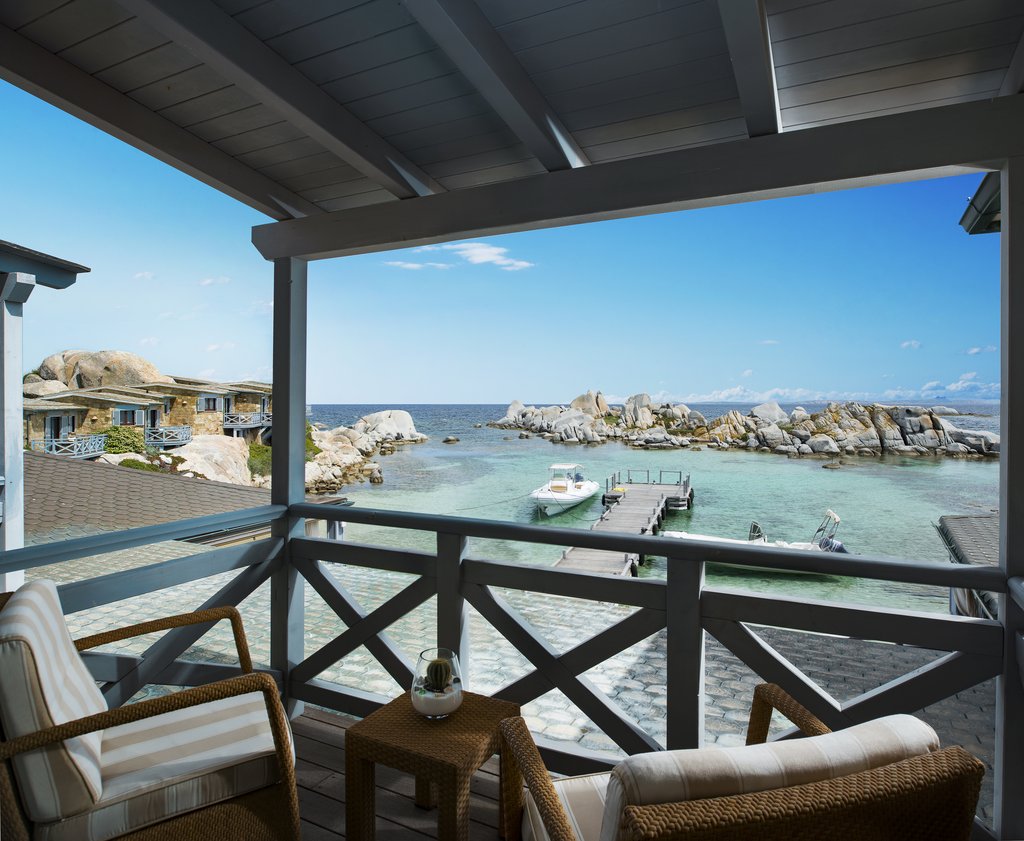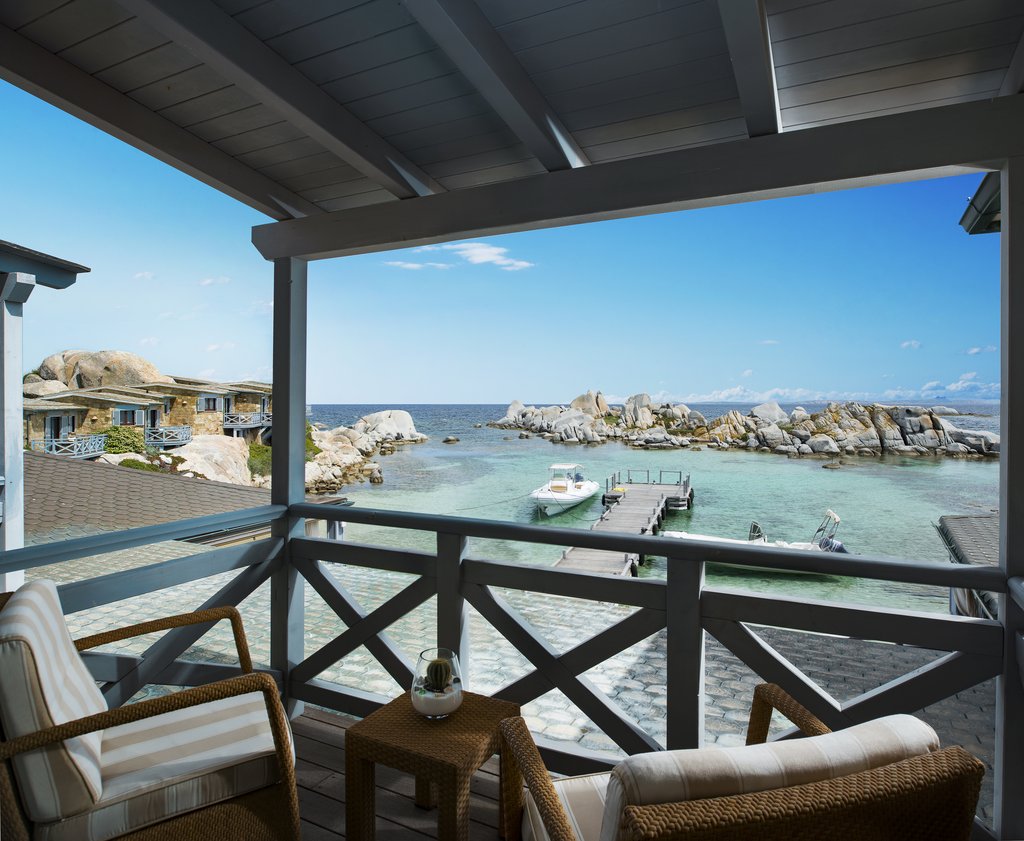 Standard Sea View
Sleeps: 2 People.
Standard Room with Double bed decorated with Mediterranean style furniture. The room is approximately 20 sqm in size with balcony overlooking the sea.

Amenities include air conditioning, satellite TV, safe, minibar and ensuite bathroom. Internet is available throughout the hotel but is only guaranteed in public areas.
From per night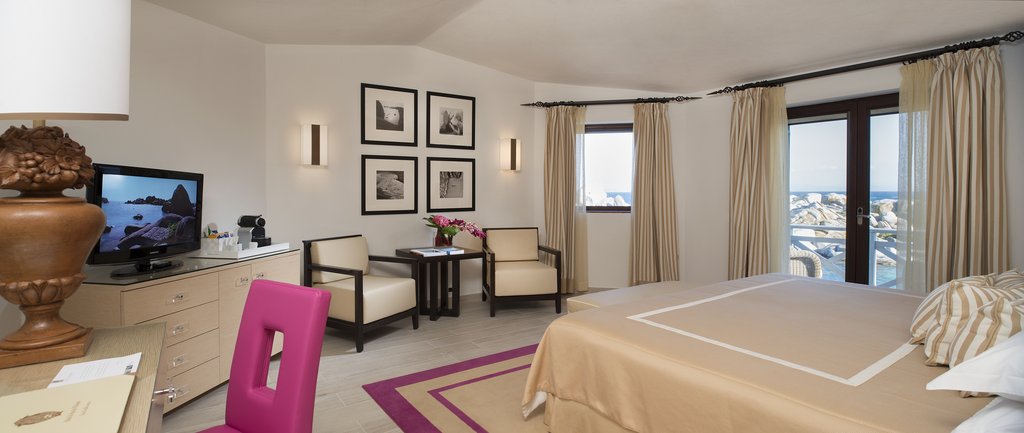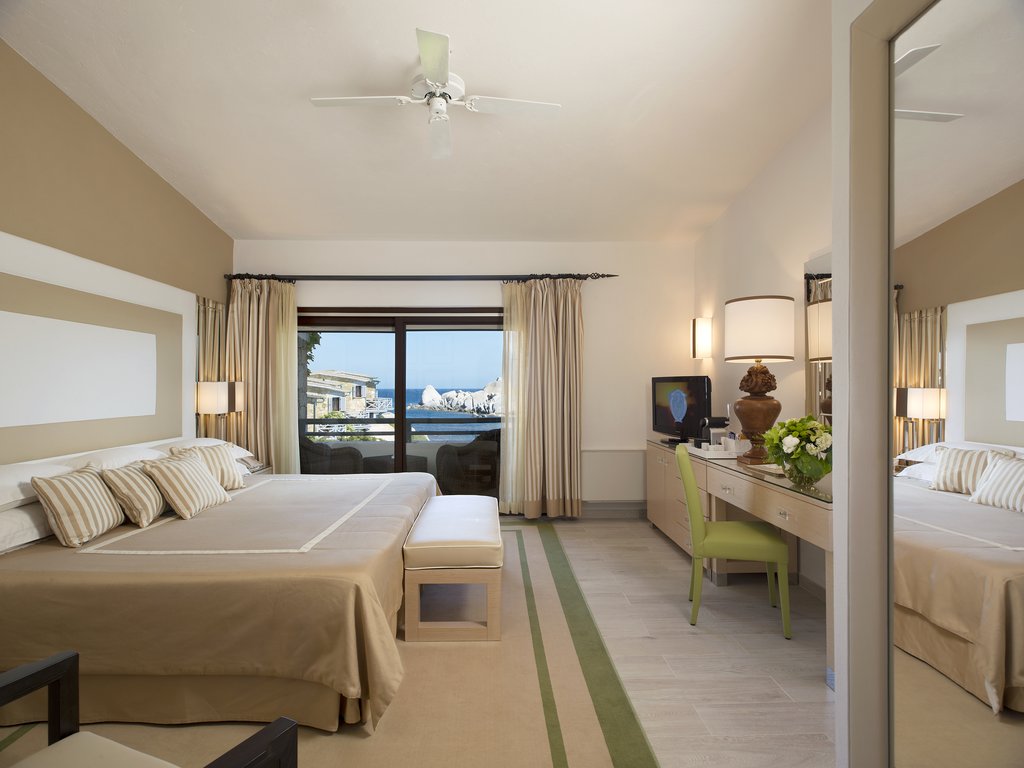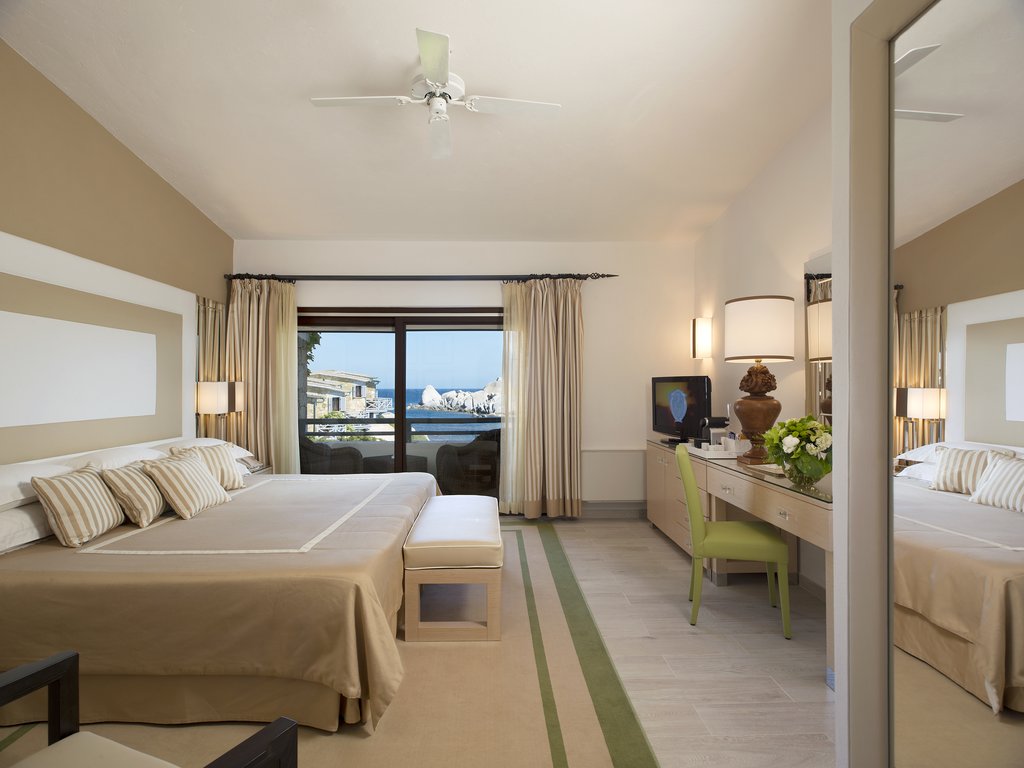 Privilege Sea View
Sleeps: 3 People.
Privilege Sea View Room with king size bed decorated with Mediterranean style furniture. The room is 30 to 45 sqm in size with terrace and a fantastic sea view.

Amenities include Nespresso machine, air conditioning, TV, safe, minibar, en suite bathroom with shower or bath. Internet is available throughout the hotel but is only guaranteed in public areas.
From per night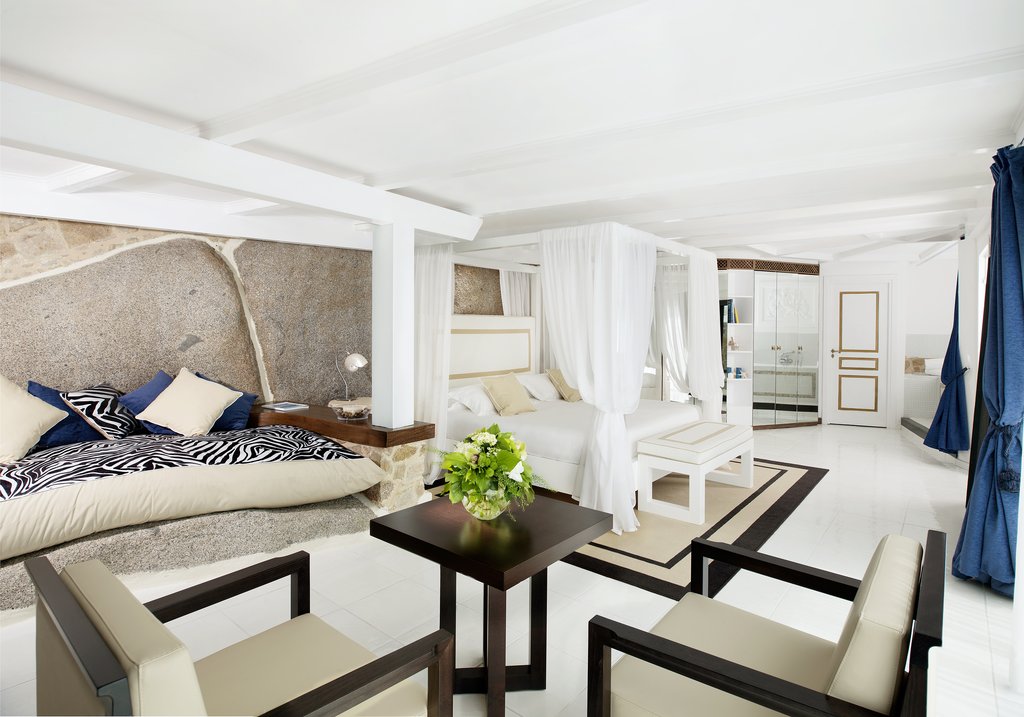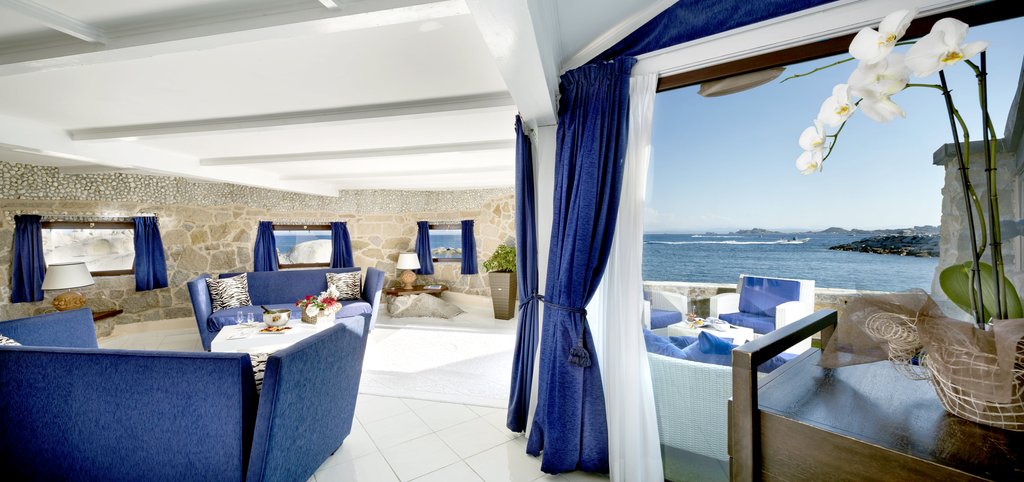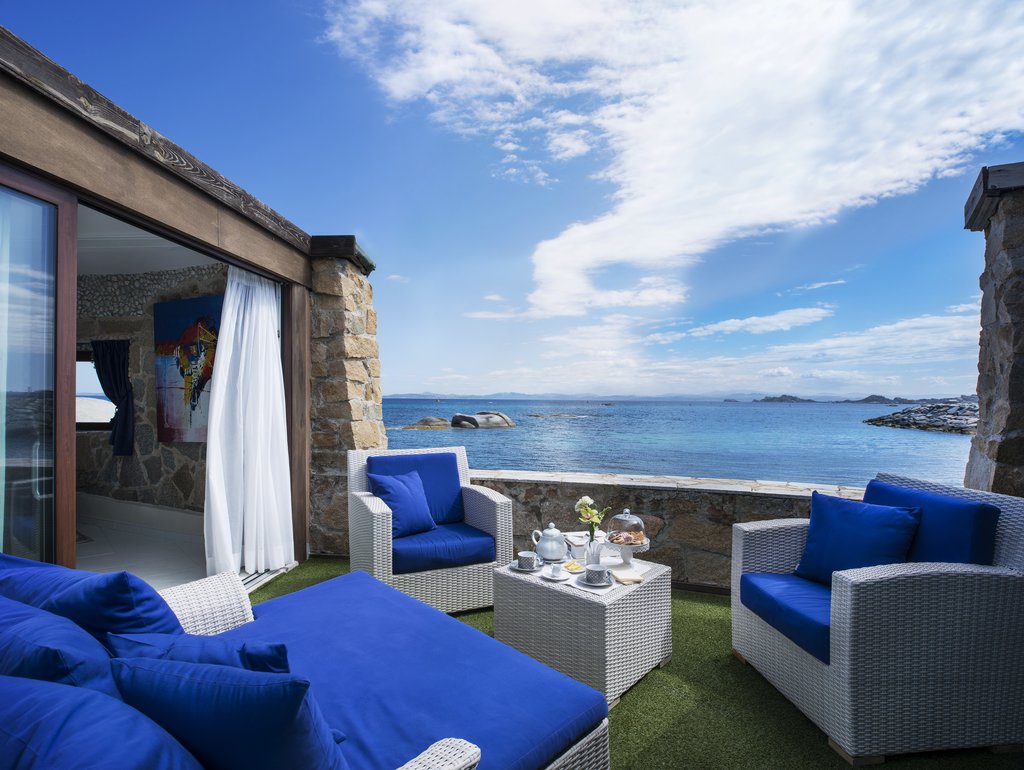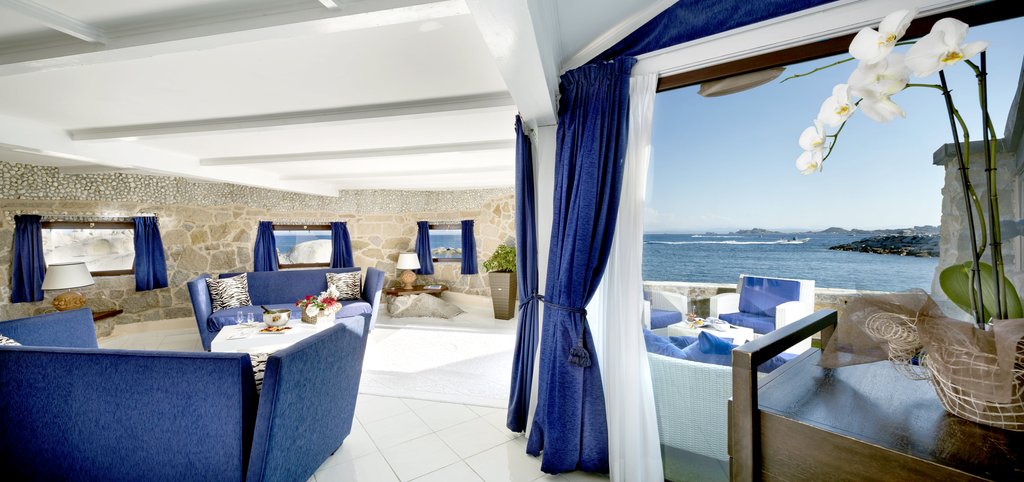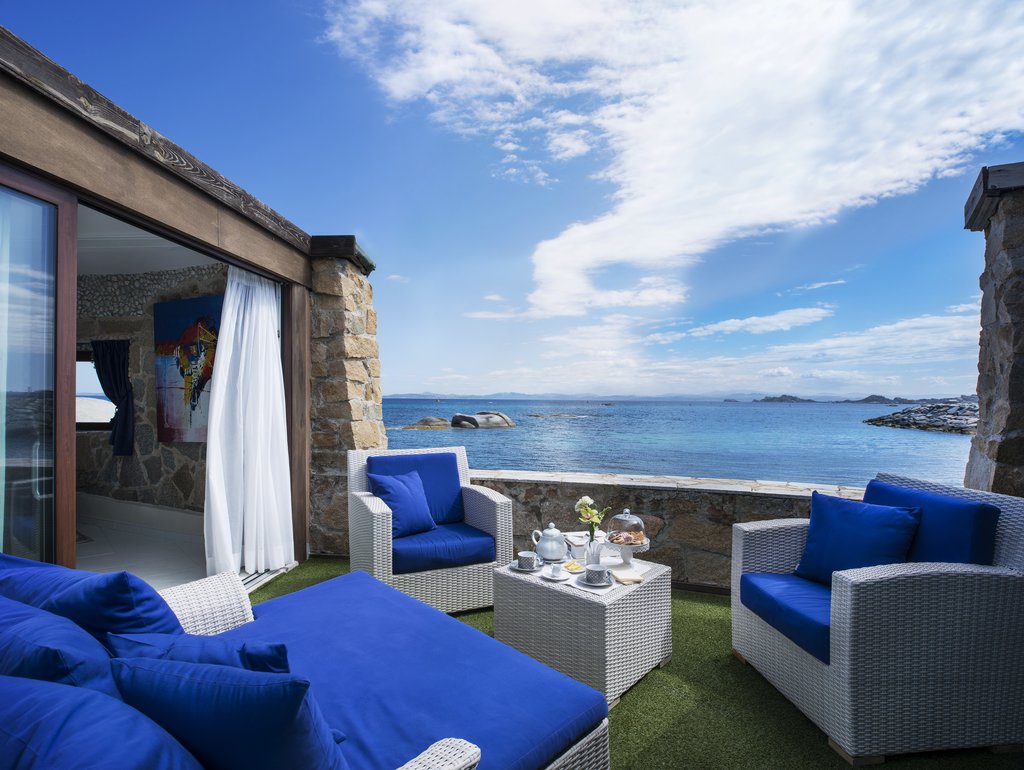 Suite
Sleeps: 3 People.
The Suite is an Independent house with one Bedroom with four-poster bed, separate living area.It has a Terrace overlooking the rocky inlet.The Suite has 2 bathrooms, shower and Jacuzzi. Size 120 sqm

It is decorated with designer style furniture and amenities include wireless Internet access, air conditioning, satellite TV, safe, minibar, and Nespresso machine .
From per night
Air conditioning
Lounges/bars
Sauna
Exercise gym
Golf
Tennis court
Pool
Join INVITED and get 10% off exclusive rates. Plus early check-in and late check-outs among other benefits.
24-hour front desk

24-hour security

Accessible facilities

Air conditioning

Audio visual equipment

Buffet breakfast

Catering services

Children welcome

Complimentary buffet breakfast

Concierge desk

Conference space

Exercise gym

Family plan

Fire safety compliant

Full service housekeeping

Gift/News stand

Housekeeping - daily

Lounges/bars

Massage services

Onsite laundry

Pets not allowed

Public address system

Restaurant

Room service

Room service - limited hours

Safe deposit box

Security

Tennis court

Wakeup service

Wireless internet connection
Air conditioning

Balcony/Lanai/Terrace

Bidet

Coffee/Tea maker

Color television

Double beds

Hairdryer

Jacuzzi

King bed

Minibar

Safe

Satellite television

Sitting area

Telephone

TV
Golf

Indoor pool

Outdoor pool

Pool

Sauna

Scuba diving

Sightseeing tours

Snorkeling

Spa
Des Pecheurs
Cuisine type: Italian
Meals served: Breakfast, Lunch, Dinner
Perfectly attuned with Italian tradition and French cuisine- the restaurant of the Hotel and SPA des Pecheurs is ready to enthuse your palate with tasty and refined dishes knowledgeably prepared with fresh and genuine ingredients. Dinner is served within the restaurant and from its windows you can admire the spectacle of the sea by night. Whilst for breakfast a buffet is served externally on the terrace of the Hotel.
Shore Club
Meals served: Lunch, Dinner
The Shore Club is the ideal spot to enjoy refreshing cocktails and to savor delicious grilled fresh fish and meat at lunch or dinner The inviting menu friendly staff and scenic location just a few meters from the beach make it the perfect place to enjoy a casual meal snack or simply sip a drink in a relaxing atmosphere while surrounded by the sea
The soothing sight and sound of the sea is never far away on Corsica. And at the Hotel des Pecheurs spa, you can immerse yourself in its healing energy, with an indoor thalassotherapy pool. Other treatments include massages and beauty therapies, all provided in peaceful treatment suites bathed in natural light.
Reviews
These reviews are the real opinions of INVITED members and we have verified their stay at the hotel.
What I liked most :

Location (11)
Restaurant and dining (7)
General service (6)
Breakfast (5)
Welcome and departure (5)
Guestroom and bathroom (4)
Internet and wifi (3)
Leisure facilities (3)

What I might improve :

Breakfast (4)
Internet and wifi (4)
Leisure facilities (3)
Restaurant and dining (3)

Read Reviews

Location is the only real positive point

July 2019

My Trip Type:

Couple

The hotel's only highlight is its location: it is the only such establishment in the idyllic Ile de Cavallo, on Corsica's coast. However, the hotel itself is in desperate need of an update. Seems to come straight out of the 1990s. Service was decent, but staff certainly did not seem to be making an effort to go the extra mile. Courtesy upgrade on arrival was denied, which was very unfortunate as I was on my honeymoon. No honeymoon extras were provided, which is a common thing in the business. Would only recommend this hotel for its location. Nothing else.

Top tip for other guests:

The hotel's only highlight is its location: it is the only such establishment in the idyllic Ile de Cavallo, on Corsica's coast. However, the hotel itself is in desperate need of an update. Seems to come straight out of the 1990s. Do not book if you expect a modern establishment.

What I liked most

Location
Leisure facilities

What I might improve

Welcome and Departure
General Service
Guest Room and Bathroom

top location,.excellent resto,friendly staff (excl Samantha

brussels

My Trip Type:

Couple

see above...exptation of unprofessional behaviour on arrival and departure of Samantha....+ (happened yesterday) she called me to welcome me ... we left more than 1 week ago ??? not suited for this job in this level of hotel

Top tip for other guests:

make sure that arrival and departure is wel arranged

What I liked most

Guestroom and bathroom
Restaurant and dining
Room service
Location
Internet and wifi
General service
Breakfast

What I might improve

Welcome and departure
Leisure facilities

Exclusive and magic mediterranean sea

Stay date: September 2016

My Trip Type:

Couple

Hotel and location are exceptional and up to the expected standard. Personnel is very kind and helpful. Very well maintained and clean. September is the perfect moment because it gives you a sense of exclusivity. You quickly realize that summer months must be a nightmare even in such a beautiful place. Probably facilities are crowded and to small to host everybody in the bar, terraces, beach, small pool and spa area, etc. We unfortunately had half board pension. The only unfortunate thing about it is that we could not try the rest of the menu that seemed very attractive. But the half-board choices were perfect,and very good. Breakfast is also very rich and varied. We have 2 small negative points but theycertainly will not prevent us from returning: -despite the hotel closes for 8 months around mid september, the diving center is already closed 10 days before, and cannot even provide (nor rent) equipment, although the dive master is present. - a little criticism for a bucket of ice charged 10€ because you want to have drinks from the mini bar But all the rest was perfect and location is really magic!

Top tip for other guests:

magic light, landscapes and beaches, fig trees smell everywhere

What I liked most

Location
Restaurant and dining
Local knowledge and experiences
Breakfast

What I might improve

Leisure facilities
Room service

Perfect place near Corsica, it was a real pleasure

Stay date: September 2016

My Trip Type:

Couple

Beach, swimming-pool and spa beautiful

Top tip for other guests:

Very pleasant place

What I liked most

Location
Leisure facilities
Internet and wifi
General service
Guestroom and bathroom
Restaurant and dining

What I might improve

Stay date: August 2016

My Trip Type:

Couple

Beautiful hotel in a fantastic location. Restaurant and food really bad (both breackfast and dinner)

Top tip for other guests:

Fantastic location

What I liked most

Guestroom and bathroom
Location

What I might improve

Restaurant and dining
Breakfast

Stay date: July 2016

My Trip Type:

Family

Very nice hotel with helpful staff in a fantastic Location. Only downsides: Dinner on halfboard was not up to the standards of the hotel and the reason for rating 4 of 5; Wifi was only ramdomly available & more possibilities to enjoy the beach while staying in the shade would be nice.

Top tip for other guests:

Rent a buggy and drive to other beaches on the island and to the only other restaurant on the island.

What I liked most

Breakfast
General service
Location
Welcome and departure

What I might improve

Restaurant and dining
Internet and wifi

Stay date: June 2015

My Trip Type:

Couple

A bit out of the way, but well worth it. Beautiful facility. Room and half pension work well here. Nice beaches on the property. High prices, though for use of only transport on Cavallo. Prices not posted so young staff renting boats, bicycles and golf carts seem to price at will. For price of golf cart rental,one could play a round of golf in many places and cart for "free". Small island that is easily walkable. Wait staff , especially Giovanni, very helpful and courteous. May get crowded in high season. Surrounding private apartments do not add to the ambience, as they are in various stages of renovation. Noise was somewhat disturbing.

Top tip for other guests:

Careful with terrace rooms.....sun or no sun is important choice depending on one's preference.

Hotelier reply:

Dear Mr. Joe, Thank you for your review and for the time you have kindly dedicated in sharing your stay with us in June. We are delighted that you enjoyed your stay at the Hotel & SPA des Pecheurs and that you found our services to your satisfaction. Although we are sorry to learn that you found some services overpriced, may we remind you that the services in question (hire of electric golf cars/boat rentals for sea excursions and relevant staff members) are not part of the Hotel & SPA des Pecheurs. These are external services to the hotel and independently run. Prices for the hire of electric golf cars vary based on the season and the period you are interested in hiring (there is a difference in price if you hire the golf cart for just one day or for 1 week for example). During the high season, there is more movement on the island, however the luxury of being located on a private island is that only a privileged number of people have access to the island and its beaches – even in the Peak season. The surrounding private apartments do not belong to the Hotel & SPA des Pecheurs, hence external temporary factors, which we are sorry caused some disturbance to your stay in particular, as the works coincided with your stay dates. We trust that you have kept unforgettable memories of your stay at the Hotel & SPA des Pêcheurs and we very much look forward to welcoming you again on your next trip to Corsica. With kind regards, Hotel & SPA des Pecheurs

What I liked most

Location
Restaurant and dining
Breakfast

What I might improve

Internet and wifi
Leisure facilities

Stunning location, friendly service

Stay date: September 2013

My Trip Type:

Couple

Great Hotel - this really is an SLH Hotel. Very helpful and friendly staff.

Top tip for other guests:

Rent a bike and check out the smaller beaches on the island!

Hotelier reply:

Dear Mr. Sebastian, Thank-you for your mail and for the time you have kindly dedicated in sharing your experience at the Hotel & SPA des Pecheurs. We are delighted that you enjoyed your stay with us and that you consider our level of service and satisfaction to reflect the exceptional SLH brand and ethos. We look forward to welcoming you back next season and may we take this opportunity to send our warmest regards. Hotel & SPA des Pecheurs

What I liked most

Location
Welcome and departure

What I might improve

Restaurant and dining
Internet and wifi
Breakfast

A truly wonderful location.

Stay date: September 2013

My Trip Type:

Couple

Very friendly and helpful people at the hotel. As if they enjoy you staying there. They organised our taxi's and boat transfers to Sardinia impeccably. If you love the sea this is the place to go to. Very relaxing.

Top tip for other guests:

If you can't get a flight to Figari, fly to Olbia, taxi about 60 minutes to harbour. Hotel boat will pick you up. Hotel reception organises the transfers.

Hotelier reply:

Dear Ms. Anna, Thank-you for your comments and for having taken the time to share your opinion regarding your experience at the Hotel & SPA des Pecheurs. We do our utmost to follow each reservation individually and organize guests transfers as smoothly as possible. We are delighted that you enjoyed your stay with us and we hope we will have the pleasure of welcoming you back next season. May we take the opportunity to send you our warmest regards and best wishes. Hotel & SPA des Pecheurs

What I liked most

Welcome and departure
Location
Restaurant and dining
General service

perfect for a quiet relaxing holiday

Stay date: July 2013

My Trip Type:

Couple

The location of the hotel was amazing and very tranquil. However the cost to travel from the hotel to Corsica (Bonifacio) was somewhat excessive. Each time we wanted to leave the hotel it was 15-20 Euros pp. Perhaps this should be a service extended to its clients?? It was a service that was offered, but limited and costly.... The food, services, and amenities were outstanding!!! Staff were awesome, beach was lovely,... Wi-fi was a little unpredictable - although free... The actual rooms and building itself was very unique and beautiful./

Top tip for other guests:

Plan to stay on island.. last transfer back to hotel was 1830

Hotelier reply:

Dear Mr. Howard, Thank-you for your message and for your appreciation of the Hotel & SPA des Pecheurs and its idyllic and very special location. The public boat transfer which operates from Cavallo island to Corsica mainland is in actual fact an independent service to the Hotel des Pecheurs and for this reason we are unable to extend complimentary transfers to hotel guests. The service runs on a scheduled timetable and in the high season operates up to 6 transfers throughout the day. We are delighted that you enjoyed your stay with us and we look forward to welcoming you back at the Hotel & SPA des Pecheurs. Warmest regards, Hôtel & Spa des Pêcheurs , Bonifacio Corsica

What I liked most

Restaurant and dining
Location
Guestroom and bathroom
Welcome and departure
General service

What I might improve

Internet and wifi
Breakfast

Stay date: May 2013

My Trip Type:

Couple

The hotel was excellent from the moment I booked. It takes a little effort to get to this location but the hotel was very prompt helping me secure ferry service over. They met us at the dock with a golf cart to transport us directly up the hill to reception. We were given a wonderful upgraded room with an amazing view. The food was wonderful and service was excellent!! It is a must destination if you are looking for a relaxing get away--it is the perfect secluded spot. Highly recommend!!!! A true treasure!!

Top tip for other guests:

You must really want to stay where you are totally away from anything. You can bike, play tennis, spa, work out, boat, etc... The only way on and off the island is by boat or helicopter.

Hotelier reply:

Dear Mrs. Paula, Thank-you for your mail. We are delighted that enjoyed your stay with us at the Hotel & SPA des Pecheurs. It is always an immense pleasure to hear that our level of service paired with our unique location, offers guests a special and unforgettable experience. We look forward to welcoming you again in the very near future. Wishing you a wonderful summer and sending our warmest regards. Yours sincerely, Gianluca Bellini General Manager

What I liked most

Leisure facilities
Location
Breakfast
Internet and wifi
General service
Welcome and departure
Restaurant and dining