https://origin.slh.com/hotels/hotel-die-hirschgasse-heidelberg/
Hotel Highlights
15th-century inn that counts Mark Twain amongst its guests
Private wine tasting sessions in the hotel's exclusive cellar
Brimming with history, there's a museum within one of the restaurants
Hotel Die Hirschgasse Heidelberg - LUXURY HOTEL IN HEIDELBERG
Across the River Neckar valley with stunning views of Heidelberg Castle
Mentioned by Mark Twain in his book, 'A Tramp Abroad' Hotel Die Hirschgasse Heidelberg is a romantic 15th-century inn hidden away in a little side valley in the pretty town of Heidelberg. The oldest hotel in this ancient university city, it was the site for student duelling contests and has a museum in one of its two dining rooms. Expect lovely castle views and a comfortable walk into Old Town.
Outside Hotel Die Hirschgasse Heidelberg, the white walls and pretty shuttered windows lead to snug interiors with wood beams and exposed stone walls, rich coloured fabrics, floral prints, artworks and a mix of antique and contemporary furniture. The ambience is cosy and very friendly.
Take an aperitif on the rose terrace before dining in the museum restaurant, Mensurstube. For fine dining, eat in Le Gourmet for French Mediterranean cuisine. Try a wine tasting session in Hotel Die Hirschgasse's cellars to determine which wine you would prefer to drink with your dinner.
20

rooms

2

restaurants

2

floors
The rooms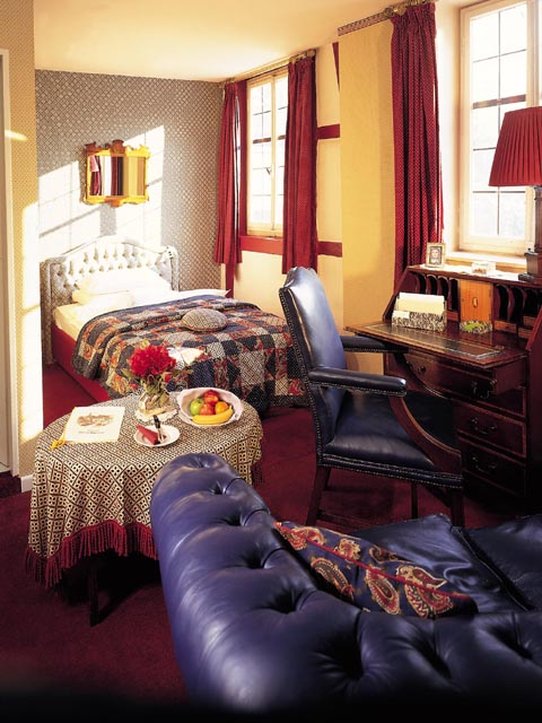 Single Junior Suite
Sleeps: 1 People.
Junior Suites are a good start for a first try. They provide ample space (22-26 sqm) for one person. Adjustable lift bed width 120 cm with Chesterfield sitting suite, cable TV.

Luxury stocked mini bar (not just water and juice), FREE WLAN, telephone and electronic safe. The decor of each suite is Laura Ashley, always unique and does not repeat. Bathroom with Jacuzzi bathtub, or also showers.
From per night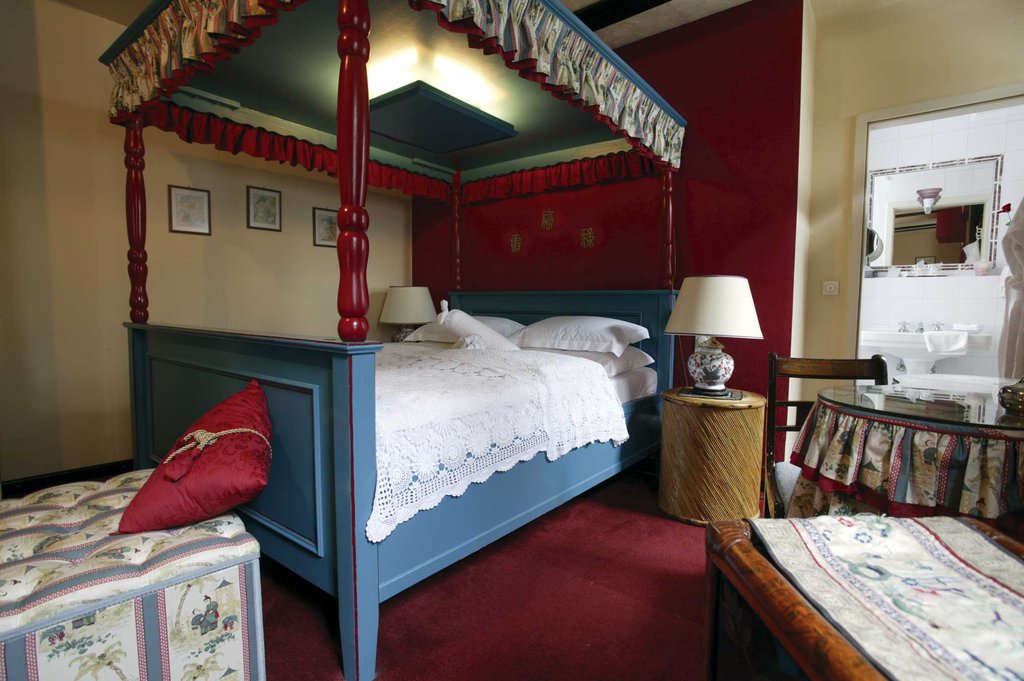 Deluxe Suite
Sleeps: 2 People.
Double suite, 30-40 sqm, good view, with four poster bed, cable tv, FREE WLAN, well stocked minibar, individual non repeating laura ashley decor, original chesterield suite.

Asprey bath room amenities. Room is non smoking.
From per night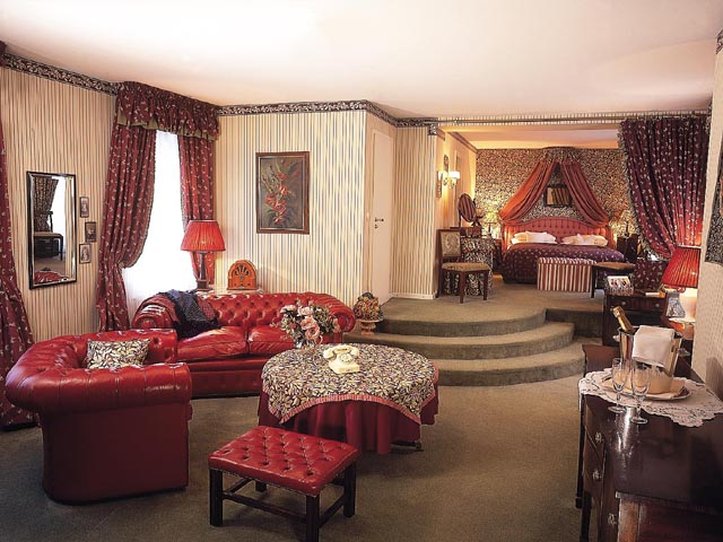 Salon Suite
Sleeps: 2 People.
Salon suite, 45-60 sqm, Chesterfield sitting suite, cable tv, Free Wlan, well stocked minibar, separate toilet, jacuzzi bathtub and shower, Asprey bathroom amenities.

Room is non smoking.
From per night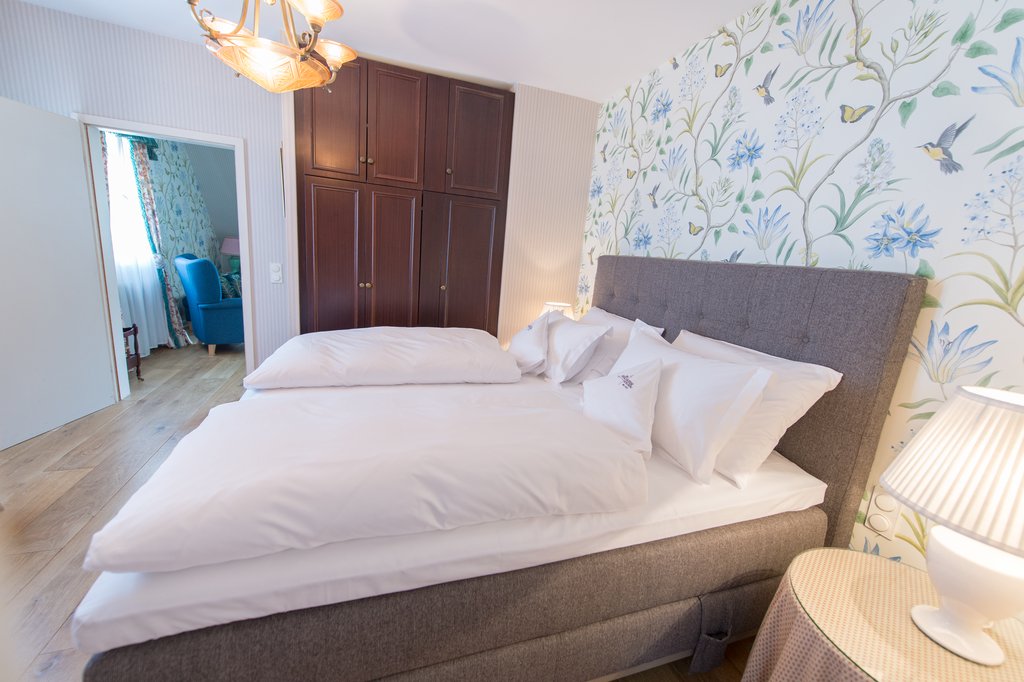 Two-Bedroom Salon Suite
Sleeps: 4 People.
Salon suite with 2 bedrooms - Ideal accommodation for families, 45-60 sqm, Chesterfield sitting suite, Cable TV, Free WLan, well stocked minibar, second bath with shower and toilet.

Main bath with jacuzzi bathtub and shower, Asprey bathroom amenities. Room is non smoking.
From per night
Lounges/bars
Parking
Wireless internet connection
Pets allowed
Airport shuttle
Join INVITED and get 10% off exclusive rates. Plus early check-in and late check-outs among other benefits.
Accessible facilities

Airport shuttle

Audio visual equipment

Bell staff/porter

Buffet breakfast

Business services

Children welcome

Computer rental

Concierge desk

Continental breakfast

Doctor on call

Elevators

Family plan

Fax service

Fire safety compliant

Flip charts

Free high speed internet connection

Front desk

Full service housekeeping

Gift/News stand

High speed internet access for laptop in public areas

High speed internet connection

Hotspots

Housekeeping - daily

Jogging track

Lounges/bars

Massage services

Meeting rooms

On-Site parking

Overhead projector

Parking

Pets allowed

Photocopy center

Restaurant

Room service

Room service - limited hours

Safe deposit box

Secretarial service

Security

Smoke-free property

Turndown service

Valet parking

Wakeup service

Wireless internet connection
Adaptor available for telephone PC use

AM/FM radio

Bathrobe

Bathroom amenities

Bathtub

Color television

Data port

Fax machine

Hairdryer

Internet access

Jacuzzi

Lighted makeup mirror

Minibar

Non-smoking

Oversized bathtub

Private bathroom

Remote control television

Safe

Satellite television

Separate tub and shower

Telephone

TV

Two-line phone

Wireless internet connection
Le Gourmet–our Michelin starred French gourmet restaurant,along with 16 Gault Millau points. A perfect wedding between ancient and new,taste and presentation,quantity and quality:France and Germany.Culinary art presented very modern with a great dose of pleasure and delicacy accompanied by a free-spirited service,which not only makes you smile. Mensurstube-a true piece of living history and offering not just regional food,but also old Hirschgasse recipes.Mark Twain stayed with us and mentioned us in his "A tramp abroad".Here you find a lot of authentic traces of good old Heidelberg,which have been "renovated away" in so many other properties.
Mensurstube
Cuisine type: Local Cuisine
Meals served: Breakfast, Dinner
The Mensurstube is a historic room wood panelled all over - with intricate carvings and little student prince Museum featuring the bygone times of the fencing Heidelberg student corporations. From the ceiling swords hang to remind on the great tradition as Germanys oldest Student duelling hall. Lots of pictures - hats - mugs - pipes and books set the stage for a seldom opportunity to sample authentic regional dishes. Historic recipes and also finest veal cutlet for two are carved at the table.
Le Gourmet
Cuisine type: French
Meals served: Breakfast, Dinner
Award winning restaurant Le Gourmet.The only hotel restaurant in town with one Michelin star and 17 points in the Gault Millau. Sandstone walls. Very elegant and warm ambience with Laura Ashley fabrics wall and ceiling coverings and parquet floor serving sophisticated French cuisine. Very attentive young and friendly service. We do appreciate a smart leisure outfit. Opening hours Tuesday 6pm until 12 PM - Please remember to book ahead.
Reviews
These reviews are the real opinions of INVITED members and we have verified their stay at the hotel.
What I liked most :

Breakfast (21)
Welcome and departure (20)
Location (18)
General service (16)
Guestroom and bathroom (13)
Restaurant and dining (13)
Local knowledge and experiences (10)
Internet and wifi (6)
Room service (3)

What I might improve :

Internet and wifi (5)
Guestroom and bathroom (3)

Read Reviews

Fantastic service in a wonderful location

June 2019

My Trip Type:

Couple

For us, the outstanding element of this hotel was the service. Everything else was great, but it was the service that was so exceptional. From our check-in, where we got an extensive run down of all there is to do in Heidelberg, to our waiters/waitresses at each meal, we could not complain about a thing. It's also a lovely hotel in a very convenient location for walking into town.

Top tip for other guests:

HD Altstadt station is close by, and taxis seem to have a bit of an issue finding this place (well, ours did!)

What I liked most

Welcome and Departure
Location
General Service
Local knowledge and experience
Guest Room and Bathroom
Breakfast
Restaurant and dining

Taiwan

My Trip Type:

Couple

Staff members greeted us as soon as we arrived and already knew who we are. The room was cozy and the hotel felt like home. We learned a lot about Heidelburg and the hotel from staff members. The breakfast was incredibly great! We had a good time there and would definitely go back again.

Top tip for other guests:

Breakfast is a must!!! The best one that I ever had.

What I liked most

Local knowledge and experiences
Breakfast
Welcome and departure
Location

Wellington

My Trip Type:

Couple

The view that was advertised needs to be questioned. The staff were fantastic, the room was fine. The food outstanding.

Top tip for other guests:

Make sure you are prepared for a stay without aircon if weather is hot

What I liked most

Location
Room service
Breakfast
Internet and wifi
Welcome and departure
General service
Restaurant and dining

Richmond

My Trip Type:

Couple

Stayed for one night and found a beautiful place with flair and great service (outstanding breakfast).

Top tip for other guests:

Stay a night longer and explore Heidelberg

What I liked most

Guestroom and bathroom
General service
Location
Restaurant and dining
Welcome and departure
Breakfast

Lovely hotel and staff- second visit and we will be back

London

My Trip Type:

Business

We just love the friendly atmosphere , the drink on arrival and the fact staff remember you . We love the food and the breakfast is just second to none- worth going for without all the rest. We love the location as you get great views of the city, and can walk in very easily, but you are a bit away from the bustling centre so it is really peaceful

Top tip for other guests:

Arrive early enough to go into Heidleberg and you MUST have breakfast ownstairs don't be tempted by room service

What I liked most

Welcome and departure
Local knowledge and experiences
Room service
Restaurant and dining
Breakfast
Guestroom and bathroom
General service
Location

What I might improve

Paying for the car parking -

Perfect stay and great location

Stay date: October 2016

My Trip Type:

Couple

very friendly staff and great rooms. If you go to Heidelberg, it is a must to stay there.

Top tip for other guests:

The quality of the restaurant is good, but the cost is not balanced for what they offer

Hotelier reply:

Dear Mr. Bossert, Thank you ever so much for the excellent rating. Your very motivating comments will be shared with our staff. It is great fun to make our guests happy and we look forward to welcome you again. Best regards, Ernest Kraft Hotel Die Hirschgasse Heidelberg

What I liked most

Guestroom and bathroom
Location
Breakfast
Welcome and departure

What I might improve

Stay date: August 2016

My Trip Type:

Family

Excellent breakfast. Assorted and served at the table, instead of the usual buffet. We appreciated the tags with our names in front of our rooms.

Top tip for other guests:

If you want to have dinner you have to book the table because the dining room is small

What I liked most

Location
Breakfast
Internet and wifi
General service
Guestroom and bathroom

Superb small boutique hotel

Stay date: August 2016

My Trip Type:

Couple

Very lovely experience - perfect example for boutique hotel. It all started with very pleasant check-in: getting insights to the history of the hotel through the hundreds of years while enjoying the creatve and delicious welcome drinks. The room was fantastic, having touches of historic charm, while offering all modern conveniences. Certainly try also their butler breakfast. Hotel has great location, walking distance to the old town and the castle.

Top tip for other guests:

Every room in this hotel as its own cute character. Certainly also try out their butler breakfast.

What I liked most

Guestroom and bathroom
Welcome and departure
Restaurant and dining
General service
Local knowledge and experiences
Breakfast

What I might improve

Lovely hotel and excellent restaurant

Stay date: October 2015

My Trip Type:

Friends

Beautiful rooms, excellent food and very friendly staff

Top tip for other guests:

Have dinner in the restaurant! Excellent food

What I liked most

Welcome and departure
Restaurant and dining
Guestroom and bathroom
Breakfast
Location

Lovely hotel, but Laura Ashley spoils it.

Stay date: October 2015

My Trip Type:

Couple

Lovely hotel, nice location just close enough, but far enough from town. Downstairs interior is Germanic, very nice and expected. Upstairs looks old, tired and needs updating. Laura Ashley, didn't work then, and looks awful now. Breakfast is perfect.

Top tip for other guests:

the walk up behind the hotel to the ruins and views.

What I liked most

Breakfast
Local knowledge and experiences
Welcome and departure
Location

What I might improve

Guestroom and bathroom
Leisure facilities
Internet and wifi

Living history in Heidelberg

Stay date: September 2015

My Trip Type:

Couple

This is a wonderful hotel with fantastic history and a warm welcome, which includes an enthusiastic description of 400 years of history having taken place in the hotel. As we arrived on a Monday when the hotel restaurant is closed, the recommendations provided for alternative restaurants in the area were knowledgeable. We went to one of the recommended restaurants and were very pleased with the recommendation - it was well recommended and delightful. As for the hotel itself, the common areas are fantastic - tasteful, full of ambiance and beautiful - truly a piece of history to appreciate. However, the room areas of the hotel require updating to replicate the standards of the common areas (restaurant and reception), which are beautiful and reflective of the history of Germany and the hotel. We stayed in the Rose Suite and obviously cannot on the other rooms/suites. However, while our suite was spacious, it is obvious that it is well beyond time to renovate this suite and the hallways, etc. The suite was a disappointment compared to the hotel and the overall environment - all other elements were fantastic including hospitality, alternative restaurant recommendations and the historic parts of the hotel but it is obvious that he rooms/hallways are well overdue for renovation and do not meet standards in their current state.

Top tip for other guests:

Desperately requires renovation of rooms to meet the standards of the reception/restaurant, etc.

What I liked most

Location
Welcome and departure
Breakfast
Local knowledge and experiences
General service

What I might improve

Stay date: September 2015

My Trip Type:

Couple

Great staff. Immediately upon arrival provided delicacies from the kitchen and a spritzer as well as history of the quaint hotel. Easy walk to town and restaurants but the on-site restaurant is one of the best in quality and service across Europe.

Top tip for other guests:

oom 201.Expansive and beautifuly decorated

What I liked most

General service
Breakfast
Restaurant and dining
Local knowledge and experiences
Welcome and departure
Location

Warm welcome, great breakfast in a historic building

Stay date: August 2015

My Trip Type:

Couple

A pleasure from entering to the hotel until we left. The welcome was very warm and hints on what to visit appreciated.

Top tip for other guests:

Plent to do in Heidelberg so stay more than one night

What I liked most

Guestroom and bathroom
Welcome and departure
General service
Breakfast

What I might improve

Everything perfect - as always

Stay date: May 2015

My Trip Type:

Family

This was our second stay at the Hirschgasse and everything was as expected - the rooms are spacious, the staff is friendly, the breakfast very good and the reception always a help... we even forgot to mention in the booking that we arrive with our baby (my fault) but it did not even take three minutes and our room was ready with a baby bed in place.... 5 stars!

Top tip for other guests:

Breakfast when you have time

What I liked most

Internet and wifi
Breakfast
General service
Local knowledge and experiences

Stay date: February 2015

My Trip Type:

Couple

Very personal with excellent service. The rooms resemble doll houses and are cosy and sweet. Not recommended if you are into modern, futuristic designs or clear lines. But highly recommended for its really special design and in-line with the historic character of the building and the premises.

Top tip for other guests:

The breakfast is exceptional

What I liked most

Welcome and departure
Breakfast
General service
Restaurant and dining
Internet and wifi
Guestroom and bathroom

Stay date: October 2014

My Trip Type:

Couple

Once again, we had a most comfortable stay here. Heidelberg is a wonderful city and Die Hirschgasse is a great place from which to visit it. The rooms are spacious and well-appointed, and the restaurant is excellent from breakfast to a late dinner. We will return again on our next trip to Europe.

Top tip for other guests:

If you do not want to walk to the city centre, take the #34 bus.

What I liked most

Welcome and departure
Location
Breakfast
Restaurant and dining
Guestroom and bathroom

Stay date: September 2014

My Trip Type:

Couple

In a quiet neighborhood across the river from the historic area.

Top tip for other guests:

It is a bit of a walk to historic area

What I liked most

Local knowledge and experiences
Location
General service
Guestroom and bathroom
Welcome and departure

Very nice hotel in Heidelberg

Stay date: May 2014

My Trip Type:

Couple

We really enjoyed our stay at this quaint and historic inn. The location was great - you can walk up the back to the Philosopher's Way, and just down the hill and across the bridge, about a 10-15 min walk, are all the old town activities. It was a little warm the day we were there, so the lack of climate control in the room made me think this might be a problem in the middle of summer, but we managed.

Top tip for other guests:

Great spot, but careful of no climate control in the heat.

What I liked most

Location
Internet and wifi
Welcome and departure
Local knowledge and experiences
General service

What I might improve

Stay date: May 2014

My Trip Type:

Couple

Ideal lokated, high service and 2 good resturants. We were very pleased with the service for breakfast and the 2 dinners we had at the hotel

Top tip for other guests:

The castel is worth a visiete

What I liked most

Welcome and departure
Restaurant and dining
Location
Guestroom and bathroom

What I might improve

Friendly, Familliar, Unique

Stay date: February 2014

My Trip Type:

Friends

Excellent and very friendly service/staff. Each suite is unique and lovely, and the bathrooms are spacious. I highly recommend the Michelin starred restaurant.

Top tip for other guests:

Try the Michelin starred restaurant Le Gourmet.

What I liked most

Restaurant and dining
Breakfast
Location
General service
Guestroom and bathroom

Stay date: January 2014

My Trip Type:

Single

The welcome was just wonderful. Everybody was very nice to my dog. The upgrade was a very convenient and beautiful suite with a great bathroom. Slept good and the breakfast was just outstanding!!!!! Even the grapefruit and orange were peeled!

Top tip for other guests:

Just book ... :-)))

What I liked most

What I might improve

Very cozy and romantic hotel

Stay date: December 2013

My Trip Type:

Couple

Very friendly, romantic hotels, rooms very nicely decorated with such details that it feels like home. Very good location with excellent customer service.

Top tip for other guests:

Definitely recommended

What I liked most

General service
Welcome and departure
Location
Room service
Local knowledge and experiences
Breakfast
Internet and wifi

What I might improve

Perfect service and location

Stay date: July 2013

My Trip Type:

Couple

Very personnal and the welcoming was very friendly. Our room was very nice as well as thé bathroom. The breakfast was gorgeous, everything very fresh

Top tip for other guests:

Do not miss the gourmet restaurant....it was delicious

What I liked most

Breakfast
Restaurant and dining
General service
Welcome and departure

Stay date: June 2013

My Trip Type:

Couple

The people were outstanding... a pleasure to stay with.

Top tip for other guests:

Stay on a day it is not raining !!

Hotelier reply:

Dear Howard, Thank you so much for expressing your positive experience staying at the Hirschgasse Heidelberg. What delights us is, that you also made use of our exclusive and personally served butler breakfast and also had dinner in our historic restaurant Mensurstube "kidnapping" you into our over 540 years of history. Hoping to welcome you in style again, I remain with very best wishes. Ernest Kraft

What I liked most

General service
Welcome and departure

Stay date: April 2013

My Trip Type:

Couple

When we travel to Europe, we have a routine of flying to Frankfurt, renting our car and driving to Heidelberg for a few days to get our 'feet on the ground'. This year, for the first time, we decided to stay at the Hirschgasse. Although we arrived early, our room was ready for us (and our nap!). The room was wonderful and the staff outstanding. Our 2-day stay was perfect. We decided to stay for another 2 days at the Hirschgasse on our outward journey at the end of our holiday. We were provided another marvellous room after being greeted like a member of the 'family' who had not visited for some time. We will be staying at the Hirschgasse on our next trip.

Top tip for other guests:

Easy walk to the Altstat

What I liked most

Breakfast
Guestroom and bathroom
Restaurant and dining
Welcome and departure
Location

What I might improve
More hotels in Heidelberg