https://origin.slh.com/hotels/hotel-le-vallon-de-valrugues/
Hotel Highlights
Roman-inspired villa in the heart of the Alpilles
Californian, 'four-hand', Balinese and Swedish massages available in the spa
Games in the garden, from a French boules pitch to table tennis
Le Vallon De Valrugues & Spa - Luxury Hotel in Provence
Serene spa retreat located North of the Alpilles
A Greco-Roman style bastide set in pretty gardens close to Saint Remy de Provence, Le Vallon De Valrugues & Spa provides a taste of Provencal magic with gourmet cuisine in the gastronomic restaurant, a spa with a heated indoor pool, an inviting outdoor pool and a wealth of diversions.
The atmosphere at Le Vallon De Valrugues & Spa is one of elegance and refinement yet with the warmth, light, scents and colours of Provence. Expect polished wooden floors, statues and fresh interiors and outside, beautiful flora and fauna and the songs of çicadas.
Eat gourmet food and drink vintage wines in the period splendour of the dining room or choose the poolside bistro for a more casual lunch experience during high season. If you require complete privacy, stay in the Le Vallon De Valrugues & Spa Prestige Suite and dine on the terrace by your own private swimming pool.
49

rooms

3

restaurants

2

floors
The rooms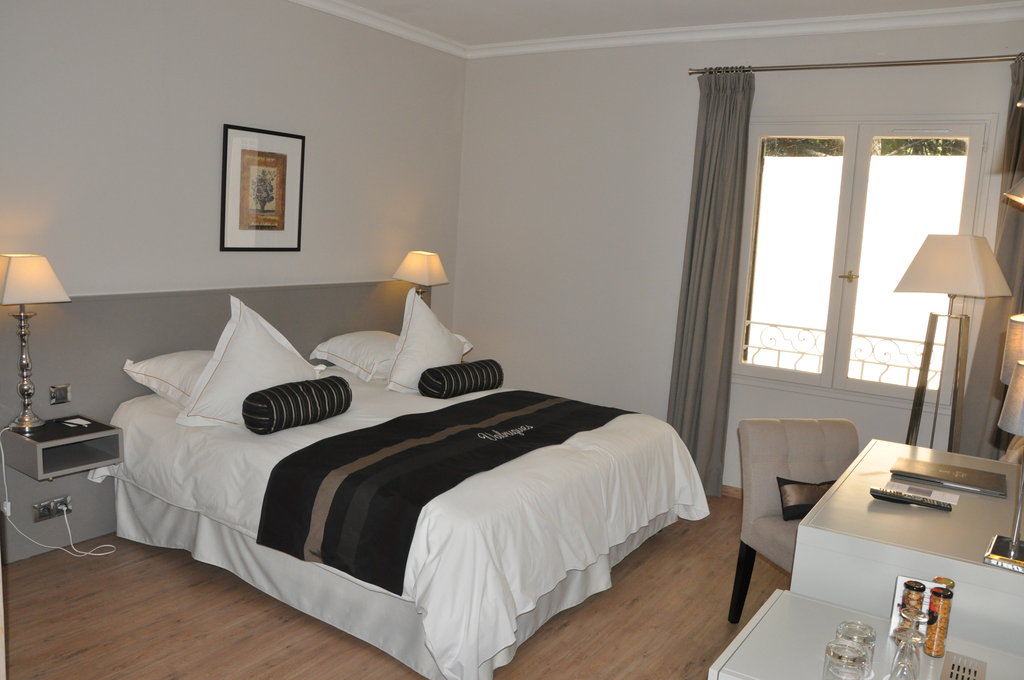 Comfort Room
Sleeps: 2 People.
Standard room with a King Bed or Twin Beds, approximately 24 square meters large.

The room features direct phone, minibar, safety box, air-conditioning, complimentary Wi-Fi, flat screen TV with 35 channels bouquet including 11 foreign and 23 radio channels (DVD player on request).
From per night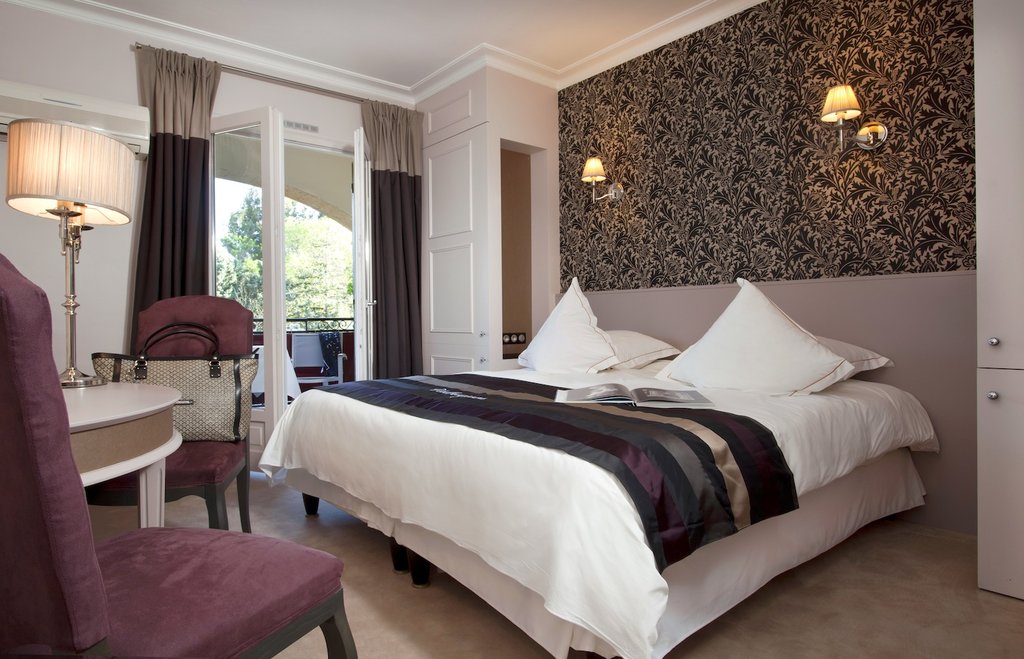 Deluxe Room
Sleeps: 2 People.
Typically provencal style bedroom,with Double Bed or Twin Beds, 24 square metres and has a view on the Alpilles or the swimming pool.

The room features minibar, direct phone, free Wi-Fi, flat screen with satellite, safety box, air-conditioning, bath tub or shower, bathrobe and personalised welcoming products.
From per night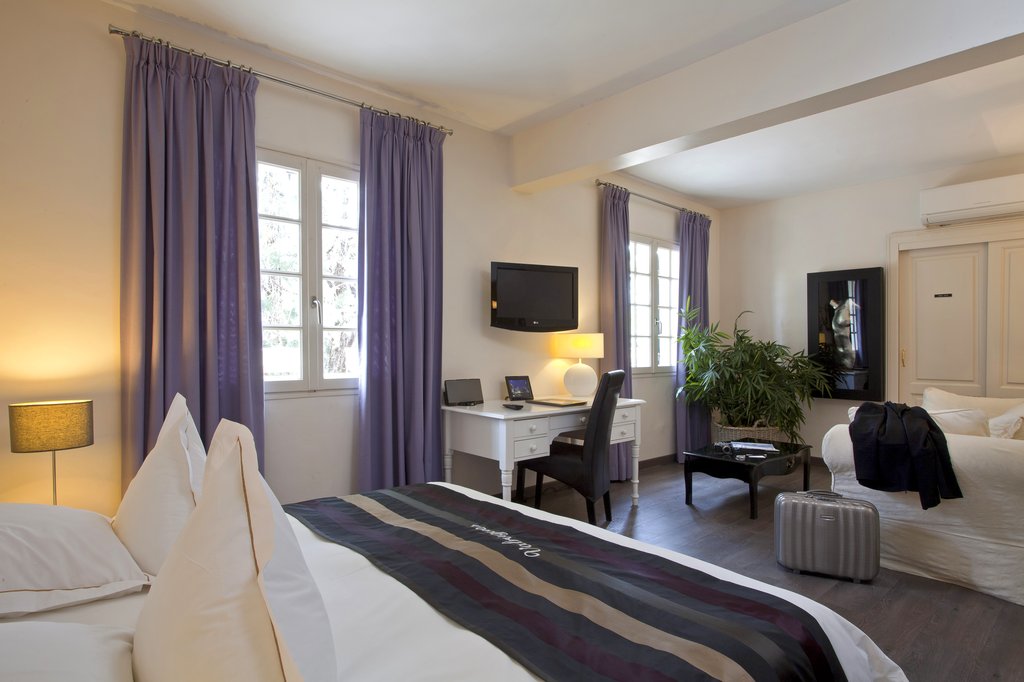 Junior Suite
Sleeps: 3 People.
Junior Suite a King Bed or Twin Beds and a lounge area, approximately 33 square metres large and has view over the garden.

The suite features flat screen TV, direct phone, free Wi-Fi, safe, minibar, air-conditioning and coffee machine.
From per night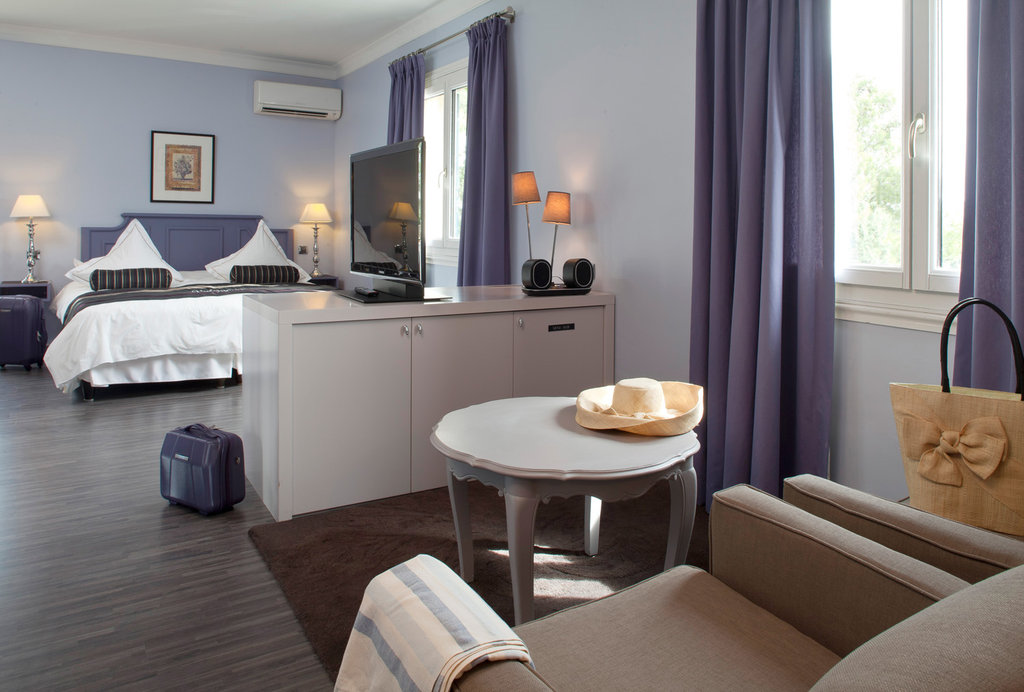 Suite Deluxe with Terrace
Sleeps: 3 People.
Suite Deluxe Terrace with a King Bed or Twin Beds, approximately 40 square metres large has a view over Alpilles and gardens.

The suite features seating area, private terrace, flat screen TV, mini bar, air-conditioning, free Wi-Fi, direct phone, safety box, bathroom, bathrobe and personalized welcoming products.
From per night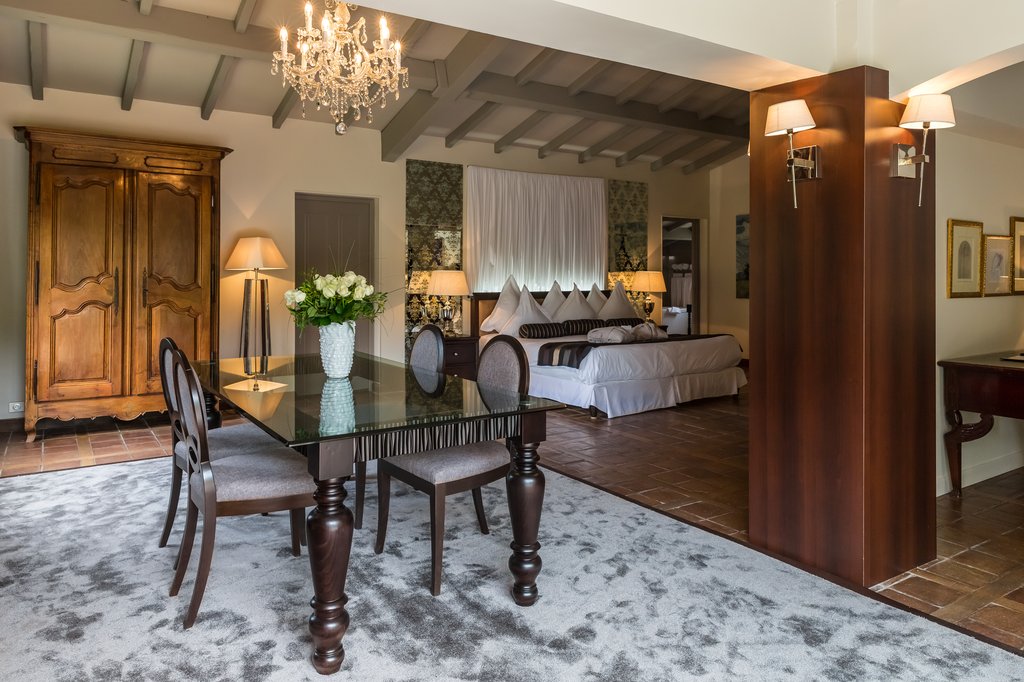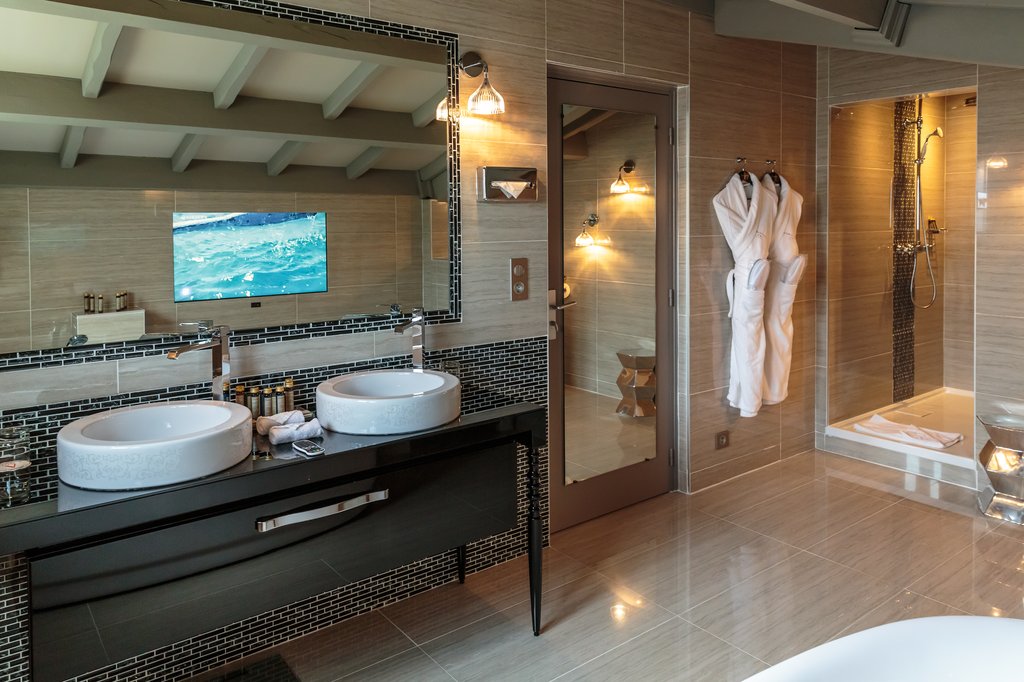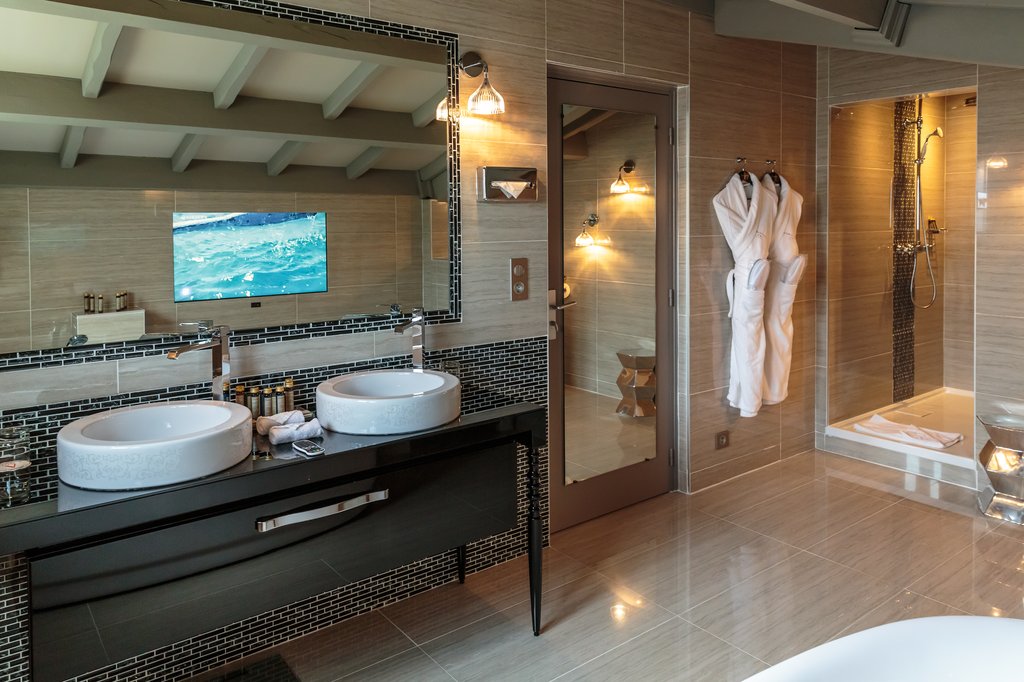 Suite Van Gogh
Sleeps: 3 People.
Suite Van Gogh offers 110 square metres and a 100 sqm terrace with a view over the private infinity heated pool and the Alpilles.

The suite also features a semi separate sitting-room with fireplace, 2 plasma screens satellite, bathroom with jacuzzi system, private children's room (Twin Beds), mini bar, safety box and A C, free Wi-Fi, direct phone and coffee machine.
From per night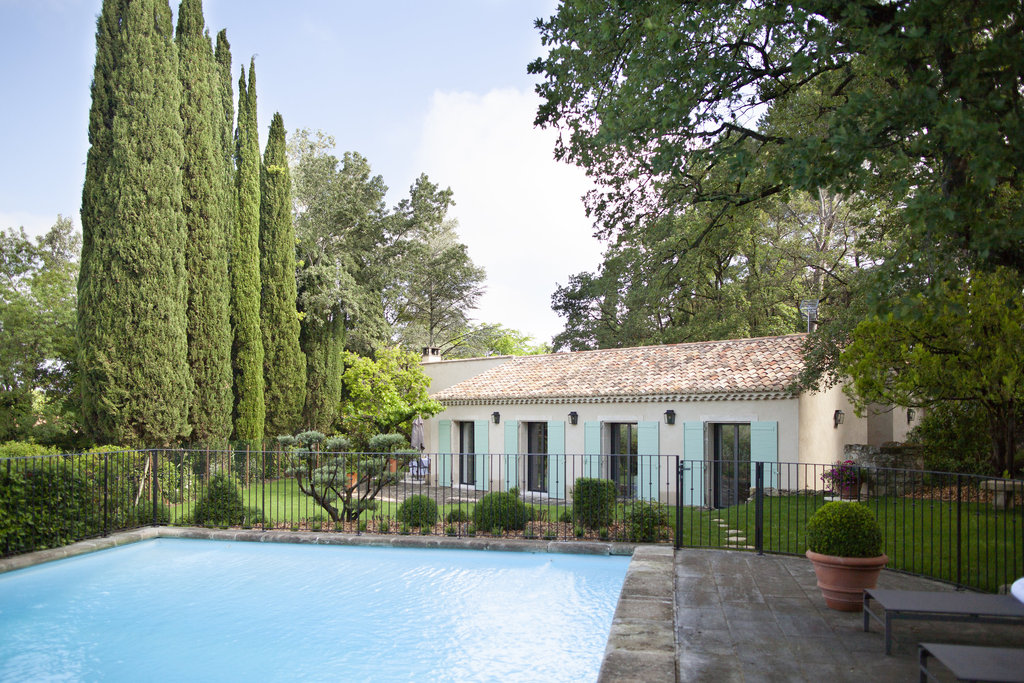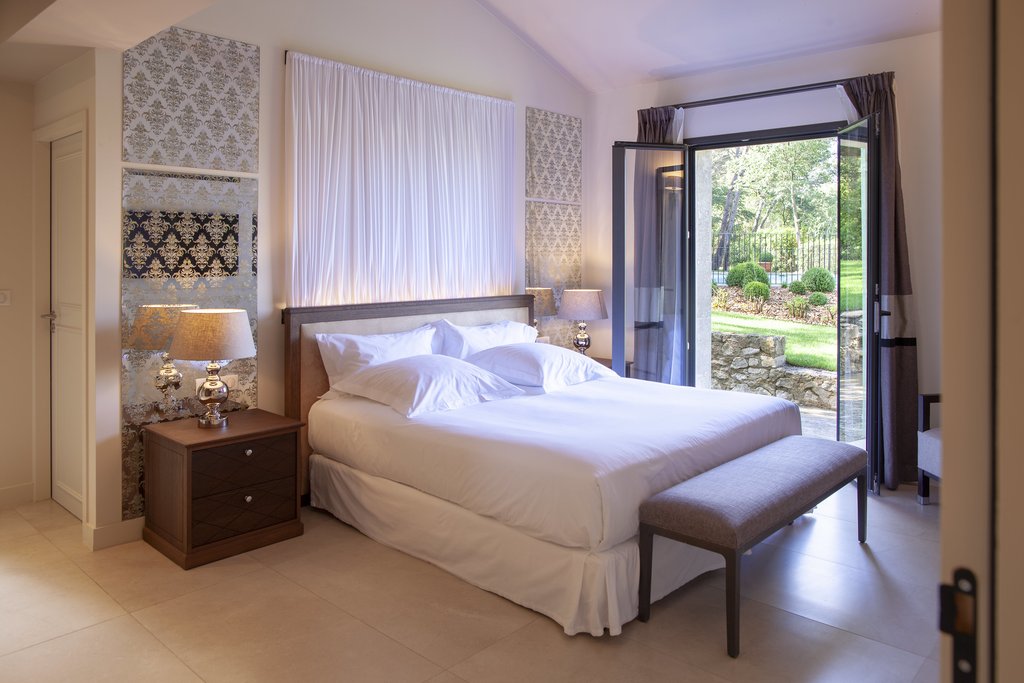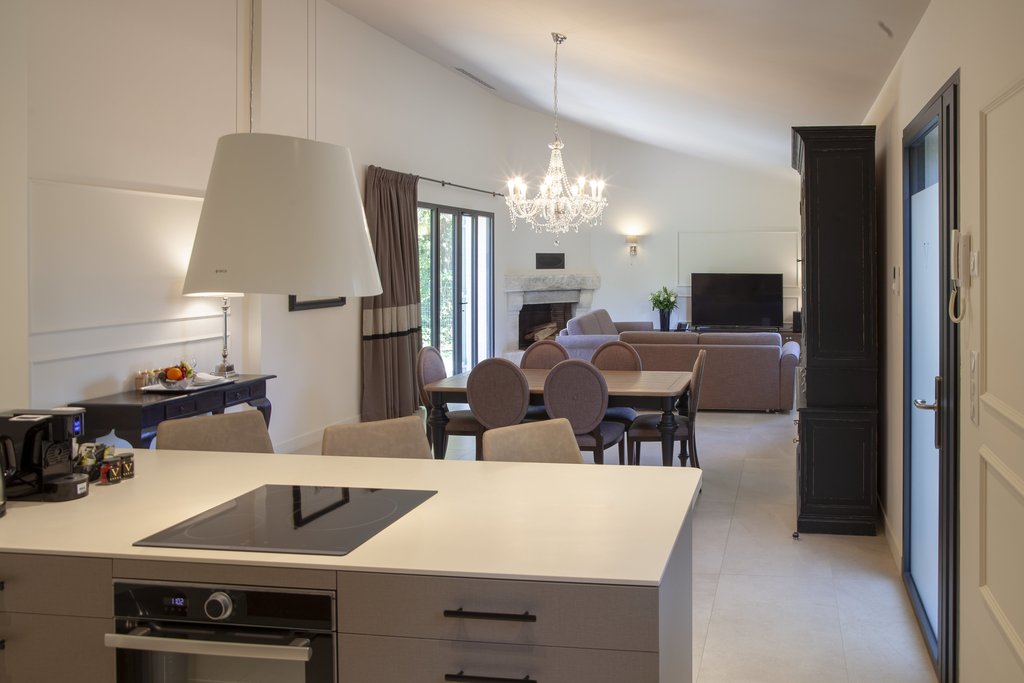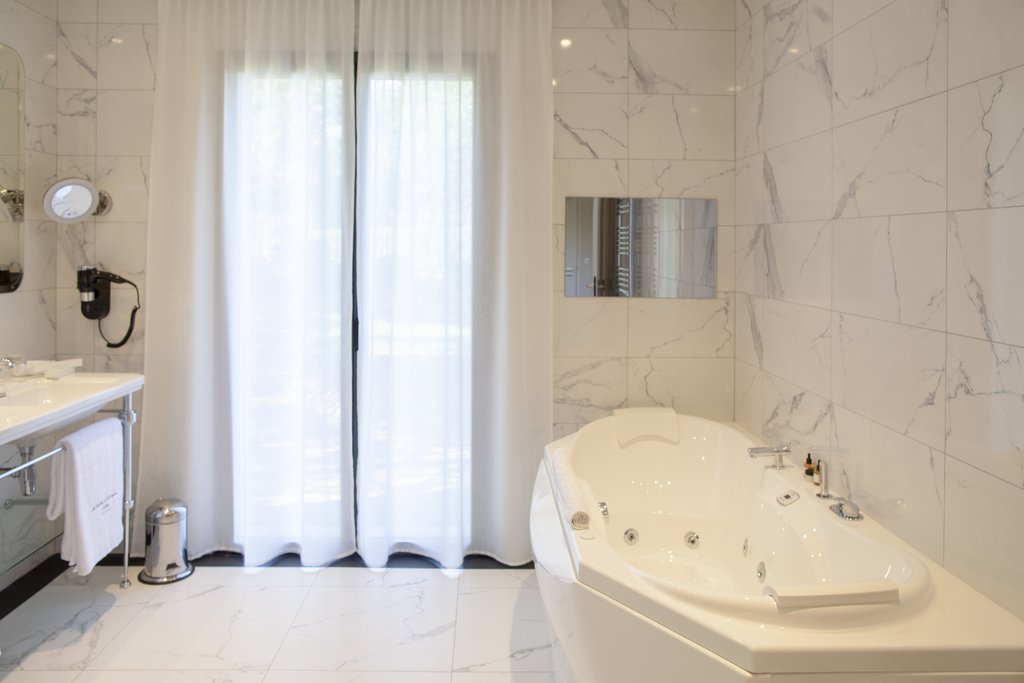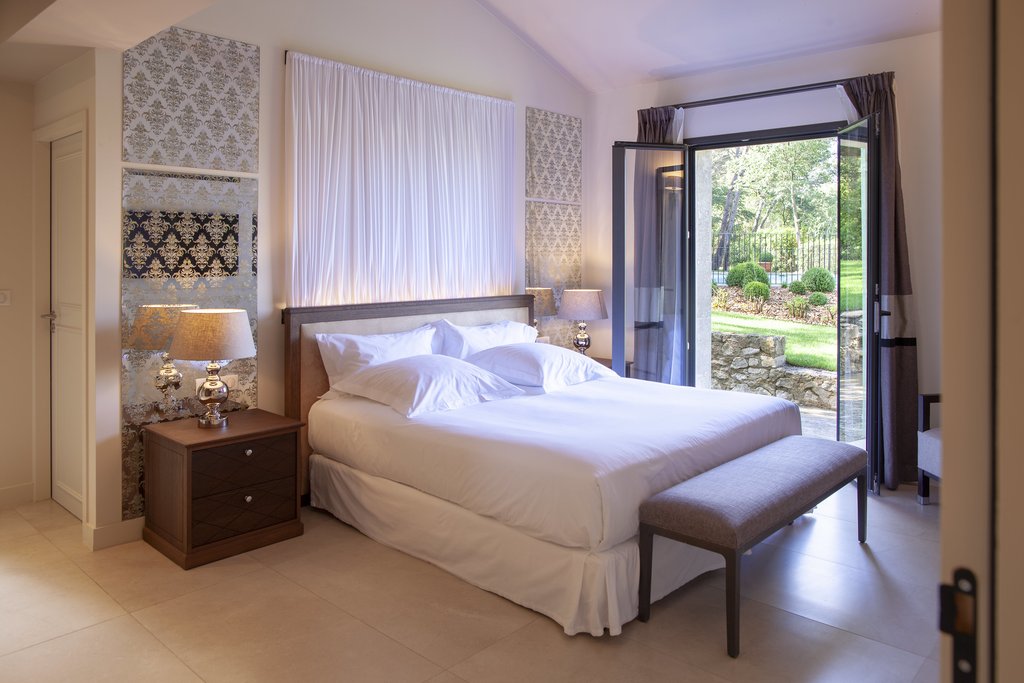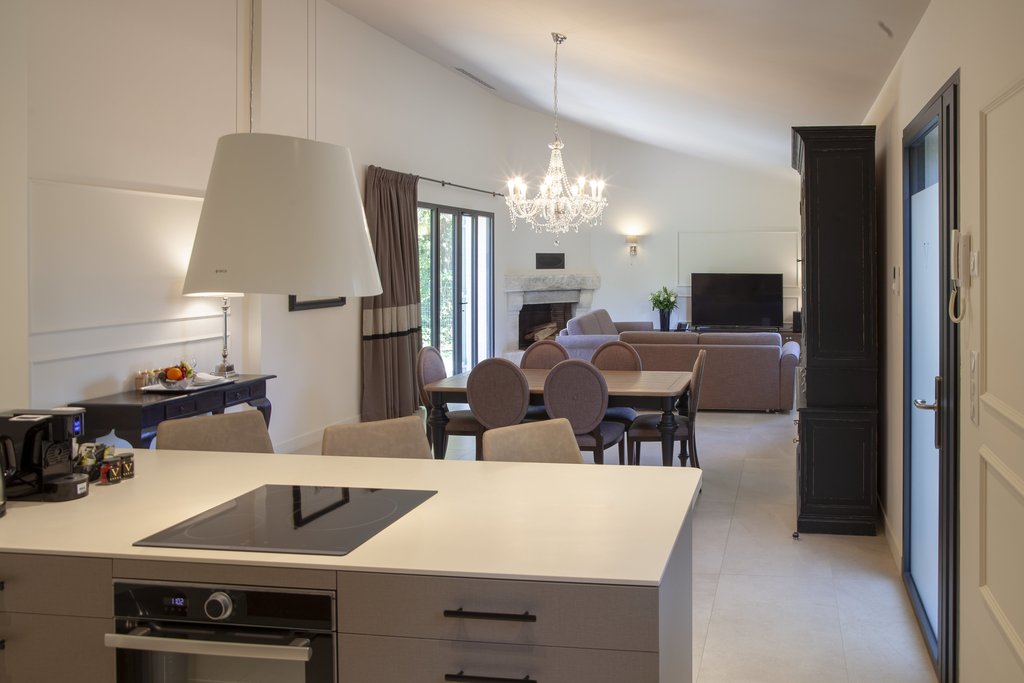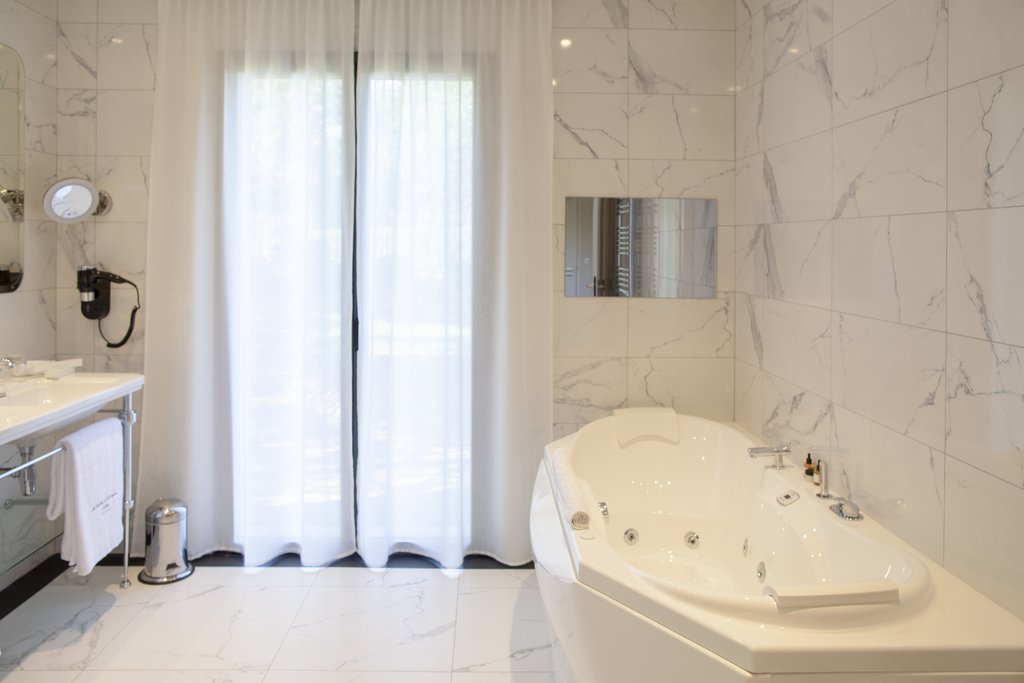 Villa Valrugues
Sleeps: 4 People.
Villa Valrugues(140sqm)with its 300sqm private land of pine wood is located 900 meters from the city center. Composed of 2 bedrooms with king beds,terraces and stunning view of the private pool.

Experience a prestigious stay in a luxury « Mas Provençal » entirely renovated, it offers a wonderful setting for your special moments such as marriage proposals or honeymoons but also an unforgettable holidays.Combine the best of both villa and hotel, enjoying calm and serenity of a holiday house and each service of a 5*hotel. You will have at your disposal housekeeping, laundry, concierge service, repairs intervention service, gardener service, 24h room service and access to all services of the hotel (Spa, restaurants…).
From per night
Air conditioning
Lounges/bars
Pets allowed
Pool
24-hour room service
Join INVITED and get 10% off exclusive rates. Plus early check-in and late check-outs among other benefits.
24-hour front desk

24-hour room service

24-hour security

Accessible facilities

Accessible parking

Air conditioning

Audio visual equipment

Bell staff/porter

Business Center Services

Catering services

Child programs

Children welcome

Complimentary shoeshine

Concierge desk

Continental breakfast

Doctor on call

DVD/video rental

Early check-in

Elevators

Fire safety compliant

Free high speed internet connection

Full breakfast

Full service housekeeping

Half board/modified American plan

High speed internet access for laptop in public areas

High speed internet connection

Hotspots

Housekeeping - daily

Laundry/Valet service

Lounges/bars

Meeting rooms

Onsite laundry

Pets allowed

Post/parcel service

Restaurant

Room service

Security

Shuttle to local attractions

Turndown service

Wakeup service

Wireless internet connection
Air conditioning

Alarm clock

AM/FM radio

Balcony/Lanai/Terrace

Bathrobe

Bathtub

Coffee/Tea maker

Data port

Desk

Direct dial phone number

Double beds

DVD player

Hairdryer

High Definition (HD) Flat Panel Television

Internet access

Jacuzzi

King bed

Minibar

Non-smoking

Private bathroom

Remote control television

Safe

Satellite television

Slippers

Telephone

TV
Billiards

Childrens program

Fine dining

Indoor pool

Outdoor pool

Pool

Sports events

Table tennis

Wine tasting
Valrugues Gastronomic Restaurant
Valrugues Bistro
Meals served: Lunch
The Valrugues Bistro is open 7 days a week from May 29 to September 29. Our bistro offers you a summer menu where you can taste our most popular specialties such as our tomato mozzarella Di Bufala salad- the melon with country ham or the famous Provencal anchovy puree. Let yourself be tempted by our specialities- the daily fish cooked a la plancha or the barbecue grilled beef steak.
Gourmet Restaurant
Meals served: Lunch, Dinner
Chef Thibaut Serin Moulin is a talented and creative chef who likes to work with good and nice products to serve a classic cuisine restyled according to the seasons. Our team attentive to your comfort in a warm atmosphere will help you discover an attentive and refined service.
City center Bistro
Meals served: Lunch, Dinner
Our restaurant Les Terrasses de l Image is ideally located in the city center of Saint-Remy in a 2-hectare park- 900 meters away from The Vallon de Valrugues. The hotel shuttle can drive you there from 8am to 11pm. Our young and talented chef Hamid Soussi offers you a restyled traditional cuisine made from fresh and seasonal products.
Reviews
These reviews are the real opinions of INVITED members and we have verified their stay at the hotel.
What I liked most :

Location (19)
Breakfast (16)
Internet and wifi (14)
General service (12)
Welcome and departure (12)
Guestroom and bathroom (11)
Leisure facilities (9)
Restaurant and dining (9)
General Service (6)
Welcome and Departure (5)
Guest Room and Bathroom (3)
Local knowledge and experiences (3)

What I might improve :

Guest Room and Bathroom (3)
Guestroom and bathroom (3)
Internet and wifi (3)
Leisure facilities (3)
Restaurant and dining (3)

Read Reviews

Pleasant....... but dated

October 2019

My Trip Type:

Couple

The hotel is located within walking distance of the delightful town of Saint- Rėmy-de-Provence, & in easy driving distance from many other historic sights. My only disappointment was the state of our room which, like the rest of the hotel, was v traditional. Our Deluxe room was not luxurious but was certainly cramped, as was the tiny toilet room, and, while an attempt had been made to update the bathroom, there were several cracks in the floor, revealing what looked like cheap vinyl tiles in an otherwise attractive bathroom. On the other hand, it was truly lovely to have the bed linen changed every day...a real treat. Staff was pleasant and helpful, and the free shuttle service to the town was very welcome. Breakfast was excellent.

Top tip for other guests:

Don't expect a roomy accommodations, unless you choose a suite perhaps. We were obliged to live out of our aisle there was little room to unpack for our 5-day stay.

What I liked most

Welcome and Departure
Location
General Service
Breakfast
Internet and wifi

What I might improve

Superb location, great staff, the shuttle service into town is a super asset, the outdoor pool and setting is a delight

June 2019

My Trip Type:

Friends

A most pleasant interlude on our tour of Provence. Everything was enjoyable: the staff, breakfast, pool, shuttle service BUT the bathroom in our room 48 was extremely small with the worst design sink I have ever had to use! It did make life difficult to do anything in the basin.

Top tip for other guests:

Make use of the shuttle to town and try and swim in the pools....indoor and out.

What I liked most

Welcome and Departure
Location
General Service
Breakfast
Leisure facilities
Internet and wifi

What I might improve

extraordinary property --- elegant, great pool, fabulous breakfast, wonderful welcoming staff, and in St. Remy

June 2019

My Trip Type:

Couple

We have been staying at Valrugues for about 20 years. We are always welcomed by the smiling staff and almost always, as loyal guests and indulged members of SLH, given an upgrade. This time, we were offered a junior suite with fabulous views of the pool and surrounding mountains. When we entered the room, there was a bouquet of roses, a lovely bottle of white wine. delicious macaroons, and a bowl of fruit. Did we feel special!! We had a special welcome from Johanna who is the head of reservations and Aude Chabredier, the head of reception, both exttraordinary people.

Top tip for other guests:

If eligible, always ask if an upgrade is possible. And be certain to have breakfast out on the patio weather permitting. The best SLH breakfast!

What I liked most

Welcome and Departure
Location
General Service
Local knowledge and experience
Guest Room and Bathroom
Breakfast
Leisure facilities
Internet and wifi

May 2019

My Trip Type:

Couple

From check in to check out, everything went smoothly. Very professionnal staff , spacious and confortable room ( junior suite)

Top tip for other guests:

Center of saint Rémy is a 10mn easy walk from hôtel

What I liked most

General Service
Guest Room and Bathroom
Breakfast

Loved our stay at Valruges. The rooms are spacious and well appointed. The breakfast is fabulous.

March 2019

My Trip Type:

Couple

Parking can be a challenge and the pool hours are limited for families.

Top tip for other guests:

Book your stay at this wonderful hotel in quant St. Remy....you won't be disappointed!

What I liked most

Welcome and Departure
Location
General Service
Guest Room and Bathroom
Breakfast
Internet and wifi

What I might improve

Local knowledge and experience
Leisure facilities

Rooms need to be refurbished

October 2018

Top tip for other guests:

Very good location to visit the region

What I liked most

Welcome and Departure
Location
General Service
Local knowledge and experience
Breakfast
Restaurant and dining
Room Service
Internet and wifi

What I might improve

October 2018

Accomodating for early checkin however did not give us a room upgrade and did not specify at checkin whether we could do late check out.. did not mention breakfast at checkin either we had to confirm with them ourselves that it was included. Otherwise great stay and the access to the spa was fantastic. A very hearty breakfast as well. Room slightly small but we were only there one night and had a terasse so was more than fine.

Top tip for other guests:

-

What I liked most

What I might improve

Moscow

My Trip Type:

Couple

Great location, close to the interesting cities of Provence. Excellent service. The rooms are spacious and nice.

Top tip for other guests:

The hotel has an excellent restaurant.

What I liked most

Location
Welcome and departure
Restaurant and dining
Breakfast
Guestroom and bathroom
General service

What I might improve

A lovely place to spend some sunny days and relax!

Helsinki

My Trip Type:

Couple

Beautiful and cosy hotel with lovely garden and pool a bit hidden from others. Nice and warm service from front desk to restaurant. Good lunch and very nice dinner together with quite nice wine list incl.mainly local wines. Around 5000 bottles in wine cellar and sommelier who knows what he's doing - we had a lot of discussion! Beautiful garden to enjoy your cafe and cigar after dinner. Good rooms with a view, we had an upgrade which was pleasant. We visited shortly in spa which was nice and cosy too. Nice surroundings and lot of small villages to visit. In this time of year superb vegetables together with other local ingredients!

Top tip for other guests:

One day stay is a bit too short - take two nights and take a look surroundings! Avignon is a worth of visit as well.

Stay date: May 2016

My Trip Type:

Couple

Top tip for other guests:

enjoy the experience

What I liked most

Internet and wifi
Guestroom and bathroom
Breakfast
Location
General service

What I might improve

Stay date: October 2015

My Trip Type:

Couple

An elegant,clean and comfortable hotel with a superb outdoor heated pool,in a lovely setting.Good restaurant but rather expensive. Excellent friendly service from all the staff. Walking distance from the town. If they could give you complimentary water in the rooms every day that would be a bonus as the rooms are very expensive.

Top tip for other guests:

easy walking distance to the town

What I liked most

Restaurant and dining
Internet and wifi
General service
Breakfast
Leisure facilities
Welcome and departure
Location
Room service
Guestroom and bathroom

Want to return and stay longer!

Stay date: October 2015

My Trip Type:

Couple

Lovely grounds, quiet area, outstanding restaurant. Did not have opportunity to use the spa facilities -- next time! Really enjoyed our brief stay here and think it a superb value. Like the on-demand shuttle service to its sister property in the center of town.

Top tip for other guests:

Room 19 is a corner room with wrap-around balcony.

What I liked most

Location
Restaurant and dining
Leisure facilities
General service

Friendly, extremely helpful service. Great location.

Stay date: September 2015

My Trip Type:

Couple

Staff, particularly one person by the name of Penelope, went above and beyond the call of duty to solve a problem with a mattress issue caused by my spouse's back problems. She went out of her way to find a creative solution to our problem. The location was excellent, both as to quiet proximity to St. Remy, as well as great base for exploring Provence

Top tip for other guests:

Staff has excellent suggestions for activities in area

What I liked most

Welcome and departure
Internet and wifi
Breakfast
General service
Guestroom and bathroom
Location
Local knowledge and experiences
Room service

Stay date: October 2014

My Trip Type:

Couple

Valrugues is a signature hotel in the area. Saint Remy is a lovely small town with nice restaurants and interesting surrounding sightseeing opportunities. Valrugues has an excellent restaurant, very good spa and very friendly staff. Definitely recommended.

Top tip for other guests:

try the restaurant and spa

What I liked most

General service
Restaurant and dining
Location
Guestroom and bathroom

What I might improve

Room service
Internet and wifi
Breakfast

beautiful hotel but too expensive

Stay date: August 2014

My Trip Type:

Couple

Beautiful hotel but too expensive and not 5 stars. The restaurant is also extremely expensive. Pool was not heated and was cleaned next day, so that we could nog swim. Suite is nice, good beds, good bathroom. Breakfast is good. Lunch should have pool service, it's not nice to have to put on good clothes and have lunch in the restaurant. There should also be sandwiches etc. Paying the full price, it would have been nice to get some fruit etc. in the suite. Only a small bottle of water is ridiculous. We visit a lot of 5 stars hotels and this was absolutely not 5 stars.

Top tip for other guests:

bring your own fruit when you want some in your room

What I liked most

Guestroom and bathroom
Internet and wifi

What I might improve

Restaurant and dining
Leisure facilities

Stay date: September 2014

My Trip Type:

Couple

Was a great location that was very private and very quiet. It was a short walk to the center of St. Remy with access to many restaurants and shops. We took advantage of the amazing warm weather and spent the afternoon by the pool on 2 afternoons of our 4 day stay and the only small complaint we had was that due to it being late September we could not get pool side service for drinks and snacks. Hotel was very clean and rooms had been recently renovated including the Bathrooms with very nice finsihes. Room was a bit on the small side and the A/C unit was quite noisy again that would be the only complaint...due to how warm it was we had to keep the A/C on.

Top tip for other guests:

walking distance to St. Remy

Stay date: September 2014

My Trip Type:

Friends

We enjoyed our stay at the the hotel. The staff was professional and helpful. The housekeeping staff was a little inconsistent with the cleaning of our room. The breakfast was very good. However, the dinning room was not inviting for dinner. It appeared to bright and cold. We did not dine at the hotel.

Top tip for other guests:

Good facility to see the area.

What I liked most

Internet and wifi
Location
General service

What I might improve

Fantastic service, great restaurant

Stay date: May 2014

My Trip Type:

Couple

The staff was very attentive and helpful, the facilities are nice, the food at the restaurant was superb. The somelier was very nice. We had a lovely stay. The internet and WIFI connection was very slow so not very convenient. The room was small but nice enough with a small terrasse.

Top tip for other guests:

book a table at the restaurant

What I liked most

Welcome and departure
General service
Restaurant and dining

What I might improve

Guestroom and bathroom
Internet and wifi

Stay date: April 2014

My Trip Type:

Couple

Alle the facilities are pretty good. Nice dining restaurant Room service Staff is intrusive : knocking at the door and entering the room even with the "Do not disturb" card

Top tip for other guests:

facilities, calm and leisure

What I liked most

Leisure facilities
Restaurant and dining
Breakfast

What I might improve

Room service
Guestroom and bathroom

Stay date: November 2013

My Trip Type:

Couple

Perfect spa break in a marvellous location. Very good staff

Top tip for other guests:

Location

What I liked most

Guestroom and bathroom
Leisure facilities
Breakfast
Welcome and departure

In the heart of the Provence

Stay date: October 2013

My Trip Type:

Family

Great location and welcoming staff. Rooms need a bit "refreshing". Breakfast was additional charge (30 Euro) but not given the option to decline. Just showed up on the bill. Restaurant was pricey for what we got and enjoyed other places we went more than at the hotel. Parking was limited but they accommodated us. Illness delay our arrival by two days and the hotel was very accommodating.

Top tip for other guests:

Best location for a 5 star hotel.

What I liked most

Breakfast
Welcome and departure
Internet and wifi
Location

What I might improve

Restaurant and dining
Guestroom and bathroom

Wonderful location and something more...

Stay date: September 2013

My Trip Type:

Couple

Wonderful place to relax. Modern rooms, very clean. The hotel itself in a good condition. Service itself must be improved - in the gourmet restaurant essential! Also foreign language skills of the service in bar and restaurant must be improved. No go: cats in the garden, on tables outside in the restaurants, on the deckchairs at the pool!!

Top tip for other guests:

Wonderful to relax, to do some sports and to eat highclass

What I liked most

Restaurant and dining
Guestroom and bathroom
Welcome and departure
Location

What I might improve

Breakfast
General service

Fantastic service and ambiance

Stay date: August 2013

My Trip Type:

Family

Recent refurbishment has been done very tastefully. Lovely haven of tranquility but walking distance of the village. Fantastic food and service and very accommodating staff

Top tip for other guests:

Treat yourself in the gastronomic restaurant. Worth the expense.

What I liked most

Internet and wifi
Location
General service
Leisure facilities
Welcome and departure

Perfect location in the center of Beaune

Stay date: July 2013

My Trip Type:

Family

We stayed here as a couple with our 2 month old daughter. Very friendly staff (helping out with the bottles for our daughter, reserving restaurants, wine cellar visits...), excellent location in the center of Beaune, beautiful renaissance center terrace.

Top tip for other guests:

Do try the marc de bourgogne

What I liked most

General service
Local knowledge and experiences
Welcome and departure
Location

Stay date: July 2013

My Trip Type:

Family

We stayed here 1 night as a couple with our 2 month old daughter. Very frienly staff, very nice room. Excellent breakfast. Beautiful spa facilities, large swimming pool. Perfect for a tranquil getaway.

Top tip for other guests:

Swimming pool and breakfast

What I liked most

Breakfast
General service
Welcome and departure
Guestroom and bathroom

Stay date: June 2013

My Trip Type:

Couple

The hotel is beautiful, great service, and the rooms were very comfortable. The ladies at the front desk were very nice. My only comment is that they need to be better informed about restaurant recommendations. Suite number 60 is gorgeous but the bathroom needs a magnifying mirror like the other rooms have and the lighting system is very complicated and doesn't work well. The Spa is very good. However when I was waiting for my treatment the cleaning lady kept vacuuming very near me and making a lot of noice. The lady at the desk starting talking to her in French. I think she was telling her to stop the machine but she refused and they starting arguing in front of me which was very annoying.

Top tip for other guests:

Get a car so you can visit nearby towns.

What I liked most

General service
Guestroom and bathroom
Internet and wifi
Location
Leisure facilities
Welcome and departure

What I might improve

Leisure facilities
Local knowledge and experiences

Friendly,helpful staff, good location

Stay date: February 2013

My Trip Type:

Couple

Made to feel welcome with friendly staff who could speak English if required. The location was slightly off the beaten path which made car use almost essential, but the locale was quiet and this added to the feeling of the facility. Definitely plan to return.

Top tip for other guests:

Bring a car and good walking boots

What I liked most

Welcome and departure
Leisure facilities
Restaurant and dining
Local knowledge and experiences
Location
Breakfast
Internet and wifi
Guestroom and bathroom