https://origin.slh.com/hotels/hotel-lilla-roberts/
HOTEL HIGHLIGHTS
Eclectic décor showcases Scandinavian design through the decades
State-of-the-art fitness centre
Welcoming bistro-style restaurant
Hotel Lilla Roberts - LUXURY HOTEL IN HELSINKI
A sophisticated retreat in Helsinki's ultra-cool design district
Tucked away on a peaceful side street, yet moments from Helsinki's buzzing bar and restaurant scene. Close to the commercial centre, but within easy reach of the hip hangouts of the design district. With its location, luxury feel and elegant, homely atmosphere, Hotel Lilla Roberts puts you in prime position for a luxury city break.
Step inside, and you'll discover this boutique hotel's historic exterior contains one or two surprises. A striking monochrome colour scheme contrasts with cosy sofas and a crackling fire. This style continues in the rooms and suites, where you'll find classic and contemporary features that celebrate Art Deco tendencies. Downstairs you could while away an afternoon in the lounge, or enjoy a workout in the fitness room. Savour creative cuisine in the bistro restaurant and then sip champagne by the fireside – or try a signature cocktail in the chic bar.
When you're ready to explore the city, you'll find Helsinki's business and leisure hotspots within easy reach. Seek out museums and art galleries in the design district. Or browse independent boutiques and jewellery studios to find a piece of Finnish style to take home with you. This creative quarter also boasts trendy cafés and Michelin-starred restaurants.
130

rooms

1

restaurant

6

floors
The rooms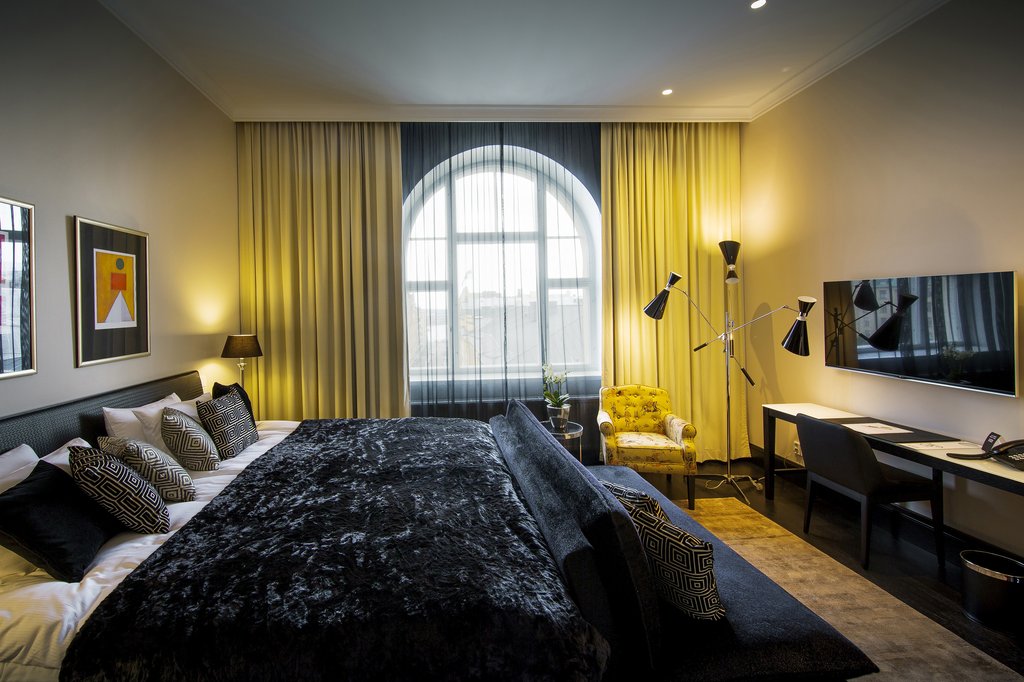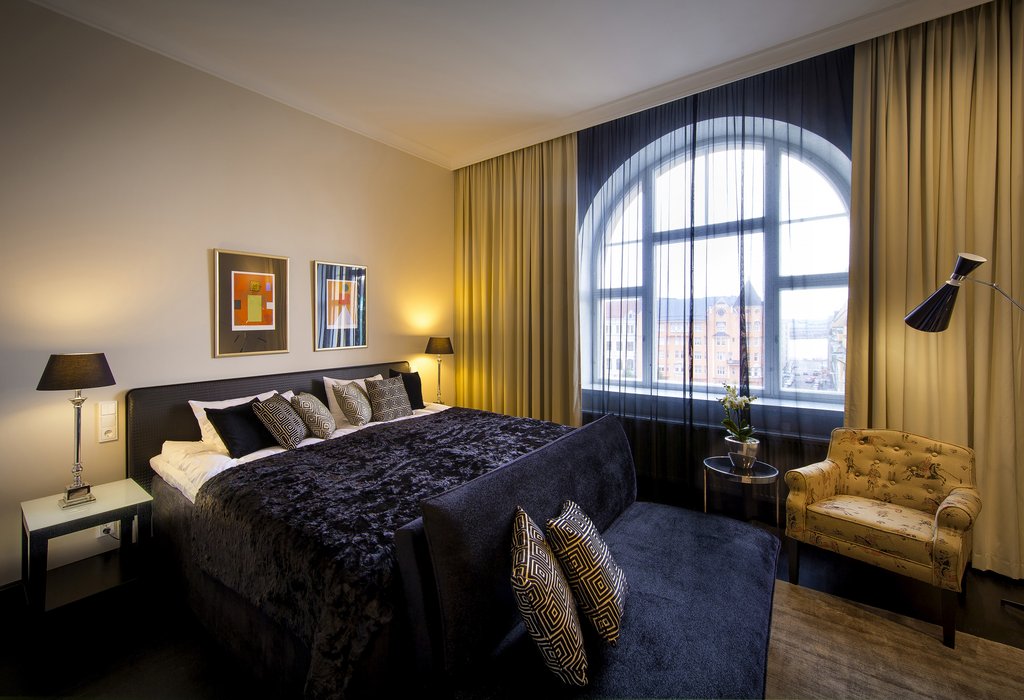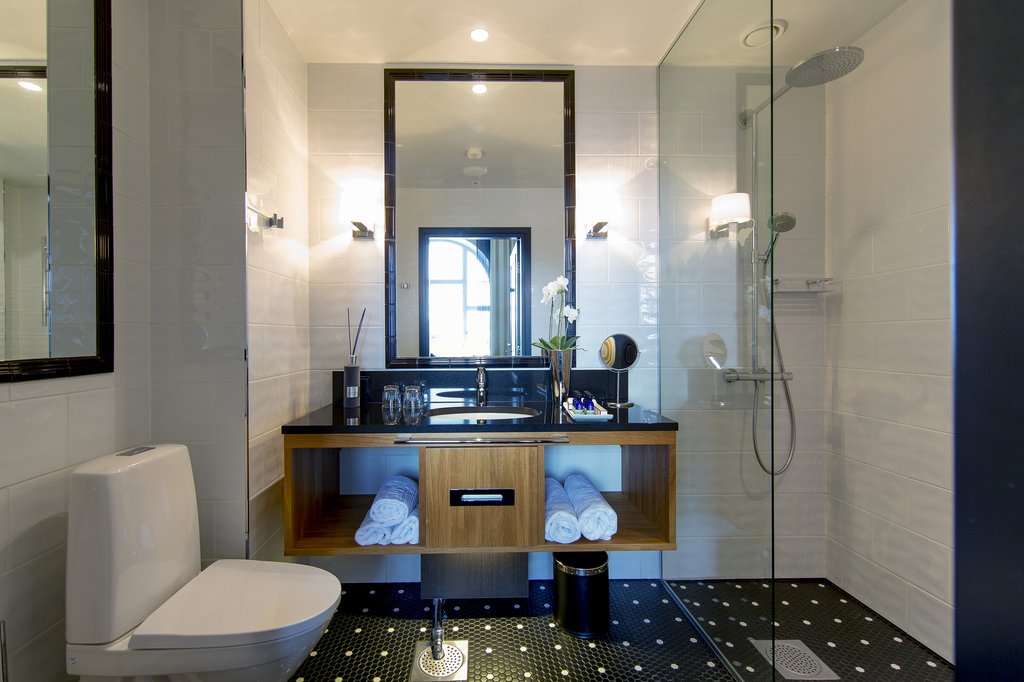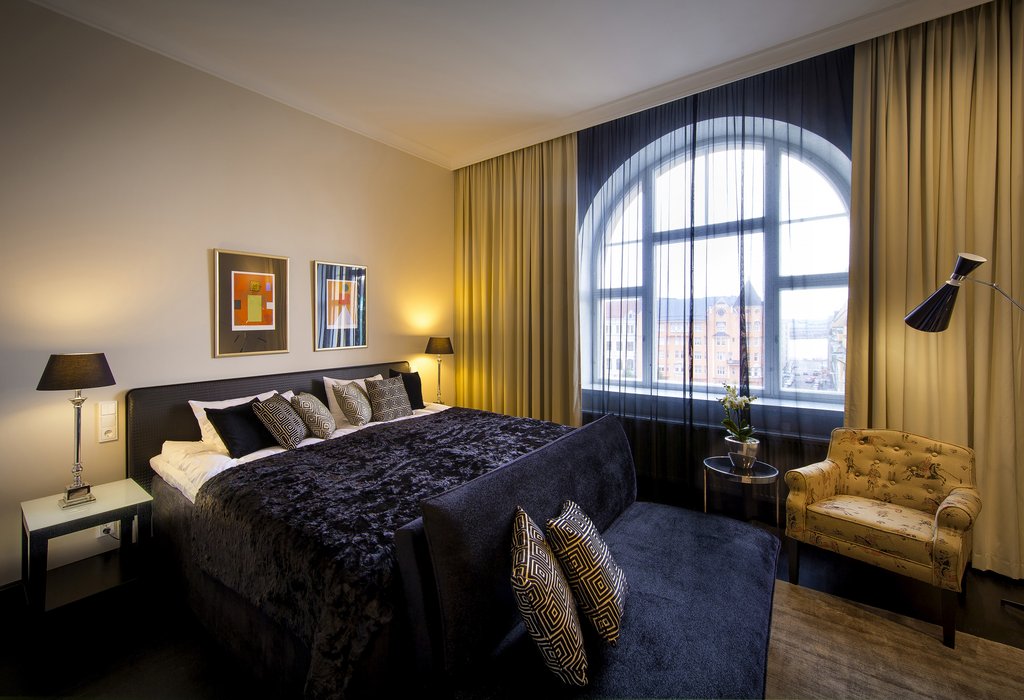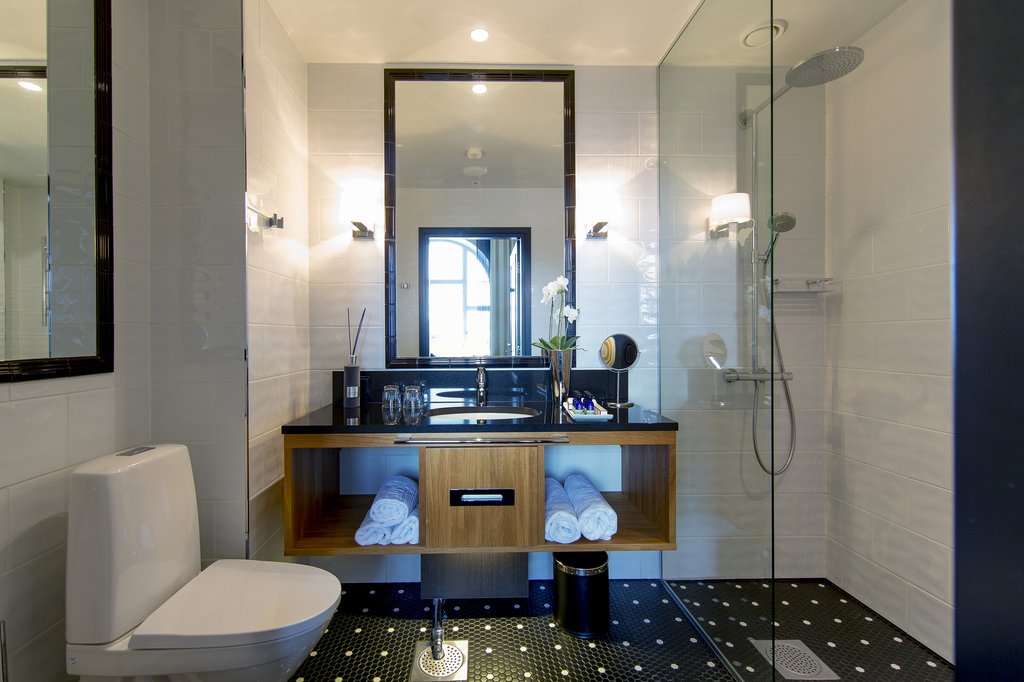 Comfort King Room
Sleeps: 3 People.
Comfort Rooms have stylish and functional bedrooms either facing the street or the inner yard. Beautiful rooms with King-size or twin beds, cosy arm chair, safety box and minibar.

Bath or rain shower and complimentary WiFi access. Room size: 22 square metres.
From per night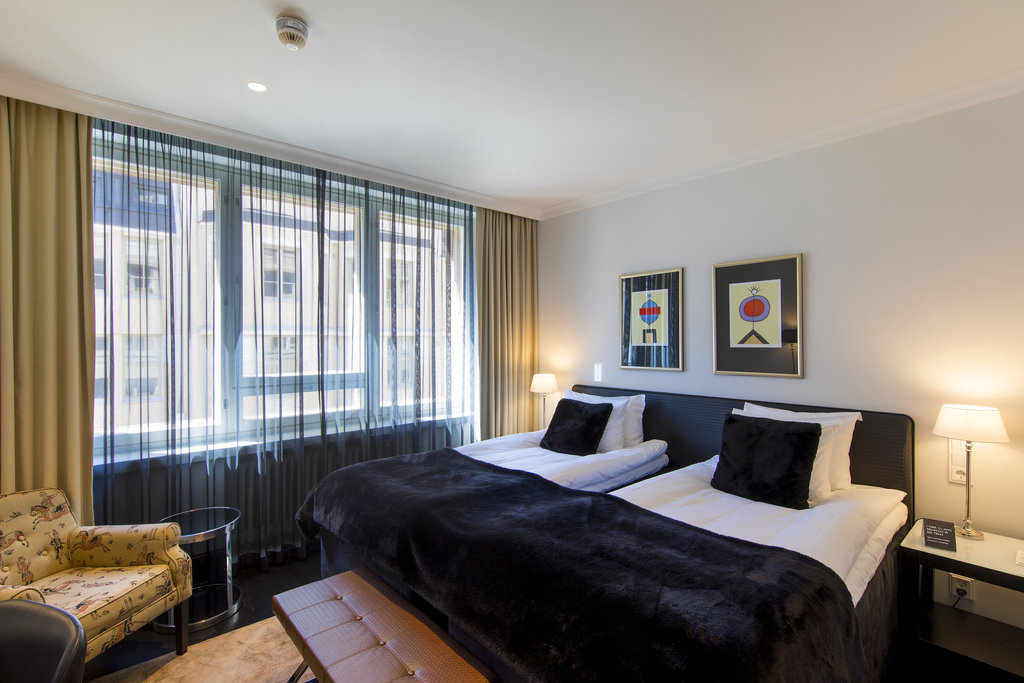 Comfort Twin Room
Sleeps: 4 People.
Beautiful rooms with twin beds, cosy arm chair, safety box, minibar, bath or rain shower. 22 sqm.
From per night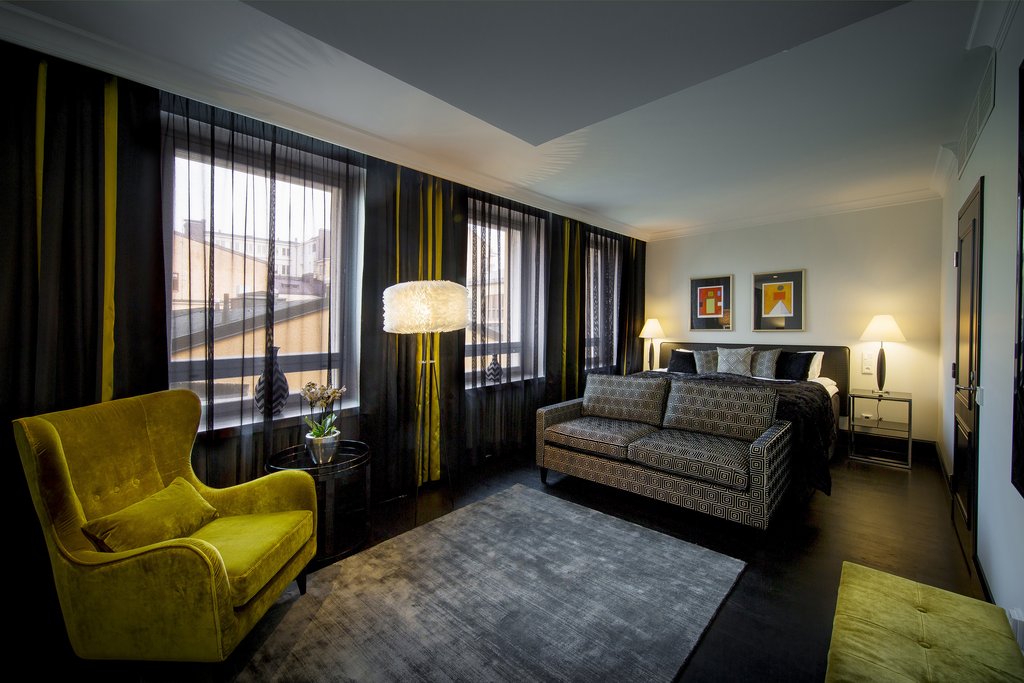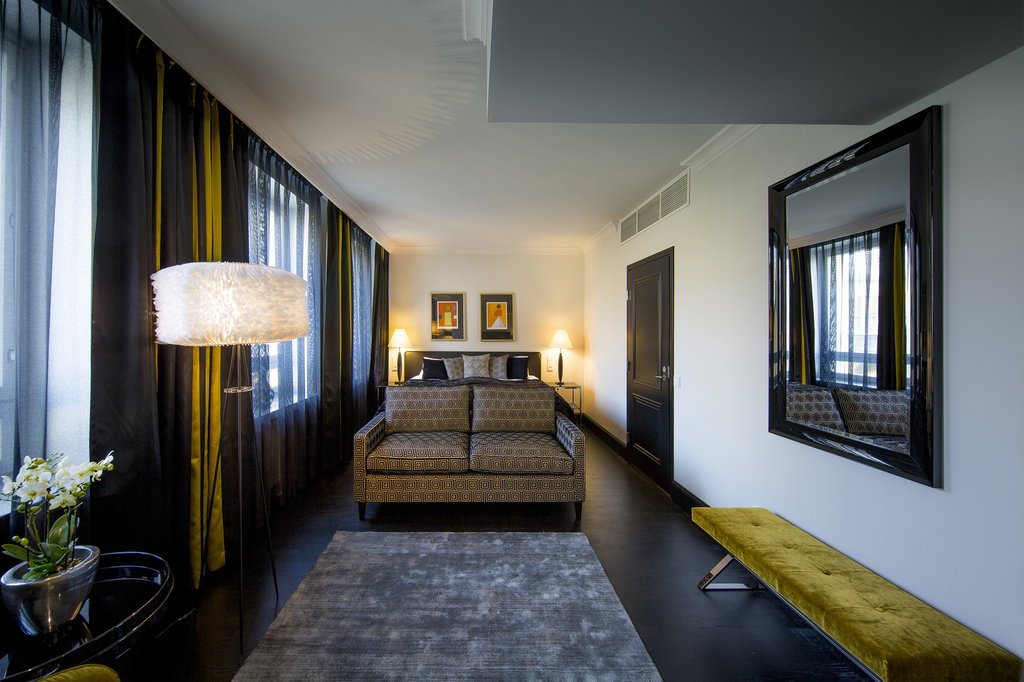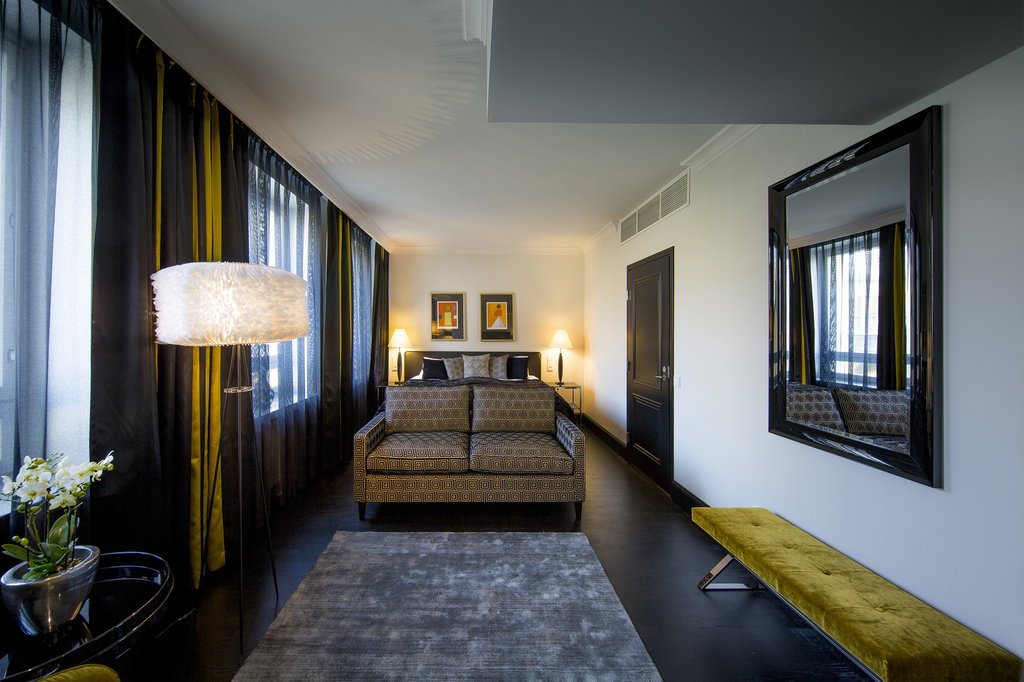 Style Room
Sleeps: 3 People.
Style Rooms are beautifully decorated with King size or twin beds for those who like a bit more space around them. Rooms have a sofa, minibar, safety box, complimentary WiFi.

Bathrooms with a bath or rain-shower. Room size: 30 square metres.
From per night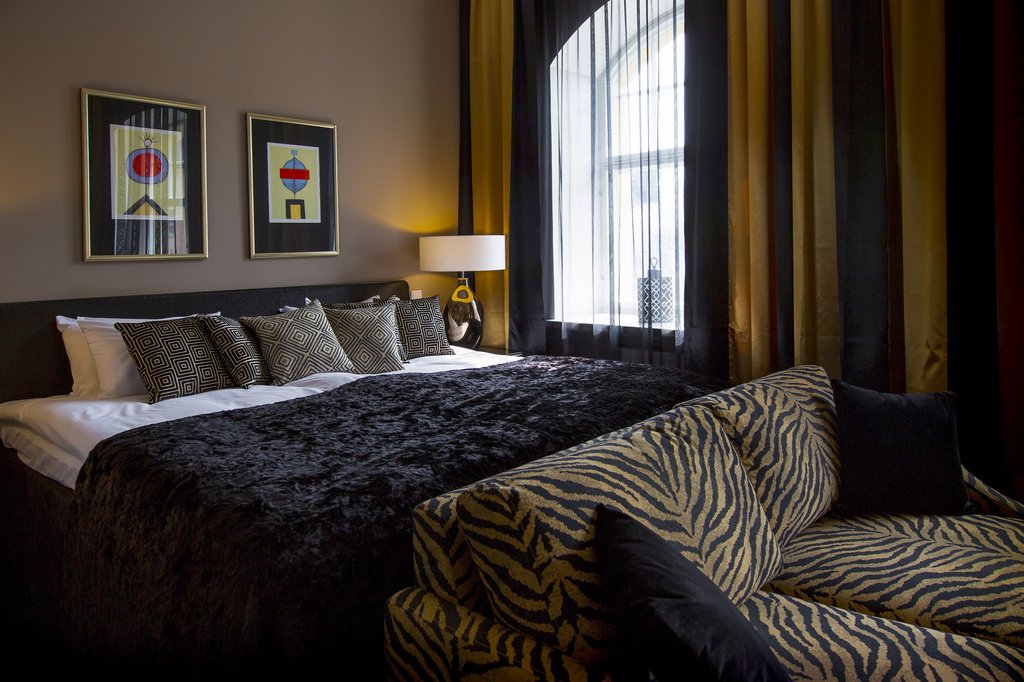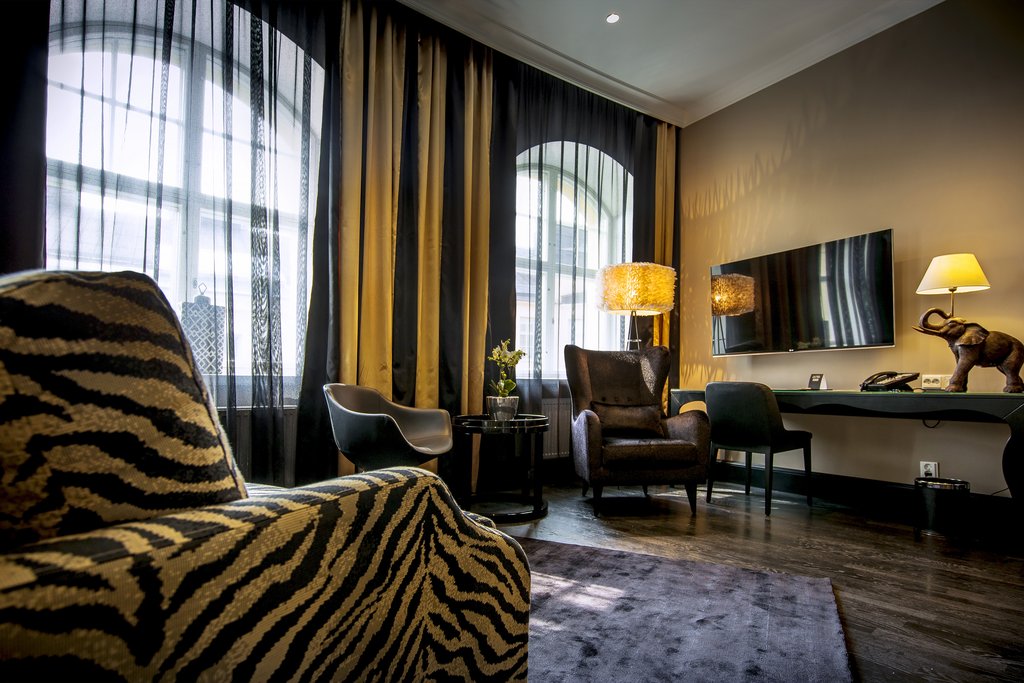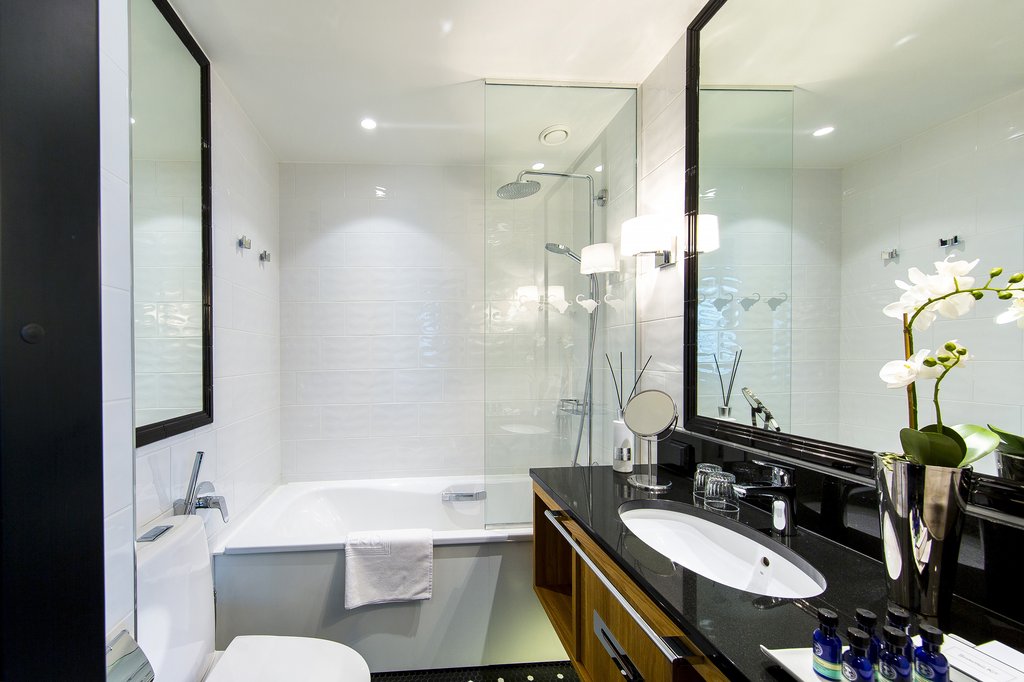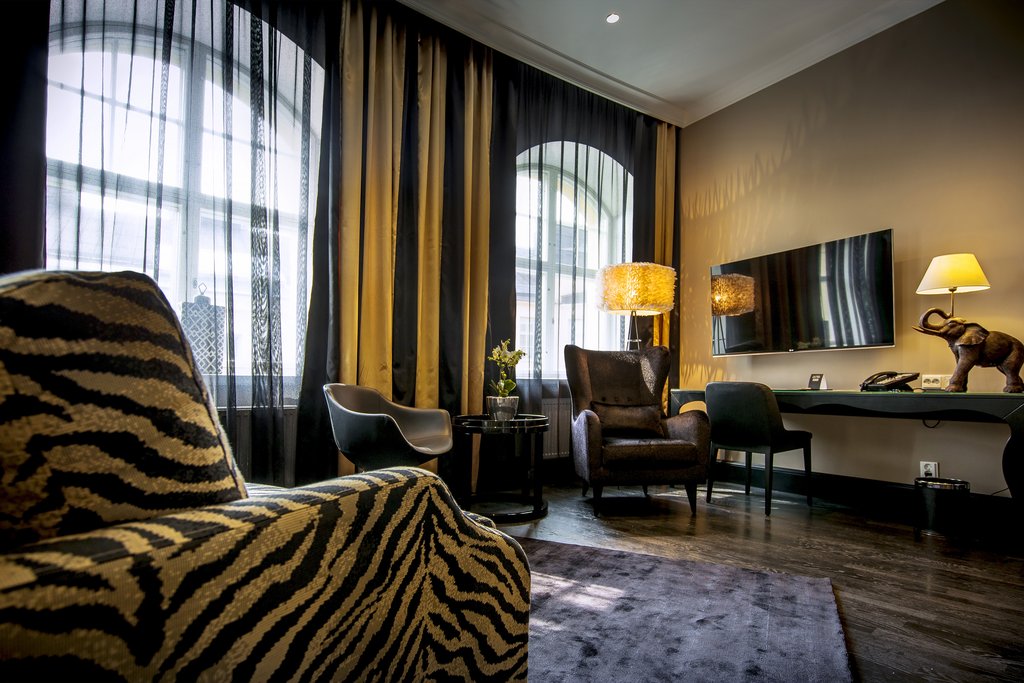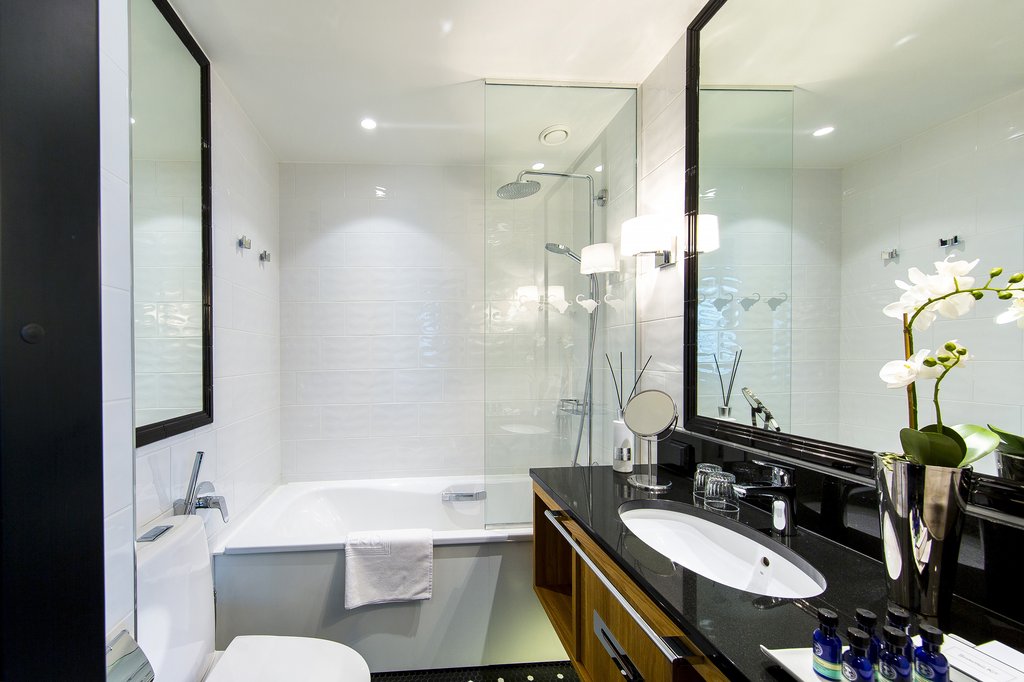 Lux Room
Sleeps: 3 People.
Spacious with high ceiling and stylish decor. Room has king size bed, coffee machine, minibar, safety box, free wifi, 55 inch TV. Bluetooth soundbar with Personal Media Network facilities.

Bathrooms are with either a rain shower or a bath tub. Size: 35 sqm
From per night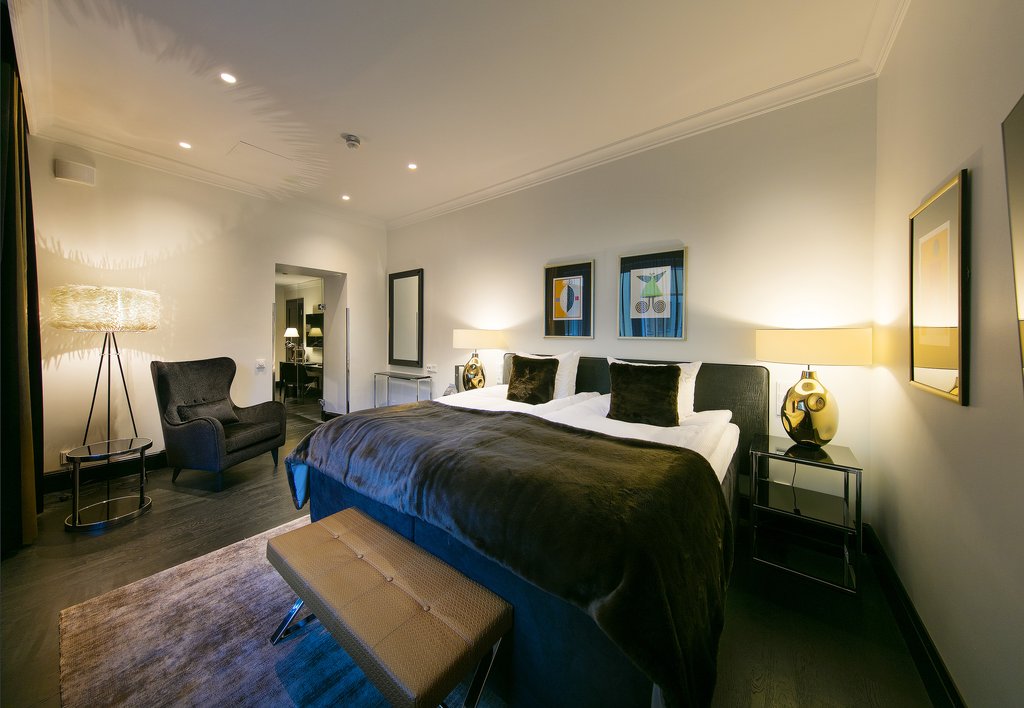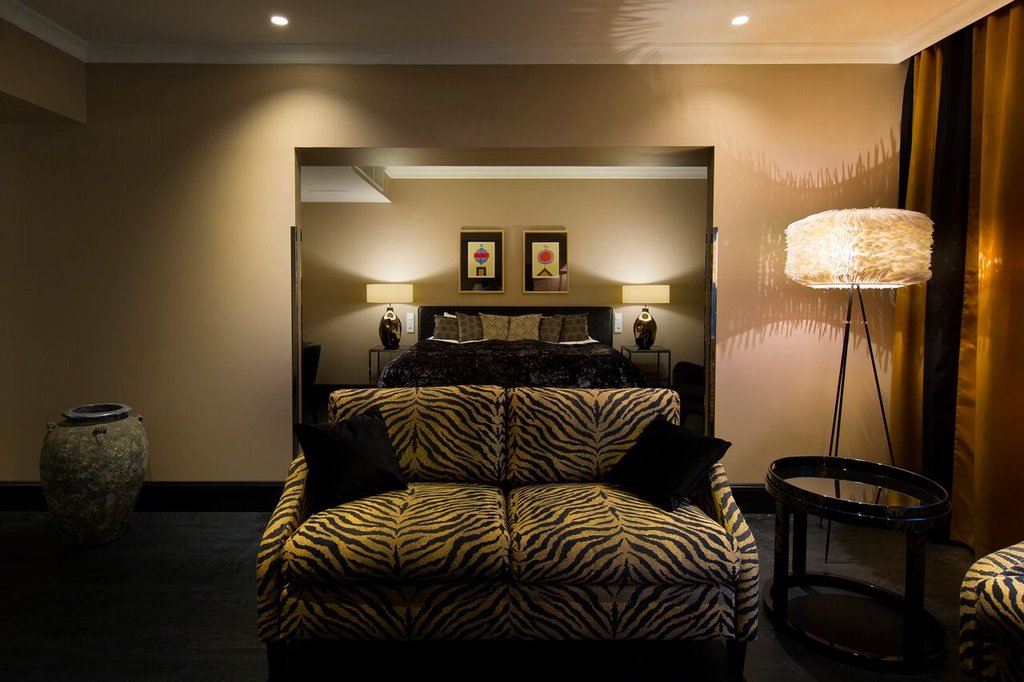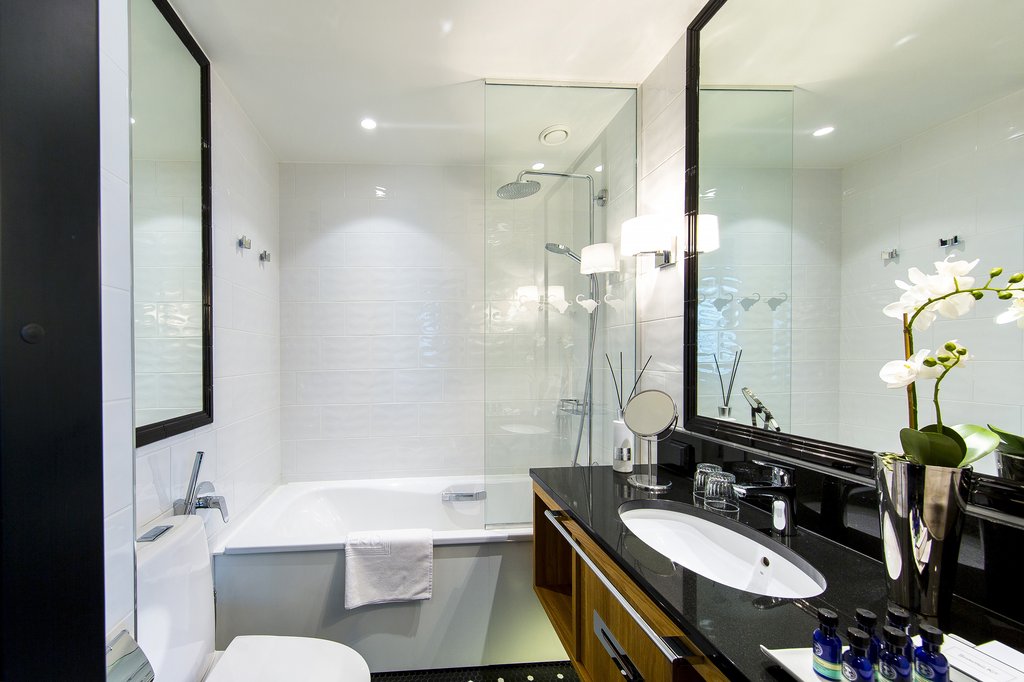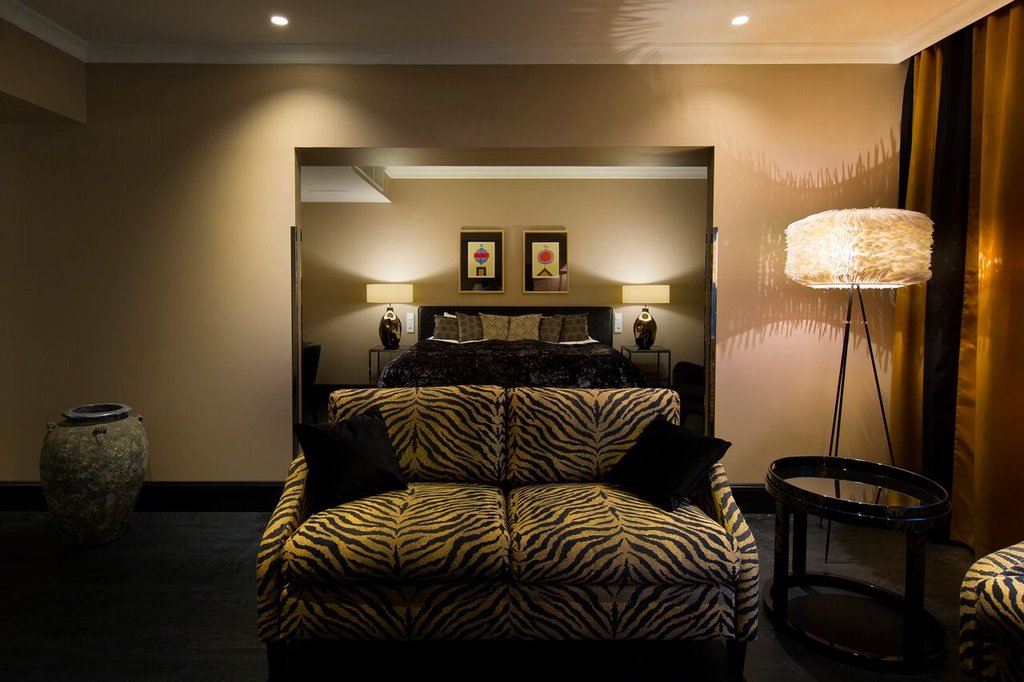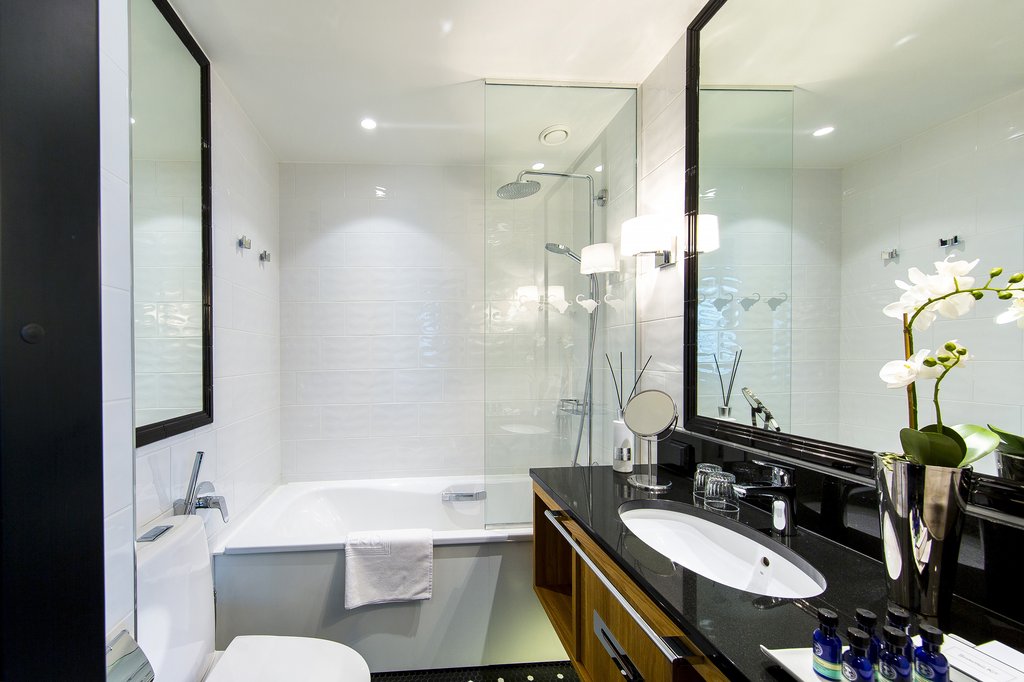 Junior Suite
Sleeps: 4 People.
Junior Suites offer you a luxurious experience. The spacious and stylish suites include a lounge area for hanging out and enjoying Nespresso products made by your personal Nespresso-machine.

Or hop into a long bubble bath in the bath tub. The suites face out onto the inner courtyard to guarantee peace and quiet. Size is 45sqm
From per night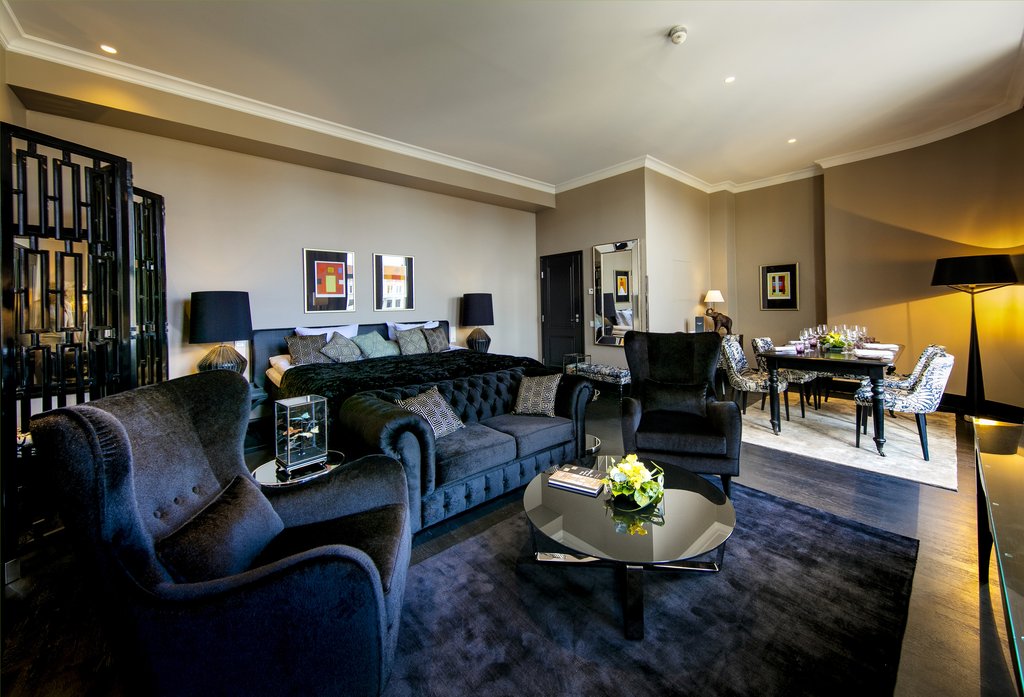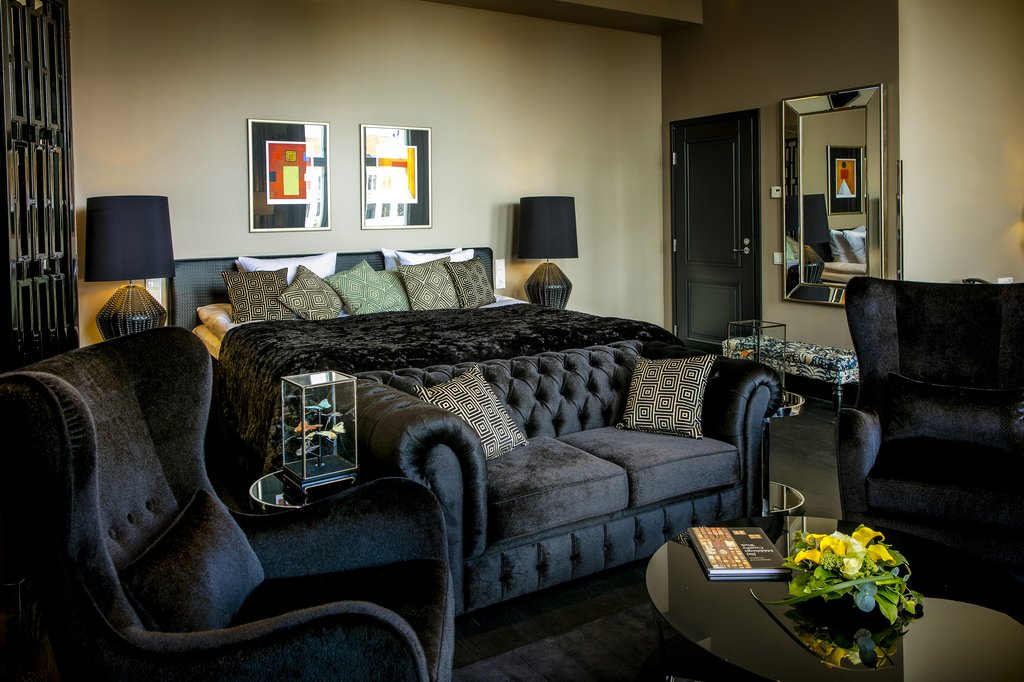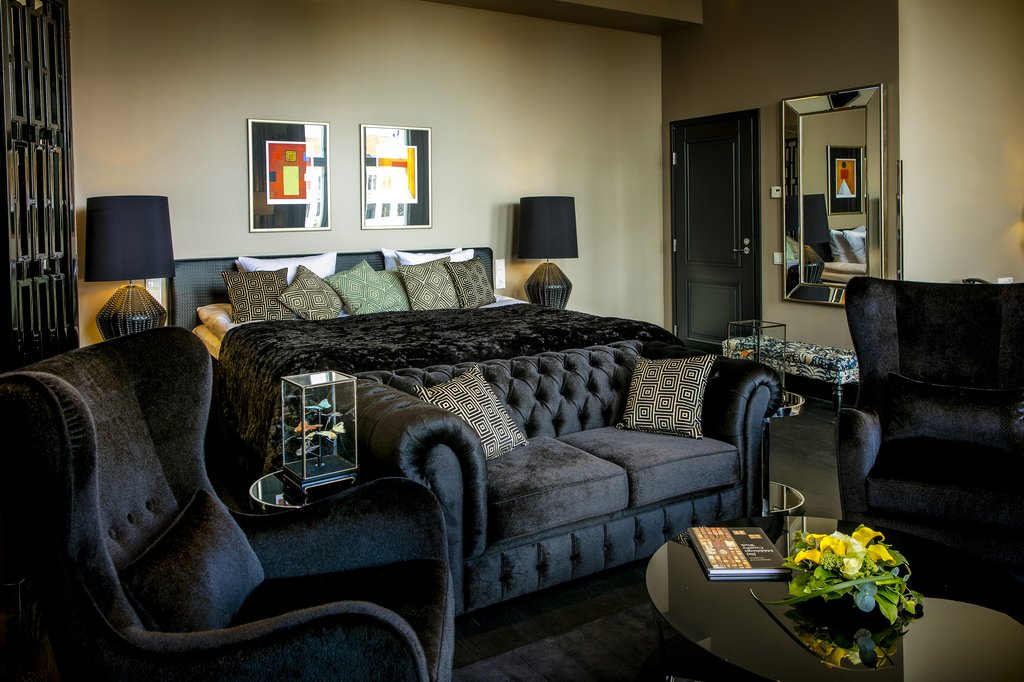 Suite
Sleeps: 4 People.
Suite has an open plan bedroom with a view over Kasarmitori square over to the sea. This luxurious suite has high ceiling, dining table, sitting area, complimentary WiFi connection and coffee machine.

Includes minibar and safety box. Possibility to organize small meetings as well. Suite size: 50 square metres.
From per night
Air conditioning
Lounges/bars
Exercise gym
Pets allowed
Join INVITED and get 10% off exclusive rates. Plus early check-in and late check-outs among other benefits.
24-hour front desk

24-hour security

Accessible facilities

Air conditioning

Audio visual equipment

Bell staff/porter

Beverage/cocktail

Buffet breakfast

Business Center

Catering services

Child programs

Children welcome

Concierge desk

Conference space

Doctor on call

Dry cleaning

Elevators

Exercise gym

Family plan

Fax service

Fire safety compliant

Flip charts

Full service housekeeping

Housekeeping - daily

Jogging track

Laundry/Valet service

Lobby coffee service

Lounges/bars

Massage services

Meeting rooms

Overhead projector

Pets allowed

Photocopy center

Restaurant

Room service

Room service - limited hours

Security

Shoe shine stand

Smoke-free property

Sports trainer

Turndown service

Wakeup service

Water sports

Wireless internet connection
Air conditioning

Air conditioning individually controlled

All news channel

Bathrobe

Bathroom amenities

Bottled water

Cable television

Closets in room

Complimentary high speed internet in room

Desk

Double beds

Fire alarm with light

Full bed

Hairdryer

High Definition (HD) Flat Panel Television

High speed internet connection

High speed wireless

Internet access

Minibar

Private bathroom

Remote control television

Safe

Satellite television

Slippers

Smoke detectors

Telephone

Wake-up calls
Krog Roba restaurant
Cuisine type: International
Meals served: Breakfast, Lunch, Dinner
Our restaurant Krog Roba is focused on the best of what the Nordic kitchen has to offer. Whether it is originally Danish- Finnish- Icelandic- Norwegian or Swedish- you will be happy to know that most of the ingredients actually come from around Helsinki. Most of the fish from the Baltic Sea- most of the meat from farms not far from Helsinki and most of the green stuff- weather providing- from local farmers. This is what hygge tastes like.
Lilla e. Bar
Lilla e. is a concept- where well-known standards are challenged and where cocktails meets creativity. We created a cocktail bar- where normal is unknown and just good is not enough. Cocktails meet all your senses.
Reviews
These reviews are the real opinions of INVITED members and we have verified their stay at the hotel.
What I liked most :

Location (44)
Breakfast (33)
Internet and wifi (25)
General service (23)
Welcome and departure (21)
Guestroom and bathroom (20)
General Service (14)
Restaurant and dining (14)
Guest Room and Bathroom (13)
Welcome and Departure (13)
Local knowledge and experience (8)
Local knowledge and experiences (8)
Leisure facilities (4)
Room service (3)

What I might improve :

Restaurant and dining (11)
Breakfast (8)
General Service (5)
Guestroom and bathroom (5)
Other (4)
General service (3)
Internet and wifi (3)
Leisure facilities (3)
Room service (3)
Welcome and Departure (3)

Read Reviews

September 2019

Small selection breakfast

Top tip for other guests:

If you want a 5 star hotel book somewhere else. This is just 4.

What I liked most

What I might improve

Welcome and Departure
General Service
Breakfast
Restaurant and dining

The service and the location is so great

August 2019

My Trip Type:

Couple

We have been here earlier: we loved the room, the service, the breakfast, that's why we came again and we will come next time too. The location is perfect to visit Helsinki, everything is so close: restaurangs, shopping, everything..

Top tip for other guests:

The Hotel is near everything

What I liked most

Location
General Service
Guest Room and Bathroom
Breakfast
Internet and wifi

Great style and great service

August 2019

My Trip Type:

Couple

The property has a attention to detail. The breakfast (continental) is still amazing.

Top tip for other guests:

Make sure you take your time for the breakfast to indulge.

What I liked most

General Service
Breakfast

Everything was good again!

July 2019

My Trip Type:

Couple

The whole arhmosphere is friendly and luxorious, but very easygoing way. Staff is professional and able to give advice ( dining for example). Room is clean, temperatur is easy to change. Breakfast differs from typical finnish hotels. Bread, pancakes, salmon, everything is tasty and there is service! Yes, you can easily find smiling waiter/waitress.

Top tip for other guests:

Try junior suite!

What I liked most

Welcome and Departure
Location
General Service
Local knowledge and experience
Breakfast

July 2019

My Trip Type:

Couple

Top tip for other guests:

Enjoy

What I liked most

Welcome and Departure
Location
General Service
Guest Room and Bathroom
Breakfast
Internet and wifi

What I might improve

Nice hotel in good location but nothing special

July 2019

My Trip Type:

Couple

Breakfast is not pleasant. Rather small breakfast room and small tables. Omelette etc charged extra. More of a canteen feeling at breakfast. No separate shower in guest rooms. I dislike standing in a bathtub having shower.

Top tip for other guests:

Ask for room upper floors to avoid noise from bar and street.

What I liked most

What I might improve

General Service
Guest Room and Bathroom
Breakfast

Lovely hotel in a great central location

May 2019

My Trip Type:

Couple

The staff at Lilla Roberts were welcoming and professional and were able to assist us with every enquiry. The hotel's location in the Design District is very central and enjoyable. Our room was spacious and beautifully appointed. My only grip was the crowds at breakfast - we tried different times but none were quiet. Perhaps the breakfast service needs a rethink.

Top tip for other guests:

The hotel is quite large and spread out - ask for a room near the lift if you don't want to negotiate the maze of passages.

What I liked most

Welcome and Departure
Location
General Service
Local knowledge and experience
Guest Room and Bathroom
Internet and wifi

What I might improve

Very frienly wellcome service as usually, suite was clean as allways, flowers, shampagne... just for good time and party!

April 2019

My Trip Type:

Couple

As above, arriving was friendly and check in was professional and few extra hours for check out day was ok. Room is big and luxorious. Breakfast is very good. Flowers and shampagne were nice suprise.

Top tip for other guests:

Nise and professional service. Good breakfast. Big and luxorious rooms are the best in Helsinki.

What I liked most

Welcome and Departure
Location
General Service
Local knowledge and experience
Breakfast
Internet and wifi
Other

Excellent and stylish hotel

April 2019

My Trip Type:

Business

The atmosphere at the breakfast is really nice and as it is not a huge hotel, you never need to queue there. Coffee served at table is a great plus and they have great special coffees included.

Top tip for other guests:

Don't forget to try the lounge bar, the drinks and cocktails are amazing!

What I liked most

Welcome and Departure
Location
General Service
Guest Room and Bathroom
Breakfast

What I might improve

Restaurant and dining
Other

April 2019

My Trip Type:

Friends

The Lilla Roberts hotel is a lovely place to stay: subtile and elegant design hotel, excellent services, the personnel make you feel welcome and always here to assist. The restaurant and the bar offer great variety of choices and the food is great.

Top tip for other guests:

room on upper floor and indoor view is great as it is extremely quiet.

What I liked most

Welcome and Departure
Location
General Service
Guest Room and Bathroom
Breakfast
Restaurant and dining
Internet and wifi

What I might improve

Excellent service, very friendly in positively way

March 2019

My Trip Type:

Couple

Visit this hotel quite often. Staff is very friendly and professional, like in five star hotels for example in London.

Top tip for other guests:

Breakfast is different compared to other scandinavian hotels. And also service in breakfast room is very friendly.

What I liked most

Welcome and Departure
Location
General Service
Local knowledge and experience
Guest Room and Bathroom
Breakfast
Leisure facilities
Internet and wifi

February 2019

My Trip Type:

Couple

Friendly personnel, good choise of single malts at the bar, pleasent rooms, especially the artdeco style design

Top tip for other guests:

Great location, would work also for business trips

What I liked most

Welcome and Departure
Location
General Service
Guest Room and Bathroom
Restaurant and dining

warmth in the snow of Helsinky's winter

January 2019

My Trip Type:

Business

Top tip for other guests:

excellent location for museum restaurants walks shopping station

What I liked most

Welcome and Departure
Location
General Service
Local knowledge and experience
Guest Room and Bathroom
Breakfast
Internet and wifi

January 2019

My Trip Type:

Couple

Lilla & Roberts offers an unique atmosphere close to the main attraction points in Helsinki. Location is perfect, about 15 min from the train station and bus terminal. The staff is very friendly and ready to help you with any question. In terms of rooms, Lilla & Roberts is excellent and you can expect an amazing night sleep. In terms of restaurant, the food is good, but in my opinion the selection was a bit disappointing. The appetizers were quite uninteresting and the nordic cheese in the dessert turned out to be a french one. Other than that, breakfast and bar are a must visit.

Top tip for other guests:

Go to the bar and ask for the special cocktail list. They are amazing!

What I liked most

Welcome and Departure
Location
Breakfast

What I might improve

Hercule Poirot would stay here

January 2019

My Trip Type:

Couple

Lovely Art Deco with modern twist - themed hotel. Very good location, clean and beautiful. Exellent staff and very nice breakfast. Would recommend warmly to couples.

Top tip for other guests:

Breakfast tip: have a glass of mead! Yummy!

What I liked most

Welcome and Departure
Location
General Service
Local knowledge and experience
Guest Room and Bathroom
Breakfast
Restaurant and dining
Internet and wifi

What I might improve

December 2018

My Trip Type:

Couple

As I just joint SLH Invited program, it was my first SLH experience, so Lilla Roberts was like a business card of SLH program for me. To be honest, now I have mixed feeling about this program. I travel about 20 years and stayed in various hotels of different levels. I wouldn't write further if I'd wrote about 3* hotel or lower. But "L" in SLH abbreviation requires some comments. I start with pros: Lilla Roberts is design hotel with good furniture, nice interior and quality restaurant. It's new and clean. And that's it. Now about "strange" things: If you have some luggage or babies, do not expect that somebody will help you at arrivals. Staff at reception do their job (I hope), so they won't pay attention at you until you're at the desk. Let's consider this as "S" in SLH abbreviation. When you call to reception ask some questions about restaurant, please be prepared to listen small lecture, that you should press another button on the phone, which would connect you directly to restaurant, but today is a good day and a person can make you a favor and will transfer your call. As I mentioned, restaurant serves quality food, but be prepared to wait each course for half an hour, if there is a big company at another table. Let's also consider it as "S". And if you'd like some coffee in the room, you can enjoy a cup of instant(!) coffee. Guys, are you serious? You call yourself "Luxury" hotel and provide instant coffee in the rooms? It's so cheap, that I really think that program should be renamed just to "SH – Small Hotels". Please, do not treat this feedback as "negative", I liked to stay here and maybe will do it in future, but now I have some doubts about SLH program itself and about hotels, which are part of this program. It can be used just as marketing scheme for ordinary hotels which are overpriced and needs promotion.

Top tip for other guests:

Don't expect too mush and you will not be too disappointed.

What I liked most

Location
Guest Room and Bathroom
Restaurant and dining
Internet and wifi

What I might improve

Welcome and Departure
General Service
Room Service

Excellent, warm and friendly welcome. Luggage was carried to our room. Breakfast was very good. Staff is very professional and helpful. Room is allways clean and luxurious.

November 2018

My Trip Type:

Friends

Friendliness everywhere in hotel.

Top tip for other guests:

Junior suites are high quality and worth for money.

What I liked most

Welcome and Departure
Location
General Service
Local knowledge and experience
Guest Room and Bathroom
Breakfast
Internet and wifi

November 2018

My Trip Type:

Business

Large room and unique hotel and layout

Top tip for other guests:

Dine offsite for dinner. Breakfast expect a wait and slow coffee service.

What I liked most

Location
Local knowledge and experience
Leisure facilities
Internet and wifi

What I might improve

General Service
Guest Room and Bathroom
Breakfast
Restaurant and dining

November 2018

My Trip Type:

Couple

Bath and a glass of 'sima'

Top tip for other guests:

Good restaurant- you dont need to go somewhere else- unless you really want to.

What I liked most

Welcome and Departure
Location
General Service
Guest Room and Bathroom
Breakfast
Restaurant and dining
Internet and wifi

Better value for money can be found elsewhere

November 2018

The hotel was overall okay, the room was nice, but the check-in and -out services left me annoyed and confused. It's never really a good thing if I feel like I'm being cheated. Hopefully I get the promised receipt to my e-mail, for some reason they could not print it at the check-out and I didn't have extra time to wait, it already took some 20 mins and had to leave to airport. As the headline says, I'll easily find better value for money elsewhere in the future.

Top tip for other guests:

Xxx

What I liked most

Location
Guest Room and Bathroom

What I might improve

Welcome and Departure
General Service

You'll never want to check out

Sweden

My Trip Type:

Couple

Tasteful and stylish hotel with art deco vibes located in the design district in Helsinki. Super comfortable bed, spacious rooms with gratifying amenities. Surprisingly good breakfast buffet (though quite busy) with everything you'll need. Before bed you can stop by the bar in the lobby. Located on a quiet side street a few blocks from the hustle and bustle that is the absolute city center. Still keeping it within walking distance. There's not much - if anything I can complain about this hotel. Give it a try - you wont regret it.

Top tip for other guests:

Popular bar "Lilla e" in the lobby

What I liked most

Breakfast
Welcome and departure
Internet and wifi
Guestroom and bathroom

What I might improve

London

My Trip Type:

Single

Comfortable room, great staffs, and great location

Top tip for other guests:

N/A

What I liked most

Welcome and departure
Location
Breakfast

Perfectly situated in Helsinki - Excellent cocktails

Copenhagen

My Trip Type:

Business

I am a regular at Lilla Roberts, and there is always a great atmosphere (I even experienced a Halloween party in the lobby once). You can get excellent cocktails in the bar, great food in the restaurant, and the rooms gives you the wanted level of privacy. The Gym has an adequate level of equipment for an "on the road" workout

Top tip for other guests:

Take a stroll to a Speakeasy called Trillby & Chadwick

What I liked most

Internet and wifi
Location
Restaurant and dining
Welcome and departure

Pleasant hotel with friendly staff

Auckland, New Zealand

My Trip Type:

Couple

This was our first stay in Helsinki and the Lilla Roberts was a great home base. It is a short walk to the centre of town and close to many shops and restaurants. The staff were very friendly and helpful. We also enjoyed being able to sample some of the local delicacies with breakfast. My only complaint is that the hotel transfers to the airport were very pricey and I imagine a taxi would have been a fair bit cheaper.

Top tip for other guests:

Go to the very close indoor market hall, lots to see and try.

What I liked most

General service
Breakfast
Restaurant and dining
Location
Welcome and departure

Stay date: January 2017

My Trip Type:

Single

My stay was nice, the hotel was excellent and so was the staff. Breakfast was versatile but you had totally forgot vegans. So next time when I stay on SLH I hope to get vegan options at the breakfast :)

Top tip for other guests:

-

What I liked most

Welcome and departure
Location
Guestroom and bathroom

What I might improve

An elegant yet easy-going hotel with a beautiful interior

Stay date: December 2016

My Trip Type:

Couple

We stayed at Lilla Roberts just one night. Despite the short stay, we really enjoyed it a lot. The location is very good, just a walking distance from the city center. The hotel interior is very elegant - lots of black, what I really liked. The design is well thought - the horse lamp in the lobby was fantastic! Our room was very spacious and perfectly equipped, the beds were very comfortable. I totally loved the bathroom amenities - from The White Compamy in London. We had a snack and amazing artisanal cocktails in the hotel's bar and a delicious local breakfast in the morning. The service at the reception and restaurant was profesional and friendly. We will definitely come back to Lilla Roberts when we visit Helsinki next time.

Top tip for other guests:

Try the artisanal cocktails in the lobby bar. They are an experience itself!

What I liked most

Internet and wifi
Location
Breakfast
Restaurant and dining
Welcome and departure
General service
Guestroom and bathroom

Stay date: December 2016

My Trip Type:

Business

Lilla Roberts hotel is a relatively new addition to Helsinki's collection. Stylish design combined with comfort is a sure winning formula. Very comfortable rooms with anything you might need available. The location is great as well, just a few steps from the center. The best part though is the hotel team. They always make you feel welcomed, ready to assist you at any time. Really feels like home!

Top tip for other guests:

Enjoy!

What I liked most

Guestroom and bathroom
Local knowledge and experiences
General service
Welcome and departure
Breakfast
Internet and wifi
Room service
Location

Top-notch Reception Service

Stay date: October 2016

My Trip Type:

Couple

Some of the best Reception Service that we have received around the world, composed but friendly and very professional. The Comfort Rooms (at least the one we stayed once in, 403) has quite limited storing, only a few closets. The Style Rooms are great. Hotel location is absolutely brilliant.

Top tip for other guests:

Only a short walk to the Merisatamaranta, where you can continue walking alongside sea towards west and have lunch at restaurant Löyly.

What I liked most

Location
Local knowledge and experiences
Welcome and departure

What I might improve

Stay date: October 2016

My Trip Type:

Friends

we slept well and enjoyed the magnificent breakfast

Top tip for other guests:

Remember scratches horses

What I liked most

Guestroom and bathroom
Breakfast

Stay date: September 2016

My Trip Type:

Single

Quiet room was surprising me in the middle of the center, beautiful decoration all over. The lounge bar could be more inviting..

Top tip for other guests:

-

What I liked most

What I might improve

A nice and cosy art deco style hotel in Helsinki

Stay date: September 2016

My Trip Type:

Business

Late arrival, nice and friendly staff in front desk - cosy hotel room with a good breakfast.

Top tip for other guests:

There is a renovation project going on the other side of street. Some noise and traffic problems.

What I liked most

General service
Welcome and departure

Perfect Hotel, Perfect Service

Stay date: September 2016

My Trip Type:

Business

In addtion to its history, as first Power Station for Helsinki, then the Headquarter of Police, the building now hosts one of few best hotels in town, with quatity rooms and perfect service, in both, the hotel and its restaurant. Helsinki is expensive as far as the hotel prices are concerned, but Lilla Roberts gives you a good compromize between the price paid and the value of the services received.

Top tip for other guests:

One of the few places in the city to stay and to enjoy your stay

What I liked most

General service
Restaurant and dining
Breakfast
Guestroom and bathroom

Stay date: August 2016

My Trip Type:

Family

We stayed in the hotel in Style room for 2 nights in August 2016. I booked Comfort room, but being upgraded to Style room as one of SLH perks. I stayed in the hotel with 2 teenager children . Room was very small , layout was very poor . Part of the window which can be open is tiny , so there was no fresh air in the room . Breakfast was very average - eggs tasted " plasticky ". Breakfast room layout is poor , not easy to access Buffett and its get very crowded . Overall hotel interior is nice . I wouldn't stay there again .

Top tip for other guests:

Make sure you book a large room

What I might improve

Guestroom and bathroom
General service
Breakfast
Restaurant and dining

Stay date: August 2016

My Trip Type:

Family

Good location, nice rooms, great staff, tasty breakfast. Got a room upgrade as a SLH Club member. Thank you!

Top tip for other guests:

Geat location to explore the city.

What I liked most

Location
Guestroom and bathroom
Internet and wifi
Welcome and departure

Stay date: July 2016

My Trip Type:

Couple

Staff were pleasant, however, rooms are basic rooms and the design of bathrooms need improvement

Top tip for other guests:

Don't expect 4 or 5 star rooms

What I liked most

Location
Restaurant and dining
Breakfast

What I might improve

General service
Guestroom and bathroom

Stay date: June 2016

My Trip Type:

Family

Beautiful new hotel in Helsinki, great location and friendly service. Rooms are spacious and functional, breakfast was excellent. Highly recommended!

Top tip for other guests:

Surprise yourself with an innovative cocktail at the bar

What I liked most

Welcome and departure
Breakfast
General service
Room service

Wonderful stay in Helsinki

Stay date: May 2016

My Trip Type:

Family

Stylish hotel, close to "everything"! The staff were great, all smiles and service the whole time:) We recieved both a complimentary room upgrade, and a late check-out! The room we were upgraded to was a beautiful 2 bedroom suite, we couldn`t have been more pleased! Large rooms with big beds, large bathroom, clean and well kept. Wifi in room was optimal. The breakfast buffet was on the small side, but all high quality and very tasty. The bread was to die for! We also ate dinner at Krog Roberts, the hotels restaurant, and they offered a wonderful vegetarian 3 course menu. The gym was small, but well equipt, and the bottled cold water and fresh towls availible were highly appreciated. We will without a doubt be staying at Hotel Lilla Roberts on our next visit to Helsinki!

Top tip for other guests:

Book a table at Spis, just around the corner. Unbelievable food!!

What I liked most

General service
Location
Internet and wifi
Guestroom and bathroom
Welcome and departure
Local knowledge and experiences
Restaurant and dining
Leisure facilities
Breakfast

Very good standard ans service

Stay date: March 2016

My Trip Type:

Business

Top tip for other guests:

Nothin in general

What I liked most

Breakfast
Local knowledge and experiences
General service

What I might improve

Stay date: March 2016

My Trip Type:

Business

Perfect Hotel service in Finland. My first opinion.

Top tip for other guests:

Enjoy

What I liked most

General service
Breakfast

Stay date: February 2016

My Trip Type:

Business

Great experience again with the same professional and friendly hospitality.

Top tip for other guests:

A hotel stay should always be better than staying at home

What I liked most

Location
General service
Guestroom and bathroom

What I might improve

Restaurant and dining
Internet and wifi

Stay date: January 2016

My Trip Type:

Business

As always a very friendly and nice welcome and atmosphere!

Top tip for other guests:

A drink in the bar

What I liked most

General service
Internet and wifi
Location
Guestroom and bathroom
Welcome and departure
Restaurant and dining

Coolest Hotel in Helsinki

Stay date: January 2016

My Trip Type:

Business

In my eyes the coolest hotel in Helsinki at the moment. Great rooms, nice lobby and very friendly and helpful stuff

Top tip for other guests:

Check the surroundings

What I liked most

Breakfast
Guestroom and bathroom
Internet and wifi
Welcome and departure
Location
General service

Stay date: December 2015

My Trip Type:

Couple

My wife and I couldn't find any faults with hotel. The staff were very friendly and incredibly helpful with restaurant recommendations/bookings (they managed to squeeze us in to the hotel's restaurant which was already fully booked). Breakfast was always tasty and of a high quality. Towards the end of breakfast the restaurant was very busy although I think how busy it is depends on the time of year. The hotel itself is very stylish and the rooms were comfortable. It is also in the perfect location for the Christmas market. I would stay there again. Thank you to all the staff for making ours a very enjoyable stay.

Top tip for other guests:

Make sure you book early for dinner at the restaurant, it gets booked up very quickly.

What I liked most

Location
General service
Local knowledge and experiences
Guestroom and bathroom
Restaurant and dining
Internet and wifi
Welcome and departure
Breakfast

Friendly service in a great location

Stay date: November 2015

My Trip Type:

Business

Room was nice and clean, service was good.

Top tip for other guests:

No

What I liked most

What I might improve

Stay date: November 2015

My Trip Type:

Couple

Interesting , with a touch of luxury and design

Top tip for other guests:

If You have time reserve before the brunch for saturday

What I liked most

What I might improve

Friendly service, great location

Stay date: November 2015

My Trip Type:

Business

attentive staff that went out of their way to make my stay comfortable. prepared a very early breakfast before restaurant was open to ensure I had a meal before the airport ride.

Top tip for other guests:

good hotel in heart of Helsinki

What I liked most

General service
Location
Breakfast

What I might improve

Too large to be considered 'boutique"

Stay date: November 2015

My Trip Type:

Couple

Lilla Roberts is a new addition to the Small Luxury Hotel Collection. It has over 120 rooms. I feel that it is too large to be considered a small, boutique hotel. It seemed okay as it was clean and organized. However, It was impersonal, cold (temperature) and the rooms were basic.

Top tip for other guests:

impersonal

Stay date: October 2015

My Trip Type:

Couple

Nice brand new hotel, and even though it was fully booked it did not seem crowded. I know it it is very modern and cool to decorate with dark colours but the room could have used something bright to cheer it up a little, it was quite somber. Beds very comfy but the duvet was way too warm. Breakfast was good but nothing special and did not like that you have to pay extra for an omelet or fried egg... They had missed that our rate included a glass of bubbly at the bar, and when I showed the booking at reception where it was clearly stated the girl did not say oh, our mistake here is your voucher, but went to find the manager to check that it was ok to give us the voucher.... not five star service so they clearly have som training of staff to do still. But over all good value for money.

Top tip for other guests:

Service in the bar was excellent

What I liked most

What I might improve

Fantastic facilities, the best hotel in Helsinki now!

Stay date: October 2015

My Trip Type:

Business

The hotel is very chic with stylish furniture and facilities. The bar is very hip and lively, unlike the most Slh hotel bars which often tend to be quiet. Great location near the stunning Hki city center. The best hotel in the city right now!

Top tip for other guests:

Try the lovely drinks of the bar

What I liked most

Breakfast
Location
Guestroom and bathroom
General service

What I might improve

Internet and wifi
Restaurant and dining
Room service

Stay date: October 2015

My Trip Type:

Business

This has really become a recent favourite of mine! After only the first visit, this place feels like home. Very welcoming atmosphere and staff and the rooms are of highest quality. A must if in Helsinki!

Top tip for other guests:

Walk to the hotel from your location, take the opportunity to see Helsinki from foot and not from a taxi.

What I liked most

Internet and wifi
Welcome and departure
Local knowledge and experiences
Guestroom and bathroom
General service
Location

What I might improve

Geeat service and location

Stay date: October 2015

My Trip Type:

Couple

Staff service and friendliness New clean hotel Nice room and very good beds

Top tip for other guests:

New boutique hotel in center of Helsinki

What I liked most

General service
Breakfast
Welcome and departure
Guestroom and bathroom
Location

Stay date: September 2015

My Trip Type:

Couple

This is a newly opened hotel which we liked, but it is not our new favorite hotel in Helsinki. The hotel will probably be better in the future, but we found that at present there were several things that could be improved. The lounge area is the hotel's very popular bar, which is a good bar, but the drawback is that it is often occupied and it could be hard to find a place if you want to relax with a newspaper and a cup of coffee.

Top tip for other guests:

Enjoy the breakfast and visit the bar.

What I liked most

General service
Internet and wifi
Breakfast

What I might improve

Leisure facilities
Welcome and departure
Guestroom and bathroom

Stay date: September 2015

My Trip Type:

Couple

I arrived in Helsinki and since it was my first time in the city, so I took a taxi from the station to the hotel. After doing check in and leaving my bags in the room and I went for a walk. It took only a few minutes to realize how well located and in fact very close from the station the hotel is. Helsinki is a lovely city and so is Lilla Roberts. The staff is super friendly and young and so is the atmosphere. I couldn't think of any other place to stay in such a cool city. I will definitely come back!

Top tip for other guests:

Chic, young and hip!

What I liked most

Location
Breakfast
Internet and wifi
General service
Guestroom and bathroom
Welcome and departure
Restaurant and dining
Local knowledge and experiences
Room service

What I might improve

Potentially great, few teething issues

Stay date: September 2015

My Trip Type:

Couple

The hotel is centrally located and short walk to most things. The reception staff were very friendly and helpful from arrival until departure 7 days later. Our room was comfortable and pleasant. Breakfast was very good (although breads were not as good as in Norway). It was unfortunate that the air conditioning thermostat could not be made to maintain the settting during our stay, despite maintenance. The lack of sugar, tea and milk in the room was also an ongoing/unsolvable issue with housemaid not equipped to provide and room service charging to provide it (credit made at checkout). The intermittent performance of the access card reader to our floor was very frustrating. The prepayment had not been made so currency discrepancies had to be resolved at checkout. It is a pity the "guest lounge" charges for tea and coffee for house guests. The potential is there and Lilla Roberts should be great when the teething issues are resolved.

Top tip for other guests:

Check teething issues are resolved?

What I liked most

Local knowledge and experiences
Location
General service
Welcome and departure

What I might improve

Restaurant and dining
Guestroom and bathroom
Breakfast
Room service

Stay date: September 2015

My Trip Type:

Business

Top tip for other guests:

Price level in restaurant was not really up to output.

What I liked most

Location
Breakfast
Welcome and departure
Leisure facilities
Guestroom and bathroom
Internet and wifi
General service

What I might improve

Luxurious, relaxed and tastefully kitschy

Stay date: September 2015

My Trip Type:

Friends

There's a nice tastefully kitschy feeling about this hotel, which gives it a relaxed albeit luxurious ambience. Good value for money. Very helpful staff. I will return!

Top tip for other guests:

The bar is great!

What I liked most

Welcome and departure
General service
Location
Guestroom and bathroom