https://origin.slh.com/hotels/l-hotel-seminyak-bali/
Hotel Highlights
Dedication to exclusive service, where each guest has a private butler
Experimental cocktails and locally sourced cuisine at L Rooftop Kitchen and Bar
Rejuvenating spa and health centre offering individual yoga instruction
L Hotel Seminyak Bali - LUXURY HOTEL IN BALI
A peaceful, polished retreat among the buzz of the sleek Seminyak district, Bali
From the moment you're greeted by your personal butler, you'll know that L Hotel Seminyak takes tailor-made service to new heights. With every question answered, recommendations on hand and your needs immediately considered, all you need do is relax and savour your surroundings.
L Hotel Seminyak takes its design cues from traditional craftsmanship and contemporary chic. That means white marble walls balanced with rich wooden flooring, and splashes of colour against a palette of neutral tones. The crowning glory of every suite is an intricate, hand carved Balinese ceiling panel. It's hard to leave your room, but if you do the complimentary shuttle takes you to the outdoor pool or the beach. Switch off and book in for a massage or rejuvenating beauty treatments it the hotels spa room. If you've something more energetic in mind, the hotel driver will take you to the partnering Soham Wellness centre where you can take advantage of the pool, sauna and gym
Exploration on the cards? Your butler will be able to put together an itinerary based on your interests. From yoga and heritage tours to pottery making, trekking and organic farm experiences, there are plenty of ways to soak up the local culture. Having the comforts of a luxury boutique hotel to return to each day guarantees a memorable Bali break.
30

rooms

1

restaurant

4

floors
The rooms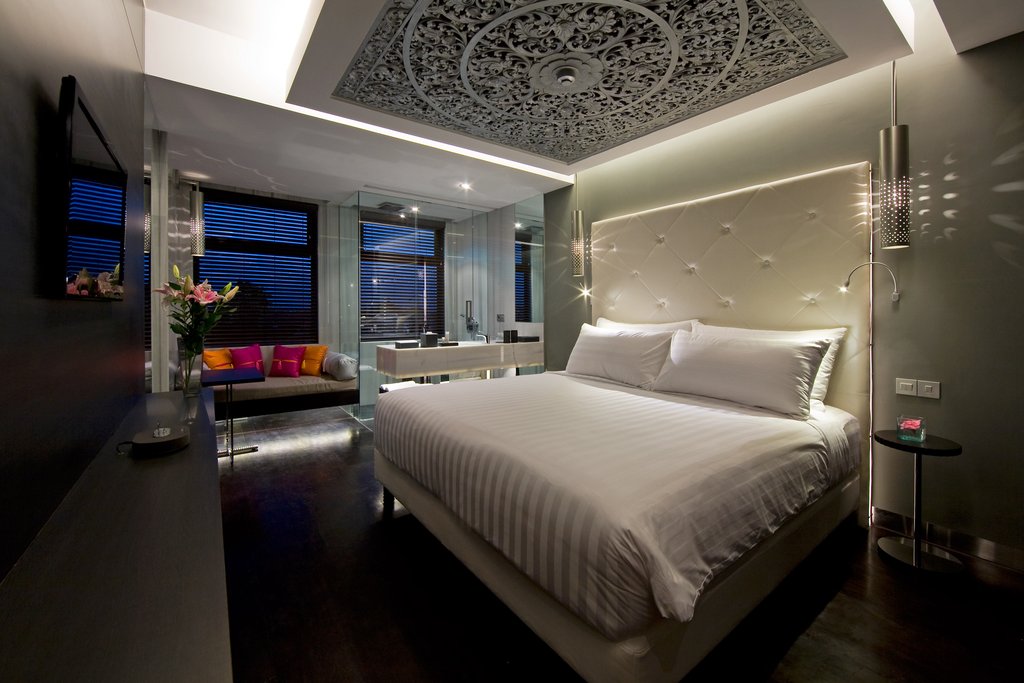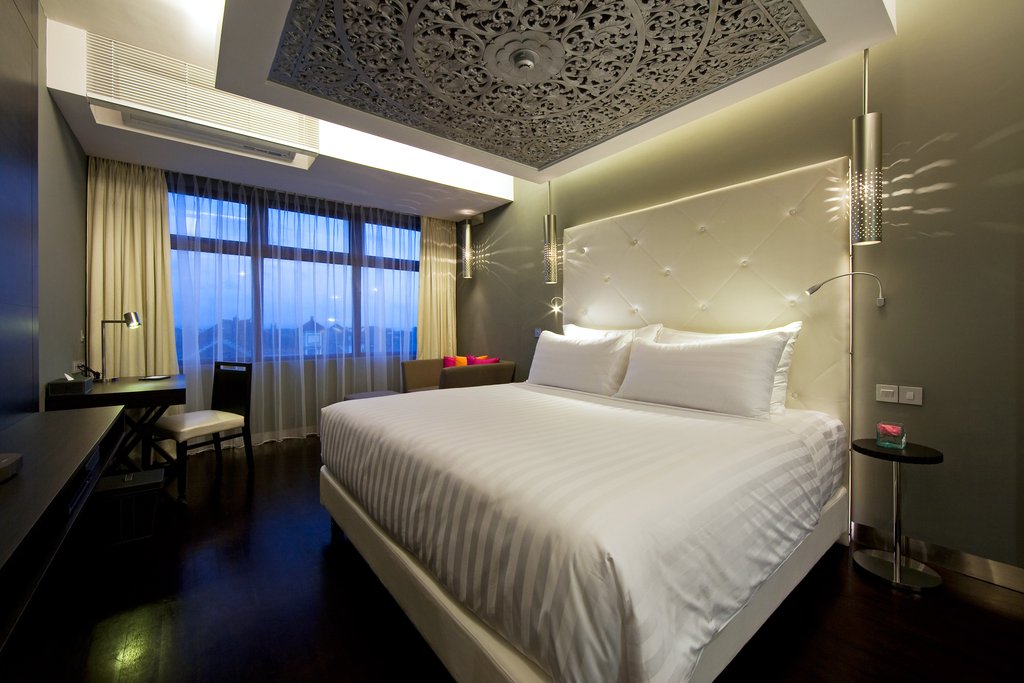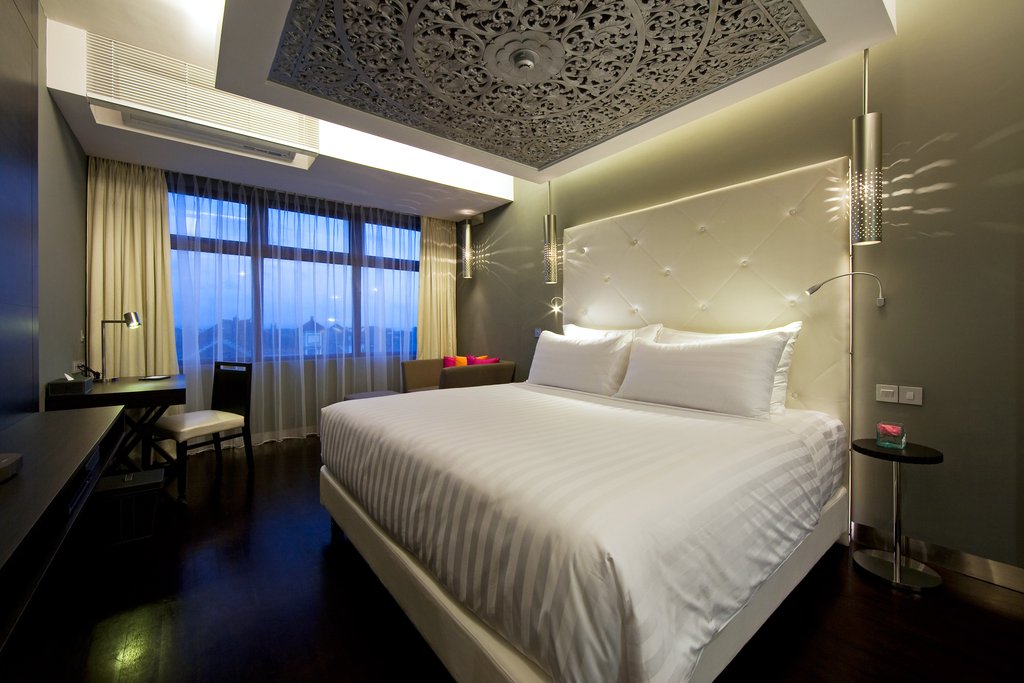 Lifestyle Suite
Sleeps: 2 People.
King Bed | City View | Non-Smoking | Rain Shower | LED TV | Tea and Coffee | Shuttle Service | Butler | Mini Bar | Safe Deposit Box | Bath Amenities | Air Conditioned | WiFi | 29 square metres

Lifestyle Suite is non-smoking and features a luxurious King Bed, a deluxe pillow menu to ensure you enjoy a deep, restful sleep and a super-chill Balinese "bale" for you to while your afternoons and evenings away.
From per night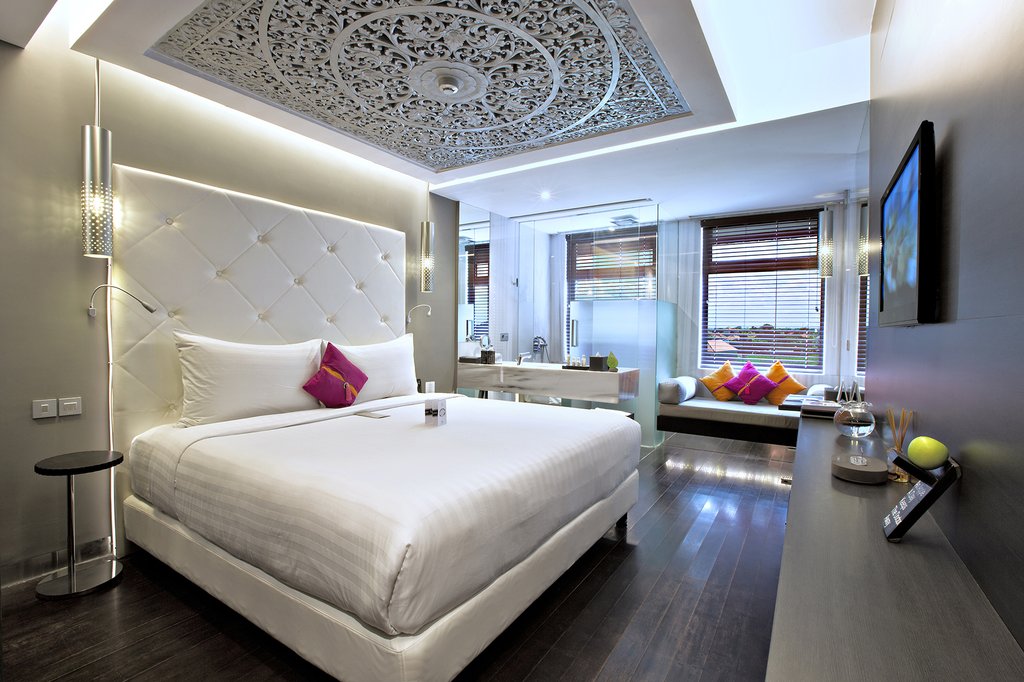 Legian Suite
Sleeps: 2 People.
King or Twin | City or Paddy View | Non-Smoking | Rain Shower | LED TV | Shuttle Service | Butler | Mini Bar | Safe Deposit Box | Bath Amenities | Air Conditioned | WiFi | 29 square metres

The Legian Suites will delight you with the lush and breathtaking views of Padi fields or Bali cityscape complemented by a well designed modern "bale," a luxurious King Bed (or Twin Bed, on request) and is fully non-smoking.
From per night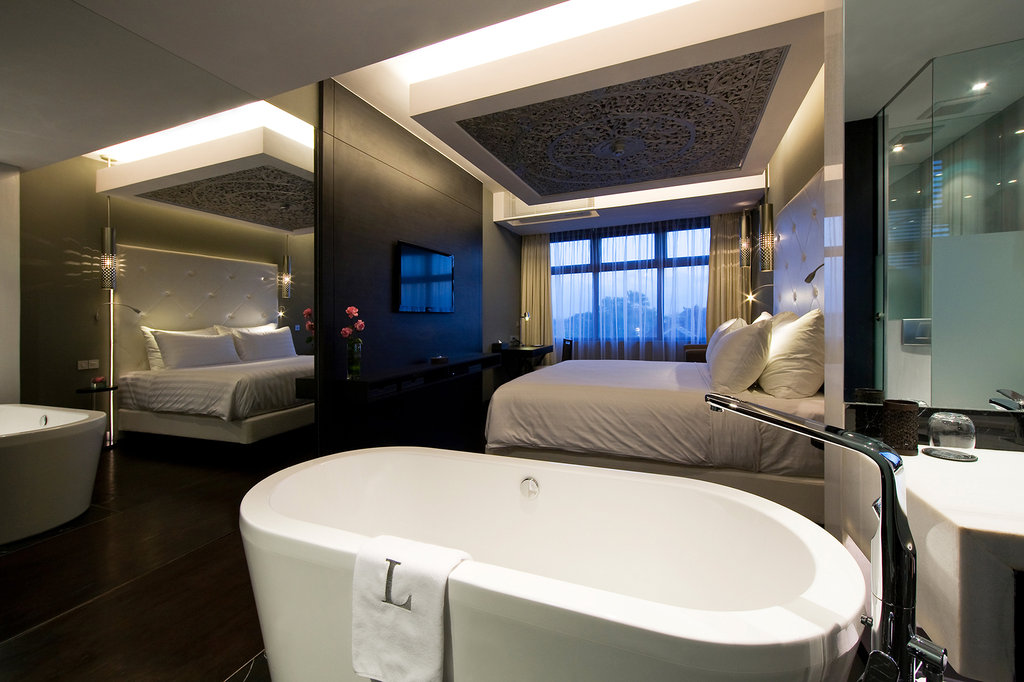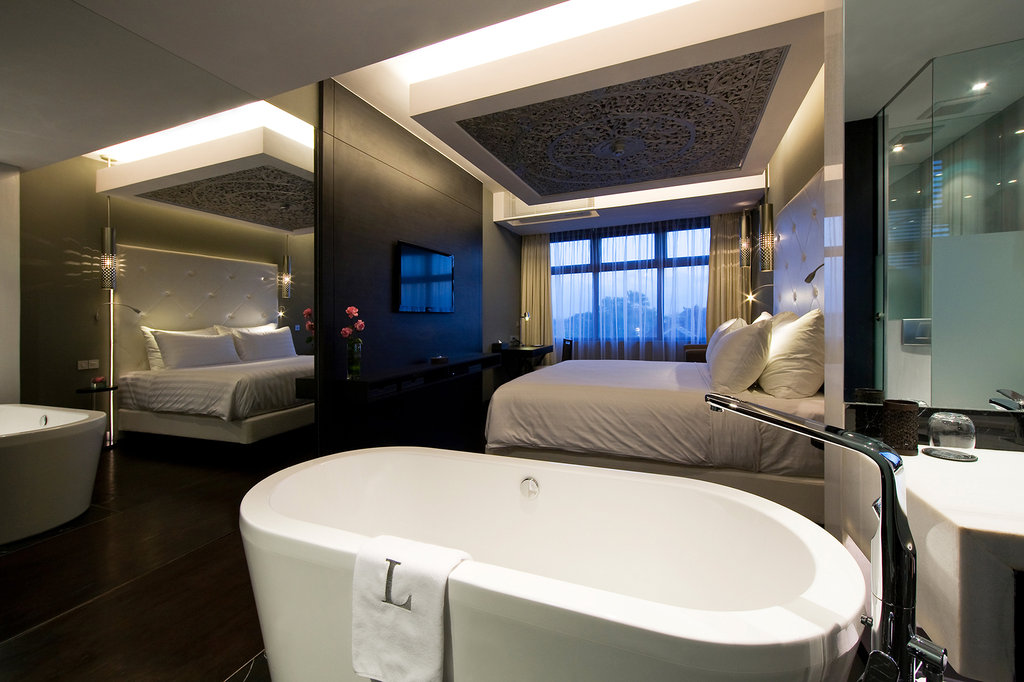 Luxe Suite
Sleeps: 2 People.
King | Jimbaran Bay or Paddy View | Non-Smoking | Shower and Bathtub | LED TV | Shuttle Service | Butler | Mini Bar | Safe Deposit Box | Bath Amenities | Air Conditioned | WiFi | 38 square metres

The Luxe Suites at our elegant Bali luxury hotel are designed to delight and charm you, perfect for the well-heeled traveller or couples seeking the perfect romantic getaway with a luxurious King Bed.
From per night
Air conditioning
Lounges/bars
Parking
24-hour room service
Airport shuttle
Wedding services
Join INVITED and get 10% off exclusive rates. Plus early check-in and late check-outs among other benefits.
24-hour room service

Accessible facilities

Accessible parking

Air conditioning

Airport shuttle

Bell staff/porter

Breakfast

Business Center

Business Center Services

Child programs

Children welcome

Complimentary coffee in lobby

Concierge desk

Continental breakfast

Currency exchange

Doctor on call

Early check-in

Elevators

Family plan

Fire safety compliant

Free airport shuttle

Free parking

Full service housekeeping

Handicap Parking

Housekeeping - daily

Late check out guarantee

Late check-out available

Laundry/Valet service

Lounges/bars

Massage services

Parking

Parking fee managed by hotel

Pets not allowed

Restaurant

Room service

Safe deposit box

Security

Shoe shine stand

Tour/sightseeing desk

Translation services

Turndown service

Valet parking

Wakeup service

Wedding services

Wireless internet connection
Air conditioning

Alarm clock

Bathrobe

Bathroom amenities

Bathtub

Cable television

CD player

Coffee/Tea maker

Color television

Converters/ Voltage adaptors

Cordless phone

Data port

Desk

DVD player

DVR player

Hairdryer

Internet access

Minibar

Mini-refrigerator

Plates and bowls

Remote control television

Safe

Satellite television

Separate tub and shower

Slippers

Smoke detectors

Sofa bed

Speaker phone

Stereo

Telephone
L ROOFTOP
Meals served: Breakfast, Lunch, Dinner
L ROOFTOP is located on the rooftop which provides a spectacular views of Seminyak and the sea over sunset. Offering a fresh and sustainable dining concept delights with farm to table modern European and Asian cuisine.
L'SPA, situated next to quintessential L Hotel Seminyak, rejuvenates you with a holistic array of facials, massages, manicures, pedicures and waxing using premium Clarins, Pevonia and our in house product Langly. Our therapies, especially our massages, offer guests the option of selecting your preferred aromatherapy oils. Signature treatments are our Balinese massage, ayvedic head massage and anti-aging, relaxing and hydrating facials. With 4 cabins, cosy in décor and complemented by an intimate outdoor petite pool and a soothing lounge area, upon arrival you are warmly greeted and settled in by your therapist. Ginger or healthy tea is served before and after your treatment. Opening Hours: Daily 9am to 9pm
Reviews
These reviews are the real opinions of INVITED members and we have verified their stay at the hotel.
What I liked most :

General service (11)
Location (11)
Breakfast (10)
Internet and wifi (8)
Local knowledge and experiences (8)
Welcome and departure (8)
Guestroom and bathroom (7)
Room service (5)
Leisure facilities (4)
General Service (3)
Local knowledge and experience (3)
Welcome and Departure (3)

What I might improve :

Guestroom and bathroom (3)
Leisure facilities (3)

Read Reviews

October 2019

My Trip Type:

Couple

the room is spacious, the staff are very friendly. but the tables in the room are dusty, the floor feels dusty too

Top tip for other guests:

the staff are very friendly, service is great, location is excellent

What I liked most

What I might improve

Not like other SLH hotels

April 2019

My Trip Type:

Individual

Unlike other SLH hotels, L hotel seminyak is a bit old and not as 'luxury' as other hotels, the bed sheets and pillow case show dirts. But of course the room rate reflects what you'd expect. We paid for a higher room rate that comes with a complimentary 60-min massage. But at the time we arrived at the spa, the massage lady was not available at the appointment time. My partner waited 20 mins on the massage bed. The staff finally arrived 20 mins late on motorbike, in her casual dress (not work clothes), and she put down her bag and started the massage directly - without even washing her hands. Since we had a dinner booked, the massage finished in 50 minutes, not 60 as it was said.

Top tip for other guests:

if you are looking for budget hotel

Great small hotel service with a smile - personalising our Bali experience

April 2019

My Trip Type:

Family

From making the initial reservations to being picked up in the hotel van and arriving for our stay, the service team at L Hotel Seminyak were there with a smile and great service. We were able to get a quiet room as requested and given the busy location outside the front door of the hotel, it was a great place to retreat back to of an evening.

Top tip for other guests:

Enjoy happy hour at the roof top bar with great views, great service and interesting drinks.

What I liked most

Welcome and Departure
Location
General Service
Local knowledge and experience
Guest Room and Bathroom
Breakfast
Leisure facilities
Internet and wifi
Other

What I might improve

February 2019

My Trip Type:

Individual

Everyone was incredibly friendly and helpful. I also loved the partnership the hotel has with a local gym/pool. The free transport within Seminyak was also a plus. Breakfast was great with good variety. I would not hesitate to stay here again!

Top tip for other guests:

Don't be afraid to ask for anything that you might need — the staff are quite accommodating!

What I liked most

Welcome and Departure
General Service
Local knowledge and experience
Breakfast

Great place to stay in the heart of Seminyak where you can find your peace

December 2018

My Trip Type:

Friends

I was traveling alone and all the butlers helped me constantly to look for services. Complementary transport is a huge help and relief. Staying at the hotel was extremely pleasant and I got a feeling of being at home with individual approach which meet all my needs.

Top tip for other guests:

Good location further from busy beach but approachable in food as well.

What I liked most

Welcome and Departure
Location
General Service
Local knowledge and experience
Guest Room and Bathroom
Breakfast
Room Service
Leisure facilities

What I might improve

Restaurant and dining
Internet and wifi

The hotel is very dirty. Many places isn'tclean,like desk,bathroom,etc.

October 2018

Three months ago, I booked the hotel because the event was ambiguous and I misunderstood it. On the second day after the reservation, I confirmed the activity conditions with the customer service and was told that the conditions were not applicable. So I applied to cancel the reservation, but I was told that the hotel would not agree to a refund. When I went to check in, I found the hotel particularly dirty, such as tables, windowsill, corner, toilet, bathroom and so on. So I had to go to another hotel for a night. It was a terrible experience and I wasted a night's hotel expenses.

Top tip for other guests:

Three months ago, I booked the hotel because the event was ambiguous and I misunderstood it. On the second day after the reservation, I confirmed the activity conditions with the customer service and was told that the conditions were not applicable. So I applied to cancel the reservation, but I was told that the hotel would not agree to a refund. When I went to check in, I found the hotel particularly dirty, such as tables, windowsill, corner, toilet, bathroom and so on. So I had to go to another hotel for a night. It was a terrible experience and I wasted a night's hotel expenses.

What I might improve

Welcome and Departure
Location
General Service
Local knowledge and experience
Guest Room and Bathroom
Room Service
Leisure facilities

Nice place and great team!

Stay date: October 2015

My Trip Type:

Couple

I would love to share my and my husband's experience at L Hotel – as this is so nice hotel and our stay was absolutely great! We stayed last 5 days of October 2015 – witnessed their preparation for Halloween party, quite a job for decorators ^) And what to tell about the stay: Service: excellent. The whole team is working together very efficiently. Never saw an indifferent face there. Remarkable. At the checkout when we were asked to fill in a questionnaire with the name of the most efficient member of the staff it was nearly impossible to do as we were served perfectly no matter who was dealing with us. Team: very nice, professional, active and attentive young people. Room: spacious, nicely decorated and perfectly clean at all time of the day. Breakfast: the choice of a-la carte is impressive and everything is fresh and tasty. Personally, I was absolutely addicted to their healthy juices. Location: not on the beach but it is compensated by the car-at-call service they are providing. Wherever we'd like to go we just needed to tell to the staff. And whenever we'd like to return, we just needed to call back from the local mobile which is provided. Never waited a car more than 10 minutes. Attentiveness: As I've already mentioned – the hotel team works to make all guests feel really at home. One day we were asked by Tony, The Hotel Director if everything was ok and my husband answered that everything was great except for there wasn't any Brut Sparkling wine at the time of cocktails. Amazingly, it appeared the same evening – Tony promised and Tony provided. We were really touched. So – L Hotel is highly recommended. We will try to return ourselves and advise it to friends and relatives.

Top tip for other guests:

It is a perfect place if you'd like to visit Seminyak

What I liked most

Breakfast
Internet and wifi
Local knowledge and experiences
General service
Welcome and departure
Guestroom and bathroom

"Great Location for exploring Seminyak"

Stay date: February 2015

My Trip Type:

Friends

This was my first visit to Bali & I chose a lovely hotel to experience my first glimpse.. The hotel is located within a convenient stroll to the loacl boutiques & restaurants. The staff exude professionalism & friendliness - always happy to answer questions, suggest tour or restaurant optins and a pleasant welcome or good evening is never far away... We also took advantage of L'Spa - again, the staff here were very professional, knew their respective techniques well & provided a relaxing space to enjoy our spa treatments through out our stay...

Top tip for other guests:

Enjoy a cocktail at Luna rooftop bar .. stroll to the pool for some sunbaking .. & enoy the local hospitality & restaurants..

What I liked most

Location
Local knowledge and experiences
Internet and wifi
Welcome and departure
Breakfast
General service

What I might improve

Stay date: January 2015

My Trip Type:

Couple

Friendly and welcoming staff, excellent service, good location although the roads in Bali can be really congested during peak seasons, average spa, and an excellent menu for breakfast.

Top tip for other guests:

If possible, avoid peak seasons in Bali.

What I liked most

General service
Room service
Location
Guestroom and bathroom
Breakfast
Restaurant and dining
Local knowledge and experiences

Excellent service in a great location

Stay date: December 2014

My Trip Type:

Couple

The staff served with exceptional customer service and were very friendly, from the moment we landed from the airport and used their transfer service through to our check-out, they have been very helpful and understanding of our needs and requests as first-time tourists in Bali. Being a boutique hotel also means that more staff can readily attend to you when you need assistance. I would definitely return to this hotel in my next visit to Seminyak, and recommend this hotel to other friends traveling there.

Top tip for other guests:

Don't be deceived by the small appearance or location of the hotel - the room experience and customer service will make up for it.

What I liked most

Local knowledge and experiences
Internet and wifi
Guestroom and bathroom
Room service
Location
General service
Welcome and departure

Fabulous hotel with excellent service

Stay date: November 2014

My Trip Type:

Family

My mum and me love the hotel! All the staff greeted us with their big smile during the 4 days of our stay in Seminyak. The hotel did an excellent job in welcoming and making the hotel a comfy place like home for us. Room service is efficient and the breakfast we had daily were all delicious and with variety of choices. My mum loves the creativity of the hotel that provided a bedtime story for us every night with an animal figure that made by the bath towel. Staff showed knowledge of the nearby areas and directed us clearly to the restaurant that we were looking for. The shuttle service within Seminyak is excellent and carried out efficiently. Last but not least, we loved the Kiehl's products provided in the room. This is one of the most memorable stay of my travelling experiences. We will definitely recommend the hotel to our friends and share our terrific experience with them. Hope to see you all again when we revisit.

Top tip for other guests:

Book your room with the club website and receive exclusive benefits from the hotel

What I liked most

Breakfast
Internet and wifi
Room service
Leisure facilities
General service
Welcome and departure
Local knowledge and experiences
Location
Guestroom and bathroom
Restaurant and dining

What I might improve

Leisure facilities
Restaurant and dining

Stay date: August 2014

My Trip Type:

Couple

Really i don't have much to say about these beautifull hotel and the perfect service we received. Room a bit small but for short stays really wonderfull

Top tip for other guests:

none

What I liked most

Internet and wifi
Location
Guestroom and bathroom
General service
Local knowledge and experiences
Welcome and departure
Breakfast
Room service
Leisure facilities

Kind and friendly service

Stay date: August 2014

My Trip Type:

Single

location is nice to move to Seminyak beaches and for night life Service is very kind. Staff always available to satisfy yr needs. Rooms small but cleaned. Very nice SPA treatments

Top tip for other guests:

fine for night life in Seminyak

What I liked most

What I might improve

An Excellent little hotel

Stay date: June 2014

My Trip Type:

Single

I am very happy with my recent stay. A small property with much soul. Greeting and arrival procedures were spot on, very relaxed yet effective. The personalized butlers were all pros at what they do. Although property is small, but anything a modern traveler wants is catered for. Excellent huge bed with very comfortable oversized pillows, which is rare in the industry. All amenities are artfully and thoughtfully slotted in within a rather limited floor plan. Breakfast was very generous and of high quality. The shuttle service and free use of hotel mobile to call on help etc. is very welcomed. I made full use of the complimentary shuttle to the beach and the use of lounger and umbrella is included. One issue though, perhaps the hotel would consider installing rubber pads on top deck breakfast area's furniture. I stayed one floor below the restaurant and the pulling and moving about of furniture created rather loud and annoying disturbance. You might like to request a room away from this floor. All in all, an excellently run property and a strong contender in the very competitive and saturated Seminyak accomodation scene.

Top tip for other guests:

Make full use of the local shuttle service. Onwards travel plans were taken care of by L hotel with very competitive rates. Stay away from second to top floor to avoid unwanted noise.

What I liked most

Welcome and departure
Guestroom and bathroom
General service
Location

small room with decent amenities

Stay date: July 2014

My Trip Type:

Single

people were friendly especially the hotel manager, Mr. Suk no free upgrade even booking via SLH, but got early check-in though room was very small indeed like the Kiehl's toiletries breakfast portion was generous

Top tip for other guests:

not really suitable for family with kids, even the room with bath tub looked quite small to me

What I liked most

Internet and wifi
Welcome and departure
General service

What I might improve

Breakfast
Guestroom and bathroom

Stay date: June 2014

My Trip Type:

Family

We received a really warm welcome. The staff continuously did everything they could to enhance our stay. There is a free shuttle service to anywhere in Seminyak, and they loan you a local mobile to call them for pick up. Excellent way to get around as the streets are not pedestrian friendly.

Top tip for other guests:

book a hotel with a shuttle service in Seminyak

What I liked most

Welcome and departure
Guestroom and bathroom
Local knowledge and experiences
Breakfast
General service
Internet and wifi
Location

Stay date: May 2014

My Trip Type:

Couple

(Advantages) Hotel employees are so nice and kind. They always smile to me and kindy explain the hotel and surrounding sightseeings or restaurants. I used 24hrs suttle and buttler services. The services are very nice and wonderful for moving other areas in Seminyak. The breastfast is also great. My buttler always meet me in the morning, at the rooftop restaurant (also called lunabar in the evening). There are two swimming pools (indoor and outdoor) and they are also useful. But the water of pool is cold in the morning, evening and night. but if you are very hot or sweaty, the pool is very good for cooling your body. In my case, I am very pleasure for swlmming and cooling my head and body. The spa is also nice although the area of spa is small. Eventhough there is small swimming pool in the spa! Minibar is free and I always enjoy it. It is very useful when I am thirsty. (Disadvantages) The rooms are small, except of luxury suite and there are some noise from next room in all suites. And some bad odor is in shower booth in my room (may be room No. 108, luxury suite).

Top tip for other guests:

It is small but powerful

What I liked most

Local knowledge and experiences
Breakfast
Room service
General service

What I might improve