https://origin.slh.com/hotels/le-pavillon-des-lettres-hotel/
Hotel Highlights
Boutique hotel celebrates French and international literature
Rooms display writing on the walls from writers such as Hans Christian Andersen and Emile Zola
Breakfast and snacks are served in the stylish lounge, with honesty bar
Le Pavillon des Lettres - BOUTIQUE HOTEL IN PARIS
Contemporary boutique hotel situated in central Paris
Paris' first literary inspired hotel, Le Pavillon des Lettres pays homage to stylish design as well as the literary greats with rooms named and themed after famous authors and poets. Situated close to Place de la Madeleine, this intriguing boutique hotel is as chic as the fashions in the designer boutiques in nearby Rue Saint Honoré.
Each one of the 26 rooms at Le Pavillon des Lettres reflects the works of the author after which it is named. With writers ranging from Hans Christian Andersen to Emile Zola, the interior design is sleek and understated with colour tones chosen for relaxation. Carefully chosen texts on the walls are designed to contribute towards reflection and contemplation.
Le Pavillon des Lettres' central location is perfect for sightseeing as well as a spot of designer shopping. It is also within walking distance of the Avenue Champs Elysées and Le Jardin de Tuileries. Take the short stroll to Place de la Madeleine for a wide choice of restaurants for dinner. The hotel also has a number of bikes available for guests to use at no extra charge. Return to the hotel for a late drink from the honesty bar in the Salon before retiring to your room.
The rooms
Superior room
Sleeps: 2 People.
Les Littéraires are the Superior double bedded rooms offering a noticeable and functional comfort. These rooms encourage an artistic relaxation.

Complimentary wifi access, Ipod station, air conditioning, safety box and minibar. 17 square metres.
From per night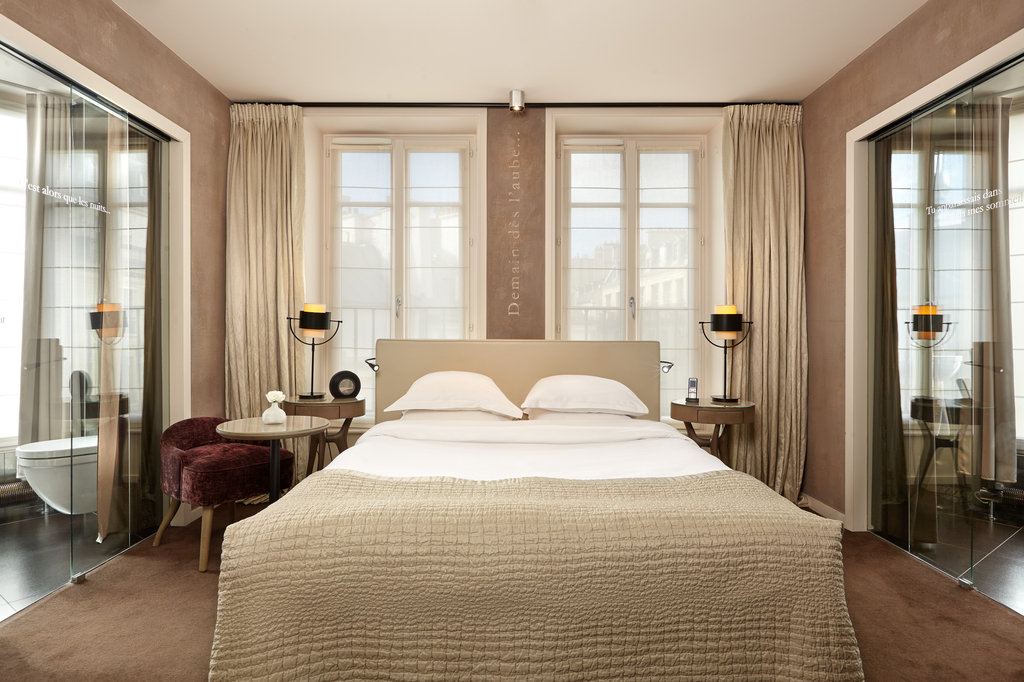 Deluxe Room
Sleeps: 2 People.
Les Belles Lettres announce our Luxury double or twin bedded rooms where soft tints combine with beautiful coordinated furnishings. This rooms invite you to Dreams and Aspirations.

Complimentary wifi access, Ipod station, Air Conditioning, safety box and mini bar. 20 square metres.
From per night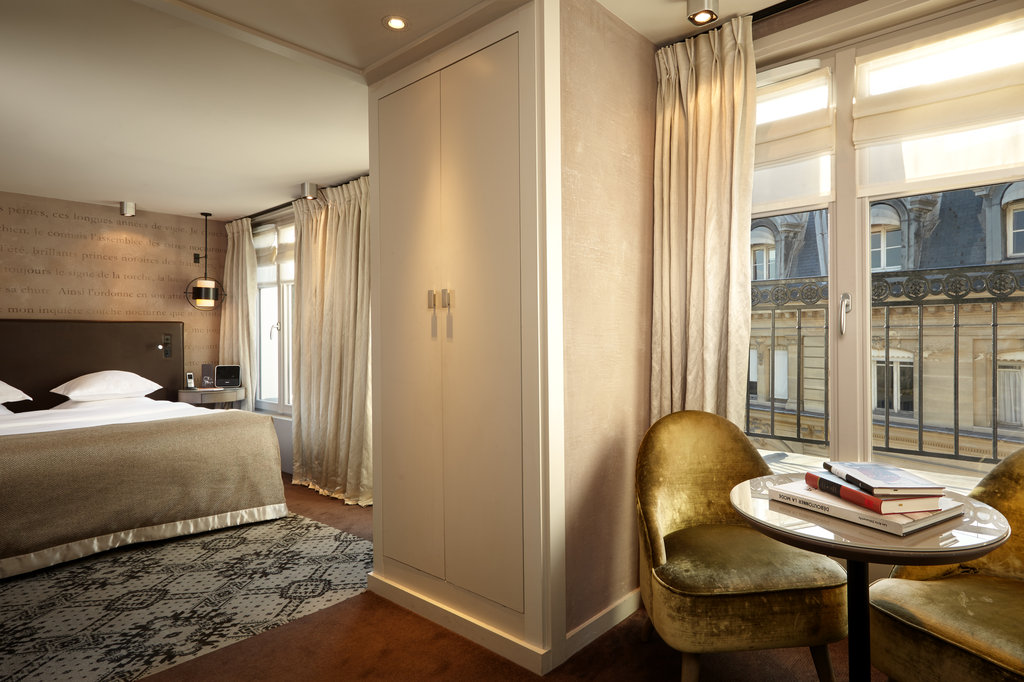 Junior Suite
Sleeps: 3 People.
Les Romantiques unveil the elegance and refinement of the materials used in the majestic Junior Suites double or twin beds facing the Eiffel Tower or to the harmonies of the Rooftops of Paris.

A real encouragement to contemplation and serenity. Complimentary wifi access, Ipod station, air conditioning, safety box and minibar. 25 square metres.
From per night
Quadruple Room
Sleeps: 4 People.
2 connecting rooms with 2 bathrooms 37 SQM 395 SQFT

Superior Room connecting to a Deluxe room with 2 Double Beds and 2 bathrooms. Private hall. 2 double bed or twin bed upon request and a double bed. Complimentary Wi-Fi access, Ipod station, air conditioning, safety box and minibar. 25 square metres.
From per night
Lounges/bars
Join INVITED and get 10% off exclusive rates. Plus early check-in and late check-outs among other benefits.
24-hour front desk

24-hour security

Accessible facilities

Air conditioning

Buffet breakfast

Children welcome

Complimentary shoeshine

Concierge desk

Family plan

Full service housekeeping

Housekeeping - daily

Lounges/bars

Onsite laundry

Parking fee managed by hotel

Pets not allowed

Please check with the Hotel for up to date pricing.

Restaurant

Room service

Room service - limited hours

Security

Wakeup service
Alarm clock

AM/FM radio

Bathroom amenities

Bathtub

Color television

Desk

Hairdryer

Internet access

Lighted makeup mirror

Minibar

Non-smoking

Remote control television

Safe

Satellite television

Separate tub and shower

Smoke detectors

Telephone

TV
Breakfast Lounge
Cuisine type: French
Meals served: Breakfast
Breakfast is served from 7 to 10.30 AM daily during the whole week. Lounge open all day long and snack is offered all day long. Honesty Bar at the Lounge.
Reviews
These reviews are the real opinions of INVITED members and we have verified their stay at the hotel.
What I liked most :

Location (81)
Guestroom and bathroom (50)
Breakfast (48)
Welcome and departure (46)
General service (45)
Internet and wifi (31)
Local knowledge and experiences (13)
General Service (12)
Welcome and Departure (12)
Guest Room and Bathroom (11)
Local knowledge and experience (7)
Room service (7)
Leisure facilities (4)
Restaurant and dining (4)

What I might improve :

Breakfast (15)
Restaurant and dining (10)
General service (7)
Leisure facilities (7)
Guestroom and bathroom (6)
Internet and wifi (6)
Guest Room and Bathroom (3)
Welcome and departure (3)

Read Reviews

July 2019

My Trip Type:

Couple

The rooms offers a lovely view

Top tip for other guests:

Order breakfast to the room!

What I liked most

Welcome and Departure
Location
General Service
Guest Room and Bathroom
Breakfast
Room Service

What I might improve

Restaurant and dining
Internet and wifi

Nice small hotel in great location

July 2019

My Trip Type:

Couple

Le Pavillon Des Lettres is just a stone throw away from the heart of boutique areas. Wonderful service. Nicely decorated rooms with lots of natural lights.

Top tip for other guests:

Always lock the door behind you with the room key you received. It is better to leave the key at the reception before going out to avoid losing it.

What I liked most

What I might improve

Guest Room and Bathroom
Breakfast

Boutique hotel at its best.

May 2019

My Trip Type:

Couple

Very welcoming front of house staff. Found the overall feel of the hotel to be warming.

Top tip for other guests:

Enjoy your stay

What I liked most

Welcome and Departure
Location
General Service
Local knowledge and experience
Guest Room and Bathroom

What I might improve

Fantastic hosts - fantastic time

April 2019

My Trip Type:

Couple

Top tip for other guests:

-

What I liked most

Welcome and Departure
Location
General Service
Local knowledge and experience
Guest Room and Bathroom
Breakfast

My new favourite place to stay in Paris

April 2019

My Trip Type:

Friends

I can't tell you enough good things about this hotel! Great service, attentive management, beautiful rooms and bathrooms. Lovely breakfast and tapas/honesty bar every evening. Of course, there is a little bit street noise (not traffic or nightlife, but just rubbish collections or deliveries) but you are in a heart of Paris! Rooms are smallish but very cosy and bathrooms are well lit, generous in size and very good quality. The reception and the manager herself can't do enough for you - recommendations, restaurant bookings etc. I loved it and I can't wait to stay there again. This cosy hotel is a reason in itself to come back to Paris!

Top tip for other guests:

Shopping around the corner and you could walk pretty much everywhere from the hotel. Wonderful base for sightseeing and retail therapy.

What I liked most

Welcome and Departure
Location
General Service
Local knowledge and experience
Guest Room and Bathroom
Breakfast
Internet and wifi

March 2019

My Trip Type:

Family

The best hotel i have been in Paris!

Top tip for other guests:

Excellent Hotel

What I liked most

Welcome and Departure
Location
General Service
Local knowledge and experience
Guest Room and Bathroom
Breakfast
Restaurant and dining
Leisure facilities

What I might improve

Welcome and Departure
Location
General Service
Local knowledge and experience
Guest Room and Bathroom
Breakfast
Leisure facilities

February 2019

My Trip Type:

Individual

I was fascinated by the Pavillion des Lettres: it offers exquisite accommodation and warm and friendly service in an unbeatable location. My stay was impeccable in every way and I would definitely return.

Top tip for other guests:

I highly recommend this property. It proved to be one of the best experiences in Paris.

What I liked most

Welcome and Departure
Location
General Service
Local knowledge and experience
Guest Room and Bathroom
Breakfast

January 2019

My Trip Type:

Couple

Service was great Tapas and breakfast were excellent but room was a bit too small

Top tip for other guests:

Great hotel

What I liked most

Welcome and Departure
Location
General Service
Local knowledge and experience
Breakfast

What I might improve

February 2019

My Trip Type:

Couple

Brice was simply fantastic - the welcome, care, insights into local activities, the departure - he is one true hotelier that took care of everything. We cannot thank him enough for making our trip to Paris fabulous. The view was only amazing and loved the terrace room!

Top tip for other guests:

A perfect location to relax and close to everything!

What I liked most

Welcome and Departure
Location
General Service
Local knowledge and experience
Guest Room and Bathroom
Breakfast
Restaurant and dining

What I might improve

December 2018

My Trip Type:

Family

Hotel exceeded all our expectations, superb friendly service and excellent luxurious family room (two bedrooms / two bathrooms: corner location). Room service was very good too. Location is so central and walking distance to all the main sites. We had a fabulous 2 night break in Paris and the hotel made all the difference. Thank you.

Top tip for other guests:

Pick this hotel for both business and leisure: excellent location. The hotel is decorated with a lot of taste, great attention to details. Service is superb, very friendly and attentive.

What I liked most

Welcome and Departure
Location
General Service
Guest Room and Bathroom

Good service and comfortable stay.

December 2018

My Trip Type:

Business

Top tip for other guests:

Lovely stay in a central location

November 2018

My Trip Type:

Business

The hotel was nice in general though there were a few moments of miscommunication: 1) Like the complimentary tapas bar, we didn't realize only the tapas were complimentary but not the drinks as the staff only mention it as a "complimentary tapas bar". We saw another guest misunderstanding how the tapas bar worked as well. 2) Both my husband and I heard the staff said everything in the room was complimentary during check in, but were informed later that the minibar was actually additional. 3) We ordered room service (salmon with vegetable spaghetti) one night, but it took almost an hour for the food to arrive. The staff explained that they could not deliver the food to our room as they failed to ask for our room number. He tried to call back and asked for our room number but was in vain. We thought if he could call us back he should know our phone number and in turn our room number. So the delay was not exactly justified.

Top tip for other guests:

The hotel is nice for business trips as it is conveniently located and offer nice breakfasts.

What I liked most

Welcome and Departure
Location
Guest Room and Bathroom
Breakfast

What I might improve

Local knowledge and experience
Room Service
Leisure facilities
Internet and wifi

Beautiful gem in bustling Paris

November 2018

My Trip Type:

Couple

Waking up and having a delicious relaxing French breakfast with little roses on the table. We enjoyed pre-dinner drinks by the fire with little bites.

Top tip for other guests:

The staff is excellent and the rooms are spotless. Located in a beautiful neighborhood within walking distance of many attractions and fantastic shopping. I highly recommend this lovely small luxury hotel.

What I liked most

Welcome and Departure
Location
General Service
Breakfast
Leisure facilities

Fantastic boutique hotel.

October 2018

The location and property are fantastic.

Top tip for other guests:

Book the Calderon room on floor 5. Balcony with a view of the Eiffel Tower.

What I liked most

Location
Guest Room and Bathroom
Internet and wifi

What I might improve

Breakfast
Restaurant and dining

September 2018

The reception team were incredibly hospitable and accommodating. They made us feel at home. The Deluxe room was beautiful with a chic and clean bathroom. Perfect size room for a couple. All popular destinations were within walking distance. Would stay here again.

Top tip for other guests:

Deluxe room is worth it

What I liked most

Welcome and Departure
Location
General Service
Guest Room and Bathroom
Breakfast
Internet and wifi

What I might improve

Los Angeles

My Trip Type:

Couple

Excellent friendly staff. Lovely room. Unique theme.

Top tip for other guests:

Try Breakfast / Happy Hour at outside tables.

What I liked most

Welcome and departure
General service
Breakfast
Guestroom and bathroom

London

My Trip Type:

Business

After a full day of meetings is always a pleasure to return to this boutique hotel: very comfortable rooms, pleasantly decorated and a good breakfast. Staff are welcoming and professional. Great central location too.

Top tip for other guests:

Great central location

What I liked most

Guestroom and bathroom
Breakfast
Welcome and departure
Location

Perfect Stay at a beautiful city

Hong Kong

My Trip Type:

Couple

Perfect location - quiet but close to beautiful attractions and shops and feel secure to walk around. Perfect room with a member upgrade to junior suite where we had dinner at balcony, with perfect amenities and room details. Perfect staff - everyone serves at their best to make us feel most comfortable. Buffet breakfast to start a perfect day of tour.

Top tip for other guests:

Perfect chocalate shop Patrick Roger just 5 minutes walk away

What I liked most

General service
Internet and wifi
Local knowledge and experiences
Welcome and departure
Breakfast
Restaurant and dining
Guestroom and bathroom
Location
Room service

Stay+date:+March+2017

My Trip Type:

Couple

Needs a little maintnance with the room details. Definitely needs more variety for breakfasts and better bread quality. The staff is very welcoming and helpfull.

Top tip for other guests:

Ask for biggest room available. Go for their 5PM drink.

What I liked most

Guestroom and bathroom
Welcome and departure
Location

What I might improve

Breakfast
Restaurant and dining
Leisure facilities

Cozy and sophisticated atmosphere

Stay date: January 2017

My Trip Type:

Couple

Very nice small feeling, well designed rooms, great location

Top tip for other guests:

Have lunch at Le Grifonnier, 1 minute walk

What I liked most

Guestroom and bathroom
Location
Welcome and departure
General service
Breakfast

Stay date: January 2017

My Trip Type:

Friends

Is there a point to be a member of SLH? The room was not ready. We arrived at 13.00. How do we know,that we did have an upgrade? We left our luggage in the room to be collected by the staff before our departure. One paper carrier bag was left and when we inquired after it, they have to go through rubbish and get it together again. All the bags were left in obvious place. Of course they apologised, but...

Top tip for other guests:

Only if you are some kind of celebrity

Hotelier reply:

Dear Jolanta, We would like to thank you for your review and for choosing Le Pavillon des Lettres for your last stay in Paris. We would like to apologize again for our lack of care during your departure. We should have thoroughly checked your room, the closet, the safety box, the different bags left when collecting your luggage. As for the check-in time, we do our best to have the room the earliest possible but as we were fully-booked on January 10th we could not have it before 2pm this time. Also as you mentioned you were actually upgraded but our Reception team missed to inform you when escorting you to the room. Your comments are very valuable for us you can be sure they have been discussed with the staff concerned to make sure it does not happen again and to improve our quality of service. We hope that despite our shortcomings you will grant us a new opportunity to welcome you back at Le Pavillon des Lettres. Kind regards Benoit Saudemont Assistant de direction - Assistant manager

What I liked most

What I might improve

Breakfast
Internet and wifi
General service

A gem in the shopping district!

Stay date: January 2017

My Trip Type:

Couple

We had a wonderful stay at Le Pavillon des Lettres. The quality of the furnishing, amenities, and breakfast certainly surpassed our expectations. We are already planning to be in Paris again, and of course will return to Le Pavillon des Lettres.

Top tip for other guests:

Not to be missed: the hotel's own tapas hours!

What I liked most

Location
Internet and wifi
Welcome and departure
Guestroom and bathroom
Breakfast

Stay date: January 2017

My Trip Type:

Couple

Great reception. Great room. Helpful staff. Perfect location.

Top tip for other guests:

Try to stay in the room with the view of the Eiffel Tower.

What I liked most

Welcome and departure
Breakfast
Internet and wifi
Guestroom and bathroom
Location

Stay date: January 2017

My Trip Type:

Couple

Small but cosy Clean and Nice design

Top tip for other guests:

Use The byciicles

Hotelier reply:

Dear Mr Carprieaux, We would like to thank you for choosing Le Pavillon des Lettres for your last stay in Paris and for this great review! I am very pleased to see that you liked the hotel and enjoyed your stay among us. Thanks as well for your kind words to the staff. We look much forward to welcoming you back soon among us Kind regards Benoit Saudemont Assistant manager

What I liked most

Location
Internet and wifi
Welcome and departure
General service
Leisure facilities

Stay date: January 2017

My Trip Type:

Friends

Top tip for other guests:

Book a Deluxe Room - it is worth it

What I liked most

Welcome and departure
General service
Local knowledge and experiences
Guestroom and bathroom

What I might improve

Stay date: December 2016

My Trip Type:

Business

Perfect City location, convenient for both work and leisure. Very well designed rooms, comfortable and practical and great use of space. Perfect breakfast service. Friendly professional staff

Top tip for other guests:

location could'nt be more convenient: great base to enjoy all that Paris offers

Hotelier reply:

Dear Mr Jansen, Thanks a lot for this great review and for your loyalty to Le Pavillon des Lettres! I am very happy to read that you are still enjoying very much your stays among us, our guests' comfort and well-being is our first concern of course! We wish you a very nice season holiday and we look much forward to welcoming you back in 2017 Kindest regards Benoit Saudemont Assistant Manager

What I liked most

Location
Guestroom and bathroom
General service
Breakfast

Stay date: November 2016

My Trip Type:

Couple

Nice experience. Location is perfect to visit Paris downtown. The hotel is very clean and staff very welcoming. Good to have Honesty Bar option in the evening. Breakfast selection can be improved.

Top tip for other guests:

Recommended.

What I liked most

Welcome and departure
Location
General service
Guestroom and bathroom

What I might improve

Fit for any Parisian stay

Stay date: November 2016

My Trip Type:

Couple

Booked for a last minute overnight stay in Paris, the hotel is ideally located whether you stay there for business or leisure. Welcome was warm and the check-in was a breeze.

Top tip for other guests:

Get a room with a balcony

What I liked most

Location
Welcome and departure
General service

What I might improve

Stay date: November 2016

My Trip Type:

Business

great Location, very friendly staff, cosy Lounge and nice breakfast

Top tip for other guests:

Be aware that parking might be tricky

Hotelier reply:

Dear Mr Schoepf, Thanks a lot for this great review! We are very pleased to see that you had a pleasant time among us and that you liked the hotel and its location. We look much forward to welcoming you back soon! Kindest regards Benoit Saudemont Assistant Manager

What I liked most

Guestroom and bathroom
Location

Stay date: November 2016

My Trip Type:

Couple

Everything was excellent.

Top tip for other guests:

No tips.

Hotelier reply:

Dear Mr and Mrs Kurganskyy, Thanks so much for your great review! It was a pleasure to meet you this month and I am very happy to read that you had an Excellent stay among us. We are all looking much forward to welcoming you back soon. Kindest regards Benoit Saudemont Assistant Manager

What I liked most

Location
Guestroom and bathroom
General service
Breakfast
Internet and wifi
Welcome and departure

Nice hotel, nice situation

Stay date: November 2016

My Trip Type:

Couple

Very nice hotel, excellent situation right across the Palais de l'Elysée. Very calm and agreeable stay. Good idea tio have a cozy honesty bar with snacks. Rooms on 5th floor are nice an light, with some views of Eiffel Tower and a small balcony. Well appointed bathrooms with a bathtub. It would be preferable to have a shower instead.

Top tip for other guests:

fifth floor rooms

Hotelier reply:

Dear Mr Muehle, We would like to thank you for staying at Le Pavillon des Lettres for your last trip in Paris and many thanks as well for this very nice review. We are very happy to read about your experience and see that you liked our Tapas hour at the bar! The rooms on the 5th floor are indeed very luminous with balconies offering a great view especially the Diderot you had which is one of the best rooms in the hotel. I must admit I prefer the shower as well but we also have so many requests for bathtub…! Looking forward to welcoming you back soon With our kindest regards Benoit Saudemont Assistant manager

What I liked most

Breakfast
Location
Guestroom and bathroom

What I might improve

Very good hotel in perfect location and attentive service

Stay date: November 2016

My Trip Type:

Couple

A weekend stay in a very good hotel. The location is indeed perfect and we recognized friendly and attentive service from the hotel staff.

Top tip for other guests:

An early reservation for the garage is recommendable if travelling by car.

Hotelier reply:

Dear Mr Mueller, Thanks so much for your nice review. It was a pleasure to meet you and have you among us last week-end. Very happy that you loved the hotel, our location and service! We all look much forward to welcoming you back soon! Kind regards Benoit Saudemont Assistant Manager

What I liked most

Guestroom and bathroom
General service
Welcome and departure
Breakfast
Location

What I might improve

Lovely smal hotel in great location

Stay date: October 2016

My Trip Type:

Couple

The hotel is lovely in many ways, and the location is great. The staff were accommodating and professional; the breakfast is very nice. The only drawbacks are (a) many of the rooms are quite small and (b) they have succumbed to the the ridiculous "design" fad of glass doors on the bathrooms, which we find completely appalling if two people, even two long-married people such as ourselves, are occupying the room. We did find one room with a bit of a corridor that attenuated the effect of this degradation of normal, decent standards. We would hesitate to stay there again, although the hotel is otherwise attractive and the prices are reasonable.

Top tip for other guests:

If you don't like glass bathroom doors that go directly into the room, check out the floor plan of the room they are giving you before committing.

Hotelier reply:

Dear Mr Schraa, We would like to thank you very much for your nice review and words further to your stay at the Hotel Pavillon des Lettres. We took good note of your comment regarding the design of our bathroom doors. Indeed our Architect has chosen to design glass doors to offer the maximum of daylight and space in the room and the bathroom. We added some blackout curtains to offer privacy to our guests. Le Pavillon des Lettres is an original literary hotel with 26 rooms, each dedicated to a different letter in the alphabet and a great writer. Each glass bathroom door is personalized according to the author of your room. It is part of the concept of the hotel. We are sorry that you did not enjoy this detail. If you would like to come back to Paris, we would be delighted to welcome you at the sister property Le Pavillon de la Reine, with 54 individually rooms, each offering a separate bathroom. Kind regards, Benoit Saudemont Assistant manager

What I liked most

Welcome and departure
Breakfast
Location
General service

What I might improve

Great location just behind branded shopping street!

Stay date: October 2016

My Trip Type:

Couple

We stayed in total of 5 nights (2 nights in Deluxe + 3 nights in Superior rooms). Overall experience was good except we feel that the Superior room we stayed in was very small and both rooms have low ceilings. We wished we could get a room upgrade since we are a SLH member and stayed more than 2 nights. Great location if you fancy for branded shopping, the shopping street is only 2 mins away by foot. Very good service by all the staffs we dealt with.

Top tip for other guests:

Great location for branded shopping

What I liked most

What I might improve

Stay date: September 2016

My Trip Type:

Family

A fabulous weekend with my daughter at this hotel in Paris. Great location for a run on the Seine, trip to Orangeries or Louvre. Rooms interesting and size is to be expected in Paris. Excellent breakfast in quiet reception area and all around a great weekend spent here.

Top tip for other guests:

Great location.

Stay date: September 2016

My Trip Type:

Business

This was my second time at this hotel. I was on a business trip and the location was a primary issue for me. Bt everything else in this hotel is also great. The rooms are clean and comfortable The staff is helpfull and professional I would add a little more variety to the breakfast. Some more fresh friut maybe

Top tip for other guests:

If you want to have a dinner on the terrace book in advance.

What I liked most

Location
Welcome and departure
Guestroom and bathroom
General service
Local knowledge and experiences
Room service
Internet and wifi

What I might improve

Very good for Paris City Stay

Stay date: August 2016

My Trip Type:

Couple

The place is perfect but it is difficult with a car. Fine breakfast and nice modern rooms.

Top tip for other guests:

Breakfast

What I liked most

Location
Breakfast
Guestroom and bathroom

What I might improve

Great room and friendly service.

Stay date: August 2016

My Trip Type:

Couple

We were well looked after from arrival to a late departure. The hotel theme and the photo exhibition were entertaining! Very considerate staff.

Top tip for other guests:

Primarily a business location

What I liked most

Local knowledge and experiences
Breakfast
General service
Welcome and departure

Great location, charming and unique

Stay date: July 2016

My Trip Type:

Couple

Located centrally and easy to walk to high-end boutiques, the Tuileries, and several museums, Le Pavillon was charming and unique, and i loved the book-themed rooms. We were upgraded to a junior suite, which came with complementary holiday ornament bearing the hotel's name, as well as a vial of room fragrance that was used in the hotel. I absolutely loved the modern bathroom and the Parisian balcony overlooking the rooftops of the neighborhood. The bed was comfortable, and the amenities were top-notch.

Top tip for other guests:

Spend time on the balcony in the morning, if you have one, and breathe in the Parisian morning air!

What I liked most

General service
Guestroom and bathroom
Location
Breakfast
Welcome and departure
Internet and wifi

Great location, very comfortable rooms and friendly service

Stay date: July 2016

My Trip Type:

Business

Very convenient centre city location. Comfortable modern rooms, friendly front desk staff and good buffet breakfast

Top tip for other guests:

Excellent location

What I liked most

Guestroom and bathroom
General service
Location

What I might improve

Stay date: June 2016

My Trip Type:

Couple

small and charming hotel. It has great location for moving through paris. The rooms have very good beds including sheets and pillows. Beautifully decorated. All the staff was very attentive and polite, specially its manager Benoit Saudemont. Very good breakfasts. Definitely we will be back to stay in this hotel.

Top tip for other guests:

suite baudeliere

What I liked most

Location
Guestroom and bathroom
General service
Breakfast
Welcome and departure

Stay date: June 2016

My Trip Type:

Couple

Lovely homey boutique hotel - staff could not have been more friendly and helpful - no request denied and each promptly handled.

Top tip for other guests:

Le Grand Restaurant around the corner is pricey but wonderful

Stay date: June 2016

My Trip Type:

Friends

Close to President's Palace, many major attractions can be reached rather fast (especially by bicycle). Some rooms have a small balcony, which provides nice views over the rooftops of Paris.

Top tip for other guests:

Hotel provides two bicycles that can be hired for free.

What I liked most

Breakfast
Welcome and departure
Location
Guestroom and bathroom

Excellent Location and Wonderful Staff

Stay date: June 2016

My Trip Type:

Single

This was my second stay at Le Pavillon des Lettres and it is truly a wonderful hotel. While the hotel isn't as well known as others in Paris, the wonderful staff and the hotel's perfect location right near le rue du Faubourg Saint-Honoré make this the perfect hotel. By the time I left, the staff downstairs knew what tea I wanted at breakfast, something that never happens in most hotels where I stay. The room was the perfect size and the large bathroom was an added bonus. I can't wait to return soon.

Top tip for other guests:

Be sure to have the hotel's address with you as most cab drivers do not know the hotel by name.

What I liked most

Breakfast
Welcome and departure
Guestroom and bathroom
Location
Internet and wifi

Great! Excellent! Perfect!

Stay date: May 2016

My Trip Type:

Couple

Great small hotel in the very center of Paris. Just a corner away from the Presidents residence. And two steps away from the main shopping street Rue du Faubourg Saint-Honoré. The hotel is very small, but very clean and comfortable. the staff is very friendly and helpfull. Rooms are great and clean. But a liitle small. At the check in we were granted a room upgrade to a Junior Suite. Which has a superb view. I would definetly recommend this hotel to everyone! What I would suggest to improve is just a little addition to the breakfast, maybe some fresh berries or something. But everything else is just perfect!

Top tip for other guests:

Book this hotel, you will not regret it

What I liked most

General service
Welcome and departure
Location
Local knowledge and experiences
Guestroom and bathroom

What I might improve

Stay date: March 2016

My Trip Type:

Business

It is my fourth time there ...great location , impersonal service , few attentions and details for an "habitue" . Nice rooms , quiete & soft atmosphere . Excellent morning breakfast .

Top tip for other guests:

Great location and soft atmosphere

What I liked most

What I might improve

Stay date: March 2016

My Trip Type:

Friends

A short drive from Gard du Nord, I would highly recommend this small boutique hotel, situated close to the Champs de Elysee and the Palais Garnier for a perfect city getaway. The staff are highly competent and friendly. The breakfast delicious, with attentive, personalised service. In the lounge, you can unwind by the fire, taking time out to read from an eclectic book collection. The rooms are a decent size, with quality toiletries. The literary theme throughout the hotel, adds a touch of class.

Top tip for other guests:

Don't forget to pick your complimentary novel !

What I liked most

Welcome and departure
General service
Location
Breakfast

What I might improve

Great location for a weekend away.

Stay date: January 2016

My Trip Type:

Couple

The staff and service were excellent and the hotel is clean and very tastefully decorated but while parking is possible there's no where to pull over to pick up the access card and the food menu could do with a few basic additions like a burger or a couple of pasta or salad dishes. There is however a fantastic restaurant across the road so not such a big problem. A view of the Eiffel Tower from the Anderson room is a nice start to a holiday and the location is fantastic for tourists with the Arc de Triomphe and the Champs-Elysees just round the corner. Would stay again if I wasn't driving.

Top tip for other guests:

Bugsy Malone's restaurant just across the road.

What I liked most

General service
Internet and wifi
Welcome and departure
Location

What I might improve

Restaurant and dining
Breakfast

Stay date: December 2015

My Trip Type:

Single

Top tip for other guests:

be a sly club members to make sure you are upgraded !

What I liked most

Breakfast
Location
Welcome and departure
Guestroom and bathroom
Internet and wifi

What I might improve

Friendly service, Great Location

Stay date: November 2015

My Trip Type:

Couple

Top tip for other guests:

Perfect located

What I liked most

Location
General service
Welcome and departure

Stay date: November 2015

My Trip Type:

Single

Nice and cosy atmosphere. Very elegant and Parisian but in a quiet way. Everything I like !

Top tip for other guests:

I would recommend Superior Room

What I liked most

Guestroom and bathroom
Internet and wifi
Location

What I might improve

Stay date: October 2015

My Trip Type:

Couple

original numbering of the rooms by letters and authors

Top tip for other guests:

use the bicycles

What I liked most

Welcome and departure
Guestroom and bathroom

Friendly service in great location

Stay date: October 2015

My Trip Type:

Couple

Great atmosphere and friendly staff. Excellent breakfast selection - no restaurant but the do have 24/7 room service (didn't try it). Location is excellent close to the Elysée Palace and Champs Elysée. Rooms are cozy but no so big.

Top tip for other guests:

x

What I liked most

General service
Breakfast
Internet and wifi
Location

Stay date: September 2015

My Trip Type:

Single

Gracious staff; always helpful, quiet location and comfortable, light-filled rooms make Les Pavillon des Lettres my home address in Paris. Extra bonus is the hotel's bicycle I use to ride around the city..

Top tip for other guests:

stay here

What I liked most

Location
Local knowledge and experiences
General service
Guestroom and bathroom
Breakfast
Welcome and departure
Internet and wifi

New favourite hotel in Paris

Stay date: August 2015

My Trip Type:

Couple

This hotel is everything what SLH stands for - a boutique luxury hotel on a great location with excellent service and even better rooms.

Top tip for other guests:

Try the Buttes Chaumont park - a bit out of the way but very beautiful

What I liked most

Guestroom and bathroom
General service
Location
Breakfast

Stay date: July 2015

My Trip Type:

Family

The location is great - close to Rue St Honore and the shopping buz, but its quiet since the hotel is surrounded by Embassys. They serve perfect breakfast with tastiest food. Rooms are nicely designed although very small. The staff is very friendly although I had an impression there was slight lack of management.

Top tip for other guests:

do try their breakfast.

What I liked most

What I might improve

General service
Guestroom and bathroom

Superbe location, convenient, excellent service

Stay date: June 2015

My Trip Type:

Business

My 2nd time in this hotel. Very good experience again. All super and perfect. Keep going!

Top tip for other guests:

Great location to central Paris!

What I liked most

Welcome and departure
Location
Internet and wifi

Stay date: June 2015

My Trip Type:

Business

Everyone on staff was very helpful and welcoming

Top tip for other guests:

Not many restaurants within walking distance that are open on Sundays

What I liked most

Internet and wifi
Welcome and departure
General service
Location
Breakfast

Friendly Service in fab location and brilliant breakfast

Stay date: May 2015

My Trip Type:

Couple

A lovely surprise as everything was perfect from the room, the view, the balcony with seating for breakfast and such a good location.

Top tip for other guests:

Ask for a room with a balcony so you can have breakfast on it!

What I liked most

Room service
Guestroom and bathroom
Location
Welcome and departure
Breakfast
General service

Stay date: April 2015

My Trip Type:

Business

Top tip for other guests:

Location

What I liked most

Guestroom and bathroom
Location
General service

What I might improve

Stay date: April 2015

My Trip Type:

Couple

Very well situated, this nice and welcoming hotel provides modern and comfortable rooms and friendly staff. We enjoyed being upgraded. It was perfect for our short two-day trip in Paris.

Top tip for other guests:

Chose an upper level room if possible.

What I liked most

Breakfast
Location
Guestroom and bathroom

Stay date: February 2015

My Trip Type:

Couple

It was our second time at the hotel and we had an awesome experience. The hotel has a unique location, great staff and excellent rooms. Me and my wife can wait to go back there.

Top tip for other guests:

Next to Saint Honore and 2 subway stations (Concorde and Madeleine). Ask for a room with a view.

What I liked most

Room service
Breakfast
Internet and wifi
General service
Location
Guestroom and bathroom

Stay date: March 2015

My Trip Type:

Business

Always a very pleasant stay with smile of everybody

Top tip for other guests:

junior suites

What I liked most

Guestroom and bathroom
Breakfast
Location

What I might improve

Very nice room in a great location!

Stay date: March 2015

My Trip Type:

Couple

Very nice place! non only the roon, but all the hotel. Fantastic location!

Top tip for other guests:

a.

What I liked most

Location
Guestroom and bathroom

One of my favorite places in Paris

Stay date: February 2015

My Trip Type:

Couple

Very friendly and welcoming staff, outstanding location in close proximity to Rue St. Honore. Since all rooms face the street, might not be the quietest accomodation, but staff very forthcoming in reallocating if necessary. Breakfast particularly lovely.

Top tip for other guests:

Junior Suits on 5th floor

What I liked most

Breakfast
Guestroom and bathroom
General service
Location

friendly service in a good location

Stay date: October 2014

My Trip Type:

Business

Good service good location The room was comfortable

Top tip for other guests:

Good location, nice rooms and service

What I liked most

Guestroom and bathroom
General service
Welcome and departure
Location

What I might improve

Lovely hotel - service mixed

Stay date: October 2014

My Trip Type:

Business

Lovely room, quiet and private, but beautifully modelled. Check-in was easy and very friendly. However, a couple of small niggles - breakfast waitress was a little surly and couldn't actually be bothered to serve us (3 guests travelling together) after asking 3 times, we gave up - shame. The only question-mark was the shower - wonderful, but flooded the bathroom !

Top tip for other guests:

A real hidden gem

Hotelier reply:

Dear Guest, We are pleased that you enjoyed the property and I can see you are coming back to Pavillon des Lettres tonight. As a loved member we try to upgrade you when available and last time you had been upgraded from a superior room to our largest Junior suite. We have an Italian shower and a separate bath in the suite and I will send our technician to check this flooding as we were not aware of this issue. Concerning breakfast I will check with the team and make sure that it will not happen again, I am indeed truly sorry if you felt not attended. We look forward to welcoming you tonight Kind regards Myriam Descarpentry Directrice

What I liked most

Guestroom and bathroom
Location
Welcome and departure

What I might improve

Stay date: August 2014

My Trip Type:

Couple

We have a nice stay, perfect staff, nice room, nice place.

Top tip for other guests:

I stayed in room E. Perfect.

What I liked most

Local knowledge and experiences
Welcome and departure
Breakfast
General service
Guestroom and bathroom
Location
Internet and wifi

Stay date: August 2014

My Trip Type:

Family

For us, the location was simply perfect. Very close to the Champs-Elysées, the Avenue Montaigne and the Faubourg Saint-Honoré. And at footsteps to the Galliera Museum, the Palais de Tokyo, the museum of modern art, the Baccarat museum, the Grand Palais and the Tour Eiffel. Our daily plans allowed us to come back at the hotel for a little rest after lunch. The hotel is very qualitative, very clean and quiet, simply chic and warmly designed. We nearly did all by walk except for Notre Dame and Luxembourg Garden for which we took taxis. And, pleasure among pleasures, we had the chance to see the Eiffel Tower everyday from our room, a fantastic wonder, particulary at night. The staff is friendly and very helpful. And the breakfast, simple but perfect. My daughter was feeling like at home. We surely will come back in the near future.

Top tip for other guests:

If you have a room wth view on the Eiffel Tower, do not forget to have a look at 11.00 pm for the lightshow.

What I liked most

Location
General service
Guestroom and bathroom
Breakfast

What I might improve

Restaurant and dining
Internet and wifi

Stay date: July 2014

My Trip Type:

Couple

The staff go out of their way to make your stay pleasant. The hotel is well located. The breakfasts are good. The rooms are comfortable. The bathrooms well appointed. I have stayed two years in a row and sent friends there. I'll stay there next time I'm in Paris - if I can get a room.

Top tip for other guests:

Have breakfast in your room.

What I liked most

Local knowledge and experiences
Internet and wifi
Welcome and departure
General service
Breakfast
Location
Guestroom and bathroom

Stay date: July 2014

My Trip Type:

Couple

Top tip for other guests:

It should have someone to help with the luggage.

What I liked most

Welcome and departure
Location
Guestroom and bathroom
General service

What I might improve

Internet and wifi
Restaurant and dining
Room service

Practical hotell with good lokation

Stay date: June 2014

My Trip Type:

Family

Nice and clean hotell with nice location. Service was OK - they ment the best but where a little unexperienced. Very clean, small rooms. OK roomservice. A boring and practical hotell. Nice touch with "honesty" bar. The breakfast was good to be included in the price.

Top tip for other guests:

OK hotell but not very special

What I liked most

Internet and wifi
Location
Breakfast
Welcome and departure

What I might improve

Restaurant and dining
General service

Stay date: June 2014

My Trip Type:

Couple

Lovely boutique gem in the heart of the right bank. Close to everything! Fantastic, customer oriented staff that includes Benoit, Sebastien & Liliane. Extremely comfortable rooms. Looking forward to returning!

Top tip for other guests:

A room with a balcony that has a table & chairs is special.

What I liked most

General service
Local knowledge and experiences
Internet and wifi
Welcome and departure
Location

What I might improve

Stay date: June 2014

My Trip Type:

Couple

Great location and very nice hotel. Staff were courteous and helpful.

Top tip for other guests:

Great location

What I liked most

Internet and wifi
Location
Guestroom and bathroom

Stay date: May 2014

My Trip Type:

Couple

Beautiful hotel with nicely furnished rooms, location ideal and staff very friendly. Late breakfast and check out times made for a very relaxing stay. Enjoyed so much that extended stay !

Top tip for other guests:

Convenience store on corner for refreshments / snacks if pockets aren't deep

What I liked most

Guestroom and bathroom
Location
Welcome and departure
General service
Internet and wifi

Excellent location and lovely hotel

Stay date: April 2014

My Trip Type:

Couple

Loved this place for location, rooms, cleanliness and staff. In fact there was nothing we could criticize. Really really happy

Top tip for other guests:

If you are staying on a Thursday night, try and eat at the Griffonier which is about 50 meters to the left of the hotel

What I liked most

Location
General service
Guestroom and bathroom
Welcome and departure
Internet and wifi
Local knowledge and experiences

Stay date: February 2014

My Trip Type:

Couple

An excellent hotel with pretty rooms an very good service.

Top tip for other guests:

Ask for upper floor room

Friendly service in a great location!

Stay date: January 2014

My Trip Type:

Couple

This hotel is in a Presidential Palace. It's very calm and prestigious location. Near shops and sightseeings. The Room was small but we did not make upgrade, because view from the window was marvelous !!! Special thanks employee who did our checkout . We had early flight and Mr offered us coffee and orange juice. One minus it's air condition which located opposite the bed and not switching off. Everything else is on top! We'll be back to this hotel!

Top tip for other guests:

Have good stay!

What I liked most

Welcome and departure
Local knowledge and experiences
Guestroom and bathroom
General service
Room service
Restaurant and dining
Leisure facilities
Internet and wifi
Breakfast
Location

Stay date: October 2013

My Trip Type:

Couple

The air conditioner did not work in the first room we were given. After firmly requesting another room we were given the accommodations. The hotel rooms are small, but quite comfortable. The location is the best.

Top tip for other guests:

Great place to stay for a short stay because of size of rooms

What I liked most

Location
General service
Local knowledge and experiences
Guestroom and bathroom
Welcome and departure

What I might improve

Stay date: September 2013

My Trip Type:

Couple

We enjoyed the hotel location, the friendly service of the reception and breakfaststaff and the room service. But we did not like the space in our room, too small for a luxury category. We asked for a room on the upper floors, but it was offered a room on the second floor! And we did not receive the upgrade offered when we booked two months in advance!

Top tip for other guests:

It is a good place to stay in Paris .

Hotelier reply:

Dear Monsieur Foresti, We would like to thank you for your lovely comment about the hotel. I am very sorry that you felt that your room was too small, our Deluxe room are between 20 and 22 sqm. Our Junior suites were not available during your stay, we only have two rooms in this category and upgrade is offered upon availability at check-in time. Le Pavillon des Lettres is an elegant boutique hotel but if you prefer larger rooms we suggest you our sister hotel Le Pavillon de La Reine. Looking forward to welcoming you soon. Kind regards, Myriam Descarpentry Directrice

What I liked most

Room service
General service
Internet and wifi
Welcome and departure
Location
Breakfast

Friendly service in a great location"

Stay date: September 2013

My Trip Type:

Family

very good location, just a few minutes walk from the most beautiful places in Paris.

Top tip for other guests:

do not wear trunks, no bellboy to upload them to the rooms

What I liked most

Internet and wifi
Location
Breakfast

What I might improve

General service
Welcome and departure

Stay date: September 2013

My Trip Type:

Couple

Wonderful small hotel, staff was extremely helpful, friendly, and made us feel at home.

Top tip for other guests:

Like most hotels in Europe, the rooms are small, pack light and enjoy Paris, this hotel is the perfect place to return each night!

What I liked most

Guestroom and bathroom
General service
Welcome and departure
Location

Great experience - very classy hotel

Stay date: September 2013

My Trip Type:

Family

Very refined hotel. Very elegant area of town although very quite / not to much activity on the streets etc. The hotel is very quite which was slightly awkward for us since we had young children and we didn't want to disturb the atmosphere but there were no issues from staff regarding kids etc.

Top tip for other guests:

Don't expect this hotel to be located in the thick of things but it is in a very beautfill area 200m from presdidential residence.

What I liked most

Internet and wifi
Welcome and departure
Guestroom and bathroom
Breakfast

What I might improve

Charming 8th arr. hide-away

Stay date: July 2013

My Trip Type:

Family

Le Pavillon des Lettres is on a quiet side street bordered by the Champs-Elysee, Boulevard Haussmann, the Obelisk, and the Arc de Triomphe, all of which are a short walk away. The hotel is very charming, and the staff extremely helpful.

Top tip for other guests:

Tip the shower head away from the door and use a low water volume, or you turn the bathroom floor into a lake.

What I liked most

Location
Local knowledge and experiences

What I might improve

Oasis in the center of Paris

Stay date: April 2013

My Trip Type:

Business

Very nice butique hotel with excellent location location. Especially conveniant for customers of Chanel, Dolce Gabana, Gucci etc. They are just around of the corner. Nice design of rooms.

Top tip for other guests:

Shopping area

What I liked most

Location
General service
Room service

What I might improve

Perfect location and top service!

Stay date: March 2013

My Trip Type:

Business

I can recommand the hotel to everybody who is looking for good service, nice rooms, a comfortable bed and a top location hotel in Paris. Only 5 minutes away from Madeleine, Louvre, the luxurious shopping area,...

Top tip for other guests:

If you stay at Pavillion des Lettres and if you like good wine, don't forget to have diner at Le Sommelier on the Bvd Haussman. For nice Frencc cuissine, go to La Regalade de St Honoré, in Rue St Hono

What I liked most

Welcome and departure
Location
General service
Guestroom and bathroom

What I might improve

Friendly service in a great location

Stay date: August 2012

My Trip Type:

Couple

It is in a very good location and the staff are very obliging and caring. However, the bathroom needed some maintenance (loose floor tiles for example, and some lights were not working) and the spa in the bath was not working.

Top tip for other guests:

Nice hotel in a good location but the rooms are rather small, and a full breakfast will cost you extra. But overall, pretty good.

What I liked most

Welcome and departure
Location
General service
Breakfast

What I might improve

Stay date: September 2012

My Trip Type:

Business

The hotel was good and the service was playing. It may have been that my expectations were too high, but I think the service was missing "something". A certain personal touch, as is the example, [...], was missing here. In any case, the hotel is one of my favorites in Paris.

Top tip for other guests:

Avoid rooms facing the street on the lower floors.

What I liked most

Guestroom and bathroom
Location
Internet and wifi

What I might improve