https://origin.slh.com/hotels/nakamanda-resort-and-spa/
Hotel Highlights
Tranquil haven in a serene cove on Klong Muang beach
Nearby desert island only accessible at low tide
Teak floors, light marble and Eastern sculptures give an elegant yet warm ambience
Nakamanda Resort & Spa - luxury hotel in krabi
On Klong Muang Beach, overlooking the Andaman Sea near Krabi
A wonderful celebration of nature, Nakamanda Resort & Spa is the ultimate place to experience amazing sweeping seascapes, lush jungle thickets and golden sunsets while cocooned in exclusive villas with the most attentive service, great diving sites and a spa that is out of this world.
All the accommodation at Nakamanda Resort & Spa is in one or two-bedroom villas with garden or sea views. A number have a Jacuzzi or their own private pool complete with local antiques and craftwork. Lie on your daybed on your private balcony or terrace and unwind in this magical place as you feel miles from the stresses of the outside world.
Charter a boat and spend the day cruising on the Andaman Sea towards the Phi Phi Islands where the sea is crystal clear and the diving is brilliant. Try a spot of sea kayaking and visit the spectacular sea caves near Krabi. Return to Nakamanda Resort and sit on the restaurant terrace, next to the pool, and enjoy freshly caught fish prepared in fusion cuisine.
39

rooms

1

restaurant

2

floors
The rooms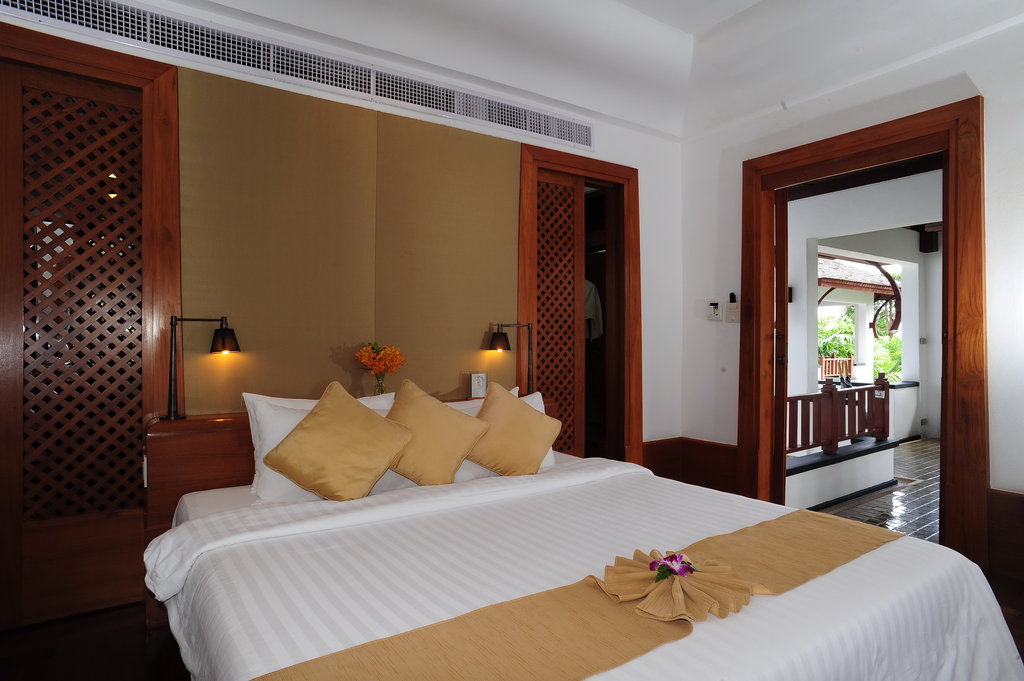 Sala Villa
Sleeps: 3 People.
Sala Villa. One-bedroom villa featuring one large bedroom with king size or twin, en suite plunge bathtub and separate shower with private balcony or Sala terrace with outdoor seating area.

Surrounded by tropical gardens while some overlooking the magical Andaman Sea. Room Size: 56sqm
From per night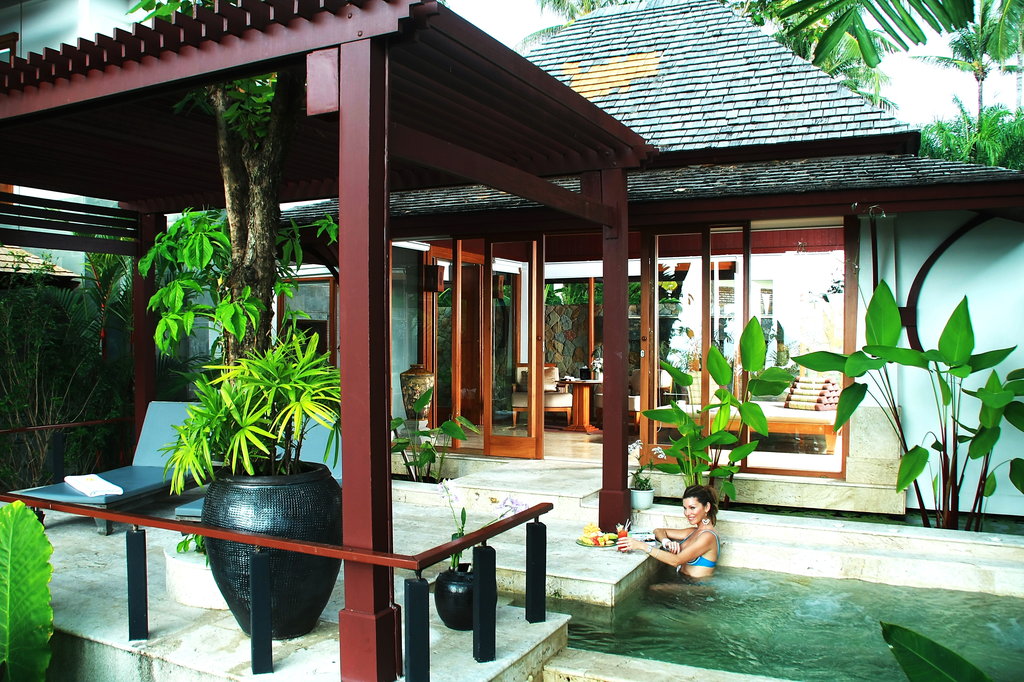 Jacuzzi Villa
Sleeps: 3 People.
Jacuzzi Villa. Features a modern, well-equipped living area with pantry and a large separate bedroom suite with a king-size bed. The jacuzzi on the attached private deck is for your exclusive use.

Room Size: 148sqm
From per night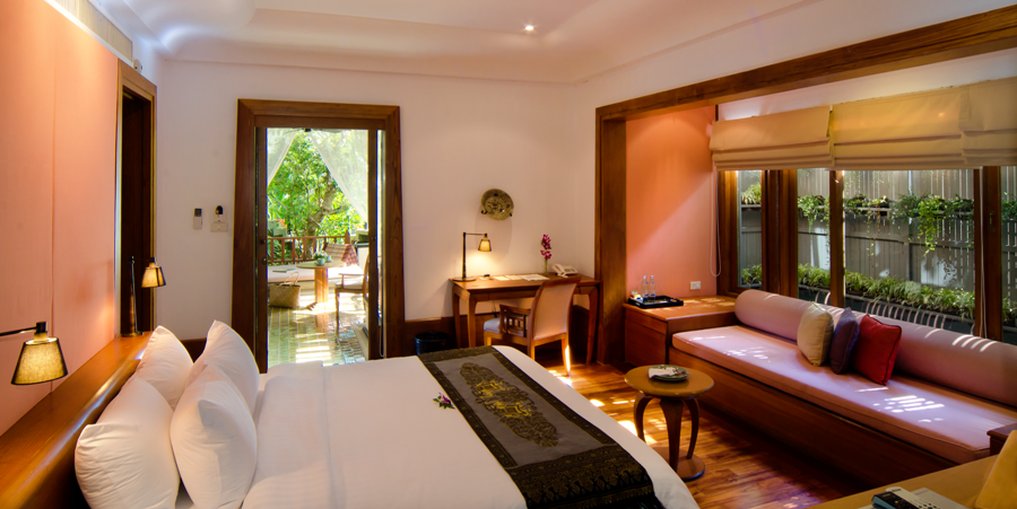 Pool Villa
Sleeps: 6 People.
Pool Villa. Set among the top of cascades allowing breathtaking inspiration of the Andaman sea, each bedroom features blend sophisticated elegance with romance.

Spacious living room decorated with local antiques and crafts, seaview, private pool and jacuzzi. Room Size: 315sqm.
From per night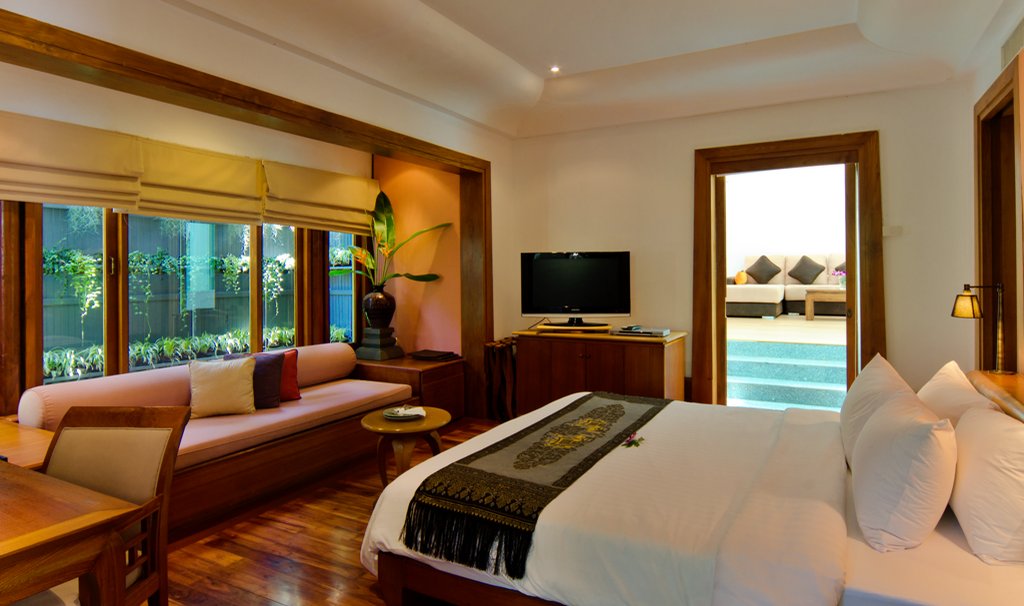 Hydropool Villa
Sleeps: 3 People.
Hydropool Villa. The modern living space has colourful Asian artwork, light wooden floors, a comfortable L-shaped sofa and flat screen television.

The sliding doors open onto to the terrace and hydropool, which add to the tropical ambiance of this spacious suite. Guests can cool down in the plunge pool in complete privacy after basking under the sun on the stylish loungers. Room size: 110sqm
From per night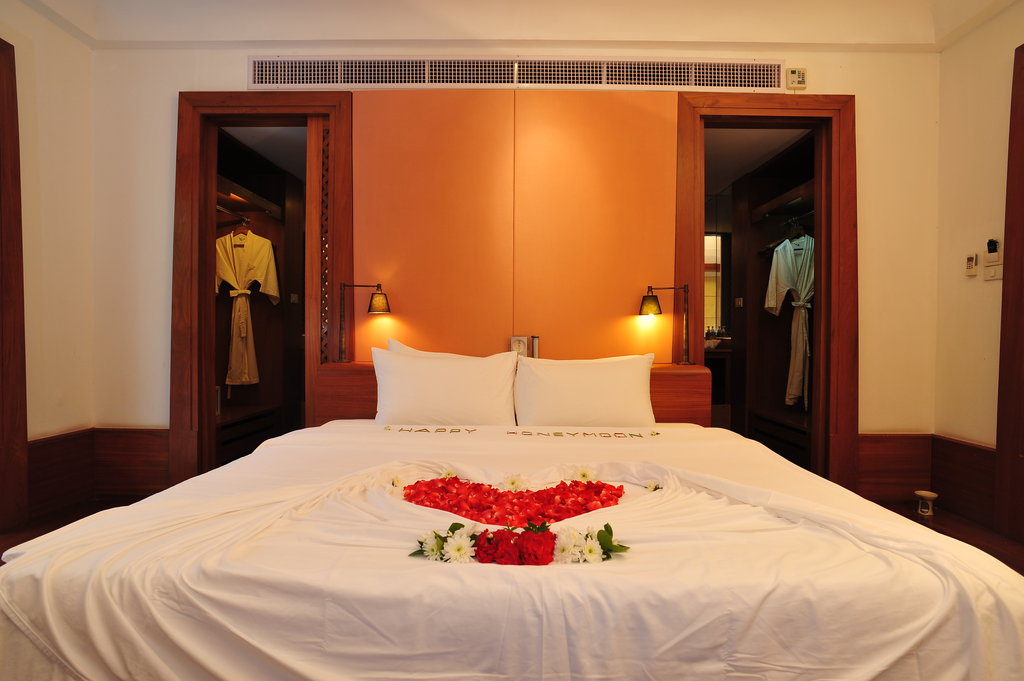 Sala Villa with Outdoor Hydropool
Sleeps: 3 People.
Sala Villa with Outdoor HydroPool. Step from your villa to a spacious covered terrace where a large daybed and chic sun loungers await.

Perfect for intimate moments, the plunge pool surrounded by tropical gardens is where couples can sip champagne and celebrate in style. Room Size: 90sqm
From per night
Air conditioning
Lounges/bars
Wireless internet connection
Airport shuttle
Join INVITED and get 10% off exclusive rates. Plus early check-in and late check-outs among other benefits.
24-hour front desk

24-hour security

Accessible facilities

Accessible parking

Air conditioning

Airport shuttle

Bell staff/porter

Breakfast

Child programs

Children welcome

Coffee shop

Concierge desk

Currency exchange

Family plan

Full service housekeeping

Housekeeping - daily

Laundry/Valet service

Lounges/bars

Onsite laundry

Pets not allowed

Poolside service

Post/parcel service

Restaurant

Room service

Room service - limited hours

Safe deposit box

Security

Shuttle to local attractions

Turndown service

Wakeup service

Wireless internet connection
Air conditioning

Balcony/Lanai/Terrace

Bathrobe

Bathroom amenities

Bathtub

Bathtub/shower combination

CD player

Coffee/Tea maker

Color television

Desk

Direct dial phone number

DVD player

Hairdryer

Internet access

Lighted makeup mirror

Minibar

Newspaper

Non-smoking

Remote control television

Safe

Satellite television

Sitting area

Smoke detectors

Sofa bed

Telephone

TV

Wireless internet connection
The Kitchen Restaurant The Living Room Cocktail Bar
The Kitchen
Cuisine type: International
Meals served: Breakfast, Lunch, Dinner
The location of the Kitchen Restaurant is simply beautiful. Guests can dine on the covered outdoor balcony- in the elegant air-conditioned interiors or on the beachfront terrace which is also ideal for sunset cocktails. Each area offers a unique ambiance and outstanding views of the sea and alluring surrounding islands. Serving breakfast- lunch and dinner- the restaurant provides a selection of delicious and beautifully presented local and international gourmet dishes.
Reviews
These reviews are the real opinions of INVITED members and we have verified their stay at the hotel.
What I liked most :

Guestroom and bathroom (17)
Location (16)
General service (14)
Welcome and departure (10)
Internet and wifi (9)
Leisure facilities (9)
Restaurant and dining (8)
Breakfast (6)
Room service (4)
Local knowledge and experiences (3)

What I might improve :

Restaurant and dining (9)
Breakfast (6)

Read Reviews

Outstanding !! One of the bests I've been among all SLH's I've stayed

January 2019

My Trip Type:

Couple

Top tip for other guests:

Walking on the beach late afternoon to admire the sunset

What I liked most

Welcome and Departure
Location
General Service
Guest Room and Bathroom
Restaurant and dining
Room Service
Leisure facilities
Internet and wifi

What I might improve

Stay date: October 2016

My Trip Type:

Family

A great place to stay in Krabi. Huge rooms, large tub, separate shower area, good food for in room dining, quiet place to relax and friendly services. Value for money hotel. Appreciate that they provide wooden cot. Overall, relaxing and enjoyable stay. Recommended. But if want a better hotel in Krabi, go for the SLH on Koh Lanta. The infinity pool villas are great. Massage is good too. But price range is much higher.

Top tip for other guests:

Upper floor

What I liked most

Guestroom and bathroom
Room service

What I might improve

Good hotel though not perfect

Stay date: January 2017

My Trip Type:

Couple

The Nakamanda is located in a nice location the rooms are expensive compared to similar hotels we have stayed at. Our room was massive and very comfortable. The pool is a nice size. We ate in the restaurant most evenings and found the food to be of good quality. While the service was generally great, the pool service was very hit and miss. Breakfast was OK but not the quality of other hotels we have stayed at in Thailand. We stayed over New Year and were a bit annoyed that the only option to eat that night was their gala dinner at £140 a head - this in our view is a complete rip off. WiFi was slow at times. Overall, we had a nice time but probably wouldn't return here.

Top tip for other guests:

Go to the night market in Krabi town. Climb the 1327 steps at the Tiger Cave Temple - well worth the pain for the views

What I liked most

Guestroom and bathroom
Leisure facilities
Location

What I might improve

General service
Breakfast
Internet and wifi

Nice location, but some room for improvement

Stay date: December 2015

My Trip Type:

Couple

The location is superb, there's no doubt. And the villas are lovely and spacious. And the service is friendly and earnest. However, we encountered a few things that made us feel this property is not quite up to the usual SLH standard. First, the gym is a big disappointment- very small and not well-equipped. The resort has only a single sea kayak, even though it's a major reason to visit Krabi! And we found that the room service team had great difficulty in understanding us, particularly when we found we were unable to remove the metal cover from our dinner - at one point we had 5 team members trying to fix it! Lastly, this property just lacks those little surprises which are the hallmark of SLH. It wouldn't take much to fix these issues, and I hope they do.

Top tip for other guests:

Good local restaurants nearby, which are much better value

What I liked most

Location
Guestroom and bathroom
Internet and wifi

What I might improve

Room service
Leisure facilities
Restaurant and dining

Nice villas and a beautiful sunset

Stay date: March 2015

My Trip Type:

Couple

Very nice villas : the transparent roof above the bathtub enlights the bathroom, the terrace is big enough and the outside curtains helps making you feel alone (in a good way), perfectly clean rooms, beach towels provided The swimming pool is amazing and the view in front of it is stunning, especially during sunset, and the tide's movements are quite interesting as you can sometimes walk to a small desert island. You can't lie on the beach, but the swimming pool lying chairs are as close to the sea as possible. We had dinner at the restaurant, the thai food was fantastic, and we got one dinner voucher as we booked through SLH. The staff is very kind and friendly, always at your service.

Top tip for other guests:

Don't miss the sunset, and the beautiful islands nearby (Kho Phi Phi, 4 islands, Hong Island)

What I liked most

Guestroom and bathroom
General service
Local knowledge and experiences
Restaurant and dining

What I might improve

Stay date: February 2015

My Trip Type:

Couple

The hotel is well located, in a beautiful and calm beach, away from the confusion and croweded Ao Nang Beach. The rooms are very nice and the hotel is very beautiful. The meals are very good and the price it´s reasonable. The hotel have a wonderful pool and the spa it is also great. For those who want confusion, a lot of people and lots of fun don´t choose Nakamanda, because it is too expensive to get to Ao Nang Beach, a táxi cost 500 Baths just one away and the hotels transfer iit's also expensive and only on some days of the week.

Top tip for other guests:

BEAUTIFUL HOTEL AND CALM LOCATION

What I liked most

Internet and wifi
Location
Breakfast
General service
Restaurant and dining

Stay date: December 2014

My Trip Type:

Family

This is the place to go if you are looking for privacy. The hotel is designed such that you dont have crowds in sight and its always quiet and chill. Great place to unwind and recharge. The pool is always clean and empty which is great for my kids. There are restaurants just outside the hotel and 1 of them Maria restaurant serves nice western food. Service is also good and the staff are always available to help. 1 downside is the staircase so you must be prepared to climb a lot of steps so just be mindful if you have kids.

Top tip for other guests:

Bring mosquito repellet!

What I liked most

Welcome and departure
Location
General service
Guestroom and bathroom

What I might improve

Breakfast
Restaurant and dining

Stay date: November 2014

My Trip Type:

Couple

We have just returned home after spending 6 days at Nakamanda Resort. We loved our time time there & can thoroughly recommend this resort to anyone. We have specific dietary requirements and the staff bent over backwards to make sure that these were met. As such we were able to relax & enjoy our stay. The resort facilities, location & rooms are all excellent.

Top tip for other guests:

We used the long-tail boats to visit the surrounding islands & beach. They leave from the resort & can take you anywhere very inexpensively.

What I liked most

Guestroom and bathroom
Restaurant and dining
Location

Stay date: October 2014

My Trip Type:

Family

Stayed in the Hydro Pool villa (1901) for 3 nights. Very clean and big villa. All the staffs were very friendly and it really makes u feel like your second home. They even arrange a complimentary cake for my son birthday. Massage at the spa was excellent! I think this resort is more suitable for couples. We brought our stroller for my baby and there are too many steps that we cant use the stroller at all. So its quite tiring to carry our 4 mth old baby and 3yr old son everywhere we go. Other den that, everything was fantastic. Try the Mother House restaurant beside the resort. Very good thai food and service. Thanks to Ms Por and team for a wonderful stay at Nakamanda.

Top tip for other guests:

Don't bring any strollers.Can't use it at all. Too many steps in the resort.

What I liked most

Guestroom and bathroom
General service
Welcome and departure

What I might improve

Restaurant and dining
Breakfast

Stay date: October 2014

My Trip Type:

Couple

Top tip for other guests:

just relax

What I liked most

Leisure facilities
Guestroom and bathroom

What I might improve

What a boutique resort & spa should be!

Stay date: September 2014

My Trip Type:

Couple

This is what I imagined a Small Luxury Hotel would be like! Exceptional service, rooms, and facilities. My wife and I stayed here for 7 nights during our honeymoon and it was by far our favourite stop during our trip. The staff are very friendly and attentive to our needs and after the first few days began to anticipate our needs and requests, even at breakfast. It is a quiet resort with mostly couples and the odd child. The facilities were excellent and the attendant was quick to setup umbrellas and bring ice water and towels to our beach lounge chairs which are conveniently located between the pool and beach. Some people have complained that the beach directly in front of Nakamanda isn't very swimmable because of the tide and long boats at the nearby island but if you walk around the corner of the hotel to the left you have a nice beach without long boats. I didn't mind it personally, it was interesting watching the locals work on their long boats across the little bay. The restaurant was great and we loved every dish we tried on their menu. Everything was very reasonably priced. You can watch some amazing sunsets from their outdoor restaurant that could bring out the romantic in anyone. The spa is also worth mentioning. There are cheaper places for a massage right in front of the main gate to Nakamanda but it is a different experience. If all you want is a massage and you don't mind it being in a big room with 12 other beds separated by hospital curtains then you'll be fine, but if you want a real spa experience, I highly recommend visiting Nakamanda's spa! It is very reasonably priced compared to other luxury resorts and they have different daily promotions so you don't have an excuse to not try it at least once. My wife and I ended up going several times, the fruit and tea at the end is a nice touch as well. I also recommend arranging any boat excursions through the hotel. It's a bit more than what the long boats on the beach may try to sell you but you're going on a speedboat which means you can see more and do more in less time. We found the half day excursions to be the perfect amount of time. One last note about the rooms. They are very well appointed with excellent views and fairly secluded considering the layout of the hotel. My wife particularly liked all the windows and natural light, especially around the bathtub. We would definitely stay here again and we would visit Krabi again just to stay at Nakamanda! From what I've seen of the other nearby hotels and resorts, Nakamanda is by far the best choice!

Top tip for other guests:

Arrange for airport pickup, it's the same price I've seen advertised by some taxis and it saves you the stress. They also greet you with a cold towel and a bottle of water which is a nice touch!

"Friendly service in a great location"

Stay date: May 2014

My Trip Type:

Couple

Nicest staff! Great private beach, a real retreat!

Top tip for other guests:

many couples, dont expect a club med

What I liked most

Location
Guestroom and bathroom
Internet and wifi
General service
Welcome and departure

What I might improve

Stay date: May 2014

My Trip Type:

Couple

My husband and I stayed for 3 nights at Nakamanda and had the loveliest experience ever. The villa was huge and we super loved the bathtub which looks out into greenery. Service staff were all very courteous and friendly. The swimming pool is just gorgeous and there usually wasnt anyone using the pool except us. The food served at the Kitchen was good. Only downside is that there are many mosquitoes which the resort has so kindly prepared mosquito repellant so it wasnt that bad.

Top tip for other guests:

Highly recommend getting the villa with the outdoor hydropool

What I liked most

General service
Welcome and departure
Guestroom and bathroom

What I might improve

Restaurant and dining
Breakfast

Relaxing resort, good spa, good service

Stay date: May 2014

My Trip Type:

Couple

Rooms are well designed and pleasantly appointed, Generally layout of resort and privacy are good. Beach and restaurant facilities are disappointing

Top tip for other guests:

Second floor rooms

What I liked most

General service
Guestroom and bathroom

What I might improve

Leisure facilities
Restaurant and dining

Stay date: February 2014

My Trip Type:

Couple

Glad we decided to stay at the Nakamanda. Perfectly fitting to have such an extraordinary resort in such a beautiful location. All around friendly and engaging staff and a nice spa. Food at "The Kitchen" restaurant serves traditional Thai and Western foods and was always good. The room design, which incorporates large indoor and outdoor areas, is very conducive to relaxation. Simply amazing!

Top tip for other guests:

Have the hotel arrange private transfer - makes starting your stay stress free.

What I liked most

Welcome and departure
Internet and wifi
General service
Room service
Leisure facilities
Location
Guestroom and bathroom

Nice architecture and location

Stay date: January 2014

My Trip Type:

Couple

This is a nice and small resort with only 39 units. It is well designed even if one has to climb a number of stairs each day! Nothing to do with the Sheraton next door which has an absolutly hideous architecture but you can't see it from the Nakamanda. Rooms are comfortable but there is a lack of curtains (only shades but it doesn't block light well) which is most bothering as if light wakes you up... Nice small restaurant by the beach reasonable prices with a pretty decent wine list (I specially recommend their most reasonable Australian shiraz Latitude 30) but service very slow sometimes. Wine by the glass is quite expensive vs. by the bottle. One person on the resort is very efficient: Khun Por (Miss Por), the Business manager. Price is adequate for the quality.

Top tip for other guests:

Rooms ending by 02

What I liked most

Location
Guestroom and bathroom

What I might improve

All the hotel staff is wonderful.but....

Stay date: January 2014

My Trip Type:

Family

About the room: The air-conditioner of the my parents' room was not functioning. Although the hotel staff corresponded quickly and it solved, I think that it should check in advance. About the restaurant: Description of the menu book proposes an improvement. English was a menu which is very hard to read to me who am not a native language. A character font, size, a character gap, etc. It will become better if there is a photograph. However, since the taste was not so delicious, either, the essential improvement is also expected. However, all the staff was trustworthy and wonderful.

Top tip for other guests:

Since there are much stairs, to elderly people, it is somewhat hard.

What I liked most

Welcome and departure
Location
General service

What I might improve

Restaurant and dining
Guestroom and bathroom

2nd stay @ Nakamanda, perfect again!

Stay date: December 2013

My Trip Type:

Couple

What a warm welcome again. The staff immediately recoginized us from our March stay (this time was December). We felt at home from the start. Great food, great service, beautiful beach, trip to Hong Island, sushi night, the best pool.., I can go on and on. And all at modest Thai prices :-). But just have a look yourself!

Top tip for other guests:

Visit Hong Island!

What I liked most

General service
Welcome and departure
Location
Restaurant and dining
Breakfast
Internet and wifi
Leisure facilities

Stay date: December 2013

My Trip Type:

Family

We had a pleasant staying in the resort. It is kids friendly although the resort is more in a honey moon style. We had a great fun in the trip and the resort did a great job.

Top tip for other guests:

We had some mosquito bites although we had protection on.

What I liked most

Breakfast
General service
Leisure facilities

Tranquil paradise away from the crowds

Stay date: December 2013

My Trip Type:

Couple

From the time we arrived until we left we had a great time at Nakamanda. The staff was extremely friendly and helpful at all points of our stay. The location is away from the crowds at ao nang with a fantastic beach to walk on. We loved sitting at the outdoor bar area watching the sunset. The restaurant was great as well, we ate dinner there twice which is saying something since I usually prefer to explore a bit instead of eating at the hotel. The hotel was very helpful in organizing tours around the area, we went to the islands, to some temples and to Krabi town. In everything we felt very comfortable leaving the organizing up to the competent concierge service. There was just one problem, and it's a big one: we were so relaxed and pampered that time just disappeared. It felt like the week flew by way too quickly. Next time we'll have to stay longer. Thank you so much for making our stay fantastic.

Top tip for other guests:

The villas are stacked with one on top and one on the bottom. The top ones (room numbers ending in 2) have a far better view and get more light.

What I liked most

Internet and wifi
Welcome and departure
Breakfast
Leisure facilities
General service
Location
Restaurant and dining

Paradise on the Andaman Sea

Stay date: December 2013

My Trip Type:

Couple

Nakamanda is an absolute paradise. The rooms and resort facilities are top notch. The staff are so friendly and attentive and nothing is too much trouble. They make an effort to know all of the guests by name. The restaurant (The Kitchen - quaint name) serves yummy food that is reasonably priced but if you want to mix it up there are a handful of other great dining options just steps away. It has to be the best spa I have visited. Forget the big flashy resorts nearby - Nakamada is the star in this part of Krabi

Top tip for other guests:

Don't bother with the markets in Krabi Town but consider visiting the Tiger Temple. 1237 steep steps but worth the view and feeling of exhilaration upon reaching the top.

What I liked most

Breakfast
Restaurant and dining
Leisure facilities
Location
Guestroom and bathroom
Welcome and departure
Local knowledge and experiences
Room service
General service
Internet and wifi

Stay date: November 2013

My Trip Type:

Friends

I stayed 5 nights at the Nakamanda and it was definitely the best hotel I've been in on my 3 weeks trip to Thailand. It was exactly the kind of place I was looking for. Luxurious and very private. The scenery is simply breathtaking. The hotel is located in front of an island on a kind of little peninsula offering two different beaches. Everywhere around you can see those amazing karstik islands... It's just spectacular. Rooms, let's say suites are delightful. A lot of luxury but in a good way. It's a real boutique hotel to me. 2 points are important to know though: It's far from Krabi and Krabi neds to be seen. Almost half an hour of taxi and 20 euros each ways.... The cooking is not very good. Breakfast is great but thai food is not what I expected... Perhaps because I know very welle Thai food...Other people seemed pleased. Otherwise it's a paradise and the staff is absolutely charming. Kind and discreet. I absolutely recommand this hotel. I read bad reviews and I don't understand why. You can believe me because I alwas complain about something in an hotel, even when it's one of a leading hotel of the world ! Nakamanda is an excellent pick and it's much more spectacular than on their pictures. Regards.

Top tip for other guests:

If you choose to stay there and want real thai cuisine, go down the road on your left when you leave your hotel, 500 meters below you'll find the Sabai ba bar which is simply excellent.

What I liked most

Guestroom and bathroom
Location

What I might improve

Stay date: June 2013

My Trip Type:

Couple

warm and exclusive welcome, we are upgraded to hydropool villa because the Club member of SLH very nice room , amenities, bath and shower seperated service was very good and helpful delightful food and delicious the swimming pool is very beautiful the beach is outstanding with the sunset naga spa is very relaxing, the therapist was skilfull to comine the massage technique and aromatherapy, jacuzzi and sauna is very refreshing Breakfast is superb with seaview and the food was good A cozy and relaxing stay at nakamanda, two thumbs up

Top tip for other guests:

naga spa is a must

What I liked most

Breakfast
Leisure facilities
Internet and wifi
General service
Guestroom and bathroom
Restaurant and dining
Welcome and departure
Room service
Location
Local knowledge and experiences

Stay date: September 2012

My Trip Type:

Couple

It was a great hotel and location but we stayed in the Twin Palm in Surin beach and this one was really GREAT.

Top tip for other guests:

perfect for a lover retreat

What I liked most

Guestroom and bathroom
Location

What I might improve