https://origin.slh.com/hotels/princess-d-an-nam-resort-and-spa/
Princess D'An Nam Resort & Spa will be closing for renovations on 1st September 2019.
Hotel Highlights
A luxury retreat in a privileged location overlooking Ke Ga Bay
Exclusive spa built around a private courtyard, offering traditional eastern therapies and massage
Guests invited to choose just-caught seafood straight from the seashore, cooked to their liking by master International & Vietnamese chefs
Princess D'Ân Nam Resort & Spa - luxury hotel on ke ga bay, vietnam
A sensual sanctuary located in a pretty bay, overlooking the East Sea
Set on the shores of Ke Ga Bay which is littered with brightly-coloured fishing boats, Princess D'Ân Nam Resort & Spa is a chic retreat away from the tourist track. Each of the 48 beautifully designed and spacious villas have balconies, private gardens and some have outside bathrooms. Guests also enjoy four swimming pools, two enticing restaurants and a fabulous spa, all set in unique Ginger gardens with a collection of rare plants and sea views.
The suites and villas at Princess D'Ân Nam Resort & Spa are a modern take on French colonial style with Oriental touches designed by award-winning architect, Tan Hock Beng. Visit the 1800-square metre spa and savour a made-to-order royal spa treatment incorporating fragrances such as honey, cloves, coconut oil, yellow turmeric, aloe vera and ylang ylang.
Enjoy a morning of golf at the Sea Link Golf Club in the nearby fishing town of Phan Thiet. Alternatively, take a tour of the surrounding area and discover the winding village roads of Binh Thuan Province. Drive past rice paddy fields and dragon fruit orchards to the impressive Ta Ku mountains. Then head back to Princess D'Ân Nam Resort & Spa via the coastal stretch and admire the red sand dunes and the stunning views of the East Sea.
47

rooms

2

restaurants

1

floor
The rooms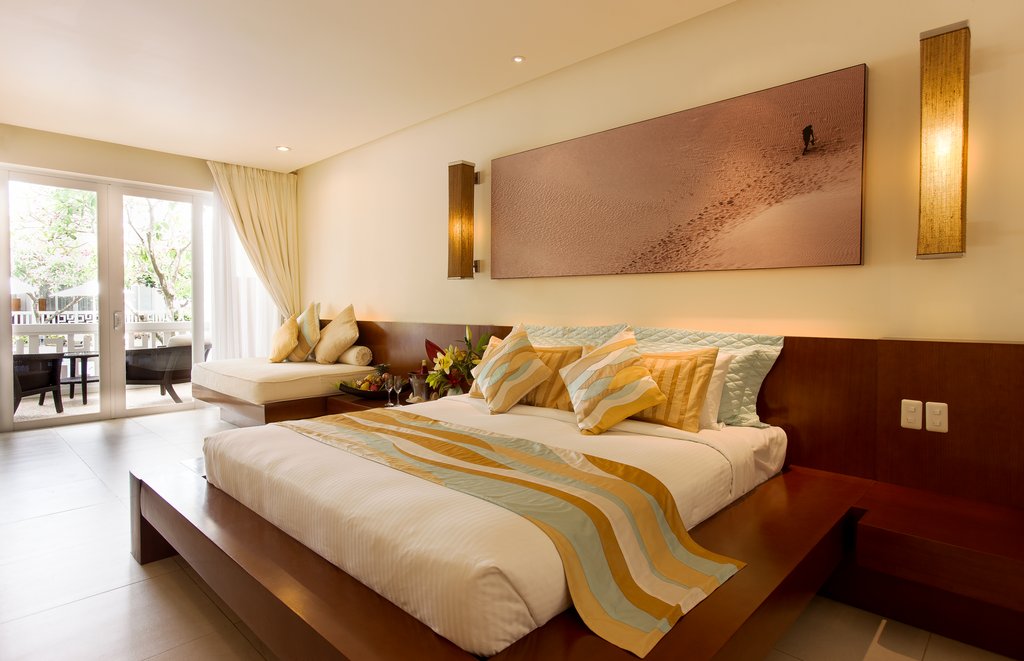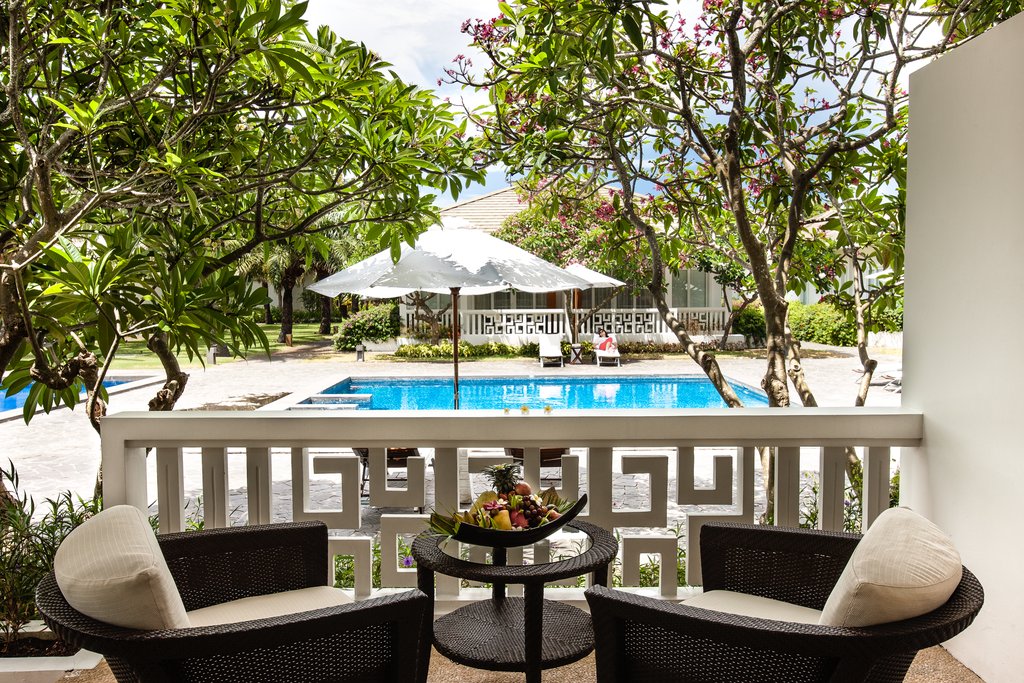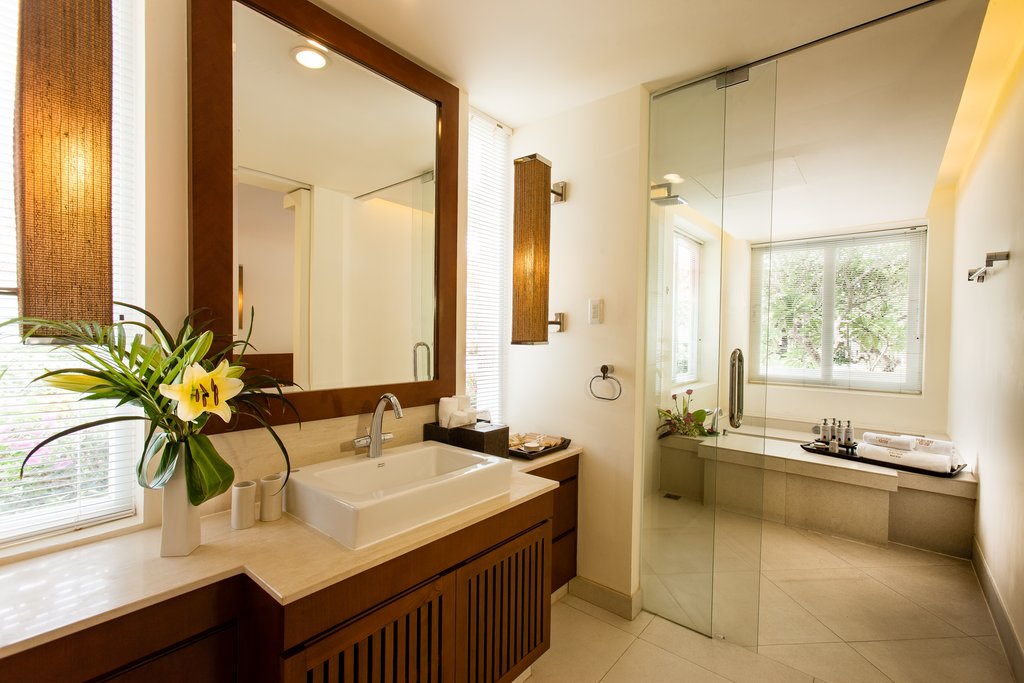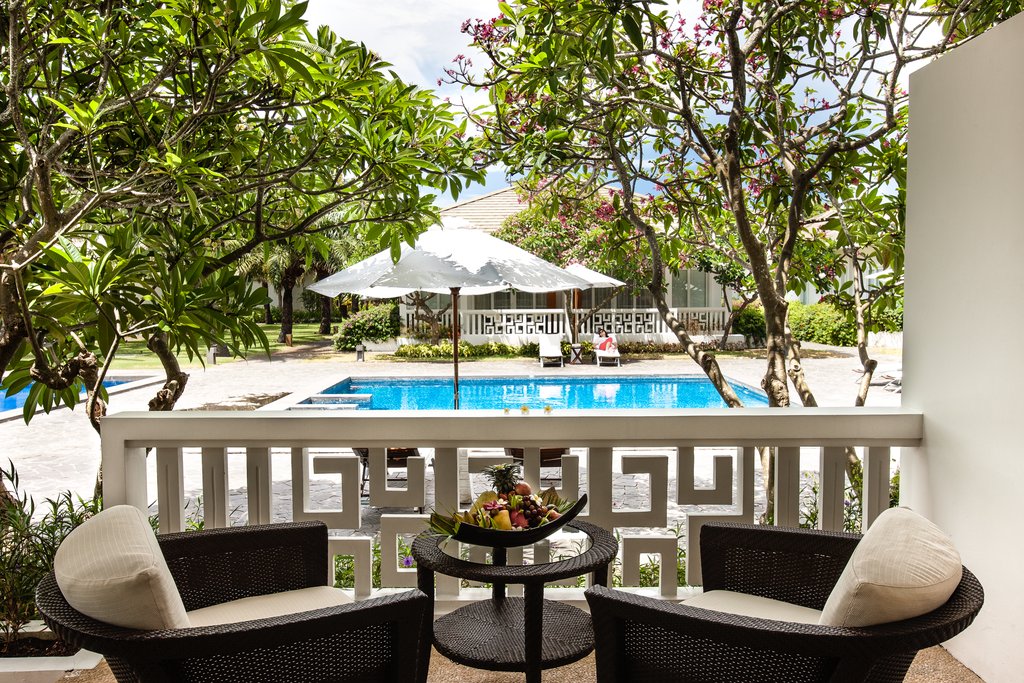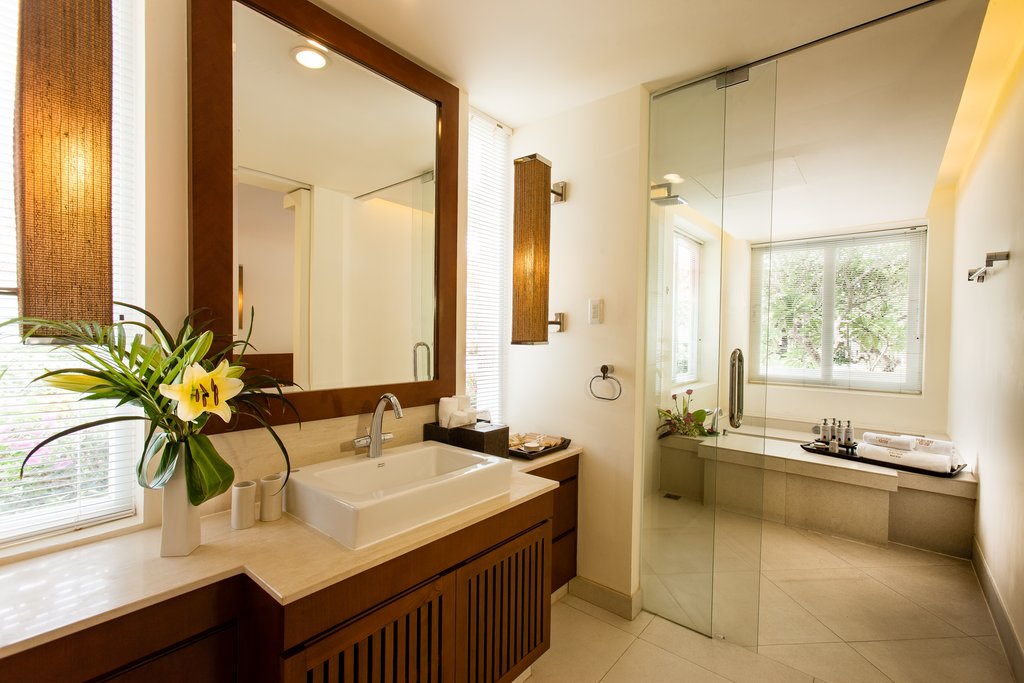 Mandarin Suite
Sleeps: 2 People.
Mandarin Suites feature private veranda that opens to a garden and pool view, dressing room with specially-designed bathtub and separate rain shower, double or queen-size bed.

Interiors infused with modern Vietnamese style, air conditioning and complimentary WiFi. Room size: 75sqm (room and veranda). 2 persons allowed in existing bed, plus 1 additional person only at a charge in existing sofa bed.
From per night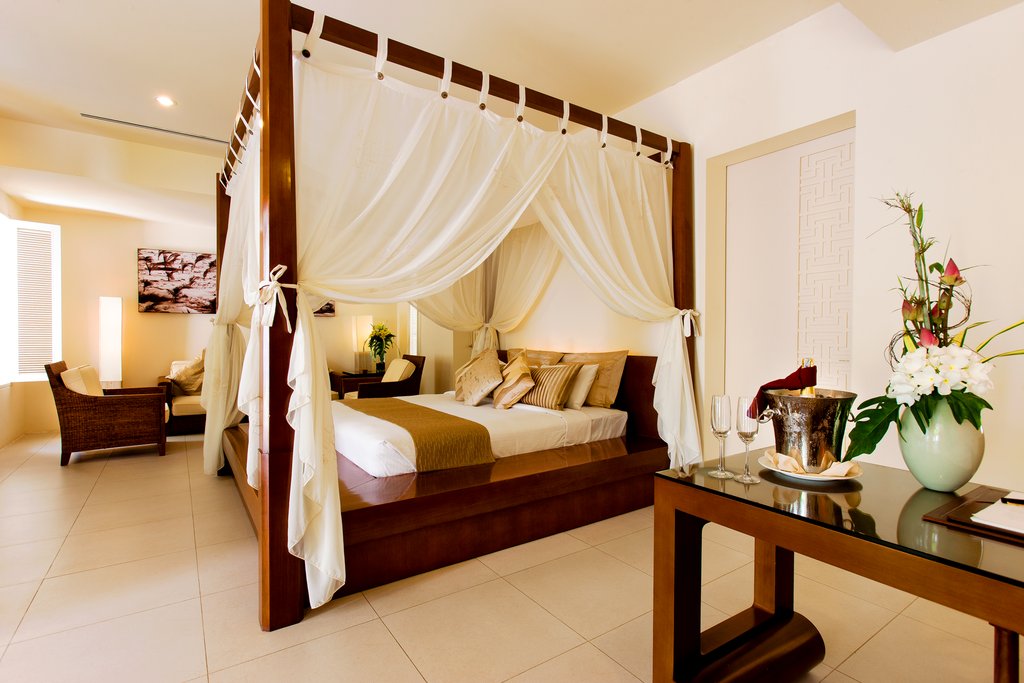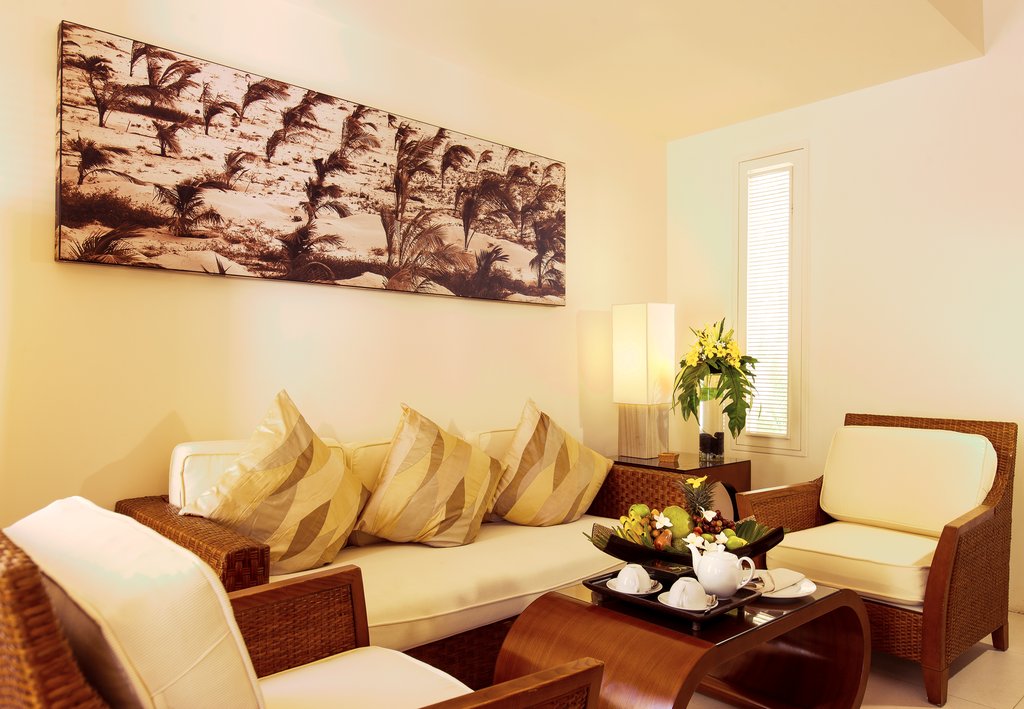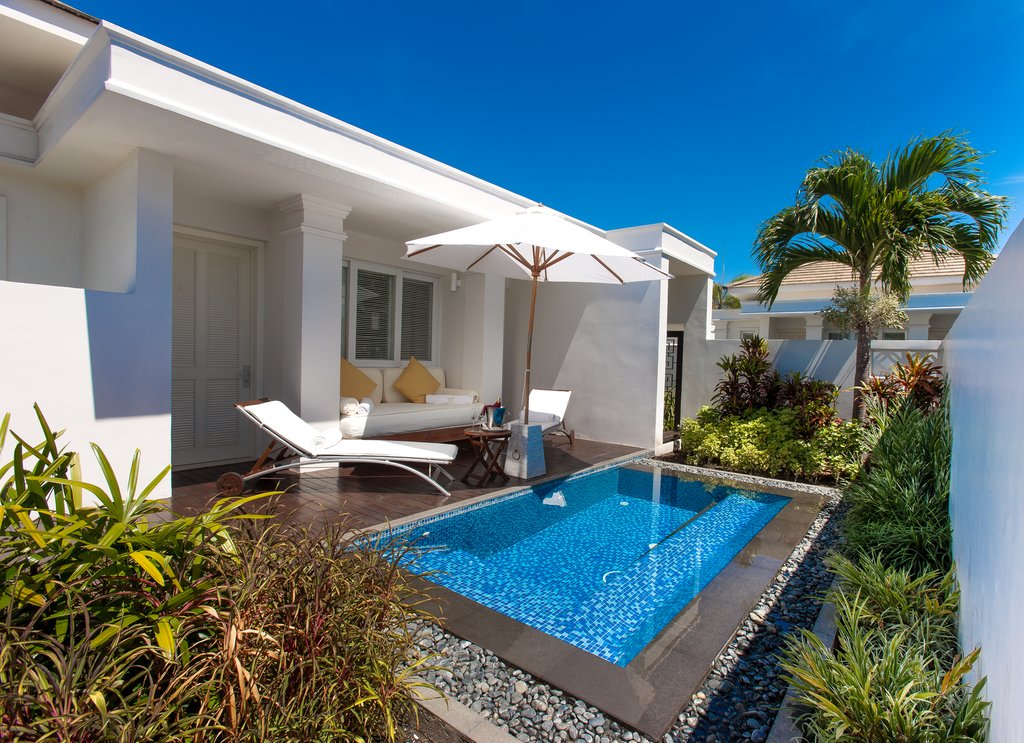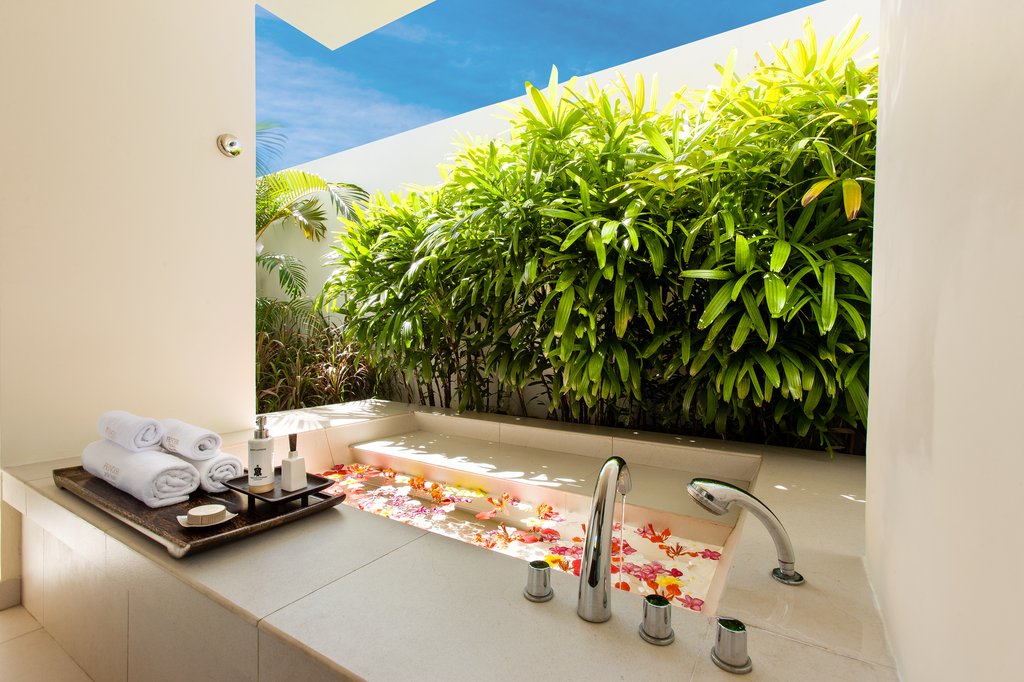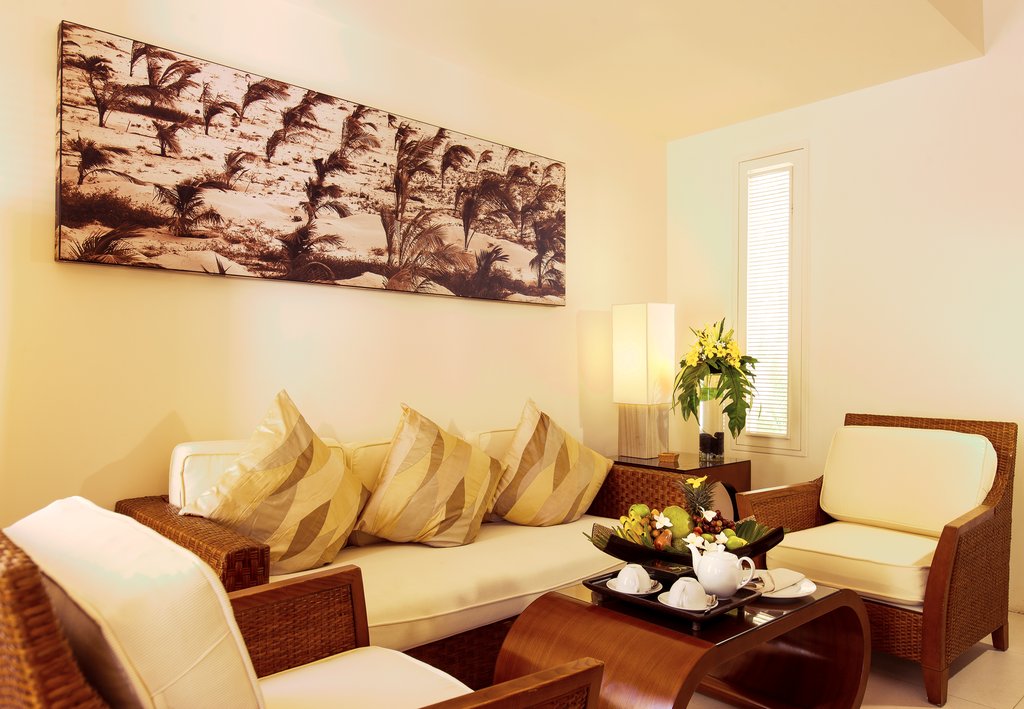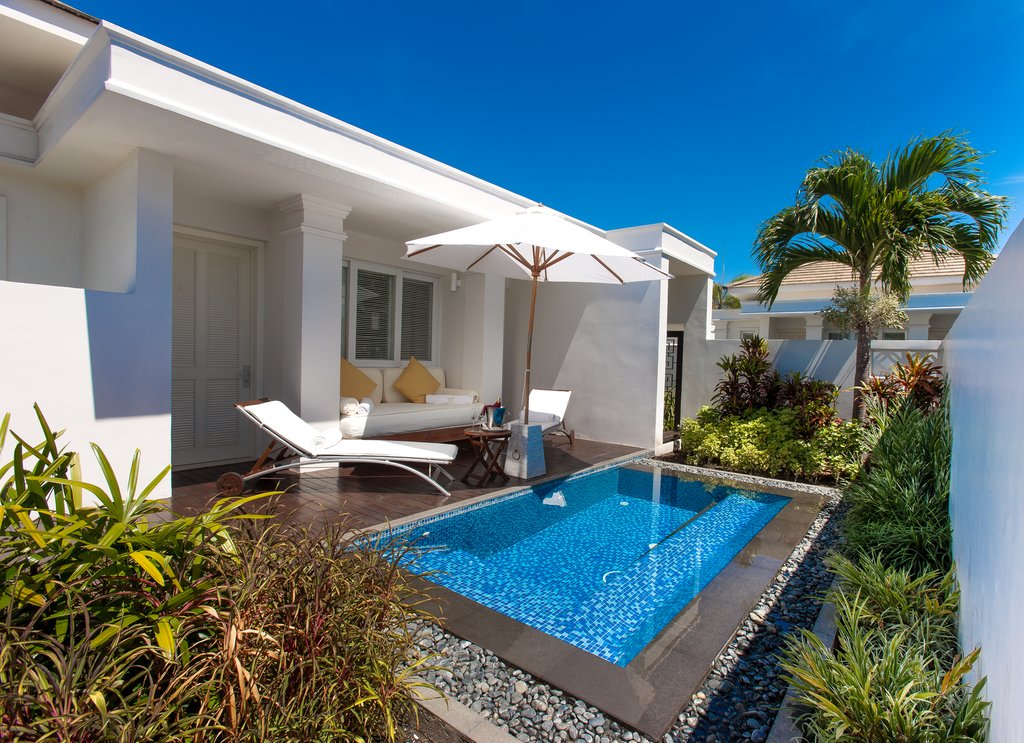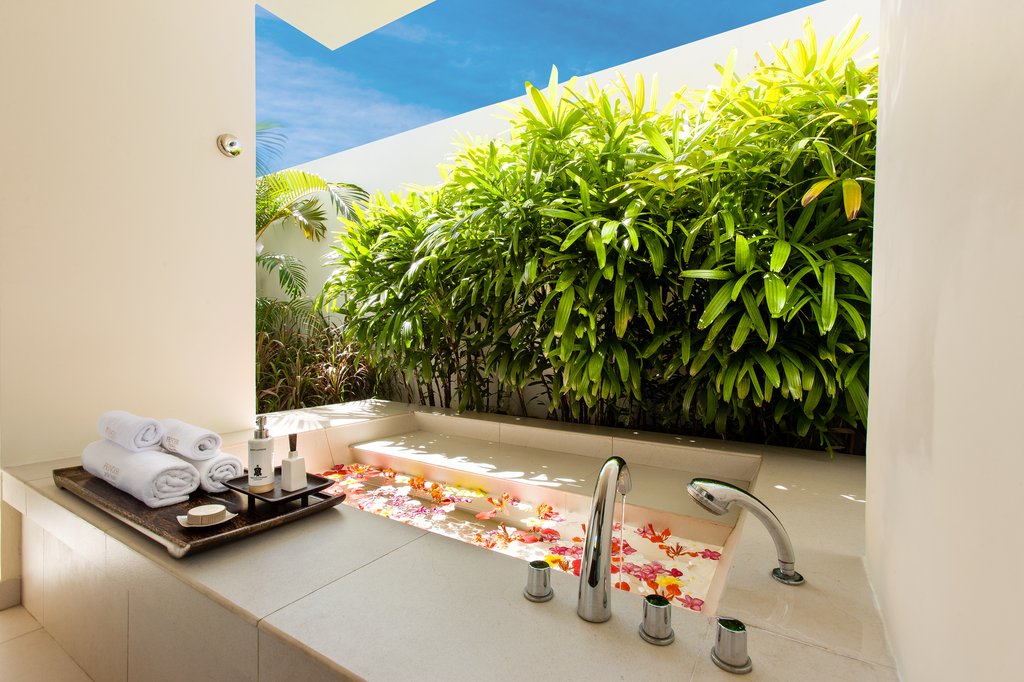 Princess Villa
Sleeps: 2 People.
Princess Villas feature a private outdoor plunge pool, open-air bathtub with separate rain shower room, four-poster king bed, air conditioning and complimentary WiFi.

Room size: 100sqm (villa and veranda). 2 persons allowed in existing bed per residence, plus 1 additional person only at a charge in one roll-away bed.
From per night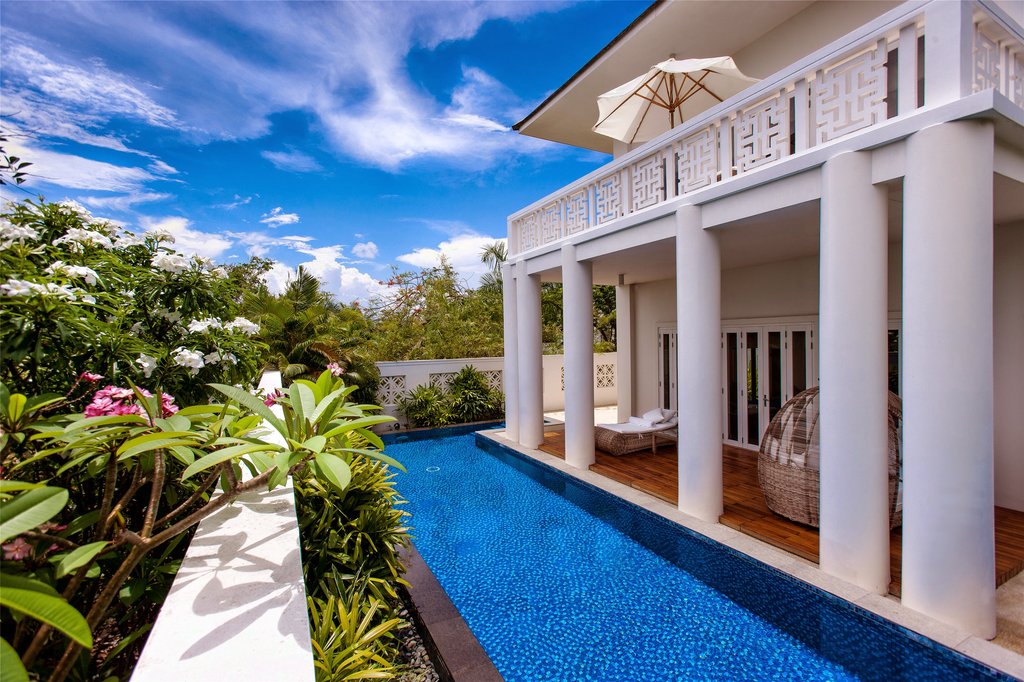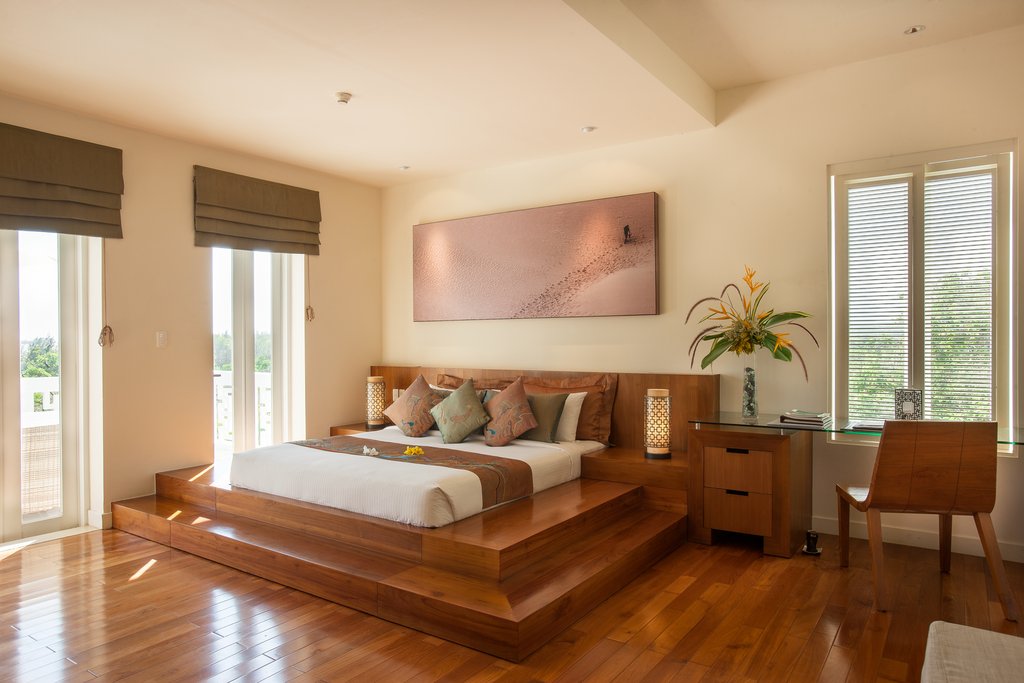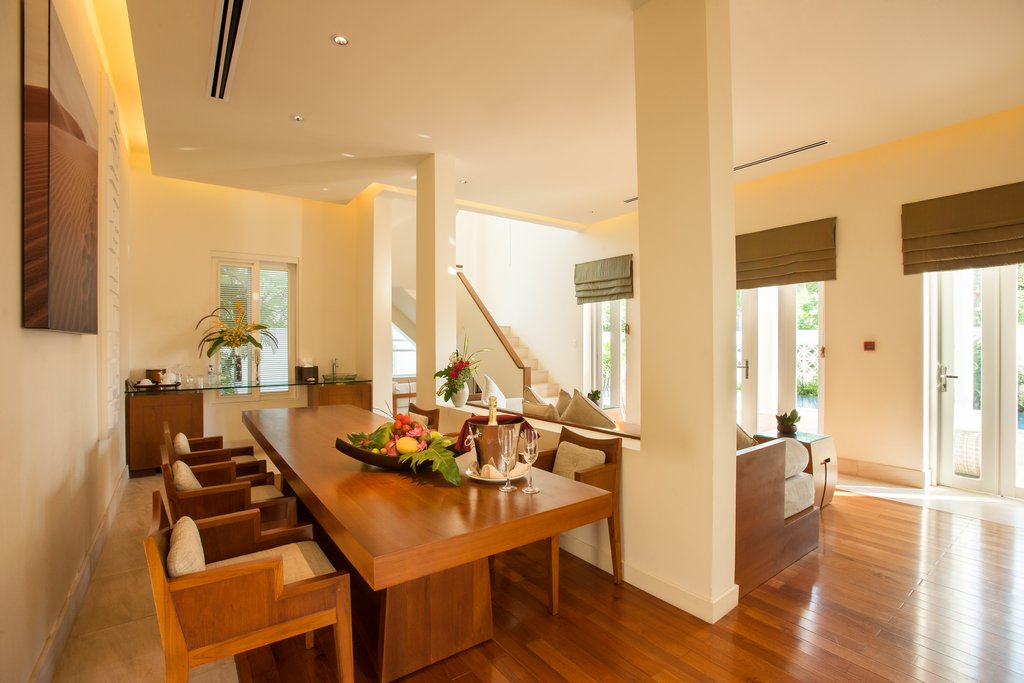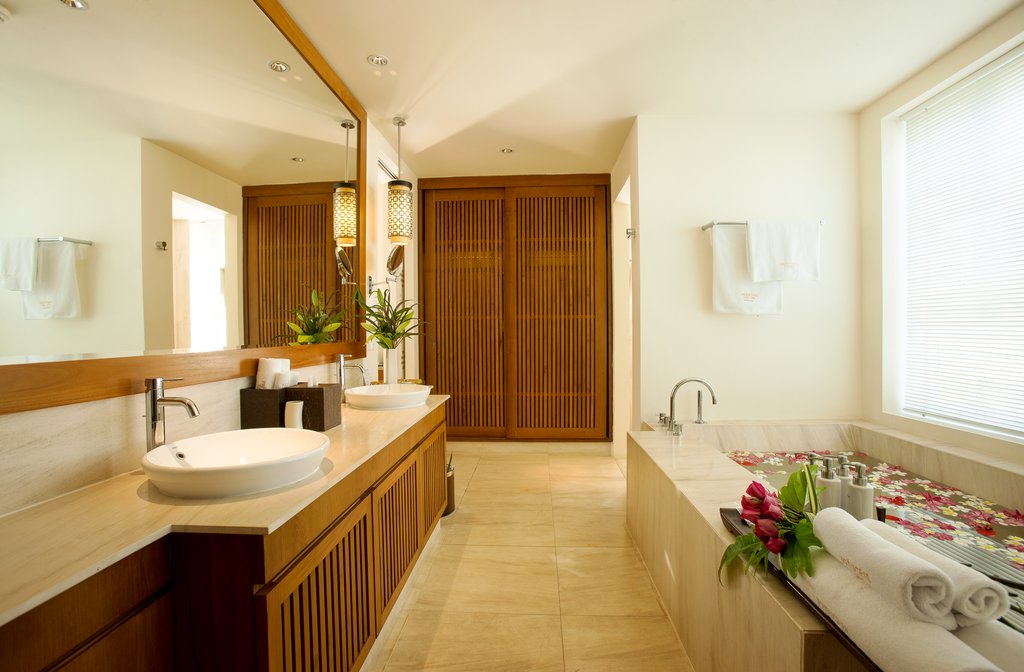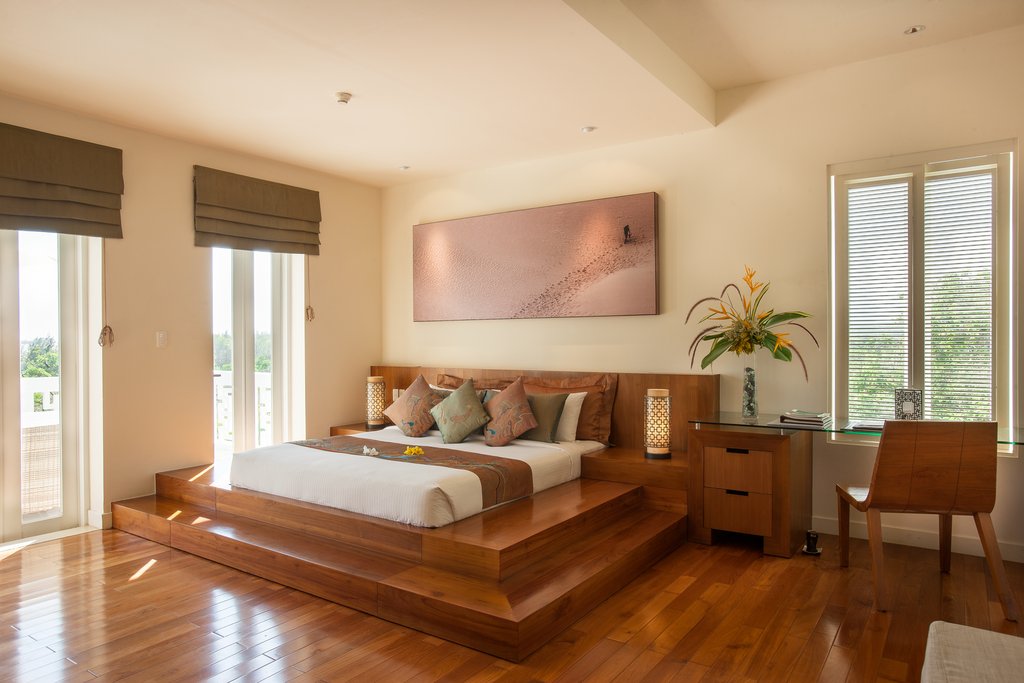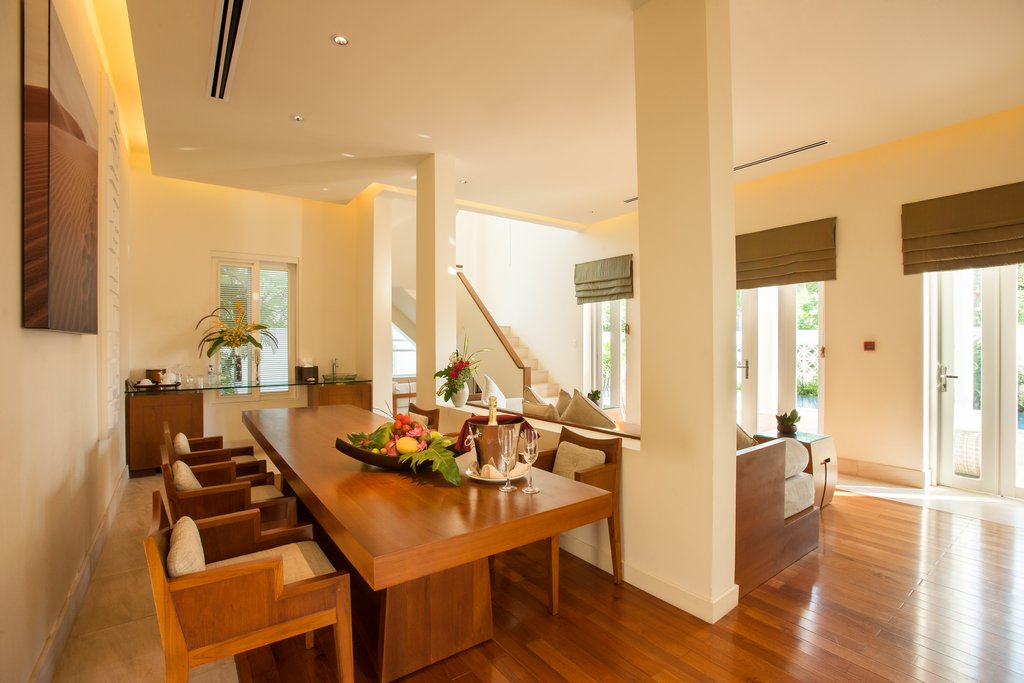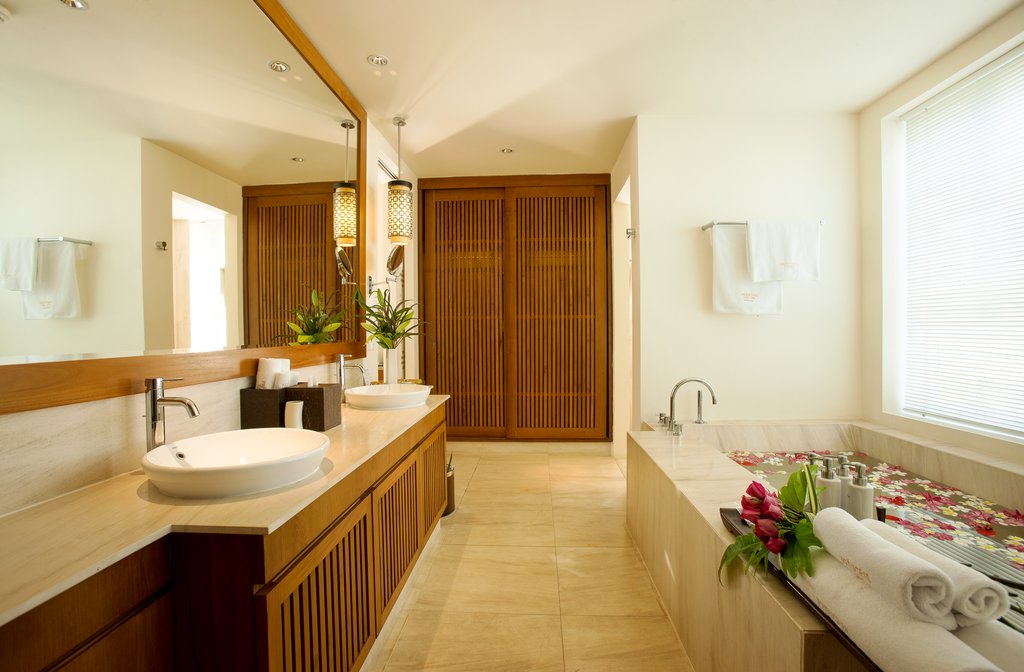 Empress Villa
Sleeps: 4 People.
Empress Villa is an imposing two-floor villa that offers a spectacular view of Ke Ga Bay from their large private veranda.

It has an interior that includes two bedrooms with double beds and a large private infinity pool, garden/sea view, air conditioning and complimentary WiFi. Room size: 185sqm (villa and veranda).
From per night
Air conditioning
Lounges/bars
Sauna
Exercise gym
Pool
24-hour room service
Wedding services
Join INVITED and get 10% off exclusive rates. Plus early check-in and late check-outs among other benefits.
24-hour front desk

24-hour room service

24-hour security

Accessible facilities

Air conditioning

Audio visual equipment

Bell staff/porter

Buffet breakfast

Business Center Services

Catering services

Child programs

Children welcome

Coffee shop

Concierge desk

Conference space

Convention facilities

Currency exchange

Doctor on call

Dry cleaning

Exercise gym

Fire safety compliant

Free high speed internet connection

Free parking

Full service housekeeping

Gift/News stand

Hairdresser/barber

Health club

High speed internet access for laptop in public areas

Hotspots

Housekeeping - daily

Jogging track

Laundry/Valet service

Lounges/bars

Massage services

Meeting rooms

Outdoor parking

Outdoor pool

Parking fee managed by hotel

Pets not allowed

Photocopy center

Pool

Public address system

Restaurant

Room service

Safe deposit box

Security

Shoe shine stand

Shuttle to local attractions

Turndown service

Wakeup service

Water skiing

Wedding services

Wireless internet connection
Air conditioning

Balcony/Lanai/Terrace

Bathrobe

Bathroom amenities

Bathtub

Cable television

Coffee/Tea maker

Color television

Desk

Direct dial phone number

DVD player

Hairdryer

Internet access

King bed

Minibar

Queen bed

Remote control television

Safe

Satellite television

Sitting area

Slippers

Smoke detectors

Sofa bed

Telephone

TV
Fine dining

Outdoor pool

Pool

Sauna

Spa

Weightlifting
Our chefs capture the intricate flavours of Vietnam through their intimate knowledge of the lush produce of the region, combined with their skill at the delicate French art of blending savours. Making dining a sublime experience is not just restricted to the kitchen. In order to offer the freshest possible dish, fishermen lay their catch on the shores, entreating guests of the PRINCESS D'ÂN-NAM to pick the seafood perfectly suited to their fancy, which will later be prepared to their liking, by masters of fine cuisine.
The Terrace
Cuisine type: International
Meals served: Breakfast, Lunch, Dinner
All-day dining is served al fresco on the deck of the main infinity pool offering succulent dishes from simple barbecues to intercontinental gourmet favourites and Asian specialties cooked to perfection by our Chef and his team. An ideal venue for dining under the stars in a casual and relaxed atmosphere.
The Dining Room
Cuisine type: International
Meals served: Breakfast, Lunch, Dinner
The ultimate dining experience in Ke Ga French gastronomic traditions accompanied by an extensive wine list in an elegant dining atmosphere with refined service. The Dining Room features an open kitchen behind glass walls and a spectacular view of the surrounding ocean and lighthouse.
The PRINCESS D'ÂN NAM Resort's spa spans 1,800 m2 oceans view with its century-old lighthouse. The Spa's 10 individual treatment rooms, divided by gender to ensure utmost privacy, are built around an unusual inner courtyard with intimately- space corridors and mysterious alcoves. The cloistered trail is reminiscent of an Oriental town. Complementing the beauty of its setting are the assuaging sounds and soothing fragrances from Asia's secret ingredients – honey, cloves, coconut oil, golden yellow tumeric, aloe vera and ylang ylang – applied according to individual requirement by skilled hands to work therapeutic renewal. Two VIP Suites with Jacuzzis and breathtaking view of the ocean are tailored for couples and are available for intimate evenings. From hot stone therapy and synchronized massages, to gentle herbal detoxification treatments and anti-aging facials, varying made-to-order royal spa treatments are offered along with the pleasure of whiling away time in the relaxing shade of the salon and tonic bar.
Reviews
These reviews are the real opinions of INVITED members and we have verified their stay at the hotel.
What I liked most :

General service (10)
Restaurant and dining (10)
Breakfast (9)
Location (9)
Guestroom and bathroom (7)
Internet and wifi (7)
Room service (6)
Welcome and departure (6)
Leisure facilities (3)

Read Reviews

Perfect place to be pampered by super friendly staff

Stay date: December 2016

My Trip Type:

Friends

The staff are so genuinely nice and wonderfully friendly that you will never want to leave. The food for breakfast, lunch and dinner is totally excellent, the spa is really nice and very spacious compared to other resorts. The beach and sea water are very clean and the pool is nice too. The villas are very nice although you can get more luxurious ones in other resorts. Considering the rates the hotel is really great value for money. It is a bit of a trip from Ho Chi Minh but it in a way this is a nice sightseeing trip to give you a favour of Vietnam. The only disappointment was with the wine list. The list is actually very good but not when on three occasions we were told the particular different wines were out of stock. This is perfectly understandable by itself but should be made clear on the wine list itself. We will almost certainly come back as the overall experience is just what we seek from a small luxurious hotel.

Top tip for other guests:

Must try the spa but book spa timely as it gets busy

What I liked most

Internet and wifi
Welcome and departure
Restaurant and dining
Breakfast
General service

Stay date: February 2016

My Trip Type:

Couple

We loved the Resort. Everything was excellent !

Top tip for other guests:

No

What I liked most

Guestroom and bathroom
Local knowledge and experiences
Welcome and departure
Internet and wifi
General service
Restaurant and dining
Breakfast
Room service

Stay date: February 2016

My Trip Type:

Couple

Beautiful and aesthetically inspiring building with decorative, lush gardens around. Deserted beach. Attractive spa with 2 high quality sauna inside. Peacefulness and meditative vibes.

Top tip for other guests:

Don't miss the spa or sunsets over the sea.

Hotelier reply:

Dear Mr. Männynsalo, On behalf of the entire team here at PRINCESS D'AN NAM Resort & Spa, I would like to thank you for your very nice review on our resort. It is great to read that guests like yourself have chosen our resort exactly for what it is: a secluded, small luxury property where you can hide-away from the squall for everyday life. Hope to welcome you again sometime soon. Best wishes, Wessel Z. Krauss General Manager

What I liked most

Room service
Restaurant and dining
Breakfast
Location

What I might improve

Far from the Madding Crowd - Paradise!

Stay date: November 2015

My Trip Type:

Friends

A few hours drive through rural Vietnamese countryside from Ho Chi Minh City you enter this paradise of a beach and tropically set retreat. A retreat from the world for the mind, body and soul amongst friendly and helpful discreet and unimposing staff always ready to serve you promptly. Set on a glorious beach with dunes to explore from dawn to dusk with hardly another soul to interrupt the idyl this is truly a paradise and worth the journey. Spa, pools of various types, fitness room and wandering the tropical gardens all give different options to relax in unencumbered by other guests if one so chooses. Princess Villas have their own plunge pool where one can sit out near, or sleep away the night in the cool tropical breezes. Perfect!

Top tip for other guests:

Take a Princess Villa and enjoy your own villa life-style.

What I liked most

Restaurant and dining
Guestroom and bathroom
Room service
Welcome and departure
General service
Internet and wifi
Location
Leisure facilities

What I might improve

Spectacular resort!! Fantastic service!!

Stay date: February 2015

My Trip Type:

Couple

Princess D'An Nam Resort was one of the best resort experiences we have encountered. Fabulous service; staff very attentive. Facilities were first rate; food also excellent. It would be very difficult to exceed this resort in quality.

Top tip for other guests:

Wonderful experience

What I liked most

Internet and wifi
General service
Guestroom and bathroom
Welcome and departure
Location
Restaurant and dining
Leisure facilities
Breakfast
Local knowledge and experiences

What I might improve

Stay date: December 2014

My Trip Type:

Family

I really enjoy our (my and my wife) vacation in Princess Dann Amm!!! It's actually nice place with comfortable environment (28-32 Cesius and a lot of sunny day's) during period from 29 November till 08 December 2014. All staff was friendly and support us from the beginning till last our of our stay in hotel. The biggest challenge - insects :))) They are bite me all the time. Fortunately hotel staff protect me and my wife with special fumigators and special devices in our room. Without this protection we may die there :))))) It's really one of best hotels according to my experience.

Top tip for other guests:

Fantastic hotel for period of vacation

What I liked most

General service
Room service
Location

What I might improve

Local knowledge and experiences

Stay date: August 2014

My Trip Type:

Single

I believe the hotel is one of the best I've stayed in. A jungle in front of the beach. The only drawback is the staff language ability, I found it very difficult to understand what they say.

Top tip for other guests:

Come soon

What I liked most

Leisure facilities
Breakfast
Location
Internet and wifi
Room service

What I might improve

Local knowledge and experiences

Fantastc service - RELAX!

Stay date: March 2014

My Trip Type:

Couple

Princess D'Annam Resort and Spa is a fantastic place to stay and ideal to relax with friendly professional service. We booked 3 days and added 2 more nights. The service is perfect. The food is great. We enjoyed the á la cart breakfast and lovely evenings while dining. Unlimited in time and everything freshly made. The main pools are nicely arranged either in the tropical garden or on the beach. The size of Princess D'Annam Resort and Spa is a real SLH! Both Mandarin Suite and Princess Villa are lovely to stay. WE recommend staying at least 5 nights. A very remote and luxury place to relax. Getting there is a five to six hours drive from Saigon.

Top tip for other guests:

Stay at least 5 nights - it´s a very long drive from Saigon!

What I liked most

General service
Restaurant and dining
Breakfast
Guestroom and bathroom
Location

What I might improve

Very remote but great SLHotel to relax

Stay date: March 2014

My Trip Type:

Couple

- Staff very service oriented & friendly - Breakfast a la carte with the option that you can order as much as you like is a unique experience. All is freshly prepared - Food quality is excellent - The transfer time is a bit too long but you get rewarded - Stay at least 5 nights - Nice pools in a tropical garden

Top tip for other guests:

Stay at least 5 nights

What I liked most

Breakfast
Restaurant and dining
Location
General service

What I might improve

Absolutely beautiful hotel

Stay date: February 2014

My Trip Type:

Couple

My husband and I chose this hotel for our honeymoon and we had the most fantastic time. The hotel is stunning, the food is incredible and the service was faultless. We had the holiday of a lifetime.

Top tip for other guests:

Definitely try the 'BBQ under the stars'. It was delicious!

What I liked most

General service
Restaurant and dining
Guestroom and bathroom

Stay date: January 2014

My Trip Type:

Couple

My wife and myself spent some wonderful days at the Pricess D'An Nam Resort. The resort is beautiful and the service excellent. There are always little details who make the difference and this is definetly a big point for this resort. A bottle of sparkling wine at the arrival, vouchers for free drinks and spa-use as well as fresh fruits in the room - everything and more at no charge.

Top tip for other guests:

ask for transportation by the hotel....very convenient and fast

Stay date: November 2013

My Trip Type:

Couple

Nice hotel in the middle of nowhere. Excellent service. Friendly but average SPA. Perfect for couples.

Top tip for other guests:

For ultimate privacy book Princess Villa.

Hotelier reply:

Dear Mr. Sidorov, Thank you for awarding PRINCESS D'AN NAM Resort & Spa 5 stars. We are happy to read that your enjoyed our remote location and great service and attention of my team. Thank you again for your great score and we hope to welcome you back soon at PRINCESS D'AN NAM Resort & Spa With my best and personal regards, Wessel Z. Krauss General Manager

What I liked most

Internet and wifi
Guestroom and bathroom
Restaurant and dining
Location
General service
Room service
Welcome and departure
Breakfast

What I might improve

Stay date: August 2013

My Trip Type:

Couple

We spent 8 wonderful nights at Princess D'An Nam in August. The resort is great, the staff is amazingly efficient. The restaurant is awesome. It is just perfect. The secluded location is perfect for a relaxing vacation. We definitely recommend it.

Top tip for other guests:

the Spa is a must

What I liked most

Internet and wifi
Welcome and departure
Location
Guestroom and bathroom
Restaurant and dining
Breakfast