https://origin.slh.com/hotels/quinta-das-lagrimas-palace/
Hotel Highlights
Grand 14th-century building, former home to Prince Pedro and his lover Inês de Castro
Classically designed Palace rooms once occupied by the Duke of Wellington and King Miguel of Portugal
Fine-dining restaurant serving seasonal specialities
Quinta das Lágrimas - luxury hotel in Coimbra, portugal
An historic site a short walk from Coimbra medieval centre
On the site of a famous but tragic fourteenth-century love story between Prince Pedro and Inês de Castro, Quinta das Lágrimas holds the secrets of this fateful affair. Providing a superb choice of accommodation, guests may choose from the magnificent 18th-century palace, the Garden residence or the slick modernity of the Spa building, and enjoy a nine-hole pitch-and-putt course, a lake, two pools and a fine-dining restaurant.
Quinta das Lágrimas has an undoubtedly romantic air. The yellow and white façade of the hotel gives a grand and stately impression. With superb gardens packed with rare trees, the fountain that is said to be born of the tears of the fateful Inês de Castro, murdered for her illicit love affair, and the beautifully decorated rooms throughout, this hotel is both enchanting and totally unique.
Sunny days can be spent lingering by the outdoor pool interspersed with indulgent spa treatments. Practise your golf moves at the golf academy or take a romantic walk through the gardens or along the River Mondego in Dr Manuel Braga Park, overlooking the city. Discover Coimbra's medieval centre and intriguing alleyways packed with cafes and the city's unique form of Fado, sung only by men. Return to Quinta das Lágrimas for dinner in Arcadas da Capella restaurant.
52

rooms

2

restaurants

2

floors
The rooms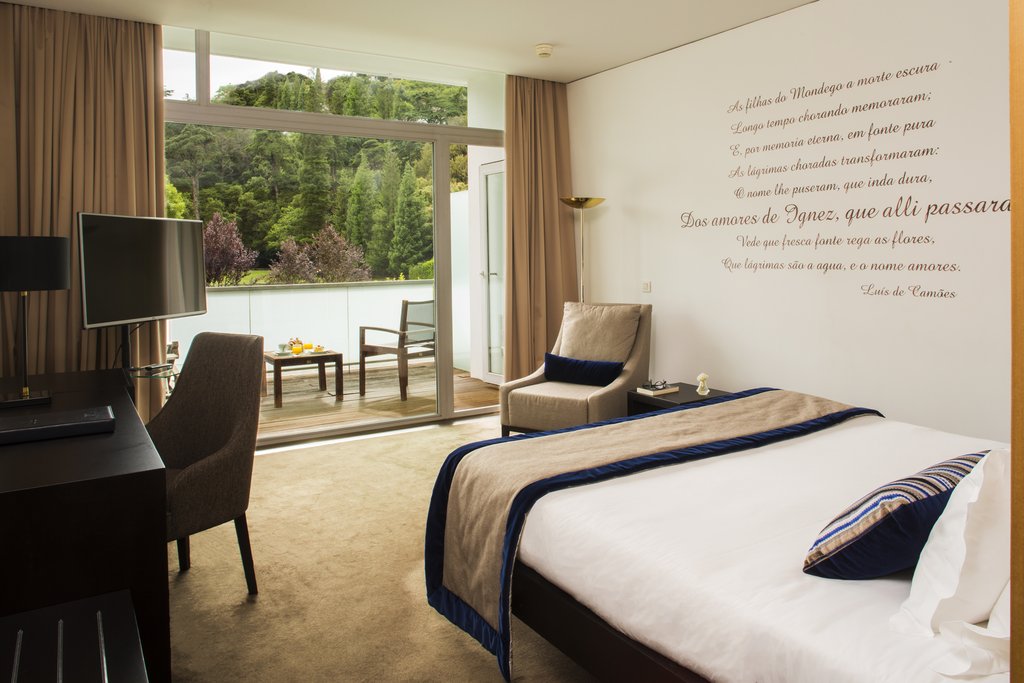 Spa Room
Sleeps: 3 People.
Spa rooms are located in the Spa wing and offer a sleek design and stunning views of either Coimbra or the Botanical Garden. The rooms have large verandas, hydrotherapy bath tubs and King bed.

Free WiFi and air conditioning. Room size 19 to 22 square metres
From per night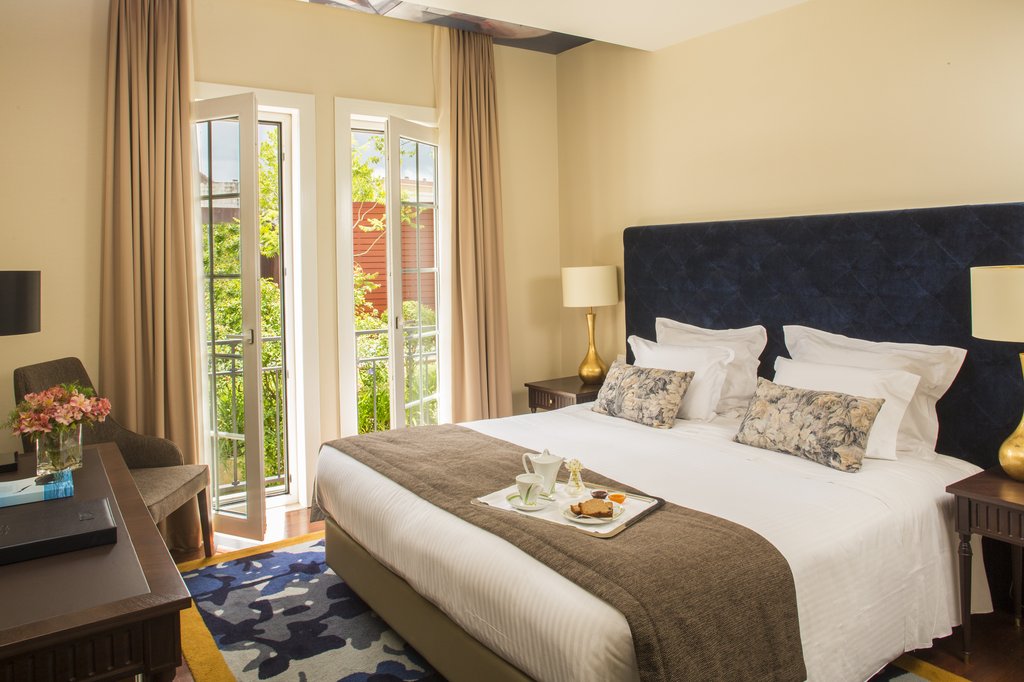 Jardim Room
Sleeps: 2 People.
Jardim rooms are located in the Garden Wing and have a peace and tranquility surrounded by water and the green canopy of the Botanical Garden.

The rooms have twin or King bed, free WiFi and air conditioning. Room size approximately 15 square metres.
From per night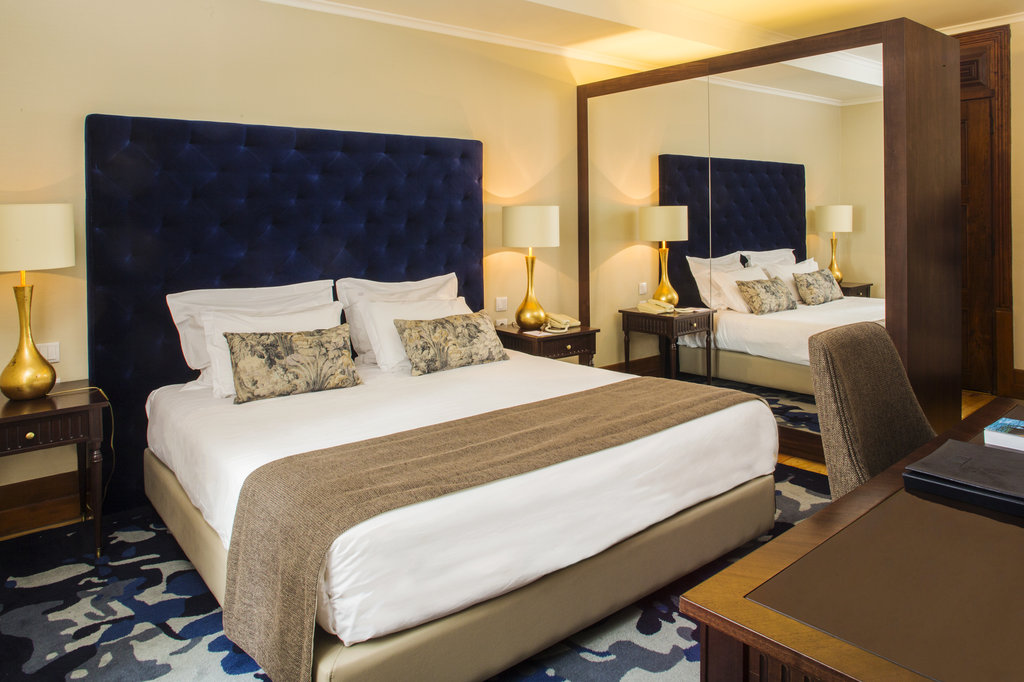 Palacio Room
Sleeps: 3 People.
Palacio rooms, individually decorated rooms located in the original Palace, with a Romantic atmosphere and garden views. The rooms have twin or King bed, free WiFi and air conditioning.

Room size 17 to 26 square metres.
From per night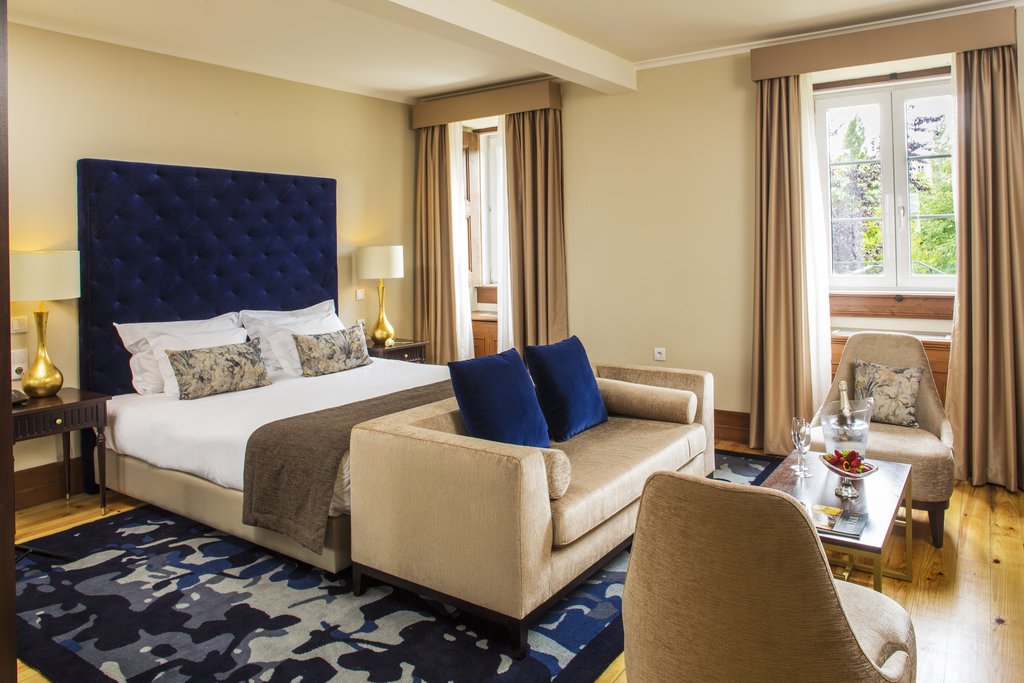 Superior Deluxe Room
Sleeps: 3 People.
Large Deluxe room. Palace/Garden wing King/Twin Beds 30SqMt. Charming decor. Manor House atmosphere. Free Wi-Fi.
From per night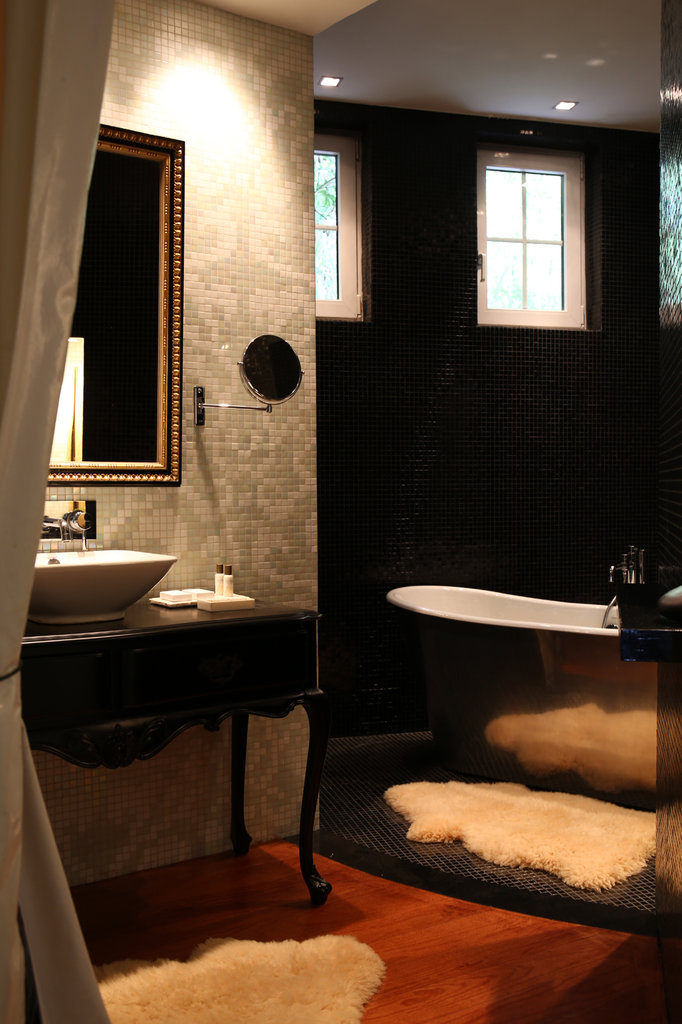 Suite
Sleeps: 3 People.
Suites are individually decorated and located in the Palace, Garden or Spa wings that offer guests an unforgettable experience of comfort. Suites have twin or King bed, free WiFi and air conditioning.

Room size 17 to 26 square metres
From per night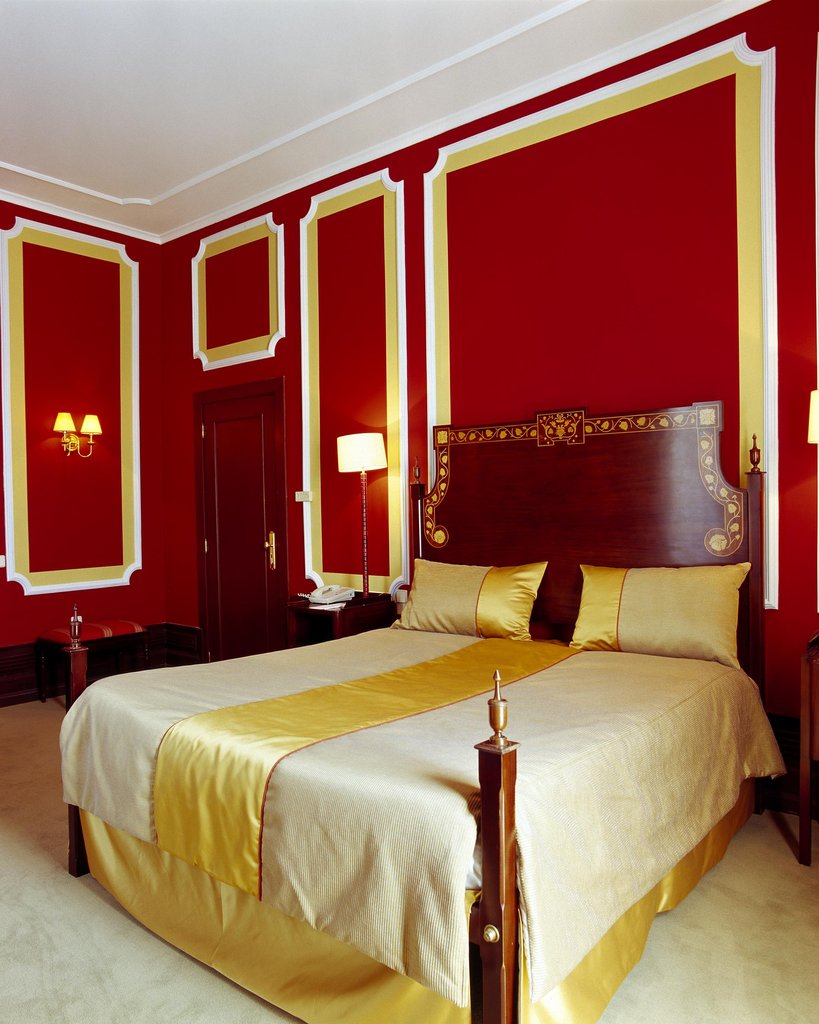 Superior Grand Suite
Sleeps: 4 People.
Grand Suite Palace/Spa wing w/1King Bed 55SqMt. Living room. Charming decor. Nespresso machine. Free Wi-Fi.
From per night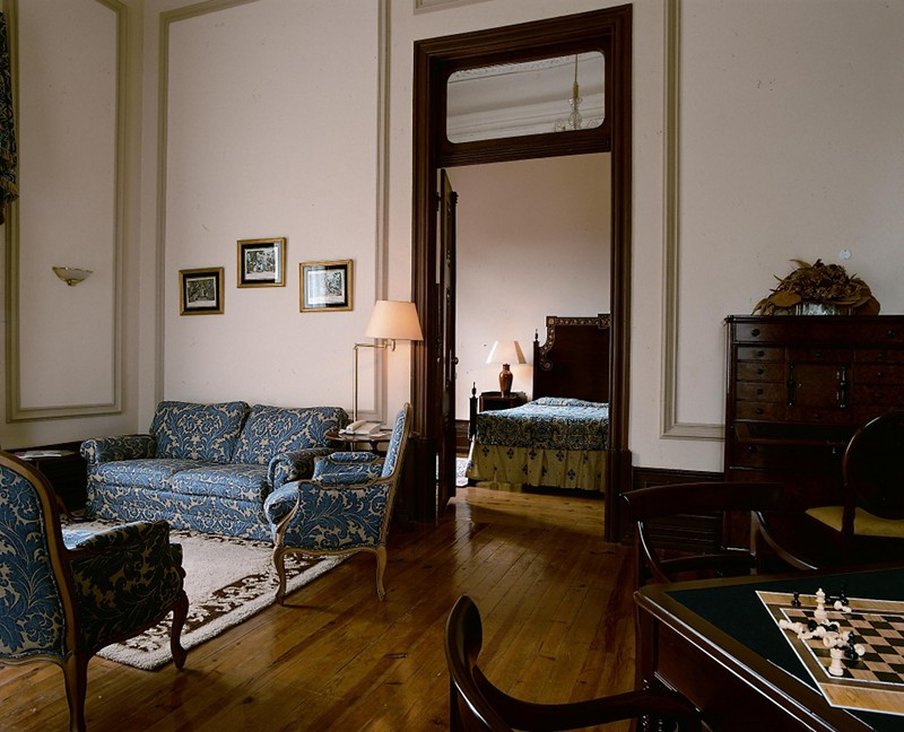 King Suite
Sleeps: 4 People.
King Suite pays tribute to King Miguel of Portugal, who once visited Quinta das Lagrimas and offers King bed, free WiFi and air conditioning. Room size 17 to 26 square metres.
From per night
Air conditioning
Lounges/bars
Golf
Pool
Wedding services
Join INVITED and get 10% off exclusive rates. Plus early check-in and late check-outs among other benefits.
24-hour front desk

24-hour security

Accessible facilities

Air conditioning

Buffet breakfast

Business Center

Child programs

Children welcome

Currency exchange

Doctor on call

Early check-in

Elevators

Fire safety compliant

Free parking

Full service housekeeping

Housekeeping - daily

Late check out guarantee

Laundry/Valet service

Lounges/bars

Massage services

Meeting rooms

Newspaper

Pets not allowed

Pool

Post/parcel service

Restaurant

Room service

Room service - limited hours

Security

Wakeup service

Wedding services

Wireless internet connection
Air conditioning

Balcony/Lanai/Terrace

Bathrobe

Bathtub

Bidet

Color television

Desk

Direct dial phone number

Hairdryer

Minibar

Non-smoking

Remote control television

Safe

Satellite television

Telephone

TV
Fine dining

Golf

Indoor pool

Nature preserve trail

Pool

Spa
Arcadas Restaurante
Cuisine type: International
Meals served: Dinner
The Cuisine uses traditional ingredients of this region to create exquisite recipes that we refresh four times per year - in rhythm with the seasons.
Gastrobar Arcadas
Meals served: Dinner
Set in the hotel bar; Gastrobar is an alternative to Arcadas for dinner. A simpler gastronomic concept where you can find tasty delicacies and good wines selected by our team.
Pedro and Ines Restaurant
Meals served: Breakfast, Lunch
Our restaurant Pedro and Ines offers a more informal atmosphere and a concept of sharing. It is a cozy space; overlooking the garden and where the old recipes of Quinta das Lagrimas are present. This restaurant is only open for breakfast and lunch.
The Bamboo Garden Spa is a sanctuary of peace and serenity that offers a series of treatments aimed at promoting relaxation and well-being for mind and body. As a "Garden Spa" we incorporate in our treatments natural elements that possess rejuvenation properties, as is the case of the bamboos that flourish in our botanical garden. The bamboo tree is a symbol of Nature's vitality since it generates more oxygen than the other trees, purifying the atmosphere and the soil. Its natural properties give it the capability of recovering damaged tissues and some people even attribute aphrodisiac properties to it, reason why we use it in our signature massage for couples. The Bamboo Garden Spa boasts: - Indoor pool - Treatment rooms (massages, aromatherapies, etc). The massages can be experience on the garden as well as in the privacy of the guestrooms - Sauna and Turkish bath - Fitness Room - Regular experiences with specialists in rejuvenation and meditation.
Reviews
These reviews are the real opinions of INVITED members and we have verified their stay at the hotel.
What I liked most :

Location (18)
Restaurant and dining (17)
Welcome and departure (13)
Breakfast (12)
Guestroom and bathroom (12)
Welcome and Departure (11)
General service (10)
General Service (10)
Guest Room and Bathroom (10)
Internet and wifi (10)
Local knowledge and experience (9)
Leisure facilities (8)
Local knowledge and experiences (6)

What I might improve :

Internet and wifi (6)
Breakfast (4)

Read Reviews

One of our best stops in Portugal. Unique and wonderful. Great staff

November 2019

My Trip Type:

Couple

Staff was so friendly and helpful. We were impressed we had to be let in the gate to register. Food was creative and exceptional, fit for foodies. Very good wine list. Fado music at dinner. Beautiful gardens. Loved the whole experience. Stayed in the old palace.

Top tip for other guests:

Stay in a palace room

What I liked most

Welcome and Departure
Location
General Service
Guest Room and Bathroom
Breakfast
Restaurant and dining
Internet and wifi

October 2019

One of our favorite hotels in Portugal!

Top tip for other guests:

Book a suite with a view of gardens.

What I liked most

Welcome and Departure
Location
General Service
Local knowledge and experience
Guest Room and Bathroom
Leisure facilities
Internet and wifi

What I might improve

June 2019

My Trip Type:

Couple

We had a very warm welcome, great tips for a walk through the town snd an impressive dinner in the restaurant.

Top tip for other guests:

Have a menu at the gourmet restaurant

What I liked most

Welcome and Departure
Location
Local knowledge and experience
Restaurant and dining

What I might improve

May 2019

My Trip Type:

Couple

Lovely hotel. Great service! Did not stay long enough to use facilities.

Top tip for other guests:

Nice walk into town.

What I liked most

Welcome and Departure
Location
General Service
Local knowledge and experience
Guest Room and Bathroom
Internet and wifi

What I might improve

Beautiful Hotel and that dinner!

April 2019

My Trip Type:

Couple

We enjoyed our stay. The walk around the gardens, the spa, the room were all wonderful. We had the most amazing dinner. It made it a night to remember.

Top tip for other guests:

Dinner is a must. The history and walk in the gardens is not to be missed.

What I liked most

Welcome and Departure
Location
General Service
Local knowledge and experience
Guest Room and Bathroom
Restaurant and dining

A wonderful stayn at a historic site...

April 2019

My Trip Type:

Couple

The gentleman at check-in told us the whole story about Ines and Pedro, and the importance of this site, as well as the beauty of the gardens. That made a difference!

Top tip for other guests:

Visit the gardens...

What I liked most

Welcome and Departure
General Service
Guest Room and Bathroom
Breakfast

What I might improve

March 2019

My Trip Type:

Couple

the staff is great, property perfectly located, we had a great time and were sorry to leave

Top tip for other guests:

stay here and day trip up to Porto by train as well as other locations. perfect for a tie in with Lisbon, three or 4 days in each will make for a great trip.

What I liked most

Welcome and Departure
Location
General Service
Local knowledge and experience
Guest Room and Bathroom
Breakfast
Restaurant and dining

They pay attention to details

November 2018

My Trip Type:

Couple

Top tip for other guests:

Library

What I liked most

Welcome and Departure
General Service
Local knowledge and experience
Guest Room and Bathroom
Breakfast
Restaurant and dining
Internet and wifi

October 2018

Elegant garden view room in original old part of hotel. Arcadas restaurant a peak taste, presentation and service experience.

Top tip for other guests:

Consider whether you prefer modern or old style room. Plan reservations in Arcadas ahead so you can experience this extraordinary restaurant.

What I liked most

Welcome and Departure
Location
General Service
Local knowledge and experience
Guest Room and Bathroom
Breakfast
Restaurant and dining
Leisure facilities
Internet and wifi

October 2018

What a great place to come and relax and explore the surrounding area. The hotel itself has a great feel and a fantastic history to explore both in the buildings and the grounds. The town itself and the University including the Library and the Roman Ruins under the Museum are have to see things. Then at night relax with great food and wine at the restaurant. Highly recommended!

Top tip for other guests:

Walk the grounds Visit the University library and Roman Ruins under the museum

What I liked most

Welcome and Departure
Location
General Service
Local knowledge and experience
Guest Room and Bathroom
Breakfast
Restaurant and dining
Room Service
Leisure facilities
Internet and wifi

gorgeous hotel set in a park

September 2018

its not often one finds a gorgeous hotel set in its own park, complete with the fountains from a famous love story. The service was exceptional - and the staff were very helpful in showing us the best ways to sight-see in the city. top notch.

Top tip for other guests:

make sure to leave time for leisurely walks in the gardens!

What I liked most

Welcome and Departure
Location
General Service
Local knowledge and experience
Guest Room and Bathroom
Breakfast
Restaurant and dining
Leisure facilities
Internet and wifi

Wollongong, Australia

My Trip Type:

Couple

Sadly we only had an overnight stay here. Our room was very large and located in the historic part of the complex. The grounds and the buildings are lovely to stroll around and the history behind this property is interesting. Make sure you look at the art inside near the spa/pool area in the modern section. I used the spa facilities and my therapist was fabulous and really enthusiastic about her job and proud of the spa. The pool are is also lovely. You can walk to the historic centre of Coimbra, but it's about 20 minutes on foot, which after all the food we ate in Portugal was what we needed to do. Coimbra is a must see but this property is a destination in itself. Great staff as well that made us feel welcome. There is a lovely restaurant however we left it too late to book, but there are many great restaurants nearby.

Top tip for other guests:

Try and stay at least 2 nights, we had to cram it all in and we wish we could have stayed longer.

What I liked most

Local knowledge and experiences
Breakfast
Location
Internet and wifi
General service
Guestroom and bathroom
Welcome and departure
Restaurant and dining
Leisure facilities

London

My Trip Type:

Couple

Beautiful hotel with amazing grounds. We stayed in a spa room. It was beautiful and huge. However next time I would prefer to stay within the hotel Palace wing which I believe would have been a more unique experience. The restaurant is top quality. It was a very elegant experience. And Coimbra's university library alone is worth the visit to this quaint town.

Top tip for other guests:

Stay in Palace rooms rather than new, modern spa wing

What I liked most

Guestroom and bathroom
Welcome and departure
Restaurant and dining
General service

Country House feel close to the Historic Centre of Coimbra

Stay date: September 2016

My Trip Type:

Single

I did have to struggle with my cases up the stairs on arrival. but part from that, all aspects of the service were excellent. This is a lovely historic building with extensive grounds and excellent facilities. As an SLH member, I was upgraded to a beautiful room which made a huge difference. The hotel is a good 15 minutes (not particularly pleasant) walk to the centre of town - but the ambience and facilities more than made up for that! The restaurant is lovely and breakfasts of high quality with the option of a lovely terrace. The spa is of high quality. the small indoor pool is good and the outside facility and sunbathing area really lovely. Well worthy of SLH membership!

Top tip for other guests:

Try to stay an extra day than you need to see Coimbra in order to appreciate the hotel and use the facilities

What I liked most

Leisure facilities
General service
Breakfast
Guestroom and bathroom

What I might improve

Welcome and departure
Location

Larger hotel, good facilities, 15 minutes from centro

Stay date: August 2016

My Trip Type:

Family

This definitely is a good hotel, though it is a bit bigger and less personal than other SLH accommodations. The old main building is really nice. Full of history. The spa wing looks not attractive at all (concrete 1970's or so) from the outside. It might be an idea to check where your room will be located. Good swimming pool with attentive service, good breakfast. The historic little park around the hotel also is worth exploring. If you want to visit the old town, the hotel is situated on the other side of the river and it will take you approx 15 minutes by foot to get there, crossing the river by a bridge. It is a nice walk.

Top tip for other guests:

Rooms in the main building, especially 4,5 and 6 seem nicer than rooms in other building

What I liked most

Leisure facilities
Location

What I might improve

Wonderful hotel but buiding needs repair

Stay date: March 2016

My Trip Type:

Couple

Nice suite room. Very well equipped in every sense. nice setup around with the garden and the surroundings of the room. Excellent restaurant

Top tip for other guests:

The car entrance does not look like such

Hotelier reply:

Dear Ilana Doweck, Thank you very much for your kind words. Refurbishing is taking place nowadays and soon you can enjoy Hotel Quinta das Lagrimas at is best. We hope to welcome you again in a near future. Best regards, Pedro Rodrigues Catapirra Director

What I liked most

Welcome and departure
Restaurant and dining
Guestroom and bathroom
Local knowledge and experiences
General service
Breakfast

Stay date: March 2016

My Trip Type:

Couple

Lovely hotel in beautiful location. We were very disappointed to find that the indoor swimming pool was out of action and felt we should have been warned ahead of our visit. Breakfast was okey but there was no fresh juice and the coffee was poor. However, on our second day I requested special coffee, which was freshly made for me.

Top tip for other guests:

The rooms in the old part of the hotel were very well appointed

What I liked most

Welcome and departure
Location
Guestroom and bathroom

What I might improve

Leisure facilities
Breakfast

Stay date: February 2016

My Trip Type:

Family

here is very famous as one love story and you can feel all about this love story. I wish to come with my love again. garden is very large and we feel relax.

Top tip for other guests:

garden is nice.

Hotelier reply:

Dear Mr. Oki Hisome, Thank you so much for your kind words. We hope to welcome you again with your love one in a near future. Best regards, Pedro Rodrigues Catapirra Director

What I liked most

Leisure facilities
Guestroom and bathroom
Restaurant and dining
Internet and wifi
Welcome and departure

What I might improve

Restaurant and dining
Breakfast

Friendly service in a great location

Stay date: October 2015

My Trip Type:

Couple

Friendly service in a great location

Top tip for other guests:

Inside pool is in the ( -1) flor

What I liked most

What I might improve

Stay date: September 2015

My Trip Type:

Couple

The staff at reception were very friendly and helpful . Our suite in the palace was in need of serious updating..was dark and cold .the TV was small and very dated .the Internet did not work well at all..no excuse nowadays . The restaurant was nothing special ... The position and gardens were very good .

Top tip for other guests:

Book a room in the modern annexe

What I liked most

Welcome and departure
Location

What I might improve

Internet and wifi
Restaurant and dining
Guestroom and bathroom

Stay date: November 2014

My Trip Type:

Couple

We stayed here as part of our honeymoon trip for one night. We selected the SLH honeymoon rate that included bottle of sparking wine, small gift, and a couples massage for thirty minutes. Room was great, as well as the service, except I would not pay more for this package. When we were taken back for our massages, I told the girl that my husband has never had a massage and that this would be his first one. Start to finish, the massage was 15 minutes, not 30, and my husband's masseuse had a cold and was sniffling throughout the massage. On another note, the dinner was great at their restaurant!

Top tip for other guests:

Since they renovated the hotel, ask to either stay in the newer part or the original palace

What I liked most

Guestroom and bathroom
General service
Restaurant and dining
Welcome and departure

Stay date: October 2014

My Trip Type:

Couple

Good location, good rooms, good dining. We were lucky to get a complimentary room upgrade to suit. It was very well located and equipped. There was a balcony door, that led directly to the hotel garden. Very peaceful. Wi-fi was not strong enough to reach the room correctly

Top tip for other guests:

Visit the garden

What I liked most

Welcome and departure
Guestroom and bathroom
Location

What I might improve

Friendly staff in a beautiful setting

Stay date: June 2014

My Trip Type:

Couple

From the reception through the restaurant the service was first class. A very comfortable stay with very good facilities.

Top tip for other guests:

request assistance with luggage up the steps prior to booking in.

What I liked most

Guestroom and bathroom
Breakfast
Welcome and departure
Location
General service
Restaurant and dining
Local knowledge and experiences

Stay date: May 2014

My Trip Type:

Couple

We had a suite: just splendid. The gardens are magical to walk around, as you're plunged into the tale of Pedro and Ines. You feel the history everywhere. And Arcadas is spectacular.

Top tip for other guests:

Dine at Arcadas after spending the afternoon (at least) at Conimbriga.

What I liked most

Welcome and departure
Location
Local knowledge and experiences
Breakfast
General service
Guestroom and bathroom
Restaurant and dining

What I might improve

Stay date: June 2014

My Trip Type:

Couple

This was a true experience. From arrival to leaving we felt cared-for and appreciated. A wonderful room with excellent beds. A gorgeous setting in walking distance to town. Great food and good wine. Will try to come again.... P.S. Tea making facilities in the room would be nice.

Top tip for other guests:

Enjoy!

What I liked most

General service
Restaurant and dining
Local knowledge and experiences
Guestroom and bathroom
Location
Internet and wifi
Welcome and departure

Stay date: May 2014

My Trip Type:

Couple

got a suit, the hotel is old, wifi is very weak in room

Top tip for other guests:

Better to live in spa wing, heritage wing is too old

What I liked most

General service
Welcome and departure

What I might improve

Guestroom and bathroom
Internet and wifi
Room service

Friendly service in a great location.

Stay date: December 2013

My Trip Type:

Couple

Service was really good, nice & pleasant. The room was cute and charming. The park is beautiful and worth seeing it.

Top tip for other guests:

Take the time to take a walk in the park.

What I liked most

Location
Welcome and departure
General service
Local knowledge and experiences
Restaurant and dining

What I might improve