https://origin.slh.com/hotels/rodos-park-suites-spa-hotel/
Hotel Highlights
Al fresco dining by the pool
Luxury spa treatments include Greek hot stone massage and after-sun body wraps
Private Jacuzzis in suites
Rodos Park Suites & Spa Hotel - Luxury Hotel in rhodes
Contemporary accommodation situated in gorgeous green parks, close to the city centre
A pinnacle of quality and exclusivity in the heart of Rhodes town, Rodos Park Suites & Spa Hotel, with its slick and elegant modern interiors, is a sophisticated retreat with fine dining, an excellent wellness spa and an extensive choice of rooms and suites, all just a ten-minute walk from the central beaches.
Rooms and suites at Rodos Park Suites & Spa Hotel are tastefully decorated with a contemporary aesthetic incorporating earth tones with splashes of colour and creating a warm and inviting ambiance. Suites offer an additional Jacuzzi and overlook the gardens or towards the sea.
Relax by Rodos Park Suites' large pool on a comfortable sun bed and then retire to the spa for a morning of pampering with a Greek Hot Stone Therapeutic Massage followed by an After-Sun Body Wrap. Enjoy an al fresco lunch next to the pool at Il Parco Restaurant and then wander to the old town or the shopping district, both of which are just five minutes away.
75

rooms

2

restaurants

3

floors
The rooms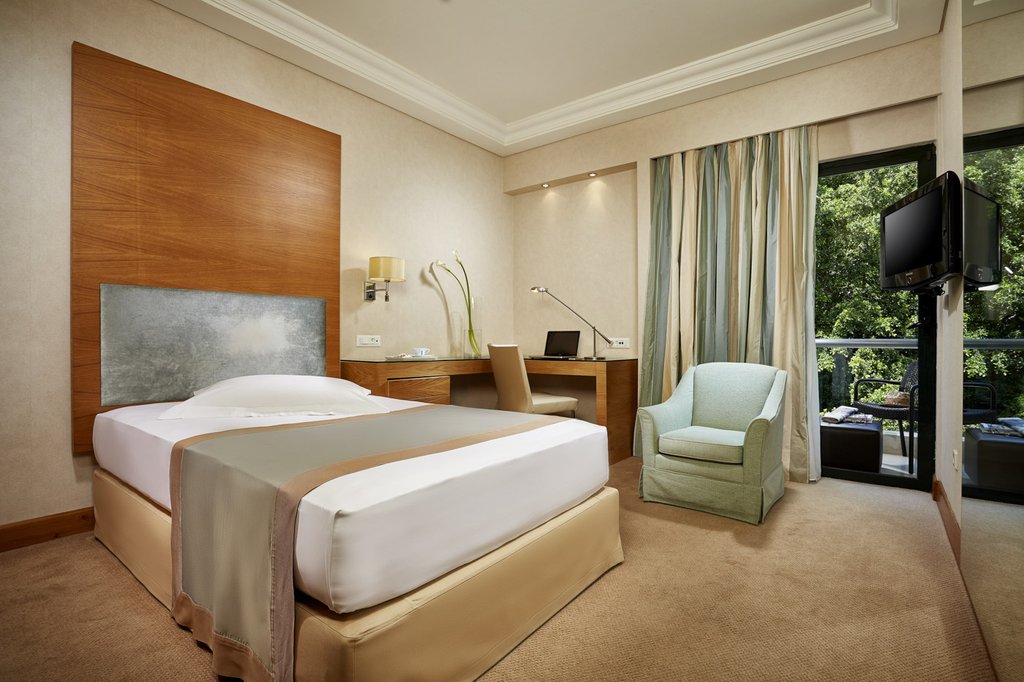 Single Room
Sleeps: 1 People.
Ideal for single or business travelers, Single rooms offers 22 sqm of space with a well-lit corner desk, comfortable bed (130cm width) and marble bathroom.

All Single rooms feature calming quiet balconies with views over the archaeological sites.
From per night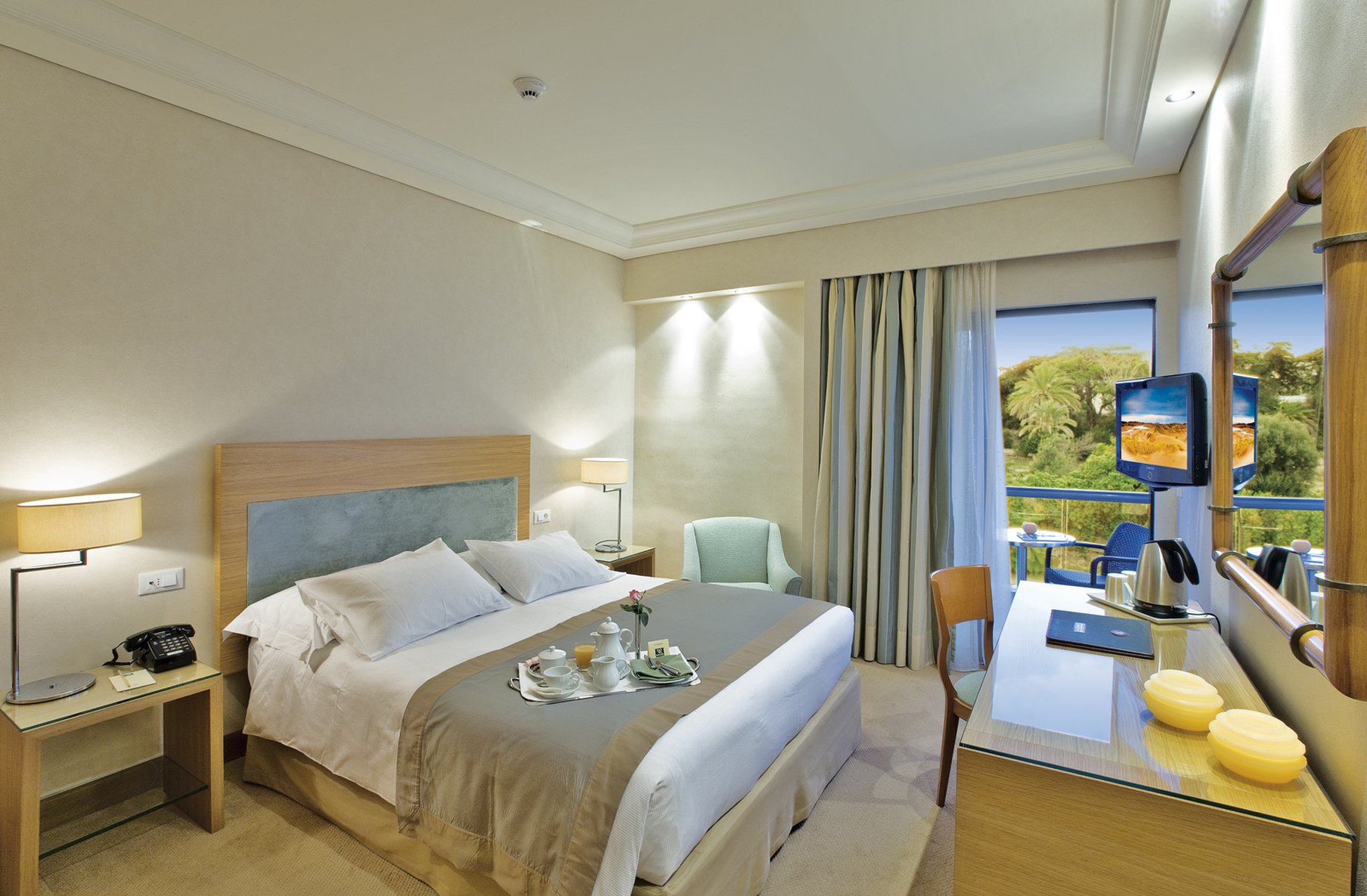 Double Room
Sleeps: 2 People.
Immerse yourself in the charm of this 24-square-meter room. Decorated in an inviting contemporary style with perfectly balanced natural color schemes.

Double Room feature queen, king or two single beds and boast spacious balconies with quiet views over the archaeological sites. All double rooms can be connected to another double room.
From per night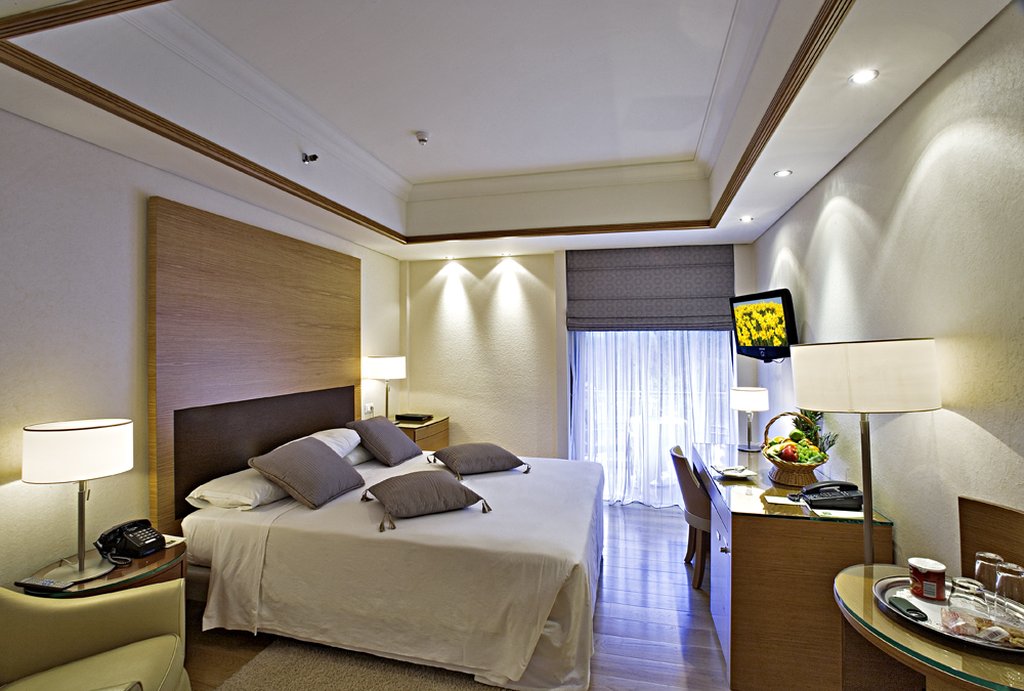 Deluxe Double Room
Sleeps: 2 People.
This luxury 28 sqm room is decorated in a classic modern style with calming earthy color schemes. Features king or two single beds the Deluxe Double Room is made of the finest natural materials.

It further boasts calming views to the green parks or the hotel gardens or pool and beautifully designed wall-to-wall marble bathroom.
From per night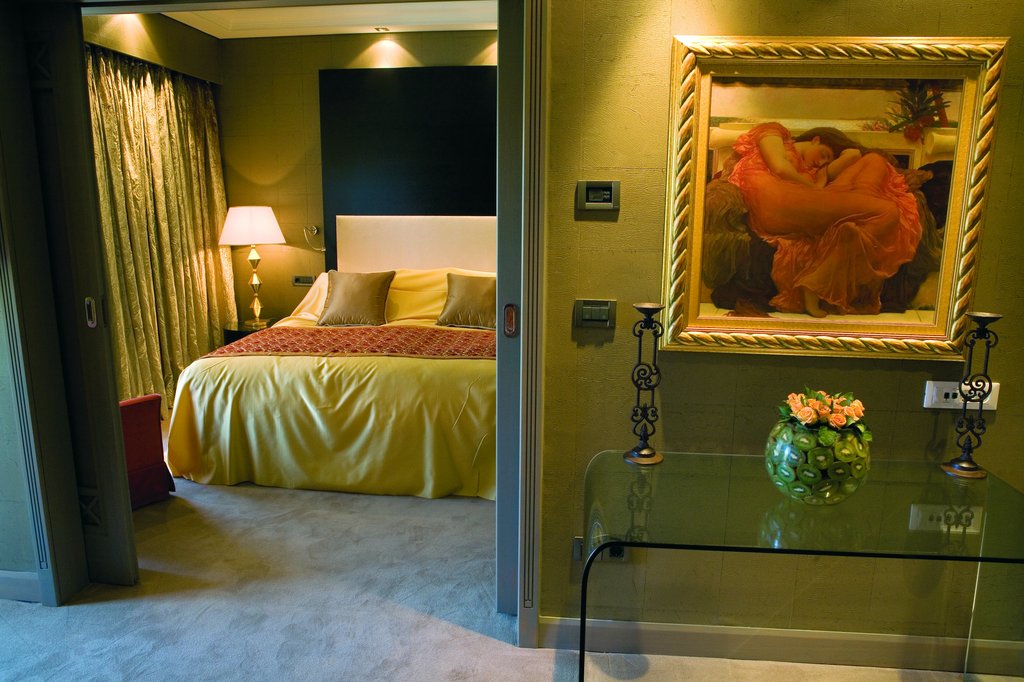 Executive Park Suite
Sleeps: 3 People.
Lounge luxuriously in 50 sqm of space with unique, sophisticated design, generous space, warm and outstanding luxury.

This lavish suite boasts a beautiful living room with a sofa bed, a working space and a separate bedroom. The bathroom is equipped with Hydro-massage and bath amenities. All rooms have air-condition. These suites offer views to the pool and green parks.
From per night
Air conditioning
Lounges/bars
Sauna
Exercise gym
Wedding services
Join INVITED and get 10% off exclusive rates. Plus early check-in and late check-outs among other benefits.
24-hour front desk

Accessible facilities

Audio visual equipment

Bell staff/porter

Buffet breakfast

Business Center Services

Car rental desk

Catering services

Child programs

Children welcome

Concierge desk

Conference space

Currency exchange

Doctor on call

Elevators

Exercise gym

Family plan

Fax service

Flip charts

Full service housekeeping

Health club

Housekeeping - daily

Jogging track

Laundry/Valet service

Lounges/bars

Massage services

Meeting rooms

outdoor

Overhead projector

Pets not allowed

Photocopy center

Restaurant

Room service

Room service - limited hours

Secretarial service

Security

Turndown service

Wakeup service

Wedding services

Wireless internet connection
Air conditioning

Balcony/Lanai/Terrace

Bathrobe

Bathroom amenities

Bathtub

Coffee/Tea maker

Direct dial phone number

Hairdryer

Internet access

Jacuzzi

Lighted makeup mirror

Minibar

Non-smoking

Phone in bathroom

Safe

Slippers

Smoke detectors

Telephone

TV

VCR player

Video on demand

Voice mail
Fine dining

Jacuzzi

Sauna

Sightseeing tours

Spa

Sun tanning bed
Rodos Park Suites & Spa Hotel is a place of fabulous dining opportunities. Spectacular, luxurious and adventures are the keywords for describing the culinary excellence of our dining outlets. With a dedication to outstanding service you are assured of a truly memorable occasion at any of our restaurants and bars.
Pool bar and Restaurant
Cuisine type: International
Meals served: Lunch, Dinner
The Open air Bar/Restaurant nearby the Pool is serving drinks- coffees and variety of snacks between 11.00-23.00. A la carte Mediterranean and International Cuisine is served for lunch -13.00-16.30 and for dinner -19.30-23.00 with live music a couple of evenings per week. Open during summer period.
L Epoque Lounge Room
Cuisine type: International
A cozy room with library- fireplace and LCD TV. Serving coffee- tea and drinks.
L Agence Lobby Bar
Cuisine type: American
The indoor lounge bar with fireplace -with gas- and LCD TV. sets. Open during Low season
BRASSERIE RESTAURANT
Cuisine type: International
Meals served: Breakfast, Lunch, Dinner
Overlooking the Pool and Parks. International and Mediterranean Cuisine. Breakfast from 7.00-10.30. Lunch from 13.00-16.30. Dinner from 19.30-23.00
Galaxy Roof Lounge Bar
Cuisine type: International
The Open-air roof lounge bar is located on the 4th floor of the hotel overlooking the Medieval City and Rhodes Town. Daily open between 19.00-01.30 serving cocktails- drinks-champagne and finger food. Open during summer period.
The Rodos Park Wellness Spa was created out of our passion to embrace the total Well Being. A mixture of ultra modern design, the traditional Greek welcome and the Asian spa philosophy are blended to ensure that Rodos Park Wellness Spa is byword for quality relaxation and rejuvenation. Rodos Park Wellness Spa provides a tranquil and truly unforgettable experience of pure pampering and relaxation in exquisitely peaceful surroundings, using holistic therapies and massages, especially designed to ensure total relaxation and rejuvenation for the body and mind. All different treatments combine the latest of technology, cosmetology, aromatherapy and the ancient Chinese Therapeutic Philosophy.
Reviews
These reviews are the real opinions of INVITED members and we have verified their stay at the hotel.
What I liked most :

Welcome and departure (9)
Location (8)
Breakfast (7)
General service (7)
Restaurant and dining (5)
Leisure facilities (4)
Guestroom and bathroom (3)
Local knowledge and experiences (3)

Read Reviews

Stay date: August 2015

My Trip Type:

Couple

Very nice staying. Incredible staff. Best value for money experience in Greek.

Top tip for other guests:

...

What I liked most

Welcome and departure
Restaurant and dining

What I might improve

Stay date: June 2015

My Trip Type:

Couple

Second year we've stayed there, the hotel is excellent, food superb and the staff are extremely friendly and helpful. It was also nice that several of them recognised us from last year. So close to the old town as well and some good restaurants. Would thoroughly recommend the hotel

Top tip for other guests:

Explore the old town

What I liked most

Internet and wifi
Local knowledge and experiences
Location
Guestroom and bathroom
Leisure facilities
Restaurant and dining
Welcome and departure
General service

Good service in a great location

Stay date: June 2015

My Trip Type:

Couple

Facilities were really good the outdoor area especially pleading. Staff were excellent couldn't do enough and made everything easy

Top tip for other guests:

Come

What I liked most

Location
Leisure facilities

Stay date: June 2015

My Trip Type:

Couple

This hotel was great. From the super comfortable beds, to the great customer service and great location. Breakfast was good, the rooms were clean, comfortable and spacious. We had an issue with the wireless but as soon as we mentioned it, the issue was resolved within an hour. .The staff were extremely pleasant and helpful. Was looking forward to heading to the rooftop lounge for sunset drinks, but unfortunately they were not open yet as the season doesn't start until mid-June. The hotel is a 5 minutes walk to the old town and new town and its super easy to get around by car. Parking was always available in front of the hotel (if not, valet would take care of it). In terms of hotel facilities and services - everything was superb; however, the hotel tends to attract an older crowd (not that that's a bad thing) but if you're looking for a younger, more vibrant crowd I would recommend looking at the Lindos area (around 50 minutes away from this hotel).

Top tip for other guests:

It's probably one of the nicest hotels in Rhodes

What I liked most

General service
Welcome and departure
Internet and wifi
Breakfast

What I might improve

Location
Local knowledge and experiences

Stay date: October 2014

My Trip Type:

Couple

The welcome was very warm. We had excellent service during the whole 2week stay. The staff were at all time professional but also very friendly and approachable. The hotel was spotless. The food was fresh and cooked to our liking.

Top tip for other guests:

Excellent location for both the old and new city

What I liked most

Restaurant and dining
Breakfast
Welcome and departure
General service
Guestroom and bathroom
Local knowledge and experiences
Location

What I might improve

Internet and wifi
Leisure facilities

Stay date: September 2014

My Trip Type:

Couple

We stayed on 2 separate occasions at the hotel recently. On neither occasion were we given an upgrade - understandable in August but unlikey that the hotel was full in mid September - not that many people at breakfast and in and out of the lobby. The staff was friendly and efficient on both occasions and the general facilities of the hotel are good and well maintained. However, the rooms we stayed in were disappointing - in the second room there were no bedside tables but a cabinet along one side of the bed which meant that the bed was pushed almost to the wall on one side and it was not possible to reach light switches over the cabinet on the other side. Also no complimentary water for such a hotel - even cheap Turkish hotels provide plenty of water - seems churlish.

Top tip for other guests:

none

What I liked most

Location
General service
Welcome and departure

What I might improve

Excellent hotel - great location

Stay date: June 2014

My Trip Type:

Couple

Rodos Park was a genuine 5 star experience - unlike some Greek hotels. Staff were excellent - knowledgeable, helpful and friendly. The hotel is in a great location just outside the walls of the old town - there a fabulous views from the roof top bar which is great for a drink at the start of end of your night. Breakfast is also excellent. SLH up grade meant we had a large suite for the price of a standard double. Would definitely stay here again.

Top tip for other guests:

All rooms are good but would think there are some great views over the old town from the top floor rooms

Hotelier reply:

Dear Mr Marc, Your comment made us feel very proud and happy! And this is a reason to thank you for posting it and to assure you that gives us motivation to keep trying improving our services more and more every day. Our staff have deep knowledge and desire to serve you in order to make you enjoy every moment of your holiday in Rhodes Island and in Rodos Park! We are really glad to hear that you took the time to watch the magic view of the Medieval Town and the Castle of the Knight's from our Galaxy roof bar! It is the favorite spot of many guests of Rodos Park and a unique location to feel relaxed from the daily schedule! We wish you all the best and we hope to welcome you again in our hotel soon! Best regards, Katia St. Sales & Marketing

What I liked most

Location
General service
Welcome and departure
Guestroom and bathroom
Breakfast

Stay date: July 2014

My Trip Type:

Couple

Lovely hotel right by the old town of Rhodes, just a 5 minute walk. Rooms are very nice, although not keen on a shower over a bath. The pool is just right, but there were times when there weren't enough loungers and they could do with a few more parasols, although there was always somewhere round the pool that was in the shade. The food was excellent, dinner was of a very high standard and rather expensive which sadly meant there weren't many people eating there. The hotel also recommended some excellent local restaurants to try.

Top tip for other guests:

Yoou need a new password for the wi fi every two days which they forgot to tell us.

Hotelier reply:

Dear Mrs Janet, First of all we would like to thank you for your preference in our hotel for your stay in Rhodes and also for writing this helpful comment! We are very glad to hear that you enjoyed your dinner and in general our restaurant facilities and all meals. Our staff is always informed of all latest news about our area, so to ensure that we can offer the best information to our guests in order to explore our neighbor and our Island in the best possible way! We take under seriously consideration your points that need improvement and we can assure you that we will try to serve you even better next time you visit our Island! Hoping to have the chance and welcome you again in Rodos Park! Best regards and wishes, Katia St. Sales & Marketing

What I liked most

Local knowledge and experiences
General service
Welcome and departure
Location
Breakfast
Leisure facilities
Restaurant and dining

What I might improve

Recommend when staying in Rhodes city

Stay date: July 2014

My Trip Type:

Family

Wonderful staff. The junior suites are very nice and have more than enough room for a baby cot. The pool area is nice, but you can hear some traffic noise. The location of the hotel is great: both the old town and the new town are within short walking distance.

Top tip for other guests:

Rooms at the back of the hotel (on the opposite side of the pool) are the most quiet ones.

Hotelier reply:

Dear Mr Maarten, The title of your comments means everything for us! The good memories that you have from your stay with us, is what make you recommend Rodos Park to other visitors of Rhodes Island! That means that we have fulfilled our goal: to make you feel comfortable and enjoy our services during your vacation! It is very important to know that you as a family traveler, were satisfied by the location of our hotel! One of the best features we have. We want to thank you for taking the time and posting your comments and we would be very happy to welcome you again with your family in the near future! Best regards and wishes, Katia St. Sales & Marketing

What I liked most

Breakfast
Welcome and departure
General service

Well located luxury to visit Old Town

Stay date: July 2013

My Trip Type:

Family

The Hotel is well located to visit the Old Town and the nearby beaches by foot, and the staff are professional , friendly and helpful. Breakfasts were plentiful and good quality in a really nice environment inside or around the Pool. Facilities were really good. As a family of 5 ( 3 kids aged 11, 13 & 14), we all enjoyed our stay at this hotel and would stay there again if we were to revisit the Old Town of Rhodes.

Top tip for other guests:

A room away from the Pool is nice and quiet

Hotelier reply:

Dear Guest, With great pleasure we read your comments from your stay in our hotel. It is very encouraging to see that our daily efforts to evolve and offer more and more better services to our customers, deliver on results to have a very pleasant experience of your vacation. After all, that is our goal. So we deeply thank you for taking the time posting your comments! Our Hotel, perfect located just outside the Medieval city which unfolds to its walkers culture stories and 2 minutes walking distance from the new town, keeps you in the heart of every important venue in Rhodes. In the meantime we remain at your disposal for anything you might need. Best regards, Katia St. Sales & Marketing

What I liked most

Welcome and departure
Leisure facilities
Restaurant and dining
Location
Breakfast

Stay date: August 2012

My Trip Type:

Family

Nice hotel with very small standard rooms. The service is average and definitely below SLH standard.

Top tip for other guests:

Only book a superior room and visit the roof terrace by night.

Hotelier reply:

Dear Guest, Thank you very much for taking the time to write your remarks about your stay at our hotel. We always take our client's feedback extremely seriously and try to offer the best quality of services to meet our visitors expectations. We are very sorry that you felt your stay was disappointing and we apologize for any incidents that may have left you dissatisfied. We hope to have the chance to welcome you again in the future to show you the good hospitality we always offer. Best regards, Katia St. Sales & Marketing

What I liked most

What I might improve

Guestroom and bathroom
Welcome and departure
General service