https://origin.slh.com/hotels/tanjong-jara-resort/
Hotel Highlights
In the style of an ancient royal palace with traditional and warm ambience based on Malay Sucimurni concept
Small island within the Terengganu Marine Park, offering exceptional diving
Exotic Roselle drink, created from Hibiscus flowers, welcomes each guest to the beach resort
Tanjong Jara Resort - luxury beach resort malaysia
Luxury resort and spa facing the South China Sea.
An unsurpassable destination for utter relaxation, Tanjong Jara Resort is the stuff of dreams. Resembling a 17th-century Malay palace, this is a stunning retreat set against a backdrop of tropical jungle and facing a golden beach and the glistening South China Sea. Expect fish caught by local fishermen, a cookery class and a range of exciting excursions.
Nose-to-nose with nature, immerse yourself in serenity and beauty that is all around at Tanjong Jara Resort. Every room and suite has a view of the sea or landscaped tropical gardens, some with verandas and others with sunken outdoor baths in private alcoves.
Take your welcome glass of hibiscus flavoured Roselle when you arrive at Tanjong Jara Resort and the spell begins. Stroll the tropical gardens and try ever-popular steamboat cuisine of fish, meat and vegetables steeped in savoury broth. Trek the jungle, dive the reefs around the island of Pulau Tenggol, cycle to villages and meet indigenous batik and bamboo weavers.
100

rooms

3

restaurants

1

floor
The rooms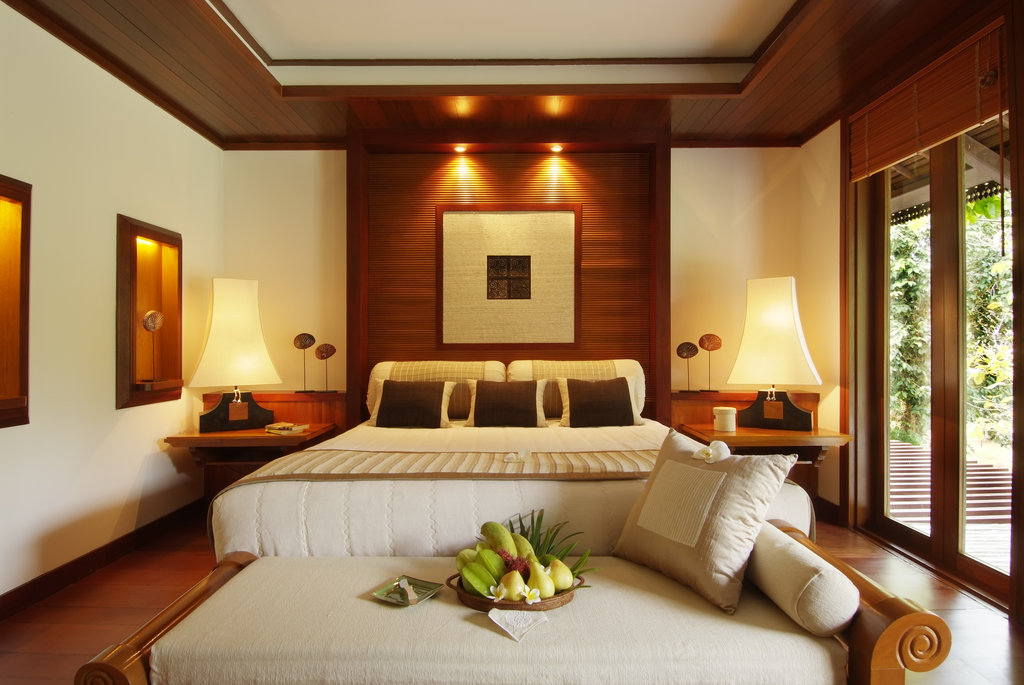 Bumbung Garden View Room
Sleeps: 2 People.
Bumbung Garden situated above a Serambi Room. Features a King Bed, spacious en-suite indoor bathroom with two vanity units, separate bath and shower facilities.

Traditional Malay decorative elements and offer views of lush landscaped gardens.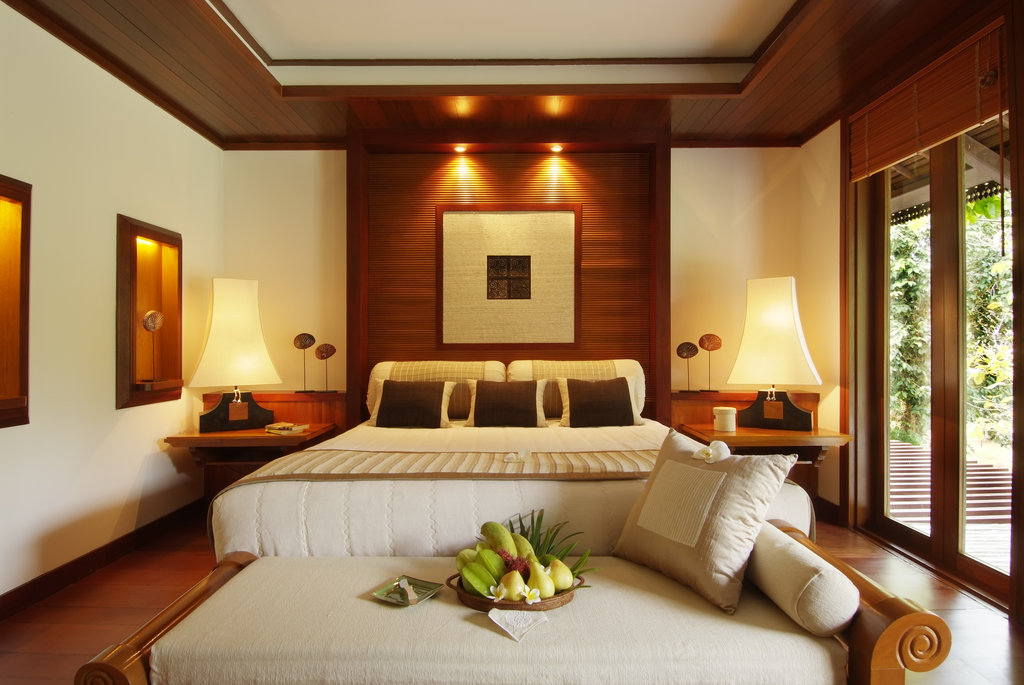 Bumbung Seaview Room
Sleeps: 2 People.
Bumbung Sea View Room features a King Bed, spacious en-suite indoor bathroom with two vanity units, separate bath and shower facilities.

In addition to the views of the tropical gardens, these rooms also feature breathtaking vistas of the South China Sea.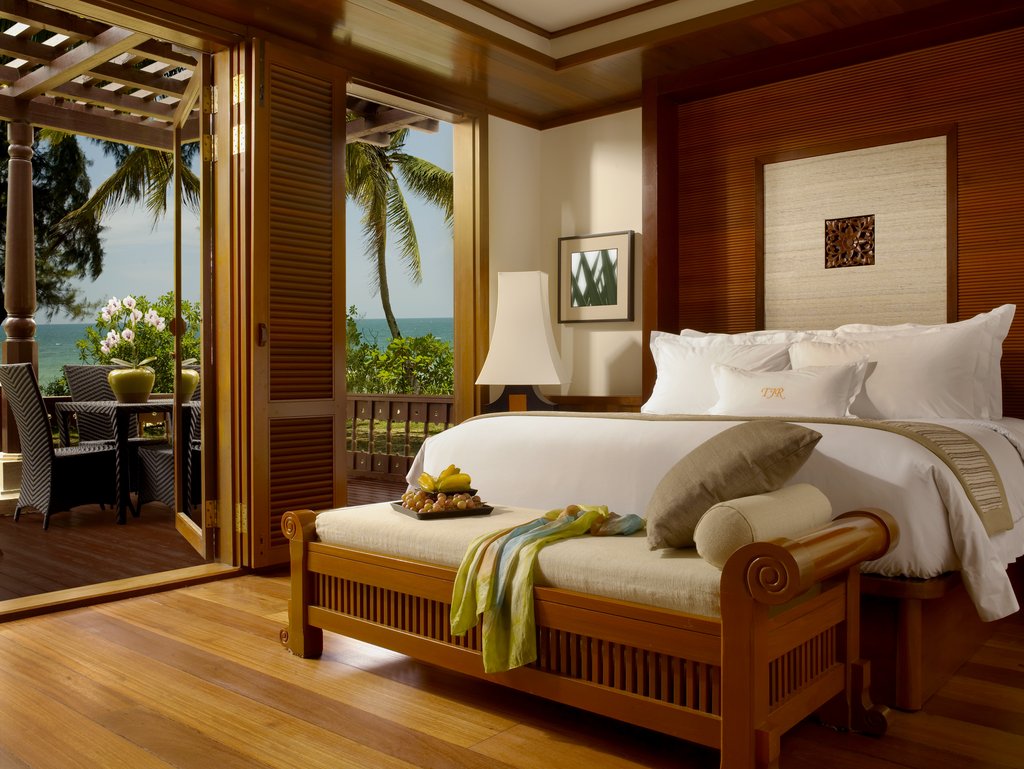 Serambi Garden View Room
Sleeps: 2 People.
Situated on the ground floor of a double storey unit. Each room is 55sqm in size, and features a King Bed and a spacious indoor bathroom with two vanity units.

Separate bath and shower facilities. A partially covered verandah overlooks the tropical gardens and is perfect for a private barbeque dinner.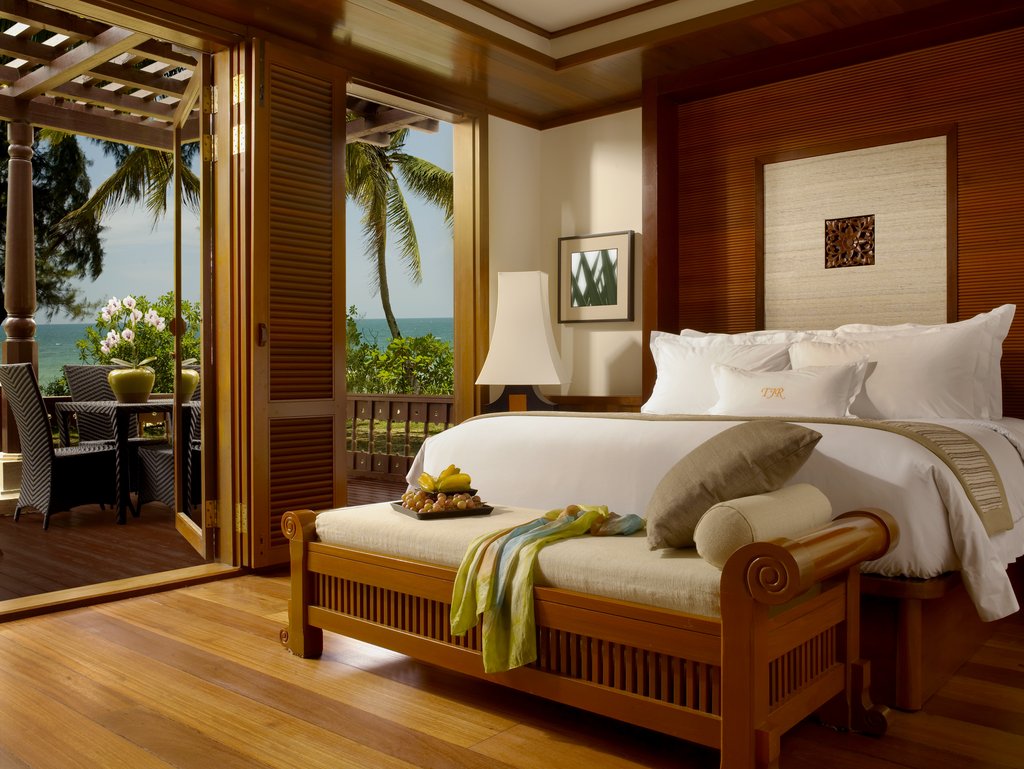 Serambi Seaview Room
Sleeps: 2 People.
Serambi Seaview located on the ground floor as well as on the first floor. Spacious en-suite indoor bathroom with two vanity units.

These rooms enjoy panoramic views of the South China Sea and the verdant tropical gardents from a personal verandah.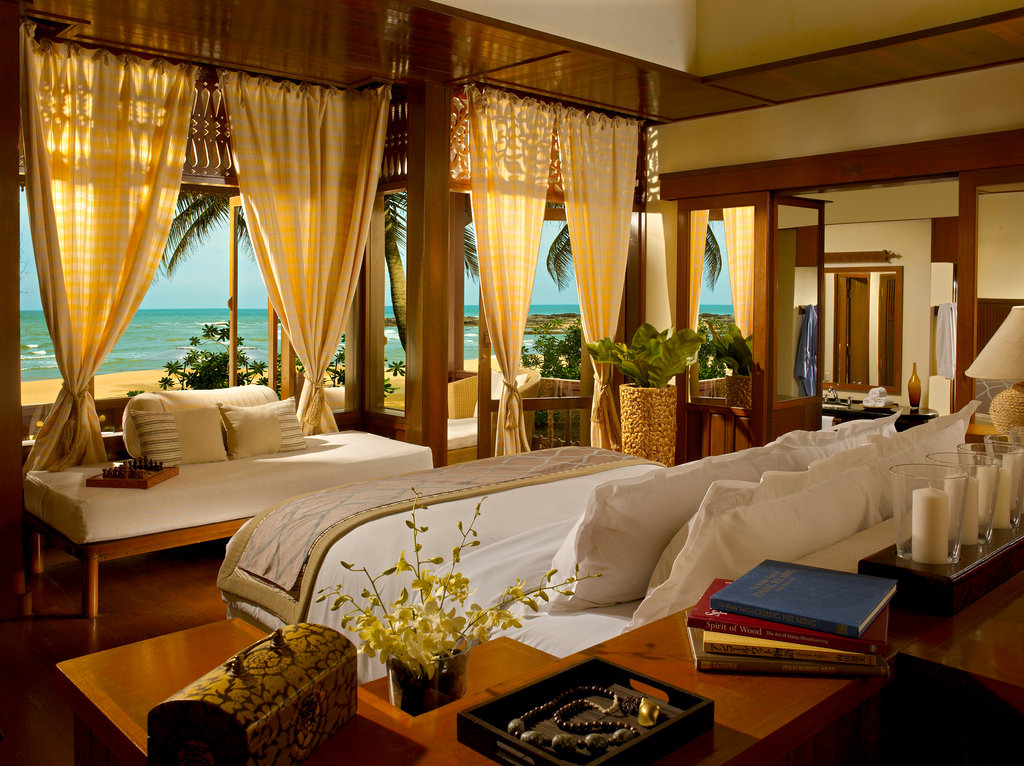 Anjung Room
Sleeps: 2 People.
A 88sqm single-storey beachfront room. Every room is furnished with a Bed and Day Bed. A symmetrical outdoor bath sits in its own private alcove.

An indoor bathroom features two vanity units with a large indoor shower. The doors and windows open out to a canopied verandah overlooking the beautifully landscaped tropical gardens and sea, an ideal location for a romantic honeymoon.
Location
Tanjong Jara Resort

Batu 8 Off Jalan Dungun, Terengganu

Dungun

23000

Malaysia

monument.graduated.blend
Air conditioning
Lounges/bars
Golf
Pool
Airport shuttle
24-hour security

Airport shuttle

Audio visual equipment

Bell staff/porter

Buffet breakfast

Car rental desk

Catering services

Child programs

Children welcome

Concierge desk

Doctor on call

Family plan

Front desk

Full service housekeeping

Housekeeping - daily

Laundry/Valet service

Lounges/bars

Massage services

Meeting rooms

Onsite laundry

Poolside service

Post/parcel service

Restaurant

Safe deposit box

Security

Wakeup service

Wireless internet connection
Air conditioning

Balcony/Lanai/Terrace

Bathrobe

Bathroom amenities

Cable television

Coffee/Tea maker

Color television

Direct dial phone number

Double vanity

Hairdryer

King bed

Minibar

Safe

Satellite television

Shower

Sitting area

Slippers

Sofa bed

Telephone
Boating

Golf

Outdoor pool

Pool

Sailing

Scuba diving

Sightseeing tours

Snorkeling

Spa

Tennis court

Volleyball
In Tanjong Jara, the fare on offer is matched in variety only by the settings where you can savour your meal. Gazing out to sea at the Nelayan, under the shade of rustling palms at Teratai Terrace or over the meandering river at Di Atas Sungei.
The Nelayan
Cuisine type: Seafood
Meals served: Lunch, Dinner
Situated by the sea the atmosphere at Nelayan is relaxed and informal. Seafood is the speciality of this outlet. A variety of Asian and Western light meals are served for lunch and Western cuisine at dinner.
Di Atas Sungei
Cuisine type: International
Meals served: Breakfast, Dinner
Situated above a river that flows into the South China Sea Di Atas Sungei opens for breakfast and dinner- serving authentic Malaysian cuisine. With no menu guests are guided by the Resort s Menu Masters- experts in local cuisine who provide a distinctive dining experience using only the freshest produce of the highest quality
The Teratai Terrace
Cuisine type: International
Situated beside the Resort s free-form pool with a view of the South China Sea- Teratai Terrance serves cocktails in the evenings and offers private dining experience
Every breath is pure refreshment, a relaxation of the soul, a pure journey of revival. In Malay we call this Sucimurni. In Malaysia it is Tanjong Jara. The philosophy of Sucimurni emphasizes purity of spirit, health, and well-being. The award-winning Spa Village Tanjong Jara is a sanctuary anchored in this ancient Malay way of life.
Reviews
These reviews are the real opinions of INVITED members and we have verified their stay at the hotel.
What I liked most :

General service (3)
Guestroom and bathroom (3)
Internet and wifi (3)
Restaurant and dining (3)
Welcome and departure (3)

Read Reviews

a peace place perfect for relaxation

Stay date: January 2017

My Trip Type:

Couple

a place for relaxation and excellent staff a place to be

Top tip for other guests:

must be made one time

Stay date: December 2016

My Trip Type:

Couple

Automatically upgrade as a SLH member when we checked in. It was very good. This resort is the paradise for family but little busy for adult couple. I expected more luxury and relaxing atmosphere.

Top tip for other guests:

It was a paradise for family.

Perfect for a family vacation

Stay date: March 2016

My Trip Type:

Family

Loved the upgraded rooms that we got. Staffs were really friendly and helpfull

Top tip for other guests:

Wear briefly. Weather is scorching hot.

Stay date: March 2014

My Trip Type:

Couple

"Comparisons are odious". That's what one of my teachers used to say, misquoting Shakespeare's line that "Comparisons are odorous". One way or the other it couldn't prevent us from regularly comparing this stay at Tanjong Jara to a stay last November at the Veranda Resort, Chiang Mai, Thailand, and 137 Pillars House, also in Chiang Mai and, like Tanjong Jara, an SLH property. In brief, there is no comparison. Veranda is in the same price bracket, but doesn't claim to be 5 Star, and is way ahead of Tanjong Jara. 137 Pillars House is also incomparable, simply by virtue of being the best hotel we have ever stayed in anywhere in the world. We booked with SLH (Small Luxury Hotels of the World) and were promised an upgrade on arrival. There was the usual get out clause of 'depending on availability', but we had the added advantage of a note sent directly to the hotel by SLH's London HQ requesting an upgrade on our behalf. This was an unsolicited gift from SLH after two days of trying to book Tanjong Jara via their reservations centre. A glitch in the automated answering system thanked you for calling, told you that you were in a queue, and then said 'goodbye'. This happened every time we called over two days. On arrival we were told that we weren't getting any upgrade but that the room we had booked and pre-paid for (Serambi Sea View) was 'very nice'. It wasn't very nice. There were stains in the bath, a smell of urine in the toilet, cobwebs in the wardrobe, and a beautiful balcony with no furniture. Oh, and a TV operating system that did not correspond with the guidance in the guest services book, which made it impossible to operate. Incidentally, the same guest services book encouraged us to enjoy various private dining options, including 'a barbeque on your private balcony'. That's the balcony without any furniture. It also conflicted with a surprising statement on arrival that the hotel didn't provide any room service. When we questioned this we were told that 'guests were usually disappointed with the food'. We dealt with all this by calling the guest relations manager who duly arrived with the hotel's head of housekeeping. While I tentatively asked about the possibility of an upgrade and mentioned the note from SLH's London HQ it became apparent that no account had been taken of this and that it most likely hadn't even been read. During this conversation it also became apparent that the guest relations manager had no idea of the different levels of SLH membership. We parted company on the basis that she would consult with management and check any correspondence from SLH to see if we might be entitled to an upgrade. This reminds me to mention that hotel management were completely invisible throughout our stay. At no point did we meet or see any duty manager on site. In the event, we were duly upgraded to a beautiful Anjung room. This became the highlight of our stay and we would highly recommend booking one if your budget will allow. But request 1601 or 1602! They are both in the quietest part of the complex, in a stunning location, and open directly on to the beach. During the two days we were living in hope of an upgrade we checked the entire site out and discovered these two semi-detached gems. As soon as we were told we could have an upgrade to an Anjung we asked if it could be one of these and we managed to get one for our final four nights. Other tips? Use the adults only pool. It's an oasis of calm all day long, and Amirasan who runs the poolside bar is one of Tanjong Jara's greatest assets - a delightful staff member. Other highlights? The beach is golden and beautiful from beginning to end. Just watch your step - I walked in some oil patches. Other lowlights? The eating options on site. There's really not a great deal to choose from and the standard of cooking is very ordinary. Our tastiest meal of the week was at the only off site restaurant that served a simple glass of beer - a Chinese restaurant that's within walking distance. The hotel offered us transport to that, which we thought was a very generous gesture - to facilitate guests leaving the resort to eat. Until we discovered that we had been billed for the 'limousine transfer' in a minibus. Breakfast was also disappointing most days, but none more so than the day when my partner started to break out in an all-over body rash shortly afterwards. We ended up going to a clinic in nearby Dungun town where the doctor confirmed that it was caused by something recently eaten. The only thing consumed that morning which hadn't been consumed before was a half slice of boiled egg. We concluded this was most likely the cause (my partner had never had this kind of reaction to boiled egg before and that was the only foodstuff not previously taken that week). The layout of food in the breakfast area is generally worrying, with much of it exposed. I witnessed a bowl of jam that had small flies swarming all over it. There was also the daily occurrence of hot food such as potato waffles, baked beans, chicken sausages, being allowed to go completely cold. The best breakfast item was the freshly baked croissants. So, 'hit and miss' really summarises this experience for us and Tanjong Jara is not a great advertisement for Small Luxury Hotels of the World. The contrast between it and 137 Pillars House in Chiang Mai has left us with the impression that SLH properties within the same price range vary considerably in the standard of accommodation, facilities, and food. In truth, we won't be back to Tanjong Jara but we will certainly see 137 Pillars House again. For those of you who do book Tanjong Jara, don't forget those tips about Anjung rooms 1601 or 1602, the adults only pool, and the local Chinese restaurant.

Top tip for other guests:

Book 1601 or 1602. Eat at least once at the local Chinese restaurant.

Hotelier reply:

Greetings from Tanjong Jara team! I am sure that the Veranda Resort, Chiang Mai, Thailand, and 137 Pillars House, also in Chiang Mai are great hotels. I can assure you that our resort is as well a great resort! I have just joined the resort last month and I am definitely excited by this decision. The resort was aware of its responsibilities towards our valued customers of SLH. I agree with you that we have a clause in writing saying "an upgrade on arrival based on availability". As I am sure the other hotels you mentioned above have one too... Yes we were fully booked on your arrival and yes we did provide you with an upgrade as soon as we were able to provide one. I agree with you that Anjung rooms #1601 and #1602 are very quiet rooms and located in a stunning location, opened directly to the beach. Our other Anjung rooms are beautifully located too.... Regarding the poor experience you had with our reservation centre I will follow up with them to ensure it does not happen again. I agree with you that we need to have furniture on the balconies, the block you were staying in had none as our order has not been delivered yet. For that I do apologise to you and your friend. Regarding the TV satellite system, I checked it and it works, as for the room service we do have it and our guests know about it but yes we do not have a room service menu as such. Guests call our outlets and we cook what they ask us, it is a concept which we have used for a while now and it works just fine. We do have duty manager walking the resort everyday. The pool you mention so kindly, is called Teratai and our guests love it as the other pool next to our Nelayan restaurant. We clean our beach twice a day but unfortunately we do get from time to time the unfortunate oil patches from the passing ships. Regarding the layout of our breakfast in the morning it can always be improved I agree, and all your comments are taken seriously, thank you. A lot of our guests love our resort, but I agree with you on some of your comments as we are always looking at ways to improve ourselves and we will. I regret to hear that you won't be coming back to see us, if you were to change your mind we will be honoured and delighted to welcome you again! Warm regards Philippe Cavory General Manager | YTL Hotels Tanjong Jara Resort

Stay date: February 2016

My Trip Type:

Couple

Excellent structure with a wonderful beach . Excellent service . Very nice rooms in Malaysian style

Top tip for other guests:

choose a room upgrade