https://origin.slh.com/hotels/the-chesterfield-hotel/
Hotel Highlights
Built in 1926, the historic building is located right in the heart of Palm Beach
Executive Chef, Gerard Coughlin serves international cuisines and signature dishes
Exclusive Rolls Royce car service available
The Chesterfield Hotel - Luxury Hotel in Florida
In the midst of the golden sands and palm-lined boulevards of Palm Beach.
A tribute to sophistication, elegance and old-world charm, The Chesterfield Hotel prides itself on its attentive service, superb cuisine and Palm Beach's hottest night spot, The Leopard Lounge.
The hotel rooms and suites are the epitome of good taste, all individually decorated with soft colours and classic furniture. Wonderfully hospitable touches include a glass of sherry on arrival, traditional English tea served every afternoon and a constant stream of freshly baked cookies in reception.
Enjoy lunch by the pool and then browse the designer boutiques along Worth Avenue, just two blocks away. Take a Palm Beach mansion boat tour or spend the afternoon visiting the Society of the Four Arts Gardens. After dinner in The Chesterfield Hotel's restaurant, chill out with a cocktail in the Leopard Lounge accompanied by musical entertainment.
53

rooms

4

restaurants

3

floors
The rooms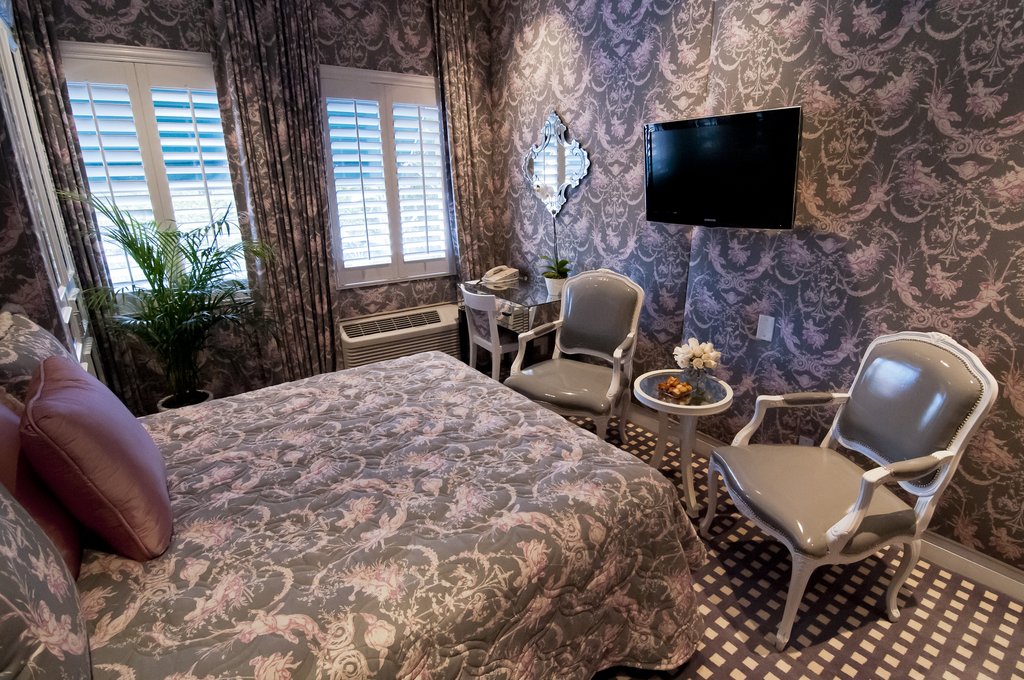 Superior Room
Sleeps: 2 People.
A Queen Superior Room is as bright and fresh as an Atlantic morning. Guests love the feeling of luxurious airiness as much as the fine fabrics, beautiful furnishings, and inspired homely touches.

With individually controlled heating and cooling, 24-hour room service, these are rooms that blend 21st-century technology with old-style values of service. Superior Rooms are 250 square feet.
From per night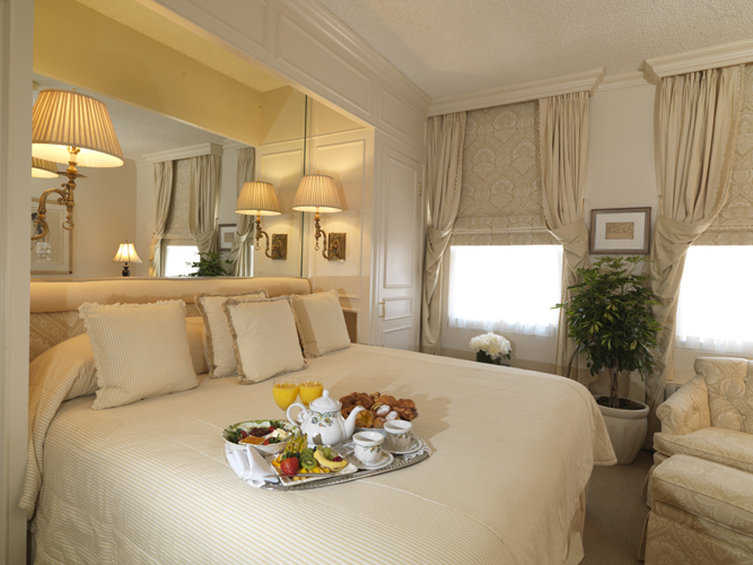 Deluxe Room
Sleeps: 2 People.
At 256 square feet, no two King Deluxe Rooms are the same. Each has its own mood; each casts its own escapist spell over those who hope to leave the everyday world behind for a night or two.

There's space here to stretch out and all the time in the world to enjoy the fine bedlinen, deluxe toiletries, plush bathrobes, and 24 hour room service. Guests benefit from a mini fridge with comp sodas.
From per night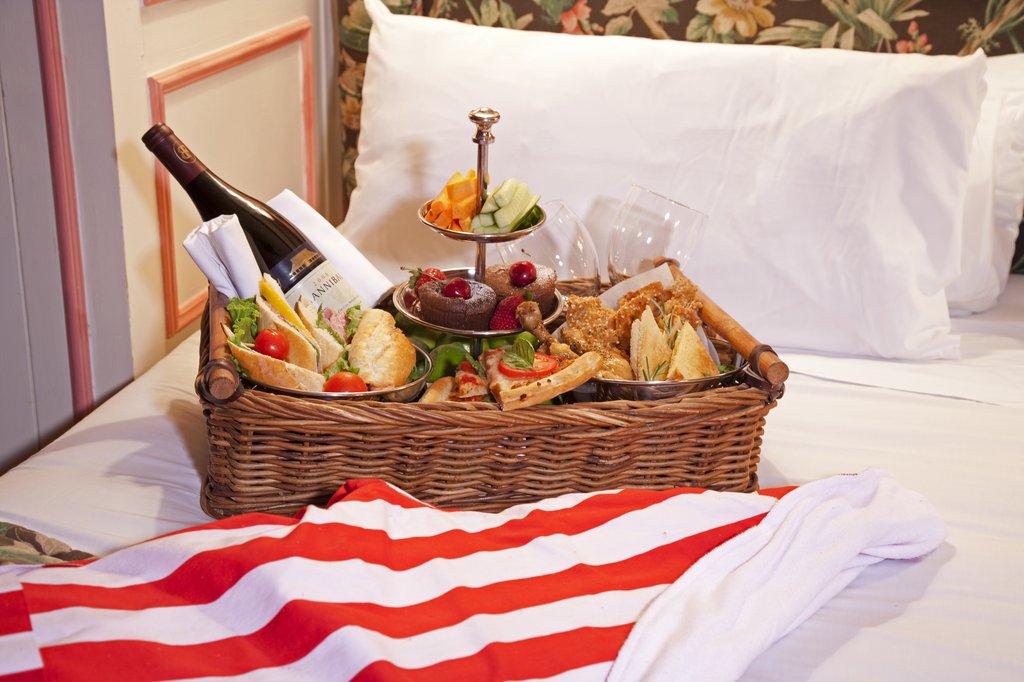 Penthouse Suite
Sleeps: 2 People.
Our Penthouse Suite, with its spiral Leopard staircase, is bathed in soft pistachio green and rosy pink. The look is homely and welcoming.

Here, you'll find fresh fruit and flowers, a well-stocked refrigerator, and a king-size bed with ornate mahogany headboard. There are two bathrooms, a large living room, plenty of fine furnishings, and more than enough space at 694 square feet.
From per night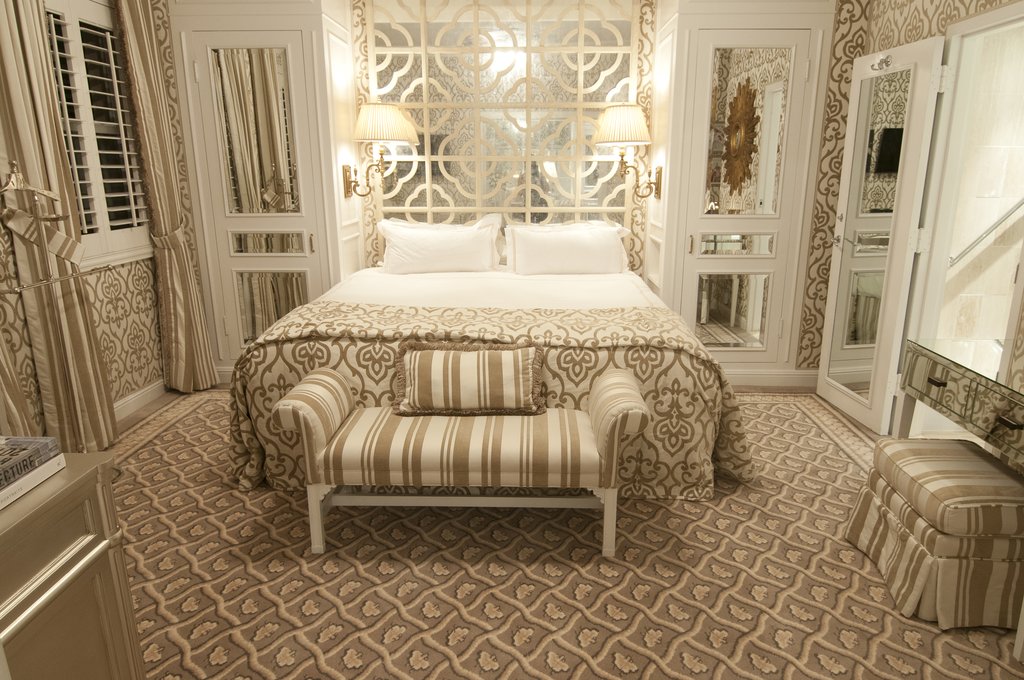 One bedroom Suite
Sleeps: 3 People.
If you book a One-Bedroom Suite, you may find it hard to leave. With one King and one Queen sleeping sofa, you'll soon grow accustomed to the space and ever-attentive service.

Evening turndown service, and the maid's twice-daily visit. Most of all, you'll love the freedom to throw open the double doors between your bedroom and lounge to create one huge luxury living
From per night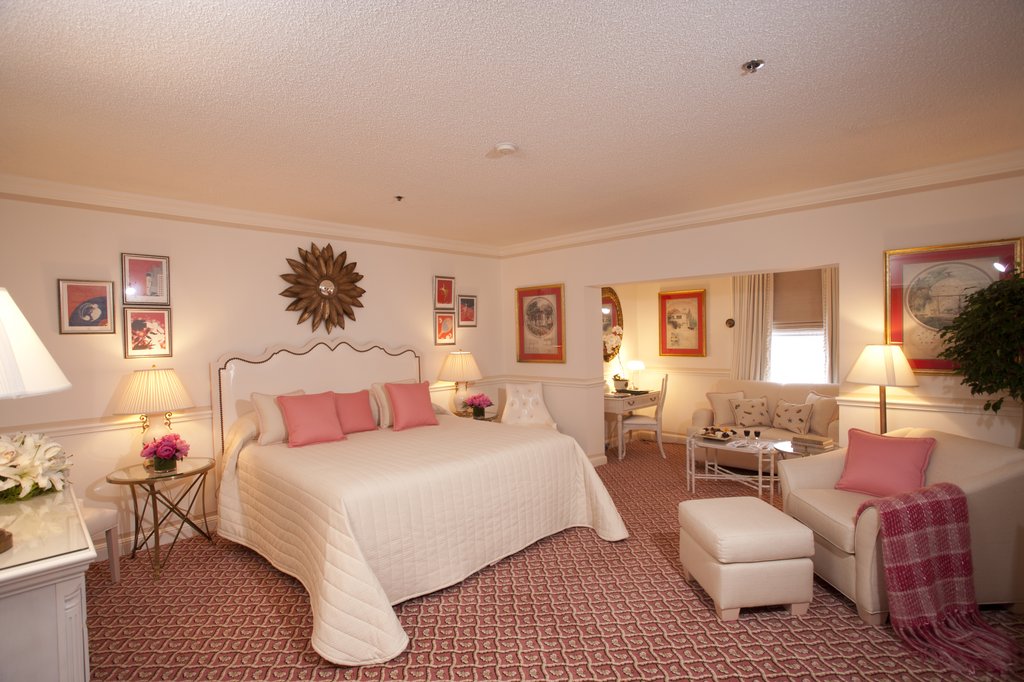 Junior Suite
Sleeps: 3 People.
Stepping into a Junior Suite is like stepping into another world... a world defined by comfort, service, and attention to detail.

With one King bed and Queen sleeping sofa Everything you could wish for is here: fresh fruit, flowers, a fully stocked refrigerator, and marble bathroom. Junior suites are 440 sq ft.
From per night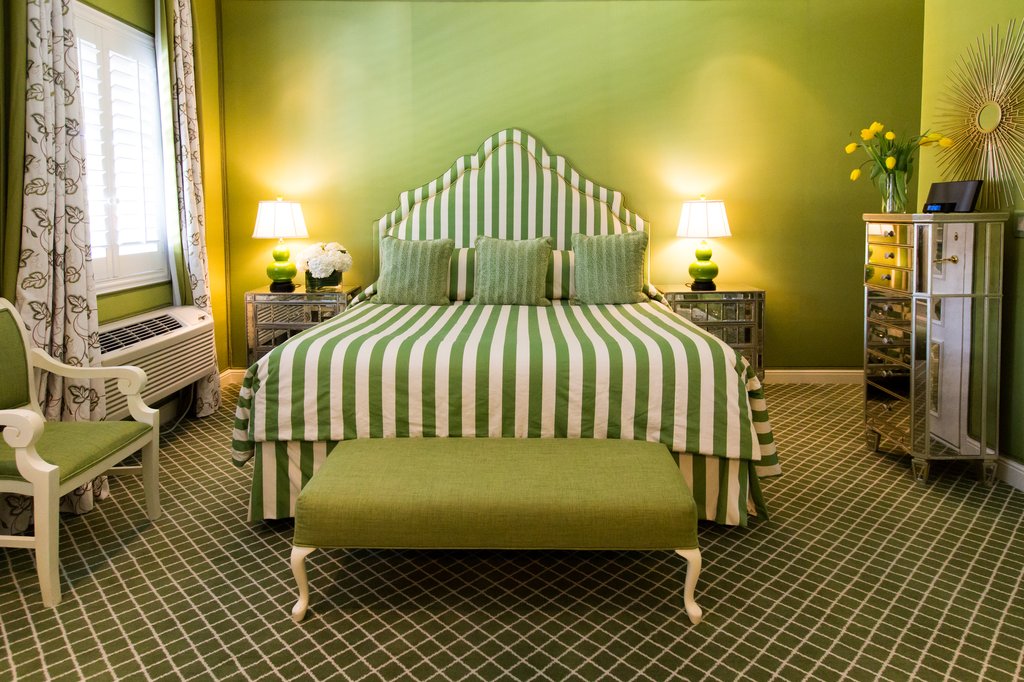 Executive Suite
Sleeps: 3 People.
Magnificently decorated and individually appointed with sumptuous fabrics and elegant furnishings, each suite provides the ultimate in luxury, style, and comfort.

The Executive suite has a bedroom and a separate living room. Average size is 431 sq. ft
From per night
Air conditioning
Lounges/bars
Wireless internet connection
Pets allowed
Pool
24-hour room service
Wedding services
Join INVITED and get 10% off exclusive rates. Plus early check-in and late check-outs among other benefits.
24-hour front desk

24-hour room service

24-hour security

Accessible facilities

Air conditioning

Audio visual equipment

Bell staff/porter

Business Center Services

Catering services

Children welcome

Concierge desk

Continental breakfast

Early check-in

Elevators

English breakfast

Express check out

Fax service

Fire safety compliant

Free high speed internet connection

Full service housekeeping

Half board/modified American plan

High speed internet access for laptop in public areas

High speed internet connection

Hotel does not provide pornographic films tv

Hotspots

Housekeeping - daily

Jogging track

Late check out guarantee

Laundry/Valet service

Lounges/bars

Pets allowed

Photocopy center

Racquetball

Restaurant

Room service

Safe deposit box

Security

Shoe shine stand

Smoke-free property

Turndown service

Wakeup service

Water skiing

Wedding services

Wireless internet connection
Air conditioning

Alarm clock

AM/FM radio

Bathrobe

Bathroom amenities

Bathtub/shower combination

Color television

Desk

Direct dial phone number

Hairdryer

Internet access

Lighted makeup mirror

Newspaper

Remote control television

Safe

Satellite television

Smoke detectors

TV

Two-line phone

Voice mail

Wireless internet connection
You can dine at The Chesterfield at any time of day and in almost any setting. Choose between fine dining in the newly renovated Leopard Lounge, our award-winning restaurant, or open-air breakfasts and lunches in the flower-filled Courtyard. If the mood takes you, you can eat on the Terrace or by the pool, or in your room courtesy of our 24-hour room service. Naturally we cook everything to order using the finest local and seasonal ingredients. In the whimsical Leopard Lounge, our chefs serve first-class international cuisine in a setting of ornate, yet light-hearted luxury.
Patio Dining
Cuisine type: International
Meals served: Breakfast, Lunch, Dinner
Casual menu set in charming courtyard
Poolside Dining
Cuisine type: International
Meals served: Breakfast, Brunch, Lunch
The Leopard Room
Cuisine type: Continental
Meals served: Breakfast, Lunch, Dinner
Continental cuisine one of the hottest Night spots in Palm Beach. Live entertainment every night. Exotic and playful atmosphere. Open daily 7AM to 11PM. Casual menu available 11PM to 130AM
Fireside Library
Cuisine type: International
Traditional English afternoon tea is served daily from 3-5pm. Extra charge applies.
Reviews
These reviews are the real opinions of INVITED members and we have verified their stay at the hotel.
What I liked most :

Location (10)
General service (6)
Guestroom and bathroom (5)
Internet and wifi (5)
Restaurant and dining (5)
Welcome and departure (5)
Breakfast (4)
Leisure facilities (3)
Local knowledge and experiences (3)

Read Reviews

Small hotel, super personal service

London

My Trip Type:

Couple

We stayed 2 nights and enjoyed very much. Beautiful room with all you need. We had an embarrassing episode when we visited the restaurant for our lunch included in the SLH package we had booked and paid for. However, Natalie, the Manager, was able to remedy this and seemed genuinely concerned.

Top tip for other guests:

Reception will arrange a taxi to take you to West Palm Springd where there is a strip of nice bars and restaurants.

What I liked most

Restaurant and dining
Guestroom and bathroom
Location
Local knowledge and experiences
General service

Great attention to details!

Stay date: November 2016

My Trip Type:

Family

Friendly staff, nice enviroment, good breakfast. Got an upgrade and a free breakfast as a Loved SLH Club member. Good location, complimentary valet parking! Liked it so much that decided to spend one more additional night there.

Top tip for other guests:

Very flexible and friendly staff.

What I liked most

Welcome and departure
General service
Leisure facilities
Location
Guestroom and bathroom
Internet and wifi
Breakfast

Friendly service in a great kication

Stay date: May 2016

My Trip Type:

Couple

We loved it. The basic rooms are a little small but very nice decorated, very nice view to the pool area, very quiet. The staff really friendly. Excellent location, just two blocks from worth avenue. It is an excellent place if you like very small hotels where you feel like home. Beach is four blocks away and you are given chairs and umbrellas to take away

Top tip for other guests:

Maybe ask for larger rooms and always looking the pool

What I liked most

Location
Breakfast
Internet and wifi

Excellent Management, Staff and Food - Excellenrt Hotel

Stay date: November 2015

My Trip Type:

Couple

From booking to checking out Red Carnation Hotels as a whole are helpful, courteous, patient,cheerful and professional. The Chesterfield is no exception! This is a top class hotel in Palm Beach with top class management, top class accommodation and facilities, top class customer care and top class food. Staff are well motivated and interact at just the right level with guests on an individual basis. If there is anything that needs some senior management attention it is breakfast service and quality. Not that its bad but it isn't up to the standard of the rest of the Hotel. We had a few communication issues with the early morning teams in room service and the breakfast rooms. There is also a basic lack of understanding of the terms used on the breakfast menu so we reverted to the continental buffet - which is ok but lacks imagination and sufficient variation. Other than this, The Chesterfield is a wonderful place to stay and very good value indeed for a top end Palm Beach hotel! Thank you all!

Top tip for other guests:

Don't hesditate - this is a great place to stay in Palm Beach.

What I liked most

Guestroom and bathroom
Restaurant and dining
Local knowledge and experiences
Welcome and departure
Location
General service
Leisure facilities
Internet and wifi

What I might improve

Not As Good As I Had Expected

Stay date: November 2015

My Trip Type:

Couple

At first glance the hotel looked lovely with pretensions to mimic an English Country House but the service didn't match the description. There is no parking only a valet service, however the valets were all very charming. No welcome drinks or cookies in reception as advertised and no slh upgrade. We spent 5 hours by the pool area one day during which time not one hotel employee offered drinks or lunch. But the main disappointment was that their dining room is located in the same place as their "nightclub" so far too loud from 9pm onwards to carry on a conversation. Also could be heard in the lounge so nowhere to sit and relax in the evening. So we ended up eating out for our three night stay. Obviously the loud entertainment suits some but for those that it doesn't there needs to be a better description. I notice that in slh's terms they may not publish reviews with less than 4*. Is this not censoring if the reviews are valid?

Top tip for other guests:

Ask for a room upgrade before mentioning slh.

What I liked most

What I might improve

Welcome and departure
General service

Excellent location in Palm Beach

Stay date: July 2015

My Trip Type:

Couple

We had an excellent 8 night stay. It was unfortunate that the check-in procedure was quite disappointing (hotel was not aware of the SLH membership and before they were aware of the SLH membership offered a paying upgrade which later was reversed, once they confirmed the SLH membership, by mentioning " no rooms for upgrade are available". Eventually this was resolved with a compromise but this made the "welcome experience" quite disappointing. This small hotel has a great pool and is only a short walk from the beach. Parking facilities by means of valet are complimentary which is a nice plus.

Top tip for other guests:

Ask for a room away from the large blue garbage container which is emptied each early morning (loud noises)

What I liked most

Leisure facilities
Location

What I might improve

Breakfast
Welcome and departure

Friendly and attentive service, great location!

Stay date: April 2015

My Trip Type:

Couple

This immaculate hotel is perfectly located to enjoy all that Palm Beach has to offer. Our room, although quite small was perfectly equipped for our needs. The king size bed was exceptionally comfortable. The Leopard Lounge is a real bonus, offering great food and entertainment every night of the week. The Tuesday night special menu is a bargain. Thursday's happy hour extends all evening for ladies.

Top tip for other guests:

Enjoy the Leopard Lounge

What I liked most

General service
Internet and wifi
Restaurant and dining
Location

Quaint hotel with helpful staff

Stay date: November 2014

My Trip Type:

Family

Quaint hotel with personalized attention - thumbs up especially for Tara and Matthews. The restaurant though was disappointing.

Top tip for other guests:

Flagler Museum a must

What I liked most

Local knowledge and experiences
Location

What I might improve

Stay date: January 2014

My Trip Type:

Couple

Staff were very polite & attentive; Facilities unique & clean; Restaurant meal excellent; & music outstanding.

Top tip for other guests:

Braised Veal Chop

What I liked most

Restaurant and dining
General service
Welcome and departure
Internet and wifi

What I might improve

Another great thanksgiving

Stay date: December 2013

My Trip Type:

Couple

The young lady who checked us in was fantastic!!!! Loved the restaurant and all the wait staff for every shift was great.Hope to join you again next year. Also you have great valets-especially Louis.

Top tip for other guests:

Enjoy the hospitality!!!

What I liked most

Restaurant and dining
Location
Breakfast
Room service
Guestroom and bathroom
Welcome and departure

Outstanding hidden jewel in Palm Beach

Stay date: September 2013

My Trip Type:

Couple

We had a 10-day stay at the Chesterfield Hotel in Palm Beach. We arrived later in the evening and were warmly welcomed and offered a welcome drink. Our room (located on 3rd floor) was tiny but decorated in a unique way. The size of the room/bathroom is suitable for two persons. Complimentary bottled water and freshly made cookies and fruits were offered in the room each day. Room service was very attentive and friendly at all times. Breakfast was served in the Leopard Lounge (or on the terrace), you can choose between Continental Buffet and fresh made-to-order items (e.g. eggs, pancakes and much more). We were there at off-season, so it was very calm at breakfast hours and throughout the hotel/pool area. The hotel pool is small-sized, but adequate for the hotel-size. It is surrounded by sun chairs and offers a heated spa. As on the rooms, at the pool, bottled water and cold ice-tea is offered complimentary. You can also order from the pool menu throughout the day. The hotel is located a few steps from Worth Avenue and the beach. Complimentary valet parking is offered, which is definitely a must-have in Palm Beach. We had a very pleasant stay at The Chesterfield and we'll absolutely return next year. We highly recommend this hotel, at least because of the outstanding and personal service by EACH member of the hotel staff. Thanks again to every one of you, you made our stay this perfect!

Top tip for other guests:

Try the fresh homemade cookies offered in the lobby!

What I liked most

Breakfast
Welcome and departure
General service
Location
Guestroom and bathroom

What I might improve
5 Reasons to Choose SLH
INDEPENDENT HOTELS
We are the champions of small, independent luxury hotels ensuring our guests enjoy truly authentic travel experiences.
QUALITY COMMITMENT
The SLH Board of Directors approve every hotel before they join the brand – only the very best hotels are accepted.
MYSTERY INSPECTORS
A team of mystery inspectors visit our hotels at least once a year to ensure consistently high standards of quality.
EXCLUSIVE BENEFITS
Enjoy special rates, free breakfast, upgrades and even complimentary nights - join INVITED and book at SLH.com.
BEST PRICES
Book at SLH.com. Our Best Rate Promise means you won't find better publicly available rates for our hotels anywhere else.