https://origin.slh.com/hotels/the-gray-hotel-milan/
Hotel Highlights
Art nouveau-style city hotel
Each room is individually decorated and many feature Jacuzzis, hanging beds and a private gym
Le Noir restaurant has post modern design and serves unique Mediterranean dishes with a modern touch
Sina The Gray - Luxury hotel in milan
Stylish and creative design in the heart of Milan.
The epitome of modern elegance, Sina The Gray is a sophisticated hideaway close to the cathedral in the centre of the city. Its glamorous good looks are highlighted by delightfully quirky touches such as the eye-catching red and fuchsia pink swing chair in the lobby, an intimate restaurant, a bar, summer terrace and cocktail lounge.
Warm and inviting, the atmosphere at Sina The Gray is that of a private member's club. Each room is uniquely decorated with some rooms featuring suspended beds, some with a private gym and Turkish bath and others with large circular Jacuzzis. Steel, glass, ebony, silk and vibrant animal prints are incorporated into the imaginative design scheme.
Spend time browsing through Galleria Vittorio Emanuele, one of Europe's most beautiful glass-roofed shopping galleries, just opposite Sina The Gray. Then, visit the Brera Art Gallery and return to the hotel for drinks in the cocktail lounge.
21

rooms

1

restaurant

3

floors
The rooms
City Room
Sleeps: 2 People.
Elegantly appointed queen size bedded room, 15 sqm (161sqf), facing a quiet pedestrian street.

Essential and styled in warm colours such as coffee and cream and carefully chosen materials: wenge, zebra skin, African fabrics and travertine. Air Con, I pod, DVD, WI FI, safety box, minibar, hydro shower or tub.
From per night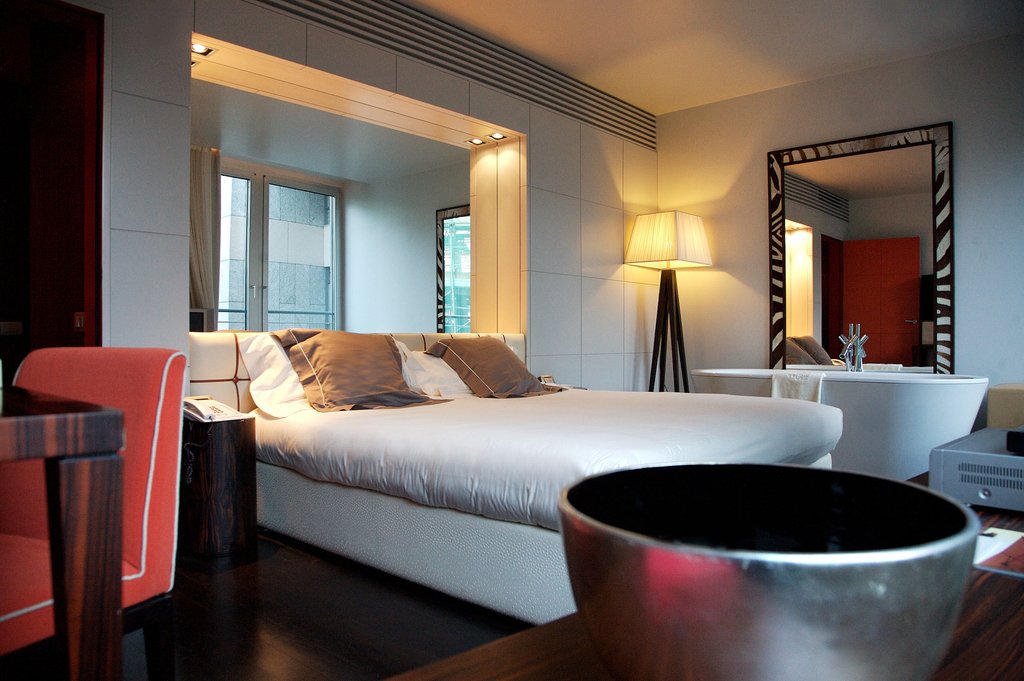 City Deluxe
Sleeps: 3 People.
The spacious Deluxe rooms, of 20 sqm (215 sqf) with queen size bed, offer a possibility to choose a hanging bed or a Philippe Stark bath tub.

A cosy outside balcony or a special disabled bathroom. Wooden floor in wenge, silk covers in the rooms, double basins with travertine. In every room you find: I pod port, DVD, Wi Fi, safety box and minibar.
From per night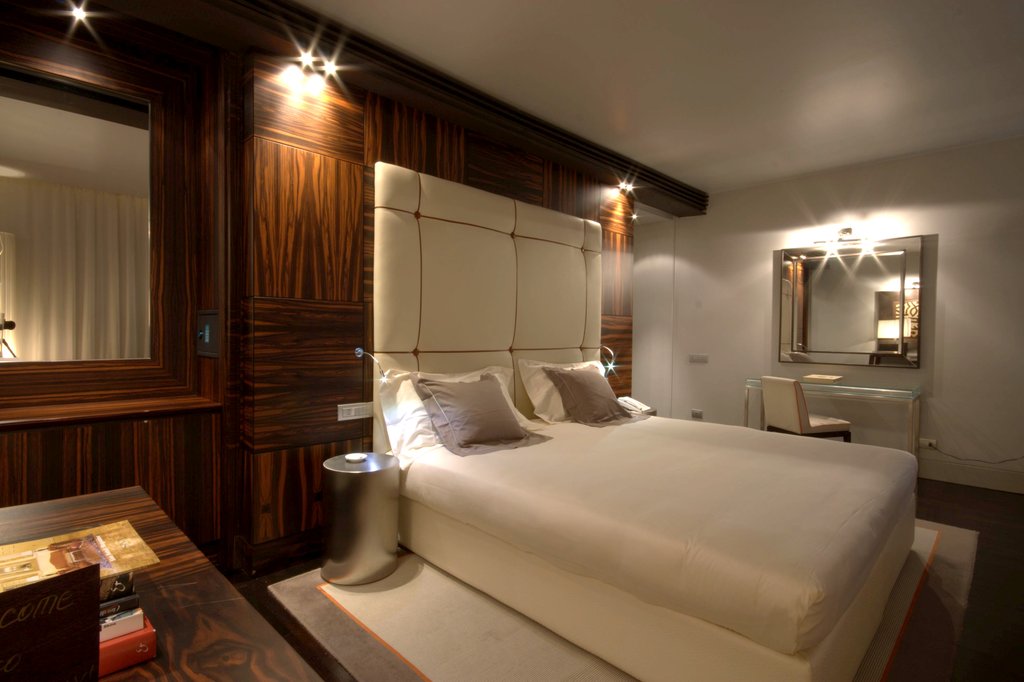 Gallery
Sleeps: 2 People.
32 sqm - Galleria view King bed Air Conditioning WiFi round Jacuzzi

Gallery rooms with superb view over Galleria Vittorio Emanuele and Jacuzzi tub with built in TV sets 32sqm large.
From per night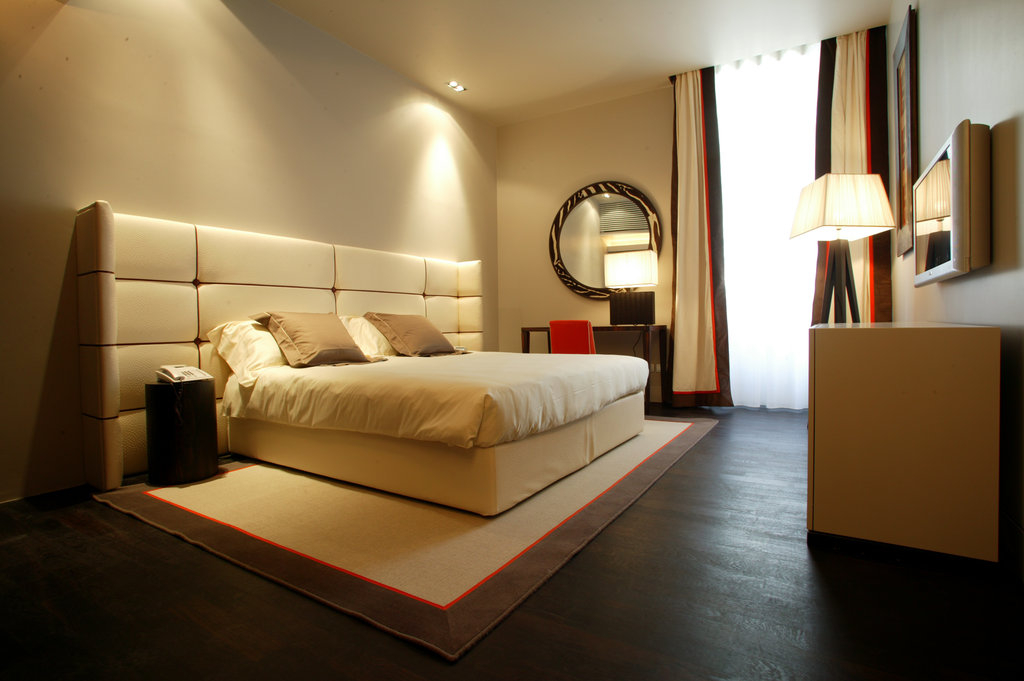 Junior Suite
Sleeps: 3 People.
Junior Suite from 35 sqm street view Queen bed AC WiFi

All comfort including a private gym or duplex with living room or steam bath
From per night
Air conditioning
Lounges/bars
Parking
Pets allowed
24-hour room service
Join INVITED and get 10% off exclusive rates. Plus early check-in and late check-outs among other benefits.
24-hour front desk

24-hour room service

24-hour security

Accessible facilities

Accessible parking

All inclusive

Analog data port

Audio visual equipment

Bell staff/porter

Buffet breakfast

Business Center

Business Center Services

Car rental desk

Catering services

Cellular phone rental

Children welcome

Computer

Computer rental

Concierge desk

Conference space

Currency exchange

Doctor on call

Dry cleaning

DVD/video rental

Early check-in

Elevators

Executive floor

Express check out

Family plan

Fax service

Fire safety compliant

Flip charts

Free high speed internet connection

Full service housekeeping

Handicap Parking

High speed internet access for laptop in public areas

High speed internet connection

Hotspots

Housekeeping - daily

Indoor parking

Jogging track

Late check out guarantee

Laundry/Valet service

Local calls

Long Distance Access

Lounges/bars

Massage services

Meeting rooms

Newspaper

Off-Site parking

Parking

Pets allowed

Photocopy center

Public address system

Restaurant

Room service

Safe deposit box

Secretarial service

Security

Shoe shine stand

Storage space

Translation services

Turndown service

Valet parking

Wakeup service

Wireless internet connection
Air conditioning

Alarm clock

AM/FM radio

Balcony/Lanai/Terrace

Bathrobe

Bathroom amenities

Bathroom telephone

Bathtub

Bidet

Buffet breakfast

Cable television

CD player

Color television

Computer

Data port

Desk

Direct dial phone number

DVD player

Free newspaper

Hairdryer

High Definition (HD) Flat Panel Television

Internet access

Jacuzzi

Large desk

Large work area

Lighted makeup mirror

List of movie channels available

Minibar

Multi-line phone

Non-smoking

Oversized bathtub

Phone in bathroom

Private bathroom

Remote control television

Safe

Satellite television

Separate tub and shower

Sitting area

Slippers

Smoke detectors

Speaker phone

Stereo

Telephone

Turn down service

Two-line phone

Universal AC/DC adaptors

Voice mail

Wake-up calls
In perfect keeping with the hotel's style and design the "Le Noir" Restaurant, situated on the first floor, has a totally black look, in a post-modern oasis where one can enjoy Mediterranean dishes skilfully revisited by the our Chef.
Le Noir
Cuisine type: Italian
Meals served: Breakfast, Brunch, Lunch, Dinner
Le Noir Restaurant has a totally black look - in a post modern oasis where one can enjoy. Mediterranean dishes skillfully revisited by the Chef Luciano Sarzi Santori. The unique surroundings of the Le Noir Restaurant resembling a black box where a special atmosphere is created by lights coming from unusual fountains. The whole environment is characterised by the presence of geometrical shapes.
GBAR
Cuisine type: International
Meals served: Lunch, Dinner
Conic shaped lamps dressed in white silk with sandblast crystal shelves - red velvet sofas with shocking pink finishing - small brown leather chairs with contrasting buttons and buckles and sofas with a very low backs are all engineered to encourage closeness and intimacy amongst guests - like the low mirrors astutely positioned at eye level once sitting down - or the light fabric suspended above the bar on which suggestive images of natural environments are projected.
Aria
Cuisine type: International
Meals served: Breakfast, Brunch, Lunch, Dinner
ARIA is an elegant open air lounge with a deep attention for details. The ARIA philosophy is simple and effective created in the centre of Milan it is an exclusive and intimate lounge to enjoy under the open sky where innovation and a particular attention to new trends find the right dimension. ARIA is the ideal place to experience Milan from a special point of Observation for breakfast or for a lunch with creative and original recipes.
Reviews
These reviews are the real opinions of INVITED members and we have verified their stay at the hotel.
What I liked most :

Location (20)
Internet and wifi (12)
Breakfast (10)
Welcome and Departure (10)
Guest Room and Bathroom (8)
Welcome and departure (8)
General Service (7)
Guestroom and bathroom (6)
General service (5)
Local knowledge and experiences (5)
Local knowledge and experience (4)

What I might improve :

Breakfast (4)
Internet and wifi (4)
Restaurant and dining (3)

Read Reviews

June 2019

My Trip Type:

Couple

VIEW ON EMMANUEL 2 GALLERIA

Top tip for other guests:

DON'T COME BY CAR

What I liked most

Welcome and Departure
General Service
Guest Room and Bathroom
Breakfast
Room Service
Leisure facilities
Internet and wifi

Sophistication in the Heart of Milano

June 2019

My Trip Type:

Individual

Arrival for having been warmly welcomed; upgrade of my reservation; discovering my room and the sophistication of its decoration; hammam facility in the room; dinner; breakfast.

Top tip for other guests:

When arriving by car, the wisest thing to do is to leave at the Rinascente parking, closest to Sina The Village Hotel, Sina The Gray being located in a street reserved to pedestrians, quite close to this parking, actually.

What I liked most

Welcome and Departure
Location
General Service
Guest Room and Bathroom
Breakfast
Restaurant and dining
Internet and wifi

The hotel location is amazing, overall the hotel is great. But sometimes we can experience loud music from the bar close to the hotel

May 2019

My Trip Type:

Family

Top tip for other guests:

If you want to stay close to duomo this hotel is only a few steps from Duomo!!

What I liked most

Welcome and Departure
Location
General Service
Guest Room and Bathroom
Breakfast

What I might improve

Nice hotel, spacious rooms, great location

May 2019

My Trip Type:

Couple

The view from our room (the galleria) was a splendid surprise as was the location

Top tip for other guests:

Great location, helpful staff, nice room (#301) with a great view

What I liked most

Welcome and Departure
Location
Local knowledge and experience
Guest Room and Bathroom

April 2019

My Trip Type:

Couple

Just 50 Meters from Cathadreal and the two main shopping centres/arcades is this wonderful individual place to stay.

Top tip for other guests:

Get 201 in second floor to have a round bathroom plus round bathroom jacuzi and an excellent view to the shopping arcade

What I liked most

Welcome and Departure
Location
Local knowledge and experience
Guest Room and Bathroom
Internet and wifi

Hotel located in the heart of the city

February 2019

My Trip Type:

Friends

Location location location

Top tip for other guests:

Beautiful modern hotel located in the heart of the city easy access to shopping dining and sightseeing

What I liked most

Welcome and Departure
Location
General Service
Local knowledge and experience
Guest Room and Bathroom
Breakfast
Restaurant and dining
Internet and wifi

December 2018

My Trip Type:

Couple

Top tip for other guests:

Many restaurants nearby

What I liked most

Welcome and Departure
Location
Breakfast
Internet and wifi

What I might improve

Local knowledge and experience
Restaurant and dining
Leisure facilities

Nice pre-New Years stay, really central.

December 2018

My Trip Type:

Family

The hotel staff has managed to get tickets to The Last Supper which was truly amazing and we really appreciate the assistance in making it happen.

Top tip for other guests:

Great location, quiet and relaxing atmosphere. Close to main cultural and shopping areas. Unfortunately, Poor breakfast, no gym or spa compared to other SLH hotel we have stayed at. Very expensive room service and food at the hotel which was also a surprise.

What I liked most

Welcome and Departure
Location
General Service
Guest Room and Bathroom
Internet and wifi
Other

What I might improve

Local knowledge and experience
Breakfast
Restaurant and dining
Leisure facilities

Excellent, fabulous location, service extremely friendly and efficient.

October 2018

Getting out of the rain in a friendly environnement

Top tip for other guests:

Contemporary but cosy..

What I liked most

Welcome and Departure
Location
General Service
Local knowledge and experience
Guest Room and Bathroom

What I might improve

General Service
Breakfast

well designed, nice and comfortable

October 2018

I spent the most of time inside the room because it was very comfortable and the window view was the best!

Top tip for other guests:

ask for room with a view of the Gallery

What I liked most

Welcome and Departure
Location
General Service
Room Service
Internet and wifi

Excellent hotel, perfect location.

Buenos Aires, Argentina

My Trip Type:

Single

Top tip for other guests:

To enjoy the terrace lounge!

What I liked most

Local knowledge and experiences
Internet and wifi
Guestroom and bathroom
Welcome and departure
General service
Location
Room service
Breakfast

Stay+date:+March+2017

My Trip Type:

Business

Amazing hotel.since we are members of SLh we got upgraded to junior suite Fantastic room,space,warm welcome ,and beautiful breakfast.

Top tip for other guests:

not only location ,price,quality,breakfast,staff

What I liked most

Room service
Welcome and departure
Location
General service
Internet and wifi
Breakfast
Guestroom and bathroom
Local knowledge and experiences

Stay date: March 2016

My Trip Type:

Business

Friendly staff. Walking distance to major attractions. Nice decor

Top tip for other guests:

Perfect to get around

What I liked most

Location
Leisure facilities

What I might improve

Great location, worn interior

Stay date: August 2015

My Trip Type:

Couple

Perfect location, interior ageing and fading by now. No concierge and thus, local knowledge and experience, support for excursions, restaurants etc. rather poor. All in all, clearly expected more from this experience.

Top tip for other guests:

try top floors

What I liked most

What I might improve

Welcome and departure
Breakfast
Guestroom and bathroom
Local knowledge and experiences
General service

STYLISH INNER CITY SANCTUM

Stay date: July 2015

My Trip Type:

Family

A boutique hotel centrally located opposite the Galleria Vittorio Emanuele with good sized bedrooms and extra large bathrooms in comparison. A short stroll from the shopping area and La Scala. Great friendly concierge service.

Top tip for other guests:

Book tickets for La Scala

What I liked most

Location
Local knowledge and experiences
Welcome and departure

What I might improve

Stay date: July 2015

My Trip Type:

Couple

Extremely helpful service and always trying their best to upgrade us

Top tip for other guests:

try to get a suite with view on the Gallery

What I liked most

Location
Welcome and departure
Internet and wifi

What I might improve

Excellent location but there was a lot o

Stay date: April 2015

My Trip Type:

Family

Hotel is very nice and with a great location however they had a lot of construction on the street facing it. The hotel should announce this early before booking and not leave guests surprised when they check in. Also, they so not have great deals for parking nearby sp be careful as it costs a lot. Finally the hotel needs more staff especially at the entrance.

Top tip for other guests:

Please ensure they are no current constructions

What I liked most

Location
Guestroom and bathroom

What I might improve

Local knowledge and experiences
Welcome and departure
General service

Great location with a beautiful room

Stay date: December 2014

My Trip Type:

Couple

Could not be more central with a friendly service adding to the joy of a beautiful room.

Top tip for other guests:

Check what kind of rooms are on offer, as they are all very different

What I liked most

Location
Welcome and departure
Guestroom and bathroom

What I might improve

Great hospitality, outstanding location

Stay date: March 2014

My Trip Type:

Couple

This is a very good hotel. Rooms are great, service is wonderful and the location is right in the centre of everything in Milano. My only area for improvement is with the wifi. It only lasts about 2 minutes then you get kicked off. Constantly trying to connect no matter what device we used.

Top tip for other guests:

Enjoy the location

What I liked most

General service
Local knowledge and experiences
Guestroom and bathroom
Location
Welcome and departure
Breakfast

What I might improve

Friendly service in a great location

Stay date: December 2013

My Trip Type:

Couple

Perfect location for visiting the centre of Milan. Close to all the main attractions. Only thing that was lacking was water in the room other than having to raid the mini bar at 8 euros a bottle

Top tip for other guests:

Ask the Reception for reccommendations for restaurants. They gave us a good one

What I liked most

Welcome and departure
General service
Guestroom and bathroom
Internet and wifi
Local knowledge and experiences
Breakfast
Location

good location friendly service

Stay date: May 2013

My Trip Type:

Family

we were surprised by two things, no water in the room and the ONE in the mini bar was exorbitant. there was a surprise charge for the hotel to call the taxi to the airport, of 20 euros. both of these things diminished the sense of being well taken care of.

Top tip for other guests:

bring your own water and dont have the hotel call your taxi, it cost an extra 20 euros!!!

Hotelier reply:

Dear Mrs. Elisabeth, First of all we would like to thank you for your comments even if some points are not positive for us and we assure that we appreciate customer's feed back and do our best to improve our services and to make our guest's stay with us a pleasant one. Clients satisfaction is what we work for. We are delighted to know that you enjoyed our breakfast, wi fi and general services, arrival and departure moments and our location. Regarding the water in room, according to our Company's policy, we do not provide complimentary water, minibar prices are exposed in room and they are well in line with all 5 stars hotels. Concerning the taxi, whilst reassuring you that the Hotel does not charge anything for such service, we presume that the taxi has arrived with a meter charge according to the distance the same was located. We remain at your disposal for any further need and take this opportunity to send you our best regards Janina Ciziunaite Front Office Manager

What I liked most

Internet and wifi
Location
Breakfast
Welcome and departure
General service

What I might improve