https://origin.slh.com/hotels/thorngrove-manor/
Hotel Highlights
A romantic retreat with inspired architecture featuring towers and turrets
Creative and artistic décor with private dining experiences
Imaginative, individual rooms with privately located entries
Thorngrove Manor Hotel - Luxury Hotel in Adelaide
A quintessential romantic hilltop escape, 20 minutes from the Adelaide city centre
With its distinctive creative architecture, captivating style and contemporary influence, Thorngrove Manor, a recipient of many awards, is one of the world's outstanding unique hotels. The romantic castle inspired towers and fantasy turrets are clues to its artistic and flamboyant interiors. Antiques, exquisitely crafted rooms and furniture, winding staircases, friezes, stencilled designs and artworks exploit the extraordinarily diverse and idiosyncratic room shapes to create an escapist's dream.
Imaginative decor renders every room a masterpiece. There is no more ingenious fusion of the contemporary and the baroque anywhere. Enjoy meticulous attention to detail. Every modern facility has been discreetly woven into this romantic wonderland. Privacy is absolute; you may never see the other guests. The discreet personalised dining and comfort levels surpass all five star ratings. Romantics – Thorngrove Manor could be journey's end!
Situated 20 minutes from the Adelaide city centre, in South Australia's oldest wine region, Thorngrove Manor Hotel, is an idyllic romantic retreat, providing for experiential day trips to Kangaroo Island, Adelaide, Barossa Valley and the Clare Valley. A scenic marked walking trail winds its way to the nearby village of Stirling.
5

rooms

1

restaurant

4

floors
The rooms
Tower Loft
Sleeps: 2 People.
Ascend a spiral staircase within a tower to an enchanted room with antique and bespoke furniture and objet d'art. A QS hand carved bed creates a stunning centrepiece.

Ensuite with roof window, deep porcelain spa bath/sep shower, walk-in wardrobe. Luxurious velvety Axminster carpet, with the best of European luxury textiles. Hand worked crewel embroidered curtains. 48 sqm
From per night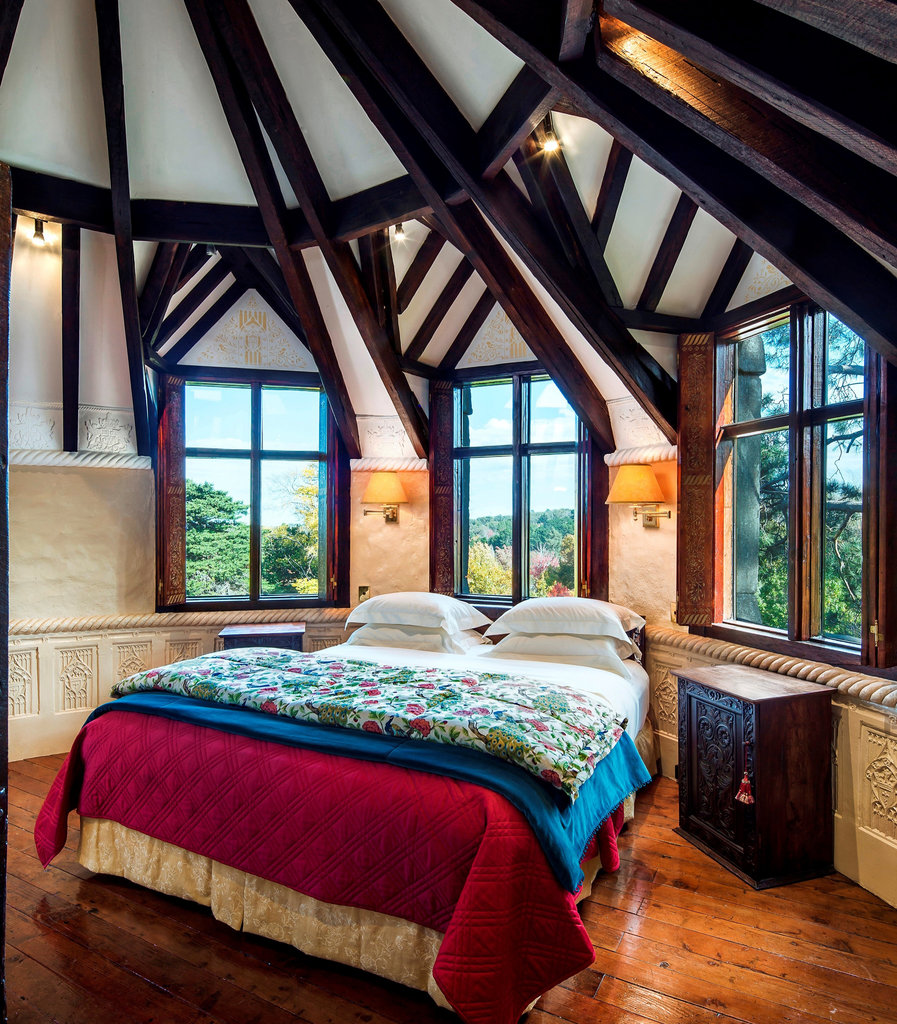 Observatory Suite
Sleeps: 2 People.
A stone spiral staircase entry leads to a romantic tree top retreat. Painted celestial stars shine like jewels in a cobalt sky above a circular spa bath.

Dramatic architectural features, embellished with golden stencils and friezes. Whimsically carved C18th English Oak KS bed. A steeply vaulted timber beamed tower bedroom with panoramic windows with horizon views. 48 sqm
From per night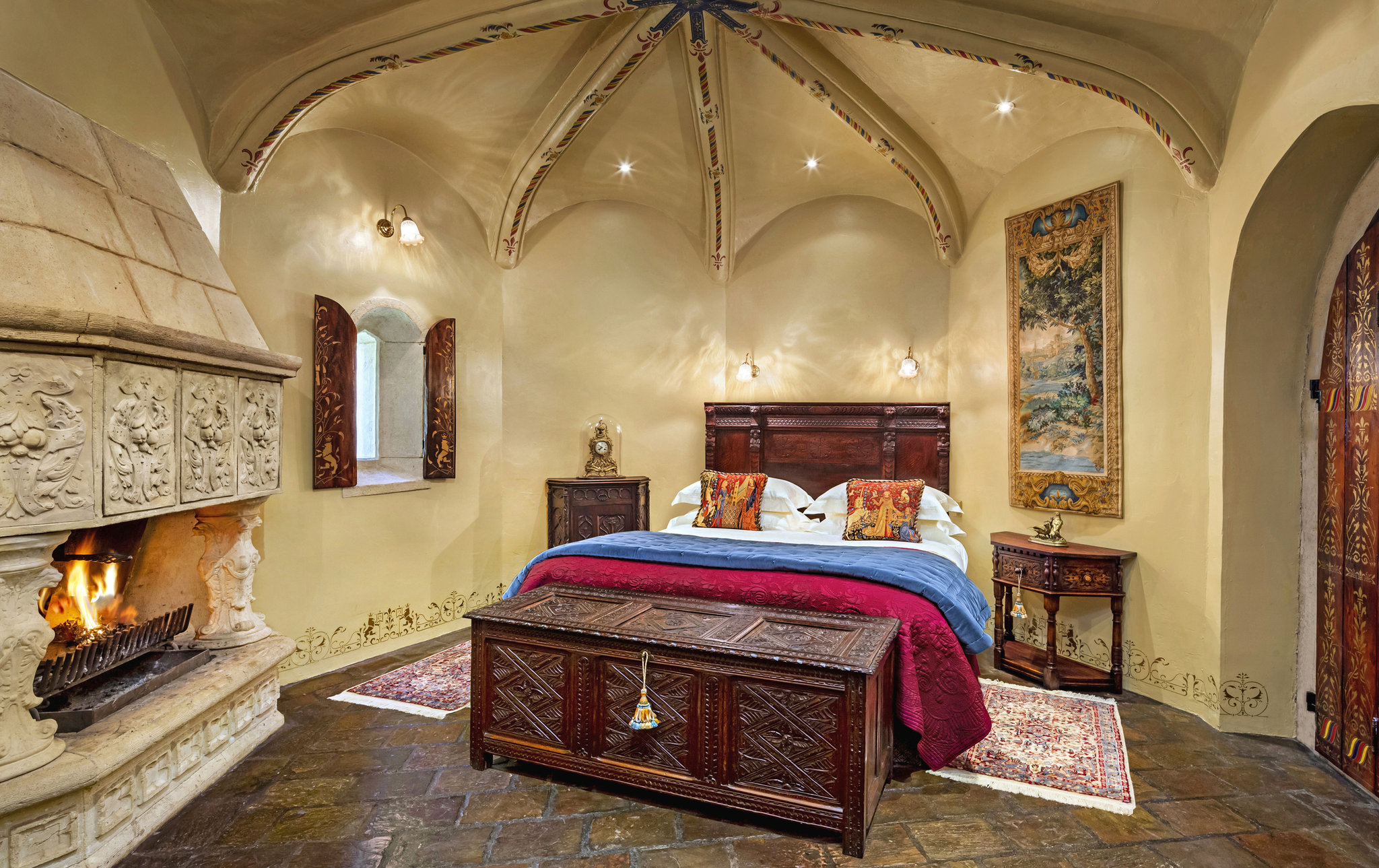 Castle Chamber
Sleeps: 2 People.
A stone Spiral staircase joins 2 floors. Antique furnishings, hand painted vaulted ceilings, a grand ornamental stone working fireplace and ensuite spa bath.

Private lounge/dining with down-filled winged armchairs. Bedroom with Continental King size C19th carved bed-head. Kitchenette and Juliet-style balcony. Lancet and mullioned windows. "The stuff dreams and fairy-tales are made of." 63 sqm
From per night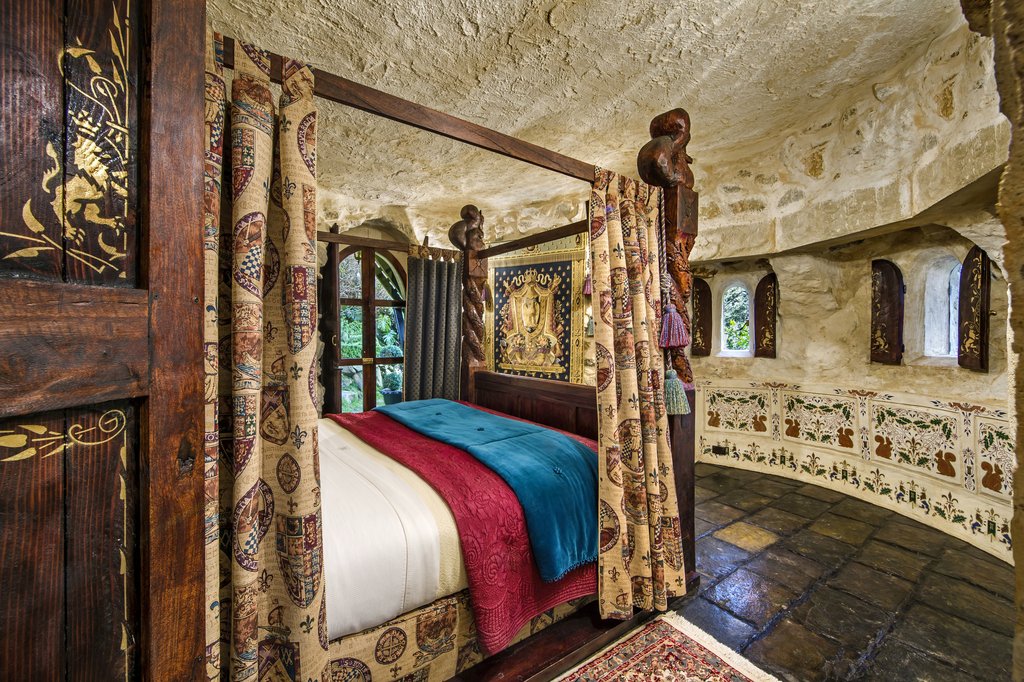 Castle Chamber
Sleeps: 2 People.
A stone spiral staircase adjoins the two bedroom levels featuring a whimsical hand-carved KS 4-poster bed and carved Cont KS bed.

French tapestries with luxurious French silk tassels, and decorated vaulted ceilings, a grand stone carved fireplace and ensuite spa bath. 2 bedrooms, 1 kitchenette, balcony and 1 share ground floor bathroom. Max 3 people in 2 KS bed. Not suitable for mobility impaired.
From per night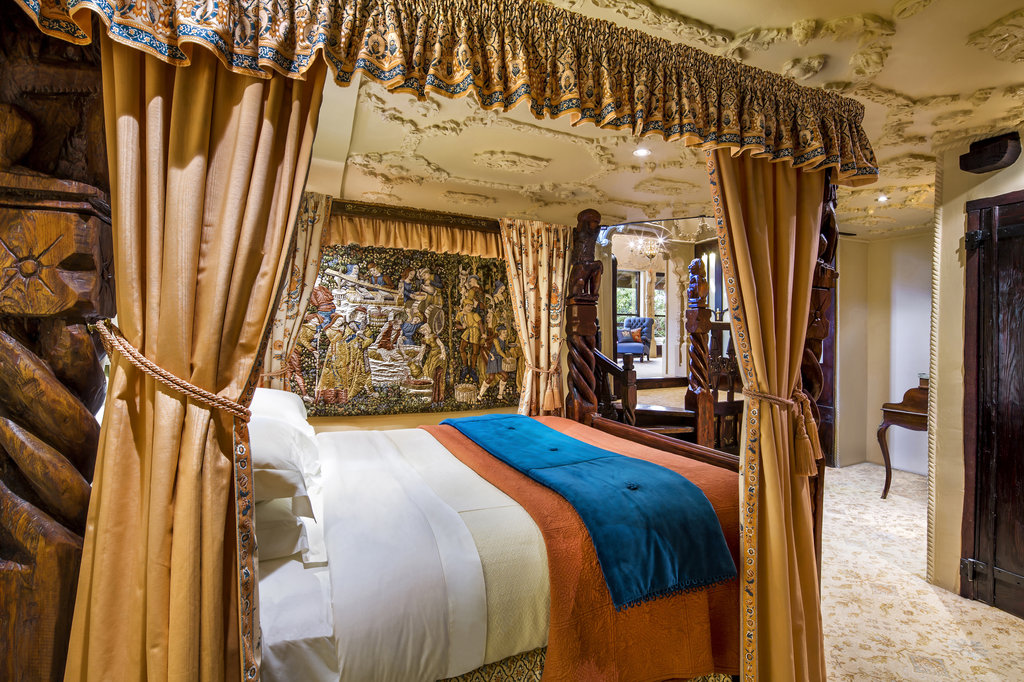 Queens Chamber
Sleeps: 2 People.
Captivating and enchanting, with adjoining a large terrace with tree top views to horizon. KS 4-poster bed with carved heraldic lions hung with GP&J Baker fabric and French silk tassels.

C18th Sevres, Staffordshire porcelain, and an antique gilt clock display on an 1840 oak cupboard. C18th Dutch candelabra, French tapestries. Scottish antique stained glass windows. Spiral stair access. 64 sqm
From per night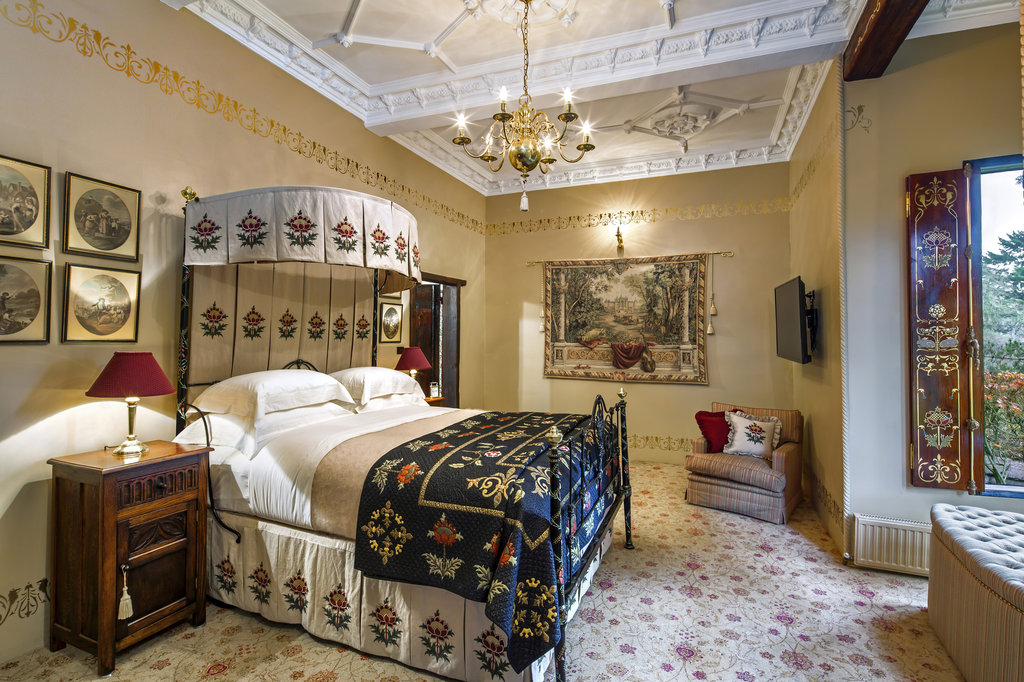 Kings Chamber
Sleeps: 2 People.
Private gated driveway. Entry hall, lounge/dining room and bedroom. Large baronial style open log fire place and antique piano.

European antiques and objet d'art; rare Scottish antique stained glass windows and hand gilded beamed ceiling and shutters. Antique Cont KS hand painted canopy bed with luxury Italian linen. Finest textiles from Liberty and Morris and Co and Scottish leather. 74 sqm
From per night
Air conditioning
outdoor
Join INVITED and get 10% off exclusive rates. Plus early check-in and late check-outs among other benefits.
Accessible facilities

Air conditioning

Bell staff/porter

broadband wireless

Children welcome

Continental breakfast

DVD/video rental

English breakfast

Female traveler room/floor

Fire safety compliant

Free parking

Front desk

Full service housekeeping

High speed internet connection

Hotel does not provide pornographic films tv

Housekeeping - daily

Indoor parking

Jogging track

Laundry/Valet service

outdoor

Parking fee managed by hotel

Pets not allowed

Restaurant

Safe deposit box

Security

Wakeup service

Wi-Fi is available in the guest rooms only and is free of charge.
Air conditioning

Alarm clock

AM/FM radio

Balcony/Lanai/Terrace

Bathrobe

Bathroom amenities

Bathtub

CD player

Coffee/Tea maker

Color television

Desk

Direct dial phone number

DVD player

Hairdryer

High Definition (HD) Flat Panel Television

Internet access

King bed

Minibar

Queen bed

Remote control television

Safe

Self-controlled heating/cooling system

Sitting area

Slippers

Smoke detectors

Stereo

Telephone

TV

Walk-in closet
Romantic dining- privacy, indulgence and convenience-experience the luxury of private in-room dining for couples. Renowned for fine cuisine and celebrating seasonal abundance, local bio-dynamic, organic produce and ingredients are sourced from local providores and farmers. Dinner is served at guests preferred times. C18th and C19th European antique hallmarked antique silver and the finest antique Irish linen and Sferra linens are featured in unique and individual place settings, continuing a banquet that has lasted through centuries. With a passion for organic produce, Thorngrove grows its own herbs, vegetables, summer fruits and berries. Reservations are required when accommodation is booked, to ensure organic and bio-dynamic produce availability.
Private Dining in-house guests
Meals served: Dinner
Please note that dining is available for in-house guests only. Meals are individually prepared for private dining using the finest organic ingredients of the season- Dinner may only be reserved in advance at the time of booking accommodation. Alternatively there are many fine cafes and restaurants in the local village we are happy to recommend. Alcoholic beverages are not sold- BYO is welcome. Dinner Service utilises the finest antique sterling silver and crystal.
Reviews
These reviews are the real opinions of INVITED members and we have verified their stay at the hotel.
What I liked most :

Location (7)
Breakfast (6)
Guestroom and bathroom (5)
Room service (5)
Welcome and departure (5)
General service (4)
Internet and wifi (4)
Restaurant and dining (4)
Local knowledge and experiences (3)

Read Reviews

An unforgettable magical stay

November 2018

My Trip Type:

Couple

Staying in this amazing magical castle made my wife 50th birthday an unforgettable experience. A truly romantic stay and great hospitality by Ken and Nydia.

Top tip for other guests:

Highly Recomended for celebrating special occasions

What I liked most

Welcome and Departure
Guest Room and Bathroom
Breakfast

Amazing experience down to the intricate details!

March 2018

From the first entry into the beautiful castle property, through to our depature. Ken and Nydia were amazing hosts. Delicious, local, fresh food, real passion for what they do and every detail considered and thought about in the rooms and throughout the property. We had an amazing weekend there and would highly recommend Thorngrove.

Top tip for other guests:

Perfect for a romantic weekend away or for an exceptional experience!

What I liked most

Welcome and Departure
Location
General Service
Local knowledge and experience
Guest Room and Bathroom
Breakfast
Restaurant and dining
Room Service
Leisure facilities
Internet and wifi
Other

Great place to rest after running around the outback

Stay date: February 2016

My Trip Type:

Couple

The candle light dinner is excellent, I feel like a king

Top tip for other guests:

If you wnat the best room book The Queen's Chambers

What I liked most

Location
General service
Guestroom and bathroom
Room service
Breakfast
Restaurant and dining
Welcome and departure

What I might improve

Stay date: January 2016

My Trip Type:

Couple

Friendly service, fantastic photos taken of our wedding

Top tip for other guests:

calm and discrete

Hotelier reply:

Dear Daniel, Thank you for your great review. We are so pleased you chose to stay at Thorngrove and look forward to seeing some more of your wonderful wedding photographs. It is always wonderful to see the architecture and gardens in such creative photography. Nydia Lehmann Manager

What I liked most

Location
Welcome and departure

Stay date: January 2016

My Trip Type:

Couple

We stayed here to celebrate our anniversary and were overwhelmed by the hospitality and quality of this fine property. The food, which included a superb afternoon tea, dinner and breakfast were of the highest standard. We stayed in the observatory suite, which like all of the building contained the finest furniture and furnishings. The owners are passionate collectors of antiques and the pieces are amazing. There are not enough superlatives to describe the pleasure we experienced during our stay. The grounds are stunning and you can enjoy a drink either in your room (in our case our spa set in a turret of the Observatory suite) or on the terrace overlooking the manicured landscape of the grounds. This superb property is set in the beautiful Adelaide hills and the walk to Stirling is easy and worth while to see this pretty little town that has some lovely drinking and eating establishments. There are also the lovely Mt Lofty gardens and Tapanappa winery nearby, both worthy of a visit though, like us, you will probably be loathe to leave your generously sized accomodation. We would love to return as Ken and Nydia, made us feel truly like a King and Queen during our stay.

Top tip for other guests:

Order the in room dining, a good variety of choices and the food is chef hatted quality! And you BYO wines. Afternoon tea and breakfast are also fabulous.

Hotelier reply:

Dear Luciana, Thank you for sharing your recent experience staying at Thorngrove. We are delighted that you enjoyed your stay and our unique property. Your comments reflect our effort, passion and commitment to private dining and creating characterful quirky accommodation for guests. We look forward to welcoming you back here again soon. Best regards, Nydia Lehmann Manager

What I liked most

Local knowledge and experiences
Breakfast
General service
Guestroom and bathroom
Internet and wifi
Location
Welcome and departure
Restaurant and dining
Room service

Stay date: October 2015

My Trip Type:

Couple

for the discerning eye thorngrove is always evolving,it has one of the most tranquil locations in the adelaide hills.it is extremely private,and the service is exemplary.it has an inate ability to dispel stress even before our bags are taken to our room. it is the casa batlo of australia.

Top tip for other guests:

stay as long as you can.avoid the chain hotels, a true experience of what a hotel isn't

What I liked most

Breakfast
Internet and wifi
Location
Guestroom and bathroom
Welcome and departure
Local knowledge and experiences
Room service
General service

Stay date: March 2015

My Trip Type:

Couple

Simply Amazing Building architecture and furnishings. Fantastic Dinner beautifully cooked and presented a match for any fine dining we have experienced. Without doubt an amazing experience in the Queens Chamber.

Top tip for other guests:

Please take advantage of the informal inroom dining option.

What I liked most

Guestroom and bathroom
Internet and wifi
Breakfast
Welcome and departure
Restaurant and dining
Location
General service
Local knowledge and experiences
Room service

Stay date: November 2013

My Trip Type:

Couple

a once in a lifetime experience in a place like no other

Top tip for other guests:

Take your alcohol and a cheese platter so you can sit out on the terrace and watch the world go and not have to leave the manor grounds.

What I liked most

Location
Guestroom and bathroom
Room service