https://origin.slh.com/hotels/u/hotel-urso/
Hotel Highlights
Former palace features a grand marble staircase
Urso Spa with Natura Bissé and Sisley Paris products
Seasonal cuisine in a relaxed yet elegant setting at

Media Ración restaurant
Urso Hotel & Spa - Luxury Hotel in Madrid
A modernist's dream set in an imposing neo-classical building in central Madrid.
An early 20th-century palace, lovingly and meticulously restored to create a beautifully styled, contemporary boutique property. Urso Hotel & Spa has 78 airy rooms and suites, a super slick spa with a water circuit and hammam, a fitness centre, a beautiful lounge bar and a restaurant. Surrounded by embassy buildings, independent boutiques, tapas bars and restaurants, the hotel is just a ten-minute walk from Madrid's famous golden triangle of art galleries.
Urso Hotel & Spa is a blend of early 20th-century architecture and fresh, modern décor. The grand staircase with marble stairs, a wrought-iron balustrade and stunning stained-glass windows bring the original features back to life; while honey-coloured wood flooring, ultra-modern seating and large drum-shaped lampshades are right up-to-the-minute.
Discover the charms of the local area and amble from Urso Hotel & Spa to Plaza de Colón, past impressive turn-of-the-century buildings and charming shady, squares. At the plaza's centre stands a 17-metre high monument of Christopher Columbus surrounded by a cascading fountain. Wander into the Jardines del Descubrimiento, for few moments rest. Then, head to Calle de Serrrano in the Salamanca district, for a spot of designer shopping, followed by a light lunch watching the world go by.
78

rooms

1

restaurant

5

floors
The rooms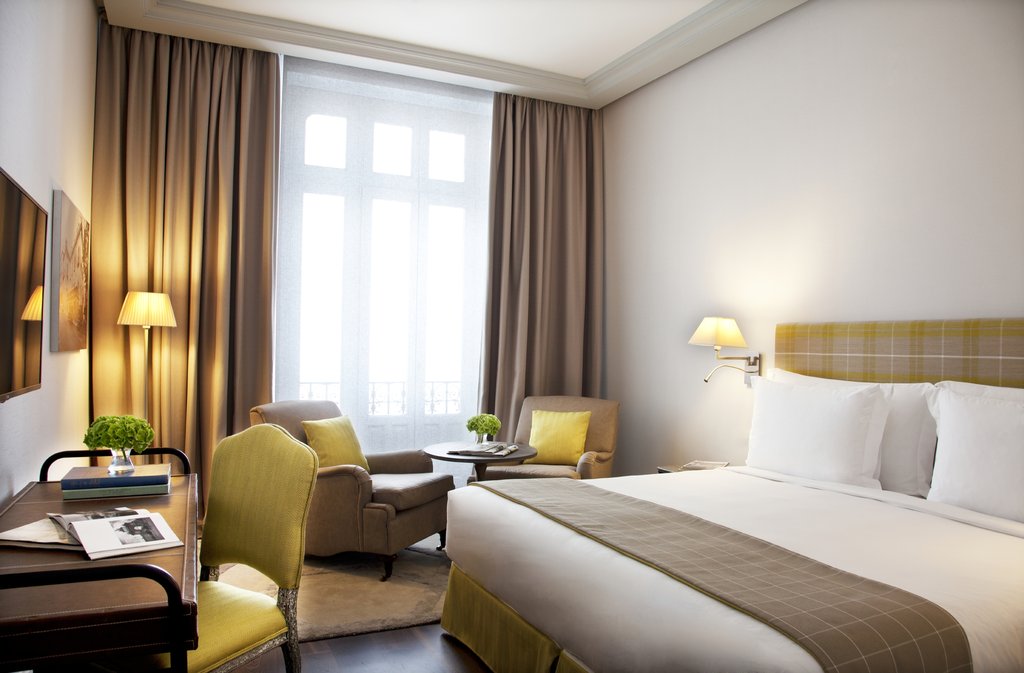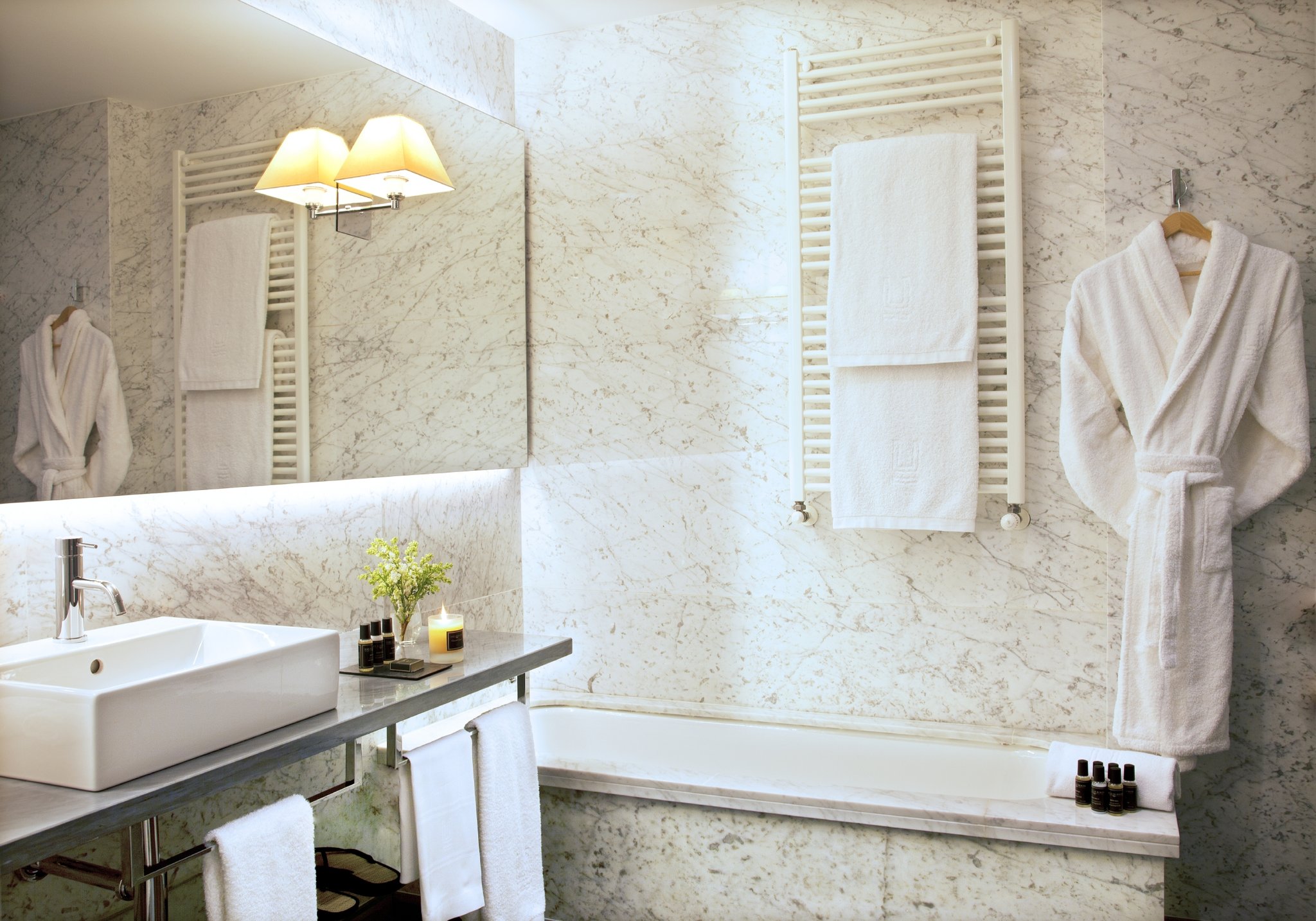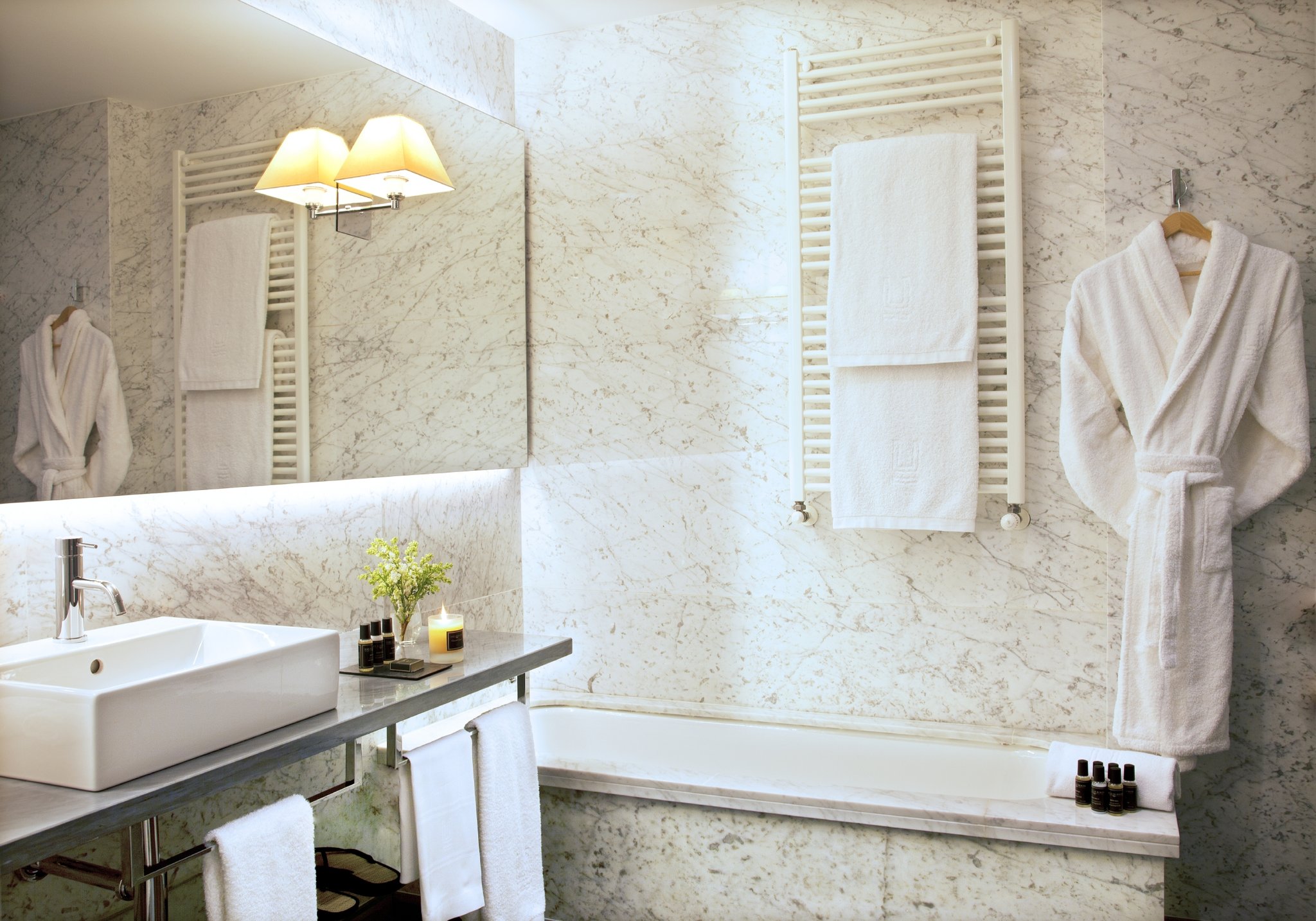 Double Room
Sleeps: 2 People.
Double Room, elegant and comfortable cultivating Urso's idea of beauty and with a separate bath and shower.

All offer complimentary WiFi and air conditioning. Room size: 22 square metres.
From per night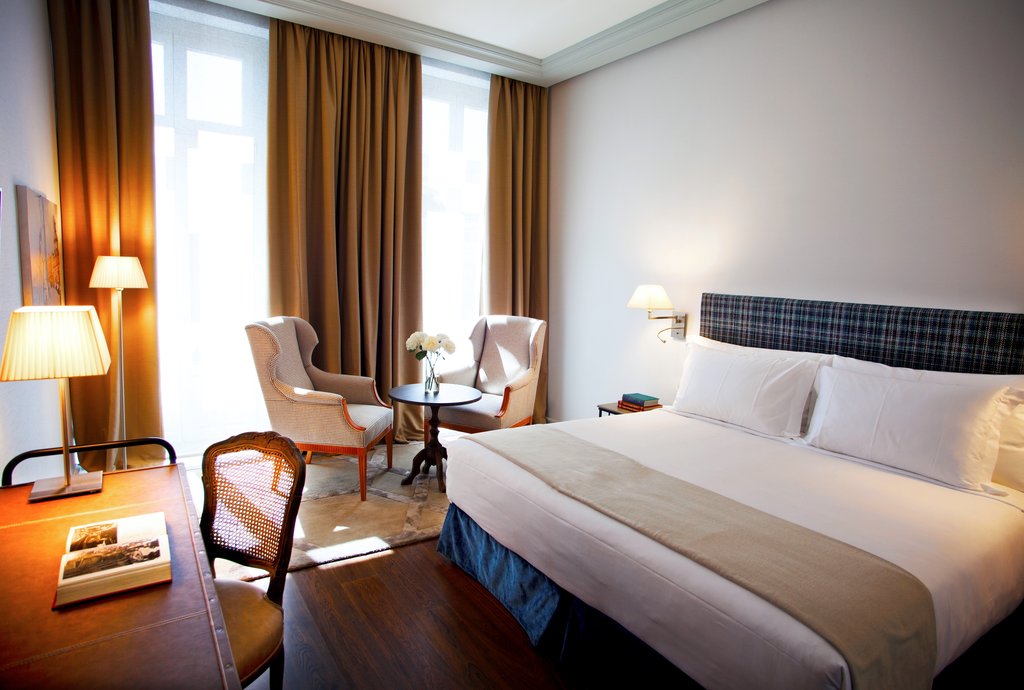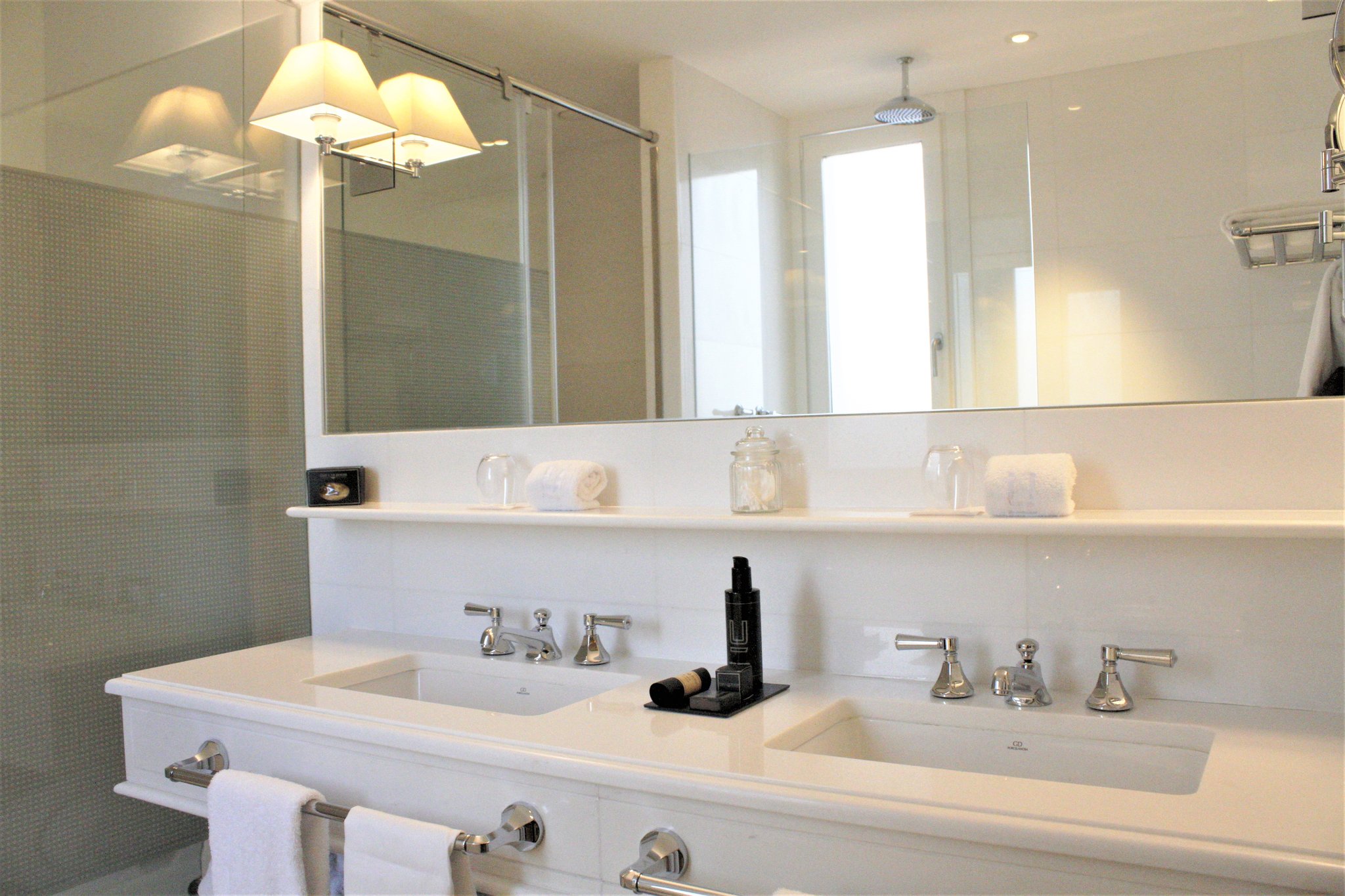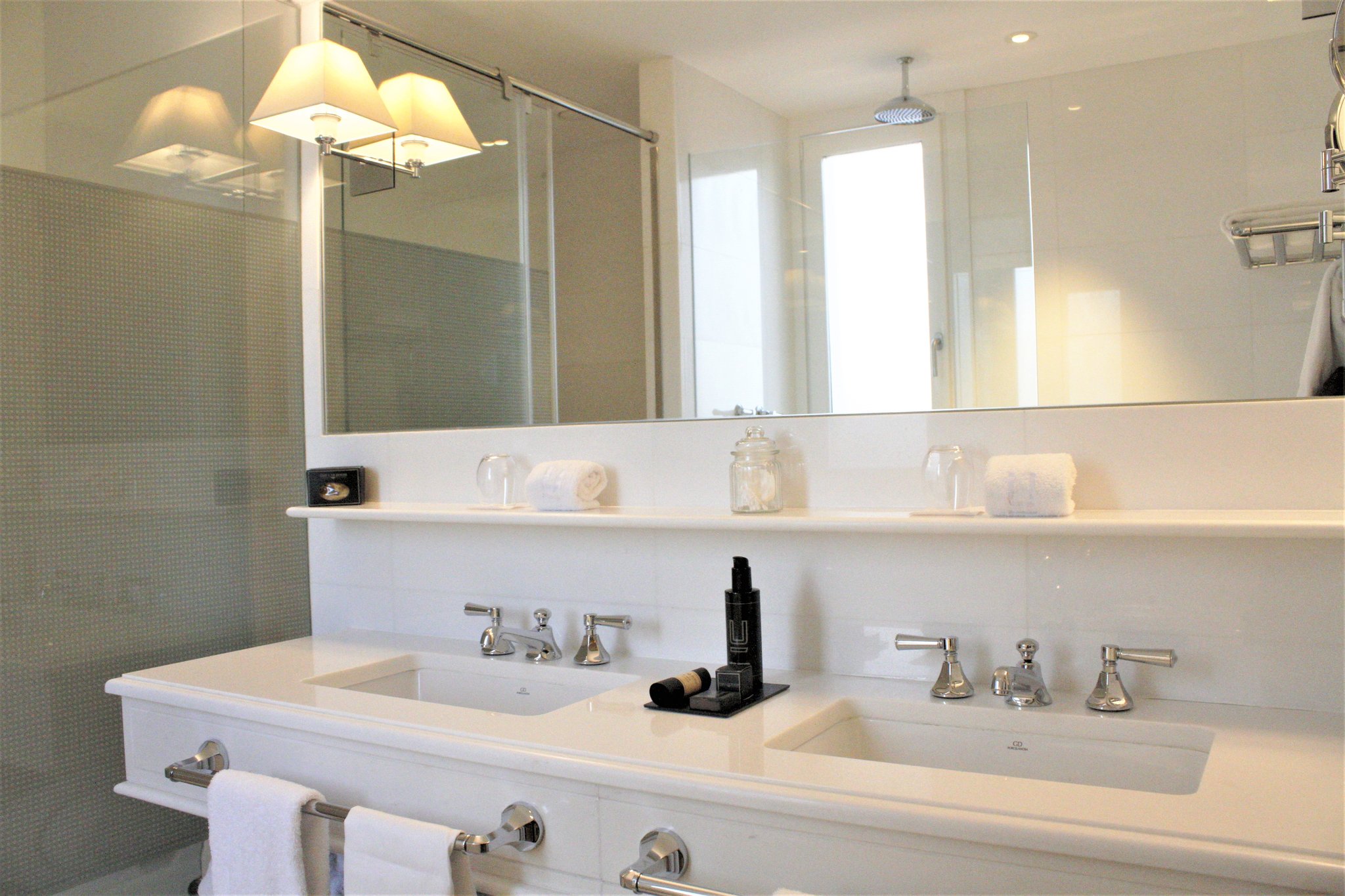 Deluxe Room
Sleeps: 2 People.
Deluxe Room with Palacio Villagonzalo view, bright and spacious with a separate bath and shower and little extras tailored to the every need of the discerning guest.

All offer complimentary WiFi and air conditioning. Room size: 24 square metres
From per night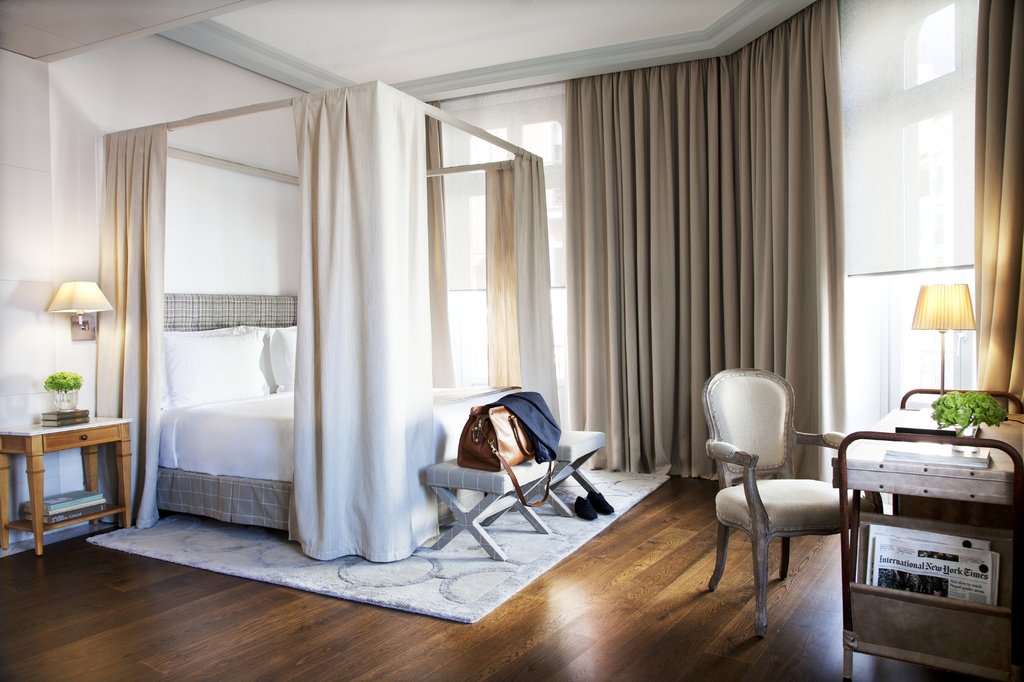 Junior Suite
Sleeps: 3 People.
Junior Suites have a dedicated lounge area for entertaining or business and a calm decor for sleeping. All offer complimentary WIFI and air conditioning. Room size: 40 square metres.
From per night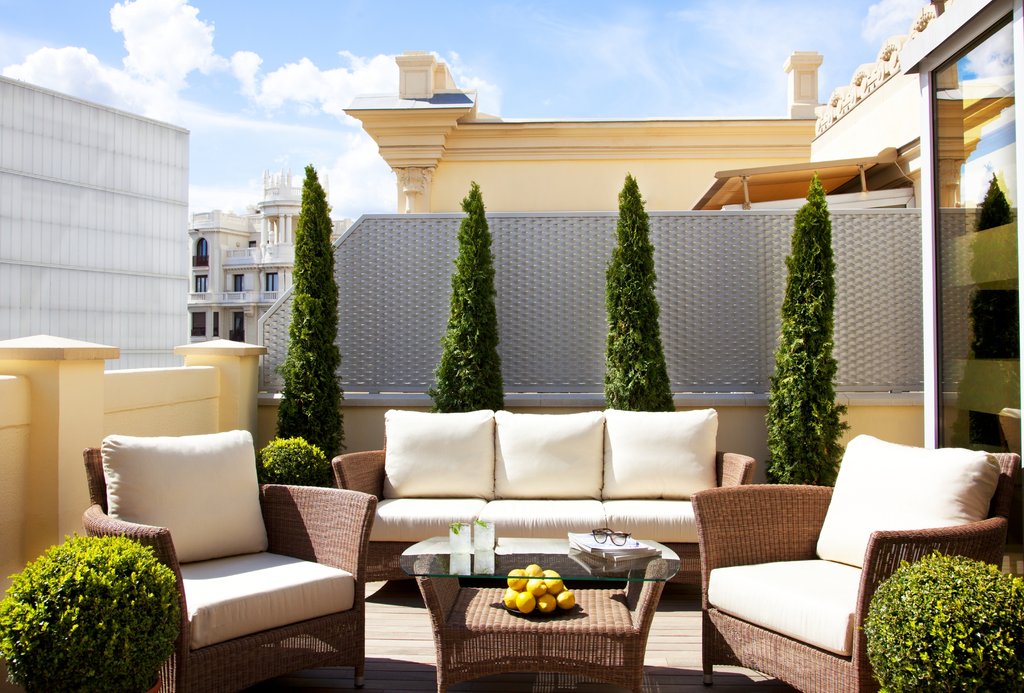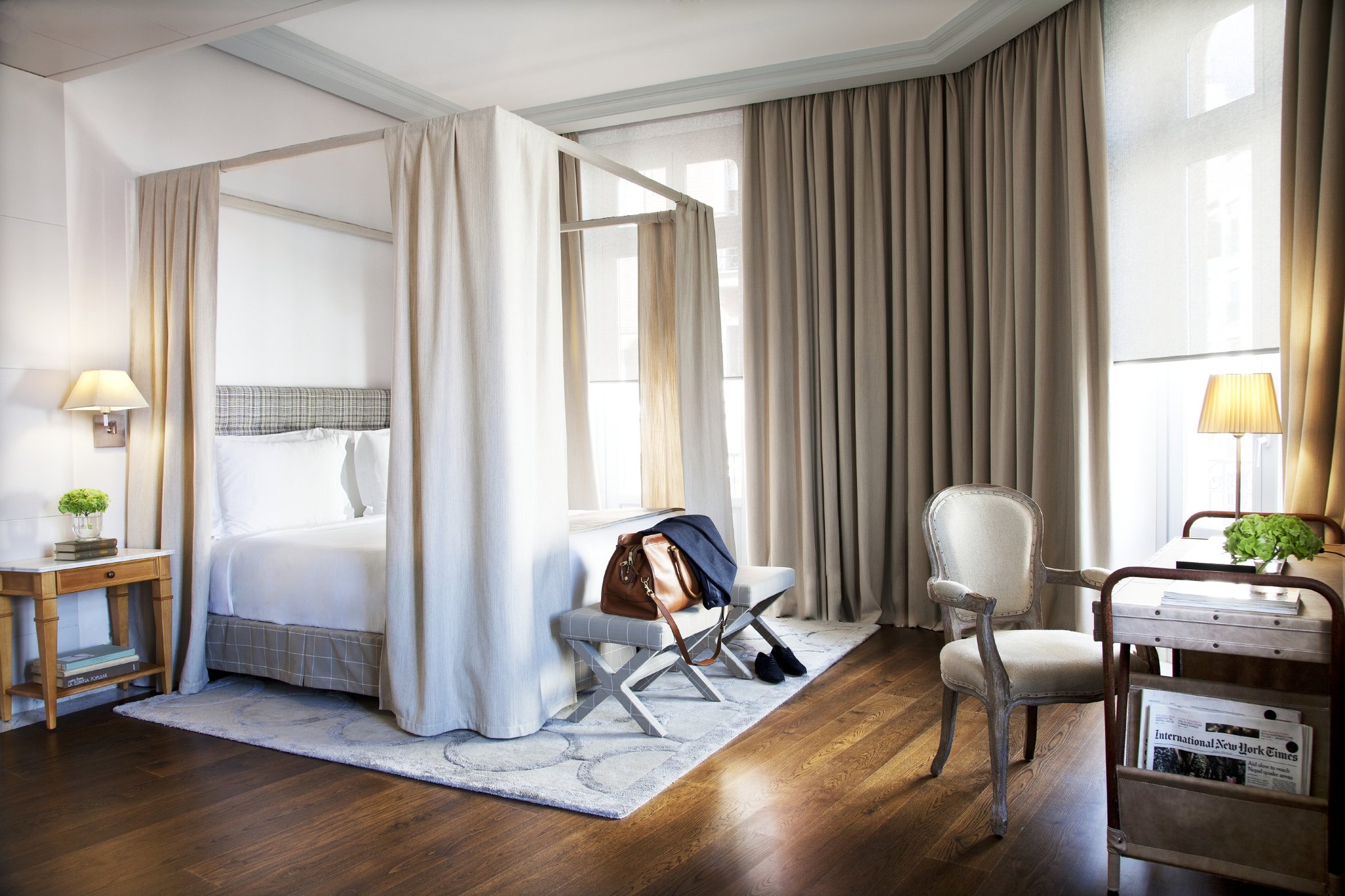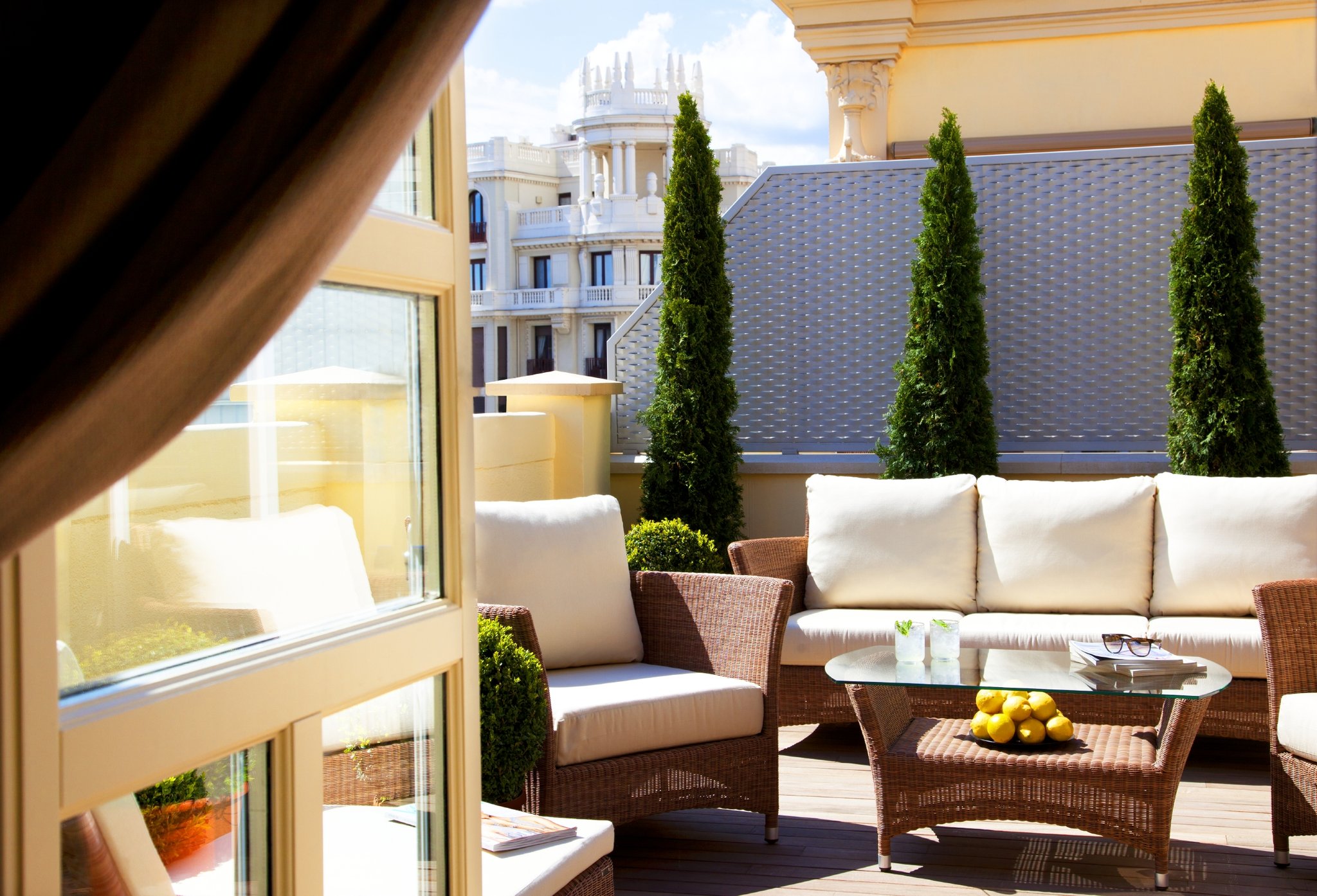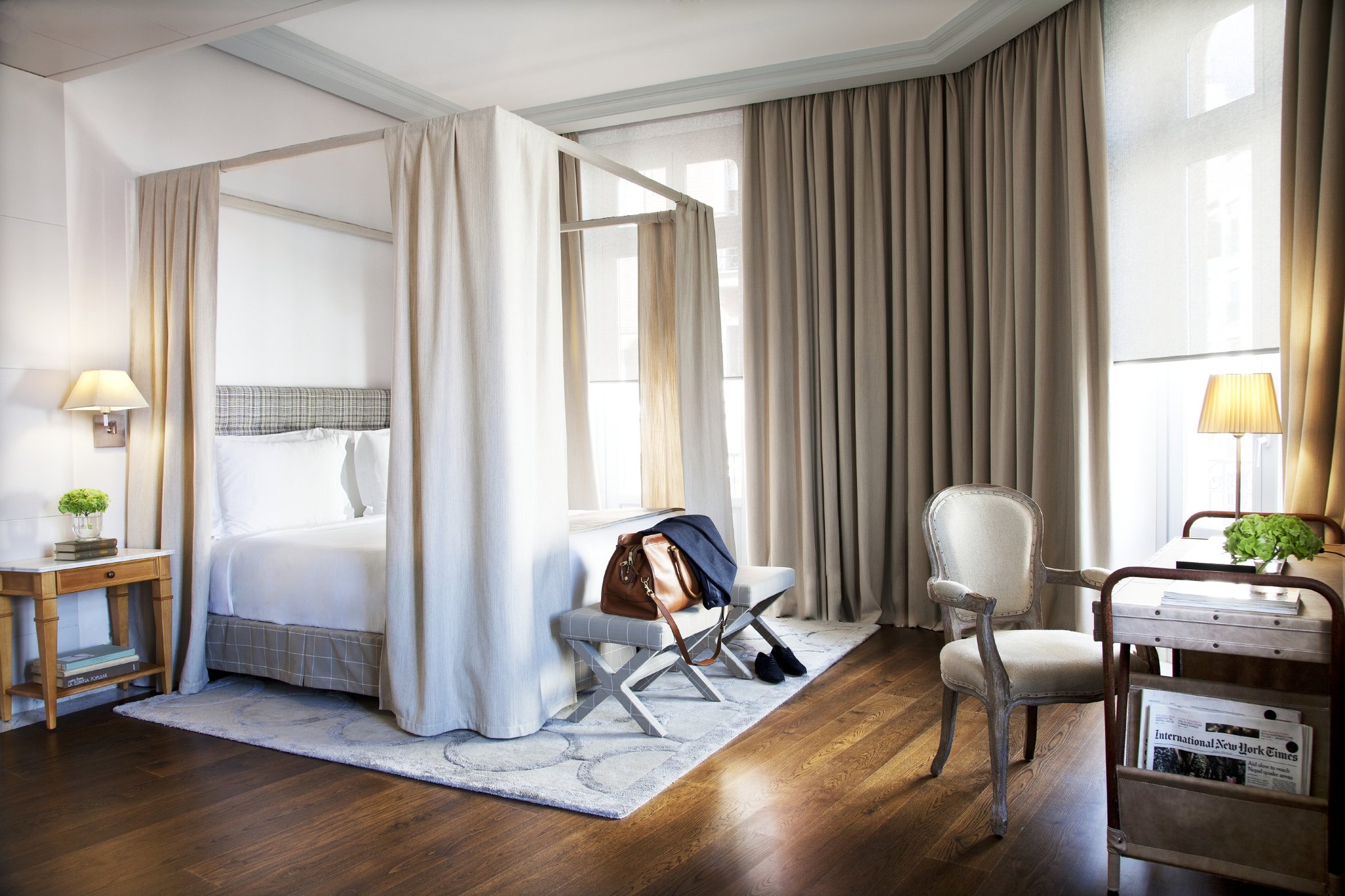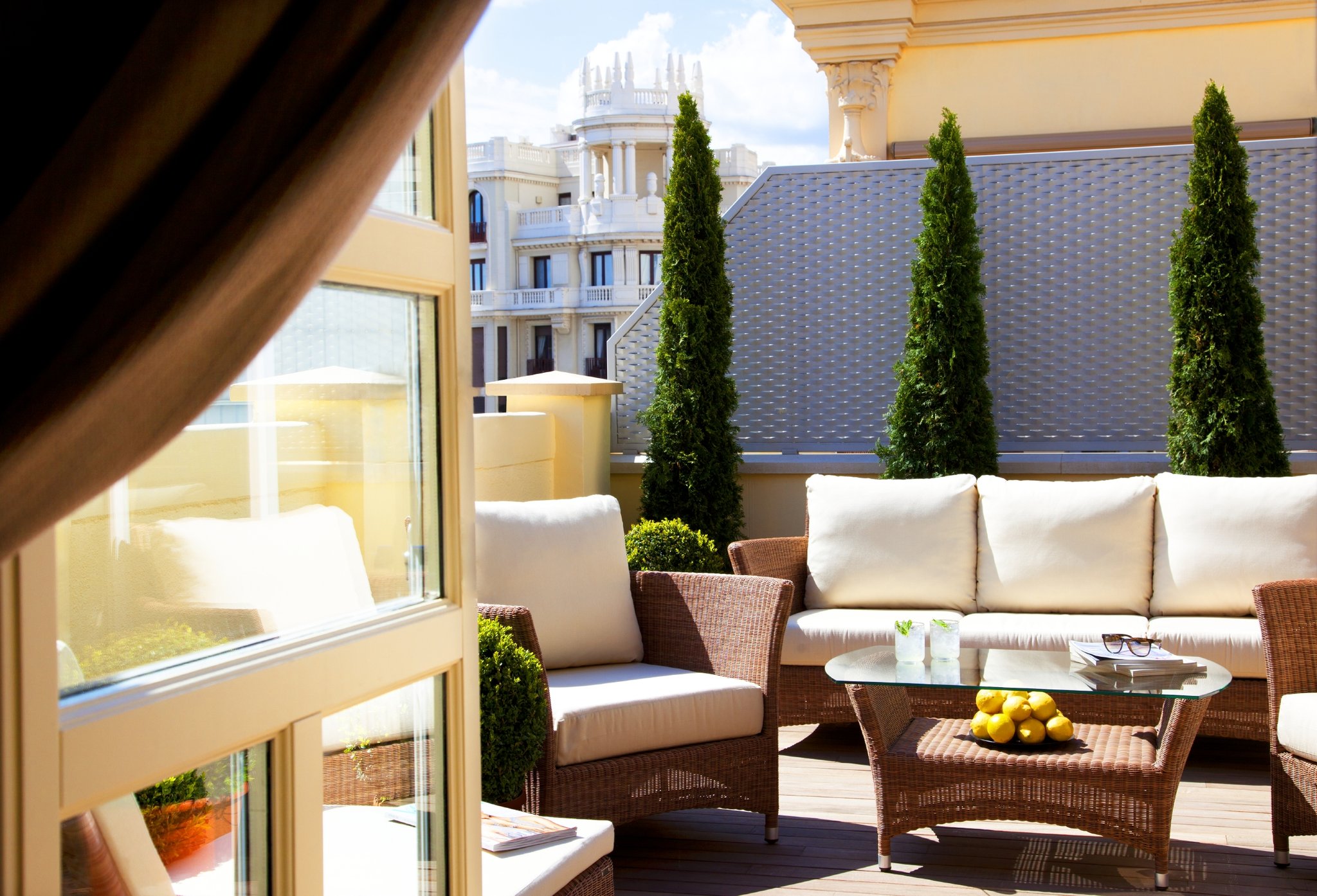 Junior Suite with Terrace
Sleeps: 2 People.
Terrace Junior Suites have a private dressing room and a large furnished terrace to enjoy Madrid in the sunshine. All offer complimentary WiFi and air conditioning.

Room size: 44 square metres plus a 30 square metre private terrace.
From per night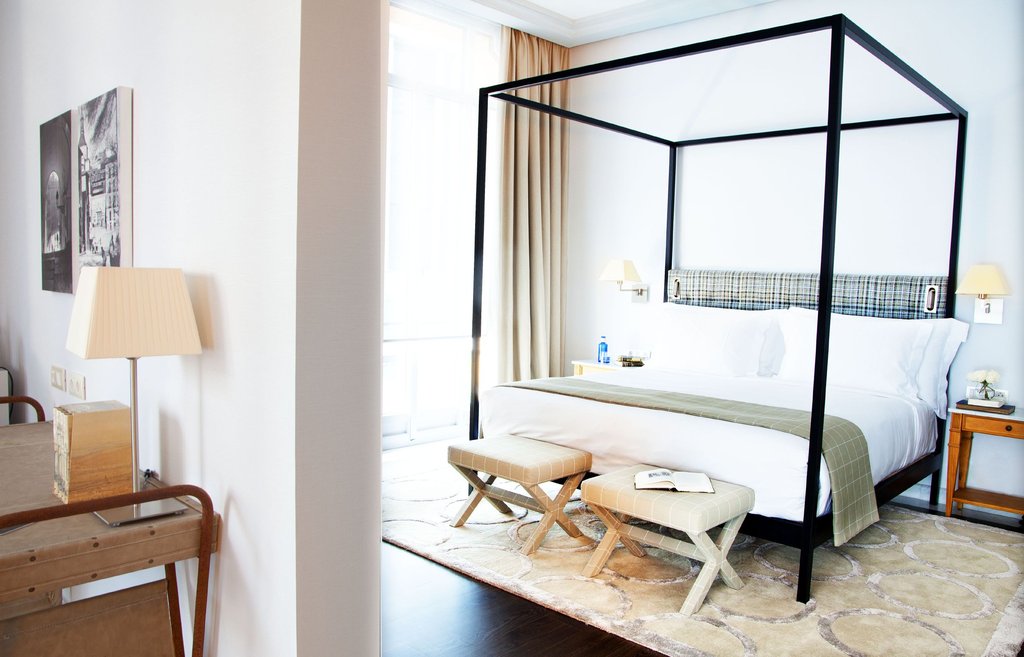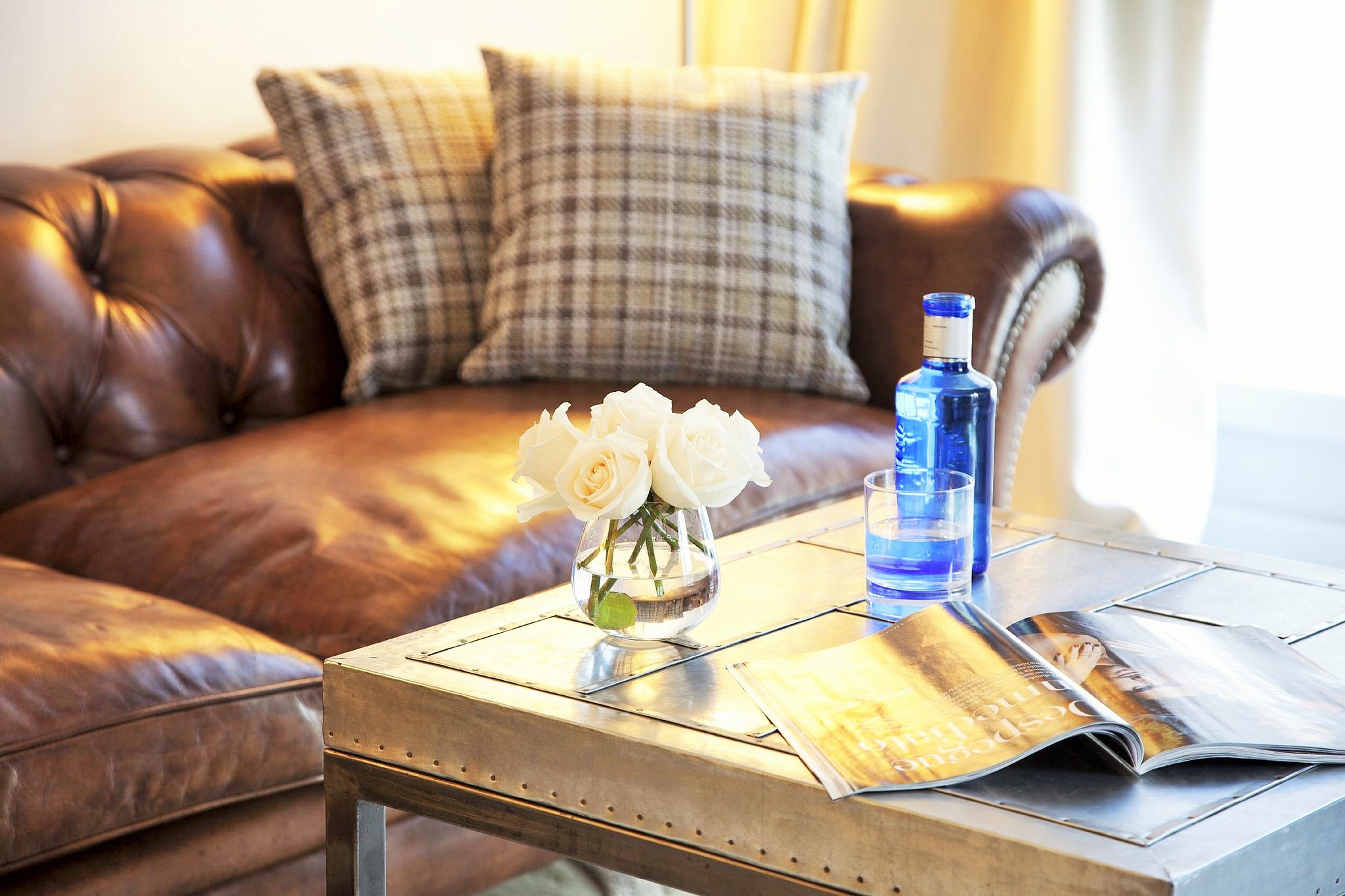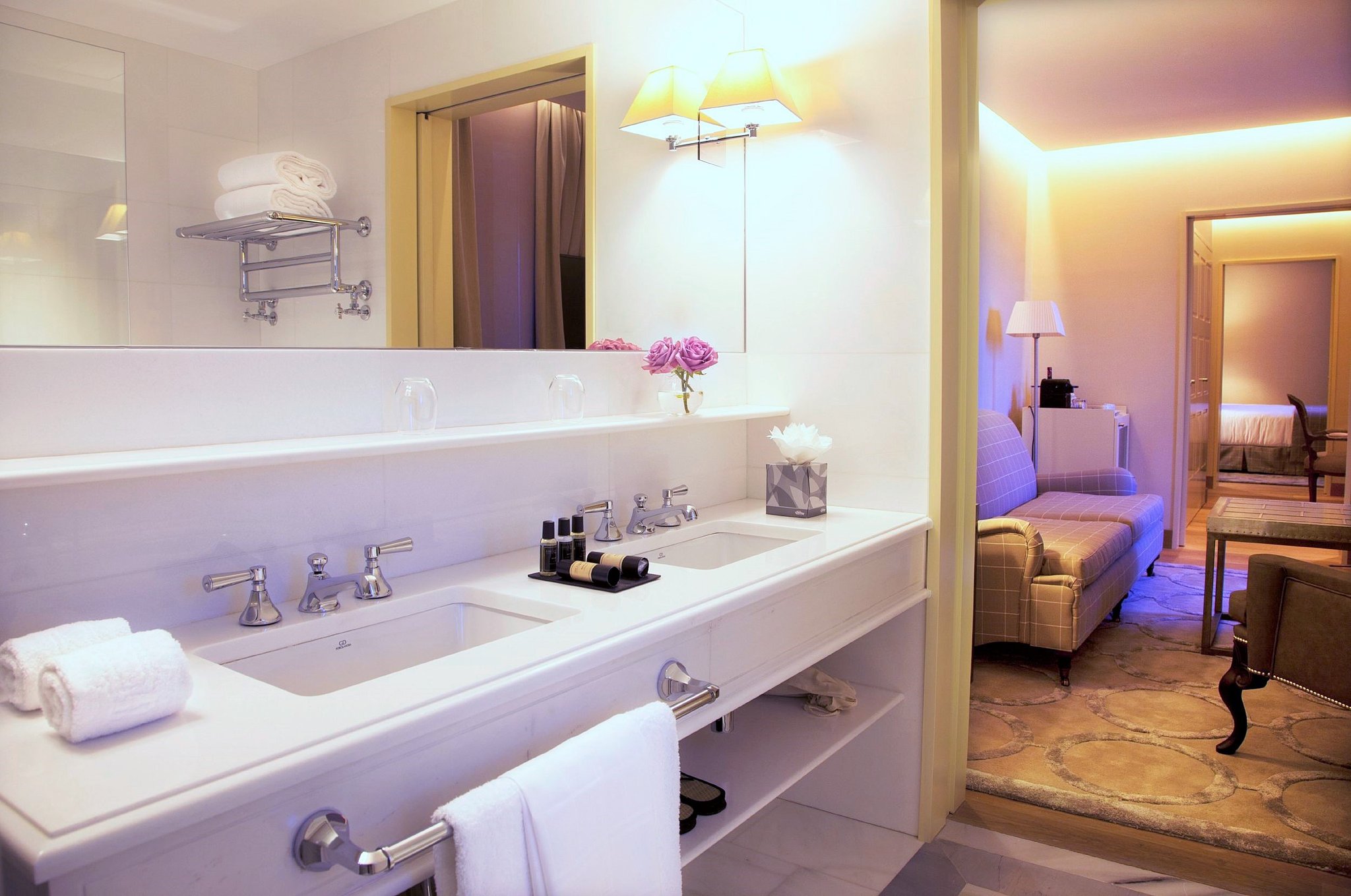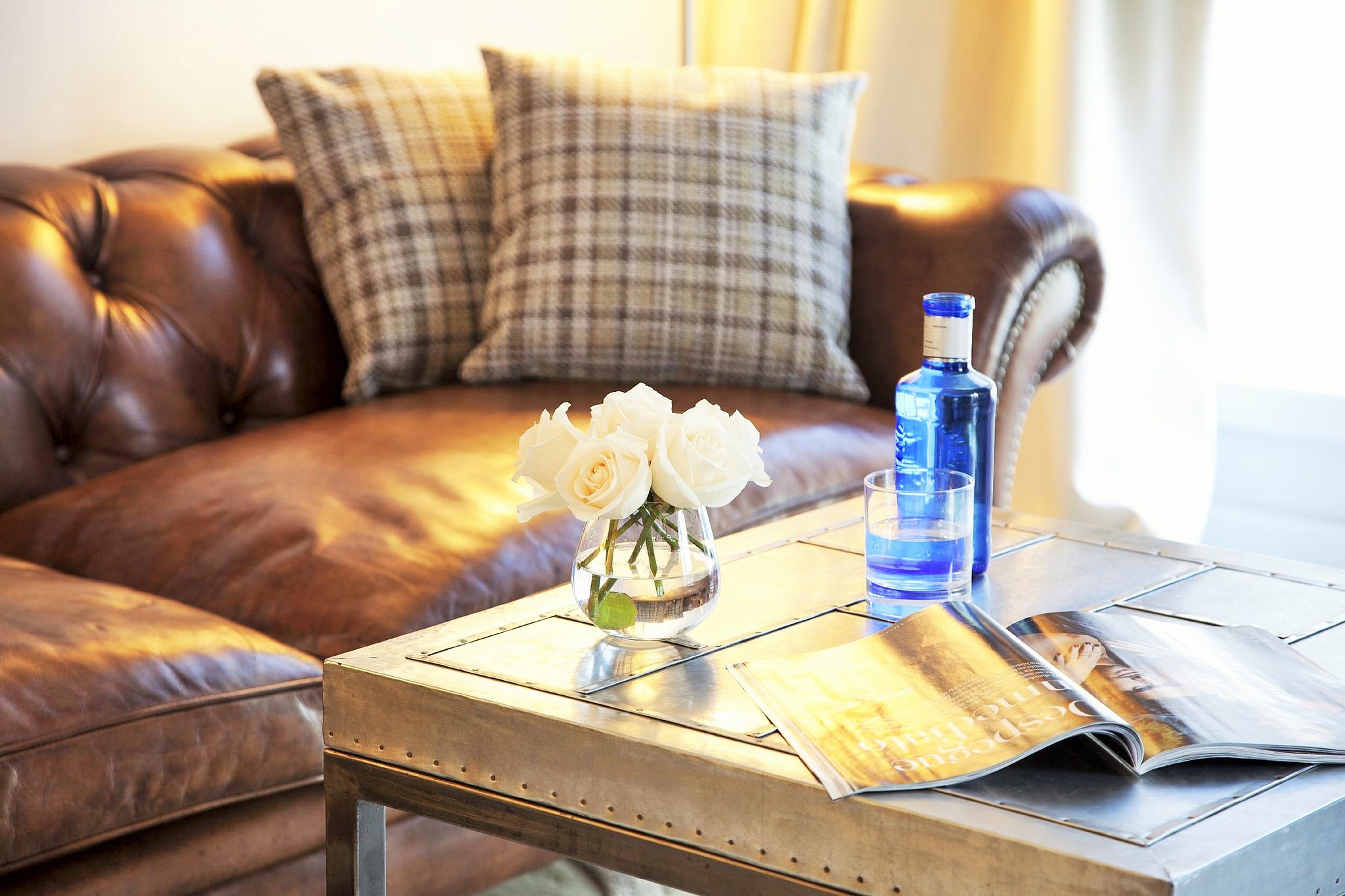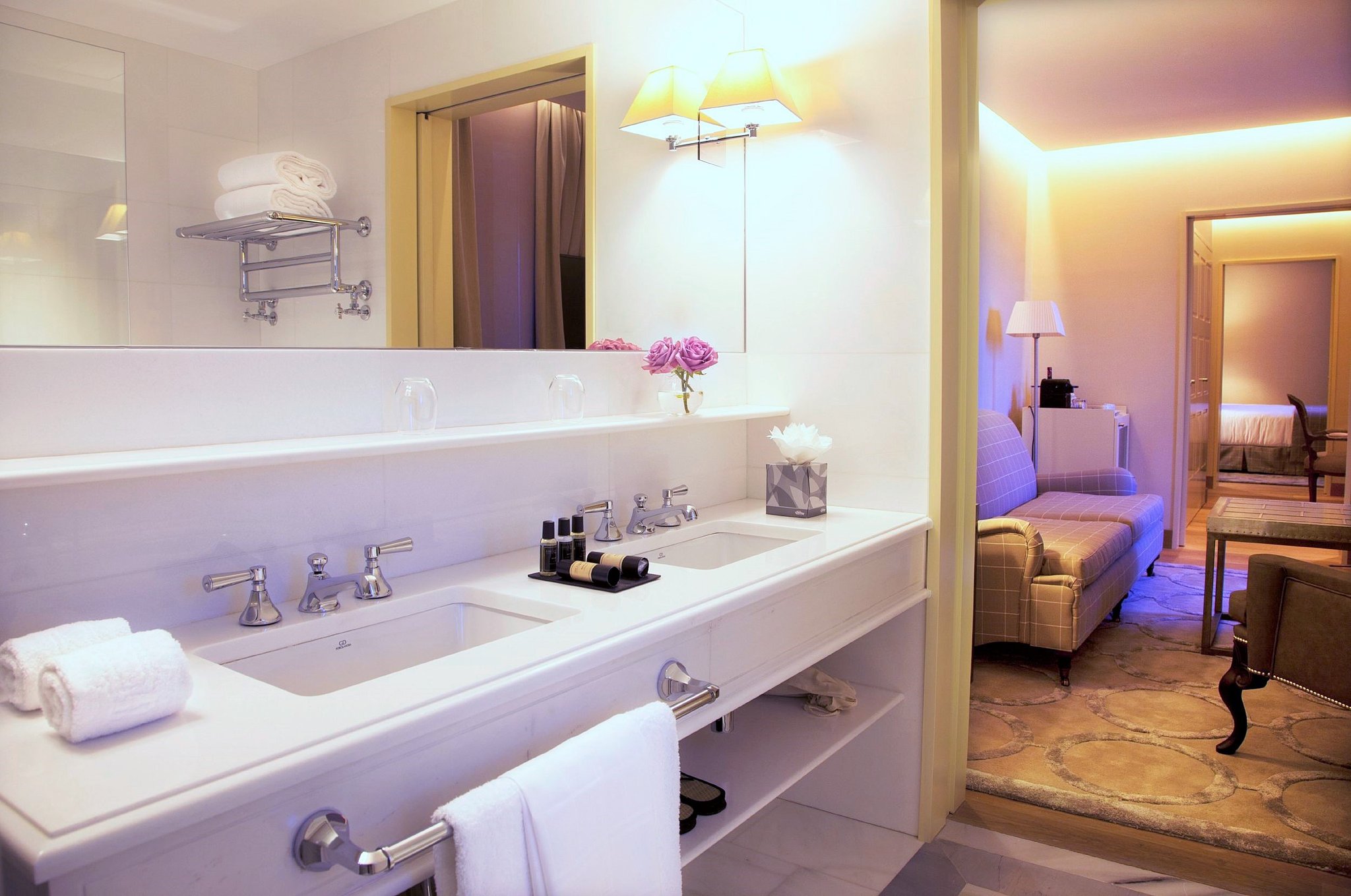 Urso Suite
Sleeps: 2 People.
Urso Suites are vast spaces on the top floor, penthouse style, with marble bathrooms, a separate living room and a bedroom.

In soft and light colours inviting guests to relaxation and rest. All offer complimentary WiFi and air conditioning. Room size: 60 square metres.
From per night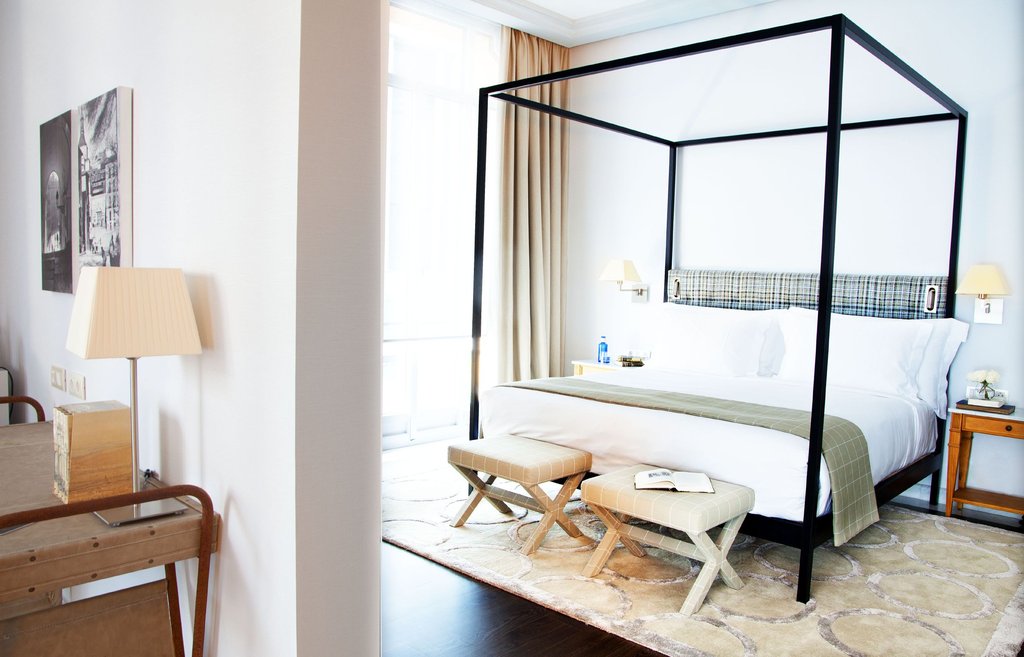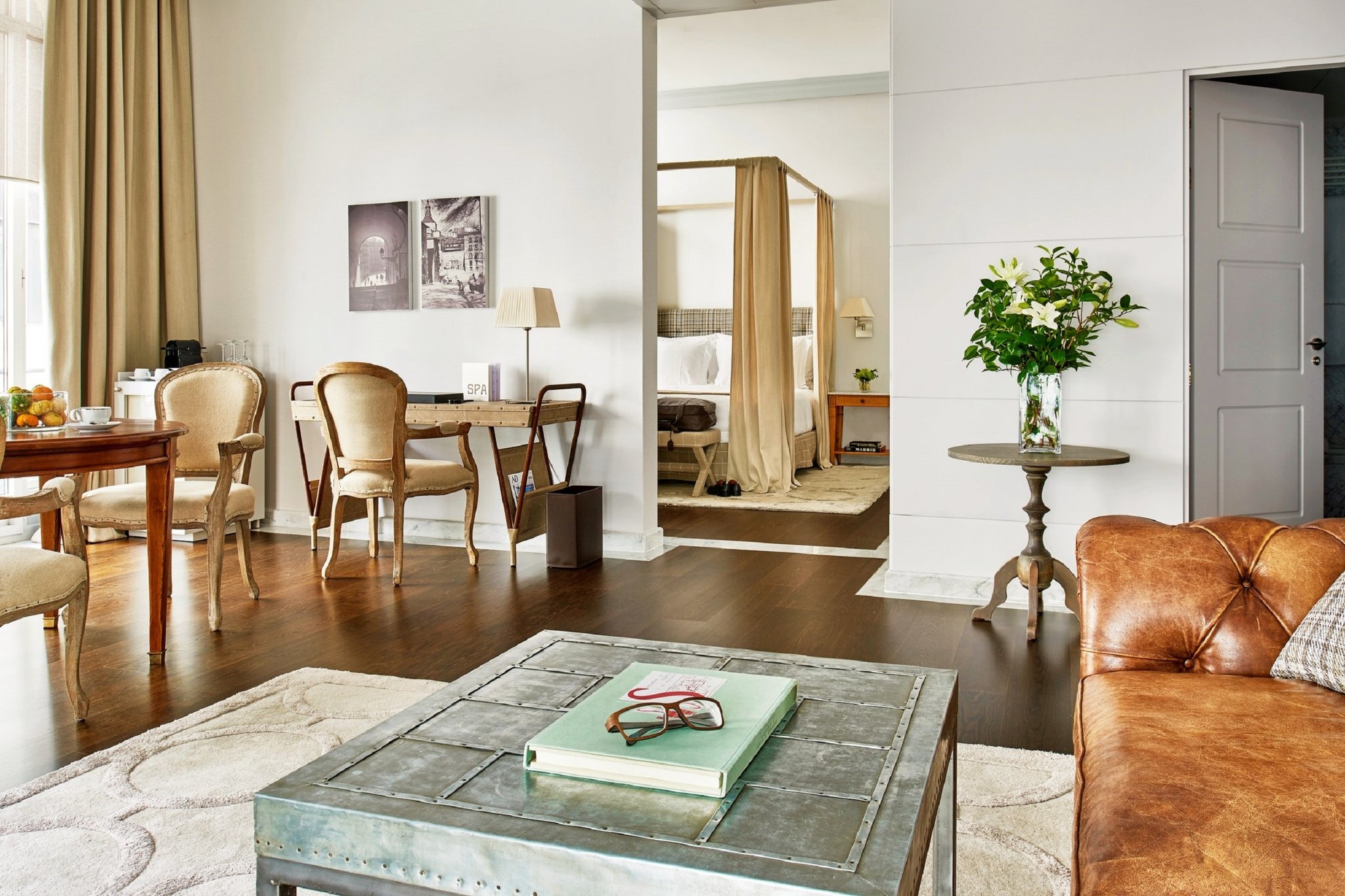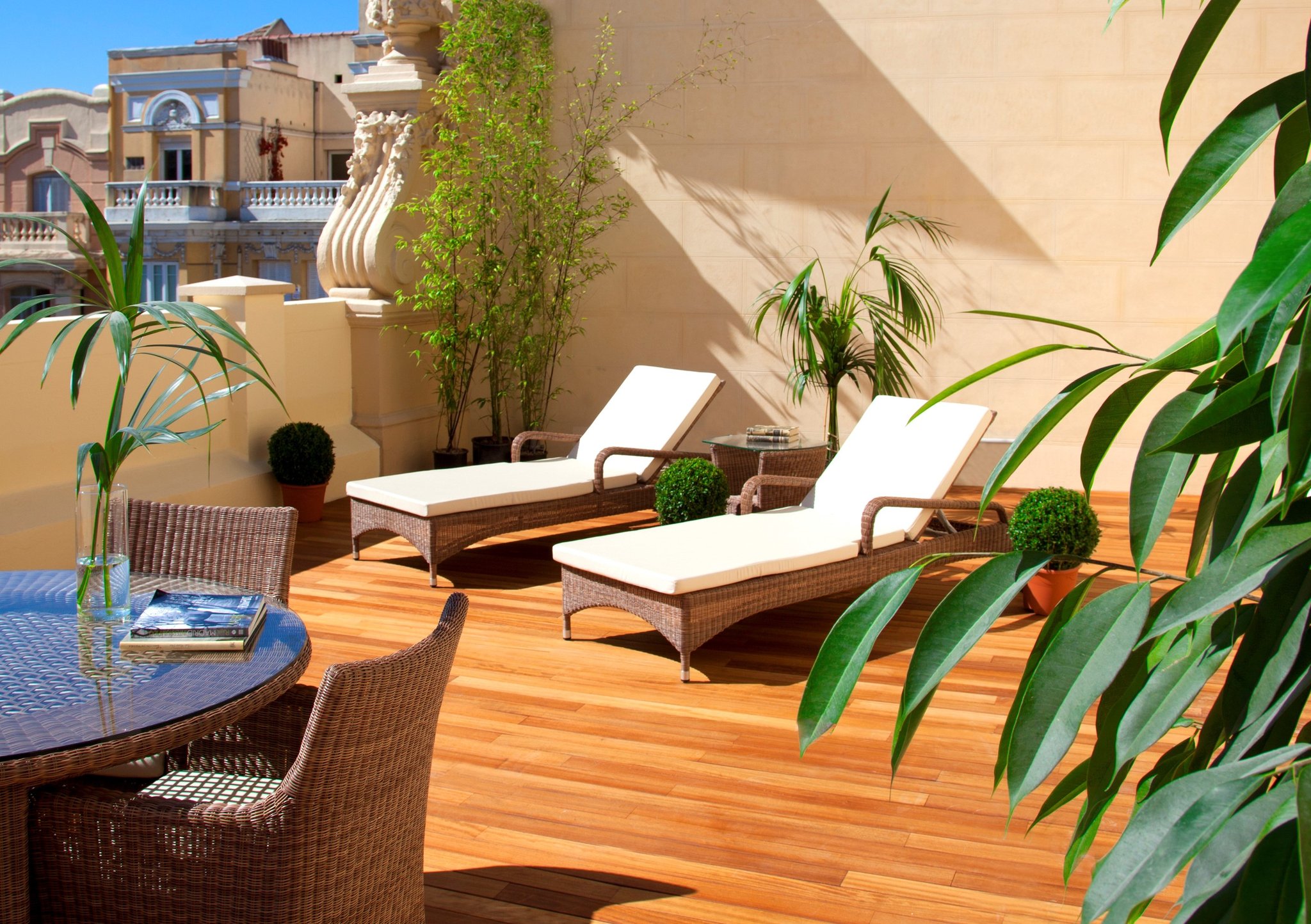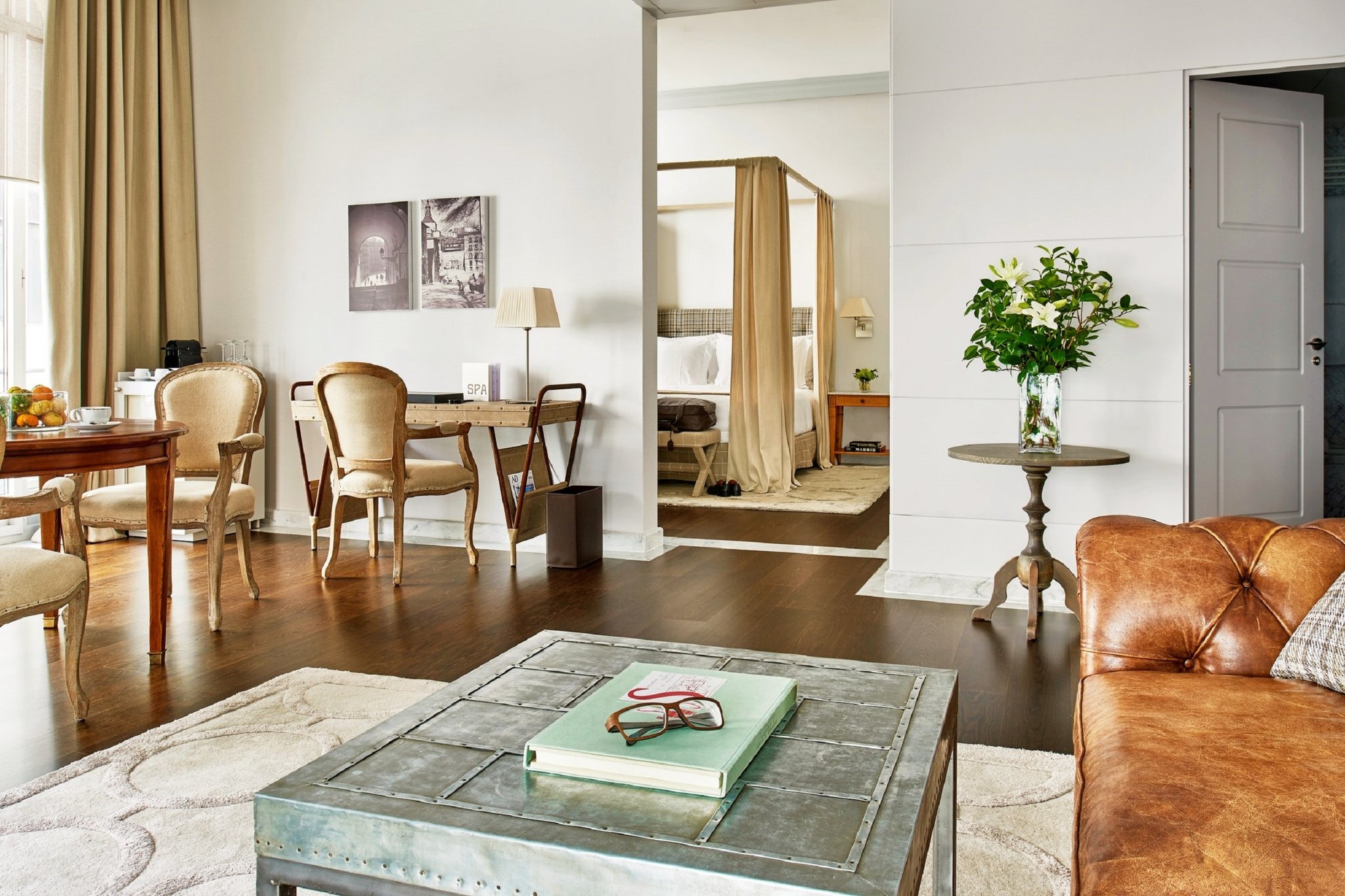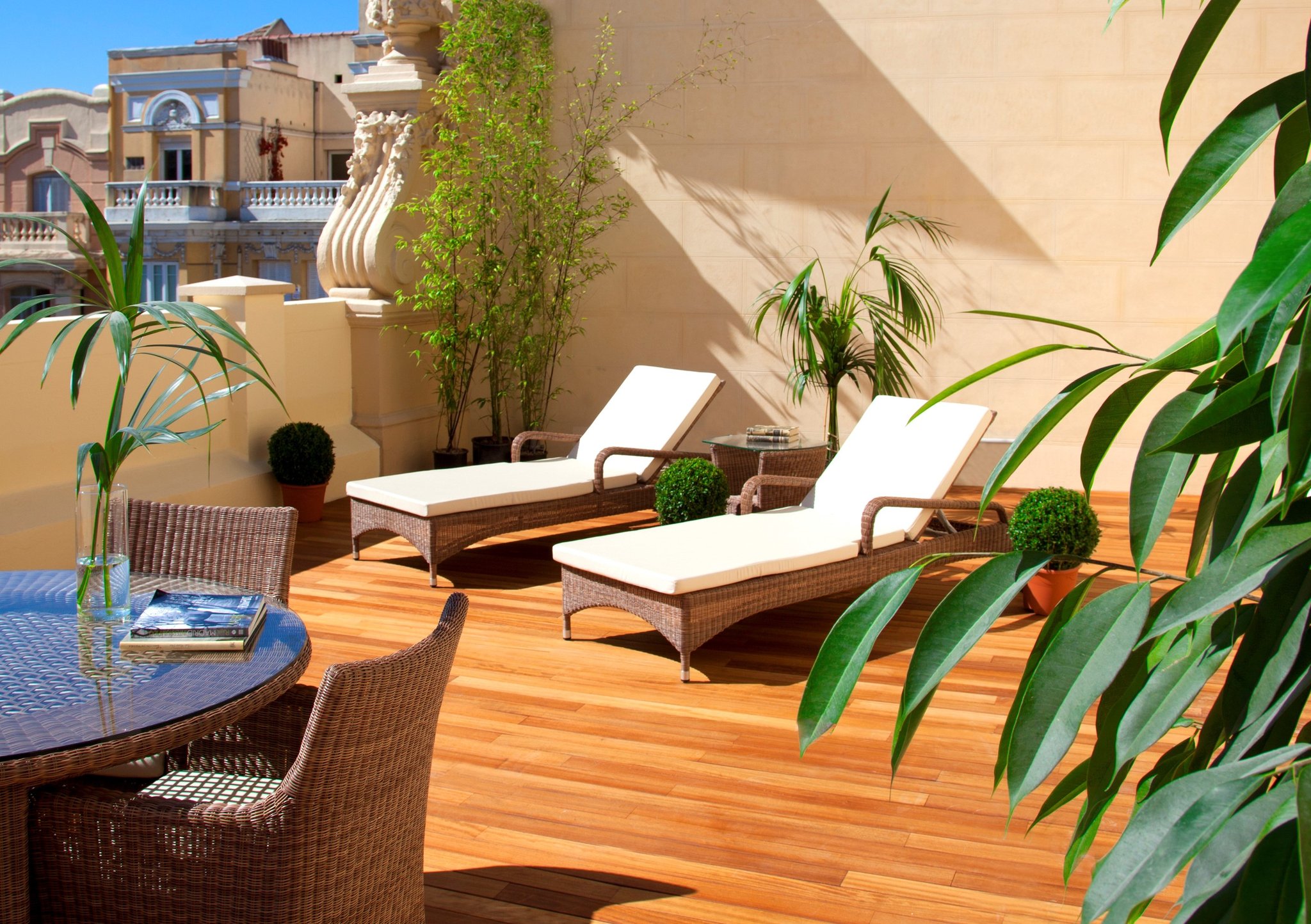 Urso Suite with Terrace
Sleeps: 2 People.
Urso Terrace Suites on the top floor, have their own private terrace for outdoor celebrations, breakfast under the Spanish sun or al-fresco evening dining.

Complimentary WiFi and air conditioning. Rom size: 42 square metres plus 95 square metre private terrace.
From per night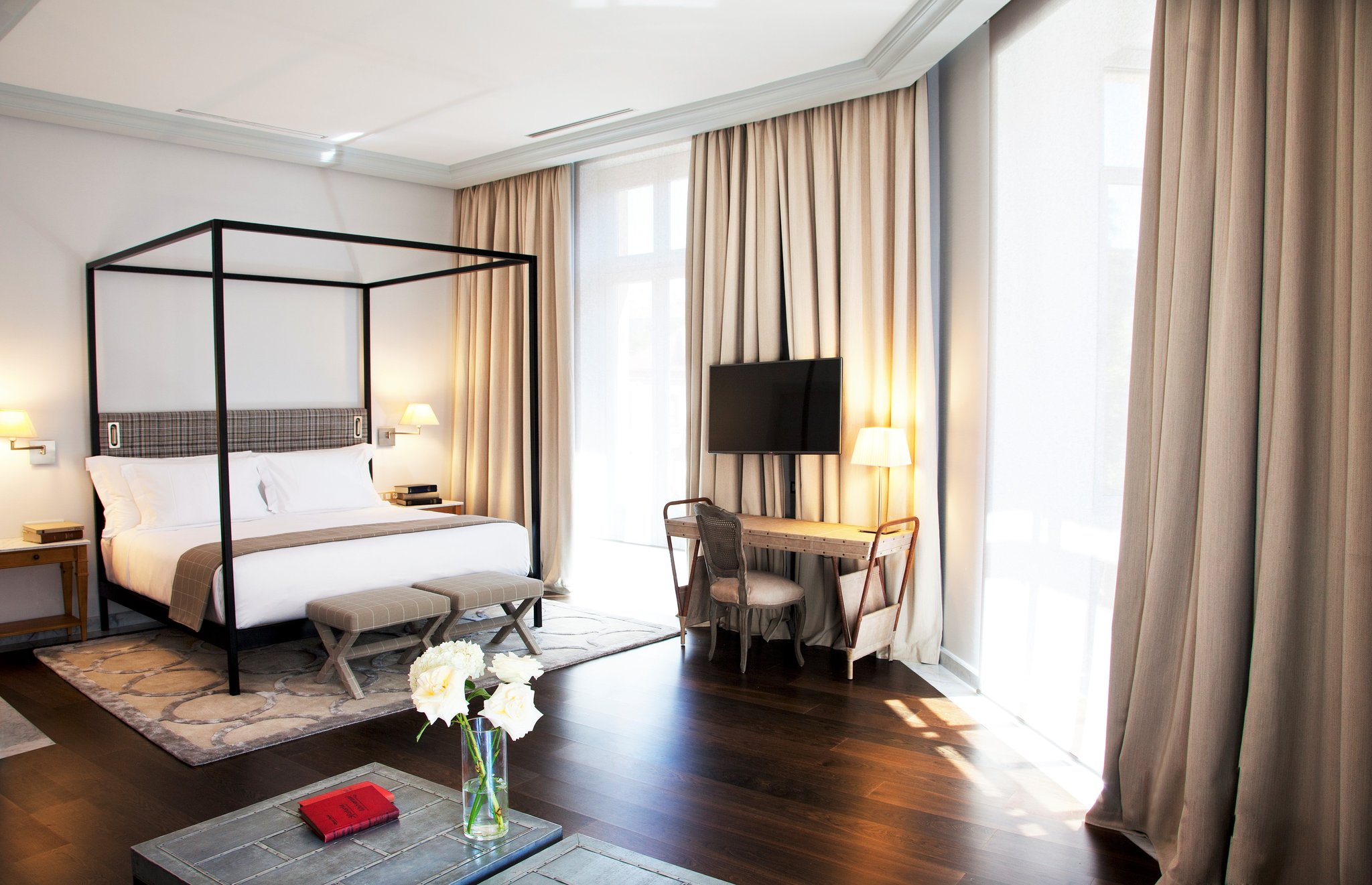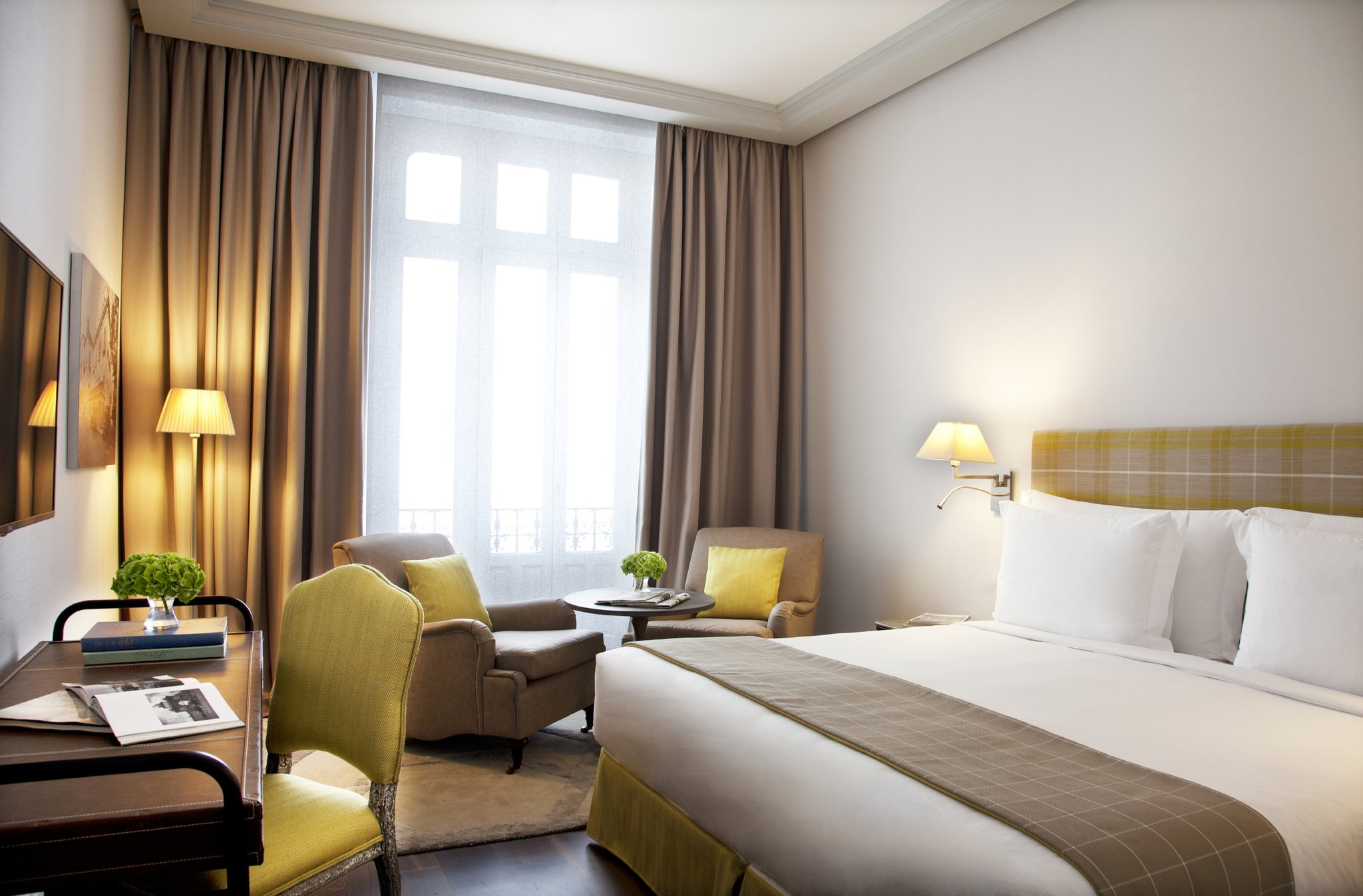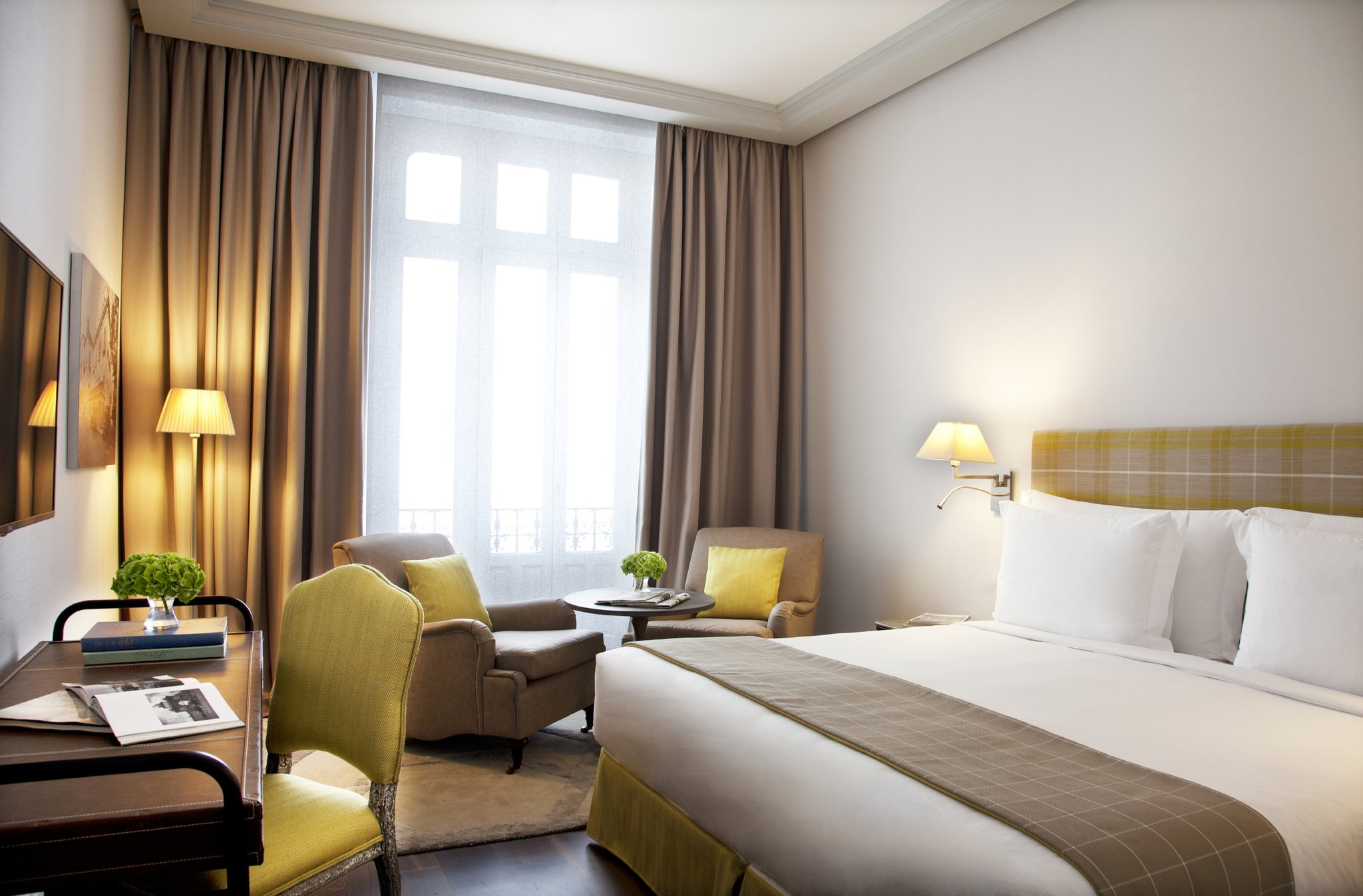 Family Room
Sleeps: 5 People.
Family Rooms offer the combination of a Junior Suite and an URSO Double Room interconnected by a small hall with an external door forming a large family residence that can accommodate up to 4 guests.
From per night
Air conditioning
Lounges/bars
Exercise gym
Join INVITED and get 10% off exclusive rates. Plus early check-in and late check-outs among other benefits.
24-hour front desk

24-hour security

Accessible facilities

Air conditioning

Audio visual equipment

Bell staff/porter

Buffet breakfast

Business Center Services

Car rental desk

Catering services

Children welcome

Concierge desk

Conference space

Continental breakfast

Currency exchange

Doctor on call

Elevators

Exercise gym

Family plan

Flip charts

Free high speed internet connection

Full service housekeeping

Health club

High speed internet access for laptop in public areas

High speed internet connection

Hotspots

Housekeeping - daily

Indoor parking

Laundry/Valet service

Lounges/bars

Massage services

Meeting rooms

Pets not allowed

Restaurant

Safe deposit box

Security

Smoke-free property

Turndown service

Valet parking

Wakeup service

Wireless internet connection
Air conditioning

Balcony/Lanai/Terrace

Bathrobe

Bathroom amenities

Coffee/Tea maker

Desk

Direct dial phone number

Hairdryer

King bed

Minibar

Remote control television

Safe

Satellite television

Sitting area

Slippers

Smoke detectors

Telephone

TV

Twin bed
Awards
This hotel has been awarded:
2015 Hot List: The Best New Hotels in the World - Conde Nast Traveler
Media Racion Restaurant
Meals served: Lunch, Dinner
A restaurant with an elegant and relaxed style that re-interprets the traditional flavours served in half portion serving dishes. Quality products and seasonal cuisine take centre stage in this contemporary version of the legendary Madrid bistro Cuenllas.
URSO Hotel and Spa brings the first branded luxury hotel spa to Madrid, offering treatments from prestigious skincare specialists. An intimate and discreet hideaway on the lower ground floor. Treatments offer a magical combination of the latest scientific innovation in cosmetics with unadulterated relaxation. The results are remarkable. Diamond dust is used to enhance and illuminate the skin while Spanish citric formulas and massages calm the senses. The spa has three treatment rooms and a Turkish steam bath.
Reviews
These reviews are the real opinions of INVITED members and we have verified their stay at the hotel.
What I liked most :

Location (32)
General service (24)
Welcome and departure (18)
Internet and wifi (17)
Guestroom and bathroom (16)
Breakfast (13)
Welcome and Departure (10)
General Service (8)
Guest Room and Bathroom (8)
Leisure facilities (8)
Local knowledge and experiences (7)
Local knowledge and experience (5)
Room service (5)
Other (4)
Restaurant and dining (4)
Room Service (3)

What I might improve :

Breakfast (7)
General Service (3)
Guest Room and Bathroom (3)
Internet and wifi (3)

Read Reviews

Six days of wonderful pampered bliss

January 2020

My Trip Type:

Family

We stayed in the "family room" which was a wonderful two bedroom suite with a hall in between so we could close (and lock) doors for privacy if we wished. Two comfortable marble bathrooms, two sitting areas, great views over the city, large comfortable beds, plenty of light, besides so machine, bottled water, turndown service, no street noise, heated towels... everything was perfect! The location is wonderful as it's right in the hip Chueca area with loads of bars and restaurants in walking distance. We were able to do almost everything we wanted to do in Madrid on foot!

Top tip for other guests:

The breakfast is just amazing. Wonderful pastries with jamon bellota and top quality smoked salmon. The poached eggs with truffle oil and a sprinkling of sea salt are to die for. Also the berries and roses cocktail in the bar is wonderful!

What I liked most

Welcome and Departure
Location
General Service
Guest Room and Bathroom
Breakfast
Internet and wifi

October 2019

My Trip Type:

Individual

Had a really good time here during a quick city trip to Madrid. The hotel itself and the location in the area is really good with numerous restaurants and bars nearby. Other landmarks and POI are easy to reach, either by foot or taxi, e.g. 5 min/8€ ride to Museo del Prado. The deluxe room I had was spacious and nicely equipped, however did not have the best internet connection. My only slight complaint is the breakfast, which in comparison to other SLH locations is a bit sparse, unless you pay extra for omelettes etc.

Top tip for other guests:

Ask the concierge for a list of recommended restaurants / bars. Mamá Framboise & Roots Lamarca are great spots for a quick bite.

What I liked most

Welcome and Departure
Location
Local knowledge and experience
Guest Room and Bathroom

What I might improve

Breakfast
Internet and wifi

September 2019

My Trip Type:

Couple

I was travelling for business alone, but my experience was fantastic. I recommend this for pleasure instead and travelling with the partner. The location, the facilities, the staff are amazing. You cannot miss the restaurant at the hotel (media racion).

Top tip for other guests:

Just book it

What I liked most

Welcome and Departure
Location
General Service
Breakfast
Restaurant and dining
Other

June 2019

My Trip Type:

Friends

Beautiful entrance and lobby, very stylish and well located.

Top tip for other guests:

Have a drink at the bar!

What I liked most

Welcome and Departure
Location
General Service
Local knowledge and experience
Guest Room and Bathroom
Breakfast
Internet and wifi

Hotel Urso is a lovely and unique hotel in the middle of Madrid - worth of visiting!

June 2019

My Trip Type:

Couple

We drove to Hotek Urso from Salamanca and front desk and vallet park service was excellent. Hotel is a wonderful furnished, cozy and unique place with superb bar with a proper bartender. Great and specially designed drinks for Hotel Urso like their versions from "Bloody Mary" and "Mojito's" makes you smile - and not just because of alcohol. Great hospitality and service. They have a really nice restaurant, Media Racion as well with plenty of local dishes and superb wine list. Instead of choosing "safety choices" menu includes local dishes but with a modern twist. Breakfast is in good level too. We stayed in their junior suite and it was a spacious and beautiful room in the corner. We slept well and left well rested in next morning to the the Madrid Airport.

Top tip for other guests:

Drinks and specially their own "Urso styled" versions from old classics. Restaurant Media Racion and their wine list. A good selection from Spanish reds but also quite rare and old whites. Worth of drying with their courses instead of reds.

What I liked most

Welcome and Departure
Location
General Service
Restaurant and dining
Other

Recommended overall, but with potential for improvement.

May 2019

My Trip Type:

Business

The upgrade promised to Inspired Members could not take place - the reason given (house fully booked) was hardly plausible on the basis of the impression (lobby, restaurant, bar). Also the he offer to return to the upgrade on the second day and inform accordingly, was not met. The normal rooms - especially the bathrooms - are too small and not recommended.

Top tip for other guests:

Inspired members or higher should confirm the upgrade in advance or book a higher category or another hotel.

What I liked most

Location
Breakfast
Leisure facilities

What I might improve

General Service
Guest Room and Bathroom

March 2019

My Trip Type:

Couple

First, we had to wait for our room , but we arrived before check in time. Then we were given a twin bed room though we asked specifically for "a double bed room and not a twin"... After having been told that they would change the bed in the same room (???) we were moved to another room in the same corridor with two mattresses put together... Although there were many rooms available at the time of our check in and that we are SLHW member, no upgrade was offered. For almost 280 € per night, we had the "continental" breakfast and not the buffet one (I didn't pay attention when I booked through SLHW website that there were 2 types of breakfast) that means, you eat at the bar an orange juice (which was good), a hot drink, bread and croissants with butter and jam ... The highest disappointment is that although SLHW website mentions "Urso Hotel & Spa has 78 airy rooms and suites, a super slick spa, a lap pool, a fitness centre, a beautiful lounge bar and a restaurant", there is no lap pool !! It is a jacuzzi pool to relax and it is impossible to swim in it. The hotel is magnifique but the service and the staff quality is far from the SLHW we have experienced before. We would definitely not go back and not recommend it

Top tip for other guests:

If you go there for the pool, change your mind and go somewhere else. if you dont mind paying a high price, get a simple breakfast and not enjoying a real pool, then the hotel is great.

What I liked most

Location
Restaurant and dining

What I might improve

Welcome and Departure
General Service

Amazing as the other times

March 2019

My Trip Type:

Couple

Top tip for other guests:

Go to the jazz!

What I liked most

Welcome and Departure
Location
Local knowledge and experience
Guest Room and Bathroom
Restaurant and dining
Room Service
Internet and wifi

Great but need to re-think through some elements

February 2019

My Trip Type:

Business

hotel is in a beautiful setting and has great styling. service is also very good in general. compared to other 5 star hotels I would highlight the following: - breakfast for SLH guest is ridiculous ... whilst in other places you can just have breakfast, in this one they want to limit you to only some "elements of breakfast" like only the continental which makes the experience terrible (you go to the buffet and have to remember what you can take and what not...). if I were the manager I would seriously check on this... - amenities in the room - they have taken away the smaller personal amenities and put bigger bottles in the shower .. these seems lot more watery.. ie not so consistent (maybe due to refilling them)... - there is no water in the room and have to wait when they come round for the turn down service to put some...

Top tip for other guests:

As SLH members we need to protest about the breakfast ... either this hotel needs to be a SLH in full sense or they better get out of the SLH system..All other SLH hotels I have been at (London, Stockholm, Barcelona, Geneva etc..) offer members full breakfast

What I liked most

Welcome and Departure
General Service
Local knowledge and experience

What I might improve

Guest Room and Bathroom
Breakfast
Internet and wifi

Beautiful boutique hotel and spa in a great location

December 2018

My Trip Type:

Couple

The Urso is a beautiful boutique hotel, with a very nice spa. The spa is small and intimate, and offers a range of treatments. We enjoyed it very much. The hotel is very centrally located. It is in the beautiful neighborhood of Malasna, very close to Chueca. There are many great shops, bars and restaurants within walking distance. The breakfast offered was great. Lots of fruit, cheese, pastry and a good selection of warm dishes and fruit juices. We would definitely choose to stay there again, and I highly recommend this hotel.

Top tip for other guests:

Try the spa and treatments. Don't skip the breakfast.

What I liked most

Location
Guest Room and Bathroom
Breakfast
Leisure facilities

Amazing and very welcoming staff

December 2018

My Trip Type:

Couple

They arranged amazing flowers for my girlfriend and in general it was an amazing stay

Top tip for other guests:

Ask for top restaurantes in madrid

What I liked most

Welcome and Departure
Location
General Service
Local knowledge and experience
Guest Room and Bathroom
Breakfast
Room Service
Internet and wifi
Other

What I might improve

October 2018

Comfortable ,silence and efficiency

Top tip for other guests:

VERY good

What I liked most

Welcome and Departure
Location
General Service
Guest Room and Bathroom
Breakfast
Room Service
Internet and wifi
Other

What I might improve

Welcome and Departure
Location
General Service
Local knowledge and experience
Guest Room and Bathroom
Breakfast
Restaurant and dining
Room Service
Leisure facilities
Internet and wifi
Other

September 2018

As an invited member of the SLH group breakfast is included but for the first day of my stay I was charged 20€ for breakfast. I couldn't be bothered arguing with Nicolas on the reception desk so I just paid it.

Top tip for other guests:

Don't let them charge you for breakfast

What I liked most

Welcome and Departure
Location
General Service
Guest Room and Bathroom
Internet and wifi

Australia

My Trip Type:

Couple

Little out of the way but well worth the walk, it has character

Top tip for other guests:

Staff are outstanding and welcoming

What I liked most

General service
Guestroom and bathroom
Internet and wifi
Local knowledge and experiences
Breakfast
Welcome and departure
Room service

What I might improve

Friendly, comfortable, well located

Stay date: May 2016

My Trip Type:

Couple

Warm, friendly, and helpful staff. From the doormen/bellmen, to reception, to bar/restaurant, to housekeepers --- everyone greets you, and truly makes you feel welcome. The large lobby is very comfortable, and broken into many different seating groups --- intimate, relaxing, you feel like it is your own living room. Our room was very comfortable, very quiet, and equipped with sun shades to cut down on afternoon sun, and blackout drapes if you need complete darkness to sleep. The hotel is conveniently located - most Madrid attractions are within walking distance. We would gladly stay here again.

Top tip for other guests:

Use the beautiful antique Otis elevator!

Hotelier reply:

Dear Paul, First of all I would like to thank you in the name of the URSO Hotel & Spa team for your very warm words regarding all the staff. Everyone has as objective to give the best service to the hotel guests and it is a pleasure to receive your review because they will know they have accomplished it. I am extremely glad that you enjoyed the lobby and the room. It is a great satisfaction for us to make you feel as much comfortable as possible from the very first moment you enter the hotel. We hope to welcome you soon to make you live another unforgettable experience at URSO Hotel. Kind regards, Patricia Fernández Hotel Manager

What I liked most

Location
Welcome and departure
Guestroom and bathroom
Internet and wifi
General service

Stay date: March 2016

My Trip Type:

Couple

Perfect location between uptown and vibrant neighborhoods. We were fortunate to be upgraded to a junior suite. The only downside is the opposite in the rooms.

Top tip for other guests:

perfect for a romantic weekend

Hotelier reply:

Dear Mr Stephane, First of all I would like to thank you for sharing your experience on SLH portal, I am extremely happy to know that you enjoyed your stay. Our objective it is to achieve our guests' satisfactions, for that reason it is an honour for us to know that you and your partner enjoyed every touch of our Hotel during your stay in Madrid. Nevertheless, I would also like to apologise for the inconvenience opposite the room, please feel free to contact me personally on your next visit, to make sure that we give you a room on the other side for better comfort. We really hope to welcome you soon again, Warm Regards, Patricia Fernández Hotel Manager

What I liked most

Leisure facilities
Location
Welcome and departure

What I might improve

Local knowledge and experiences

Stay date: March 2016

My Trip Type:

Business

Great service, the people are super. Modern, yet timeless and elegant. Spa I didn't have time to check out, but the bar was nice.

Top tip for other guests:

The dStage and Sexto restaurants just round the corner.

Hotelier reply:

Dear Mikko, First of all I would like to thank you for sharing your review on SLH portal, our objective it is to accomplish our guests satisfactions, for that reason I am delighted to know that you enjoyed your stay with us even if it was for Business Hopefully on your next visit you have the chance to try out the Spa! We really hope to see you soon again. Warm regards, Patricia Fernández Hotel Manager

What I liked most

Location
General service
Local knowledge and experiences

Fantastic oasis in the center of Madrid

Stay date: February 2016

My Trip Type:

Single

Top tip for other guests:

One of the best place to discover Madrid

Hotelier reply:

Dear Mr Guillaume, I am extremely happy to know that you enjoyed your stay, our objective it is to achieve our guests' satisfactions, for that reason it is an honour for us to know that you enjoyed every touch of our Hotel during your stay in Madrid, and thank you very much again for the recommendation We really hope to welcome you soon again. Warm Regards, Patricia Fernández Hotel Manager

What I liked most

General service
Guestroom and bathroom
Location
Welcome and departure

Stay date: January 2016

My Trip Type:

Single

Lovely hotel, close to attractions, but not in a touristy area, the staff was very professional and friendly. the suite was very well proportioned. the live Jazz on Thursday night, was very nice.

Top tip for other guests:

plenty of good restaurants within a short walk

Hotelier reply:

Dear Mr Randy, I am extremely happy to know that you enjoyed your stay with us last January Our objective it is to achieve our guests' satisfactions, for that reason it is an honour for us to know that you enjoyed every touch of our Hotel during your stay in Madrid, especially if you had the chance to attend to the live Jazz. We really hope to welcome you soon again. Warm Regards, Patricia Fernández Hotel Manager

What I liked most

General service
Internet and wifi
Guestroom and bathroom

Stay date: December 2015

My Trip Type:

Couple

We are planning to return soon !

Top tip for other guests:

get the junior suite for incredible light and space

Hotelier reply:

Dear Ms Gabriela, I am extremely happy to know that you enjoyed your stay with us last December, our objective it is to achieve our guests' satisfactions, for that reason it is an honour for us to know that you enjoyed every touch of our Hotel during your stay in Madrid. We really hope to welcome you soon again, Warm Regards, Patricia Fernández Hotel Manager

What I liked most

Welcome and departure
Room service
General service
Guestroom and bathroom

Stay date: November 2015

My Trip Type:

Business

Top tip for other guests:

enjoy the SPA, I have had not time but looks amazing

Hotelier reply:

Dear Mr Daniele, Our objective is to accomplish our guests satisfactions, for that reason I am delighted to know that you enjoyed your stay with us. We really hope to see you soon again and this time you have the chance to try out the Spa. Warm regards, Patricia Fernández Hotel Manager

What I liked most

Welcome and departure
General service
Location

What I might improve

Stay date: November 2015

My Trip Type:

Couple

We arrived early and as SLH member we were upgraded to a stunning junior suite. The hotel is located in central Madrid and within walking distances of Plaza Major, Royal Palace, Sofia Reina, Prado. Major shopping in area as well. Unfortunately the restaurant was closed during most of our stay since a new visiting chef from Mallorca was coming in. They have a unique situation in which they rotate visiting chefs. Very clever. Continental breakfast was served in the main lounge area and quite adequate. The people at the hotel are delightful! From the doorman, housekeepers and front desk, everyone is exceedingly helpful and attentive. There were restaurants recommended, detailed directions provided and willingness to contact tour groups. Couldn't be nicer! Highly recommend staying here. The hotel itself is just lovely and we will be returning. Internet was the best anywhere we stayed in Spain!

Top tip for other guests:

Go to the Prado Museum. It's a must. Also just walk around Madrid and see the streets.

Hotelier reply:

Dear Mrs Lyons, Our main objective it is to accomplish our guests satisfactions, for that reason it is with great pleasure to know that you enjoyed every touch of the Hotel, and that our staff from the doorman to the housekeeping were helpful at all times would also like to take the chance to apologise if you were not able to try Andreu Genestra´s cuisine, we hope you come back again and this time The Table by will be open, I would like to inform you that the Popup restaurant will be open until June 18th, at the moment we have the restaurant HISOP from Barcelona, and last but not least we will have restaurant Acánthum from Huelva by Xanti Elias. Warmest regards, Patricia Fernández Hotel Manager

What I liked most

Local knowledge and experiences
Welcome and departure
Guestroom and bathroom
Location
General service
Internet and wifi

Stay date: November 2015

My Trip Type:

Business

Sensational place, great architecture, very friendly staff, central location.

Top tip for other guests:

Club Pacha just over the street!

Hotelier reply:

Dear Mr Kai Hans, Our objective it is to accomplish our guests satisfactions, for that reason I am delighted to know that you enjoyed your stay and that you liked our staff last November, We really hope to see you soon again. Warm regards, Patricia Fernández Hotel Manager

What I liked most

Location
General service
Welcome and departure

Stay date: November 2015

My Trip Type:

Couple

Nice confortable room. Easy to visit Madrid on foot. Pleasant spa

Top tip for other guests:

Spa

Hotelier reply:

Dear Mr Plichon, Our objective it is to accomplish our guests satisfactions, for that reason I am delighted to know that you and your partner enjoyed your stay with us and that you had the opportunity to try the Spa last November, We really hope to see you soon again. Warm regards, Patricia Fernández Hotel Manager

What I liked most

Location
General service
Guestroom and bathroom
Breakfast
Welcome and departure

Stay date: October 2015

My Trip Type:

Couple

We stayed for a long week-end with my husband in a very nice junior suite room. We liked the hotel in general; it has a very nice design and location, the building is beautiful. The team at reception, concierge service is very friendly and most of them are very helpful. We liked the quality of the bed - it was very cosy. The interior of the room is very relaxing, stylish and chic. The lobby bar is nice and welcoming. What we did not like - 1) SHOWER: the water gets out of the shower cabin into the bathroom itself. No good for the hotel which opened not long ago. 2) BREAKFAST: We did not like the breakfast at all. It is a "special URSO breakfast" they say. Nothing special at all. DANONE yogurts, small choice of fruits, meat, cheese and bread. Menu which is included into the price is very-very poor - omelets, eggs and crepes (not tasty by the way). Actually nothing is homemade there; we presume it is not good for a luxury 5star hotel. The price of the breakfast is 24 or 28 euros (don't remember exactly). Not worth it. We approached with this to the reception and they excluded one breakfast from our bill – this was nice. Unfortunately we did not use the SPA, we had a shortage of time, but I hope next time we will do it.

Top tip for other guests:

Use consierge services - they give very nice addresses for eat

Hotelier reply:

Dear Polina, First of all I would like to thank you for taking the time to write a review on SLH community. We always appreciate our guests' feedback in order to make improvements in any of our services. I would like to apologize for the shower incident. We took note of it and our maintenance staff did its best to fix it. Furthermore, I regret breakfast was not up to your expectations. I would surely take this point into consideration. Nevertheless, I would like to mention that our fresh products such as cured meats and cheeses comes from local suppliers (of our neighbourhood) and all our hot places both from the menu and at the buffet are homemade as well as the cake we prepare each day. I am delighted to know that you enjoyed your long weekend with your husband and that you appreciated our location, the design of the hotel and the work of our team. I will personally communicate your warm comments to them who were very pleased to satisfy all your requests. Once again, I thank you for your description of your experience at URSO. I hope to have the possibility to welcome you again on your next trip to Madrid. Kind regards, Patricia Fernández Hotel Manager

What I liked most

Welcome and departure
Location
Local knowledge and experiences
General service

What I might improve

Guestroom and bathroom
Breakfast

Stay date: October 2015

My Trip Type:

Single

Late in the day, I decided to spend a couple of days in Madrid following a conference. I wasn't sure where to stay but as an SLH member I opted for the Urso. I could not have made a better choice. From the moment I stepped out of the cab outside the hotel, I was treated like royalty. All the staff from the very charming doormen to the receptionist were utterly charming and incredibly helpful. I was showered with very welcome suggestions regarding where to go and what to do. I also was upgraded to a junior suite (per membership) which was very beautiful. The only criticism I could have regarded the breakfast service on Sunday which was a little slow.. However they apologised and were again charming. I would stay here again in a flash and will certainly recommend it as the perfect spot for a weekend away. The hotel did mention that at present week works are going on across the road on weekdays which could be noisy. However these are not operational at the weekend so did not have any impact at all.

Top tip for other guests:

Spa is wonderfully relaxing - take a swimsuit!

Hotelier reply:

Dear Claire, I would like to thank you for sharing your review on SLH and for your very kind words about URSO Hotel & Spa. I am delighted to know that we met your expectations and that you enjoyed the hotel. Our staff is always very pleased to help URSO guests with any requests they may have in order to make them feel comfortable and special during their stay with us. I look forward to welcoming you again. Warm regards, Patricia Fernández Hotel Manager

What I liked most

Leisure facilities
Welcome and departure
Local knowledge and experiences
Guestroom and bathroom
General service

Friendly service in a great location

Stay date: September 2015

My Trip Type:

Single

There is a very beatiful hotel in amgreat location

Top tip for other guests:

-

Hotelier reply:

Dear Mr Angel Oscar, Our objective it is to accomplish our guests satisfactions, for that reason I am delighted to know that you enjoyed your stay with us last September, we really hope to see you soon again. Warm regards, Patricia Fernández Hotel Manager

What I liked most

Guestroom and bathroom
Internet and wifi
Location
General service
Breakfast

Stay date: September 2015

My Trip Type:

Business

New structure very elegant and full of amenities.

Top tip for other guests:

nice area

Hotelier reply:

Dear Mr Carlo, Our objective it is to accomplish our guests satisfactions, for that reason I am delighted to know that you enjoyed your stay with us last September, we really hope to see you soon again. Warm regards, Patricia Fernández Hotel Manager

What I liked most

Location
Internet and wifi
Breakfast
General service
Welcome and departure

What I might improve

Stay date: September 2015

My Trip Type:

Business

My two-night stay at the hotel went without a hiccup in any respect. It is an excellent, well appointed and well looked after hotel with incredibly friendly, professional and helpful staff.

Top tip for other guests:

Spend more time there than I was able to.

Hotelier reply:

Dear Mr Pierce, I am extremely happy to know that you enjoyed your stay with us last September, our objective it is to achieve our guests' satisfactions, for that reason it is an honour for us to know that you enjoyed every touch of our Hotel during your stay in Madrid. We hope to see you on your next visit to Madrid. Warm Regards, Patricia Fernández Hotel Manager

What I liked most

Guestroom and bathroom
General service
Location

Stay date: March 2015

My Trip Type:

Couple

Although our room wasn't ready when we arrived at 16:10, we were welcomed with a complimentary drink while we waited and a bottle of wine was delivered to our room when we finally went upstairs. The room was spacious with neutral palette of top quality furnishings, chic without being trendy-Euro in style. The bed was extravagantly comfortable and the bathroom with separate tub and shower was a pleasure, thoughtfully laid out. The staff was pleasant and helpful, contributing to a lovely but short stay in Madrid.

Top tip for other guests:

While in Madrid, save time to enjoy this hotel.

Hotelier reply:

Dear Lillian, Thank you very much for sharing your experience in Urso Hotel & Spa with the SLH community. We are very pleased that you enjoyed your stay in Urso. We would be very glad to welcome you back during your next stay in Madrid and hope you will have more time to appreciate our Hotel. Warmest regards, Patricia Fernández Hotel Manager

What I liked most

General service
Internet and wifi
Welcome and departure
Guestroom and bathroom
Location

Stay date: October 2014

My Trip Type:

Family

Excellent staff who went out of their way to help. Perfect location, short walk to stations and bus stops, but also within walking distance to shops, bars and restaurants. Rooms very comfortable, as were the public areas, with good spa.

Top tip for other guests:

Get the concierge to book the flamenco show for you

Hotelier reply:

Dear Annette, Thank you for choosing URSO Hotel & Spa for your stay in Madrid. We are very glad you liked the hotel and were pleased with our staff; I will congratulate them on your behalf. Looking forward to welcoming you again. Kind regards, Patricia Fernández Hotel Manager

What I liked most

Location
General service
Local knowledge and experiences

What I might improve

Stay date: February 2015

My Trip Type:

Couple

very friendly staff - good Location - do the staff know that i am SLH Club member....? no room up-grade

Top tip for other guests:

rent a bike

Hotelier reply:

Dear Mr. Dirk, Thank you very much for sharing your experience at URSO Hotel & Spa with the SLH Club community. We are very pleased that you liked the hotel and its location. Regarding the upgrade we are afraid the day you had the reservation, was a very busy day of February, and we did not have rooms available to upgrade your stay. We should have acknowledge this at the front desk, for that we would like to apologise. Please do not hesitate to contact me personally should you come back to Madrid so I can ensure that you have a perfect experience at URSO Hotel & Spa. Kindest regards, Patricia Fernández, Hotel Manager

What I liked most

Welcome and departure
General service
Location

What I might improve

One of the best experiences ever

Stay date: January 2015

My Trip Type:

Couple

Stayed at the hotel for 5 nights and was extremely impressed by the service, the facility and the hotel in general. Would consider a weekend in Madrid only for the joy of staying at Urso again!

Top tip for other guests:

take advantage of the concierge service at the hotel

Hotelier reply:

Dear Erik, It is a pleasure for us to hear that your expectations were met at URSO Hotel & Spa. We are looking forward to welcoming you again and hope to be your hotel of reference in Madrid. Kindest regards, Patricia Fernández, Hotel Manager

What I liked most

Welcome and departure
Guestroom and bathroom
Room service
Leisure facilities
Breakfast
General service
Local knowledge and experiences
Location

"Perfect for a spa break"

Stay date: January 2015

My Trip Type:

Couple

Top tip for other guests:

Chose big room

Hotelier reply:

Dear Lumezzane, We are very thankful for your review, it is a pleasure to hear that you enjoyed your stay with us. Hoping to see you soon in Madrid. Kindest regards, Patricia Fernández, Hotel Manager

What I liked most

Room service
General service
Internet and wifi
Location

Stay date: November 2014

My Trip Type:

Family

I've just returned from a long weekend in this new hotel in Madrid with my wife and two teenage daughters, feeling refreshed, relaxed and thoroughly spoilt by their attentive staff. The hotel is tastefully decorated in a very elegant yet comfortable style. Our room was positioned on the side of the hotel away from the main road, so was relatively quiet, well appointed and light filled. The spa, pool and gym are excellent for a city center hotel. My only complaint being that the spa and pool do not open until 11am during the week and 10am at the weekend. Theses need to be available from 8am in my opinion. We had continental breakfast served in the lounge, there was a generous serving of pastries and toast, plus refills of fresh coffee and juice. The concierge recommended some really excellent local restaurants, plus were on-hand to organise a visit to a Flamenco club which was great fun. I think this hotel would suite the most discerning guests, whether that be for family, couples or business. I would definitely stay here again.

Top tip for other guests:

I would reccomned a room on the second floor on the side road with two double windows.

Hotelier reply:

Dear Nic, Thank you very much for taking your time to review your experience at URSO Hotel & Spa. We are very glad that you enjoyed your trip to Madrid, our aim is to make our guests feel at home, and offer a comfortable stay, along with a hearty breakfast and the best service, we are very happy to know that we achieved our goal. We will take into consideration your words about the spa and gym opening times. Looking forward to welcoming you soon, Patricia Fernández, Hotel Manager

What I liked most

Breakfast
Leisure facilities
Welcome and departure
Location
General service

Nice Hotel Mentoring and Training Needed

Stay date: October 2014

My Trip Type:

Couple

Very nice property - just opened - friendly and motivated staff but all seem relatively new to the hotel industry - could benefit from some training and mentoring (experience). The property is beautiful - rooms and common areas - However, there are some plumbing kinks to be worked out in the bathrooms. The spa is small but nice. They were not very knowledgeable about the SLH program and benefits

Top tip for other guests:

There is construction around the property - ask for upper floor

Hotelier reply:

Dear Mark, We would like to thank you for sharing your experience at URSO Hotel & Spa. It is very pleasing to know that you enjoyed your stay. Regarding our staff we provide them with constant training, but there are still some aspects that need to definitely improve, although we think they have the right attitude and so they will learn fast and become better professionals in no time. We are hoping to welcoming you again soon so that you can see the improvements yourself. Kindest regards. Patricia Fernández, Hotel Manager

What I liked most

Internet and wifi
Guestroom and bathroom
Location

What I might improve

Breakfast
General service
Welcome and departure

Just born, but ist's a fine looking baby

Stay date: October 2014

My Trip Type:

Business

It's brand new, open since last August. So just a few little start up related glitches to take care of and this may very well become my new most favorite place in Madrid. Kudos to all staff members: without exception they are all extremely friendly and they'll go the extra mile to help. Where else lets room service taste you from different wines, before making your choice for just a ... glass.

Top tip for other guests:

Check out the Spa!

Hotelier reply:

Dear Guy, We are very pleased to know that you enjoyed your stay with us. The best comments are always the ones where they mention our staff, as is our biggest asset, we are really proud of them all and will congratulate them in your behalf. Kind regards and hope to see you soon, Patricia Fernández Hotel Manager

What I liked most

General service
Leisure facilities
Internet and wifi
Guestroom and bathroom
Room service
Welcome and departure

What I might improve

True Graciousness and Luxury

Stay date: September 2014

My Trip Type:

Friends

After 10 days of go go go in Spain, we were so lucky to have arrived into the calmness and luxury of the new URSO Madrid. Although an upgrade was not available as the hotel was sold out, our standard room was very comfortable and luxurious. (Miguel promises a jr suite next visit!) Amazing linens, soft light, minimal but comfortable furnishings. The breakfast is generous and of excellent quality, and the coffee will knock your socks off. The public lounge is very relaxing and comfortable - although it is clear they are still working out their bar program and the restaurant is not yet open (Walter will take good care of you!) Service in every aspect was top notch and the property is well positioned close to the luxury shopping are with many cafes/etc, as well as 15 minutes walking to the Prado, etc. Somehow Miguel got us into a top restaurant at the last minute - thank you! Cannot wait to go back!

Top tip for other guests:

Book early

Hotelier reply:

Dear Kelly, First of all we would like to thank you for sharing your experience at URSO Hotel & Spa with the SLH community. It is our pleasure to know that we fulfilled your expectations. We have work our utmost for the past two months to get the hotel running to perfection, and although there are still some details to improve, it makes as proud to hear of your pleasant stay at URSO and specially the compliments to our staff. We hope we can welcome you again next time you come to Madrid. Kind regards, Patricia Fernández, Hotel Manager

What I liked most

Location
General service
Guestroom and bathroom

Wonderful choice in Madrid!

Stay date: September 2014

My Trip Type:

Business

Really a nice place to stay. The rooms are luxurious and comfy - the jr suite was splendid. The staff is exemplary - friendly and helpful, everyone always with a smile. Good breakfast. Lovely spa. A little bit of a walk to Plaza Mayor, but pleasant in good weather. Highly recommend!

Top tip for other guests:

na

Hotelier reply:

Dear Natalie, We are very pleased to know that you enjoyed your stay at URSO Hotel & Spa. We truly appreciate your positive comments regarding our hotel, spa and staff. We will keep working our utmost to keep surprising our guests and make their stay memorable. Looking forward to welcoming you again soon. Kind regards, Patricia Fernández, Hotel Manager

What I liked most

Welcome and departure
General service
Leisure facilities
Guestroom and bathroom
Internet and wifi