https://origin.slh.com/hotels/v/vahine-island/
Please note that there is a minimum stay requirement of 3 nights at this hotel and that all guests must be aged 10 or over.
Hotel Highlights
Private, guided snorkelling tours around the island's coral gardens
Relaxing massages on guests' personal roof terraces
Annexe boat and traditional pirogues for hire to explore the blue lagoon
Vahine Island Resort and Spa - Luxury Resort in French Polynesia
Beautiful retreat on the Motu Tuvahine
The ultimate island fantasy, Vahine Island Resort and Spa is a remote Polynesian hideaway on its own private island with just nine beachfront and overwater bungalows hidden among coconut trees and facing a pristine blue lagoon. Promising warm, tropical seas, mouth-watering cuisine and carefree sun-filled days, this is truly paradise on earth.
Choose between Vahine Island 's beachfront and overwater villas. To enjoy the lagoon's abundant wildlife, there is an aquarium table in the water bungalows to watch and feed the tropical fish that swim in the water below. Beachfront bungalows have a lazy hammock on their spacious decks with fabulous views of the lagoon and nearby Bora Bora.
Take a nature tour of the 23-acre Vahine Island or go down to the beach for snorkelling, kayaking, windsurfing or rowing on a Polynesian pirogue. In the evening, sit back and savour cocktails made from local fresh fruit juices and Polynesian spirits. Then dine by candlelight in the restaurant on French cuisine with a Polynesian twist.
9

rooms

1

restaurant

1

floor
The rooms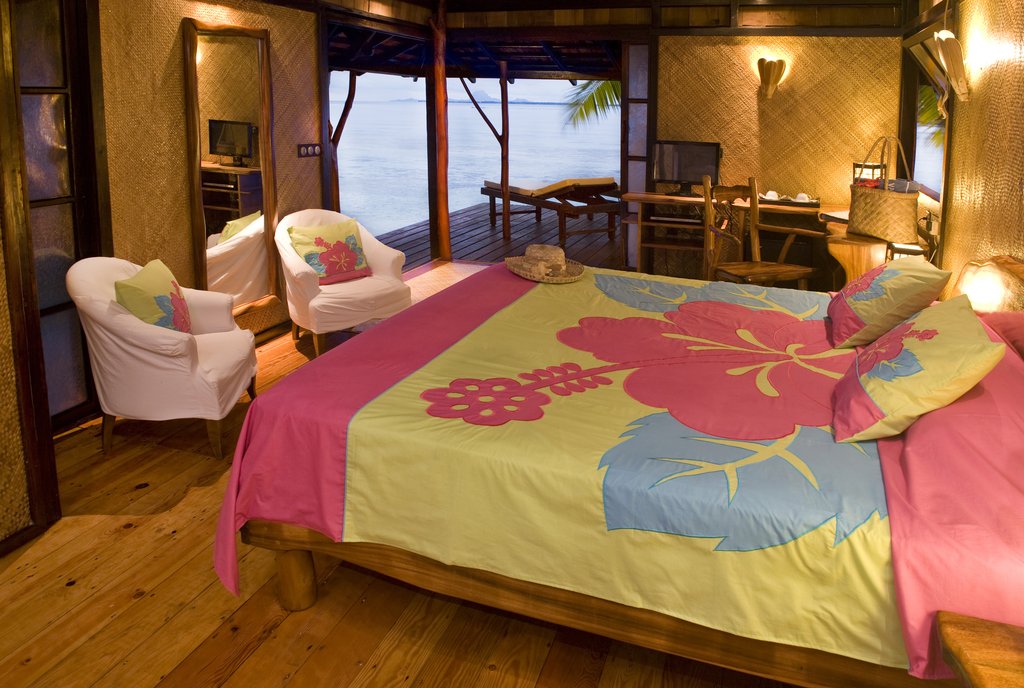 BEACH BUNGALOW
Sleeps: 2 People.
Beach Bungalow offers comforts and privacy, with a spacious deck overlooking the lagoon and Bora Bora. Measuring 30 sqm indoor, the room is elegantly designed in a Polynesian style.

Features king or twin beds, bathroom with two sinks, air-con and fan, free wifi, safe, minibar, tea and coffee set, LCD screen with DVD, Molton Brown amenities.
From per night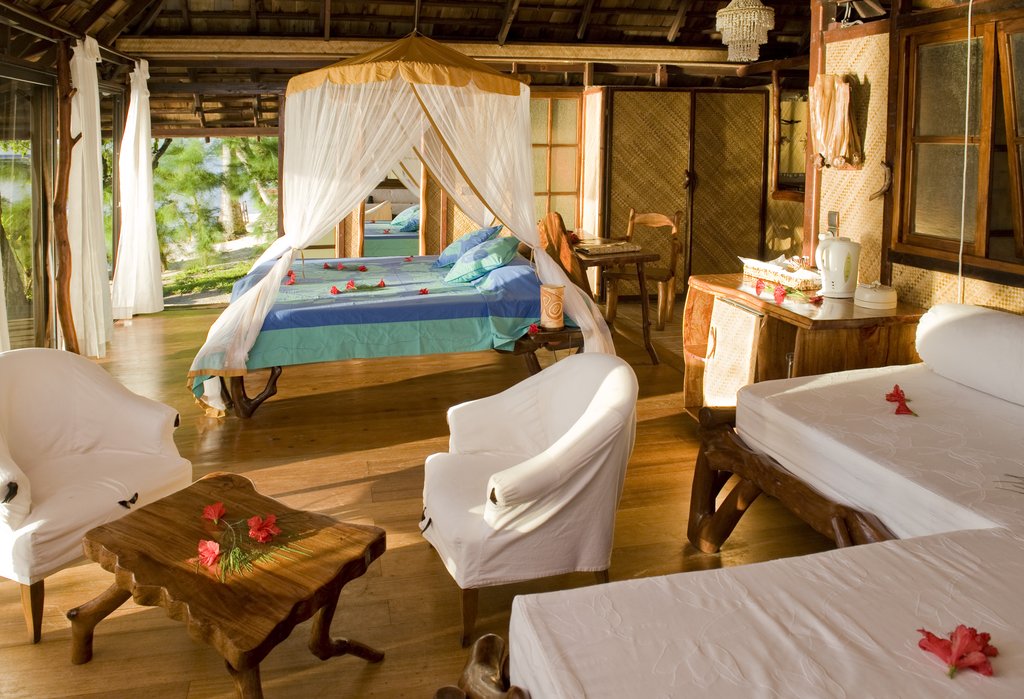 BEACH SUITE
Sleeps: 3 People.
Beach Suite offers space and privacy, designed in an elegant Polynesian style. Measuring 50 sqm indoor, they all feature a lounge area with sofa and chairs.

Guests will enjoy their private beach and two spacious decks, one with hammock overlooking the lagoon and Bora Bora, one facing the coconut grove. King bed only. Air-con, free wifi, safe, minibar, Molton Brown amenities.
From per night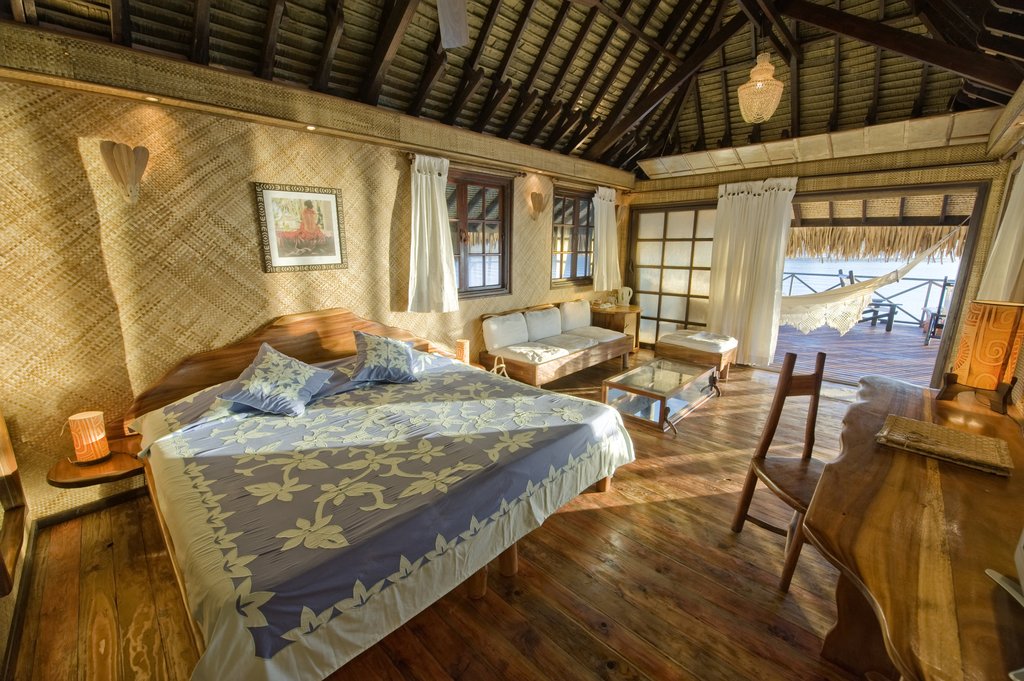 OVERWATER BUNGALOW
Sleeps: 2 People.
Overwater Bungalow offers comfort and aquatic ambiance. Designed in an elegant Polynesian style, the room features a lounge area with aquarium table to admire the sea life.

Measuring 32 sqm indoor, guests will enjoy a spacious deck with hammock, overlooking the lagoon and the mythical BoraBora. King or twin beds, Air-con, free wifi, safe, minibar, Molton Brown amenities.
From per night
Air conditioning
Golf
Boat Transfer
Wedding services
Join INVITED and get 10% off exclusive rates. Plus early check-in and late check-outs among other benefits.
Accessible facilities

Air conditioning

Bell staff/porter

Boat Transfer

Business Center Services

Concierge desk

Continental breakfast

Currency exchange

Doctor on call

Fax service

Free high speed internet connection

Free international calls

Front desk

Full service housekeeping

Gift/News stand

High speed internet access for laptop in public areas

High speed internet connection

Hotspots

Housekeeping - daily

Laundry/Valet service

On the room phone

Pets not allowed

Polynesian massage

Public address system

Restaurant

Room service

Safe deposit box

Secretarial service

Security

Shuttle to local attractions

Water sports

Wedding services

Wi-Fi is available in the guest rooms only and is free of charge.

With acceptable copy amount
Air conditioning

AM/FM radio

Balcony/Lanai/Terrace

Bathrobe

Bathroom amenities

Bathtub

Coffee/Tea maker

Color television

Desk

Direct dial phone number

Hairdryer

Lighted makeup mirror

Minibar

Non-smoking

Private bathroom

Remote control television

Safe

Satellite television

Separate tub and shower

Sitting area

Slippers

Smoke detectors

Sofa bed

Speaker phone

Stereo

Telephone

TV
Canoeing lesson on request

Catch will be cooked FOC

Daily guided snorkelling

Fine dining

Golf

Jetski

Spa

Volleyball

Windsurfing lessons on request
Vahine Island Resort and Spa offers the most relaxing dining experience by the lagoon. The day starts with a breakfast in total serenity, watching the flow of the turquoise blue lagoon. Lunch is very relaxing, served on the beach with the feets in the sand. The "Tané" bar, open all day long, will welcome you in an exotic ambiance to enjoy a delicious local cocktail. The day will end up with the most awaited gourmet dinner. Our guests will savor a succulent three-course menu, offering modern and creative cuisine, in a refined atmosphere.
Vahine Island
Meals served: Breakfast, Lunch, Dinner
The typical restaurant Vahine- located by the lagoon- is beautifully decorated with wooden- flowers and shells. It offers marvelous view of the lagoon and the island of Tahaa. The talented Chef offers a French cuisine- with Mediterranean and local influences. Enhanced continental breakfast includes fresh fruits and juices- bread and pastry selection- omelets and any style eggs and many homemade delicacies such as fresh homemade jams and the famous vanilla yoghurt.
Vahine Island Resort and Spa Fare Spa is a desert island dream come true: a luxury retreat set on a private motu in a crystalline lagoon. Drift off to the sound of the sea in the open-air massage room. This perfect Polynesian setting finds its way into the treatments too – from traditional Taurumi remedies to products created from island fruits and flowers. Make the relaxation last even longer with a soak in the outdoor hot tub, set beside the lagoon.
Reviews
These reviews are the real opinions of INVITED members and we have verified their stay at the hotel.
What I liked most :

Location (10)
Restaurant and dining (9)
Breakfast (8)
General service (7)
Guestroom and bathroom (6)
Local knowledge and experiences (6)
Welcome and departure (6)
Leisure facilities (3)

Read Reviews

Stay date: January 2017

My Trip Type:

Couple

One of the best properties I ever stayed! Excellent , friendly and attentive GM and the the food from Chief Pierre was top notch. All the staff was extremly friendly - I am really glad to be there. Absolute suggestion!

Top tip for other guests:

Take a break there!

Hotelier reply:

Dear Christine, Thanks a lot for such a kind review! It was a real pleasure for us to welcome you on our small paradise and we are glad to read that you enjoyed your stay with us so much. The entire team hope that you had a nice flight back to Germany and hope to have the pleasure to welcome you back in the near future. Have a really nice week! With warmest regards Elisabeth Murino, Deputy Manager

What I liked most

Welcome and departure
Guestroom and bathroom
Restaurant and dining
General service
Breakfast
Location
Local knowledge and experiences

What I might improve

An unforgettable gem in a turquoise treasure box

Stay date: September 2016

My Trip Type:

Couple

We visited many magnificent destinations in the world but Vahine Island will stay in our heart forever. Everything from the beginning to the end of our holiday on the motu was great. Our rating would go to .....above excellent.. OUTSTANDING. This stay in September was fantastic and unforgettable. Of course Vahine Island has an exceptional and paradise-like setting and the comfort and facilities are superb but what makes it extraordinary is the top quality of the staff that constantly goes the extra mile to make your stay become one of your best , sweetest, unique travel memory. Elizabeth, the deputy manager is a sparkling pearl, Pierre, the French chef treated us to delicious and refines delicacies. The thoughtful and romantic candle light dinner was a must; we were very touched. Roe and Landry and the rest of the staff were full of energy, dedicated and truly adorable! The best memory of our trip to Polynesia!

Top tip for other guests:

Do not miss one of the most beautiful Polynesian treasure!

What I liked most

Breakfast
Location
Leisure facilities
Restaurant and dining
Internet and wifi
Welcome and departure
Local knowledge and experiences
General service
Guestroom and bathroom

Another perfect time spent in paradise.

Stay date: January 2016

My Trip Type:

Couple

We had another perfect time at Vahine Island ! We loved revisiting our friends under water because the snorkeling there is so close and easy. The water is clear, the coral is beautiful and the fish are outrageous. Laure and her husband, Terrance, are always gracious and very accommodating to any of our requests. We like the food, the location, the people, the weather, the bungalow. There is a word for this..............................Paradise !

Top tip for other guests:

Order the lobster for lunch the night before.

What I liked most

Guestroom and bathroom
Location
Restaurant and dining
Breakfast

Stay date: August 2015

My Trip Type:

Couple

A very beautiful Island, excellent restaurant, a complementary romantic dinner for honeymoon. But overall a bit pricey...

Top tip for other guests:

Garden villa sufficient, no need to book pilotis

What I liked most

Breakfast
Restaurant and dining
Guestroom and bathroom
Location

What I might improve

Amazing stay, phenomenal managers and chef.

Stay date: May 2015

My Trip Type:

Couple

Amazing all around. Perfectly small size. Great manager team and staff, very welcoming, friendly, and accommodating. Phenomenal food--such a pleasant surprise. Bungalows are comfortable and private. Would absolutely recommend a stay to others. Romantic honeymoon dinner was lovely. Thank you!

Top tip for other guests:

Stay in an overwater bungalow (last one on the end is the most private) and watch sharks under you at night. Go with half board for meals.

What I liked most

Location
Guestroom and bathroom
Welcome and departure
General service
Local knowledge and experiences
Restaurant and dining

Stay date: April 2015

My Trip Type:

Couple

Let me first by saying the beauty of this resort and French Polynesia is only exceeded by the amazing people that work and live here. Laure, Terrence and the amazing staff are truly remarkable. Warm,caring and such genuine souls. This IS the place to go if you want to get away from it all and experience a truly magical heaven on earth. Words could never describe the beauty,peacefulness and tranquility of this amazing place on earth. My wife and I were so sad to leave and a few tears were shed. Not just because vacation was over but the people we were leaving behind. Laure,Terrence, Rory,the staff,and a special shout out to Ha'Mata,THANK YOU!!! Dana and Karen Barry

Top tip for other guests:

Relax and Enjoy every moment.

What I liked most

Internet and wifi
Room service
Restaurant and dining
Leisure facilities
Guestroom and bathroom
Local knowledge and experiences
Location
Welcome and departure
Breakfast
General service

Stay date: February 2015

My Trip Type:

Couple

Perfect hotel in an amazing location with such a great, friendly staff. The hotel is surprisingly easy to get to and with such a few properties in the whole islands, it's such a wonderful pacific paradise. The fresh produce and especially vanilla make the food superb for a real Tahitian experience. It's all about relaxing in a perfect location, the staff is friendly and simply amazing, the food is great, and everything is in excellent condition. Didn't see a single mosquito during our stay.

Top tip for other guests:

Forget Bora Bora, Vahaine is the place to go to

What I liked most

Location
Restaurant and dining
General service
Breakfast

Spoiled at Robinson-Island

Stay date: November 2014

My Trip Type:

Couple

When I think back to the 5 Days we stayed at Vahine Island, I just want to go back there soon as possible. Vahine Private Island is a Motu in the North of Tahaa. Picked up with their boat at Raiatea Airport and have a very nice journey around Tahaa. When you come closer to the island, you have the joy to see the turquoise water of the lagoon and first you see the 3 OWB. They have only 9 Bungalows in Total; 3 Beach Bungalows, 3 Beach Suite and 3 OWB. Our choice was the OWB what we loved from the view and location, but I think also the other would be a good choice just depend for what you are looking for. We had the warmest welcome by Laurie and some of the Crew. First, we had a nice fruit drink at the Bar and could hear all about the Island. Where to go for snorkelling and how it works with the menu. The Bungalows itself are built typical Island style. You do not have a door key to close it, but in the room, you find a big save. All was beautiful decorated with fresh flowers and a welcome basket with a personal note. We really enjoyed the terrace a lot. It had two beach chairs with cushion's and as well a sitting possibility with a little table where we use to have a drink. We saw sharks swimming by. From this terrace, you have direct access to the water, first over a little stair to a platform and then you have to go down with a ladder to the water. I am a bit disable cause of knee problems and I could not make it, as it had no handles and the rung where to far from each. This is the only thing I wish they would improve for my next visit. The water was wonderful, clear and most beautiful colours. It had a few coral heads close to the OWB and we saw fishes too. At other destinations (Moorea, Huahine & Tikehau) we found it better for snorkelling right from OWB or Beach. However, they offered every day to join the Boat Tour to go to a very nice spot with more corals and fishes and beautiful clear water. This was all free and you always felt save. Before dinner we had nice drinks at the bar, we really would recommend to try the Rum with vanilla. They had a nice choice and we had to leave before we could try all different cocktails. Dinner was served in the Restaurant just next to the Bar. They serve a 3-course menu in the eve but you know in advance, what it will be and you can let them know if you would like something else. We just can give enough compliments to the Chef. This was the Best Half Board Pension we ever had. Fresh products very good cooked and nicely presented. The wine list is very nice and we had often two bottles – a Rose or White for the starter and a Red for the main and split it into two days. This was no problem at all. Sometimes I thought I might better leave the dessert, but how could you say "no" when you smell a chocolate cake fresh from the oven with self-made vanilla ice cream? Service was good too. One night we celebrate my 50th birthday and they made us a very special table and spoiled us. The breakfast in the morning was very nice too and you can order besides any eggs you like. Because all is so familiar, you get easily in contact with other guests. They also have little games or other activity you can attend if you like. The beach and garden are all in best order. Nowhere in the world had I ever seen such a perfect raked sandy beach. The whole team always had a smile for us what came from the heart. Their friendliness is exceptional and we felt really as welcomed guests. All work hand in hand and the managers are part of the team what is a wonderful experience. Laure & Terence and their Team really take care to make a memorable vacation. To leave the island was like to say good-bye to family members (those you like). We really enjoyed out time and would highly recommend Vahine Private Island. By the way we just have booked for the next holiday again.

Top tip for other guests:

Bring you underwater cam with you

What I liked most

Leisure facilities
General service
Breakfast
Location
Local knowledge and experiences
Restaurant and dining
Welcome and departure

Fantastic Service, great location

Stay date: February 2014

My Trip Type:

Couple

What makes tis hotel special is the location and the friendliness of the entire staff. As well the food is excellent and the chef is very helpful, in changing the menu to ones expectations. The accommodation did not match our expectations. Windows and doors do not close properly, so the simple air-condition is doing its best without success. The furniture is to our taste too simple/primitive to match the asked price. It was the staff only, what made this stay still great for us. They are in every aspect helpful friendly, simply great. And..... beware of the very aggressive mosquitos/sandflies.They are really a pain in.....!!!! You have to take an insect repellant. The internet is very,very slow. Sometime it is working, sometimes not. They really have to improve this.

Top tip for other guests:

if you simply want the location and don´t expect luxury accommodation,and if you love mosquitos: GO

What I liked most

Restaurant and dining
Welcome and departure
Local knowledge and experiences
Location
Breakfast
General service

What I might improve

Internet and wifi
Guestroom and bathroom

Hello & welcome to Fantasy Vahine Island

Stay date: January 2014

My Trip Type:

Couple

Had an amazing honeymoon on Vahine. From the moment we stepped off the shuttle boat, we felt like we had arrived on a secluded island. I had visions of my own Fantasy Island. The service was personal and excellent. We are foodies (who own a food tour back in our home state) and we thought the cuisine was outstanding. So many personal and special touches you don't often see anymore with big resorts/chains.

Top tip for other guests:

Take the fishing excursion, it's a great way to get a boat ride and see the surrounding islands and sealife. We saw a shark, several manta rays. Chef will cook your fish for you free of charge!