https://origin.slh.com/hotels/villa-damelia/
Hotel Highlights
19th century estate with views of the Alps
Turkish bath and a Finnish sauna
Michelin starred restaurant serving dishes based on the Piedmontese culinary tradition
Relais Villa d'Amelia - luxury hotel in benevello, Alba
Hillside hideaway near the scenic town of Alba
A late 19th century country house just ten minutes from Alba in the Piedmont region, famed for the coveted white truffle and Barolo and Barberesco wine, Relais Villa d'Amelia stands on a ridge among lush woods and hazelnut groves. With stunning views of the Monviso Alps, the hotel promises great food and wine, a wellness centre, a heated pool and is within easy reach of Barolo.
Many of the rooms overlook a pretty inner courtyard while others frame rolling hills littered with hazelnut trees. Both views are quintessentially Italian and wonderfully romantic. Rustic elements of rough stone and wood blend with beautiful fabrics, classic furniture and the slickest ultra-modern touches for a truly eclectic feel throughout Villa d'Amelia.
Take a walk though the hazel groves and then take a trip into Alba. Discover the amazing delicatessens in Via Vittorio Emanuele. In autumn, the famous Truffle Fair is held in the city. Return for dinner at Villa d'Amelia's Michelin-starred restaurant, where delicious classical Piedmont dishes are served with a modern twist, accompanied by the best local wines.
37

rooms

2

restaurants

3

floors
The rooms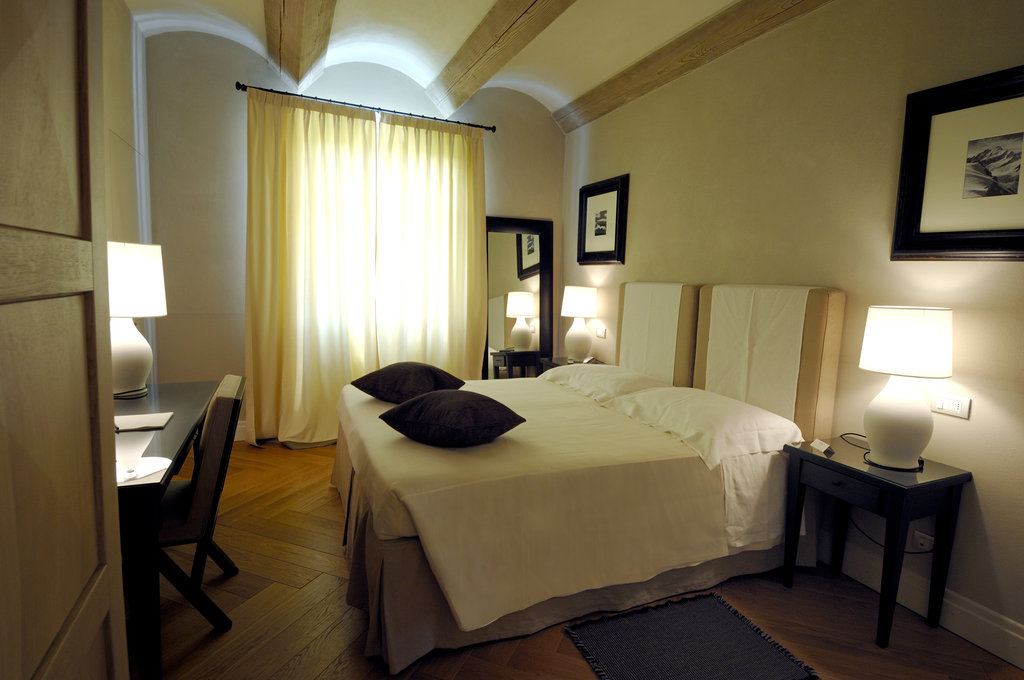 Superior Room
Sleeps: 2 People.
King or twin bedded room overlooking the hotel inner courtyard or garden. Wooden floors, furnished in a warm contemporary style with either shower or bath tub Size: 18-22 sqm.

Elegant travertine marble bathroom and a complete set of custom made amenities. Complimentary Wifi.
From per night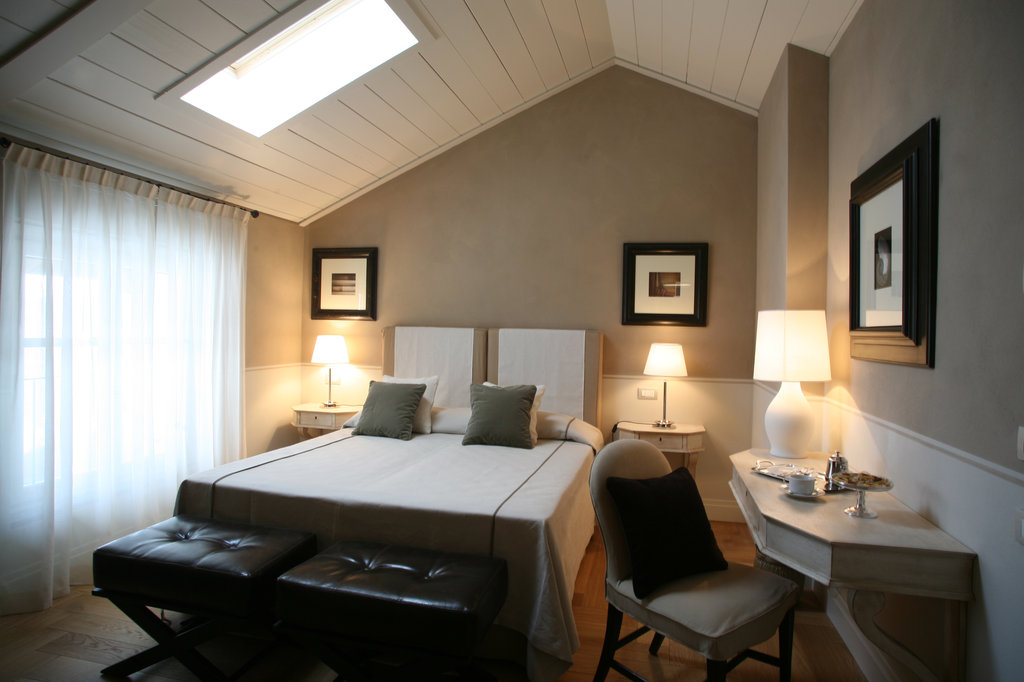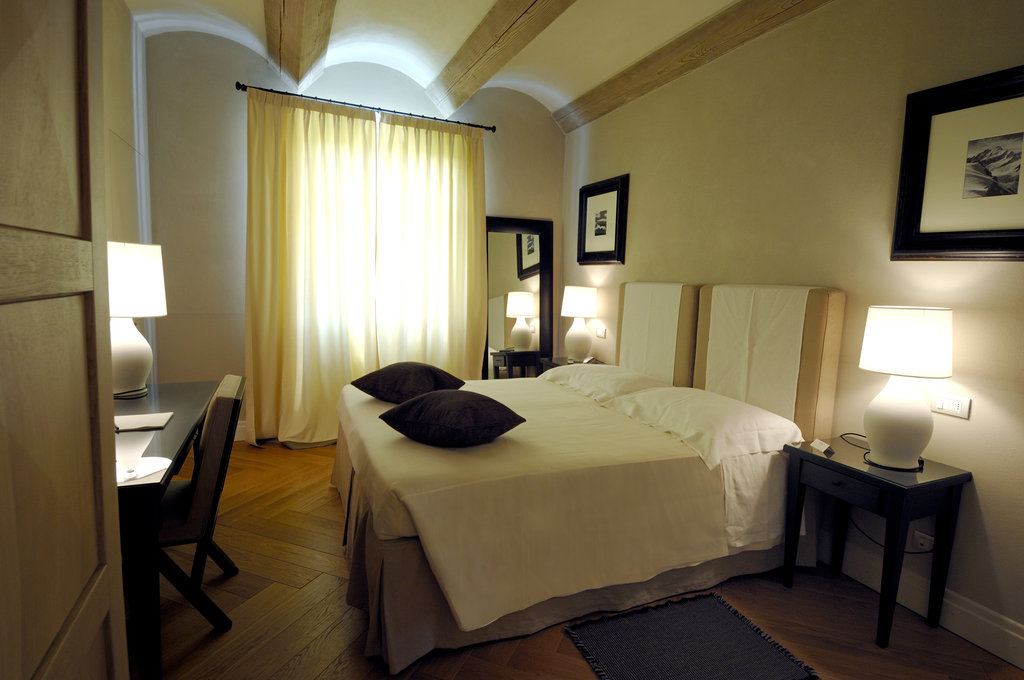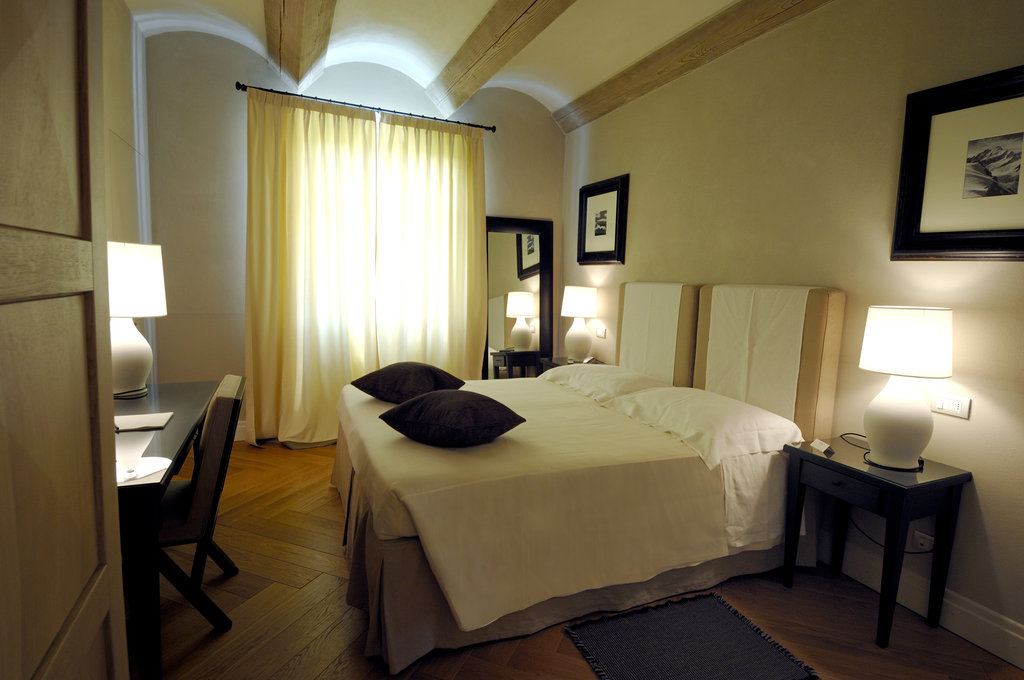 Deluxe Room
Sleeps: 2 People.
King or twin bedded room with panoramic views over the valley and the Alps. Wooden floors, furnished in a warm contemporary style offering a a refined and comfortable environment.

Elegant Travertine marble bathroom with either shower or bathtub. Complimentary Wifi. Approx 18-22 sqm.
From per night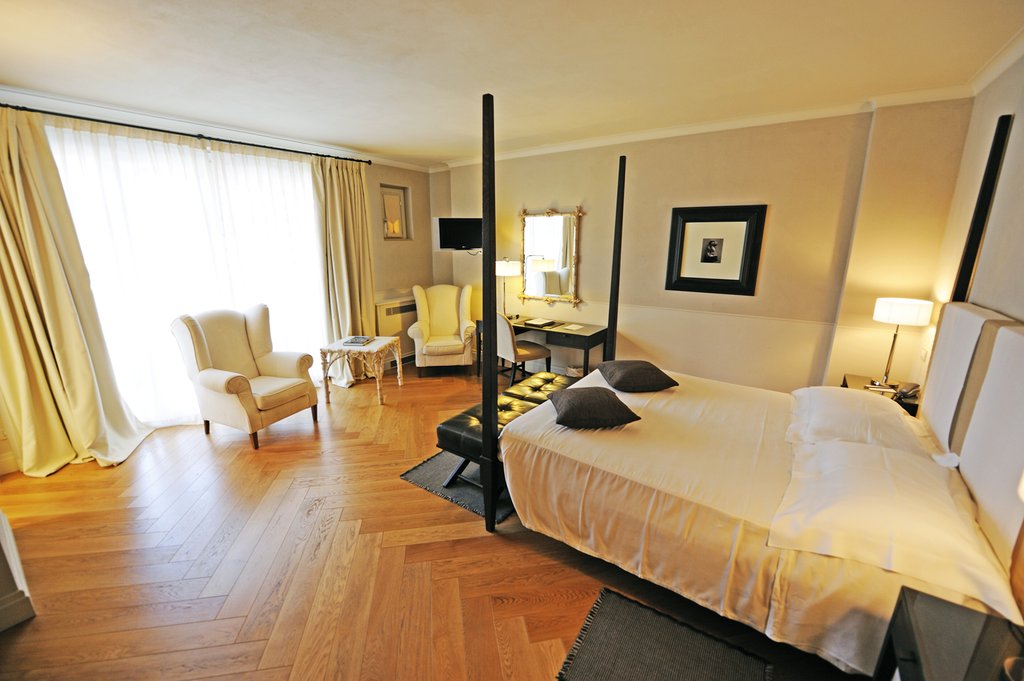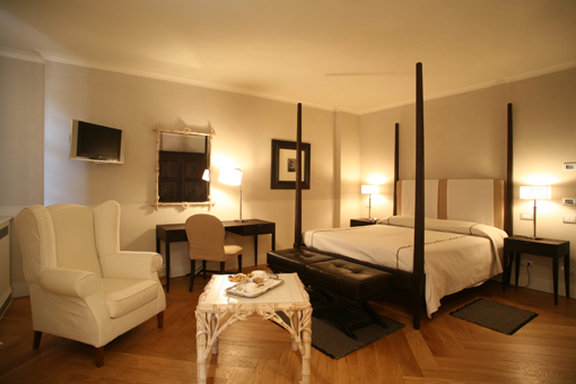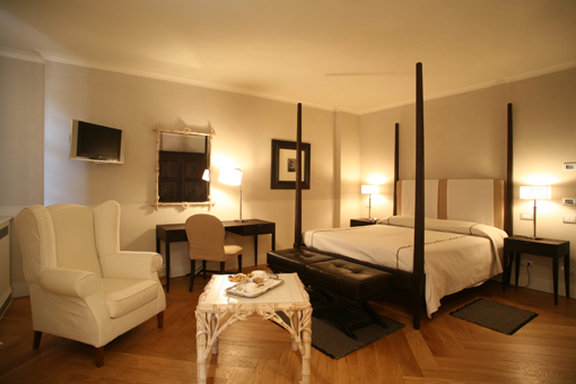 Junior Suite
Sleeps: 3 People.
Large open space with king four-poster bed, lounge area and a work station, one overlooking the courtyard, the second the valley. Size: 25-27 sqm.

Fully air-conditioned rooms with wooden floors, furnished in a warm contemporary style and elegant travertine bathroom with bath tub. Complimentary Wifi.
From per night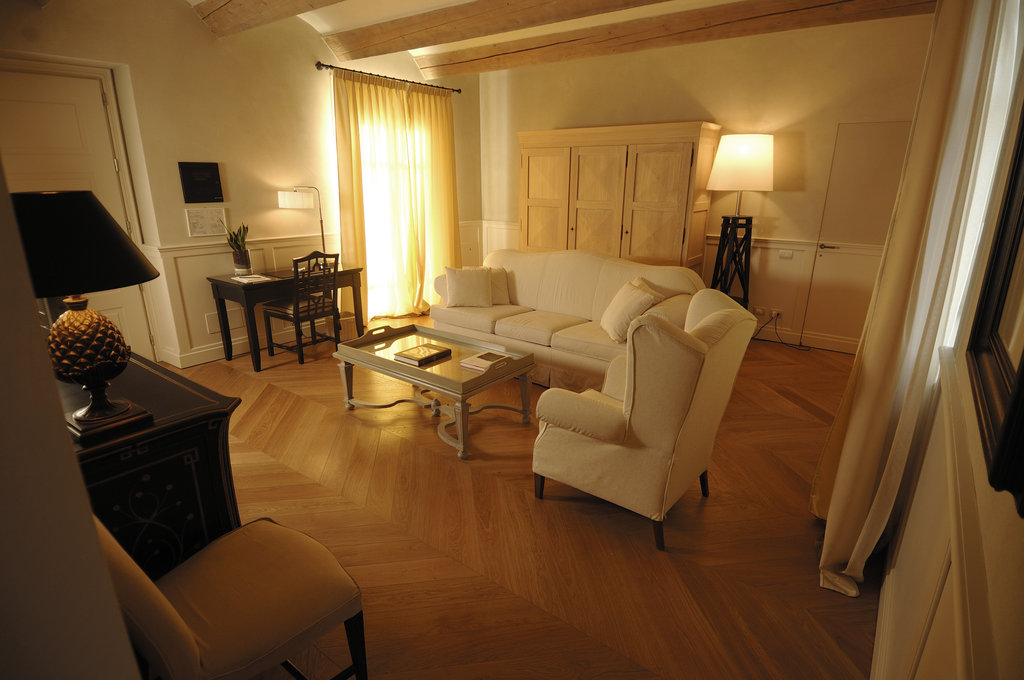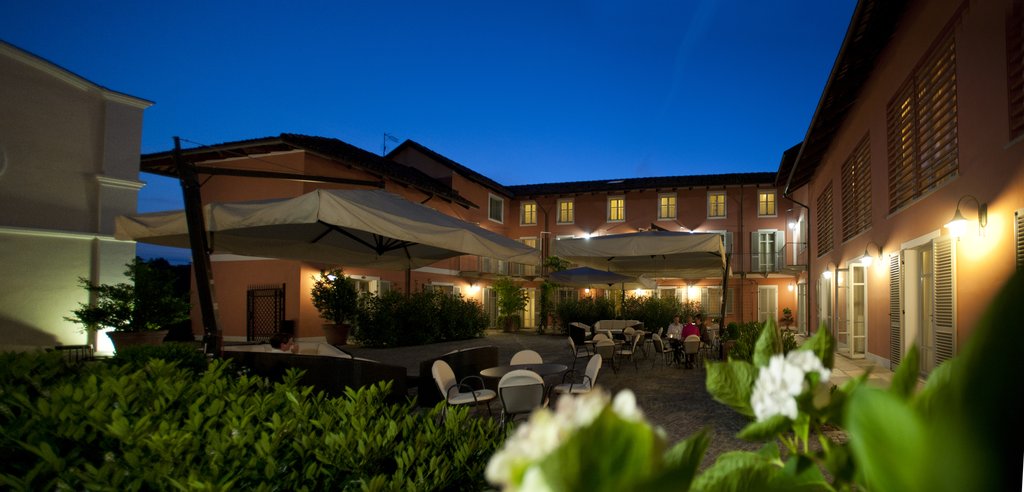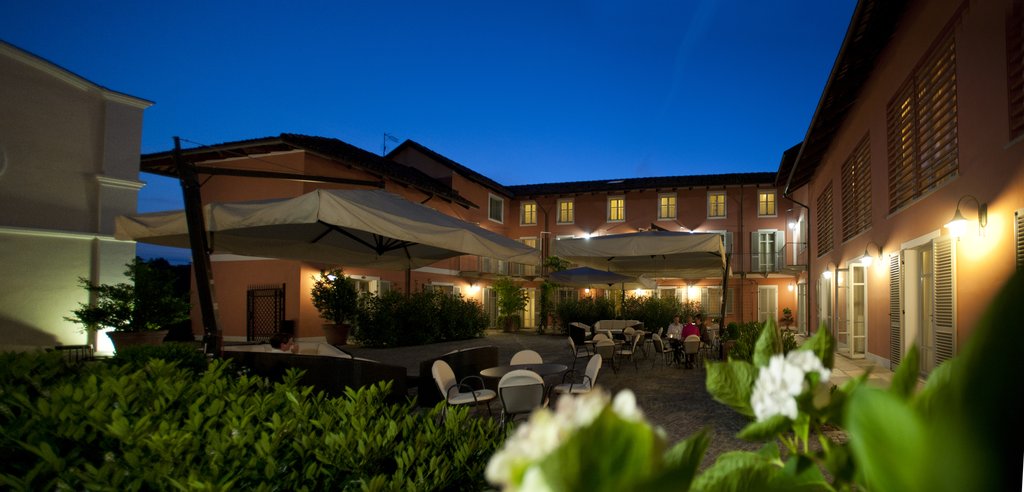 Suite Deluxe
Sleeps: 3 People.
Spacious one-bedroom suite with king bed and separate living room with panoramic view. Fully air-conditioned rooms furnished in a warm contemporary style with double set of TV. Size: 48 sqm.

Wooden floors and a large travertine-marble bathroom featuring double vanities, shower and bath tub. Complimentary Wifi.
From per night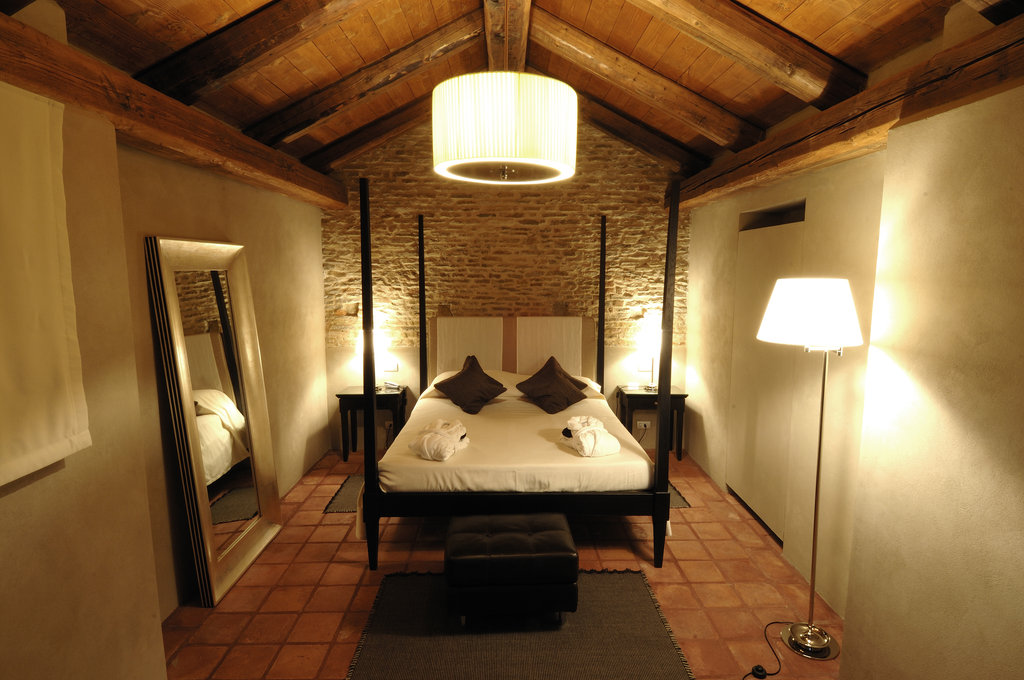 San Luigi Suite
Sleeps: 3 People.
One-bedroom suite located above the old Chapel with king bed and a living room with panoramic views. The room is fully air-conditioned with wooden and terracotta tiles floor. Size: 45 sqm.

Combined with contemporary furniture, large travertine marble bathroom with shower and bath tub. Complimentary WiFi.
From per night
Air conditioning
Lounges/bars
Sauna
Pets allowed
Pool
Join INVITED and get 10% off exclusive rates. Plus early check-in and late check-outs among other benefits.
24-hour front desk

Accessible facilities

Air conditioning

Analog data port

Buffet breakfast

Business Center Services

Catering services

Children welcome

Concierge desk

Elevators

Family plan

Fire safety compliant

Free parking

Full service housekeeping

Gift/News stand

Handicap Parking

Housekeeping - daily

Lounges/bars

Meeting rooms

Onsite laundry

Pets allowed

Pool

Poolside service

Post/parcel service

Public address system

Restaurant

Room service

Room service - limited hours

Security

Turndown service

Wakeup service

Wireless internet connection
Air conditioning

Bathroom amenities

Bathtub

Bidet

Cable television

Color television

Data port

Desk

Direct dial phone number

Grab bars in bathroom

Hairdryer

Internet access

King bed

Marble bathroom

Minibar

Remote control television

Safe

Satellite television

Self-controlled heating/cooling system

Sitting area

Slippers

Smoke detectors

Telephone

TV

Twin bed
Childrens program

Fine dining

Football field

Hiking trail

Hunting

Indoor pool

Jogging trail

Mountain biking trail

Pool

Sauna
Chef Damiano Nigro's cuisine, awarded with 1 Michelin Star since 2010, offers a refined, modern approach to traditional Piemontese dishes. His menus follow the seasons and reflect the bounty of the region's farmers and artisan food producers. With the belief that food and wine inform and influence each other, the restaurant wine list features a selection of more than 350 local producers. The restaurant serves daily lunch and dinner but is closed on Monday and on Tuesday at lunch. The main room seats up to 60 people.
Damiano Nigro Restaurant
Meals served: Lunch, Dinner
The restaurants is managed by the skillful Chef Damiano Nigro who has learned the Art of Cooking alongside famous names of Italy haute cuisine like Gualtiero Marchesi. The aim of his cuisine is marrying Italian culinary traditions to creative innovations. Chef Nigro has obtained wide recognition and awards from some of the best known restaurant and dining guides even receiving 1 star from the Michelin Guide on 2010. The Damiano Nigro is closed all day on Mondays and at lunch time on Tuesdays.
Dama Restaurant
Meals served: Lunch, Dinner
The Casual DaMa Restaurant offers gourmet dishes focused on Italian cuisine and especially on traditional Piedmont specialties. Guests can savour vitello tonnato amazing agnolotti del plin meat-stuffed pasta great vegetarian and fish dishes such as Sicilian red prawns in tempura- a typical caprese salad with tomato and buffalo milk mozzarella or a fresh and tasting leave salad. During the Summer season the cozy terrace is the setting of the DaMa.
Reviews
These reviews are the real opinions of INVITED members and we have verified their stay at the hotel.
What I liked most :

General service (15)
Restaurant and dining (15)
Breakfast (12)
Location (12)
Welcome and departure (11)
Guestroom and bathroom (8)
Internet and wifi (8)
Leisure facilities (7)
Local knowledge and experiences (7)

Read Reviews

October 2019

My Trip Type:

Couple

The service and everyone was so welcoming and nice!! The facilieties are super clean and the rooms really cosy. We felt home and will for sure return.

Top tip for other guests:

Just go there and feel home!

What I liked most

Welcome and Departure
Location
General Service
Local knowledge and experience
Guest Room and Bathroom
Breakfast
Restaurant and dining
Room Service
Leisure facilities
Internet and wifi

June 2019

My Trip Type:

Friends

Overall, we sincerely enjoyed our stay at Villa D'Amelia. The property is beautiful and location is great (just outside Alba). Our only negative feedback was the air conditioning... our air conditioning was broken in our room and the front desk just told us to close the curtains? We probably thought they needed to change the filter since it ran all the time and never got cooler. In general though, the hotel was one of the best parts of our tour through Italy.

Top tip for other guests:

N/A

What I liked most

Location
Restaurant and dining
Leisure facilities
Internet and wifi

What I might improve

June 2019

My Trip Type:

Couple

This is a very romantic place. However, the hotel receive groups which are not in the same dynamic...

Top tip for other guests:

Well located

What I liked most

Location
Guest Room and Bathroom

What I might improve

Welcome and Departure
Breakfast

A very good location to explore the wine growing region around Barolo

May 2019

My Trip Type:

Couple

The views from the hotel room and dining areas are magnificent.

Top tip for other guests:

A car is a must to explore the region.

What I liked most

Welcome and Departure
Location
Breakfast
Restaurant and dining

Delightful experience in Piemonte

Stay date: September 2016

My Trip Type:

Friends

The setting is convenient for day trips and visits to wineries as well as shopping in Alba and Asti (Asti was a great surprise). The hotel is well thought out regarding dining, relaxing, and lounging experiences. Walking around the grounds provided solitude and a swing to sit and enjoy the country. The courtyard provided sufficient seating for large groups as well as small parties. The restaurant was comfortable and food and wine exceptional. We brought our own bottle of wine from a tasting for our last dinner. Loved the bar and salon area off the courtyard. Would have enjoyed a fire in the fireplace as we had a couple of cool nights. This was a great spot to enjoy the welcoming drink that was not limited to prosecco (much appreciated). Breakfast was served in a separate location that was also comfortable and provided outside seating if desired. It was a good "change of scenery." Our room included a upgrade to the master suite; we loved it!! Lots of windows and light. Thank you! I cannot think of enough kind remarks for the staff. Some one was always available and were very helpful with ideas for visiting the area. Silvio was most hospitable and demonstrated his knowledge for wine and taking care of guests. These attributes were reflected by all staff.

Top tip for other guests:

Be sure to allow time to just enjoy the hotel.

What I liked most

General service
Internet and wifi
Leisure facilities
Location
Local knowledge and experiences
Breakfast
Guestroom and bathroom
Restaurant and dining
Welcome and departure

Stay date: September 2016

My Trip Type:

Single

Front desk staffs are very kindly!! They always accept my request and respons my questions willingly.

Top tip for other guests:

Comfortable holiday

Stylish retreat in the hills of Piedmont

Stay date: September 2015

My Trip Type:

Family

A stunning drive through the vineyards of Barberesco to arrive at this gem of a hotel. We got a little lost in Benevello so some extra signage may be helpful. The hotel seemed full but, despite this, the service was prompt and friendly. We had stayed before so were welcomed back. The rooms were stylish, well appointed and a good size. The pool was beautifully designed and excellent service from the bar staff including complimentary tasters of juice from the bar. We took the tasting menu in the gastromic restaurant and the service and cooking were perfectly executed and an excellent wine list with a wide selection of local wines and vintages. Wonderful and peaceful location.

Top tip for other guests:

Stay an extra night and take some time to explore this beautiful area of Italy

Stay date: August 2015

My Trip Type:

Couple

Strategic location with execellent view. Top restaurant and very nice people.

Top tip for other guests:

JUst enjoy this beautiful hotel

What I liked most

Guestroom and bathroom
General service
Breakfast
Location
Welcome and departure
Internet and wifi
Leisure facilities
Restaurant and dining
Local knowledge and experiences

Stay date: August 2015

My Trip Type:

Couple

The staff, the view, the room, the food were all great. It would almost be impossible to find without a map or gps, but once you find it you don't want to leave. The wine districts of Barolo and Barbaresco are very close by, and the roads are great for touring.

Top tip for other guests:

A top hotel to visit the Piemonte vineyards.

What I liked most

Breakfast
Local knowledge and experiences
Restaurant and dining
Location
Welcome and departure

Stay date: June 2015

My Trip Type:

Couple

The hotel is amazing! The facilities and the restaurant are excellent. Silvio and his reception team are always helpful and friendly. The hotel's atmosphere are relaxing and romantic. The breakfast is very good, wide-ranging and full of local specialities. There is something special about this small luxury hotel!

Top tip for other guests:

The restaurant

What I liked most

Restaurant and dining
Local knowledge and experiences
General service
Welcome and departure
Breakfast

What I might improve

Stay date: June 2015

My Trip Type:

Couple

We have been in luxury hotels all over Europe, and we find Villa d'Amelia to be the best. The property is exquisite and the service is fantastic. Ava, Silvio and the entire team were able to answer any questions and respond immediately to any request. A marvelous experience.. We will be back.

Top tip for other guests:

Definitely eat in hotel's fine restaurant

What I liked most

Leisure facilities
Internet and wifi
General service
Welcome and departure
Breakfast
Restaurant and dining
Local knowledge and experiences
Guestroom and bathroom

Very nice hôtel. Nice rooms

Stay date: May 2015

My Trip Type:

Family

Staff missing at the bar and the restaurant

Top tip for other guests:

Good hotel

What I liked most

Guestroom and bathroom
Location
Welcome and departure

What I might improve

General service
Restaurant and dining

Stay date: May 2015

My Trip Type:

Couple

This hotel makes a refreshing change to the many overdone historic properties. This hotel whilst being a former farmhouse has been very tastefully rennovated. The owners have spared no expense either in their commitment to providing an excellent standard of fittings and furniture right through to the bedrooms. The beds are comfortable and the toiletries are of a high standard. Bathrooms are soft marble and gadgets maintain perfect room a/c and electronically controlled velux shutters were a nice touch. Slippers are so comfy and a nice touch of quality!!. There is not much difference between the mountain facing rooms and the standard rooms but we had a pleasant nights stay in the hotel. The GM is a lady from Catalonia in Spain who is fantastic!!!. She not only is friendly but also sincere and she made the stay even more pleasurable. So nice to see the GM engaging with guests working at grass roots level and not some ambigious hidden character that only deals with complaints!. My wife was pregnant and she really felt happy with the comfort of the place. Well done to the Relais Villa d'Amelia and to the goregous GM!!.

Top tip for other guests:

Difficult to say really. I personally would not wish to spend to much time in the area. Its a little isolated to stay there for to long. As in its not located in a pretty village such as Barolo etc.

What I liked most

Guestroom and bathroom
Internet and wifi
Breakfast
General service
Welcome and departure

What I might improve

Stay date: November 2014

My Trip Type:

Friends

I booked this hotel a year in advance for a group of 8 travelling to Alba for the truffle markets in November. We had a lot of queries and a lot of requests for extra services....restaurant recommendations and bookings, taxi bookings, advice on sightseeing etc . Every single email I sent (and there were many!) was answered quickly and with as much information and advice as I could have wished for. Our 4 day weekend was a huge success and I have the staff at the Villa D'Amelia to thank for it. They were unfailingly friendly and helpful and we all felt well looked after. The hotel is in a beautiful hillside setting only 20 mins from Alba and has everything you need for a perfect weekend in the region. The Michelin star hotel restaurant was wonderful too and we'll definitely be going back again in the future. I cannot recommend it highly enough.

Top tip for other guests:

Book the gourmet package and make the most of the regional restaurants and wineries.

What I liked most

Restaurant and dining
Local knowledge and experiences
Internet and wifi
General service

What I might improve

Good food, tranquillity in the Piedmonte

Stay date: October 2014

My Trip Type:

Couple

Excellent restaurant; very pleasant staff in both hotel and restaurant. We didn't have the greatest room, but we booked very last minute and the staff we as accomodating as they could be with what was available. Pool was especially nice - at least until the young children and their parents took it over, splashing and makeing a lot of noise - they were having fun...

Top tip for other guests:

Plan ahead, but do stay here

What I liked most

Restaurant and dining
General service
Leisure facilities

Friendly service in a great location

Stay date: September 2014

My Trip Type:

Friends

On Monday Michelin star restaurant was closed, however the Bistro provided us with excellent dinner. It would be nice to have complimentary bottled water in the room as well as bathrobe!

Top tip for other guests:

None

What I liked most

Guestroom and bathroom
Location
Breakfast
General service
Restaurant and dining
Welcome and departure

What I might improve

Stay date: August 2014

My Trip Type:

Couple

Excellent and Finest Restaurant

Top tip for other guests:

Restaurant, location

What I liked most

Breakfast
General service
Restaurant and dining

What I might improve

Perfect Piemonte hideaway

Stay date: July 2014

My Trip Type:

Couple

A warm and friendly welcome followed by a warm and friendly service by the entire staff throughout our 4 day stay. Very nice and quiet location a few minutes drive from Alba. Very well kept hotel with all facilities. We especially liked the cool, quiet patio and the restaurant terrace with great views of the hilly landscape. Excellent restaurant, where we had the best meal of our 18 day trip through Italy and Austria. Highly recommended.

Top tip for other guests:

Have lunch at the restaurant terrace

What I liked most

Welcome and departure
Restaurant and dining
Location
General service

Stay date: August 2013

My Trip Type:

Family

Rooms and service splendid. Bistrot restaurant has a very small menu and does not contain many dishes suitable for children. Wifi occasionally not available.

Top tip for other guests:

Restaurant at Alba : Douomo

What I liked most

What I might improve

Wonderful way of discovering the Piemont

Stay date: July 2013

My Trip Type:

Family

This is a wonderful resort which welcomes you the moment you walk through the door. Rooms are spacious, staff are generally very attentive and the food in their main restaurant is fantastic. The reason for all this is the manager Silvio who epitomizes everything you can have in service: no porter around? Silvio helps out. Wine tasting? A whole list of great wineries, particularly family-led businesses and the knowledge of how to point you in the right direction. All in all very memorable and a place where kids are also very welcome.

Top tip for other guests:

If you get rooms 108 or 109, ypu might hear some nosie in the morning while staff prepare the breakfast area if your window is open. We weren't bothered by it, but some might be.

What I liked most

Restaurant and dining
General service
Breakfast
Local knowledge and experiences
Welcome and departure
Guestroom and bathroom
Internet and wifi

Fabulous! Wonderful hospitality.

Stay date: July 2013

My Trip Type:

Couple

This hotel restored our faith in SLH after an abysmal experience elsewhere. The staff bend over backwards to be helpful, it is sedate and the experience sublime. Located at the top of a beautiful valley with stunning views, this hotel is wonderfully appointed and tastefully furnished. As an SLH Club Member the complimentary welcoming drink and canapes were superb. They are almost a meal in themselves The restaurant is an experience not to be missed. Very fine cooking and superb service. We regretted that we had only booked for one night. We will defintely return

Top tip for other guests:

Stay here. It is worth a detour to visit. Take dinner in the restaurant - the cuisine and service are terrific.

What I liked most

Restaurant and dining
Guestroom and bathroom
Leisure facilities
General service
Location
Breakfast
Welcome and departure