https://origin.slh.com/hotels/winselerhof-country-estate/
Hotel Highlights
Authentic timber beams, vaulted ceilings and historic orchards in this 16th-century country estate
Fine Italian restaurant renowned as one of the best in the Netherlands
An 18-hole golf course, and miles of tranquil walking trails nearby
WinselerHof Country Estate - Luxury Hotel in the Netherlands
A beautifully preserved 16th century manor house in the Province of Limburg.
Surrounded by woodland, yet minutes from the cities of Aachen and Maastricht, Hotel WinselerHof is a handsome property that has been lovingly restored to provide a 21st century look whilst maintaining the building's historic character. With one of the best Italian restaurants in the Netherlands, a lunch restaurant/bar 'Luigi's' and a good selection of 18-hole golf courses and miles of walking and jogging routes nearby, this is a place to wind down and enjoy the finer aspects of life.
A seamless blend of historic grandeur and contemporary relaxation, the 49 rooms at Hotel WinselerHof are set around a pretty inner courtyard and each one is individually decorated. With vaulted ceilings and half-timbered walls, they maintain their original character while the use of natural materials and warm colours contributes to a homely feel.
Wander through the extensive grounds of Hotel WinselerHof, or visit the nearby World Gardens with its unique collection of replica gardens from around the globe. The world's largest indoor ski resort with ski slopes and a training school is virtually next door to the hotel or a trip to Maastricht is just a 15-minute drive away. Return to the hotel to enjoy an unforgettable meal at Restaurant Pirandello and choose between a gourmet three, four or five-course menu.
49

rooms

2

restaurants

2

floors
The rooms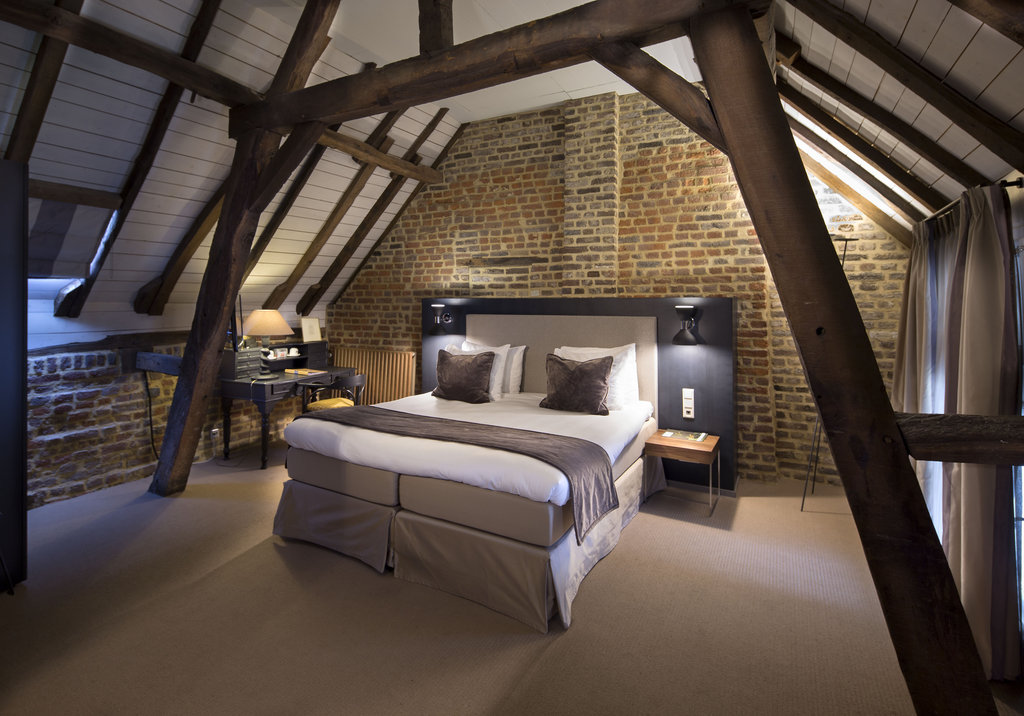 Deluxe Room
Sleeps: 3 People.
Deluxe Room with courtyard view, King bed, tea /coffee maker, free WiFi, 20 sqm. Each with its own unique character, Deluxe Rooms have a distinctly homely feel.

Decorated in a soft neutral palette with richly accented furnishings. Every room is appointed with Boxspring beds, dressed with luxurious bedding and modern en-suite bathroom.
From per night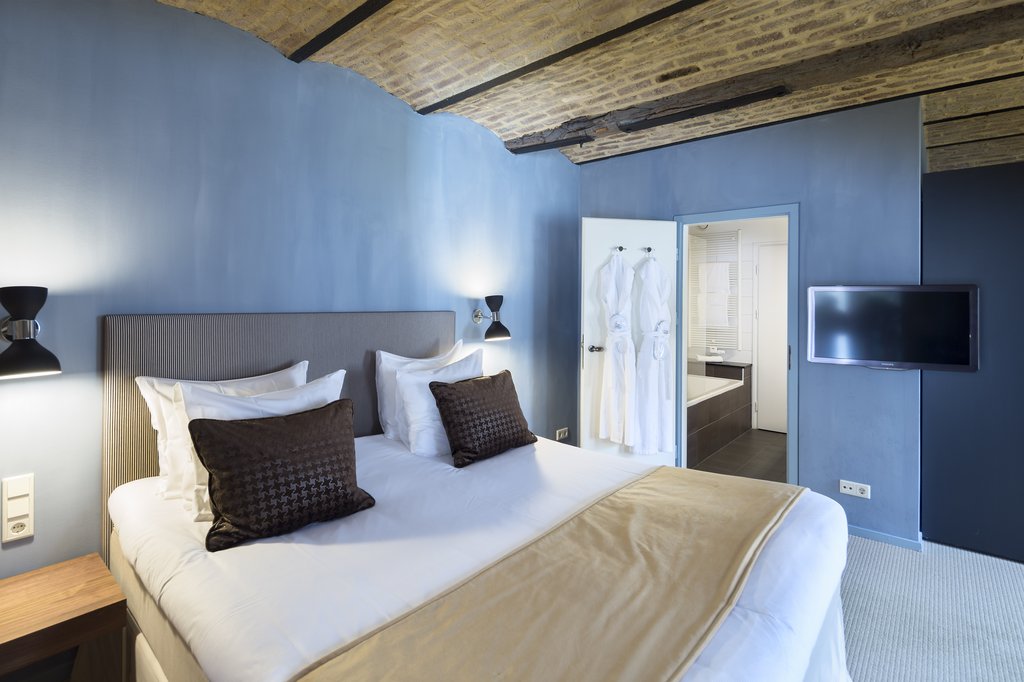 Premium Room
Sleeps: 3 People.
Premium Room with courtyard view, king bed, tea and coffee maker, free WiFi, 30 sqm. Providing additional space, Premium Rooms have a fresh, bright feel.

Where cool blue tones enhance the original brickwork and timber framing. Fitted out for maximum comfort, each room has a separate seating area, stylish en-suite bathroom with toiletries and Boxspring beds dressed in the finest linen, shower, bath.
From per night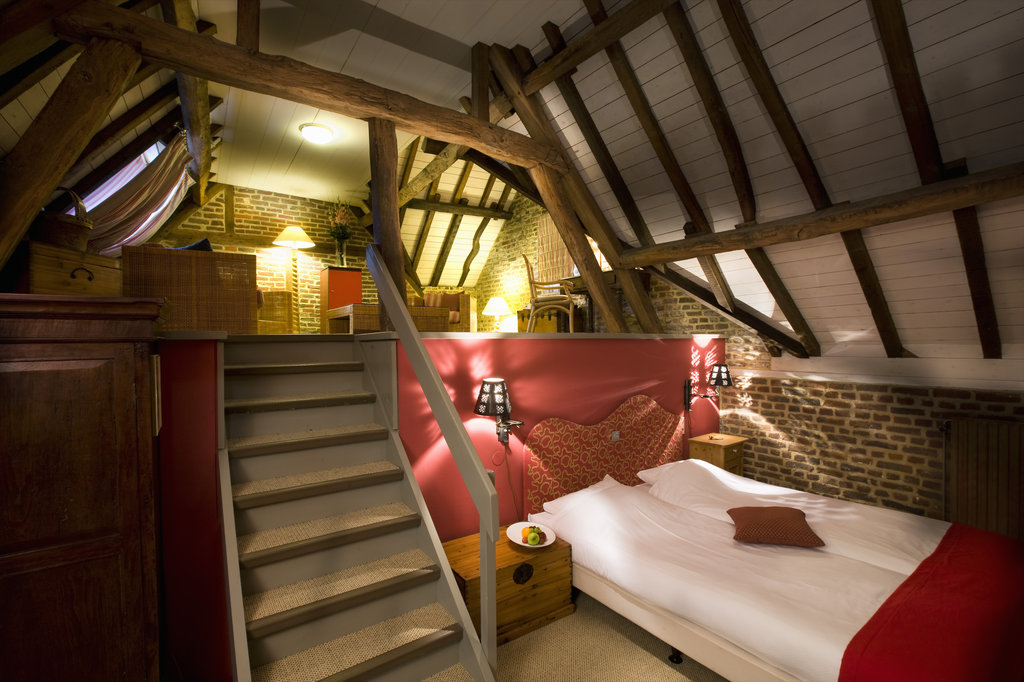 Junior Suite
Sleeps: 4 People.
Junior Suite with courtyard view, King bed, tea and coffee maker, free wifi, 40 sqm. These spacious, family-size, split-level suites provide generous living and sleeping areas.

They are sympathetically furnished to include all the characterful, historical features combined with contemporary fittings and a warm colour palette. Each Junior Suite is furnished with Boxspring beds, and flexible arrangements allow for adaptable family living. The mezzanine level has a cosy seating area, with steps leading down to an open-plan bedroom and sleekly appointed en-suite bathroom.
From per night
Lounges/bars
Pets allowed
24-hour room service
Wedding services
Join INVITED and get 10% off exclusive rates. Plus early check-in and late check-outs among other benefits.
24-hour front desk

24-hour room service

Accessible facilities

Audio visual equipment

Car rental desk

Catering services

Children welcome

Complimentary shoeshine

Conference space

Doctor on call

Family plan

Flip charts

Free high speed internet connection

Free parking

Full service housekeeping

Health club

High speed internet access for laptop in public areas

Hotspots

Housekeeping - daily

Interior corridors

Jogging track

Laundry/Valet service

Lounges/bars

Meeting rooms

Newspaper

Onsite laundry

Pets allowed

Photocopy center

Restaurant

Room Only

Room service

Safe deposit box

Security

Smoke-free property

Wakeup service

Wedding services

Wi-Fi is available in the guest rooms only and is free of charge.
Alarm clock

AM/FM radio

Bathrobe

Bathroom amenities

Coffee/Tea maker

Desk

Fire alarm with light

Free newspaper

Hairdryer

Internet access

Lighted makeup mirror

Minibar

Plates and bowls

Remote control television

Safe

Separate tub and shower

Slippers

Smoke detectors

Speaker phone

Telephone
Hiking trail

Jogging trail

Mountain biking trail

Nature preserve trail
A selection of dining options are available at WinselerHof Country Estate.
Restaurant Pirandello
Cuisine type: Italian
Meals served: Breakfast, Dinner
Premier Italian restaurant. Pirandello has made a name for itself as one of the most popular Italian restaurants in The Netherlands. Delicate- expertly prepared and flavourful dishes are served using locally grown produce in a glass fronted stylish modern setting. During warmer months guests can opt to dine either in the charming- inner courtyard or on the Terrace overlooking the vineyards.
Luigi s Lunch Restaurant Bar
Cuisine type: Italian
Meals served: Lunch
Italian lunch and light snacks. Located in a unique setting with striking original features- Luigis Lunch Restaurant and Bar presents the perfect venue for informal gatherings. The varied menu offers everything from light Italian tapas and pastries to a three-course lunch- complemented by a range of beers and wines. In warmer weather guests can have lunch al fresco in the atmospheric inner courtyard.
Reviews
These reviews are the real opinions of INVITED members and we have verified their stay at the hotel.
What I liked most :

Restaurant and dining (20)
Location (17)
Breakfast (12)
Guestroom and bathroom (12)
Welcome and departure (10)
Internet and wifi (9)
General service (7)
General Service (6)
Guest Room and Bathroom (6)
Welcome and Departure (5)
Local knowledge and experience (3)
Local knowledge and experiences (3)
Room service (3)

What I might improve :

Restaurant and dining (6)
Guestroom and bathroom (3)
Leisure facilities (3)
Welcome and departure (3)

Read Reviews

October 2019

My Trip Type:

Couple

Quiet hotel with good sized rooms. Staff are friendly though partly unexperienced. Wonderful breakfast. What we really missed is a lounge area where one can sit down and have a coffee or tea while reading a book or doing some work.

Top tip for other guests:

Only 25 minutes from Maastricht which is very good for shopping. Good location for beautiful walks in the countryside

What I liked most

Welcome and Departure
General Service
Breakfast
Restaurant and dining

What I might improve

Charming hotel, nice rooms with a mix of old an new

September 2019

My Trip Type:

Couple

Good restaurant, but to long time to wait

Top tip for other guests:

Charming hotel outside the city

What I liked most

Welcome and Departure
General Service
Guest Room and Bathroom

What I might improve

stay was ok but dinner very disappointing

June 2019

Dinner is extemely expensive for the quality delivered as well as the small portions. Waiting time of 2 hours for the main course (we only had 2 courses). Furthermore nobody in the management made a gesture to compensate for our unpleasant dinner experience.

Top tip for other guests:

Hotel ok, but avoid dinner at Pirandello

What I liked most

Location
Guest Room and Bathroom

What I might improve

General Service
Restaurant and dining

May 2019

My Trip Type:

Couple

We had a lovely stay in this hotel. Very profesional with a personal touch. Both the people from check in as well the staff in the restaurant was amazing.

Top tip for other guests:

Take a stroll in the forest just behind the hotel!

What I liked most

Welcome and Departure
Location
General Service
Local knowledge and experience
Guest Room and Bathroom
Breakfast
Restaurant and dining

May 2019

My Trip Type:

Couple

It was again top in the Winselerhof. The Italian cuisine is excellent and so are the Italian wines. We regularly come here to cycle through the beautiful South Limburg landscape.

Top tip for other guests:

The city of Maastricht and Aachen Gaia Zoo Kerkrade. This zoo has won many awards and belongs to the top

What I liked most

Location
General Service
Guest Room and Bathroom
Breakfast
Restaurant and dining
Internet and wifi

Green Oasis in the true heart of Europe

May 2019

My Trip Type:

Family

Very friendly welcome, as usual SLH membership provided a nice up-grade and a welcome gift. Plus the breakfast is worth to mention....

Top tip for other guests:

Just arrive and relax

What I liked most

Guest Room and Bathroom
Breakfast

March 2019

My Trip Type:

Friends

The staff Sandra was so helpfull and friendly.....thank you

Top tip for other guests:

Room 73 have a balcony

What I liked most

Welcome and Departure
Location
General Service
Local knowledge and experience
Breakfast
Restaurant and dining
Internet and wifi

What I might improve

A great Christmas experience

December 2018

My Trip Type:

Family

The whole Christmas entourage in and outside the hotel were atmospheric. The dinner was top as well as the Italian wines. The service was very welcoming and helpful. In short, until next time.

Top tip for other guests:

Visit the Gaia Zoo in Kerkrade, the city of Aachen in Germany and of course Maastricht.

What I liked most

Welcome and Departure
Location
General Service
Local knowledge and experience
Guest Room and Bathroom
Restaurant and dining
Leisure facilities

Beautiful Grounds, Wonderful Hotel

Copenhagen

My Trip Type:

Couple

Very nice hotel with great staff that really make you feel welcome. The place is used for lots of different functions like family celebrations, weddings, conferences and such, and it can be a bit lively in the court yard at night.

Top tip for other guests:

try the restaurant - it is outstanding

What I liked most

General service
Guestroom and bathroom
Location
Room service
Restaurant and dining

What I might improve

Stay date: December 2016

My Trip Type:

Business

i stayed there several times and it is awsome. friendly staff, excellent service and great location!

Top tip for other guests:

trip to Valkenburg

What I liked most

Restaurant and dining
Location
Guestroom and bathroom
Welcome and departure
Local knowledge and experiences
Internet and wifi
General service
Breakfast

Stay date: October 2016

My Trip Type:

Couple

It was a relaxing break this hotel. A very fine restaurant (Italian kitchen). Nice room. A good area to stay for bicycle, walking and culture (Aachen Germany, Maastricht) but also the new museum in Kerkrade (Cube/Continium) and the great zoo Gaia Park.

Top tip for other guests:

Visit Maastricht and Gaia Zoo Kerkrade

What I liked most

Restaurant and dining
Guestroom and bathroom

Stay date: August 2016

My Trip Type:

Couple

Sympathetic modernisation of a heritage building, inside and outside. Room was outstanding in design, furnishings and bed linen, though let down with cheap plastic glasses and budget-hotel towels. Wonderful walks in surrounding forest, easy for a trip into Maastricht, and lovely views whilst breakfasting/dining. High-quality menu and food, slightly marred by extremely slow service which was longer than "relaxing", though very pleasant staff. Overall, a very pleasant hotel in a good location.

Top tip for other guests:

If dining, be patient - it's worth waiting for.

What I liked most

Welcome and departure
Restaurant and dining
Location
Guestroom and bathroom
Internet and wifi

What I might improve

Guestroom and bathroom
Restaurant and dining

Nice - but only without an event at the same time

Stay date: July 2016

My Trip Type:

Couple

A lovely hotel, an amazing restaurant - but very loud when there is a wedding or something like that

Top tip for other guests:

If they call you because there is a wedding - CANCEL IMMEDIATELY!!!

What I liked most

Location
Restaurant and dining

A beautiful place in a unique environment

Stay date: July 2016

My Trip Type:

Family

All perfect! Friendly service, nice room (we have had the junior suite) and the special effort with welcome gift. We will definitely come back!

Top tip for other guests:

try the Italian restaurant!

What I liked most

Welcome and departure
Guestroom and bathroom

Stay date: April 2016

My Trip Type:

Family

A nice Country Retreat close to Maastricht and Aachen. The food at the Pirandello and Luigi's is at a high level. And we love the room 48 at the main building.

Top tip for other guests:

Market in Eygelshoven

What I liked most

Breakfast
Welcome and departure
Guestroom and bathroom
Location
Restaurant and dining
Internet and wifi

nice stay in a old manor house

Stay date: July 2015

My Trip Type:

Couple

The old manor is nice. Perfect location to visit Maastricht en Aachen. Very peaceful environment.

Top tip for other guests:

try the risotto in the restaurant

What I liked most

Welcome and departure
Room service
Restaurant and dining
Guestroom and bathroom

What I might improve

Stay date: April 2015

My Trip Type:

Couple

A restored manor house with beautiful features. We had a very pleasent stay. The staff are very friendly and helpful. The only slight negative points were the room overlooked the courtyard so was noisy. It was also very dark in the room but clearly this was unavoidable because of the age of the building.

Top tip for other guests:

excellent breakfast

What I liked most

Location
Breakfast
Welcome and departure
Internet and wifi

What I might improve

Charming hotel, welcoming staff

Stay date: February 2015

My Trip Type:

Family

We had a long weekend stay mid-february 2015. We explored the area (Maastricht, countryside) and enjoyed the hotel. We received an upgrade to a family suite, convenient with our 5 month old baby. Courtyard view, 1st floor (although ground floor would have been better with the buggy etc..) Large, nicely appointed and accomodating room, even a baby cot was provided. We enjoyed dinner in the restaurant on friday evening, food was excellent, with vegetarian options for my wife. Staff was extremely accomodating for our baby, providing a nice, quiet and sizeable table plus room to move around. Breakfast was nice with a lot of choice and good quality products (nice bread!). Top tip: add granola to choice of cereals :-) Unfortunately my wife caught the flu on saturday, we stayed in our room in the evening, the restaurant was so nice as to serve all our dishes in the room. They even provided some aspirin to surpress the fever. Top service!

Top tip for other guests:

Pirandello restaurant - inventive and tasty italian restaurant, top for vegetarians as well.

What I liked most

Restaurant and dining
General service
Room service

Great time in the Netherlands

Stay date: January 2015

My Trip Type:

Couple

We spent only one night but it was a realy comfortable stay. The staff was friendly and our room spacious and clean. Our next stay will be soon.

Top tip for other guests:

If you want to spend a cozy weekend, this is your hotel!

What I liked most

Welcome and departure
Internet and wifi
Guestroom and bathroom
Location

Comfortable manor house hotel

Stay date: December 2014

My Trip Type:

Couple

Winselerhof is a very pleasant and comfortable hotel in a good location. We especially liked the big room (overlooking the courtyard)with the nice (and warm!) en suite bathroom. The room was a bit on the dark side - could use some more and/or brighter lights. The hotel is not really suitable for old people or people who are wheelchair bound due to the many stairs (reception, restaurant and Luigi's bar). The service was correct (but not overly friendly) - was it the Christmas stress? Due to the amount of people in the hotel during the holidays, the restaurant and breakfast room felt kind of cramped. The dinner on boxing day was very nice; however the breakfast (+room) could use some improvement: what about the cold items in the serre and the hot breakfast items in the small breakfast room - every thing was too much cramped in the small breakfast room. I missed the English breakfast tea (they were out?!) on both mornings - as a compromise had Darjeeling. Furthermore "panettone" would have been more appropriate for breakfast than Rucola with pine nuts..... The champagne though was a very nice touch.

Top tip for other guests:

Go there in summer!

What I liked most

Guestroom and bathroom
Location
Internet and wifi

What I might improve

Restaurant and dining
Breakfast
Welcome and departure

Stay date: October 2014

My Trip Type:

Family

Nice Country Estate near to Maastricht

Top tip for other guests:

Dinner at the Pirandello Restaurant / homemade Marmelade for sell

What I liked most

Location
Welcome and departure
Restaurant and dining
General service
Guestroom and bathroom

What I might improve

Stay date: October 2014

My Trip Type:

Couple

Very good hotel and surroundings. Friendly staff. The room was recently refurbished and clean. Breakfast is perfect. Dinner at the restaurant high quality, relaxed and with a friendly open atmosphere. Prices reasonable. Small point of awareness for the hotel itself; if you can accomodate the guests, then please make sure you have the safe parking aswell, and do not overbook the restaurant forcing the guest to search for another place to eat.

Top tip for other guests:

At least eat once at the restaurant

What I liked most

Guestroom and bathroom
Local knowledge and experiences
Breakfast
General service
Location
Restaurant and dining
Welcome and departure

What I might improve

Restaurant and dining
Number Of Safe Parking

Stay date: August 2014

My Trip Type:

Couple

Excellent food and beverages in the cosy restaurant and bar. Room (under the beams) rather dark, dusty and tasteless furnished, although excellent badroom.

Top tip for other guests:

Excellent restaurant.

What I liked most

Restaurant and dining
Breakfast

What I might improve

Leisure facilities
Location
Welcome and departure

Wonderful estate with good restaurant

Stay date: August 2014

My Trip Type:

Couple

Friendly staff, wonderful estate in quiet surrounding. Very good restaurant with lovely Italian wines. Fine room, but no air condition. Good breakfast.

Top tip for other guests:

Must try restaurant

What I liked most

Breakfast
Location
Restaurant and dining

Stay date: April 2014

My Trip Type:

Couple

One of our favourite stays with SLH so far.

Top tip for other guests:

Book restaurant on busy weekends.

What I liked most

Restaurant and dining
Internet and wifi
Breakfast
General service
Local knowledge and experiences
Welcome and departure
Guestroom and bathroom

Stay date: December 2013

My Trip Type:

Family

Residing in a family room with two little children, we had a comfortable stay and enjoyed the good food of the enclosed restaurant as well easy access to kid entertainments such as the award winning GaiaZoo (walking distance), Kinderland Herleen, as well as the indoor snow resort SnowWorld (in sight). On the down side was poor cleaning - we found a tennis ball below our bed and never wanted to think back of looking there - some beds were not made up on several days. The rooms and facilities had quite some wear and need refurbishment in 2014 to meet SLH expectations again.

Top tip for other guests:

Spend a day in GaiaZoo and have a nice Italian dinner afterwards

What I liked most

Restaurant and dining
Location

What I might improve

Guestroom and bathroom
Room service
Welcome and departure

Above all, very friendly staff

Stay date: December 2013

My Trip Type:

Couple

The navigation told us we had reached the location, seemingly on an industrial area. Luckily the other side of the road revealed a nice old venue at the entry of a small forest. The homestead encircles a small garden and as a whole appears to be authentic. The staff at the reception is very friendly and check-in is efficient and personal. Walking through the courtyard we arrive at our room, called 'borsato' (Dutch singer). The room is very spacious, has a large and long bed, some antique furniture and two TV sets. It seems most of the rooms have been fitted wit a new bathroom, where our bathroom is clean but small and outdated. The staff told us that more renovations are scheduled. The minibar is empty, but can be filled upon request. Instead we ordered room service to bring some water, tea, coffee. The restaurant is very good and we're impressed with the service, even during the busy holidays. The hotel is in easy driving distance from many nice places and towns. After visiting Maastricht we had a relaxed drink in the vinoteca, which has an impressive list of wines and grappas. The service at breakfast is amazing. No effort is too much and everything is done to make you feel a welcome and appreciated guest. And even more amazing is that the 'special' requests are repeated the next day, without asking: my espresso literally arrived at the moment we sat down for breakfast! Absolutely a nice venue to revisit.

Top tip for other guests:

Please ask for room with renovated bathroom

What I liked most

Restaurant and dining
General service

What I might improve

Internet and wifi
Guestroom and bathroom
More hotels in Netherlands