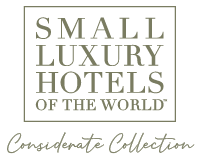 Stay Small Stay Considerate
'Staying small' goes hand in hand with travelling sustainably. 'Small' has always been in our name, and thinking global, acting local has always been in our nature. Most of our hotels have no more than 50 rooms, they are all independently owned and many have been in the same family for generations. From a biodiversity-promoting rainforest lodge in Costa Rica to a culture-preserving Provençal château, they are often repurposed or renovated properties - reinvigorated and revived - rather than large scale new-builds. People are the heart of our hotels. They champion their local community, and cherish their culture and environments.
We know that taking small steps can make a big difference, but we also know that we can do much more. This is why we're launching the Considerate Collection, a new ethos driven green and ocean blue standard for boutique hotels that go the extra eco mile. To help our guests make carefully considered travel choices. To cut through the confusion over certification, and to cut out greenwashing. To make travel count before check-in and beyond check-out.

These are pioneering properties proving that luxury is compatible with longevity. Places where we can explore and experience with intention, while protecting its peoples' integrity. Staying considerate of our common home, wherever we may be. Book today for a better tomorrow.