https://origin.slh.com/hotels/alexander-house-hotel/
Hotel highlights
120 acres of Sussex countryside surrounds the hotel
Home to two recognised restaurants offering a choice of à la carte and grill menus
Personally tailored treatments in the award-winning, ancient Greek style spa
to Alexander House & Utopia Spa - LUXURY HOTEL IN SUSSEX
A beautiful manor house in Sussex, once the home to the poet Shelley
Set amid 120 acres of beautiful parkland stands to Alexander House & Utopia Spa – a majestic manor turned modern retreat. Inside and out it has all the elements of a luxury escape, with sublime vistas, a choice of Rosette-awarded restaurants and celebrated Utopia Spa. Sink into the bubble tubs and pools, unwind in the saunas and steam rooms or enjoy some 'me time' in the outdoor hot tub.
Upstairs, individually styled bedrooms blend contemporary, designer décor with homely warmth – and boast picture-perfect countryside views. To have your own, private residence, book one of the exclusive Cedar Lodge Suites. Most come with a balcony or terrace to make the most of the outlook, while luxury bathrooms feature oversized tubs for two, rainfall showers and his and hers vanity units.
Alexander House's blissful setting makes it the ideal base for weekend getaways. There are classic historic houses to explore, vineyards to meander through and golf clubs nearby. In summer, step into the stunning gardens and savour a classic afternoon tea, stylish cocktails or al fresco dining. During the winter, cosy up beside a roaring log fire and dine in a warm and welcoming lounge. From AG's Restaurant's creative cuisine to the wines and cocktails in 1608 Champagne Bar, Alexander House Hotel celebrates the finer things in life – all year round.
58

rooms

2

restaurants

3

floors
Don't just take our word for it...
The rooms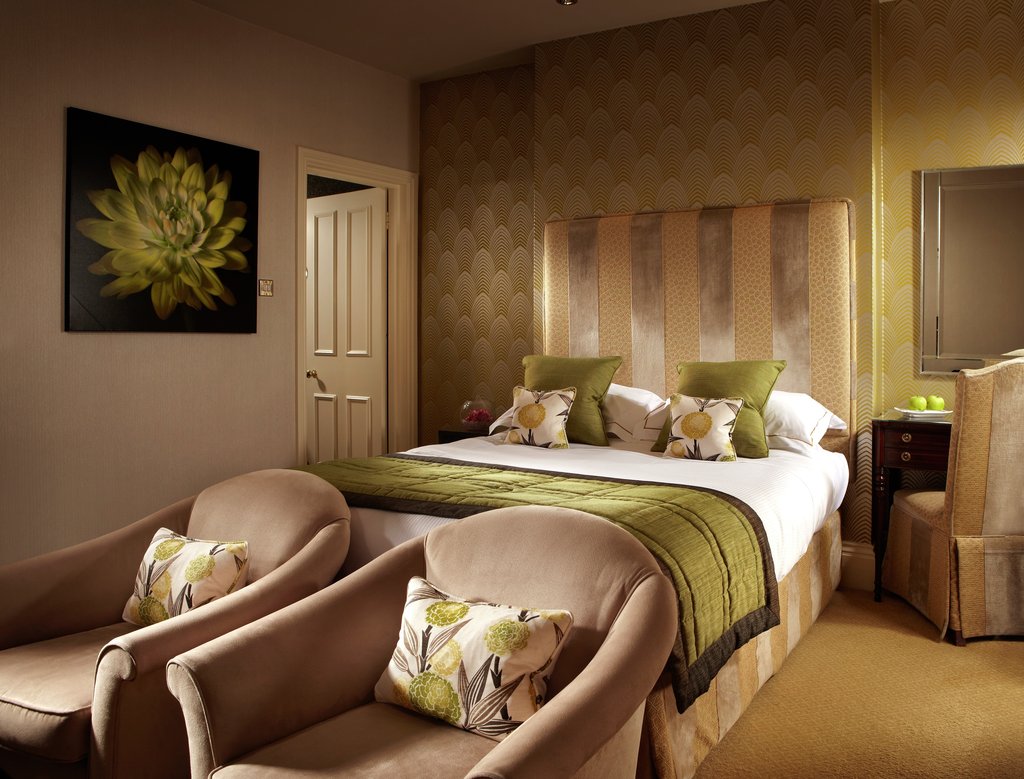 Comfy King
Sleeps: 2 People.
Our comfy rooms average 30 square meters and offer a cocoon of comfort. Each room is finished with bespoke furniture and comfortable seating, and presents a sumptuous bathroom with bathtub and shower.
From per night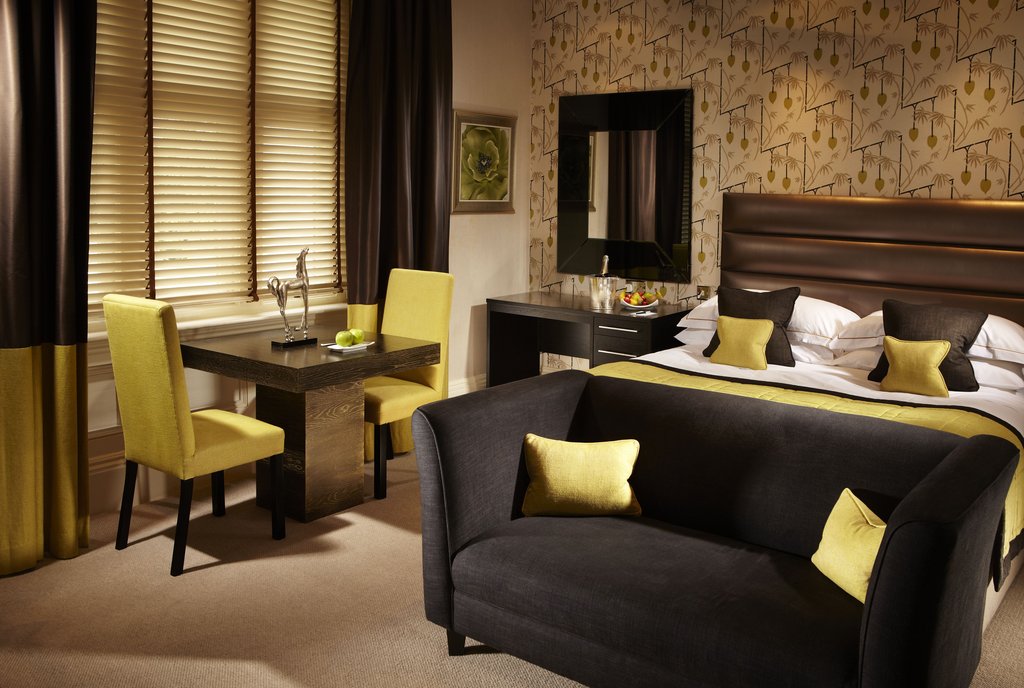 Luxury King
Sleeps: 2 People.
Luxury Rooms combine modern style with traditional warmth and comfort. Many bathrooms include a polished Victorian Bateau style bathtub with separate shower and twin vanity unit. Size: 35 sqm.
From per night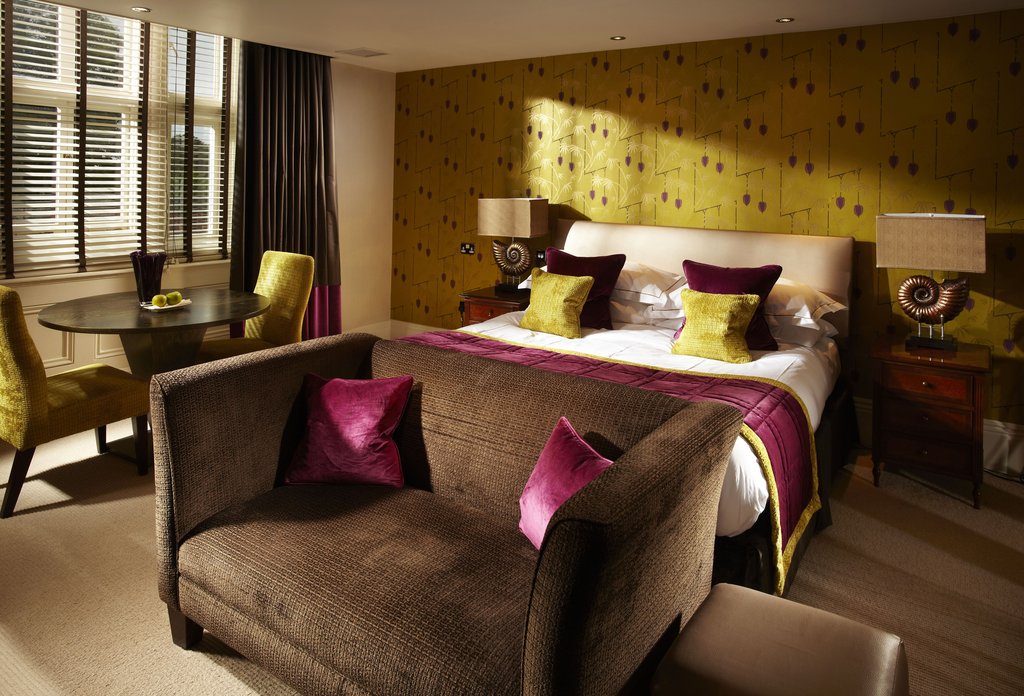 Junior Suite
Sleeps: 2 People.
Junior Suites are individually unique and comfortably stylish. Each suite has a deep comfortable seating area and a large bathroom with a twin vanity unit, bathtub and rain shower. Size: 40 sqm.
From per night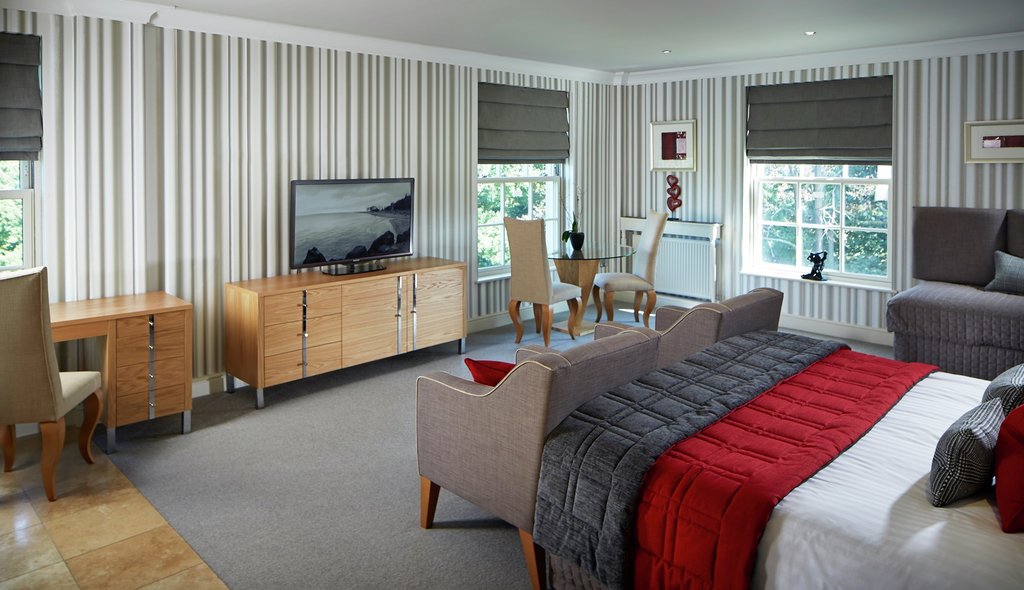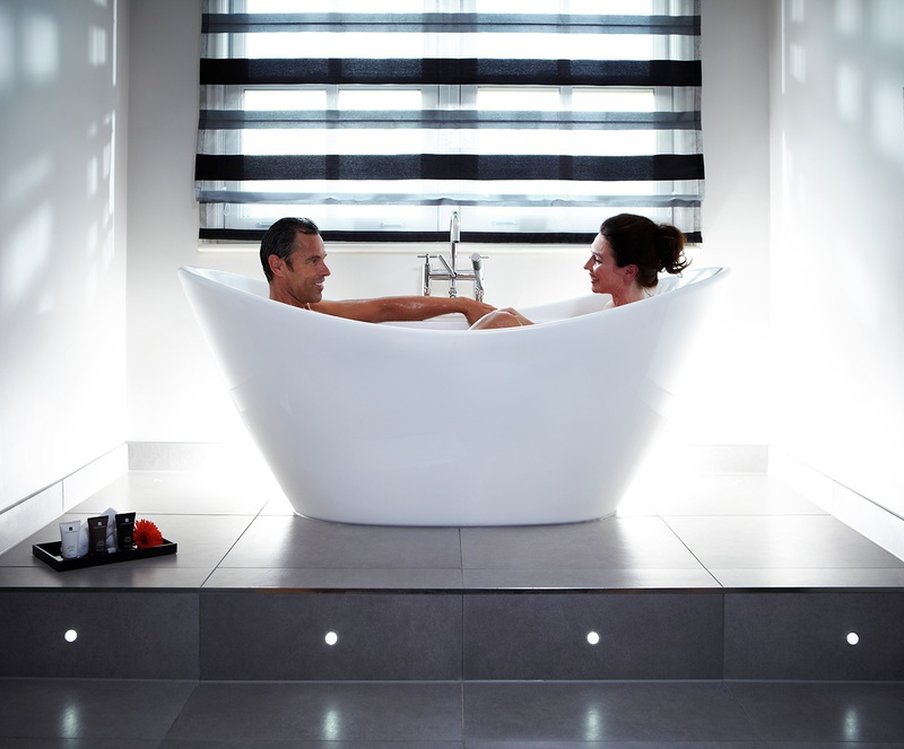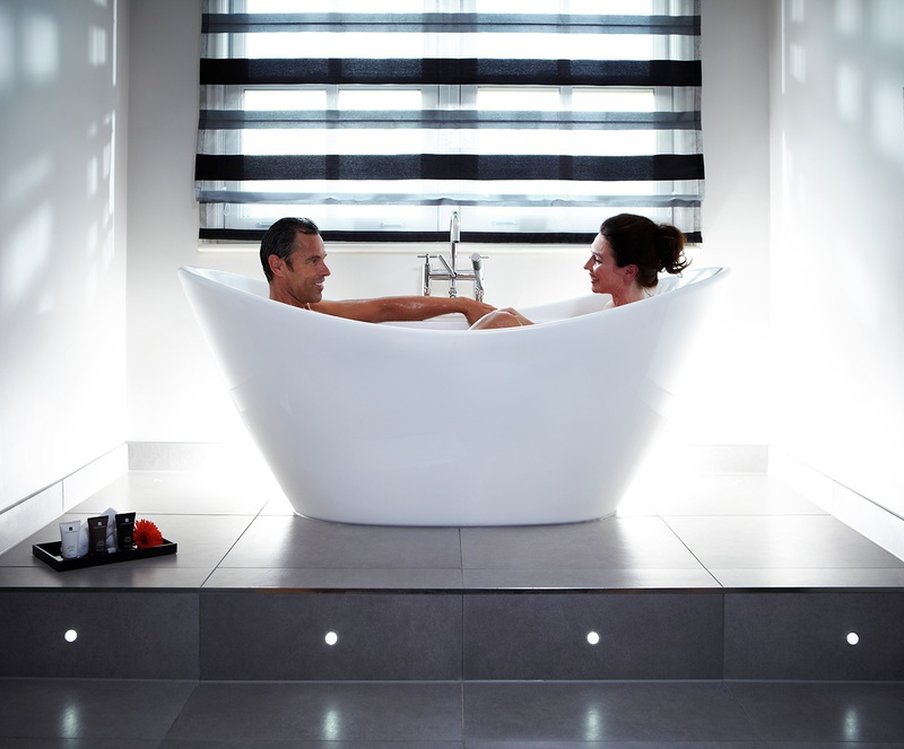 Spa Suite
Sleeps: 2 People.
Spa Suites are pleasingly spacious with deep comfortable seating and views across our beautiful gardens and grounds. Size: 55 sqm.

The large bathrooms boast an impressive unique feature: an oversized bathtub, walk in rain or steam showers or underfloor heating.
From per night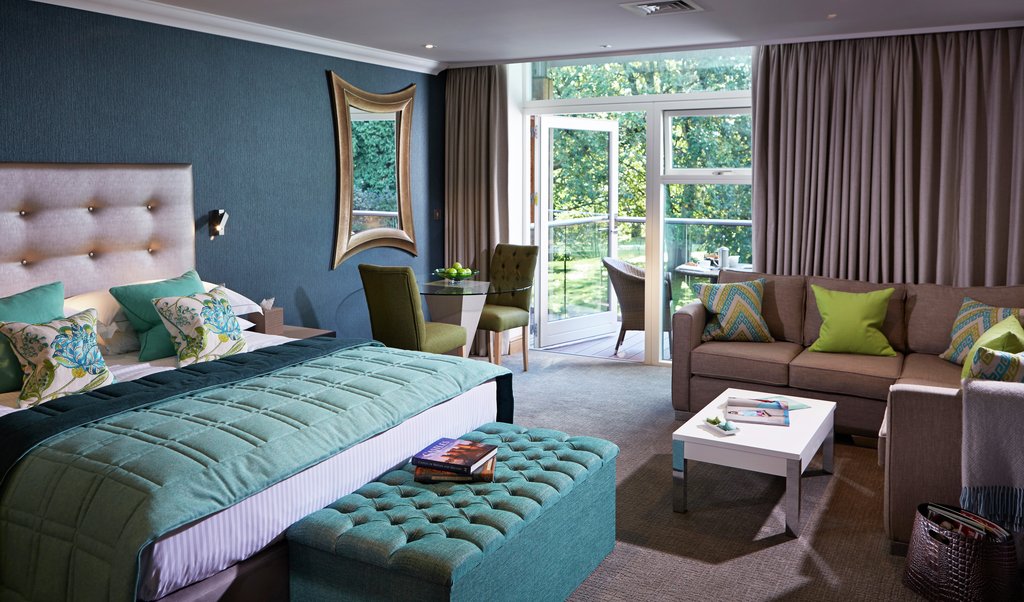 Garden Suite
Sleeps: 2 People.
Averaging 50 sqm, our stylish air conditioned Garden Suites are spacious with deep comfortable seating and views across our gardens.All rooms have a private terrace or balcony with table and chairs.

Each bathroom has an impressive oversized bathtub designed for two, separate walk-in rain shower, twin vanity units and under floor heating.
From per night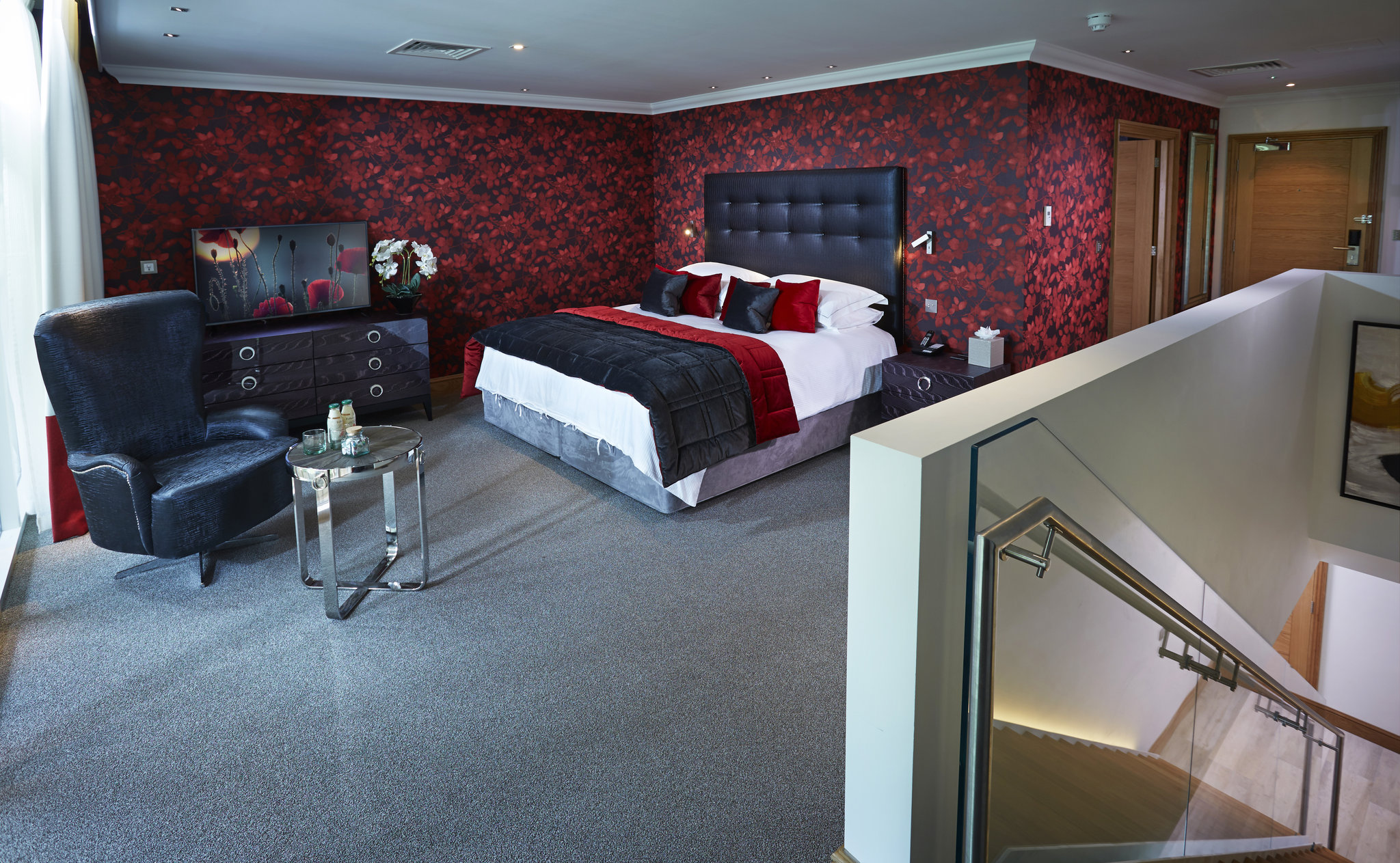 Deluxe Garden Suites
Sleeps: 2 People.
Larger than our Garden Suites, our Deluxe Garden Suites provide even more space, Super-king bed with seating and dining area with your own dedicated mobile concierge.

With an oversized bathtub for two, walk in rain shower, underfloor heating and four mood lighting settings for your super-king bed, all that's left to do is let your imagination run wild.
From per night
Master Suite
Sleeps: 2 People.
Our beautifully appointed Henley Master Suite offers warmth, comfort and 115 square meters of generous space. The room features a separate lounge with deep comfortable seating.

Bespoke furniture and views across our stunning South Lawn. The large bathroom has a raised standalone bathtub, separate rain shower, twin vanity unit and flat screen TV.
From per night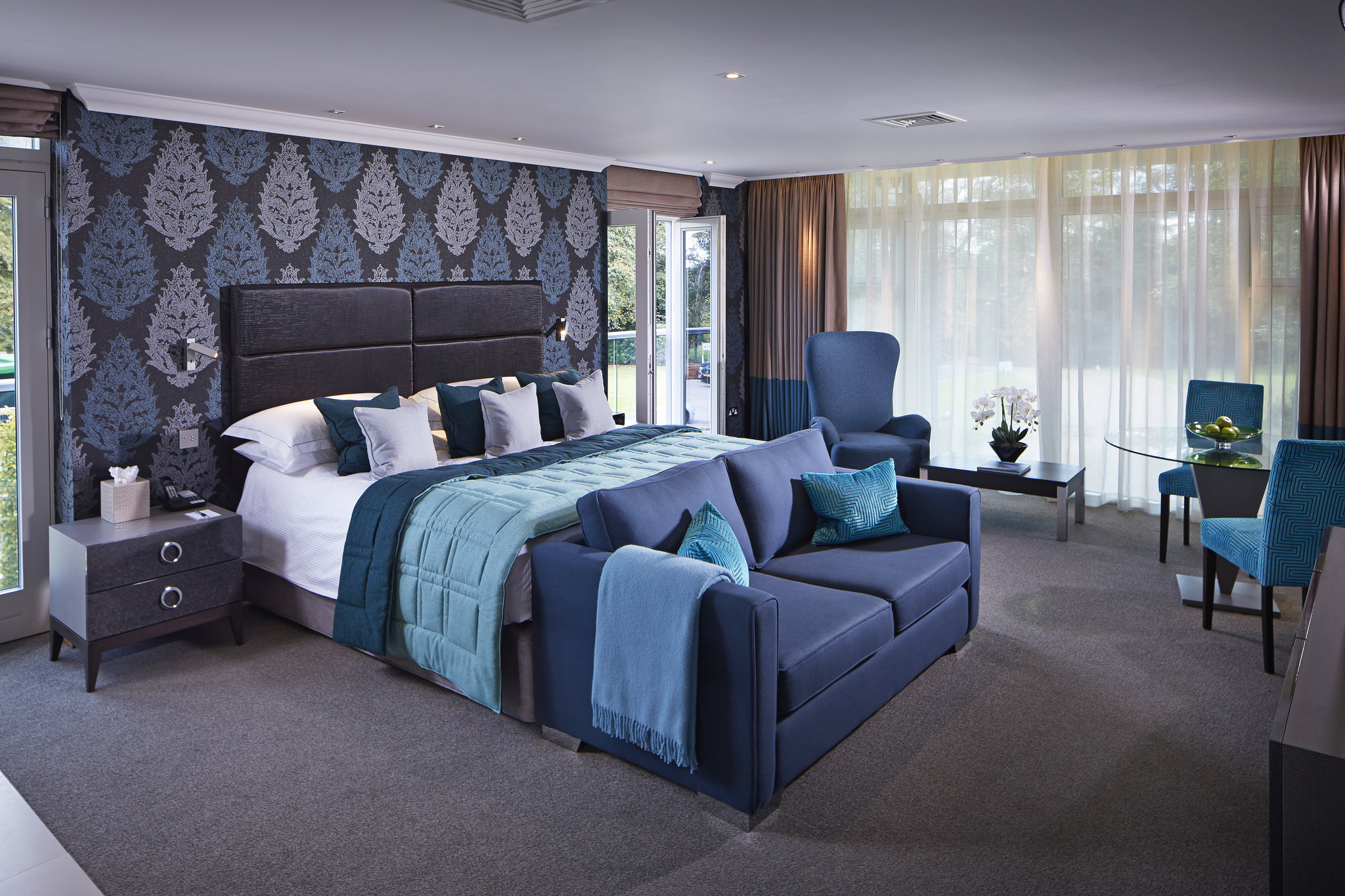 Duplex Master Suite
Sleeps: 2 People.
Nearly twice the size of our Garden Suites, our Garden Master Suite is truly unique. The suite features a separate lounge, bespoke furniture, views across our stunning gardens and a private terrace.

For the main course, this duplex suite features two luxurious bathrooms; both with walk in rain showers and underfloor heating. Your upstairs bathroom also features an oversized bathtub for two and feature stone built wall. For dessert, choose from four mood lighting options and set your own soundtrack with our fully integrated audio system.
From per night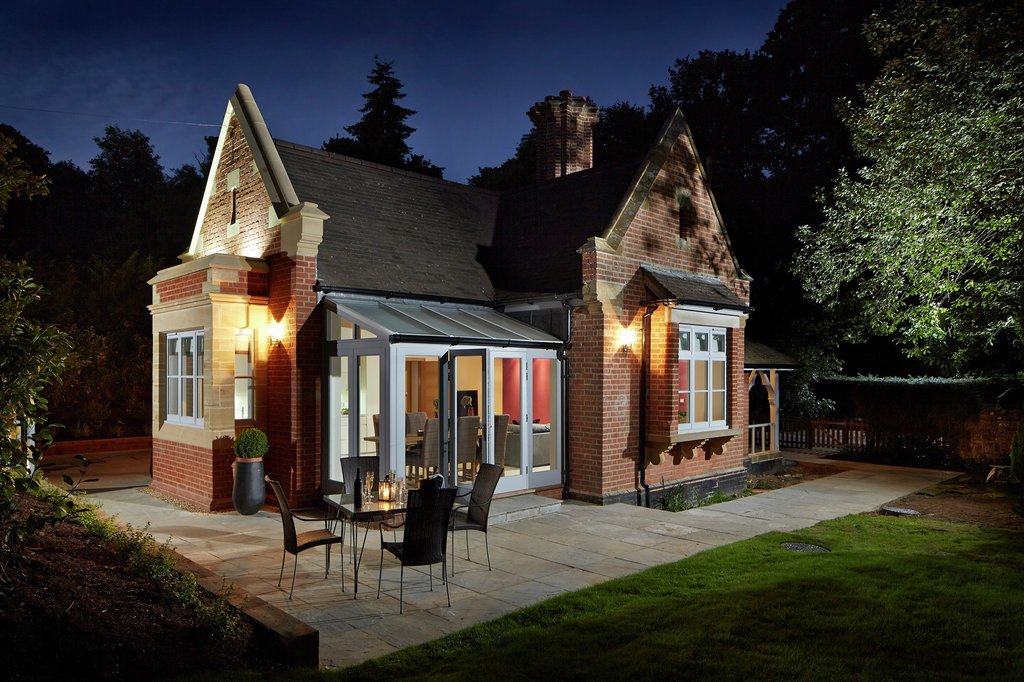 Gatehouse
Sleeps: 4 People.
This fully serviced and equipped 105 square meter property blends classic countryside charm with a distinctively modern style. The Gatehouse sits within our 120 acre estate and offers two bedrooms.

An open plan kitchen, dining, and lounge area, two bathrooms and a private garden and terrace.
From per night
Lounges/bars
Exercise gym
Tennis court
Pool
24-hour room service
Airport shuttle
Wedding services
Join INVITED and get 10% off exclusive rates. Plus early check-in and late check-outs among other benefits.
24-hour front desk

24-hour room service

24-hour security

Accessible facilities

Accessible parking

Aerobics instruction

Air conditioning

Airport shuttle

Bell staff/porter

Business Center Services

Children welcome

Concierge desk

Continental breakfast

Doctor on call

Dry cleaning

Early check-in

Elevators

English breakfast

Exercise gym

Family plan

Flip charts

Free parking

Full service housekeeping

Gift/News stand

Hairdresser/barber

Half board/modified American plan

Handicap Parking

Health club

High speed internet connection

Housekeeping - daily

Jogging track

Late check out guarantee

Local calls

Lounges/bars

Massage services

Meeting rooms

Newspaper

Overhead projector

Pets not allowed

Poolside service

Post/parcel service

Restaurant

Room service

Safe deposit box

Security

Shoe shine stand

Solarium

Spa

Tennis court

Turndown service

Wakeup service

Wedding services

Wi-Fi is available in the guest rooms only and is free of charge.
AM/FM radio

Bathrobe

Bathroom amenities

Bathtub

Color television

Desk

Hairdryer

Internet access

Lighted makeup mirror

Minibar

Newspaper

Non-smoking

Remote control television

Safe

Satellite television

Telephone
Indoor pool

Jogging trail

Mountain biking trail

Pool

Whirlpool
AG's 3 Rosette Restaurant & Reflections Restaurant
Reflections Restaurant
Cuisine type: International
Meals served: Breakfast, Lunch, Dinner
Inspired by natural colours and modern day simplicity; Reflections is perfect for a more relaxed style of dining. Reflections Restaurant has a Champagne Bar; open air courtyard and showcases a robust menu serving light snacks; three course meals; and filled with home grown favourites. Sussex County is blooming with wonderful produce; making it easy for our brigade to handpick ingredients for their freshness and quality.
AGs Restaurant
Cuisine type: International
Meals served: Lunch, Dinner
We take influences from classic dishes; work with innovative cooking techniques and use our South East environment as a basis for our food philosophies. Our menus are inspired by the countryside; woodland; land and field and we bring dishes to life through clever use of colours; textures and theatrical presentation. AGs Restaurant dress code is elegantly smart. We do not require gentlemen to wear jacket and tie but we do not permit sportswear or trainers.
At the award winning Utopia Spa, we believe in making your experience holistic - healing your body and soothing your soul. The atmosphere is one of pure tranquillity, with marble and granite designs, subterranean plunge pools, domed ceilings and Grecian columns. Slip into a robe and prepare in a personal changing room fitted with steam room, sauna and monsoon showers. Inhale our fragrant essential oils and let one of our highly skilled therapists soothe you with a personally tailored sensory experience. Then, take as much time as you need and relax in one of our hot spas or sip tea in the spa garden. Then retire to one of our 19 specially designed spa bedrooms with direct access to our spa facilities, including a state of the art gymnasium and a range of fitness classes.
Reviews
These reviews are the real opinions of INVITED members and we have verified their stay at the hotel.
What I liked most :

Leisure facilities (11)
General service (9)
Guestroom and bathroom (9)
Location (8)
Welcome and departure (8)
Restaurant and dining (7)
Breakfast (6)
Internet and wifi (3)

Read Reviews

Pricey, overrated SPA Resort with easyjet mentality - be aware that SPA usage is not included!

June 2019

My Trip Type:

Couple

For more than 300 GBP a night, we were assigned a room with one very small window overlooking the hotel gravel courtyard that also serves as hotel parking space. The room was so small that we wouldn't have been able to open both suitcases in it. After many discussions and referring to having booked via SLH.COM, we were upgraded to a nice room. It took an hour before we could eventually settle in. The gym is nice but the Technogym equipment looks at least 20 years old and was partially broken. They featured 3 treadmills and one elliptical. Resistance training equipment was mainly for lower body workout. They had one chest press and one LAT pully and a set of very old dumbbells between 10 and 20 KG plus one (broken) bench and one even older barbell, but no rack for it so it is impossible to use it for chest press exercise. Long story short, the gym, while spacious, is disappointing. The SPA is average; a nice swimming pool and some saunas plus a jaccuzi in the garden. But you have to pay 20 GBP a night PER PERSON to be able to use it. Breakfast quality is like Tesco on a bad day, buffet is not better that at holiday inn business hotels. Everything we (and our neighbour table) ordered from the menu was overcooked. And if you chose what they call "breakfast specialities" (including banalities such as Eggs Benedict), they charge you 3 GBP extra!

Top tip for other guests:

Be aware that this is a Spa resort where the usage of the Spa facilities is charged 20 GBP per person per night, effectively adding 40 quid to your (expensive) room rate. And be aware that breakfast is not completely included. Also be aware that the expensive Cedar Lodge Suites overlook either the gravel driveway or the gravel parking lot.

What I might improve

Welcome and Departure
Guest Room and Bathroom
Breakfast
Leisure facilities

May 2019

My Trip Type:

Couple

Every thing was perfect, A special thank you to Anna at the front desk.

Top tip for other guests:

Close to Gatwick airport, perfect for a restful stay at the start and end of a vacation in the Uk

What I liked most

Welcome and Departure
Location
General Service
Local knowledge and experience
Guest Room and Bathroom
Breakfast
Restaurant and dining
Room Service
Leisure facilities
Internet and wifi

More training required for some staff in how to talk to guests.

March 2019

There were none.......only the bad ones.

Top tip for other guests:

Make sure you check the menu for AG's restaurant still applies for the day you are reserved for if you are particular with what you like to eat.

What I liked most

What I might improve

Stay+date:+March+2017

My Trip Type:

Couple

Rooms are very comfortable, with luxury touches & a warm ambience. Staff are generally helpful & friendly. Food is good quality, as are the spa treatments - though the spa pool area is not huge & can get crowded, so best to go there at quieter times. The bar staff make excellent cocktails - definitely worth a try.

Top tip for other guests:

The Henley Suite or Cedar Lodge Master Suite are worth upgrading to if you like extra space & a separate living room. Rooms in the main house are more convenient for the spa.

What I liked most

Guestroom and bathroom
Leisure facilities
Local knowledge and experiences
General service

A great experience, one or two grumbles

Stay date: January 2017

My Trip Type:

Family

Lovely setting. As frequent travellers here and abroad we had the best bedroom that we've had in a hotel for years, and so did our son. Fantastic spa, and two excellent restaurants. And you've got very nice staff. But we found that the splendid sitting room was rather too often out of bounds. For the whole of one day it was closed off for the participants in a conference. On another afternoon we were told we couldn't sit in the room as they were serving the afternoon tea, one of the hotel's signature offerings. So we said that in that case we'd take the tea too, but apparently it was all pre-booked and there were no tables available for us. This is really the only sitting room in this rather fine house, and this seemed very deficient for such an otherwise good hotel. A senior manager was alerted to our concern and offered us champagne, where we had had to plant ourselves in the rather scruffy ante-room to the second restaurant, which was kind of him, but we asked for tea instead. The service for things like this was always very prompt and the staff were always very friendly. Apart from the two in-house restaurants we found excellent places to eat in and around Turner's Hill - a high standard Indian restaurant in the village, and we had a lunch and a dinner at the very friendly Gardeners Arms down the road at Ardingly. We rounded every evening off at the hotel bar, which was excellent until the evening when it was overrun by a large crowd from a pretty down-market conference. Lots of joshing about and noise, very unpleasant people standing behind us shouting into mobile phones, and complete collapse of the bar service. So we abandoned ship. All rather a shame. So the big drawback, apart from the erratic availability of the grand sitting room, is the fact that the hotel appears to rely heavily on conference parties, and they can overwhelm it so far as the resident guests are concerned. There were other conferences going on at the same time which we didn't notice so much - quieter people who didn't take the hotel over. But of course you can't really control what sort of groups these are. Shame if you come, as we did, for a quiet few days away. We'd like to stay again, but next time would like some sort of assurance that the place won't be taken over like this. But again, the staff were ever so nice, and they really looked rather embarrassed at all this.

Top tip for other guests:

Check if there are any big conferences going on at the time of your stay. But it's a great hotel.

What I liked most

Leisure facilities
Guestroom and bathroom
Restaurant and dining
Breakfast
General service
Location

Excellent service and very relaxing

Stay date: September 2016

My Trip Type:

Couple

Fabulous location and facilities made this a very relaxing break, the spa is excellent and the staff throughout the hotel were brilliant

Top tip for other guests:

Enjoy it

What I liked most

General service
Leisure facilities
Restaurant and dining
Welcome and departure
Guestroom and bathroom
Location

Perfect calming relaxing venue

Stay date: May 2016

My Trip Type:

Couple

Although perfect in most other aspects the experience of the private hot tub was not great or good and the outside hot tub was plagued with wasps flying about thus spoiling the relaxation. Allocated bedroom had no appeal, small TV placed high up on wall, had to crick your neck to watch. Bed was placed in tight corner with Uncomfortable bed

Top tip for other guests:

Usually good

What I liked most

Restaurant and dining
Leisure facilities
Location
Welcome and departure

What I might improve

Leisure facilities
Guestroom and bathroom

Absolutely the perfect escape

Stay date: March 2016

My Trip Type:

Couple

Our upgrade was a lovely surprise, totally over whelmed ! Being a 'loved member' included a great breakfast too The new 'hot tub' was out of this world, a great experience Can't wait to return again soon .... All staff excellent ....

Top tip for other guests:

The relaxation

What I liked most

Leisure facilities
Breakfast
Location
Welcome and departure
Restaurant and dining
Guestroom and bathroom

Stay date: November 2015

My Trip Type:

Couple

Although we had a couple of abrupt calls with the hotel prior to our stay, the welcome couldn't have been more warm. We were greeted and checked in effortlessly, shown to our room and given a bit of a tour. Our room was amazing, looks liked we'd been upgraded! We had a 4 poster in a massive room. Huge bathroom too. Afternoon tea was wonderful. Although it was cold there was lots of open fires and quiet nooks for you to hide away in. Highly recommend this hotel. Great staff, beautifully quirky too. Absolute luxury

Top tip for other guests:

Afternoon tea!

What I liked most

Breakfast
Guestroom and bathroom
Welcome and departure
General service

What I might improve

Internet and wifi
Restaurant and dining

An overall wonderful experience

Stay date: September 2015

My Trip Type:

Couple

EVerything was first class, including the attitude of the staff

Top tip for other guests:

Just relax and enjoy the luxury

What I liked most

Location
Welcome and departure
General service
Guestroom and bathroom
Internet and wifi
Leisure facilities

What I might improve

A relaxing stay in an idyllic setting

Stay date: June 2015

My Trip Type:

Family

A great place to chill out and relax. Our room was spacious and very comfortable. The Spa is fantastic and we had a wonderful massage each. The food and wine are great and the staff are very welcoming and helpful.

Top tip for other guests:

Plan ahead to use the Spa and book a treatment

What I liked most

Welcome and departure
General service
Guestroom and bathroom
Restaurant and dining
Location
Breakfast
Leisure facilities

Stay date: December 2014

My Trip Type:

Business

Very nice hotel for chilling out, ideal to relax from the buzz in a home-away-from-home feeling. Great spa if you have time to indulge yourself. Don't over do the marketing with brochures everywhere though.

Top tip for other guests:

Ideal for flying in/out from Gatwick. Rental car /own transportation with GPS is a must to reach the hotel

What I liked most

Welcome and departure
Internet and wifi
Leisure facilities
General service

What I might improve

Guestroom and bathroom
Breakfast

Stay date: September 2014

My Trip Type:

Couple

Relaxing weekend with great food and wines. What is really great is that with 2 restaurants staying for 2 nights we felt no need to leave the hotel. The spa was also excellent,the pool area, outside hot tub and treatments all lived up to our expectations and more. We would definitely go back.

Top tip for other guests:

Some rooms have better views than others worth a mention at time of booking

What I liked most

Welcome and departure
Breakfast
General service
Restaurant and dining
Location
Guestroom and bathroom
Leisure facilities

Stay date: December 2012

My Trip Type:

Couple

Great spa, wonderful treatments and massages, great room with club member upgrade, breakfast service exceptional.

Top tip for other guests:

The eggs benedict are amazing

What I liked most

Leisure facilities
General service
Guestroom and bathroom

What I might improve