https://origin.slh.com/hotels/cap-rocat-mallorca/
All guests must be aged 15 or over. When making a reservation, please include any guests aged 15 or over within the number of adults.
Hotel Highlights
19th-century former military fortress with drawbridge
Rooms have private patios with panoramic views of Palma
Infinity pool on the fortress walls looking out over the bay
Cap Rocat - Luxury Hotel in Mallorca
Most Sensational Spa - SLH Awards 2018
An historic gem by the sea, minutes from the centre of Palma
A superb refurbishment of an impressive 19th-century fortress has resulted in a captivating and singular, adults-only boutique hotel overlooking the Bay of Palma. Set in 88 acres and stretching along the coastline for two kilometres, Cap Rocat Mallorca is a spectacular hotel providing a collection of stunning rooms and suites, a selection of magical dining venues, private rock cliff beach with direct access to the sea, jetty and salt water pool.
Both the architecture and setting of Cap Rocat is sensational. Wonderfully secluded with a drawbridge, bunkers and suites in former shooting buttresses, the atmosphere is both historic and romantic. Decorated with a clever blend of contemporary and classic furnishings, suites have their own private patio with beautiful sea views.
Wake up to the sound of the sea and enjoy breakfast on your terrace. Play a game of tennis or take a cycling trip and explore the coastal region. Spend your time here enjoying water sports, fishing, diving, sailing and horse riding. In the evenings, dine in Cap Rocat's Fortress Restaurant or in the open-air Cala de la Reina on the waterfront.
29

rooms

2

restaurants

2

floors
The rooms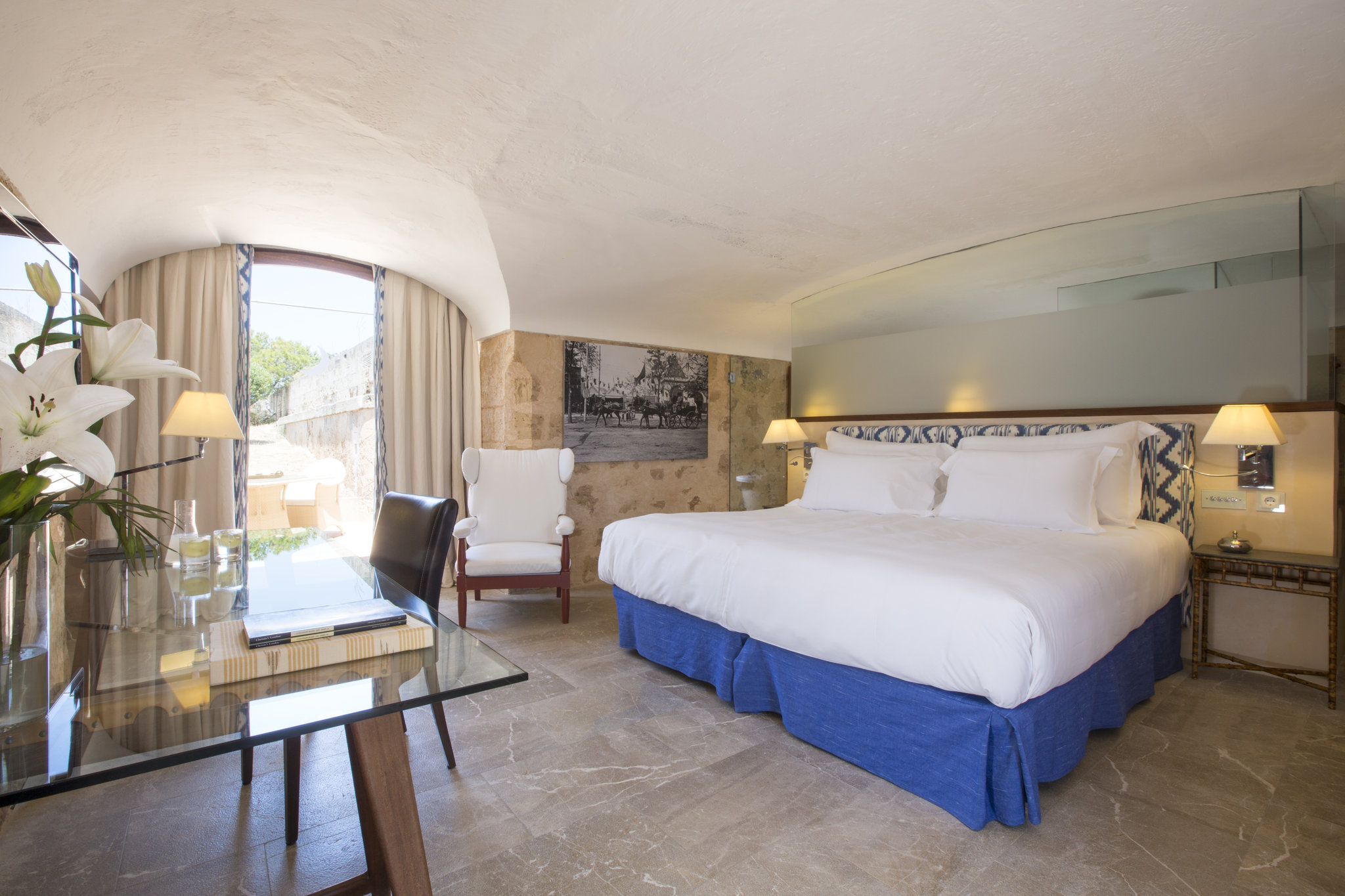 Double Room Fortaleza
Sleeps: 2 People.
These rooms, located along the fortress exterior walls, offer guests the possibility to experience the originality of sleeping in former military quarters.

Combined with the comfort and exclusive services of the hotel. Room size: 20-30 square metres.
From per night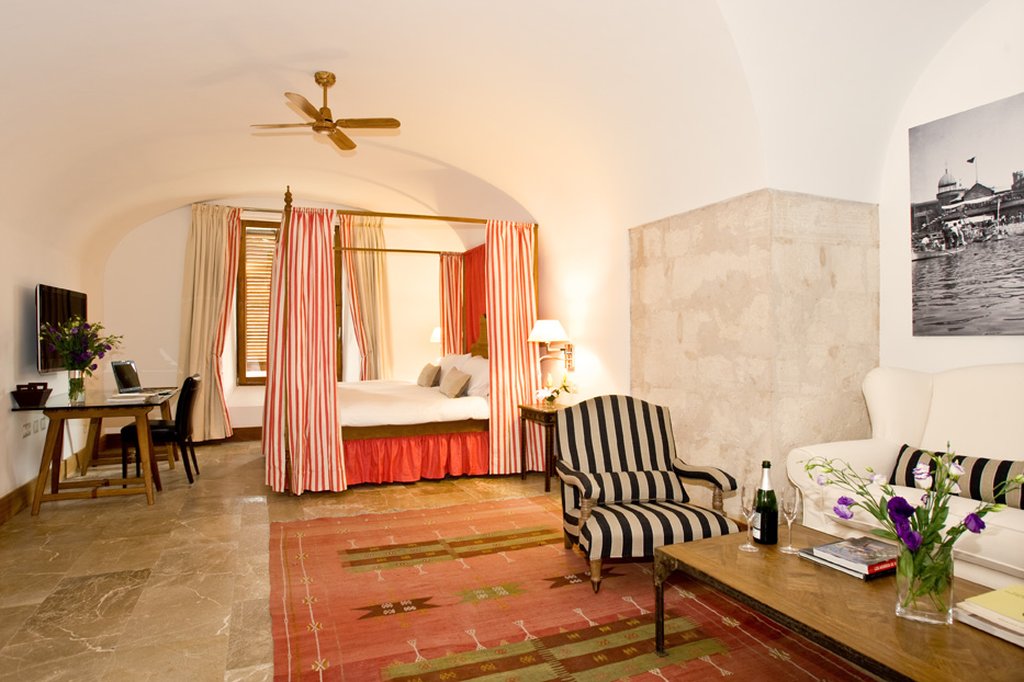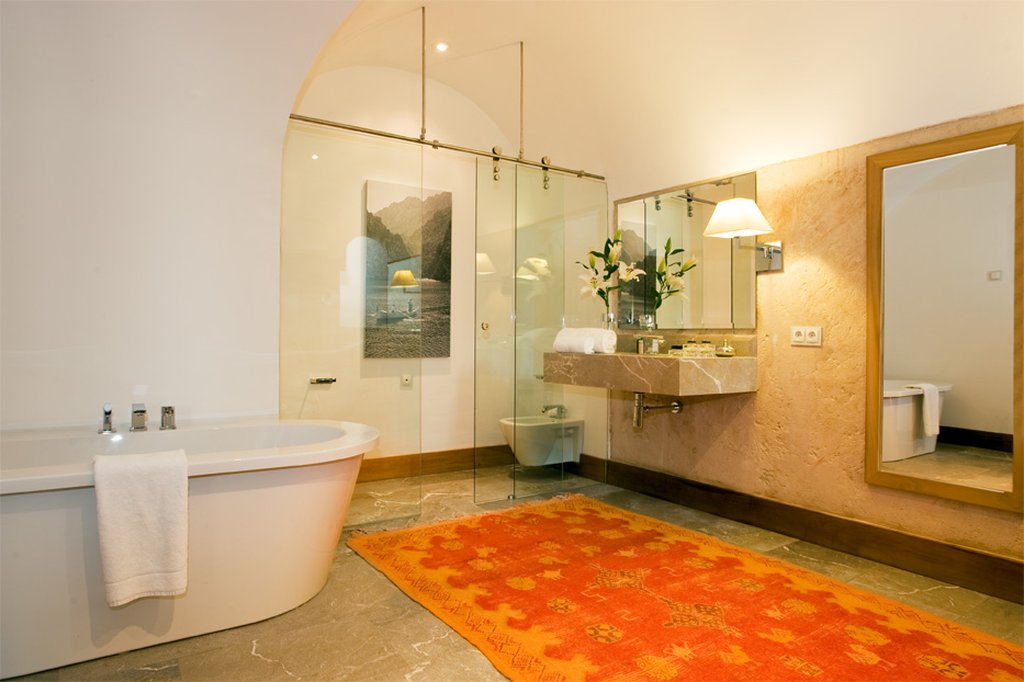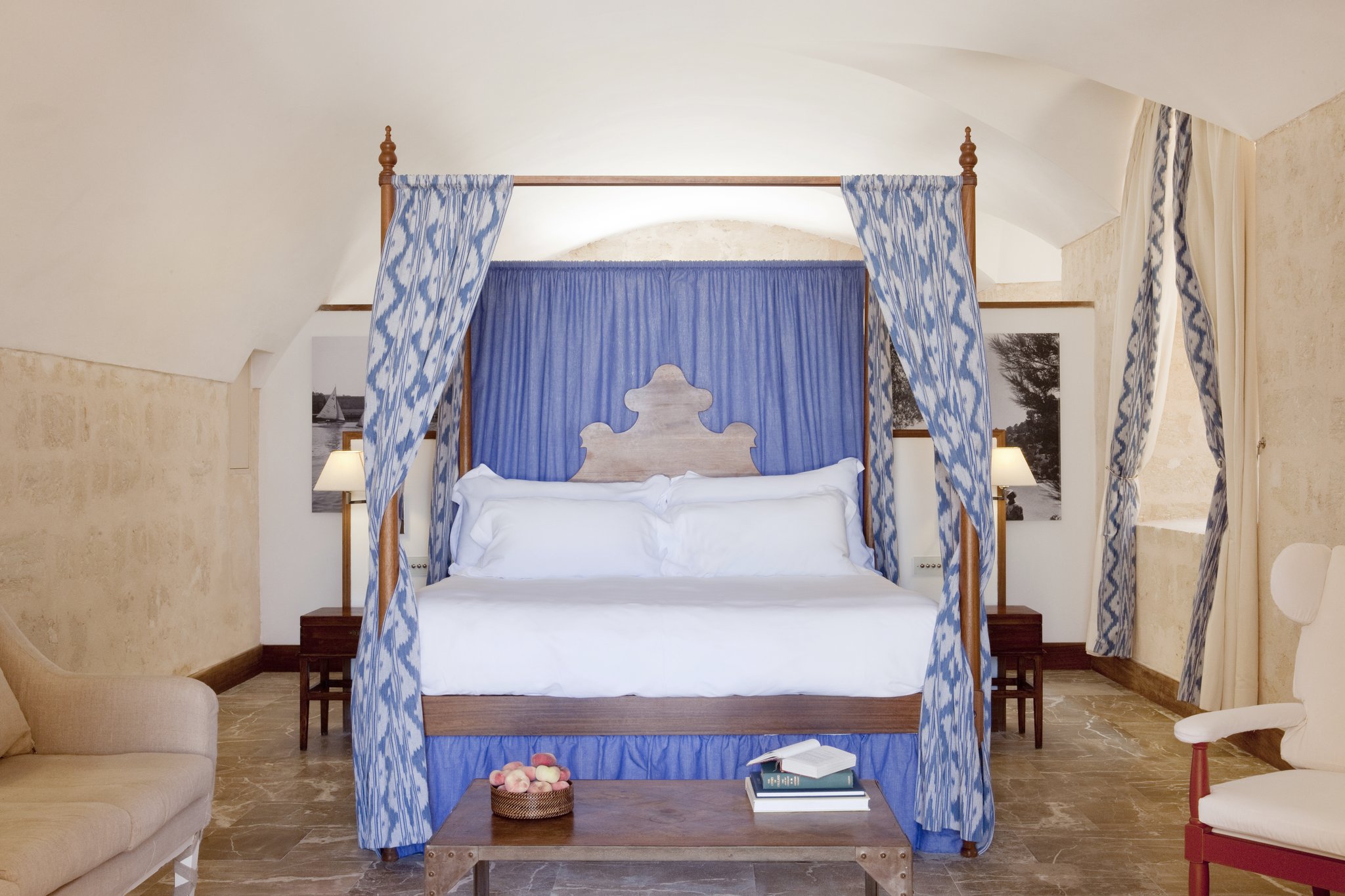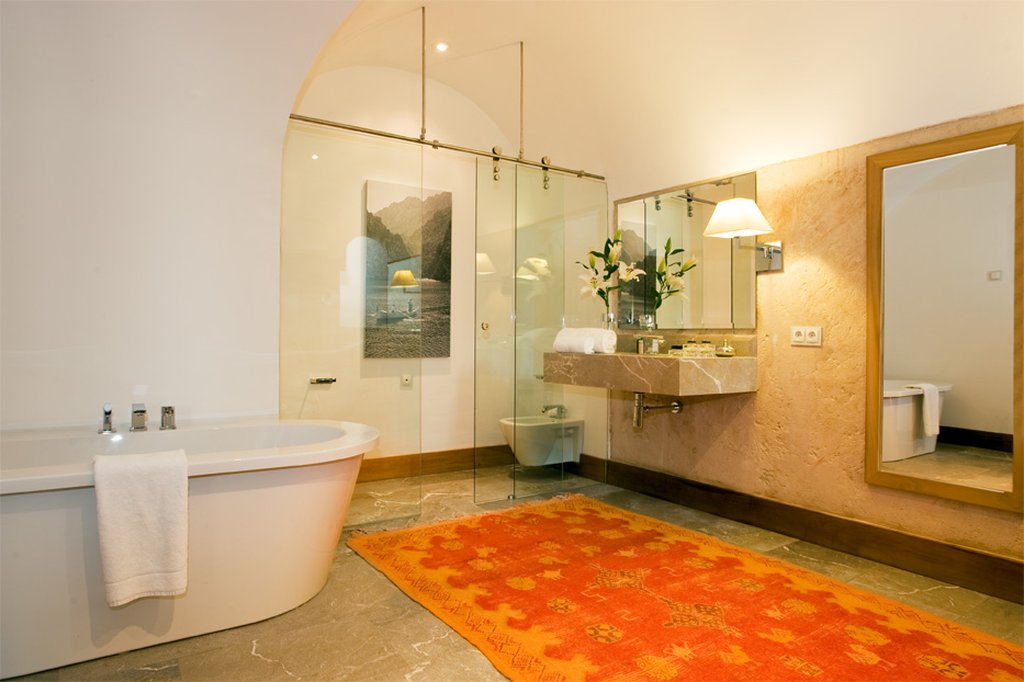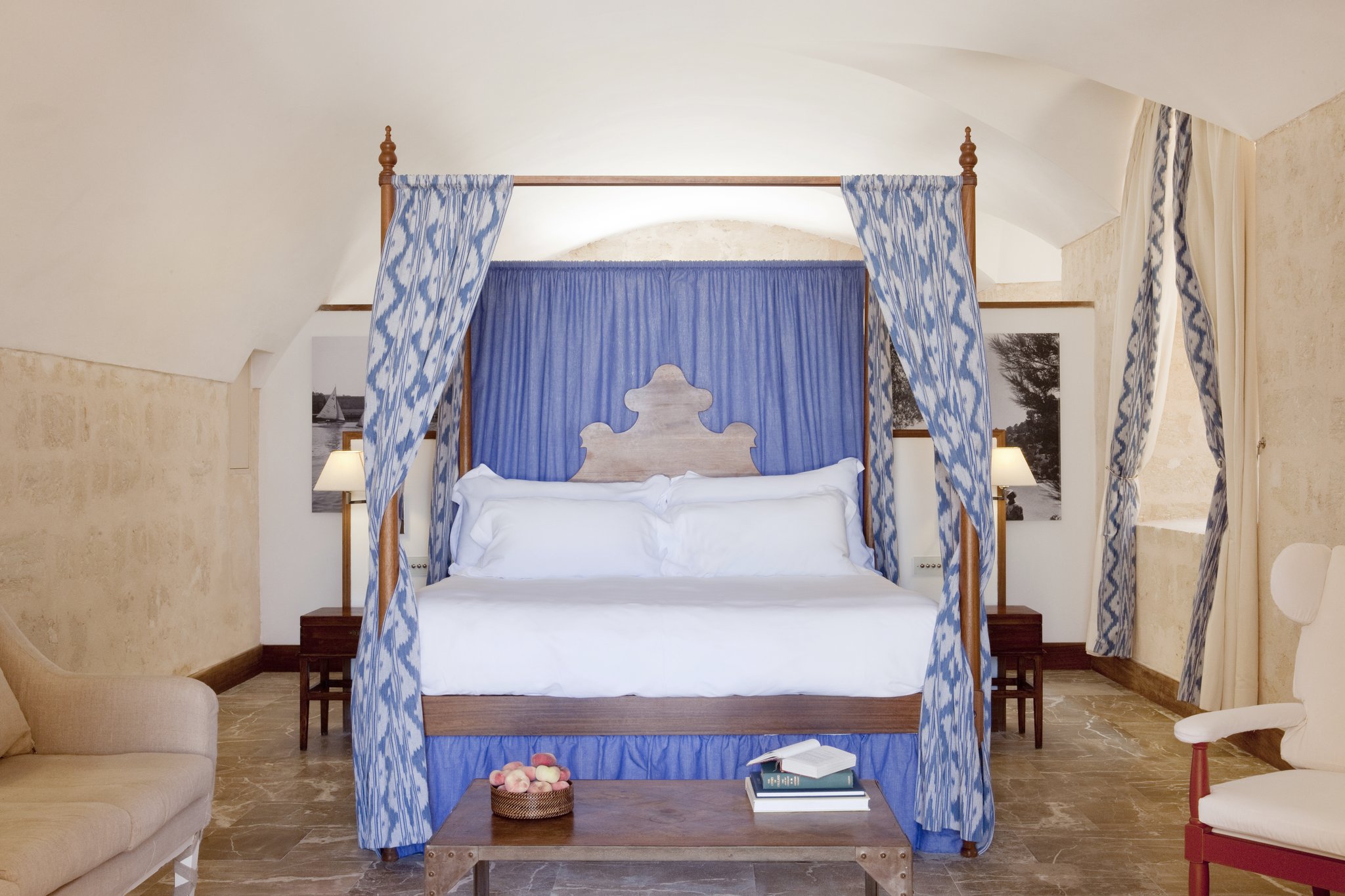 Suite Cap Rocat
Sleeps: 3 People.
The former shooting pads, located on the cliff's edge and with a commanding view of the bay of Palma, have become spectacular suites each with a private patio and terraces.

Room size: 60sqm and additional 30sqm approx. terrace.
From per night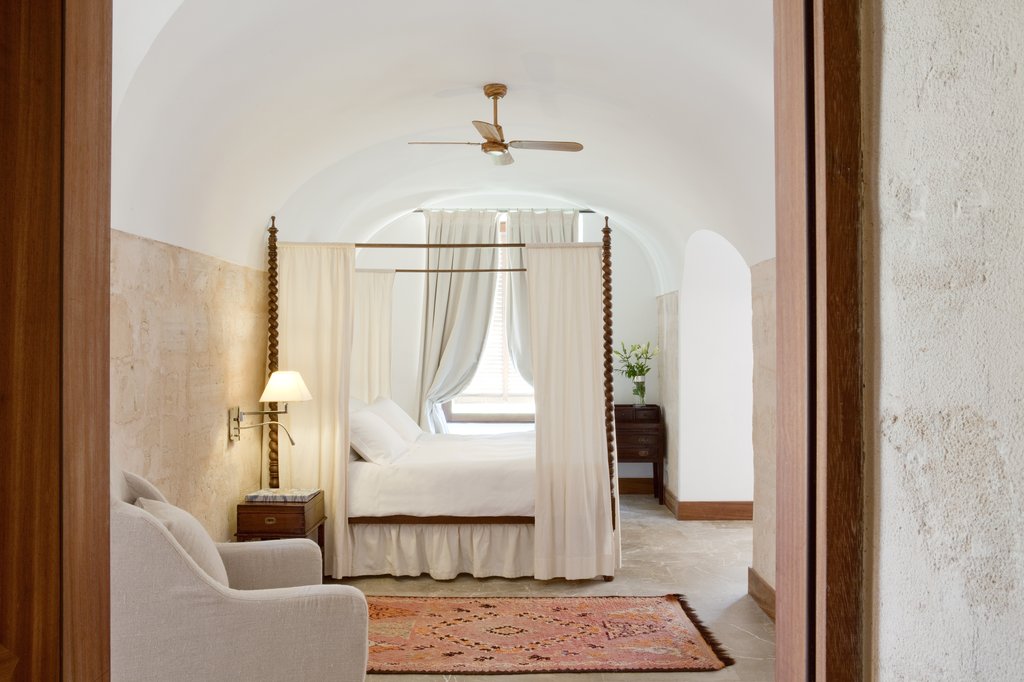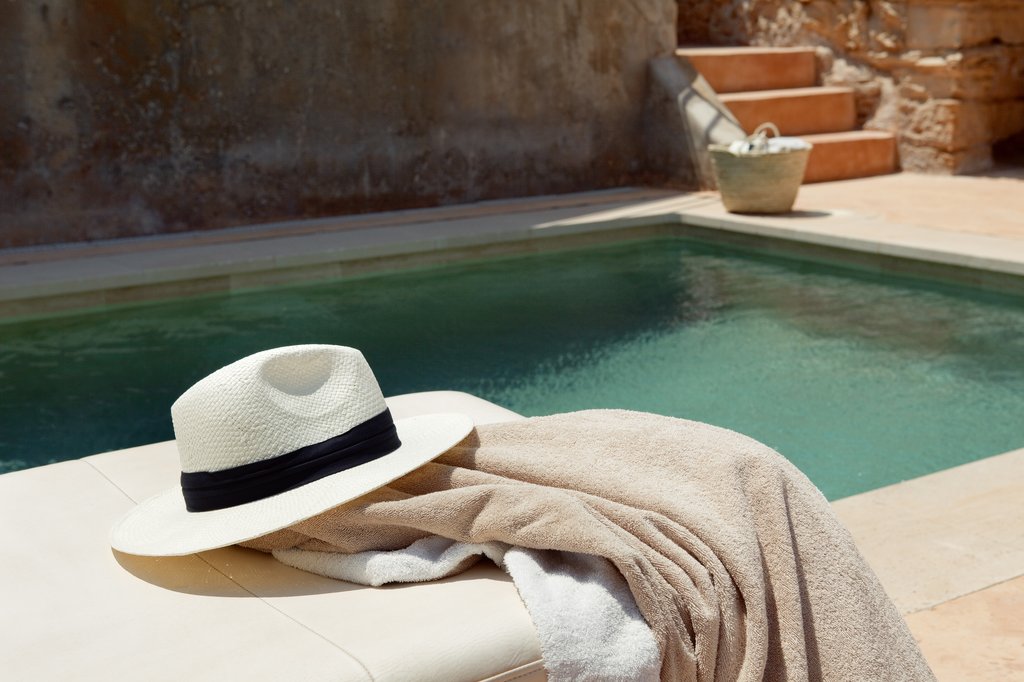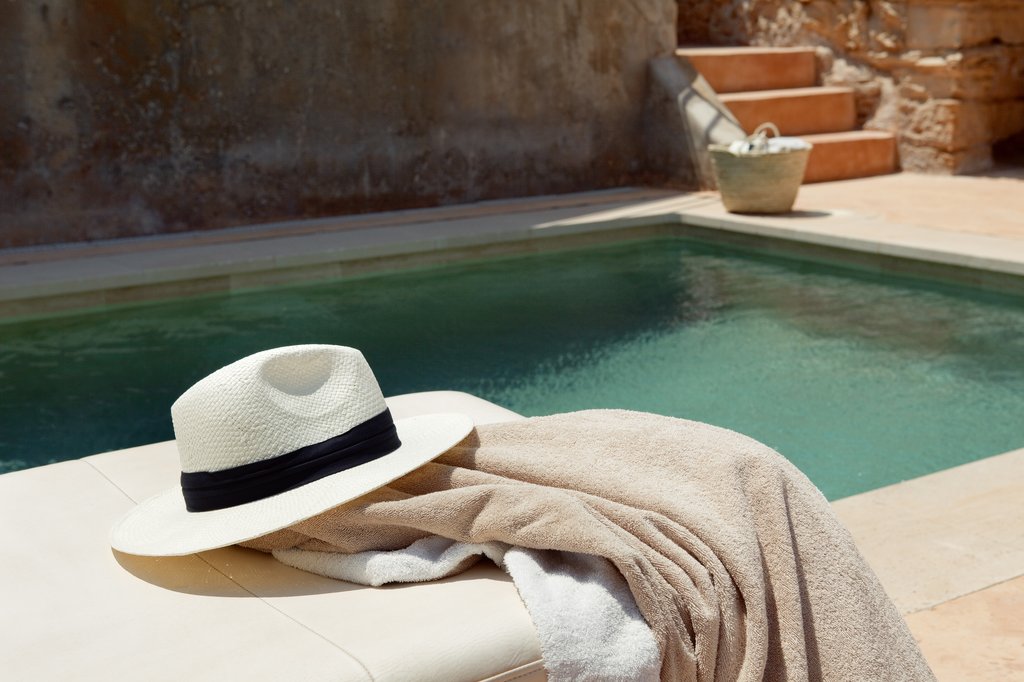 Suite El Cabo
Sleeps: 3 People.
Located in the most exclusive privileged position of the fortress, the Suite El Cabo offers a large, independent living room furnished with unique pieces of art,gardens with private terraces and pool.

Room size: 90sqm indoor space with additional 50sqm approx. of spacious gardens with private terraces and private pool.
From per night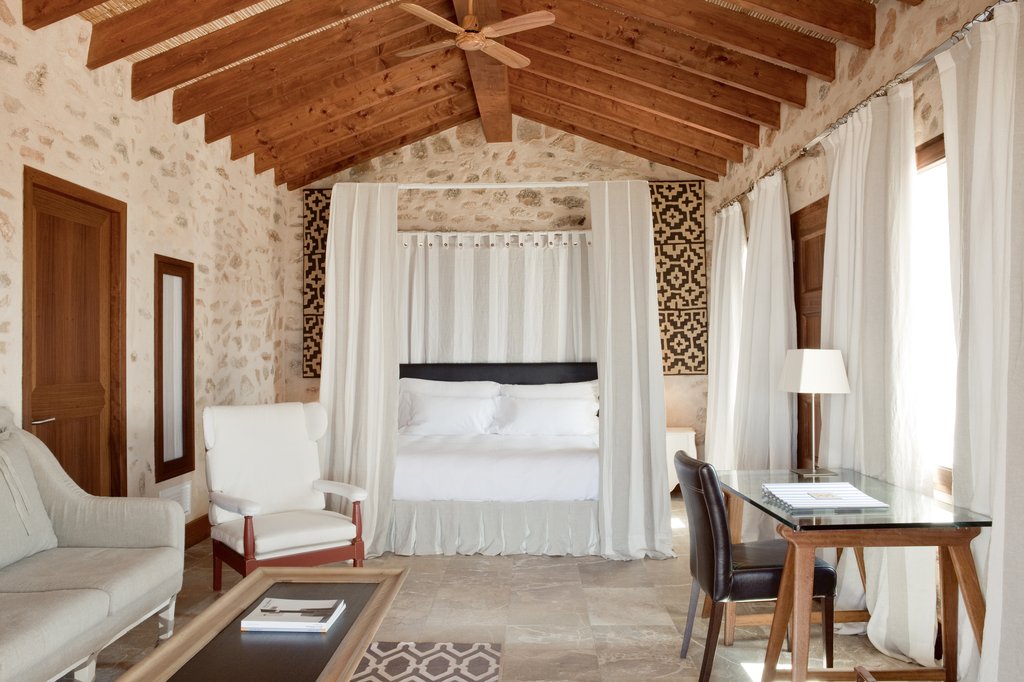 Suite Del Mar
Sleeps: 2 People.
Located steps away from Cap Rocat´s private beach, this isolated suite offers outmost privacy and comfort. Featuring its own private pool and terraces overlooking the magnificent bay of Palma.

This Suite boasts a separate sitting area and bathroom with bath and shower. Room size: 35sqm of indoor space with additional outdoor space of 50sqm approx.
From per night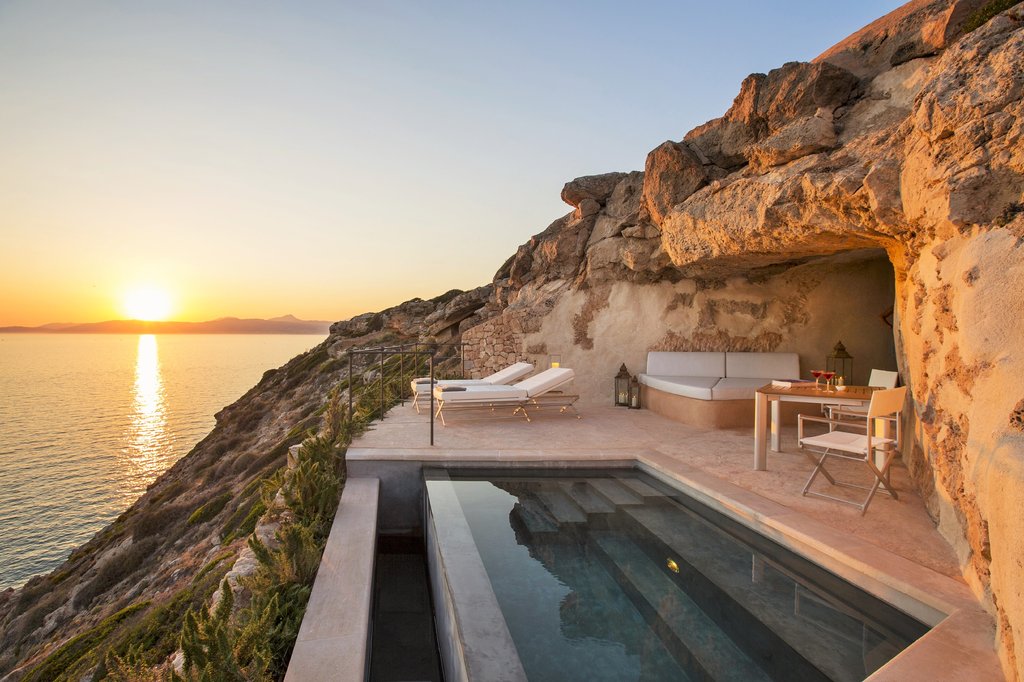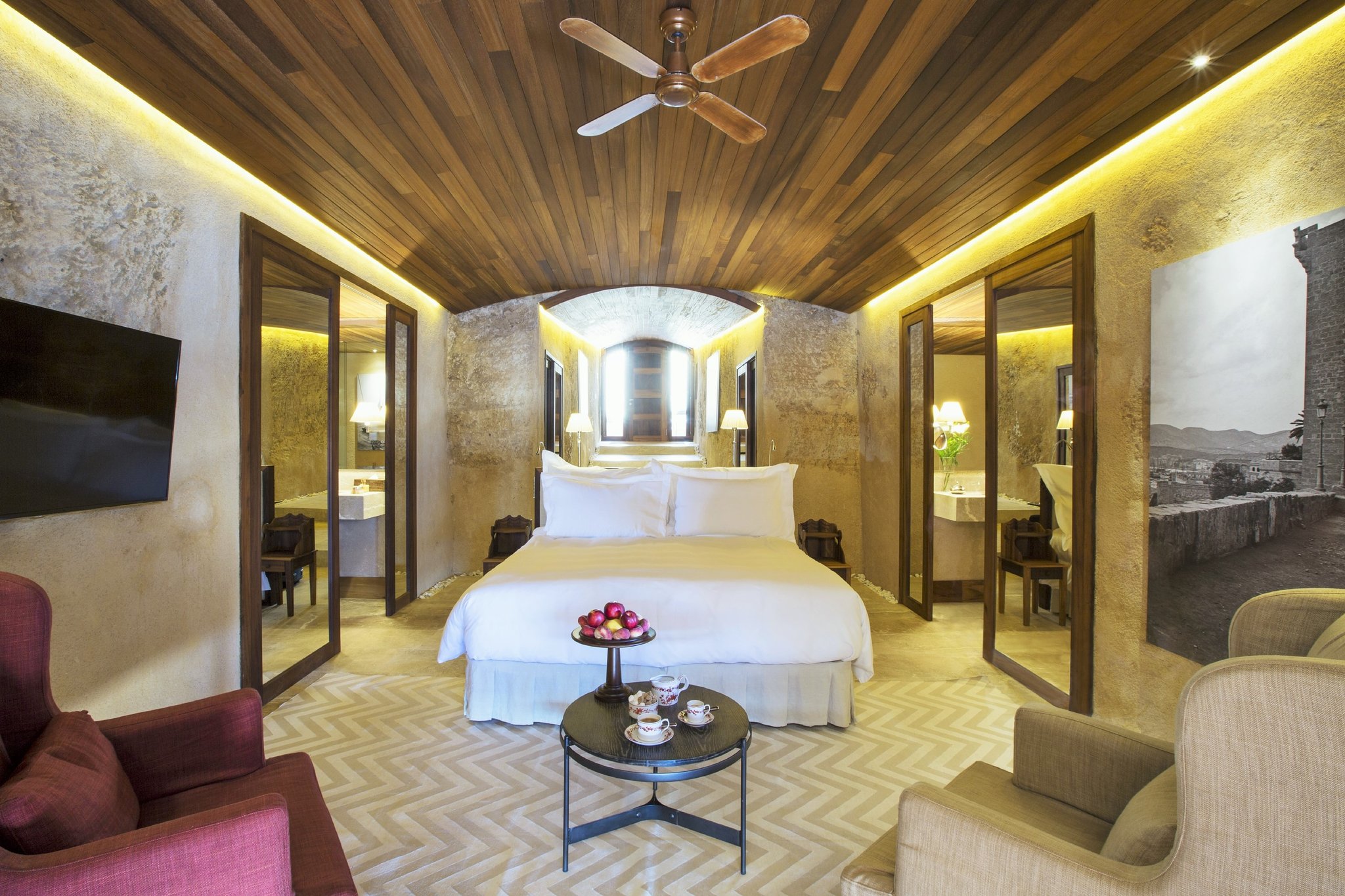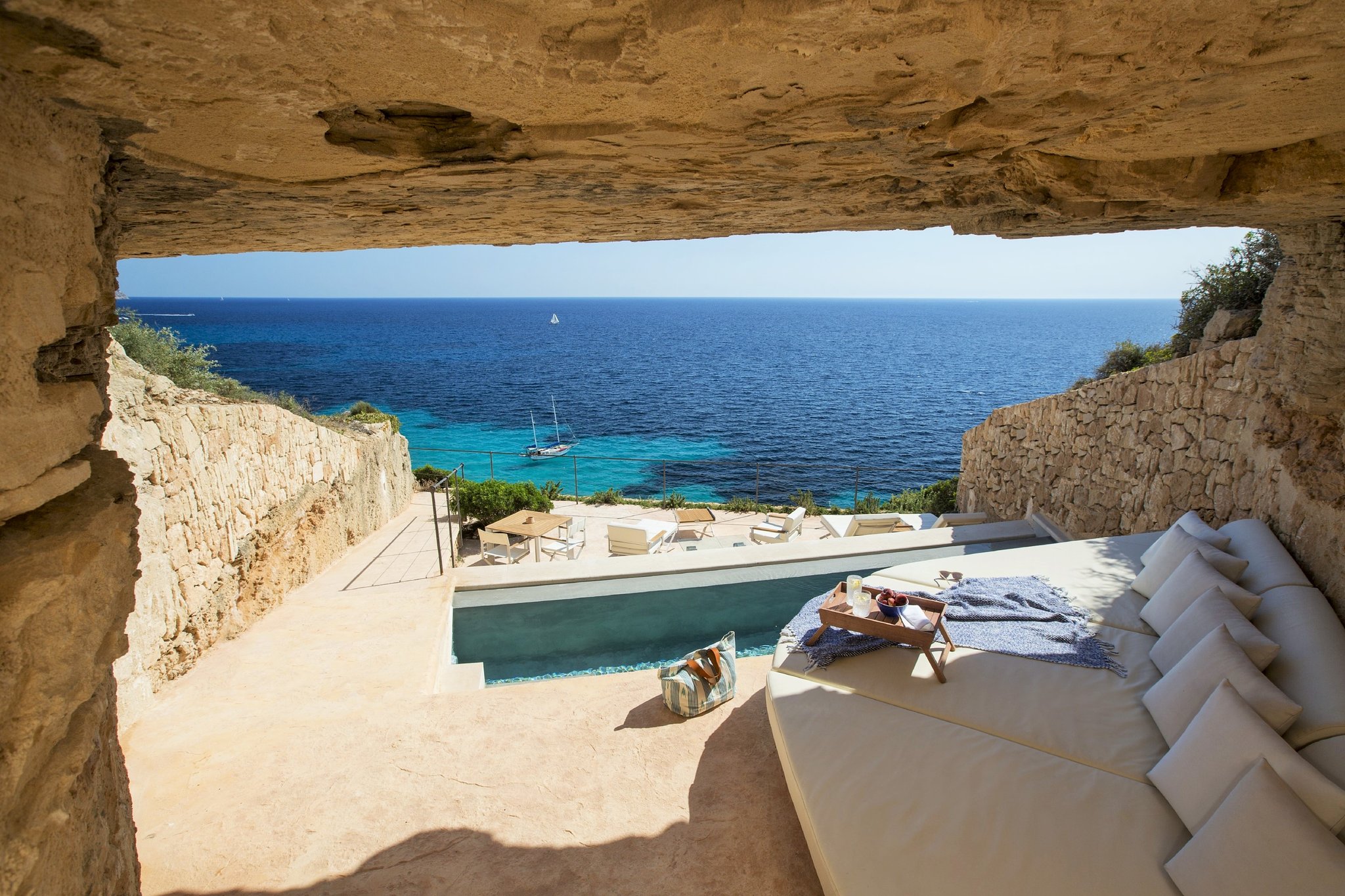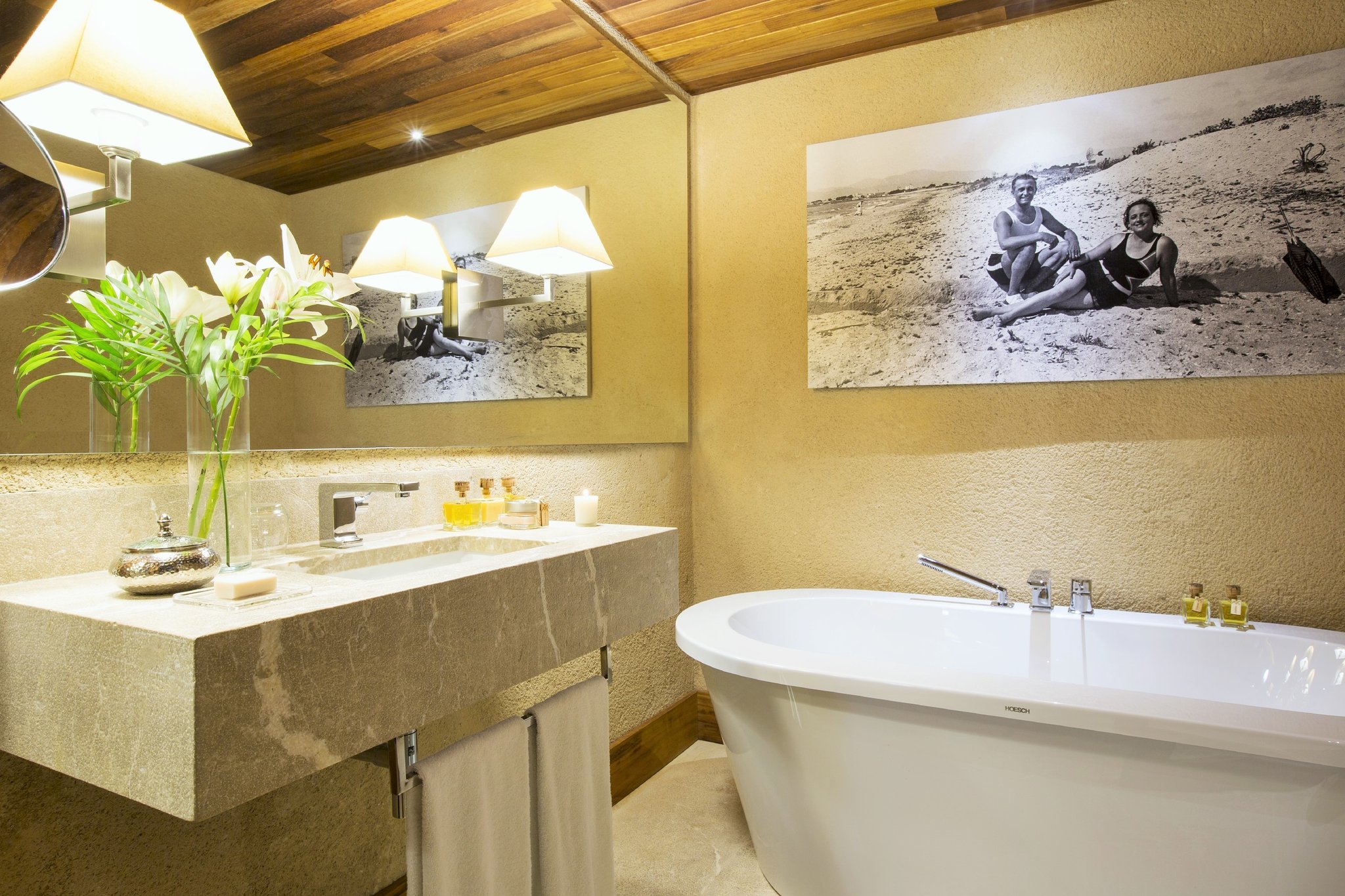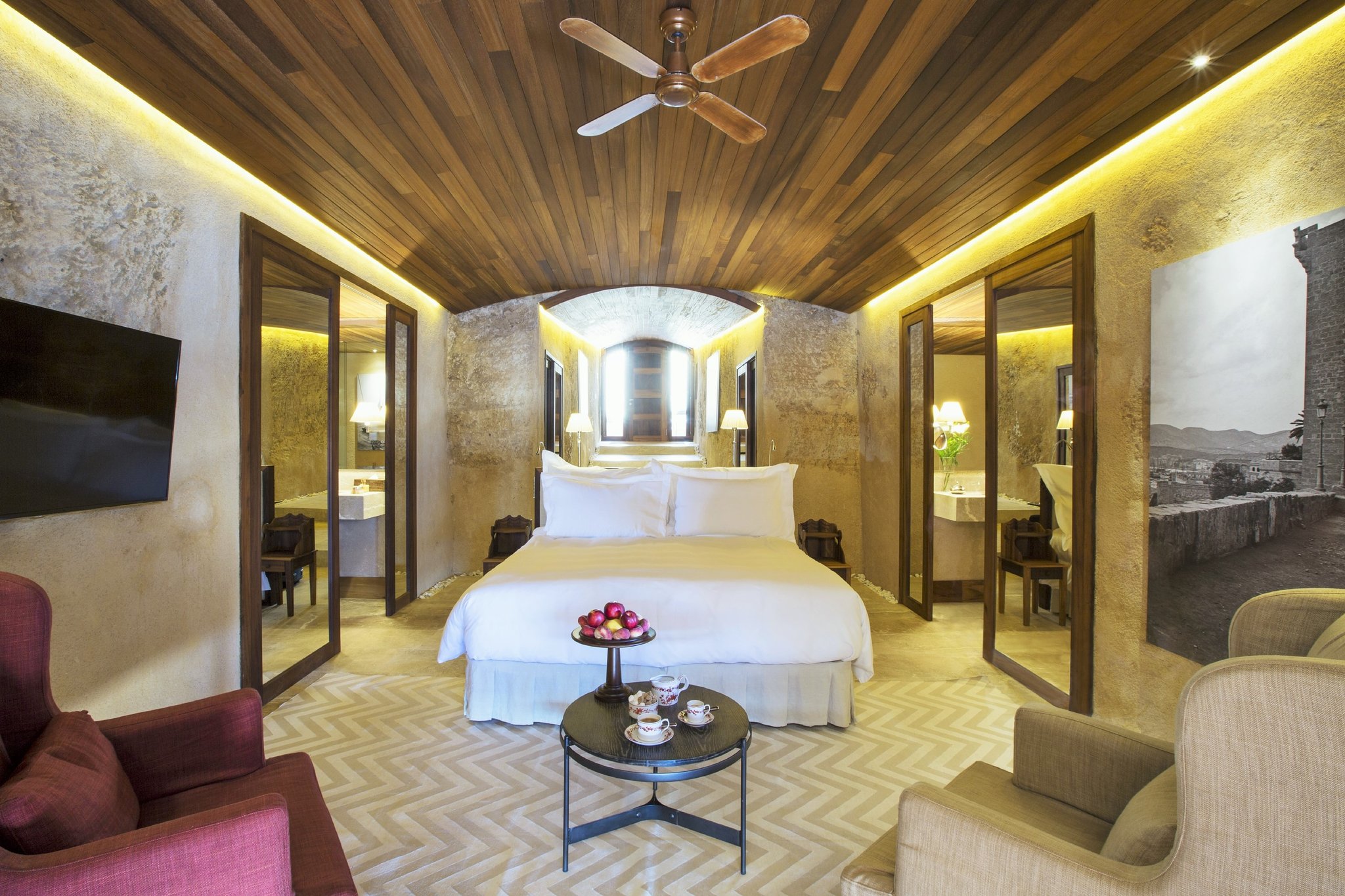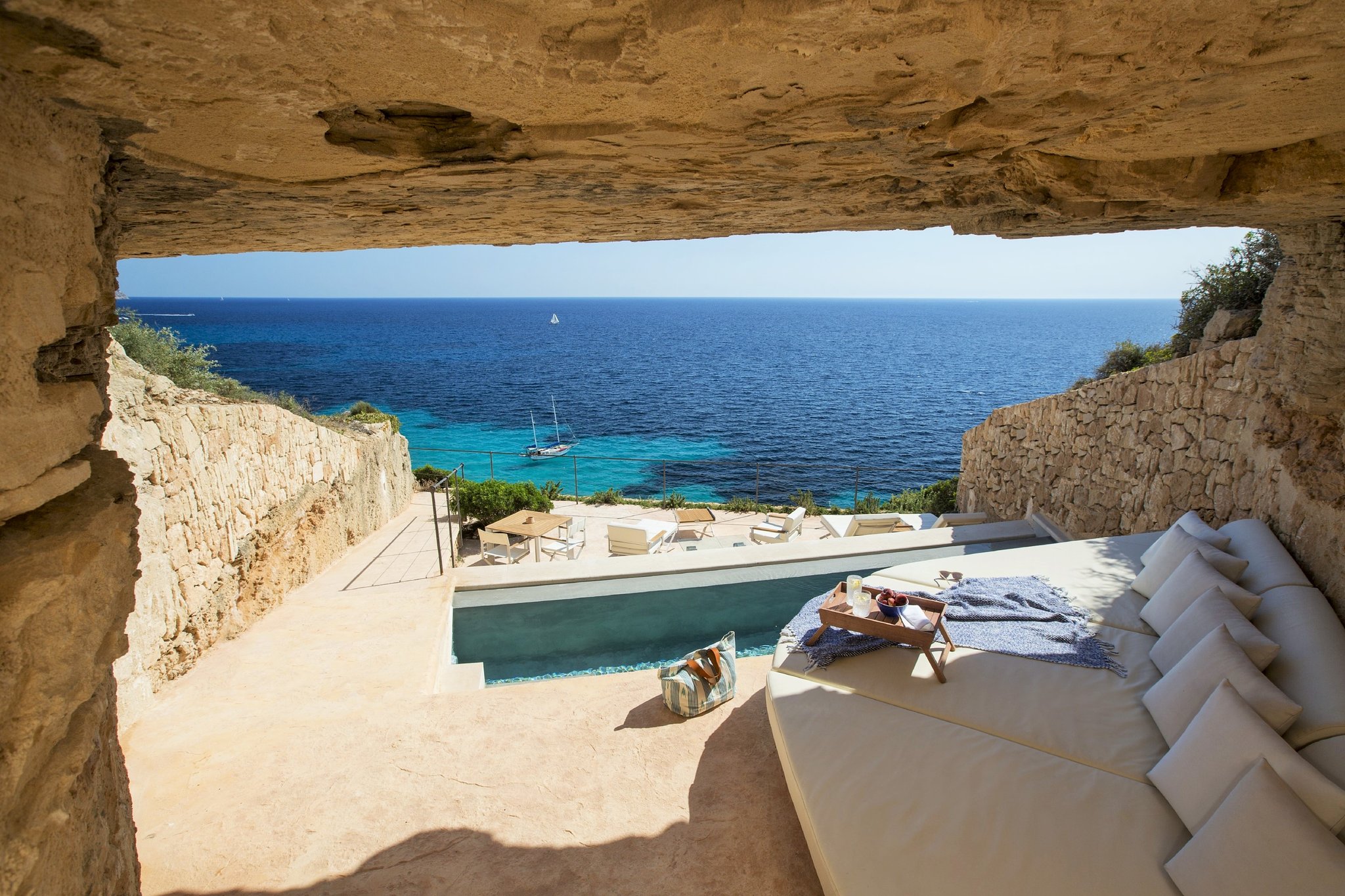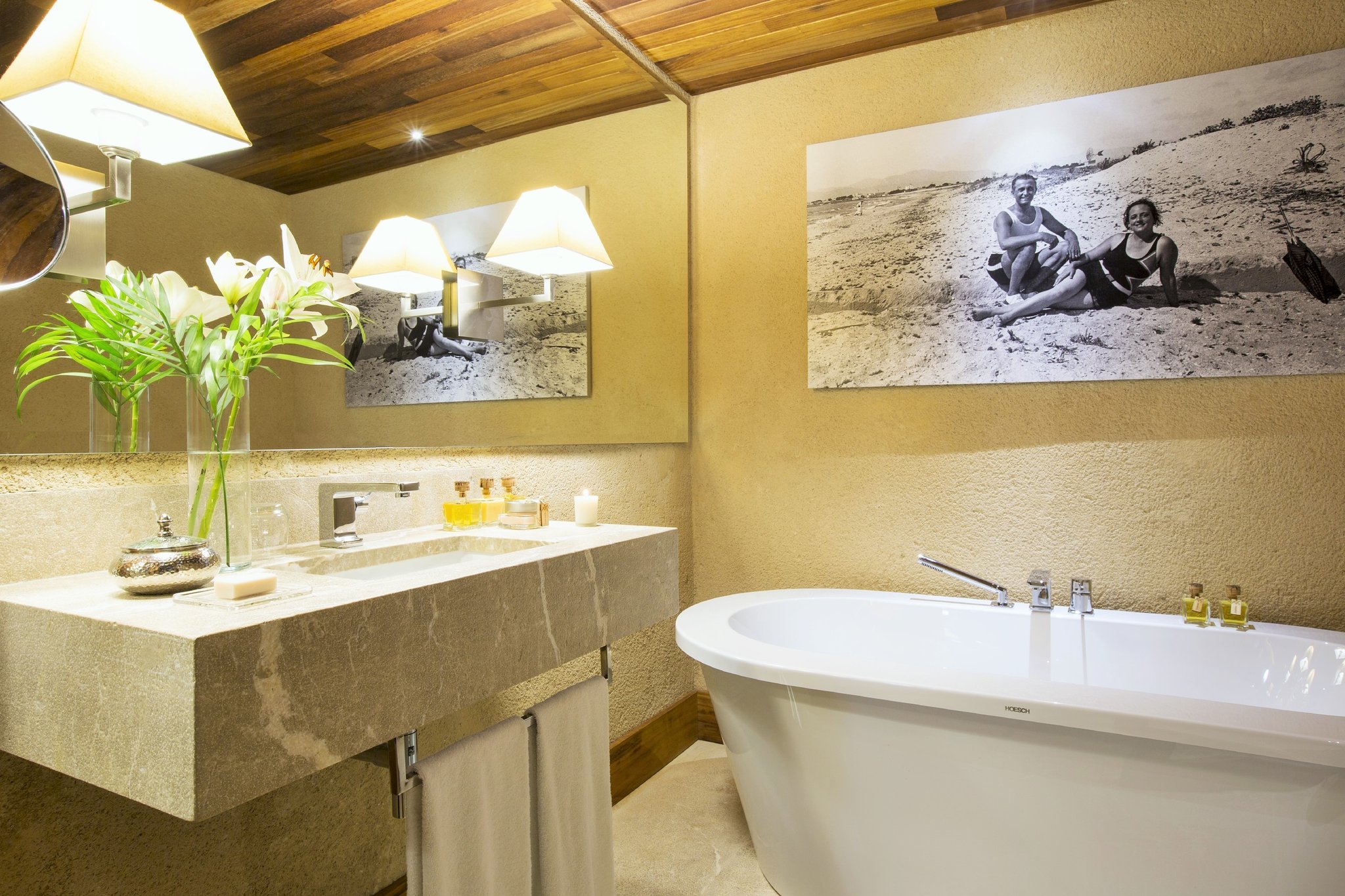 Sentinels
Sleeps: 2 People.
Hidden in the rock, on the edge of the cape's cliffs where Cap Rocat was built, the Sentinels have now been splendidly transformed into elegant open plan rooms with private infinity pool.

With a king size bed that blend the uniqueness of ruff rocky walls with delicate woods, and soft Mediterranean fabrics. Feel the Mediterranean blue whilst you lie in the total privacy of your own infinity plunge pool. Room size:40-50sqm of indoor space with additional 25sqm approx. of outdoor space.
From per night
Air conditioning
Tennis court
Pool
24-hour room service
Wedding services
Join INVITED and get 10% off exclusive rates. Plus early check-in and late check-outs among other benefits.
24-hour room service

Air conditioning

Bell staff/porter

Children not allowed

Complementary continental breakfast

Complimentary shoeshine

Concierge desk

Continental breakfast

Currency exchange

Doctor on call

Dry cleaning

Early check-in

Elevators

Front desk

Full service housekeeping

Housekeeping - daily

Jogging track

Local calls

Long Distance Access

Newspaper

Onsite laundry

Outdoor pool

Pets not allowed

Pool

Restaurant

Room service

Security

Tennis court

This is an approximate cost. Please check with the Hotel for up to date pricing.

Turndown service

Wakeup service

Wedding services

Wireless internet connection
Air conditioning

Balcony/Lanai/Terrace

Bathrobe

Bathroom amenities

Bathtub

CD player

Color television

Desk

DVD player

Free newspaper

Hairdryer

Internet access

King bed

Minibar

Remote control television

Safe

Satellite television

Sitting area

Slippers

Telephone

TV
Fine dining

Hiking trail

Jetski

Sailing

Scuba diving

Sightseeing tours

Wine tasting
Cap Rocat's main restaurant is located in one of the former central buildings. The cuisine is based on Mediterranean dishes that change according to the season and use products sourced from local ecological farms. The Sea Club, located on the waterfront, in the spectacular "Cala de la Reina", it is an open-air restaurant which offers dishes cooked in a traditional Mallorcan firewood oven and grill. The Fortress' former kitchen, in typical Mallorcan style, has been refurbished to offer a private dining room, where wine tastings and cooking classes are organized.
THE FORTRESS RESTAURANT
Cuisine type: Mediterranean
Meals served: Breakfast, Lunch, Dinner
The luxury of the essentials of Mediterranean gastronomy created by our chef Victor Garcia. The magic of the night in Cap Rocat enchants the gastronomic restaurant La Fortaleza- inside the main building of the fortress in winter or in the main courtyard in the summer with the subtle sound of the fountains. During the summer- an aperitif is served before dinner viewing the sunset from our panoramic terrace.
THE SEA CLUB
Cuisine type: Local Cuisine
Meals served: Lunch, Dinner
Located on the waterfront- in the spectacular Cala de la Reina- the Sea Club is an open-air restaurant which offers dishes cooked in a traditional Mallorcan firewood oven and grill. The Sea Club Restaurant is open for lunch daily and for dinner between May 15th and October 15th. Please make your reservation in advance by calling us on 971 74 78 78.
Reviews
These reviews are the real opinions of INVITED members and we have verified their stay at the hotel.
What I liked most :

Location (11)
Breakfast (7)
Restaurant and dining (7)
Welcome and departure (7)
Internet and wifi (6)
General service (5)
Guestroom and bathroom (5)
Leisure facilities (4)
Guest Room and Bathroom (3)
Welcome and Departure (3)

Read Reviews

Fantastic stay, would highly recommend.

September 2019

My Trip Type:

Couple

Excellent service on all fronts...concierge, room service, spa and pool attendants.

Top tip for other guests:

Some rooms are more private than others, enquirer if this is a focus of yours.

What I liked most

Welcome and Departure
Location
Local knowledge and experience
Guest Room and Bathroom
Breakfast

What I might improve

Amazing location and fantastic service.

September 2019

My Trip Type:

Couple

A really unique environment......the fortress has been very cleverly converted into a hotel. Service and facilities are superb. Relaxing apart from noisy guests waiting for taxis.

Top tip for other guests:

Breakfast not quite up to the standard of everything else at the hotel. Very spacious room.

What I liked most

Welcome and Departure
Location
General Service
Guest Room and Bathroom
Restaurant and dining
Leisure facilities
Internet and wifi

What I might improve

March 2019

My Trip Type:

Couple

The breakfast at our sundeck

Top tip for other guests:

A fantastic Place to be at.

What I liked most

Welcome and Departure
Location
General Service
Local knowledge and experience
Guest Room and Bathroom
Breakfast
Restaurant and dining
Room Service
Leisure facilities
Internet and wifi

Fantastic and quit resort

Denmark

My Trip Type:

Couple

The Beach Club restaurant is fantastic. Big difference i level of experience between pool and Beach - the Beach is primitive. The matresses at the pool holds Water - they should be taken better care of. Also the pool wasn't maintained very well - we were there 4 days, and there was sand at the bottom, not really clean water, and around the edges at the water level the walls were green. Spa, restaurants and breakfast experience was great.

Top tip for other guests:

very calm

What I liked most

Location
Breakfast
Restaurant and dining
Welcome and departure
Internet and wifi
General service

Stay date: October 2016

My Trip Type:

Couple

Very slow pace and freindly service. The SPA is lacking some level to acheive the luxery the rest of the resort shows.

Top tip for other guests:

Enjoy the beach restaurant

What I liked most

Welcome and departure
Internet and wifi
Leisure facilities
Location

Stay date: September 2015

My Trip Type:

Couple

Beautiful setting - lovely room - fantastic staff - very private - great to be near to Palma - fantastic tasting menu in restaurant - our fish in the beach restaurant was overcooked which was a shame but we assume that it was probably because they were very busy at the time in the kitchen. Amazing sunsets . would go again tomorrow xx

Top tip for other guests:

Book earlier than us and get a room in the cliffs above the sea.

What I liked most

Location
Guestroom and bathroom
General service
Welcome and departure

What I might improve

Breakfast
Restaurant and dining

Stay date: May 2015

My Trip Type:

Single

Everything about Cap Rocat is perfect, down to the smallest details. I could not get enough of everything the hotel has to offer. I went to the St. Regis on the other side of the bay after my stay at Cap Rocat and it felt like a downgrade. I am already thinking of ways to get back to Cap Rocat. Also, if all of the SLH hotels are of this caliber, I am only going to book through this site from now on.

Top tip for other guests:

The lagoon is breathtaking beautiful and even if the waters may be cooler than the pool, definitely worth taking a dip in.

What I liked most

Location
Guestroom and bathroom
Breakfast

Stay date: August 2014

My Trip Type:

Couple

A unique setting and experiance has become our secret pleasure to visit once a year, can not wait to come back next year.

Top tip for other guests:

Make the most of the hotel and don't sleep in too late, if you need a sleep use your terrace or the pool.

What I liked most

Welcome and departure
Restaurant and dining
Guestroom and bathroom
Location

Stay date: May 2014

My Trip Type:

Couple

Fantastic hotel. Awesome service. Beautiful place. Amazing food.

Top tip for other guests:

a Must Go!

What I liked most

Welcome and departure
Restaurant and dining
Breakfast
Location
Room service
General service

Stay date: March 2014

My Trip Type:

Couple

the only thing missing - heated swimming pool

Top tip for other guests:

excellent location and facillties

What I liked most

Welcome and departure
Breakfast
Local knowledge and experiences
Restaurant and dining
Guestroom and bathroom
General service
Location
Internet and wifi

What I might improve

Top service in an amazing location

Stay date: May 2013

My Trip Type:

Couple

Great resort in an amazing location, creating a totally unique experience. The staff is super professional, friendly, speaking many languages, very helpful. Location is breathtaking, you can have nice walks within the resorts. We were upgraded from Cap Rocat to the El Cabo, an amazing suite with private pool and huge bathroom. Restaurants are all excellent, we specially enjoyed the Sea Club which is very relax with great food, for lunch as of for dinner (nice fire place inside for cooler evenings). We had spa treatment, sport massage for my man, indian head massage for me. The quality was really high, the level of quality you would get from the best Asian spas. Truely an experience, totally recommend it!

Top tip for other guests:

Try the Indian Head Massage!

What I liked most

Local knowledge and experiences
Room service
Welcome and departure
Guestroom and bathroom
Breakfast
Location
General service
Internet and wifi
Restaurant and dining
Leisure facilities