https://origin.slh.com/hotels/eight-hotel-portofino/
Hotel Highlights
Beautifully renovated house with Ligurian architecture
Secluded garden with Jacuzzi and hammocks, surrounded by chestnut trees
Guests can hire a private boat to explore the nearby coastline
Eight Hotel Portofino - LUXURY HOTEL IN PORTOFINO
Walking distance from the famous Piazzetta of Portofino
The pleasures of exclusive Portofino are better appreciated from the sophisticated retreat of Eight Hotel Portofino, set in a peaceful location yet just minutes from the town's central square. Chic, contemporary styling in a renovated, traditional Ligurian house comes with hammocks in a shady garden and a cruise boat for exploring the Italian Riviera.
Eight Hotel Portofino is a cool quiet haven for relaxing in between coastal jaunts. Every room is warm and bright with large, comfortable beds, blonde wood, and modern, tasteful fabrics. Outside, discover the Jacuzzi under the shade of the chestnut trees.
Explore Portofino and visit the castle and Cinque Terre. Take the scenic trail leading up the mountain and down to San Fruttuoso or spend time at the sister hotel's private beach in Paraggi. Return to Eight Hotel Portofino for an aperitif or two before dinner in one of Portofino's excellent restaurants.
The rooms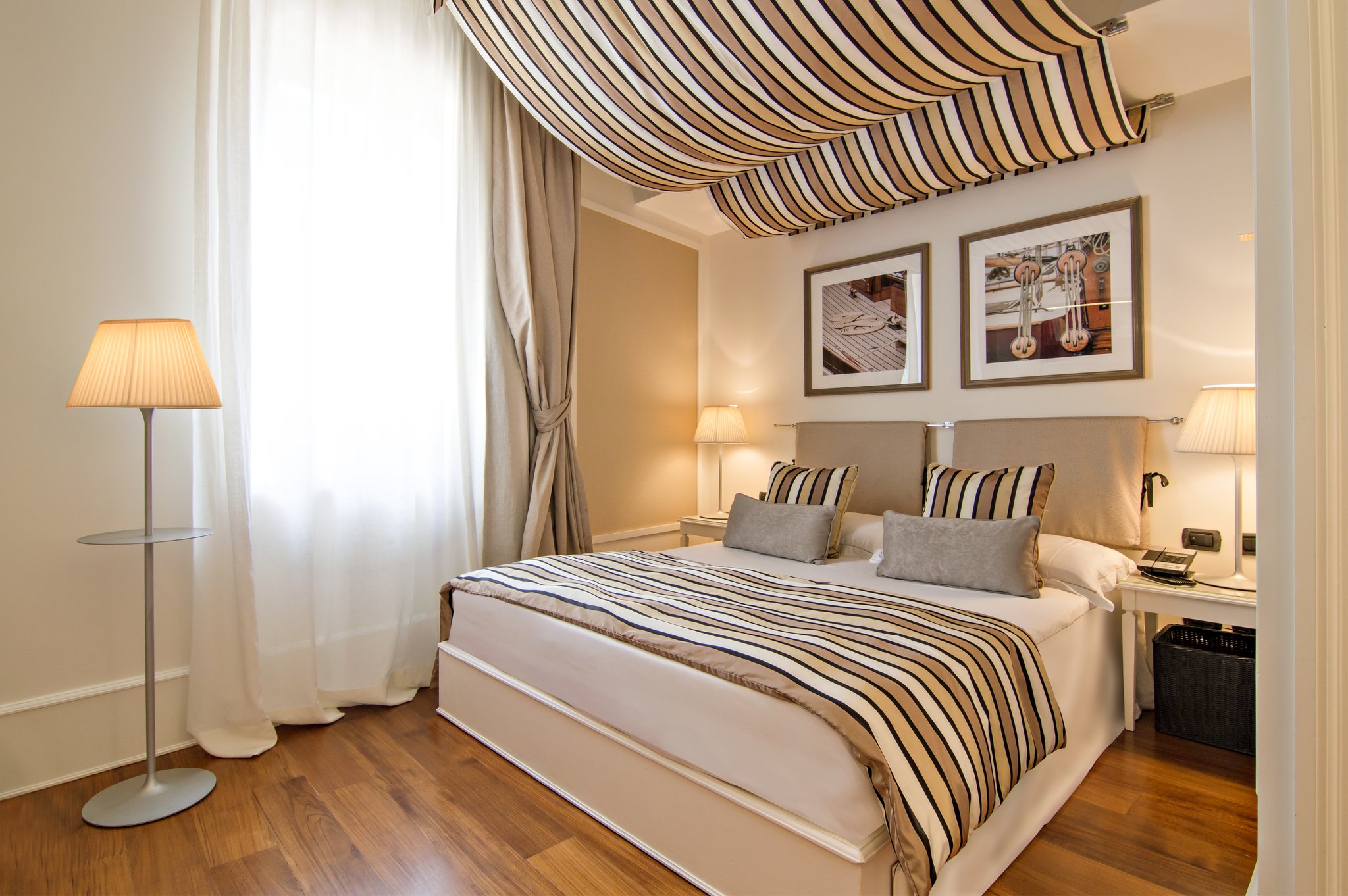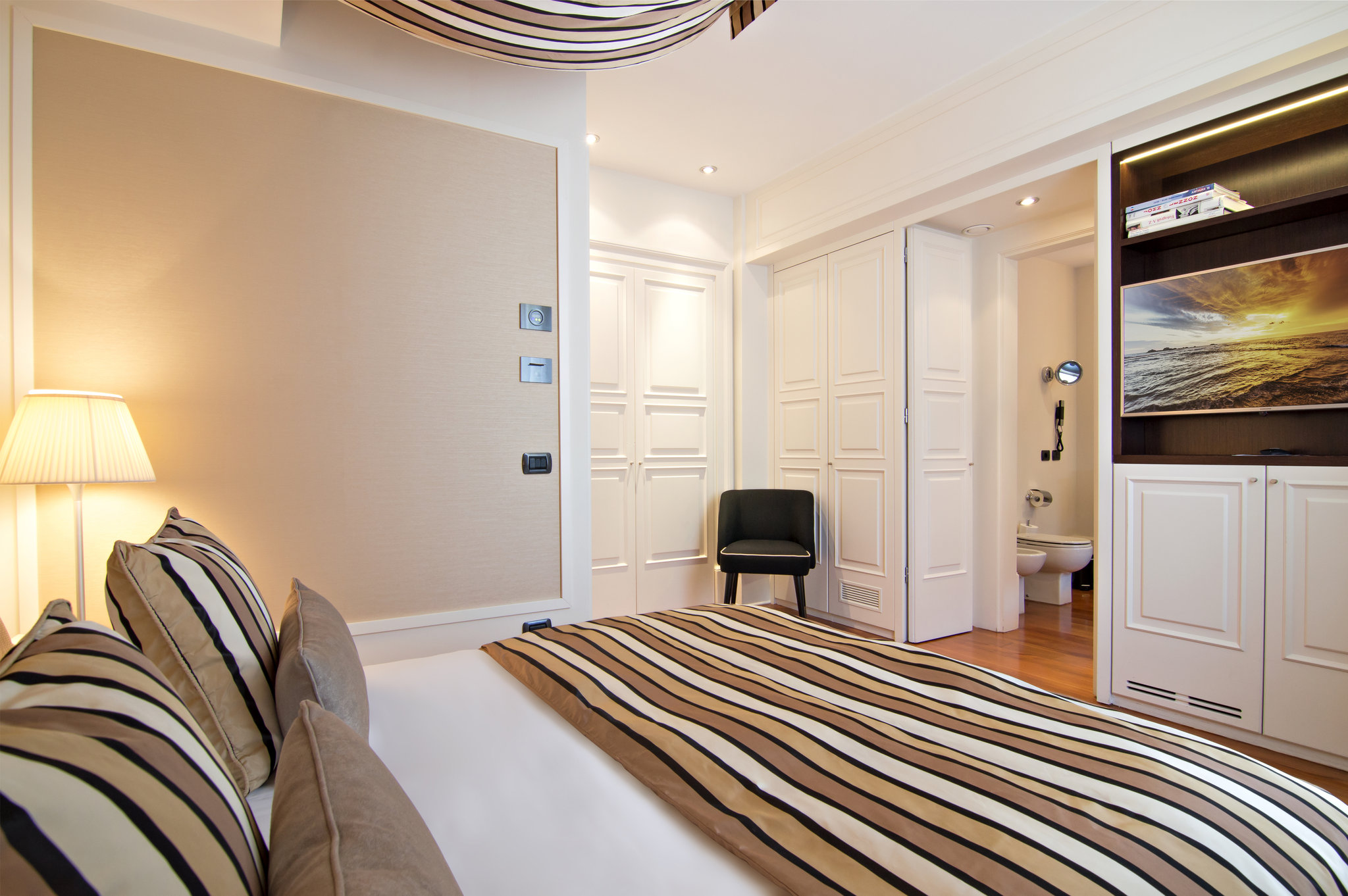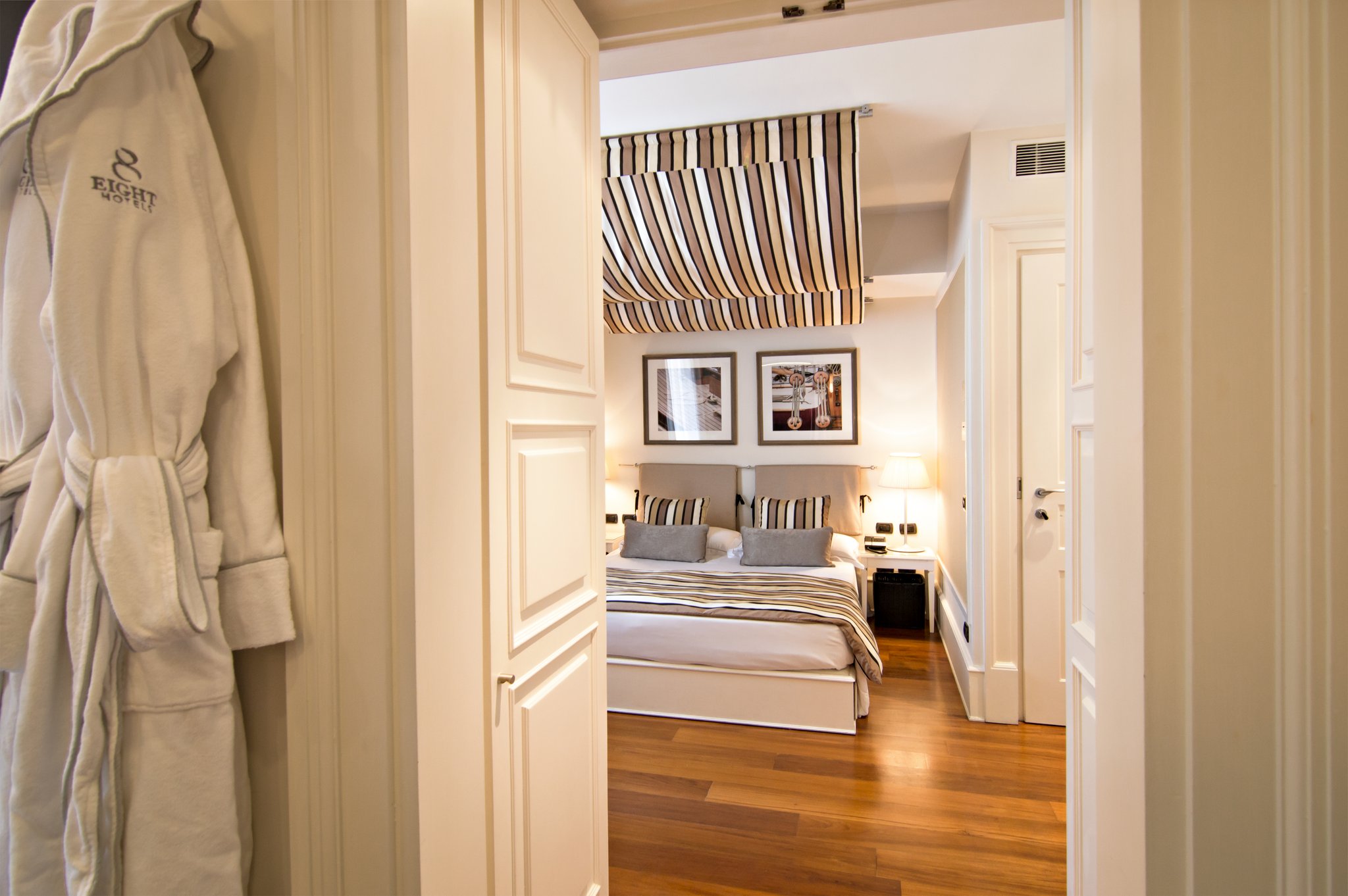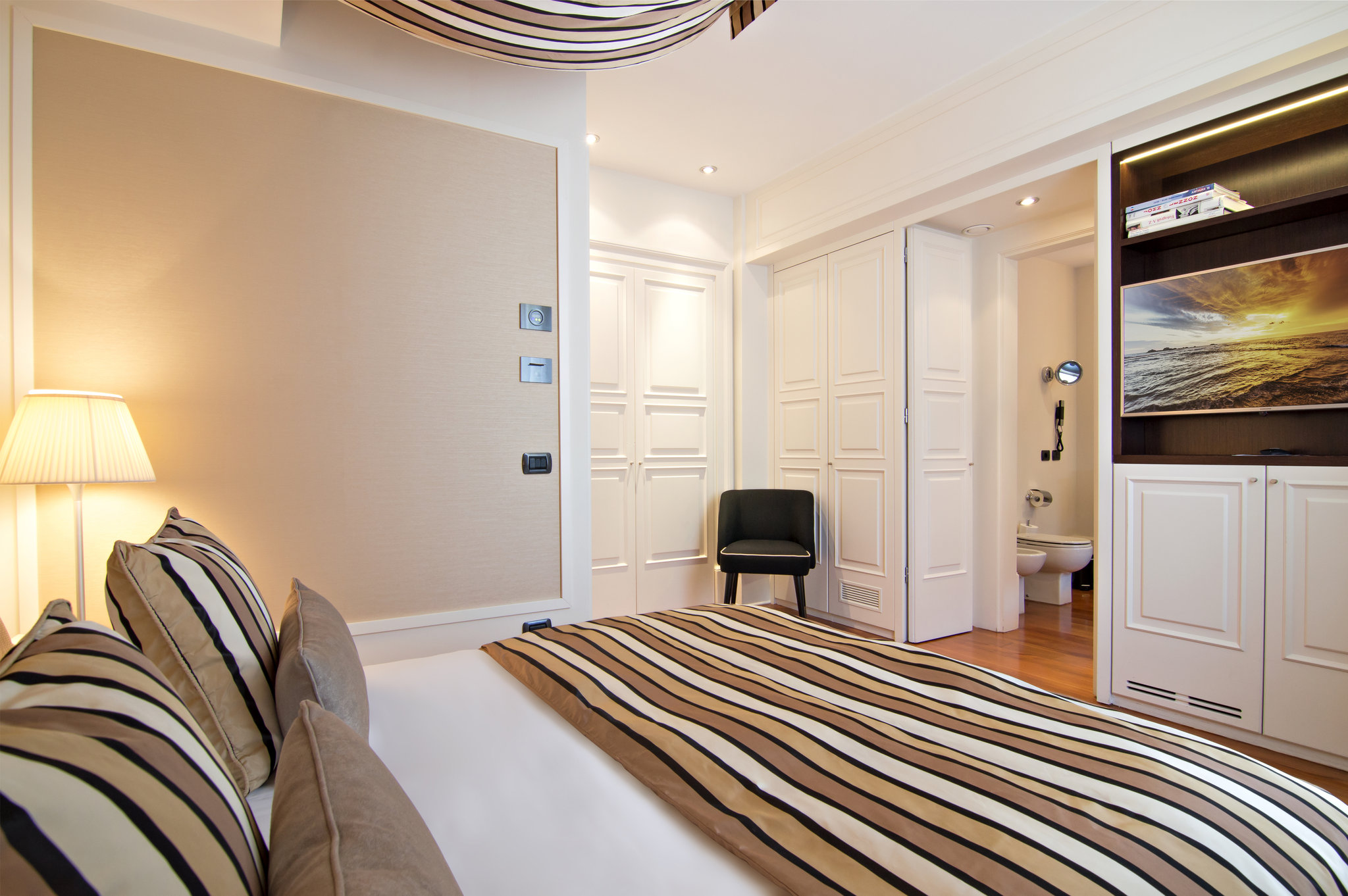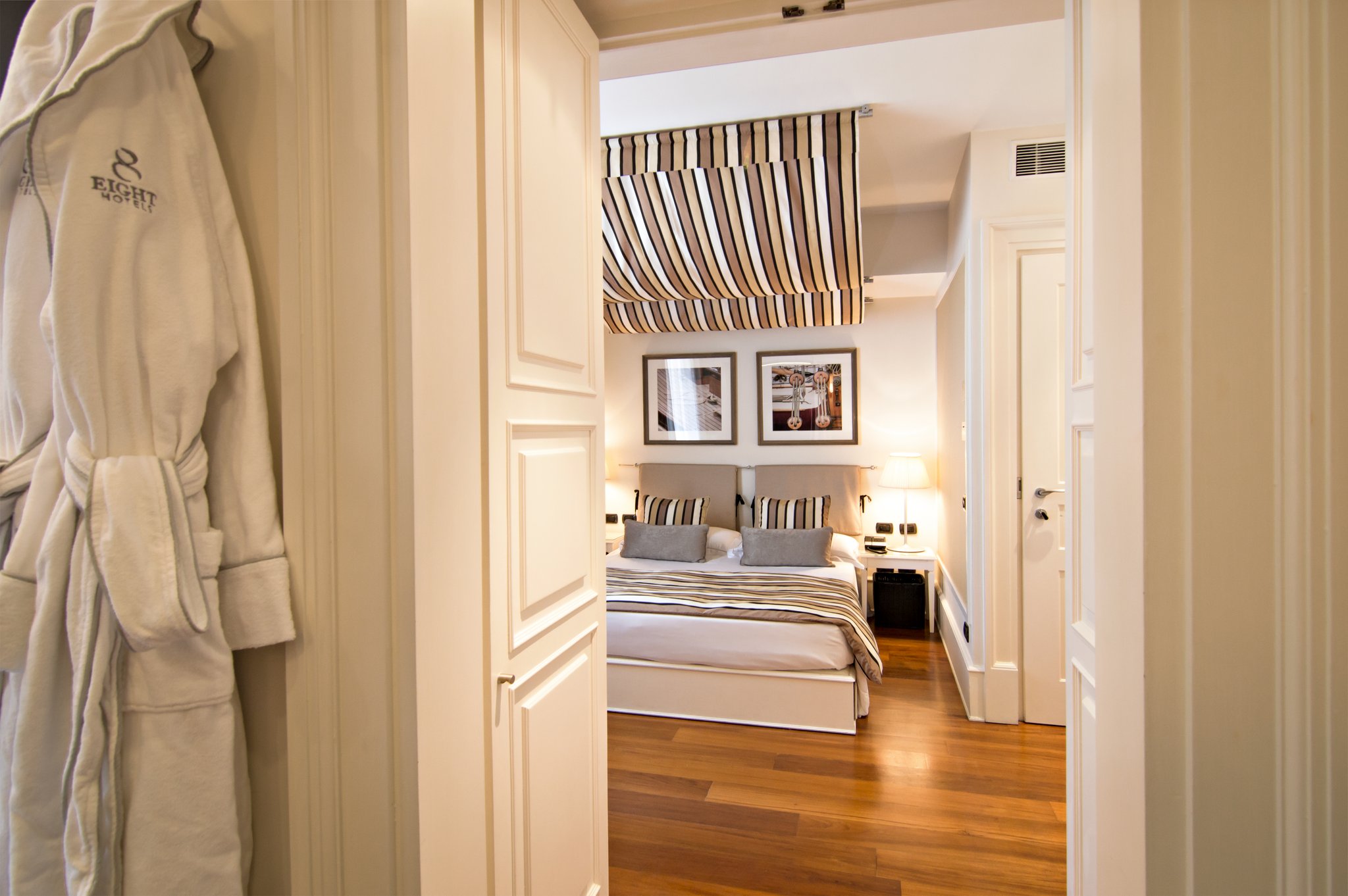 Standard Room
Sleeps: 2 People.
Standard room with queen or twin bed, furnished with all comforts and decorated with natural materials and light colours.

Bathroom with bathtub or shower. Four standard rooms have cabin shower steam bath. Minibar, Satellite plasma TV, air-conditioning and complimentary WiFi. Approx: 20 sqm.
From per night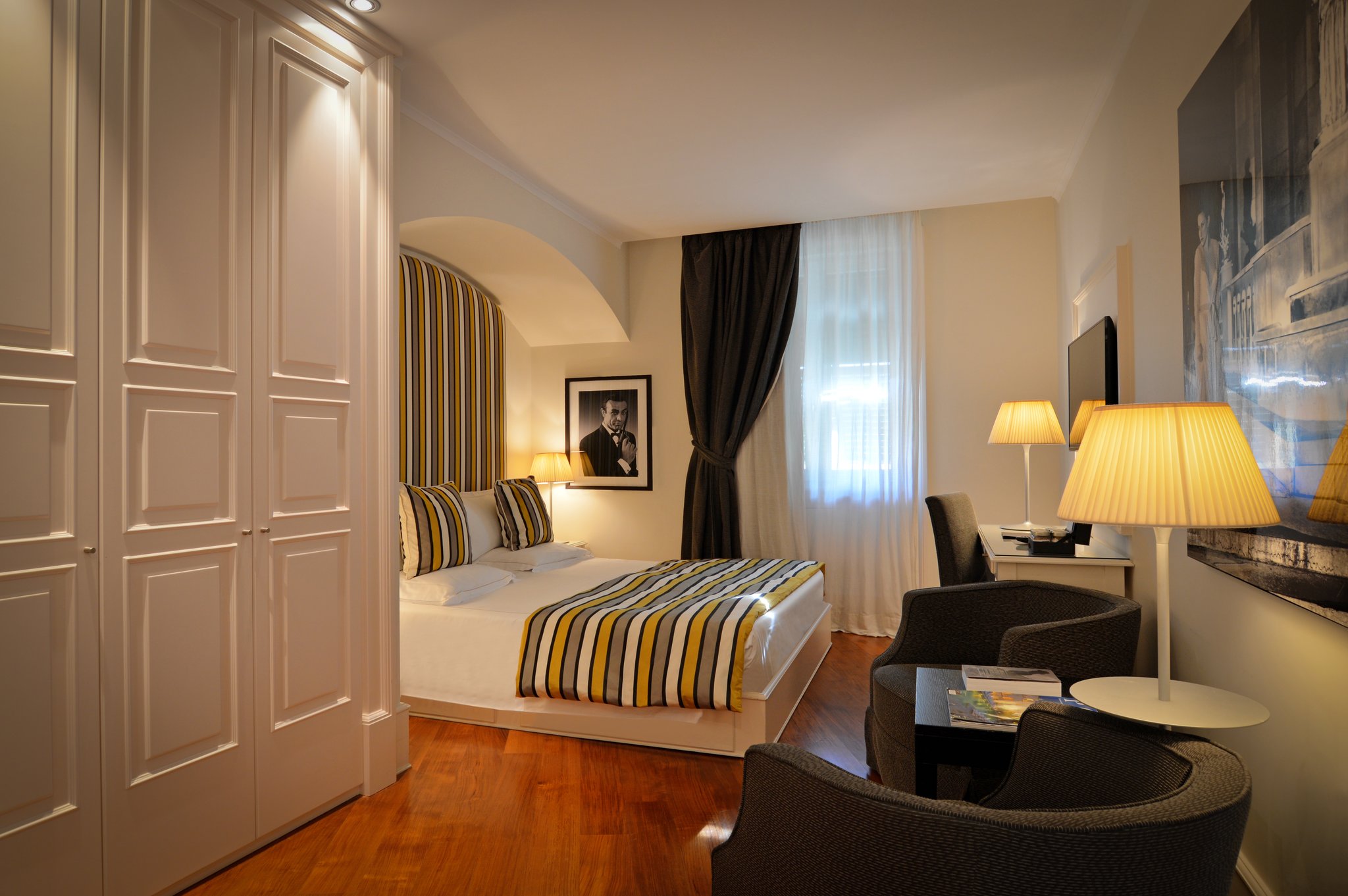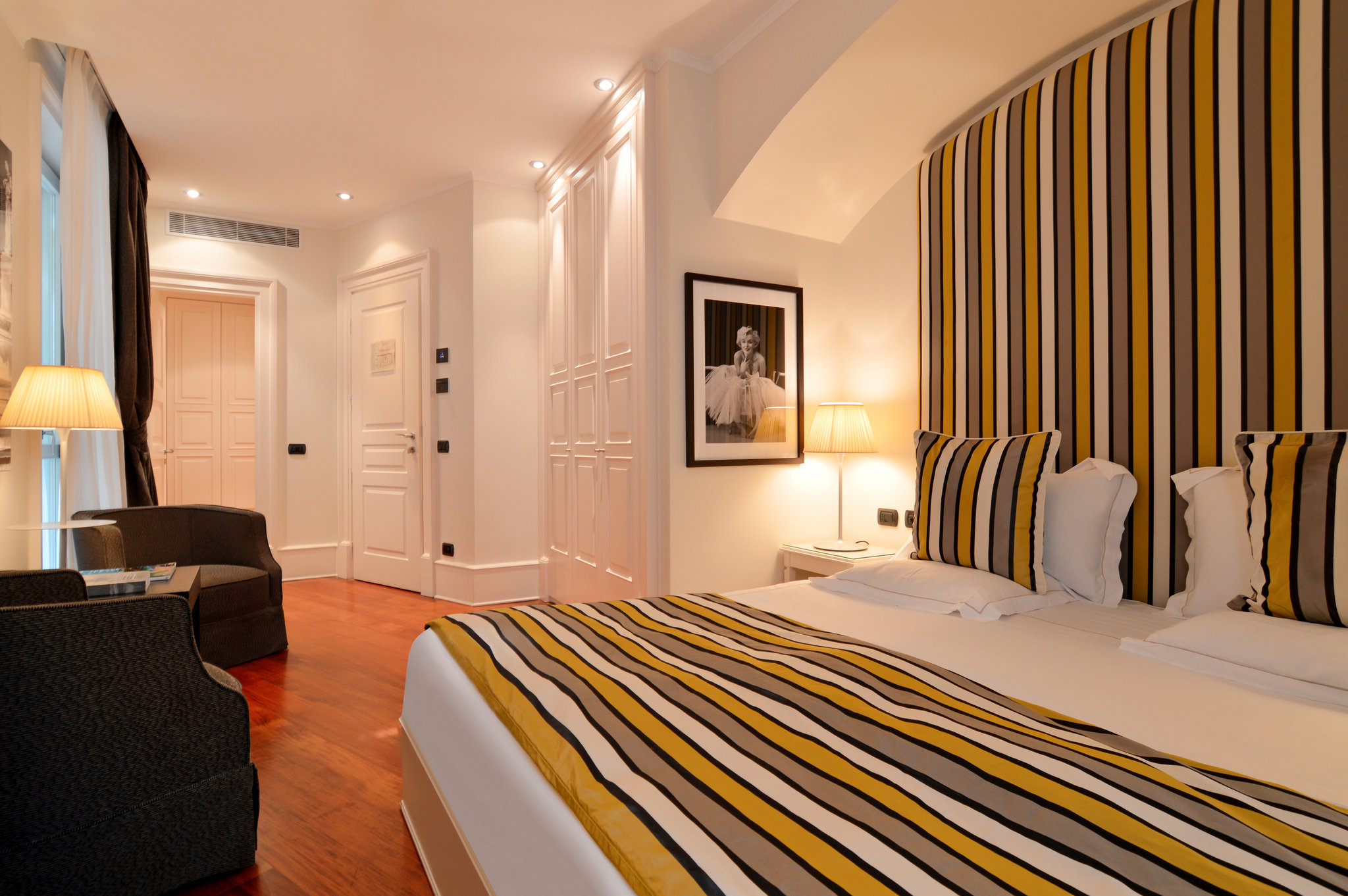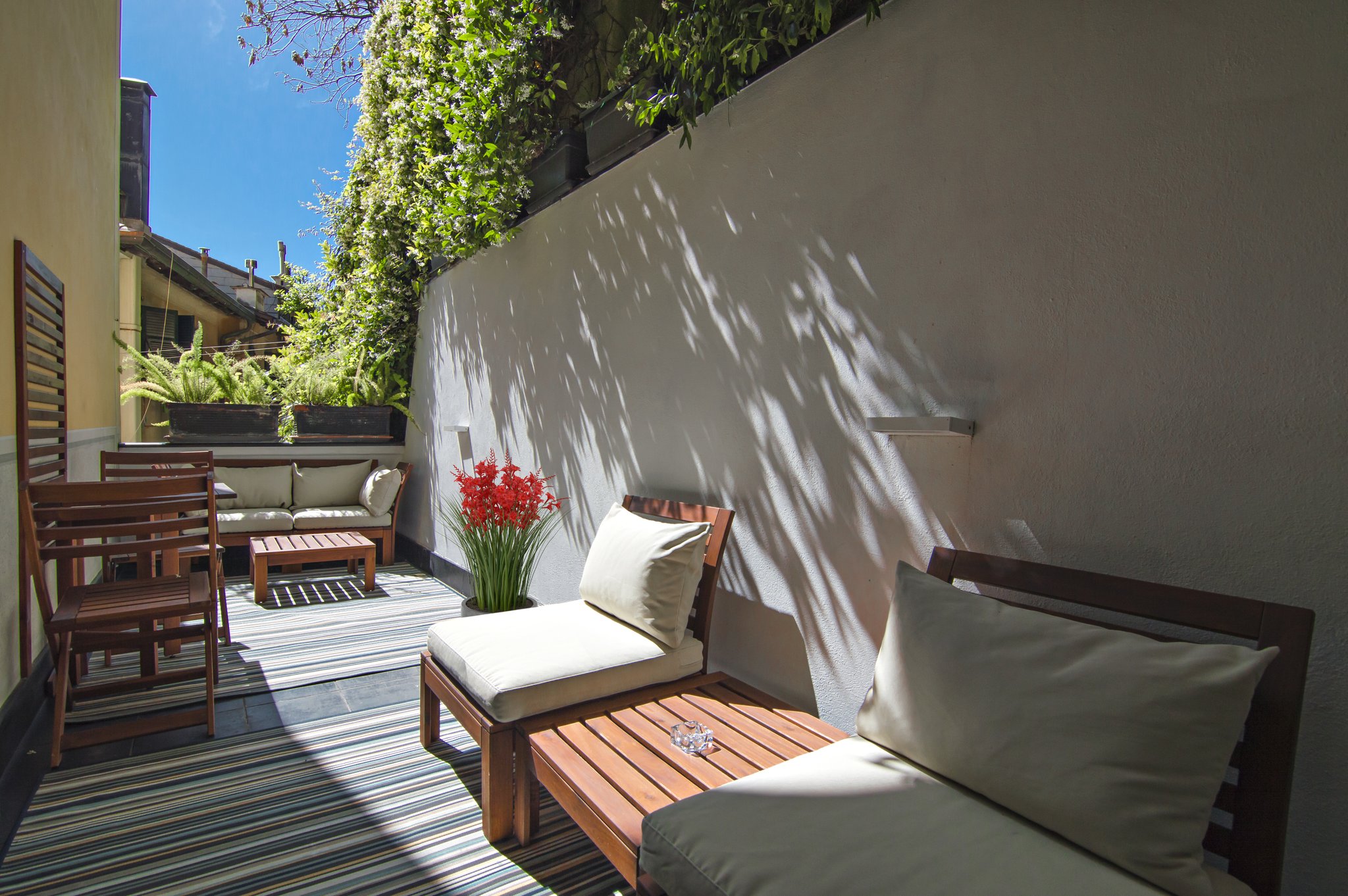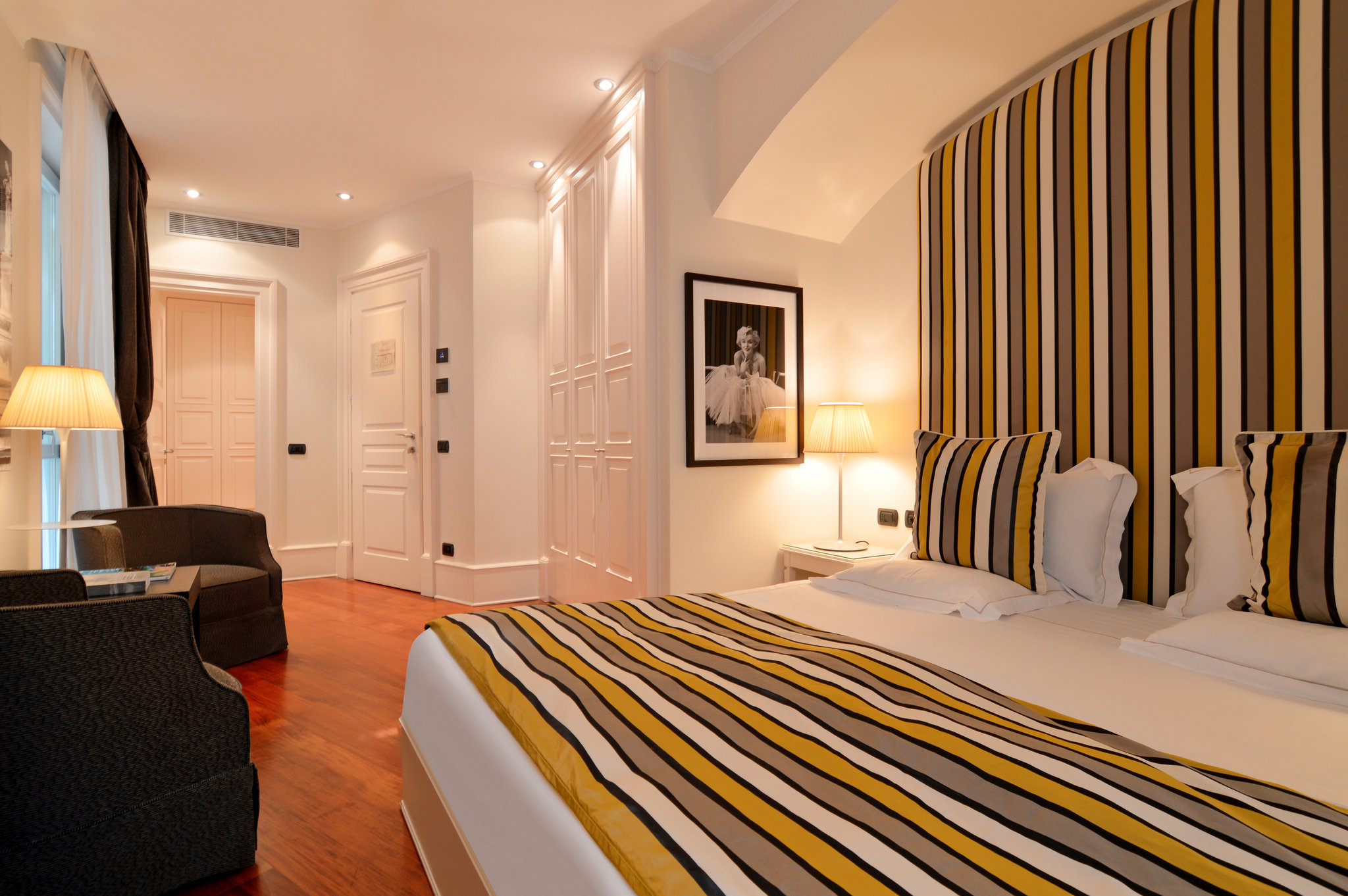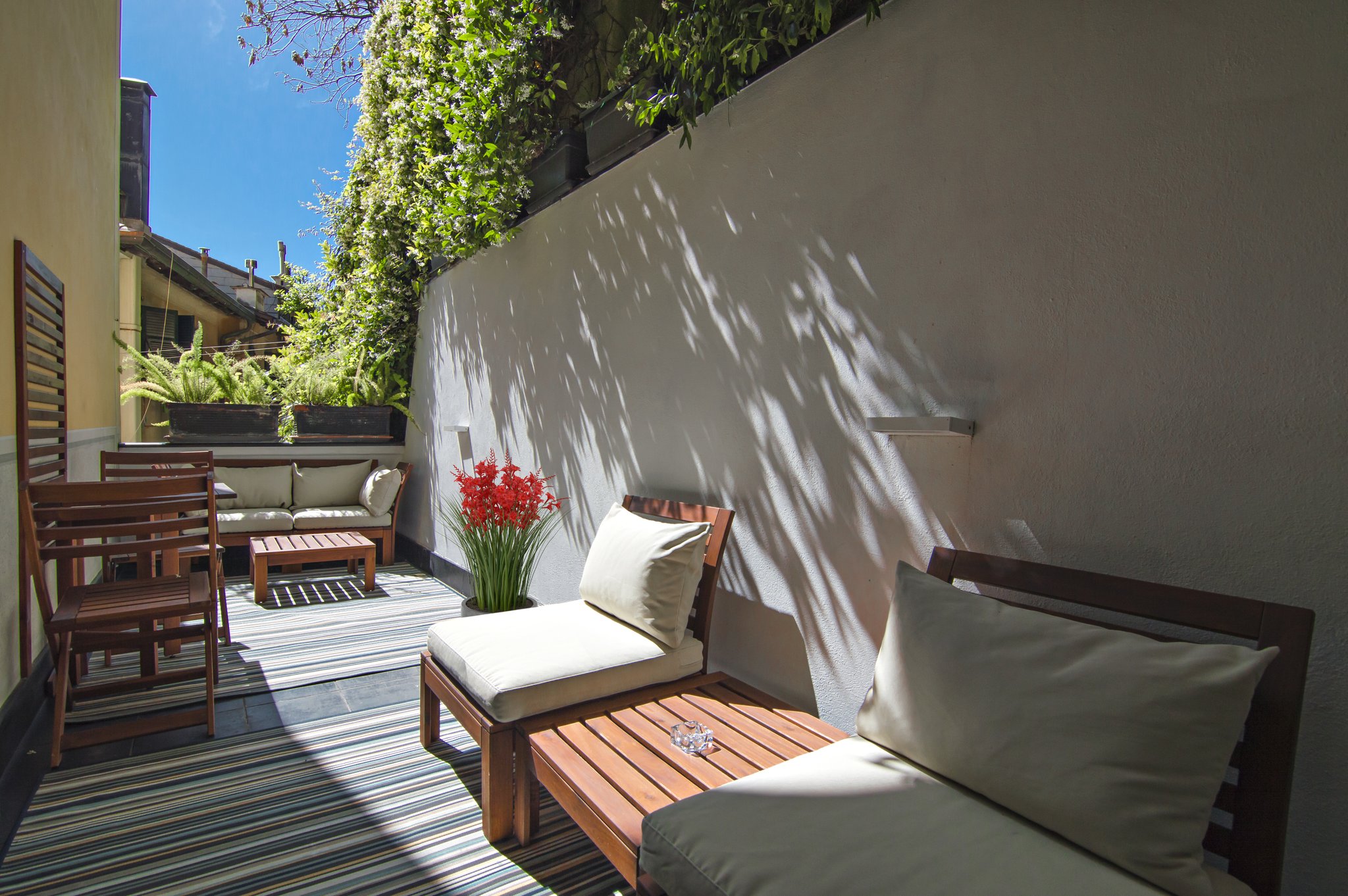 Superior Room
Sleeps: 2 People.
Superior double bedroom with king or twin bed, furnished with all comforts, decorated with natural light colours, with living terrace or balcony.

Bathrooms with separate shower and bathtub. Satellite plasma TV, complimentary WiFi, individual AC heating system. Approx 27 sqm.
From per night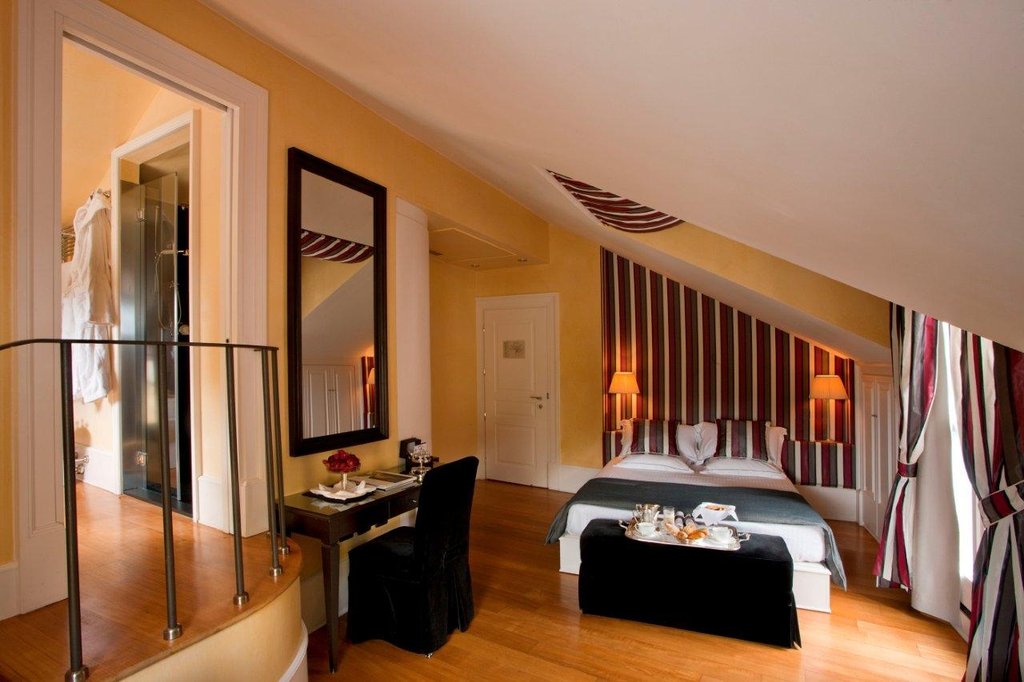 Junior Suite
Sleeps: 3 People.
Spacious and comfortable rooms decorated with natural materials and light colours. King and twin bed available, sitting corner, exclusive and elegant courtesy kit.

Bathrobes, hairdryer, minibar with ice basket, individual AC, satellite plasma TV, complimentary WiFi. Approx 30 sqm.
From per night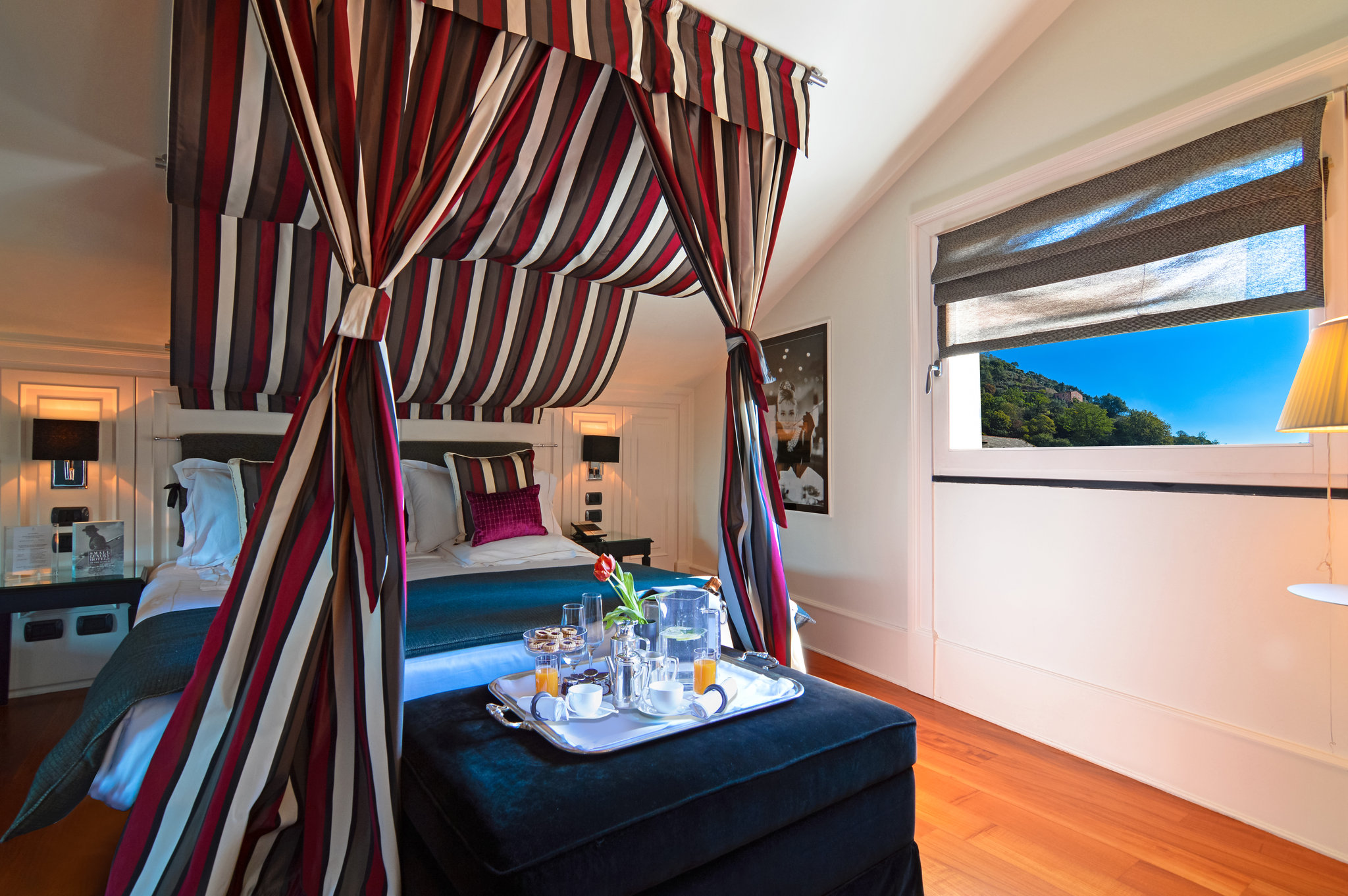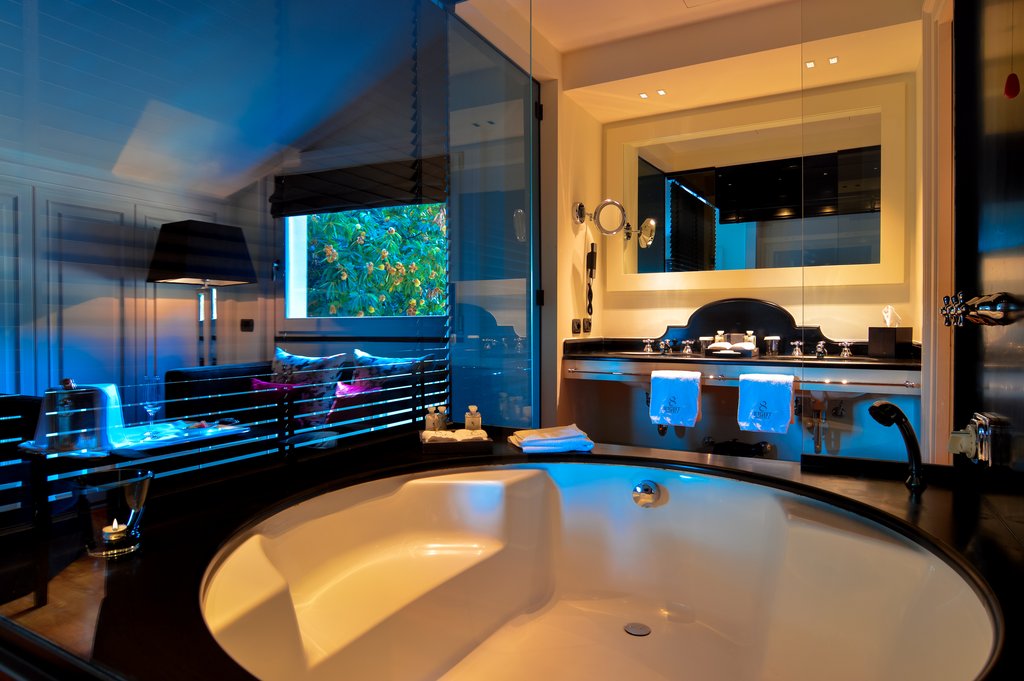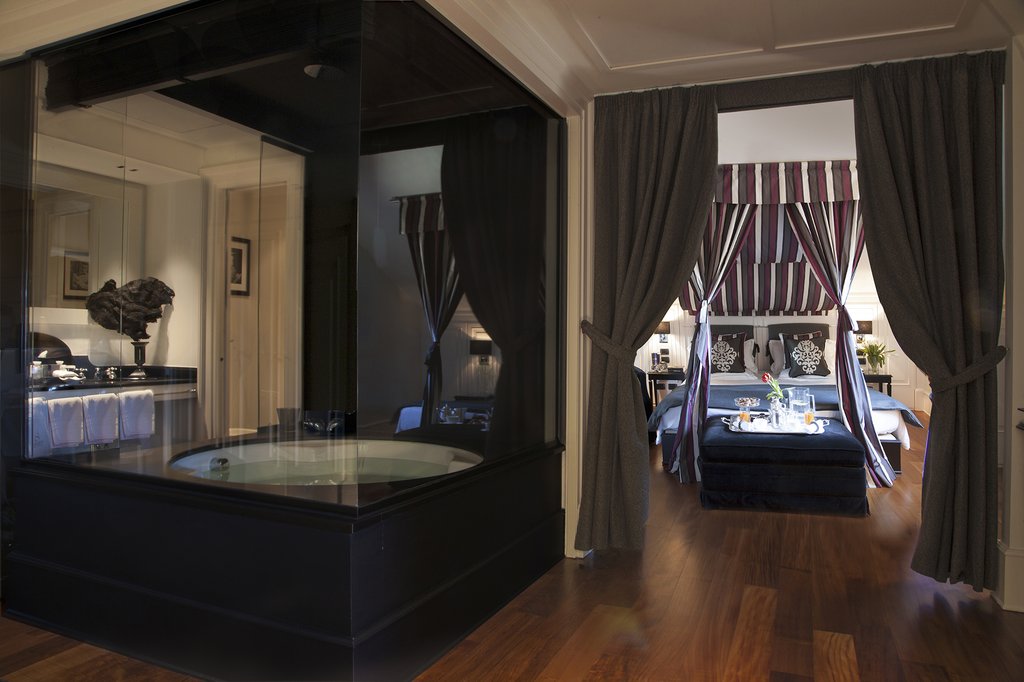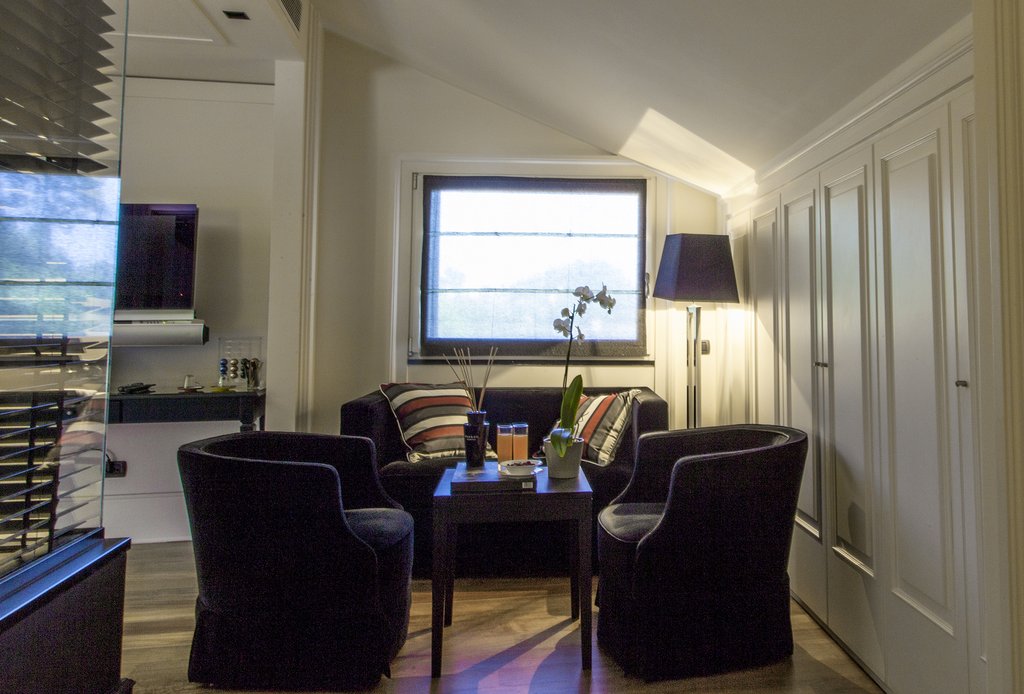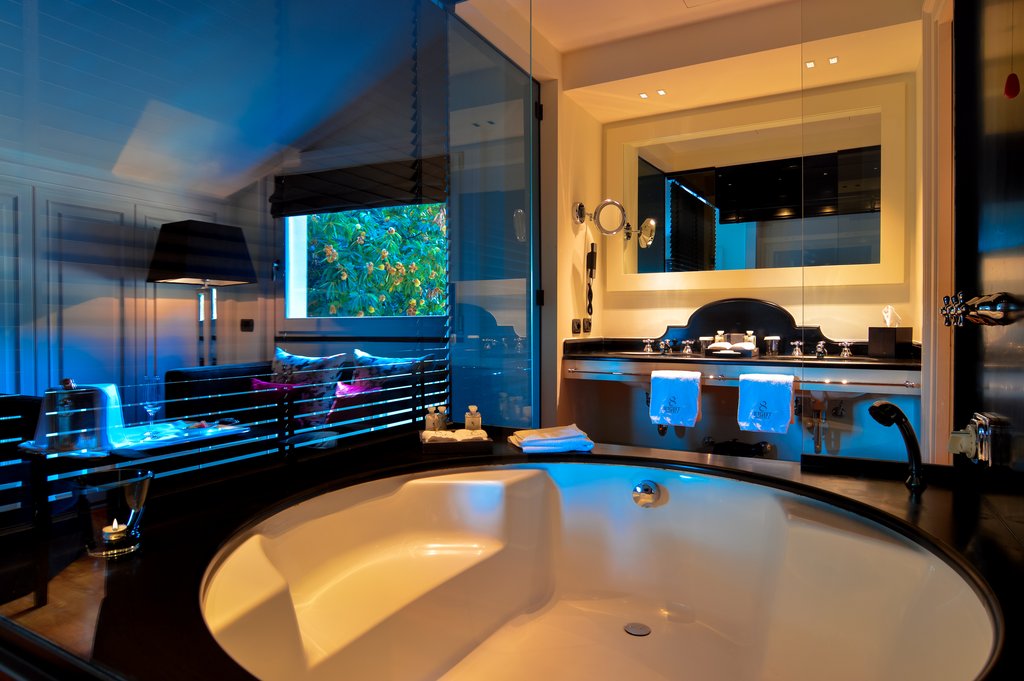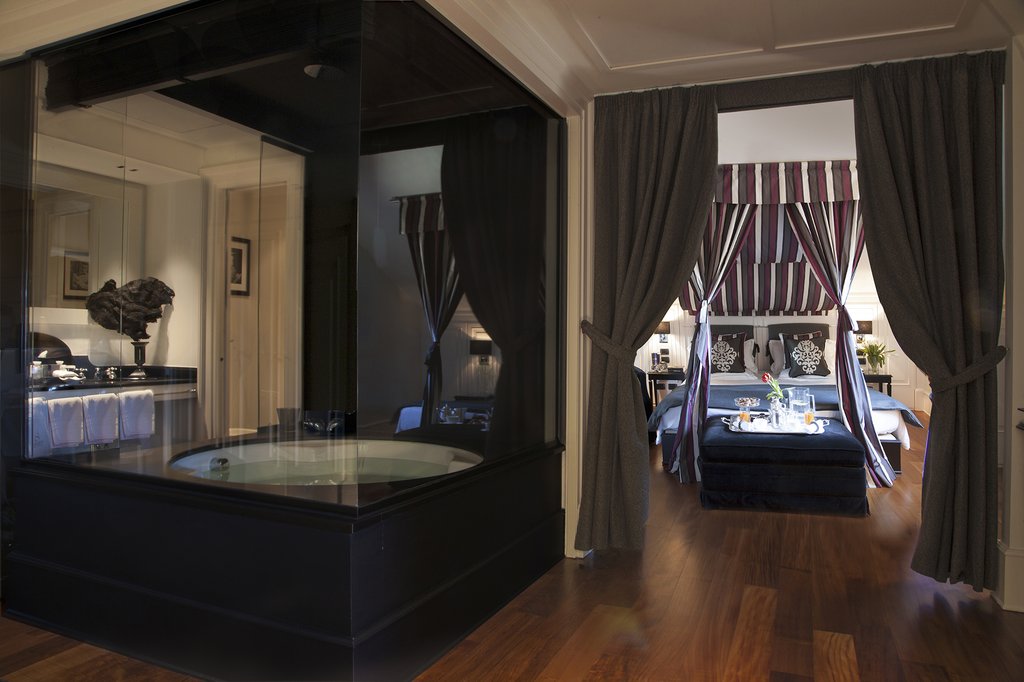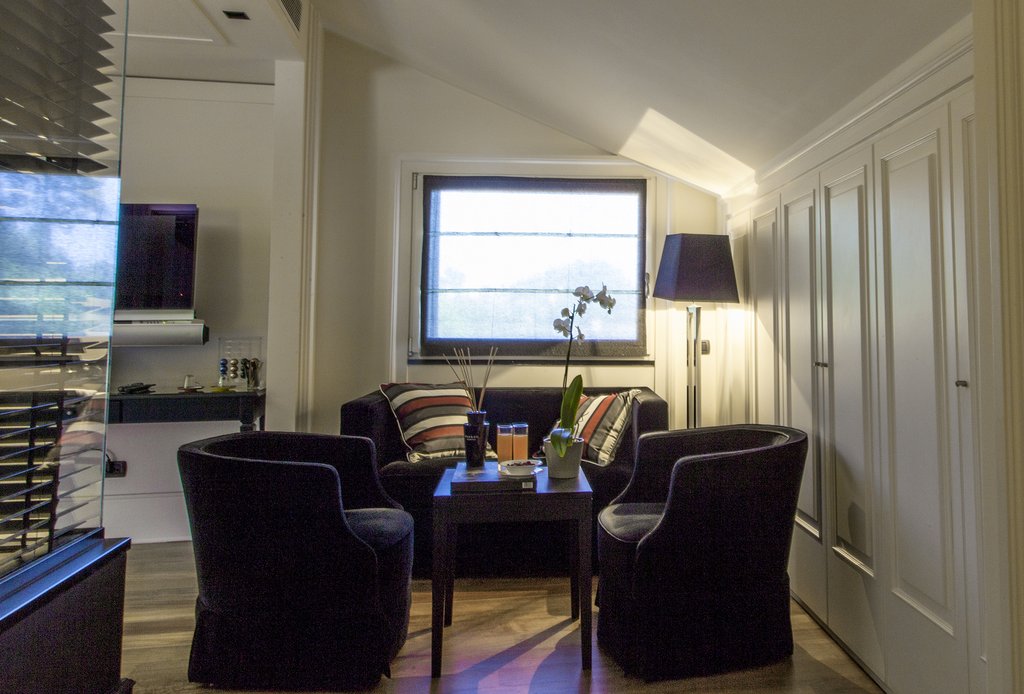 Suite
Sleeps: 2 People.
Spacious and quiet room with an open view on the harbour, decorated with natural materials and light colours, bathroom with large bathtub.

Minibar, 2 satellite plasma TV, air-conditioning and complimentary WiFi. Approx: 38 sqm.
From per night
Air conditioning
Lounges/bars
Sauna
Pets allowed
Join INVITED and get 10% off exclusive rates. Plus early check-in and late check-outs among other benefits.
24-hour front desk

Accessible facilities

Accessible parking

Air conditioning

Audio visual equipment

Bell staff/porter

Catering services

Child programs

Children welcome

Concierge desk

Conference space

Continental breakfast

Doctor on call

Dry cleaning

Elevators

Family plan

Fax service

Fire safety compliant

Full service housekeeping

Handicap Parking

High speed internet connection

Housekeeping - daily

Jogging track

Laundry/Valet service

Lounges/bars

Massage services

Meeting rooms

minimum charge

outdoor

Parking fee managed by hotel

Pets allowed

Photocopy center

Restaurant

Room service

Room service - limited hours

Safe deposit box

Security

Shoe shine stand

Tour/sightseeing desk

Valet parking

Wakeup service
Air conditioning

Balcony/Lanai/Terrace

Bathrobe

Bathroom amenities

Bathroom telephone

Bathtub

Bidet

Cable television

Color television

Direct dial phone number

Hairdryer

Internet access

Minibar

Phone in bathroom

Queen bed

Remote control television

Safe

Satellite television

Sitting area

Slippers

Smoke detectors

Telephone

TV

Twin bed

Two-line phone
Breakfast is served either in the breakfast room, or in your room without any extra charge from 7:30 to 10:30.
BAR
Cuisine type: Mediterranean
The Eight Bar where Guests may enjoy a drink or a cocktail opens from 0900 to 2300. The Hotel does not have a restaurant on site- however our Guests can enjoy our restaurant The Eight- located in our sister Eight Hotel Paraggi in a very romantic ambiance with breathless sea view. There is a shuttle service at disposal of our Guests to and from the restaurant on scheduled timings.
Reviews
These reviews are the real opinions of INVITED members and we have verified their stay at the hotel.
What I liked most :

Welcome and departure (15)
General service (12)
Local knowledge and experiences (11)
Guestroom and bathroom (10)
Location (9)
Breakfast (8)
Internet and wifi (3)

What I might improve :

Leisure facilities (5)
Breakfast (3)
Guestroom and bathroom (3)
Internet and wifi (3)

Read Reviews

Eight Hotel Portofino - Excellent rating

Stay date: August 2016

My Trip Type:

Couple

Facilities were excellent. We had plenty of space and our room was quiet. Cleanliness was excellent. We enjoyed the private beach and the daily breakfast. The spa pool in the Hotels garden was also great.

Top tip for other guests:

Easy short walk from Hotel to waterfront, gives you a private location. On site car parking was great. Staff work as a team to make your stay enjoyable. Breakfast fantastico.

What I liked most

Location
Local knowledge and experiences
Breakfast
Welcome and departure
Leisure facilities
General service

What I might improve

Guestroom and bathroom
Internet and wifi

Stay date: August 2015

My Trip Type:

Couple

The hotel staff are very helpful and courteous, they make the extra step to make you feel comfortable. The hotel itself is clean and nice, however it lacks a couple of things. A restaurant... although you have many restaurants around you, but if you feel that you want a quick bite over lunch, you can't have it. Their restaurant serves only breakfast. The breakfast is nice though. Moreover there is no pool in the hotel. Anyway you would want to head to the beaches. Highly recommended. Maybe on my next stay i will stay at 8 Hotel on Paraggi, rather than in Portofino. In Paraggi, they have a direct access to the beach. If you have Sauna included in your daily rate, make sure that you book your slot in advance. Otherwise, it might be booked, especially in the afternoon.

Top tip for other guests:

Better to stay in Paraggi or Sta. Margarita rather than in Portofino. Visit Portofino during the day or night.

What I liked most

Welcome and departure
Local knowledge and experiences
Breakfast

What I might improve

Restaurant and dining
Guestroom and bathroom
Leisure facilities

Relax away from the crowd

Stay date: August 2015

My Trip Type:

Couple

Portofino in August is simply too crowded during the day, so you wan to avoid the "famous" piazzetta. After 7, this little famous town becomes a nice place, after sunset it is georgeous. Eight Hotel is close enough for any walk you want to take and far away from the masses. The rooms are not very big, as it is an old house, but they are well ket and nice. Shower design urgently needs an update, as well as the garden facilities.Breakfast is a treat, the service is fast and caring, the staff friendly beyond expectation. Over all, the friendly and well trained staff makes up for the few things that need an update.

Top tip for other guests:

Make sure you book your beach towel at the Eight Hotel in time

What I liked most

General service
Breakfast
Welcome and departure

What I might improve

The place to live Portofino fully !

Stay date: June 2015

My Trip Type:

Couple

We arrived at the hotel after many hours of driving. Great welcome, ideal location and comfortable room. To really have a feel for Portofino you have to spend an evening after the crowd is gone. Eight is the place and having a place to park is a real luxury there.

Top tip for other guests:

Try to get an upgrade because the basic rooms are a bit small.

What I liked most

Welcome and departure
Guestroom and bathroom
Location
Local knowledge and experiences

What I might improve

Lovely quiet spot to enjoy Portofino

Stay date: September 2014

My Trip Type:

Friends

The staff were very friendly and helpful, the room was immaculate if small but very efficiently organised. The breakfast was lovely- the only improvement would be the coffee however that applies to all of Italy due to the milk.

Top tip for other guests:

It is Portofino- space is limited!

What I liked most

General service
Breakfast
Welcome and departure
Guestroom and bathroom

Stay date: July 2014

My Trip Type:

Couple

Hotel is not in the port, that's pitty, but about 5 - 10 minutes walk. The walk goes uphill - it's not a tough one, not even a challenge, but you may have a problem if you have any kind of disability. So location is 4 stars. The hotel itself is very nice, a room we got quite small, but stylish, decorated with taste and nice, big bathroom. 4/5 stars. Staff very helpful, helped us with our own dinner in the garden, 5 stars, breakfast was very good, 5 stars. The hotel has a terrific tarrace on the last floor, with garden, jacuzzi, hammocks and place to sit down with drinks. A relief in Portofino, which is very posh so it's nice to cool down in a very informal, cosy atmosphere.

Top tip for other guests:

visit a roof top garden.

What I liked most

Local knowledge and experiences
Guestroom and bathroom
General service
Welcome and departure
Room service
Breakfast

Stay date: July 2014

My Trip Type:

Couple

Nice hotel with our room being very good. Staff were friendly and efficicient. Buffet Breskfast selection could be improved. Wifi regularly needed to be "re-set" by reception and was very slow; needs to be upgraded. Although advertised as such, newspapers were not available in lounge.

Top tip for other guests:

Be patient with Wifi.

What I liked most

Local knowledge and experiences
Welcome and departure
Location
Guestroom and bathroom
General service

What I might improve

Internet and wifi
Breakfast

Stay date: July 2014

My Trip Type:

Couple

The only two things that I was disappointed with was the size of the junior suite which was more like a large normal room. The "suite" also lacked a bath and the shower was integral to the "bathroom" which meant the whole floor became wet. Having no evening dinner was also a bit of surprise. However, the staff were excellent and the location was handy.

Top tip for other guests:

If you want a hotel with space and normal service expected in a hotel suggest you look elsewhere. However if you want location and friendly staff this is ideal.

What I liked most

Welcome and departure
Location
Local knowledge and experiences

What I might improve

Guestroom and bathroom
Internet and wifi
Breakfast
Restaurant and dining

Stay date: June 2014

My Trip Type:

Couple

the staff was very kind and helpfull, just right for the level of the hotel. the room was not what i expected, and i was waiting a room upgrade which did not happen. in general for a boutique hotel in the center of Portofino i would recommend it to friends

Top tip for other guests:

Ask Hermes, he is the person for you!!!

What I liked most

General service
Welcome and departure

What I might improve

The best for a piece full holiday

Stay date: November 2013

My Trip Type:

Couple

One off the best, friendly staff , very good location, for sure I will be their within the next eight months

Top tip for other guests:

Do not miss this hotel

What I liked most

Leisure facilities
Breakfast
Welcome and departure
Location
General service
Internet and wifi
Guestroom and bathroom
Local knowledge and experiences

Great Hidden Gem of a hotel

Stay date: September 2013

My Trip Type:

Couple

This small hotel up the street from the hustle and bustle of Portofino harbor was a perfect three day experience for us. Large rooms and bathrooms, great spa, great breakfasts, and exceptionally wonderful staff. We couldn't have asked for more and would definitely go back again and again.

Top tip for other guests:

Take them up on the offer of shuttle to their private beach at sister hotel in Paraggi

What I liked most

Location
Guestroom and bathroom
General service
Breakfast
Local knowledge and experiences
Internet and wifi
Welcome and departure

Stay date: August 2013

My Trip Type:

Family

When we arrived at the hotels we were greeted by a very friendly and welcoming front office staff. The first thing they did was have us sit down relax and offered us a drink. They ensured that we took our time to unwind from our drive. They said when we were ready they would have everything taken care of and bring us to our rooms. The service and hospitality from all staff personal was outstanding. Their recommendations from restaurants to interesting things to do we're great. We decided to go snorkeling and the manager offered to go to the next town to pick us up snorkeling equipment.. Keep up the great work and passion!

Top tip for other guests:

Explore the area!

What I liked most

Welcome and departure
Internet and wifi
Location
Guestroom and bathroom
General service
Local knowledge and experiences

What I might improve

Great service and location

Stay date: June 2013

My Trip Type:

Couple

The staff and management was welcoming and very helpful. The upgraded room had a view over the harbor. We will be back!

Top tip for other guests:

Walk to the Eight Hotel beach facility for a swim, drink or breakfast.

What I liked most

Guestroom and bathroom
Local knowledge and experiences
Location
Welcome and departure
General service
Restaurant and dining

Stay date: September 2012

My Trip Type:

Couple

This wonderfull hotel is in nice portofino. Everething is perfect. The only thing who is not really perfect is the beach in the sister hotel. We had love the breakfast on the terracy. Don't forget to go for a beach day in san fruttuoso by boat.

Top tip for other guests:

the breakfast in summer on the terracy is unmissable.

What I liked most

General service
Breakfast
Guestroom and bathroom
Welcome and departure

What I might improve

Second visit and definitely not the last

Stay date: September 2012

My Trip Type:

Couple

This stunning boutique hotel has it all, the manager and staff were the best we encountered on our European road trip, all in slh hotels.

Top tip for other guests:

Parking is tight as is the road to the town !

What I liked most

Guestroom and bathroom
General service
Local knowledge and experiences
Welcome and departure
Location