https://origin.slh.com/hotels/grand-hotel-parkers/
HOTEL HIGHLIGHTS
One Michelin Star Restaurant with view on the Bay of Naples, Capri and Vesuvius

Roof garden with views of the rooftops of Naples
Unique tours around quality vineyards and cellars boasting the oldest known vines in history
Grand Hotel Parker's - LUXURY HOTEL IN NAPLES
Grand accommodation with magnificent views of the Bay of Naples
A late 19th-century gem poised on a hill overlooking the city and the Bay of Naples, Grand Hotel Parker's provides one of the best restaurants in the city, an inviting cocktail bar and a Champagne bar.
Sumptuously decorated public rooms adorned with chandeliers, original antiques and paintings. Bronze and marble sculptures contrast with an ambience more homely than palatial. Choose to stay in a split-level suite for a dramatic bay view. Visit the library at Grand Hotel Parker's, complete with 700 books dating back to the end of the 19th-century and the start of the 20th century.
Spend a day wine tasting with a gourmet lunch at the hotel owners' Villa Matilde vineyard in the heart of Campania region. Then return to Grand Hotel Parker's and enjoy your favourite wine with exquisite traditional Neapolitan cuisine at George's for dinner.
79

rooms

2

restaurants

5

floors
The rooms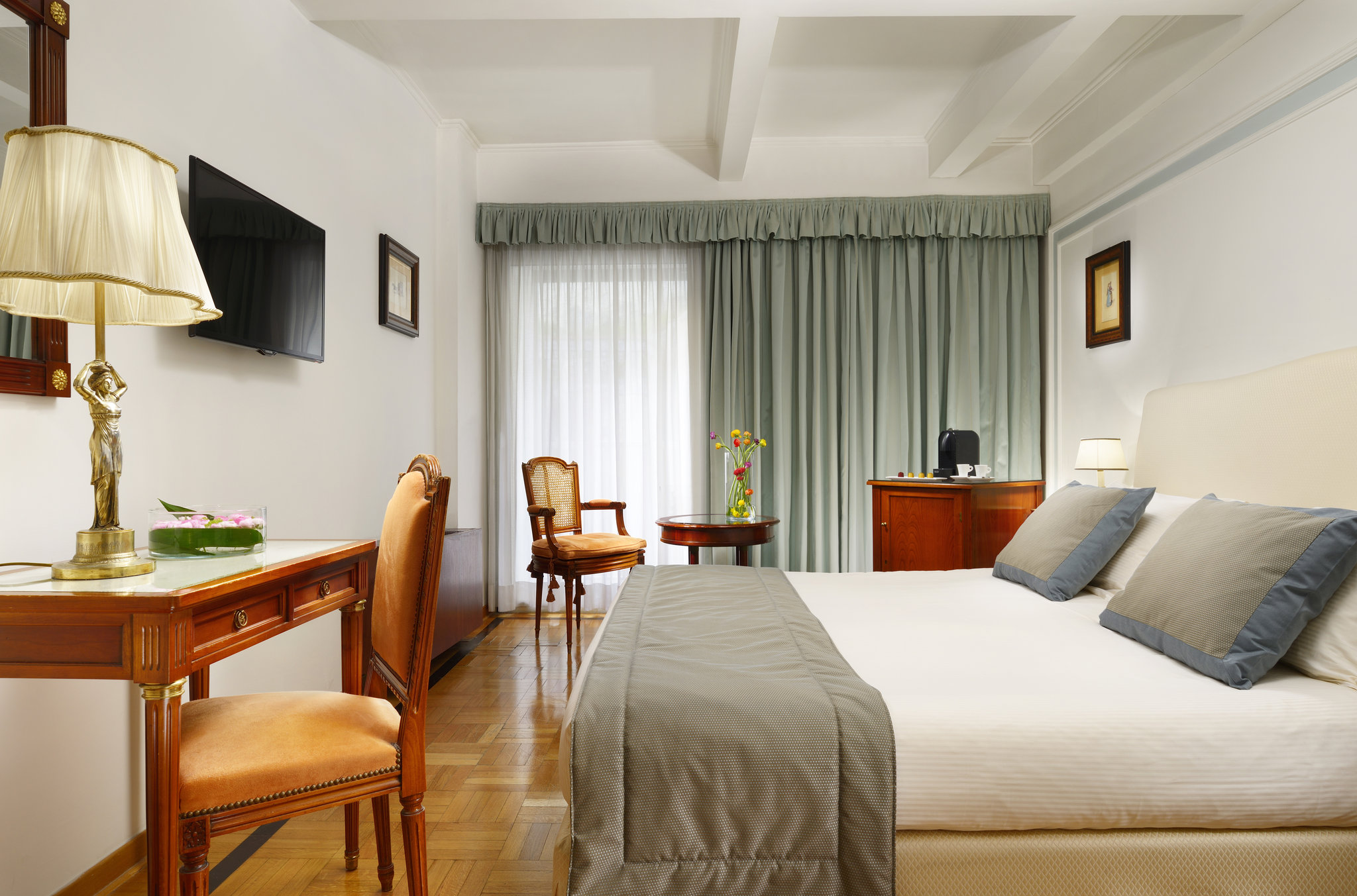 Standard Room
Sleeps: 2 People.
Essential, comfortable and quiet rooms, our Standard rooms are perfect for both business traveller's and leisure guests.

They are elegantly furnished and have quality oak parquet. The en-suite bathrooms are enriched with precious Italian marble and are equipped with washbasin, bathtub or shower.
From per night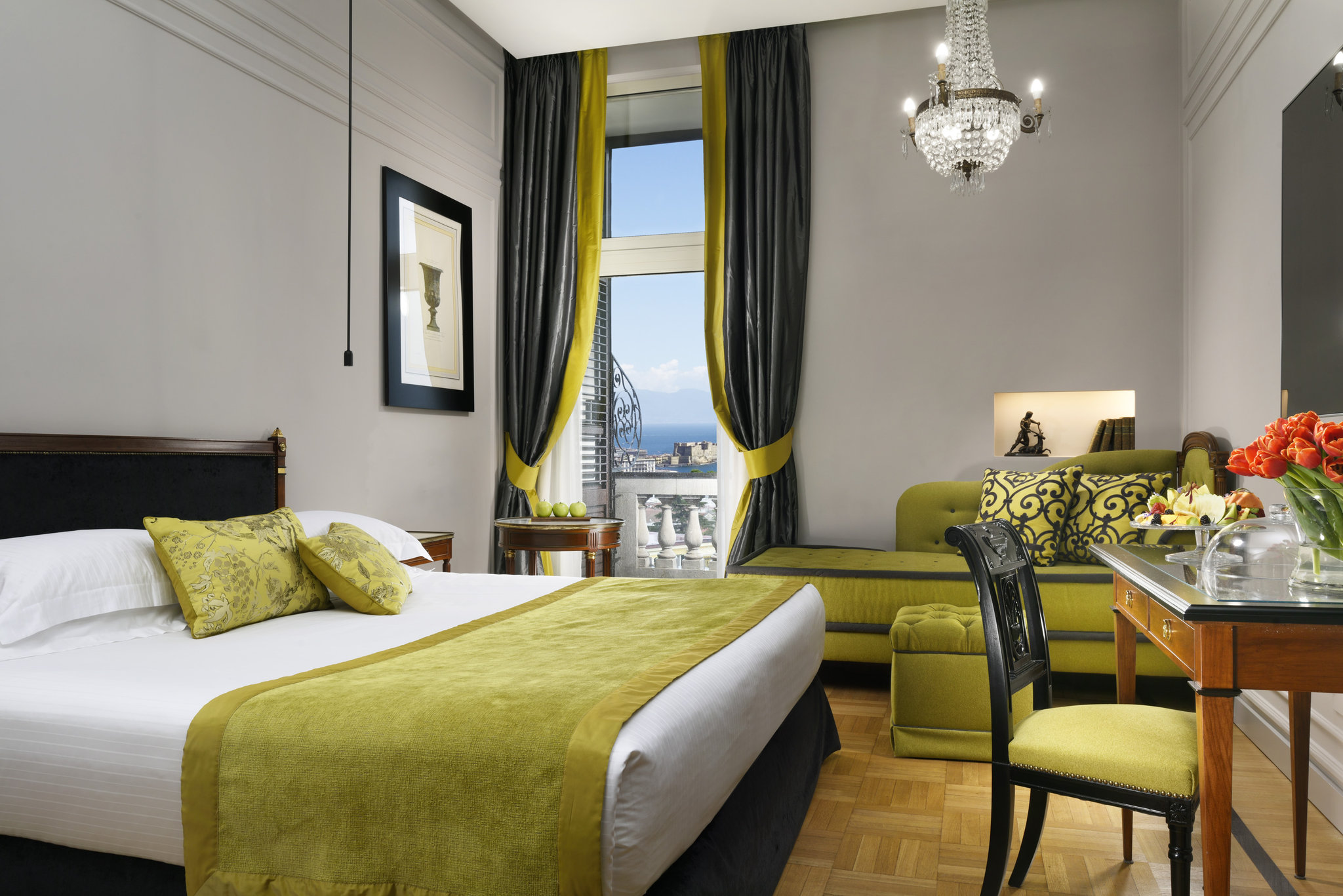 Classic Room Sea View
Sleeps: 2 People.
Our Classic rooms are spacious and airy with lots of natural light. All rooms feature a king size double bed or two single beds.

There is a desk which is perfect for business travellers. Guests can delight in the stunning, unforgettable panorama of the Bay of Naples, the Sorrento Coast and Capri. A beautiful chaise longue is perfect for relaxation or can be used as a third bed as necessary. En-suite marble bathroom.
From per night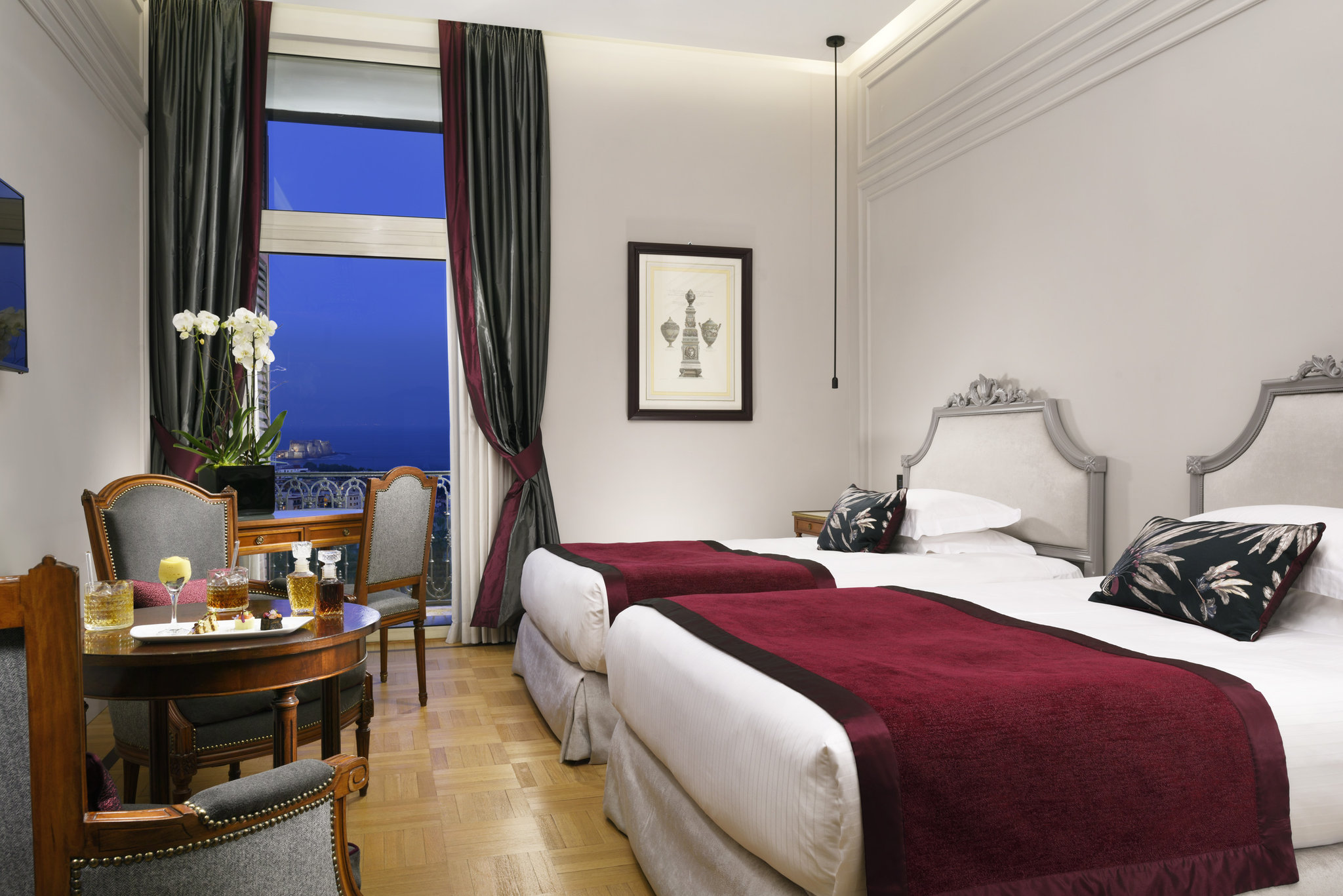 Comfort Deluxe Sea view
Sleeps: 3 People.
These distinguished rooms of understated elegance feature two Queen size beds for heavenly sleep.

Furnished with a desk and a coffee table these rooms are perfect for leisure or business travellers. En-suite marble bathroom.
From per night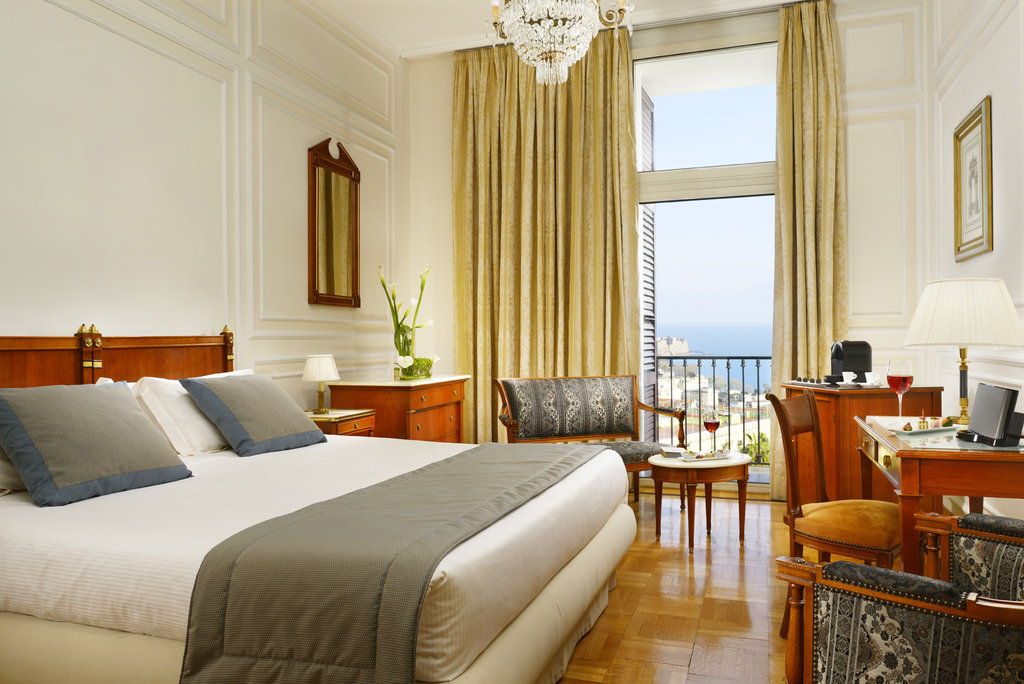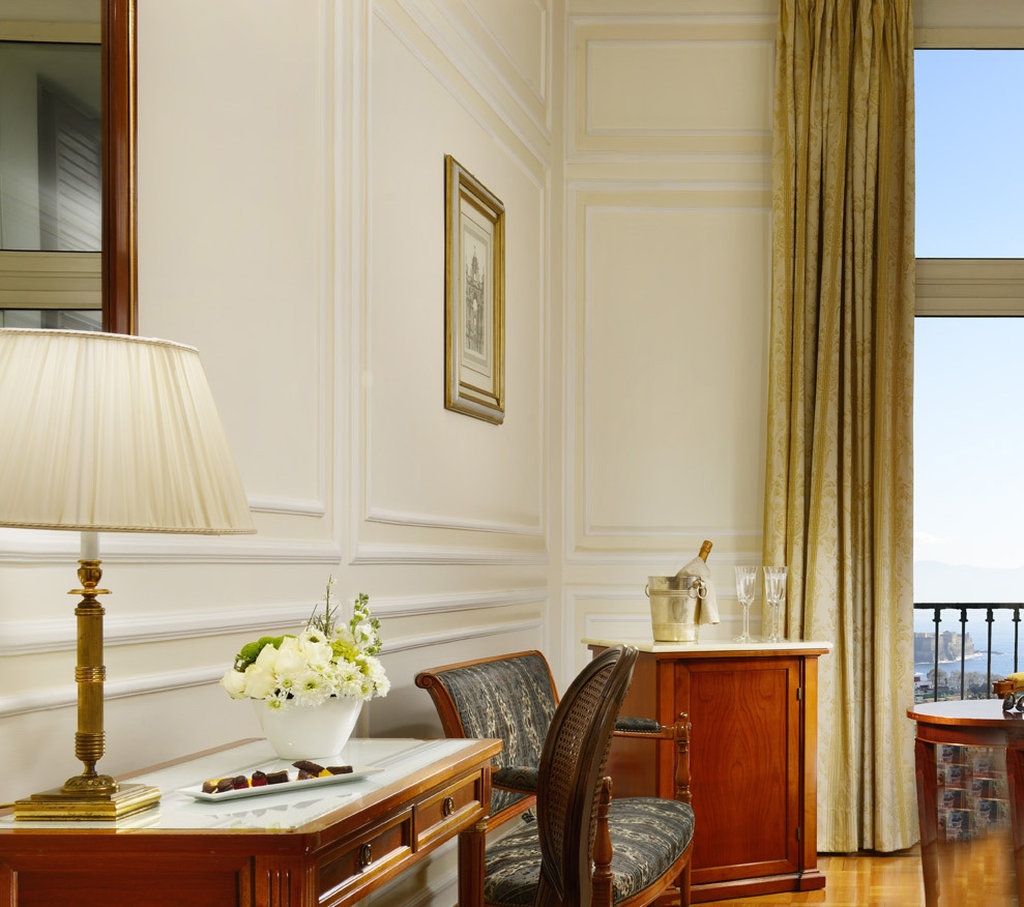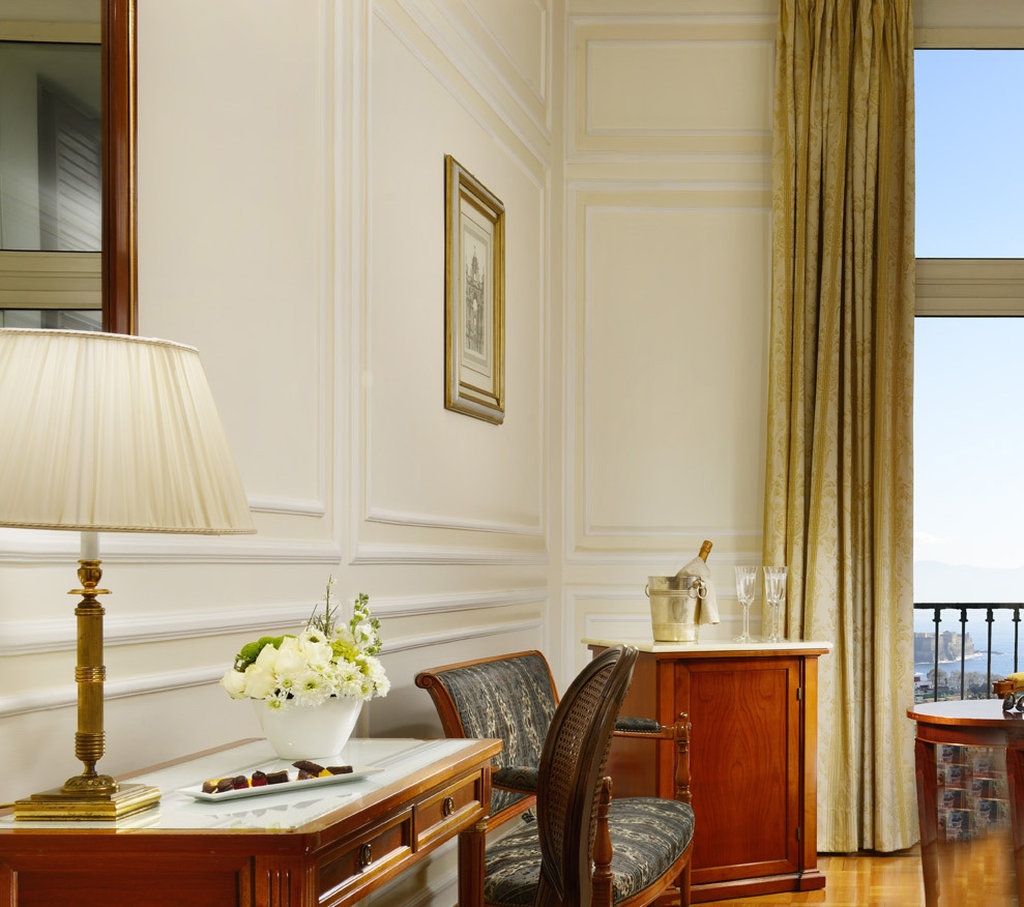 Deluxe Rooms Sea view
Sleeps: 2 People.
The central location of these rooms ensures the guests can enjoy bountiful amounts of natural light and revel in the sublime beauty of the Gulf of Naples.

Featuring floor-to-ceiling windows, period furnishing, a King size bed and an antique desk these rooms are perfect for couples or individual travellers. En-suite marble bathroom.
From per night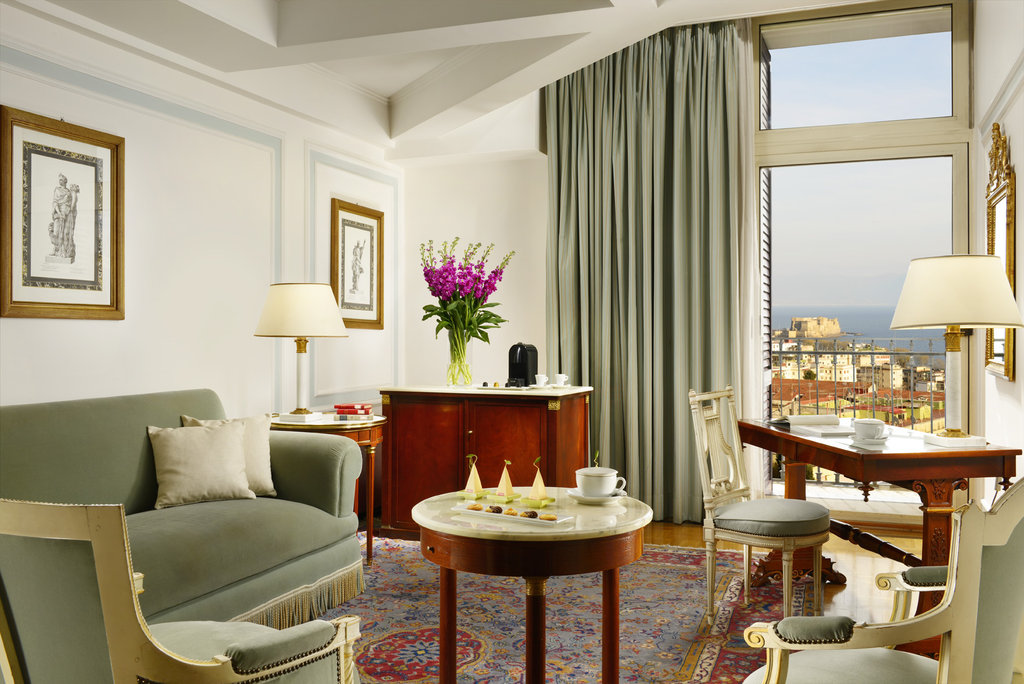 Suite Sea View
Sleeps: 3 People.
The sophisticated atmosphere and the charm of the Grand Hotel Parker's is best featured by its suites, which are unrivalled for their luxury.

They are particularly luminous and on entering there is an elegant sitting area furnished with armchairs and a precious wood or marble table, a large working desk with a table lamp, luxurious furnishings such as marble columns, and a separate toilet for guests. Upstairs, there is a large bedroom and a stylish and spacious, marble tiled bathroom, complete with a double washbasin and bathtub. The rooms feature Nespresso coffee machine and a minibar with Complimentary soft drinks.
From per night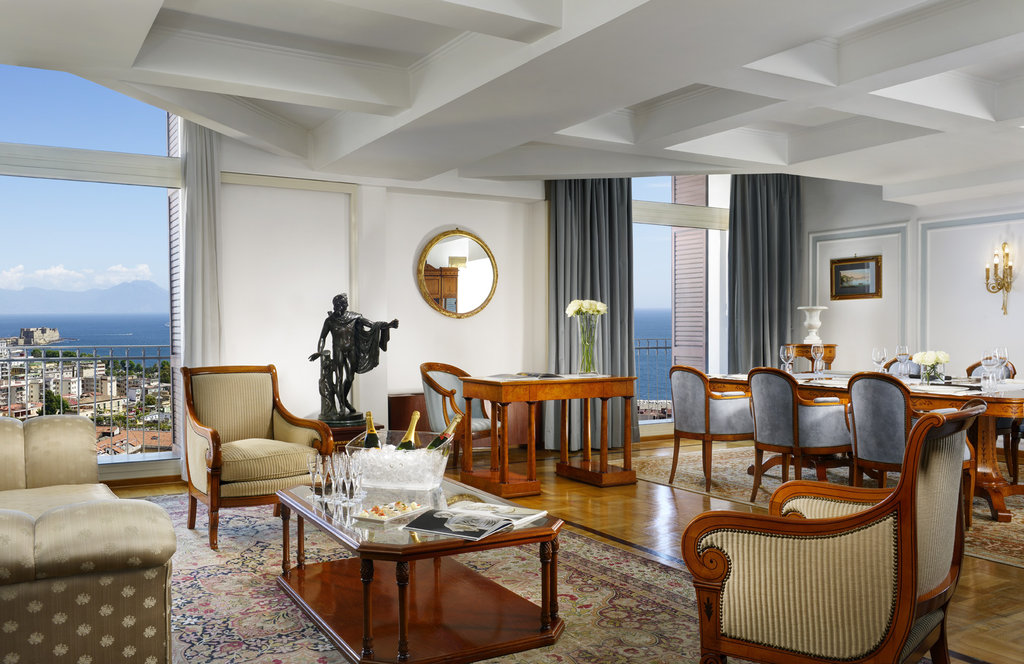 Parker's Suite Sea view
Sleeps: 3 People.
The grand drawing room is bathed in natural light and the gentle sea breeze from the two Liberty balconies restores the spirits of our illustrious guests today, just as it did 150 years ago.

The Parker's Suite retains the original antique furniture and the founder's private collection of books. The first floor is perfect for relaxation, business meetings and private events. The second floor is the perfect haven for seclusion and rest. The inviting King size bed and snug area retains the original old-world charm. A luxury marble bathroom with a private jacuzzi and a separate shower room, double washbasin awaits you.
From per night
Air conditioning
Lounges/bars
Exercise gym
Pets allowed
24-hour room service
Airport shuttle
Wedding services
Join INVITED and get 10% off exclusive rates. Plus early check-in and late check-outs among other benefits.
24-hour front desk

24-hour room service

Accessible facilities

Airline desk

Airport shuttle

Audio visual equipment

Bell staff/porter

Buffet breakfast

Business Center

Business Center Services

Car rental desk

Catering services

Cellular phone rental

Child programs

Children welcome

Complimentary buffet breakfast

Computer

Concierge desk

Conference space

Currency exchange

Doctor on call

Dry cleaning

DVD/video rental

Elevators

Executive floor

Exercise gym

Family plan

Fax service

Flip charts

Free high speed internet connection

Free parking

Full service housekeeping

Gift/News stand

Health club

High speed internet access for laptop in public areas

High speed internet connection

Hotspots

Housekeeping - daily

Indoor parking

Laundry/Valet service

Lounges/bars

Massage services

Meeting rooms

Newspaper

Overhead projector

Pets allowed

Photocopy center

Restaurant

Room service

Secretarial service

Security

Tape recorder

Translation services

Turndown service

Valet parking

Wakeup service

Wedding services

Wireless internet connection
Air conditioning

High Definition (HD) Flat Panel Television

Minibar

Safe
With its unique view of Naples, the George's restaurant is an exclusive location in the city. Precious glass panels offer an ideal context for those who wish to admire the landscape from a higher position.
Le Muse
Meals served: Breakfast, Brunch, Lunch, Dinner
Panoramic restaurant and terrace with spectacular views of the gulf of Naples Buffet breakfast and Neapolitan lunch. Famous for its sweeping sea views and sophisticated atmosphere Le Muse Restaurant provides a haven of serenity for our guest
Liberty
Meals served: Lunch, Dinner
Magnificent surroundings await you as you delight in Neapolitan delectable dishes by our top local chef Vincenzo Fioravante. The grand drawing room with its perfectly preserved Liberty features and vast collection of Fonderia Chiurazzi bronzes is the sumptuous backdrop for a memorable dining experience.
George Restaurant * Michelin
Meals served: Dinner
George 1 Michelin star Restaurant is the perfect setting for truly unique mouthwatering gastronomy which is the magical alchemy of contemporary cuisine and time honoured Neapolitan secrets. George is the corniche par excellence of the captivating exquisite panorama of the Gulf of Naples Vesuvius the Sorrentine Peninsula and Capri a veritable feast for the eyes and the taste buds. Our show kitchen is headed by our young dynamic Chef Domenico Candela class of 1986 born in Naples. He is the mast
Reviews
These reviews are the real opinions of INVITED members and we have verified their stay at the hotel.
What I liked most :

Location (32)
Welcome and departure (30)
Breakfast (25)
General service (25)
Guestroom and bathroom (17)
Local knowledge and experiences (17)
Internet and wifi (16)
Restaurant and dining (12)
General Service (6)
Welcome and Departure (6)
Guest Room and Bathroom (5)
Local knowledge and experience (4)
Room service (4)

What I might improve :

Breakfast (11)
Guestroom and bathroom (9)
Restaurant and dining (6)
Internet and wifi (5)
Leisure facilities (4)

Read Reviews

November 2019

My Trip Type:

Couple

We can not fault thePark Hotel.to name but a few Brilliant service with personal touch Breakfast room is on top with breathtaking views Location Good breakfast

Top tip for other guests:

Pay more to have a room with sea view. They are beautiful with Capri and Vesuvius as background.

What I liked most

Welcome and Departure
Location
General Service
Local knowledge and experience
Guest Room and Bathroom
Breakfast
Internet and wifi

Great staff, good breakfast and nice views.

July 2019

My Trip Type:

Individual

The bathroom, which was rotten and har much water damage. I did complain to the reception and they decided to close the room immediately! I was a disappointed that a Small Luxury Hotel that could have such a standard

Top tip for other guests:

Be sure you get a rennovated room!

What I liked most

Welcome and Departure
General Service
Local knowledge and experience
Breakfast

What I might improve

Location
Guest Room and Bathroom
Room Service

Very good standard of quality overall, good location to stay in Naples, great view from the top floor

June 2019

My Trip Type:

Friends

Top tip for other guests:

Nothing to add

What I liked most

Welcome and Departure
Location
General Service
Guest Room and Bathroom
Breakfast
Internet and wifi

Change any plans you've made and stay here.

April 2019

My Trip Type:

Family

April in Naples might be a bit hit and miss weather wise but it's a wonderful time to visit to avoid the summer crowds, impossible queues for everything and the sapping heat. Also, the gelato doesn't melt as fast. On this recent family visit, the two storied family room and double room on another floor both had spectacular views across the city and Bay of Naples towards Mt Vesuvius, Sorrento and Capri. For every morning of our stay, each of us began with a keen anticipation of how the view would look. We saw it in different moods and loved the changing tones and colours: it is truly magnificent and majestic. The hotel staff were exceptionally friendly, helpful and full of bonhomie. Nothing was too much trouble from arranging cars at short notice, making recommendations for excursions, booking tables at hard to get into restaurants, giving directions and providing an authentic inside perspective on this city. There are many beautiful pieces of furniture throughout the hotel decorating a number of public seating areas on the ground floor and the sixth floor, which has the main restaurant, an expansive terrace and views all over. Some might think that they would prefer to be located near the water or old town. Our experience was that this hotel offers a place of repose and refreshment after what can be frenetic, fast-paced days. The walk into the old city is easy and attractive, downhill and ideal for increasing your step count. If you are over that, there are lots of taxis around and they are inexpensive. One tip for the hotel would be to have something in the breakfast offering that changes everyday. After four mornings, the same fairly limited and unremarkable selection gets a bit boring and doesn't do justice to the beauty of the setting. However, the whole local honeycomb is a highlight.

Top tip for other guests:

The fourth floor bay side rooms offer great comfort and spectacular views.

What I liked most

Welcome and Departure
Location
General Service
Local knowledge and experience
Guest Room and Bathroom
Internet and wifi

What I might improve

Breakfast
Leisure facilities

January 2019

My Trip Type:

Family

Top tip for other guests:

the view and the restaurant

What I liked most

Welcome and Departure
Location
General Service
Guest Room and Bathroom
Breakfast
Room Service

What I might improve

Beautiful views of Naples and harbor

June 2018

Most unforgettable were the views. Also the welcome from the staff was warm and genuine. Very helpful in navigating the city and making recommendations. Love the views from the roof top restaurant as well however evening dining was not yet available. It will be a fantastic view restaurant in the evenings. It certainly was for breakfasts.

Top tip for other guests:

Just outside the shopping district which makes it a very good location. Be prepared if walking to navigate the many stairs down to the harbor and stores. Taxi's are recommended to take you back up if you don't like stairs. If you do it's great.

What I liked most

Welcome and Departure
Location
General Service
Local knowledge and experience
Guest Room and Bathroom
Internet and wifi

What I might improve

Breakfast
Restaurant and dining

My first time in this hotel and I was extremely satisfied

3 April+2017

My Trip Type:

Business

I was very warmly welcome at the reception and recognised as a SLH Club member and upgraded to a two floor suite with a wonderful view.

Top tip for other guests:

Very beautiful hotel with a wonderful sea view

What I liked most

Location
Breakfast
Local knowledge and experiences
Guestroom and bathroom
Internet and wifi
General service
Welcome and departure

A Grand Dame with some wrinkles

Stay date: February 2017

My Trip Type:

Business

I will be honest: the hotel rooms need serious uplifting and the good news is that they are doing it as we speak! The location is great, just above Marcellina, the staff is more than GREAT: I hope you can all meet the head concierge Mr. Marco, a true Neapolitan: hospitable, kind and charming. The seaview rooms are nice and full of light whereas the internal garden/back garden are so so, but more affordable. One of the highlights is the breakfast, the pastries are great but the view is to kill. I would gladly return back, and in all honesty I didn't mind the room: tired, some scratches on the hinges and on the forniture, but overall very comfortable.

Top tip for other guests:

try to picture it in the haydays and you will enjoy your stay

Hotelier reply:

Dear Murat, Greetings from sunny Naples, Thank you so much for your great feedback about your stay at Grand Hotel Parker's! We are glad to read that you really enjoyed, the City, the hotel and his location… At the end of the year all rooms will be renovated so they won't have any more wrinkles… We hope to greeting you again in Napoli! Our Warmest Regards, GHP Team

What I liked most

Location
General service
Local knowledge and experiences
Breakfast
Welcome and departure

What I might improve

Stay date: October 2016

My Trip Type:

Single

I enjoyed a great view of Mt. Vesuvio and the sea from my room. The room was elegant and well maintained. Bathroom amenities include Carthusia from Capri and Ortigia from Sicily, a good selection from southern Italy. Hotel staff were friendly and always trying to help me. I took public transportation to go to the city and museum Capodimonte to avoid traffic congestion. It takes a 5-minute walk from the hotel to the nearest funicorale station. Then get off at Cimarosa where you can change to the metro to go to the city center. Overall, Great view and relaxing atomosphere, away from hustle-bustle in Napoli. I will definitely come back this hotel.

Top tip for other guests:

Enjoy the view from your room and the restaurant.

What I liked most

Local knowledge and experiences
Welcome and departure
Location
Breakfast
Guestroom and bathroom

What I might improve

Beautiful view, excellent service

Stay date: June 2016

My Trip Type:

Couple

Very nice rooms/suites, stunning view of course and great service. The concierge, Marco, is a goldmine of information and will make sure your stay is a success. Top concierge services are the hallmark of true five star hotels and Parker's does not disappoint in this regard. 6th floor restaurant recommended for a drink (what a view!) but less so for dinner. Napoli simply offers too many fantastic food options to stay at the hotel. Especially for that price level. Hotel very well located but if you have limited mobility you will need to take taxis (relatively cheap), bus/funicolare/metro are a short but often steep walk away.

Top tip for other guests:

Talk to Marco, the hotel's concierge. That guy knows everything and thoroughly enjoys helping you out with restaurants, wine shops, trips...

What I liked most

Location
Local knowledge and experiences

The only place to stay in Naples

Stay date: February 2016

My Trip Type:

Couple

Great views of Naples lovely room up grade but the best thing about the Parkers is the staff will going out there way to help weather you need help to get around Naples or getting you into the best restaurants the staff are fantastic the Parkers in the only place to stay in Naples will definitely be back soon

Top tip for other guests:

Talk to staff for tips on Naples

Hotelier reply:

Dear Mr. Wood, Greetings from the Bay of Naples! Thank you for sharing your compliments about our Team on slh.com. We are grateful that you appreciated the professionalism of our team, very attentive to your needs and always ready to give you the best tips in the City. We are delighted that you became one of our Loyal guests! We look forward to greeting you again to Naples. The GHP Team

What I liked most

General service
Welcome and departure
Restaurant and dining
Location
Local knowledge and experiences
Guestroom and bathroom

What I might improve

Stay date: February 2016

My Trip Type:

Couple

Our stay at The Grand Hotel Parker's was extremely comfortable. The hotel is in a great location, with a nice 5..10 min walk to the centre, and easy access by car. The hotel staff was friendly, helpful and prompt. We particularly enjoyed the spectacular view from our 4th floor room, over the Bay of Naples and the beautiful sunrise over Vesuvius, and to top off the mornings the hotel presents a breakfast, which for us, would reason enough to revisit. I can warmly recommend this hotel for a Neapolian stay. Thank you.

Top tip for other guests:

A comfortable hotel in a rising destination.

What I liked most

General service
Location
Guestroom and bathroom
Breakfast
Welcome and departure

What I might improve

Friendly service in a great location

Stay date: January 2016

My Trip Type:

Couple

Friendly service in a great location

Top tip for other guests:

Do not miss on the wine, yogurt and sfogliatella produced by businesses affiliated to the hotel.

What I liked most

Local knowledge and experiences
Location
Breakfast
General service
Welcome and departure

Stay date: January 2016

My Trip Type:

Couple

The hotel are really classic. The front desk gentleman called Michael( if I called is right) and lady (Laura) are really nice. They offered us the upgrade to seabird suite and tecommended us great restaurants. In addition, Michael also help us to call the taxi to the train station with local price. The breakfast in the Park's hotel are delicious. The location us safe and not far from cable car station and metro station ( about 10 mins walk). Will come back when we visit Naples.

Top tip for other guests:

Classic and beautiful seaview

What I liked most

General service
Breakfast
Welcome and departure
Local knowledge and experiences

What I might improve

Stay date: November 2015

My Trip Type:

Couple

The Hotel has a gentile atmosphere and the staff are very pleasant and helpful. Tiziana on reception desk was particularly helpful with advice on where to visit and what to do. We had pre-dinner drinks in the rooftop bar each evening followed by superb dinners in the restaurant. Breakfast in the morning allowed us to fully enjoy the wonderful views of the Bay of Naples and Vesuvius. Definitely a place to visit again when it is warmer, to allow us to enjoy dining on the terrace. Thank you for a wonderful stay. (Visit 22nd - 25th November)

Top tip for other guests:

Ask at reception for directions to nearest Metro station (Piaza Amadeo), it is closer to walk down the steps than around the road.

What I liked most

Restaurant and dining
Guestroom and bathroom
Breakfast
Local knowledge and experiences
Welcome and departure
General service

Stay date: October 2015

My Trip Type:

Couple

The hotel's location was not too close to the center, but close enough. We got a room upgrade, which was nice. Unfortunately the wifi was not really always working well. However this disadvantage was easily subdued by the amazing view from the roof terrace. Sauna was available but had to be paid extra... A bit strange and not really charming for a 5* hotel. Staff was very helpful and friendly.

Top tip for other guests:

Be sure to check out the view from the restaurant

What I liked most

Welcome and departure
Breakfast
Location
General service
Guestroom and bathroom

What I might improve

Internet and wifi
Leisure facilities

Beautiful hotel with fabulous service

Stay date: October 2015

My Trip Type:

Single

The hotel is beautiful and despite being on a busy road it is very quiet. The view over Naples and the bay is second to none. The staff were discreet but friendly and very helpful. Breakfast was not very inspired and for someone with a gluten allergy there was not much choice.

Top tip for other guests:

Have a drink in the bar to watch the sunset!

Hotelier reply:

Dear Ms. Botter, Greetings from the splendid Bay of Naples, Thank you for your great review on SLH Club Member page. We really appreciated your kind compliments and glad to read about your enthusiastic stay with us! Regarding the breakfast, yesterday our Food & Beverage Manager improved our selection of Mediterranean and gluten free products. We hope to greet you again in Napoli, Our warmest regards. The GHP Team

What I liked most

What I might improve

Super location and stylish place

Stay date: August 2015

My Trip Type:

Couple

Splendid views decent rooms great service

Top tip for other guests:

Don't cry over the missing pool

Hotelier reply:

Dear Dr. Alter, Greetings from Grand Hotel Parker's. Thank you for your kind review on SLH.com. We are happy to read about your enthusiastic experience with us! We hope to welcoming you again in our splendid Napoli. Our Kindest Regards, GHP Team

What I liked most

Location
Breakfast
Welcome and departure

What I might improve

Classy hotel with an outstanding view

Stay date: June 2015

My Trip Type:

Couple

Very pleasant stay in a very nice hotel. Great food with a superb view over Napoli bay

Top tip for other guests:

Breakfast and dîner with a splendid view over the sea

Hotelier reply:

Dear Mr. Durant, Good afternoon from the Bay of Naples. Thank you for your kind review on SLH.com, we really appreciated your compliments, and we will share them with our professional team. We hope to have the opportunity to welcoming you again in Naples, Our Kindest Regards. Déborah Mimouni Booking Coordinator

What I liked most

Local knowledge and experiences
Restaurant and dining
Breakfast
General service
Guestroom and bathroom

What I might improve

Stay date: June 2015

My Trip Type:

Single

Great setting and top quality with a personal touch. The staff is great and my room was just perfect. The views from the rooms and terrace are breathtaking. Nevermind the comments about old rooms and furniture: the structure is perfectly maintained and is an example of charme and real luxury. Breakfast variety should be improved. I will certainly come back.

Top tip for other guests:

The best place to be in Naples

What I liked most

Location
General service
Restaurant and dining
Guestroom and bathroom
Welcome and departure

What I might improve

Internet and wifi
Breakfast

Stay date: January 2015

My Trip Type:

Couple

Our first trip using SLH and we were very happy with our choice. We were upgraded to a suite with a fabulous view on the bay and the Isle of Capri. Everything about this hotel is first class, but the folks at the reception desk were the best.

Top tip for other guests:

Enjoy your stay.

Hotelier reply:

Dear Mr. Robert Keeler, Greetings from Napoli! Thank you for sending us an excellent feedback regarding you last stay with us at Grand Hotel Parker's. We are happy to know that your stay at Grand Hotel Parker's has exceeded your expectations and you appreciated our helpful and professional Reception staff, our finely and preciously furnished rooms, our the stunning view from our terraces and rooms. On behalf of the whole Grand Hotel Parker's team, we would like to thank you for your compliments. We hope to see you back soon at Grand Hotel Parker's. Our warmest regards.

What I liked most

Location
Guestroom and bathroom
Welcome and departure
Restaurant and dining

Nice But With A Couple Of Issues

Stay date: October 2014

My Trip Type:

Couple

We stayed at the Grand Hotel Parker for 1 night while visiting the Amalfi Coast and Pompeii. The hotel has a beautiful view and we stayed in the Presidential Suite. The room was huge with the bedroom on its own floor. We also ate at the bar at the hotel as we had a long day and didn't wish to go out. The food and service were both fine. The only real issues with our stay were that the internet was extremely slow and problematic logging on. Also, after 45 minutes the bath tub had only filled a couple of inches so unless you want to start your bath a couple of hours before you want it, there's not much point in having one. That said, the hotel was fine and would stay there again.

Top tip for other guests:

Get a room facing the harbor for a magnificent view

Hotelier reply:

Dear Mr Campbell, Sunny greetings from Naples bay, we hope that you had a good journey back home. On behalf of the whole team, we would like to thank you for sharing your experience at Grand Hotel Parker's. The Grand Hotel Parker's is located in a quiet residential area of the city center, just 5 minutes walking from main shopping streets in the city, as via Dei Mille, via Calabritto etc and 2 minutes walking from the metro station Piazza Amedeo. Regarding your 2 issues we will forward your comments to our Technician and check the bath of the Presidential Suite. For the slow Wi-Fi connection, we usually don't have this kind of problem as we have high speed connection contract, but it can happen, when sometimes there is a device in the area. Our warmest regards, Déborah Mimouni Booking Coordinator

What I liked most

Location
Restaurant and dining

What I might improve

Internet and wifi
Guestroom and bathroom

Great service in a great location

Stay date: October 2014

My Trip Type:

Single

Great location with beautiful sea views from the room balcony/restaurant /roof terrace. The reception staff were very friendly and helpful always smiling Thanks to Francesco in reception who was amazing and Stephanie and also Tizania all reception staff.. I booked an executive room and though I did not get an upgrade ( there was no suite available ) I was happy with my accommodation . Service in the restaurant was a bit lack lustre at times but they did have quite a few events in the restaurant.

Top tip for other guests:

Get a sea view room with balcony

Hotelier reply:

Dear Mrs Masi, Sunny greeting from Naples bay, we hope you had a good journey back home. On the behalf of the whole team, we would like to thank you for sharing your experience at Grand Hotel Parker's. We are glad to read that you appreciated our smiling and helpful staff, our fine and elegant rooms, the amazing view you can enjoy from our terrace and our rooms. We are sorry we weren't able to upgrade you last time, anyway you stayed in one of our nicest rooms, the Executive rooms, recently renovated spacious and bright rooms, furnished with original XIX century pieces and Persian carpets, bathrooms in Carrara marbles and a breathtaking view on Naples bay. We hope you will be back in Naples and at Grand Hotel Parker's soon, you'll have a double upgrade this time! Déborah Mimouni Booking Coordinator

What I liked most

General service
Breakfast
Guestroom and bathroom
Location
Internet and wifi
Welcome and departure

What I might improve

Restaurant and dining
Leisure facilities

Nice Hotel poor restaurant.

Stay date: September 2014

My Trip Type:

Couple

Very nice room and registration staff pleasant. Ate in the restaurant and was extremely disappointed with the level of service. Food good but very expensive but most of all the waiting staff very very poor and when the service was raised with them they had the cheek to respond and try to rationalise their one star service.

Top tip for other guests:

nice place to stay but do not recommend eating in George's restaurant.

What I liked most

Location
Guestroom and bathroom

What I might improve

Restaurant and dining
Breakfast

Stay date: June 2014

My Trip Type:

Single

I had a very relaxing four days in a very lovely room with a very lovely view. The hotel restaurant was amazing, and breakfast on the balcony was just beautiful. My room was large and elegant, and although it was not new and perfect like so many modern generic hotel rooms, it was comfortable and obviously meticulously well cared for. Of all the hotels on my three weeks of travels throughout Europe, this hotel felt the most welcoming and added to my visit.

Top tip for other guests:

Make sure to breakfast on the balcony.

Hotelier reply:

Dear Mr. Robyne Chawner, On behalf of the whole team, we would like to thank you for having chosen the Grand Hotel Parker's for your recent stay in Naples. We are really thankful to you for having spent some time in sharing your great experience with us. We are pleased to read that we were the hotel that made you feel home far away from home, after traveling around Europe for few weeks, it's for the Team very gratifying. We really hope to see you once again here at the Parker's to make sure that your stay will be consistently memorable and if so, please get in touch with us directly and we will feel honored to welcome you personally upon arrival. Best regards, Grand Hotel Parker's

What I liked most

General service
Internet and wifi
Guestroom and bathroom
Breakfast
Restaurant and dining
Location

Stay date: June 2014

My Trip Type:

Couple

The hotel was perfect for our stopover

Top tip for other guests:

Very nice spot for a stopover in Naples

Hotelier reply:

Dear Mr. Mamman Good afternoon from Naples in full blooming, It's an honor for Grand Hotel Parker's to receive a review from our SLH Club Member loyal guest. We are glad to read that Grand Hotel Parker's was the best choice for your stopover in Naples. we hope that you'll have a new opportunity to come back in our Region, and you'll have more time to visit the beautiful and artistic City of Naples. We hope to greet you again in Naples. We wish you an excellent summertime! GHP Team

What I liked most

Location
Guestroom and bathroom
Welcome and departure

What I might improve

Restaurant and dining
Room service
Breakfast

Stay date: June 2014

My Trip Type:

Couple

We were delighted with our welcome and the staff being very smart and helpful

Top tip for other guests:

Book the suite

Hotelier reply:

Dear Mr. Musto, On behalf of the whole team, we would like to thank you for having chosen the Grand Hotel Parker's for your recent stay in Naples. We are really thankful to you for having spent same time in sharing your comments and valuable suggestion on SLH Club Member. We really hope to see you once again here at the Parker's to make sure that your stay will be consistently memorable and if so, please get in touch with us directly and we will feel honored to welcome you personally upon arrival. Best regards, Grand Hotel Parker's

What I liked most

Location
Welcome and departure
General service

Stay date: May 2014

My Trip Type:

Couple

We stayed here for the second time and it wouldn't be the last. The breakfast on the rooftop is marvelous; the view at the Bay of Naples, the food (you should try a glass of Mandorla milk) and the service as well. The frontdesk staff are very friendly and helpful they make you feel really welcome in Napoli. The beds are ok, we slept as babies. In general a very classical Italian Style hotel that won't disappoint you, however the service in the Restaurant during dinner should be improved, thats not five star worth.

Top tip for other guests:

Ask the front desk for places to eat, they know the best restaurants.

Hotelier reply:

Dear Mr. Pekaar, Good morning from sunny Naples! On behalf of the whole team we would like to thank you for sharing your pleasant experience to the Grand Hotel Parker's and for being one of our loyal guest. We appreciate the note regarding the "Mandorla Milk", a special selection of our regional products served at breakfast at our George's restaurant, with a magnificent panoramic view overlooking the Bay of Naples. One of the best place in the City to start your day… Thank you again for your compliments and suggestions, We look forward to greeting you again in Naples. Our warmest regards, GHP Team

What I liked most

Welcome and departure
Breakfast
Internet and wifi
General service

What I might improve

Stay date: May 2014

My Trip Type:

Couple

This is an old hotel but with the most amazing location in a quieter part of Naples, up on a hill with perfect views of the Bay of Naples and Vesuvius. The 6thfloor terrace with bar and restaurant offers what must be the best place to sit and gaze over the whole bay, the old part of Naples and the mountains beyond. In addition the hotel staff were very helpful indeed, full of advice of where to go and were most attentive. We were given a Club upgrade to a top floor penthouse suite which was very spacious with a small terrace for admiring those wonderful views. The decor is very old-fashioned and our bathroom needed a face-lift but these things were more than compensated for by the views and the staff. Good on-site parking facilities if you have your own car too.

Top tip for other guests:

Go for a room with sea/bay view - a must!

Hotelier reply:

Dear Mrs. Reid, Good afternoon from Naples in full blooming, It's an honor for Grand Hotel Parker's to receive a review from our SLH Club Member royal guest. We are very proud of your compliments regarding the location of the Hotel and the professionalism of our staff. In fact, the guest that choose Grand Hotel Parker's is for an exclusive location, in an upper class quarter, overlooking the Bay of Naples, closed to the main prestigious streets of Naples and walking distance from the main monuments. We hope to have the opportunity to welcome you again in Naples. We wish you an excellent summertime! GHP Team

What I liked most

Welcome and departure
General service
Location

What I might improve

Breakfast
Guestroom and bathroom

Beautiful hotel, excellent location!

Stay date: May 2014

My Trip Type:

Couple

Grand Hotel Parker's was a true treat in Naples. The hotel is beautiful and has amazing views of the city of Naples and the Bay of Naples. The service was wonderful, rooms are comfortable and spacious, and the breakfast on the terrace in the mornings was fabulous! I would never stay in another hotel in Naples after my stay here at Grand Hotel Parker's.

Top tip for other guests:

Make sure you get a room with a view!

What I liked most

Breakfast
General service
Location

Stay date: May 2014

My Trip Type:

Family

excellent view, room, restaurant

Top tip for other guests:

'vaut le voyage' as we say in french!

Hotelier reply:

Dear Mrs. Bacchus, Sunny greetings from Naples in full blooming and from the breathtaking view. We would like to thank you for sharing your excellent experience with us at Grand Hotel Parker's. We hope to have the opportunity to welcome you again in Naples, Warmest Regards, GHP Team

What I liked most

Local knowledge and experiences
Location
Restaurant and dining
Internet and wifi
Welcome and departure

Excellent Hotel In Naples

Stay date: March 2014

My Trip Type:

Couple

Excellent hotel, Very quiet duplex room, nice terrasse over the bay of Naples for having breakfast Top level staff at the front desk, very helpful, friendly and with a very good knowledge of the city Parking next door ( very convenient for Naples )

Top tip for other guests:

Breakfast on the roof-terrasse, overlooking the bay of Naples

What I liked most

Welcome and departure
Internet and wifi
Local knowledge and experiences
General service

Stay date: February 2014

My Trip Type:

Couple

Wonderful hotel Excellent staff esp Marco at front desk Had a lovely room Can recommend this hotel fully Most definately will re-visit Parkers.

Top tip for other guests:

enjoy hotel and Naples

What I liked most

Breakfast
General service
Welcome and departure
Local knowledge and experiences
Internet and wifi
Guestroom and bathroom
Room service

Friendly service in a great location

Stay date: January 2014

My Trip Type:

Couple

It is our third time at the Parker's hotel ,and we enjoyed our stay the most of all our stays.We particularly impressed by the personal attention of the staff,the superior accomodation and the Michelin star quality of the restaurant by the chef ,and the quality of the service in the dinning room.We also enjoyed our ayurvedic massage in th spa,as well as the new year'evenning,which had a charming napolitan flavour .the

Top tip for other guests:

The Georges'restaurant for the quality and the view.

Hotelier reply:

Dear Mrs. Lambert, On behalf of all the GHP team, it is always an honor for us to have you and your husband as a guest every year to celebrate with us the new year. we are proud to welcome our loyal guests who appreciate our beautiful property and 5 Stars Hospitality Service. Kind regards, The Grand Hotel Parker's Team

What I liked most

Restaurant and dining
Guestroom and bathroom
Breakfast
Welcome and departure
Room service

Great location, great service

Stay date: December 2013

My Trip Type:

Couple

The reception staff at Grand Parkers were incredibly friendly and welcoming and spoke perfect English. The hotel was very busy, as there was a wedding reception taking place, but they still made us feel really welcome. We received an upgrade to a larger sea-view room with a balcony overlooking the Gulf of Naples and most of the city, which was fantastic. Other nice touches included complimentary soft drinks and chocolates. The hotel is very tradtional, baroque style. Generally it was well-kept, although bathrooms would benefit from updating. Everything was very clean. Breakfast was buffet-style with plenty of choice. We took ours out on the 6th floor terrace in glorious sunshine - a great way to start Christmas Eve. The valet parking was a bonus, as there is a car park attached to the hotel, although this was a little pricy. We also had drinks in the hotel bar and the price of a gin and tonic was eye-watering! Generally we were very happy with our stay, and feel that the rooms at the hotel are good value. There is a nice-looking spa, but sadly we weren't staying long enough to take advantage of it. Maybe next time.

Top tip for other guests:

Get a sea view room. Avoid the bar unless you want to rack up a big bill.

Hotelier reply:

Dear Mrs. Bavage, On behalf of the all team we would like to thank you for your great message on SLH website. We proud to read all your compliments regarding our professionalism and the cozy room that we were able to offer you for a splendid Christmas holidays in Naples. We look forward to welcoming you again, and we hope that you could stay longer to be able to try all our services, as the new Lite Life SPA. Best Regards. Déborah Mimouni Booking Coordinator

What I liked most

Welcome and departure
Location
Breakfast

What I might improve

Friendly service in a great location.

Stay date: November 2013

My Trip Type:

Friends

We stayed for 4 days in Napoli, we arrived at 10 pm and parked the car in the hotelparking!. The staf was very helpful to find a good restaurant and arrange a taxi and a table in a typical Neapolitan fish restaurant. We felt really welcome, a perfect start. (The next day in the evening they asked of we liked the food and restaurant) We enjoyed our large room with balcony overlooking the Bay of Napels and the Vesuvius. It is a classical hotel, great beds and bathroom also you see marks of age at the furniture, building and elevator, but that is a part off the Italian Charme. Wifi connection is sufficient, without any problems. The location, you can walk downhill 1KM to the shopping area Chiaia with luxury boutiques and for your coffee in the morning continuing your walk into the old city of Napels. Vesuvius and Pompei by car 30 minutes. Good value in a nice city, we are coming back in spring and stay in this hotel again.

Top tip for other guests:

Breakfast with ALL you need on the roof. The view...unaffordable, enjoy it.

Hotelier reply:

Dear Mr. Pekaar, Happy New Year from Grand Hotel Parker's! On behalf of the all team we would like to thank you for your kind review on SLH website. We are glad to read that you had a great time in Naples and the chance to greet you again for your next trip in Spring. Thank you for your compliments about the staff, and our splendid Palace overlooking the Bay of Naples. Please do not hesitate to contact us for any special request for your next stay with us. We wish you the best for the New Year, Warmest Regards. GHP Team

What I liked most

Local knowledge and experiences
Welcome and departure
Location
Breakfast
General service
Internet and wifi

Great Hotel with friendly staff!!!

Stay date: November 2013

My Trip Type:

Couple

The Grand Parker's Hotel has a fantastic location in Naples with a great view overlooking the Naples. Being a member of the SLH club, we got upgraded to a suite which had a fantastic view onto the bay. The restaurant at the hotel is fantastic especially in the evenings with great food. The staff were fantastic and greatly helpful with our requests. They truly went out of their way it make our stay a great experience. Marco and Massimo deserve a special mention for their friendliness and help.

Top tip for other guests:

Don't hesitate to ask the staff for their picks.

What I liked most

Location
General service
Restaurant and dining
Welcome and departure
Local knowledge and experiences
Internet and wifi

What I might improve

Stay date: September 2013

My Trip Type:

Family

staff was very nice and welcoming.view and location are just perfect. But: Elevators were not working for more than a week. Room on the 3rd floor, breakfast and bar 6th floors. ..with a baby?! Room walls were dirty, the bathroom door case broken, no duvet cover, lots of dust, fridge broken,... Very hard to find English speakers.

Top tip for other guests:

..

Hotelier reply:

Dear Ruya, I am really sorry, on behalf of the whole staff here at the Grand Hotel Parkers, for reading your comments and not to mention for the fact you did not have a good experience recently with us. During the days you have been here in Naples, we had a huge and unexpected engine issue with our elevators and believe me, talking about something that was really out of our control, we really tried to do our best and indeed we 100% focused on doing whatever was possible for us to make our guests stay, a very pleasant stay. Sometimes it is really strange how the same property can give such a different perception to different guests, for example, we are very proud of the fact that we were recently prized with excellence, from Trip Advisor itself for example. By that I mean food, cleanliness, service, rooms maintenance and some other features that a property like ours has to offer to their patrons. I really hope you will please get in touch with me directly for a future stay at the Parkers as I would really like to show you, this time seriously , what our real value is; we always try to go above and beyond, on a daily basis, and meet our guests expectations. This time we failed but most of the times we succeed. Once again I do thank you in advance for having taken the time to share your precious feedback and valuable suggestions with us. Looking forward to hear from you very soon, I send you my warmest regards. General Manager

What I liked most

Internet and wifi
Welcome and departure
Room service
Location

What I might improve

General service
Restaurant and dining
Breakfast
Guestroom and bathroom

Stay date: August 2013

My Trip Type:

Family

Top tip for other guests:

undoubtedly, rooms with sea views

What I liked most

Welcome and departure
General service

What I might improve

Breakfast
Guestroom and bathroom

Stay date: August 2013

My Trip Type:

Couple

Hotel staff are very kind. We lucklliy stayed sweet room which was upgraded. The room was wonderful with 2nd Floor. We really satisfied hotel itself very much. Only one headache was the location of the hotel We always take a taxi wherever we want to go out .

Top tip for other guests:

If you want to avoid the noise of Napoli city, this hotel is quite exellent.

What I liked most

Guestroom and bathroom
Local knowledge and experiences
Welcome and departure
General service
Breakfast

Stay date: May 2013

My Trip Type:

Couple

not centrally located hotel but has a spectacular view from the center would not be seen.

Top tip for other guests:

the spa is not active yet

Hotelier reply:

Dear Andrea, Thank you for sharing your great experience with us in Naples! We are glad to read your kind compliments and happy to hear that you enjoyed your stay in one of the most beautiful quarter in the heart of Naples. We look forward to welcoming you again at Grand Hotel Parker's Best Regards Déborah Mimouni Booking Coordinator

What I liked most

Breakfast
Room service
Welcome and departure
Location

Exellent service at a great location

Stay date: February 2013

My Trip Type:

Couple

We really enjoyed our stay in the hotel, very nice place to stay in Naples. Enjoyed the club member benefits as well. Also a good place to stay when you are travelling by car because there is a private parking garage nearby.

Top tip for other guests:

Nice to be there also in low season

Hotelier reply:

Dear Marco, on behalf of the whole team, we would like to thank you choosing the Grand Hotel Parker's for your recent stay here in Naples. We are really thankful to you that you spent some time sharing your comments and valuable suggestion on SLH.com. We really hope to see you one again here at the Parker's to make sure that your stay will be consistently memorable and if so, please get in touch with us directly and we will fell honored to welcome you personally upon arrival. Best regards, Grand Hotel Parker's

What I liked most

Location
Restaurant and dining
General service
Local knowledge and experiences

FRIENDLY SERVICE IN A GREAT LOCATION

Stay date: September 2012

My Trip Type:

Couple

the roofbar was closed, still the weather was lovely, even at night, it wasn't possible to get served at that level, what a pity it would be lovely to have a swimming pool on the roof the rooms are a little bit "bizar" with a kind of mezzanine and the bathroom is outdated and very small

Top tip for other guests:

dinner on the terrace at night is so romantic

Hotelier reply:

Dear Luc, Thank you for sharing your great experience at Grand Hotel Parker's on the SLH.com review section! We took a note of your suggestion for having the roof bar open all time even in September, to provide a better service at the Roof during the summer time. The Bi level Suite are special, they offer an enchanting view over the Bay and the city of Naples – up to 70 square meters The refined atmosphere and charm of the Grand Hotel Parker's are represented by its Suites which we consider a luxury of another "level". They are bright, articulated over two floors that radiate all the charm of a Neapolitan nobleman's residence: at the entrance there is an elegant living room, furnished with comfortable seating and table. We look forward to greeting you again in Naples. Grand Hotel Parker's Team

What I liked most

General service
Local knowledge and experiences
Restaurant and dining
Welcome and departure
Internet and wifi
Breakfast
Location

What I might improve

Guestroom and bathroom
Leisure facilities

Very good with great luxury service

Stay date: October 2012

My Trip Type:

Family

Great hotel, with excellent service (welcome, breakfast baskets for very early checkout). Hotel had a large wedding due to which the bar was fully occupied which was not great. Great internet/wifi/business desk. Location is good, the free upgrade at checkin was nice and the room had a nice view over the city. Location isn't perfect for families with small children (up on a hill, with stairs leading to the city center)

Top tip for other guests:

none

Hotelier reply:

Dear Roderik, Thank you for all your compliments! Grand Hotel Parker's is unique in Naples for the location of the hotel, where you can enjoy an amazing view overlooking the Bay with Capri in front of you.. . Also, the hotel is located just 5 minutes walking distances from the most prestigious shopping streets and to the main monuments. Thank you for recommending our Hotel to the SLH Club Members! Hopefully we will see you soon again in Naples. Grand Hotel Parker's Team.

What I liked most

General service
Internet and wifi
Welcome and departure