https://origin.slh.com/hotels/hacienda-zorita/
HOTEL HIGHLIGHTS
River Tormes flows beneath this 700-year old restored monastery
Private tours of the Marqués de la Concordia wine cellar with its 1450 barrels, and 'Vinotherapy' sessions in the spa
Organic farm producing olive oil, cheese and cured ham on the estate
Hacienda Zorita Wine Hotel & Spa - LUXURY HOTEL IN SALAMANCA
A blissful retreat encircled by vineyards in the Duero Valley
A former monastery overlooking the River Tormes, Hacienda Zorita Wine Hotel & Spa is a magnificent wine resort with an impressive history that dates back to the 14th century. Guests experience true hacienda hospitality together with the high comfort factor of two gourmet restaurants, a vinotherapy spa, wine tasting in the cellars and an ancient chapel with 16th-century works of art.
Original thick stone walls and magnificent oak beams contrast beautifully with contemporary design in the 40 rooms and suites. A number of rooms have balconies overlooking the river. Be sure to indulge in some of Hacienda Zorita Wine Hotel & Spa's specialities including extra virgin olive oil, local cheese and pata negra produced on the estate.
Enjoy some wine tasting and a tour of the Marqués de la Concordia wine cellar with its 1366 oak barrels. Then take a trip to the historic quarter of Salamanca which is a UNESCO World Heritage Site.Or take a 10 minute trip from Hacienda Zorita to their Organic Farm, enjoy a four-wheel ride through the farm, cheese tasting and a country meal, perfect for families. Return to Hacienda Zorita Wine Hotel & Spa for dinner in the Restaurant Zorita's Kitchen for superb cuisine accompanied by more fine local wines, then take a drink and relax in the wine bar.
40

rooms

1

restaurant

3

floors
The rooms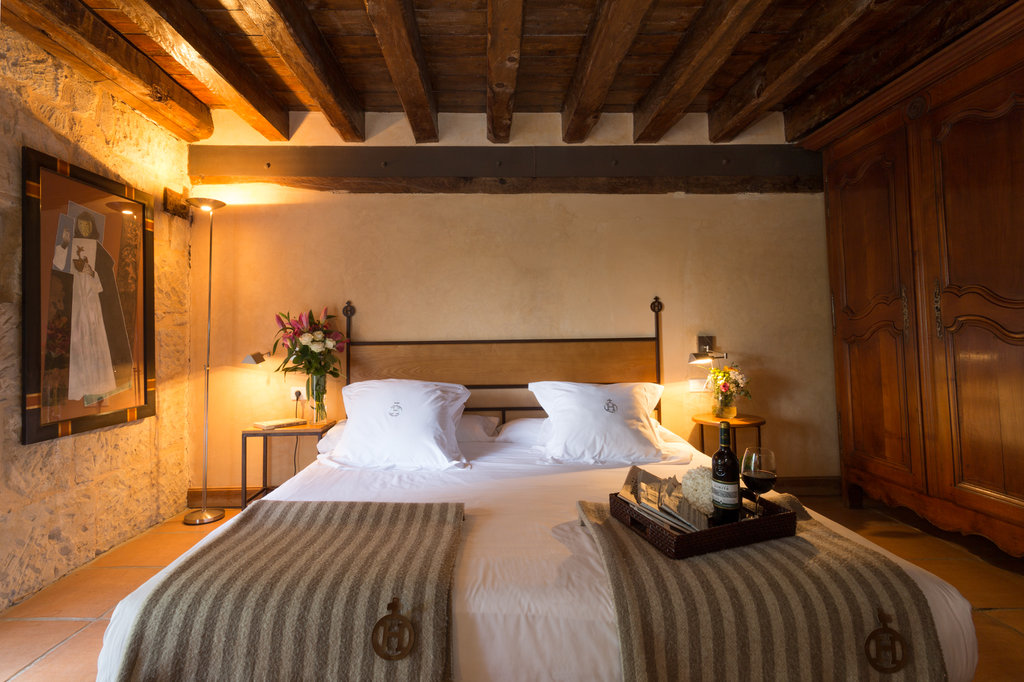 Celda Room
Sleeps: 2 People.
Relax in one of the Dominican cell rooms overlooking the river. Featuring a bathroom equipped with bathtub or massage shower, hair-dryer and bathrobes. Room size: 24sqm.

Rooms are air conditioned and offer double or twin beds (upon request), minibar, telephone, wireless internet connection, LED TV, DVD, pillow menu on request.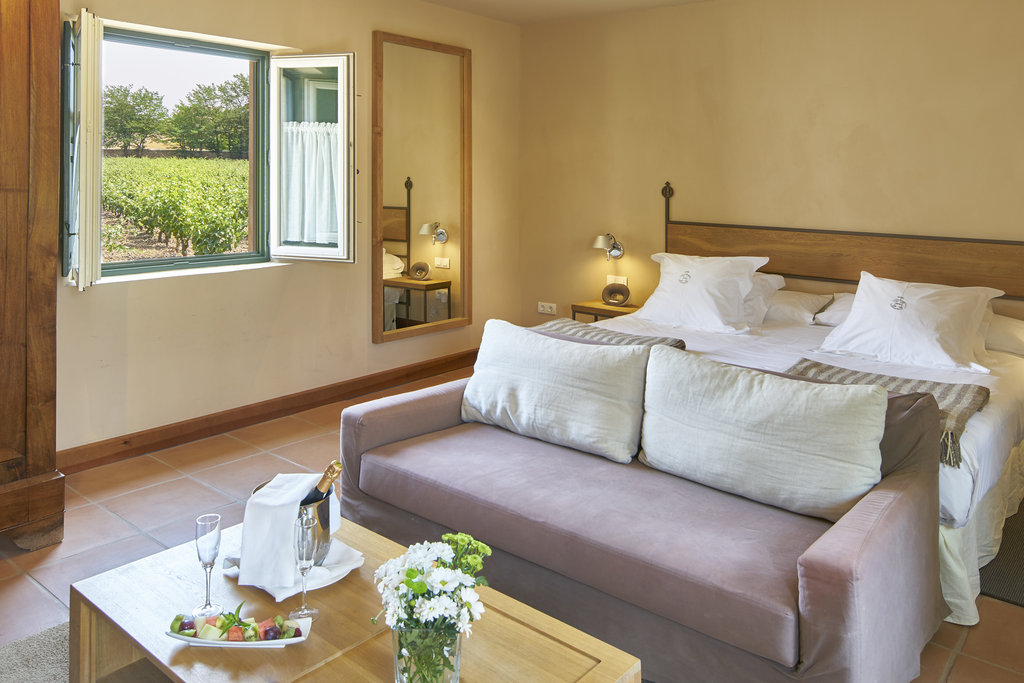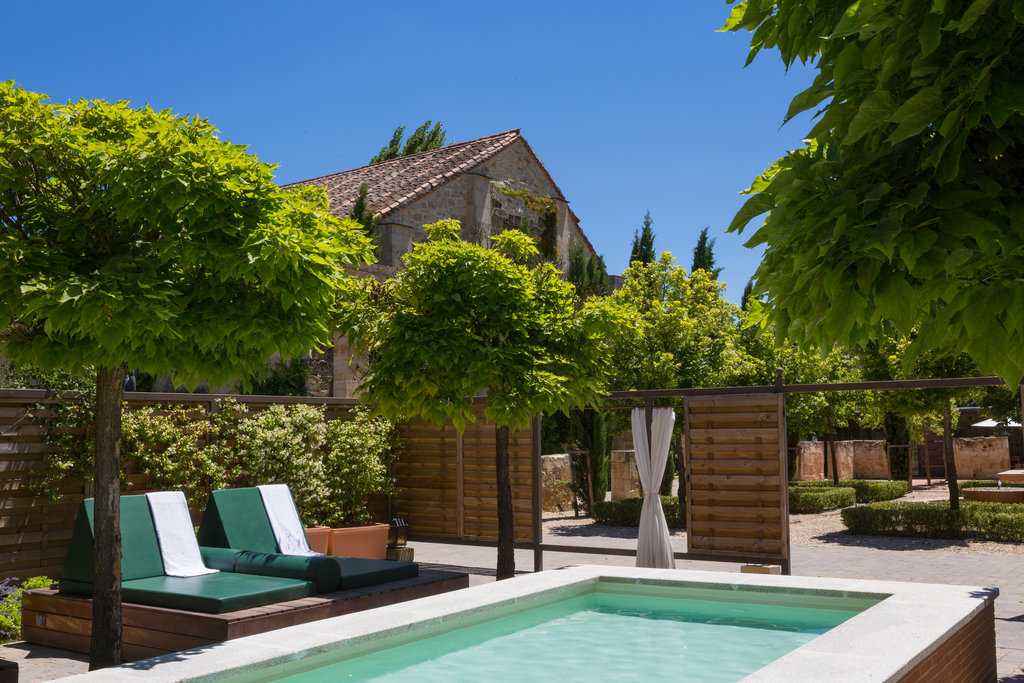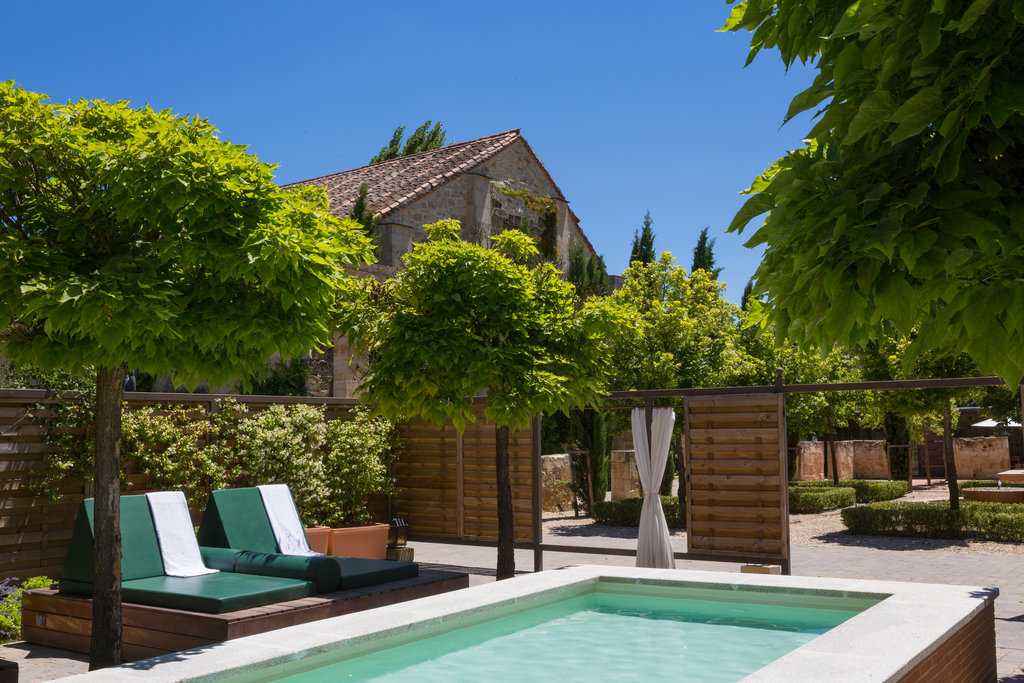 Villa
Sleeps: 3 People.
Featuring a private terrace with chill out area overlooking the vineyard or the river, double or twin beds (upon request) and a bathroom with bathtub or massage shower.

Rooms are air conditioned and offer phone, minibar, wireless internet, LED TV, DVD, pillow menu on request, wine cellar, iPod dock and Nespresso machine. Room size: 50sqm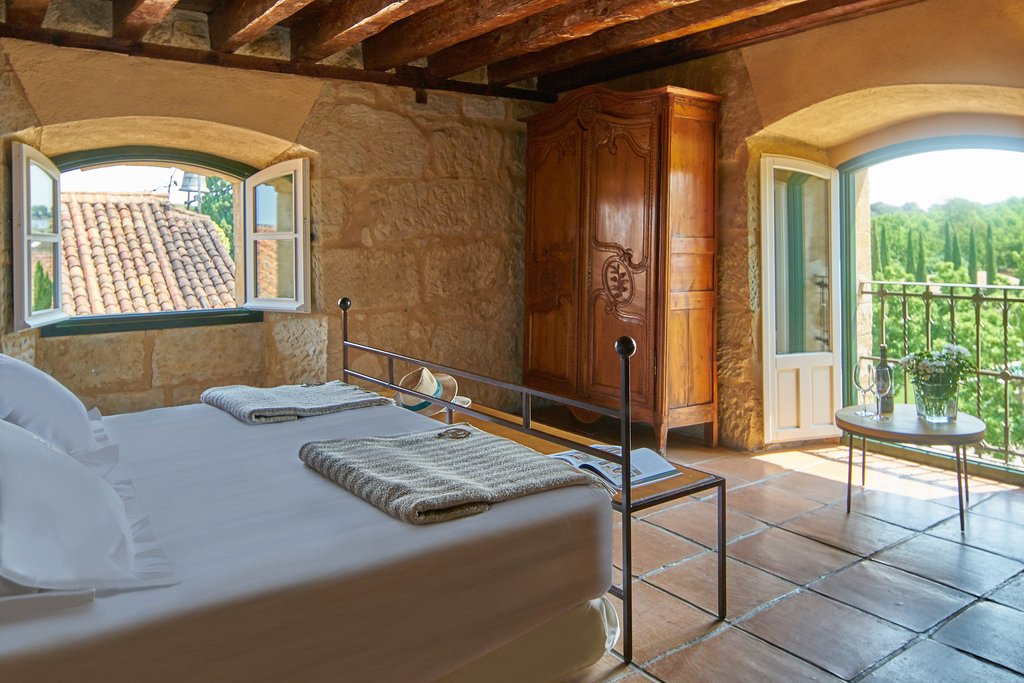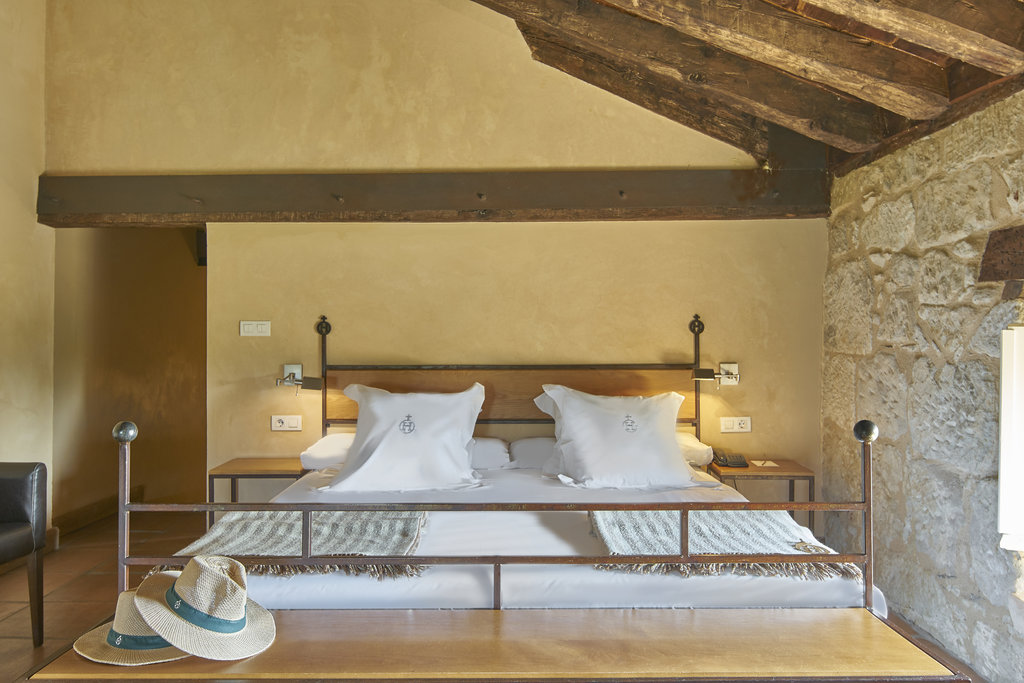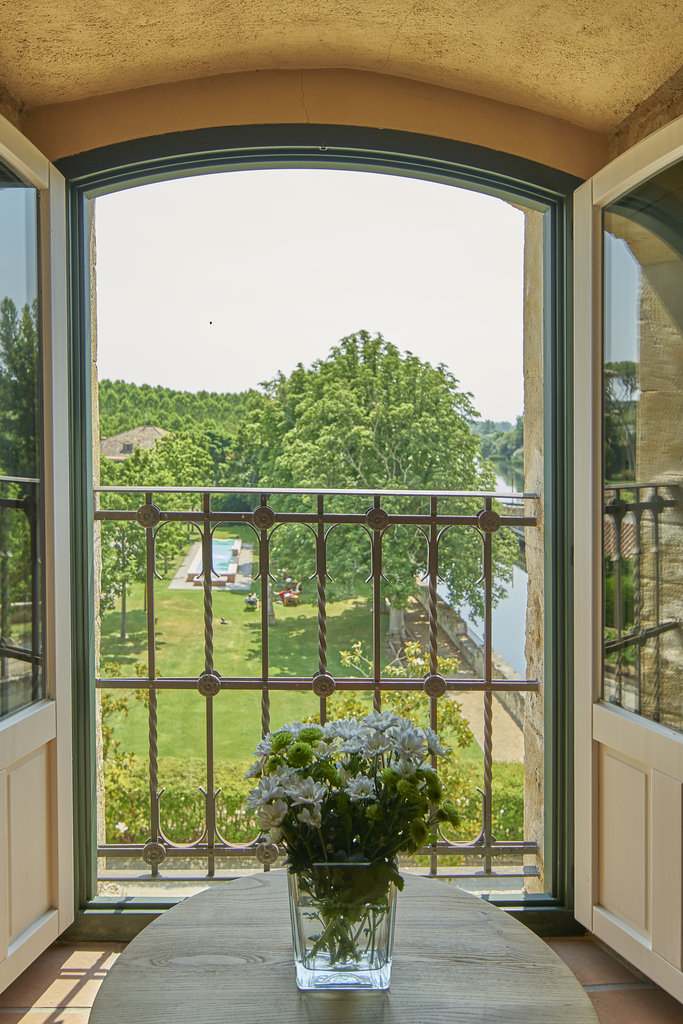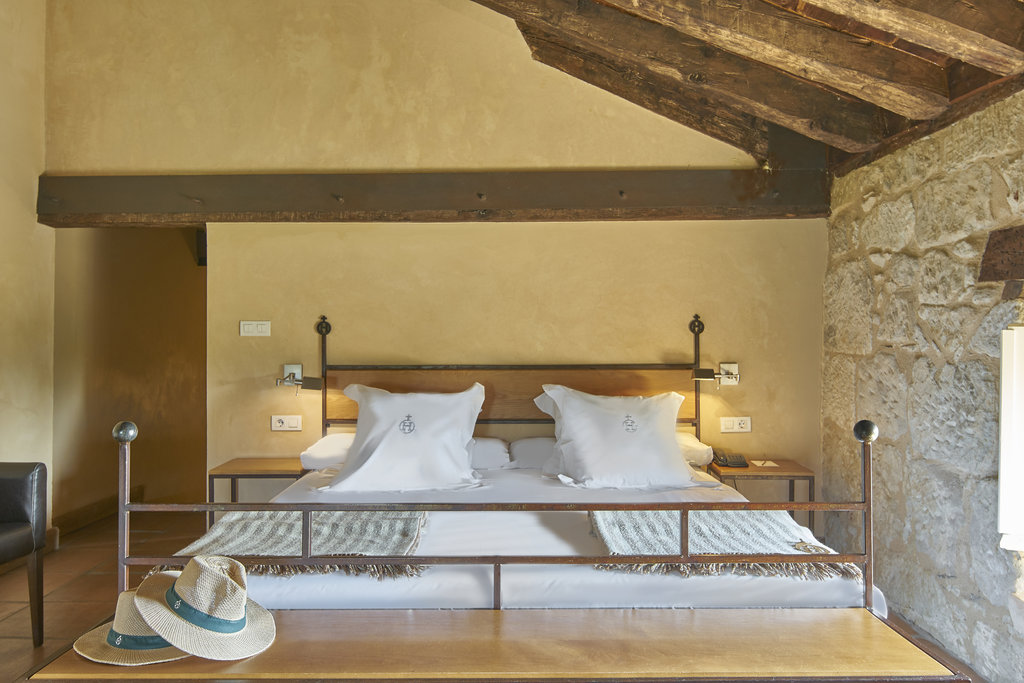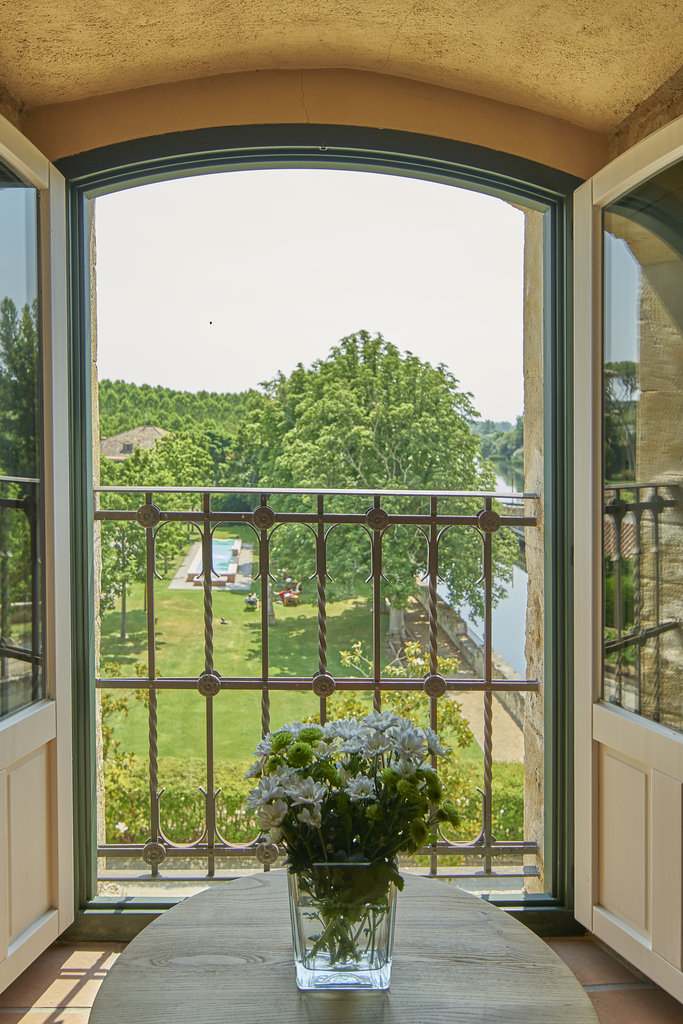 Suite
Sleeps: 3 People.
Spacious rooms located in the main building with river views. Featuring a sleeping area with king size bed (twin upon request), a living area and a bathroom equipped with bathtub or massage shower.

Rooms are air conditioned and offer telephone, minibar, wireless internet connection, LED TV, DVD, pillow menu on request, wine cellar, iPod dock and Nespresso machine. Room size 60 square meters.
Location
Hacienda Zorita Wine Hotel Spa

Ledesma Road SA 300 km 10, Valverdon

Salamanca

37115

Spain

fruitcake.augment.grids
Air conditioning
Lounges/bars
Parking
Golf
Pool
24-hour room service
Wedding services
24-hour front desk

24-hour room service

24-hour security

Accessible facilities

Air conditioning

Audio visual equipment

Bell staff/porter

Buffet breakfast

Business Center Services

Car rental desk

Catering services

Child programs

Children welcome

Coffee shop

Concierge desk

Conference space

DVD/video rental

Elevators

Family plan

Fire safety compliant

Free high speed internet connection

Free parking

Full service housekeeping

Health club

High speed internet access for laptop in public areas

Hotspots

Housekeeping - daily

Jogging track

Laundry/Valet service

Lounges/bars

Massage services

Meeting rooms

Newspaper

Outdoor pool

Parking

Parking fee managed by hotel

Pool

Public address system

Restaurant

Room service

Safe deposit box

Security

Shuttle to local attractions

Shuttle to local businesses

Translation services

Turndown service

Wakeup service

Wedding services

Wireless internet connection
Air conditioning

Alarm clock

AM/FM radio

Balcony/Lanai/Terrace

Bathrobe

Bathroom amenities

Bathtub seat

Cable television

CD player

Color television

Desk

Direct dial phone number

Double beds

DVD player

Free newspaper

Grab bars in bathroom

Hairdryer

Internet access

King bed

Minibar

Remote control television

Safe

Satellite television

Shower

Sitting area

Slippers

Smoke detectors

Speaker phone

Stereo

Telephone

TV

Twin bed
Childrens program

Fine dining

Fishing

Golf

Horse racing

Jacuzzi

Jogging trail

Mountain biking trail

Museum gallery viewing

Nature preserve trail

Sailing

Sightseeing tours

Spa

Theatre

Wine tasting
Hacienda Zorita offers a fine dining restaurant, wine cellar, an organic farm and its own food and wine shop
Zoritas Kitchen
Cuisine type: Local Cuisine
Meals served: Lunch, Dinner
Casual dining restaurant- Zoritas Kitchen offers Mediterranean and local food- prepared using local ingredients and produce from our own organic farm- served in a relaxed atmosphere.The wines on offer include those from our own vineyard. Type- Casual dining Dress Code- Smart casual Opening Hours-1330 to 1600 and 2000 to 2330
Reviews
These reviews are the real opinions of INVITED members and we have verified their stay at the hotel.
What I liked most :

Location (25)
Restaurant and dining (21)
General service (20)
Welcome and departure (20)
Guestroom and bathroom (18)
Breakfast (15)
Local knowledge and experiences (10)
Internet and wifi (6)

What I might improve :

Leisure facilities (6)
Breakfast (5)
Guestroom and bathroom (4)
Restaurant and dining (4)
Internet and wifi (3)
Welcome and departure (3)

Read Reviews

Beautiful surroundings, great service

Stay date: July 2014

My Trip Type:

Couple

Beautiful hotel, steeped in history, good location for exploring the area. Fabulous service, attentive and friendly. The food and wine are both excellent.....I wholly recommend a stay at Zorita

Top tip for other guests:

Wine tasting is in Spanish, but don't miss it..they give you a translation printout...very enjoyable experience

Excellent food and service

Stay date: August 2015

My Trip Type:

Couple

First class food and wine, very good value for money. Service also excellent. A visit to the local town Salamanca is a must. We will go back.

Top tip for other guests:

Room 28 has excellent facilities and do the wine tasting

Stay date: August 2013

My Trip Type:

Friends

Lovely setting at the river, pleasant combination of old and modern. The free bottles of wine will help to survive even the rainiest day! If there is any.... Very good service & high level of attention. Overall, the dinner could be a bit more 'fancy' but the overall quality is good!

Top tip for other guests:

Participate in the tasting (wine, cheese, olive oil)

Stay date: September 2013

My Trip Type:

Couple

We had a wonderful 2 days here and will definitely be coming back.

Top tip for other guests:

Stay in a villa ovelooking the river

Stay date: August 2014

My Trip Type:

Couple

Hacienda Zorita is not just an hotel, it's an experience for the senses. Great location, beautiful landscapes, friendly service and good wines and cheeses. A point of improvement: we shared our stay with members of a night's weeding and it was a little bit disgusting for resting.

Top tip for other guests:

A rest for your body and soul and an experience of tastes & flavours,

Perfect for a relaxing & romantic experience

Stay date: December 2015

My Trip Type:

Couple

The surroundings are amazing. Specially if you are fond of quiet river banks and water birds. The Hacienda will not dissapoint you as it is settled in a XIV century Monastry perfectly refurbished. The staff is young and very friendly. Our suite was just fantastic..spacious, perfectly furnished with complimentary wine and sparkling wine. The visit of the wine cellar is quite interesting and the wines are excellent (Specially the white, awarded with the best world wine in 2014). We brought our bird watching binocullars (highly recommended) and we could enjoy watching an amazing variety of local birds including herons, cormorants, goldfinch, wild ducks, robins and so on. The only but is the kitchen...in my opinion is a bit below one Michelin Star...tables are very little and the food is right but not excellent. At the breakfast there was only two people for giving service and it was absolutely crowded with people and families. We had to wait for everything and the food was right but not five stars standard. It was a bit of a mess. Anyway I will come back in a future without any doubt and I would recommend it to any friend or relative even the most demanding.

Top tip for other guests:

Bring binocullars..It wont dissapoint you

great place, wonderful location

Stay date: December 2014

My Trip Type:

Couple

We loved the place, it is amazing, and the wine and cheese, the best. Spacious and beautiful room; Very romantic hotel, though kids are welcome, so looking forward to come back with them... Thank you very much

Top tip for other guests:

Romantic place, so beautiful; cheese and wine tasting were worth the trip

Stay date: December 2015

My Trip Type:

Family

We decided to spend a weekend at this hotel after a friend highly recommended it. And we loved the place. Just walking in, the ambiance is so peaceful and elegant. And knowing that Christopher Columbus stayed there before heading to his adventures made it all more magical. I booked two double rooms through the SLH site, since I am a member. And they upgraded the one room, so we were given a suite and a double room. They were great. They were in two different floors and interconnecting if one wished so. It was like living in a castle! A bottle of wine was awaiting us in the room and a cava (spanish sparkling wine) was there after dinner. The suites was really big, well decorated, with great views. The double room was just right but nothing spectacular. If you can go for the suite, do it. We booked a wine tasting, and were walked thought the process of wine making as well as tried four different wines and a rum, that was something completely new in production. After that we had dinner at the hotel. The food was excellent and the service very friendly and professional. The only area of improvement for me would be the bath tub. It;s really small and "poor" for such a place and it needs update.

Top tip for other guests:

Go for the suite

How could you not like this.

Stay date: May 2015

My Trip Type:

Couple

Everything we expected, our Villa was huge and etreemly comfortable. Staff and facilities were first class, wine and cheese tasting was very informative. Dinner and breakfast, excellent. Only complaint was the non existent coffee machine, not worth complaint about as we always take our own Dolce Gusto. Only regret, we didn't go on the farm trip, people we spoke to were really impressed. Would we go back ?, without a doubt.

Top tip for other guests:

Chill out and enjoy.

Stay date: September 2016

My Trip Type:

Couple

This was our final stay prior to Marbella and we were not disappointed, in fact I would go as far as to say this is one of our best hotel experiences. We received a warm welcome from Alvaro along with a lovely glass of pink Cava and were shown to our room, which had an amazing view of the river. All of the staff we encountered were warm and friendly and the food and wine excellent. We cannot wait to return.

Top tip for other guests:

The rooms overlooking the river are fantastic

Stay date: May 2014

My Trip Type:

Couple

This is an extremely nice hotel, but there was one problem that we encountered. Because of the location, there is no air conditioning as they believe that the Salamanca climate doe not require it. I would agree with this, except for the fact that if one opens the window for some circulation, there is no privacy to the ground level room. There are no screens and the window opens to a ground level terrace that is surrounded by a number of other rooms and is essentailly open to other guests as well as non-reident visitiors. This led to a stuffy, unpleasent night as there was no way to cool the room that had overheated during the day. The simple addition of a fan would have been nice. Other than that, I would highly reccomment the resort, its restaurant and overall service.

Top tip for other guests:

Bring a fan

Stay date: November 2015

My Trip Type:

Friends

This is an amazing hotel and spa. The buildings speak for themselves but the icing on the cake are the staff. They are there to make your stay as comfortable as possible. From my email communications with them and moving of dates to allowing my friend and I to check in extra early since our train came it at 5 a.m., they were always courteous and responsive.

Top tip for other guests:

If going in November bring warm clothes as the beautiful clear nights are quite cold.

Hotelier reply:

Dear Mr. Carnell Greetings from the Duero Valley On behalf of all the team at Hacienda Zorita I would like to thank you for your kind words. We aim to make all our guests feel right at home and I am very happy you experienced this during your last stay. Looking forward to welcome you back. Kindest regards, Duarte Gonçalves da Cunha General Manager

Great location with a poor service

Stay date: August 2015

My Trip Type:

Family

Excepcional property, with a good restaurant, but with a poor service (maybe due to a combination of lack of experience and not enough personnel). it is not prepared for children (no kids' menu, no food for kids included in the breakfast menu, etc.). No one attends the swimming pool (so if you need a towel it will get you a while to get one), no baskins available (so you can find food leftovers in the middle of the swimming pool area). Poor light in the room

Top tip for other guests:

Nice location and great wines

Stay date: April 2015

My Trip Type:

Couple

The hotel is located just 10 kms from Salamanca in a beautiful setting off the road to Ledesma. As soon as we arrived we were met by friendly hotel staff who accompanied us to the Reception area with our luggage. After a quck check-in and an explanation of the hotel facilities, we were taken to our room in the hotel building after passing through the beautifully kept grounds.. Our room, like the rest of the hotel, was very tastefully decorated and had a spectacular view over the river Duero. The bathroom was spacious and bright. It was clear that every small detail had been taken care of. The food was so delicious, so much so that we decided to eat all our meals at the hotel. It would be difficult, if not impossible, to beat the quality, presentation and service provided. Food products come from the organic farm belonging to Hacienda Zorita and the top quality wines from its own wineries. We attended a very informatiive wine tasting session presented by Rosa. It included a tasting of cheese and olive oil also, complimented by the different wines. Photos on the webpage do not do the Hacienda justice. Wherever you look, the view is wonderful. We were delighted with our stay and would not hesitate to return. The top class service deserves mention also. Staff spoke both English and Spanish and could not have been more helpful. Hacienda Zorita is truly impressive.

Top tip for other guests:

Don't miss the wine-tasting session.

Perfect for relax and wines tasting !!!

Stay date: November 2016

My Trip Type:

Couple

Romantic location in the wineyards. Superb Spa location.....jacuzzi in the night over the river....... .....no ather sentences......you need to experience!!!

Top tip for other guests:

.....try it

miss this Hotel at your peril

Stay date: September 2015

My Trip Type:

Business

I travel a lot on business visiting more than 30 countries in the past few years and many more hotels in that time but this was by far the nicest hotel I have stayed in for a very,very long time with service second to none , including the London Dorchester. The service was personal , from the lovely lady who came out to meet us by name in the carpark, to the reception which has no front desk but just sofas and wine racks as you are checked in with a lovely glass of cava overlooking the fountain through to the garden villa room which was an absolute delight. The premises have been renovated to a very high standard and the whole place just oozed class, space ,tender loving care and made you feel extremely comfortable. The wine tasting was great ,the food and wine @ dinner were first rate and exceptional value and my biggest disappointment was not having time to try any of the excursions , spa or leisure facilities . As you can tell , I liked it a lot ! I stayed in a garden villa room and it was fantastic.Tiny areas for improvement would be having a wholemeal muesli (and other cereals) in a bowl (rather than plastic bags) in keeping with the rest of the wonderful organic/whole earth presentation of the sumptuous breakfast and a hanging system for clothes in the Villa's ensuite wetroom area (bigger than most bedrooms I had previously stayed in!) but that is being extremely picky . If my business delivered customer service to the standard I experienced at this hotel I would be very pleased.

Top tip for other guests:

allow lots of time here

good choice for a stay near SALAMANCA

Stay date: July 2015

My Trip Type:

Family

the espace and service for the check in / check out is very bad in a room without desk and place for the luggages the tour of the hotel must be after the deposit of the luggages in the bedroom and not before when you carry the suitcases ! in the weeb site S.L.H.W.pictures and textes said for a pool but it is not a swimming pool , it is for the decoration of the garden without deep and space and dirty ! in the weeb site S.L.H.W. the room is with a free taste of wines and cheeses but not the sunday , why ? all the building and garden are very beautiful as the bedroom ( with traditionnal decoration ) , about the breakfast the room can be more large when all the guests arrive, about the dinner ( at the restaurant part ) tables in terrace may be a good idea because the dinning room is without windows open in summer , the meal and the wines are good for a correct price with a youg and efficient service.

Top tip for other guests:

taste the zorita wine at the restaurant they are excellent

Outstanding Experience and counting the days to come back

Stay date: December 2015

My Trip Type:

Couple

It is difficult to find the words to rate and describe all the wonderful experiences at Zorita. The facilities, are beautiful. The staff extremely friends and really makes you feel especial. The meals at the restaurant, are top. I strongly recommend the menu matching food and wines. The wine tasting is also a learning experience. The other products, such as the cheese and olive oil, of top quality as well. Salamanca is also an amazing historical city which deserves 2 or 3 days. I am counting the days to come back.

Top tip for other guests:

Visit Salamanca.

combining a heaven of peace with the beauy of Salamanca

Stay date: September 2016

My Trip Type:

Couple

after visiting the numerous marvels of Salamanca under a hot sunshine it is so nice to drive back to the secluded ZORITA Hacienda twenty minutes away and enjoy some fresh air under the trees. We were upgrade to a quiet "villa" , quite comfortable and enjoyable with a semi private garden . Nice restaurant with a special mention for the tapas buffet on Sndays. Perfect stay with a warm welcome

Top tip for other guests:

The best way to discover Salamanca in Summertime

very nice stay, friendly personel,

Stay date: July 2014

My Trip Type:

Family

frienly personel, quite stay, very nice

Top tip for other guests:

excellent and quite hotel

Stay date: May 2016

My Trip Type:

Couple

Fantastic location, excellent food and friendly and efficient staff. We were upgraded to a suite in the main building, however it didn't have any outside seating space and if you prefer that (as I do) I recommend a villa or a suite with a balcony.

Top tip for other guests:

Go for the villas

Stay date: October 2014

My Trip Type:

Couple

We had the most wonderful time at this hotel. The staff were so amazing and the customer service level was exactly where it should be, perfect!

Top tip for other guests:

Stay here!!

Stay date: June 2014

My Trip Type:

Couple

Beautiful villa. Staff attentive and friendly. Wine and cheese tasting professionally carried out and very enjoyable. Free wine in your room. Heaven!

Top tip for other guests:

relax and enjoy

Relaxing Stay in Lovely Location

Stay date: August 2014

My Trip Type:

Couple

Hacienda Zorita is a lovely old mill situated about 10 minutes west of Salamanca. Very friendly service from staff most of whom spoke good English (a criticism I've seen made elsewhere) and spacious, well equipped accommodation - we stayed in a villa. A highlight of the stay here is the quality of the food which is top class. Despite only serving wine from Hacienda (not made on site) this was surprisingly good and the free wine tasting we had as part of the stay was fun. Breakfast was an impressive spread but a criticism would be that the area for making tea, coffee and toast tended to get a bit crowded and for a place of this caliber I do think tea and coffee should be served, not self service. The coffee, however, was good. The least said about the breakfast tea the better! For those who need it, you can get wireless internet in most of the property and although it was sometimes a bit slow this was much better than most hotels we've stayed in. Salamanca itself is a lovely place and you could easily spend a few days to do it properly. We tended to gravitate back to Zorita, however, as it was so relaxing. All in all I wouldn't hesitate to recommend as a place to spend a few days.

Top tip for other guests:

Ask for a villa overlooking the pool area as nearer reception is a bit busier.

Stay date: September 2012

My Trip Type:

Couple

I have no negative comments for this place, i would have no hesitation in returning...exceptional place, cant wait to return.

Top tip for other guests:

A knowledge of the spanish language is essential, although most staff speak some English so you will get buy.

So peaceful and a little bit of heaven!

Stay date: September 2014

My Trip Type:

Couple

The setting is idyllic, facilities are very good and the staff were friendly and helpful. Everything from the delicious food from their organic farm to the slow wine and cheese tasting was delightful. Their own Jamon Iberico was amongst the best I have ever tasted. The delicious buffet style breakfast could be improved through taking orders for hot drinks, rather than self service though the staff were helpful when you needed help. Our room with its own balcony and sun loungers was lovely and, although the bathroom would have benefited from a make up mirror and there were no tissues available, the 'help yourself' wine cabinet was an unexpected treat.

Top tip for other guests:

Make sure to book the complimentary wine and cheese tasting on arrival so you don't miss it.

Peaceful and Relaxing Retreat

Stay date: October 2016

My Trip Type:

Couple

We much enjoyed our villa (we were upgraded to a superior villa upon arrival and tasted a lovely complimentary bottle of local sparkling wine) which was spacious and had all the comforts. I would highlight the huge shower with spray massage along the spine and the large and very comfortable bed. The location of the Hacienda was also particularly beautiful, with a stream running below the restaurant and the Spa. In the latter we enjoyed relaxing and reinvigorating treatments by two lovely and competent professionals and in total privacy (the whole Spa was only for us during over two hours). The dinner at the restaurant was a lesser experience. While we tasted an amazing red wine produced by the same Hacienda (we ended up buying four bottles) the service certainly needs improvement. We were given a table by the door and with a strong light just beaming at our eyes and in order to be moved to another table (with better lighting but much smaller) we had to make a major fuss. The gentleman in charge made no effort and showed no interest to accommodate our request. In fact he bordered rudeness, which we had already experience at lunch. It was only thanks to the waiter attending us that we were moved to another table. She was very polite and knowledgeable about the combinations of wine and food in the Menu Concordia, which we had selected following a recommendation at the time of booking. Some of the dishes were quite nice but overall the decor and setting along with the quality of service fell short of the 80€ per person. The resort should manage better their guests' expectations with regards to the restaurant, otherwise, we would definitely recommend Hacienda Zorita for a short romantic break or longer if you have the opportunity to visit the amazing city of Salamanca or explore the river Duero.

Top tip for other guests:

book Spa treatments in advance

Stay date: October 2016

My Trip Type:

Couple

We stayed here for the first time on our journey south in early September and enjoyed our stay that much we decided to stay on our return journey. The photographs of the hotel probably do not do it justice, it is very picturesque and atmospheric. The staff were all very friendly and the food and wine excellent and reasonably priced.

Top tip for other guests:

A suite overlooking the river

Great staff, superb property and perfect location

Stay date: August 2016

My Trip Type:

Couple

Excellent hotel that is more than a hotel with the wine experience. Staff are excellent, attentive without fussing and very friendly. We had a suite which was two storey with master bedroom, lounge and two bathrooms, in the beautifully converted main house which used to be a Dominican monastary. Guests receive a complimentary wine tasting taken in the old 14th century cellar building adjoining the monastery. The location couldn't be better placed, 20 minutes to the beautiful City of Salamanca and one hour to the Parc Natural de Arribes del Duero, both an absolute must visit. The hotel has an on-site restaurant located overlooking the water. Serving good international food with a regional touch, of course matched with the great wines from The Marquess de Concordia vineyards. It has some outside dining / drinking space, a bar and lounge inside and full waiter service. The hotel has two small plunge pools in the grounds to cool off if you pick a lazy day in the sun, plenty of high quality sun loungers and complimentary pool towels. It also has a spa which we did not use so unable to comment. There isn't a lot of grounds to walk but it does have some green space and it is situated on the Duero river which gives it a quiet rural feel. Excellent property which I would thoroughly recommend.

Top tip for other guests:

grab a suite if you can.

Main house and wine cellar

Tranquiily a few miles from glorious Salamanca

Stay date: November 2016

My Trip Type:

Couple

From the moment we arrived and wee offered glasses of iced cava, I knew this was going to be a wonderful base for exploring Salamanca. Our villa was spacious and comfortable, with lots of nice touches and a large, very functional bathroom. The restaurant serves terrific, locally sourced food by a very accommodating staff. Since Zorita is a wine producer as well, the choices were plentiful, excellent -- and reasonably priced. My only "complaint" (not to be taken seriously), is that there are no English language channels on the television. We arrived the morning after the US election and were desperate our CNN fix.

Top tip for other guests:

Go to the wine tasing if it is offered. Rosa was quite genial and there was absoluely no pressure to buy.