https://origin.slh.com/hotels/hotel-cartagena-de-indias/
Hotel Highlights
Interiors designed by local luminary, Mauricio Pinto and feature photography of the city
Views of the Old Town and the Caribbean sea
Rooftop terrace, infinity pool and sky bar
Movich Hotel Cartagena de Indias - luxury hotel in cartagena
Exclusive hotel with stunning views, set in the historic city of Cartagena de Indias
A delightful blend of Colonial architecture and contemporary style set in the most exclusive area of the beautiful walled city of Cartagena, on the northern coast of Colombia. Movich Hotel Cartagena de Indias effortlessly combines comfort and sophistication. Enjoy the typical food of Cartagena in the excellent restaurant or relax on the rooftop terrace at the infinity pool or the sky bar.
The rooms and suites at Hotel Cartagena de Indias are an enchanting blend of sleek modern lines and bright cheerful colours that reflect a Caribbean influence. Artistic photographs of the city hang on the walls and a number of rooms have balconies with superb views of the old town or the sea.
Wander through the cobbled streets of the old town and admire the balconies of houses festooned with flowers and colourful plants with the wafting scent of jasmine. For the most stunning city views, head up the Hill of La Popa with a former 17th-century convent at the top. Return to Hotel Cartagena de Indias for a delicious seafood dinner.
32

rooms

1

restaurant

5

floors
The rooms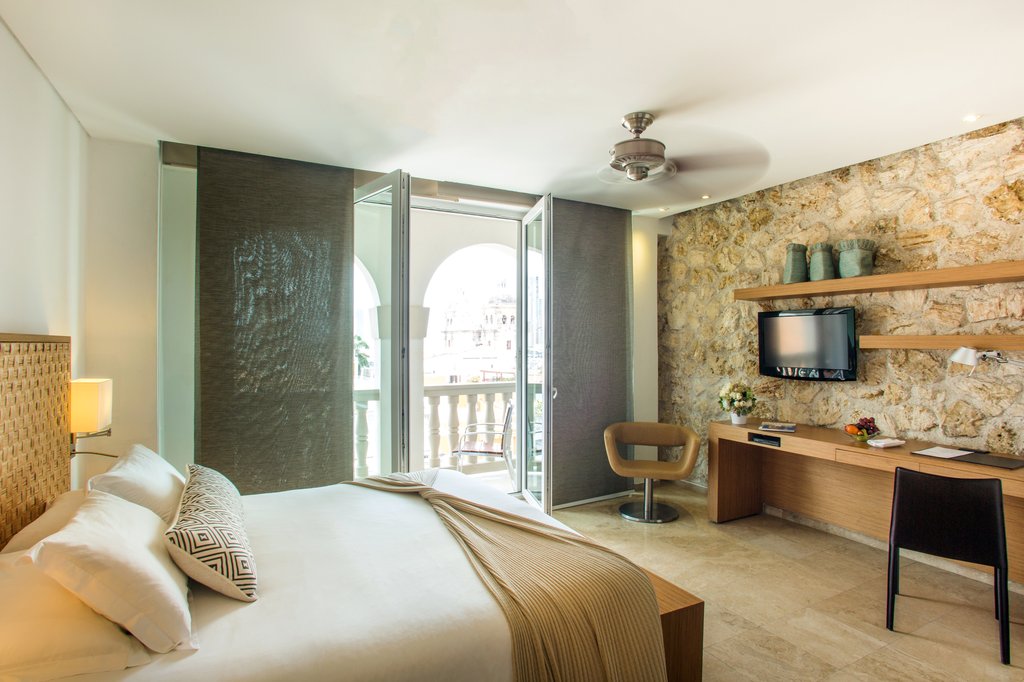 Superior
Sleeps: 2 People.
25sqmt spacious room, 1 King or 2 Twin Beds, full of sunlight, with a generous desk, kids sofa bed and balcony available upon request, sumptuous beds, luxury linens.

Exclusively created spa products, Flat screen TV, WIFI, decorated in modern luxury with a casual, tropical feel. Beautiful bathroom with rainfall showers. Internal, street or city view.
From per night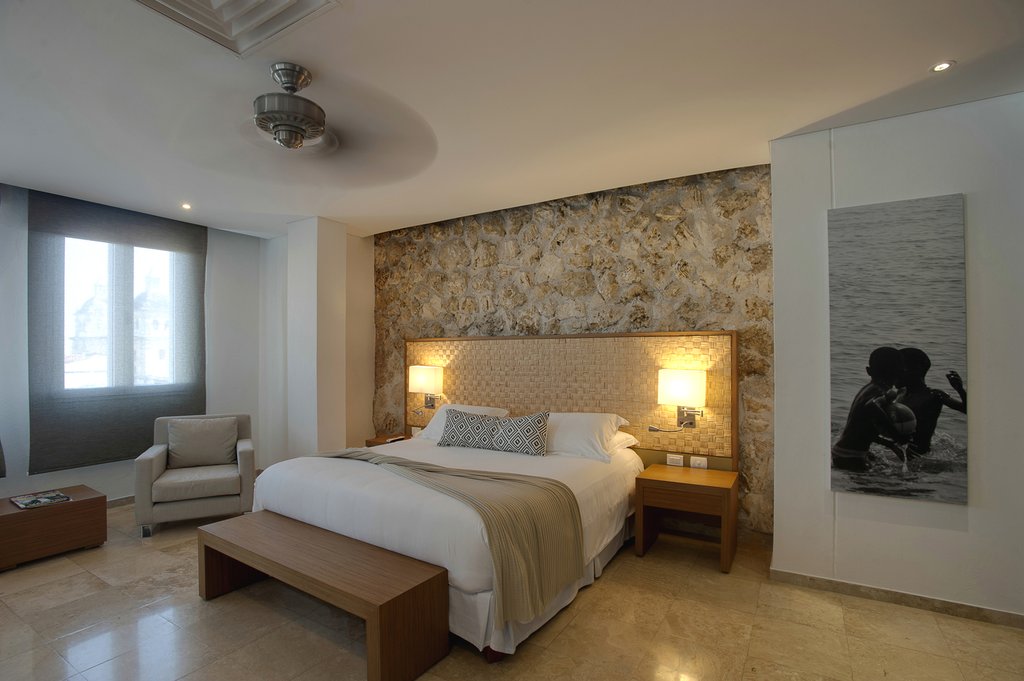 Luxury King
Sleeps: 2 People.
Luxury King is 40 sqm large, decorated in Caribbean contemporary style, with old city view, double rain shower tub, living area, sofa bed, flat TV, WIFI, Ipod Dock A C, ceiling fan.

Safety box and minibar.
From per night
Premium King
Sleeps: 2 People.
Premium King, 57 sqm large, decorated in Caribbean contemporary style, with balcony overlooking the old city, double rain shower tub, generous living area and working desk.

Sofa bed, flat TV, WIFI, Ipod Dock, A C, ceiling fan, safety box and minibar.
From per night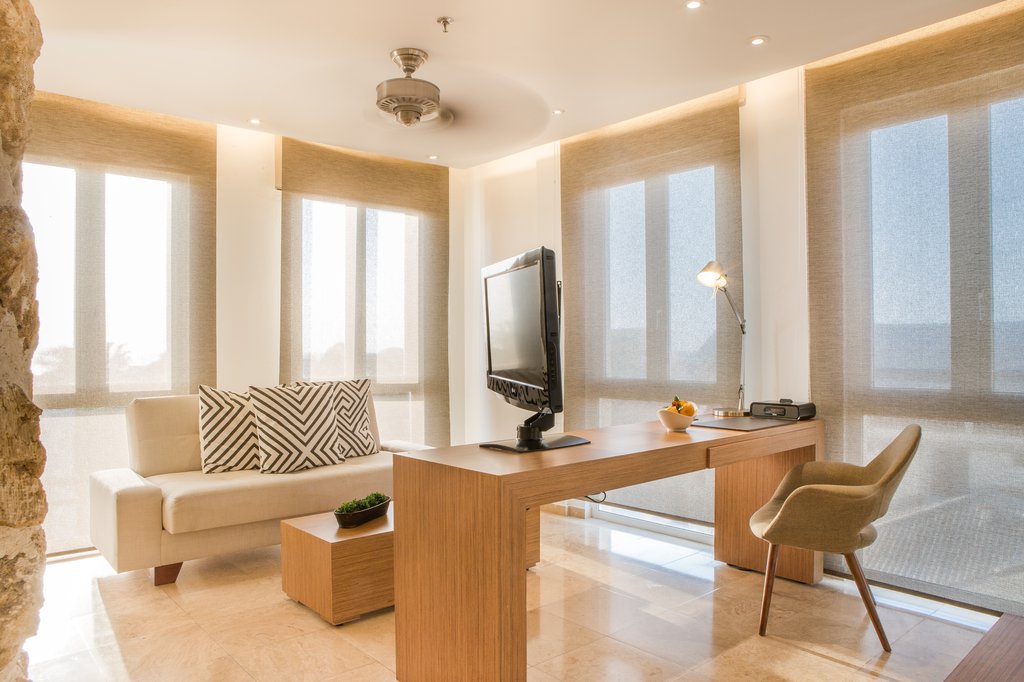 Bayside Suite
Sleeps: 2 People.
Suite, 57 sq mt, features King Size bed, luxurious bathroom with Jacuzzi, amenities developed by Loto exclusively for our hotel, hairdryer, 2 Radiance Showers and 2 sinks.

Mini-bar stocked with the best snacks and drinks, air conditioning and ceiling fan in the bedroom. LCD TV and 70 domestic and international, Bose Radio, iPod speaker system, safe, and pillow menu.
From per night
Air conditioning
Lounges/bars
Pool
24-hour room service
Wedding services
Join INVITED and get 10% off exclusive rates. Plus early check-in and late check-outs among other benefits.
24-hour front desk

24-hour room service

24-hour security

Accessible facilities

Audio visual equipment

Bell staff/porter

Business Center

Business Center Services

Catering services

Children welcome

Concierge desk

Continental breakfast

Doctor on call

Early check-in

Elevators

Family plan

Fire safety compliant

Free high speed internet connection

Full service housekeeping

Hairdresser/barber

High speed internet access for laptop in public areas

Hotspots

Housekeeping - daily

Inclusive

Late check out guarantee

Late check-out available

Local calls

Lounges/bars

Massage services

Meeting rooms

Newspaper

Pets not allowed

Pool

Restaurant

Room service

Safe deposit box

Security

Wakeup service

Wedding services

Wireless internet connection
Air conditioning

Balcony/Lanai/Terrace

Bathroom amenities

Cable television

Ceiling fan

Color television

Data port

Desk

Double vanity

Hairdryer

Internet access

Jacuzzi

King bed

Minibar

Remote control television

Safe

Satellite television

Sitting area

Smoke detectors

Sofa bed

Telephone

TV

Twin bed
Oceanika Restaurant
Cuisine type: Local Cuisine
Meals served: Breakfast, Lunch, Dinner
Located on the first floor- the 40-seat restaurant Oceanika offers its customers a unique gastronomic experience. Our Chef will delight the most discerning palates in a quiet and exclusive environment. Our dishes may be accompanied by a fine selection of Argentinian- Chilean and Spanish wines.
Movich Cartagena de Indias Wellness centre offers a great variety of treatments rooted in a holistic approach to sooth both mind and body using Germaine de Capuccini skincare amenities. All treatments could be in a dedicated service treatment room or in the comfort and privacy of your own guest room.
Reviews
These reviews are the real opinions of INVITED members and we have verified their stay at the hotel.
What I liked most :

Location (6)
Breakfast (4)
General service (4)
Guestroom and bathroom (4)
Welcome and departure (4)
Local knowledge and experiences (3)

What I might improve :

Internet and wifi (5)
Guestroom and bathroom (3)
Restaurant and dining (3)

Read Reviews

Stay date: December 2016

My Trip Type:

Family

The hotel is lovely and the room and amenities were just what you would expect from an SLH hotel....but the staff were beyond wonderful! So friendly, fantastic recommendations for everything....truly special!

Top tip for other guests:

Dine at Bohemia! Absolute foodie paradise and GORGEOUS! Recommended by Movich staff!

What I liked most

General service
Location
Local knowledge and experiences
Welcome and departure
Guestroom and bathroom

What I might improve

Stay date: February 2016

My Trip Type:

Couple

Liked breakfast at the roof top especially

Top tip for other guests:

Cafe del Mar at Sundowner

Beautiful property ideally located.

Stay date: October 2015

My Trip Type:

Single

Wonderful hotel. The only negative points : Spotty internet signal Lack of spontaneous recognition of Club members. I had to request the upgrade to a superior room and I never received the bottle of wine supposed to be offered to honored guests.

Top tip for other guests:

Make sure the hotel knows you are a Club member otherwise no recognition

What I liked most

Guestroom and bathroom
Location

What I might improve

Not the most comfortable of stays

Stay date: May 2015

My Trip Type:

Family

I stayed at The Movich Hotel for one night with my daughter as part of our trip to Colombia, before moving to another hotel in Cartagena for the remainder of our stay. I have to say that we received the warmest of SLH welcomes - a refreshing coconut ice drink on arrival, and the news that we had been upgraded to a luxury guest bedroom. The lobby has been re-decorated to a more sophisticated decorative scheme than in the photos you see of the hotel, and we both loved the water wall and the sound of the gently trickling water that gives a soothing effect as you check in. The reception staff is very knowledgable about they city, and keen to share that knowledge with you - the enthusiasm was infectious. The city is indeed very beautiful, and the hotel is in an excellent location to give easy access to everything you might want to see. Our room on the fourth floor was large and airy, with a superb view over the city from the balcony. However, we were a little bit perturbed by the lizard sitting on the pillow! If I am honest, I found the room decor bland and soulless. I did like the double headed walk -in rainfall shower, though, which , together with the plants and stones lining one of the walls, gave the feeling of showering outside. To the rear of the bathroom was a window opening onto a walled courtyard used by the staff - the problem was that this acted as an echo chamber so that when the staff were taking their very early breakfast, we were disturbed by their conversation. In addition, work on a nearby roof terrace started at 6.30 am - the sound of tiles being cut at that time of the morning did not get my day of to the happiest of starts. Other reviewers have commented on the erratic WiFi connection - when we were there, it was, quite frankly, appalling - the password was changed at least twice, and there were large periods of time when we had no connection at all. Another gripe was that the roof terrace was closed whilst we there for maintenance, so we were unable to enjoy one of the main assets of the hotel, although they had managed to keep the pool open. There was no turn down service provided, and so we did not know to lower the blackout blinds, which meant that light came pouring into the room very early on. and the lumpy pillows and the noise issues I have mentioned did not make for a very comfortable stay. Sorry Hotel Movich, we will not be back.

Top tip for other guests:

Bring earplugs!

What I liked most

Welcome and departure
Location

What I might improve

Internet and wifi
Guestroom and bathroom
Leisure facilities

Great view with some issues

Stay date: February 2015

My Trip Type:

Friends

The welcome was very nice, and Amelia was very helpful. Our room (401) had the view of a wall. The canyon-like affect made everything including birds sounds incredibly loud. We barely slept at night...especially our first night when there was amplified music from an outdoor wedding that lasted until 4am. Towels seemed to be in short supply as there were none when we checked in. We were told they were in the laundry and we would have some later. They were in short supply at the pool as well. It took several requests to get them. The restaurant was mediocre and felt like you were in a cave. The bartender also served as our waiter so service was slow. The best part of the hotel was the rooftop bar/pool. Couldn't get solid internet at the pool. Great views and nice ambience in the evening. The room was well-appointed. The best part was the bellman/doorman. He was very kind and attentive.

Top tip for other guests:

Make sure you don't get a room in the 01 or 02 line unless it is the 5th floor or higher.

What I liked most

What I might improve

Restaurant and dining
Internet and wifi

Stay date: May 2014

My Trip Type:

Couple

In my opinion, the hotel is a 4-star option even if some sites have it at 3.5 so it's really a nice hotel. The hotel is on a quiet street but very well located near many restaurants and key tourist attractions. Staff and service were very pleasant and helpful, and our corner room on the 5th floor was really nice - bright with ample room, huge bed and shower and some sitting space. Although there was no coffee or iron/ironing board in the room, the staff was quick to respond to such requests. Breakfast was very good as well, and my wife said the massage she had was one of the best she has ever had. I was happy with the choice as we got a very good rate, but having stayed at another 3-star as well during this trip, I'd say that you could find another perfectly fine option for less, but it the rooms wouldn't probably be as nice as the Movich's.

Top tip for other guests:

502 was a great room!

What I liked most

Local knowledge and experiences
Breakfast
General service
Guestroom and bathroom
Location

What I might improve

Restaurant and dining
Internet and wifi

Stay date: May 2014

My Trip Type:

Friends

great staff and location magnificent city views

Top tip for other guests:

ask before you book if there are events because i was there 3 days and pool and jacuzzi were closed for private parties

What I liked most

Local knowledge and experiences
Restaurant and dining
Breakfast
Welcome and departure
Location
General service
Internet and wifi

What I might improve

Guestroom and bathroom
Leisure facilities

Amazing end to a Colombian adventure

Stay date: April 2014

My Trip Type:

Friends

This was my first time in Cartagena and thanks to the Movich Hotel Cartagena de Indias it won't be my last. We arrived in the late afternoon. Check in was a breeze and we were offered a refreshing cocktail. As we entered our room, there was an assortment of fresh fruit and a personalized card from the GM welcoming us to Cartagena. But that wasn't the best part. The best part was opening our window and seeing the sunset over the Caribbean. Simply breathtaking. The room was wonderful. The accommodations were very luxurious and the satellite TV was a welcome treat. We only had the continental breakfast in the hotel but it was wonderful. Just what we needed. The only thing the hotel needs to improve is their wifi. It was not very effective. Our devices kept losing the signal and it was even password protected, and we had to keep entering that same password only to have the same weak signal. And the only thing I am going to say on the matter is that we live in a global business environment and had I needed to work, I would have been much more disappointed in the wifi service. Other than that small detail, the hotel rocks!

Top tip for other guests:

Stay on the sixth floor with the sunset views

What I liked most

Breakfast
Guestroom and bathroom

What I might improve

Good location and almost new facilities

Stay date: December 2012

My Trip Type:

Couple

This is not our first time at the Movich Cartagena de Indias. In fact, this is the third time we visit this hotel. As previously mentioned, the hotel facilities are almost new and are strategically located at Cartagena´s old city heart. Employees are very friendly and alway try to provide the best service to guests. However, this time it was dissapointing that at the time of our check in, the front desk lady did not even mentioned that we were members of the SLH Club, and moreover, did not mention anything about the compliments our reservation included. In fact, the second day of our stay we had to call the front desk to ask for the bottle of wine that was included in our reservation. The front desk lady tried not to honour this compliment and at first, said that is was not a bottle of wine, but only half bottle and only RED wine (we asked for white wine). It was uncomfortable to feel that we had to give explanations for something that we should not even ask for as it was included and detailed in our reservation.

Top tip for other guests:

Try to book a room in the 6th floor. Excellent view

What I liked most

General service
Internet and wifi
Location

What I might improve

Welcome and departure
Guestroom and bathroom