https://origin.slh.com/hotels/juana-hotel/
Hotel Highlights
Chic, 1930s building, nestled in the middle of a Gould pine tree park
French-inspired menu, created by Chef Arnaud Lacombe, can be enjoyed in the restaurant or terrace
New cocktail invented every week by the barman
Hotel Juana - LUXURY HOTEL IN JUAN-LES-PINS
Art Deco chic in the heart of the French Riviera
An Art Deco mansion in a perfect Mediterranean setting in Juan-les-Pins, Hotel Juana is classic 1930's chic, renovated to exacting contemporary standards. A Riviera jewel promising glitz and glamour with a stunning pool and a trendy new restaurant opening out onto a white marble terrace.
Every room in Hotel Juana is elegant and refined with tributes to the early years of the Riviera. Contemporary in design, they have clean lines with innovative modern twists such as brightly coloured carpets in reds and yellows in some of the rooms. The Deluxe Rooms and Suites benefit from alluring views of the Lérin Islands and Esterel.
Relax in Hotel Juana's Bistrot Terrasse and enjoy homemade specialities for lunch and dinner. Recently decorated in oyster blue and chocolate tones, it has a relaxing feel, or sit out on the marble terrace under the palm trees. Head into Antibes and wander the narrow streets packed with restaurants and cafes, then visit the castle, now with a collection of works by Picasso.
40

rooms

1

restaurant

5

floors
The rooms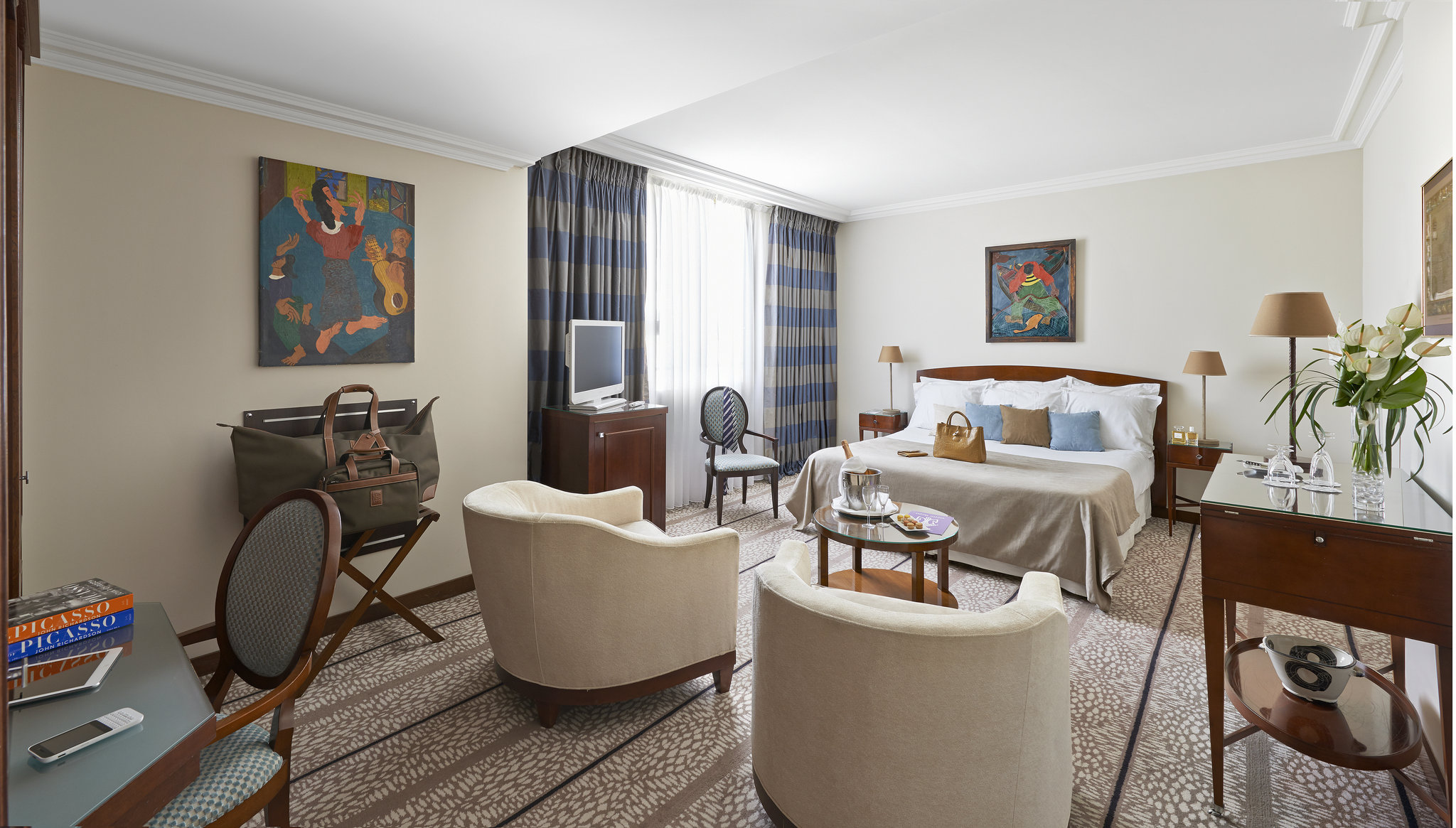 Classic Room
Sleeps: 3 People.
Spacious and comfortable, the classic rooms of the Hotel Juana are the right start to a chic and uptown stay on the Riviera.

Designed in a modern Art Deco style, with periwinkle blue or strawberry fuchsia tones, and offer a bathroom with a shower and a separate bath-tub.
From per night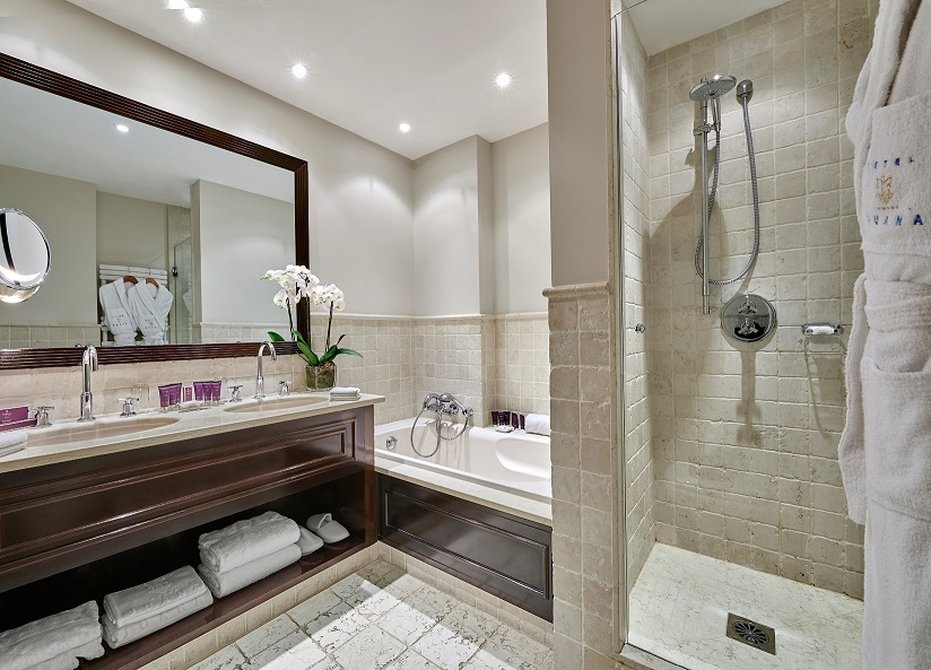 Exclusive Pinède Room
Sleeps: 3 People.
The exclusive Pinède rooms all have a balcony overlooking the famous Pinède Gould and offer an excellent interlude for a getaway to Juan les Pins.

These exclusive rooms, which can have a third guest upon request, highlight a sophisticated modern Art Deco design.
From per night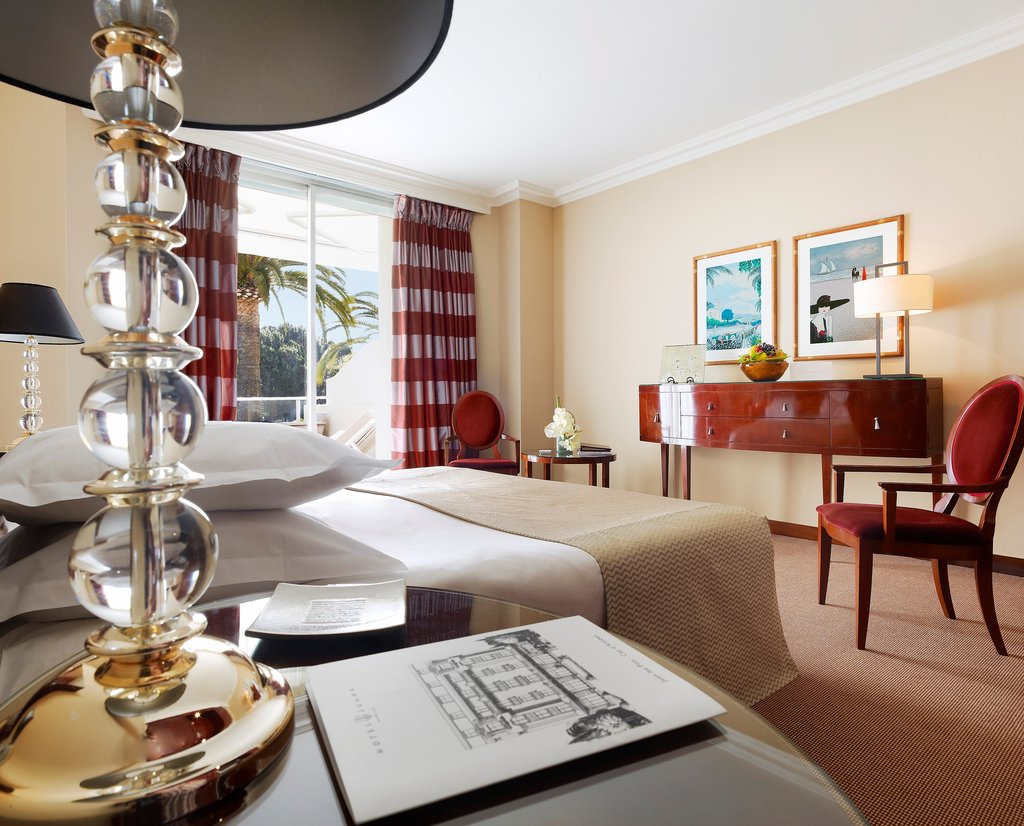 Exclusive Terrace
Sleeps: 3 People.
The Rooms Exclusive Terrace of the Juana Hotel are an example of discreet luxury, synonymous with clear space and freedom. These exclusive rooms, spacious and offering all the comfort for a wellbeing.

All have a 20 square meters private terrace. Each terrace, with garden furniture including deckchairs, is in line with the room and offers a relaxing view onto the Gould pine grove.
From per night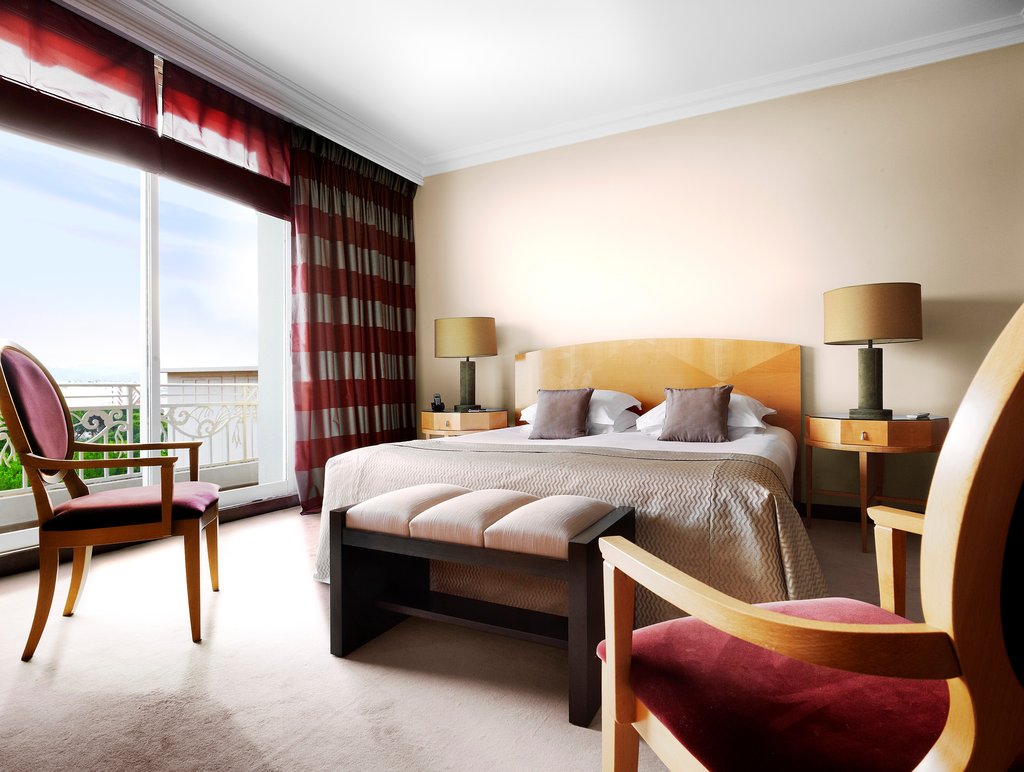 Prestige Sea View
Sleeps: 3 People.
Spacious and decorated with precious wood, the rooms Prestige Sea View overlook the bay of Juan les Pins. These luxurious rooms all have a balcony, with a view onto the Lerins Islands.

The Esterel and the Mediterranean Sea as a backdrop.
This voluptuous setting is bathed in natural light, highlighting a modern Art Deco design.
From per night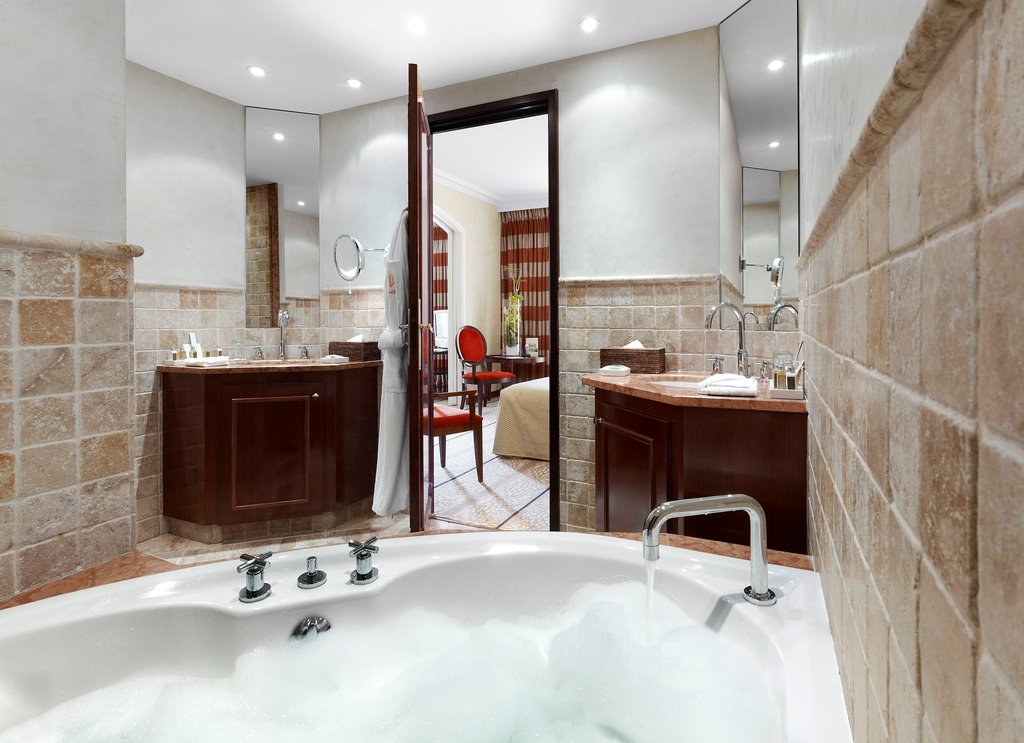 Suite Deluxe
Sleeps: 3 People.
The Deluxe Seaview Suites, in a 60 SQM setting, offer a breathtaking panorama of the bay of Juan les Pins.
The suites of the Juana Hotel all have a nice living-room separate from the bedroom.

They are the introduction to a luxurious stay in the heart of the Riviera. The bathrooms are fitted with two washbasins, one shower and a separate whirlpool bath.
From per night
Air conditioning
Lounges/bars
Exercise gym
Pets allowed
Pool
24-hour room service
Wedding services
Join INVITED and get 10% off exclusive rates. Plus early check-in and late check-outs among other benefits.
24-hour front desk

24-hour room service

24-hour security

Accessible facilities

Aerobics instruction

Air conditioning

Airline desk

Audio visual equipment

Bell staff/porter

Buffet breakfast

Business Center

Business Center Services

Car rental desk

Child programs

Children welcome

Computer

Concierge desk

Currency exchange

Doctor on call

Dry cleaning

Early check-in

Elevators

Executive floor

Exercise gym

Family plan

Fire safety compliant

Free high speed internet connection

Full service housekeeping

High speed internet access for laptop in public areas

Hotspots

Housekeeping - daily

Late check out guarantee

Laundry/Valet service

Lounges/bars

Meeting rooms

Newspaper

Pets allowed

Pool

Poolside service

Post/parcel service

Public address system

Recreational vehicle parking

Restaurant

Room service

Safe deposit box

Security

Shoe shine stand

Smoke-free property

Sports trainer

Turndown service

Valet parking

Wakeup service

Wedding services

Wireless internet connection
Air conditioning

Bathtub

Hairdryer

Minibar

Safe

Sitting area

Turn down service

TV

Wireless keyboard
'Bistrot Terrasse', a new exclusive bistrot at the Cap d'Antibes, a relaxed yet elegant address for lunch and dinner with friends and family.
Bistrot Terrasse
Cuisine type: French
Meals served: Breakfast, Lunch, Dinner
The Bistrot Terrasse of the Juana Hotel offers a Mediterranean menu to relish at lunch or dinner time on the terrace or inside in a very beautiful and muted room. Savours and colours are drawn from a variety of French cuisine codes but the quality and perfect execution remain unchanged- along with the standards of our chef who- thanks to his work as to the menu and in the kitchen; allowed the Bistrot Terrasse to be awarded the Maitres Restaurateurs label in 2014.
Reviews
These reviews are the real opinions of INVITED members and we have verified their stay at the hotel.
What I liked most :

Location (11)
Welcome and departure (7)
Breakfast (5)
General service (5)
Restaurant and dining (5)
Welcome and Departure (5)
General Service (4)
Guest Room and Bathroom (4)
Leisure facilities (4)
Guestroom and bathroom (3)
Local knowledge and experiences (3)

Read Reviews

Very comfortable hotel. WiFi was very poor.

September 2019

My Trip Type:

Business

Lovely breakfast and garden

Top tip for other guests:

enjoy

What I liked most

Welcome and Departure
Location
Guest Room and Bathroom
Breakfast

What I might improve

Local knowledge and experience
Internet and wifi

Lovely Hotel in a sweet town

June 2019

My Trip Type:

Couple

Hotel Juana was a welcome break from the busier French riveria towns. The staff, especially Sebastian, were so helpful on our stay. They helped retrieve a bag lost by the airline and made the stay perfect.

Top tip for other guests:

Enjoy the breakfast and outside area + get a sea view room!

What I liked most

Welcome and Departure
Location
General Service
Local knowledge and experience
Guest Room and Bathroom
Breakfast
Restaurant and dining
Room Service
Leisure facilities

What I might improve

We've been there many times and it's ever been a beautiful experience

January 2019

My Trip Type:

Couple

We know very well this part of the french Riviera and the sunset on the Pinéde Gould is probably the most beautiful show all along the coast....

Top tip for other guests:

A gourmet dinner at Le Figuer de Saint Esprit - a Michelin Star restaurant in the deep heart of the old Antibes - the promenade on the Garoupe plage, drinking a cocktail at the Fiztgerald bar at the Belles Rives Hotel while listening to some smoothing jazz notes from the 'Jazz à Juan' stage in the middle of the Pinède

What I liked most

Welcome and Departure
Location
General Service
Guest Room and Bathroom
Restaurant and dining
Room Service
Leisure facilities

What I might improve

We had a lovely stay at the hotel. the staff was very welcoming, especially Mary. We enjoyed the pool and the views a lot.

October 2018

Top tip for other guests:

Get a room with the sea view!

What I liked most

Welcome and Departure
Location
General Service
Breakfast
Leisure facilities

What I might improve

October 2018

Fine hotel, with good services

Top tip for other guests:

ask for a sea view room

What I liked most

Welcome and Departure
Location
General Service
Guest Room and Bathroom
Restaurant and dining

What I might improve

Lovely Hotel and Great Location

Stay date: June 2016

My Trip Type:

Family

Very stylish and elegant hotel . Excellent location, right next to Juan Les Pins centre A bit let down that there was no upgrade available as promised. I asked would they do something else complimentary (eg free drink or half price breakfast) but the answer was no. Not much point in using the SLH website as a 'Speciial' member when you just get treated like everyone else.

Top tip for other guests:

make sure you get your upgrade reserved before you go

What I liked most

Location
Leisure facilities
Welcome and departure

What I might improve

Stay date: April 2016

My Trip Type:

Couple

Sea view room was wonderful! Very helpful staff and cozy feel. Returning the car in the driveway for valet parking felt like coming home. Certainly not the impersonal feel of so many larger hotels, and yet large enough to have lots of amenities. Highly recommended.

Top tip for other guests:

Join the SLH Club and go in late April between seasons if you can

What I liked most

General service
Welcome and departure
Guestroom and bathroom
Location

Stay date: August 2015

My Trip Type:

Couple

The Hotel and the rooms are nice,

Top tip for other guests:

The hotel was not fully booked. Because we have booked in advance we had to pay a very high price.

Very likeable and charming hotel

Stay date: March 2015

My Trip Type:

Couple

A very warm welcome and very nice room as an upgrade. The restaurant with excellent cuisine. I felt like at home

Top tip for other guests:

Be a SLH member

What I liked most

General service
Restaurant and dining
Local knowledge and experiences
Location
Guestroom and bathroom
Welcome and departure

What I might improve

Real pleasure to stay and relax

Stay date: October 2014

My Trip Type:

Business

Real pleasure to stay and relax, and eat and walk around. High comfort!

Top tip for other guests:

Real pleasure to stay and relax, and eat and walk around. High comfort!

What I liked most

Local knowledge and experiences
Restaurant and dining
Breakfast
Welcome and departure
Location
Guestroom and bathroom

What I might improve

Great Location Lovely Hotel

Stay date: May 2014

My Trip Type:

Couple

We had fantastic service on arrival and the staff were all very helpful and welcoming however the only down side we felt was the bar area lacked any feeling especially as the breakfast cereal was already laid out for the morning service at around 7pm the evening before adjacent to the bar area this did not make going into the bar area very welcoming.

Top tip for other guests:

A room with Sea view is a must

What I liked most

What I might improve

Breakfast
Restaurant and dining

Stay date: September 2013

My Trip Type:

Couple

this was my first experience at slhw loved the place and the vibe people remembered your name great!

Top tip for other guests:

go there!

What I liked most

Internet and wifi
Location
Welcome and departure
General service

Stay date: June 2013

My Trip Type:

Couple

A good second stay for two nights. The staff at the hotel make this hotel worth staying at. They are so very helpful and make it feel like a home from home. Our room / bed was very comfortable and an excellent bathroom. Housekeeping provided some softer pillows which were needed. The wine list was much shorter than a couple of years ago and not a wide selection, Prices of wine by the glass were higher but around the level to be expected in this area. Menu was varied and food very well cooked. The pool is well maintained and the gardened wall areas around are attractive. The hotel is well situated being only a 10 -15 minutes walk from the center of Antibes and obviously on the doorstep of Juan Les Pins. Having use of Hotel Belle Rive facilities is a bonus. The road by the hotel gets busy in the early evening and the traffic noise is present when you sit outside but we did not find it distracting.

Top tip for other guests:

Go for a high room

What I liked most

Local knowledge and experiences
Welcome and departure
Location
General service
Breakfast
More hotels in Juan Les Pins