https://origin.slh.com/hotels/l-hotel-paris/
The restaurant at Hôtel L'Hotel is currently closed and will reopen early 2020 with an entirely new culinary concept. It is an exciting time for the hotel and the new restaurant is set to be a destination on the Parisian dining scene.
HOTEL HIGHLIGHTS
Former home of Oscar Wilde, located on the famous Left Bank
Indulgent interiors by renowned designer Jacques Garcia
Secluded hammam pool and steam room
Hôtel L'Hotel - Luxury Hotel in Paris
In a tranquil setting on Paris' Left Bank
Oscar Wilde's last home in St-Germain-des-Prés, Hôtel L'Hotel Paris is a glamorous, theatrically decorated, secret hideaway set in a quiet street surrounded by art galleries and boutiques. With an intimate bar, original works of art and a sensational, small indoor pool, this charming hotel is a short walk from the Musée d'Orsay.
Renowned designer, Jacques Garcia's magic touch has created a warm, decadent bohemian feel that reflects the enthralling history of the property. The rooms at L'Hotel are flamboyant with plush, fabric-covered walls and stylish furnishings.
Take a closer look on the walls in the lobby lounge where you will discover works of art by Jean Cocteau and letters and photographs of Oscar Wilde who spent the last days of his life here. Spend the day in the smart cafes and quaint boutiques of St Germain. Take your pick of one of the many fine dining restaurants in the area and then head back to the bar at L'Hotel for an aperetif.
The rooms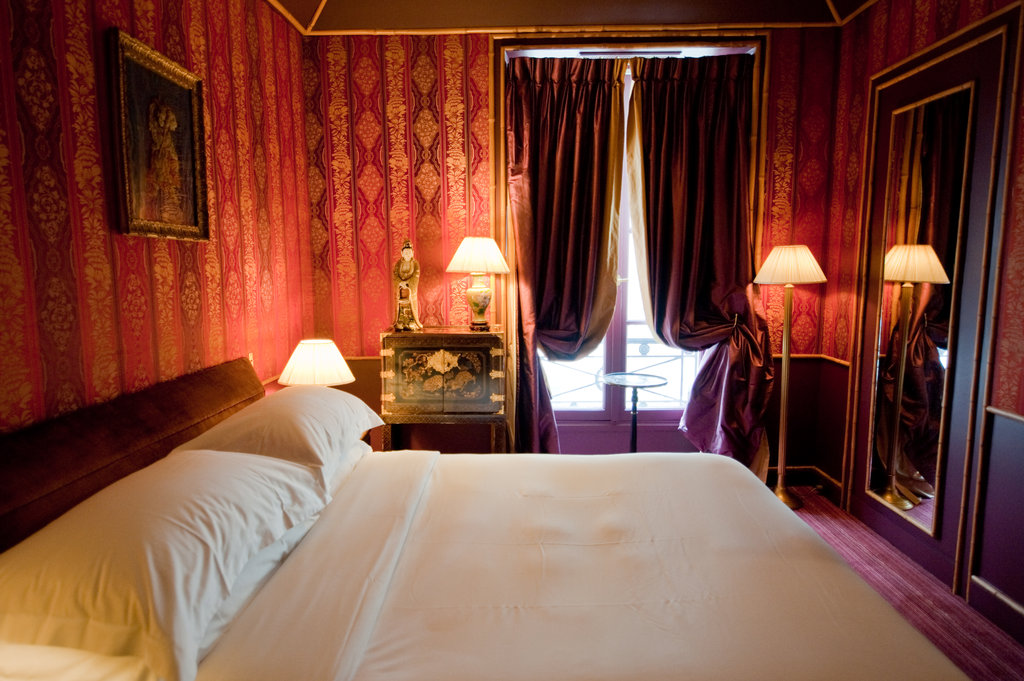 Standard Mignon Room
Sleeps: 2 People.
Looking out over Rue de Beaux Arts, these 16-17 Square meters or 183 square feet rooms are opulent yet inviting.

From Japanese-inspired bamboo to decadent leopard print wall coverings, each follow a distinctive theme. AMENITIES Continental breakfast included Free WIFI Green & Spring bath products Mini-bar Coffee & tea facilities Air Conditioning.
From per night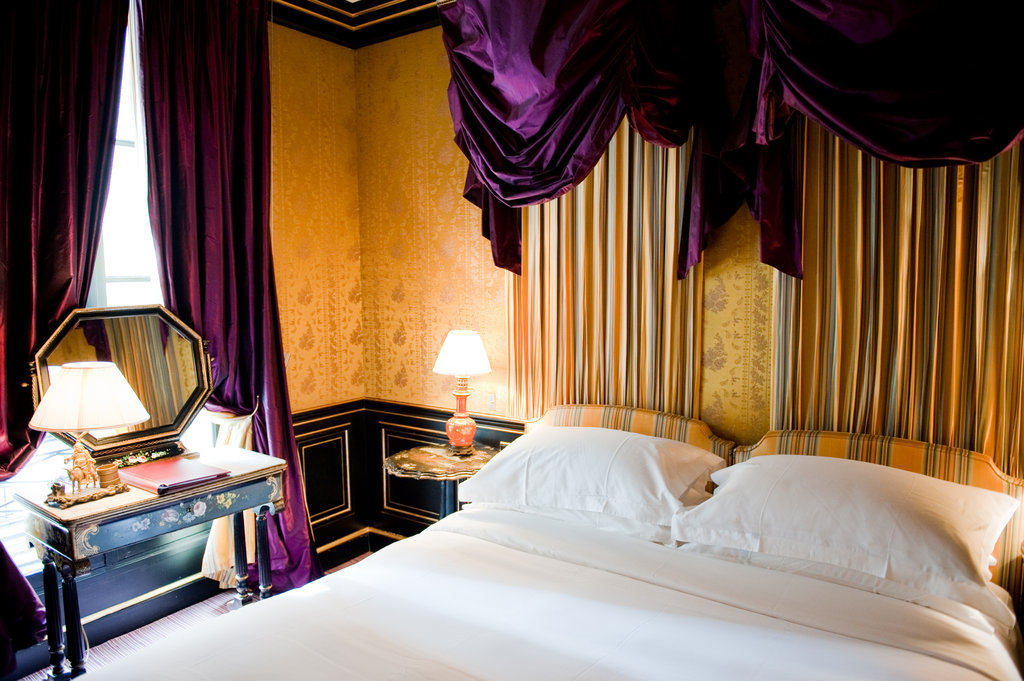 Superior Bijoux Room
Sleeps: 2 People.
SUPERIOR BIJOUX ROOM- 18SQM- COURTYARD SIDE- KING-TWIN BEDS- AIR CON- FREE WIFI.

Bijoux Room. These 18 square meters rooms look out over the quiet courtyard and are all individually and dramatically designed. Baroque and IndoChinese are but a few of the striking decorative themes found in these perfectly formed, bijoux bedrooms.
From per night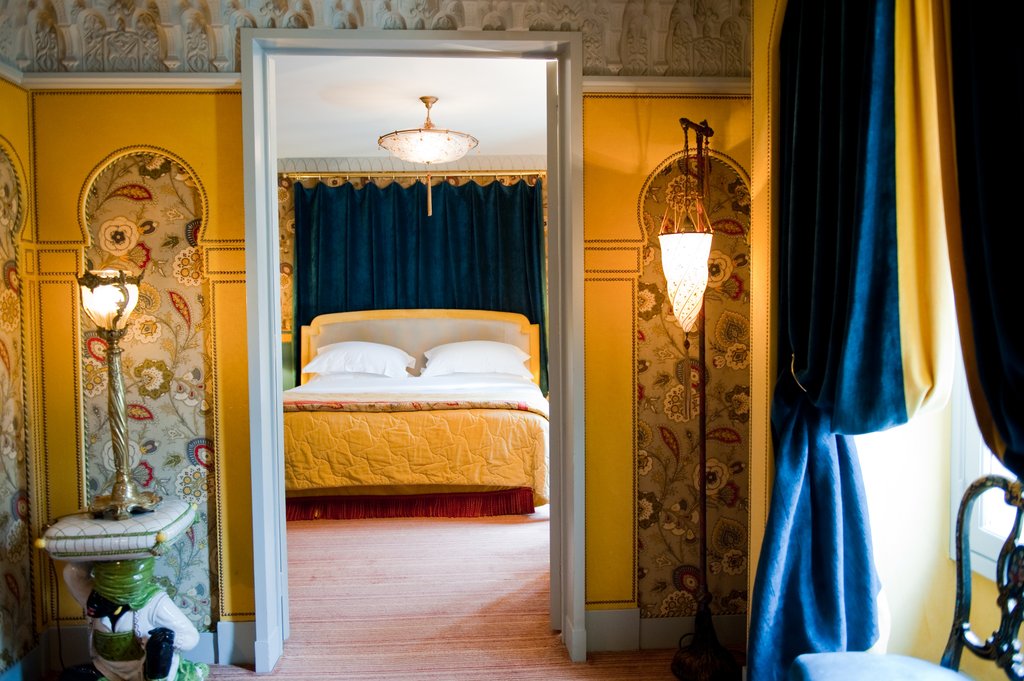 Junior Suite Grand
Sleeps: 3 People.
Extra beds: 1 (Not suitable for adults/Maximum 1 Child)
JUNIOR SUITE GRAND- 30SQM- STREET SIDE- KING-TWIN BEDS- AIR CON- FREE WIFI.

Grand Room. The 3 junior suites are 30 square meters and overlook Rue de Beaux Arts. Pierre Loti is decoratively inspired by eastern voyages of the famed novelist and naval officer, Saint Petersbourg conjures 19th-century Russia and Belle Epoque is suitably grand.
From per night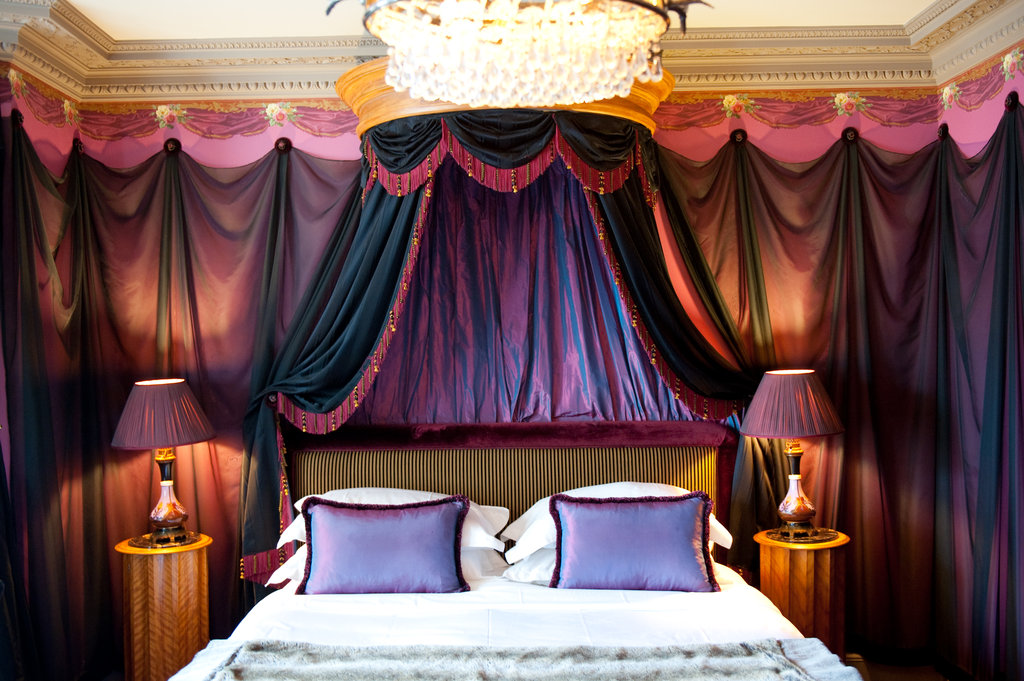 Deluxe Chic Room
Sleeps: 2 People.
DELUXE CHIC ROOM- 35SQM- COURTYARD SIDE- DOUBLE BED- AIR CON- FREE WIFI.

The rooms are as spacious as they are individual with a sitting area and large bathrooms with separate bath and walk-in showers.
From per night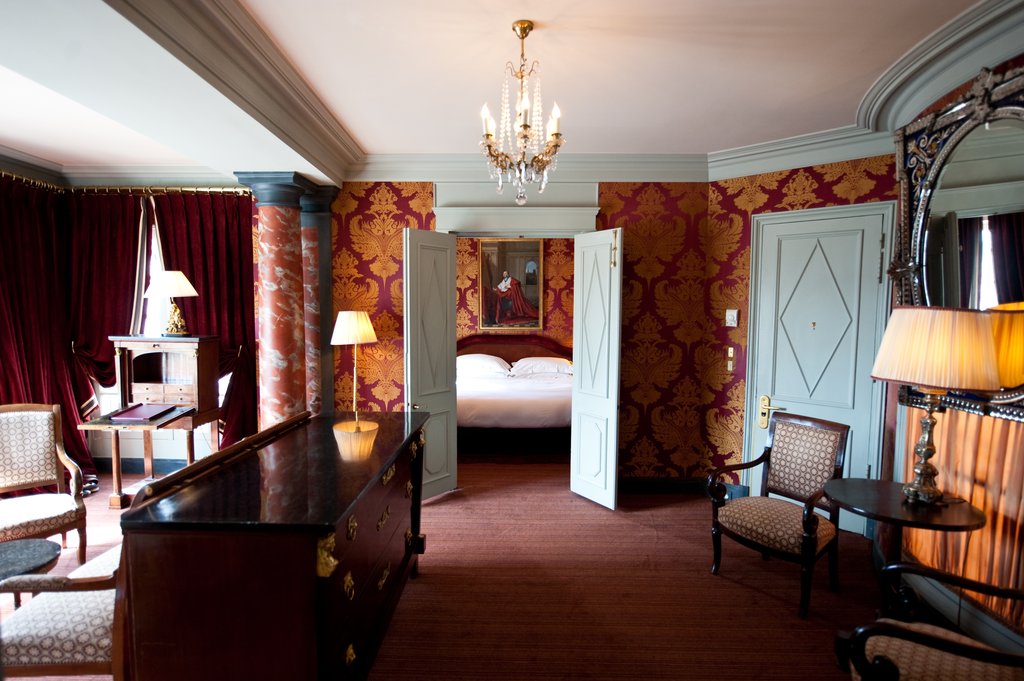 Apartment
Sleeps: 2 People.
Apartment. Named after Louis-Antoine, Cardinal of Noailles, the largest suite at 45 square meters has a terrace overlooking the city's rooftops and the bell tower of Saint Germain-des Prés.

The décor is inspired by the Cardinal's robe with heavy red velvet drapes and silk fabric covering the walls.
From per night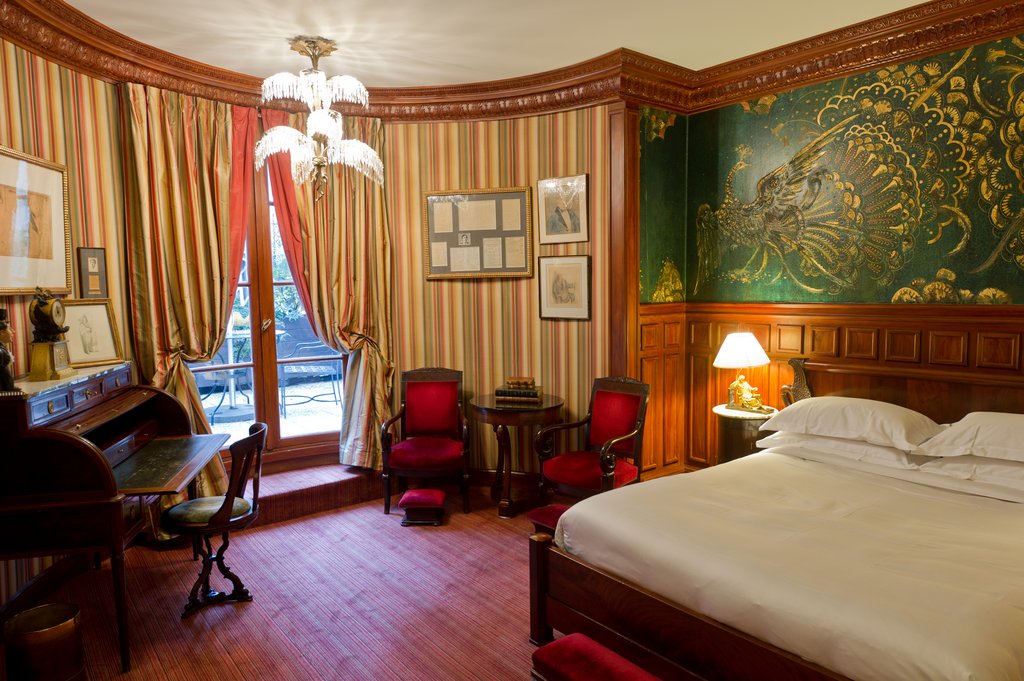 Oscar Wilde Suite
Sleeps: 2 People.
Oscar Wilde Suite with Private Terrace Courtyard View. King Bed. 35SQM.

Oscar Wilde Suite with Private Terrace. The most mythical where Oscar Wilde remained there the last year of his life. The characteristic of this room rests on a bow window which opens on a beautiful terrace. The tapestry enables us to admire a splendid fresco green emerald representing of the phoenixes. An impressive bed head decorated with swans. The bathroom is so British with the woodworks mahogany tree.
From per night
Air conditioning
Lounges/bars
Pets allowed
24-hour room service
Join INVITED and get 10% off exclusive rates. Plus early check-in and late check-outs among other benefits.
24-hour front desk

24-hour room service

24-hour security

Accessible facilities

Air conditioning

Buffet breakfast

Business Center Services

Children welcome

Computer

Computer rental

Currency exchange

Doctor on call

Elevators

Fire safety compliant

Free high speed internet connection

Full service housekeeping

High speed internet access for laptop in public areas

Hotspots

Housekeeping - daily

Lounges/bars

Massage services

Parking fee managed by hotel

Pets allowed

Photocopy center

Room service

Safe deposit box

Security

Shoe shine stand

Turndown service

Wireless internet connection
Air conditioning

AM/FM radio

Bathrobe

Bathroom amenities

CD player

Color television

Desk

Direct dial phone number

DVD player

Hairdryer

Internet access

Lighted makeup mirror

Minibar

Newspaper

Non-smoking

Remote control television

Safe

Satellite television

Separate tub and shower

Smoke detectors

Stereo

Telephone

TV
Reviews
These reviews are the real opinions of INVITED members and we have verified their stay at the hotel.
What I liked most :

Location (15)
General service (12)
Welcome and departure (12)
Breakfast (9)
Guestroom and bathroom (9)
Restaurant and dining (9)
Internet and wifi (8)
Local knowledge and experiences (5)
Leisure facilities (4)
Room service (3)

What I might improve :

Guestroom and bathroom (3)

Read Reviews

Stay date: January 2017

My Trip Type:

Couple

The staff here is very courteous and friendly and offer amazing service. Our room was perfect.

Top tip for other guests:

enjoy

What I liked most

General service
Restaurant and dining
Welcome and departure
Guestroom and bathroom

Stay date: October 2016

My Trip Type:

Couple

We have always had a wonderful time staying at l'hotel. We look forward to coming back every time. Everyone from the front desk staff to the bar and restaurant treat us very well. Thank you.

Top tip for other guests:

Really good restaurant.

What I liked most

Restaurant and dining
Local knowledge and experiences
Breakfast
Guestroom and bathroom
Welcome and departure
General service
Internet and wifi
Location

Stay date: October 2016

My Trip Type:

Couple

This is our favorite hotel anywhere. We really love the personal service from everyone. The room was wonderful and the dinner very good, as well as the service. We always look forward to coming back. You are the best.

Top tip for other guests:

Try to book well in advance.

What I liked most

Local knowledge and experiences
Internet and wifi
Guestroom and bathroom
Restaurant and dining
Breakfast
Location
General service
Welcome and departure

Stay date: April 2016

My Trip Type:

Couple

Finally able to book this popular spot. Foto from above shows off main feature of this Oscar Wilde hangout. Top notch Luxor service, lovely breakfast. Unfortunately, restaurant closed on our two day visit, Sunday and Monday

Top tip for other guests:

Be sure restaurant is open

What I liked most

Breakfast
Leisure facilities
Location

What I might improve

A favorite that we keep returning to!

Stay date: January 2016

My Trip Type:

Couple

Top tip for other guests:

Breakfast in bed!

What I liked most

General service
Guestroom and bathroom
Room service
Internet and wifi
Location
Breakfast

Stay date: November 2015

My Trip Type:

Couple

L'Hotel is a piece of authentic Paris. It has been renovated to modern standards but still retains an authentic feel.

Top tip for other guests:

Try the Hammam

What I liked most

Restaurant and dining
Leisure facilities
Location

Historic hotel and great service

Stay date: June 2015

My Trip Type:

Couple

Hotel is amazing and service is outstanding

Top tip for other guests:

suite must !!!!

What I liked most

Welcome and departure
Restaurant and dining
General service

What I might improve

overfussy and claustrophobic

Stay date: August 2014

My Trip Type:

Couple

The hotel is in a great location and the service was very good. It is a small hotel with small rooms and public areas but it does itself no favours by filling every available space with ornate, dark and elaborate furnishings making the whole feeling one of claustrophobia. Our room was small, not the smallest, but contained 3 decorated chairs, one desk plus a bureau for decoration. It felt much better when the bureau and 2 chairs were removed at our request and the room was instantly more appealing. The whole hotel was overstyled and would benefit from a minimalist approach to lighten the heavy feel whilst retaining the architectural features already in place

Top tip for other guests:

Ask the staff to remove unnecessary furniture from the room

What I liked most

What I might improve

Historic hotel near the R. Seine

Stay date: August 2014

My Trip Type:

Couple

Small beautifully appointed hotel with excellent facilities in a quiet street in the heart of Paris. Near lots of cafes and restaurants and art galleries and shops. Beautiful restaurant for breakfast but unfortunately closed during August for dinner.

Top tip for other guests:

Know where the hotel is as our taxi driver didn't.

What I liked most

Breakfast
Internet and wifi
Guestroom and bathroom
Location

What I might improve

Stay date: May 2014

My Trip Type:

Couple

Staff couldn't be more helpful, friendly and courteous. The meal in the restaurant was lovely. The room, although very small, was well furnished and comfortable. I would have liked to be able to make tea and coffee in the room but the complimentary water was appreciated. Great location too.

Top tip for other guests:

Don't take too much luggage - it won't fit in your room :)

What I liked most

Restaurant and dining
Breakfast
General service
Location
Welcome and departure

Excellent and very romantic

Stay date: April 2014

My Trip Type:

Couple

Small and friendly hotel with a great Le restaurant, exceptional beauty in its portions and worth its Michellin star. L'Hotel service very good overall and location superb. Wifi connections high quality.

Top tip for other guests:

Romantic and intimate luxury with remarkable restaurant.

What I liked most

Leisure facilities
General service
Restaurant and dining
Internet and wifi
Welcome and departure
Location

Super location, rooms and service

Stay date: February 2014

My Trip Type:

Couple

The hotel has a super location in the centre of Paris. Beautiful interior, and the rooms are pretty and cosy. Service is friendly and correct. The hotel has a excellent restaurant. The hammam pool in the basement to be used privately is original and a nice extra.

Top tip for other guests:

Take the time to relax in the hammam pool.

What I liked most

Location
Restaurant and dining
Guestroom and bathroom
Welcome and departure
Leisure facilities

Stay date: December 2013

My Trip Type:

Couple

We had small room, but on checkin Mr (special thanks) offered upgrade room, after we had Junior suite. It was big room with antique furniture! Also we had nice breakfast in a restaurant with french music.It was very cosy! We'll back and we would like use restaurant for birthday.

Top tip for other guests:

Have good stay !

What I liked most

General service
Guestroom and bathroom
Local knowledge and experiences
Breakfast
Internet and wifi
Room service
Welcome and departure
Location

Great Hotel in a Great Location

Stay date: January 2014

My Trip Type:

Couple

Nice Hotel in a really good location in Paris. Very near to a lot of important places to visit if You are on holidays. Nice and kindly people, from the reception to the room service or the Hotel Restaurant. Great Restaurant also.

Top tip for other guests:

Great Hotel in Paris

What I liked most

Restaurant and dining
Location
General service
Internet and wifi
Welcome and departure

What I might improve

Stay date: December 2013

My Trip Type:

Couple

What a unique and romantic experience in beautiful Paris. The location could not have been more perfect - the hotel staff was spectacular! They recommended restaurants every night we were there and each was a winner! The staff was so friendly and so helpful! The bar was wonderful, and watching the bartender mix drinks was like watching a ballet! Our room was small but wonderful, and perfectly appointed. We would definitely stay here again!

Top tip for other guests:

Be sure to check out the pool!

What I liked most

General service
Welcome and departure
Local knowledge and experiences
Internet and wifi
Location
Guestroom and bathroom

we would return in a second

Stay date: July 2013

My Trip Type:

Couple

The concierge staff, the dining staff, everyone made our experience a memorable one. we would return in a heartbeat. the location is perfect, the hotel beautiful and we would recommend it highly

Top tip for other guests:

stay here.

What I liked most

General service
Location
Breakfast
Welcome and departure
Local knowledge and experiences

What I might improve

Charming hotel well located for walking

Stay date: May 2013

My Trip Type:

Couple

Very friendly people from reception to cleaning staff. Beautiful rooms albeit ours was quite small. This is not a corporate hotel rather an intimate property where you feel you are almost at home. Everything worked in the room and we had a nice view over Paris rooftops to a large chush which I think was St sulpice. Vert good location for walking to major sights and restaurants. I shouldn't really write such glowing reports as they will be tempted to put thier price up. However the one thing about Paris is you should never cmplain about the cost. It is not the hotel's fault thay two coffees can reach 10 Euro. Never mind we will be back next year.

Top tip for other guests:

Book through SLH toget free brekfasts.

What I liked most

Location
Guestroom and bathroom
General service
Room service
Breakfast
Welcome and departure