https://origin.slh.com/hotels/la-chartreuse-du-val-saint-esprit/
Hotel Highlights
Historic château, surrounded by acres of scenic parkland
A choice of three restaurants serving traditional French, modern and international cuisine
Individually designed rooms, with views of the landscaped gardens
La Chartreuse du Val St.Esprit - LUXURY HOTEL IN GOSNAY
In the village of Gosnay right in the heart of the Pays d'Artois
Listed as an historic building, La Chartreuse du Val Saint Esprit is a magnificent château with a monastic history that stretches back to the 14th century. With three stunning restaurants serving a broad variety of cuisine, a ten-acre parkland, two tennis courts and individually designed rooms, this is a tranquil retreat not far from Béthune.
Each of the rooms at La Chartreuse du Val Saint Esprit has its own unique character with carefully chosen pieces of furniture and delightful floral prints. After a peaceful night's sleep, enjoy a delicious breakfast in your room accompanied by superb views of the gorgeous landscaped gardens from your window.
But, it is the cuisine at La Chartreuse du Val Saint Esprit that is outstanding. From the formal gastronomic Robert II Gourmet restaurant to La Distillerie, serving regional dishes and The Vasco for more casual dining, there is a choice for every mood and time of day.
53

rooms

3

restaurants

2

floors
The rooms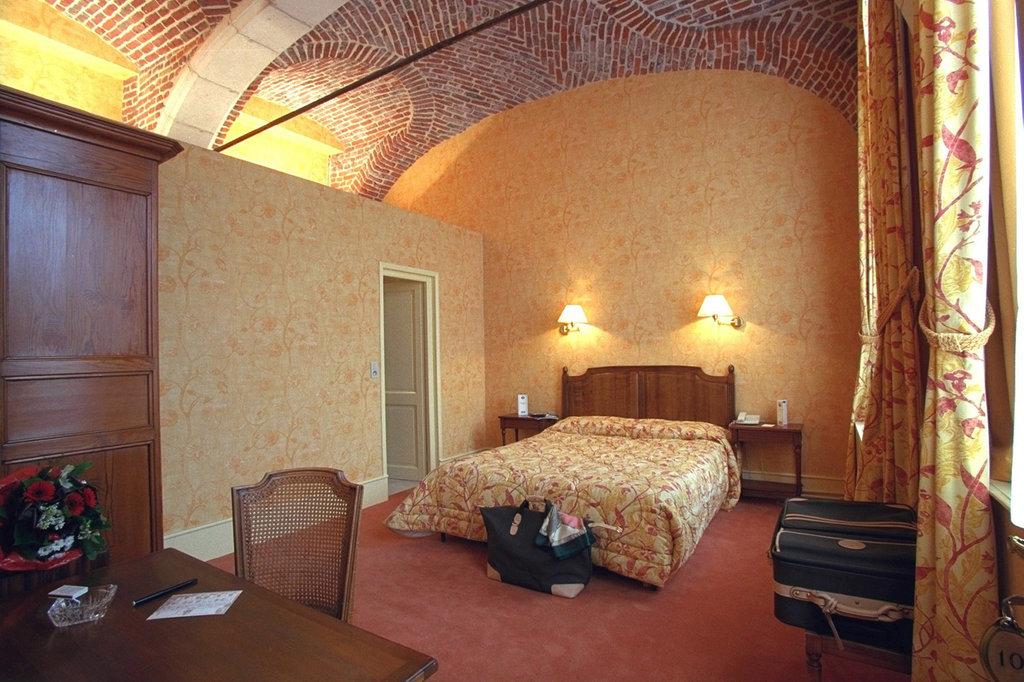 Tradition Room
Sleeps: 2 People.
Each room is wide and decorated like a true castle. They are equipped with a flat-screen TV (canal plus and satellite TV) and mini-bar.

In addition includes safe box, bathroom (bathtub or shower), hair dryer and welcome products. With double or twin bed. Free Wifi. 25 sqm
From per night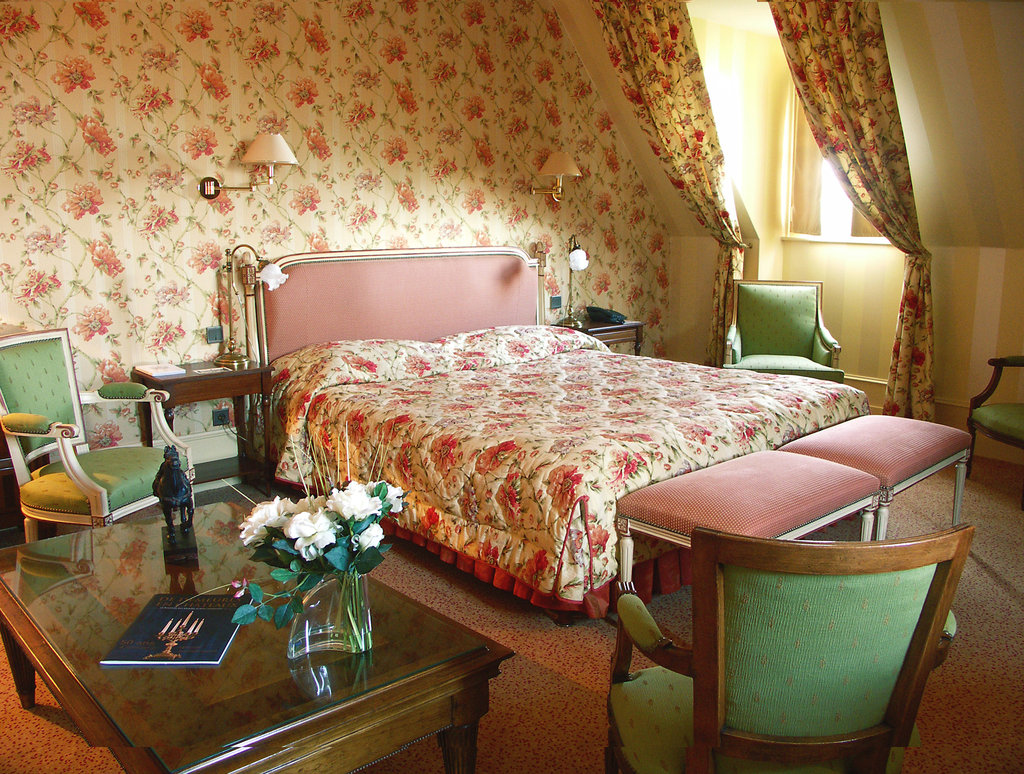 Superior Room
Sleeps: 2 People.
Very charming room king or twin beds, 35 square meters. The perfect word which characterize this category of room is charming.

All have an attic that brings a romantic ambience. Each one is different and ensures calm and tranquillity.
From per night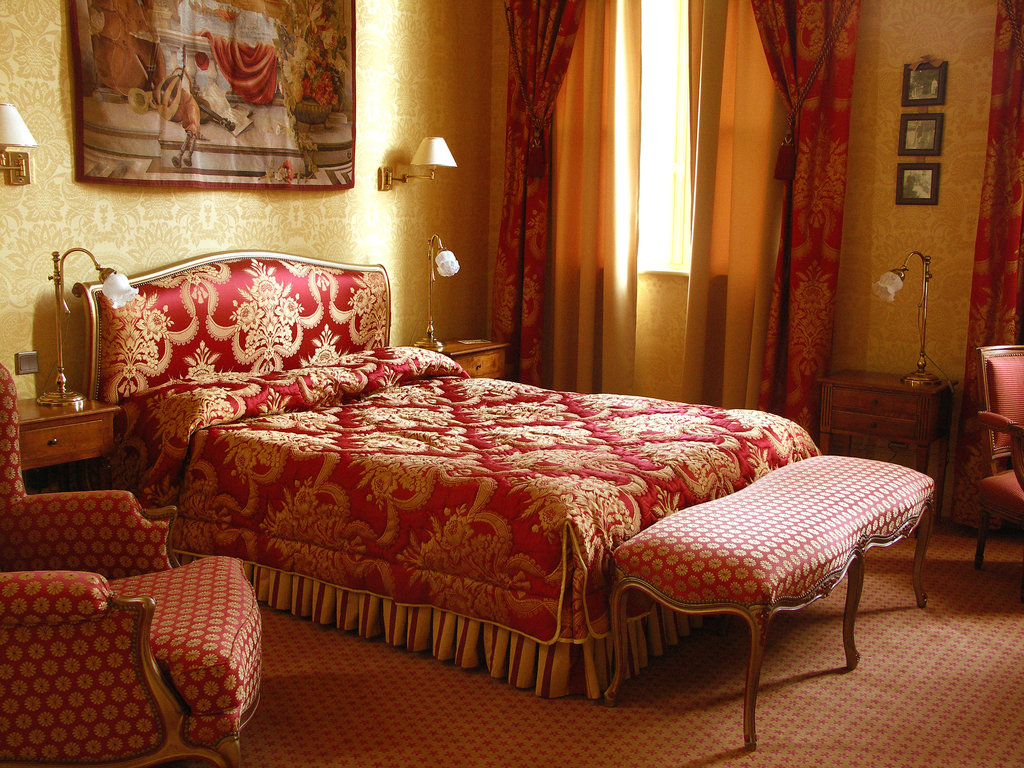 Deluxe Room
Sleeps: 2 People.
With an area of 50 square meters, the deluxe king room is very pleasant for long stay. You will be fascinated by the furnitures, each room has its ambiance.

You will be seduced by the particular choice of antiques and character of this type of room. You will benefit of bath tub and shower, flat screen, free wifi access.
From per night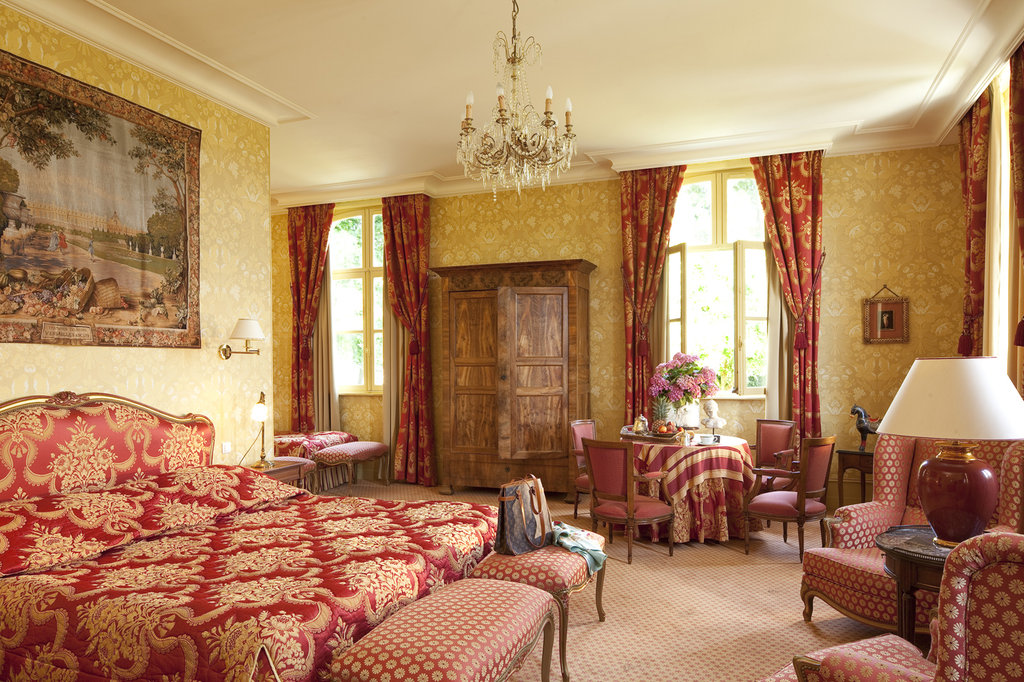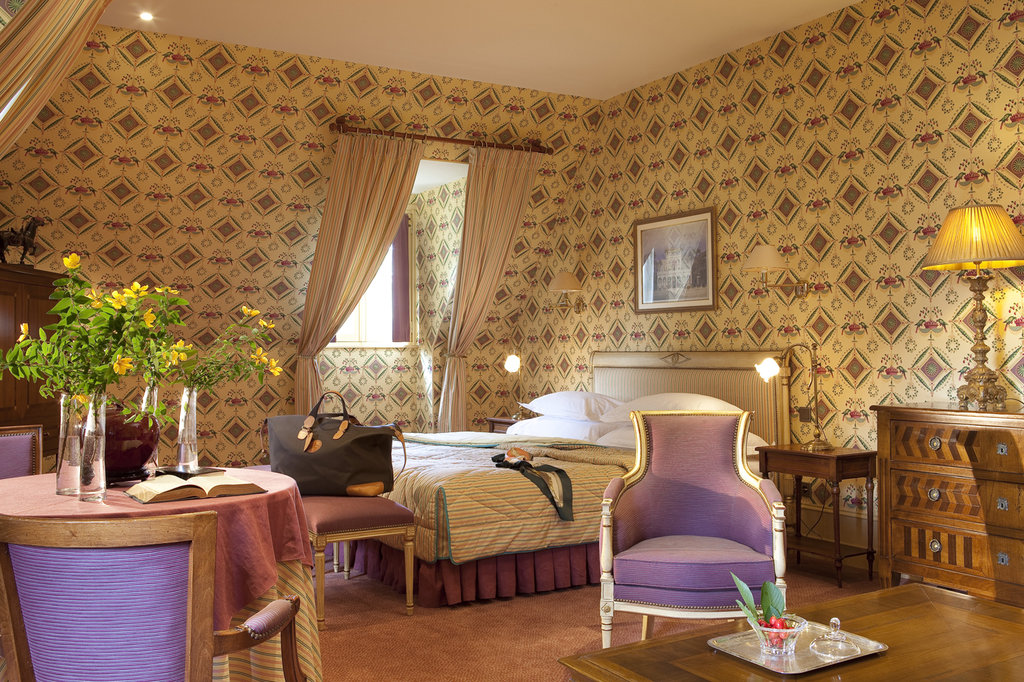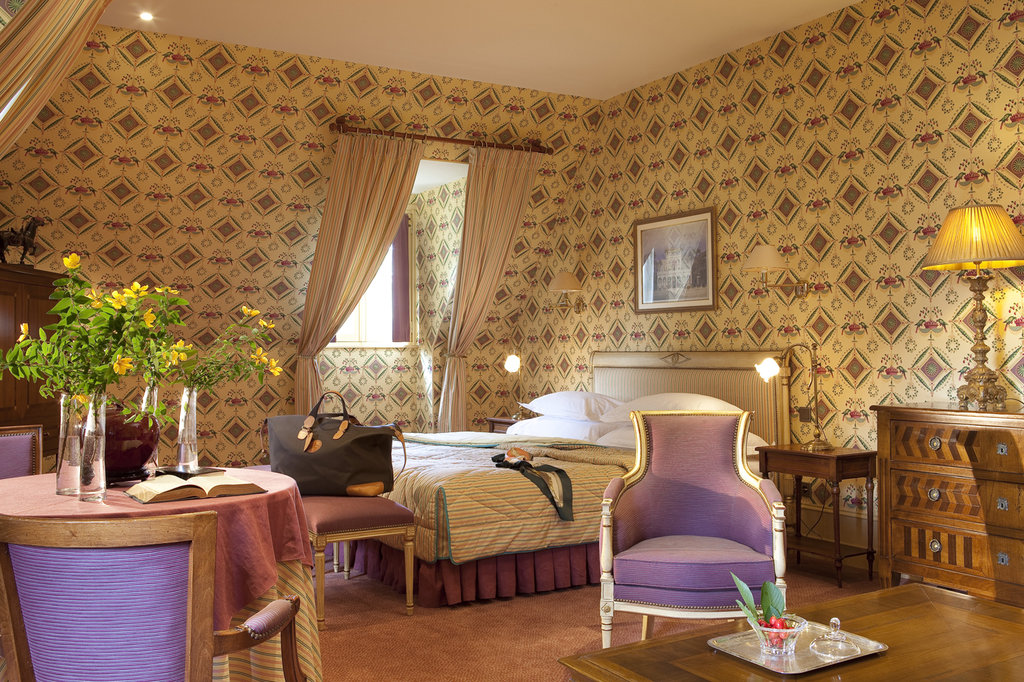 Family Room
Sleeps: 4 People.
One of the most spacious and luxurious rooms, perfect for families (2 adults and 2 children). Highlight of this room is its marble bathroom, very spacious and refined.

Each member of the family will have its own privacy, even by sharing the same room. Featuring one double bed and two single beds. 70 SQM
From per night
Lounges/bars
Exercise gym
Parking
Tennis court
Pets allowed
Wedding services
Join INVITED and get 10% off exclusive rates. Plus early check-in and late check-outs among other benefits.
24-hour front desk

24-hour security

Accessible facilities

Accessible parking

Audio visual equipment

Bell staff/porter

Buffet breakfast

Business Center Services

Catering services

Child programs

Children welcome

Computer rental

Concierge desk

Conference space

Continental breakfast

Currency exchange

Doctor on call

Early check-in

Elevators

Exercise gym

Family plan

Fax service

Free high speed internet connection

Free parking

Full service housekeeping

Gift/News stand

Handicap Parking

Health club

High speed internet access for laptop in public areas

High speed internet connection

Hotspots

Housekeeping - daily

Jogging track

Late check out guarantee

Laundry/Valet service

Lounges/bars

Massage services

Meeting rooms

Newspaper

Onsite laundry

Parking

Parking fee managed by hotel

Pets allowed

Photocopy center

Restaurant

Safe deposit box

Security

Shoe shine stand

Slide projector

Sundry/Convenience store

Tennis court

Wakeup service

Wedding services

Wireless internet connection
Bathrobe

Bathroom amenities

Cable television

Color television

Desk

Direct dial phone number

Free newspaper

Hairdryer

Internet access

King bed

Non-smoking

Remote control television

Safe

Satellite television

Sitting area

Telephone

TV

Twin bed
Fine dining

Tennis court

Wine tasting
La Chartreuse du Val Saint Esprit offers three restaurants to choose from. Le Robert II,gourmet restaurant is unique in the region all the walls have be made with old wood and antiques, every detail is unique; the cooking of our chef is traditionnal and delicate La Distillerie, is the place to go if you search for typical french meats, its country decoration with its chimney suggest a very wide representative card; le Vasco: the colonial ambience mixed with leither seats offers a very warm and relaxing ambience.
Le Robert II
Cuisine type: French
Meals served: Lunch, Dinner
The gastronomic restaurant Robert II is a very well known restaurant in the region. The dishes are traditional and very refined. Our chef who has worked in very famous places brings elegance and creativity to please each client. Our restaurant is quoted in different gastronomic guides and offers a wide choice of flavours- tastes and fragrance.
La Distillerie
Cuisine type: French
Meals served: Lunch, Dinner
The restaurant la Distillerie is outside the main building. Its country style and the chimney brings a very relax ambience. If you wish to discover or rediscover the typical main french meats it is the ideal place to go.
Le Vasco
Cuisine type: French
Meals served: Lunch, Dinner
the Vasco is also outside the main building -at 20 meters- here you will benefit from another style english one- very warm you will have the pleasure to have lunch or dinner in leather seats. Its card is very wide and invites you to discover meats from all france.
Reviews
These reviews are the real opinions of INVITED members and we have verified their stay at the hotel.
What I liked most :

Restaurant and dining (49)
Location (46)
Breakfast (35)
General service (35)
Guestroom and bathroom (34)
Welcome and departure (33)
Internet and wifi (27)
General Service (13)
Welcome and Departure (13)
Guest Room and Bathroom (12)
Local knowledge and experience (3)
Room Service (3)

What I might improve :

Internet and wifi (10)
Breakfast (8)
Guestroom and bathroom (8)
Leisure facilities (7)
Restaurant and dining (3)

Read Reviews

November 2019

My Trip Type:

Couple

Our fifth Visit. With friends there first. Every thing as expected, from the warm reception to the gastronomic meal in the restaurant With free room upgrade as member of indulged by S.L.H. and free breckfast, what more could you wish for.

Top tip for other guests:

Eat in he restaurant.

What I liked most

Welcome and Departure
Location
General Service
Guest Room and Bathroom
Breakfast
Restaurant and dining
Internet and wifi

Charming place, charming people.

October 2019

My Trip Type:

Family

The bar, the Distillerie restaurant and the breakfast were excellent. Staff were friendly and helpful.

Top tip for other guests:

Take room no. 26 if you want a large family room.

What I liked most

Welcome and Departure
Location
General Service
Local knowledge and experience
Guest Room and Bathroom
Breakfast
Restaurant and dining

What I might improve

October 2019

My Trip Type:

Couple

Our second stay here - just as good as the last time. Would like to stay longer to explore the area, but we are on our way back from Switzerland to the UK so it's just a very nice stop over.

Top tip for other guests:

Join invited - you won't be disappointed!

What I liked most

Welcome and Departure
Location
General Service
Guest Room and Bathroom
Breakfast
Restaurant and dining

What I might improve

August 2019

My Trip Type:

Couple

Top tip for other guests:

Good position on the way back to the tunnel.

What I liked most

Welcome and Departure
Location
General Service
Guest Room and Bathroom
Breakfast
Restaurant and dining
Internet and wifi

This is a really nice hotel, welcoming and first rate service

July 2019

My Trip Type:

Friends

The welcome the rooms and the choice of 3 very good restaurants

Top tip for other guests:

Join invited

What I liked most

Welcome and Departure
Location
General Service
Guest Room and Bathroom
Breakfast
Restaurant and dining
Room Service
Internet and wifi

What I might improve

Country setting within driving distance for explorering.

July 2019

Lobster pasta dinner @ resteraunt.

Top tip for other guests:

Perfect 2 night stay for couple to explore the region.

What I liked most

Welcome and Departure
Location
Guest Room and Bathroom
Breakfast
Restaurant and dining
Room Service

What I might improve

Relaxing, fine dining, excellent service

May 2019

My Trip Type:

Couple

Top tip for other guests:

Dine in

What I liked most

Welcome and Departure
Location
General Service
Guest Room and Bathroom
Breakfast
Restaurant and dining
Internet and wifi

Great atmosphere and feel

May 2019

My Trip Type:

Couple

Great drink outside in the sunshine

Top tip for other guests:

Excellent atmosphere, beautiful hotel

What I liked most

Welcome and Departure
Location
General Service
Breakfast
Restaurant and dining
Internet and wifi

March 2019

My Trip Type:

Couple

Relaxed fine dining in a quite ( cockerels excluded) location

Top tip for other guests:

Enjoy a stroll around the gardens

What I liked most

Location
General Service
Guest Room and Bathroom
Restaurant and dining

What I might improve

Breakfast
Internet and wifi

Beautiful Chateau, perfect location.

February 2019

My Trip Type:

Couple

There was a warm welcome from the receptionist. We were given a room upgrade (we are invited members) to a very nice large room on the ground floor. We ate in the beautiful dining room in the evening and the food was absolutely delicious. The location is excellent as it is less than 10 minutes off the motorway, but still has a lovely peaceful ambience. Highly recommend.

Top tip for other guests:

The restaurant is top notch dining - worth every penny!

What I liked most

Welcome and Departure
Location
General Service
Guest Room and Bathroom
Breakfast
Restaurant and dining

What I might improve

Beutiful environment and friendly staff

February 2019

My Trip Type:

Family

Walking around the garden in the sun was most pleasant and the food at the restaurant was lovely

Top tip for other guests:

enjoy

What I liked most

Welcome and Departure
Location
General Service
Guest Room and Bathroom
Breakfast
Restaurant and dining
Internet and wifi

January 2019

My Trip Type:

Family

having to ask for conditioner body lotion shower gel . The upgraded room was small and the bathroom in need of modernizing and the shower had mold around the show tray. This is NOT acceptable for this caliber hotel, The food as outstanding and staff were really helpful

Top tip for other guests:

Make sure you ask what you need for the bathroom amenities

What I liked most

Welcome and Departure
Location
General Service
Local knowledge and experience
Breakfast
Restaurant and dining

What I might improve

Guest Room and Bathroom
Internet and wifi

November 2018

My Trip Type:

Couple

Our fourth stay here and never disappoints. The food in Robert 11 Gourmet restaurant has to be eaten to be appreciated. French cooking at its best.

Top tip for other guests:

Room upgrade with complementary breakfast for members. In season visit the walled fruit and vegetable garden to relax and be inspired.

What I liked most

Welcome and Departure
Location
General Service
Local knowledge and experience
Guest Room and Bathroom
Breakfast
Restaurant and dining
Internet and wifi

September 2018

We have stayed here since it opened in 1980's. Standards are always high. A favourite place to stay. Food is excellent, plenty of choice and 3 restaurants too. The gardens have been developed over the years and are now outstanding. A pleasure to walk round.

Top tip for other guests:

All the bedrooms are spacious but ones at the back overlooking the gardens are lovely.

What I liked most

Welcome and Departure
Location
General Service
Guest Room and Bathroom
Breakfast
Restaurant and dining
Room Service
Internet and wifi

UK

My Trip Type:

Business

Comfortable rooms with excellent restaurant.

Top tip for other guests:

Enjoy the gardens before supper.

What I liked most

Restaurant and dining
Welcome and departure
Guestroom and bathroom
Location
General service

Wonderful hotel and location, but food not great

london

My Trip Type:

Friends

We have been twice now and tried both of the restaurants that are away from the hotel, so The Distilliary and Vasco. the food at both was average at best so I would not go again. Particulaarly dissapointing in france . We will visit the hotel once more to try the main restaurant to see if that is any better as we do love the location, the service, the rooms etc , so fingers crossed.

Top tip for other guests:

eat in the main hotel restaurant do not be tempted by the others

What I liked most

Welcome and departure
Guestroom and bathroom
General service
Location

What I might improve

Breakfast
Restaurant and dining

Stay date: December 2016

My Trip Type:

Couple

Location is good for starting or ending trip to Europe, the Hotel is decorated tastefully and has a quality feel. Staff are professional, courteous and friendly. Dining is a very good and there is ample parking.

Top tip for other guests:

n/a

What I liked most

General service
Restaurant and dining
Guestroom and bathroom
Location
Welcome and departure
Breakfast
Internet and wifi

the perfect place to chill out

Stay date: November 2016

My Trip Type:

Couple

the perfect place to chill out

Top tip for other guests:

Take a walk in the parc

What I liked most

Restaurant and dining
Welcome and departure
Guestroom and bathroom
Internet and wifi

Stay date: September 2016

My Trip Type:

Couple

We stayed at the hotel on our way down to the south, and then again on the way back. The two experiences were very different thanks to a noisy wedding party on the first visit, which spoilt the tranquil atmosphere. The hotel is a delight, full of character We used two of the three restaurants, both of which were fine. The breakfast was adequate, the breakfast room was very nice.

Top tip for other guests:

If you have trouble walking, try to avoid some of the rooms in the roof, our first one was up three flights of stairs! However the second one had lift service.

What I liked most

Guestroom and bathroom
Breakfast
Restaurant and dining
Location
Internet and wifi

What I might improve

Good, but don't forget your other paying guests!

Stay date: September 2016

My Trip Type:

Friends

The problem was simple - not enough staff on hand when the hotel had a large wedding party. We arrived just as the guests turned up and whilst we were seen efficiently and shown to our room we felt we were gate crashing a private event. It was a scorching day and we wanted to sit in the garden with a drink - all the seating was occupied by the wedding party. I enquired where we could sit - to which a table was cleared in the middle of the party. I said this is not appropriate and we'd like somewhere else - to which I was offered a seat in the bar. Eventually we got a table, chairs and drinks outside - but it turned into a bit of an epic. Other than that, it is very handy hotel for Calais - comfortable, big room - nicely maintained and decorated in French style. Drinks in the bar a bit hit and miss - no olives for a martini - (may sound petty, but one would expect it when you're in a good hotel with a decent bar). We ate in the Distillerie Brasserie which had good, friendly service and a great atmosphere. So, in summary quite good - but the hotel needs to remember other paying guest when they have big parties booked.

Top tip for other guests:

You're a paying guest too so don't get fobbed off!

What I liked most

Guestroom and bathroom
Restaurant and dining
Location

What I might improve

Leisure facilities
General service

Beautilful place to stay on the way to or from the UK

Stay date: August 2016

My Trip Type:

Couple

Great service, decent breakfast, nice rooms, beautiful setting

Top tip for other guests:

great way to break up the car journey from the UK to south of France

What I liked most

Location
Welcome and departure

Stay date: August 2016

My Trip Type:

Couple

The only think we missed was a spa and swimming pool

Top tip for other guests:

Handy for the euroshuttle

What I liked most

Restaurant and dining
Guestroom and bathroom
General service
Welcome and departure
Location

What I might improve

Stay date: June 2016

My Trip Type:

Couple

My wife and I stopped here for a couple of days on the way back to the UK and can't fault our stay. Welcoming staff and anything we needed was attended to quickly and efficiently. Our meal in the Le Robert II restaurant was one of the best meals I have eaten. We will definitely be returning.

Top tip for other guests:

Don't park under the trees in the courtyard as the birds will mess it up!!

What I liked most

Restaurant and dining
Welcome and departure

Friendly service in a great location"

Stay date: May 2016

My Trip Type:

Family

quiet location fantastic dinner.

Top tip for other guests:

enjoy

What I liked most

Welcome and departure
General service
Location
Guestroom and bathroom
Local knowledge and experiences
Restaurant and dining

What I might improve

Internet and wifi
Leisure facilities
Breakfast

Lovely quiet place surrounded by fields

Stay date: May 2016

My Trip Type:

Couple

We stayed in a lovely, cosy old pink room. The box of chocolates was a delicious surprise (but no tea or coffee, sadly). The bed is comfortable and resful. In the afternoon, it's great to walk in the park and the beautiful gardens. Having a drink on the terrace is a good idea too. The place is quiet, the staff is kind and helpful. We didn't eat at the famous "Robert ll" but had a good simple dish at the "Vasco". The breakfast is quite perfect!!! If you have time, the small town nearby, Bethune, is interesting to see (market, church, beffroi, small streets, restaurants, beautiful houses and stores).

Top tip for other guests:

Spring is a good time to go there as the natural environment is rising

What I liked most

General service
Location
Welcome and departure
Guestroom and bathroom
Breakfast

What I might improve

Stay date: May 2016

My Trip Type:

Friends

Second stray at the hotel and again nothing can be found to fault it.

Top tip for other guests:

Try a visit to Arras

What I liked most

Welcome and departure
Guestroom and bathroom
General service
Breakfast

Full of character and charm

Stay date: December 2015

My Trip Type:

Couple

We thoroughly enjoyed our one night stay here which is conveniently less than one hour from Calais which allows you to make the most of an overnight trip into France. We did have trouble finding the hotel as we didn't come straight off the motorway so must have come in "a back way" where satnav didn't bring us the right location and there was no obvious signage pointing us to the hotel - however, once we were there, everything was fine and we then realised we had stayed here before many years ago. The hotel was very quiet and there were not many guests staying on a cold, December, Tuesday evening although there was one conference in progress. We dined in "Le Robert II" which was excellent with well paced service and some good menu options and we were not rushed even though there were only one or two couples in the restaurant. We were in Room 213 and there were conference rooms on the floor below us. We were a little surprised to hear chairs and tables in a conference room being dragged across the floor before 8 a.m. in the morning presumably being positioned for a conference that day. On the whole though, this is a lovely hotel and I'm sure we'll stay here again in due course. I think our view might be very different if the hotel was really busy so we were lucky to stay here on one of its quieter days.

Top tip for other guests:

Check for any other significant events happening at the same time as your stay

What I liked most

Location
Guestroom and bathroom
Restaurant and dining

What I might improve

Large, comfy, friendly hotel.

Stay date: October 2015

My Trip Type:

Couple

This hotel is in an area where good places to stay are difficult to come by and fits the bill admirably. Staff are friendly and attentive, the room was great-comfy and very large- and the surroundings quiet and peaceful but very near Bethune for good shopping. Car parking was extensive and the Wi-Fi powerful if a bit slow. The only downside was the rather average dinner we had in the bistro which lacked finesse. However, we would stay here again on our way north to the Channel ports.

Top tip for other guests:

The supplement for breakfast in the room is one of the most reasonable we have ever come accross.

What I liked most

Location
Guestroom and bathroom
General service
Welcome and departure
Room service

What I might improve

Stay date: September 2015

My Trip Type:

Couple

We used the hotel as our base for our tour of Vimy and Arras; what a splendid decision. The location is perfect to reach these centres easily. The room was excellent and the staff most welcoming and accommodating. We enjoyed the breakfast and had our dinners all 3 nights in La Distillerie which was excellent. The rooms are well appointed, the building is fabulous and the grounds are superb. From every perspective, location, rooms, service, staff, ambience and value for money it is great. We will go back again.

Top tip for other guests:

Room overlooking the gardens

What I liked most

Internet and wifi
Welcome and departure
Breakfast
Location
Guestroom and bathroom
Restaurant and dining
General service

Wonderful hotel - 1 hour from Calais

Stay date: September 2015

My Trip Type:

Family

This is a wonderful large hotel with 3 resturants !! A working gardeners paradise, if you like to see how to grow your own, this is the place to see. Wonderful staff and set in a very quite spot 1 hour south of Calais. Great place to stop when travelling south or viewing the WW1 sites. Spoke to many visiters who regularly come back. This is our second visit. Enjoy !!!

Top tip for other guests:

Stay as long as you can and enjoy the dining and garden

What I liked most

General service
Breakfast
Guestroom and bathroom
Welcome and departure
Location
Restaurant and dining

Stay date: August 2015

My Trip Type:

Couple

A traditional, authentic French experience. Good service and friendly, discrete, efficient staff. Ample free parking.

Top tip for other guests:

3 dining options are connected but not much else in walking distance.

What I liked most

General service
Welcome and departure
Internet and wifi
Breakfast

What I might improve

Stay date: August 2015

My Trip Type:

Couple

We love staying in this hotel as it is ideally situated for the route South and we are always made welcome

Top tip for other guests:

The nicest rooms are on the first floor

What I liked most

Guestroom and bathroom
Internet and wifi
Location
General service
Welcome and departure
Restaurant and dining

What I might improve

Tranquil Chateau blessed with Superb Restaurants

Stay date: August 2015

My Trip Type:

Friends

Large rooms overlooking tranquil gardens make for a superb stop-over to/from Calais or base for touring the Cote d'Opale and northern France. The hotel is blessed with superb restaurants and having tried the Vasco and the Robert II it just leaves the Distillerie to eat at. Lobster is my favourite and this appears at both restaurants. The Menu de degustation of lobster is the next to have on my list! Other dishes are full of the garden's local flavours. Service is relaxed, friendly and attentive without being obtrusive.

Top tip for other guests:

Take tea and cakes in the garden!

What I liked most

General service
Breakfast
Guestroom and bathroom
Restaurant and dining
Internet and wifi
Welcome and departure

What I might improve

Breakfast
Leisure facilities
Room service

Typically French restaurant focused hotel.

Stay date: May 2015

My Trip Type:

Couple

Efficient check in and out process. Pleasant enough - keen to get reservation for evening meal sorted - which turned out to be needed. Room was French traditional - fairly large and quiet (thankfully wedding reception guests were not too noisy)- bathroom not particularly attractive. It would be nice to have more English speaking TV channels on offer. Plenty of choices for evening meal - 3 'hotel linked' restaurants nearby. Breakfast was of a good quality, very efficient service and food was tasty (no hot options as proper continental). Room was pretty and atmosphere was a bit formal. The hotel could learn from other SLH hotels by offering a few extra touches in the room - eg a bottle of water/bowl of fruit/ coffee machine etc

Top tip for other guests:

Use the bakery 10 mins walk away (very good) - otherwise not much else to see in village.

What I liked most

General service
Internet and wifi

What I might improve

Helpful and welcoming reception, large comfortable rooms,

Stay date: May 2015

My Trip Type:

Couple

Service was excellent without being overpowering, Rooms quiet and comfortable, food in the main restaurant excellent value, selection of spirits in the bar very good.

Top tip for other guests:

Take the Experience menu in the restaurant.

What I liked most

General service
Welcome and departure
Restaurant and dining

Stay date: March 2015

My Trip Type:

Couple

We had a very nice welcome on arrival , and our room was perfectly nice. Service was excellent , and the choice of restaurants superb with food to match ! Drinks were a little pricey in the Hotel bar , but rather more affordable at the other two eateries. Bethune is not particularly nice , but if you travel a few miles South , Arras is lovely. For us , this would not be a holiday destination , but the perfect stopover !!!

Top tip for other guests:

Try all restaurants !

What I liked most

Restaurant and dining
Guestroom and bathroom
Welcome and departure
General service
Room service
Internet and wifi

What I might improve

Great service, food and location,

Stay date: January 2015

My Trip Type:

Couple

A hotel we have visited before, especially for the Gourmet restaurant. We made an error when booking, as no shower in room 110. Would have liked coffee making facilities in room, perhaps next time. Staff are always exellent, attentive and professional. Located just an hour south east of Calais, makes it it great overnight stop off.

Top tip for other guests:

If you require a shower, mention it when booking.

What I liked most

General service
Internet and wifi
Welcome and departure
Breakfast
Restaurant and dining
Location

What I might improve

Stay date: September 2014

My Trip Type:

Couple

Good for location to major transport routes, yet quiet setting. Large comfortable rooms, great breakfast and secure parking. Will return again.

Top tip for other guests:

Good choice at breakfast.

What I liked most

What I might improve

Country hotel in northern france

Stay date: September 2014

My Trip Type:

Couple

We only stayed one night at the hotel, but had a very pleasant stay there. Our room was very comfortable with a view out onto the extensive kitchen gardens. Of the three restaurants on site, we chose to eat at La Distillerie - a bistro type restaurant. The meal was very good, though my starter was far too large and filling!! We do have one complaint though. All the information in the room regarding the hotel facilities had been translated from French in a very literal way, which meant that it didn't read at all well in English. This is not something that I would expect from a four star hotel - in any country! I would be happy to translate the information into 'good' English.

Top tip for other guests:

Make sure you visit the gardens.

What I liked most

General service
Location
Breakfast

Stay date: September 2014

My Trip Type:

Couple

This is a wonderful hotel with wonderful grounds. The hotel actually has 3 restaurants and is popular for wedding and corporate events. But don't let that put you off as the hotel is very large. We will definitely is this hotel as our stopping point when travelling abroad by car.

Top tip for other guests:

Make a detour to this hotel even if your direct route is not this way

What I liked most

Internet and wifi
General service
Location
Guestroom and bathroom

Very nice hotel in good location

Stay date: August 2014

My Trip Type:

Family

We stayed in this hotel for one night and liked it very much. The hotel offers three different restaurants (haute cuisine, classic and cosy) with excellent service. There is a very nice fruit/vegetable garden and the park invites for walks. The only disappointment was, that we were given a room above a wedding reception, in which two floors above we could still hear the music. When enquiring the next morning, the receptionist suggested that we should have complained straight away. I am not sure anyone would have moved all their luggage at 2am in the morning!?! Other than that it's a great place to stay.

Top tip for other guests:

Check the wine list....

What I liked most

Location
Guestroom and bathroom
Restaurant and dining

Excellent Haute Cuisine & Service

Stay date: August 2014

My Trip Type:

Couple

Wonderful food (pigeon and lobster dish and dessert trolley) in the Haute Cuisine restaurant of this oasis of a hotel on the route south. Service was very friendly and attentive throughout and in the restaurant. Excellent and will stay again to study the extensive wine list further!

Top tip for other guests:

Try the hotel restaurant; very good value for an haute cuisine experience.

What I liked most

Internet and wifi
Welcome and departure
Restaurant and dining
General service
Guestroom and bathroom

What I might improve

Stay date: July 2014

My Trip Type:

Couple

Very nice Hotel and surroundings , park and gardens. Dog friendly, easy and secure car park right in front of entrance.

Top tip for other guests:

.

What I liked most

General service
Welcome and departure
Internet and wifi
Location
Restaurant and dining

What I might improve

Breakfast
Guestroom and bathroom

Beautiful Hotel, nice restaurant!

Stay date: August 2014

My Trip Type:

Couple

Went there in august just for one night. Very quiet and peaceful aroud. Nice area for walking or just sitting outside.Had great dinner.

Top tip for other guests:

Restaurant in the main hotel building is very good!

What I liked most

Restaurant and dining
Welcome and departure
Location

What I might improve

Leisure facilities
Internet and wifi
Guestroom and bathroom

Stay date: July 2014

My Trip Type:

Couple

A very nice hotel in Northern France. We stayed at the hotel for 3 nights, and liked it very much. The room was spacious and very comfortable. The staff was very friendly and helpful. The wifi is good, but it's annoyoing that you have to log on all the time.

Top tip for other guests:

Take a walk in the beautiful garden.

What I liked most

General service
Guestroom and bathroom
Restaurant and dining

What I might improve

Good hotel in easy location

Stay date: June 2014

My Trip Type:

Couple

Good experience. Well looked after. Love the gardens and the fact they're trying to produce all the veg for the guests meals. A swimming pool woulkd be lovely.

Top tip for other guests:

Great if you're on the way to or from Calais!

What I liked most

Restaurant and dining
General service
Location
Guestroom and bathroom
Welcome and departure
Breakfast

Stay date: June 2014

My Trip Type:

Couple

We have stayed in this Hotels afew times now. The rooms are beautiful and have every need, the only thing that was missing on this occassion was that there was no 'Body Cream' for the ladies - disappointing The three restaurants are great - we ate in the Brasserie good food and service. My wife unfortunately left a pair of new shoes behind but the hotel contacted us and sent them back by post Thank you.

Top tip for other guests:

Ask for a delux Double

What I liked most

Restaurant and dining
General service
Location
Internet and wifi
Guestroom and bathroom

What I might improve

Stay date: June 2014

My Trip Type:

Couple

We chose this hotel for the location convenience to break our journey. It's full of character and very well presented, our slh room upgrade was very appreciated. The garden drinks service was a little disappointing, slow and then non-chilled bottle of champagne served. There's a good choice of three restaurants offering casual to fine dining Would definitely stay again

Top tip for other guests:

None

What I liked most

Location
Guestroom and bathroom
Breakfast
Restaurant and dining

What I might improve

Enjoyable stay let down by maintenance

Stay date: June 2014

My Trip Type:

Couple

Excellent hotel apart from our room which we asked to change but was declined on grounds that in other available rooms there might be noise from a wedding on our third night. The room had no window that one could look out of without standing up. It was in the roof and had roof timbers that, being 6'3" I banged my head on 2 occasions. In the room there was not a single drawer into which one could put clothes. They stayed in the suitcase. The adjustment on the shower head was seized into the small but large jet position. The shower head attached to the bath did not work at all. The TV sound, in English at least, was so bad we gave up. In summary, a really nice stay in a nice hotel let down by the room. I have made these comments to the Hotel.

Top tip for other guests:

Avoid room 210

What I liked most

Breakfast
Location
Restaurant and dining
Welcome and departure
General service

What I might improve

Fine choice of restaurants

Stay date: May 2014

My Trip Type:

Couple

Good country location with access to places of interest like Ypres and Lilles. A range of restaurants to suit most tastes and budgets. Very helpful and friendly staff providing excellent service.

Top tip for other guests:

Enjoy a releaxing atmosphere and have a look around the vast vegetable garden!

What I liked most

General service
Welcome and departure
Restaurant and dining
Guestroom and bathroom
Location
Breakfast

Great location under 1 hr from Calais

Stay date: December 2013

My Trip Type:

Couple

Easy journey from Calais and a great stepping off point for your onward travels. Friendly staff and comfortable rooms. Reasonable prices too. Go for a deluxe room.

Top tip for other guests:

Enjoy the restaurants - we ate at Le Distillerie - good rustic French cuisine.

What I liked most

Location
Guestroom and bathroom
Internet and wifi
Restaurant and dining
General service
Welcome and departure
Breakfast

Relaxing stop on way to ferry

Stay date: September 2013

My Trip Type:

Couple

Love the location can do as much or as little as you want. Staff very friendly and helpful. The only disappointments were in the distillery restaurant the starters on the menu du jour were the same on both nights as was the mous buche otherwise everything was fine.

Top tip for other guests:

Take a break here to prepare you for all the jobs you will have when you arrive home.

What I liked most

Guestroom and bathroom
Welcome and departure
Location
Breakfast
General service

What I might improve

Fantastic esp for tunnel users

Stay date: September 2013

My Trip Type:

Couple

There was a wedding reception in the hotel when we arrived but the staf couldn't have done more to make our arrival easier. The stafff couldn't have done any more to make our stay enjoyable. Dining options cover all tastes.

Top tip for other guests:

Walk round the vegetable/fruit/herb gardens!!

What I liked most

General service
Restaurant and dining

Stay date: September 2013

My Trip Type:

Single

The staff friendly and helpful in everyway. The room was beautifully decorated with French traditional ambiance and the bed was oh so comfortable

Top tip for other guests:

Access to 3 restaurants within walkin distance allows for all tastes

What I liked most

General service
Guestroom and bathroom
Breakfast

What I might improve

Stay date: July 2013

My Trip Type:

Couple

Very friendly welcome (including chocolat in the room). Room was vey airy, comfortable and clean. Great food and wine in a relax atmosphere in the evening and a lovely breakfast in the morning (including the best croissants ever! ... really!) Will be back for sure when in the area.

Top tip for other guests:

Enjoy the dinner!

What I liked most

General service
Breakfast
Welcome and departure
Guestroom and bathroom
Restaurant and dining

Nearer to France, Closer to Home!

Stay date: July 2013

My Trip Type:

Couple

Finding a 'quality' chateau hotel close to Calais can be difficult, and regretably most of them cater for the 'English' (see my review of Chateau de Cocove for a comparison) or be outlandishly expensive This hotel is just 1 hour from Calais, and is an ideal stop en route or on the return journey back to the UK , due to its close proximity to the tunnel. It does stand very much on its own, in the middle of nowhere, and you are greeted by impressive wrought iron gates leading into a charming cobbled courtyard parking area. There is a more recent extension to the hotel, built very sympathetically in the same style, the difference is more noticable in the inside that on the outside. Efficient and courteous reception staff, even offering us a free wifi code (without asking) having noticed an ipad stuck under my arm ! We had a large Superior room in the 'modern' part of the Chateau, but traditionally furnished. Large wide corridors and beauiful furnishings. We had a superior room, tradionally furnished with a lovely view over the gardens. To the rear of the Chateau are more gardens, and a herb a vegetable gardens clearly used by the kitchen - and you are more than welcome to wander around the 'veggie patch' at your leisure. The Chateau has three restaurants, one more of a Brasseries style, one more informal and their Gourmet restaurant Robert II. We ate in the latter pre reserving our table before we arrived at the hotel. The food was faultless, and for a nine course tasting menu 80EUR wasnt the end of the world. Good comprehensive wine list (well arent they always in France). We'll be coming back here very soon!

Top tip for other guests:

Go for a superior room - you won't be disappointed !

What I liked most

Breakfast
Location
Internet and wifi
Welcome and departure
Guestroom and bathroom
Restaurant and dining

Relaxing Well Appointed Hotel

Stay date: June 2013

My Trip Type:

Couple

Only 50 minutes by car from Calais, even less to Lille which is a surprisingly interesting town with good shopping. The restaurants are very good with three of them you have lots of choice ranging from Cordon Bleu to Seriously Good. The grounds are very good and include a vegetable and herb garden the produce of which goes to their own restaurants, wonderful. The only complaints we had are the TV which as far as we could see only had French Stations, we both speak passable French but would like as in most good hotels BBC News and CNN. The toilet door in our room squeaked, not good in the night but easily fixed. Finally apart from good restaurants the bar is also great for before and after dinner drinks, the guy attending also brings you little tasters.

Top tip for other guests:

Go for a suite rather than a room

What I liked most

Internet and wifi
Restaurant and dining
Breakfast
General service
Location

What I might improve

Comfort and friendly services

Stay date: June 2013

My Trip Type:

Couple

Very comforatable room with a choice of restaurants; we tried two, both serving delicious food. Interesting large grounds where a vegetable pottager garden is being developed. Friendly helpful service. Difficult to find fault with this hotel.

Top tip for other guests:

If staying in the area also visit the Lens Louvre-wonderful

What I liked most

Guestroom and bathroom
Restaurant and dining
General service

What I might improve

Local knowledge and experiences

Stay date: June 2013

My Trip Type:

Couple

La Chartreuse Du Val Saint Esprit Hotel in Gosnay, near Bethune, is a perfect place to stop after travelling through Euro Tunnel, which is less than 1hour's drive away. It's quite location, large airy rooms and friendly staff make for a very relaxing.

Top tip for other guests:

Just plan on relaxing in the spacious gardens and rooms.

What I liked most

Internet and wifi
Guestroom and bathroom
Welcome and departure
Location

Stay date: May 2013

My Trip Type:

Single

i went for dinner in their distiller where i had an excellent meal service was good

Top tip for other guests:

the place is wonderfull if you are two and just want to go for walks

What I liked most

Restaurant and dining
Local knowledge and experiences
General service
Breakfast
Guestroom and bathroom
Internet and wifi
Welcome and departure

What I might improve

Stay date: May 2013

My Trip Type:

Couple

This is a large hotel by SLH standards, but otherwise meets the general expectations. Set in nice grounds, with formal vegetable/herb gardens feeding the restaurants, the grand building is spacious, gentile and pleasantly old fashioned. The restaurant - we only spent one night so ate only at La Distillerie - was very good, and the breakfast also excellent. An enjoyable experience if "modern" is NOT what you are looking for!

Top tip for other guests:

Just enjoy it.

What I liked most

Location
General service
Welcome and departure
Restaurant and dining
Breakfast

Stay date: April 2013

My Trip Type:

Single

I've stayed several times on the drive home from my house in the South of France and it is great to look forward to a good rest and dinner on the route home. Having a choice of restaurants is excellent, and good value for the quality. Rooms very nicely furnished in the French style.

Top tip for other guests:

Book early.

What I liked most

Guestroom and bathroom
Restaurant and dining
Welcome and departure