https://origin.slh.com/hotels/lungarno-hotel/
HOTEL HIGHLIGHTS
Designed by architect Michele Bönan and featuring artwork from the early 20th century
Views of the River Arno from the stylish rooms
Michelin dining by Peter Brunel at Borgo San Jacopo restaurant
Borgo San Jacopo
Hotel Lungarno - LUXURY HOTEL IN FLORENCE
In central Florence on the banks of the River Arno
A beautifully renovated mansion beside the Arno River, Hotel Lungarno brings together classic Florentine features and sleek, contemporary design. Inside, this boutique hotel's signature blue hues and nautical touches have been brought firmly up to date by renowned interior designer Michele Bonan. Echoing its waterside surrounds while transporting you back to the Renaissance in style.
Wake cocooned in refined linen and feathery pillows. Throw open your curtains and breathe in the sights of Florence, from the famous Ponte Vecchio to the cobbled streets steeped in medieval history. Start the day with an al fresco breakfast on a sun-drenched balcony. And after a day exploring this UNESCO city, head to The Picteau Lounge. Here, you can sip a La finestra sull'Arno coktail as the Arno lights up, surrounded by 20th century artistic masterpieces, part of the largest collection in Europe. Then it's on to Borgo San Jacopo for an evening of Michelin-starred dining by Executive Chef Peter Brunel.
Hotel Lungarno sits at the core of this small yet perfectly formed city, so you don't have to stray far to savour its best sights. Stroll from the jewellers shops lining Ponte Vecchio to the art treasures of the Uffizi gallery. Climb the steps of the Duomo for 360∘ city views. The blanket of terracotta roofs and graceful plazas, all circled by rolling Tuscan hills, is sure to leave you breathless.
63

rooms

1

restaurant

8

floors
The rooms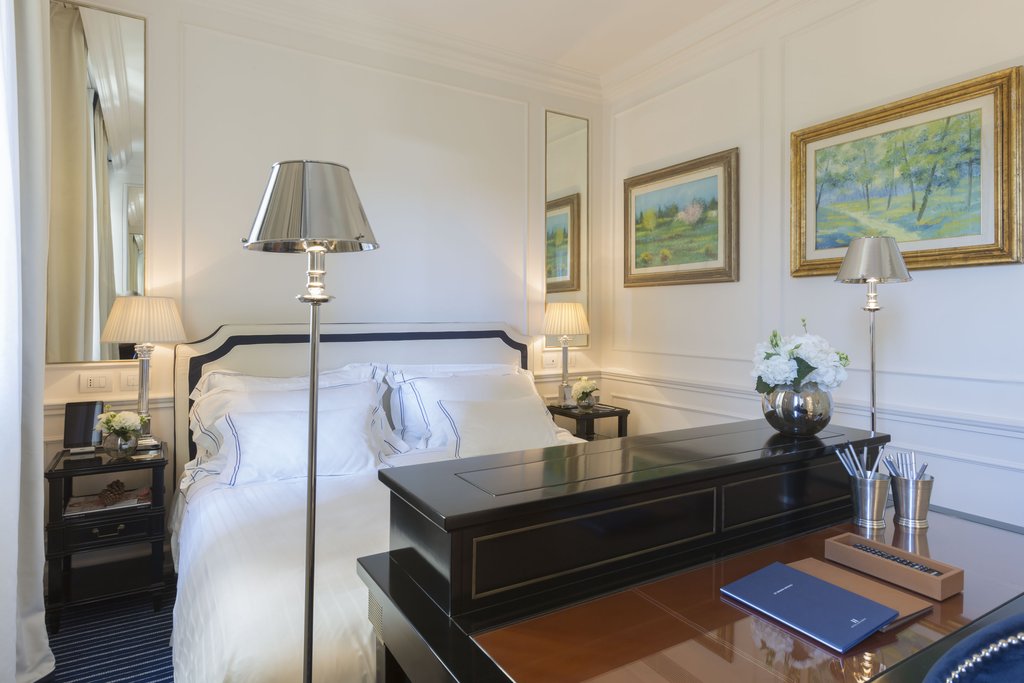 Relaxing Double Room
Sleeps: 2 People.
Relaxing Doubles are comfortable rooms featuring original art and fine details. Street View, have a queen or two twins Come with Air-conditioning and complimentary Wi-Fi.

Approx. 21 square metres - 226 sq. Feet All rooms are non-smoking, Marble Bath.
From per night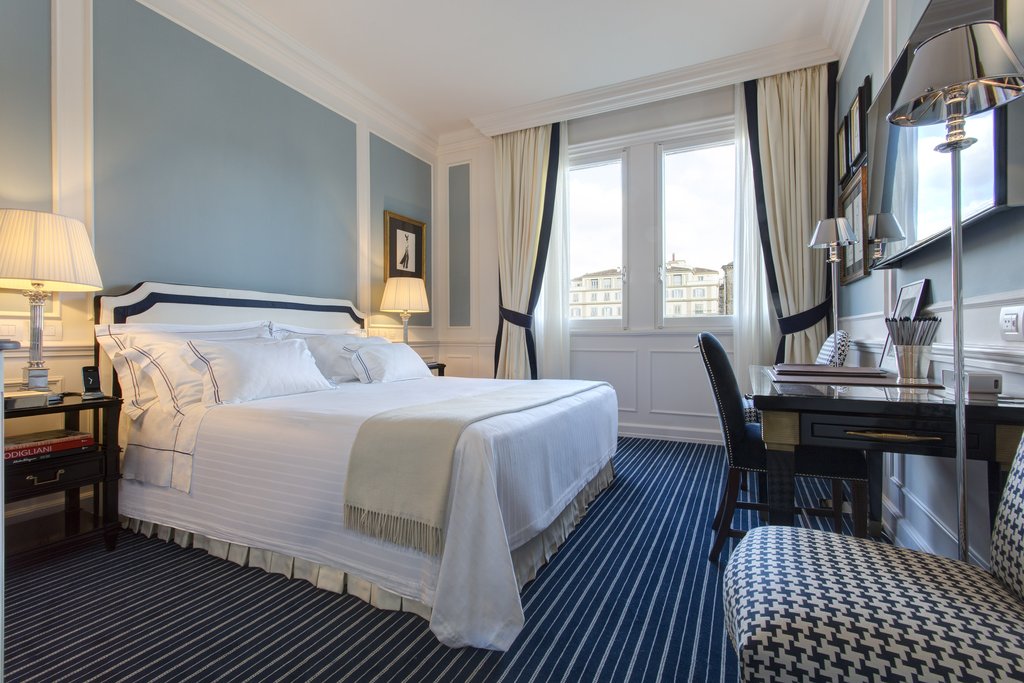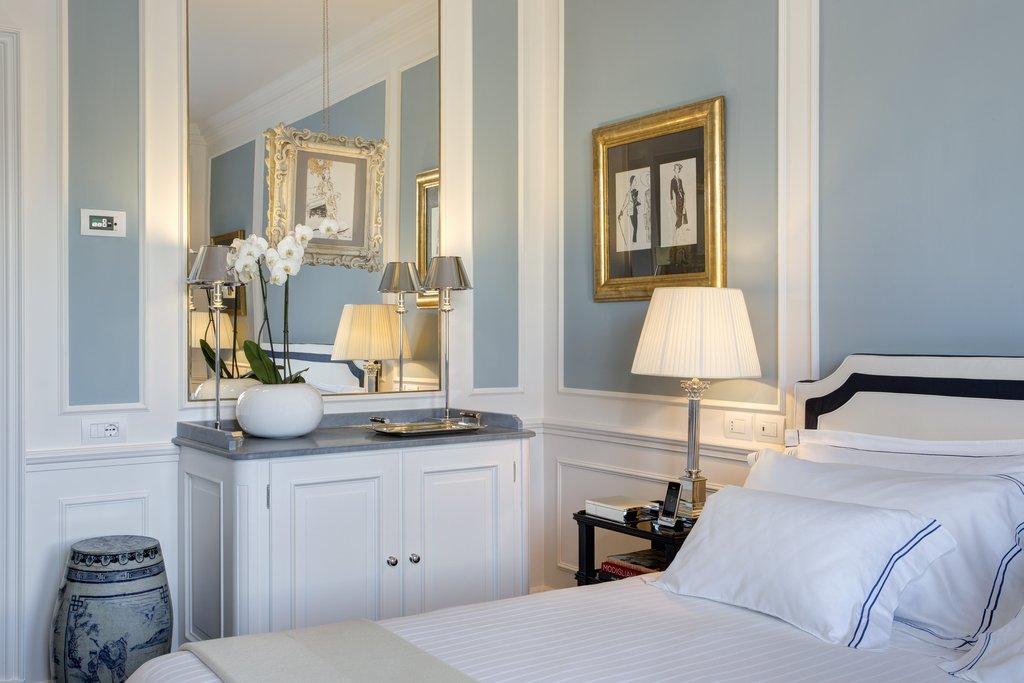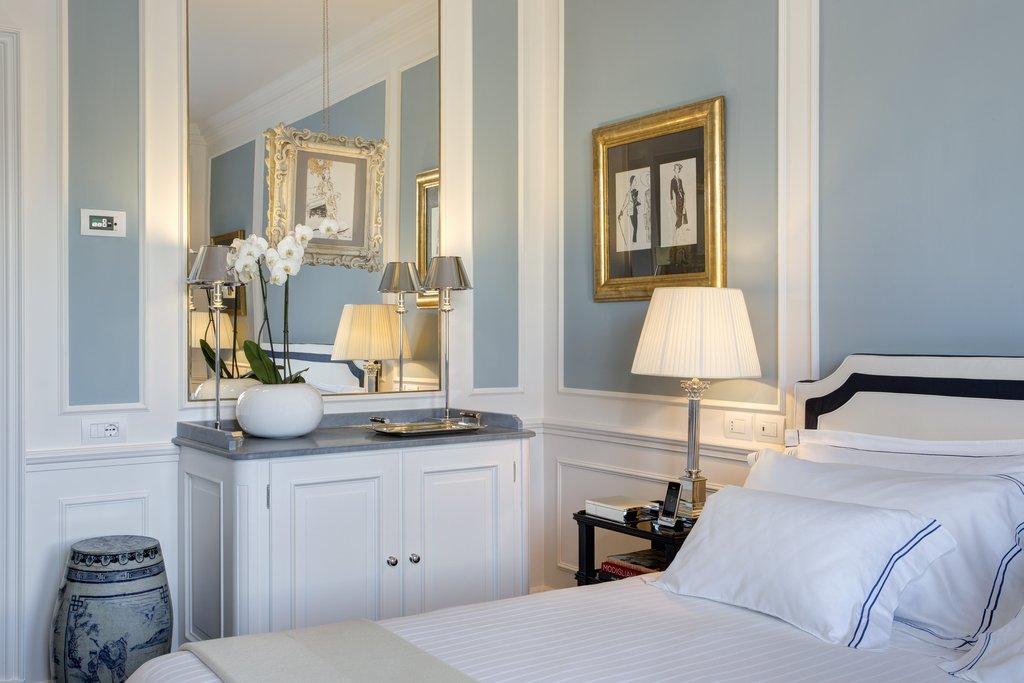 Prestige Double River View
Sleeps: 2 People.
Prestige Rooms feature stunning views on the Arno river. Cozy and quiet rooms Classic decor, queen bed or two twins All rooms are non-smoking, Marble Bath.

Come with Air-conditioning and complimentary Wi-Fi.Approx. 21 square metres - 226 sq. Feet
From per night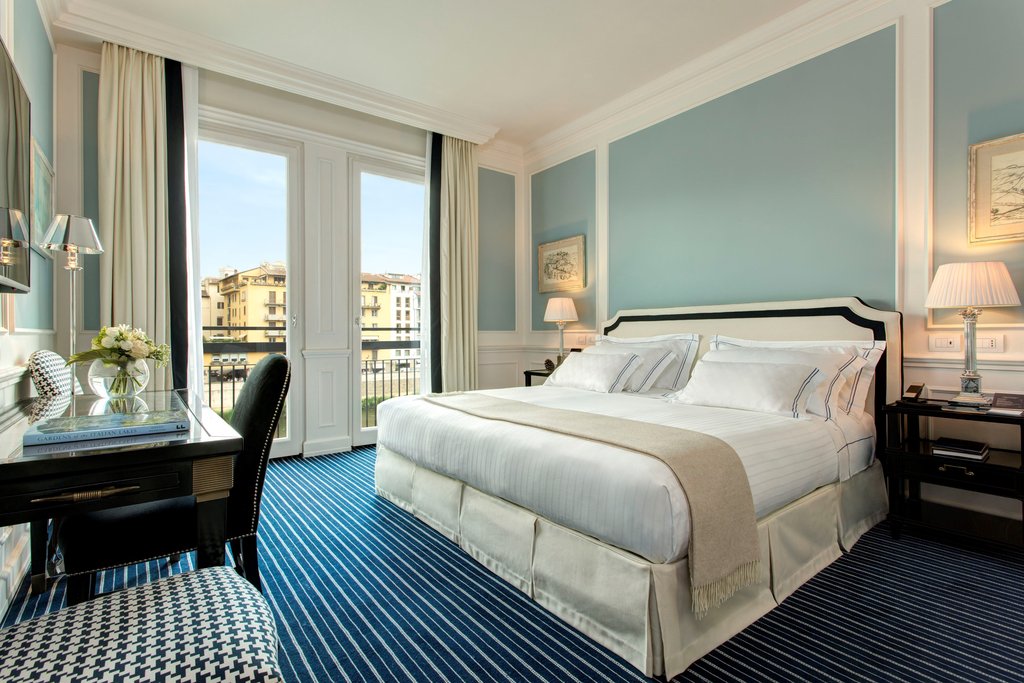 Deluxe Double River
Sleeps: 2 People.
Deluxe Double Rooms are majestically overlooking the river and Ponte Vecchio. Feature a queen or two twin beds, some have terrace. Come with AirCon and complimentary WiFi. Approx. 24 square metres
From per night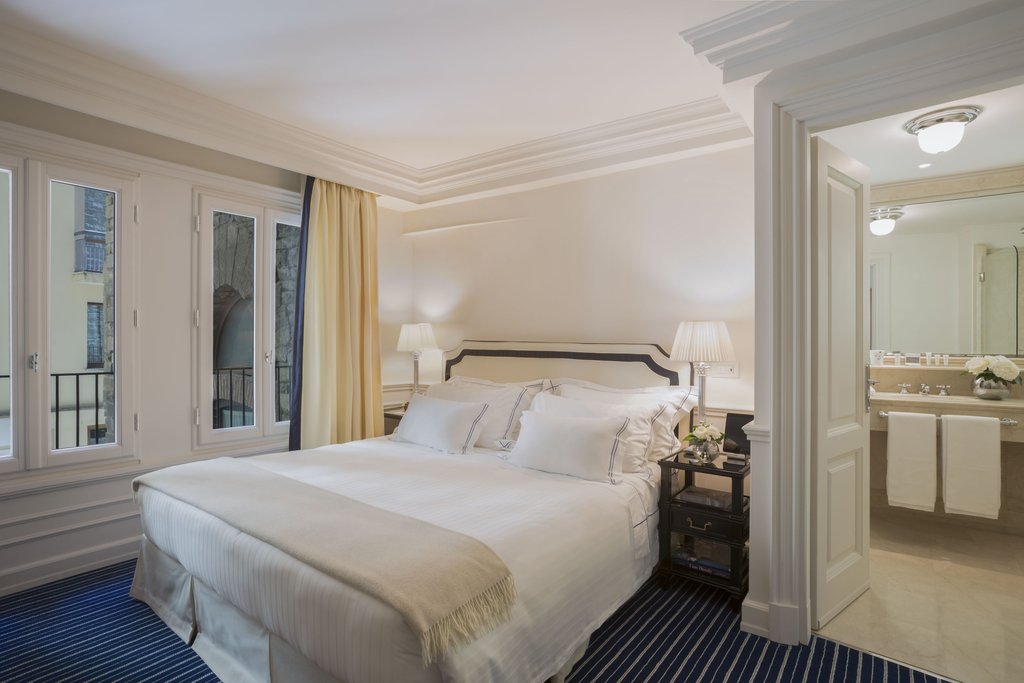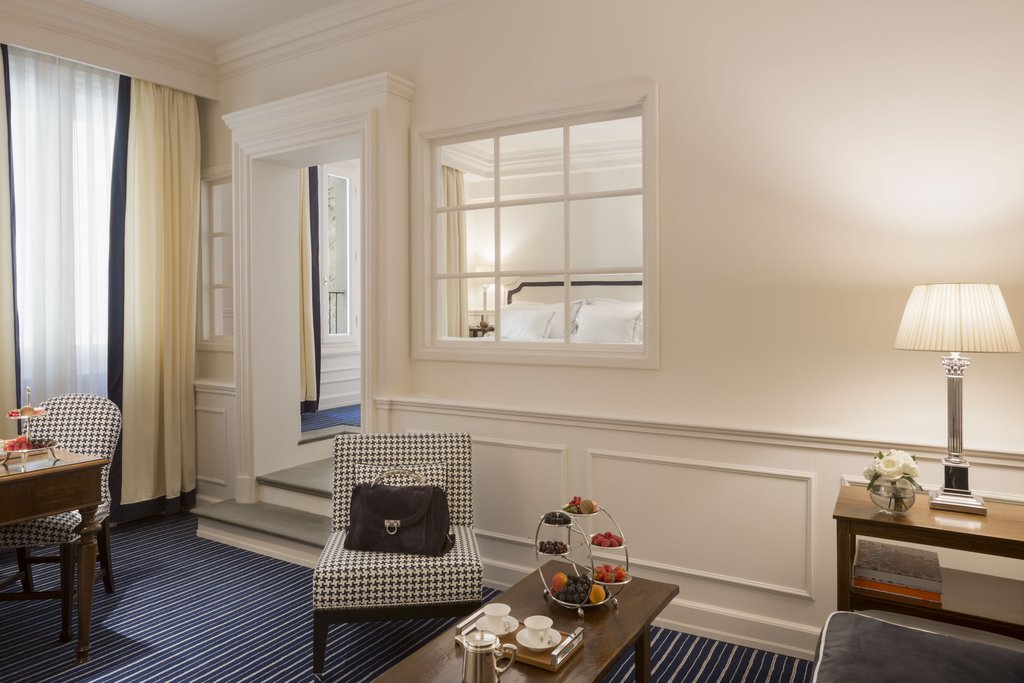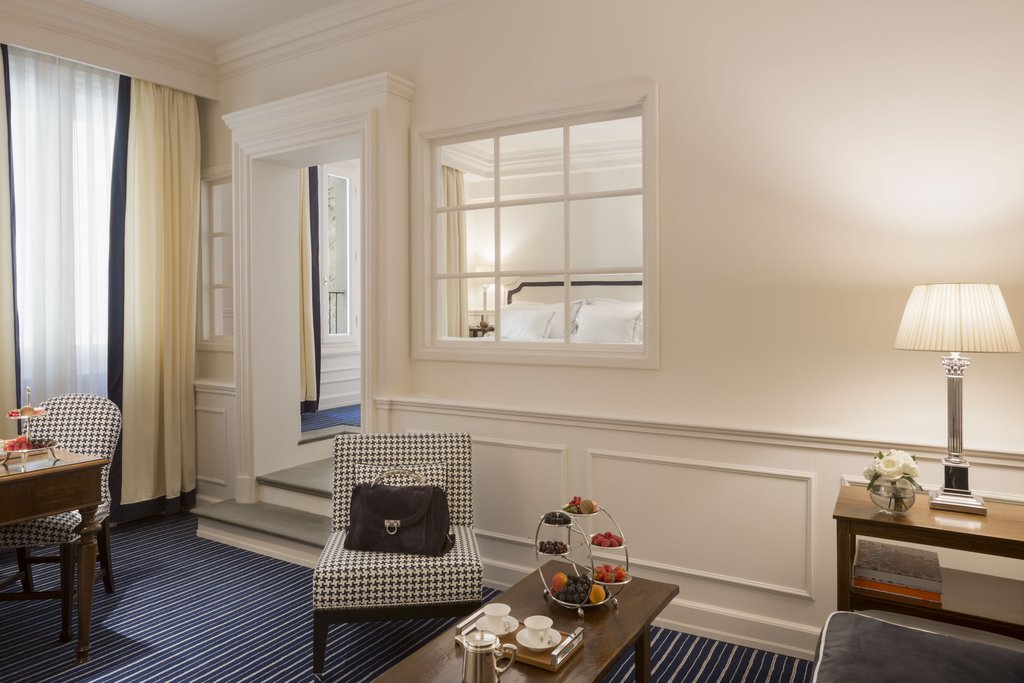 Studio
Sleeps: 3 People.
These beautiful studios offer a sense of liberty and picturesque elegance, a world of splendor and warmth, The design is warm and cozy with the finest decor and marble bath.

The two level Studio, situated in the Barbadori Tower, is highlighted by barrel vaults in brick, clay pavement, with a beautiful canopied bed, living room area, and a marble bathroom. Size: 32 sqm.
From per night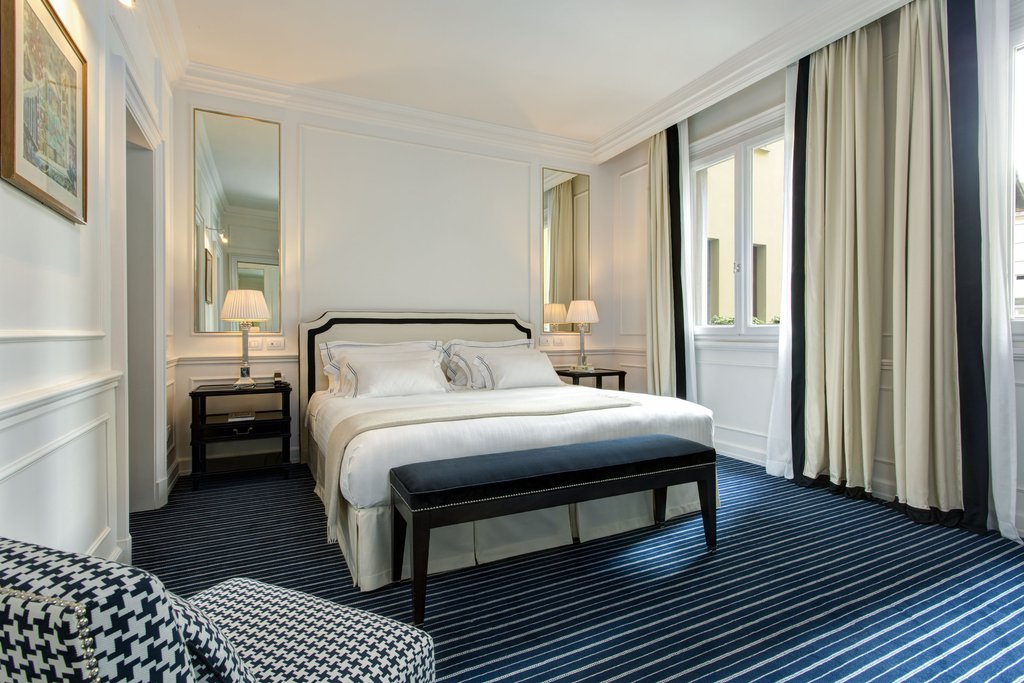 Family Room
Sleeps: 4 People.
Each Family Room has its own particular character and offers a double bed or twin beds, a sitting area and a luxurious bathroom.

Enjoy an international flair of details, such as fascinating oriental carved wood, the finest linen, cashmere, and handmade leather finishes of this exclusive room. The magnificent black and white photography pays homage to Renaissance art in Florence. Size: 37 sqm.
From per night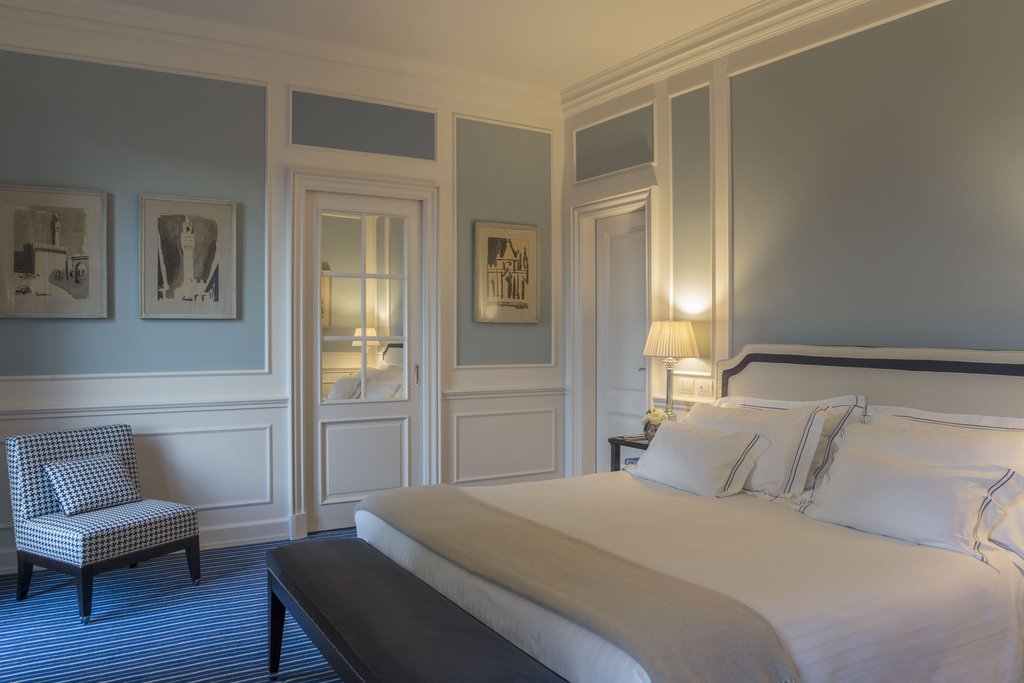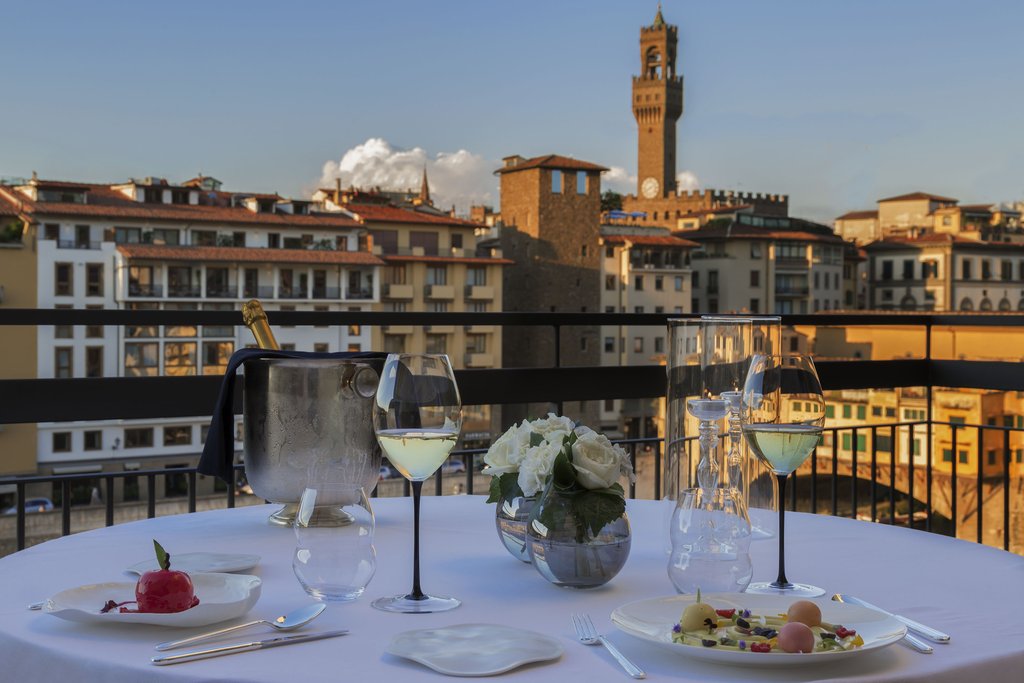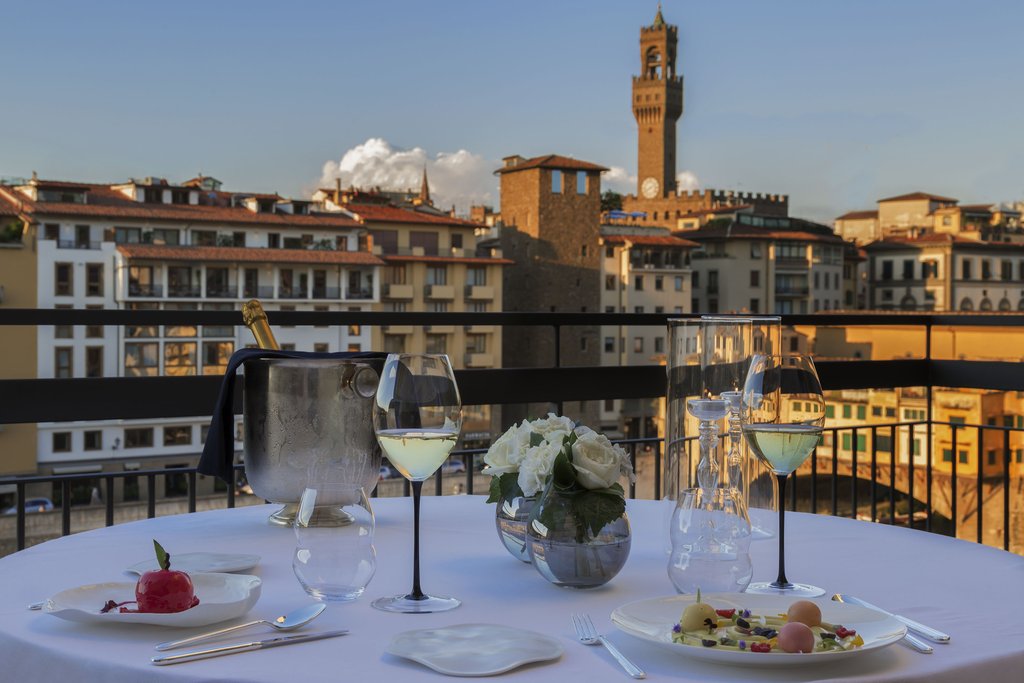 Executive Double Terrace
Sleeps: 2 People.
These unique rooms situated on the 5th and 6th floor have a large terrace with most spectacular views of the passing River Arno, Brunelleschi dome, Giotto bell tower and the tower of Palazzo Vecchio.

These rooms have a king or twin bed and a marble bathroom. Rooms are air-conditioned and have free Wi-Fi internet. Size: 28 sqm/ 301 sqf.
From per night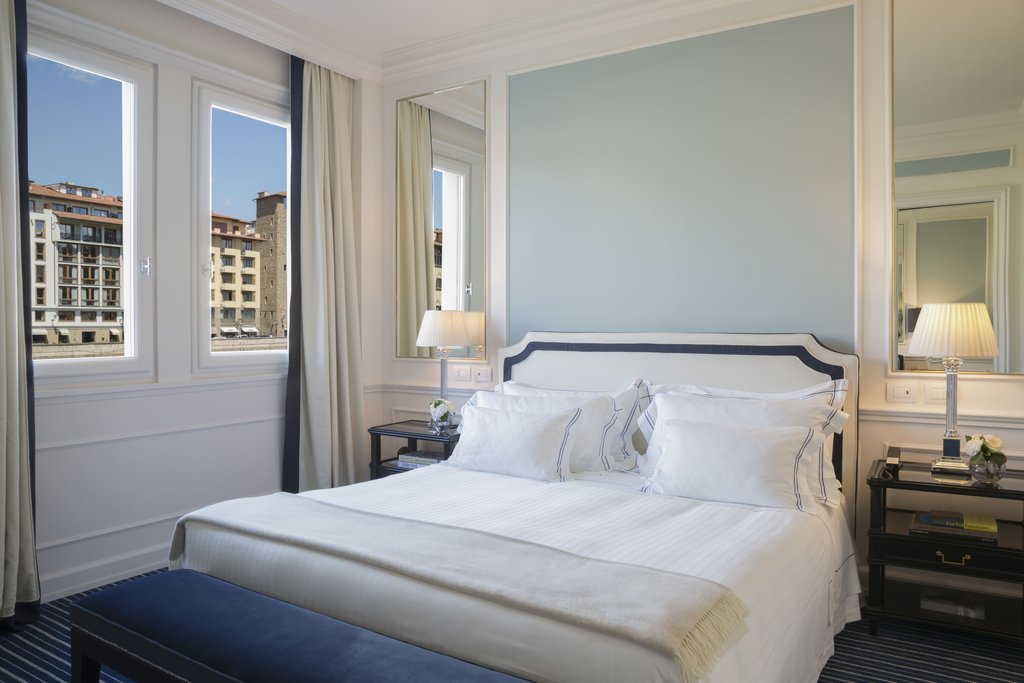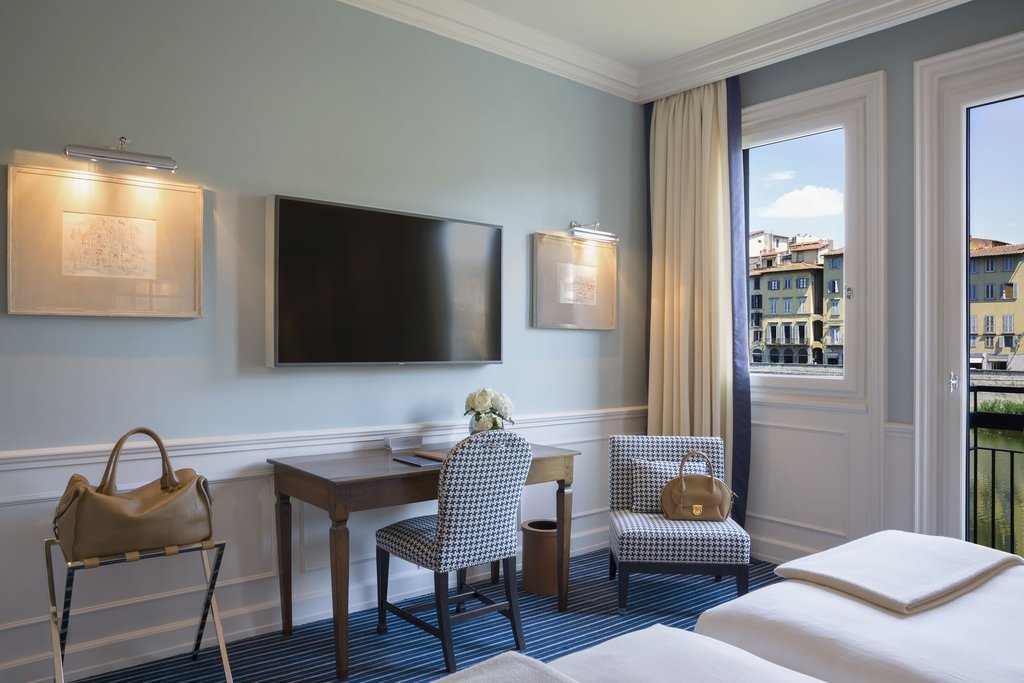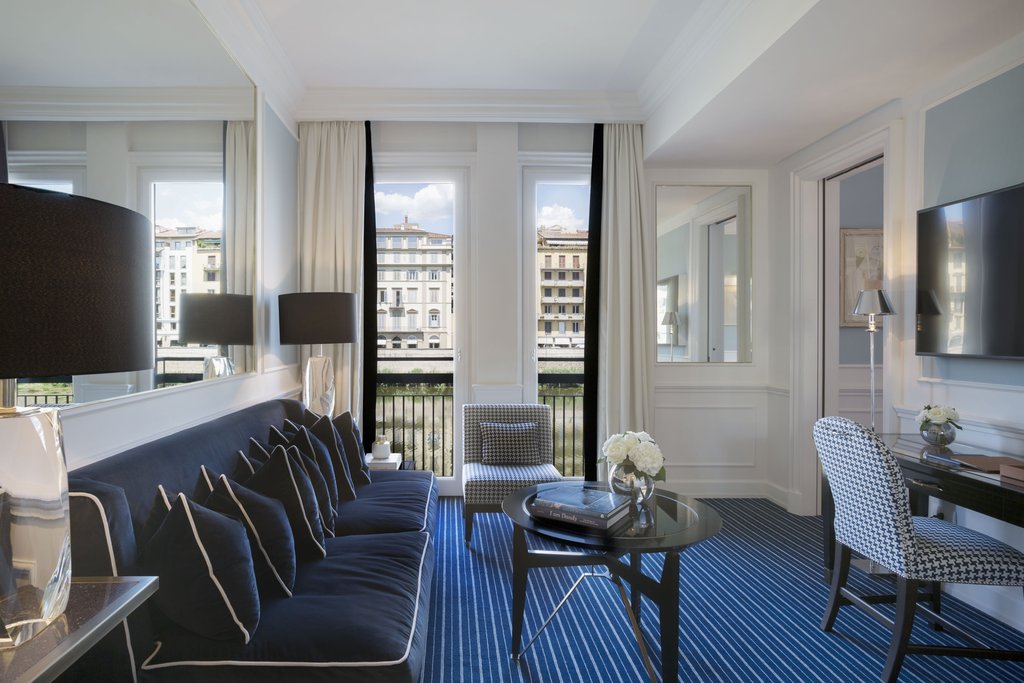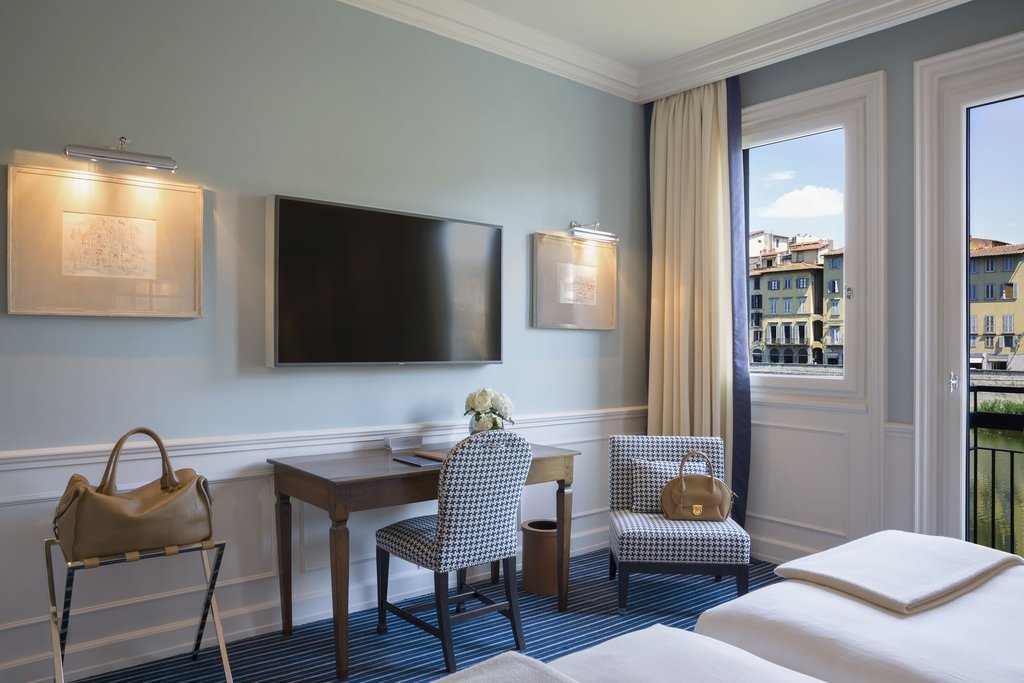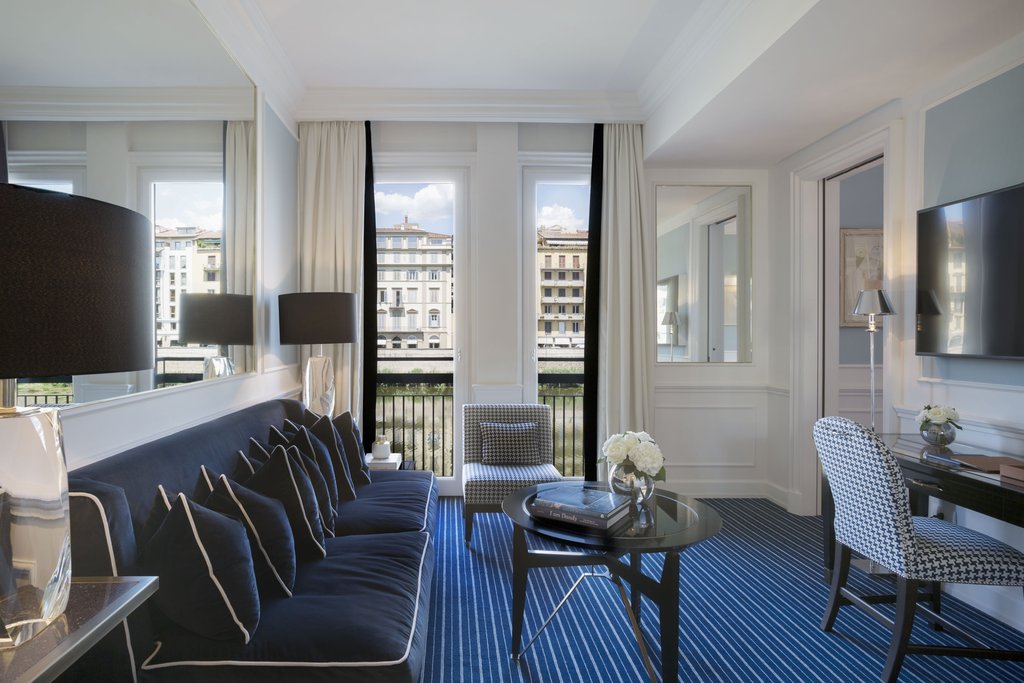 Studio Suite River View
Sleeps: 3 People.
Studio Suite River View Rooms offer lavish living space with spectacular river view All Rooms feature original art, Queen or two twins beds, living area, AirCon, complimentary WiFi.

Approx. 35 square metres - 377 sq. Feet All rooms are non-smoking, Marble Bath.
From per night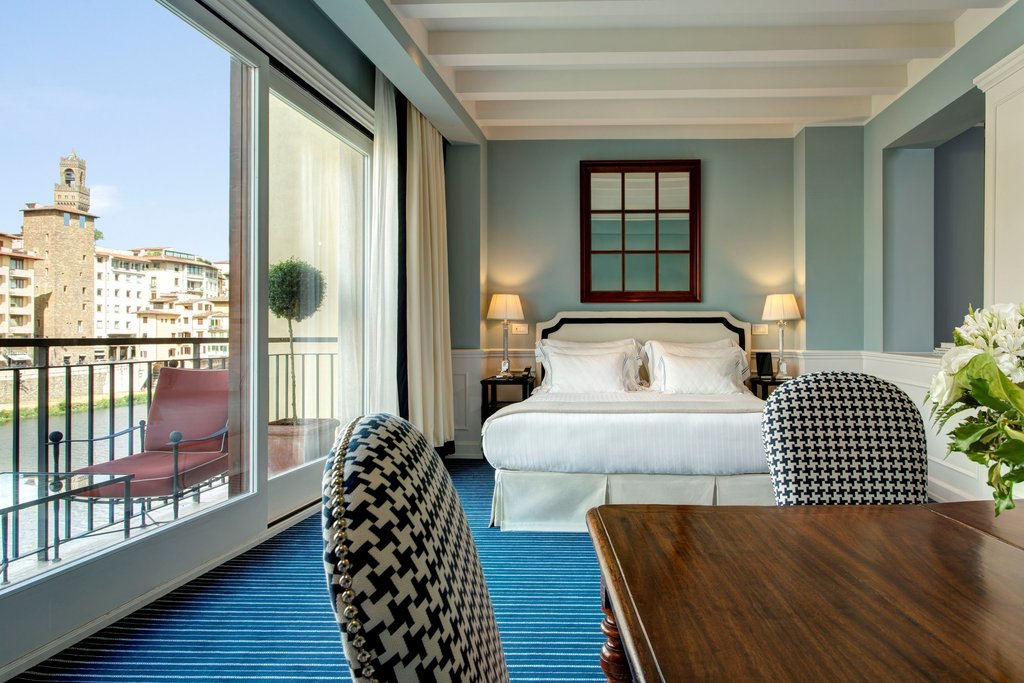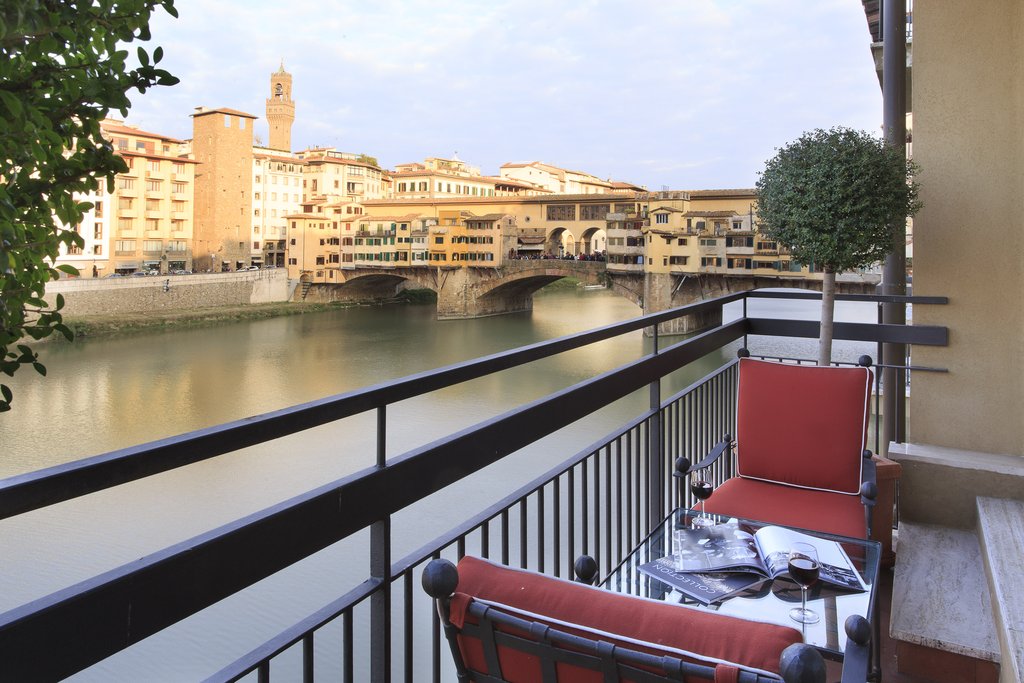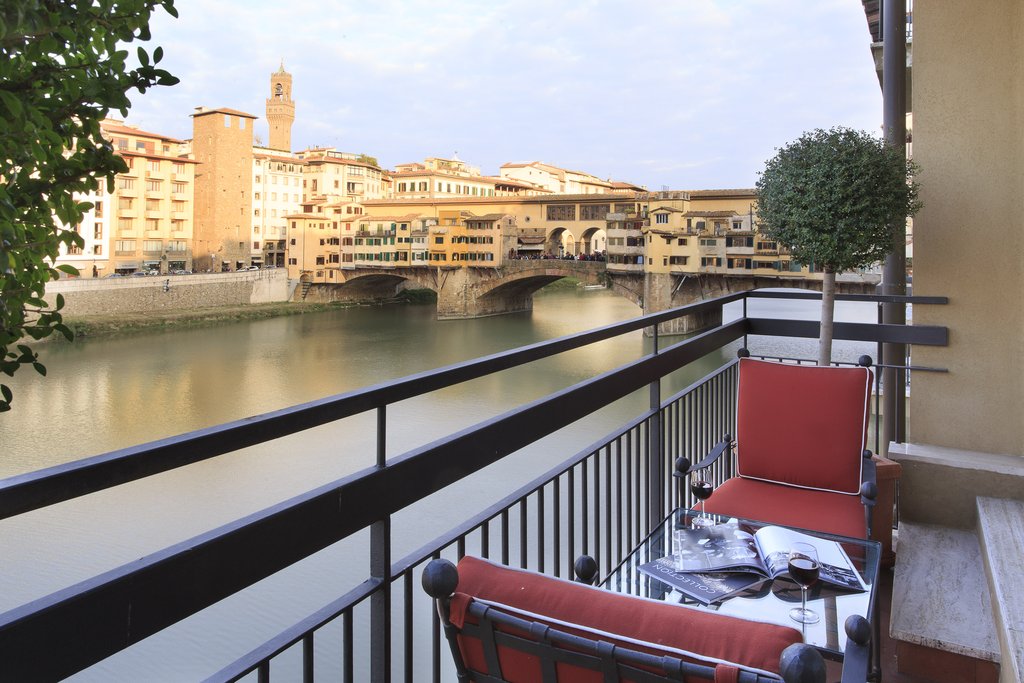 Signature Suite River View
Sleeps: 3 People.
Signature Suites are art-filled suites overlooking the Arno River. All rooms have living area, a queen or two twins.

Air Conditioning and complimentary Wi-Fi. Approx. 42 square metres - 456 sq. Feet All rooms are non-smoking, Marble Bath.
From per night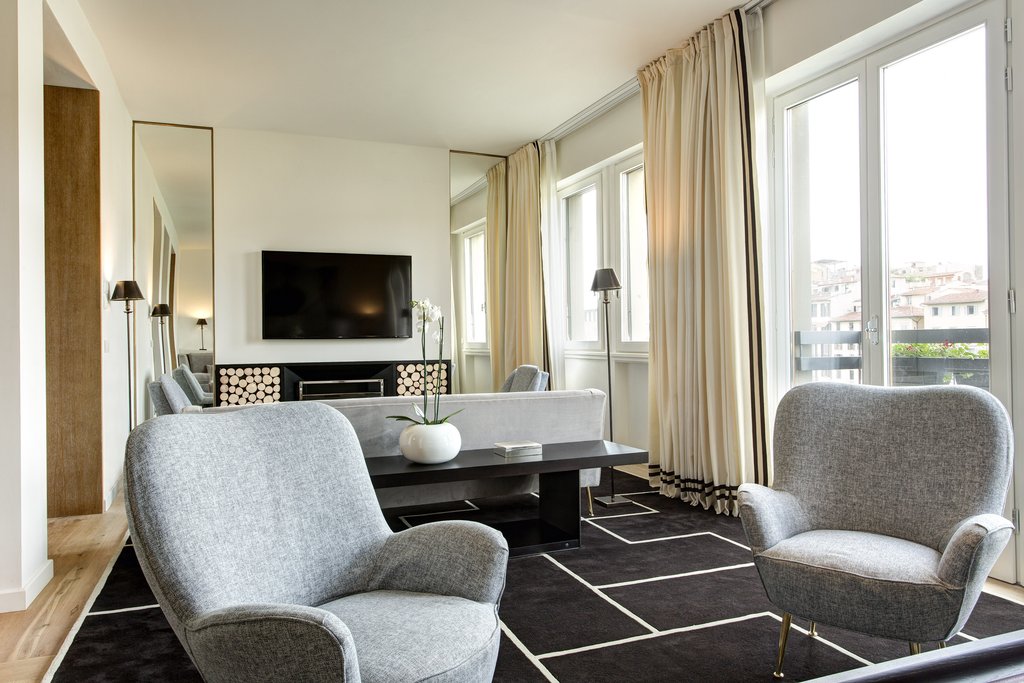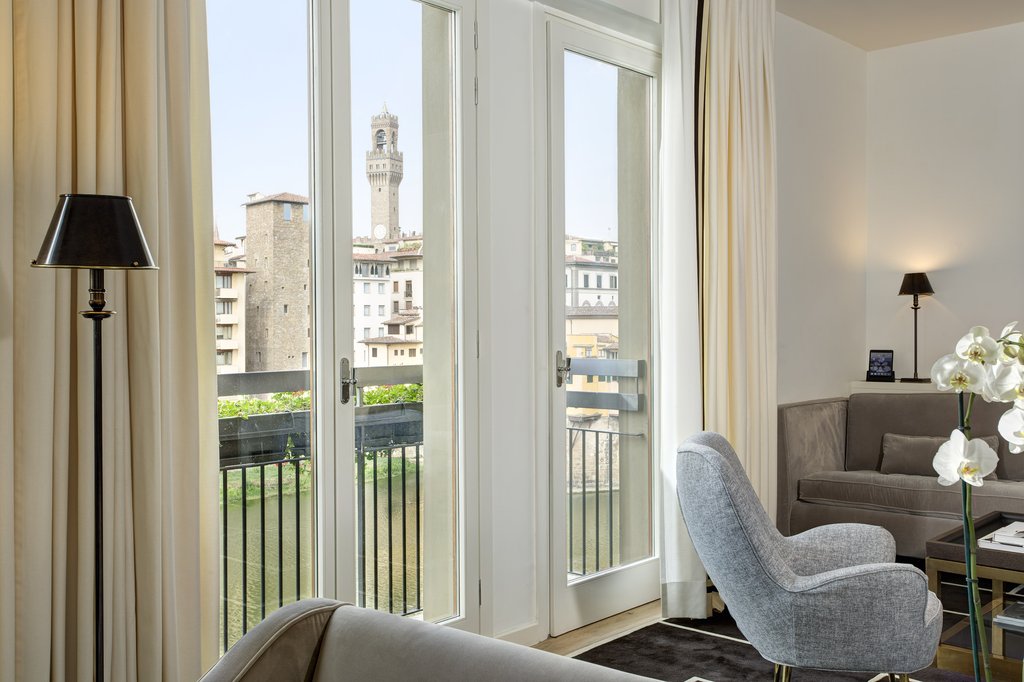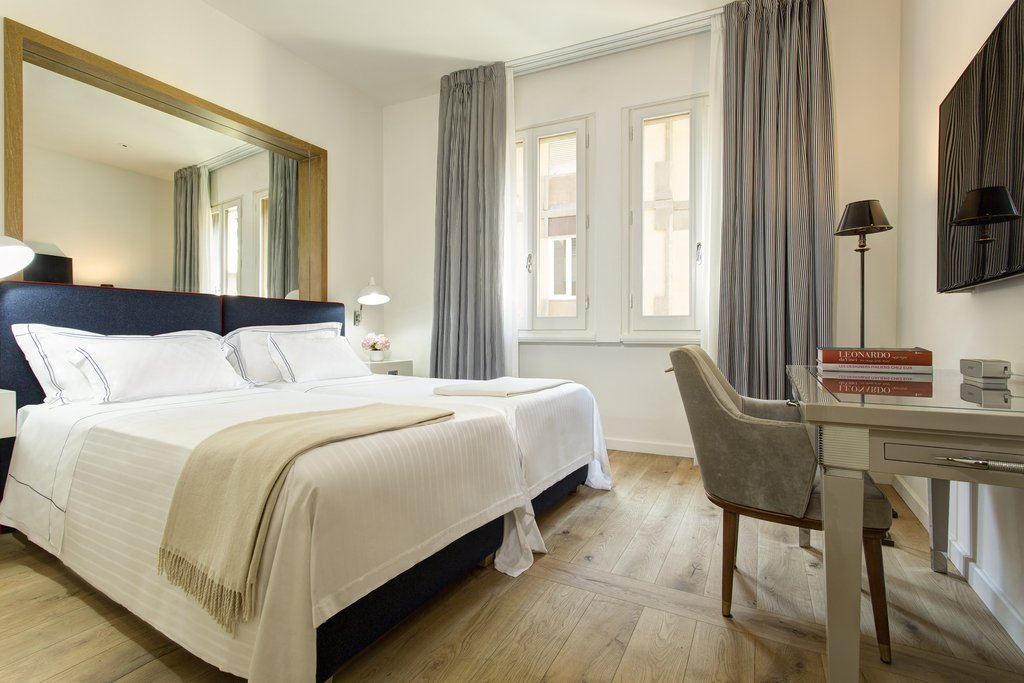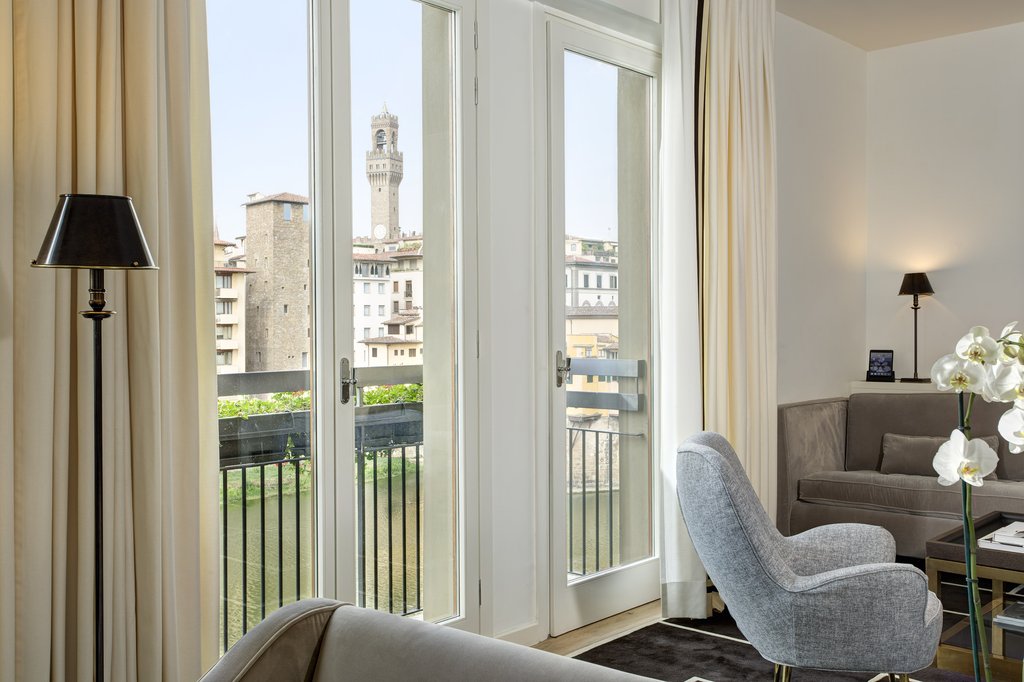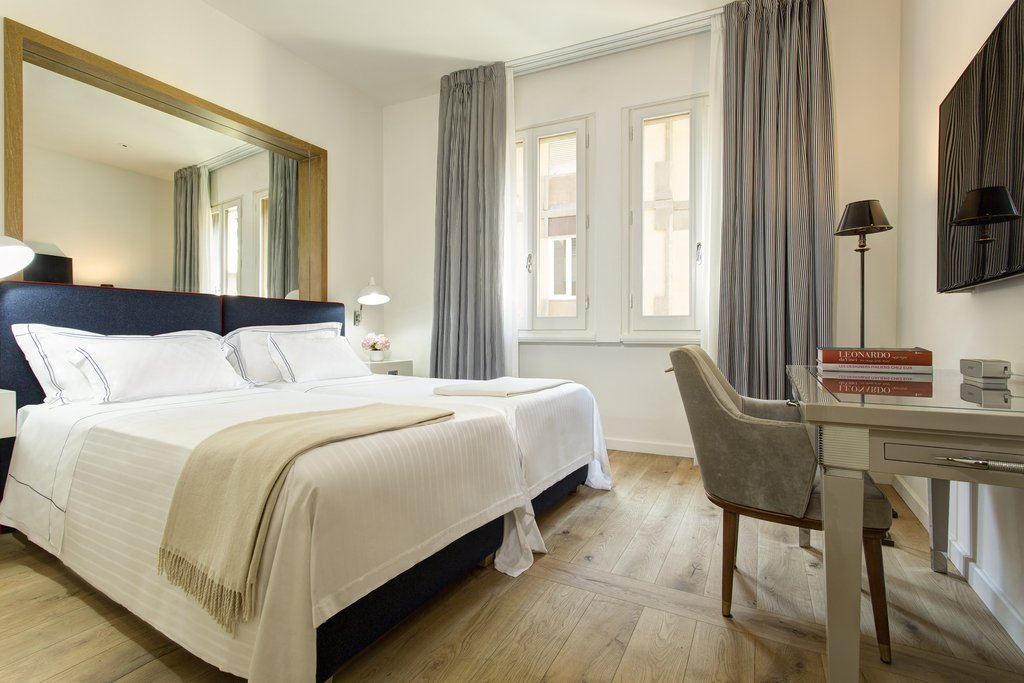 Designer Suite
Sleeps: 5 People.
Designer Suite River View - Two doubles (one with king bed and one with twin beds) and a single room with a queen-size bed, 4 bathrooms.

A spacious living room with a balcony overlooking the Arno River and dining room, all completed with a fully equipped modern kitchen. Complimentary Wifi. Size: 150 sqm, 1.636 sq ft.
From per night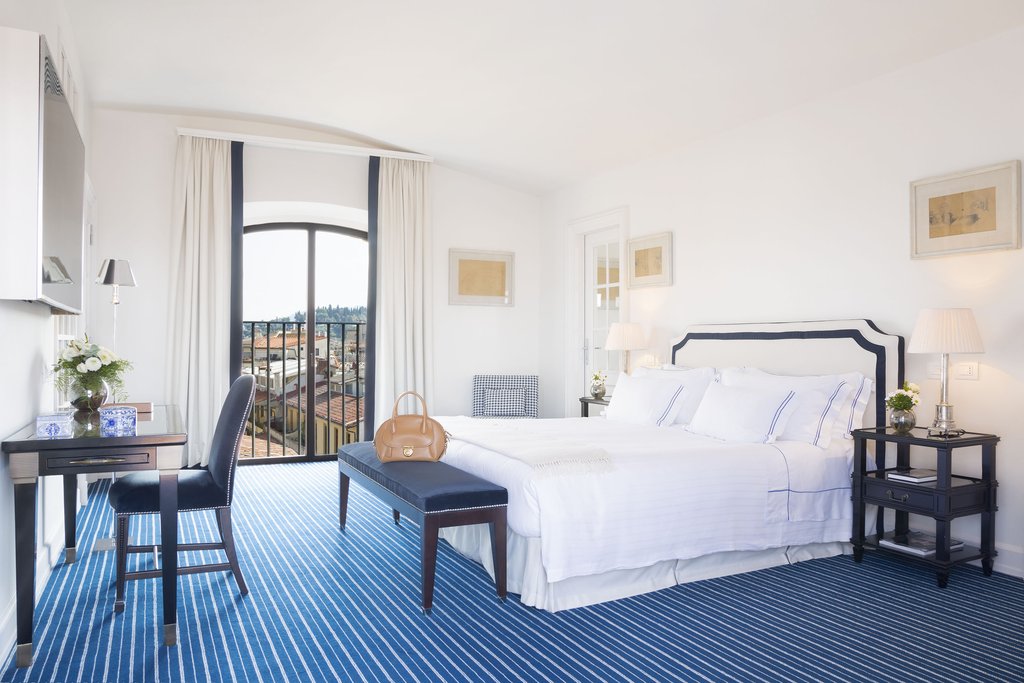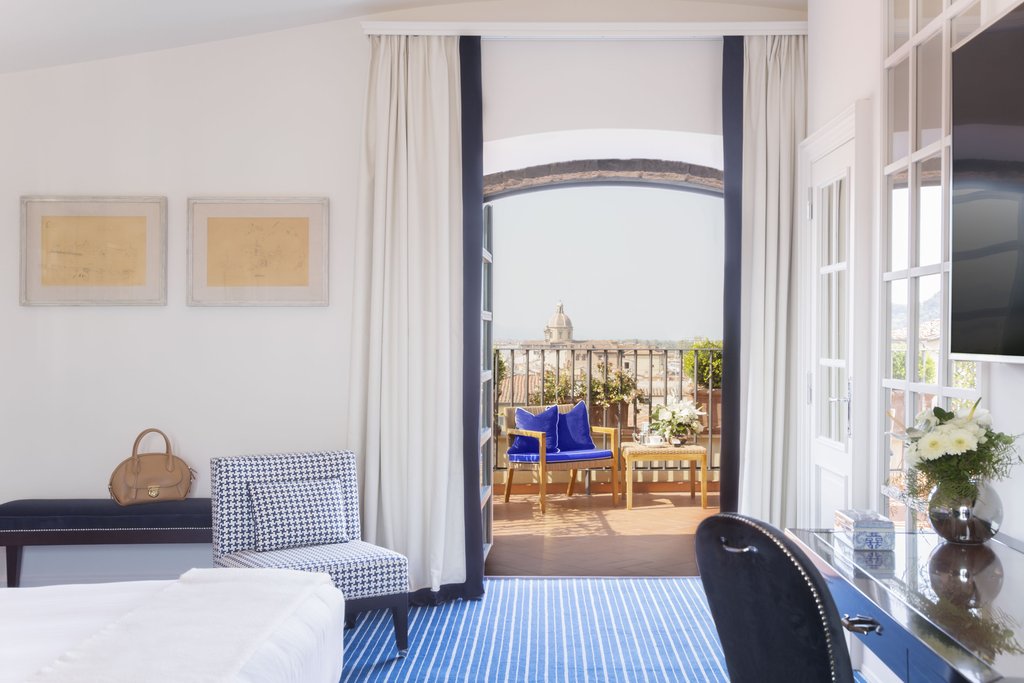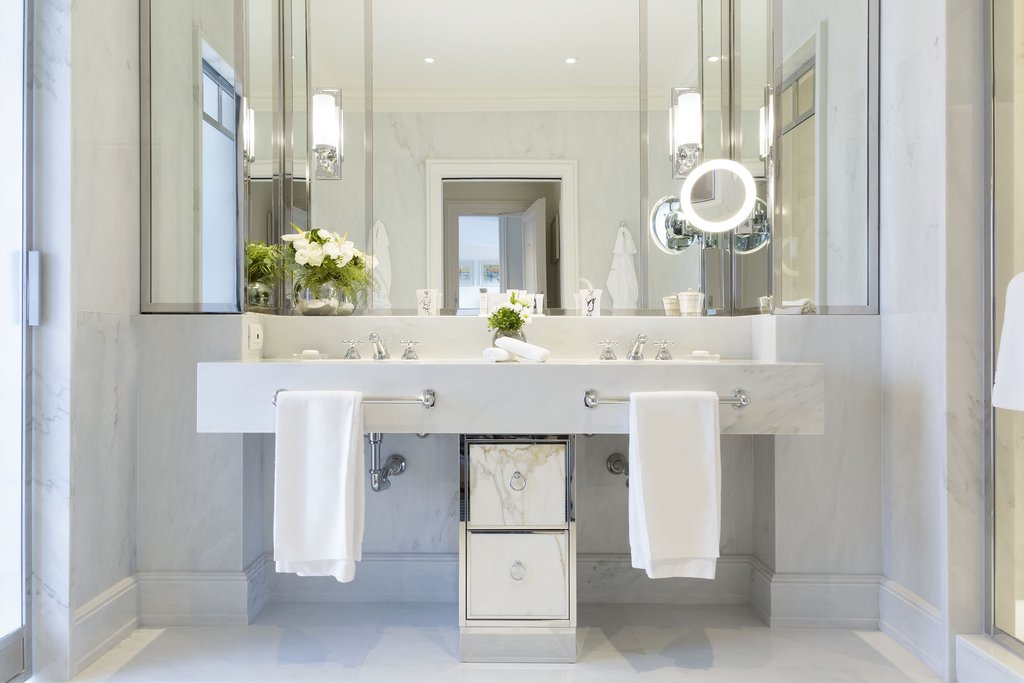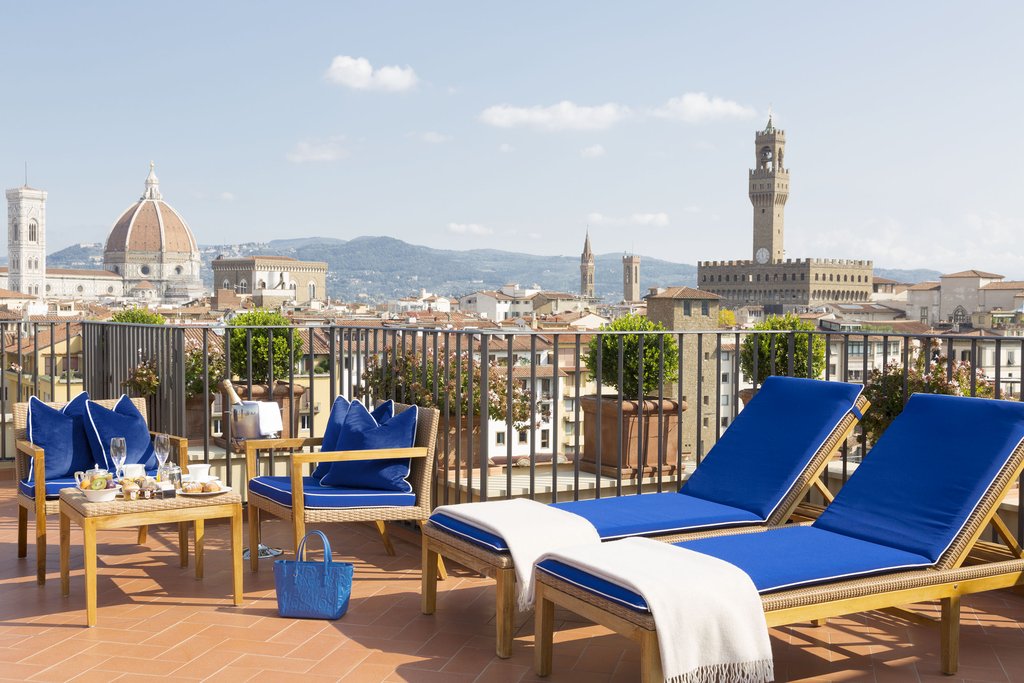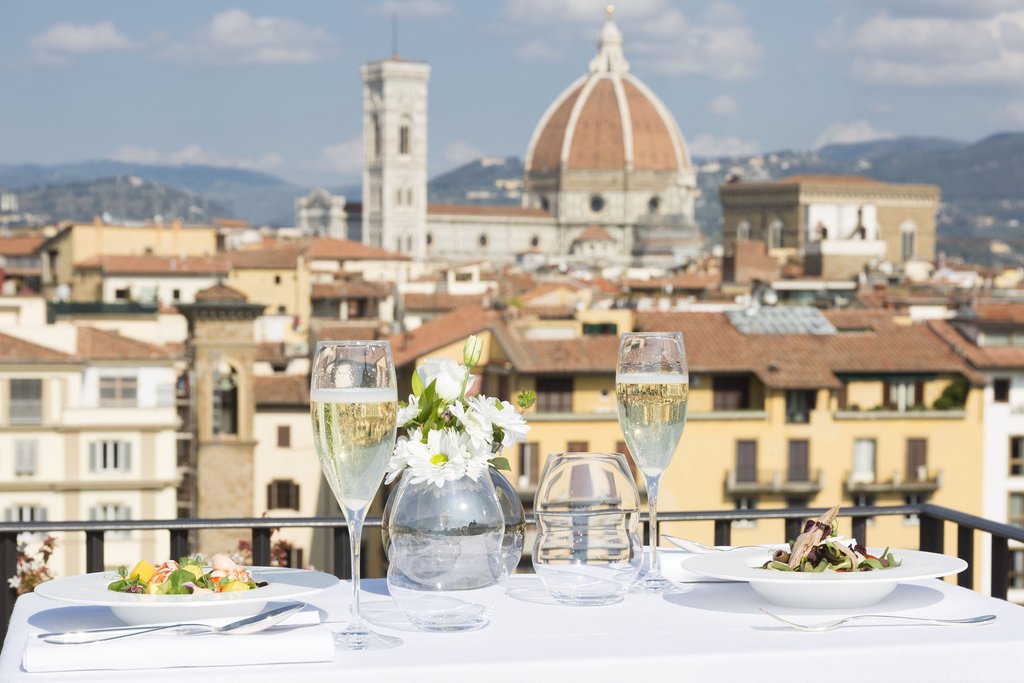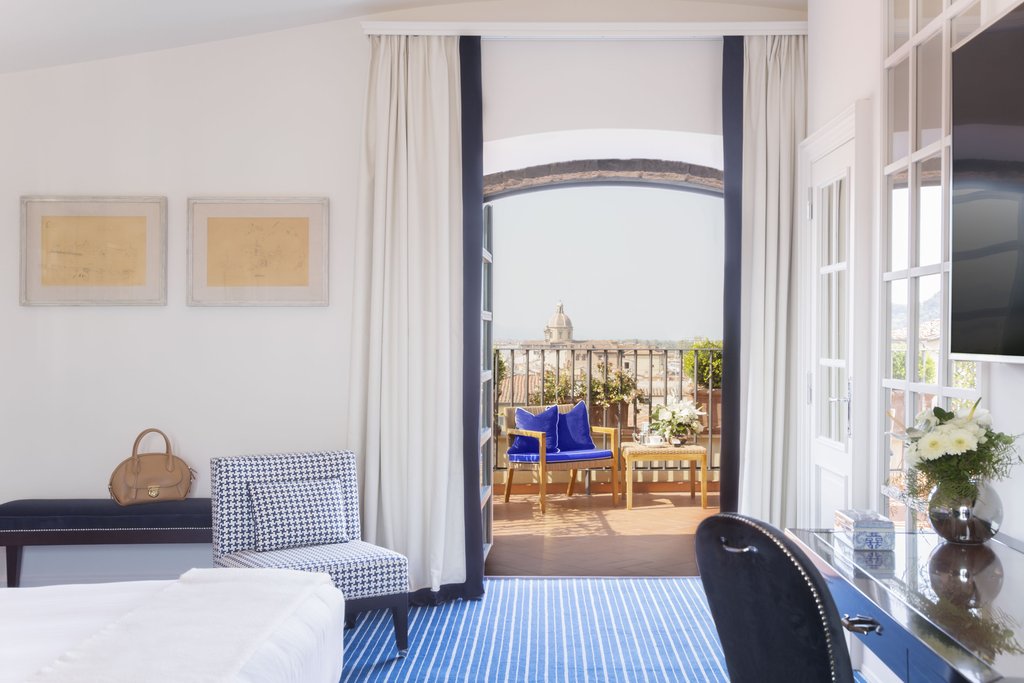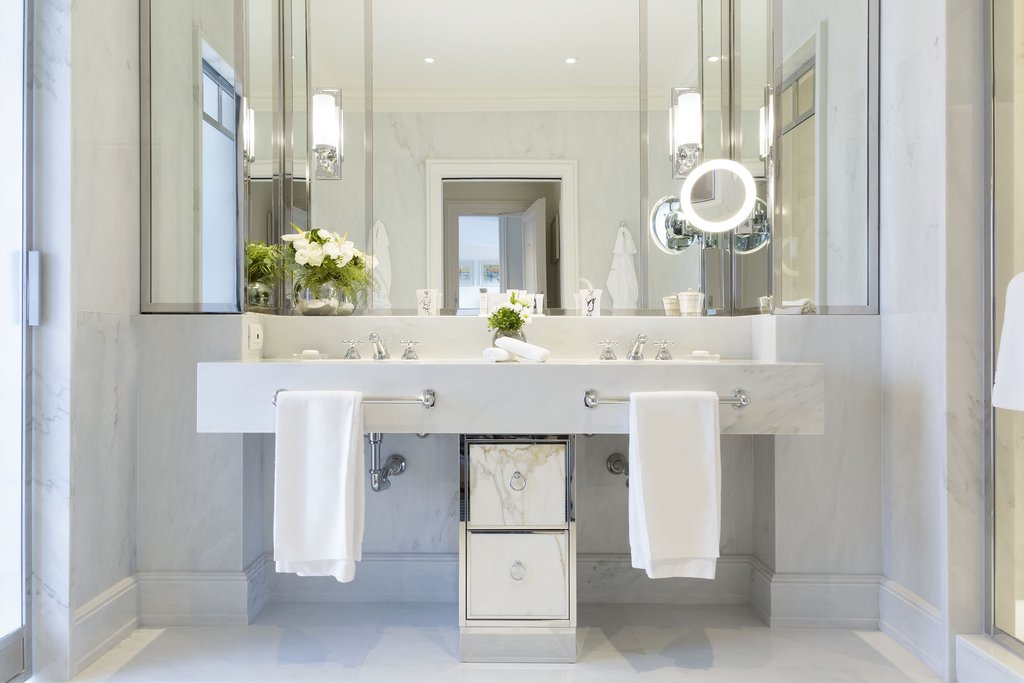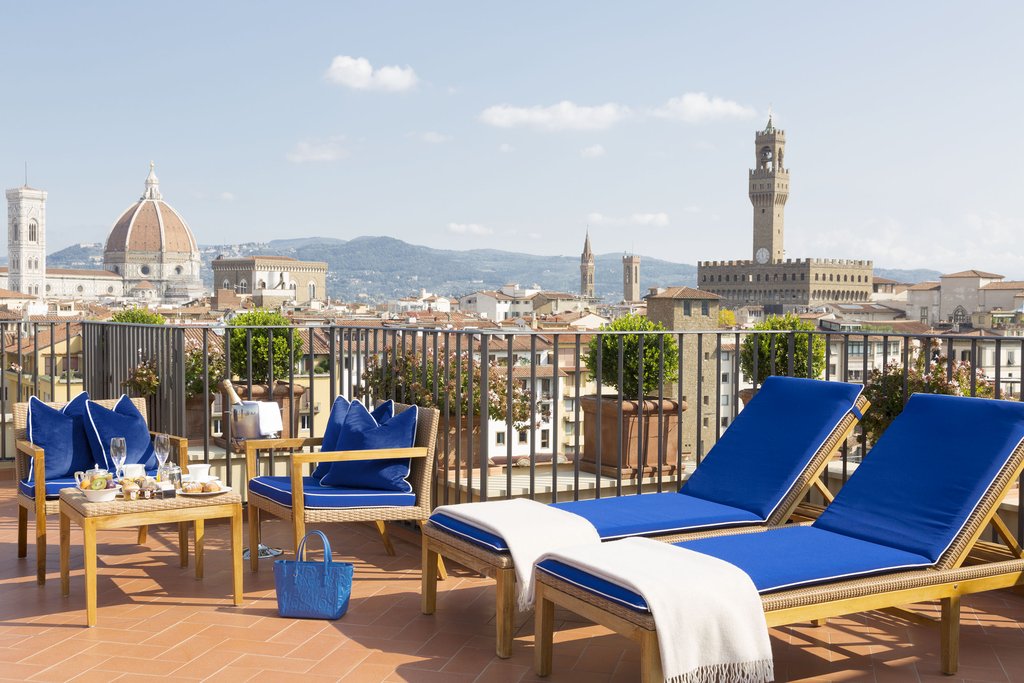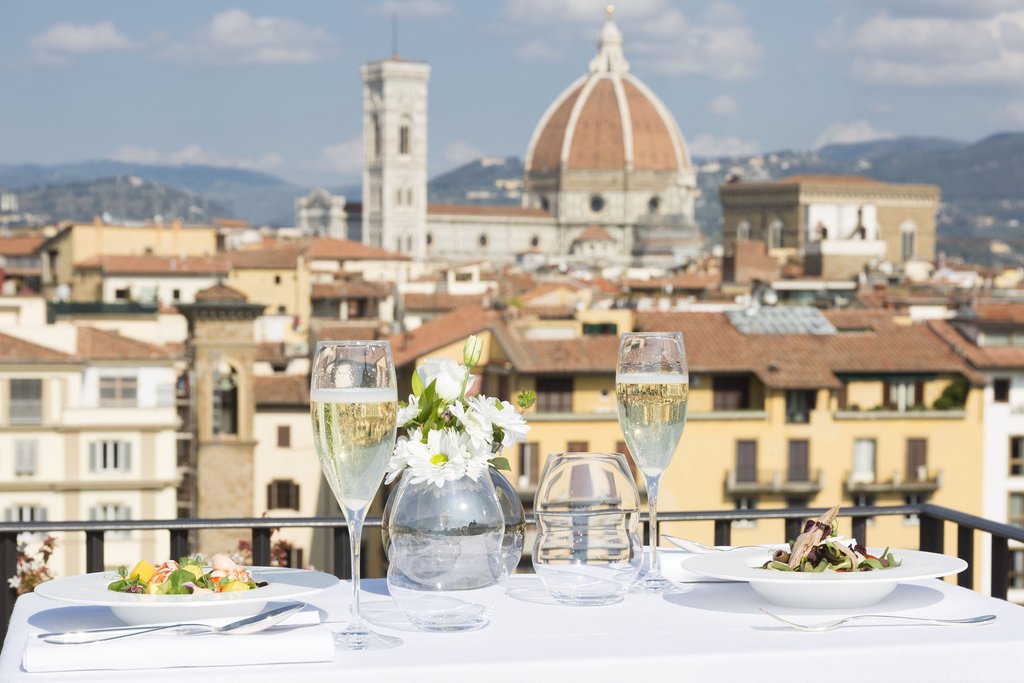 Roof Top Terrace Suite River View
Sleeps: 4 People.
The suite consists of two bedrooms, each with a private bathroom, divided by a common living room featuring a small balcony overlooking Palazzo Pitti and the Florentine Oltrarno.

The room boasts a large terrace, perfect for private events and dinners. Amenities: king bed, minibar, tea and coffee facilities, safe, Bose bluetooth speaker, complimentary iPad and WiFi. 90 sqm
From per night
Lounges/bars
Pets allowed
24-hour room service
Join INVITED and get 10% off exclusive rates. Plus early check-in and late check-outs among other benefits.
24-hour front desk

24-hour room service

Accessible facilities

Air conditioning

approximate price. next to the hotel

Audio visual equipment

Buffet breakfast

Catering services

Concierge desk

Doctor on call

DVD/video rental

Elevators

Family plan

Fee charged for first page of outgoing fax

Fee per additional page of outgoing fax

fee per person, per night

Free high speed internet connection

Full service housekeeping

High speed internet access for laptop in public areas

Hotspots

Housekeeping - daily

Local calls

Lounges/bars

Pets allowed

Photocopy center

Restaurant

Room service

Security

Wakeup service

Wireless internet connection
AM/FM radio

Bathroom amenities

Color television

Fax machine

Hairdryer

High speed internet connection

Minibar

Remote control television

Safe

Telephone
Awards
This hotel has been awarded:
2017 Forbes Travel Guide Awarded Recommended Hotel - Forbes Travel Guide
No. 8 in Top Hotels in Florence - Condé Nast Traveler Readers' Choice Awards 2016
Worlds Best Hotels Europe, Small City Hotels No. 5, 2015 - Travel + Leisure
Top 100 Hotels No. 42, 2015 - Travel + Leisure
For an afternoon aperitivo, head to the Picteau Lounge ¬– named after the Picasso and Cocteau pieces adorning the walls. After a day in the city, indulge in a Michelin-starred meal at the Borgo San Jacopo. If you're not sure what to pair with the signature potato spaghetti with pesto, just ask your sommelier. They'll be on hand to select the perfect bottle from the hotel's vast collection.
Borgo San Jacopo Restaurant
Cuisine type: Italian
Meals served: Dinner
Overlooking the Arno river-elegant atmosphere and regional cuisine. Dress code is smart casual. Reservations are preferred. The Borgo San Jacopo Restaurant is rated One Michelin Star.
The Picteau Lounge
Cuisine type: Continental
This charming lounge bar owes its name Picteau to the original art pieces of Picasso and Cocteau that compliment the extraordinary atmosphere of this delightful and exclusive hotel in Florence.
Reviews
These reviews are the real opinions of INVITED members and we have verified their stay at the hotel.
What I liked most :

Location (44)
General service (32)
Breakfast (30)
Welcome and departure (29)
Guestroom and bathroom (22)
Local knowledge and experiences (22)
Internet and wifi (19)
Restaurant and dining (16)
Room service (5)
Guest Room and Bathroom (4)
Local knowledge and experience (3)
Welcome and Departure (3)

What I might improve :

Internet and wifi (9)
Guestroom and bathroom (6)
General service (5)
Breakfast (4)
Leisure facilities (3)

Read Reviews

July 2019

We showed up to check in and they made us wait 4 hours before we could actually get into our room. Told us wine was free in the room and we went to drink it and came running back saying we actually could not drink it. Made us change in the hallway when we needed to get ready for a museum tour. Staff refused to give us more umbrellas when there were 3 of us. After we came back from the tour that we were late for caused by the staff they told us that they set up cabs for people to get places when they know they are in the wrong. I have been to a lot to SLHs in the past and this has been my worst experience. Should not even be an SLH!

Top tip for other guests:

Do not go here! Rude staff who loves to waste your time!

What I liked most

Location
Guest Room and Bathroom
Breakfast
Restaurant and dining
Internet and wifi

What I might improve

Welcome and Departure
General Service
Local knowledge and experience
Room Service
Leisure facilities

We love this place so much, we stayed here twice on this trip.

February 2019

My Trip Type:

Couple

We adore the amazing staff at this property and look forward to seeing them whenever we return. Great location, it has stunning views and within walking distance to the most important sites in Florence. Breakfast is also a treat with terrific staff and a great selection of pastries, charcuterie and cooked to order eggs. An appertivo in the lounge is also a nice way to begin the evening. Twice a day housekeeping service is also a welcome touch.

Top tip for other guests:

Staff, location, breakfast.

What I liked most

Welcome and Departure
Location
General Service
Local knowledge and experience
Guest Room and Bathroom
Breakfast
Restaurant and dining
Internet and wifi

Everything you need for your hotel stay in Florence!

March 2019

My Trip Type:

Couple

The Hotel Lungarno is amazing in every respect. Comfortable, luxury appointed rooms, some with beautiful views of the Arno. Amazing staff who are friendly and knowledgeable. An enviable location just around the corner from the Ponte Vecchio. Great WiFi service. A sumptuous breakfast in the morning. A Michelin starred restaurant in the evening. And, parking next door.

Top tip for other guests:

Breakfast, location and staff.

What I liked most

Welcome and Departure
Location
Local knowledge and experience
Guest Room and Bathroom
Breakfast
Restaurant and dining
Internet and wifi

October 2018

Hotel Lungarno has it all - comfortable rooms, fantastic views, great staff and an enviable location. This is our "go-to" place in Florence. Breakfast offers excellent choices in a welcoming atmosphere. Also, there is convenient parking next door, allowing access in the ZTL area of the City.

Top tip for other guests:

Breakfast; informed and friendly staff; views.

What I liked most

Welcome and Departure
Location
General Service
Local knowledge and experience
Guest Room and Bathroom
Breakfast
Internet and wifi

Bochum, Germany

My Trip Type:

Couple

great hotel, great location - close to Ponte Vecchio, very nice staff

Top tip for other guests:

book a table in the restaurant

What I liked most

Guestroom and bathroom
Location
Restaurant and dining
Breakfast
General service
Room service

great location on Arno river

Stay date: November 2016

My Trip Type:

Family

Stunning view of Ponte Vecchio and Arno river.

Top tip for other guests:

Choose a room with a view on the river

What I liked most

Restaurant and dining
Welcome and departure
Location
General service

What I might improve

friendly service in a great location

Stay date: October 2016

My Trip Type:

Couple

great view at the ponte vechio after upgrade. at arrival at the reception we were told that an upgrade was not possible,. after that i was telling i saw on internet that there were plenty rooms available suddenly we got the upgrade....

Top tip for other guests:

have diner in the restaurant

What I liked most

Breakfast
Restaurant and dining
Location

Stay date: September 2016

My Trip Type:

Couple

Th!is hotel is in a perfect location to accessing Florence, within yards of the Ponte Vecchio! As a SLH member we were upgraded to a river view. Amazing! The front desk staff was very friendly and accommodating; they made restaurant recommendations and reservations for us. The breakfast was plentiful and staff always smiling and helpful. The room was lovely however the bathroom was quite small but with all modern amenities so no complaints. I would highly recommend this hotel because of location and staff, plus the view is one of a kind. If you are driving to Florence (no need for a car in Florence but just in case you are driving), there is a garage that is right next door to the hotel. Once the hotel is informed that you have a car, they notify the authorities so you aren't cited for driving in the Restricted Zone. The outside dining/bar area is very small but has a view on the river. Drinks are expensive but didn't mind when in Florence.

Top tip for other guests:

Definitely get a room with a view of the river.

What I liked most

Breakfast
General service
Internet and wifi
Location
Welcome and departure

great location with professional services

Stay date: July 2016

My Trip Type:

Couple

perfect stay in general, but a few points such as welcome and departure which is not bad, but not perfect as levels of SLH hotels!!

Top tip for other guests:

its a good choice if your priority is on a location.

What I liked most

General service
Location
Guestroom and bathroom

What I might improve

Stay date: June 2016

My Trip Type:

Couple

Our home away from home in Florence. This hotel has an enviable location in the heart of Florence, located on the banks of the Arno. It is within walking distance to shops, sites and restaurants. Convenient parking is available next door. The staff at Hotel Lungarno are amazing. Friendly, helpful and professional, they are warm and make you feel special. The breakfast is extensive and delicious. Michelin starred restaurant is also on premises. Nice bar area overlooking the river where you can relax, have aperitifs or enjoy post dinner nightcap. The rooms are well appointed with excellent bedding and bath products. We look forward to our stays at the Hotel Lungarno.

Top tip for other guests:

Treat yourself...book a room with a view.

What I liked most

General service
Room service
Guestroom and bathroom
Welcome and departure
Location
Breakfast
Local knowledge and experiences
Restaurant and dining

What I might improve

Stay date: June 2016

My Trip Type:

Couple

It was a lovely hotel in a perfect location. The hotel staff were more than accommodating. Our room had a balcony with a breathtaking view of the river and the bridge. The only negative was that the room was exceptionally small. I don't believe that they could upgrade us because they were full with a wedding. The hotel staff urged us to take a private tour of the Uffizi, which was well worth the money and time. The guide was an art historian and really outstanding. That made our short time in Florence memorable. Meryl Moss

Top tip for other guests:

Might want to book a larger room if available.

What I liked most

Local knowledge and experiences
General service
Location
Breakfast

What I might improve

Stay date: November 2015

My Trip Type:

Family

Top tip for other guests:

location

What I liked most

Guestroom and bathroom
Location
General service
Welcome and departure

What I might improve

Good service, nice hotel, great location

Stay date: October 2015

My Trip Type:

Couple

The staff was very friendly and the decoration and location of the hotel is outstanding. However there are service issues to improve (for example 2 out of 3 nights I have to call to have the room cleaned at late evening.

Top tip for other guests:

Take advantage of the Consierge. Good advice and helpful.

What I liked most

Guestroom and bathroom
Welcome and departure
Location

What I might improve

Perfection in Every Respect

Stay date: October 2015

My Trip Type:

Couple

We have stayed at the Hotel Lungarno many times and it never fails to disappoint. First, the location is unbeatable. Just a few steps from the Ponte Vecchio, all of the major sights in Florence are within walking distance. And, if you happen to be driving, there is a convenient private garage directly next door to the hotel. Second, the rooms are richly appointed with linen sheets and high end bath products..some rooms have amazing views of the bridge and city skyline; others may be located in the historic tower. All rooms have marble bathrooms and twice daily housekeeping service. Third, breakfast in the hotel is a wonderful way to start your day. In addition to the excellent breakfast buffet, made to order items are also available....all served in a bright breakfast room overlooking the Arno with views of the Ponte Vecchio and Santa Trinita Bridge. Last, but not least, is the service. The staff is multilingual and super friendly, from the reception desk, concierge, food and beverage servers, bellmen to housekeeping services. It's like seeing old friends every time we visit. This is a lovely hotel with fantastic people.

Top tip for other guests:

Stay at this hotel! Enjoy the location, friendly staff and breakfast!

What I liked most

Local knowledge and experiences
Welcome and departure
Internet and wifi
Location
Breakfast
General service
Guestroom and bathroom

Stay date: September 2015

My Trip Type:

Couple

This hotel is truly one the best and deserves to be part of SLH! Wonderful rooms, excellent, above average service and an amazing breakfast with so much variety (not the standard stuff) that you are never bored in the morning. In fact, if you stay at this hotel be sure to look out for Julie and Paulo!! They will make you feel so welcome. In fact, all the front desk staff, luggage helpers such as Fluvio, and many other members whose names we cannot remember (sadly), deserve a special thanks. We cannot wait to return. You will also find that the ever-so-patient staff in the dining room is also top notch. All in all, a wonderful stay at a wonderful, wonderful hotel! We would highly recommend!!

Top tip for other guests:

Don't skip breakfast!

What I liked most

Breakfast
Guestroom and bathroom
General service
Local knowledge and experiences
Location
Welcome and departure

Stay date: June 2015

My Trip Type:

Couple

Hotel Lungarno is a haven of charm and elegance in a city that can become frenetic with the throngs of tourists. The rooms and decor are smartly and warmly appointed and the views from our room were truly unforgettable with the golden light bathing the Ponte Vecchio morning and evening. The staff and service were A-1 first class and the breakfasts were sumptuous offering all the best in the local foods. We will return! Ci vediamo.

Top tip for other guests:

Reserve a room with a view of the Ponte Vecchio and with a balcony or terrace.

What I liked most

General service
Welcome and departure
Breakfast
Guestroom and bathroom
Location

What I might improve

Stay date: May 2015

My Trip Type:

Couple

The hotel is nice, small rooms but very nice. The bad thing was that they charge un € 100 for doing the late check-out while being a Loved Member of SLH and having availability at the hotel they shouldn't have charge us... Location is great!

Top tip for other guests:

Book tickets in advance!

Stay date: March 2015

My Trip Type:

Couple

On arrival we were greeted very warmly and told we would be upgraded to a room overlooking the Arno river and Pontevecchio, which was lovely surprise. The hotel location is truly superb and the decor and facilities were terrific. It was unfortunate that the terrace was being rebuilt so the building work was quite a distraction. We chose not to dine in the restaurant as we felt the prices of the A la caret meny were far too expensive when there are so many wonderful restaurants in Florence to choose form

Top tip for other guests:

Go here as soon as you can; it's a lovely experience to stay there

What I liked most

What I might improve

Best Concierges and Lovely Hotel!

Stay date: February 2015

My Trip Type:

Single

This is a charming small hotel in an excellent location on the "other" side of the river. The concierges were extremely helpful in making all restaurant reservations as well as a reservation for the Uffizi Gallery so I did not have to wait on line. I had booked the least expensive room hoping for an upgrade but unfortunately the hotel was all booked up. Although my room was very nice and comfy (although small, but that was OK) I did face a wall. It would have been worth it to book a better room, but that is my fault. The ONLY complaint I had is that they charge 19E for a cosmopolitan as well as for other mixed drinks. That is CRAZY!

Top tip for other guests:

Get a room that faces the river! Don't order mixed drinks!

What I liked most

Breakfast
Internet and wifi
Welcome and departure
General service
Location
Local knowledge and experiences

Stay date: January 2015

My Trip Type:

Friends

The hotel was quite cold.

Top tip for other guests:

Helpfulness

What I liked most

Local knowledge and experiences
Welcome and departure
Guestroom and bathroom
Breakfast
Internet and wifi
Location

What I might improve

Restaurant and dining
General service

Wonderfully comfortable place

Stay date: September 2014

My Trip Type:

Couple

The staff were very welcoming and helpful throughout our stay. The location was perfect and the views of the Arno from our room were spectacular. Our room was very comfortable and bed linens were quite nice. Loved the art displayed throughout the hotel. Overall a stellar experience. We'll stay there again.

Top tip for other guests:

Try the negronis!

What I liked most

Welcome and departure
Location
Guestroom and bathroom
General service
Breakfast
Internet and wifi

Beautiful setting, extraordinary experie

Stay date: September 2014

My Trip Type:

Couple

Outstanding location. Perfect size. Excellent bartenders. Great breakfast selections.

Top tip for other guests:

Be prepared to fall in love with a hotel that feels a lot like an inn.

What I liked most

Breakfast
Location
General service
Guestroom and bathroom
Welcome and departure
Local knowledge and experiences
Internet and wifi

Great Location, not so great service

Stay date: August 2014

My Trip Type:

Couple

Hotel Lungarno is in a great location, wonderful views from the patio/bar of the Ponte Vecchio and close to everything. Service though was not what was expected from an SLH property. Our biggest gripe is will the AC system in our room. On the first night we thought is was broken since we could not adjust it and were far too hot. On enquiry we discovered that the temperature was controlled by the hotel and we had to ask that it be reduced. Thereafter it was left on all day and far too cold when we entered! Not a great was to control costs, if indeed that is the aim. We also found the breakfast to be way overpriced and attention in the bar far too slow. At one point we sat in the lounge area using the hotel ipad and no-one asked if we wanted anything - if they had have done we would have ordered a drink for sure!

Top tip for other guests:

make sure you ask about the air conditioning on arrival!

What I liked most

What I might improve

Breakfast
General service
Guestroom and bathroom

a gem of a hotel, next to the river Arno

Stay date: July 2014

My Trip Type:

Couple

We stayed at 3 slh on our trip to Italy and the Lungarno stood out for many reasons. It's spectacular location near the river Arno, the attentive service by all staff, and the restaurant J in the building. One of my favorite hotel experiences ever. Go for the deluxe rooms with the terrace overlooking the river.

Top tip for other guests:

Go for the deluxe rooms with the terrace overlooking the river.

What I liked most

Guestroom and bathroom
General service
Welcome and departure
Local knowledge and experiences
Restaurant and dining

Superb location and ambience

Stay date: July 2014

My Trip Type:

Couple

- Outstanding food - Knowledgeable staff - Charming, but not big, rooms - Perfect central location

Top tip for other guests:

Just walk around the area and enjoy!

What I liked most

Welcome and departure
Local knowledge and experiences
Location
Restaurant and dining

What I might improve

Excellent service and a great location

Stay date: July 2014

My Trip Type:

Couple

The hotel was wonderfully situated for getting around the city and the staff were very friendly and helpful in making any arrangements that we needed.

Top tip for other guests:

Get a room overlooking the Arno.

What I liked most

General service
Location
Internet and wifi
Breakfast
Local knowledge and experiences

Nice location and service

Stay date: July 2014

My Trip Type:

Business

I enjoyed a short stay over the weekend in Lungarno Hotel. Perfect location in a center of the city. Great view over river Arno (book rooms facing Arno!!!). Rooms are clean and comfortable. Personnel is very kind. Good breakfast and restaurant.

Top tip for other guests:

Book rooms with a view over Arno river!

What I liked most

Breakfast
Welcome and departure
General service
Location

Welcome respite on Oltrarno

Stay date: June 2014

My Trip Type:

Couple

We were pleased with our room overlooking the Arno with a small terrace. The concierge and staff were very accommodating. The location is ideal--on the other side of the Arno River, away from the madding crowd. The decor of the hotel and room was elegant and understated. The feel was just right--very comfortable and lovely. We will return.

Top tip for other guests:

A gem within one of our favorite cities

What I liked most

General service
Internet and wifi
Welcome and departure
Location
Guestroom and bathroom

Great location but with a few misses

Stay date: June 2014

My Trip Type:

Couple

As always a great experience to stay here. However for the first time they did have a few misses e.g. The pre-ordered wine was not in the room on arrival (but the flowers were) and we waited 4 hours for our scooter which only arrived the next day. A bit more stringent follow up on these little things should have been done by the hotel.

Top tip for other guests:

Either get a room with a river view or go for the cheaper rooms in the old tower.

What I liked most

What I might improve

Internet and wifi
General service

Friendly service in a great location

Stay date: May 2014

My Trip Type:

Couple

Top tip for other guests:

Great location and very good breakfast

What I liked most

Location
Breakfast
Restaurant and dining

What I might improve

Guestroom and bathroom
Internet and wifi

Stay date: May 2014

My Trip Type:

Couple

Absolutely superior service. When the complimentary upgrade was not available, the manager promptly offered a breakfast buffet to compensate. Perfect location close to all sites, a must stay in Florence!

Top tip for other guests:

Excellent complimentary wifi

What I liked most

Location
Leisure facilities
Welcome and departure
Room service
Breakfast
General service
Local knowledge and experiences
Internet and wifi
Guestroom and bathroom
Restaurant and dining

Great location. Good service.

Stay date: April 2014

My Trip Type:

Couple

Staff of the reception were excellent. Great location. Bar and amenities excellent. Rom and services of the room nedd to be improved.

Top tip for other guests:

Be sure about the type of room you book

What I liked most

Welcome and departure
Location
General service
Local knowledge and experiences

What I might improve

Internet and wifi
Guestroom and bathroom

Stay date: March 2014

My Trip Type:

Couple

How could you want more in Florence? Our sixth floor room had a wonderful balcony overlooking the Arno. Ponte Vecchio to the right and the dome and tower of the Duomo right out in front. Easy walking to all the sights of Florence ... don't miss the Abbazia di San Miniato al Monte which is a twenty minute walk up the hill from the hotel and is not only the most beautiful Romanesque church but has panoramic views over the city. What we loved about the hotel was its understatement. Nothing glitzy or glam about it but just quiet opulence, so comfortable with Jean Cocteau crayons and other original works of art. Great Negronis and staff that remembered your room number after one meeting. The Ferragamo family have created an oasis of calm to come back to after your day's walking around the city. And ... go to Camillo Trattoria just down the street for wonderful Flrorentine food and Castorina for handcrafted wood puttis and gilded pieces. Charlie Morgan

Top tip for other guests:

Go there!

What I liked most

Restaurant and dining
Guestroom and bathroom
Breakfast
Room service
Welcome and departure
Internet and wifi
Local knowledge and experiences
Location
General service

Stay date: February 2014

My Trip Type:

Couple

What a fantastic experience - from the check-in, over the room - what a beautiful room, with a roof terrace overlooking the Arno river and the roof tops of Firenze. At all times great service with a relaxing breakfast and help in all instances required.

Top tip for other guests:

Sit in the nice lounge area with a cold drink in the evening and relax looking at the river

What I liked most

Welcome and departure
General service
Breakfast
Location
Guestroom and bathroom
Local knowledge and experiences

excellent location, wonderful restaurant

Stay date: January 2014

My Trip Type:

Couple

A very warm welcome, just across the Ponte Vecchio bridge - perfect, convenient for everything in Florence and very comfortable. The hotel restaurant is truly excellent, it deserves at least a Michelin star. All the staff are very friendly and exceptionally helpful, even when assisting with an unfortunate incident outside of the hotel. Truly worth a stay.

Top tip for other guests:

Try t get a room overlooking the river Arno - it's worth it.

What I liked most

Welcome and departure
General service
Restaurant and dining
Local knowledge and experiences
Breakfast
Location

Wonderful rroom with a view

Stay date: January 2014

My Trip Type:

Couple

We had a lovely 6 night stay at the Hotel Lungarno. The location is perfect - just outside the tourist areas but only a few minutes walk to everything. We also found that being on the other side of the Arno was excellent in the evening for eating and drinking at local places. The front desk and bar staff were all wonderful and really made you feel very welcome. They were also very helpful with making reservations for dinner or the galleries. We were lucky enough to be upgraded to a room on the 7th floor with a magnificent view of the Duomo,. The rooms were well appointed and quite comfortable with a nice big bathroom. And I was pleased that they didn't have the heating turned up too high (which most European hotels seem to do in the winter). The only two minor areas for improvement would be better wifi in the rooms (as on a couple of occasions it just dropped out) and on a couple of days the housekeeping service missed a couple of things (not replacing empty items in the bathroom / used wine glasses). Overall, however, I would happily stay here again and would certainly recommend the Hotel to anyone travelling to Florence.

Top tip for other guests:

Eat at one of the many Trattorias near the hotel.

What I liked most

General service
Guestroom and bathroom
Location
Welcome and departure

What I might improve

General service
Internet and wifi

Friendly service in a great location

Stay date: January 2014

My Trip Type:

Family

Top tip for other guests:

Friendly service in a great location

What I liked most

General service
Location
Restaurant and dining
Local knowledge and experiences

Friendly service in a great location

Stay date: November 2013

My Trip Type:

Couple

A very friendly hotel in the city centre of Florence overlooking the river Arno. The deluxe room that we had was located on the third floor and had views of the river. The room was good as a deluxe but could do with some modernisation very soon. The room was also not very well sound proofed with the adjoining room, particularly the bathroom. The breakfast was excellent offering a plentiful range of bread, jam, cooked foods etc. The staff were very helpful and friendly.

Top tip for other guests:

Take advantage of the tremendous location.

What I liked most

Welcome and departure
Location
Breakfast
Internet and wifi
Local knowledge and experiences
General service

What I might improve

Guestroom and bathroom
Leisure facilities

Stay date: October 2013

My Trip Type:

Couple

Comfortable with great location for all the sights.

Top tip for other guests:

River view rooms are best

What I liked most

Local knowledge and experiences
Guestroom and bathroom
Welcome and departure
Location

What I might improve

Breakfast
Internet and wifi

Amazing location, excellent service

Stay date: September 2013

My Trip Type:

Couple

The hotel is elegant, classy and clean. The people are very helpful and their food is great. The location was just in the middle of everywhere. But we arrived late at night and we asked the security to call the luggage man to help us but no one came to the taxi so we had to carry it ourselves.

Top tip for other guests:

Great for honeymooners

What I liked most

Internet and wifi
Location
General service

What I might improve

Fantastic location with friendly staff

Stay date: August 2013

My Trip Type:

Couple

Stayed here for 3 nights. The hotel is in an excellent position for seeing the sights of Florence . The hotel staff were very friendly and extremely helpful. Our room was very comfortable though the bathroom was a little dated. Breakfast was very good with the restaurant overlooking the river.

Top tip for other guests:

Get a 'Florence Card' for 72 Euro's - this 72 hour pass gets you into all the major museums. Have lunch at i Toscani which is 5 min (turn right to end of road then left) from the hotel

What I liked most

Internet and wifi
Location
Local knowledge and experiences
Welcome and departure
General service

What I might improve

Excellent service in a great location

Stay date: August 2013

My Trip Type:

Family

The service at the Hotel Lungarno was excellent. Every person from the front desk to the service staff were very friendly and helpful. The front desk personal made great recommendations for restaurants, shops and things to do and see. They made you feel like you were a valued guest each and every time you talked with they! Keep up the great work!

Top tip for other guests:

Listen to the restaurant suggestions -great!

What I liked most

General service
Local knowledge and experiences
Location
Breakfast

What I might improve

Stay date: July 2013

My Trip Type:

Business

No real advantage for slh member

Top tip for other guests:

5 stars

What I liked most

Welcome and departure
Breakfast
Location
General service

What I might improve

Stay date: May 2013

My Trip Type:

Couple

The service was excellent, friendly and professional and very accommodating . The room was well appointed and spacious enough for both my wife and myself to enjoy. I especially enjoyed the public space which felt like I was sitting in my own living room. Will be my home away from on mynfuturevstays in Firnenze

Top tip for other guests:

Enjoy

What I liked most

Welcome and departure
Local knowledge and experiences
Location
Guestroom and bathroom
Internet and wifi
Breakfast
Leisure facilities
General service
Restaurant and dining

Stay date: April 2013

My Trip Type:

Couple

We loved this hotel. It's in the perfect location....close enough to walk to any of the key Florence sites. We booked a Deluxe Arno River view room, and were upgraded to a larger river view room with two french balconies overlooking the Ponte Vecchio. The service was outstanding and the breakfast buffet was wonderful. We particularly liked Daniel and Samuel who ensured our cocktails were made perfectly...and served with a smile.

Top tip for other guests:

Go for the river view ...it's worth it !

What I liked most

Restaurant and dining
Guestroom and bathroom
Location
Welcome and departure
Breakfast
General service

Boutique Hotel in a great location

Stay date: April 2013

My Trip Type:

Couple

The Lungarno is situated in an excellent position to visit all parts of the main city of Florence. On arrival you immediately feel you have arrived in an upmarket home, very warm and welcoming . The lounge/bar area is relaxing and elegant, great cocktails with a special view of the Ponte Vecchio. We had a classic room, large and comfortable. The street noise would not suit all clients but we were out and about so often it didnt matter. I did see a room facing onto the Arno and again the view was special, but we were more than happy with our classic room. I will definitely stay here again.

Top tip for other guests:

Classic Room is great for size but check out all the options on the net. if a view is important, email the hotel to be specific on your requests.

What I liked most

Welcome and departure
General service
Room service
Guestroom and bathroom
Internet and wifi
Breakfast
Local knowledge and experiences
Location