https://origin.slh.com/hotels/lydmar-hotel/
Hotel Highlights
Boutique hotel surrounded by water with a fresh, welcoming atmosphere
Every room has its own character, with touches like Italian linens, luxury bathrobes and separate lounge areas
Staff know the city inside-out, helping guests discover hidden gems
Lydmar Hotel - Luxury Hotel in Stockholm
On the waterfront, in the very heart of Stockholm
A unique and surprising boutique hotel run by a team that is both personal and professional. Lydmar Hotel is a second generation lifestyle hotel that offers a wonderfully relaxed and fun ambience. Expect exceptional comfort in individually designed rooms with great waterfront and old town views. Enjoy the inspiring in-house art collection and great food in one of the most popular restaurants in Stockholm.
Lydmar Hotel has a calm and friendly atmosphere. The rooms are generous in size with a comfortable seating area and views overlooking the sea, the Royal Palace, Nybroviken and Strandvägen. The design is modern with classic touches and interesting works of art on the walls as well as unique art pieces in the rooms. Enjoy lunch at the terrace or drinks on the patio in the summer months, before heading into the city.
Composed of 14 islands, Stockholm is best seen from the water. Take the early morning boat tour that leaves from Strömkajen and explore the archipelago. Wander through the small winding streets of Gamla stan filled with art galleries, cafés and antique shops. Visit the Royal Palace, Storkyrkan and on your way back to the hotel, head to the neighbouring National Museum, Sweden's leading centre of art and design.
46

rooms

1

restaurant

5

floors
The rooms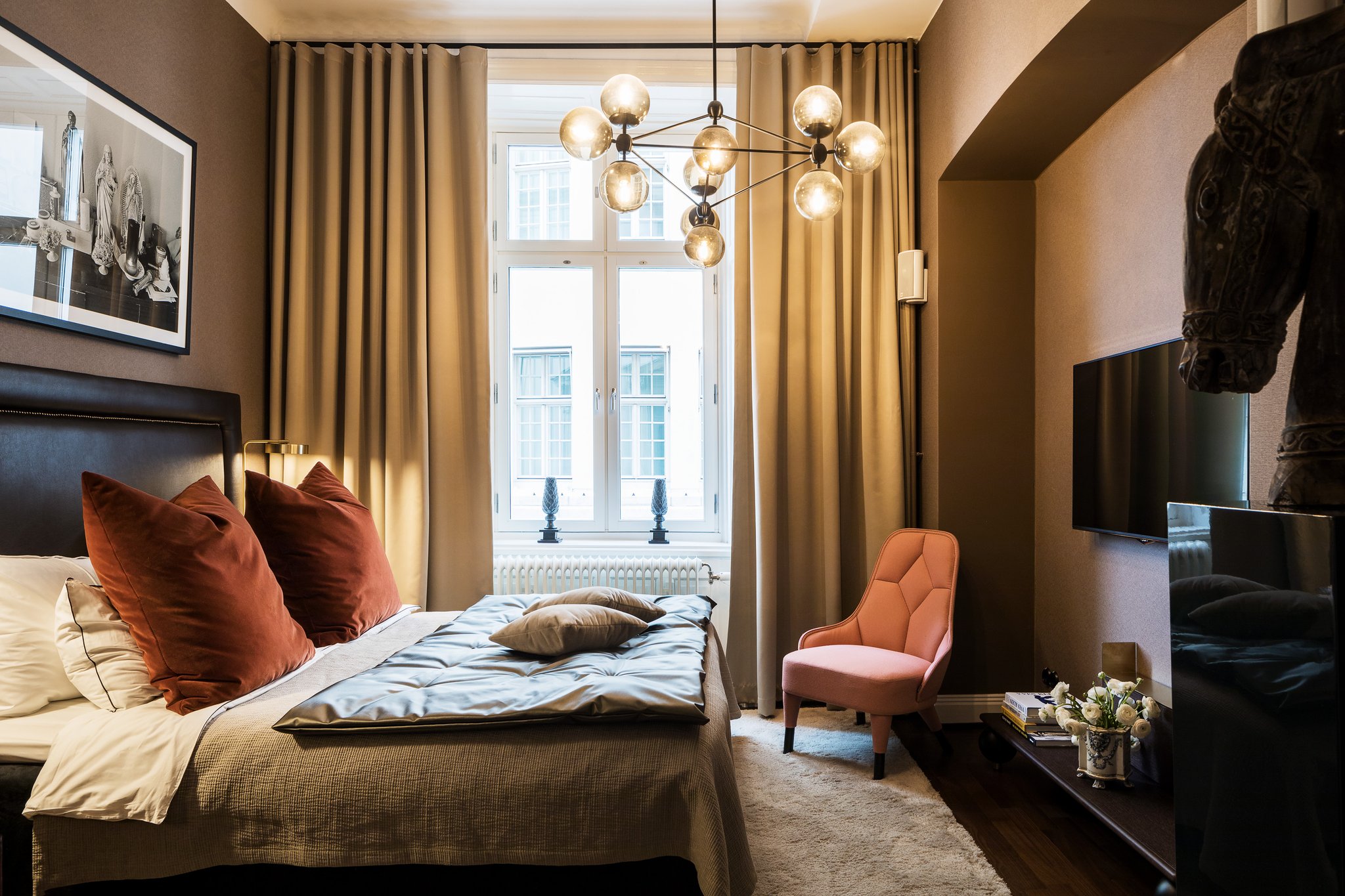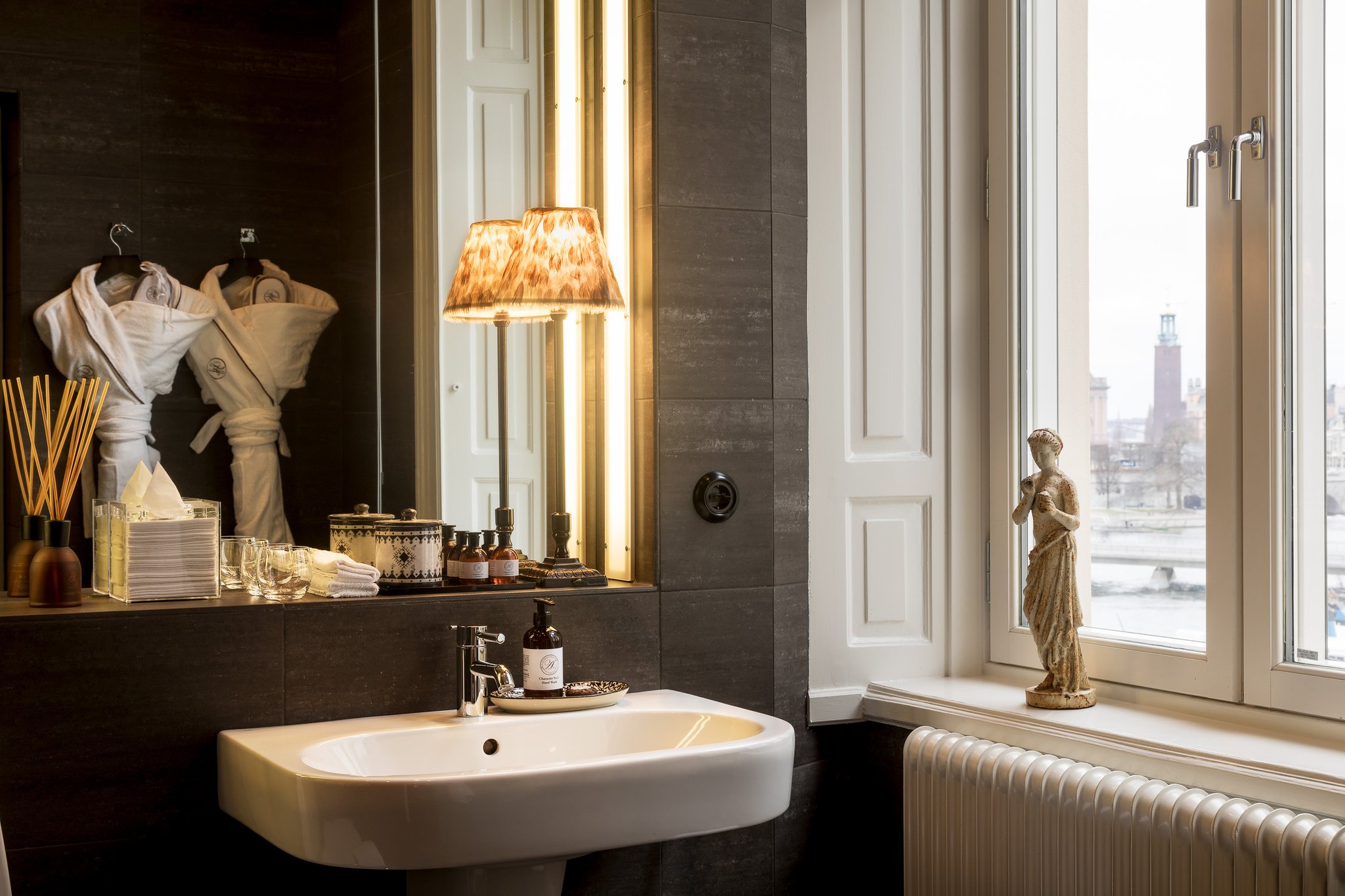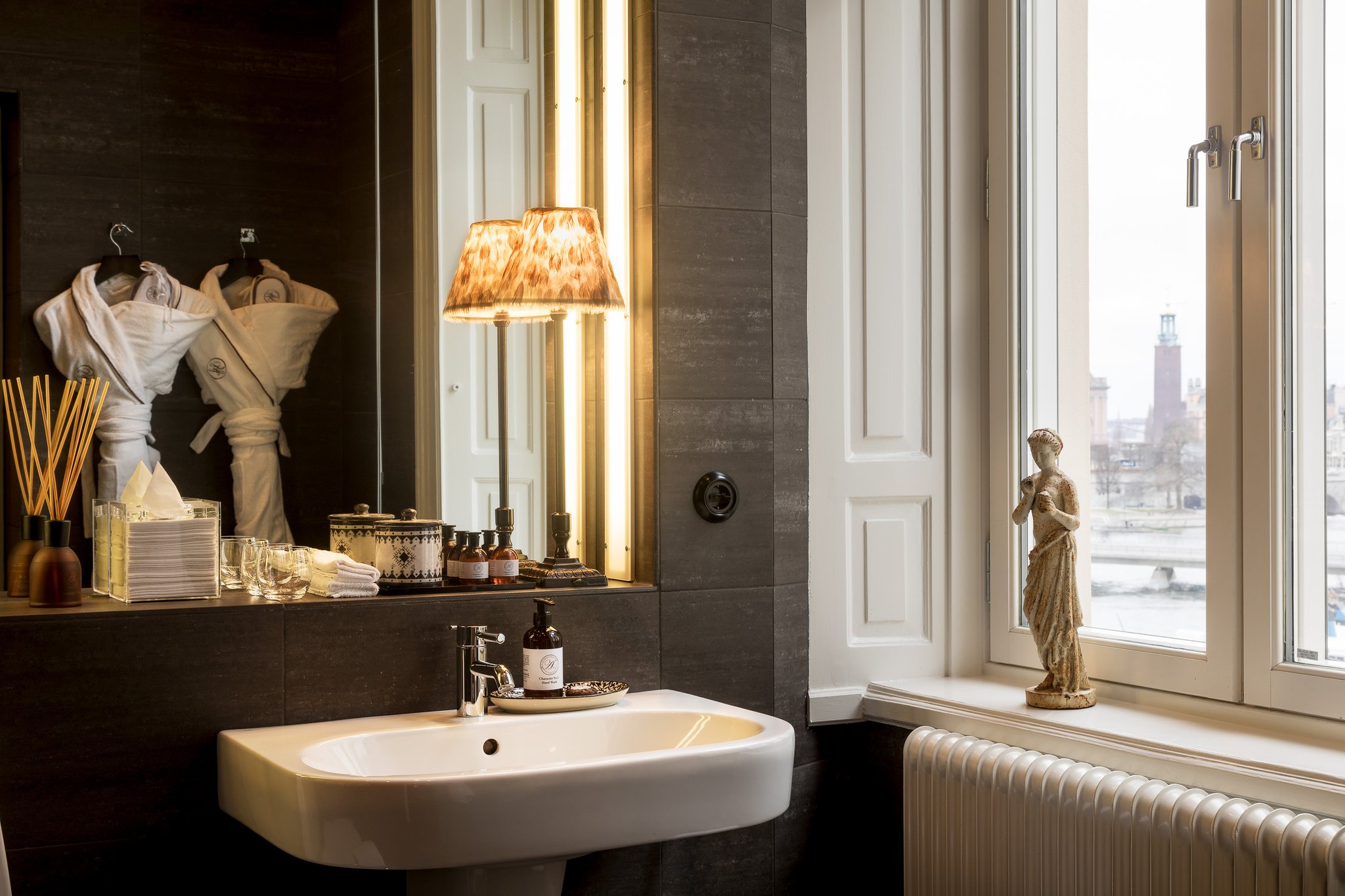 Classic Room
Sleeps: 2 People.
Our Classic Rooms have a King size bed, street view and complimentary WiFi. Size is approximately 20-25 square meters.
From per night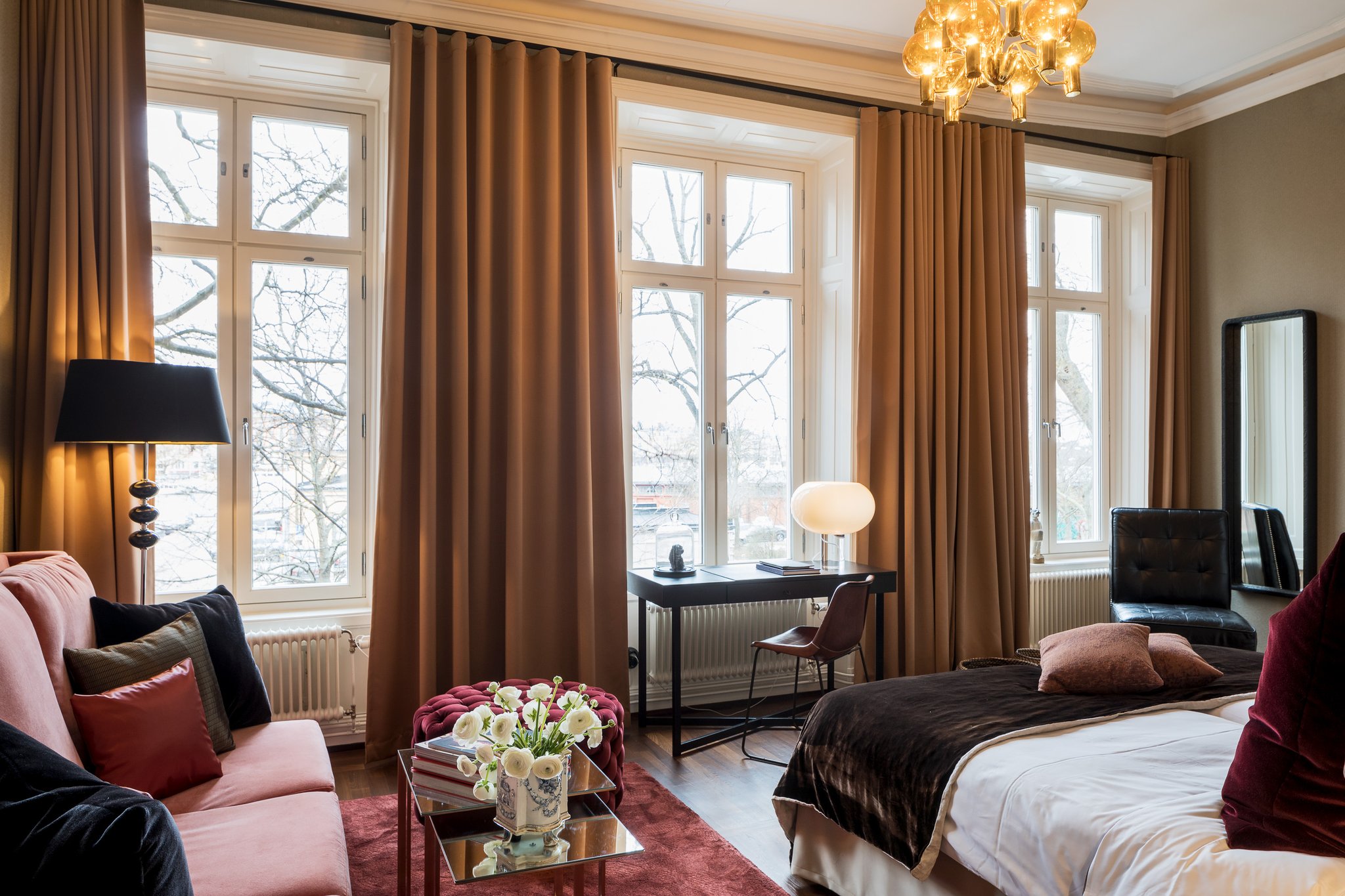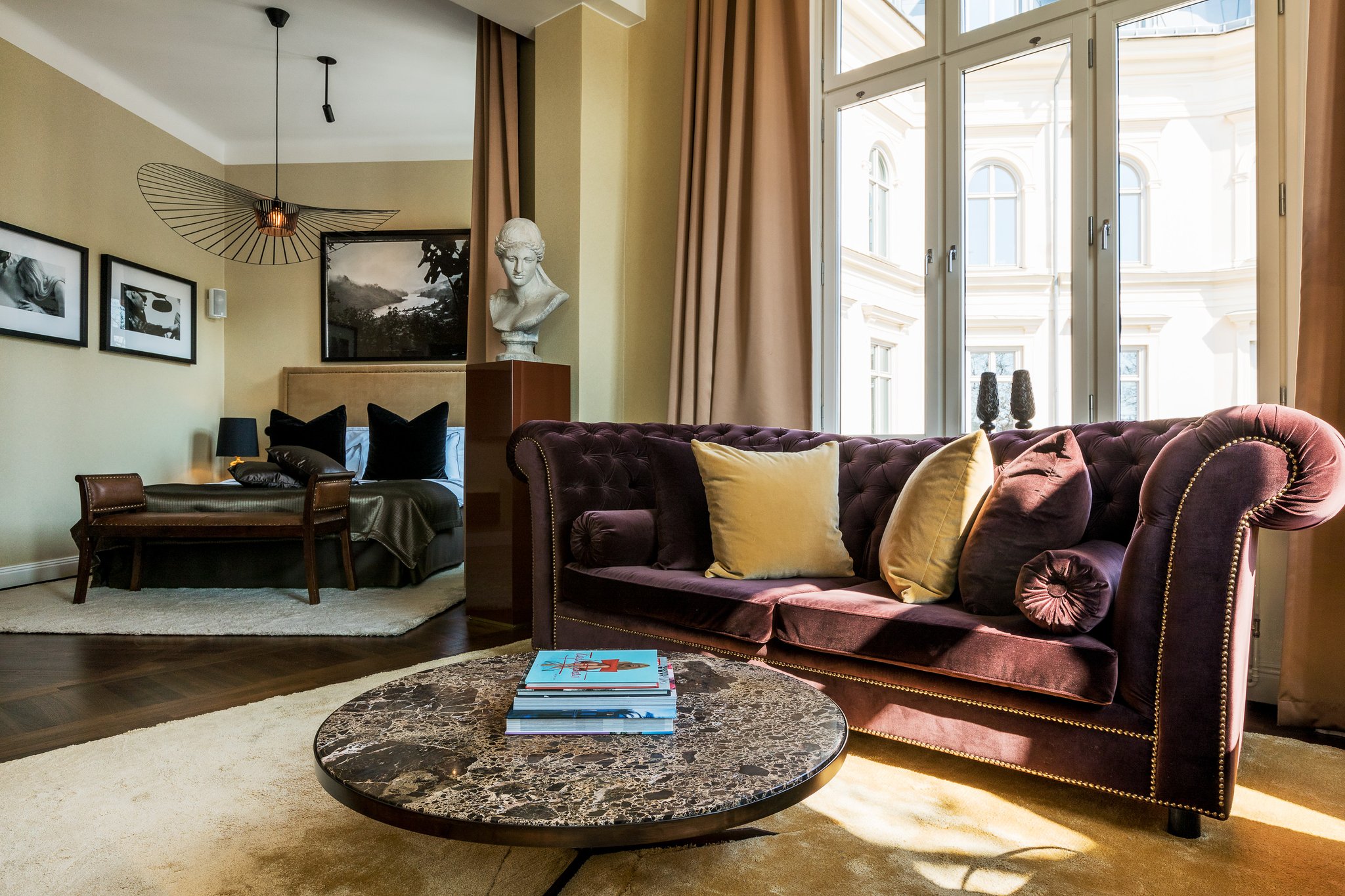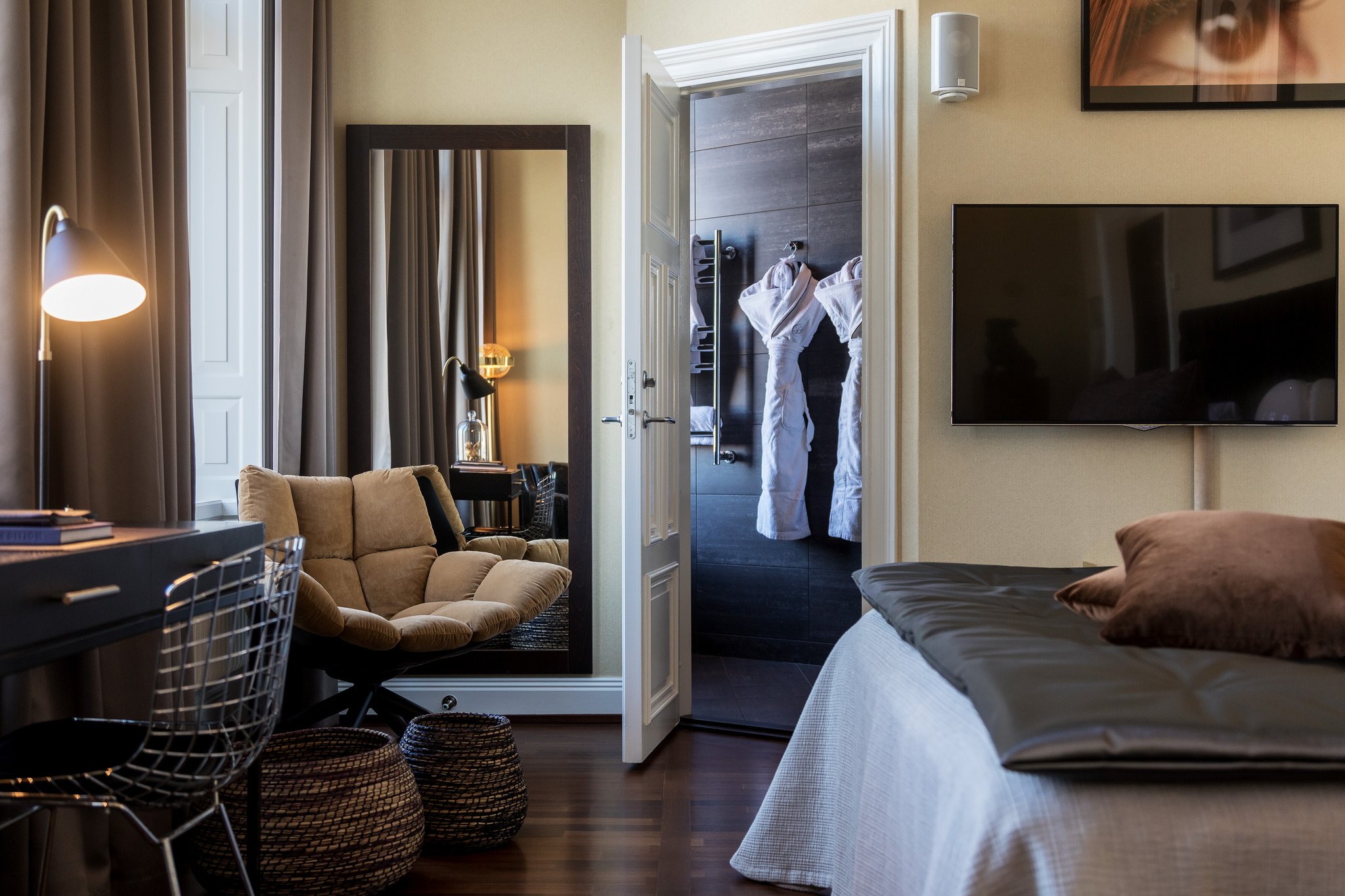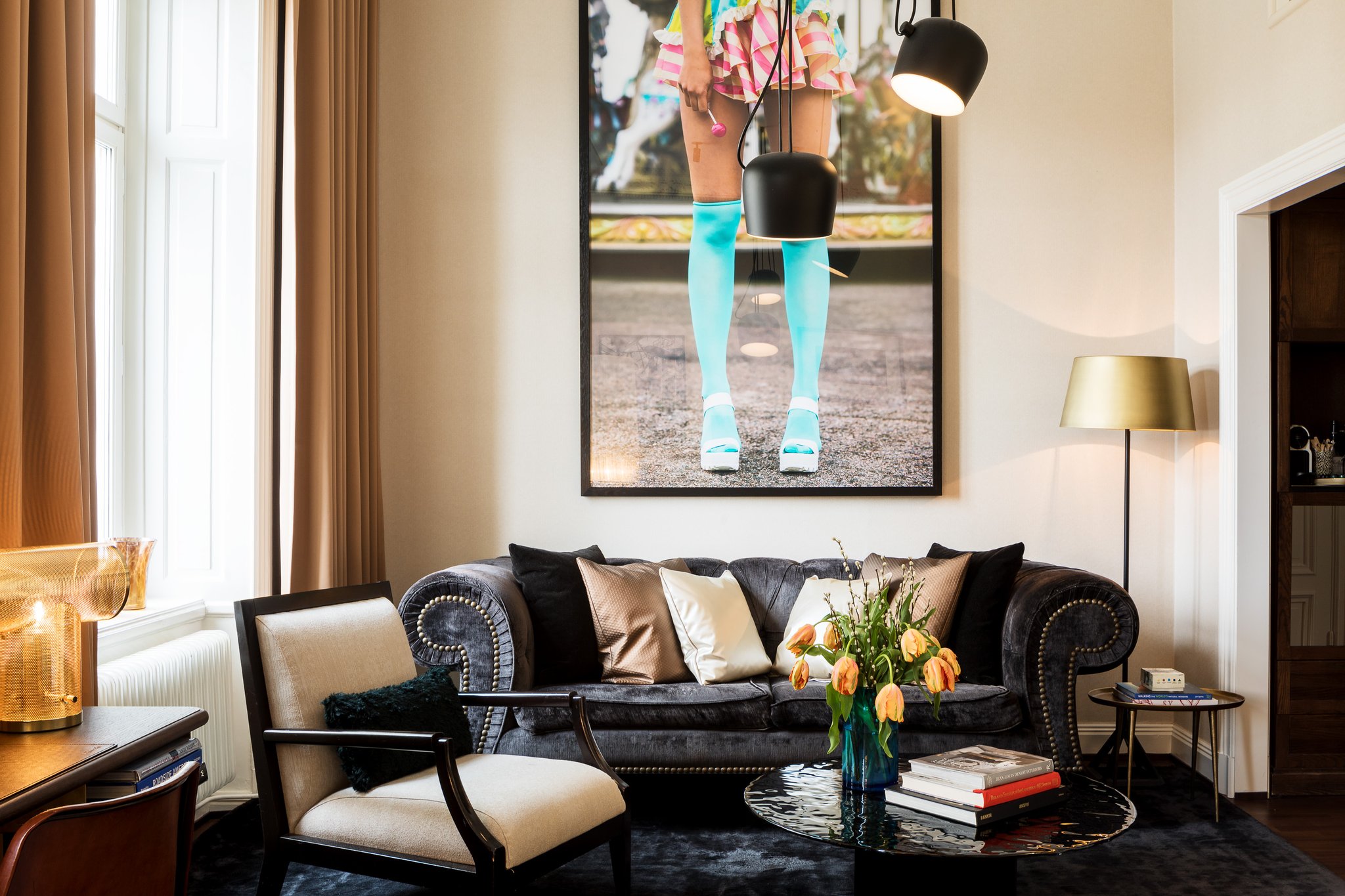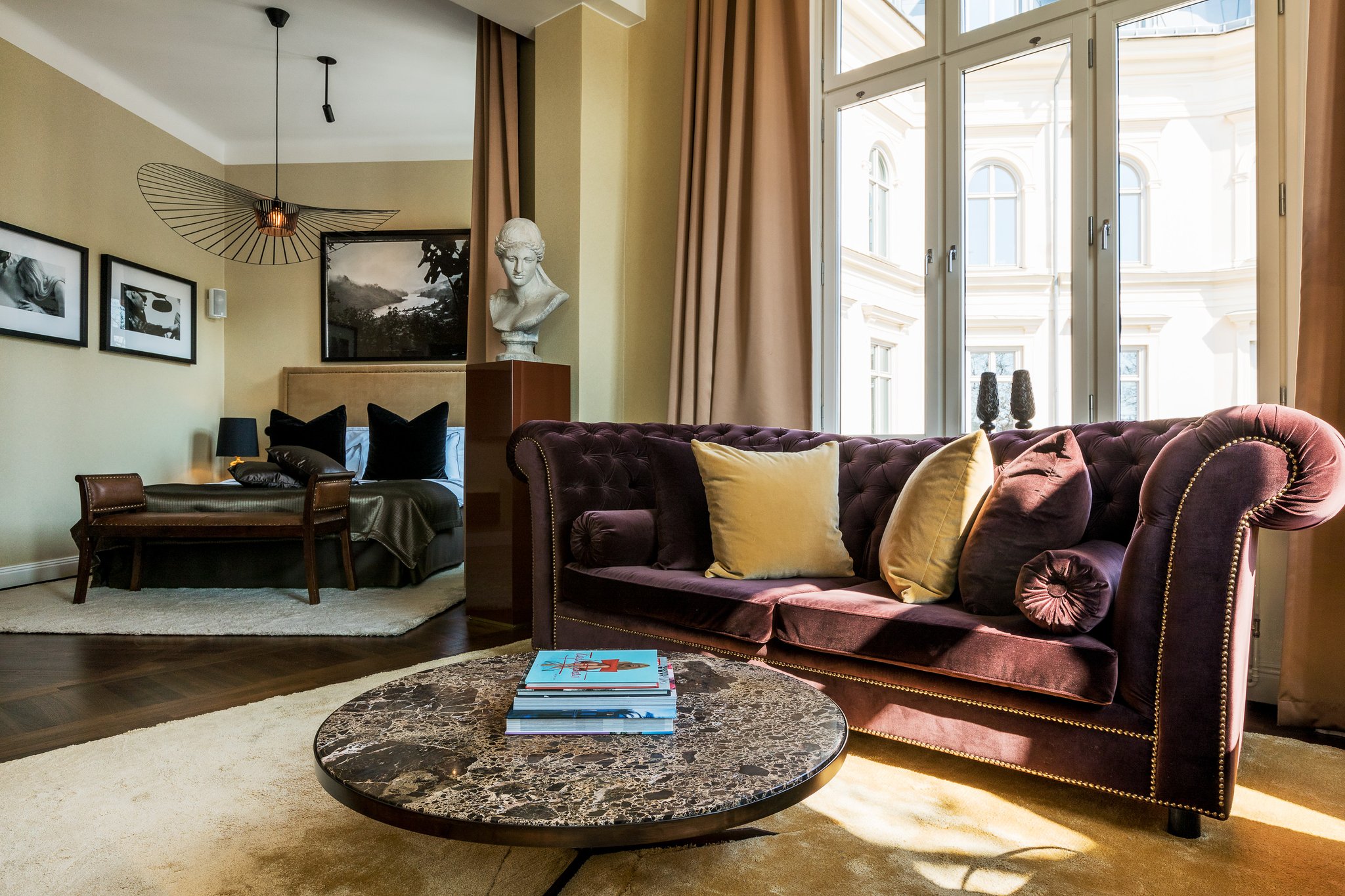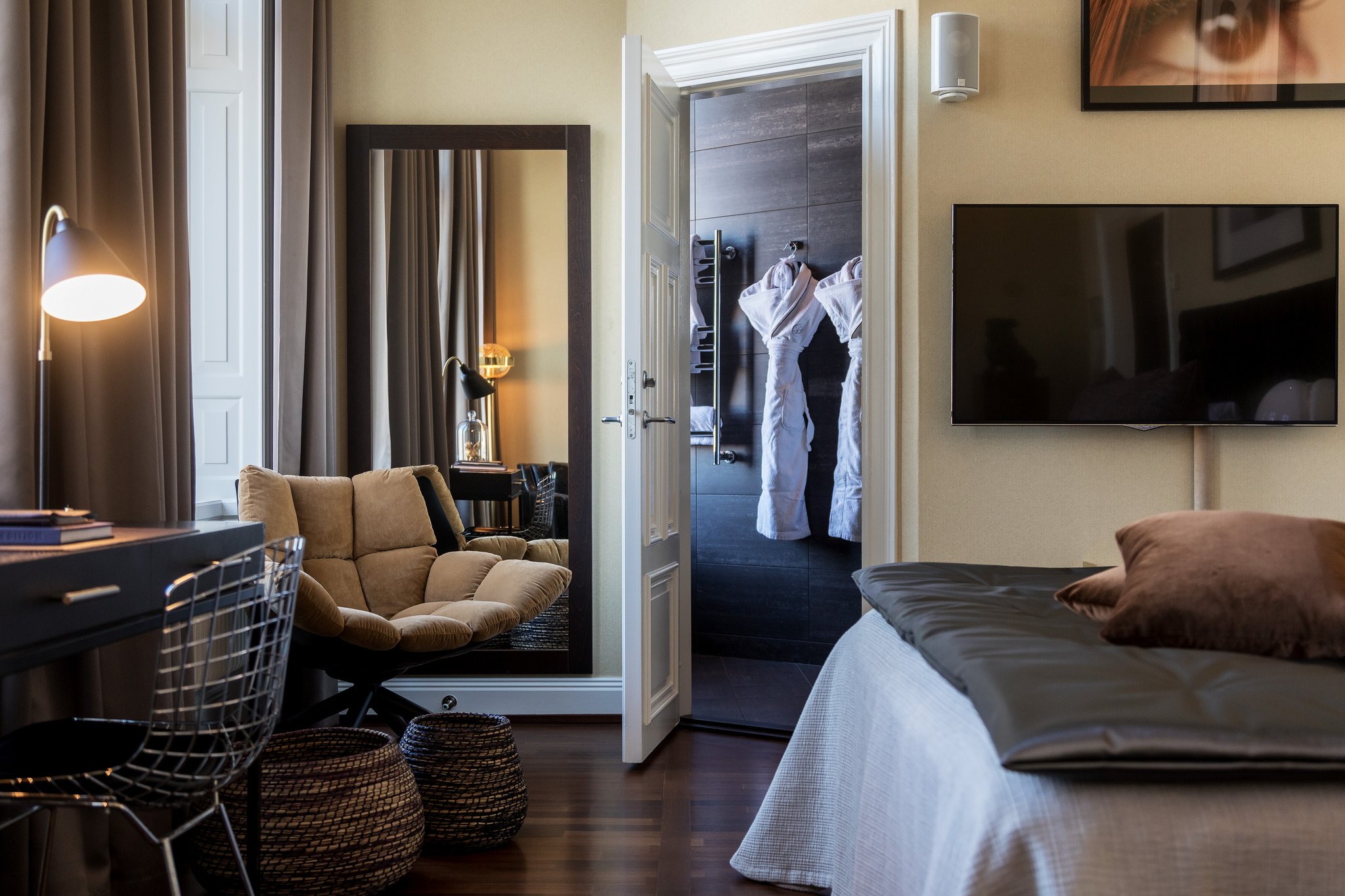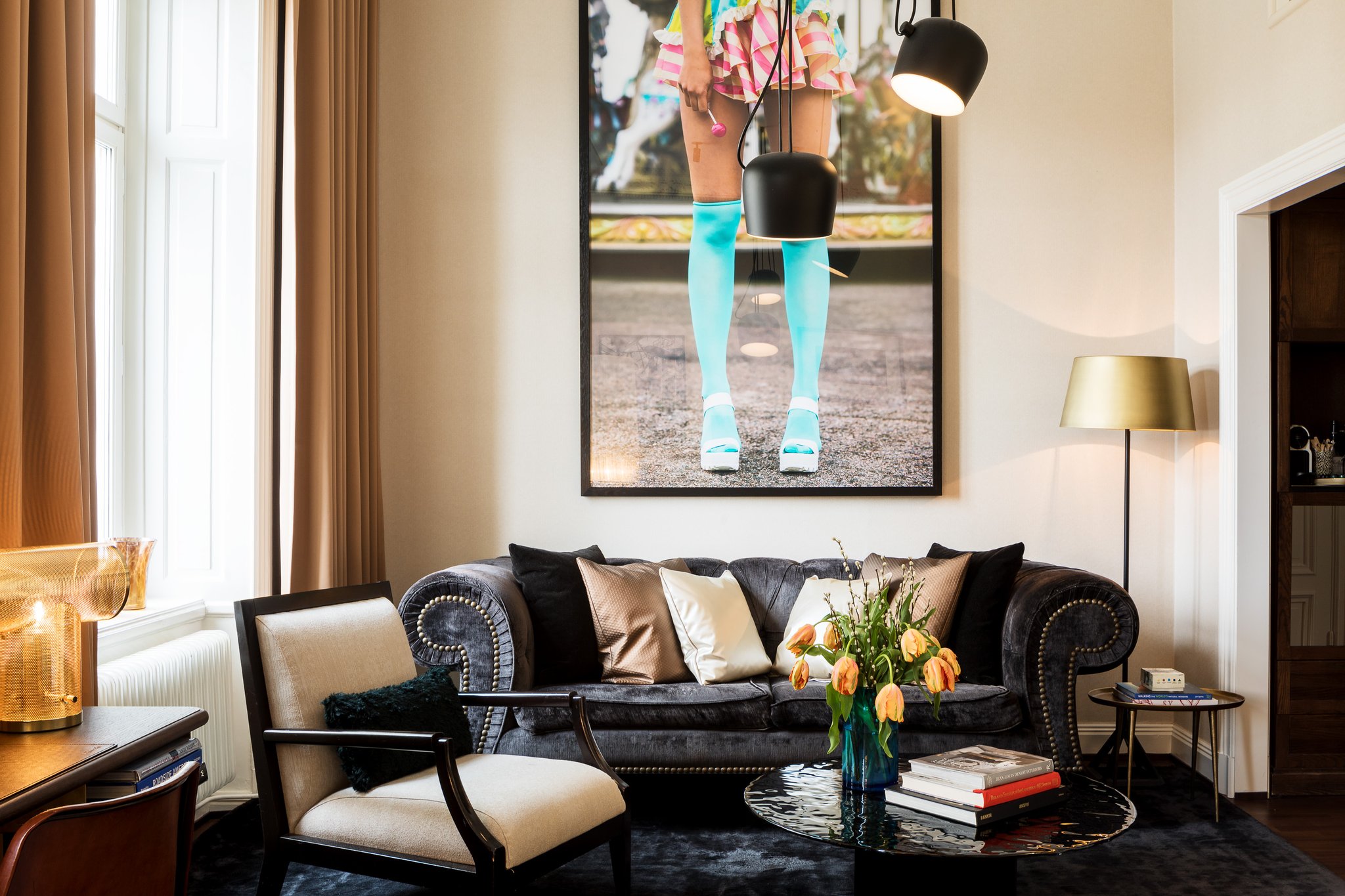 Medium Room
Sleeps: 3 People.
Our Medium Rooms have King size bed, park, street or water view and a seating area.Size between 25 to 35 square meters.
From per night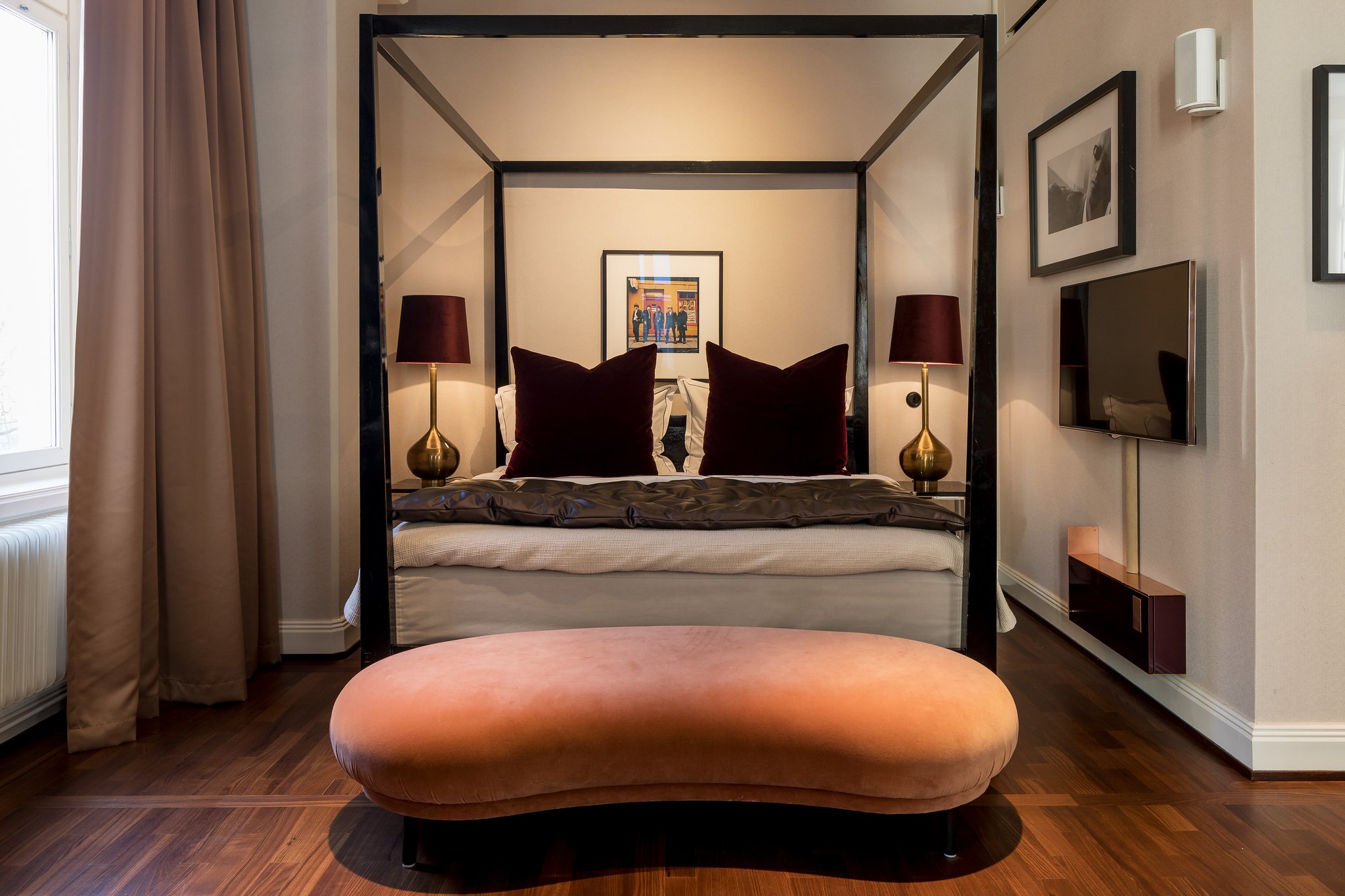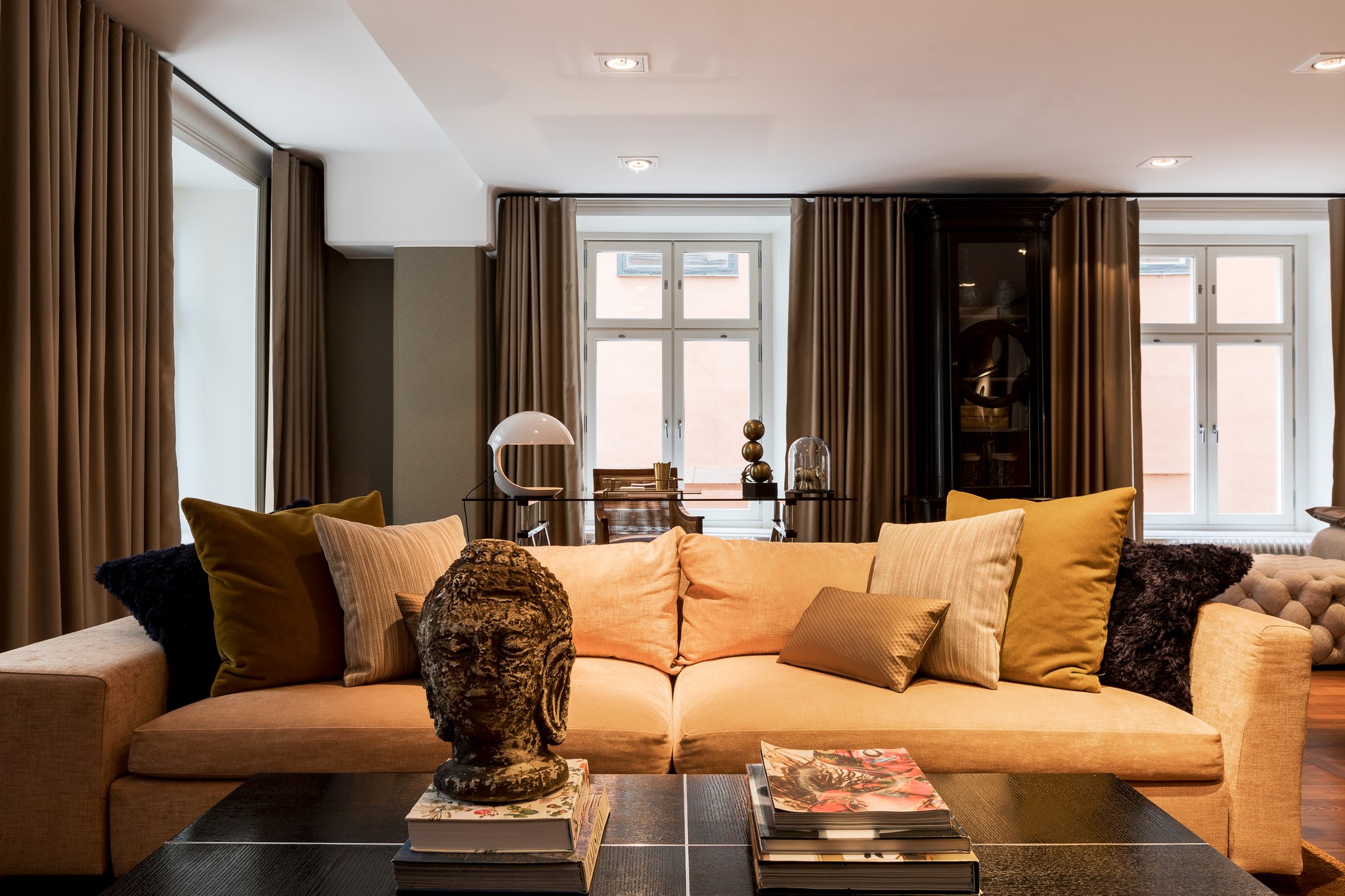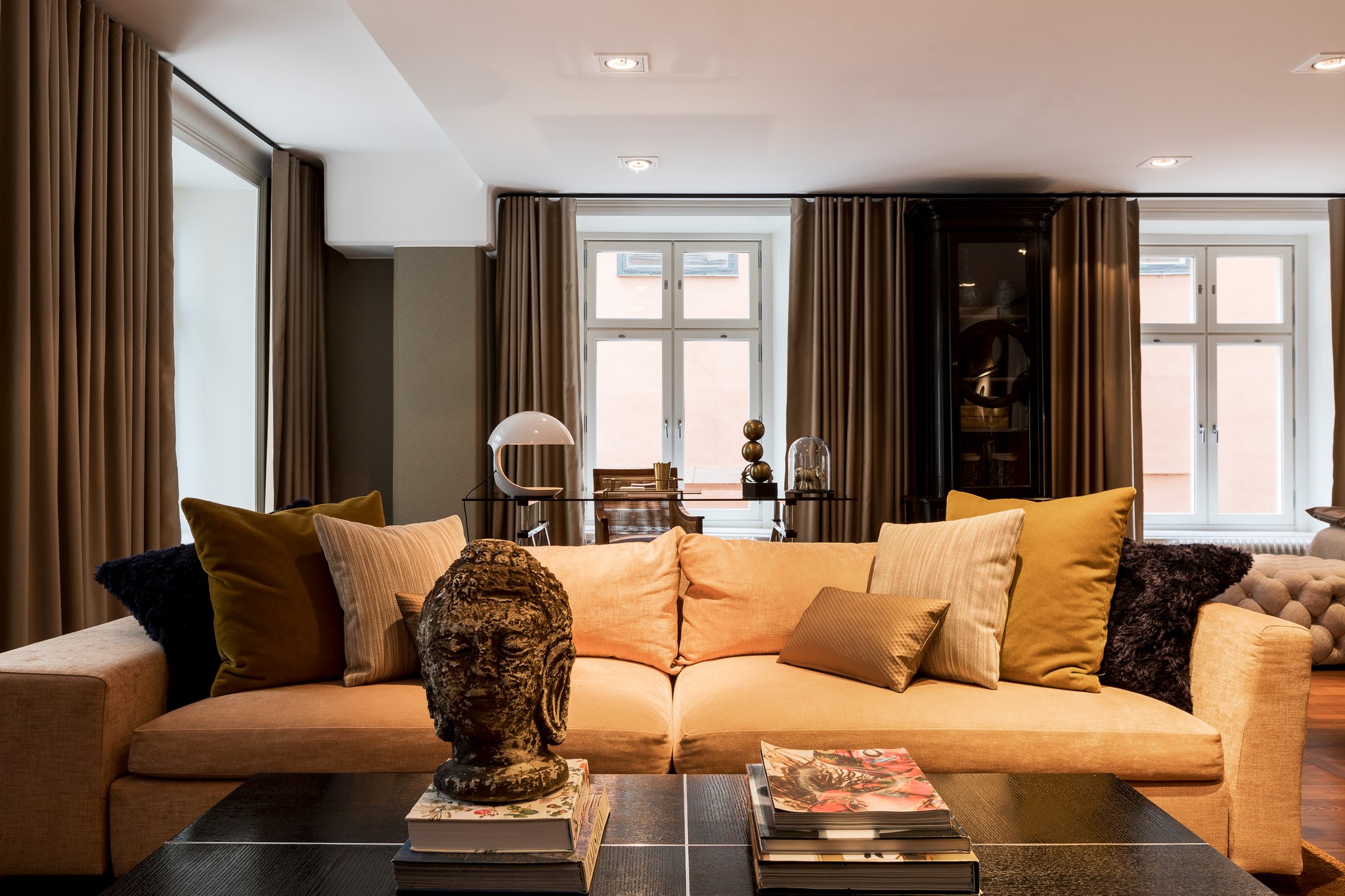 Large Street Room
Sleeps: 3 People.
Large Street Rooms with king size bed, street view. Open planned with a large seating area, working desk, bathroom with bathtub. Complimentary WiFi.55 square meters.
From per night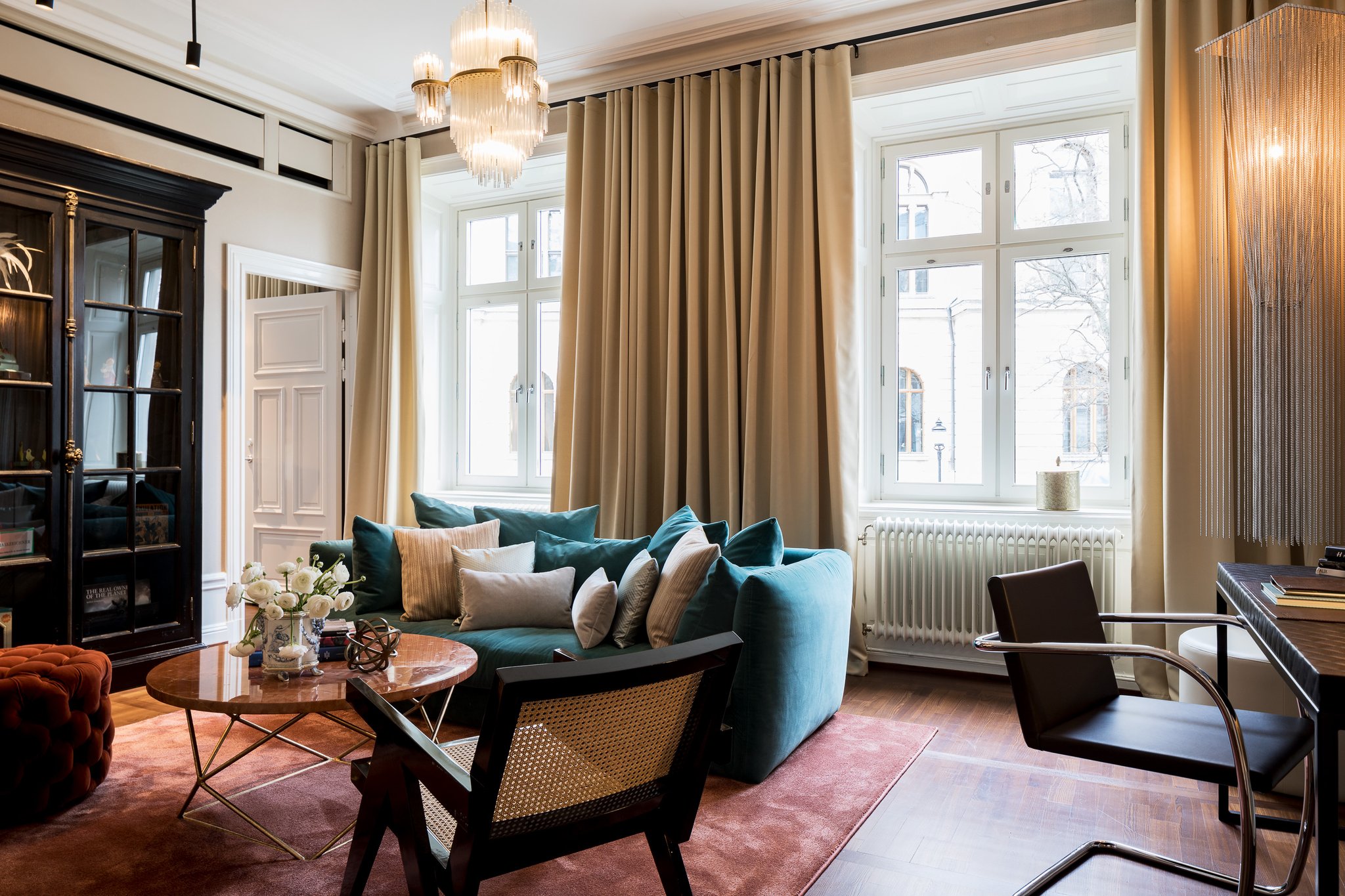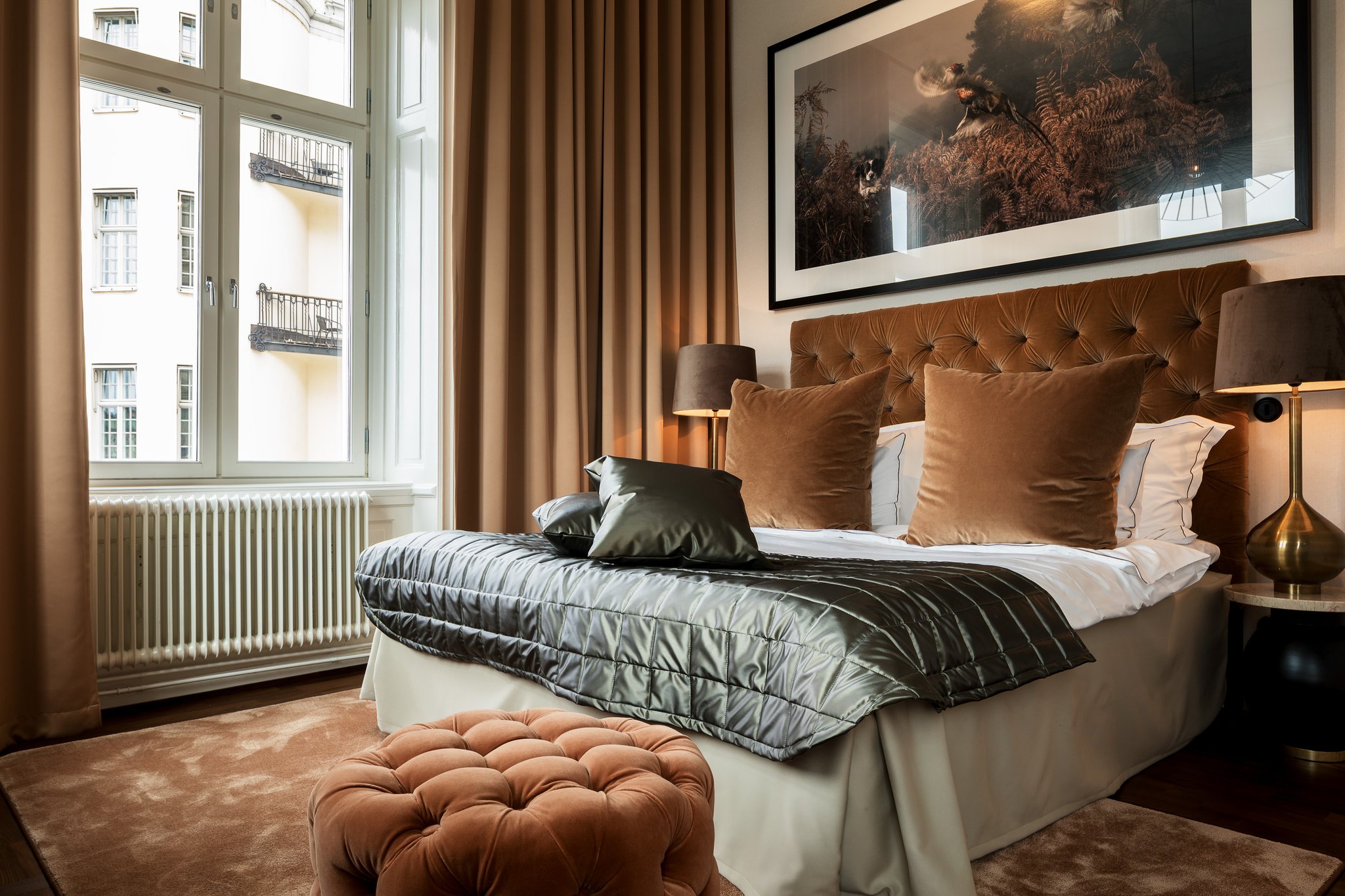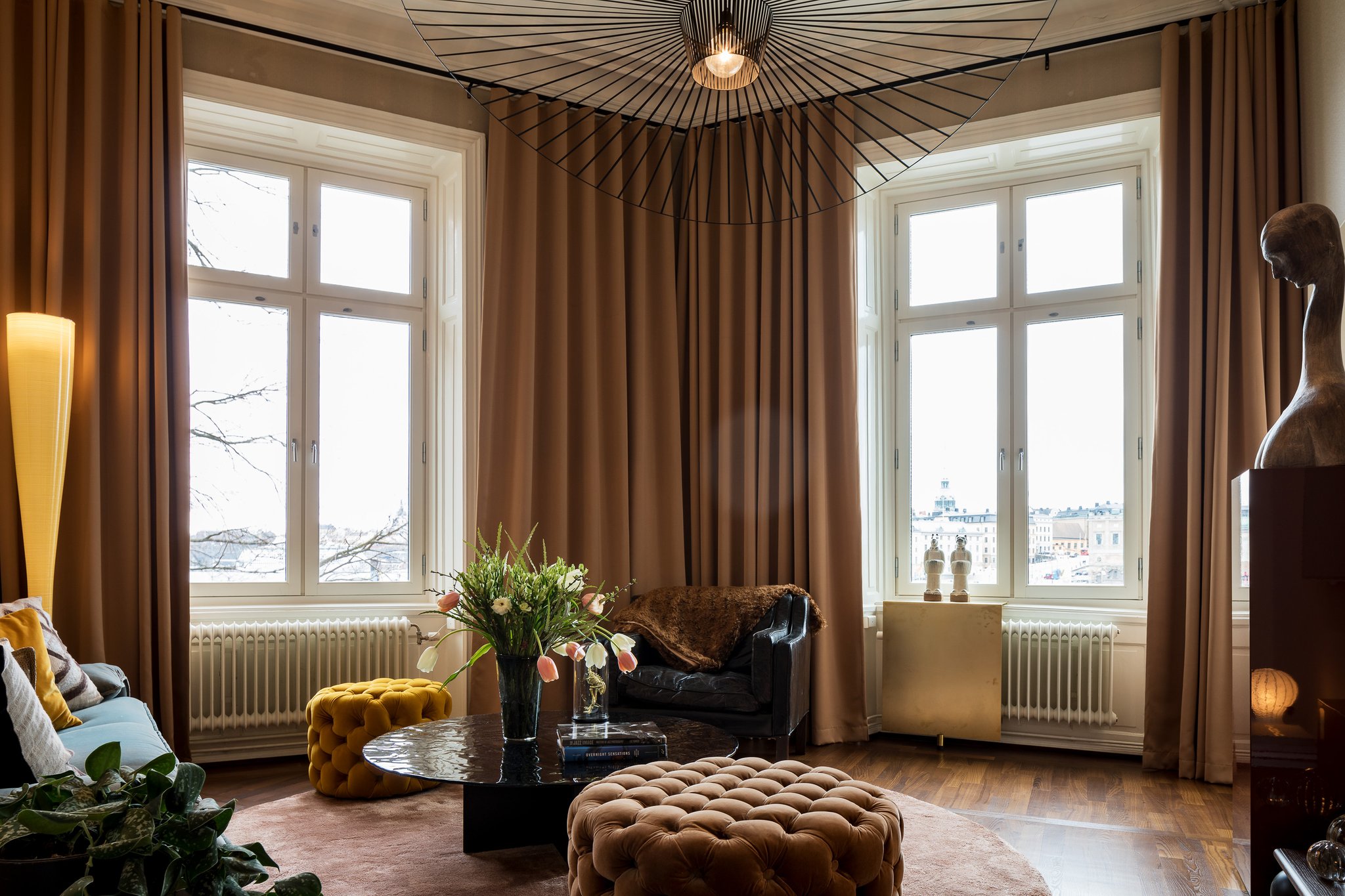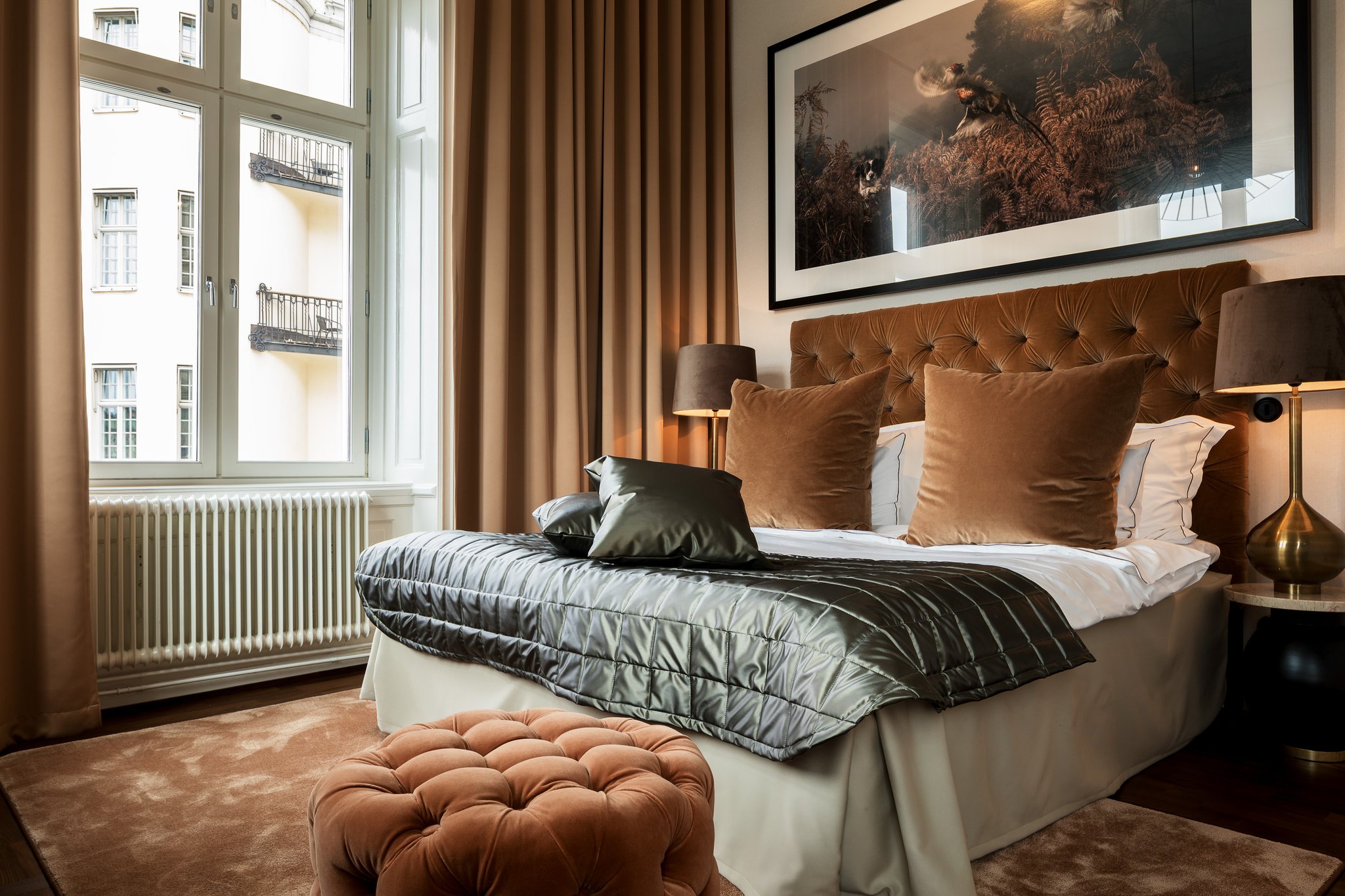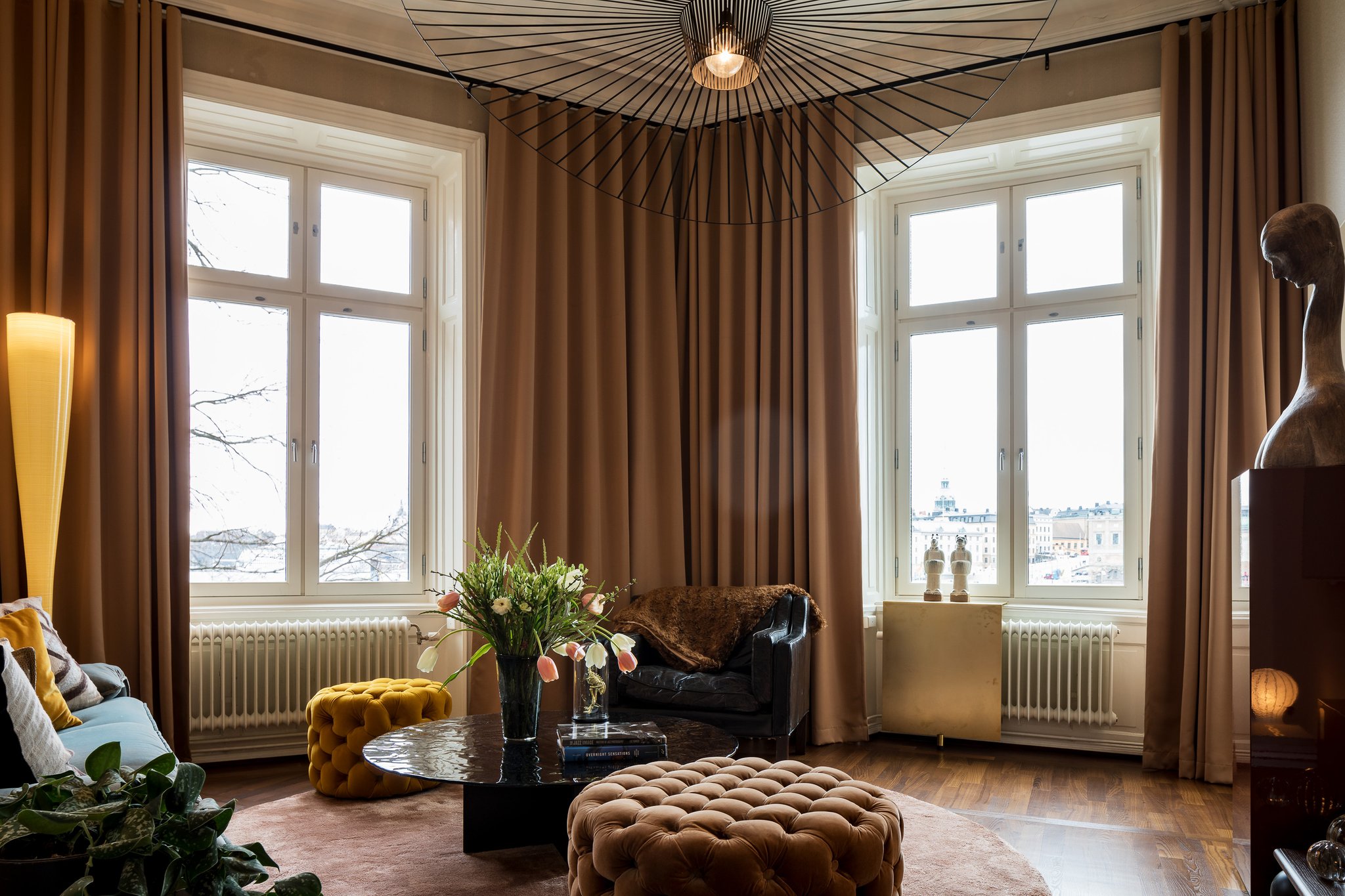 Large King Room
Sleeps: 3 People.
Our Large King Rooms have a King size bed and a separate living room with a seating area, complimentary WiFi and park or water view. Approximately 50 square meters.

The bathroom is connected to the bedroom and there is also a guest toilette by the living room.
From per night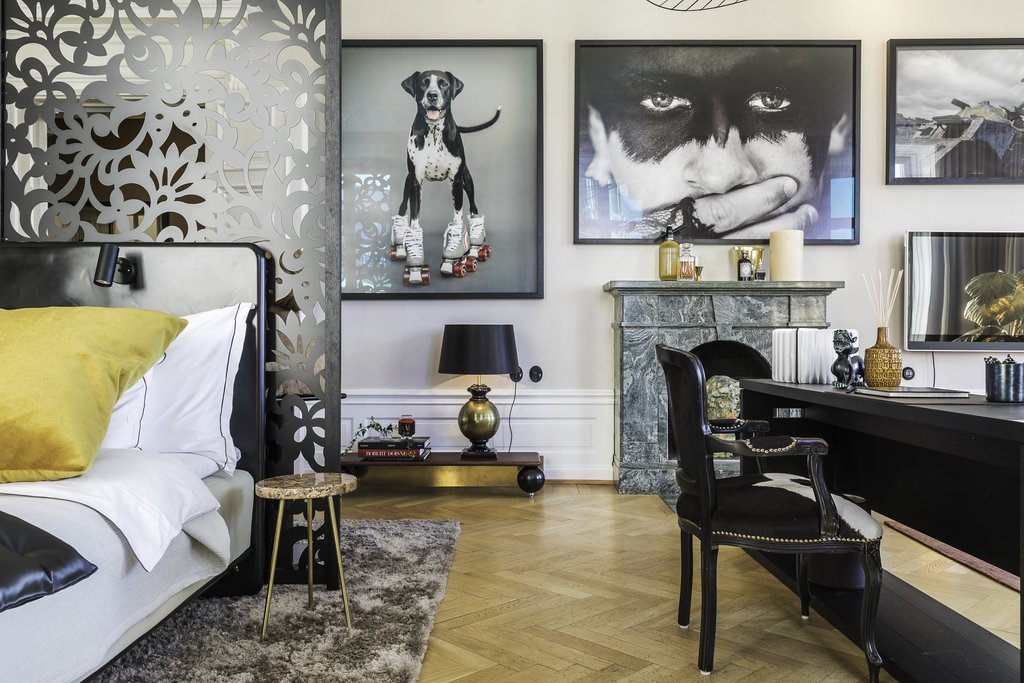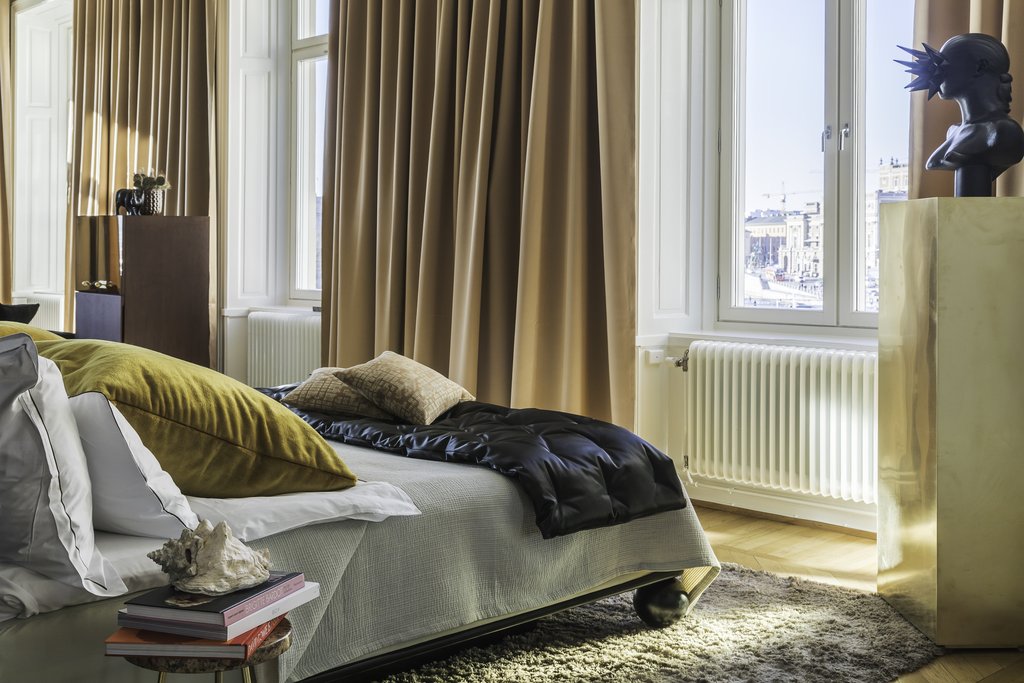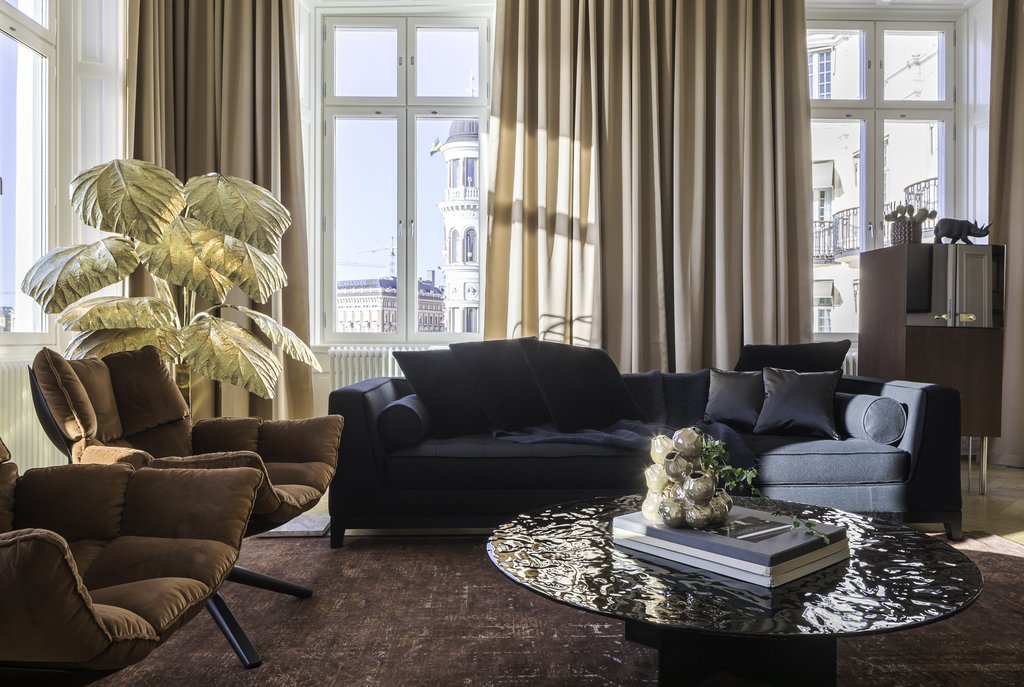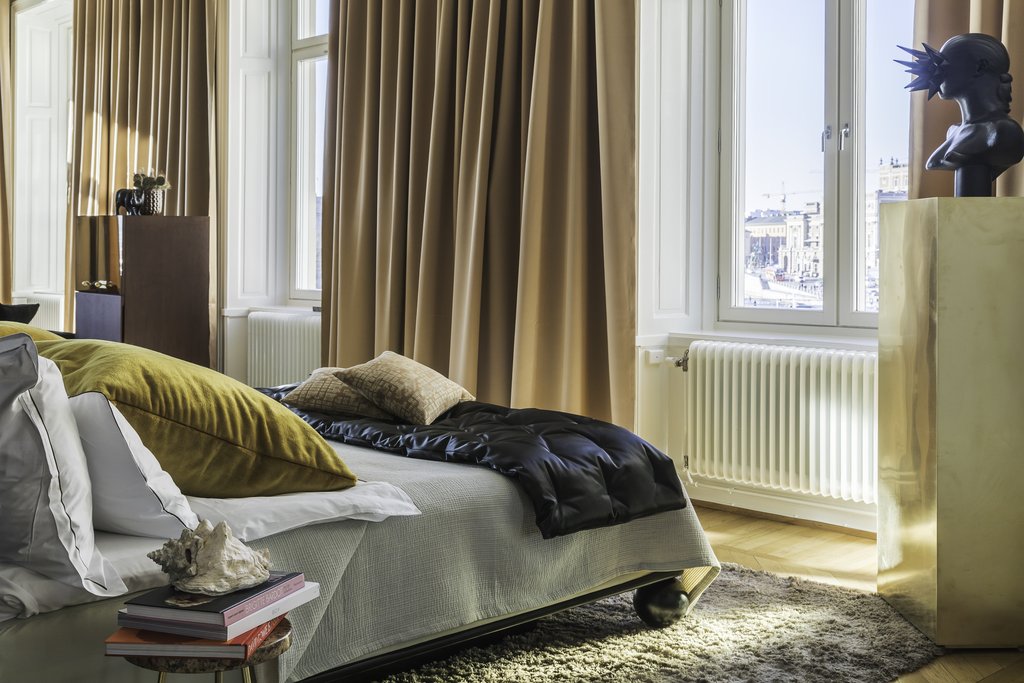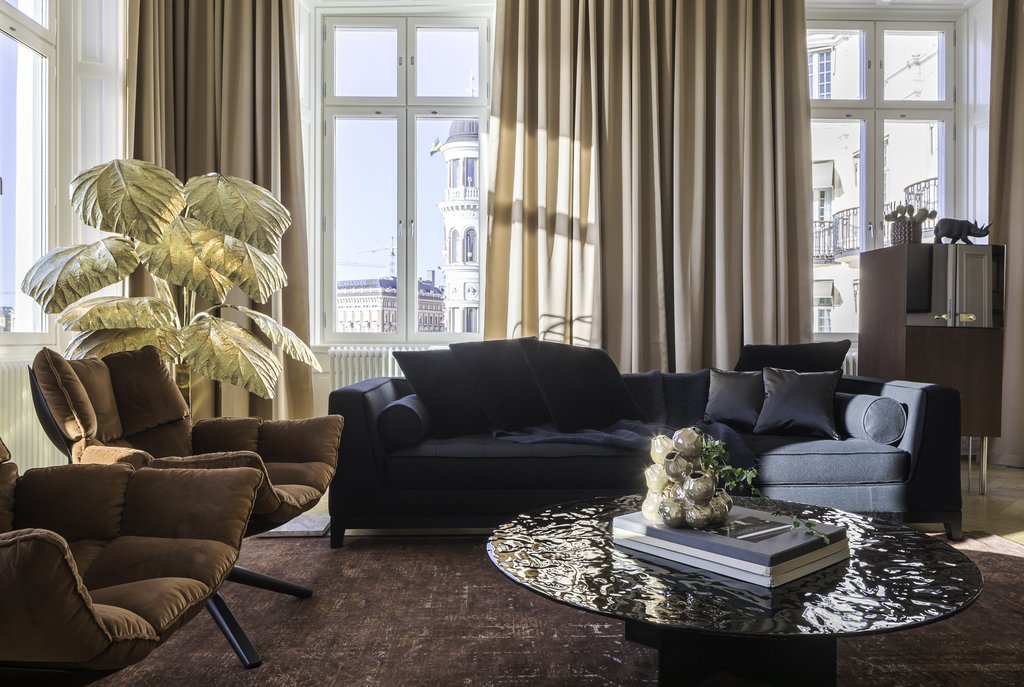 Extra Large Room
Sleeps: 3 People.
Our X-Large has a king size bed, a spacious seating area and a large bathroom with both shower and bathtub and a guest WC. This room has a beautiful view over Stockholm and the Royal Palace.

Complimentary WiFi. Size is approximately 70 square meters.
From per night
Air conditioning
Lounges/bars
Pets allowed
24-hour room service
Join INVITED and get 10% off exclusive rates. Plus early check-in and late check-outs among other benefits.
24-hour front desk

24-hour room service

24-hour security

300 meters away

Accessible facilities

Air conditioning

Buffet breakfast

Business Center

Business Center Services

Child programs

Children welcome

Concierge desk

Currency exchange

Doctor on call

Dry cleaning

Early check-in

Elevators

Family plan

Fax service

Fire safety compliant

Free high speed internet connection

Full service housekeeping

Gift/News stand

High speed internet access for laptop in public areas

High speed internet connection

Hotspots

Housekeeping - daily

Jogging track

Late check out guarantee

Laundry/Valet service

Local calls

Long Distance Access

Lounges/bars

Massage services

Newspaper

Pets allowed

Photocopy center

Restaurant

Room service

Safe deposit box

Security

Shoe shine stand

Wakeup service

Wireless internet connection
Adaptor available for telephone PC use

Air conditioning

Alarm clock

All news channel

AM/FM radio

Bathrobe

Bathroom amenities

Bathtub

Cable television

Color television

Complimentary high speed internet in room

Computer

Desk

Extra adult charge

Fire alarm

Free newspaper

Hairdryer

High speed internet connection

High speed wireless

International channels

Internet access

King bed

Minibar

Newspaper

Non-smoking

Remote control television

Safe

Satellite television

Sitting area

Slippers

Smoke detectors

Telephone

TV

Wake-up calls
The Dining Room
Cuisine type: International
Meals served: Breakfast, Lunch, Dinner
Open daily 07.00-01.00. The restaurant also called the living room is very popular for both locals and hotel guests so be sure to make your reservation in time. With the kitchen serving a fusion of Scandinavian - French and American cuisine it is sure to make you long for more. Or Simply sit down in the open lobby and let the barmen compose you a cocktail after your own taste whilst listening to post rock tunes streaming out of the dining room.
Reviews
These reviews are the real opinions of INVITED members and we have verified their stay at the hotel.
What I liked most :

Location (42)
Breakfast (36)
General service (28)
Welcome and departure (27)
Guestroom and bathroom (26)
Restaurant and dining (26)
Internet and wifi (21)
Local knowledge and experiences (15)
Guest Room and Bathroom (9)
General Service (8)
Welcome and Departure (8)
Local knowledge and experience (6)
Room service (6)
Leisure facilities (3)

What I might improve :

Guestroom and bathroom (3)
Internet and wifi (3)
Restaurant and dining (3)

Read Reviews

A pleasure to have stayed here

August 2019

My Trip Type:

Couple

Being greeted so warmly on arrival

Top tip for other guests:

Great location and wonderful staff

What I liked most

Welcome and Departure
Location
General Service
Local knowledge and experience
Guest Room and Bathroom
Breakfast
Restaurant and dining
Internet and wifi

Wonderful Boutique Hotel in a Great Location

July 2019

My Trip Type:

Couple

We were upgraded to a "large room" which was just that. The location of the hotel was very convenient for walking to the old town and to museums. The staff was friendly and helpful and the breakfast was delicious. Highly recommended!

Top tip for other guests:

The large room was indeed very spacious. Especially for a European hotel.

What I liked most

Welcome and Departure
Location
General Service
Local knowledge and experience
Guest Room and Bathroom
Breakfast
Internet and wifi

Extraordinary and stunning

June 2019

My Trip Type:

Couple

I adored this hotel. The location is perfect . The staff was very warm and professional. The decor is simply stunning I highly recommend this to other clients. Simply fabulous

Top tip for other guests:

No other tips. Get an expensive, spacious room

What I liked most

Welcome and Departure
Location
General Service
Local knowledge and experience
Guest Room and Bathroom
Breakfast
Restaurant and dining
Leisure facilities
Internet and wifi

Excellent city-spring break!

April 2019

My Trip Type:

Couple

Great hotel on a great location, friendly staff and a beautiful room. Breakfast was also excellent. What more could you wish for!

Top tip for other guests:

The use of fitness center of the Grand Hotel next door is complimentary!

What I liked most

Welcome and Departure
Location
General Service
Guest Room and Bathroom
Breakfast

February 2019

My Trip Type:

Business

Truly renovated, brilliant amenities, excellent service and great quality at breakfast in an amazing location

Top tip for other guests:

Ask for renovated rooms

What I liked most

Welcome and Departure
Location
General Service
Local knowledge and experience
Guest Room and Bathroom
Breakfast
Internet and wifi

What I might improve

December 2018

My Trip Type:

Friends

Top tip for other guests:

Enjoy

What I liked most

Welcome and Departure
Location
General Service
Local knowledge and experience
Guest Room and Bathroom
Breakfast
Restaurant and dining
Internet and wifi

October 2018

This is the second time I've stayed and both times were excellent. Very chic and fashionable balanced with professional but warm and friendly staff. To me it's a beacon for what an SLH is. Rooms are superb and the dining is up with the best. Looking forward to my next stay here and I'm planning on bringing the family next time.

Top tip for other guests:

Just relax and enjoy

What I liked most

Welcome and Departure
General Service
Guest Room and Bathroom
Breakfast
Restaurant and dining

This is absolutely one of my favourite Hotels in Europe

October 2018

The staff here is just wonderful. When staying here it feels like coming home again. Don't miss this hotel if you plan to visit Stockholm.

Top tip for other guests:

Dont miss a drink or dinner in the restaurant.

What I liked most

Welcome and Departure
Location
General Service
Local knowledge and experience
Guest Room and Bathroom
Breakfast
Restaurant and dining
Room Service
Internet and wifi

October 2018

Adequate and normal stay, nothing to get excited about but nothing to complain about too

Top tip for other guests:

Try the bar

What I liked most

Location
Guest Room and Bathroom
Breakfast

Outstanding feel-good place

Copenhagen

My Trip Type:

Couple

The charming hotel is located in the heart of Stockholm at the waterfront with nice views. We enjoyed a great breakfast in the restaurant that has a fantastic atmosphere - you feel like being in your own living room. Friendly service and good local knowledge and advice.

Top tip for other guests:

Relax in the restaurant, both for breakfast and dinner.

What I liked most

Restaurant and dining
Guestroom and bathroom
General service
Local knowledge and experiences
Breakfast
Internet and wifi
Location
Welcome and departure

SPAIN

My Trip Type:

Couple

Charming and cozy hotel in the best location at Stockholm.

Top tip for other guests:

GREAT BAR

Pleasant stay at Lydmar Hotel

St.Petersburg

My Trip Type:

Couple

The location of the hotel is great, really close to most attractions and the city center. We were able to check in early as the room had been already ready when we arrived in the morning. The room interior was nice, breakfast, wi-fi and service were all really good. The only thing is we had a SLH Club Offer for the room which included a bottle of Cava on arrival, breakfast delivered to the room complimentary and we were offered none of this.

Top tip for other guests:

Take full advantage of really nice breakfast.

What I liked most

Breakfast
Guestroom and bathroom
General service
Location

Is this the perfect hotel?

Stay+date:+February+2017

My Trip Type:

Couple

I travel a lot for work, I have seen a lot of hotels and would even consider myself a bit of a hotel snob. ;-) But Lydmar has thought of absolutely everything (the room even had a hair straightener!). All staff is genuinely friendly and easy-going, no request is too hard to solve. The atmosphere and styling of this unique hotel is fantastic and the food and breakfast buffet great. We had room service breakfast that couldn't have been more generously and lovingly prepared. Oh, and it's centrally located, close to the boats and metro. I can't think of anything I would improve.

Top tip for other guests:

Treat yourself to a breakfast ("large") in the room!

What I liked most

Room service
Location
Breakfast
Restaurant and dining
Internet and wifi
Welcome and departure
Guestroom and bathroom
General service

Stay date: December 2016

My Trip Type:

Couple

The check in was smooth and personal. Cozy entrance, great atmosphere. Room was amazing. It was decorated with warm colours and lots of details, felt more like a home than a hotel. Huge bathroom with lots of rituals products. Bed was a bit hard (I like soft and fluffy beds at hotels). Breakfast cozy too, great to have one a la carte breakfast meal included! Spa great even it was a lot of people there. Gym small with ni view. Gym only served smoothies, no bars salads etc. Thank u so much lydmar fot this cozy stay!!! ❤️

Top tip for other guests:

Go to the spa!

What I liked most

Breakfast
Location
Welcome and departure
Guestroom and bathroom

What I might improve

wonderful stay and great staff

Stay date: January 2017

My Trip Type:

Couple

I made sure the last leg of my trip was with SLH as they never fail to give the best experience. Lydmar has the warmest staff that gives the Lydmar Hotel a very homey atmosphere. My room also got upgraded upon request (of course this is subject to availability) and the experience was topnotch not just for me but also for my husband. We would like to extend thanks to the chef and staff who were at the dining restaurant when we came down at around 12:20am (Jan2)... I know the closing time of the resto was 1am but we were famished so we checked downstairs. We didnt mention anything to the waiter but he gladly asked us if we still want to dine so he can check inside the kitchen and cook something for us (we probably look so hungry (-;). He was very helpful same as all the staff in there and didnt even rush us to finish our meal. Sorry I didnt get the name of that guy but it made us feel very appreciated and well taken care of. Location was also very central and accessible even from Gamla Stan. I highly recommend this place.

Top tip for other guests:

Dont just sleep here, take some time to really stay and experience the hotel. Talk to the staff, they will give you a lot of tips and advices to the city that may be helpful.

What I liked most

Welcome and departure
Location
Restaurant and dining
General service
Local knowledge and experiences
Guestroom and bathroom

What I might improve

Breakfast
Internet and wifi

Stay date: October 2016

My Trip Type:

Couple

We like to visit Stockholm now and then for a relaxing weekend, some shopping at the "mother ship" NK, and some great dining. Staying at Lydmar is a huge part of the experience, we consider it a home away from home. Small, intimate, personal, and still very professionally run. The art work is everywhere and interior decorating has been done with thought and love for a calm yet inspiring environment. We adore Lydmar.

Top tip for other guests:

Stay higher up in the hotel. You can't really go wrong with any room. They are all stunning! Even the smallest rooms are roomy.

What I liked most

Location
Restaurant and dining
Welcome and departure
Breakfast
Guestroom and bathroom
Room service
General service
Local knowledge and experiences
Internet and wifi

Perfect hotel with a young and fresh touch!

Stay date: October 2016

My Trip Type:

Couple

Very nice and stylish rooms. Cool, friendly and high professional staff (reception and breakfast service). Best Location.

Top tip for other guests:

Must be the best hotel in Stockholm you can go to.

What I liked most

Welcome and departure
General service
Guestroom and bathroom
Restaurant and dining
Location

Stay date: September 2016

My Trip Type:

Couple

liked the hotel. front desk friendly. only complaint was the step getting into the bathroom was VERY dangerous. Very easy to trip and hurt yourself. Also, getting in and out of the tub was quite difficult. We are active and in very good shape and still had a problem.

Top tip for other guests:

great informal restaurant for dinner

What I liked most

Location
Restaurant and dining

What I might improve

Great location, friendly helpful staff

Stay date: July 2016

My Trip Type:

Couple

Only complaint is the wardrobe space there was one tiny narrow wardrobe that barely fit anything hanging and there were no drawers at all.

Top tip for other guests:

Don't get the first room on the left on ground floor as it is on top of the utilities room and trucks come in and out from early morning and very noisy, we asked to be moved after first night

What I liked most

Breakfast
Location
Welcome and departure
Local knowledge and experiences
General service

What I might improve

Stay date: July 2016

My Trip Type:

Business

Classic rooms may be too small for a couple

Top tip for other guests:

Classic room may be too small

What I liked most

Local knowledge and experiences
Breakfast
Restaurant and dining
Internet and wifi
Welcome and departure
Leisure facilities
Location

Stay date: June 2016

My Trip Type:

Couple

We arrived very weary from a long flight and were made welcome. Room was clean and comfortable. Staff very welcoming and we felt like were at home. Any difficulties with the room service were made beyond right.

Top tip for other guests:

Definitely eat in the restaurant, food is fantastic!

What I liked most

Location
Breakfast
Guestroom and bathroom
Room service
Local knowledge and experiences
Restaurant and dining
Internet and wifi
Welcome and departure
General service

Stay date: May 2016

My Trip Type:

Couple

A beautiful boutique hotel in an excellent location with exceptional staff. With the sun shining the outside terrace is very popular and a great place to watch the world go by. The staff throughout are very helpful and genuinely interested in their guests. Decor is a mix of modern and traditional but done very well and very comfortably. Food excellent too. Would go back in a flash.

Top tip for other guests:

Use the city bikes - there's a stand across the bridge by the museum.

What I liked most

What I might improve

Stay date: April 2016

My Trip Type:

Couple

To bad that the museum next to the hotel was being renovated. We were lucky we stayed during the weekend... Received a nice upgrade.

Top tip for other guests:

Look out for the renovations of the museum, can be noisy during the week.

What I liked most

Guestroom and bathroom
General service

What I might improve

Stay date: April 2016

My Trip Type:

Couple

This was my second visit to the hotel as we couldn't wait to return. The hotel makes you feel like you're home. Everyone from the bartenders, to the servers to the housekeeping staff, are so friendly. We love hanging out in the bar area. Our rooms were fabulous as well.

Top tip for other guests:

Stay at the Lydmar. You won't regret it.

What I liked most

Restaurant and dining
Breakfast
General service
Guestroom and bathroom
Location

Stay date: April 2016

My Trip Type:

Family

The Lydmar Hotel is just gorgeous.Somehow it manages to combine both a casual homely atmosphere with trendy and chic, and that isn't easy. The decor is luxe and beautiful, complimented by stunning photographic images everywhere. We ate in the dining room and the meal was also first rate. On Friday night the bar and restaurant were buzzing with music and contented patrons, it was packed. The location is ideal for sightseeing and shopping and the views are divine as well. This is one of the nicest places I've stayed, and I would so come back if I am able to. By the by, if you are into the gym, you get to use the one at the Grand Hotel next door and it is amazing, so that's a bonus.

Top tip for other guests:

Ask for a room with a good view of the water.

What I liked most

Restaurant and dining
Welcome and departure
Location
General service

Stay date: March 2016

My Trip Type:

Couple

Excellent location to visit Stockholm, nice swedish atmosphere , we highly recommend this place

Top tip for other guests:

Nice location, nice people, nice place!

What I liked most

General service
Welcome and departure
Breakfast
Internet and wifi
Guestroom and bathroom
Location
Restaurant and dining

Stay date: March 2016

My Trip Type:

Couple

We coukd not be happier!!! Cosy home/hotel with Beautiful rooms, delicious food and outstanding staff. The service was professional but veru personal, kind, considerat, quick...perfect. Perfectly located too. This is laid back luxury at its best. We were so happy we actually prolonged our stay with one night (4 in total). Look no further. We will be back!

Top tip for other guests:

We stayed in Medium room 500 under the rafters. Stunning room with great views! I am sure ALL rooms are lovely though.

What I liked most

General service
Restaurant and dining
Internet and wifi
Room service
Guestroom and bathroom
Location
Local knowledge and experiences
Welcome and departure
Breakfast

Our favourite Stockholm hotel

Stay date: December 2015

My Trip Type:

Family

Lydmar is mine and my husbands favourite hotel in my hometown Stockholm. It is a true city hotel with a personal, warm and relaxed atmosphere and care and love has go into every detail of the hotel and its service. I believe it is a typical couples hotel but this time we brought our 8 year old daughter for a one night stay which worked just as good as she was made to feel welcome and was catered for. The restaurant is one of Lydmars biggest plusses with great food and drinks aswell as perfect layout and design for dinner as well as for breakfast.

Top tip for other guests:

Eat in the restaurant at least one of your nights rather than going out, but remember to book in advance at the weekends

What I liked most

Breakfast
Guestroom and bathroom
Location
Welcome and departure
Restaurant and dining
General service

Friendly service in great location

Stay date: November 2015

My Trip Type:

Couple

Great location!Friendly staff!Upgrading for Club Member!Breakfast included in all prices!

Top tip for other guests:

Go for a Large Room!

What I liked most

Guestroom and bathroom
Internet and wifi
Breakfast
Location
Welcome and departure
General service

Luxury in central Stockholm

Stay date: November 2015

My Trip Type:

Couple

AS always a Nice stay at Lydmar in the heart of Stockholm.

Top tip for other guests:

Dont miss the breakfast

What I liked most

General service
Guestroom and bathroom
Breakfast
Location

Luxury with a relaxed feel

Stay date: June 2015

My Trip Type:

Couple

Our five-night stay at the Lydmar was the perfect start to our honeymoon. From the moment we arrived, staff were friendly and helpful, without being overbearing. The room was beautiful - we enjoyed having the sofa/living room area to flop in after days pounding Stockholm's streets, and the free mini bar (excluding alcohol) was appreciated too. It's a great location - easy walking distance to most of the key areas of Stockholm. Probably the best hotel breakfast we've ever had too - we filled up on yoghurt with fresh compotes, smoothies, fruits and cooked foods such as eggs and bacon, and the dining room's atmosphere (laid back, comfy, great music!) was the perfect place to enjoy it. The cocktails we tried were great too. The bar does get busy/loud at night, but our door was clearly well soundproofed (and our room was away from the front of the hotel, where the main bar was), so it didn't bother us at all. All in all, we had a wonderful stay at the Lydmar and would recommend it to anyone looking for a bit of luxury with a relaxed and friendly edge.

Top tip for other guests:

Don't miss breakfast!

What I liked most

Breakfast
Location
General service

Outstanding service in a great location.

Stay date: May 2015

My Trip Type:

Couple

Splendid hotel with truly great people

Top tip for other guests:

This hotel should not be missed

What I liked most

Internet and wifi
Location
Room service
Guestroom and bathroom
Breakfast
Local knowledge and experiences
Restaurant and dining
Welcome and departure
General service

Stay date: January 2015

My Trip Type:

Business

The property has all the trappings of a hotel of this caliber. What makes Lydmar a pleasure are the people, their friendliness, and the relaxed ease that everything is delivered with. This is not a stuffy place rather, it feels like a nicely run home. The restaurant is cool but not pretentious, the food is excellent - especially the breakfast which was a favorite. Some nights get festive with a DJ, but it's happy, not over-run or too loud. The hotel is also ideally located to anywhere you might want to be in Stockholm. Lydmar was just purchased by the Grand Hotel, just next door, when I was there in Late January 2015; I trust the new owners know not to mess up the delicate balance that is working so well now.

Top tip for other guests:

Matbaren, Mathias Dahlgren's bar/brasserie next door at the Grand Hotel is a don't miss.

What I liked most

Welcome and departure
Guestroom and bathroom
General service
Room service
Restaurant and dining
Location
Local knowledge and experiences
Breakfast

What I might improve

Stay date: January 2015

My Trip Type:

Couple

My wife and I stayed at the Lydmar last week but unfortunately for only one night. I say unfortunately because we would have liked to stay longer. We received an upgraded room with a separate sitting area and bedroom. The bed was very comfortable and the staff was extremely friendly and helpful. Breakfast was included in the room and included a cold buffet and /or anything from the menu. We are looking forward to coming back in the summer and enjoying the outdoor terrace as well as the great location in the city centre.

Top tip for other guests:

The hotel has a very discrete entrance and taxi drivers can miss it - ours did

What I liked most

Welcome and departure
Guestroom and bathroom

Stay date: December 2014

My Trip Type:

Couple

Everything you expect from a hotel and a little more: The hotel breakfast and dining room feels like a large living room, where you are visiting friends.

Top tip for other guests:

Visit the Vasa museum

What I liked most

Location
Restaurant and dining
Breakfast

Friendly small hotel in great location!

Stay date: September 2014

My Trip Type:

Couple

This hotel was recommended to us by friends. they also loved the location and said not to miss sitting at the bar on the street when we came in after a day of sightseeing in beautiful Stockholm. We did that and met some other Americans doing the same. The hotel could not be at a more convenient or beautiful location. We are sorry that we had just 1 night there before getting off of our cruise and flying home. Thank you.

Top tip for other guests:

Stay longer!

What I liked most

Welcome and departure
Location
Restaurant and dining
General service
Breakfast
Guestroom and bathroom

Stay date: August 2014

My Trip Type:

Family

Terrific location,friendly, efficient personnel, lovely, spacious room- terrific breakfast! What more could anyone hope for in a hotel!!!

Top tip for other guests:

Active bar /nightclub scene. Request a room on "quiet side" if desired.

What I liked most

Internet and wifi
Welcome and departure
Breakfast
Guestroom and bathroom
Restaurant and dining
Local knowledge and experiences
General service
Location

Great Location, Room, Staff

Stay date: July 2014

My Trip Type:

Couple

My hisband and I visited Stockholm in July prior to boarding a Baltic Cruise. We loved the Lydmar and would stay again should we return. We had a Jr. Suite with a view of the water and National Museum. Room was very comfortable, spacious and relatively quiet. Others have mentioned the music from the club, this did not bother us in our room location. It was not an issue. We had the breakfast buffet as part of our package and that was wonderul! Held us till dinner as we toured. We also had an airport pickup on our arrival which was a part of the package we booked. As we arrived rather late, this was a huge relief not to have to worry about securing transportation. The staff in the dining room and throughout the hotel were outstanding! True luxury level service in every way. Plus the location cannot be beat for convenience.

Top tip for other guests:

Higher floors are quieter.

What I liked most

Internet and wifi
Breakfast
Guestroom and bathroom
Location
General service
Welcome and departure
Local knowledge and experiences

Stay date: June 2014

My Trip Type:

Couple

Nice location, mostly friendly staff; nightly DJ makes the experience loud, late into the night. Some blips in service.

Top tip for other guests:

The noise and emphasis on 20 something's detracted from the overall experience.

What I liked most

Breakfast
Welcome and departure
Location

What I might improve

Stay date: April 2014

My Trip Type:

Couple

We loved every aspect of this hotel! The location, common areas, restaurant and room were very comfortable and inviting. The staff was professional as well as personable!

Top tip for other guests:

Alot of locals come to the Lydmar for drinks and dining. We hade dinner at the hotel with a friend of ours from Stockholm. She informed us that we were staying at the "in" place for locals!

What I liked most

Welcome and departure
General service
Leisure facilities
Local knowledge and experiences
Breakfast
Location
Restaurant and dining
Guestroom and bathroom
Internet and wifi

Exceptional ambience with helpful staff

Stay date: January 2014

My Trip Type:

Couple

Great location ,liked the style and décor. Breakfasts were great too Only negative was no iphone/ipod players in the bedrrom

Top tip for other guests:

Ask hotel staff to recommend and book restaurants -all were different and excellent

What I liked most

General service
Location
Internet and wifi
Breakfast
Guestroom and bathroom
Local knowledge and experiences
Welcome and departure

What I might improve

Restaurant and dining
Guestroom and bathroom

Charming hotel, but beware of club noise

Stay date: July 2013

My Trip Type:

Couple

The public facilities are pleasant, and the location is great. The room was spacious, but it lacked adequate closet and drawer space. There was no provision of ice cubes on a regular basis. The towels were stingy. We did have a lovely view. The breakfast was very good. We did have one big problem with this hotel, which should have been disclosed to all potential guests. It operates as a bar and live music scene until 1:00 am every morning. The sound of the music was audible in our room, and, at times, disturbing.

Top tip for other guests:

Request a room that does not get noise from the second floor bar.

Hotelier reply:

Dear Adele, Thank you kindly for your insights and comments from your recent stay with us as we always aspire to be the best. I can only apologise if the sound from our terrace restaurant kept you awake. There is no doubt that you should have been noted of this upon your arrival and given the opportunity of requesting a silent room and for this I can only apologise. I also want to take a moment to thank you for appreciation on the level of guest service we provide. Let me know personally the next time your journeys take you by Stockholm and we will plan something really special for you. Best Regards, Sebastian Anlert Manager

What I liked most

What I might improve

General service
Local knowledge and experiences

Stay date: May 2013

My Trip Type:

Couple

Very friendly and great location.

Top tip for other guests:

Have a drink by the harbour right in front of the hotel

What I liked most

General service
Welcome and departure
Location

Stay date: May 2013

My Trip Type:

Couple

Location is top notch. Spent three nights in room 201 with great views over the water and the old town. Room was quiet, with a high quality bathroom. It was a little strange to have to wade through a bar crowd when we left our room around 18h30 Friday night, but all was back to normal when we returned around midnight. Atmosphere is friendly and laid back, in an original setting with surprising personality; sometimes a little loud, but room 201 appeared to be well soundproofed. There are no sport/spa facilities, but we would not have had time to enjoy them. We tried three of the restaurants suggested by Lydmar and they all turned out to be quite lively with excellent food.

Top tip for other guests:

check the hotel location on Google Earth, and plan a visit to the Vasa museet.

What I liked most

Guestroom and bathroom
Local knowledge and experiences
Welcome and departure
Location
Internet and wifi

What I might improve

Stay date: March 2013

My Trip Type:

Couple

All service perfekt and friendly .fantastic location.

Top tip for other guests:

fantastic books in every room

What I liked most

Breakfast
General service
Guestroom and bathroom
Location

What I might improve

Stay date: March 2013

My Trip Type:

Couple

There is some road work just in front of hotel. Some noise and dust...

Top tip for other guests:

Top floor

What I liked most

Location
Restaurant and dining
Welcome and departure

Warm and friendly atmosphere

Stay date: December 2012

My Trip Type:

Friends

Our welcome was warm. Our room was beautiful! The food was great at both breakfast and dinner and the staff was excellent. We enjoyed drinking wine in the bar/restaurant amd we felt like we were really taken care of. Would highly reccomend this hotel to anyone going to Stockholm!

Top tip for other guests:

Enjoy yourselves in this beautiful hotel.

Hotelier reply:

Dear Kathy, I'm glad that you liked our hotel. Thank you for visiting us and welcome back another time!

What I liked most

Guestroom and bathroom
Internet and wifi
General service
Location
Local knowledge and experiences
Restaurant and dining
Welcome and departure
Breakfast