https://origin.slh.com/hotels/nobu-hotel-marbella/
Hotel Highlights
Boutique resort linked to Plaza Village, and its first-class restaurants and bars
Nobu's signature Japanese-inspired 'Omotenashi' hospitality
VIP access to Nobu restaurant
Nobu Hotel Marbella - Luxury Hotel in Marbella, Spain
Luxury on every level at this laid-back luxury beach retreat and world-renowned Marbella restaurant
There's nowhere quite like Nobu Hotel in Marbella. By day, this elegant getaway is all about laid-back luxury – but evenings are another story. Wrapped around the exclusive Plaza Village, high-end fine dining and jet-set style nightlife are just a stroll from your hotel room.
With pristine sand and warm, turquoise waters, the stretch of sublime bays just beyond Nobu Hotel certainly earns its name, the Golden Mile. Don your designer swimwear for a day at the beach, or slip off your sandals and kick back by the Nobu private pool. If you have dusk to dawn plans at Plaza Village, escape to your room. Creamy tones, light wood and a hint of contemporary coastal cool make each a chic space in which to ready yourself for the evening. A knock at the door signals the arrival of your pre-dinner drinks service – and then the excitement really begins.
Overlooking the buzzing Plaza, the acclaimed Nobu restaurant is just steps from your hotel room – and as a guest, you have first-in-line access. Savour signature offerings as well as exclusive creations inspired by the Andalucian setting. Elsewhere in the Plaza, enjoy two-Michelin-starred Mediterranean dishes, delectable tapas, Thai cuisine and more in this foodie paradise. Then it's on to La Suite nightclub, with VIP table service topping up the party spirit until dawn.
80

rooms

1

restaurant

3

floors
Don't just take our word for it...
The rooms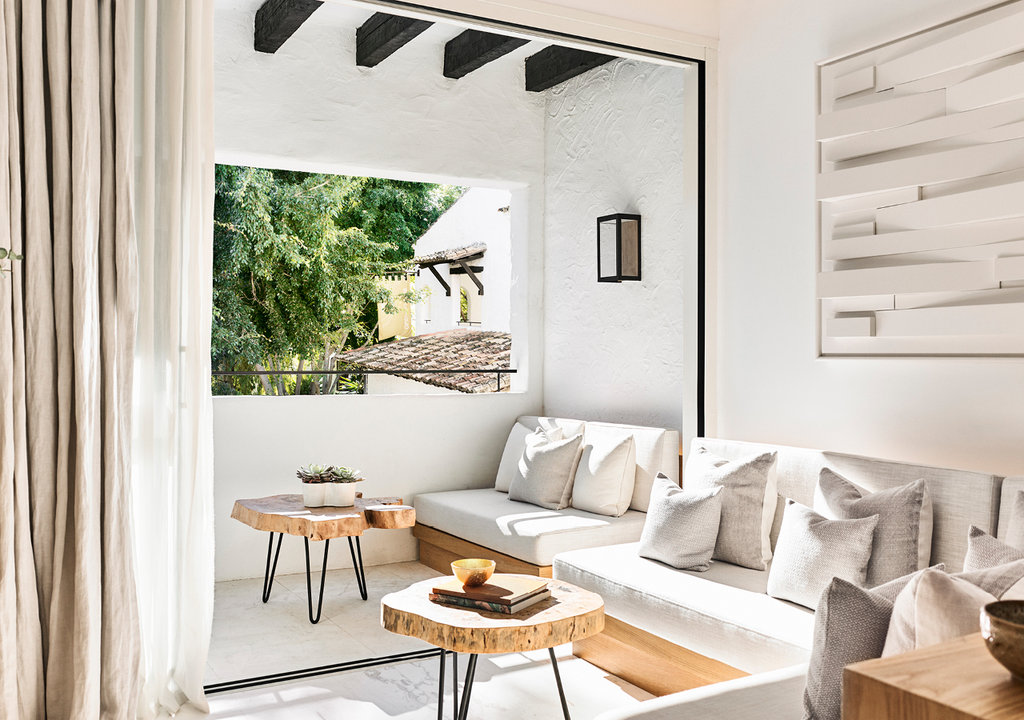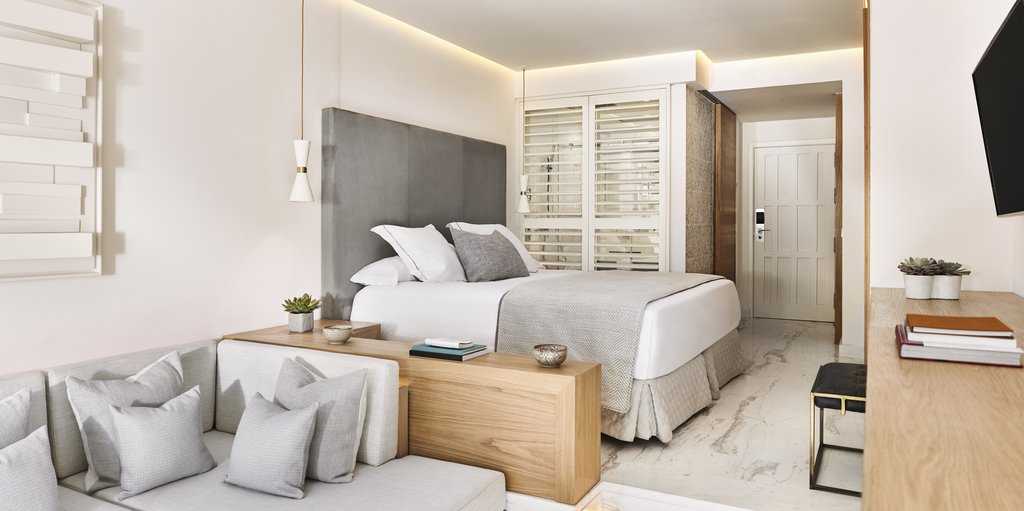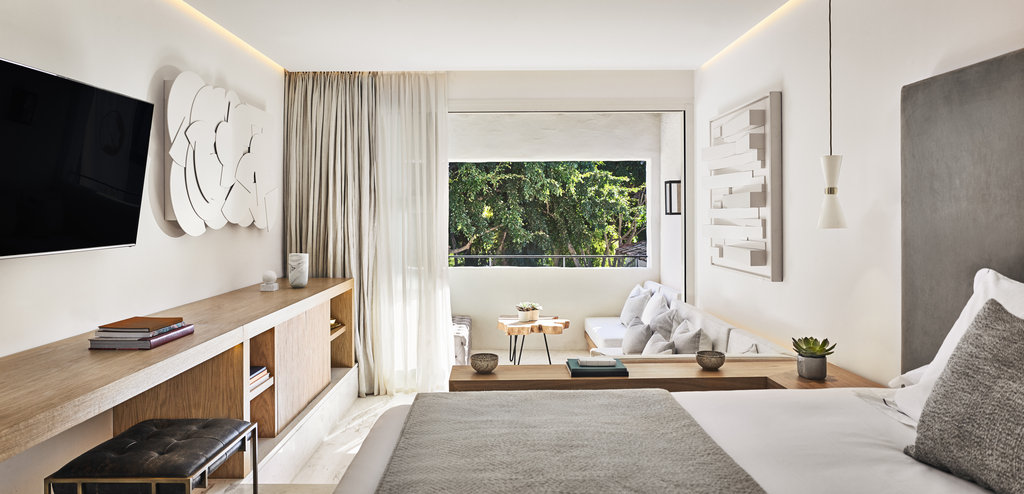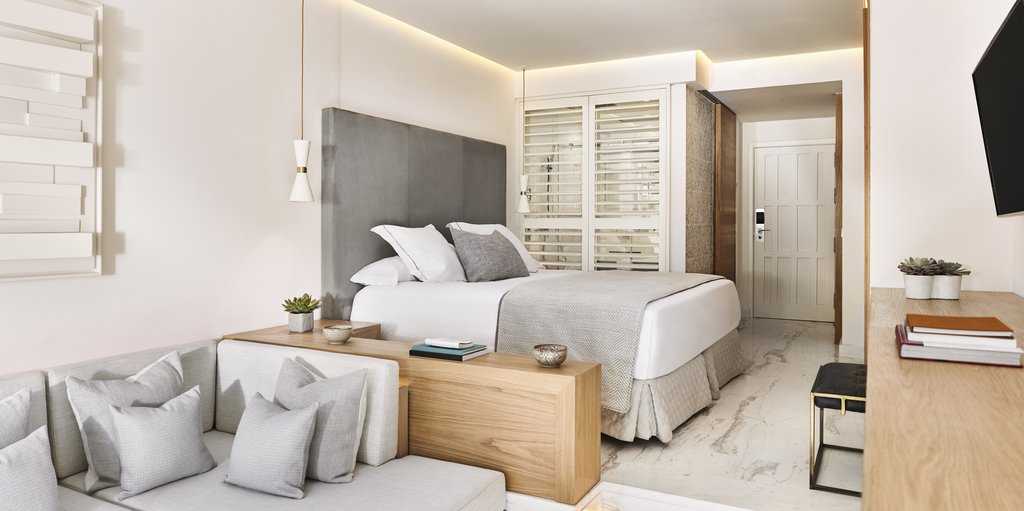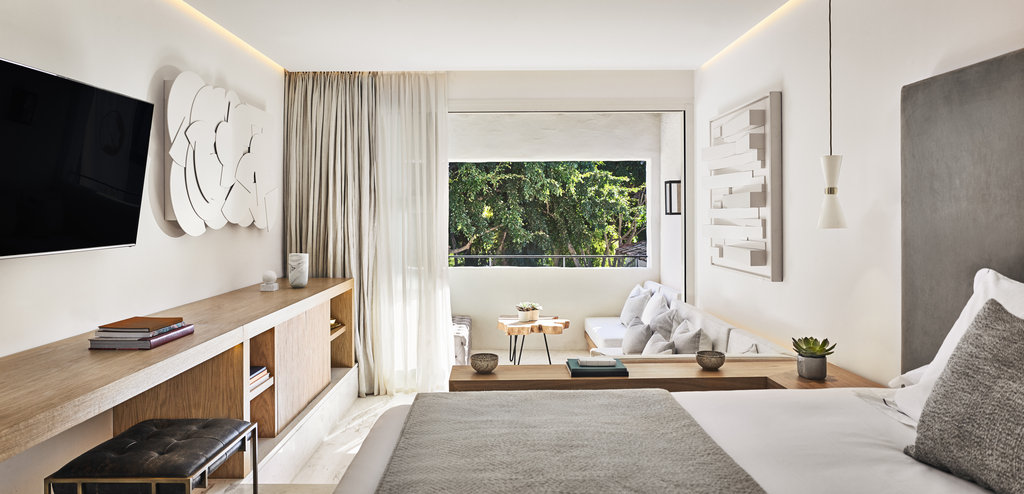 Deluxe Room
Sleeps: 2 People.
Deluxe Rooms are situated around the heart of the urban resort's vibrant Plaza, filled with nightlife, restaurants and bars

Escape from the day to day realities and indulge in your private space to rewind and recharge. Rooms boast marble bathrooms with bathtub and separate vanity. Floor to ceiling doors lead out onto a furnished terrace, ideal for watching the nightlife. Size: 40 square metres
From per night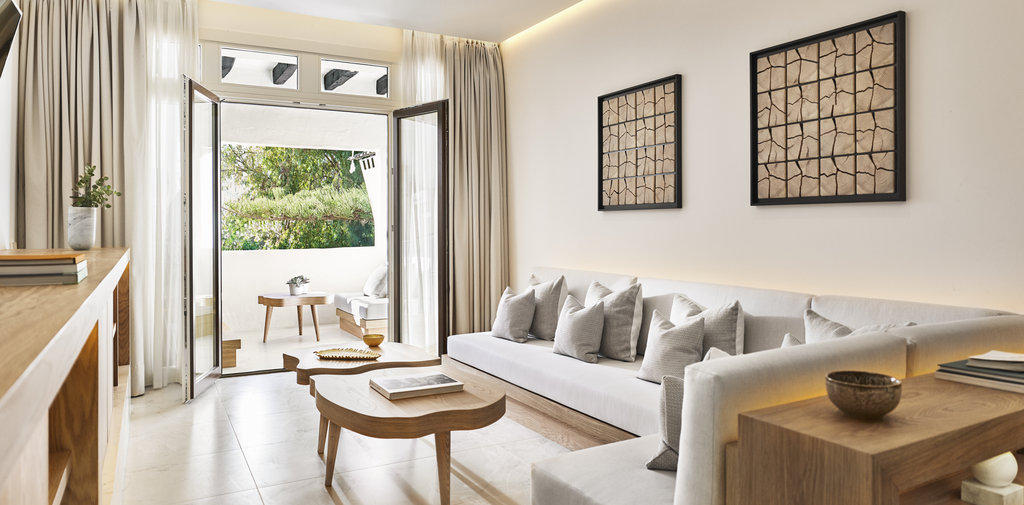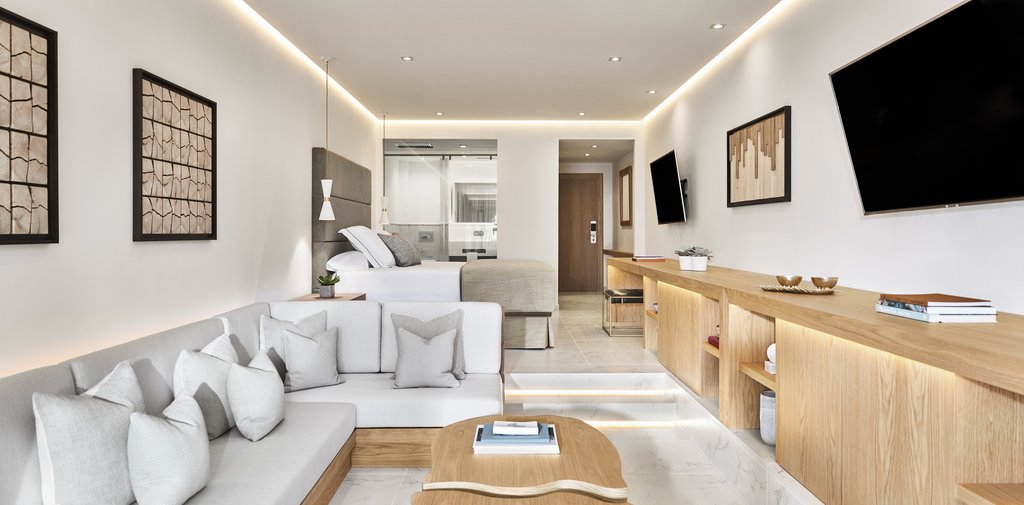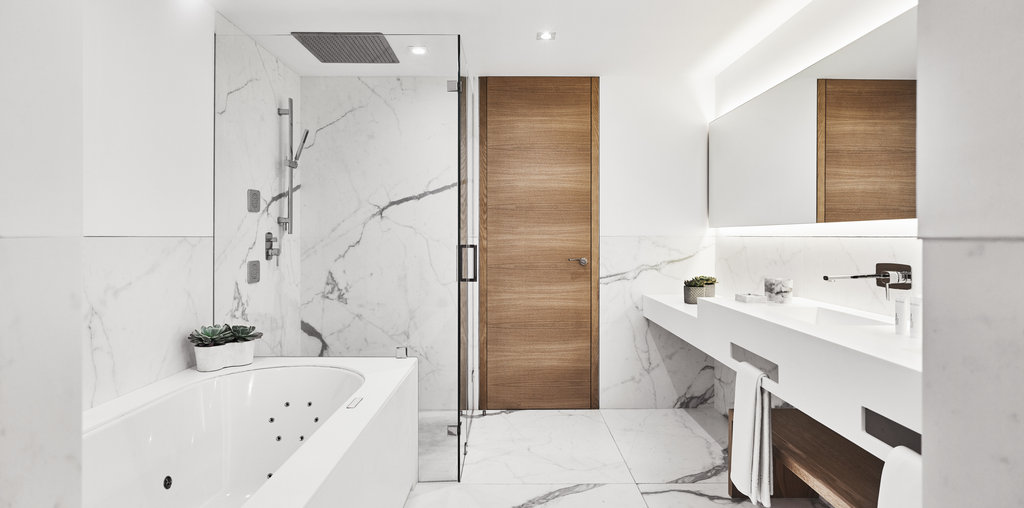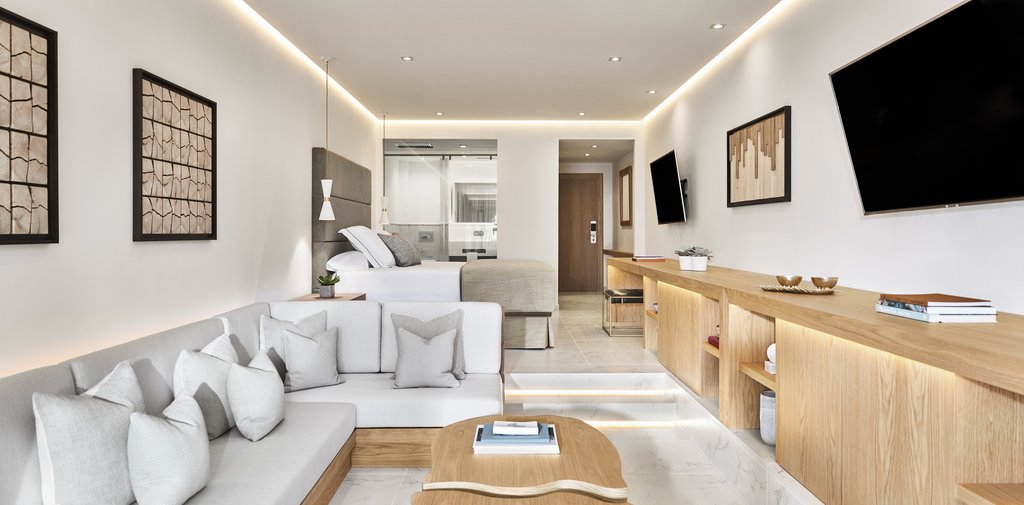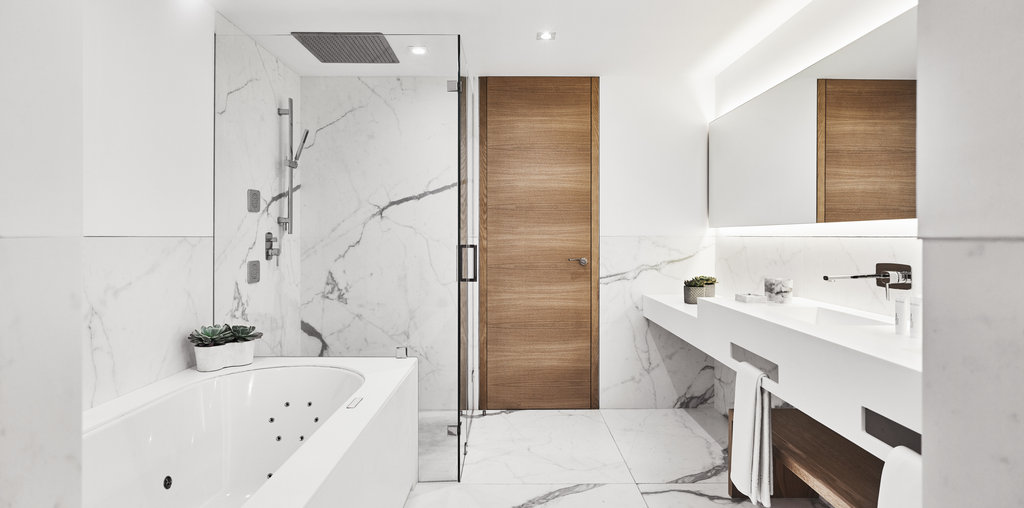 Junior Suite
Sleeps: 3 People.
Junior Suites offer a spacious layout with a separate lounge area perfect for a relaxing and a comfortable stay. Suites boast marble bathrooms with rain-fall showers and separate vanity

Floor to ceiling doors lead out onto the furnished terrace, ideal for watching the buzzing nightlife of the Plaza and some suites overlook the gardens. King or Twin bed. Some rooms interconnect. Size: 55 square metres
From per night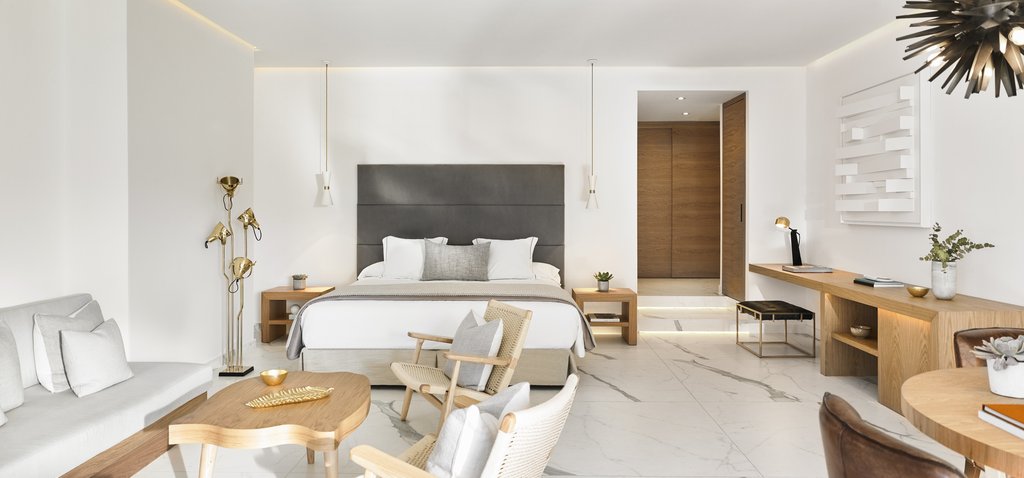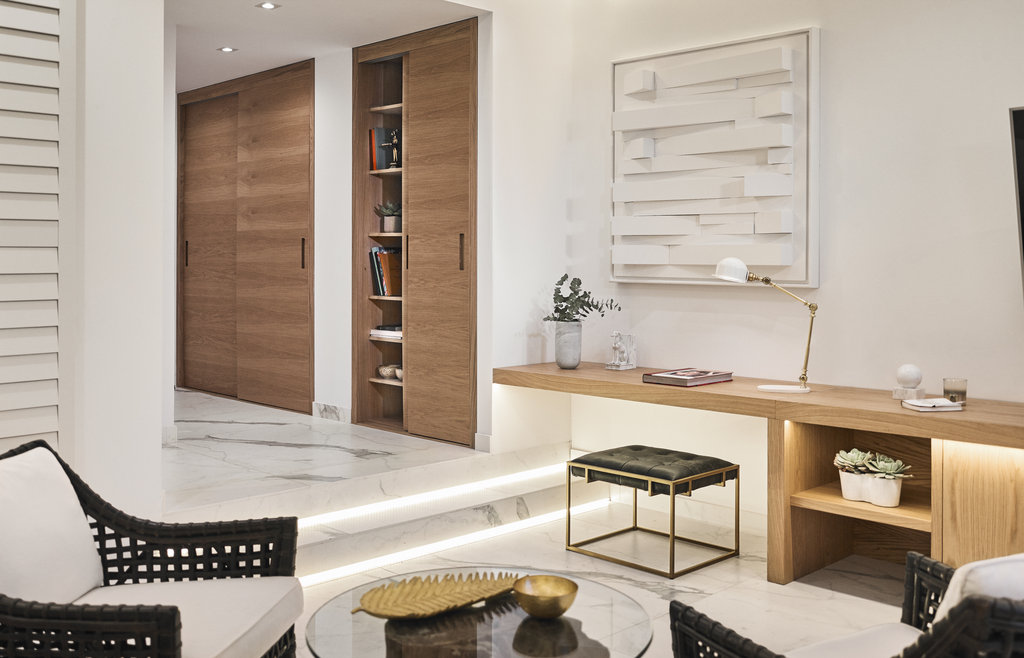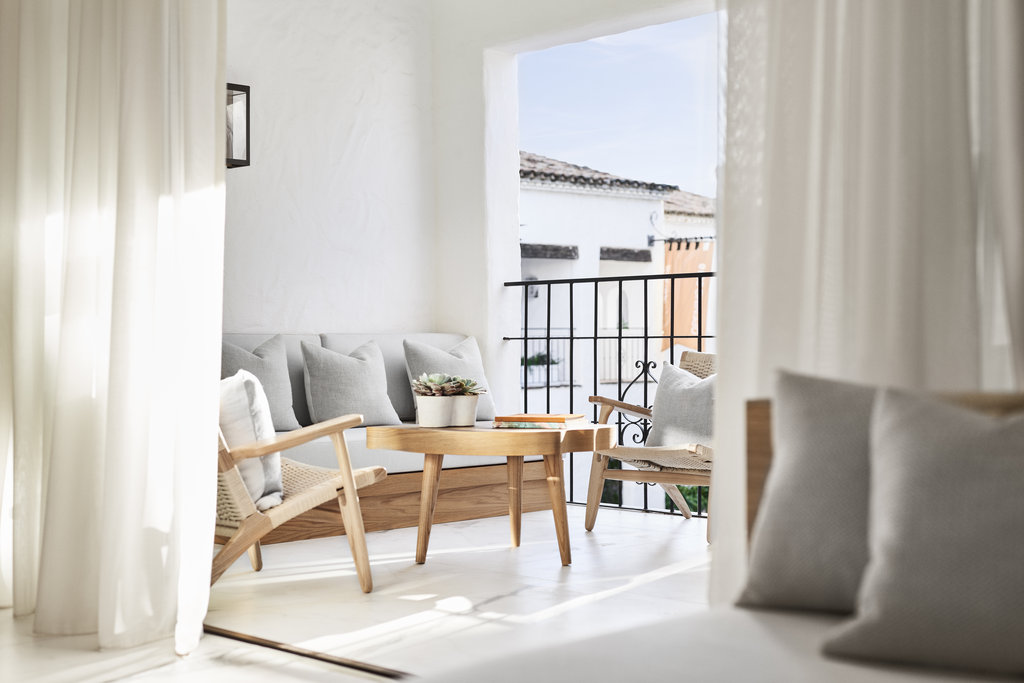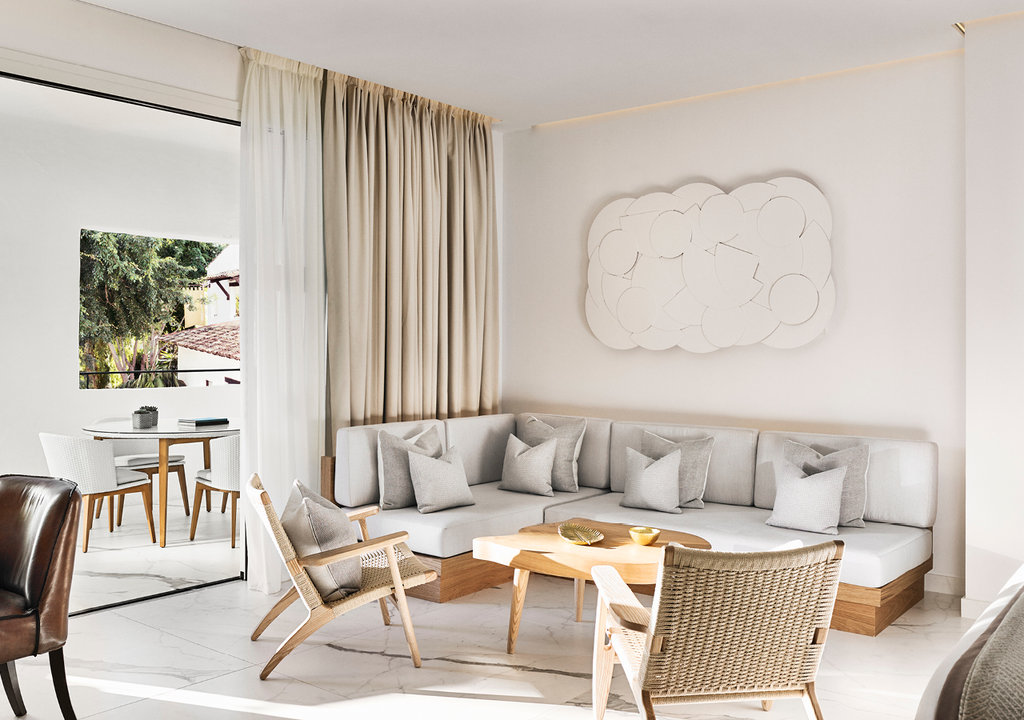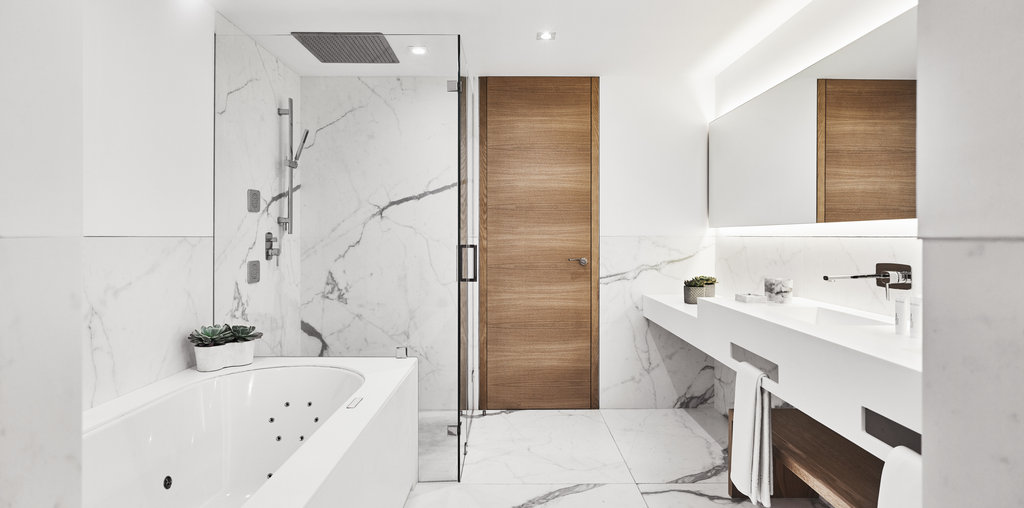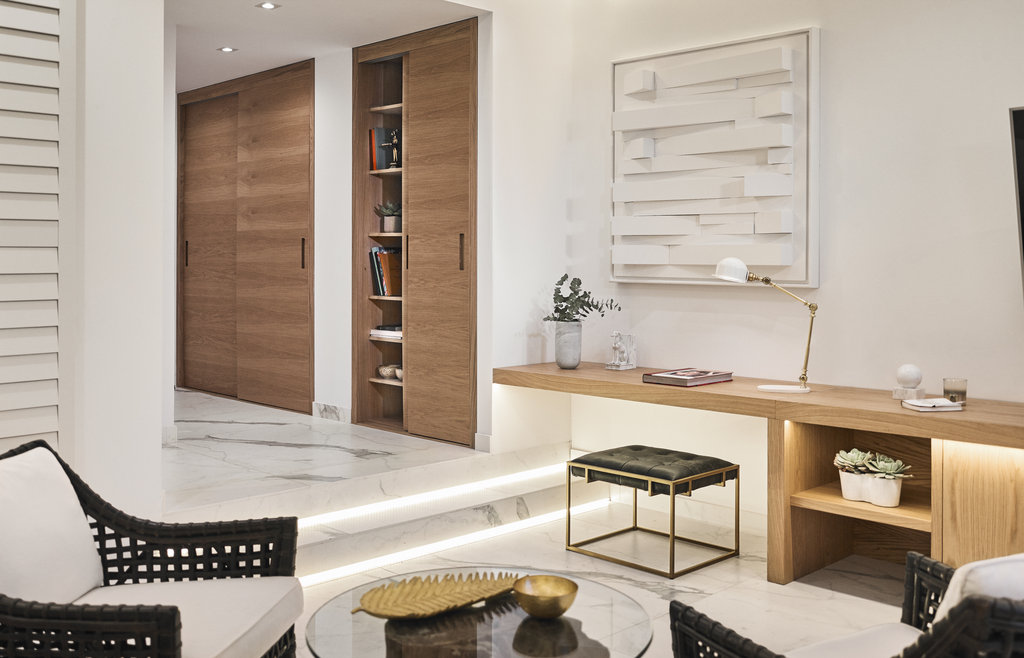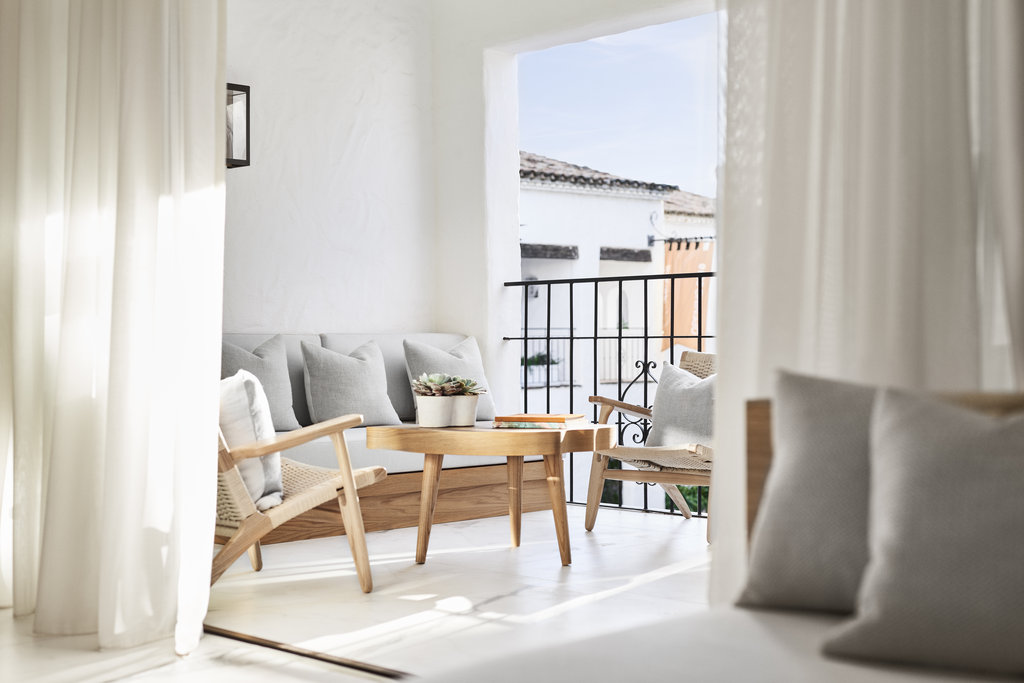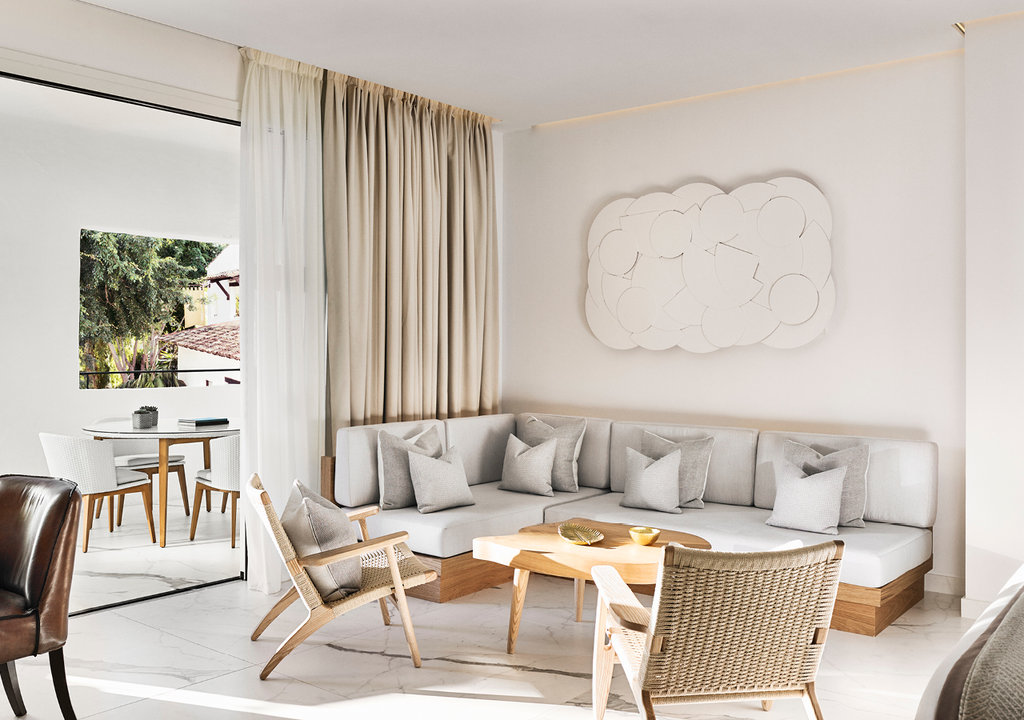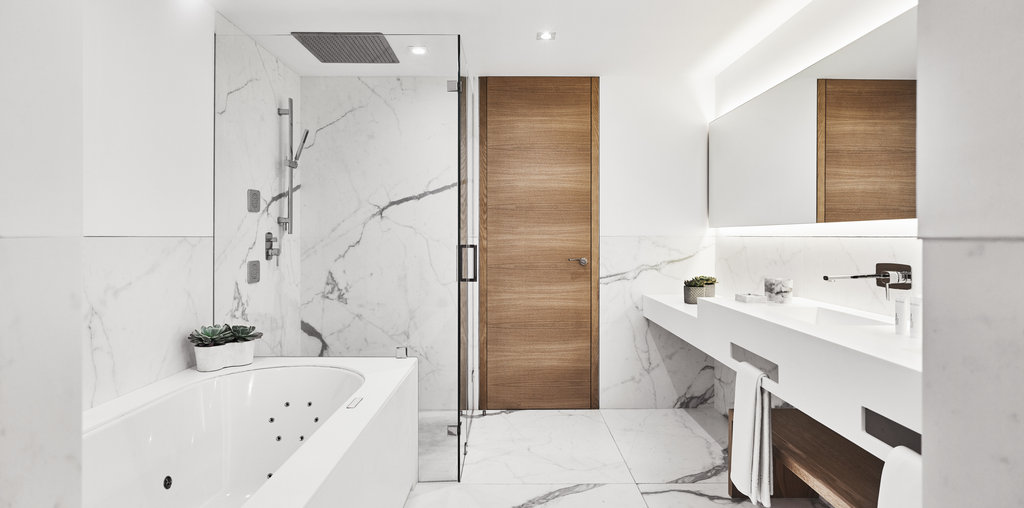 Studio Suite
Sleeps: 3 People.
Studio Suites offer a stylish refuge from the energy of La Plaza. Furnished terraces, an open-plan living space and spacious bathrooms. Size: 65 square metres

Studio Suites offer a stylish refuge from the energy of La Plaza. Furnished terraces, an open-plan living space and spacious bathrooms. Size: 60-65 sq.M
From per night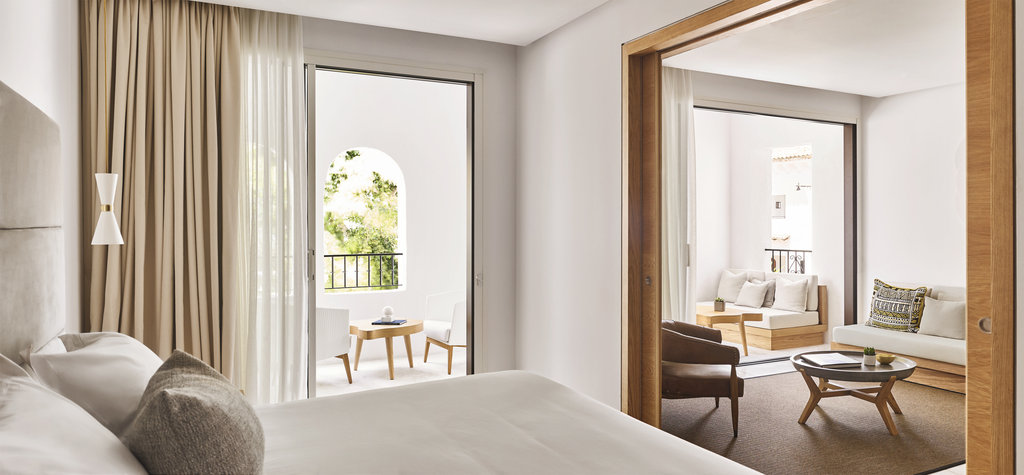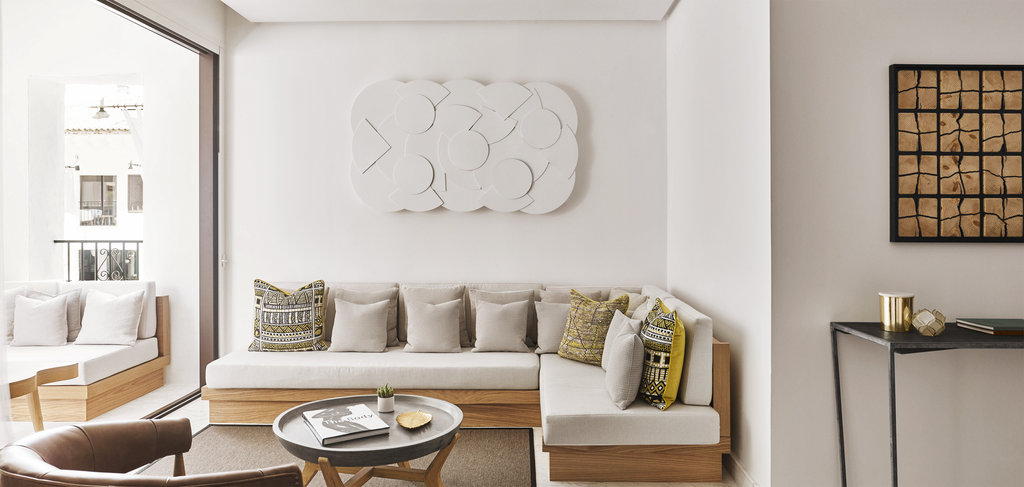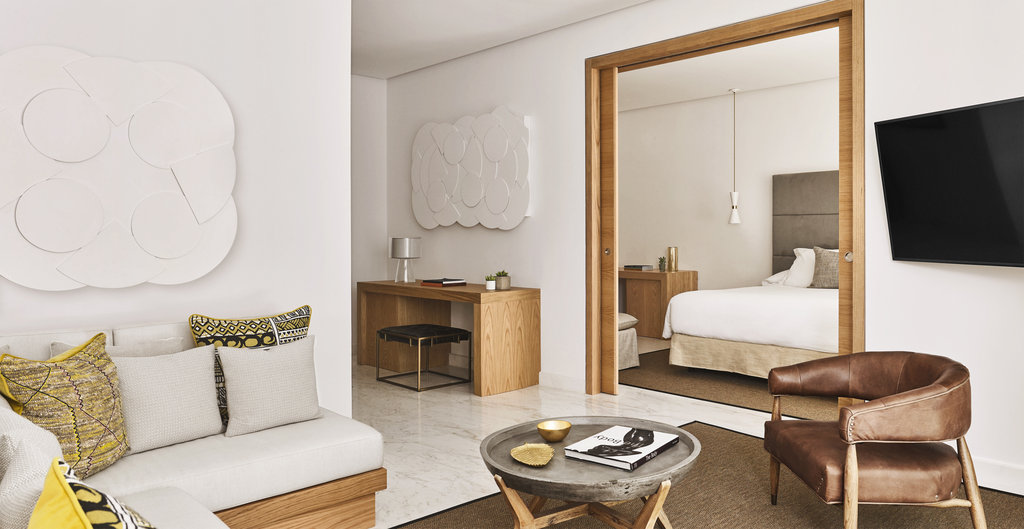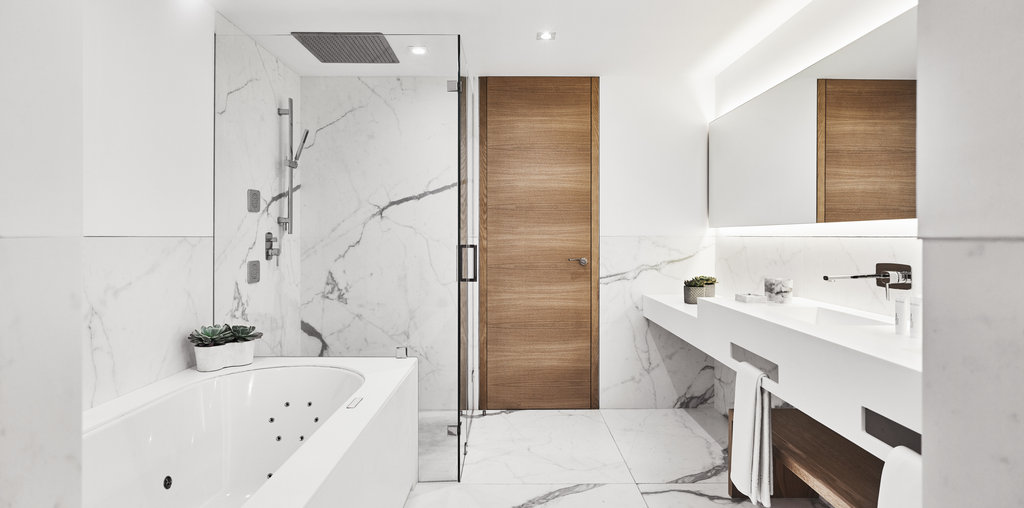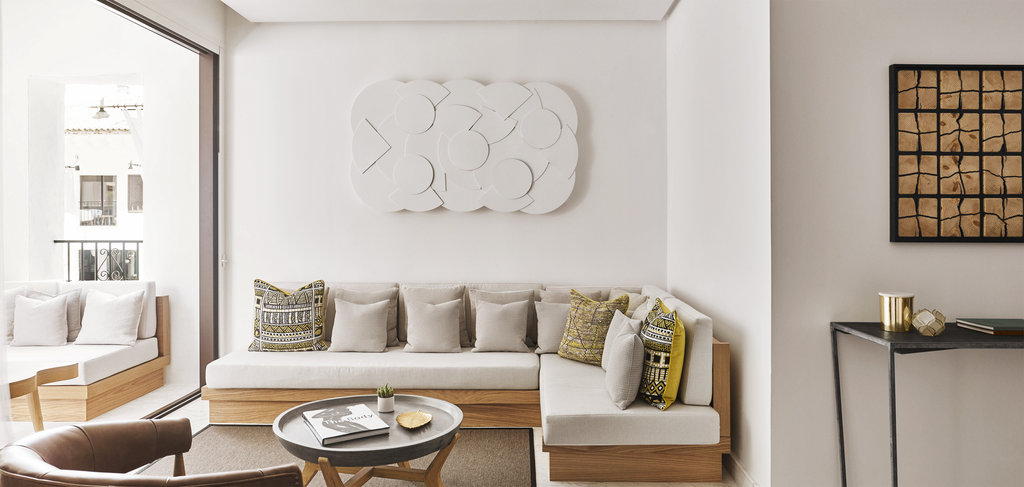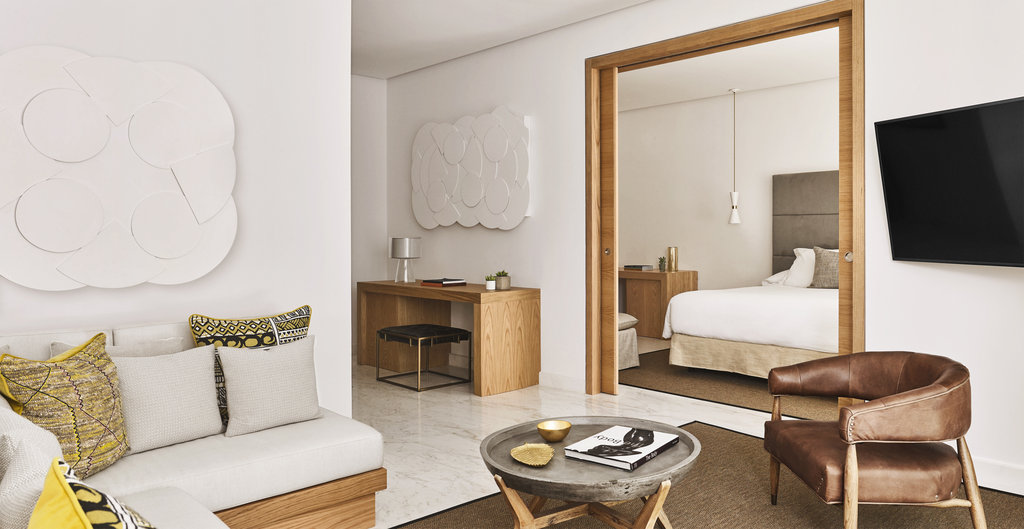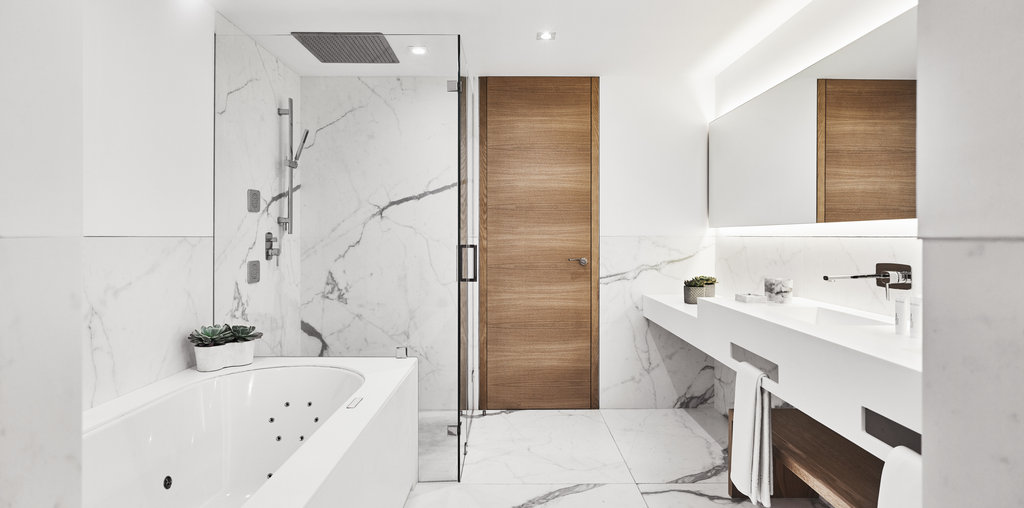 Deluxe Suite
Sleeps: 3 People.
The spacious Deluxe Suites offers a truly exceptional experience. Unwind on the terrace overlooking the hotels vibrant Plaza

The Plaza serves as centre stage for a bustling food scene and opulent nightlife. The elegant interiors with its open plan design and in and outdoor seating are perfect for an in room Nobu dining experience or getting ready for a night out. Size: 70 square metres
From per night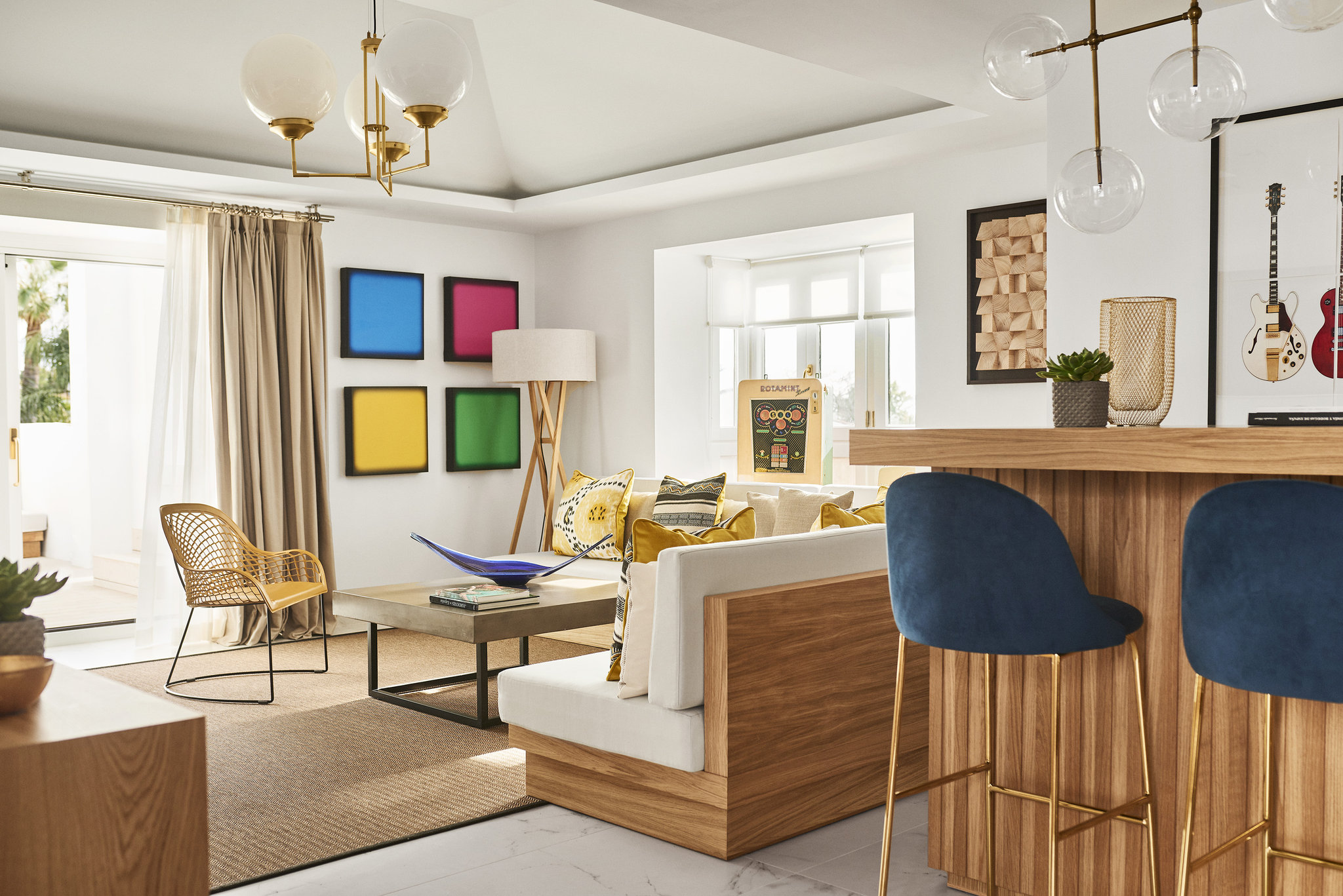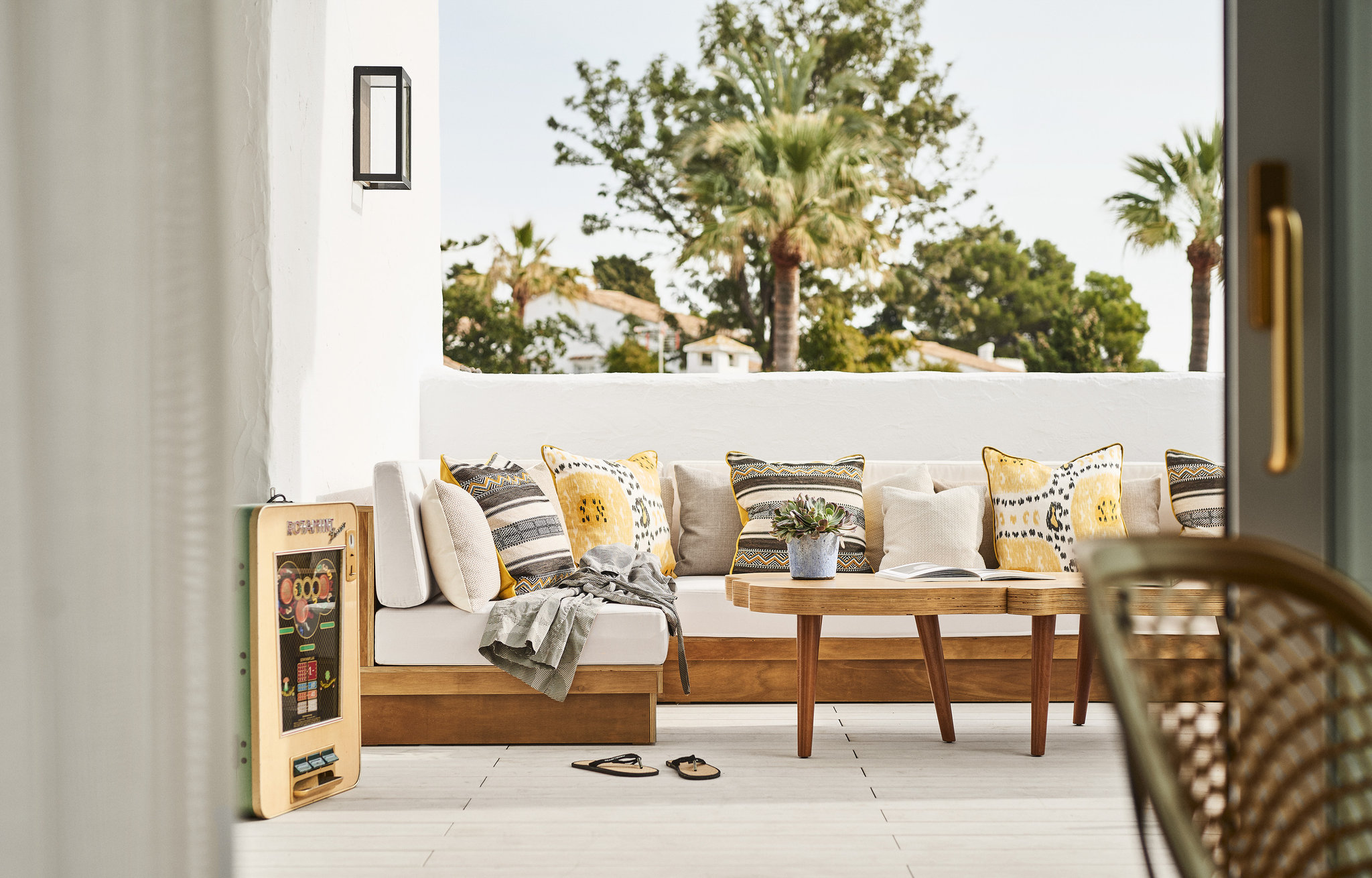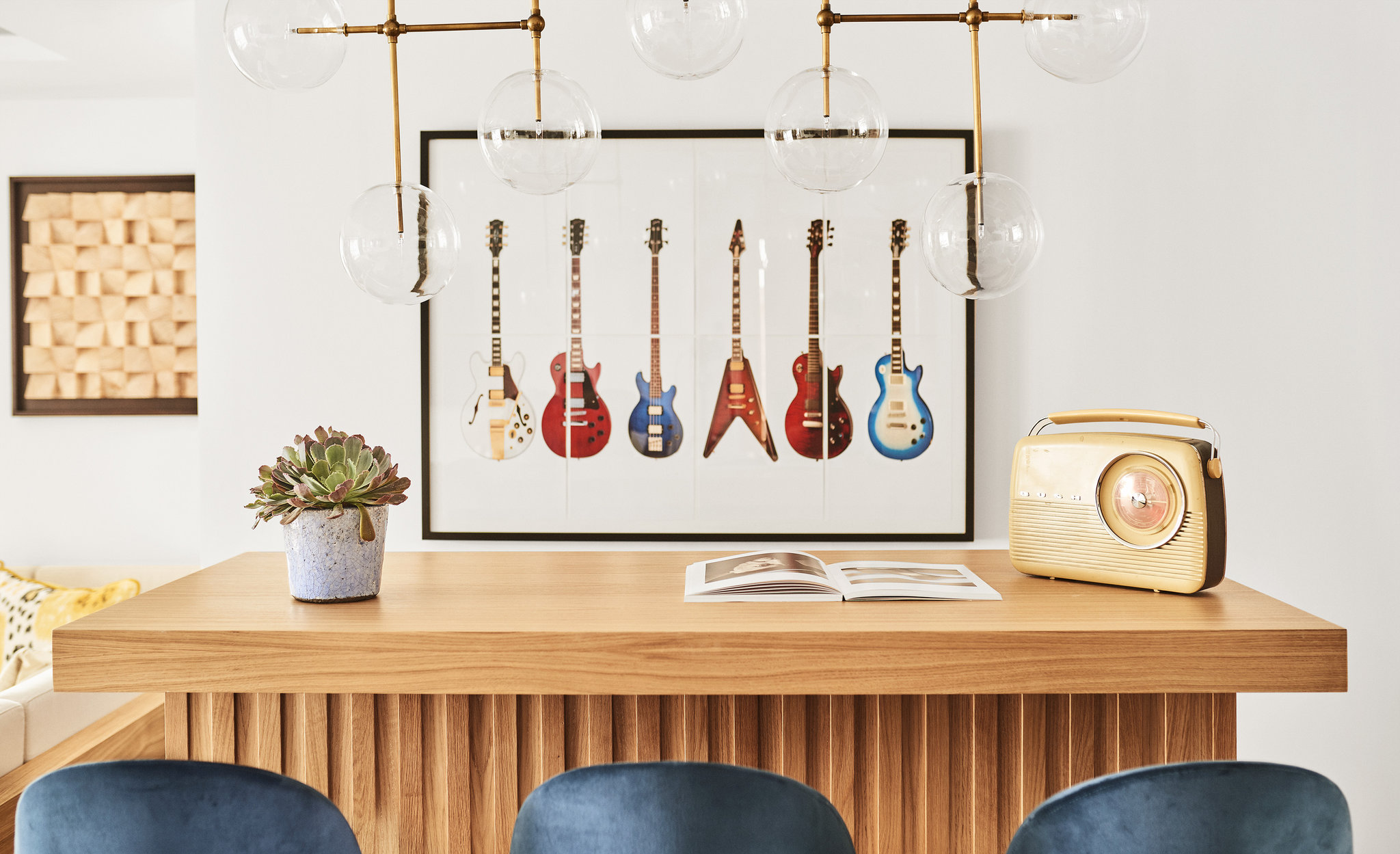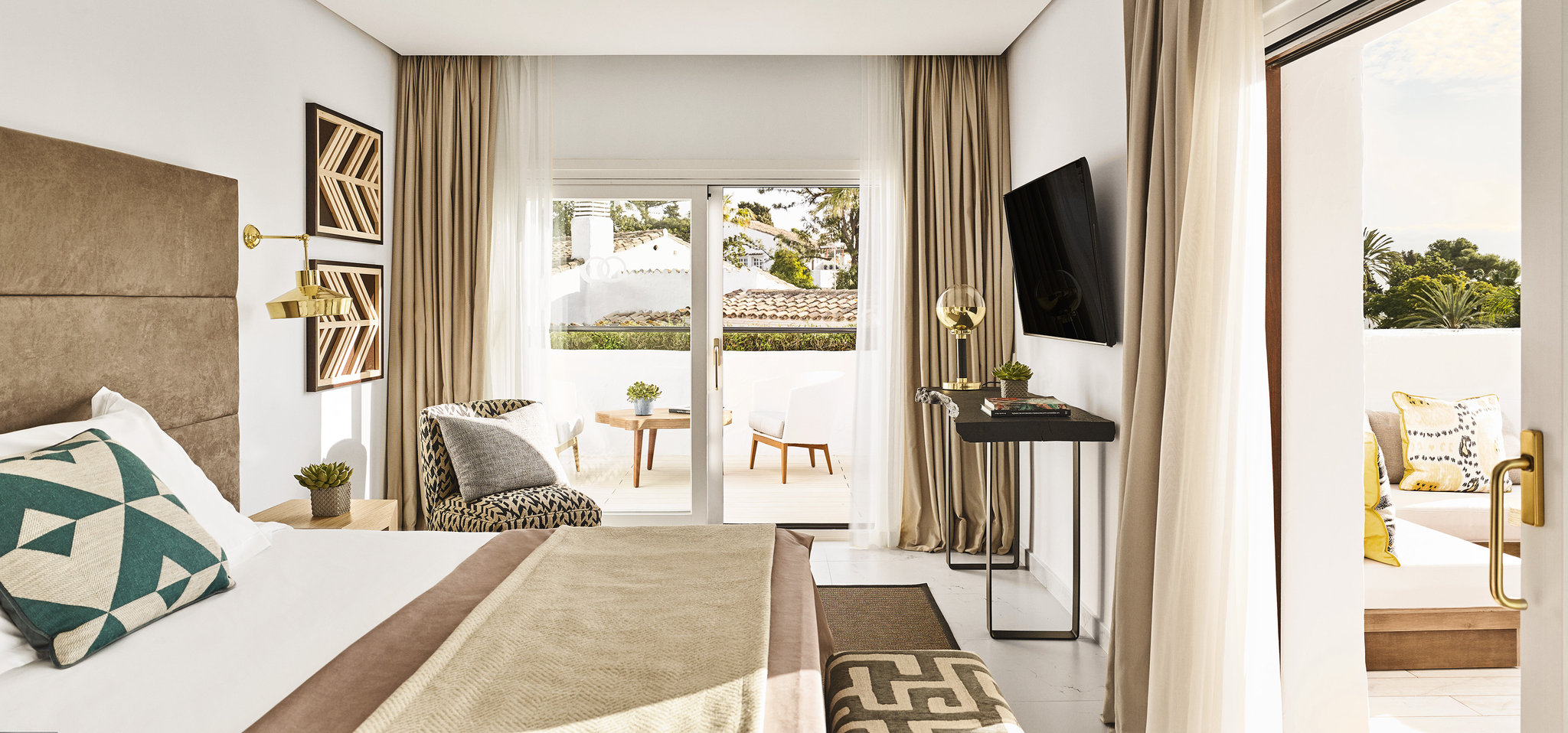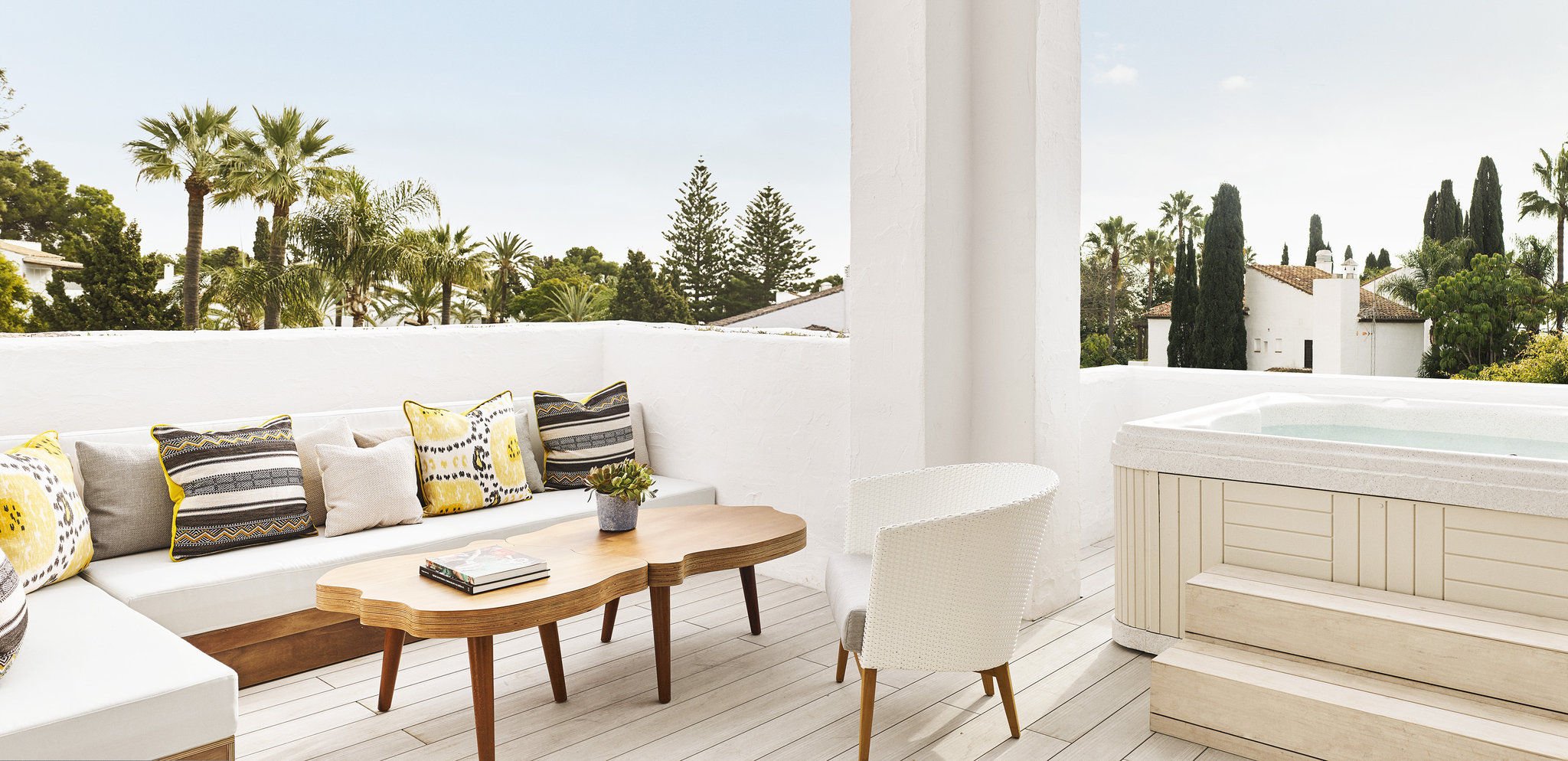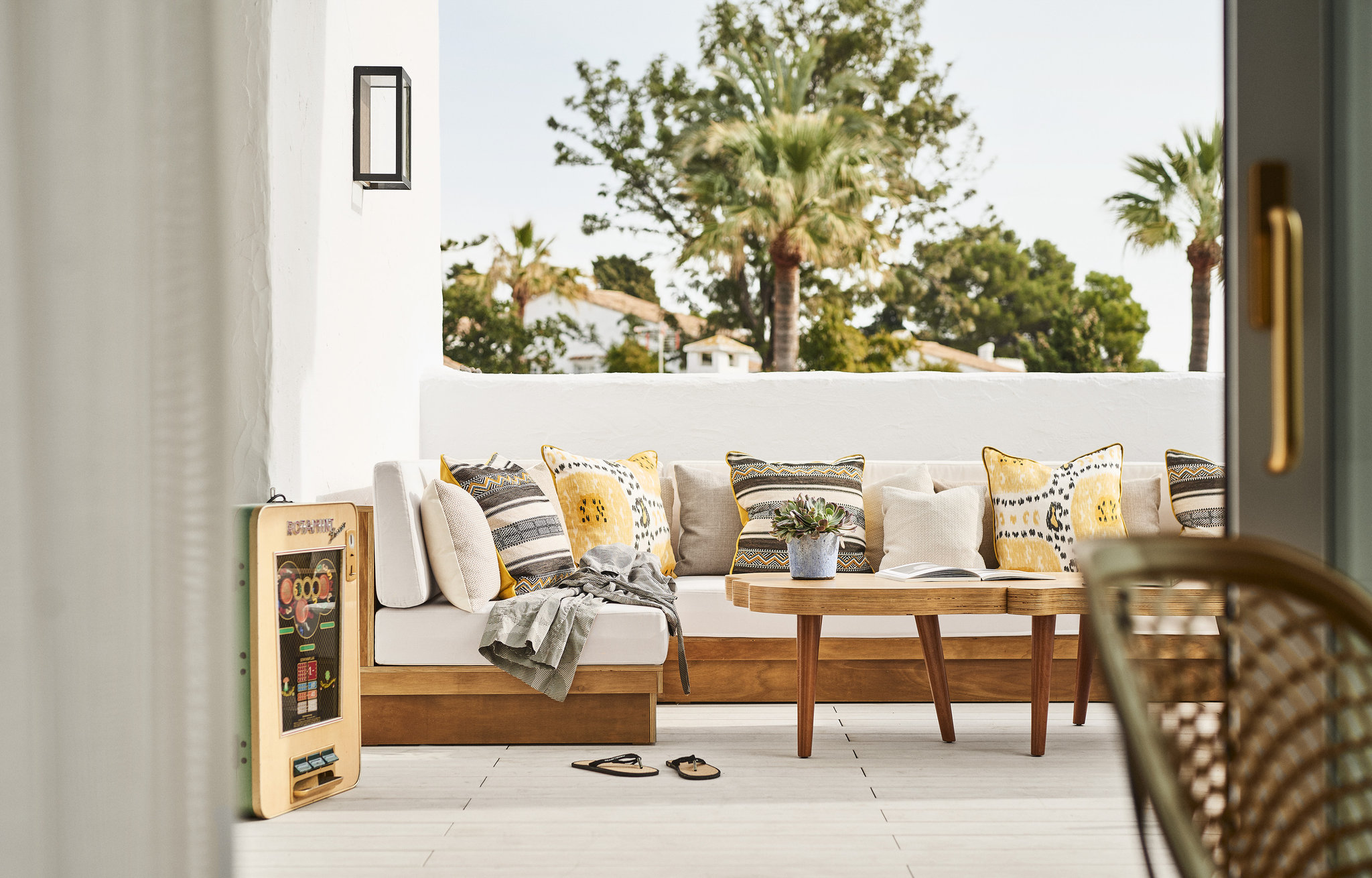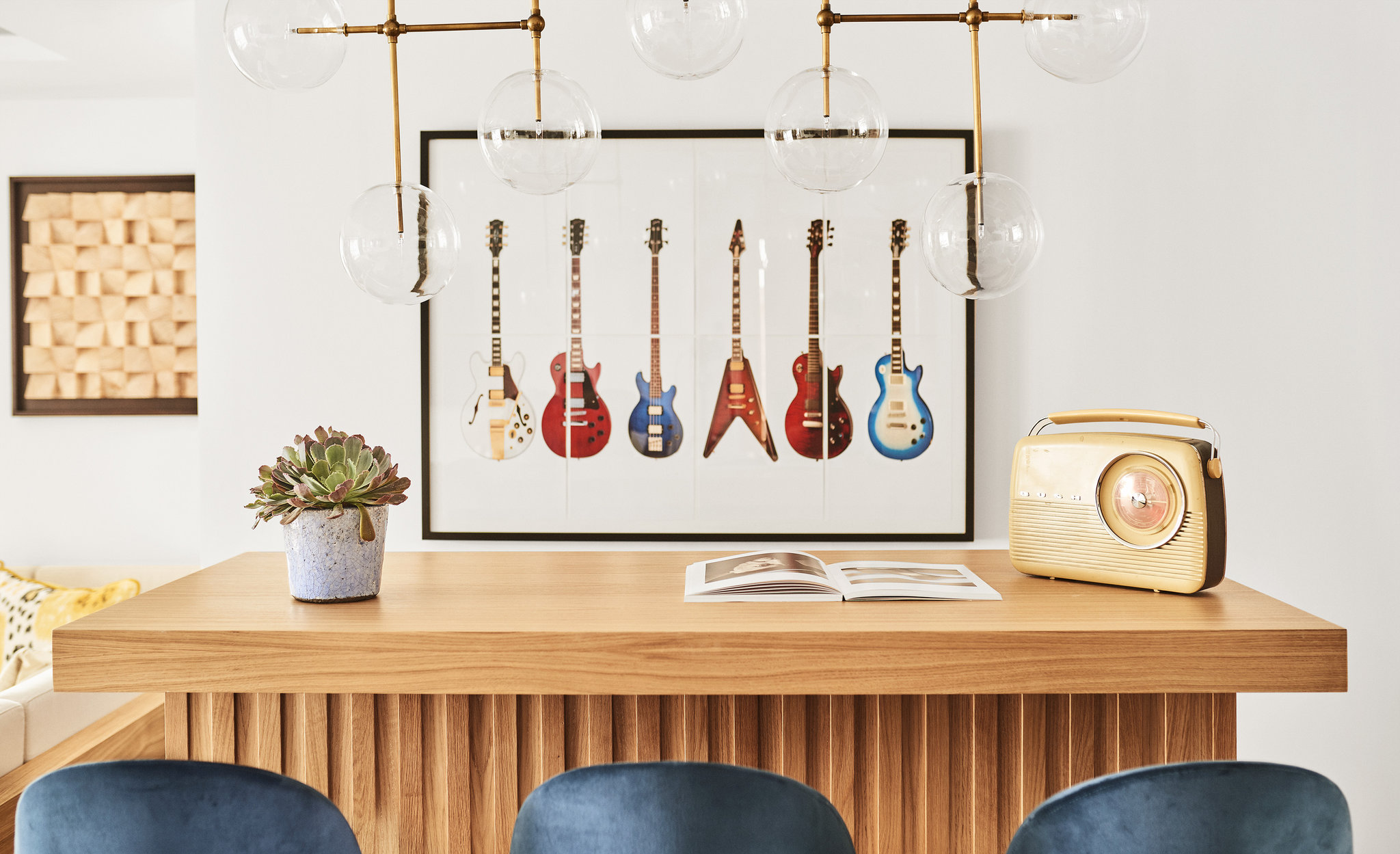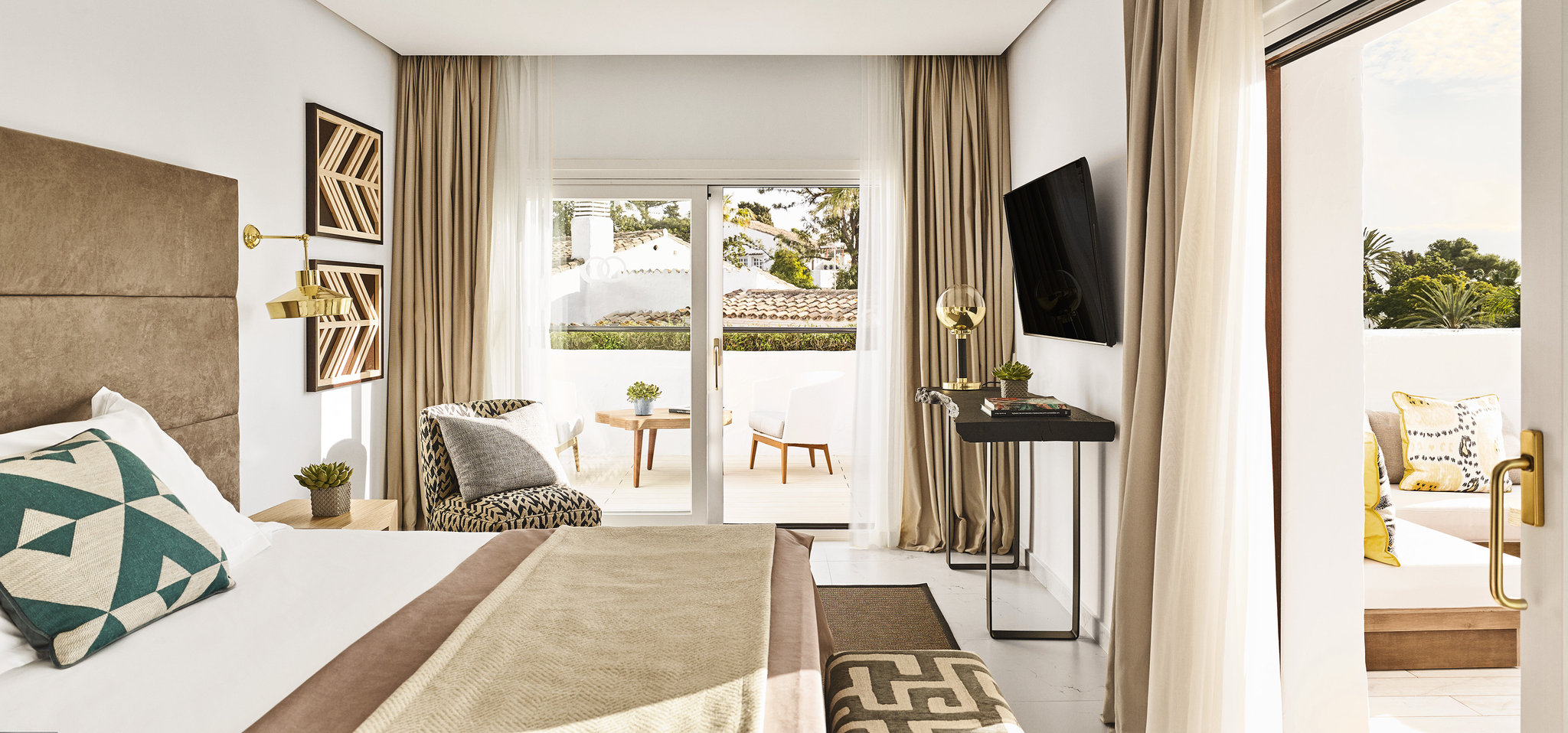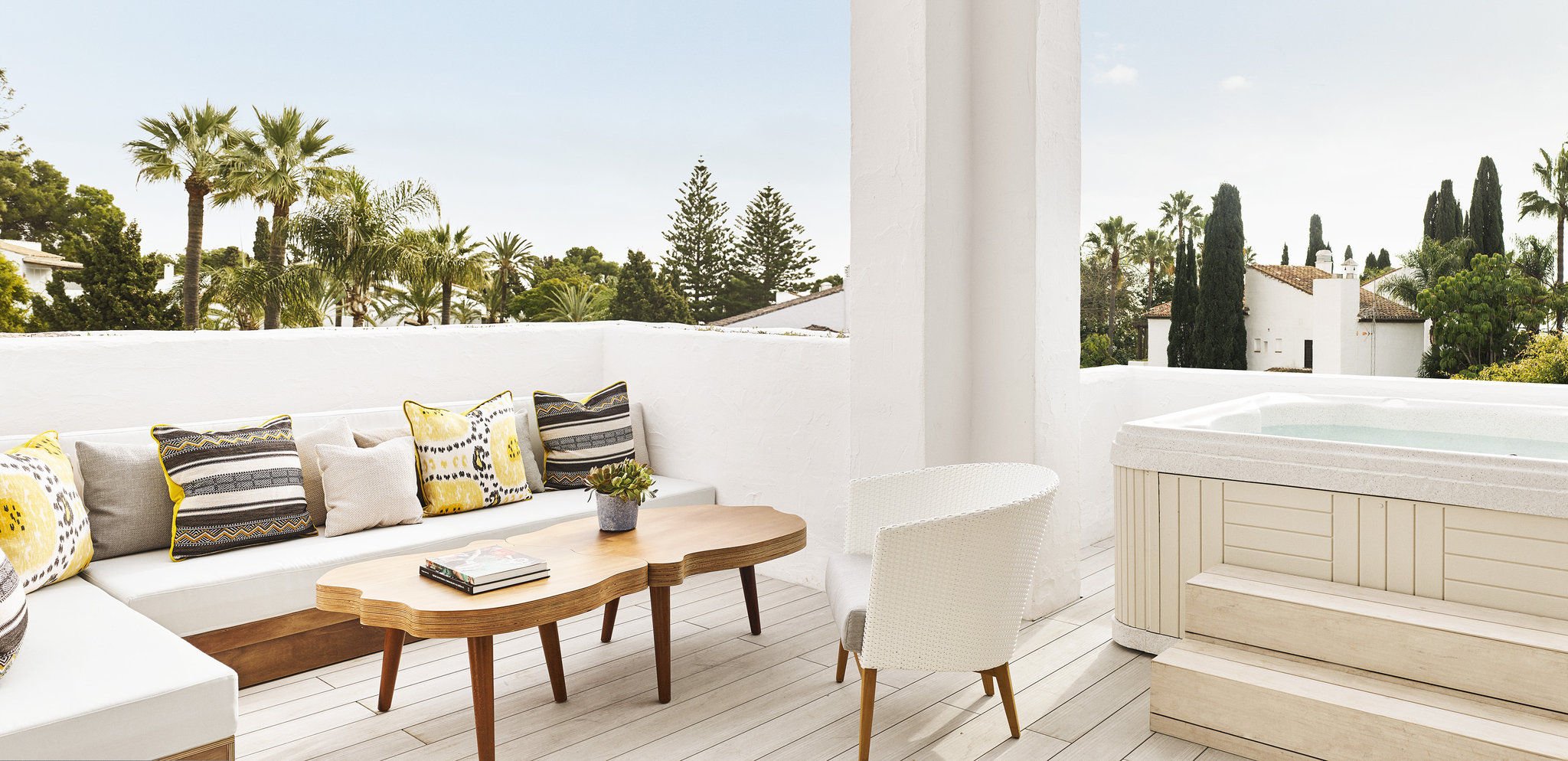 Nobu Suite
Sleeps: 3 People.
Nobu Suite features a living room with high ceilings, a cool bar area and a bright bedroom overlooking to the manicured gardens. Live the Nobu experience taking a dip in your private Jacuzzi

The spacious Suite boasts stunning views over the impressive Concha Mountain and the laid-back Nobu Pool. Stylish and sleek designs, using natural materials and exclusive textures. Equipped with live edge wood furniture, offers indoor and outdoor dining space, and custom artwork by Andrew Martin .This suite is truly one-of-a-kind and has private access to the swimming pool. Size: 105sqm.
From per night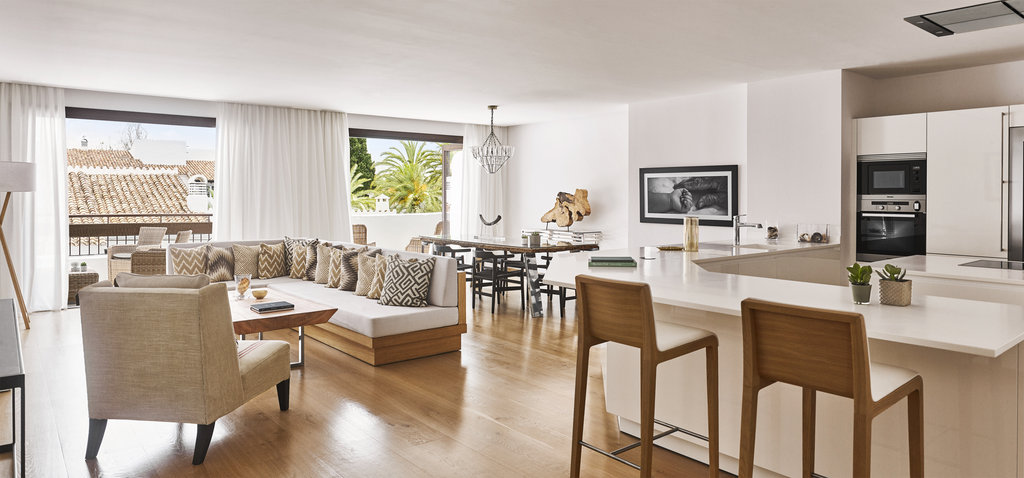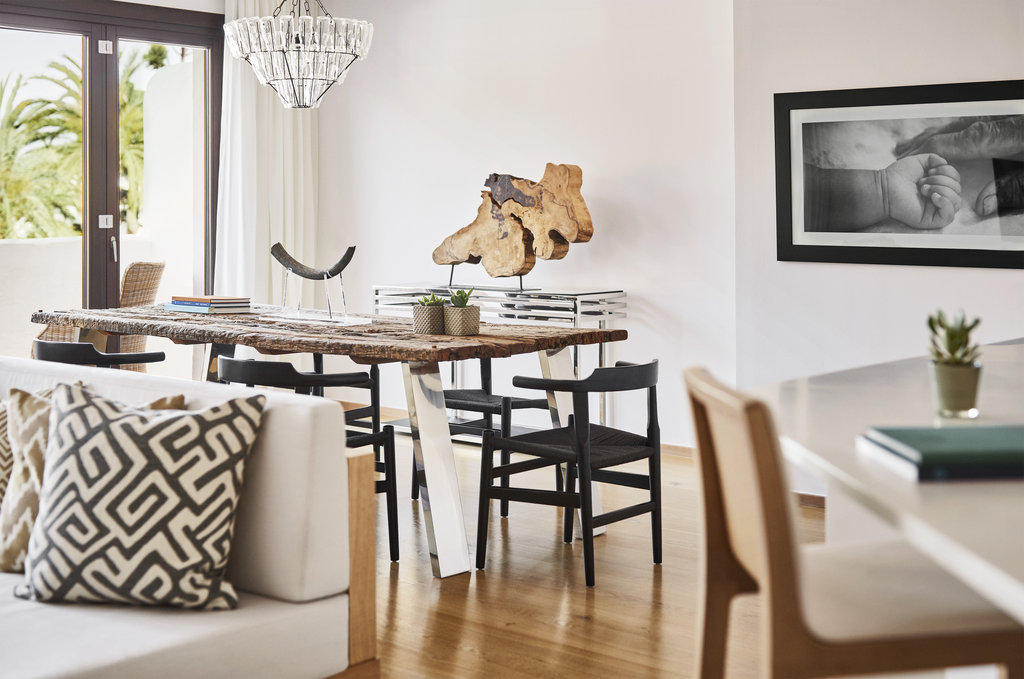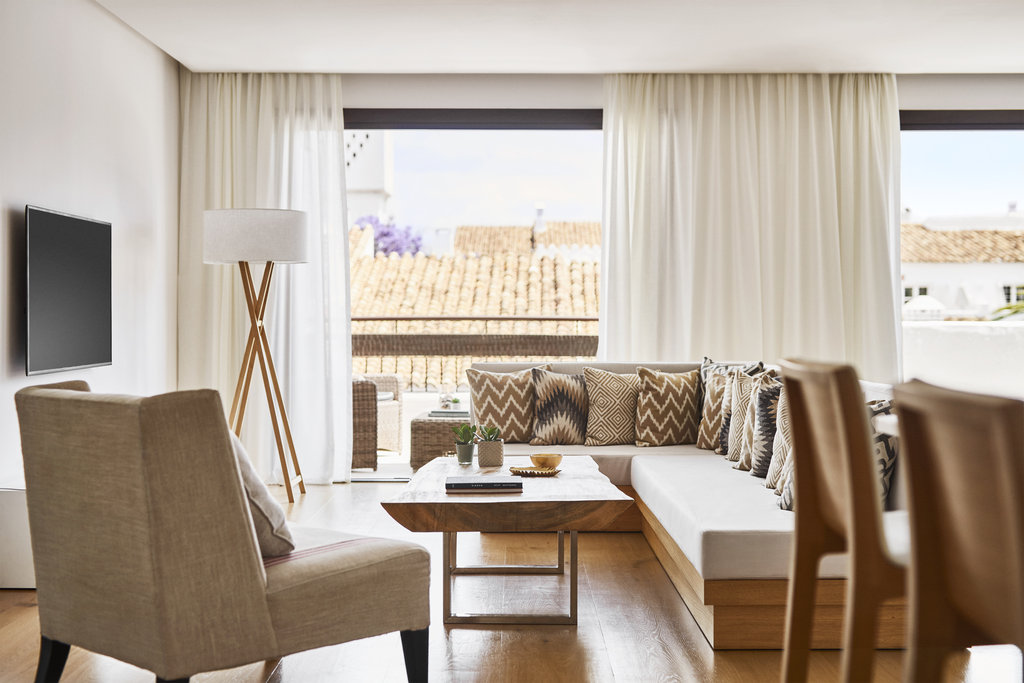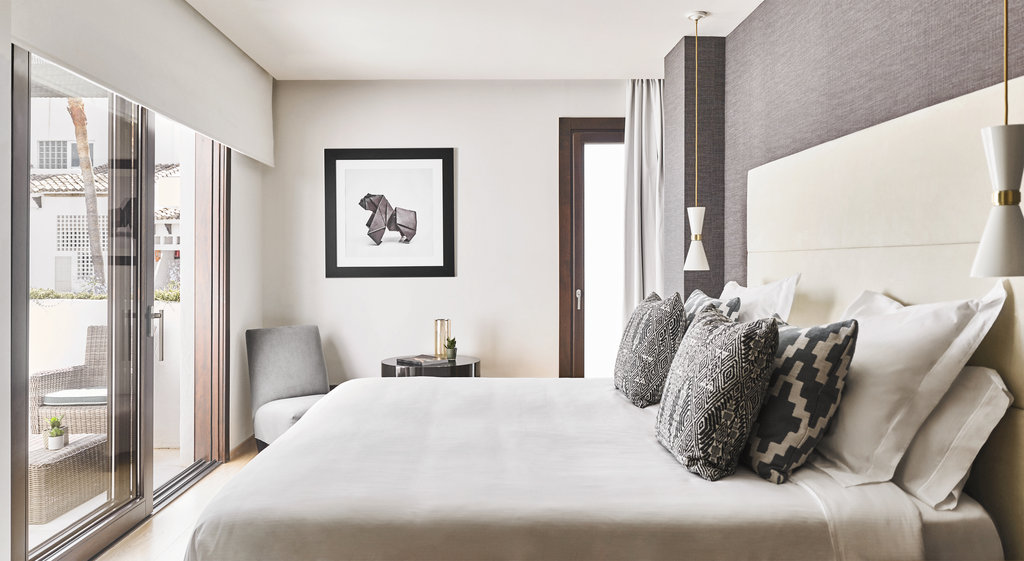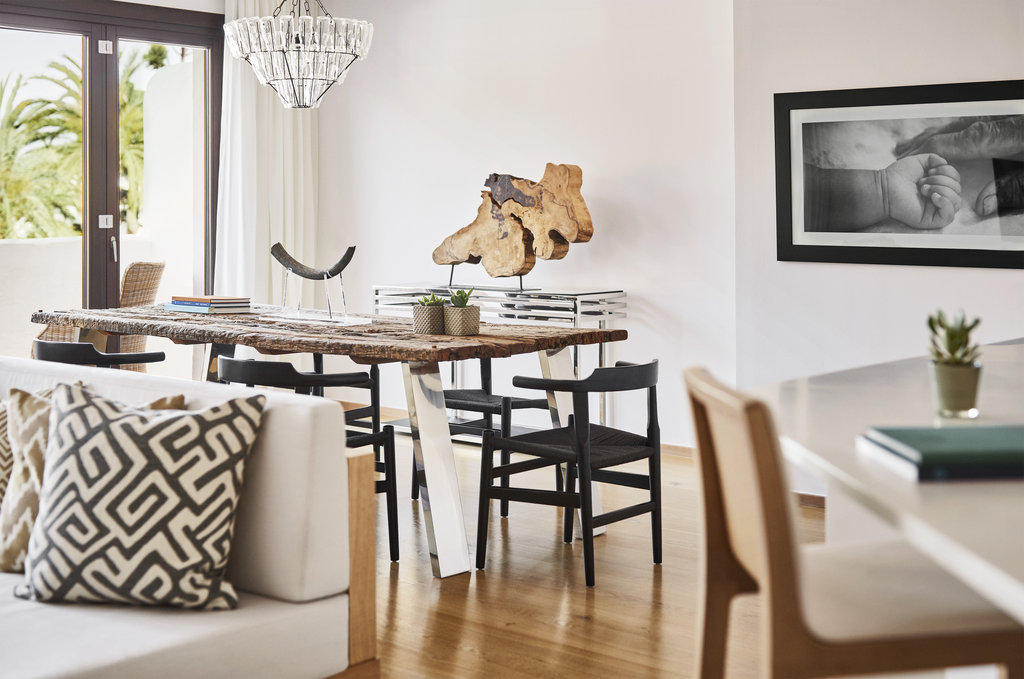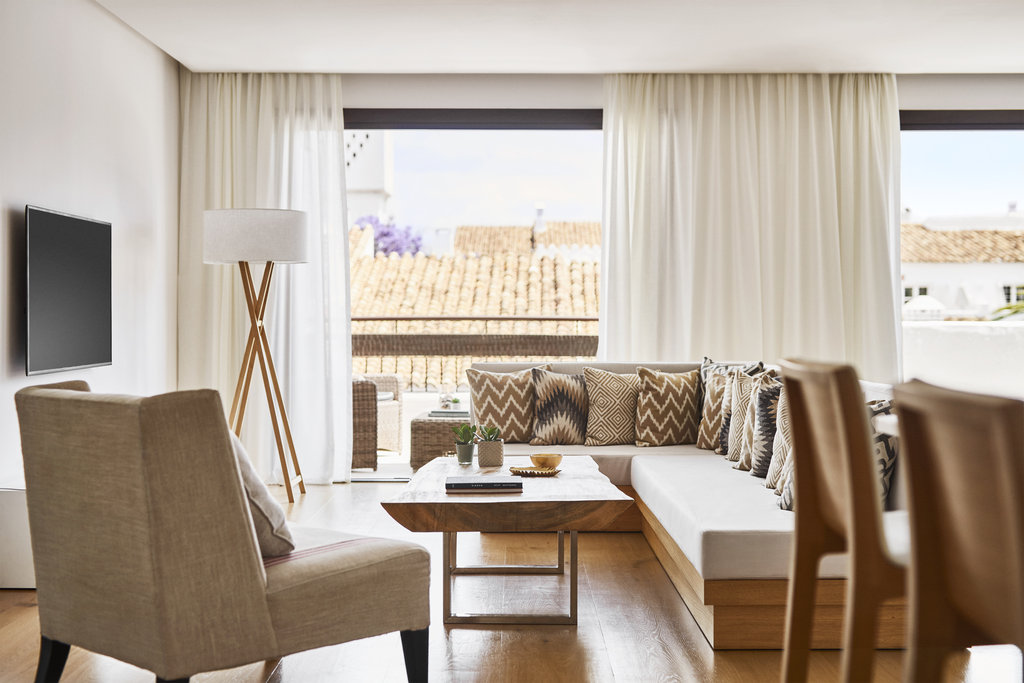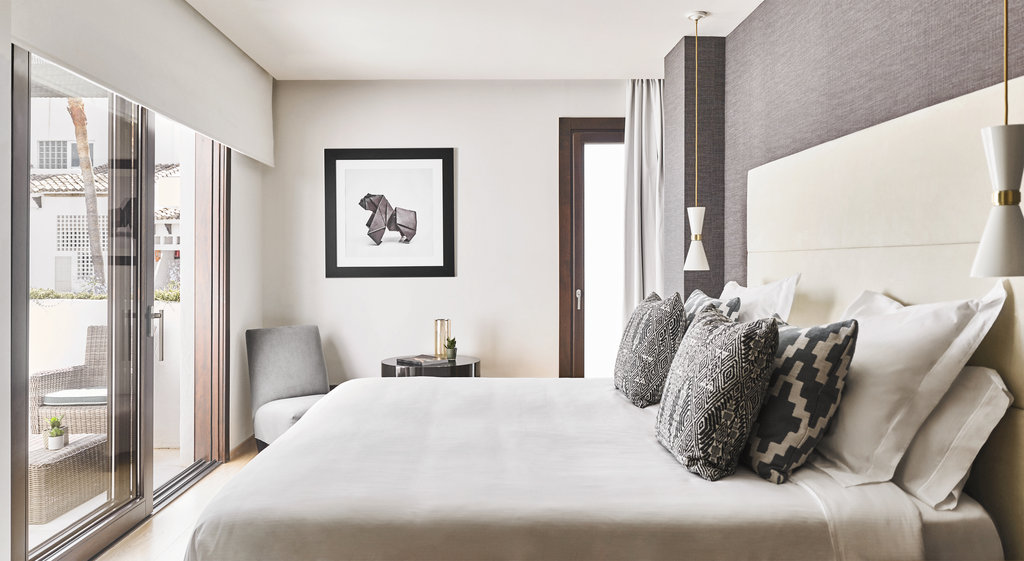 4 Bedroom Suite
Sleeps: 8 People.
The 4 Bedroom Suite, a blend of relaxed chic and understated luxury. The 4 Bedroom Suite boasts stunning views of the resort and the lush gardens

Featuring a grand entrance, living room, dining area and kitchen feels like your own private villa. The Suite features four bedrooms en-suite bathrooms. Indulge in private sunbathing or a dip in your private Jacuzzi on the main terrace. Size: 250 square metres
From per night
Air conditioning
Lounges/bars
Sauna
Exercise gym
24-hour room service
Wedding services
Join INVITED and get 10% off exclusive rates. Plus early check-in and late check-outs among other benefits.
24-hour front desk

24-hour room service

Air conditioning

Audio visual equipment

Bell staff/porter

Breakfast Buffet included in room rate

Buffet breakfast

Business Center Services

Car rental desk

Catering services

Concierge desk

Conference space

Currency exchange

Doctor on call

DVD/video rental

Elevators

Exercise gym

Full service housekeeping

Hairdresser/barber

Housekeeping - daily

Indoor parking

Jogging track

Laundry/Valet service

Lounges/bars

Massage services

Meeting rooms

Nightclub

outdoor

Parking fee managed by hotel

Pets not allowed

Restaurant

Room service

Safe deposit box

Security

Sports trainer

Turndown service

Valet parking

Wakeup service

Water skiing

Water sports

Wedding services

Wireless internet connection
Air conditioning

Alarm clock

AM/FM radio

Balcony/Lanai/Terrace

Bathrobe

Bathroom amenities

Bathtub

Cable television

CD player

Coffee/Tea maker

Color television

Desk

Direct dial phone number

Double vanity

DVD player

Full kitchen

Hairdryer

Internet access

Jacuzzi

King bed

Marble bathroom

Remote control television

Safe

Satellite television

Sitting area

Slippers

Smoke detectors

Speaker phone

Stereo

Telephone

TV

Twin bed
Fine dining

Jacuzzi

Jetski

Sauna

Spa

Tennis court
Nobu restaurant is a must-visit for every hotel guest. With a high energy atmosphere, this is somewhere to catch up over cocktails and sample signature Japanese fusion dishes. If you've something more low key in mind, order a selection of Nobu classics to enjoy in your room. Or mix things up with preferential booking for all seven Plaza Village restaurants. After dinner, drinks in the Nobu Lounge await. What better way to begin a sparkling night out in this exclusive corner of Marbella?
BIBO
Cuisine type: Local Cuisine
Meals served: Lunch, Dinner
Bibo is an epicurean escape made for those who crave the adventurous. Graze an evening away with tapas for two- sample dishes from the Raw and Oyster Bars- or sip on cool cocktails and nibble at platters with friends
Dani Garcia
Cuisine type: Local Cuisine
Meals served: Lunch, Dinner
Based on contrasts- but at the same time it revives the traditional flavours of Andalusian cuisine. Showcase creative- magical and delicate presentations. Avant-garde dishes that are rooted in tradition and where technique is there to serve flavour. Open every day for lunch and dinner except Sundays and Mondays from November to March.
NOBU
Cuisine type: Japanese
Meals served: Dinner
From Chef Nobu Matsuhisa himself. From the moment you open the menu- you will be blown away. From tempura to sashimi tacos- from wagyu to salmon avocado sushi maki. the inventive dishes of NOBU merge classic Japanese cooking with Peruvian flavours. Open daily for dinner.
Sea Grill
Cuisine type: Mediterranean
Meals served: Lunch, Dinner
Sea Grill boasts amazing views of the beach that you can enjoy from the inside thanks to our floor to ceiling glass walls. Situated on the Mediterranean Sea- we have access to some of the most exotic seafood in the world. We are supplied by the best and locally products.
El Chiringuito
Cuisine type: Mediterranean
Meals served: Lunch, Dinner
For a long- laid back lunch- you have the choice of a shaded deck or chic indoor restaurant. Here at El Chiringuito- anything goes. Then you can continue the evening with inventive cocktails and artfully mixed sangria. Open daily in the summer only.
Serafina
Cuisine type: Italian
Meals served: Dinner
Serafina transports you from contemporary Marbella to classic Italy. Relax at the hands of chefs Marco and Carlo Morelli for a delicious experience. Share fine wines and authentic Italian cuisine in this elegant setting with loved ones.
Thai Gallery
Cuisine type: Thai
Meals served: Dinner
Thai Gallery is no ordinary Thai restaurant. Modern interiors flooded with light set the scene for cutting-edge cuisine- delicately prepared with edible origami. Each course is designed to enchant the senses.
Celicioso
Cuisine type: International
Meals served: Breakfast, Lunch, Dinner
The only gluten-free restaurant in the Puente Romano social hub. Here- business executives rub shoulders with beach-fresh friends meeting for sweet treats. Start your day with pastries or see in the evening with a glass of perfectly chilled Champagne
Rachel s
Cuisine type: International
Meals served: Breakfast, Lunch
Energising juices- protein shakes- and peach-stuffed crepes are just a small example of the treats that await at Rachel s. Each order is handmade from scratch using only the finest freshest ingredients. Take time out to enjoy a long lunch beside the pool.
Monkey Club
Cuisine type: International
Meals served: Dinner
Pairing European wines with carefully crafted menus come and get a taste of life in Marbella. Sit down for a deliciously exotic meal infused with local Mediterranean spices- complemented perfectly with the finest tropical cocktails.
La Suite
Cuisine type: International
Step into a fashionable New York City loft-inspired club mixed with the impressive Roman heritage of the property- and experience a night like never before. You you will find only the most fashionable of partygoers at La Suite.
Take an indulgent break from the action at Six Senses Spa Marbella, open to all Nobu Hotel guests. Set in a tranquil spot in the tropical gardens and with treatment rooms overlooking the sea, immerse yourself in the soothing power of nature.
Reviews
These reviews are the real opinions of INVITED members and we have verified their stay at the hotel.
What I liked most :

Breakfast (4)
Restaurant and dining (4)
General Service (3)
Guest Room and Bathroom (3)
Leisure facilities (3)
Location (3)
Welcome and Departure (3)

Read Reviews

Beautiful hotel - wonderful staff

July 2019

My Trip Type:

Couple

We loved our week stay at Nobu Marbella -- the hotel is in the best area in Marbella. Great restaurants and nice vibe. Service was outstanding -- we were made to feel very at home and welcome. Natalia and Alexia were amazing. Breakfasts were lovely.

Top tip for other guests:

Pricey

What I liked most

Welcome and Departure
Location
General Service
Local knowledge and experience
Guest Room and Bathroom
Breakfast
Restaurant and dining
Leisure facilities
Internet and wifi

Not a hotel for adults as advertised

June 2019

Overall, this hotel was a massive disappointment. We had booked the hotel as we really needed a rest. The website front page stays that it is 'designed for adults' and some reviews (including in the Telegraph) say that it is an adult-only hotel. We carefully checked the website and saw on the booking page that it is supposed to be exclusively for adults. However, this is no longer the case and the hotel did not take enough care to ensure that this is clear - at least one page on the website was downright misleading and it appears to us that the hotel wants to have families but also market to adults who want a quiet place without kids - well, they cannot and should not have it both ways and this ended up misleading us. For at least one night, we could not sleep at all with 2 kids in the room next door (and very thin walls in between) making a LOT of noise. To give some credit to the hotel, they did apologise for the misleading page on the website and they did not make us pay for the last night but we'd much rather not have been misled and we'd have gone elsewhere. There was also a noisy and busy kids' club directly opposite our 'quiet' room and all the facilities were open to kids. Not at all what the hotel is marketed for. The cleaning of the rooms and the general service is also haphazard. When we checked in, we were not properly explained the facilities. There is a car service but, when we asked for it, they sent it to the wrong place - and no follow up, no apology. There is some underlying / subtle arrogance in the staff - one day, we went for breakfast and I needed some salt to gargle for a sore throat and some flu; I asked someone there and he refused, saying he can't give me salt and to ask room service - why? how much hassle would it have been for him to give me some salt? Some of the rooms are also getting a bit old and a refurbishment would do a lot of good. A pity because the location is nice and they could have done so much better with some effort. What we really loved was the quality of food - the breakfast in Nobu is really very nice. And the quality of foods in the restaurants is really stunning / world class. We loved the tapas at Bibo (and went twice), Sea Grill has world-class food and the beach restaurant was amazing - superb pasta. And, apart from 1-2 incidents in Nobu restaurant itself (including example above), the service is really good in the restaurants. Overall, we'd not recommend that you stay at Nobu but stay elsewhere and go to the restaurants, which are open to everyone. But book the restaurant days in advance, they are really busy (we stayed early June)

Top tip for other guests:

Don't stay at the Nobu, it's nothing great, the rooms are a bit old and the service is poor. And it's very noisy and plenty of kids (contrary to how it's marketed). But DO absolutely go to many of the restaurants in the place - Nobu, Bibo, Sea Grill and the beach restaurant (forgot the name), they are all world class.

What I liked most

Breakfast
Restaurant and dining

What I might improve

Welcome and Departure
General Service
Guest Room and Bathroom
Leisure facilities

November 2018

My Trip Type:

Couple

Rooms Personal service ie Champagne on arrival,cocktails and nibbles in room nightly. Resort,Puente Romano Hotel facilitates and choice of restaurants.

Top tip for other guests:

Enjoy the ambiance.

What I liked most

Welcome and Departure
Location
General Service
Local knowledge and experience
Guest Room and Bathroom
Breakfast
Restaurant and dining
Room Service
Leisure facilities

What I might improve

Exclusive stay with excellent service.

October 2018

The perfect stay, from arrival till departure. A great, charming welcome in the reception, before being wisked away to a most elegant and cool room, with a spectacular view over the restaurant plaza. Just settled in, room service appeared with a bottle of Champagne, delicious fruit and some heavenly sweets, a really appreciated welcome gesture ! After a wonderful walk on the via Verde to Puerto Banus/return, the complimentary gifts were enjoyed fully in the bathtub .. in addition there also was a welcome drink in the bar/lounge of the Nobu restaurant, savoured with the knowledgeable company of the bartenders. Thereafter a most satisfying experience in the Nobu restaurant followed, placed in the sushi-bar, watching/talking with the Chefs. Perfect combinations of fish/meat followed, an extremely tasteful adventure. Breakfast next morning was equally satisfying, the same very able staff attending to every need. The hotel has a cool, exclusive ambience, great rooms, with an extremely competent staff doing their utmost for the guest. The Nobu restaurant adds a magical touch to a marvellous stay.

Top tip for other guests:

Enjoy the great location, just a few steps to the beach/beach promenade.

What I liked most

Welcome and Departure
Location
General Service
Guest Room and Bathroom
Breakfast
Restaurant and dining
Room Service
Leisure facilities