https://origin.slh.com/hotels/palacio-de-villapanes/
Hotel Highlights
Former 18th-century palace
Beautiful courtyard for al fresco tapas
Superb Andalusian restaurant, housed in the palace's old winery
Hotel Palacio de Villapanés - luxury hotel in seville
An authentic slice of Spanish elegance, just moments from the historic heart of Seville
Hotel Palacio de Villapanés is a converted 18th century palace that does traditional elegance with a modern twist. You'll find baroque architecture, marble columns and tiles, ornate archways and parquet floors. Yet, there's also an exclusive, modern feel with contemporary furnishings, sumptuous fabrics and sleek bathrooms. This is authentic Andalusian opulence brought into the 21st century.
Located just a few steps from the Barrio de Santa Cruz, this hotel rubs shoulders with the city's major sights including 'La Giralda' bell tower and 'La Catedral'. There's a serene spa, elegant terrace, and palatial suites, as well as the acclaimed restaurant that promises "gastronomy to delight your five senses."
From Hotel Palacio de Villapanés the best of Seville is at your feet: the Plaza Jesus de la Redencion, Real Alcazar of Seville, Museo de Bellas Artes and the narrow alleyways of the Barrio Santa Cruz. Step out and immerse yourself in this fascinating city. Or settle in and savour life in your very own mansion – a hotel that's fit for a king.
50

rooms

1

restaurant

4

floors
The rooms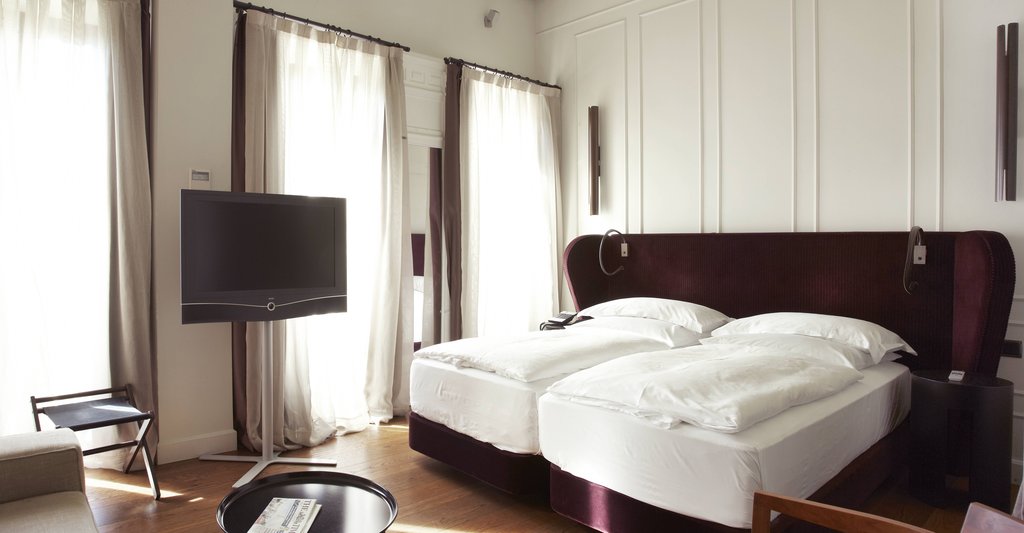 Deluxe Room
Sleeps: 2 People.
Elegant and comfortable Queen bedded room (twin beds on request), bathroom with water jet shower and Katari toletries. Rooms feature satellite TV, complimentary WiFi and minibar and Apple iMac.

Access to the Wellness Area is included. Size:25sqm
From per night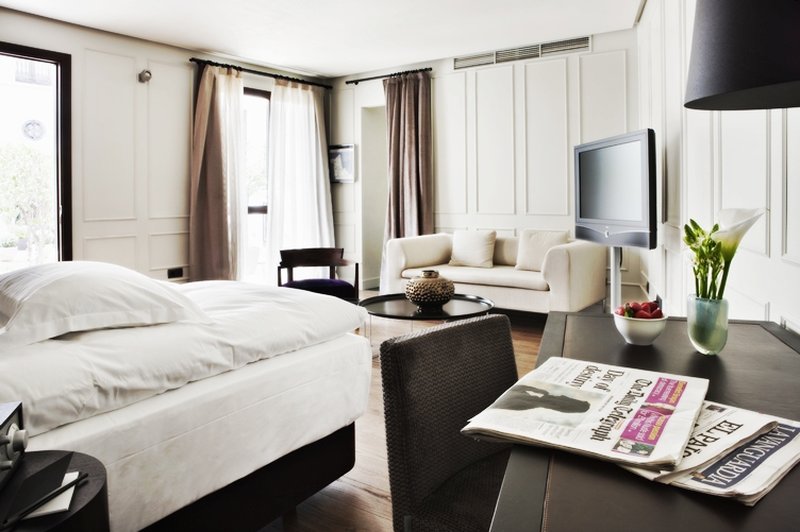 Grand Deluxe Room
Sleeps: 2 People.
Beautiful Queen bedded room (twin beds on request), bathroom offering shower with three types of water jet and bath tub and Katari amenities. Features satellite TV, complimentary WiFi and minibar.

They offer a sitting area and a desk with Apple iMac as well as access to the Wellness Area. Size: 35sqm.
From per night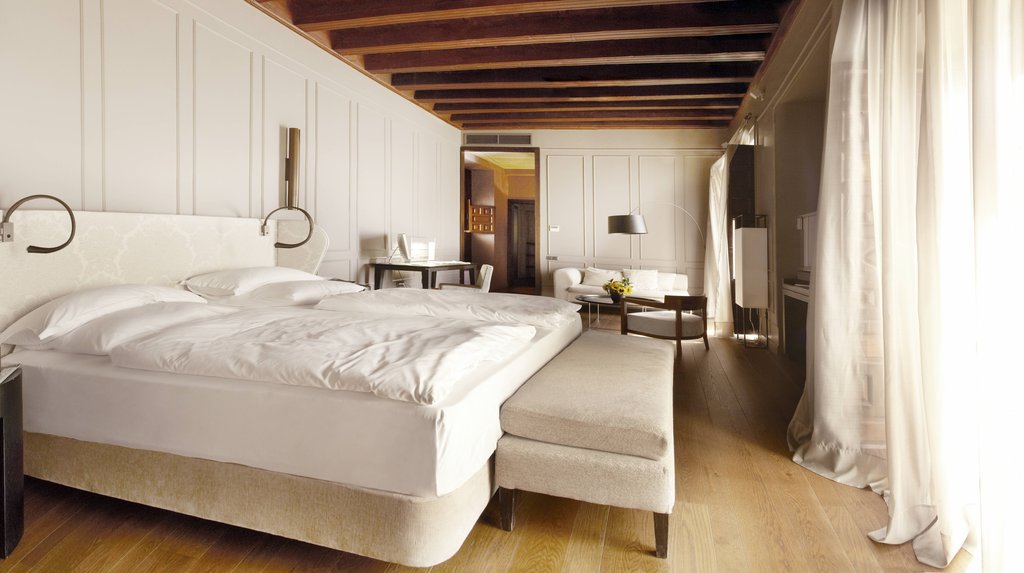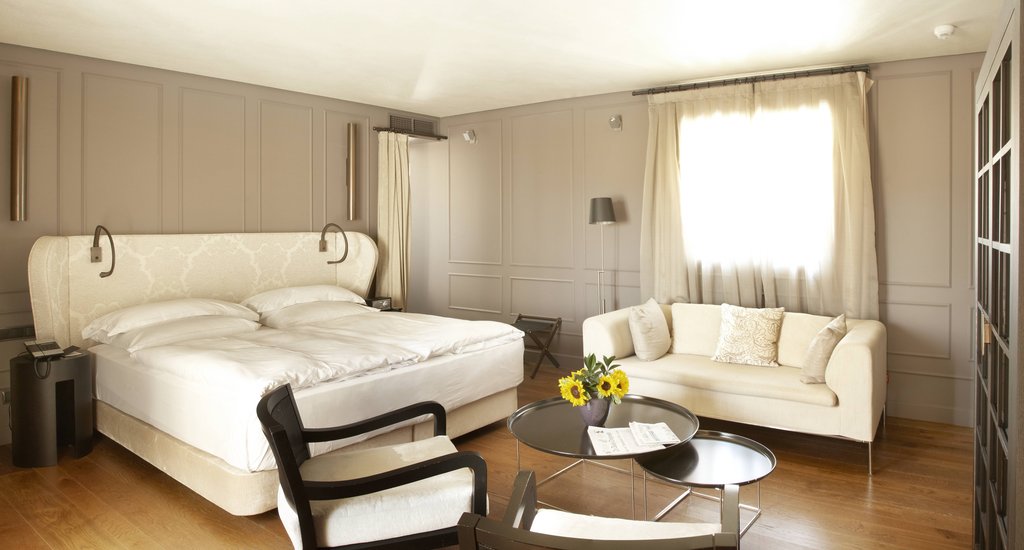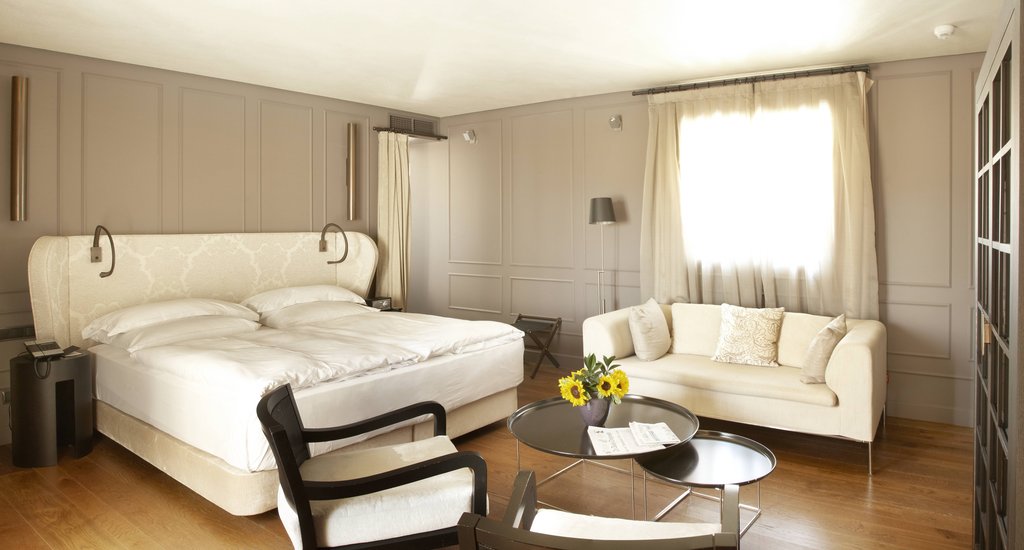 Palace Room
Sleeps: 2 People.
Palacio Room is a charming space with sitting area. A fusion of the past and present in an extremely elegant space with Queen bed and wide bathroom offering separated water jet shower and bathtub.

Featuring satellite TV, complimentary WiFi and minibar, Katari amenities, leather and wood desk with Apple iMac. Size: 45 sqm.
From per night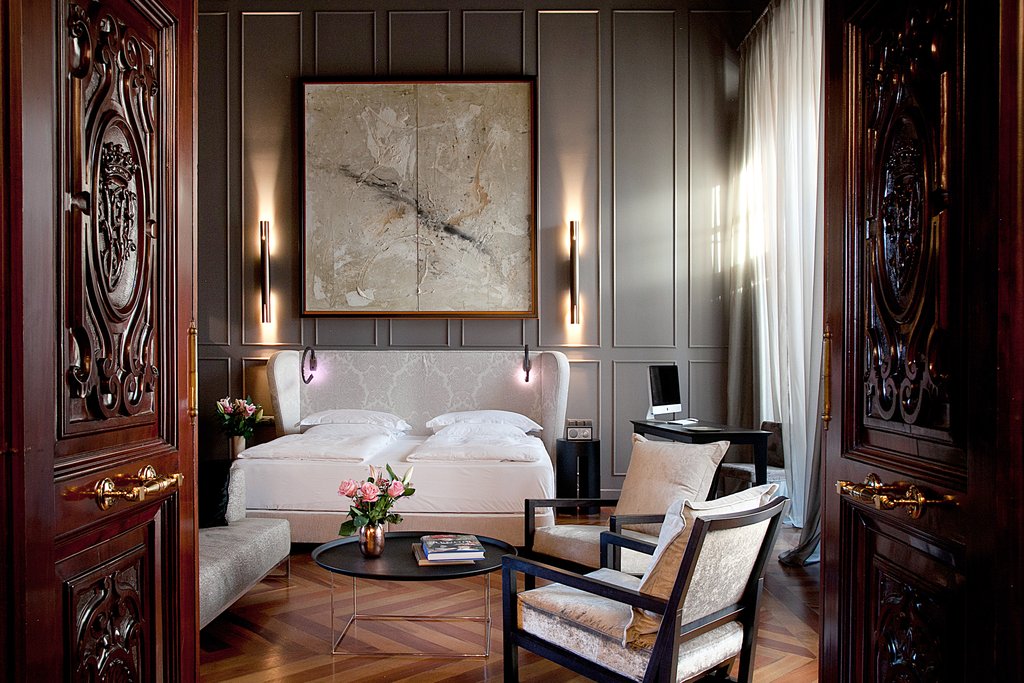 Junior Suite
Sleeps: 2 People.
Divided in three spaces around a typical Sevillian interior patio. Its spacious but intimate living room is separated from the bedroom and the particularly luminous bathroom.

Featuring original solid wood windows and coffered ceiling combined with design furniture and equipped with Loewe TV, Katari amenities, Tivoli radio, Apple iMac and complimentary Wifi and minibar.Size: 60sqm
From per night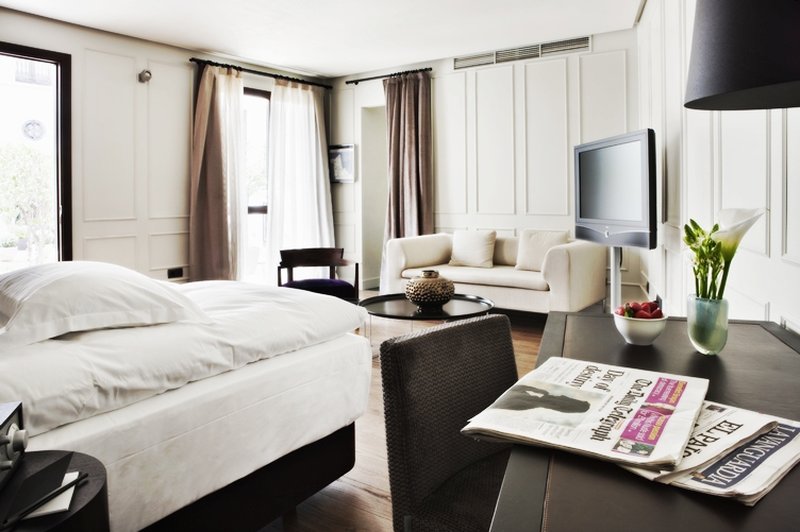 Suite
Sleeps: 2 People.
There are five different suites all in the XVIII Century Palace, each with its own character and unique features. These include two with balcony, one with terrace and one has a separate sitting room.

All Suites feature an Apple iMac computer on desk, King bed, satellite TV and complimentary WiFi and minibar. Bathrooms offer separated water jet shower and bathtub and Katari amenities. Size: 60-85sqm.
From per night
Air conditioning
Exercise gym
Parking
Wireless internet connection
24-hour room service
Join INVITED and get 10% off exclusive rates. Plus early check-in and late check-outs among other benefits.
24-hour room service

24-hour security

Accessible facilities

Accessible parking

Aerobics instruction

Air conditioning

Audio visual equipment

Bell staff/porter

Buffet breakfast

Catering services

Child programs

Children welcome

Concierge desk

Currency exchange

Doctor on call

Early check-in

Elevators

Exercise gym

Family plan

Fire safety compliant

Free high speed internet connection

Full service housekeeping

Hairdresser/barber

Half board/modified American plan

Handicap Parking

High speed internet access for laptop in public areas

Hotspots

Housekeeping - daily

Late check out guarantee

Laundry/Valet service

Massage services

Meeting rooms

Newspaper

Nightclub

Parking

Pets not allowed

Restaurant

Room service

Safe deposit box

Security

Shoe shine stand

Translation services

Turndown service

Valet parking

Wakeup service

Wireless internet connection
Air conditioning

Alarm clock

Balcony/Lanai/Terrace

Bathrobe

Bathroom amenities

Bathtub

Coffee/Tea maker

Computer

Desk

Hairdryer

High ceilings

King bed

Minibar

Safe

Separate tub and shower

Shower only

Sitting area

Telephone

Turn down service

TV

Wireless internet connection
Set in the hotel's old winery, the Restaurant Palacio de Villapanés takes traditional Andalusian flavours and adds a dash of contemporary creativity. Expect flavours to surprise and delight the palate. There is also a grand terrace serving authentic tapas.
Villapanes
Cuisine type: Mediterranean
Meals served: Breakfast, Lunch, Dinner
There are two different spaces - the lobby room with six metre high wood ceiling and the white arched wine cellar. Both serve full service Mediterranean based cuisine and tapas.
Immerse yourself in the luxury of the Mudejar times. The hotel's superb spa uses water, light and the massage techniques to relax and rejuvenate the senses.
Reviews
These reviews are the real opinions of INVITED members and we have verified their stay at the hotel.
What I liked most :

Breakfast (28)
Location (28)
Internet and wifi (21)
Welcome and departure (19)
General service (14)
Guestroom and bathroom (14)
Welcome and Departure (14)
General Service (13)
Local knowledge and experience (13)
Local knowledge and experiences (11)
Guest Room and Bathroom (9)
Restaurant and dining (8)
Room Service (4)

What I might improve :

Leisure facilities (8)
Guest Room and Bathroom (5)
Guestroom and bathroom (4)
Breakfast (3)
Internet and wifi (3)
Room service (3)

Read Reviews

excellent location, most helpful staff, nice place to stay

May 2019

My Trip Type:

Couple

Pleasant outdoor courtyard for a pre-dinner drink. Restaurant very nice with the option to dine al fresco. Staff very nice and friendly and eager to help.

Top tip for other guests:

go!

What I liked most

Welcome and Departure
Location
General Service
Restaurant and dining

What I might improve

Great place - Great location

March 2019

My Trip Type:

Couple

The atmosphere is really great in this fabulous old building.

Top tip for other guests:

The concierge can help you with everything, especially to book a great restaurant.

What I liked most

Welcome and Departure
Location
General Service
Local knowledge and experience
Guest Room and Bathroom
Breakfast
Restaurant and dining
Internet and wifi

Lovely Hotel with great staff in excellent location

March 2019

My Trip Type:

Couple

Top tip for other guests:

Seville is a great place to visit and this hotel is ideal. Make use of the Handy phone they lend you for the duration of your stay which has an excellent gps/map feature on it

What I liked most

Welcome and Departure
General Service
Local knowledge and experience
Guest Room and Bathroom
Breakfast
Restaurant and dining
Room Service
Leisure facilities
Internet and wifi
Other

Open, friendly staff; wonderful building beautifully restored; great location.

March 2019

My Trip Type:

Couple

Top tip for other guests:

.

What I liked most

Welcome and Departure
Location
General Service
Local knowledge and experience
Guest Room and Bathroom
Breakfast

Nicely renovated old building.

February 2019

My Trip Type:

Couple

Top tip for other guests:

Avoid the high season

What I liked most

Welcome and Departure
General Service
Local knowledge and experience
Breakfast

What I might improve

Guest Room and Bathroom
Internet and wifi

Enchanting stay in real Andalucian Palacio

January 2019

My Trip Type:

Couple

Marvellous place full of history and splendid rooms The friendliest and most helpful staff

Top tip for other guests:

Go for the rooms on the original palace patio and Follow their advice on local restaurants !

What I liked most

Welcome and Departure
General Service
Local knowledge and experience
Guest Room and Bathroom
Internet and wifi

December 2018

My Trip Type:

Couple

This hotel is in a quiet area of Seville with not as many tourists, although within easy walking distance to the major attractions. Rooms are spacious, quiet and comfortable, with a free minibar service. The hotel staff made our stay truly special; they were always pleasant and helpful.

Top tip for other guests:

Even the standard rooms at this hotel are very comfortable.

What I liked most

Welcome and Departure
Location
General Service
Local knowledge and experience
Guest Room and Bathroom
Breakfast
Restaurant and dining
Internet and wifi

The most welcoming staff and a beautiful building

November 2018

My Trip Type:

Couple

Cannot say enough about the hotel staff, they make this place even more amazing

Top tip for other guests:

Perfect location

What I liked most

Welcome and Departure
Location
General Service
Local knowledge and experience
Breakfast
Room Service
Internet and wifi

What I might improve

Wonderful staff in a great location.

November 2018

The staff at the front desk were extremely helpful. They know the city well and went out of their way to help us have a great experience in Seville.

Top tip for other guests:

We had a "deluxe" room, but we would recommend the "super deluxe" if possible. We think it is normal for there to be unusual rooms in a hotel that was not built for that purpose, but our room, for example, had no place that was usable as a desk, there was no place for a coffee maker, and other things were squeezed into awkward spaces. This was our only disappointment. Otherwise this is a wonderful hotel. It is a beautiful place. The location is excellent, and the staff were exceptionally friendly and helpful. We would highly recommend this hotel, and we hope to return there.

What I liked most

Welcome and Departure
Location
General Service
Local knowledge and experience
Breakfast
Internet and wifi

What I might improve

Beautiful hotel ina beautiful city

November 2018

My Trip Type:

Friends

Everything was lovely except for one thing - our wardrobe was a 30cm rail attached to a wall and a 1m length shelf. This is unacceptable in a hotel of your standard. The staff are delightful and the location good.

Top tip for other guests:

Don't stay in room 224 if you have a lot of clothes!!

What I liked most

Welcome and Departure
General Service
Local knowledge and experience
Breakfast
Internet and wifi

What I might improve

perfect setting to explore Seville

November 2018

My Trip Type:

Couple

Great location, helpful and friendly staff. Excellent restaurant recommendations and wonderful authentic flamenco experience.

Top tip for other guests:

La Carboneria for flamenco in a basic Spanish bar

What I liked most

Welcome and Departure
Location
General Service
Local knowledge and experience
Guest Room and Bathroom
Breakfast

What I might improve

Guest Room and Bathroom
Breakfast

November 2018

My Trip Type:

Couple

We stayed at this property in Spring 2015, a season when flowers and jasmin bushes were blooming in the courtyard. We returned now in November with the oranges on the trees. We were delighted to receive again a warm welcome and were given the same room, 141, located in one of the new wings, overlooking the courtyard, very quiet and spacious, which we particularly like. This old sevillan palace was very tastefully transformed in a hotel in 2006, and is very charming. The impressive old building has been very well restored, with its impressive entrance gate and its charming patio, typical of the houses of Seville. The restaurant has been redone, delicious food. A nice breakfast buffet is served in the basement, very pleasant. A comfortable and cozy lounge and bar open on the courtyard where you can sit in the nice season. They added a rooftop terrace with great views over the old houses of the neighborhood. This hotel is located in the old town and allows you to discover all the important sightseeing points of this great city by foot. Wonderful. 20 minutes from the airport by car. We found the same friendly and welcoming service as during our last stay three years ago, and can highly recommend this property.

Top tip for other guests:

A quiet, comfortable and friendly hotel.

What I liked most

Welcome and Departure
Location
General Service
Local knowledge and experience
Guest Room and Bathroom
Breakfast
Restaurant and dining
Room Service
Internet and wifi

Beautiful boutique hotel in stunning Sevilla

October 2018

We have just returned from a fabulous stay at Hotel Palacio de Vilapanes. Staff are so welcoming and friendly with excellent local knowledge, especially with restaurant recommendations. They go out of their way to ensure you have memorable stay. Rooms are very well appointed, including an invaluable 'Travel Buddy' ensuring you never get lost in Seville. Superb breakfast and complimentary minibar in your room. I'd highly recommend this hotel.

Top tip for other guests:

Ask for restaurant recommendations- you won't be disappointed. Must see a flamenco show!

What I liked most

Welcome and Departure
Location
General Service
Local knowledge and experience
Guest Room and Bathroom
Breakfast
Room Service
Internet and wifi

October 2018

Gorgeous hotel , excellent service, wonderful stay However hard to find. We got very lost driving there using google maps. Make sure to get good directions. Parking very expensive at 30 euros per day, which was not advertised on the website

Top tip for other guests:

See above

What I liked most

Welcome and Departure
Local knowledge and experience
Guest Room and Bathroom
Breakfast

What I might improve

Relaxed luxury Seville Hotel

Stay+date:+March+2017

My Trip Type:

Couple

Superb level of service in beautiful surroundings

Top tip for other guests:

Concierge service provides very helpful information about Seville

What I liked most

Local knowledge and experiences
Room service
Location
Internet and wifi
Breakfast
Guestroom and bathroom
Welcome and departure
General service

Stay+date:+March+2017

My Trip Type:

Couple

lovely hotel in a palacio, great rooms and big bravo to all the staff

Top tip for other guests:

top floor room with the patio view

What I liked most

Local knowledge and experiences
General service
Welcome and departure
Restaurant and dining
Guestroom and bathroom
Internet and wifi
Location
Breakfast
Leisure facilities

Stay+date:+March+2017

My Trip Type:

Couple

Lovely hotel with wonderful entrance foyer. Bar area is small but there is a large and attractive patio area outside which is great to sit in with plenty of shade from the sun. Very good breakfasts. Rooms are modern and well appointed with excellent bathroom facilities.

Top tip for other guests:

Use the concierges who are very helpful

What I liked most

Restaurant and dining
General service
Breakfast
Guestroom and bathroom
Local knowledge and experiences
Internet and wifi
Location
Welcome and departure

Very nice hide away in the center of Sevilla

Stay date: January 2017

My Trip Type:

Couple

Friendly service. Drinks from the minibar in the room are complementary, which is well appreciated You can visit all the important monuments by foot. Very nice terras on the roof. Unfortunately, the skybar was closed in januari

Top tip for other guests:

You should ask for their list of restaurants and tapasbars they recommand. Its a big help.

What I liked most

Welcome and departure
Local knowledge and experiences
Location
Internet and wifi
Guestroom and bathroom

What I might improve

Perfect for a city cultural break

Stay date: January 2017

My Trip Type:

Couple

Chic restoration of an ancient palace. Quiet and calm

Top tip for other guests:

No hesitation. One of the best in Seville

What I liked most

Welcome and departure
Guestroom and bathroom
General service
Breakfast
Location

Excellent service in elegant Palacio

Stay date: December 2016

My Trip Type:

Single

I arrived Palacio de Villapanes at lunchtime, and my car was most helpfully whisked away to the hotelgarage by help from the reception. A reception desk which gave excellent service all through my stay in Seville. I was upgraded already before arrival, and had a spacious room with a marvellous bathroom. There was no end to useful information, charming attendance and patience. Trust them to help you choose restaurants for lunch and dinner ! The location of the hotel is superb, just a few steps from the major sights, I was even lucky to attend an exhibition with Velasquez and Murillo. The hotel itself is amazing, an extravagant Palacio, with an ambience of traditional Spanish elegance, yet with a modern touch. Dinner in the restaurant was also a tasty experience, again with waiters giving excellent service. I will most definitely return to Hotel Palacio de Villapanes and Seville.

Top tip for other guests:

Make use of the impressing and knowledgeable reception

What I liked most

Welcome and departure
Breakfast
Location
General service
Guestroom and bathroom
Local knowledge and experiences

Beautiful and Accomodating

Stay date: November 2016

My Trip Type:

Couple

This is a great hotel with wonderful staff. Modern amenities in a classic building. Every member of the staff was extremely friendly and helpful. Superb breakfast in a beautiful room, though the otherwise excellent wifi doesn't work there. Location is very good, especially since it is a short walk away from the very busy heart of the city.

Top tip for other guests:

Note that the entry area is an open courtyard with neither heat nor air conditioning.

What I liked most

Internet and wifi
Guestroom and bathroom
Breakfast
Welcome and departure
Local knowledge and experiences
General service
Location

Stay date: September 2016

My Trip Type:

Couple

We stayed 3 nights for our first stay in Seville and the hotel offered a unique experience in central Seville. The staff were extremely helpful both at introducing Seville's tourist options and providing a fantastic service. The room was spacious and offered the higher standards expected.

Top tip for other guests:

Take a map of Seville - it is easy to get lost!

What I liked most

Location
Breakfast
Guestroom and bathroom

What I might improve

Stay date: August 2016

My Trip Type:

Couple

Second time at this hotel and once again thoroughly enjoyed our stay. The location is perfect and within easy walking distance to the more central attractions in town. The hotel itself is stunning. It's well appointed as a converted palacio with modern/classic touches. The atrium area offers a fantastic open space for informal drinks as well as the option to dine al fresco. Both the deluxe and junior suite accommodations are incredibly well appointed with the bonus of complimentary soft drinks replenished on a daily basis. It's a shame however that the coffee machines are only available in the suite category. The shower and large bath were impressive. The floor to ceiling windows, a big plus. The staff members were exceptionally professional in particular the ladies on the reception/concierge desk. Any task was met with ease and care. We will certainly look forward to our return.

Top tip for other guests:

Ladies, remember your shower cap if you require one. These are only offered in the suites, although reception may oblige.

What I liked most

General service
Guestroom and bathroom
Welcome and departure
Location
Internet and wifi
Local knowledge and experiences

Stay date: September 2016

My Trip Type:

Couple

Excellent amenities, beautiful room with contemporary furniture and very comfortable bed. The bathroom was very spacious and included a luxurious shower room. I would definitely stay here again.

Top tip for other guests:

Excellent hotel with good service and good recommendations for restaurants.

Stay date: August 2016

My Trip Type:

Couple

Bright, comfortable bedrooms, relaxed public areas - excellent breakfast. Easy to drop off the car for the hotel to park - unusual in Seville. Good position just on the edge of the old town.

Top tip for other guests:

None!

What I liked most

Guestroom and bathroom
Location
Breakfast
Welcome and departure
Internet and wifi

What I might improve

Beautiful building but not 5 star experience

Stay date: May 2016

My Trip Type:

Couple

The public areas are beautiful and calming and the guest room was adequate. It was not the experience I was expecting though for a 5 star hotel. We did not receive an upgrade and as there was another large wedding party in the hotel they very much seemed to take priority. Had to ask several times for newspaper and light outside our room. Very noisy one evening from other guests in the public area and hotel should have asked them to be considerate to other guests especially as it was 4am! Breakfast was over priced. It was our 25th anniversary and the hotel did nothing to acknowledge this. The roof terrace was disappointing and the cold bath on the roof did not attract any takers despite the heat!

Top tip for other guests:

good for location but not great on service

Hotelier reply:

Dear Pauline, You did not receive an upgrade from Palacio executive room to Suite since we only have 6 suites at a much higher rate. And over those dates the hotel was fully booked for a wedding party so we could not give any upgrade. It is true that we had a lot of work dealing with the wedding guests but this does not justificate any delay in taking a newspaper or an extra light for their terrace. I apologize for it. As well as for the noise at night when people came back from the wedding, difficult to control though we do say to any group of guests coming back late at night to be as quiet as possible and respect the rest of other clients. Our solarium terrace is quite simple it is true but it has its laying beds and our guests really enjoy it as a wonderful viewpoint for sunbathing and admiring the sunset with a nice drink. The water in the plunge pool is cold, but we do not advertise anything different, it is not a jacuzzy. Regarding breakfast we usually have very good opinions on it and more than 50% of our guests have breakfast in the hotel. It is a full buffet + an extensive carte for cold and hot salty dishes, whatever the clients want, like a brunch à la carte, so actually there is no limit and the quality of the products we serve and cook is very good. Regarding the 25th anniversary, we did not receive any notice of it on the booking information, as far as I can check. I am very sorry since we do put a special welcoming detail and I personally write a note for such a special occasion. Kind regards, Martina Cam General Manager

What I liked most

Location
Welcome and departure

What I might improve

Room service
General service
Breakfast
Leisure facilities

Stay date: May 2016

My Trip Type:

Couple

The rooms on your website look airy and light and as luxurious as advertised. The one we had was gloomy and dark throughout, and felt a little tired. The weather - unrelenting rain - might have been a factor but the whole place felt as grey as the sky. The wifi was patchy at best. I wouldn't go back.

Top tip for other guests:

Get one of the rooms pictured or go somewhere else.

Hotelier reply:

Dear Caroline, You stayed in one of the best rooms in the hotel, and is not tired at all, I can assure. Indeed the weather was surprisingly (in May) extremely bad over those days and we have 2 open patios, so unfortunately your stay in Seville was not so good as expected. I am sure that was the main reason why you felt so disappointed with your stay, which I am extremely sorry about. As far as wifi is concerned we have the best possible net and do not receive any complaint, sometimes the guests's devices or the visited websites are the ones which have some restrictions or a slow downloading. In can only suggest that you come back on another occasion, from June to mid September, in order to make sure there is no possible rain during several days. Mentioning her bad experience so that we make sure we give you an even better room. Kind regards, Martina Cam General Manager

What I liked most

What I might improve

Internet and wifi
Leisure facilities
Guestroom and bathroom

Very nice hotel Sevilla style

Stay date: April 2016

My Trip Type:

Couple

Good location , room a lttle dark

Top tip for other guests:

Excellent for 2 days

What I liked most

Location
General service
Internet and wifi
Welcome and departure
Local knowledge and experiences

Stay date: March 2016

My Trip Type:

Couple

We enjoyed our stay from our arrival to our departure. A perfect welcome, a much appreciated upgrade to a very comfortable, spacious and quiet room overlooking the inner courtyard, the fragrance of the blooming orange and jasmin trees, excellent food and wine,friendly and attentive service. A very charming place, excellent location, it gives a real Andalusian atmosphere. Great bathroom! To be improved : a handle to access the bath tub more safely; why do you have to phone to get bathroom amenities such as face cloths, Qtips, cotton pads ?

Top tip for other guests:

Rooms facing the inner courtyard are very quiet

What I liked most

General service
Location
Breakfast
Restaurant and dining
Local knowledge and experiences
Welcome and departure
Guestroom and bathroom

Stay date: February 2016

My Trip Type:

Couple

good internal restaurant and a great breakfast, great room and building, nice atmosphere, but a poor spa and very bad internet (WiFi)

Top tip for other guests:

Sevilla is a nice town, but you need a pair of good walking shoes to discover the town.

What I liked most

Welcome and departure
Breakfast
General service

What I might improve

Leisure facilities
Internet and wifi

nice house - good service

Stay date: January 2016

My Trip Type:

Couple

spa is poor, rooms are noisy

Top tip for other guests:

ask fo quit rooms.

What I liked most

Internet and wifi
Welcome and departure
Breakfast
General service
Location

What I might improve

Guestroom and bathroom
Room service

Beautiful sophisticated boutique hotel

Stay date: November 2015

My Trip Type:

Couple

The hotel is situated in a quiet little street about a 10-15 minute walk from the main centre. We were upgraded to a gorgeous bedroom with a living room and large stylish bathroom. Everything about the hotel felt high quality ... the efficient check in (where we were provided with an excellent suggestion for a lunch restaurant nearby), the amazingly soft bed linens and towels the delicious and plentiful buffet breakfast. There was free and very fast wifi all over the premises and free mini bar in the room - such a lovely treat! The hotel has an air of sophisticated calmness and I would definitely recommend

Top tip for other guests:

We had room 123 - stunning!!

What I liked most

Breakfast
Internet and wifi
Guestroom and bathroom
Welcome and departure
Local knowledge and experiences

Super hotel in the centre of Seville

Stay date: October 2015

My Trip Type:

Couple

Pros: beautiful building, rooms and public areas; superb service; excellent location - central. Cons: very poor sound-proofing in the rooms (could hear people above walking around, snoring!, flushing the loo...- we had to change rooms. The hotel dealt with it well but we had very poor sleep for one night). Gym pretty basic and no pool.

Top tip for other guests:

Get a top floor room away from the terrace/bar.

What I liked most

What I might improve

Leisure facilities
Guestroom and bathroom

Stay date: October 2015

My Trip Type:

Couple

Gorgeous Hotel in the best position for exploring Sevilla.Great rooms,the best showers and delicious breakfasts mane this hotel the ideal place for your stay. Just a short Walk to the centre .Staff delightful.

Top tip for other guests:

A fantastic restaurant very close.

What I liked most

Breakfast
Welcome and departure
Location
Local knowledge and experiences
Internet and wifi

Stay date: October 2015

My Trip Type:

Couple

The property was beautiful definitely 5 star, and most of the staff were amazing. Breakfast was very good as were the drinks at the bar. We had some issues with the room though. No room upgrade was offered and the room we were in had stains on the couch and was missing a few light bulbs. The big issue came with the shower. It flooded the entire bathroom ( about 1/4 inch water covering the entire room and headed out to the sleeping area). The first time I alerted the staff they sent someone up to fix it. It however flooded again with the next shower. I was then informed that it was too late to have someone look at it again. When asked about showering in the morning I was first offered to shower in the spa area and then reluctantly let in to a room that was vacant-----surprising since we weren't given an upgrade secondary to a full hotel. No discounts were given at check out for the dysfunctional room, not even an offer to pick up the breakfast we ate. We will stay somewhere else next time.

Top tip for other guests:

I would stay somewhere else

Hotelier reply:

Dear Maria, We thank you very much for your useful comments which allow us to constantly make our best in order to improve our service to our kind guests. Free upgrade is happily given to SLH guests upon availability on the check in day. October is a month with high occupation and it was unfortunately not possible. Only one Suite was left, which was kindly offered for showering on the check out day. The shower problem was due to the lack of inclination of the sink together with the accumulation of water in the case of a long shower. Improvement works are planned in some showers to definitely solve it. In the meantime our cleaning and maintenance staff is constantly checking the sinks to make sure they are not obstructed in any way. Regarding the lights they are checked every day by our maintenance staff but the Lutron lighting system we use is sometimes difficult to understand since there are many lighters. Our staff is always happy to explain how to turn on the lights in each room. We wish to apologize for the discomfort and we will certainly make our best so that this kind of incident does not happen anymore. With my kindest regards, Martina Cam General Manager

What I might improve

General service
Guestroom and bathroom

Stay date: October 2015

My Trip Type:

Family

The hotel was fantastic. The staff couldn't have been more helpful and friendly. I travelled with a 7 month old baby and the hotel went out of its way to help - lovely cot, taxi with a baby seat, high chair at breakfast etc, I really lovely and relaxing stay.

Top tip for other guests:

Have the breakfast - good value and lots of yummy food

What I liked most

General service
Welcome and departure
Breakfast
Location

What I might improve

Stay date: August 2015

My Trip Type:

Single

The property is very luxurious with a ravishing refurbishment of the ancient Palacio, 10-15 mms walk from the city center. I was upgraded into a suite which was absolutely awesome with high ceiling and a huge bathroom. The minibar was for free and the wifi pretty fast. I really didi appreciate the friendly staff. The did all their best to provide the most efficient service. Probably this is the best and most luxurious place to stay in Seville.

Top tip for other guests:

Stay in a suite

What I liked most

Internet and wifi
Breakfast
General service
Welcome and departure
Guestroom and bathroom

What I might improve

Room service
Leisure facilities

We'll be back! Fantastic location and services

Stay date: August 2015

My Trip Type:

Couple

Nice place, very professional and friendly staff

Top tip for other guests:

Enjoy the facilities and let the staff take care of you

What I liked most

Guestroom and bathroom
Welcome and departure

What I might improve