https://origin.slh.com/hotels/the-ampersand-hotel/
Hotel Highlights
Unique, modern interiors inspired by the collections of London's famous Victorian museums, including the V&A
Late 19th century townhouse close to the exclusive boutiques of South Kensington
Chic drawing room serving award-winning afternoon tea
The Ampersand Hotel - Luxury hotel in London
A modern design hotel with an old soul in South Kensington.
There's more than a hint of Victorian whimsy about The Ampersand Hotel – a grand boutique with a few surprises up its sleeve. Filled with vintage curiosities and oozing contemporary elegance, it takes its design cues from London's most famous museums. The striking lobby is a cool, monochrome space. Drawing rooms feature colourful furnishings and quirky décor, while the majestic, wrought iron staircase leads to luxury bedrooms – referencing the V&A, Royal Albert Hall or Natural History Museum.
You could hark back to the hotel's heyday and take afternoon tea in one of the drawing rooms. With sweeping windows they're perfect for people watching in summer, while a log fire burns in colder months. When it's time for dinner, Apero serves Mediterranean cuisine in the old hotel cellar.
To see the inspiration behind The Ampersand's eclectic style, you won't have to travel far. London's famed museum district is close by. Shoppers will be well served too, with some of the capital's finest designer boutiques nearby in South Kensington and Knightsbridge. And speak to the hotel reception - they make it their business to be 'in the know' and can even help with Hyde Park running routes and horse riding.
111

rooms

2

restaurants

6

floors
Don't just take our word for it
The rooms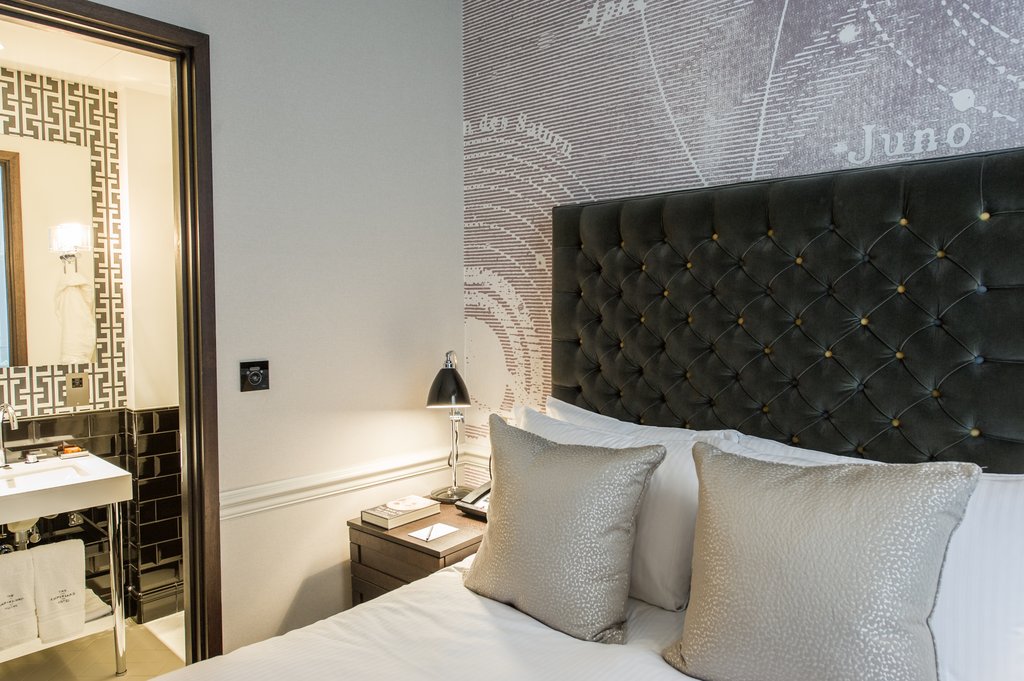 Single Room
Sleeps: 1 People.
Our Single Rooms are inspired by astronomy. All have double beds with oversized velvet bedheads and walk-in shower.

L'Occitane toiletries. Suitable for 1 or 2 nights stay only. Size: 11-12 square metres
From per night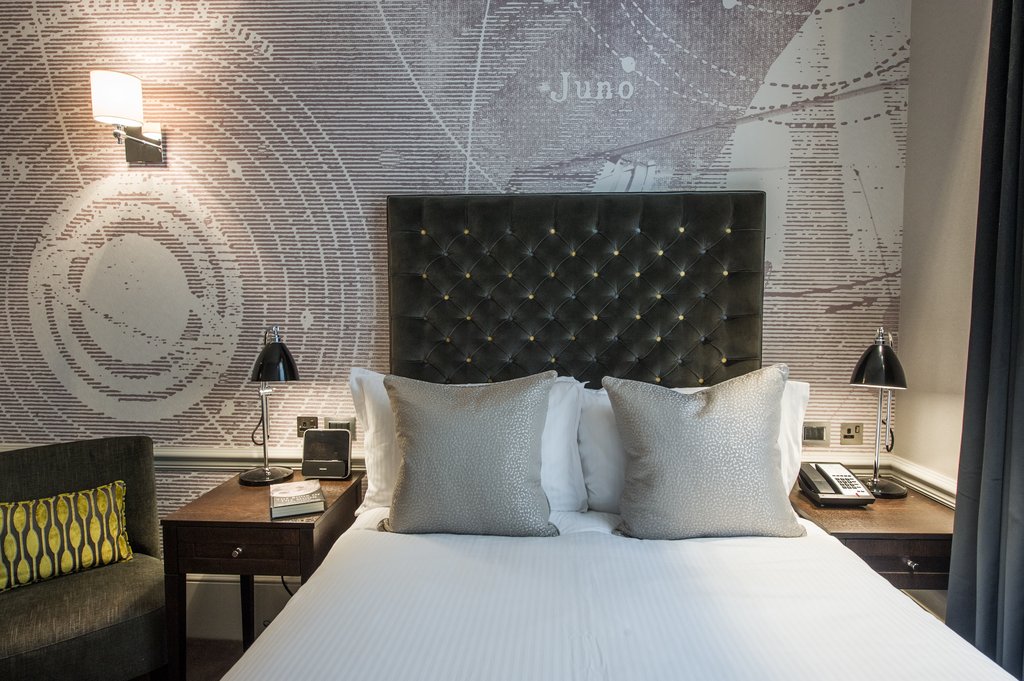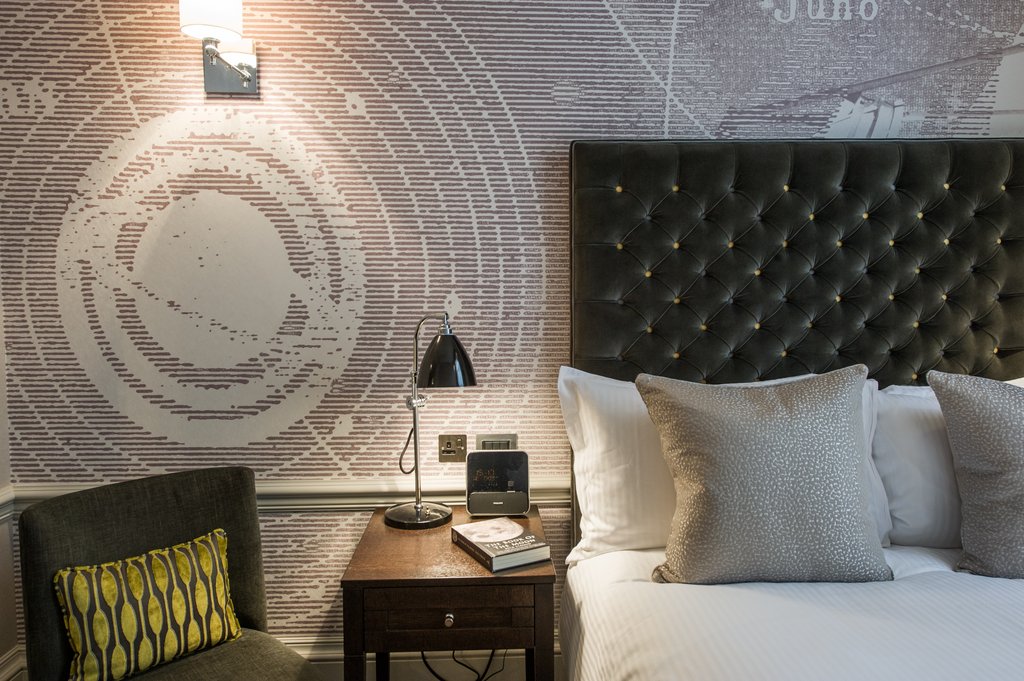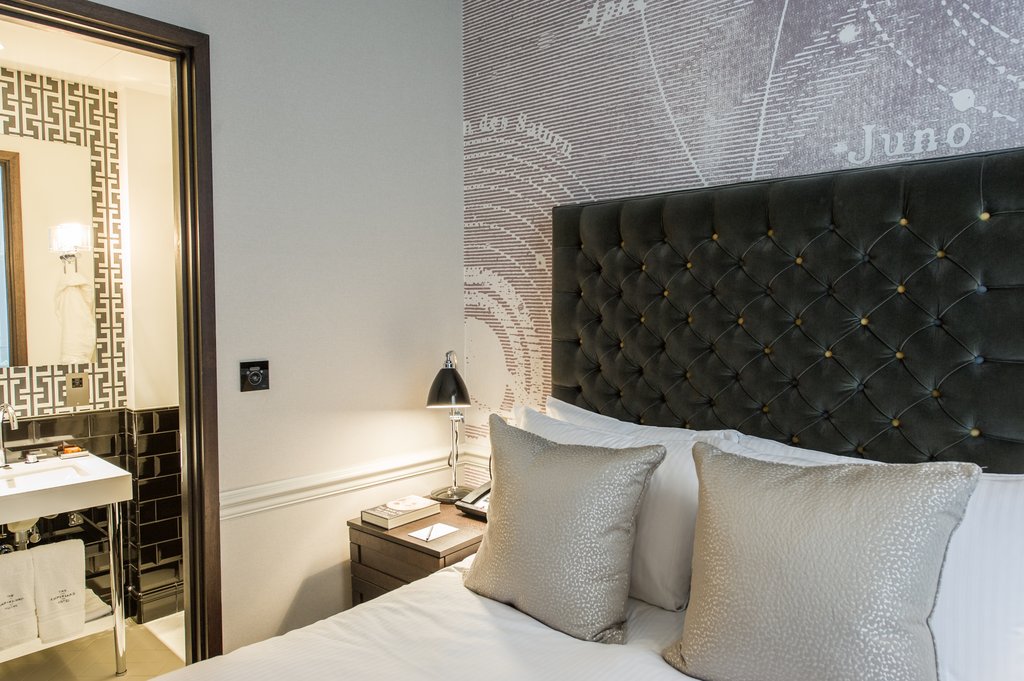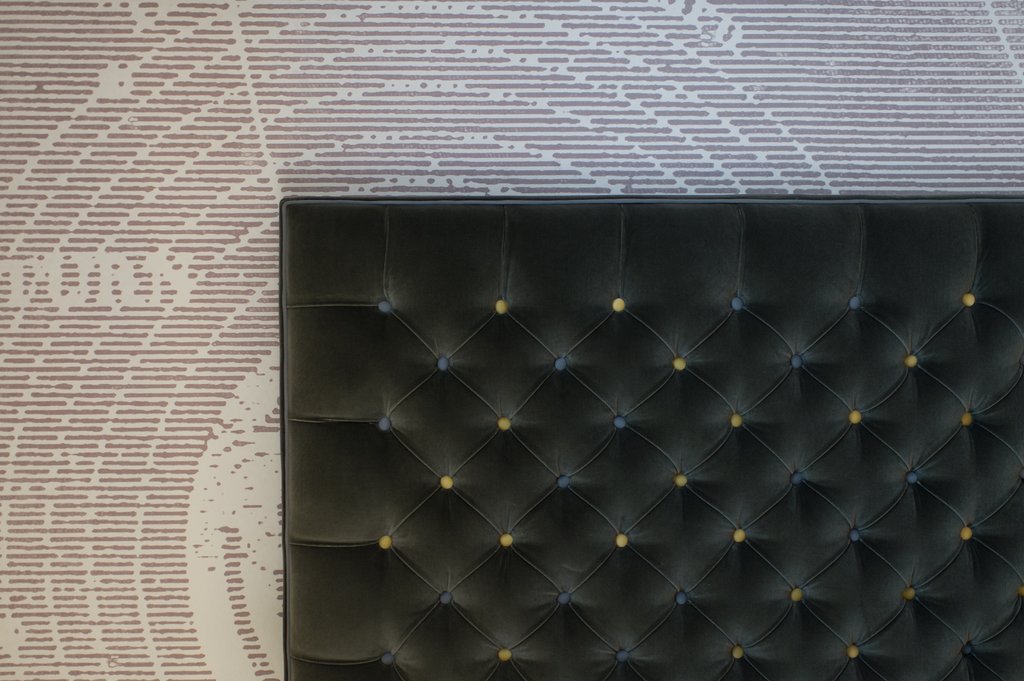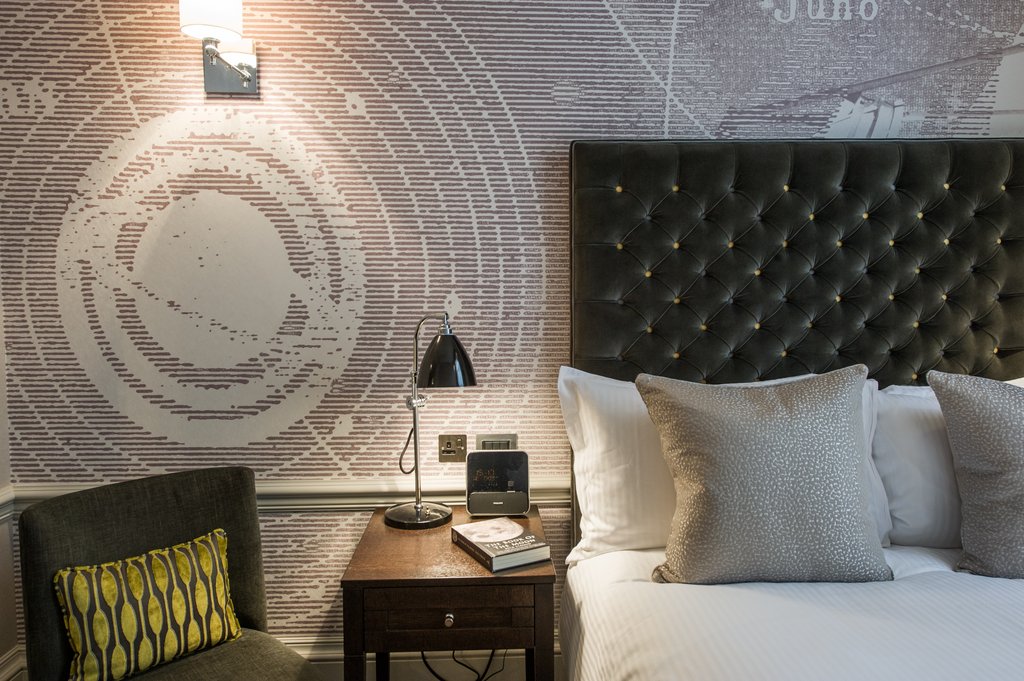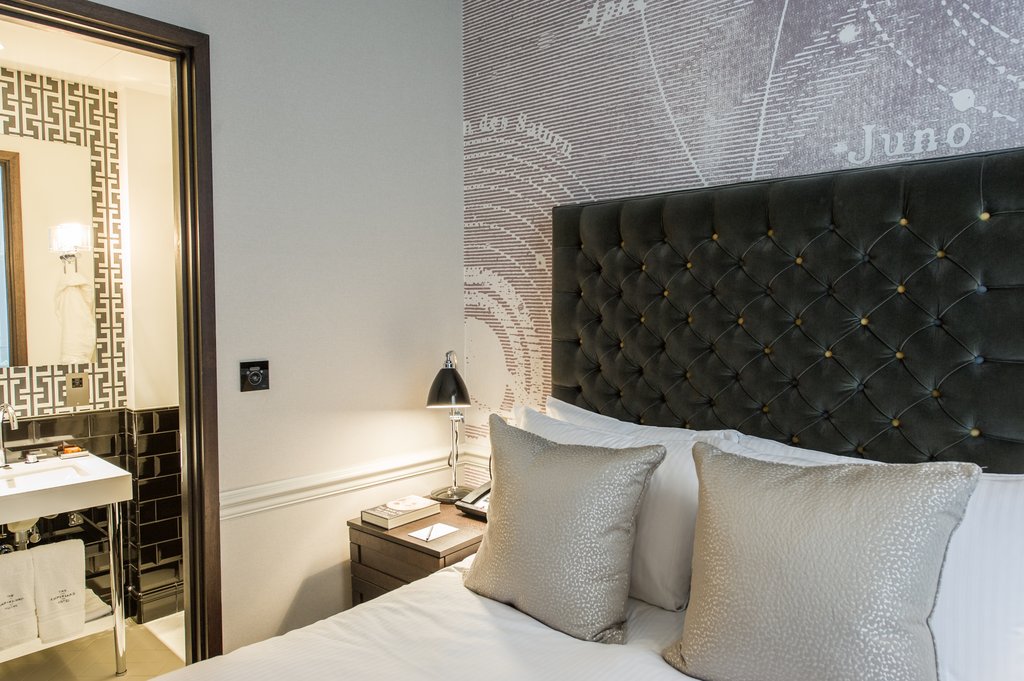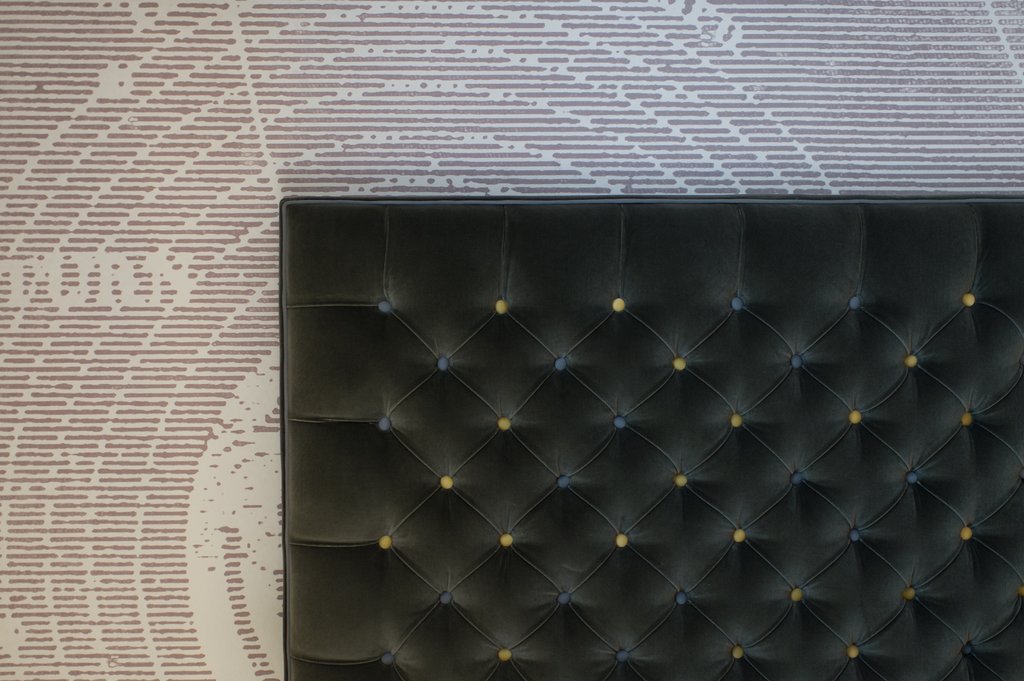 Small Double Room
Sleeps: 2 People.
Our Small Double Rooms are inspired by astronomy. All have double beds with oversized velvet bedheads, and an ensuite bathroom- most with a walk-in shower or bath and shower combination.

L'Occitane toiletries. These rooms are ideal for single occupancy or 1 or 2 night stays and have limited storage facilities. Size: 12-15 square metres.
From per night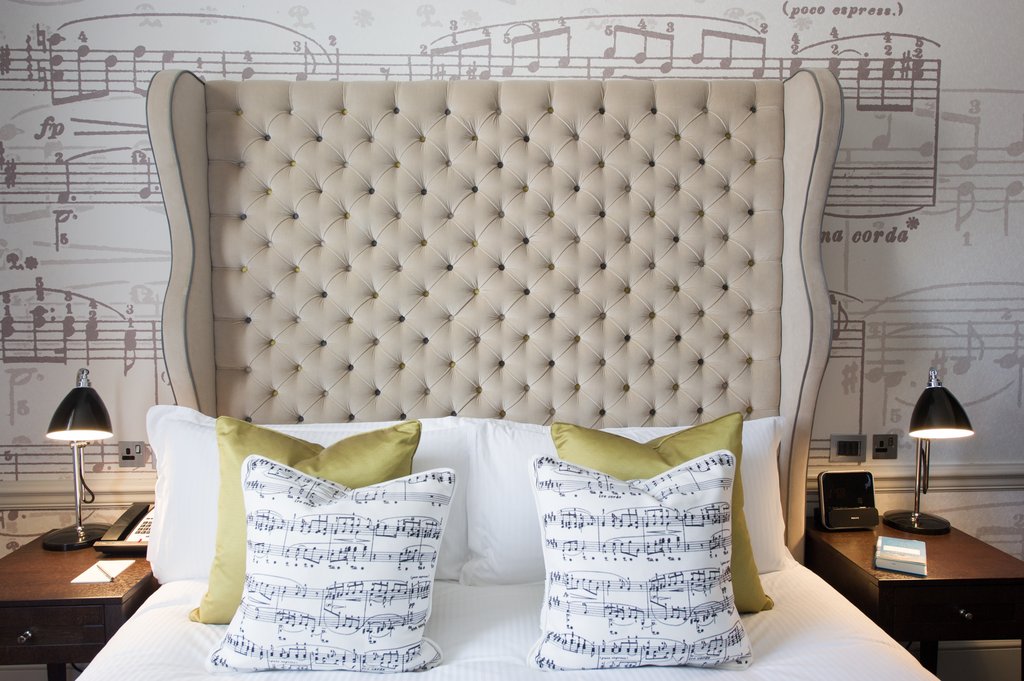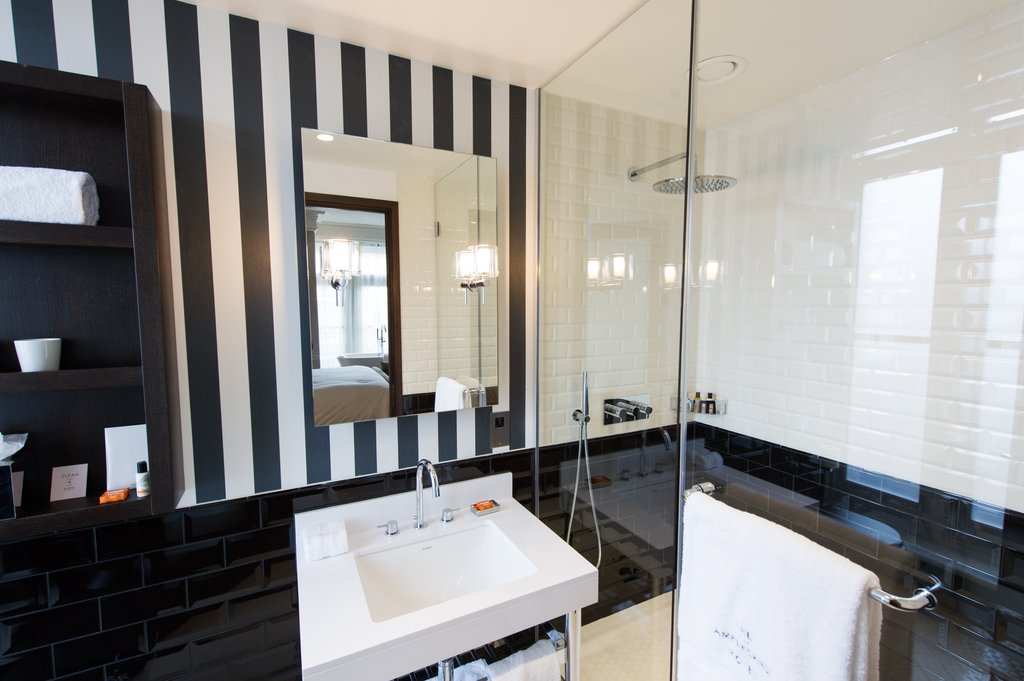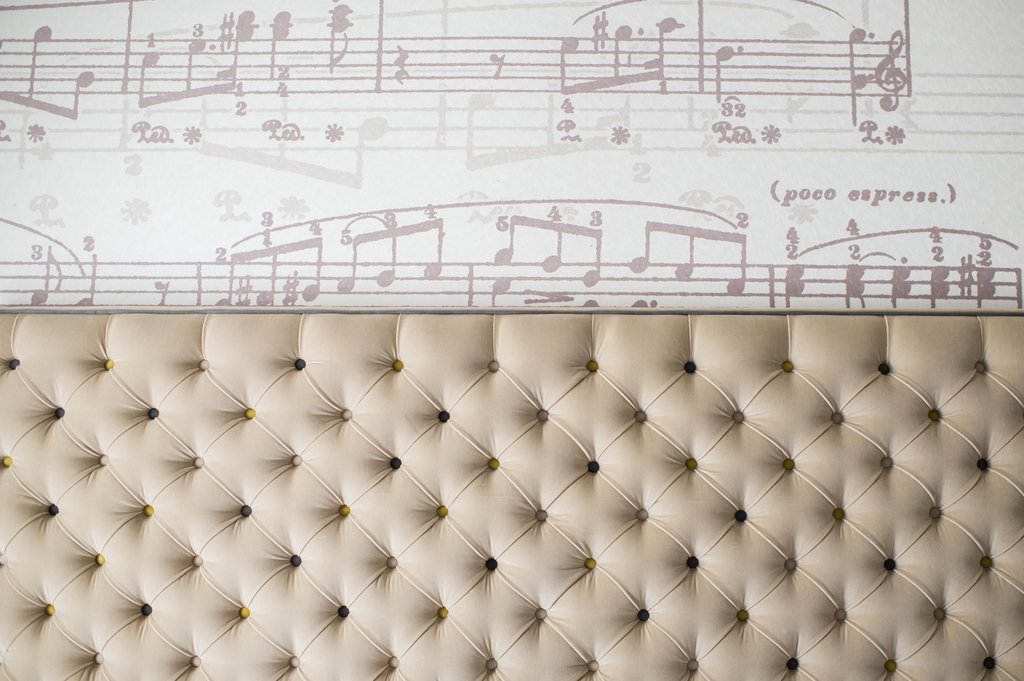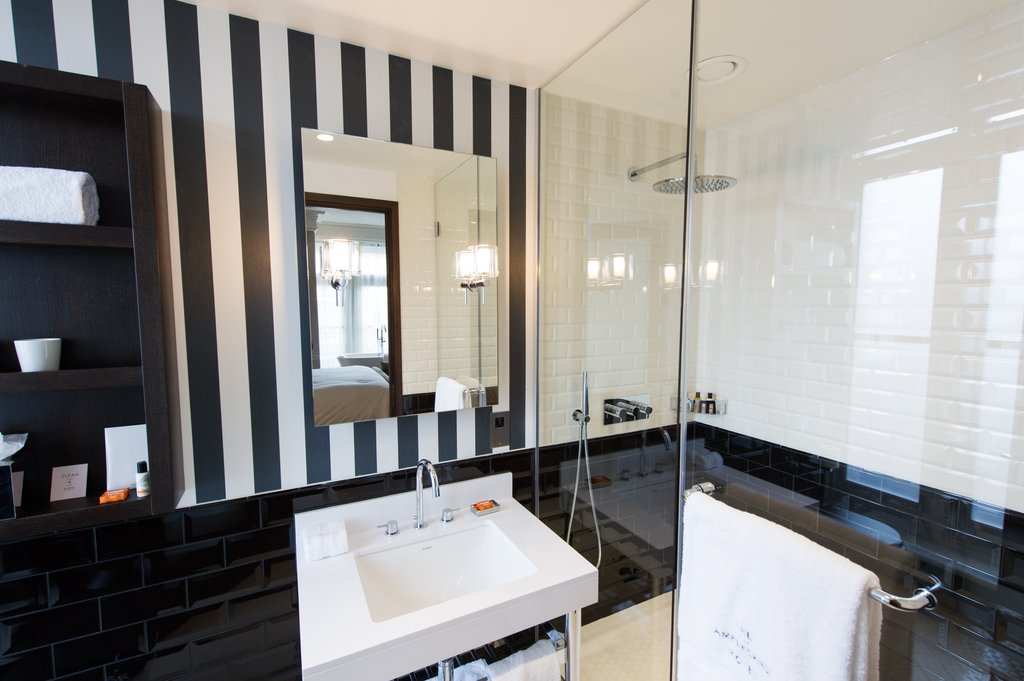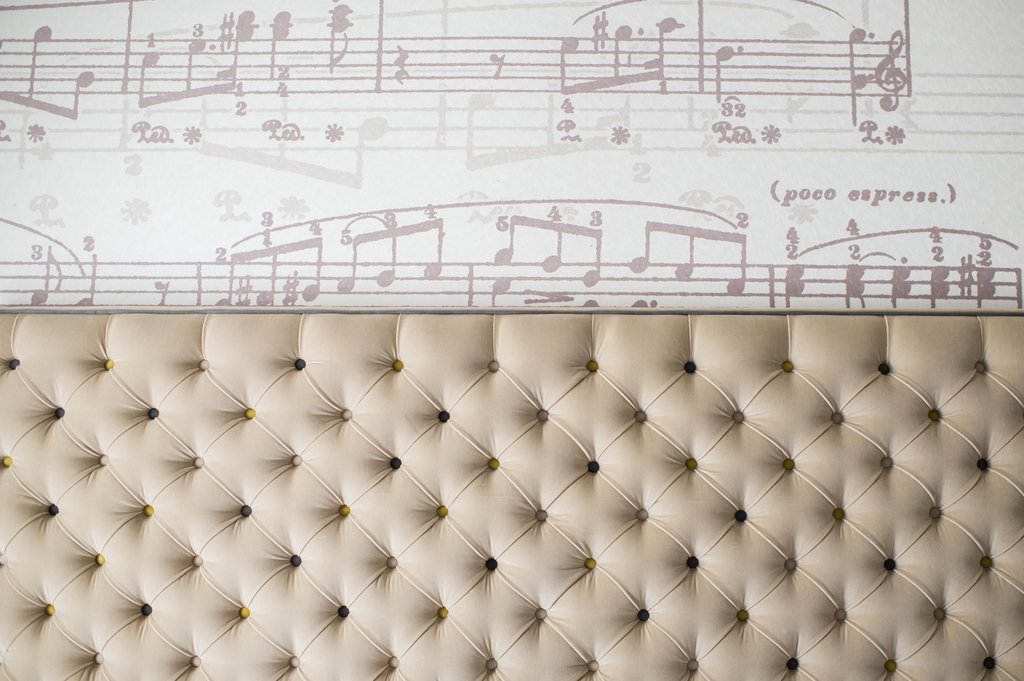 Superior Room
Sleeps: 2 People.
Superior Double Rooms, pitch-perfect interiors inspired by the sounds and the silence of music are more spacious than other Doubles.

They also allow for a more generous workspace. Ensuite bathrooms are standard with either a spacious walk-in shower or a bath/shower combination. Luxury room details include L'Occitane toiletries. Double or twin beds available. Size: 16-20 square metres.
From per night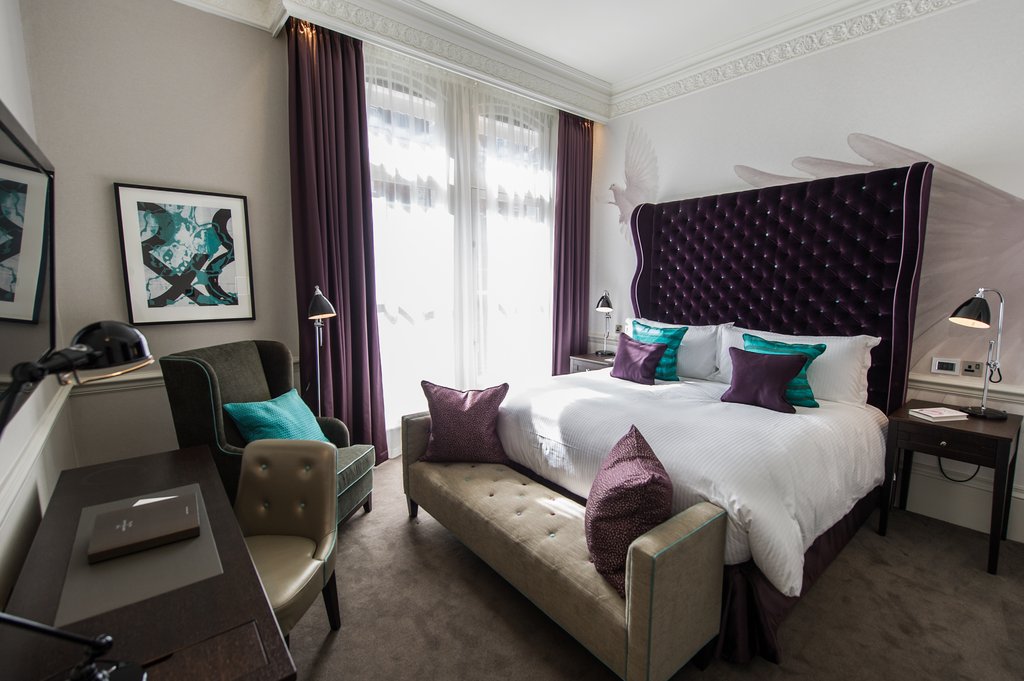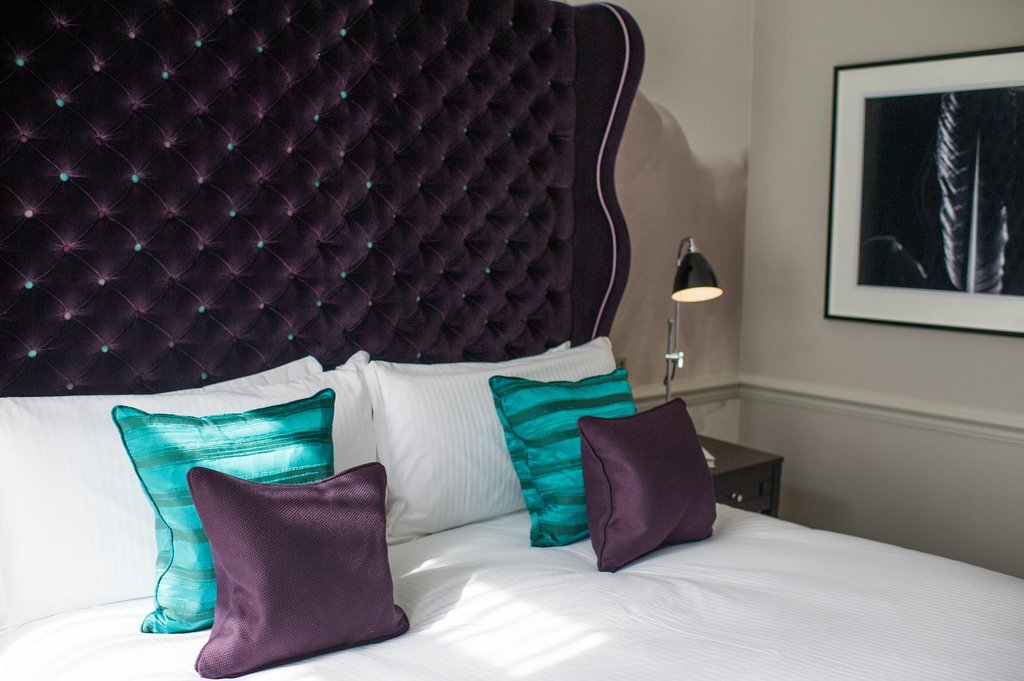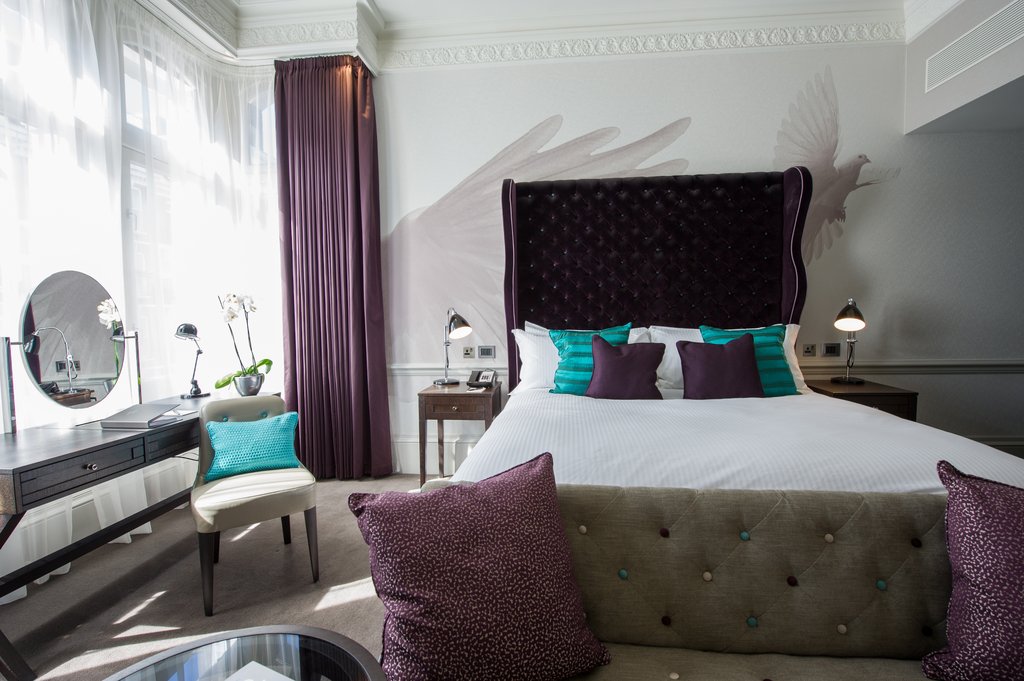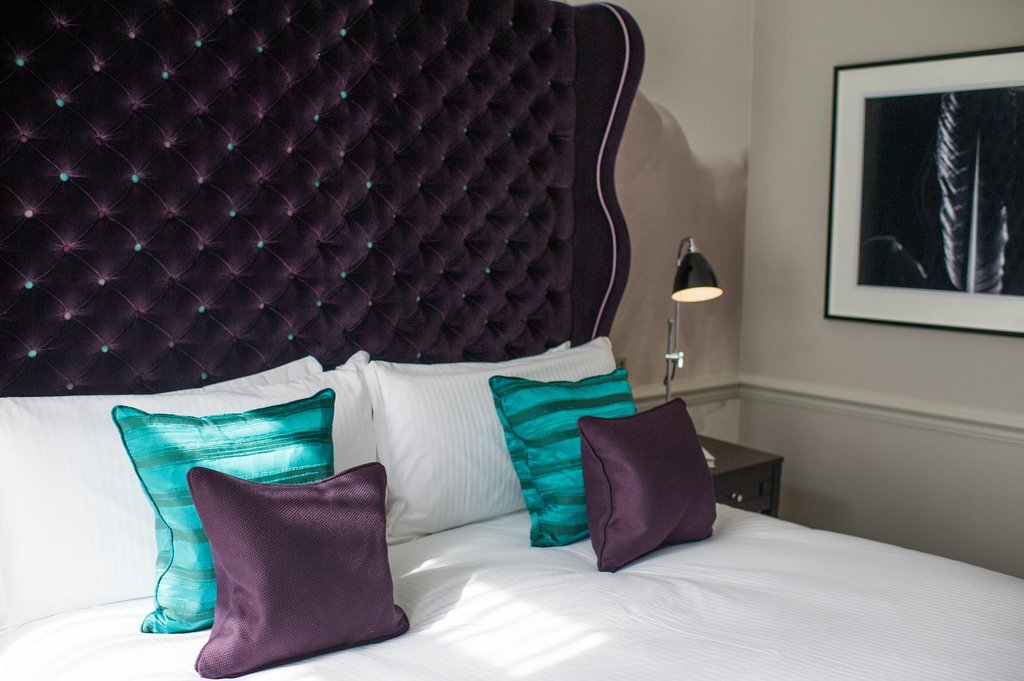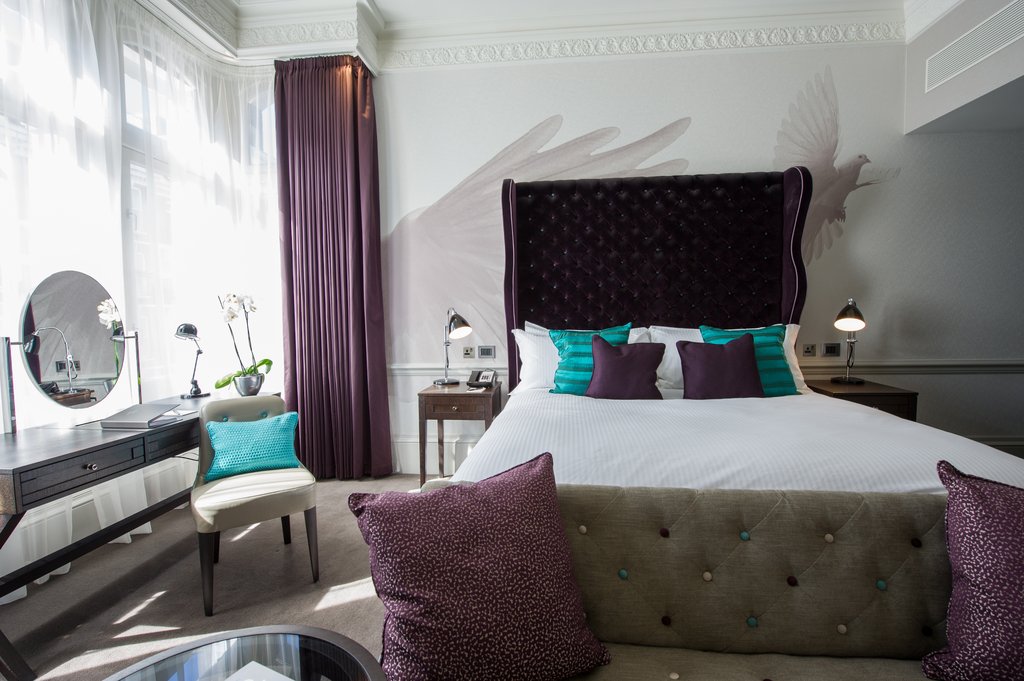 Deluxe Room
Sleeps: 2 People.
Deluxe Rooms feature furniture to relax in and interiors defined by the flight and fancy of ornithology.

Details might include a chaise longue at the end of the bed or a comfortable armchair. In our bathrooms you will find L'Occitane toiletries, as well as a few rooms with tension-relieving, walk-in showers. Our beds all have oversized velvet bedheads. Size: 20-24 square metres.
From per night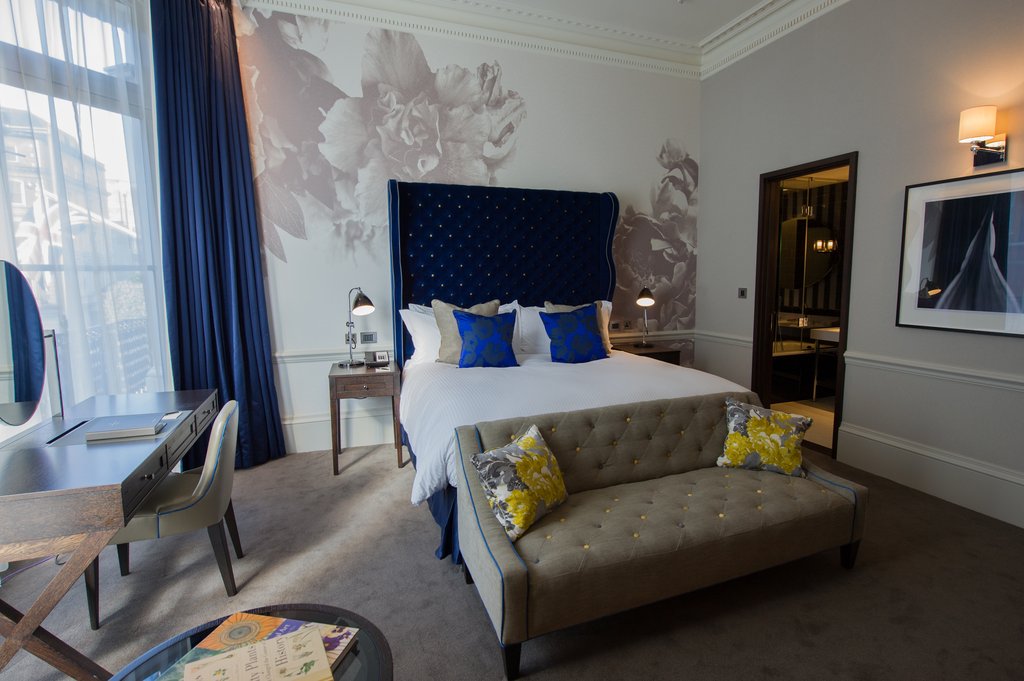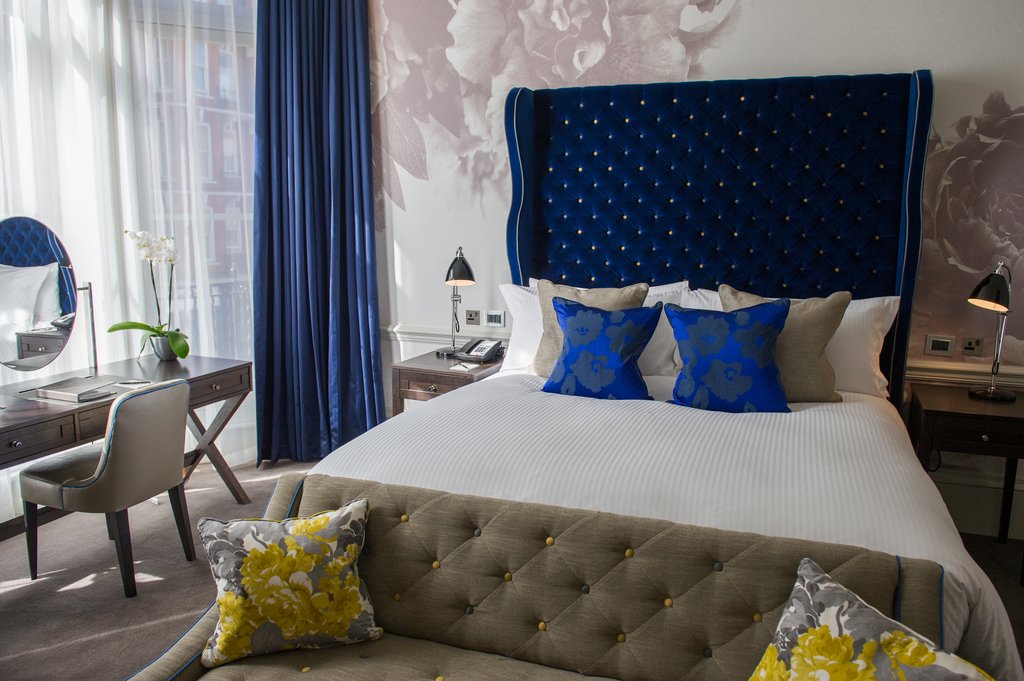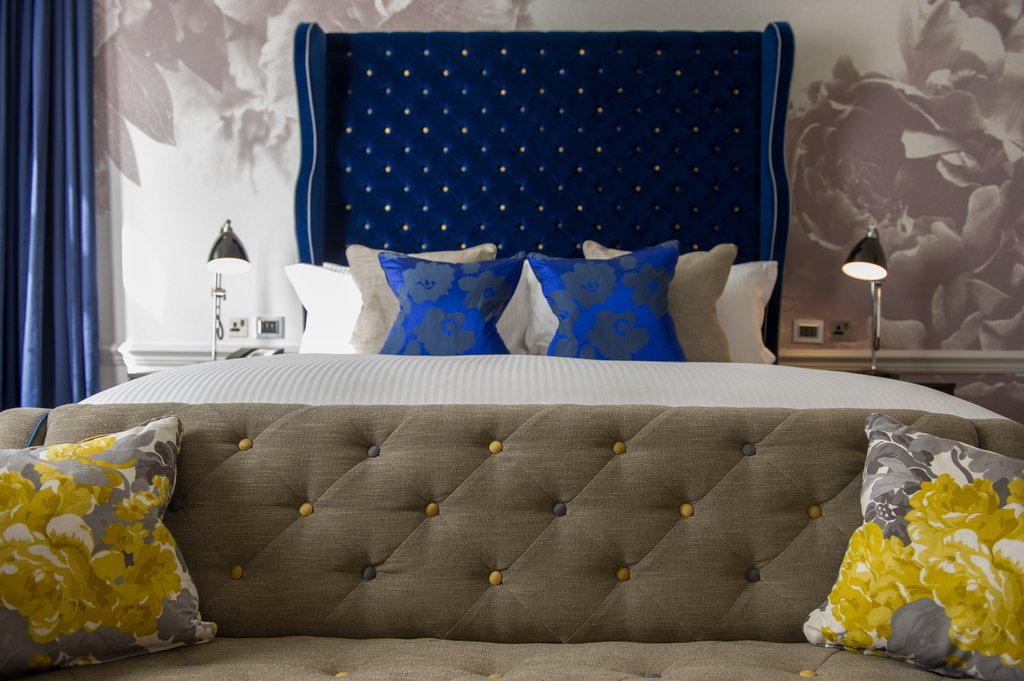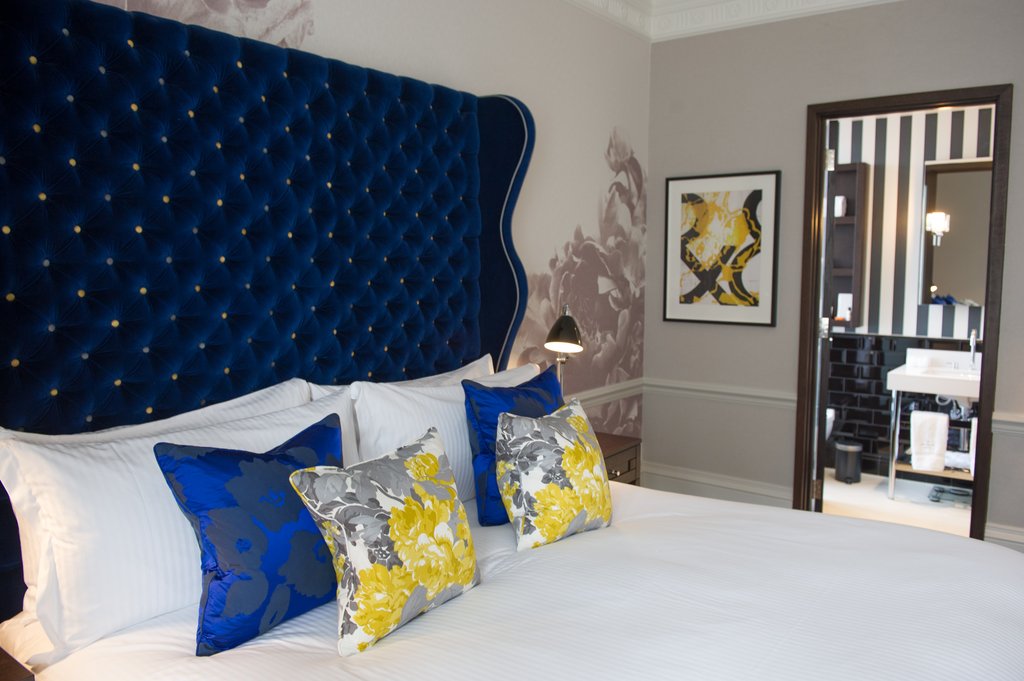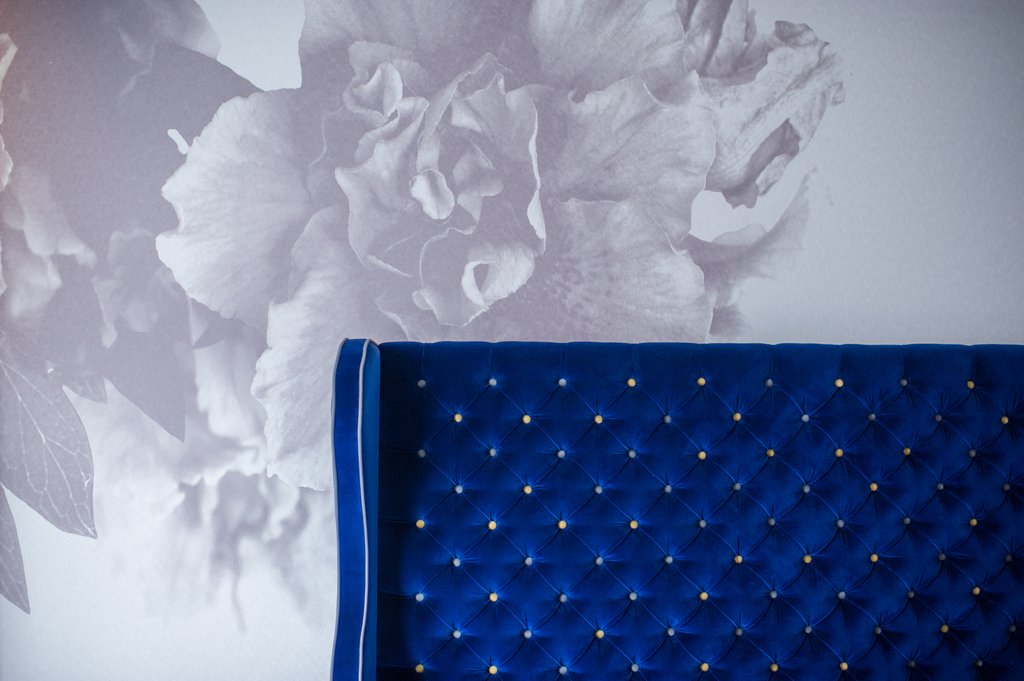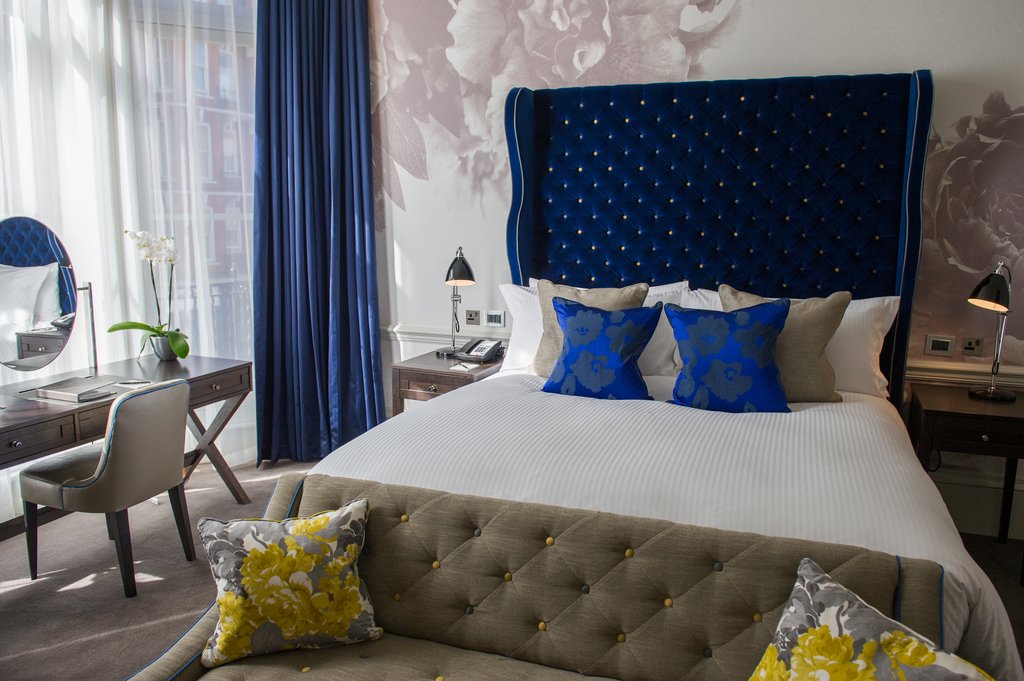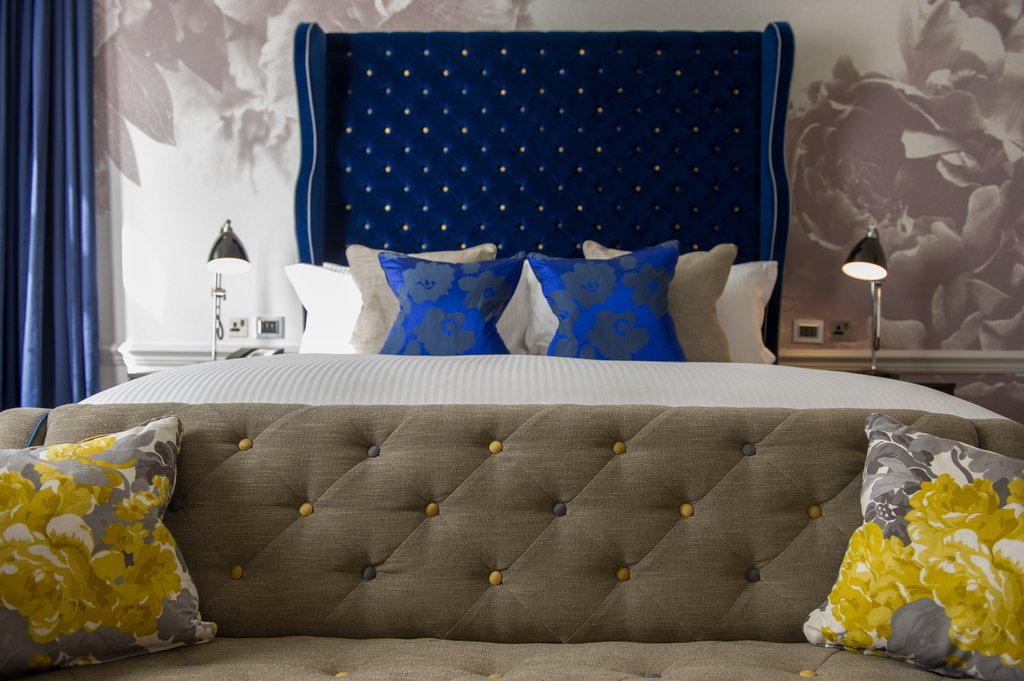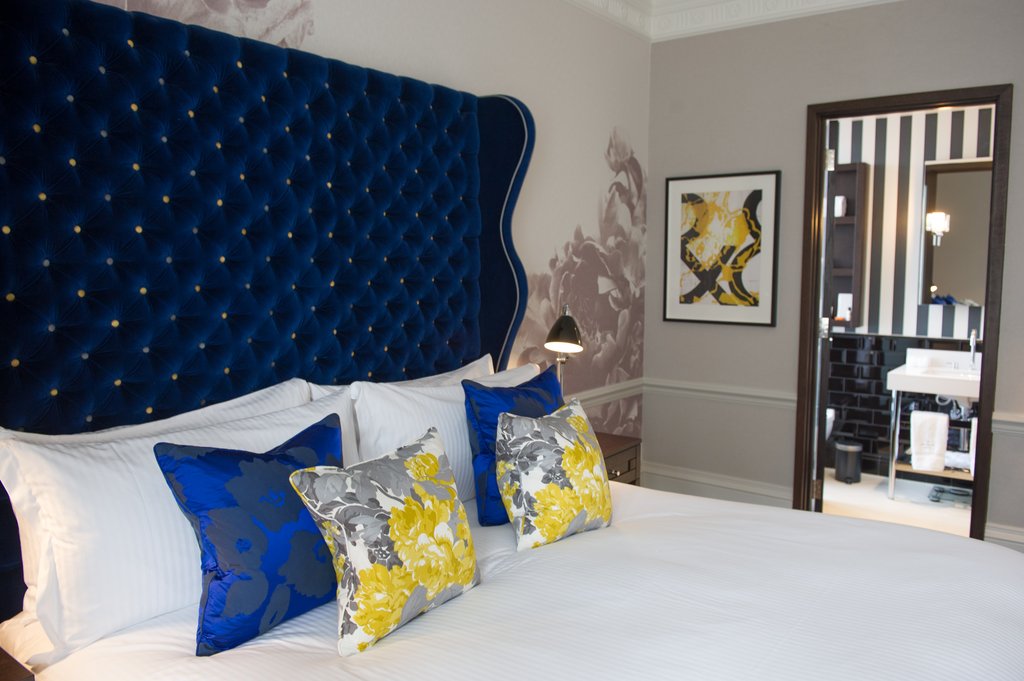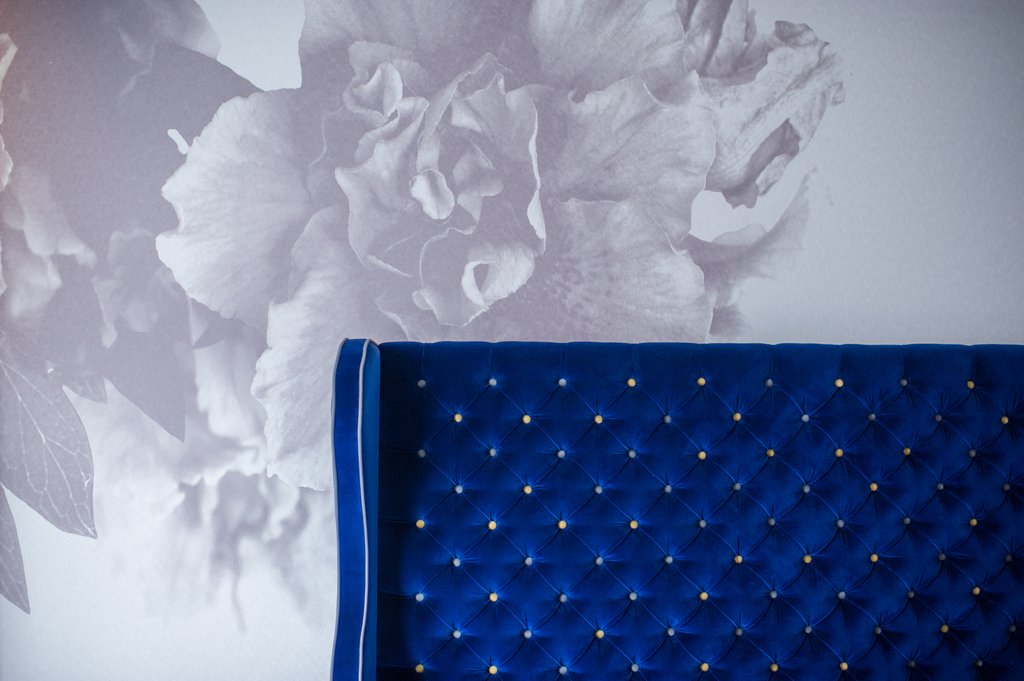 Deluxe Studio
Sleeps: 2 People.
Deluxe Studio, King bed, en-suite with walk in shower and free standing bath or bath and shower combination.

Complimentary L'Occitane toiletries. Spacious open plan room with comfortable lounge area, Ipod dock, Nespresso machines and complimentary tea and coffee in addition to standard amenities. Size: 28-32 square metres.
From per night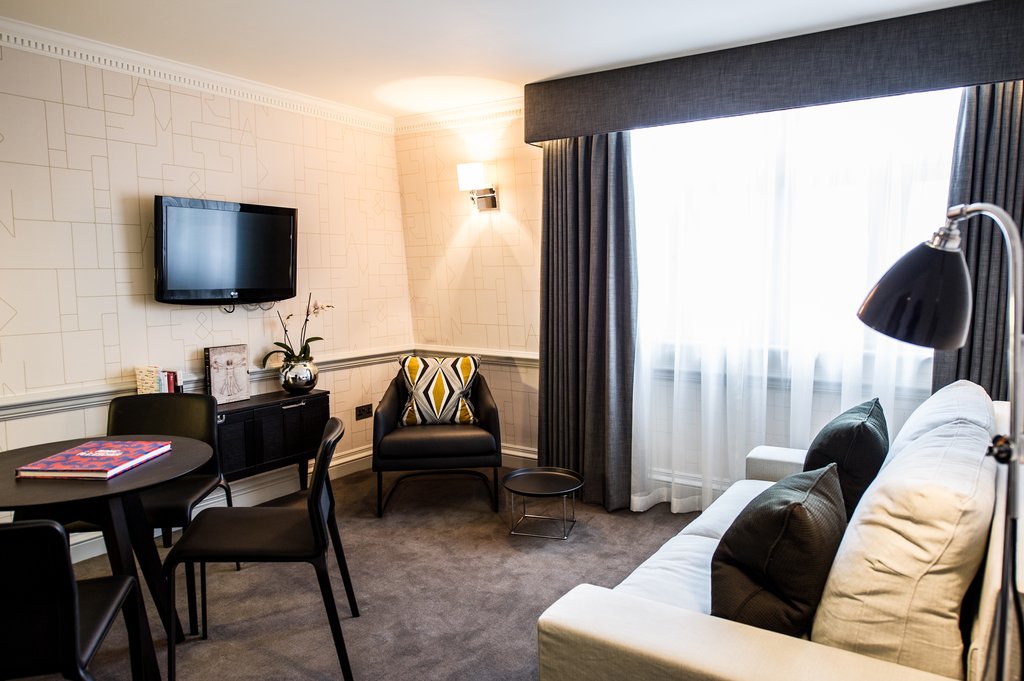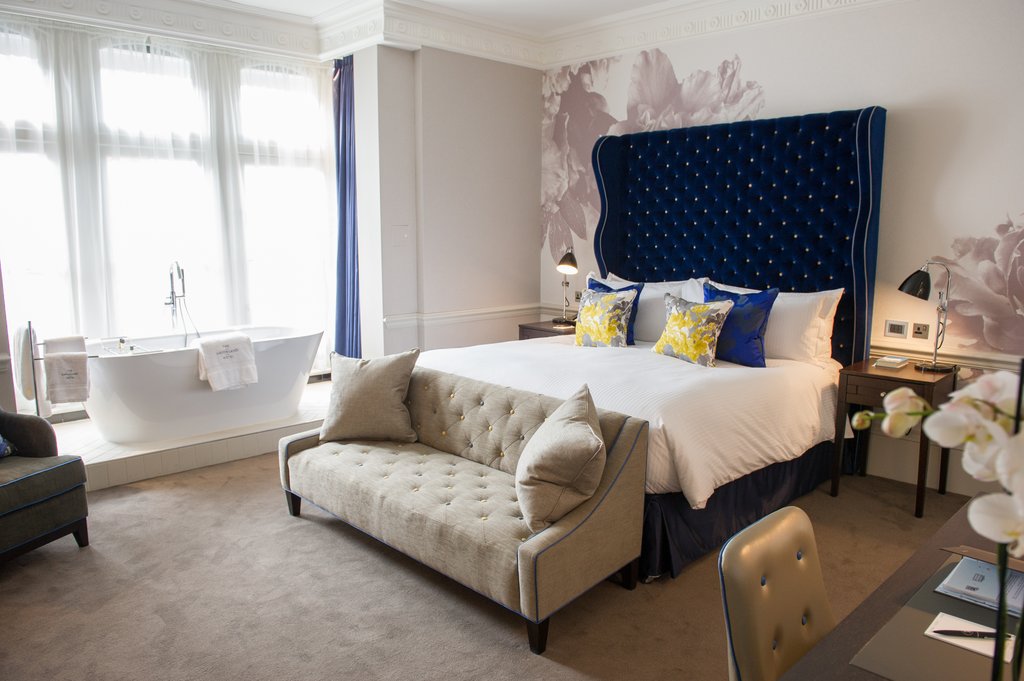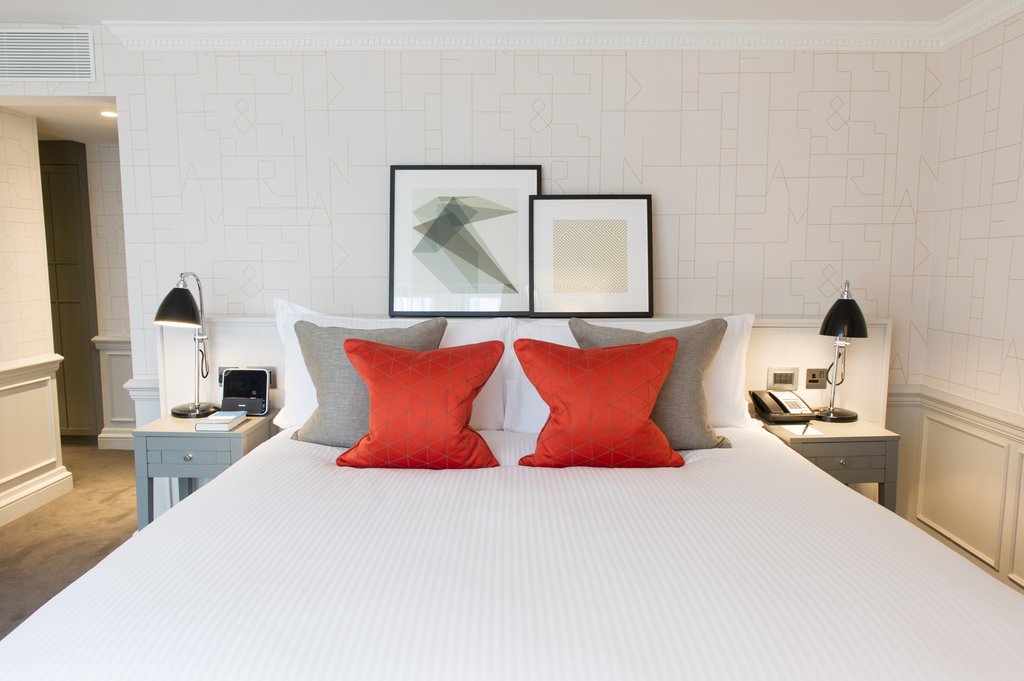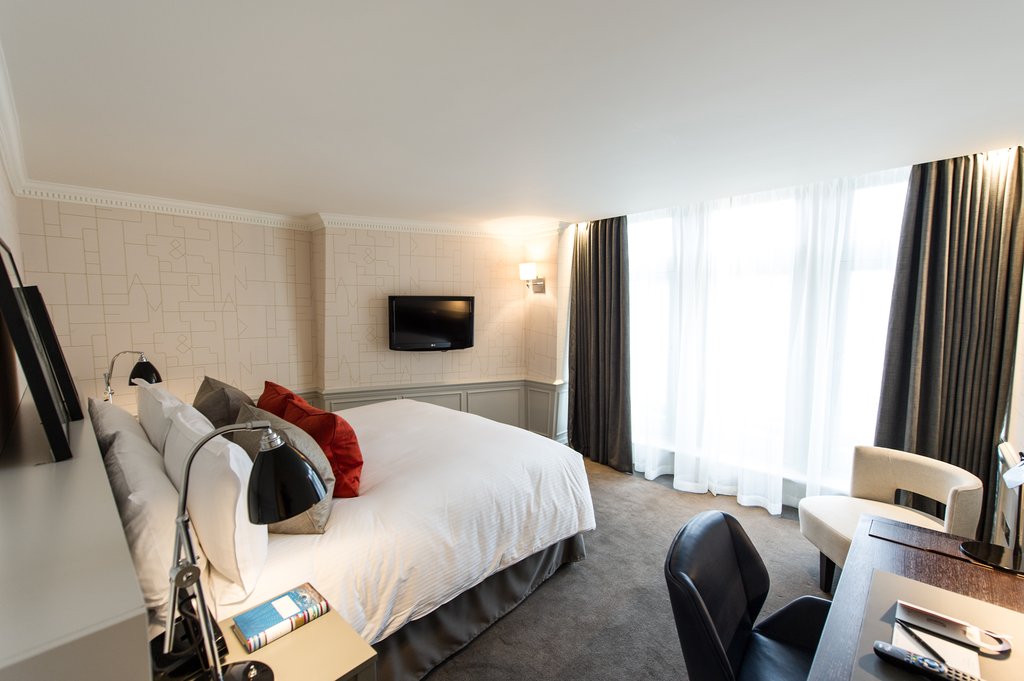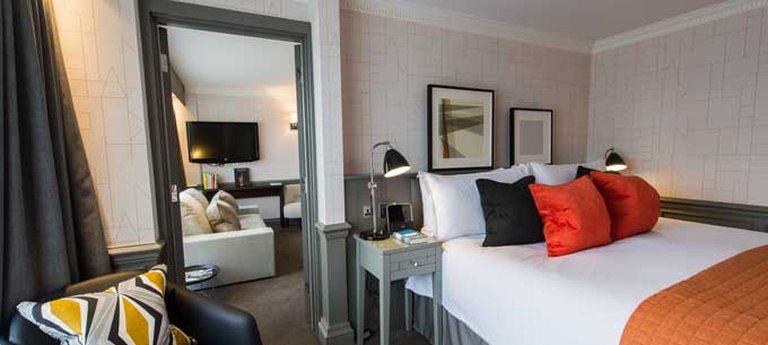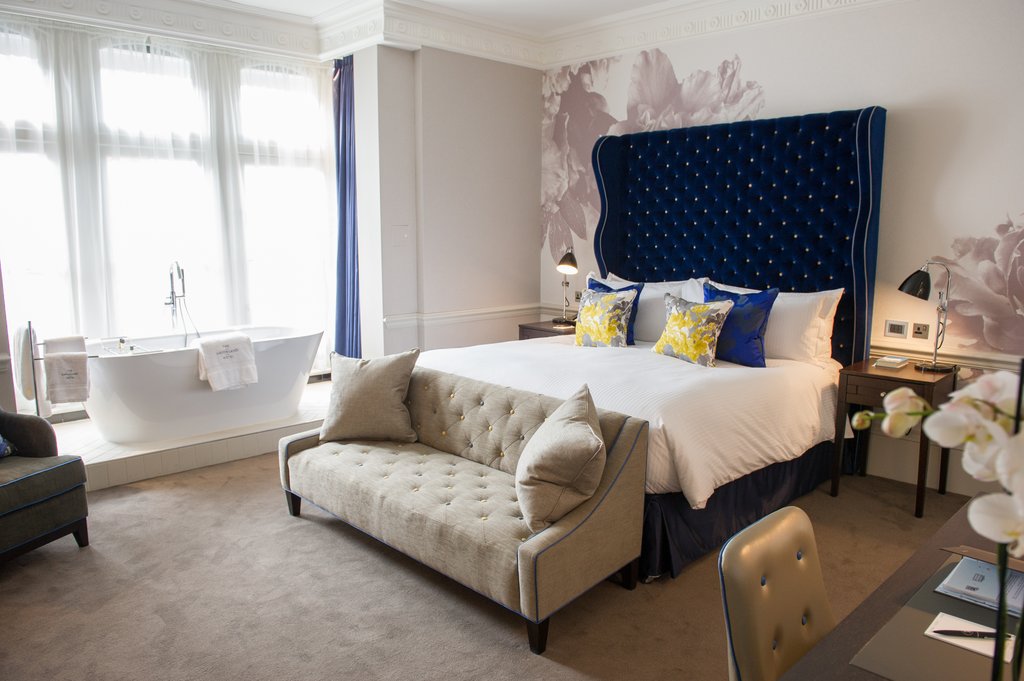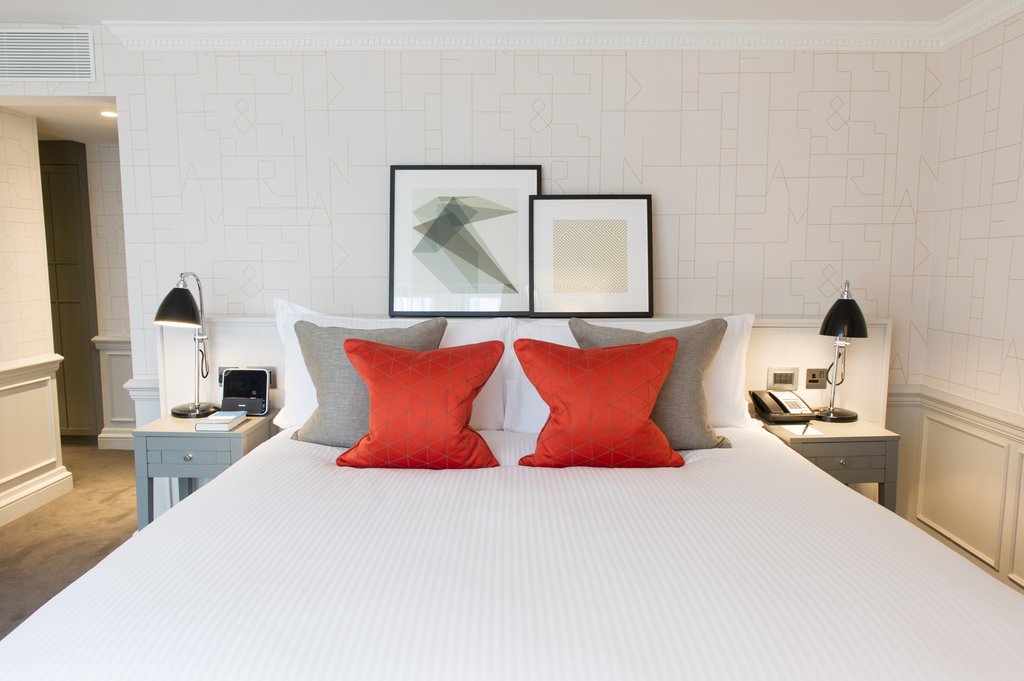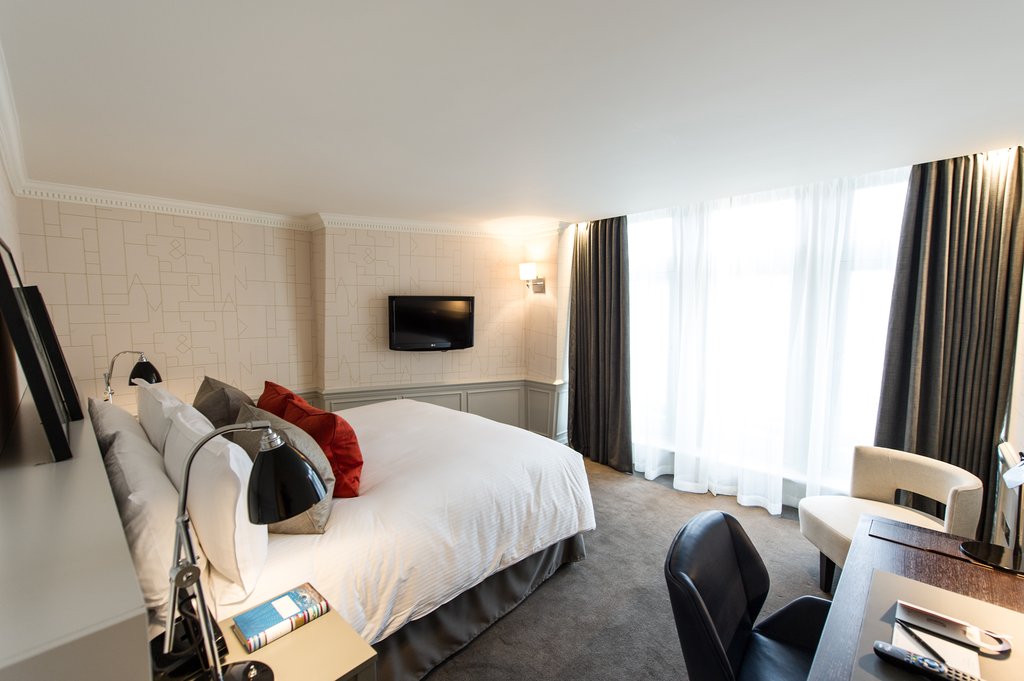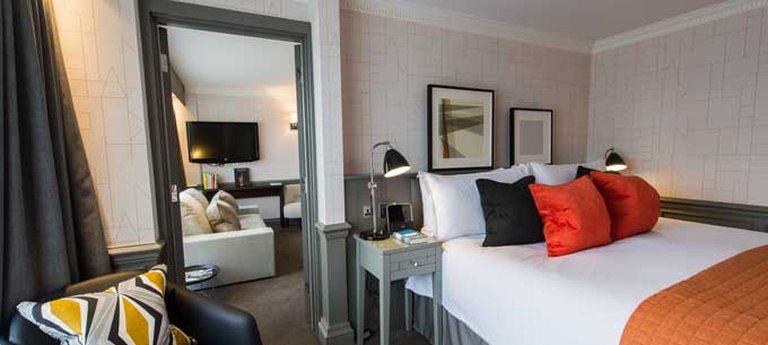 Suite
Sleeps: 2 People.
One Bedroom Balcony Suite with King bed, en-suite with walk in shower and free standing bath or bath and shower combination.

Separate lounge area, Ipod dock and kitchenette with microwave oven, Nespresso machine and complimentary tea and coffee, L'Occitane toiletries. This room has an extra bed suitable for third person. Size: 30-40 square metres.
From per night
Location
NEIGHBOURHOOD GUIDE
The best experience close to the hotel is: going behind the scenes at the Royal Albert Hall. It's an iconic setting for taking in an evening performance, but you can also visit during the day for an exclusive guided tour. Time it right and you may even see artists and orchestras in rehearsal. Be sure to visit the V&A too – it inspired much of The Ampersand's eclectic style.

The most unique spot nearby is: Ciné Lumière, where you'll feel as though you've slipped into a classic Parisian cinema. Some screenings come with Q&A sessions, for devotees of Francophile flicks.

Our hidden gem is: our old cellar that's now home to modern-day Mediterranean cooking. Edison lights, metro tiles and leather banquette seating under Victorian arches give Apero an urban, underground feel. If you're here with friends and family, for a special occasion, the tucked-away Wine Room can become a private dining room.

Guests can live like a local by: browsing the boutiques of Brompton Cross, starting at the art deco Michelin building. Here, contemporary designer labels rub shoulders with quaint antique shops and little cafés are perfect for a pit stop.

Our favourite local restaurant is: by day, Hummingbird Bakery for its bright colours and bold cake flavours, or Maître Choux with every version of éclair imaginable. For an evening of fine dining – and fresh oysters – it's difficult to beat trailblazer Claude Bosi's Bibendum.

Our favourite time of year here is: Christmas, when locals and guests lace up their ice-skating boots at one of the magnificent rinks that appear nearby. This is also the time for carols, such as the traditional service at Queen's Gate or in the grand Italianate setting of the London Oratory.

There's no place in the world like: the 'Sensational Butterflies' trail at the Natural History Museum, where wings every colour of the rainbow dart in and out of tropical vines.

The most adventurous thing to do near here is: don a cycle helmet and explore London by bike. There are hire stations near The Ampersand for renting two wheels by the hour and green spaces of The Royal Parks are spot on for cycling away from busy roads.

The best photo spot nearby is: the Albert Memorial in Kensington Gardens. It's an intricate monument, so the best way to see it up close and detailed is on the tours that run on the first Sunday of each month.

For a breathtaking view, guests should: climb the stairs in the Natural History Museum from the central hall to the second floor, and look back over the balcony at the breathtaking foyer. Exhibits aside, the light streaming through the huge windows onto the impressive architecture is enough to have you reaching for a camera.

The ideal night here would be to: begin with small plates in Apero and then carry on with drinks at The Botanist. Balans is another close-by cocktail favourite – even offering an 'absinthe fountain ritual' for the adventurous.
Air conditioning
Lounges/bars
Exercise gym
Pets allowed
24-hour room service
Join INVITED and get 10% off exclusive rates. Plus early check-in and late check-outs among other benefits.
24-hour front desk

24-hour room service

24-hour security

Accessible facilities

Air conditioning

Audio visual equipment

Bell staff/porter

Business Center Services

Catering services

Children welcome

Coffee/Tea Maker in room.

Concierge desk

Conference space

Continental breakfast

Elevators

Exercise gym

Fire safety compliant

Flip charts

Free high speed internet connection

Free local calls

Full service housekeeping

High speed internet access for laptop in public areas

High speed internet connection

Hotspots

Housekeeping - daily

Lounges/bars

Meeting rooms

Newspaper

Pets allowed

Photocopy center

Please contact the hotel for further information.

Public address system

Restaurant

Room service

Safe deposit box

Security

Storage space

This is an approximate cost per person. Please contact the hotel for up to date pricing.

Wakeup service

Wireless internet connection
Air conditioning

Balcony/Lanai/Terrace

Bathrobe

Bathroom amenities

Bathroom telephone

Bathtub

Cable television

Coffee/Tea maker

Color television

Data port

Double beds

Free local calls

Free newspaper

Hairdryer

Handicap room

High Definition (HD) Flat Panel Television

High speed internet connection

Internet access

iPod docking station

King bed

Minibar

Non-smoking

Safe

Slippers

Smoke detectors

Telephone

TV

Twin bed

Wake-up calls
Hotel guests and locals alike flock to Apero at The Ampersand. The décor is hip, the atmosphere is buzzing and the cooking is distinctly Mediterranean. Bartenders are also on hand to mix up a signature cocktail or two. If you just can't wait until dinner, the hotel serves patisserie and light bites in the drawing rooms throughout the day.
Apero
Cuisine type: Mediterranean
Meals served: Breakfast, Lunch, Dinner
Apero is among Kensingtons best restaurants with an elegant yet relaxed atmosphere that appeals to both house guests and locals. Our food includes easy-going Mediterranean cooking- while in The Drawing Rooms- our all-day coffee- patisserie and light bite menus can be enjoyed at any hour in a room that is always busy with a convivial neighborhood spirit. Beyond the large windows- which flood the interior in natural light- the bustle of South Kensington passes by.
The Drawing Rooms
Meals served: Lunch
This is where the one-of-a-kind and award-winning Science Afternoon Tea is served with a mix of exciting and curious dishes from jellies served in petri dishes to chocolate spacemen and dinosaur biscuits. There is also a special Kid Sci-Fi Tea for younger scientists offering a special selection of children favourites including mini hot dogs and rocket cheese straws and sweet treats like brioche and jam sandwiches and hot chocolate. Advance bookings are recommended.
Reviews
These reviews are the real opinions of INVITED members and we have verified their stay at the hotel.
What I liked most :

Location (193)
Guestroom and bathroom (127)
Welcome and departure (119)
General service (113)
Breakfast (107)
Internet and wifi (105)
Restaurant and dining (49)
Local knowledge and experiences (38)
Room service (29)
Guest Room and Bathroom (27)
Welcome and Departure (27)
General Service (22)
Leisure facilities (15)
Local knowledge and experience (10)
Room Service (6)

What I might improve :

Breakfast (23)
Internet and wifi (15)
Restaurant and dining (14)
General service (12)
Leisure facilities (12)
Welcome and departure (12)
Guestroom and bathroom (11)
Local knowledge and experiences (7)
Welcome and Departure (6)
General Service (4)
Guest Room and Bathroom (4)
Other (3)

Read Reviews

great location, wonderful Afternoon Tea

December 2019

My Trip Type:

Couple

+ great location in posh South Kensington (tube across the street, close to museums, lots of restaurants just around the corner), "Science Afternoon Tea" was a wonderful experience, spotless and beautiful room, all room preferences fulfilled, (mostly) super friendly staff - soundproofing between rooms could be improved, staff at check-out was disappointingly uninterested, breakfast selection limited

Top tip for other guests:

don't miss Science Afternoon Tea at the hotel and "Comptoire Libanese" just around the corner!

What I liked most

Location
General Service
Local knowledge and experience
Guest Room and Bathroom
Internet and wifi
Other

What I might improve

Welcome and Departure
Breakfast
Other

Great location, and a friendly hotel

December 2019

My Trip Type:

Couple

Top tip for other guests:

.

What I liked most

Welcome and Departure
Location
General Service
Guest Room and Bathroom
Room Service

What I might improve

A home from home in London

December 2019

My Trip Type:

Couple

The Ampersand is a lovely hotel in a great location. The welcome is warm and genuine. Service great in all settings. Rooms well appointed. Great breakfast with plenty of fresh food.

Top tip for other guests:

Don't forget to claim ur complimentary glass of champagne!

What I liked most

Welcome and Departure
Location
General Service
Local knowledge and experience
Guest Room and Bathroom
Breakfast
Restaurant and dining
Internet and wifi

December 2019

My Trip Type:

Couple

This hotel has a good vibe with attractive common areas and a great afternoon tea! The service was ok but could have been a little more attentive. We were upgraded to a lovely superior room and offered complimentary champagne which we had delivered to our room. Restaurant service was a let down. No one acknowledged us upon entering both for dinner & breakfast. We were ignored by waiters until someone eventually caught our attention. Food was delicious though. Would certainly return!

Top tip for other guests:

Prebook afternoon tea, it gets busy!

What I liked most

Welcome and Departure
Guest Room and Bathroom
Breakfast
Room Service
Internet and wifi

What I might improve

General Service
Restaurant and dining

Absolutely beautiful five stars

December 2019

My Trip Type:

Family

Top tip for other guests:

It's good location Amazing

What I liked most

Welcome and Departure
Location
Guest Room and Bathroom
Breakfast
Restaurant and dining
Internet and wifi

November 2019

My Trip Type:

Couple

Breakfast with a view of the blue sky

Top tip for other guests:

Great when you travel from Heathrow

What I liked most

Welcome and Departure
Location
Breakfast
Room Service

October 2019

My Trip Type:

Business

Great staff and super helpful ! Loved the hotel and the location and will definitely stay there again

Top tip for other guests:

Use SLH but always check room size

What I liked most

Welcome and Departure
Location
General Service
Local knowledge and experience

Very good hotel, compact, friendly environment.

October 2019

My Trip Type:

Couple

Very good services in general, including professional and friendly reception.

Top tip for other guests:

Superior room for a couple is perfect, plus very fresh breakfast.

What I liked most

Welcome and Departure
Location
General Service
Guest Room and Bathroom
Breakfast
Restaurant and dining
Internet and wifi

It is not worth the money. definitely not a small luxury

September 2019

Top tip for other guests:

none

What I liked most

What I might improve

great location and nice hotel

September 2019

My Trip Type:

Business

Got impressed for the hotel design and good service of employees. best location

Top tip for other guests:

2mins from South Kensington Station. Breakfast for invited member do not included omelet(only continental breakfast)

What I liked most

Welcome and Departure
Location
General Service
Local knowledge and experience
Guest Room and Bathroom
Breakfast

What I might improve

Quintessential SLH property

August 2019

My Trip Type:

Couple

Warm welcome in all settings. Great breakfast with fresh food.

Top tip for other guests:

Make sure you remember to claim your complimentary glass of champagne!

What I liked most

Welcome and Departure
Location
General Service
Local knowledge and experience
Guest Room and Bathroom
Breakfast
Restaurant and dining
Internet and wifi

July 2019

My Trip Type:

Couple

Perfect service, ideal location, nice staff, good food.

Top tip for other guests:

Ideal hotel and location for a London weekend!

What I liked most

Welcome and Departure
Location
General Service
Breakfast
Restaurant and dining
Internet and wifi

What I might improve

Welcome and Departure
Location
General Service
Guest Room and Bathroom
Breakfast
Restaurant and dining
Internet and wifi

Attentive service in luxury surrounds

June 2019

My Trip Type:

Family

This is our second stay at The Ampersand Hotel as a family of 4. Both times we have had interconnecting rooms which works brilliantly. Rooms are very stylish and tasteful, with a feeling of modern luxury. Staff are courteous and helpful at all times. The location is fantastic- right in the heart of South Kensington, literally 100m from the tube station and multiple fantastic cafes and restaurants. The breakfast is beautiful, with everything you could hope for. I can't wait to stay here again!

Top tip for other guests:

Choose interconnecting rooms for families. Definately have the breakfast here!

What I liked most

Welcome and Departure
Location
General Service
Guest Room and Bathroom
Breakfast
Internet and wifi

Another great stay at the Ampersand

June 2019

My Trip Type:

Couple

We love the Ampersand. The staff are all wonderful from initial check-in to departure. The Science Afternoon Tea is also truely spectacular

Top tip for other guests:

Go for rooms on the higher floors - the road outside gets pretty busy and thus noisy

What I liked most

Welcome and Departure
Location
General Service
Guest Room and Bathroom

What I might improve

Great home from home in London

June 2019

My Trip Type:

Couple

Another great stay at the Ampersand. Warm welcome on arrival and great service in all settings. Particularly enjoy the breakfast made with fresh produce.

Top tip for other guests:

Worth paying a bit more for a larger room. The smallest ones are v cosy for 2 people but are priced accordingly.

What I liked most

Welcome and Departure
Location
General Service
Local knowledge and experience
Guest Room and Bathroom
Breakfast
Restaurant and dining
Internet and wifi

A very pleasant surprise!

May 2019

My Trip Type:

Individual

I ended up at the Ampersand because my usual hotel was fully booked, and I loved it. Well trained, friendly staff, nice clean rooms, great location with many shops and little caffés around the corner. Own restaurant very nice with lovely menu and nice wine. I have food allergies and staff went out of their way to make me a delicious breakfast. Easy to walk to museums and tube gets you all over town. Will stay again.

Top tip for other guests:

Upgrade a room if you stay longer.

What I liked most

Welcome and Departure
Location
Guest Room and Bathroom
Breakfast
Restaurant and dining
Internet and wifi

A hotel with the X factor

May 2019

My Trip Type:

Individual

The Ampersand ticks the boxes for all discerning guests and then some. Nothing is too much trouble for the staff. A really nice pied a terre in the capital.

Top tip for other guests:

Great hotel for solo travellers as staff are so welcoming., Smallest rooms are cosy but are priced accordingly and this is clearly stated on website.

What I liked most

Welcome and Departure
Location
General Service
Local knowledge and experience
Guest Room and Bathroom
Breakfast
Restaurant and dining
Room Service
Leisure facilities
Internet and wifi

Very good location, nice hotel, the bed not very good, nice room and bathroom. Poor welcome and departure.

April 2019

My Trip Type:

Couple

Top tip for other guests:

Nice location and room

What I liked most

Location
Guest Room and Bathroom

What I might improve

Welcome and Departure
General Service

very nice, great price. Great staff

March 2019

My Trip Type:

Business

Top tip for other guests:

worth a try...

What I liked most

Welcome and Departure
General Service
Guest Room and Bathroom
Room Service
Internet and wifi

What I might improve

Breakfast
Restaurant and dining

February 2019

My Trip Type:

Individual

Location, guest service, water in the room, big bathroom with shower.

Top tip for other guests:

Location, guest service, water in the room, big bathroom with shower.

What I liked most

Welcome and Departure
Location
Guest Room and Bathroom
Breakfast

Charming hotel with great staff

February 2019

My Trip Type:

Business

Comfortable, elegantly designed hotel in good location with friendly, efficient staff ready to help and make your visit run smoothly.

Top tip for other guests:

Delicious food and fun afternoon tea

What I liked most

Welcome and Departure
Location
General Service
Guest Room and Bathroom
Breakfast
Room Service

Third time here - this time less impressed

February 2019

My Trip Type:

Couple

This is my third time in the hotel, and I was offered an early check in and late check-out (subject to availability). When arrived at noon, the receptionist did not know what I was referring to and simply told me to come back around 14:00. On my last day I asked about a late check out (my flight was late at night), but again was asked to leave by 14:00, without any proposed complimentary late check-out. I also told the hotel in advance that this time we are celebrating my wife's 40th birthday, and expected some treat to celebrate and surprise her, but did not get any.

Top tip for other guests:

Third time in the hotel; Recommended.

What I liked most

Location
General Service
Guest Room and Bathroom
Breakfast
Leisure facilities
Internet and wifi

What I might improve

January 2019

My Trip Type:

Couple

The front office staff was quite helpful when we had to stay 2 extra nights unexpectantly due to my wife 's illness. It was arranged quickly with no fuss

Top tip for other guests:

To book ahead if you want to have afternoon tea

What I liked most

Welcome and Departure
Location
Guest Room and Bathroom
Restaurant and dining

Incredible Boutique Hotel in the best London Location

January 2019

My Trip Type:

Couple

This boutique Gem is incredible - the location is close to everything yet you don't feel like youre in the hustle of a major city - it felt like home everytime we got there and I just love it! Seriously, we have found our forever London Hotel and can't wait to return. Everything from the greeting, the champagne, the breakfast, to the way the bathroom door closes is perfect!

Top tip for other guests:

Have a nightcap at the bar - Kevin was a great bartender and the cocktails are delicious!

What I liked most

Welcome and Departure
Location
General Service
Local knowledge and experience
Guest Room and Bathroom
Breakfast
Restaurant and dining
Leisure facilities
Internet and wifi
Other

What I might improve

Welcoming and helpful staff across all areas

December 2018

My Trip Type:

Couple

Great bathroom and shower

Top tip for other guests:

.

What I liked most

Welcome and Departure
General Service
Guest Room and Bathroom
Breakfast

Great for a short business stay

December 2018

My Trip Type:

Business

The hotel staff are so hospitable and friendly. Love the bathtub and the heated floors in the bathroom. WiFi is excellent for working. Great location.

Top tip for other guests:

The room is extremely small with no proper closet or bureau. Know what type of room you're getting and opt for superior. I will take a larger room next time.

What I liked most

Welcome and Departure
Location
Guest Room and Bathroom
Internet and wifi

December 2018

My Trip Type:

Couple

Everything went well and smoothly.

Top tip for other guests:

The location near the underground station is great for a tourist.

What I liked most

Welcome and Departure
Location
General Service
Guest Room and Bathroom
Breakfast
Internet and wifi

November 2018

My Trip Type:

Business

Too hot in room to sleep Slow drinks service in lounge Everything else good

Top tip for other guests:

Visit Hyde Park

What I liked most

Welcome and Departure
Location
Breakfast

What I might improve

General Service
Guest Room and Bathroom

November 2018

My Trip Type:

Friends

Enjoyed our stay very much. Very nice room, well treated. Very good breakfast highquality materials. More vegetables would be appreciated. Very comfortable sitting areea. Very good WiFi.

Top tip for other guests:

The hotel is located in a very nice neighbourhood very close to magor museums and South Kensington underground station.

What I liked most

Location
General Service
Guest Room and Bathroom
Breakfast

November 2018

My Trip Type:

Couple

Top tip for other guests:

Staff with attentive manner. Convenient location for any city event.

What I liked most

Location
Guest Room and Bathroom
Internet and wifi

What I might improve

Welcome and Departure
Breakfast
Restaurant and dining

Very good service and nice quiet location however still only 25min from Heathrow airport

November 2018

My Trip Type:

Couple

Top tip for other guests:

take the deluxe room at least, the others look small

What I liked most

Welcome and Departure
Location
General Service
Guest Room and Bathroom
Breakfast
Internet and wifi

Better 5* hotels elsewhere in London

July 2018

Must win the award for the smallest hotel room(s) ever. No upgrade either with usual excuse "fully booked" although the restaurant(s) were pretty empty.

Top tip for other guests:

None

What I liked most

What I might improve

Welcome and Departure
Guest Room and Bathroom
Restaurant and dining
Leisure facilities

Quintessential boutique hotel in a great location.

October 2018

Nothing is too much trouble for the friendly, courteous staff.

Top tip for other guests:

I requested, was promised and got 2 interconnecting rooms - perfect if travelling with an elderly single person who is a bit nervous of leaving home.

What I liked most

Welcome and Departure
Location
General Service
Local knowledge and experience
Guest Room and Bathroom
Breakfast
Internet and wifi

October 2018

I love the special feeling of arriving home! This is how I feel every time I check-in. Staff i very friendly but professional at the same time.

Top tip for other guests:

Try a cocktail at Apero.

What I liked most

Location
General Service
Breakfast

What I might improve

September 2018

Young and helpful staff. Hip and fun decor in a fantastic neighborhood. Wonderful, comfy room and I recommend getting a larger room (Deluxe or Studio). Heated floors in the bathroom were the BEST!

Top tip for other guests:

Use the staff at the front desk for restaurant recommendations.

What I liked most

Welcome and Departure
Location
Local knowledge and experience
Breakfast
Restaurant and dining
Internet and wifi

What I might improve

Belgium

My Trip Type:

Couple

Top tip for other guests:

Go there!

What I liked most

Guestroom and bathroom
Location
Internet and wifi
General service
Breakfast
Welcome and departure

Stay+date:+March+2017

My Trip Type:

Couple

Love this hotel - great location, fab accommodation, delicious food and wonderful staff right from the moment they welcomed us in to reception

Top tip for other guests:

Recommend Brompton Food Market for lovely lunches and cake, and Brindisa does wonderful tapas. Both within a few moments walk of the hotel

What I liked most

Guestroom and bathroom
Restaurant and dining
Location
General service
Welcome and departure
Local knowledge and experiences
Breakfast

with any doubt we will repite in the Ampersand .

Stay+date:+March+2017

My Trip Type:

Couple

we have had a fantastic experience in the Ampersand . they upgrade us to a studio room and was excellent in comfort, size and quiteness. the service is very young and very amiable ,however they are not very good in recomending restaurants basically because they don't know them.

Top tip for other guests:

Fantastic location in the area of South Kensington at 50 metrs to tube .

What I liked most

Welcome and departure
Internet and wifi
Guestroom and bathroom
Room service
Location

What I might improve

Local knowledge and experiences

Stay date: February 2017

My Trip Type:

Couple

Brilliant staff and a stunning hotel in a central location. Close to the tube and museums as well as some good eating places close by. Room might seem small but for a weekend stay its perfect and cozy.

Top tip for other guests:

A room on a high floor would be recommended.

Hotelier reply:

Thank you for your brilliant review. I am delighted you enjoyed your stay with us and the team looked after you so well. I look forward to welcoming you back to The Ampersand Hotel the next time you are in London. Kind regards, Tracey Hewitson Assistant General Manager

What I liked most

General service
Welcome and departure
Location

Great place to stay near the Museums

Stay date: January 2017

My Trip Type:

Couple

Nice staff, clean hotel, the Apero restaurant has good food in a nice atmosphere.

Top tip for other guests:

Buy the museum tickets in advance!

Hotelier reply:

Dear Evert, Thank you for your wonderful review. I am delighted you had such a great experience and look forward to seeing you again. Kind regards, Tracey Hewitson Assistant General Manager

What I liked most

Welcome and departure
General service
Location

Stay date: January 2017

My Trip Type:

Couple

Very good in all aspects.

Top tip for other guests:

With an Octopus card you have excellent access to nearby buses and underground.

Hotelier reply:

Dear Anders, Thank you for your great review. I look forward to welcoming you back in the future. Kind regards, Tracey Hewitson Assistant General Manager

What I liked most

Internet and wifi
Guestroom and bathroom
General service
Breakfast
Location
Welcome and departure

What I might improve

Perfect location for exploring London

Stay date: December 2016

My Trip Type:

Couple

Our second stay and the staff are as ever very professional and attentive A busy time for the hotel so we could only be given a room upgrade three nights into our stay which did not fit with our plans Our room was a bit on the small side but well,equipped and clean Breakfast was however complimentary and well received We plan to stay far more frequently now we have moved to the country and this is our hotel of choice

Top tip for other guests:

Ask for a room with a balcony ..great for watching South Kensington life

What I liked most

What I might improve

A little room for improvement

Stay date: December 2016

My Trip Type:

Single

My wife and I have thoroughly enjoyed many fabulous stays at the Ampersand - great service, delightful rooms and very convenient location. Unfortunately, on my most recent visit my Club benefits went somewhat awry - my welcome glass of champagne (which is such a lovely touch) was promised but did not arrive, my complimentary morning paper needed to be removed from my bill and my complimentary continental breakfast appeared on my bill as night room service and its removal needed to be authorised. Be assured, my wife and I will return to the Ampersand, hopefully without a repeat of these mishaps.

Top tip for other guests:

Check your bill for your Club benefits

What I liked most

Guestroom and bathroom
Location
Internet and wifi
Room service
Breakfast

What I might improve

General service
Welcome and departure

Feels like home away from home

Stay date: November 2016

My Trip Type:

Business

The hotel is still as excellent as on every earlier visit. Very high standard, very service minded staff that seems to be hired based on both competence and personality skills. The hotel is big but has the feeling of a small boutique hotel. Very comfortable beds and pillows. Absolutely lovely breakfast and good dinner. As SLH member your really feel very welcome at the Ampersand. Not the most expensive SLH choice but maybe the best in London. Super location for most purposes.

Top tip for other guests:

Don't leave the hotel without eating breakfast. It's rich and delicious.

What I liked most

Welcome and departure
Restaurant and dining
Breakfast
Internet and wifi
Local knowledge and experiences
Location
Guestroom and bathroom
General service

A lovely base for my trip

Stay date: October 2016

My Trip Type:

Single

Great little hotel with very happy and willing staff. A few minot niggles but these were all sorted out. Good value for money.

Top tip for other guests:

Use the underground its right next to the hotel

What I liked most

General service
Location
Internet and wifi

The epitome of the SLH standards

Stay date: October 2016

My Trip Type:

Couple

All aspects of our stay at The Ampersand were first class from the limo that met us at Heathrow to the limo that took us back there six days later. The service was without exception first class. Our de luxe studio was both well-appointed and spacious. We took full advantage of the excellent continental breakfast that came as part of our SLH membership. More generally, the bar and restaurant were excellent. The Ampersand is also very conveniently located being very close to the South Kensington Tube, stops for numerous bus routes, and a short walk to the South Kensington museums.

Top tip for other guests:

Try to secure a de luxe studio.

What I liked most

General service
Restaurant and dining
Breakfast
Guestroom and bathroom
Welcome and departure
Internet and wifi
Location

Spectacular experience in a great location

Stay date: September 2016

My Trip Type:

Family

Staying at The Ampersand is an important part of my trips to London. In all occasions I had an extremely enjoyable experience. The hotel staff is very nice and is always ready to answer to my needs. The hotel has a great location near the underground, the Hyde park and two of the main museums of London. The experience was really fantastic this time.

Top tip for other guests:

Great experience for a good value

What I liked most

Guestroom and bathroom
Welcome and departure
Breakfast
General service
Location

Excellent location & suite attraction

Stay date: September 2016

My Trip Type:

Couple

Clean, stylish and v good location. Modern suite with a kitchenette.

Top tip for other guests:

Suite is a good bargain.

What I liked most

Guestroom and bathroom
Breakfast
Location
Internet and wifi

What I might improve

Welcome and departure
General service

Great find in Busy South Ken

Stay date: August 2016

My Trip Type:

Couple

We loved this hotel The rooms were clean and bright and very well sound proofed from the busy roadway It's location is perfect for getting around town on the underground network and it has a cab rank outside the door

Top tip for other guests:

Ask at reception during your stay as they do deals for any future visits

Hotelier reply:

Dear Debby, Thank you for taking the time to review your recent stay with us. I am delighted you had enjoyed not only the hotel but our great location in South Kensington. I have shared your feedback with the team and we are looking forward to welcoming you back to The Ampersand soon. Kind regards, Tracey Hewitson Assistant General Manager

What I liked most

Guestroom and bathroom
Location

Stay date: August 2016

My Trip Type:

Business

You always feel welcome when you arrive at the hotel. Breakfast is great and so if the afternoon tea.

Top tip for other guests:

Location

Hotelier reply:

Dear Mr Oestberg, It is always a pleasure to welcome you back to The Ampersand. I am delighted you continue to stay with us and I look forward to seeing you again. Kind regards, Tracey Hewitson Assistant General Manager

What I liked most

Welcome and departure
General service
Breakfast

Nice place with a great location.

Stay date: July 2016

My Trip Type:

Single

Service, facilities and location perfect on this my second stay.

Top tip for other guests:

This hotel is just nearby the Victoria & Albert Museum and only a short walk from Harrods

Hotelier reply:

Dear Mrs Stokbro, Thank you for taking the time to review your second stay. I am delighted you had an enjoyable experience and I look forward to welcoming you back for a third visit. Kind regards, Tracey Hewitson Assistant General Manager

What I liked most

Internet and wifi
General service
Welcome and departure
Location
Breakfast

Excellent hotel in a very good location

Stay date: July 2016

My Trip Type:

Single

The hotel is in a great location. The staff were friendly and helpful and the food was also very good. A lovely place to stay.

Top tip for other guests:

Single room is small but has every facility and really great for a one or two night stay. Very comfortable and everything needed was supplied.

Hotelier reply:

Dear Ms Cock, I am delighted you had such an enjoyable stay at The Ampersand. I appreciate taking the time to review your visit and I look forward to welcoming you back in the future. Kind regards, Tracey Hewitson Assistant General Manager

What I liked most

Internet and wifi
Welcome and departure
General service
Location
Guestroom and bathroom
Breakfast

A lovely hotel in the heart of South Kensington

Stay date: July 2016

My Trip Type:

Family

We fell in love with this hotel the minute we arrived and were given such a warm welcome when we checked in. It is right in the heart of South Kensington and ideally located for shopping and the museums. The lobby has that wow factor with the most amazing light in the stairwell and wonderful art work on all the walls. We were upgraded to a Deluxe Studio Suite on the 4th floor at the front of the hotel. It was beautifully appointed with some lovely touches such as a real orchid and nice books and also some fresh milk in the fridge. The bed was huge and so comfortable. There was no need to worry about the noise from the road as it is double glazed and air conditioned - thankfully there were no emergency vehicles during the night when we stayed! We had a Wimbledon themed Afternoon Tea after we arrived. I have a weakness for afternoon tea and this was lovely in the fact that it was a little bit different - instead of sandwiches there were mini savouries such as quiche, yorkshire pudding and a sausage roll. Unfortunately we were let down by poor service - the tea and food were just plonked on the table and no-one came to ask if we were OK or would like more tea or anything else. A real shame - we felt we had been forgotten and they couldn't be bothered to go that extra mile. The same thing happened at breakfast the next morning - once again, a really lovely spread with some different things on offer but we were shown to our table and just forgotten about. The restaurant was busy but a little bit of service would have gone a long way. This is a really lovely hotel in a great location but let down by unattentive service in the restaurants. That could easily be fixed.

Top tip for other guests:

Make use of the air conditioning to cut out road noise if your room is at the front of the hotel!

Hotelier reply:

Dear Ms Mc Quaid, Thank you for taking the time to share your experience at The Ampersand and with such a lovely detailed review. I am delighted you loved the hotel and the team from the minute you arrived however I am sorry the service provided for afternoon tea & breakfast was not to the same high standard. Please rest assured I have shared this with the team to make sure we improve in this area. I very much look forward to welcoming you back in the future. Do not hesitate to contact me if I Can be of any assistance. Kind regards, Tracey Hewitson Assistant General Manager

What I liked most

Location
Guestroom and bathroom
Welcome and departure

What I might improve

General service
Restaurant and dining

Stay date: May 2016

My Trip Type:

Family

Great location, nice room and very helpful staff

Top tip for other guests:

South Kensington great for central London and museums

What I liked most

Welcome and departure
Location
Internet and wifi
Guestroom and bathroom
General service

What I might improve

Stay date: May 2016

My Trip Type:

Business

I had a great stay at the Ampersand Hotel. The staff is very professional, friendly and helpful, the rooms wonderful, the breakfast excellent. I always stay at this hotel whilst in London and will continue to do so in the years to come. Great restaurant, free Wifi, fitness area and nice location in addtion to the above makes this hotel perfect for me.

Top tip for other guests:

I prefer superior/delux rooms for more space.

Hotelier reply:

Dear Kari Anne, Thank you for your wonderful review. It is a pleasure to welcome you back on a regular basis. I am delighted you enjoy the hotel and have us as your London base. We all look forward to seeing you again soon. Warm regards, Tracey Hewitson Assistant General Manager

Stay date: March 2016

My Trip Type:

Friends

If all hotels would be like the Ampersand travel would be boring due to the lack of pleasant surprise when encountering excellence.

Top tip for other guests:

Have a stroll through the neighbourhood

Hotelier reply:

Dear Mr Disse, Thank you for your fantastic review. I am delighted you found your stay so enjoyable and I look forward to welcoming you back soon. Kind regards, Tracey Hewitson Assistant General Manager

What I liked most

General service
Location
Guestroom and bathroom
Breakfast
Welcome and departure

Stay date: March 2016

My Trip Type:

Couple

Very warm welcome, lovely room and brilliant location. The restaurant is brilliant and the cocktails great. Highly recommended hotel with all modern comforts but not cold.

Top tip for other guests:

Try the cocktails, really good selection and well made

Hotelier reply:

Dear Dr McMenemy, Thank you for your lovely review, I am delighted your stay was so enjoyable and you experienced dinner and cocktails in Apero. The team are pleased they helped make your stay such a lovely one and look forward to welcoming you back soon. Kind regards, Tracey Hewitson Assistant General Manager

What I liked most

Location
Guestroom and bathroom
Welcome and departure
Restaurant and dining

Back again in a lovely hotel

Stay date: February 2016

My Trip Type:

Single

I came back again to this very well located hotel. The room was very good, quiet and nice. I love their bathrooms and amenities, their beds and pillows, and breakfast. Thus, it is always a pleasure to come back. This time the reception desk had a very effective member and a non-effective one when I did the check-in. This needs improvement. Happily the effective member knows me (I stay there quite often) and came to help when she understood check-in was not happening as well as usual. The facilities in the hotel were as nice as usual and computers (business area) as good as usual, with a fast internet.

Top tip for other guests:

If you are sensitive to noise (tube trains) while sleeping, choose a room that is not on the 1st floor.

Hotelier reply:

Dear Margarida, Thank you for taking the time to review your recent stay with us. It was a pleasure to welcome you back to The Ampersand once again. I am sorry your check in was not as efficient as usual. The team member is relatively new so we will ensure additional training is given to make sure an improvement is made. I am delighted you enjoyed the rest of your stay and the team looked after you so well throughout the rest of your stay. We all look forward to welcoming you back to The Ampersand when you are next in London. Kind regards, Tracey Hewitson Assistant General Manager

What I liked most

Internet and wifi
Breakfast
Local knowledge and experiences
Guestroom and bathroom
Location
Leisure facilities

What I might improve

General service
Welcome and departure

A little gem in a lovely neighborhood, easy to get to

Stay date: February 2016

My Trip Type:

Business

In little gem in the middle of London! A great romantic or party or business hotel, rare are the hotels that have it all.

Top tip for other guests:

Try it

Hotelier reply:

Dear Pierra-Lisa, Thank you for your fantastic review. I am delighted you enjoyed your first stay with us. I look forward to welcoming you back to The Ampersand the next time you are in London. Kind regards, Tracey Hewitson Assistant General Manager

What I liked most

Room service
Welcome and departure
Guestroom and bathroom
Location
General service
Restaurant and dining
Leisure facilities

Stay date: January 2016

My Trip Type:

Business

Short visit. Enjoyed the rich and tasteful breakfast. The location is perfect for most purposes with 50 meters to South Kensington Underground station.

Top tip for other guests:

Have dinner in the restaurant!

Hotelier reply:

Dear Mr Nilsson, It was a pleasure to welcome you back to The Ampersand. I am delighted you had another enjoyable stay with and have shared all of your comments with the team. I look forward to welcoming you back the next time you are in London. Warm regards, Tracey Hewitson Assistant General Manager

What I liked most

Breakfast
Welcome and departure
Location
Guestroom and bathroom
Internet and wifi

Stay date: June 2015

My Trip Type:

Business

Staff very welcoming, fabulous breakfast.

Top tip for other guests:

Location, walking distance from Oxford Street

Hotelier reply:

Dear Mr Oestberg, Thank you for your wonderful review. I am delighted you had a great stay with us and in particular the warmth of welcome offered by the team. I look forward to personally welcoming you back to The Ampersand the next time you are in London. Kind regards, Tracey Hewitson Assistant General Manager

What I liked most

Guestroom and bathroom
Breakfast

Great Hotel at a top location

Stay date: January 2016

My Trip Type:

Business

The location is very good. Beautiful building and great interior design. Staff friendly and efficient. Nice bar and breakfast. A place to be back.

Top tip for other guests:

Worth to walk the streets around

Hotelier reply:

Dear Mr Coutinho, Thank you for taking the time to review your stay with us. I am delighted to receive such lovely comments and that you enjoyed your visit to The Ampersand. I look forward to welcoming you back soon. Kind regards, Tracey Hewitson Assistant General Manager

What I liked most

General service
Location
Breakfast
Guestroom and bathroom
Welcome and departure

Friendly service in a great location

Stay date: January 2016

My Trip Type:

Couple

Our last stay (departure 6/01) was good, but they refused for us a late check-out, despite we are honoured member...(the hotel was not full). I think, that you should explain them all the rules for Honoured member Best regards / Bruno Hamon

Top tip for other guests:

guestroom and breakfast

Hotelier reply:

Dear Mr Hamon, Thank you for taking the time to review your stay with us. I am pleased your overall stay was an enjoyable one. I am sorry you were disappointed we were unable to accommodate your request for a late check. This benefit is subject to availability and whilst we do our best to accommodate all requests it is not always possible. I look forward to welcoming you back to The Ampersand the next time you are in London. Please do not hesitate to contact me if I can be of any assistance in the future. Kind regards, Tracey Hewitson Assistant General Manager

What I liked most

Breakfast
Welcome and departure
Location

What I might improve

Fantastic hotel in a great location

Stay date: January 2016

My Trip Type:

Couple

Great hotel in a great location. Very friendly staff and comfortable bed. Really good room service and facilities. Close to many London landmarks and right next to tube station.

Top tip for other guests:

Try afternoon tea

Hotelier reply:

Dear Mr Tolstrup, Thank you for your fantastic review. I have shared all of your lovely comments with the team who are delighted they were able to make stay such an enjoyable experience. We all look forward to welcoming you back to The Ampersand soon. Kind regards, Tracey Hewitson Assistant General Manager

What I liked most

Location
General service
Room service

Cool hotel, great location

Stay date: January 2016

My Trip Type:

Couple

This is a great hotel, with cool, often bold design. Elegant rooms with excellent use of space and right level of furniture. Lounge/coffee area is very attractive and afternoon tea there is a must! Location is ideal, with a good balance between center proximity and calm surroundings. Highly recommended for a central stay.

Top tip for other guests:

The underground bar!

Hotelier reply:

Dear Mr Danikas, Thank you for taking the time to review your stay with us and for your wonderful feedback. I am pleased you had such an enjoyable stay and you had an opportunity to sample our afternoon tea. I look forward to welcoming you back to The Ampersand the next time you are in London. Kind regards, Tracey Hewitson Assistant General Manager

What I liked most

Guestroom and bathroom
Breakfast
Location
Room service
Restaurant and dining

What I might improve

Totally satisfying five-day stay

Stay date: December 2015

My Trip Type:

Couple

This i ts a lovely hotel in a great location -- steps from tube (Piccadilly line) and around the corner from several world class museums (including the V & A)). The staff is friendly and helpful and an extra bonus is that the Apero restaurant serves tasty and creative food (also very convenient for a lite pre-theatre meal).

Top tip for other guests:

Don't miss out on the Apero restaurant.

Hotelier reply:

Dear Mr Wool, Thank you for your fantastic review. It is a pleasure to receive such lovely comments and I have shared them with the whole team. I am delighted you had such an enjoyable stay and look forward to seeing you again in the future. Kind regards, Tracey Hewitson Assistant General Manager

What I liked most

Location
Leisure facilities
Restaurant and dining
General service
Welcome and departure

Stay date: December 2015

My Trip Type:

Couple

Our recent stay was as delightful as it has been on several prior visits. The staff are very cooperative and flexible, sensitive and keen to make you feel truly welcome. The location next to South Kensington stations is extremely convenient for access to anywhere in London.

Top tip for other guests:

Use the adjacent South Kensington underground station to get around

Hotelier reply:

Dear Mr Saunders, It is always a pleasure to welcome you back to The Ampersand. I am delighted the team take such care of you to make your stay with us such an enjoyable experience. I look forward to personally welcoming you back soon. Kind regards, Tracey Hewitson Assistant General Manager

What I liked most

Location
General service
Room service
Welcome and departure
Guestroom and bathroom
Breakfast
Internet and wifi

Stay date: December 2015

My Trip Type:

Couple

Staying in London several times a year for theatre, celebrations or just a mini break we tried different hotels over the years and the Ampersand is a medium one. Everything is of high standards but the last tick for a perfect stay is missing. The rooms are nice but we stayed in a Deluxe room and I cannot imagine how small the standard room must be (BTW: Upgrade was not offered as part of the SLH booking - we requested it and paid for it). Breakfast choice is also really good but we had to wait for our coffee and to request it three times and we were not the only ones in the breakfast area. Also any addition to the continental breakfast has to be paid separately which at these prices is normally not the case. So overall you will have a really nice stay in a very beautiful hotel but there are better ones in the area if it comes to value for money.

Top tip for other guests:

Get at least a Deluxe room

What I liked most

Location
Internet and wifi
Guestroom and bathroom

What I might improve

General service
Welcome and departure
Breakfast

Stay date: December 2015

My Trip Type:

Single

Great location, very nice staff, clean and quite room, free wifi, lovely shower, homemade granola and beautiful design!

Top tip for other guests:

A very good choice if you prefer a small hotel with a personal touch!

Hotelier reply:

Dear Ms Hvide, Thank you for you great review. I am delighted you had another enjoyable stay with us and I look forward to welcoming you back to The Ampersand in the future. Kind regards, Tracey Hewitson Assistant General Manager

What I liked most

General service
Location
Internet and wifi
Welcome and departure
Guestroom and bathroom

Small but perfectly formed

Stay date: December 2015

My Trip Type:

Couple

Different from big 5 star hotels in size and ambience but the quirky interior, comfort, level of service and cleanliness are second to none.

Top tip for other guests:

Do not expect big rooms in lower price range but all rooms are beautifully decorated.

What I liked most

Restaurant and dining
Guestroom and bathroom
Location
General service
Breakfast
Internet and wifi

Stay date: November 2015

My Trip Type:

Family

It's the fourth time I staid in this hotel and the quality/services are decreasing. The hot floor in the bathrrom didn't work (even after I asked to fix it); In four stay, they never gave me an upgrade (although I'm an honour member!) whereas in every other SLH hotel I get an upgrade!! Moreover, in my personnal sheet I ask to be located in a high floor and they give me a room at the second floor (they have 6 floors) BTW, the hotel is wonderlly placed and the modern design is pleasant. The breakfast is very nice and the buffet will please everyone (salt/suger/bread/fruits, ....)

Top tip for other guests:

ask high floor to avoid the vibration of the underground

Hotelier reply:

Dear Gregory, Thank you for taking the time to review your recent stay with us. I am sorry the heated bathroom floor was not fixed during your stay and I have raised this with the maintenance team. We try our best to accommodate all guest requests and upgrade according to membership levels however it is subject to availability on the day of arrival. I have shared all of your comments and I am pleased you enjoy the breakfast buffet. Please rest assured I will do my best to ensure you have a high floor and upgrade on your next stay with us. I look forward to personally welcoming you back to The Ampersand. If I can be of any assistance do not hesitate to contact me directly. Kind regards, Tracey Hewitson | Assistant General Manager

What I liked most

Breakfast
Leisure facilities
Location

What I might improve

Welcome and departure
Guestroom and bathroom

Stay date: November 2015

My Trip Type:

Business

From the moment you enter, you are greeted kindly. This sets the tone for a great stay. The room, while small, as advertised, was beautifully clean and well-appointed with high tech access.

Top tip for other guests:

Enjoy the location and Apero breakfast

What I liked most

Local knowledge and experiences
Breakfast
Room service
Restaurant and dining
Location
Internet and wifi
Guestroom and bathroom
Welcome and departure
Leisure facilities
General service

Stay date: November 2015

My Trip Type:

Family

Very nice hotel , perfectly located in south Kensington close to public transport ( maybe too close if you have ground-floor or first floor room , where its quite noisy and in particular noisy if you are located ground floor left, where it fells like the Tube//subway are entering the room ) . Reception staf was fantastisk and got us moved away from noisy ground floor room ( no upgrade since no rooms available ) and was also very helpfull with restaurant bookings. Rooms are very nice decorated - some with shower and some with bathtub. Breakfast was fantastic - great staff - in particular the Italians :) Gym quite small , and be carefull if you are running and are 190 cm, since ceiling quite low

Top tip for other guests:

dont stay at ground-floor rooms

What I liked most

Internet and wifi
Location
General service
Breakfast

What I might improve

Leisure facilities
Welcome and departure

Great location for visiting London

Stay date: October 2015

My Trip Type:

Business

Next to some of the best Museums in London excellent service and the breakfast is great

Top tip for other guests:

Make time for breakfast great meeting point

Hotelier reply:

Dear Mr Reinert, It was a pleasure to welcome you back to The Ampersand. I am delighted you had such a lovely stay and I have shared your comments with the team. Thank you for taking the time to review your stay, we appreciate your support and look forward to welcoming you back soon. Kind regards, Tracey Hewitson Assistant General Manager

What I liked most

Internet and wifi
Breakfast
Welcome and departure
General service
Location

What I might improve

VERY GOOD HOTEL, GOOD LOCATION

Stay date: September 2015

My Trip Type:

Couple

All aspects of this hotel are very good. Located close to museums, art galleries, Royal Parks, restaurants and shops. The staff were very good indeed. The room was very good by London standards, all inclusions were there. Breakfast was very good. Nothing to dislike.

Top tip for other guests:

Just enjoy yourselves.

What I liked most

Internet and wifi
General service
Guestroom and bathroom
Welcome and departure
Local knowledge and experiences
Breakfast
Location

Very pleasant hotel, good location

Stay date: September 2015

My Trip Type:

Business

I was very pleasantly surprised by this hotel. It definitely helped that I got upgraded, so the room was really large (for London standards, at least ;) ). Bed was comfortable, room was very clean, WiFi worked reasonably well. And the breakfast was delicious. Also staff, both at the front desk and in the restaurant (breakfast) was very helpful. Can definitely recommend for stay in South Kensigton. BTW - the underground station is _really_ close so getting to central London is not an issue either.

Top tip for other guests:

No special tips, everything was just fine

What I liked most

General service
Breakfast
Guestroom and bathroom

What I might improve

Very nice Hotel, conveniently located

Stay date: August 2015

My Trip Type:

Couple

Beautiful Hotel, next to South Kensington underground station. Nicely decorated. Rooms a bit small, but well appointed. Service at breakfast need to be improved, the guys there are not too well trained nor friendly!

Top tip for other guests:

standard rooms are too small!

Hotelier reply:

Dear Mr Muehle, Thank you for taking the time to review your stay with us. I am sorry you found the service at breakfast to be lacking. Please rest assured we use your feedback constructively and retrain the team and improve the service standard. I am delighted your stay was an enjoyable experience and I look forward to welcoming you back to The Ampersand in the future. Kind regards, Tracey Hewitson Assistant General Manager

What I liked most

Location
Welcome and departure

What I might improve

Guestroom and bathroom
Breakfast

Stay date: August 2015

My Trip Type:

Business

This is a very reliable hotel. There are some hotels that one visits repeatedly because you seriously doubt that anywhere else could be much better. This is a well run, comfortable, tastefully modernised hotel, which for central london is good value for money.

Top tip for other guests:

the smallest rooms are very small, go for a bigger room if possible

Hotelier reply:

Dear Mr Kinsella, Thank you for your great review. It is always a pleasure to welcome guests back to The Ampersand. I am delighted we are your favoured choice for London and look forward to seeing you again soon. Warm regards, Tracey Hewitson Assistant General Manager

What I liked most

Guestroom and bathroom
Welcome and departure

Stay date: August 2015

My Trip Type:

Single

The Ampersand is an obvious choice for someone looking for comfort and style. The location is very convenient and especially optimial for someone looking for a good base for a long weekend in London. Do keep in mind that the rooms are small, so if you plan to spend your time in London sitting in the room, then this might not be the place for you. However, there are some very comfortable lounge and leisure areas in the hotel for general chilling!

Top tip for other guests:

Rooms are generaly small.. ground floor and first floor rooms have higher ceiling height giving a nicer ambience than top floor rooms. 118 is very nice..

Hotelier reply:

Dear Mr Herrmann, Thank you for your fantastic review. I have shared your wonderful feedback with the team who are delighted they were able to help make your stay enjoyable. I look forward to welcoming you back to The Ampersand soon. Kind regards, Tracey Hewitson Assistant General Manager

What I liked most

Local knowledge and experiences
Breakfast
General service
Internet and wifi
Leisure facilities
Location
Welcome and departure

Stay date: August 2015

My Trip Type:

Couple

Location was excellent for the tube,walking to shops and museums,coffees/eating places.Room was excellent however be aware that there is a digital display panel beside the door which ifdisplayed the room doesn't require a service it will not be done.We were unaware we had displayed this and to our dismay on retuning late one day the room was not serviced;quickly this was rectifed and it was our fault maybe visitors could be made aware on checking in.Breakfast again excellent.Shower good force,all reqired in the room,free paper,also as return visitors we were given a small box of choccies(yummy)and a glass of champagne to have a some point during our stay.All in all a very pleasent stay with attentive staff.

Top tip for other guests:

Enjoy the experience.

Hotelier reply:

Dear Ms McMillan, Thank you for taking the time to write such a lovely review of your recent visit. It is always a pleasure to receive such wonderful feedback. I am delighted you enjoyed your stay with us and all the little touches we include in the rooms. The team are also pleased they were able to make your stay a memorable one and look forward to welcoming you back the next time you are in London. Kind regards, Tracey Hewitson Assistant General Manager

What I liked most

Location
Breakfast
Internet and wifi
Welcome and departure
General service
Guestroom and bathroom

What I might improve

Local knowledge and experiences

Stay date: July 2015

My Trip Type:

Couple

Very modern decor through out, rooms are generous enough by London standards with king size beds and seating. Small fridge with complimentary water in all . Bathrooms have a quality fittings and showers and room air con through the. The hotel has a great games room, two Apple Macs printers in a private area to use. Breakfast is served in the basement area this is also the hotels restaurant by night. A white washed area with natural light pouring in, well layed out with continental buffet at one end, full menu available to order. Our only negative over hotel is we sleep very light and we did ask for a quiet room we never heard any other guests above or below but as London comes to life early in morning we heard road below traffic below also from early morning the vibration of the underground as hotel is above and near to South Kensington St. we were on front of hotel and on third floor so if you stay ask for a rear room if available.

Top tip for other guests:

Ask for a higher rear room as front rooms can be noisey early with traffic

Hotelier reply:

Dear Mr Poyser, Thank you for your great review. I am delighted you had such an enjoyable stay. I have noted your comments for any future stays and will ensure you allocated a room towards the rear of the hotel. We all look forward to welcoming you back to The Ampersand the next you are in London. Kind regards, Tracey Hewitson Assistant General Manager

What I liked most

Local knowledge and experiences
Breakfast
Location
Guestroom and bathroom
Room service
Restaurant and dining
Internet and wifi

What I might improve

Delightfully welcoming and excellent value

Stay date: August 2015

My Trip Type:

Couple

The elegance and convenience of the Ampersand make it my preferred hotel for a weekend visit.

Top tip for other guests:

Convenience onto the Underground

What I liked most

Guestroom and bathroom
Local knowledge and experiences
Welcome and departure
Breakfast
Internet and wifi
General service
Room service
Restaurant and dining
Location

Stay date: July 2015

My Trip Type:

Couple

The Ampersand is a lovely design hotel with full of delightful details. The location is very good in South Kensinghton very near V & A and Natural History Museum just to name few! We had the great pleasure to stay in a stylish Deluxe Studio. It surely was one of the most beautiful rooms I have ever stayed with excellent interior design and fantastic fabrics. A TV set in in the bathroom was a nice surprise too. The enermous lighting fixture of Ingo Maurers "Birds" in the staircase is stunning! This is definitely my new favourite hotel in London!

Top tip for other guests:

Deluxe studios are fabulous!

Hotelier reply:

Dear Ms Suomela, Thank you for taking the time to write such a lovely review. I am delighted we are now your favourite hotel and look forward to welcoming you back soon. Kind regards, Tracey Hewitson Assistant General Manager

What I liked most

What I might improve

Great service, beautiful modern hotel

Stay date: July 2015

My Trip Type:

Business

I often stay for business purposes and it's fantastic. So close to South Kensington tube station, modern hotel, small but fully equipped gym, lovely rooms, good facilities and excellent food. Above all the staff are outstanding, very friendly but it's relaxed and not stuffy. Highly recommended.

Top tip for other guests:

Order the room service, great value and good food. Free soft drinks in the fridges!

Hotelier reply:

Dear Ms Ariss, Thank you for taking the time to review your stay with us. It is always a pleasure to welcome regular guests back and we are looking forward to seeing you again soon. Do not hesitate to contact me if I can be of any assistance. Kind regards, Tracey Hewitson Assistant General Manager

What I liked most

Guestroom and bathroom
Room service
General service
Breakfast
Internet and wifi
Location
Welcome and departure
Leisure facilities

`Great price in a beautiful hotel with excellent service

Stay date: July 2015

My Trip Type:

Business

This was my 2nd stay in an SLH hotel and it was great. I booked this one because I was passing through London and wanted somewhere affordable to stay. I wasn't going to be there long - arriving after 7pm and leaving after breakfast so I wasn't too bothered about a huge room but wanted a comfortable and high standard of hotel to stay in. I booked the small Double Room class and was not upgraded (availability low presumably). The welcome on arrival was very friendly. They acknowledged my SLH Loved loyalty status would trigger free continental breakfast and added that I would also get a complimentary basic mini bar (soft drinks & water) and glass of champagne. The room was small but done out in a good high quality ... King Size bed, walk in oversize rainfall shower, sofa, small desk, reasonable TV (which had a clever system to play content from your tablet or smart phone through the wireless system, which sounded great although I couldn't get it working in the 15 mins I allowed it!). The view from the window was a little restricted (though far from the worst I've had in London rooms costing over £200 GBP) but it was OK. I used the gym (again, small but very well equipped with cross trainers, treadmills, static bikes, free weights etc.) and was very pleased & impressed with the complimentary water bottle fridge and rack full of towels. Breakfast was good - tasty and fairly wide ranging items - and friendly service from the staff.

Top tip for other guests:

Make sure you mention your SLH membership..

What I liked most

Guestroom and bathroom
Leisure facilities
Welcome and departure

What I might improve

Lovely hotel in excellent location

Stay date: July 2015

My Trip Type:

Couple

We stayed for 3 nights in what is called a double room. The room itself, while lovely, was incredibly small and dark looking directly into a brick wall. Our booking confirmation did state 'suitable for single occupancy' so it was our own mistake. This was our 5th stay at SLH hotels and not once have we ever been offered an upgrade, but we would have really appreciated one this time! We were however allowed a late checkout and complimentary continental buffet breakfast.

Top tip for other guests:

Upgrade room type

Hotelier reply:

Dear Mr Bressan, Thank you for taking the time to review your recent visit to The Ampersand. I am sorry we were unable to upgrade you for your stay with us due to the limited availability however I am pleased you enjoyed your stay with us and we were able to provide you with a late checkout. I hope to welcome you back the next time you are in London. Kind regards, Tracey Hewitson Assistant General Manager

What I liked most

What I might improve

Nice hotel in a central location

Stay date: June 2015

My Trip Type:

Business

The hotels location is really good, just 2 minutes from the underground.The atmosphere is really nice as well as the staff. The room was small but very nice, high standard. Breakfast was pleasant and of good quality.A small minus for the noise outside my window coming from some ventilation system and the total lack of view (only looking straight into that same box).

Top tip for other guests:

Book a room in the higher pricing brackets!

Hotelier reply:

Dear Ms Nebelius, Thank you for your lovely review. I am delighted you had such an enjoyable stay with us. I have noted your comments with regards to your room to avoid allocating this room for any future stays. We appreciate your great comments and look forward to welcoming you back to The Ampersand in the future. Kind regards, Tracey Hewitson Assistant General Manager

Always a pleasure to stay...

Stay date: May 2015

My Trip Type:

Single

This is the perfect place to stay if you are looking for a classic British style hotel with a fresh touch of design. The hotel is located 2 min walking from the tube station, very handy if you are reaching the city centre from Heathrow airport with the Piccadilly line. The rooms are very clean, stylish and design for fitting all what you need during your stay, whether it is for pleasure or business. The bathroom are very chic with many more amenities than standards and displayed in a very posh way. The staff are very friendly and helpful at all times. Highly recommended

Top tip for other guests:

NA

Hotelier reply:

Dear Mr Uga, Thank you for you wonderful review. It is always a pleasure to welcome you back to The Ampersand and we really appreciate your support. I look forward to welcoming you back once again in the near future. Kind regards, Tracey Hewitson Assistant General Manager

What I liked most

Room service
Location
General service
Guestroom and bathroom

What I might improve

Stay date: May 2015

My Trip Type:

Couple

We re booked as had a great stay last time, but our room was at the top of the building with very noisy boiler/air conditioning unit with all the windows closed we could not sleep at night. I am sorry to say we will not stay there again as the Hotel must know this room is not great and considering we were upgraded because of SLH club membership I feel we were given this because of your discount. they need to be aware.

Top tip for other guests:

Check location of room in hotel

Hotelier reply:

Dear Christopher, Thank you for taking the time to review your recent stay with us. I am sorry you were disappointed with the upgrade and the room you stayed in upon this occasion. We try our best to fulfil guest requests and we had noted your request for a high floor and thus allocated you room on the fifth floor. I am sorry you were unable to sleep and are investigating the noise issue you mentioned as we have not received any similar comments with regards to this room. We appreciate all guest comments as they allow us to make improvements in the service we offer to all our guests. I would be delighted to discuss this further and to restore your faith in us. Please do not hesitate to contact me directly if I can be of any assistance. Kind regards Tracey Tracey Hewitson |Assistant General Manager

Great hotel but service could be improved

Stay date: May 2015

My Trip Type:

Business

The hotel is fantastic, easy to reach (circa 1 minute from tube station), beautiful rooms and good food. I use the gym which whilst small has everything you could need. My only complaint is I left a diamond ring in my room and when reaching work the following day I called the hotel who in fairness looked for it but said they couldn't find it. I found this hard to believe as I know it was definitely in the bedside table. They said they would keep and eye open and let me know if it appeared. I stayed 1 week later and asked reception on booking in and they knew nothing about it and there wasn't even a note on my account-this made me lose a lot of trust in the hotel. Aside the hotel is very nice.

Top tip for other guests:

Room service very good, vibrations from tube below on lower floors

What I liked most

Room service
Location
Leisure facilities
Internet and wifi
Breakfast

What I might improve

top place for a nice stay

Stay date: May 2015

My Trip Type:

Business

amazingly nice hotel - great features and great service.. right next to the tube station and in relatively centric Kensington location - it is a charming luxury hotel at decent prices for London luxury.. Deluxe rooms are nice and well renovated - beds very comfortable and excellent shower facilities..

Top tip for other guests:

do not miss it

What I liked most

General service
Internet and wifi
Guestroom and bathroom
Welcome and departure
Location

Excellent choice for london

Stay date: April 2015

My Trip Type:

Business

Friendly and v good service Value for money 2 min to tube

Top tip for other guests:

Value for money

What I liked most

Internet and wifi
Local knowledge and experiences
Breakfast
Welcome and departure
Location

Stay date: April 2015

My Trip Type:

Couple

A friend recommended this hotel and we owe him a HUGE thank you. The hotel is beautiful, the staff very professional, helpful and cheerful and the location couldn't be better for a tourist. As our Canadian dollar is quite low compared to the pound, the hotel is slightly expensive but we feel that we received great value during our nine day stay. The staff were amazing. If a client seemed to want to be left alone , they were. If the client wanted to chat, they made time to do so. They were attentive to your every need. Our room was spacious and gorgeous. We were on the first floor and could hear a very low rumble when a tube train passed under the hotel but heard no street traffic even though a bus stop is directly in front of the hotel including the stop for the hop on hop off bus tours. The tube noise was never annoying and so low in volume and pitch that you almost imperceptably felt it rather than heard it.

Top tip for other guests:

You might slightly hear the rumble of the tube if in a rooom on the first floor but otherwise there is no noise penetrating the rooms from next door nor the street.

Hotelier reply:

Dear Mr Armstrong, Thank you for your wonderful review. I am delighted we lived up to your friend's recommendation. It was our pleasure to be part of your celebration and we very much look forward to seeing you again in the future. Warm regards, Tracey Hewitson Assistant General Manager

What I liked most

Guestroom and bathroom
Restaurant and dining
Location
General service
Internet and wifi

Stay date: April 2015

My Trip Type:

Single

Location couldn't be more perfect, vicinity to tube station and bus stops. Quirky, fascinating and utterly beautifully designed, wonderfully relaxed and stylish ambience. Friendly, attentive, interesting staff. A true gem.

Top tip for other guests:

Ask for a room with a view of the museums, across the yard of the Lycée next door.

Hotelier reply:

Dear Ms Heimann, Thank you for your wonderful review. I appreciate you taking the time to do so and I am delighted you had such an enjoyable stay with us. I have shared your comments with all of the team and we are looking forward to seeing you again in the future. Kind regards, Tracey Hewitson Assistant General Manager

What I liked most

Breakfast
Location
Restaurant and dining
Guestroom and bathroom
Welcome and departure

Friendly service in a great location

Stay date: April 2015

My Trip Type:

Single

The hotel is very nice and convenient. The staff is very friendly and wherever you want to go to, can easily be reached. And I really enjoyed the breakfast.

Top tip for other guests:

Breakfast at the hotel

Hotelier reply:

Dear Ms Weisbrodt, Thank you for your lovely review and comments. I am pleased you had such an enjoyable stay and very much look forward to welcoming you back soon. Kind regards, Tracey Hewitson Assistant General Manager

What I liked most

General service
Location
Welcome and departure
Breakfast

Good hotel in Central Location

Stay date: April 2015

My Trip Type:

Business

Perfect location near South Kensington underground station, Very friendly staff, nice rooms, clean, good breakfast buffet. Overall a very pleasant experience. Will stay there again.

Top tip for other guests:

Visit nearby Albert & Victorian museum

What I liked most

Guestroom and bathroom
Breakfast
Welcome and departure
Location

What I might improve

Leisure facilities
Local knowledge and experiences

Superb Hotel - great location

Stay date: April 2015

My Trip Type:

Couple

Hotel was amazing, great decor, brilliant room on 4th floor - everything you need for a brilliant stay. South Kensington tube station 1 min from doorstep to access all of London, good food served in the resturant and really good service. All staff were friendly and helpful, we loved it and look forward to coming back again.

Top tip for other guests:

If you are a light sleeper then get a room on the upper levels as the tube trains can be heard rumbling by - but this is not a distraction for us

Hotelier reply:

Dear Mr Kinch, Thank you for taking the time to review your visit with us. I am delighted you had such an enjoyable stay. I have shared your great comments with the team who are pleased they were able to make your stay such a brilliant experience. We are all looking forward to seeing you again in the future. Kinds regards, Tracey Hewitson Assistant General Manager

What I liked most

Location
General service
Guestroom and bathroom
Welcome and departure

Stay date: April 2015

My Trip Type:

Business

good deal, great breakfast. Only disappointment was that the late checkout was not avaiable except with charge.

Top tip for other guests:

good location, very nice breakfast

What I liked most

General service
Breakfast
Location

What I might improve

Very decent hideway in the city

Stay date: March 2015

My Trip Type:

Friends

The hotel is situated on a top-location in London, underground is close and everything can be reached in a few tens of minutes. I received a room upgrade on arrival and was very satisfied with the accommodation. The continenal breakfast was nice with a fast selection of breads (even rye bread, which was great for me being German). The bed was very comfortable and not too soft, just the way I like it. Even the wifi was included and pretty fast (!!). All in all a great stay at the Ampersand!

Top tip for other guests:

Location, Internet, Rooms

What I liked most

Guestroom and bathroom
Location
Internet and wifi

Stay date: March 2015

My Trip Type:

Couple

Amazingly warm welcome. People working at the hotel are both professional and warm - which is such a unique thing nowadays. Great location, delicious breakfast. They seem to like special requests, too ;-)

Top tip for other guests:

Try their afternoon tea.

What I liked most

Welcome and departure
Location
Guestroom and bathroom
General service

What I might improve

Friendly service in a great location

Stay date: March 2015

My Trip Type:

Business

Service was excellent and the suite was a really nice size and had everything one could wish for including an expresso machine. The breakfast area is really special very well decorated and the food was delicious. The two large apple computers with printer make it easy to continue business while away from the officer.

Top tip for other guests:

Location is ideal right next to South Kensington underground station

What I liked most

General service
Breakfast
Location

What I might improve

Superb, will return, but could be better

Stay date: January 2015

My Trip Type:

Business

I've stayed at the Ampersand six times in the last year. Great hotel, but you really need to go for a Deluxe Studio room to get the space and facilities you'd expect and a Deluxe Studio room isn't a cheap option. So, for the price of a Deluxe Studio, it might be worth looking around at your options. On the whole, really like the Ampersand, but after staying at other SLH hotels, such as Ett Hem, I really want to love the Ampersand. The biggest issue for me is the staff at the hotel. If they know and recognise you, you're fine. If not, you're simply treated as any other person who walks off the street. Took a client of our for afternoon tea, for example, spend the entire time trying to get the attention of the slightly surly waitress, who spent her time looking down at the floor whilst walking around. The rooms are great, bed linen is the best in the business, whilst the breakfast is plentiful and Drawing Room experience is very good when it's quiet, such as on an evening.

Top tip for other guests:

Go for a top floor room as you can hear the underground rattle your room furniture on the bottom two floors!

What I liked most

Location
Guestroom and bathroom
Breakfast

What I might improve

Ampersand hotel. Kensington

Stay date: February 2015

My Trip Type:

Couple

My husband and I stayed here for two nights. The location was good. The hotel and our room was lovely. The staff on reception were extremely helpful as were the breakfast staff. . We had a continental breakfast which was excellent. I would recommend the restaurant for dinner. We would definitely stay here again.

Top tip for other guests:

Recemmended

What I liked most

Location
General service
Guestroom and bathroom
Restaurant and dining
Welcome and departure
Internet and wifi
Breakfast

Courteous staff and brilliant service

Stay date: January 2015

My Trip Type:

Business

The staff were very courteous. The service from the moment I made the online booking, to checking in and checking out as well as during my stay was brilliant. The Ampersand is my preferred hotel when I visit London for the third time running.

Top tip for other guests:

The Ampersand is what you exactly require from a great hotel

What I liked most

General service
Welcome and departure
Guestroom and bathroom
Breakfast
Room service
Location

What I might improve

Perfect for Central London

Stay date: January 2015

My Trip Type:

Couple

Being frequent traveller staying at this categorie of hotels, our 5 days at The Ampersand were simply marvellous and everything of this stylish hotel from service to guest/bathroom was amazingly perfect. Although fully booked over New Years Eve it still seemed to be a very familiar place with excellent staff members. We suggest to book a studio as we did for an extended stay. The Location is very convenient for sightseeing and shopping in Central London. We will definetely book again for our next London visit. Maike and Marc Hamburg/Germany

Top tip for other guests:

Book a deluxe studio or suite on higher floor.

What I liked most

Local knowledge and experiences
General service
Restaurant and dining
Location
Welcome and departure
Guestroom and bathroom
Room service

What I might improve

Stay date: December 2014

My Trip Type:

Couple

In a very strategic position, 50 meters close to the South Kensington Tube station, in a quiet and elegant part of London, this is a very elegant structure, very well furnished, the global "environment" is light and friendly even if the service performed by the whole staff is surely highly professional. Our deluxe room was large and fully equipped, very clean with a wonderful walk-in shower. We have only complained a bit because the room was a bit cold. We absolutely recommend this hotel and we'll go back there asap.

Top tip for other guests:

Excellent

What I liked most

Breakfast
Internet and wifi
Location
Guestroom and bathroom

Our favourite stay in London

Stay date: January 2015

My Trip Type:

Couple

We love everything about this hotel. The room maybe on the small size and is extremely comfortable. All the staffs are friendly and helpful.

Top tip for other guests:

The afternoon tea is lovely

What I liked most

Guestroom and bathroom
Breakfast
Welcome and departure
Internet and wifi
Location

Stay date: December 2014

My Trip Type:

Couple

We stayed overnight in double room, and two nights in deluxe room. Double room was little small for two, but it was cosy. Deluxe room was very beautiful. We suggest to stay in deluxe room. Breakfast was so good. At night, there were many restaurants and nice pub around the hotel!

Top tip for other guests:

confortable rooms

What I liked most

Guestroom and bathroom
Breakfast
Location

Stay date: December 2014

My Trip Type:

Couple

The hotel is simply womdreful! We loved staying there! The staff is friendly and helpful! The room was great not to mention the location! In the hearth of south kensington one of the most lovely area of London.

Top tip for other guests:

Go for it! Definitely!

What I liked most

Breakfast
Room service
General service
Welcome and departure
Location
Local knowledge and experiences

Stay date: December 2014

My Trip Type:

Friends

This hotel combines everything you wish for, for a stay in a major town : Nicely designed rooms, great location (underground is 1' walking!), great breakfast, freee wifi, friendly staff, value fro money ! That is also,the reason why the Ampersand will become our "home hotel" whenever traveling to london either for business or pleasure. (It was our second stay) However one tip : do avoid room 14 since although superbly designed like the other rooms, it has no view or hardly any daylight

Top tip for other guests:

Avoid room 14 if you care about daylight in the room

What I liked most

Location
Breakfast
Local knowledge and experiences
Internet and wifi
Welcome and departure
Guestroom and bathroom

Great hotel and location!

Stay date: November 2014

My Trip Type:

Business

Staff was very helpful and welcoming. The Ampersand was one of my smoothest hotel stays in a long time!

Top tip for other guests:

Tube it to South Kensington from Heathrow...

What I liked most

Local knowledge and experiences
General service
Location
Breakfast
Guestroom and bathroom
Welcome and departure

What I might improve

Stay date: November 2014

My Trip Type:

Business

It is very well located. Very friendly service. The room was brand new and very confortable. Wifi did not work well.

Top tip for other guests:

Good location. Nice rooms.

What I liked most

Location
General service
Guestroom and bathroom

What I might improve

Wonderful stay in London.

Stay date: October 2014

My Trip Type:

Couple

An excellent hotel with good facilities in a great location. Very good service and attention to detail. The first hotel in London we have stayed at which we will go back to.

Top tip for other guests:

Rooms at the side of the hotel (i.e. not facing Harrington Road) are quieter.

What I liked most

Welcome and departure
General service
Location

Stay date: October 2014

My Trip Type:

Couple

I spent 10 wonderful days. I specially have to thank the staff , always helpful and attentive to any requirements

Top tip for other guests:

Perfect location for visiting London

What I liked most

Breakfast
Internet and wifi
Location
Guestroom and bathroom
Welcome and departure

Stay date: October 2014

My Trip Type:

Couple

Good location, the staff is very attentive, the public space and the room are vey neat and pleasant.

Top tip for other guests:

VERY GOOD!!!

What I liked most

Welcome and departure
General service
Location
Guestroom and bathroom
Local knowledge and experiences
Restaurant and dining
Breakfast

What I might improve

Ideal location, perfect room, perfect pl

Stay date: September 2014

My Trip Type:

Couple

Second time staying here and the staff deserve a lot of credit for how hospitable this hotel is - they are awesome, nothing is too much trouble - they even had a transformer for my fiance to use her US straighteners (a life saver, according to her!). Highly recommended to anyone looking for a great hotel, in a great lcoation.

Top tip for other guests:

Go to Maggies Jones for dinner just off of Kensington high street (15 minute walk)

What I liked most

Welcome and departure
General service
Room service
Guestroom and bathroom

Stay date: September 2014

My Trip Type:

Business

Excellent location, friendly service, 5-star boutique hotel. The only request is to have a mirror in the bedroom as it is not possible to use the hairdryer in the bathroom. The hand mirror provided by the Hotel was not convenient enough.

Top tip for other guests:

Nice!

What I liked most

Guestroom and bathroom
Breakfast
Location
Internet and wifi

Cosy little gem in fantastic location!

Stay date: September 2014

My Trip Type:

Couple

My first time staying in South Kensington and I am absolutely delighted at the location of the Ampersand. Right next to subway station, many good restaurants and bars like Eclipse and Boujis made sure that it was never lack of places to go. The rooms were well fitted, cosy beds and pillows and breakfast was just perfect. The decor was tasteful and contemporary and yet feels cosy. I definitely recommend!

Top tip for other guests:

Cosy little Italian restaurant around the corner to try - Pierino - for wholesome pizzas and great seafood cartoccio

Stay date: September 2014

My Trip Type:

Family

Nice situation inside London. The rooms are designed, very clean but a little too small. The restaurant for dinner is very nice.

Top tip for other guests:

Ask for high floor

What I liked most

Guestroom and bathroom
Breakfast
Internet and wifi
Restaurant and dining
Location
General service

What I might improve

great hotel, great service!

Stay date: September 2014

My Trip Type:

Couple

Great location, friendly staff, great room, heavenly breakfast... perfect place to stay!

Top tip for other guests:

try IT, you love it!

What I liked most

General service
Guestroom and bathroom
Welcome and departure
Breakfast

Fantastic hotel in great location

Stay date: September 2014

My Trip Type:

Couple

Really friendly and helpfull staff. Beautiful room, we got an upgrade to deluxe studio, thank you.

Top tip for other guests:

Flying from Heathrow? Take Picadilly Line direct from South Kensington, faster then going to Paddington Station for the Heathrow Express.

What I liked most

Welcome and departure
Breakfast
Guestroom and bathroom

What I might improve

Stay date: July 2014

My Trip Type:

Couple

This Ampersand Hotel is just fabulous. It's in a great location right near the South Kensington station and a short walk to the museums. The room we chose was the Deluxe Double and it was luxurious. It was more spacious than we expected, had beautiful décor and the king size bed was very comfortable. We were lucky enough to be on the 5th floor where the rooms have balconies. There are free sodas and water in the mini bar, which are replenished daily. The staff was so nice, smiling every time we passed through the lobby and enthusiastically helped us with any requests we made. We also had the chance to enjoy afternoon tea in the Drawing Room. If we visit London again, we wouldn't want to stay anywhere else!

Top tip for other guests:

The front desk staff is awesome, don't hestiate to ask them for help!

What I liked most

Restaurant and dining
Internet and wifi
Guestroom and bathroom
General service
Welcome and departure
Location

Stay date: March 2014

My Trip Type:

Couple

Great location, great atmosphere, lovely service, really wonderful room!

Top tip for other guests:

Try to get an upgrade! Really worthy!

Hotelier reply:

Thank you for such a fantastic review. I am pleased you enjoyed all aspects of your stay and particularly delighted the service we provide was one of your highlights. I look forward to welcoming you back the next time you are in London Kind regards, Tracey Hewitson Assistant General Manager

Great service in a great location

Stay date: July 2014

My Trip Type:

Family

Very friendly staff. Rooms are large and comfortable.

Top tip for other guests:

Best location

Hotelier reply:

Dear Ruslan, Thank you for your wonderful review, I am delighted you had such an enjoyable stay with us. We all look forward to welcoming you back to The Ampersand next time you visit London. Kind regards, Tracey Hewitson Assistant General Manager

What I liked most

What I might improve

Stay date: July 2014

My Trip Type:

Couple

At The Apmpersand you feel as you are a part of a big family. They always treat you very polite and alert. Third time here and we will be back soon again.

Top tip for other guests:

Try it - you will love it!

Hotelier reply:

Dear Mr Meyer Thank you for your fantastic feedback about your recent visit to The Ampersand. We are always delighted to welcome guests back and even more so when every stay is an enjoyable as the last. I very much look forward to welcoming you back in the near future. Warm regards, Tracey Hewitson Assistant General Manager

What I liked most

General service
Guestroom and bathroom

What I might improve

Internet and wifi
Local knowledge and experiences

Great Location; Responsive Service

Stay date: June 2014

My Trip Type:

Couple

We were off to a bumpy start: our assigned room was too small (room size is determined by floor) for the length of our stay. Our room was changed immediately. The staff was sympathetic about the need to change and apologetic about the original room. Overall, the hotel staff was responsive to our needs, attentive, but not overbearing. The decor is charming. The location is excellent for walking as well as for public transportation. Breakfast food (we had the buffet) was high quality. The room was very clean comfortable and everything worked well.

Top tip for other guests:

Since the guestrooms and bathrooms vary in size, you may want to state your needs when you make your reservation.

Hotelier reply:

Dear Mr Jablon, Thank you for taking the time to review your recent stay with us. I am sorry the beginning of your stay was not the best of starts however I pleased the rest of your experience was a more enjoyable experience and the team looked after you so well. We have noted your preferences should you choose to stay with us again in the future to ensure you have a smooth experience throughout. I look forward to welcoming you back the next time you visit London. Warm regards, Tracey Hewitson Assistant General Manager

What I liked most

Guestroom and bathroom
Internet and wifi
Location
Breakfast
General service

What I might improve

Stay date: June 2014

My Trip Type:

Couple

Good location near subway. Cafe and restaurant near hotel as well.

Top tip for other guests:

Ask for room with bath tub if you want to soak. Not all rooms have bath tub!

Hotelier reply:

Dear Kok Liang Sim Thank you for taking the time to review your stay with us. I am delighted you had such an enjoyable experience. I look forward to welcoming you back to The Ampersand in the future. Kind regards, Tracey Hewitson Assistant General Manager

What I liked most

Location
Welcome and departure

What I might improve

Great hotel for a weekend getaway

Stay date: June 2014

My Trip Type:

Couple

We loved our stay. We had a great room including a bathtub at the window! The staff were very friendly and helpful. We celebrated my partners birthday and the goodies (flowers, birthday cake) I prebooked were excellent.

Top tip for other guests:

Enjoy a lovely weekend!

Hotelier reply:

Dear Mr Barr, Thank you for taking the time to review your stay with us. I am delighted we able to make your partners birthday such an enjoyable day and to ensure all your arrangements went smoothly. It is always a pleasure to receive such lovely comments and I have shared them with the entire team. I look forward to welcoming you back the next time you are in London. Warm regards, Tracey Hewitson Assistant General Manager

What I liked most

Room service
Location
Welcome and departure

Excellent service & great location

Stay date: June 2014

My Trip Type:

Couple

Brand new hotel in a superb location. Rooms and bathrooms are rather small but I guess this is common in London ... . Very polite and friendly staff make you feel at home. Very nice restaurants at walking distance and a subway station just 50 mts away!!

Top tip for other guests:

Book at least a superior room since rooms are small

Hotelier reply:

Dear Mr Ferrer, Thank you for your fantastic comments. I so pleased we were able to make your stay such an enjoyable experience. I have shared your lovely feedback with the team who are delighted they made you feel at home. We all look forward to welcoming you back to The Ampersand in the future. Warm regards, Tracey Hewitson Assistant General Manager

What I liked most

Welcome and departure
General service
Location

What I might improve

somewhat quirky, yet modern and sophiste

Stay date: June 2014

My Trip Type:

Couple

We loved the location.....the morning breakfasts were delicious....charming and sophisticated décor....loved the restaurant for breakfast---delicious, great service... Parlor was awesome...employees all friendly and bent over backwards to give information...directly across from underground.... fast food and wonderful ethnicrestaurants five minutes away. The best part was the museums literally around the corner. we would definitely recommend the Ampersand and stay there again. You could walk to major shopping in 15 minutes!

Top tip for other guests:

walk around the area---it's safe, sophisticated and amazing!

Hotelier reply:

Dear Mrs Karr, Thank you for your wonderful review of your stay with us. I am delighted you had such a great experience with us and you were able to explore South Kensington, and all it has to offer. We are lucky to be in such a vibrant area with amazing museums in such close proximity to the hotel. We all look forward to welcoming you back to The Ampersand the next time you visit London. Warm regards, Tracey Hewitson Assistant General Manager

What I liked most

Local knowledge and experiences
Location
General service
Welcome and departure
Breakfast
Guestroom and bathroom

What I might improve

Internet and wifi
Leisure facilities

Stay date: May 2014

My Trip Type:

Business

I enjoyed my stay at the Ampersand Hotel very much. The staff is very friendly and helpful, and even called me by name throughout the stay. I found the room to be bright and cozy with a wonderful sense of design. Modern yet classic. The location was very good as well. If travels take me back to London, I wouldn't hesitate to stay at The Ampersand Hotel again. I did find the wifi to be quite slow.

Top tip for other guests:

Book through SLH and receive a free glass of champagne!

Hotelier reply:

Dear Mr Tomlin, Thank you for your fantastic review. I am so pleased you had a great stay with us. I am especially pleased the warmth of the staff made your stay with us that little bit more special. We are currently working in increasing the WiFi speed throughout the hotel and hope to have this resolved very soon. I look forward to welcoming you back when you are next in London. Kind regards, Tracey Hewitson Assistant General Manager

What I liked most

Location
General service
Welcome and departure
Guestroom and bathroom

What I might improve

Stay date: May 2014

My Trip Type:

Single

I really liked everything about the Hotel. The room I stayed in was small, be warned the rooms on the 4th and 5th floor are small. the Hotel does tell you this though - they warn about the room being good for one or maybe two people for only one or two nights at most. However everything in the room is gorgeous and comfortable. the bathroom was a generous size. I didn't get to eat at the restaurant as I was only in town for a very brief visit, but I would love to have taken High Tea in the very beautiful lounge on the first floor. It was lively and busy so I suspect it was a great place to spend some time. I would definitely stay again, but in a larger room.

Top tip for other guests:

Be sure of the room you are booking if size is important to you.

What I liked most

Location
Welcome and departure
Internet and wifi
General service

Classy hotel, great location and service

Stay date: April 2014

My Trip Type:

Couple

A wonderful hotel just a minute from South Ken tube. Excellent service levels without being pretentious. Great continental breakfast - you will not go hungry and the selection is far reaching. Love the decor throughout the hotel. Overall, a great stay.

Top tip for other guests:

Have a continental breakfast - really nice.

Hotelier reply:

Dear Mr Gould, Thank you for your fantastic review of The Ampersand. I am delighted you had a great stay with us. I have passed your lovely comments about the continental breakfast to the Head Chef, he will pleased the changes he recently made are being enjoyed. I look forward to welcoming you back to The Ampersand next time you are in London. Kind regards, Tracey Hewitson Assistant General Manager

What I liked most

Location
General service
Breakfast
Guestroom and bathroom
Internet and wifi
Welcome and departure

Stay date: April 2014

My Trip Type:

Couple

We really enjoyed our stay here . The service was excellent and we were upgraded to a suite because of our SLH membership. Fantastic location . Overall very good and we would definitely stay here again when in London.

Top tip for other guests:

Go to the Natural history museum while you are there!

Hotelier reply:

Dear Ms Finikin, Thank you for your fantastic review. I am delighted you had such a great stay we us. I have shared your lovely comments with the whole team and we all look forward to welcoming back to The Ampersand the next time you are in London. Kind regards, Tracey Hewitson Assistant General Manager

What I liked most

Welcome and departure
Location

Stay date: March 2014

My Trip Type:

Business

I do enjoy staying at the Ampersand. I have now stayed there two times and have had good experiences both times. The rooms are small, if you go for the standard room, so be forewarned. The quality of room is very good and the noise levels are pretty low for being on a main road. The quantity of bathroom amenities is excellent. The only thing I do wish is that the desk had alternative options for different plug types, or a better USB charger. Additionally, I've had issues with the wifi being intermittent and not as strong as I would like it. I wish this could be resolved -- as a business traveler, I need to be connected. As for the restaurants, I've only been to the Drawing Room, which is also excellent.

Top tip for other guests:

Have tea in the Drawing Room!

Hotelier reply:

Dear Ms Millan Caceres, Thank you for taking the time to review The Ampersand Hotel. I am delighted you enjoy staying with us and am looking forward to welcoming you back later this year. I have noted your wish for additional socket types in the desk and will ensure additional adaptors are placed in your room in the future. We have been working on increasing the stability of the WiFi and hope you will notice a difference upon your return. Please do not hesitate to contact me if I can be of any assistance in the future. Warm regards, Tracey Hewitson Assistant General Manager

What I liked most

Location
Guestroom and bathroom
General service

What I might improve

Great location fantastic staff

Stay date: April 2014

My Trip Type:

Single

Great place to stay staff first class and nothing to much trouble from the guys on the door to the breakfast staff a1 will be returning

Top tip for other guests:

Try the food

Hotelier reply:

Dear Mrs Maclennan Thank you for your wonderful review. I am delighted you had such a great stay with us, the service we provide is of the utmost importance so I am very pleased to share your comments with the whole team. We all look forward to welcoming you back to The Ampersand Hotel. Kind regards, Tracey Hewitson Assistant General Manager

What I liked most

Location
Internet and wifi
Welcome and departure
General service

Stay date: March 2014

My Trip Type:

Couple

We stay in The Ampersand Hotel for weekend. Everything was remarkable. Especially I pleased a bed which is more similar on American than European. Convenient arrangement of hotel and friendly personnel.

Top tip for other guests:

Bed was very convenient.

Hotelier reply:

Dear Ms Myakinina, Thank you for your lovely review of The Ampersand Hotel. I am pleased you enjoyed your stay with us and found the bed to be comfortable. We look forward to welcoming you back to The Ampersand the next time you are in London. Kind regards, Tracey Hewitson Assistant General Manager

What I liked most

What I might improve

Stay date: March 2014

My Trip Type:

Business

Great location and rooms. Wonderful service

Top tip for other guests:

Ask for a room upgrade to fifth floor

Hotelier reply:

Dear Ms Pask Thank you for taking the time to review your recent stay. I am delighted you had such an enjoyable stay with us and look forward to welcoming you back to The Ampersand. Kind regards, Tracey Hewitson Assistant General Manager

What I liked most

Location
General service
Guestroom and bathroom

Stay date: March 2014

My Trip Type:

Couple

When we arrived were given a double upgrade to a one bedroom suite,which was a nice surprise. The rooms in the suite were very small and dark,the bathroom was great with a free standing bath. This was our seconded stay with Shw but we're not able to have the complementary breakfast in with the rate! The staff and service were good. We both enjoy our stay.

Top tip for other guests:

If in a suite try and get one with a large brights rooms!

Hotelier reply:

Dear Mr Bronze Thank you for your review of your recent stay with us. I am delighted you enjoyed your stay with us and we were able to upgrade you for your birthday. I am sorry breakfast was not included in your rate, I can see from the information provided you were a Special member at the time of your stay with us and therefore it was not one of the benefits included in your membership level, however as you are now a Loved member continental breakfast will be included for any future stays with us. I look forward to you returning to The Ampersand Hotel in the future. Kind regards, Tracey Hewitson Assistant General Manager

What I liked most

Location
Internet and wifi
Welcome and departure

What I might improve

Breakfast
Guestroom and bathroom

Location and the small things

Stay date: March 2014

My Trip Type:

Family

Great location nearly atop South Kensington Tube stop. Upon early morning arrival, the front desk staff offered an available room, and gave excellent guidance selecting a very quiet Deluxe room. The small details that charmed included "no-login wifi" and keeping our mini-fridge stocked with water, soda, juice and milk. Only a proper coffee maker as included in higher-end rooms and suites could have improved our stay.

Top tip for other guests:

Trust advice of the staff.

Hotelier reply:

Dear Mr Moulds, Thank you for such a great review. We are lucky to located in such a wonderful area and so close to the underground which makes exploring London easy. I am pleased we were able to accommodate an early arrival for you and I have noted your request for a Nespresso coffee machine for your next stay with us. I look forward to welcoming you back, do not hesitate to contact me if I can be of any assistance in the future. Kind regards, Tracey Hewitson Assistant General Manager

What I liked most

Welcome and departure
Location
Local knowledge and experiences
General service
Internet and wifi

What I might improve

Stay date: March 2014

My Trip Type:

Couple

Perfect location. Comfortable and luxurious rooms. Beautiful.

Top tip for other guests:

Easy access to almost everything

Hotelier reply:

Dear Mrs Dahlberg, Thank you for your wonderful review, I am delighted you enjoyed your recent stay with us. We all look forward to welcoming you back to The Ampersand in the near future. Kind regards, Tracey Hewitson Assistant General Manager

What I liked most

Location
Guestroom and bathroom

Outstanding Top-Notch Boutique Hotel

Stay date: March 2014

My Trip Type:

Couple

From the moment we arrived at the Ampersand we were pleasantly surprised. We arrived in time for lunch and enjoyed a delicious two course meal in the modern Apero restaurant. The service and the food was first class. Our bedroom was a De-luxe studio, the room was spotlessly clean, and more than adequately supplied with all the little extras such as a Nespresso coffee machine and a well-stocked fridge of free soft drinks. I particularly enjoyed the high quality Miller Harris toiletries. The evening after the wedding we all came back to Champagne, canapés and savouries which we enjoyed in the Drawing room. On the Saturday evening we met for cocktails in Wine room. I must say I was impressed to see Falernum which was in one of the most delicious cocktail ingredients on the extensive cocktail menu. All of the staff were friendly, professional and courteous. You got the impression that they really enjoyed working at the Ampersand. All tof the service came with a smile. The location of the hotel made it excellent for walking to all nearby attractions. In summary, the Ampersand was a high class, first class, top of the class superior London hotel experience.

Top tip for other guests:

If you are overlooking the main road, take some earplugs if you are sensitive to noise, I slept well and noise free with ear plugs.

Hotelier reply:

Dear Mrs Wright, Thank you for such a fantastic review. All of the team are pleased to have received such positive comments as they genuinely want to make sure everyone has a fantastic experience whilst staying with us and are delighted we were able to make such a special occasion such a memorable one. We all look forward to welcoming you back The Ampersand in the future. Kind regards, Tracey Hewitson Assistant General Manager

What I liked most

General service
Internet and wifi
Welcome and departure
Guestroom and bathroom
Restaurant and dining
Local knowledge and experiences
Location

Stay date: March 2014

My Trip Type:

Friends

This was my second stay at The Ampersand Hotel and I really enjoyed it. The main asset of the hotel is its location, really close to Knightsbridge and right next to South Kensington station, so it is very well connected. I also enjoy its more modern design compared to other hotels in London. On this stay, I found the staff to be more helpful than the first time. As a Loved member, I also enjoyed breakfast at the hotel, which was simple, but of a very good quality and the breakfast room's design is superb. However, there were no eggs included, they had to be bought separately, which I found slightly disappointing. A minus would be that the hotel is in a rather noisy area and also there are some works being done opposite to the hotel which added to the noise in the mornings. Nevertheless, this is a small price, given the great location of the hotel. Also, I am not sure that I received an Upgrade, as nobody informed me and I found the room to be rather small.

Top tip for other guests:

Take a room higher up in the hotel, as the noise will be reduced.

Hotelier reply:

Dear Ms Balu, Thank you very much for taking the time to review The Ampersand and for providing us with your valuable feedback. I am delighted that you found the team helpful and that you liked our design. We are indeed extremely lucky to be so close to the South Kensington underground station and to have several bus stops around which can connect you very easily to any part of the capital. We do try our very best to reduce the noise level since we are in such a central area and I do apologize whether you were disturbed by the scaffolding on the building across the street, however it is something out of our control. I have updated your profile notes so that should you decide to stay with us again we would be definitely able to allocate a room facing a different side of the area. I am glad to see that you were able to enjoy the benefits of your SLH membership and I can confirm that you were offered a complimentary upgrade to a Superior room which ,I agree with you, should have been communicated to you upon arrival. Please accept my apologies for that. We feel very honest when we say that our Standard or Superior rooms are ideal for a short stay due to their size ( 11 to 20 sqm) while our Deluxe rooms are a better choice for the ones looking for some extra comfort. Moreover, we are happy to offer a complimentary continental breakfast to SLH Love members which consists in a fresh buffet prepared every day, however we do have a separate a la carte menu for any cooked breakfast which is not included and that is the reason of the extra cost. Generally I am thrilled to read that you decide to stay with us for the second time and I am looking forward to welcoming you back to the Ampersand the next time you visit London, Kind Regards, Salvatore V. Galentino Assistant Front Office Manager

What I liked most

Breakfast
Location
Internet and wifi

What I might improve

General service
Welcome and departure

Beautiful hotel but some rooms small

Stay date: March 2014

My Trip Type:

Business

I recently enjoyed a wonderful stay at the Ampersand Hotel as an SLH Club Member. The rooms were well clean and well appointed with each level of room featuring a specific theme pulled through in all the decor (e.g. paintings + bedside table book). The bathroom was wonderful, with a great shower and those luxuries you wish you had at home, like a heated floor and mirror. The service was excellent and no detail missed (e.g. slippers on a mat by the bed), and the restaurant looked delicious, though I did not try it. However, the smallest two room types are rather tiny; although typical for London, it can make it feel difficult to settle in. I recommend booking a deluxe room (or whatever the second rate level is) after joining the SLH club and getting an upgrade to the Superior room. The location right by the South Kensington tube is convenient for the museums and shopping in Knightsbridge, as well as for getting around, but may make the hotel less useful for work travelers. In addition, the immediate area isn't the most lovely, though a few blocks in either direction do put you in a rather posh part of town.

Top tip for other guests:

Enjoy the neighborhood - wander around Chelsea and Belgravia and feel the envy

Hotelier reply:

Dear Mr Henck, Thank you very much for taking the time to review the hotel and for your lovely feedback. I am delighted to read that you had such an enjoyable stay with us and I am very pleased that the service provided by the whole team was excellent. With regards to our rooms , the Deluxe category is indeed a better choice for the ones looking for some extra comfort as you recommended. The lower categories , although with exactly the same facilities, are more compact and offer alternative solutions for short stays or single travellers. Moreover, I have to admit that we do feel very lucky as we are located in such a beautiful area which is well connected with the rest of the capital and which has a lot to offer to any visitor. I do hope we have the pleasure of welcoming you back on your next visit to London. Kind Regards, Salvatore V. Galentino Assistant Front Office Manager

What I liked most

Welcome and departure
General service
Internet and wifi
Guestroom and bathroom

What I might improve

Super service and fabulous beds

Stay date: March 2014

My Trip Type:

Business

The staff is very service minded and friendly but the absolute best part of this hotel are the beds and the pillows. Usually you need to get used to a bed when sleeping on it for the first night, but everytime I stayed at the Ampersand I slept exceptionally well.

Top tip for other guests:

Easy to travel around London from the tube station South-Kensington

What I liked most

Guestroom and bathroom
General service

Stay date: February 2014

My Trip Type:

Couple

Location in calm area. Few restaurants and 2 pubs very near. Tube very near! But No upgrade to next room category...

Top tip for other guests:

Book Deluxe studio or suite (as they do not upgrade)

What I liked most

What I might improve

Excpetional value and service

Stay date: February 2014

My Trip Type:

Business

By far the best value for money in Central London for the quality of the hotel and excellent service from the staff.

Top tip for other guests:

Use the tube in the morning from South Kensington, much quicker than getting a taxi

Hotelier reply:

Dear Mr Bradley, Thank you very much for your lovely feedback. I am thrilled to read that you had such an enjoyable stay with us. I look forward to welcoming you back to The Ampersand the next time you visit London. Kind Regards, Salvatore V. Galentino Assistant Front Office Manager

What I liked most

General service
Location
Internet and wifi

Stay date: February 2014

My Trip Type:

Business

Very beautiful hotel with friendly staff. Great location.

Top tip for other guests:

You should avoid rooms facing Harrington road...

What I liked most

Welcome and departure
Location
General service

Stay date: February 2014

My Trip Type:

Couple

Great location, excellent hotel restaurants, friendly service, free wifi, small room

Top tip for other guests:

Nothing

What I liked most

Welcome and departure
Room service
Breakfast
General service
Restaurant and dining
Internet and wifi
Location
Guestroom and bathroom

What I might improve

Local knowledge and experiences
Leisure facilities

Stay date: February 2014

My Trip Type:

Business

Excellent staff sets the Ampersand Hotel apart. While the Tube was on strike the staff suggested and arranged alternative transportation. The hotel itself is tastefully appointed with great amenities.

Top tip for other guests:

Ask for local restaurant recommendations

Hotelier reply:

Dear Mr Brown, Thank you so much for your great review, I am delighted you enjoyed your stay. It can be a challenge for Londoners to travel during tube strikes so I am very pleased the team were able to assist with all your travel arrangements. I very much look forward to welcoming you back in the future, hopefully with a fully functioning transport system. Kind regards, Tracey Hewitson Assistant General Manager

Seriously groovy hotel, great location

Stay date: January 2014

My Trip Type:

Couple

Fabulous hotel in a fabulous location - 50 metres from South Kensington tube station. Luxurious room, however, the king size bed really was too big for the room. A queen size bed would have given a bit of extra, valuable space. There was some miscommunication re our category of membership. Technically we were Loved Members but the status had not been updated due to having only completed our first stay 2 days prior, therefore, as far as they were concerned we were not entitled to a complimentary continental breakfast. To their credit, they gave us the benefit of the doubt and honoured the breakfast offer. Our Loved Member category status has since come through. Very comfortable stay.

Top tip for other guests:

Make time for afternoon tea at the hotel

Hotelier reply:

Dear Ms Slatyer, Thank you for taking the time to share your experience of your recent stay. I am pleased you had such an enjoyable stay and am glad the team looked after you with regards to your membership benefits. I look forward to welcoming you back the next time you visit London. Kind regards, Tracey Hewitson Assistant General Manager

What I liked most

Guestroom and bathroom
Location
Restaurant and dining

Stay date: January 2014

My Trip Type:

Business

Top tip for other guests:

The Ampersand is how a Small Luxury Hotel shall be, dont miss it

Hotelier reply:

Dear Mr Pfitzner Strand, Thank you for your great review. It is always a pleasure to receive such positive feedback. We all look forward to welcoming you back to The Ampersand soon. Kind regards, Tracey Hewitson Assistant General Manager

What I liked most

Leisure facilities
Restaurant and dining
Internet and wifi
Guestroom and bathroom
Welcome and departure

Stay date: January 2014

My Trip Type:

Couple

We thoroughly enjoyed our stay at the Ampersand and found all the staff very friendly and helpful. The room was well appointed and in particular the beds are extremely comfortable. It would be useful to have the facilities of the hotel pointed out to you and what eating options were available. Disappointed not to get a room upgrade but perhaps one needs to ask and we did not get our complimentry glass of champagne however, we were offered it on check out when the reception staff realised. I appreciate that room upgrades are subject to availablity but I have yet to get this benefit with an SLH booking and was told the hotel was quiet as it was January. However a lovely hotel and I would recommend and intend to revisit.

Top tip for other guests:

Super location with excellent transport, restaurants and museums close by.

Hotelier reply:

Dear Ms Britton, Thank you for your lovely review. I am delighted you enjoyed your stay with us. I am sorry we were not able to upgrade you on this occasion, even though the hotel was not fully booked during your stay all of the Deluxe Studios and Suites were reserved on the day of your arrival. This meant we did not have any rooms available for upgrades for our SLH members. I look forward to welcoming you back in the future and will try our very best to ensure you receive all of your member benefits. Please do not hesitate to contact me directly if I can be of any assistance. Kind regards, Tracey Hewitson Assistant General Manager

What I liked most

Welcome and departure
General service
Guestroom and bathroom
Location
Internet and wifi

What I might improve

Local knowledge and experiences
Restaurant and dining

wonderful location and arty hotel

Stay date: January 2014

My Trip Type:

Single

it's very close to tube station and few bus stops which connecting to many places for shopping and sightseeing. Friendly staffs and Wifi connection is excellent. The room is just what you see on the website.

Top tip for other guests:

get those rooms where is have higher ceiling levels if possible.

Hotelier reply:

Dear Aki Lui Thank you for your lovely review. I am delighted you enjoyed your stay with us and look forward to seeing you again. Warm regards, Tracey Hewitson Assistant General Manager

What I liked most

Internet and wifi
General service
Local knowledge and experiences
Location

What I might improve

Great location,fantastic staff.

Stay date: January 2014

My Trip Type:

Couple

Great hotel.Wonderful staff.My hotel of choice in London.

Top tip for other guests:

Restaurant very nice.

Hotelier reply:

Dear Mrs Trelease, Thank you for your wonderful review. We are delighted you had another great stay with us and look forward to seeing you again soon. Kind regards, Tracey Hewitson Assistant General Manager

What I liked most

Guestroom and bathroom
Welcome and departure
Location
General service
Local knowledge and experiences

very friendly and relaxing atmosphere

Stay date: January 2014

My Trip Type:

Couple

A great location, very central. A very helpful and friendly staff, hotel facilities were very good. I enjoyed the experience of staying here and would definitely return to this venue if visiting London in the future.

Top tip for other guests:

great location

Hotelier reply:

Dear Ms Hickey, Thank you for such a great review. I have shared your comments with the whole team who are delighted they helped to make your stay such an enjoyable one. We are looking forward to welcoming you back the next time you are in London. Kind regards, Tracey Hewitson Assistant General Manager

What I liked most

Location
Guestroom and bathroom

What I might improve

Leisure facilities
Local knowledge and experiences

Stay date: December 2013

My Trip Type:

Couple

We couldn't get an upgrade as a SLH-member (it's almost never possible to get one) and our - superior - room was very small for two people (very low ceiling, almost no place for clothes and bags). But the location is perfect: underground is nearby and shopping facilities are at walking distance.

Top tip for other guests:

Ask for a larger superior room, as our room was rather small

What I liked most

Internet and wifi
General service
Welcome and departure
Location

What I might improve

Guestroom and bathroom
Breakfast

Stay date: October 2013

My Trip Type:

Couple

A fantastic stay in a modern hotel with fantastic facilities. The breakfast was beautiful. We enjoyed the location, decor, amenities, the comfortable bed and view from our window. Look forward to staying again

Top tip for other guests:

Breakfast was great

Hotelier reply:

Dear Ms McDonald, Thank you for your fantastic review. I am delighted you enjoyed your stay and have noted your comments about the room for your next stay. We look forward to welcoming you back next time you are in London. Kind regards, Tracey Hewitson Assistant General Manager

What I liked most

Welcome and departure
Room service
Guestroom and bathroom
Breakfast
General service

Stay date: December 2013

My Trip Type:

Couple

Stayed overnight for an evening function in the Mall gallery. Was upgraded to a superior, which. Was well decorated and large for a London hotel. Bathroom was huge although doube shower, no bath. Lots of staff on hand to help. Had a gass of champagne in drawing room...afternoon tea looked fab,but we had to save ourselves as we were eating out later

Top tip for other guests:

Tube is very near hotel, so just as easy get to by tube as opposed to say taxi

Hotelier reply:

Dear Mr Lloyd Thank you for taking the time to review your recent visit. I am glad you had an enjoyable stay and maybe next time we will be able to tempt you with afternoon tea. We look forward to seeing you again soon. Kind regards, Tracey Hewitson Assistant General Manager

What I liked most

Welcome and departure
Internet and wifi
Guestroom and bathroom
Location
Local knowledge and experiences
Breakfast
General service

Wonderful and comforting stay..

Stay date: December 2013

My Trip Type:

Friends

The staff are very welcoming and attentive. They make you want to be there! The surroundings are happy and comfortable. I will come back again!

Top tip for other guests:

Book early it is very popular!!

Hotelier reply:

Dear Ms Higdon, I am delighted you had such a great stay with us. I have shared your wonderful comments with the whole team. They are always pleased when they have made a stay a memorable experience. We all look forward to seeing you again in the future. Kind regards, Tracey Hewitson Assistant General Manager

What I liked most

Location
Local knowledge and experiences
General service
Guestroom and bathroom

Another enjoyable and memorable stay !!

Stay date: December 2013

My Trip Type:

Couple

An excellent hotel with equally excellent and helpful staff. Highly recommended !!

Top tip for other guests:

An excellent hotel with equally excellent and helpful staff. Highly recommended !!

Hotelier reply:

Dear Mr Iacovides, Thank you for such an excellent review. We are always pleased to welcome guests back to The Ampersand and I am delighted you had another great stay. I look forward to seeing you again soon. Kind regards, Tracey Hewitson Assistant General Manager

What I liked most

Location
Guestroom and bathroom
General service
Internet and wifi
Welcome and departure

Stay date: November 2013

My Trip Type:

Couple

Very nice hotel at an central location . The only thing that was not so god was the breakfast, Disorganised staff and not the biggest choice . Very nice room and bathroom.

Top tip for other guests:

Take the oppertuinty to walk beacuse the hotel is close to everything

Hotelier reply:

Dear Mr Bergqvist, Thank you for taking the time to review your recent visit to The Ampersand Hotel. I am delighted you enjoyed your stay with us, I have shared your feedback with the food and beverage team to ensure we look to make improvements in the breakfast service. I look forward to welcoming you back when you are next in London. Kind regards, Tracey Hewitson Assistant General Manager

What I liked most

Location
Welcome and departure
Internet and wifi
General service
Guestroom and bathroom

What I might improve

Boutique chic in trendy South Kensington

Stay date: December 2013

My Trip Type:

Business

Adored the a Ampersand. Quirky style added to high expectations of a leading boutique. Facilities are excellent, dining is incredible. I would most definitely book and stay here again, but I would be hesitant to book via slh as none of my membership benefits were realised for my booking - room choice, welcome gift, complimentary champagne were all missed, so in hindsight I might hv found a better rate elsewhere and not had this disappointment.

Top tip for other guests:

Definitely eat at Apero restaurant, it's magnificent!

Hotelier reply:

Dear Ms Kennedy, Thank you for taking the time to review your recent stay with us. I am delighted your overall stay was an enjoyable experience. I am sorry your welcome champagne and gift was missed during your stay and that we were only able to upgrade to a Deluxe room and not the Deluxe Studio as we had originally planned. This was due to unforeseen circumstances at the time. We all look forward to welcoming you back and ensuring you have a flawless stay. Kind regards, Tracey Hewitson Assistant General Manager

What I liked most

Location
Restaurant and dining
Internet and wifi
Breakfast
Guestroom and bathroom

What I might improve

General service
Welcome and departure

Stay date: November 2013

My Trip Type:

Family

This hotel is at the perfect location. Very chic, trendy and elegant without being snobby. Great value

Top tip for other guests:

Be sure to visit Borough Market

Hotelier reply:

Dear Ms Monahan, Thank you for your lovely review. I am delighted you enjoyed your stay with us and the style of service we provide. We all look forward to welcoming you back to The Ampersand soon. Kind regards, Tracey Hewitson Assistant General Manager

What I liked most

General service
Location
Guestroom and bathroom
Internet and wifi

Stay date: November 2013

My Trip Type:

Couple

We had a very pleasant stay at The Ampersand. As others have written it is in a great location for getting about London with easy access by bus straight through to Oxford St for example or an easy Tube journey to Theatreland. We were permitted early access to our room but unfortunately had to reject it as it was the smallest hotel bedroom I have ever seen. It was disappointing to be shown to it as we had been offered an upgrade before we checked in. Had I not asked for it then I believe my "review" would have been very different. The room was on the first floor although I had requested a quiet room on a high floor. Eventually we were shown to a room on the 4th floor which was much more in line with the hotel's grading and we liked it. We had a good night's sleep in the very comfortable bed and appreciated the small touches like fresh milk in the fridge and fine amenities by Miller Harris in the bathroom. The monochrome bathroom was stylish and well appointed and included a bath with good towels and excellent lighting. We felt value for money was excellent and fully understand that upgrades are subject to availability. We enjoyed a glass of complimentary champagne thanks to SLH's package in the very attractive drawing room with a delicious piece of cake. We thought the decor was fun and refreshing and as we had booked tickets for an exhibition at the V and A The Ampersand is perfect for taking a rest between visits. Our stay would have been improved had we not had to ask to be upgraded but we were very glad we did. Generally we enjoyed the laid backed and pleasant ambience of the hotel.

Top tip for other guests:

Entry level rooms are claustophobic

Hotelier reply:

Dear Mrs Ashworth, Thank you for taking the time to review your stay with us. Please accept my apologies for the bumpy start to your stay and I am delighted we were able to rectify the issues. I am delighted you enjoyed the rest of your stay and very much look forward to welcoming you back the next time you are in London. I am confident you will have a much smoother stay from the start. Kind regards, Tracey Hewitson Assistant General Manager

What I liked most

Location
Guestroom and bathroom
Internet and wifi

What I might improve

Excellent central location

Stay date: November 2013

My Trip Type:

Couple

Excellent central location, whilst the bedroom was still quiet. Superior Room was small and only had a shower, not a bath. Not entirely clear at breakfast what was included in price, and what needed to be paid for separately.

Top tip for other guests:

In the heart of the French quarter, so plenty of choices nearby to eat

Hotelier reply:

Dear Luke, Thank you for taking the time to review your stay with us. I am delighted your stay was an enjoyable experience. I am sorry you did not receive a room with a bath upon this occasion, the Superior rooms are either en-suite with a walk in shower or bath and shower combination. I have noted your preference for a bath for any future visits to ensure we accommodate this requirement. I look to welcoming you back to The Ampersand, if I can be of any assistance please do not hesitate to contact me. Kind regards, Tracey Hewitson Assistant General Manager

What I liked most

Internet and wifi
Location

What I might improve

Stay date: October 2013

My Trip Type:

Couple

The whole experience from booking to leaving was faultless. Really liked the emails before our stay to tell us about local restaurants & shops etc. Reception staff were friendly and efficient and our room was ready for us at 10:30am which I know was more luck than anything else. Really well equipped bedroom with welcome extra touches like fresh milk for tea and coffee, complimentary soft drinks, sample cakes in the afternoon and a rubber duck to take home! The bed was very comfortable and underfloor heating in the bathroom another little luxury. Breakfast was one of the best I have had. Already planning a return stay and will be recommending to friends.

Top tip for other guests:

Leave plenty of room for breakfast!

Hotelier reply:

Dear Ms Suckling Thank you. I am delighted you had a faultless stay. We have a great team at the hotel who love to provide the best service they can. We are all looking forward to welcoming you back soon. Warm regards, Tracey Hewitson Assistant General Manager

What I liked most

Breakfast
Guestroom and bathroom
Location
Welcome and departure

Very comfortable and convenient

Stay date: October 2013

My Trip Type:

Couple

We thoroughly enjoyed our 1 night stay at The Ampersand. We received a warm and friendly welcome on arrival. The hotel is situated just across the road from South Kensington Tube station. Our room (a Deluxe) was very comfortable, very relaxing & very clean. The bed was supremely comfortable and luxurious. The complimentary water and soft drinks are a nice touch and the wifi worked well with no need to enter a password. The bathroom was small but fine for the 2 of us. This was also very clean with all the usual complimentary toiletries and necessities. We had a continental breakfast delivered to the room which was just as you would expect and contributed to our relaxing weekend. All staff were very friendly, helpful and efficient. If we had to point out any minus points - it was quite difficult to get out of the bath/shower after showering due to the slope of the bath at that end and there was no mirror accessible by a power point for using the hairdryer (I really am scraping the bottom of the barrel here!).

Top tip for other guests:

Take breakfast in bed!

Hotelier reply:

Dear Ms Jones, Thank you for taking the time to share your feedback of your recent stay. It is always a pleasure to receive such lovely comments and it is very motivating for the whole team. I am delighted you enjoyed your stay with us and I look forward to welcoming you back to The Ampersand the next time you visit London. Kind regards, Tracey Hewitson Assistant General Manager

What I liked most

Location
Welcome and departure
Internet and wifi
Guestroom and bathroom
Room service
General service

Perfect setting for a London vacation

Stay date: October 2013

My Trip Type:

Couple

Perfect location near a central tube stop, Lovely decor, Comfortable rooms and lounge areas, Fabulous breakfasts and dinners, Friendly service, Excellent recommendations by concierges, Gorgeous decor, Strong attention to detail in every aspect….

Top tip for other guests:

Plan to stay at least 4 nights!

Hotelier reply:

Dear Ms Dworkin, Thank you for taking the time to review your recent stay with us. I am delighted you had such an enjoyable stay with us. I have shared your lovely comments with the team. I look forward to welcoming you back to The Ampersand in the future. Kind regards, Tracey Hewitson Assistant General Manager

What I liked most

General service
Guestroom and bathroom
Internet and wifi
Room service
Breakfast
Leisure facilities
Local knowledge and experiences
Welcome and departure
Location
Restaurant and dining

Excellent location and value for money

Stay date: October 2013

My Trip Type:

Couple

Very conveniently located, a few steps from South Kensington underground station and the museums. Well equipped rooms: superor rooms are spacious enough, with good amenities. Good value for money, if compared to main peers.

Top tip for other guests:

Superior room best value for money

What I liked most

Location
Welcome and departure
General service
Room service
Internet and wifi
Local knowledge and experiences

Stay date: October 2013

My Trip Type:

Couple

The staff were so welcoming and so helpful! The Ampersand is in a fantastic locations; steps from the South Kensington tube station. Lots of neighbourhood restaurants and minutes from the Natural History Museum and the Victoria and Albert. The room was tastefully decorated and spotlessly clean. Would definitely make it my number 1 choice in London!

Top tip for other guests:

Enjoy a great stay at the Ampersand

What I liked most

Welcome and departure
Local knowledge and experiences
Guestroom and bathroom
Breakfast
Location

What I might improve

High standard hotel at fair price

Stay date: October 2013

My Trip Type:

Business

I stayed there Oct 2013. Fast check in and I got double upgraded to a junior suite.Very friendly staff and room service was extremely fast (15 min. for a dinner). High quality furnitures, the room was a bit on the small side and I would have been dissapointed if I paid full price for the suite, but all in all a nice overall design, at least in the room I was in. the Hotel is small and personal but has everything you need. I would definitly go again and I would recommend it.

Top tip for other guests:

Ask for upgrades

Hotelier reply:

Dear Jesper Abild, Thank you for taking the time to review your recent stay. I am delighted you enjoyed your time at The Ampersand and have shared your lovely feedback with the whole team. I look forward to welcoming you back in the future. Kind regards, Tracey Hewitson Assistant General Manager

What I liked most

Location
General service
Internet and wifi
Welcome and departure
Room service

Nice hotel in great location

Stay date: September 2013

My Trip Type:

Couple

We stayed for 4 days in September. Location is perfect with tube station in 1-minute walking distance. The complimentary mini-bar and cookies in the guest room provides some nice refreshment after a long day travel. The room is clean, new and modern, and although small, with all amenities that we needed. The only down side - there was no invitation for a glass of Champagne in the Drawing Room which was included in the club exclusive offer.

Top tip for other guests:

Nice museums nearby. Harrods within walking distance.

Hotelier reply:

Dear Eva, Thank you your recent review of The Ampersand. I am delighted you enjoyed your stay. I am sorry you did not receive your complimentary glass of champagne upon this occasion. I look forward to personally welcoming you back to The Ampersand and ensuring you receive all of you membership benefits. Do not hesitate to contact me directly if I can be of any assistance. Kind regards, Tracey Hewitson Assistant General Manager

What I liked most

Guestroom and bathroom
Location
Local knowledge and experiences
Internet and wifi

What I might improve

Perfect location-lovely hotel

Stay date: September 2013

My Trip Type:

Couple

This was our second visit and we will come again. The hotel is a perfect combination of old and new-- a hundred year old inn with contemporary amenities.

Top tip for other guests:

Don't forget the ping pong table and the hotel library

Hotelier reply:

Dear Ruth, Thank you for reviewing your recent visit to The Ampersand. I am delighted you enjoyed the contemporary feel whilst keeping the character of the original Victorian building. I look forward to welcoming you back for your next stay in London. Kind regards, Tracey Hewitson Assistant General Manager

What I liked most

Internet and wifi
Guestroom and bathroom
Welcome and departure
Breakfast
Location
General service

Our favourite London hotel

Stay date: September 2013

My Trip Type:

Couple

Our third stay this year. This time, our room on the third floor facing the main road, was noisy for us, however when we mentioned this the next morning, the staff were quick to find us an alternative room that suited our requirements. The hotel is beautiful, the staff are wonderful and the rooms, although not large, are spotlessly clean. Breakfast is good and our waiter remembered us the following morning - impressive. We look forward to returning soon.

Top tip for other guests:

The bar/lounge is a great place to meet family and friends

Hotelier reply:

Dear Paul Thank you for your lovely feedback. I am delighted you had another enjoyable stay with us. We have noted your preferences for your next stay. We very much look forward to welcoming you back for your fourth visit. Warm regards, Tracey Hewitson Assistant General Manager

What I liked most

Welcome and departure
Breakfast
Guestroom and bathroom
General service

Stay date: September 2013

My Trip Type:

Business

Contemporary hotel in a great location - small rooms for the business traveler though - had to sit on the end of the bed to work at the desk.

Top tip for other guests:

If you want to work in your room check that there's going to be enough space to sit at the desk.

Hotelier reply:

Dear Iain Thank you for taking the time to review your recent stay with us. I am delighted you enjoyed your stay and I have noted your comments with regards to the room you stayed in. We will do our best to ensure you are allocated a room more suited to your requirements for any future stays with us. I look forward to welcoming you back to The Ampersand in the future. Kind regards, Tracey Hewitson Assistant General Manager

Stay date: August 2013

My Trip Type:

Couple

perfect for West London, the museums and Kensington. We stayed during the Proms season, and Albert hall was very convenient.

Top tip for other guests:

the passing underground trains can be heard even on the 4 floor !

What I liked most

Guestroom and bathroom
Location
Welcome and departure
Breakfast

Nice new venue in great location

Stay date: August 2013

My Trip Type:

Single

Polished hotel in South Kensington with plenty of cafe' s nearby, friendly staff, great amenities inside room and bathroom and even the restaurant is worth a visit with its sharing mediterranean cuisine-concept; great area, very close to Chelsea's boutiques, like Joseph, Stella McCartney or the Bibendum building of Terence Conran.

Top tip for other guests:

Seen plenty of hotels in London so far, this one is worth returning

What I liked most

Location
Guestroom and bathroom
Breakfast
Internet and wifi
Restaurant and dining

Stay date: July 2013

My Trip Type:

Couple

Clean, modern and tasteful design in soothing earth tones, with high quality hardware and state of the art electronics. Breakfast a good value. The complementary wi-fi worked well.

Top tip for other guests:

By all means have their English breakfast!

Hotelier reply:

Dear Dennis, Thank you for taking the time to review your stay. It is always a pleasure to receive such lovely feedback, I am very pleased you enjoyed your stay and I look forward to welcoming you back to The Ampersand the next time you visit London. Kind regards, Tracey Hewitson Assistant General Manager

What I liked most

General service
Welcome and departure
Location
Local knowledge and experiences
Internet and wifi
Guestroom and bathroom
Breakfast

Stay date: July 2013

My Trip Type:

Single

This hotel was fantastic from my arrival at 6.00am. Arranged for a shower even though my room wasn't ready after such a long flight. Excellent service for my entire stay. Fantastic room. Very clean.

Top tip for other guests:

Enjoy some drinks at the bar downstairs

What I liked most

Guestroom and bathroom
General service
Internet and wifi
Location
Welcome and departure
Breakfast
Restaurant and dining

Great location -great hotel

Stay date: July 2013

My Trip Type:

Single

This hotel made a very hot stay in London great. The staf were very, very helpful both in terms of the hotel as well as local knowlege. My room was fabulous-just needed a degree in technology to work all the switches, TV etc out! Probably my age! Complmentary soft drinks good. Large bed very comfortable. Mixologist did a great cocktail. Breakfast lovely. I would not hesitate to stay again.

Top tip for other guests:

Have a cocktail

What I liked most

Welcome and departure
Location
Breakfast
Local knowledge and experiences
General service
Guestroom and bathroom

Nice little gem in central location

Stay date: July 2013

My Trip Type:

Business

Staff was really helpful and friendly, and managed to get me checked in early which I greatly appreciated. However, i forgot to specify a non-smoking room as it's in my profile, so they had to change rooms for me, which they did quickly and efficiently. I loved that it is so close to a Tube stop (with direct service to/from Heathrow and St. Pancras/King's Cross--of course, now if only the Tube had fewer stairs for those of us with somewhat heavy luggage) and was in a lively area with many restaurant choices--and museums and shopping, etc. The decor inside is very modern and well-kept. I did wish the breakfast had hot options as part of the SLH offering, but there were certainly many options in the cold buffet. Overall, I would definitely think about staying here again and would recommend to friends.

Top tip for other guests:

Take advantage of the Oyster Card and Tube when staying here

Hotelier reply:

Dear Ellene, Thank you for your lovely review of your recent visit. I am delighted you enjoyed your stay and have passed your great feedback onto the team. Please rest assured we have noted your preference for a non-smoking room and very much look forward to welcoming you back to The Ampersand. Kind regards, Tracey Hewitson Assistant General Manager

What I liked most

Internet and wifi
Welcome and departure
Guestroom and bathroom
Location

What I might improve

great hotel in a great location

Stay date: July 2013

My Trip Type:

Single

Could not fault this hotel. My room was excellent, the staff very helpful and knowledgeable and the service very good.

Top tip for other guests:

try the cocktail menu

Hotelier reply:

Dear Helen, Thank you for taking the time to review the hotel. I am delighted you had such an enjoyable stay with us. We appreciate all guest feedback and I have passed your lovely comments onto the entire team. I look forward to welcoming you back to The Ampersand in the near future. Kind regards, Tracey Hewitson Assistant General Manager

What I liked most

General service
Local knowledge and experiences
Location
Guestroom and bathroom
Welcome and departure
Internet and wifi

What I might improve

Stay date: July 2013

My Trip Type:

Family

We had 2 rooms for 3 nights. And all loved the beds, and the air conditioning. - so comfortable. Even with jet lag, we all slept soundly.

Top tip for other guests:

Very convenient for the tube.

Hotelier reply:

Dear Simon, Thank you for taking the time to review your recent stay. I am delighted you enjoyed your stay and especially the beds, they are almost too comfortable! I look forward to welcoming you and your family back to The Ampersand the next time you are in London. Kind regards, Tracey Hewitson Assistant General Manager

What I liked most

Guestroom and bathroom
Internet and wifi
Location
General service

Great location and ambience

Stay date: June 2013

My Trip Type:

Couple

Perfect location for Chelsea, South Ken and Knightsbridge. Nice and friendly staff. Definitely coming back

Top tip for other guests:

Close to Hyde park

Hotelier reply:

Dear Mrs Overgaard, Thank you for taking the time to review The Ampersand Hotel. I am delighted you had an enjoyable stay with us and very much look forward to welcoming you back the next time you are in London. Kind regards, Tracey Hewitson Assistant General Manager

What I liked most

General service
Location
Internet and wifi
Guestroom and bathroom

Stay date: June 2013

My Trip Type:

Couple

Our stay at The Ampersand Hotel exceeded our expectations not only in the quality of the rooms but the service was Superb! The staff at the front desk were incredibly helpful and went above and beyond to make sure we had a guestroom at another hotel and transportation arranged for a short trip outside of London to Oxford during our vacation. We were thrilled with what was done for us and have told all of our friends and family about The Ampersand Hotel already. We told them that they must stay at this hotel if they plan to go to London in the future. We loved this hotel and plan to return again (hopefully) on our 1 year Anniversary! Thank you!

Top tip for other guests:

This is a very hip boutique hotel located in South Kensington. It's located in a nice neighborhood with lots of shopping, restaurants and sight seeing at your doorstep. I highly recommend this hotel

Hotelier reply:

Dear Mrs Klein, Thank you for your review of The Ampersand Hotel. I am delighted you had such a fantastic honeymoon with us. I have passed on your wonderful comments to the entire team who are pleased they were able to assist you and they were able to make a special occasion such a memorable stay. We all look forward to welcoming back for 1st anniversary if not before. Warm regards, Tracey Tracey Hewitson |Assistant General Manager

What I liked most

Guestroom and bathroom
General service
Internet and wifi
Welcome and departure
Local knowledge and experiences
Location

Stay date: June 2013

My Trip Type:

Couple

I was disappointed that I was not given the room I requested on high floor. Nor invited to an upgrade as a loved club member who had/has stayed in 5 SLH of the World in 9 months. When queried, I was told since I bought the second most expensive room, it's hard to upgrade. Lastly, nor was I given the opportunity for late check-out. I did not use any hotel facilities nor service. However, the location is great. The underground is just across the road.

Top tip for other guests:

Use the underground just across the road - it's so convenient to get around London.

Hotelier reply:

Dear Mrs Badower, Thank you taking the time to review your recent stay with us. I am delighted your stay with us was an enjoyable experience. I am sorry we were unable to upgrade to a suite or your stay. The availability of these rooms is very restricted as we only have 5 suites in the hotel all of which were reserved over the dates of your stay. I am sorry this was not communicated very clearly to you. Late departure is also subject to availability which due to high demand for the Deluxe Studios we were not able to extend your departure past 1.30pm. Our usual check out time is 12.00pm. I look forward to welcoming you back to The Ampersand and hope upon your next stay we will be able to fulfill a complimentary upgrade and late departure. Please do not hesitate to contact me if I can be of any assistance in the future. Kind regards Tracey Hewitson Assistant General Manager

What I liked most

Location
Guestroom and bathroom

What I might improve

Stay date: June 2013

My Trip Type:

Couple

We loved staying here - the staff were superb, the decor is gorgeous, the breakfast was perfect (best granola I have ever had!!), the bed was super comfortable, loved the bathroom ( especially the wooden loo seats) and toiletries. The location is amazing. We had a great 4 night stay and will be back in a few months. We stayed one night in a Double room and three nights in a Deluxe room. The double was pretty small (it was ok for one night) but the Deluxe was great: spacious, elegant, with upholstered chairs to work or relax in, a divine velvet bed-head to nestle into and excellent storage space.

Top tip for other guests:

Go for the Deluxe room

What I liked most

Welcome and departure
General service
Location
Breakfast
Local knowledge and experiences
Guestroom and bathroom
Restaurant and dining

great service, convenient location

Stay date: December 2012

My Trip Type:

Family

Excellent service. Good facilities, car parking nearby can be booked ahead. Convenient for taxis, tube and bus.Good choice of restaurants within walking distance. Hotel restaurant is excellent. Room quality excellent although a little small, okay for short stay but would need an upgrade for a longer stay Bathroom more spacious and good choice of complimentary toiletries. Lovely atmosphere in restaurant with great service. Will definitely stay at this hotel again.

Top tip for other guests:

car parking limited book in advance

What I liked most

Restaurant and dining
Breakfast
Welcome and departure
Guestroom and bathroom
Location
General service

Stay date: May 2013

My Trip Type:

Couple

Everything about this hotel was lovely,especially the comfy bed,sheer luxury. The hotel has attention to detail which makes a difference. Rooms are on the small side but we knew that when we booked and didn't put us off, fine for a short stay. Breakfast had a good choice of hot and cold food. Location was perfect, a minutes walk to the tube and a good choice of restaurants on the door step. Would definitely stay here again.

Top tip for other guests:

None

What I liked most

Welcome and departure
Location
Guestroom and bathroom

Very well-situated, comfortable hotel

Stay date: May 2013

My Trip Type:

Couple

We enjoyed every moment at this hotel. The staff were friendly and highly professional, the room of a very high standard of comfort, the location extremely central - overall, a wonderful stay.

Top tip for other guests:

Note the address before you leave home! It was not on the welcome email.

What I liked most

Location
Welcome and departure
Internet and wifi
Breakfast
General service
Guestroom and bathroom

Enjoyable 12night london stay

Stay date: May 2013

My Trip Type:

Couple

Our stay in room404 was most enjoyable. All staff were helpful and cheery. The room was comfortable and the heated bathroom floor and mirror most welcome on the cold mornings as was the nespresso machine. Breakfast was fine for us with plenty of choice . We ate at Apero a couple of times and it was good value and staff friendly. The Ampersand's situation close to South Kensington tube with its "3" lines and connection to LHR makes it so user friendly, we did not take one taxi for the 12 days. The V &A , science and natural history museums are also within an easy walk. The staff booked us some nice restaurants also within walking distance (bibendum and Tom Aikins). My pet gripe with hotels these days is charging for the internet and slow speeds so free reasonable speed wi fi was what one expects these days from a 5 star hotel. My second gripe is slow lifts, not a problem at The Ampersand, even with the hotel close to fully booked most days. The nightly turn down was also appreciated. Lastly but by no means least the king bed was VERY comfortable and the linen good quality.

Top tip for other guests:

If arriving on a late flight eat at apero and save your footsteps for tomorrow

What I liked most

Location
Local knowledge and experiences
Guestroom and bathroom
Internet and wifi

Excellent service as usual

Stay date: April 2013

My Trip Type:

Business

I've really enjoyed my time at The Ampersand, serivce is exquisite. Front desk staff are amazing: Tracy, Tommaso, Indira and Dov are always available and well informed on anything might this be inside the hotel or around London. I am a true The Ampersand fan! One thing could be defintely improved: breakfast, limited choice in the continental option

Top tip for other guests:

Rooms on first floor are ver spacius, I stayed in 107 and it was very good.

What I liked most

Room service
Guestroom and bathroom
Location
Welcome and departure
Local knowledge and experiences
General service

What I might improve

Stay date: April 2013

My Trip Type:

Couple

Great hotel for a short stop over in London.The hotel met our room requests and has been recently renovated so the rooms are smart and clean although a little small. The staff were very friendly and helpful. The hotel is conveniently situated less than 5mins from the tube and surrounded by restaurants.

Top tip for other guests:

No parking so arrive by tube or taxi

What I liked most

Welcome and departure
Location
General service

Stay date: March 2013

My Trip Type:

Friends

We had booked a studio on the 4th floor...it had a balcony!! That was brilliant. The highlight is always the drawing room where the afternoon tea is superb. Service was "real" and staff were always friendly...they always look up when you leave and come back and say hello in a way that makes you feel truly welcome.

Top tip for other guests:

It's well worth asking for a room with a balcony and afternoon tea is a must! On a weekend, booking in advance is essential.

What I liked most

Location
Welcome and departure
Internet and wifi
Restaurant and dining
Guestroom and bathroom
General service

Excellent hotel in prime London location

Stay date: March 2013

My Trip Type:

Business

Excellent hotel in a prime London location. Two small points. Access to a mirror while using hairdryer would be useful. Throughout breakfast, the phone in the breakfast room rang constantly without anyone answering it. The staff were clearly too busy to answer but I wondered who kept ringing that number at such a busy time. It rang constantly for over 45 minutes.

Top tip for other guests:

if travelling from Heathrow, take the underground rather than the Heathrow Express. South Kensington station is only a few hundred feet from the hotel door.

What I liked most

Location
Welcome and departure
Internet and wifi
Guestroom and bathroom

Convenient location in South Kensingston

Stay date: March 2013

My Trip Type:

Family

Great location, close to South Kensington underground, with various bus routes. Great housekeeping, clean facilities with great ambience.

Top tip for other guests:

South Kensington station does not have lift, not convenient for heavy luggage

What I liked most

Room service
Location
Guestroom and bathroom
Internet and wifi
Welcome and departure

Stay date: March 2013

My Trip Type:

Business

The Ampersand is a lovely hotel. It is my second stay in the past few months. It's located in a great area (South Kensington) with a tube station directly across the street. The staff are professional and friendly. My room was small but very charming and comfortable. I was travelling on business and brought other colleagues with me, who also very much liked the hotel. I will certainly go back.

Top tip for other guests:

Try the breakfast, it's a great place to relax and watch the world go by.

What I liked most

Welcome and departure
Location
Guestroom and bathroom
General service
Breakfast
Restaurant and dining

Stay date: March 2013

My Trip Type:

Couple

My slh room upgrade got me a room on the ground floor facing the road, the road I accepted and understand that most London hotels have a certain degree of noise, however the noise from the underground trains was quite intrusive. The double monsoon shower in a wet room rather than bathroom was not to our taste, any one staying in the room will understand. Everything else very good, we would stay again.

Top tip for other guests:

avoid the groundfloor

What I liked most

Location
General service
Welcome and departure

What I might improve

Excellent stay close to all shops

Stay date: February 2013

My Trip Type:

Couple

This was our second stay in a matter of months.Liked the location;room standards;upgraded to a deluxe room which was gratefully received

Top tip for other guests:

Join the SLH club great perks.

What I liked most

Location
Breakfast
Welcome and departure
General service
Guestroom and bathroom
Local knowledge and experiences
Internet and wifi

Perfect location and very nice service

Stay date: February 2013

My Trip Type:

Business

Great location, close to the tube. Very well managed, clean rooms and bathrooms. Nice breakfast and common spaces very nice and clean.

Top tip for other guests:

High level of service and very confortable rooms

What I liked most

Welcome and departure
Guestroom and bathroom

Stay date: February 2013

My Trip Type:

Business

The rooms are small with little cupboard space so tough for a long stay, but beautifully appointed.

Top tip for other guests:

Ben is particularly helpful.

What I liked most

Local knowledge and experiences
Location
Welcome and departure
Room service
General service
Restaurant and dining

What I might improve

Stay date: February 2013

My Trip Type:

Single

The location was excellent. Also the decor and overall ambience was exquisite. I Thought the room was very comfortable with the bathroom and general facilities being very well appointed. I thought the staff really made the place. They were courteous and were there when you needed them. Overall highly recommended.

Top tip for other guests:

The rooms aren't the biggest so if booking for two request a superior room.

What I liked most

Location
Welcome and departure
Room service
Guestroom and bathroom
General service

What I might improve

Excellent hotel, location and restaurant

Stay date: February 2013

My Trip Type:

Business

No dark bread, ham/chesse etc. for breakfast.

Top tip for other guests:

Excellent restaurant, which is very important to me since I eat dinner at the hotel (business stay). And excellent location,

What I liked most

Location
Restaurant and dining
Welcome and departure
General service
Internet and wifi
Guestroom and bathroom

What I might improve

Stay date: February 2013

My Trip Type:

Business

This is the best hotel I have experienced in London and one of my favourites in the entire world. There is a sense of refinement and perfection in everything, from the room decor and the Nespresso machine to the colour printer in the computer area. All the staff I have met was very polite and pleasant. I was given an upgrade on arrival which was most welcome as I was staying for 3 days.

Top tip for other guests:

The restaurant is great as it offers different types of small dishes that are appropriate if you are jet lagged.

What I liked most

Guestroom and bathroom
Welcome and departure
Restaurant and dining
Location

Stay date: December 2012

My Trip Type:

Business

Wonderful staff! Some of the rooms are small for long stays.

Top tip for other guests:

Best location!

What I liked most

Restaurant and dining
General service
Guestroom and bathroom
Location
Room service
Internet and wifi
Welcome and departure
Local knowledge and experiences

What I might improve

great hotel will be greater

Stay date: January 2013

My Trip Type:

Family

it is new and needs a good concierge. Internet and wifi were patchy in our rooms.

Top tip for other guests:

get there before too many people discvover it

What I liked most

Leisure facilities
Welcome and departure
Restaurant and dining
General service
Location

What I might improve

Great location, great staff

Stay date: December 2012

My Trip Type:

Couple

We stayed one night on our way thru London and would definitely return for a longer stay. Perfect location, helpful staff.

Top tip for other guests:

The rubber duckie in the shower is a gift!

What I liked most

Breakfast
Welcome and departure
Location

Stay date: January 2013

My Trip Type:

Couple

Very central to visit london, due to the proximity of the sub.

Top tip for other guests:

Easy way for a weekend in London

What I liked most

Location
Welcome and departure

An Exceptional London Hotel

Stay date: December 2012

My Trip Type:

Couple

The staff at The Ampersand make an excellent Hotel, exceptional. The accommodation is immaculate, the facilities stylish, the breakfast just right, the location perfect. Again thanks to the staff and management.

Top tip for other guests:

Great Breakfast.

What I liked most

Location
Restaurant and dining
Breakfast
Guestroom and bathroom
Room service
Welcome and departure
General service

Lovely hotel in a great location

Stay date: September 2012

My Trip Type:

Couple

It was a problem with issuing room key. Every time we needed to get in and out our room we had to ask staff to open or close it. But staff was efficient and very friendly. Also when using hairdryer it was difficult seeing the mirrow (too short cable?)

Top tip for other guests:

Beatiful hotel, lots of nice desing ideas, ideal location

What I liked most

Guestroom and bathroom
Welcome and departure
Location
General service

What I might improve

Excellent Location ; Delightful Staff;

Stay date: September 2012

My Trip Type:

Couple

Our five-night stay at The Ampersand Hotel proved to be an excellent choice for our London base. At all times the staff in every department were professional, helpful and always ready to share a laugh. Their eagerness, to assist in ensuring that this segment of our vacation was outstanding, never dwindled. To mention individuals by name would suggest favouritism, but thanks again to Thomas, Indeera, Daniel, Jefferson and Nick. We encountered these people most often ,so a positive chemistry developed more readily. This does not belittle the smiles and enthusiasm always offered by the restaurant staff who served delicious meals , and the housekeeplng staff who ensured that our room was far more orderly than ever we can achieve at home !!As an Interior Designer, I must commend the Design Team on creating "Instant Impact" when one travels through the property. Whimsical without being wild , the decor gave a magical uplift to this stately building. However, the only downside related to storage and space for clothing and personal items. In our particular case, our time in London was just part of a three-week visit to the U.K..As a result,closet and drawer-space was totally inadequate. This was somewhat corrected when we upgraded to a De-Luxe Studio at an extra charge. Even then, we removed decorative books from shelves to provide space for folded items. In order to avoid outlandish expense , might we suggest that the hotel could provide moveable clothes racks to add extra hanging space. Folded items could also hang there as long as extra hangers were made available.This is truly the only negative aspect of this delightful addition to the London hotel scene. We look forward to our next visit.Sincerely,[@] and [@],Port Hope, Ontario , Canada.

Top tip for other guests:

Until remedial steps are taken, travel 'light' or opt for one of the larger rooms.

What I liked most

Breakfast
Welcome and departure
Restaurant and dining
General service
Location
Local knowledge and experiences

What I might improve

Friendly service in a great location

Stay date: September 2012

My Trip Type:

Couple

We stayed at The Ampersand for a weekend break in London just after it had opened. The hotel is in an excellent location for the museums and shopping in Knightsbridge and Chelsea. The rooms are luxuriously decorated and the beds incredibly comfortable. The only two things that I would criticise as a woman was that there was no freestanding mirror in the bedroom to use to dry my hair and the full length mirror on the inside of the wardrobe door was on the wrong door in order to be able to see properly. Designed by a man perhaps?? :) Apart from that our stay was fabulous and I would highly recommend The Ampersand.

Top tip for other guests:

La Fromagerie which is just across the road from the hotel is a great location for a late afternoon cheese and wine plate.....

What I liked most

General service
Guestroom and bathroom
Location
Local knowledge and experiences
Welcome and departure
Breakfast
Internet and wifi

Friendly service,great price & location

Stay date: September 2012

My Trip Type:

Couple

We stayed at the Ampersand twice in two weeks and on each occasion we enjoyed a friendly and personal welcome. The rooms are very attractive, some a little smaller than others, but the combination of price and location would be hard to beat. We're looking forward to our next stay.

Top tip for other guests:

Make time for the breakfast!

What I liked most

Breakfast
General service
Location
Guestroom and bathroom
Welcome and departure

Stay date: October 2012

My Trip Type:

Couple

The hotel is beautifully designed inside and very close to the tube station which is convenient. The room was lovely and we very much enjoyed the drinks in the bar and the breakfast. The bed was fabulously comfy. However, the street noise could be heard in the room which looked over the street, possibly due to a poor seal on the window or lack of glazing which we pointed out to the reception team.

Top tip for other guests:

Ask for a room away from the Main Street.

Stay date: October 2012

My Trip Type:

Couple

This hotel is extremely friendly & helpful, and is in the best location in London, in my opinion. We loved very minute of our 2 stays.

Top tip for other guests:

eConcierge was very helpful in planning restaurant visits in advance.

What I liked most

General service
Internet and wifi
Breakfast
Restaurant and dining
Location
Local knowledge and experiences
Welcome and departure
Guestroom and bathroom