https://origin.slh.com/hotels/the-marmara-bodrum-hotel/
Hotel Highlights
Hilltop haven with exceptional views of Bodrum Castle and the Aegean
Tranquil spa, and two outdoor pools overlooking the city
Fine dining based on fresh, seasonal Mediterranean cuisine
The Marmara Bodrum - Luxury Hotel in Bodrum
Blissful views and Mediterranean charm above the bustling city of Bodrum
Perched on a hilltop overlooking the buzzing city, The Marmara Bodrum is a boutique retreat in a sublime setting. Spectacular views across the bay change throughout the day, as the sun makes its way across the horizon. As night falls, watch the yachts come home to the harbour and the twinkling lights of Bodrum spread across the peninsula.
Behind its Mediterranean façade, the hotel features crisp, modern interiors dotted with works of art. Every room has its own terrace or balcony with stunning vistas over sea and city. Relax on stylish loungers or take a dip in one of the two beautiful pools. Then follow a game of tennis on perfectly maintained courts with a refreshing drink in the lounge bar afterwards. A luxury spa and gourmet restaurant complete The Marmara's exclusive experience.
With easy access into the city, The Marmara Bodrum is perfectly positioned for exploring. Numerous diving schools take you under the surface of the crystal clear waters to discover the beauty beneath. You can take in the history of the area with a visit to Bodrum Castle, the city's ancient symbol. Or spend the evening in one of Bodrum's outdoor bars and watch the city come to life.
97

rooms

1

restaurant

2

floors
The rooms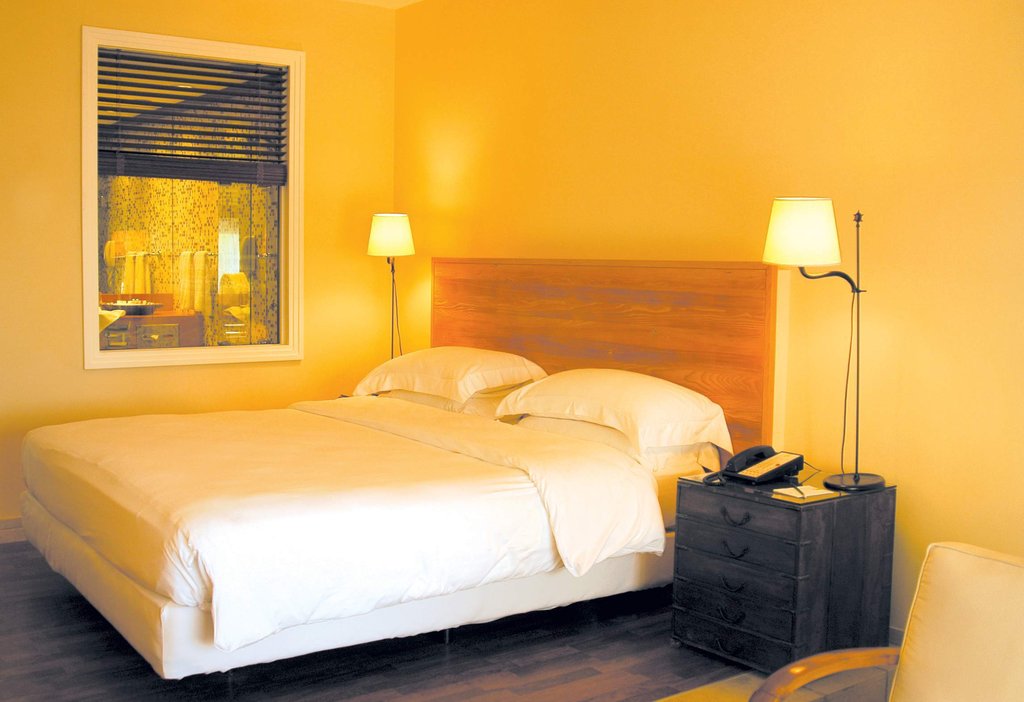 DELUXE ROOM KNG-TWN
Sleeps: 3 People.
Spacious standard room with king size or twin beds, balcony or terrace, shower and bath tub, window between bedroom and bathroom closed with electronic wooden blind, decorated in neutral colours.

Approx. size: 32 sqm.
From per night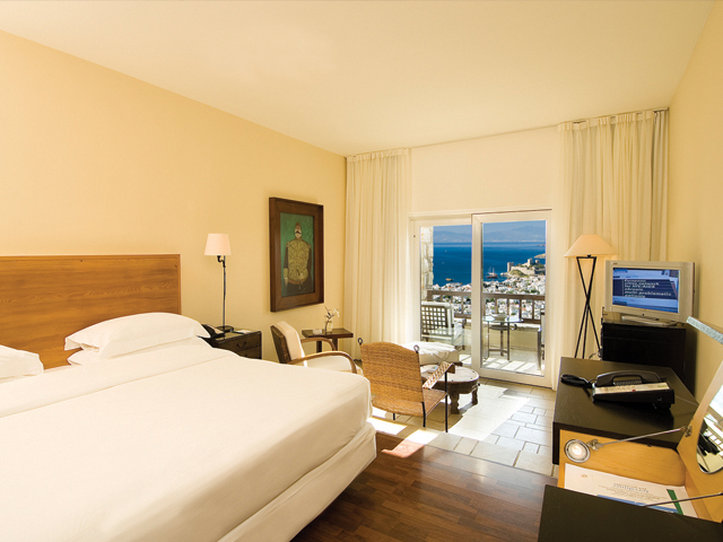 LUXURY SEA KNG-TWI BED
Sleeps: 3 People.
Spacious standard room with king size or twin bed, balcony or terrace, shower and bath tub, window between bedroom and bathroom closed with electronic wooden blind, decorated in neutral colours.

Size: 32 sq. metres.
From per night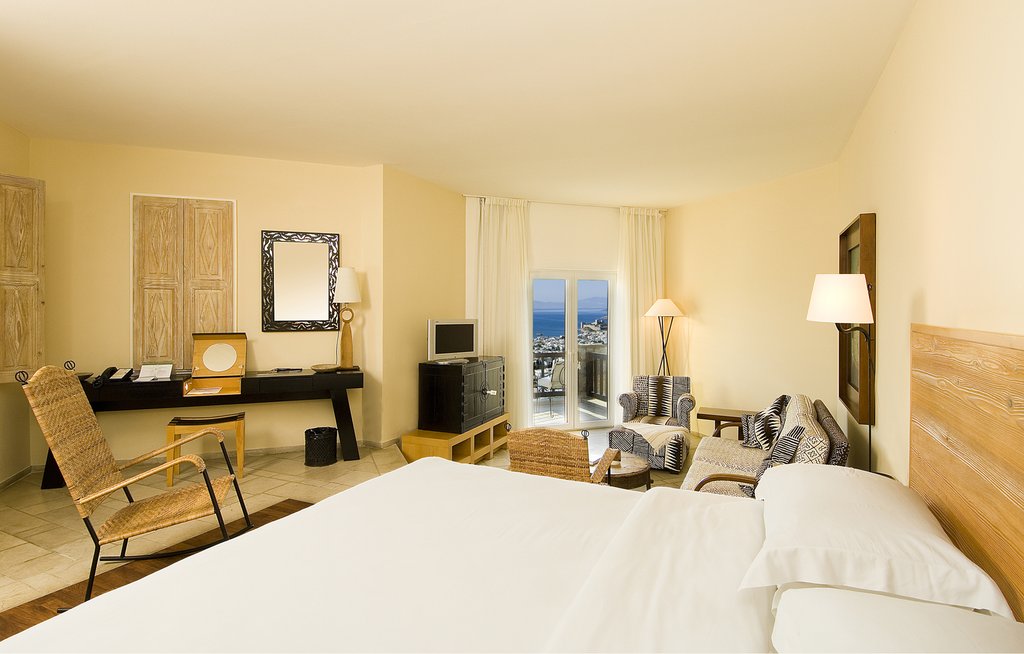 CORNER SEA SUITE KING BED
Sleeps: 3 People.
Corner Sea Suite with King size bed is a spacious split level room with sofa bed, terrace or balcony, shower and bath tub, window between bathroom and bedroom closed with electronic wooden blind.

Decorated in neutral colours. Approx. size: 40-45 sqm.
From per night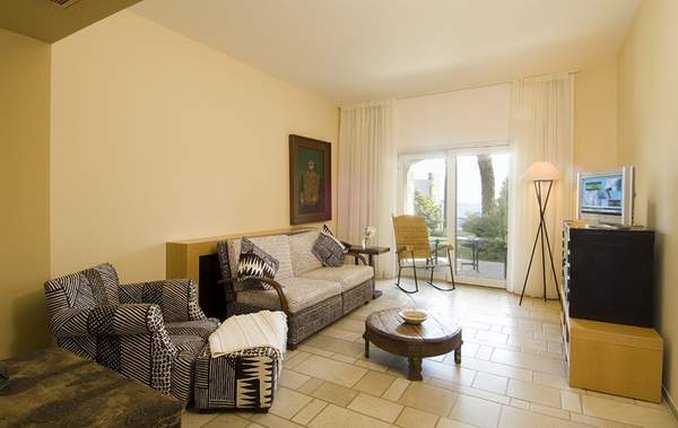 GARDEN SUITE ROOM
Sleeps: 3 People.
Garden Suite room with king size bed, living room , bath tub with Jacuzzi and shower, terrace or balcony, CD player, two TVs,and sofa bed in living area.

The room offers a view over the garden and seaand is approx.50 sqm. large.
From per night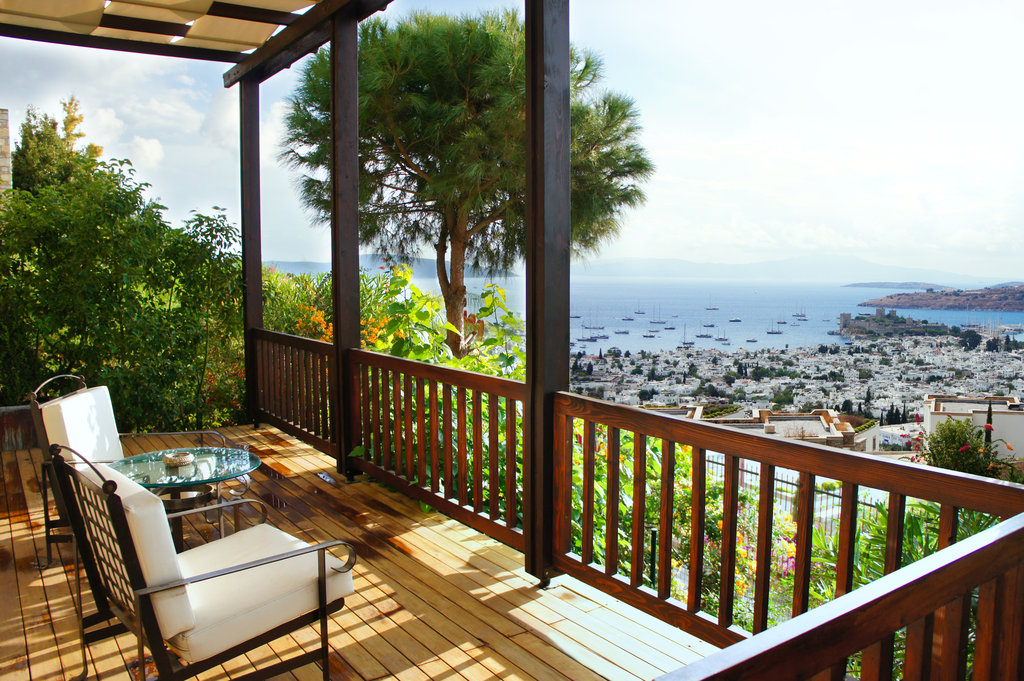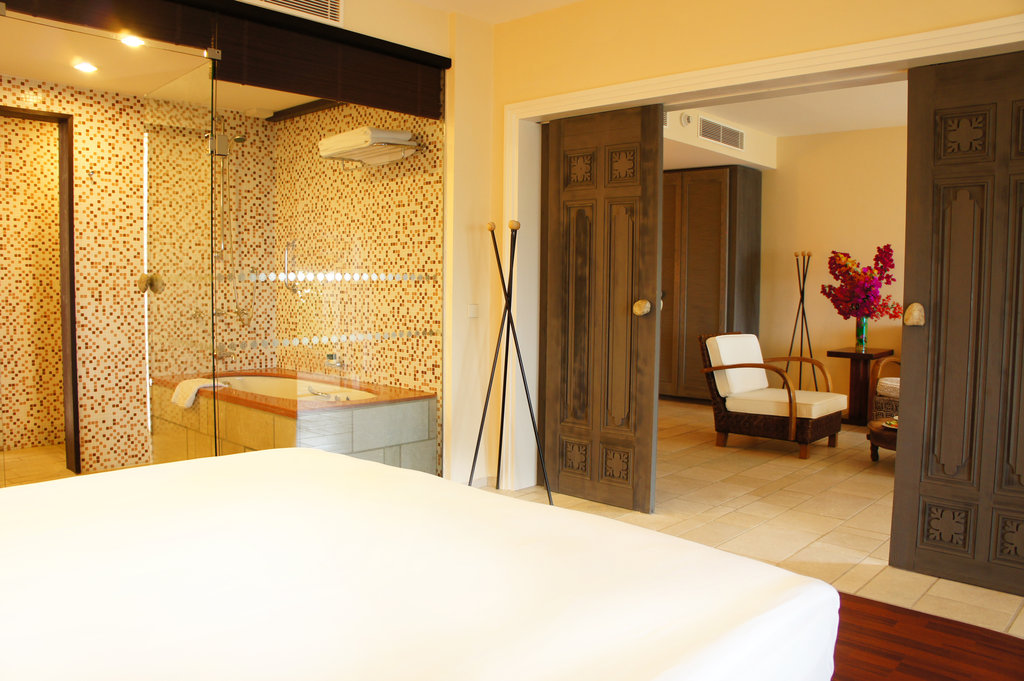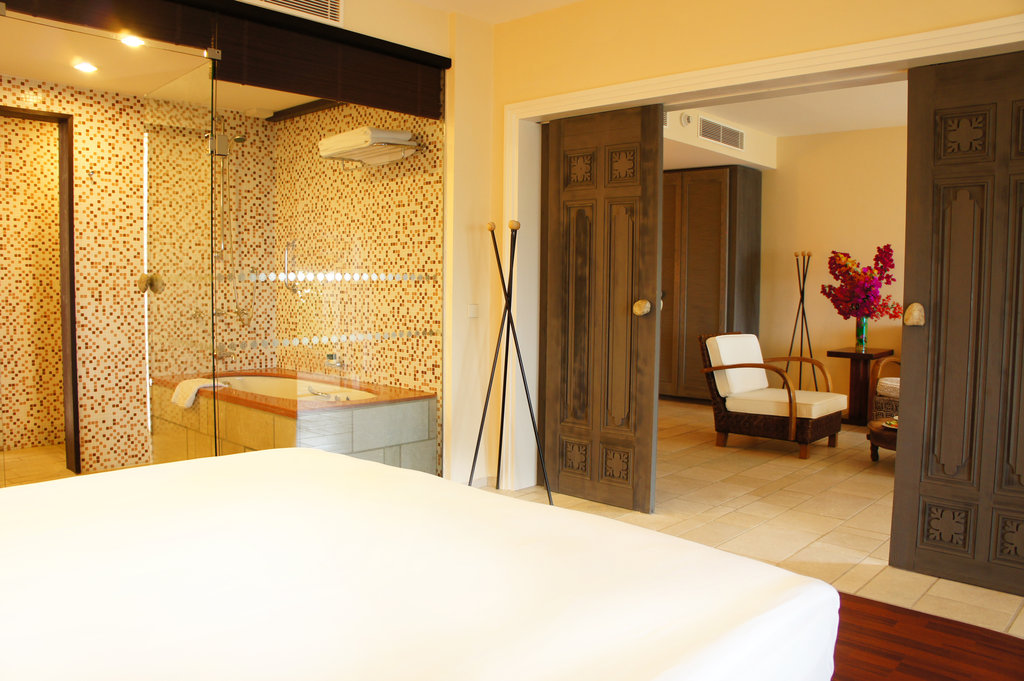 BODRUM BODRUM SUITE
Sleeps: 3 People.
Unique facilities and spaces designed with luxury in mind, inviting you to experience the magical view of Bodrum. 35m2 bedroom, 45m2 living room, 30m2 terrace, with total living space of 100 m2.

Magnificent atmosphere on the terrace overlooking the historic bay of Bodrum. In your suite you will find a 3D television, dvd player, digital coded safe, air conditioner, minibar and Idock telephone.
From per night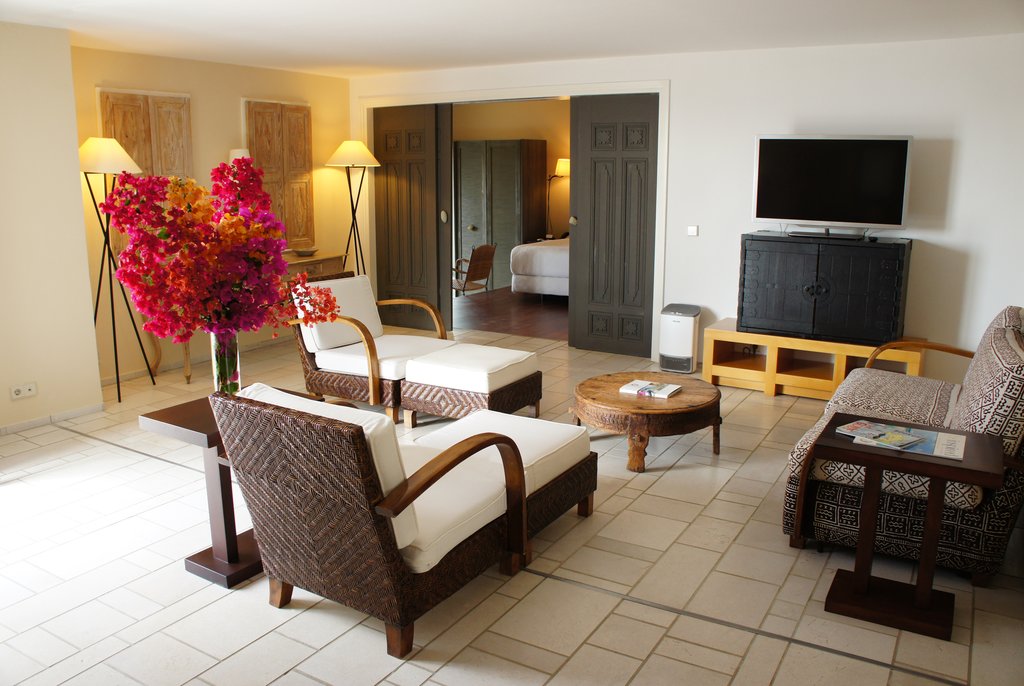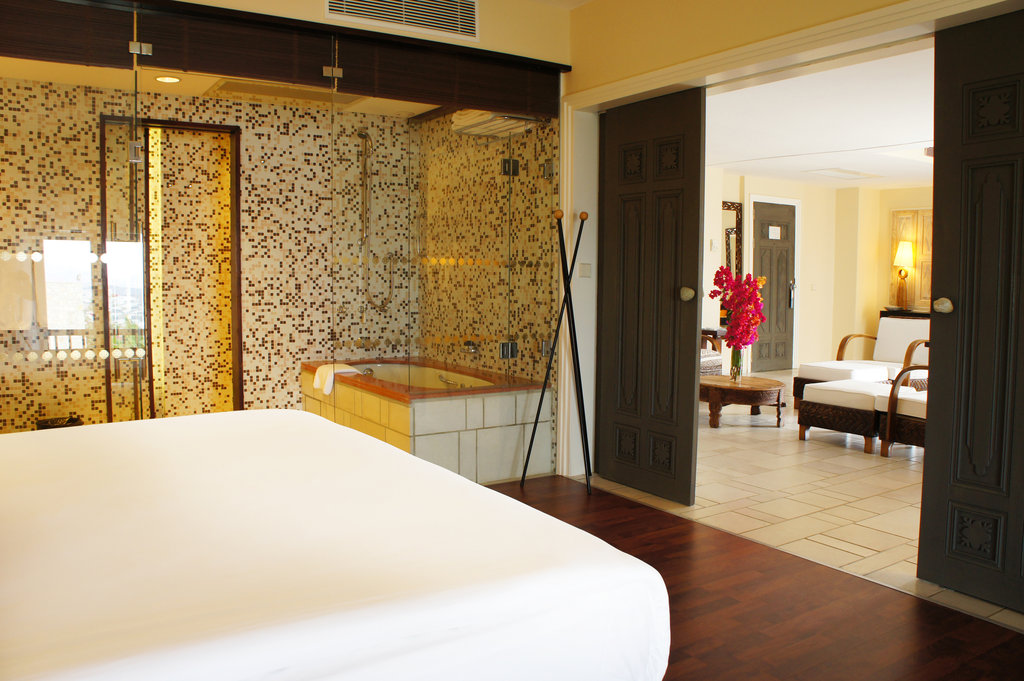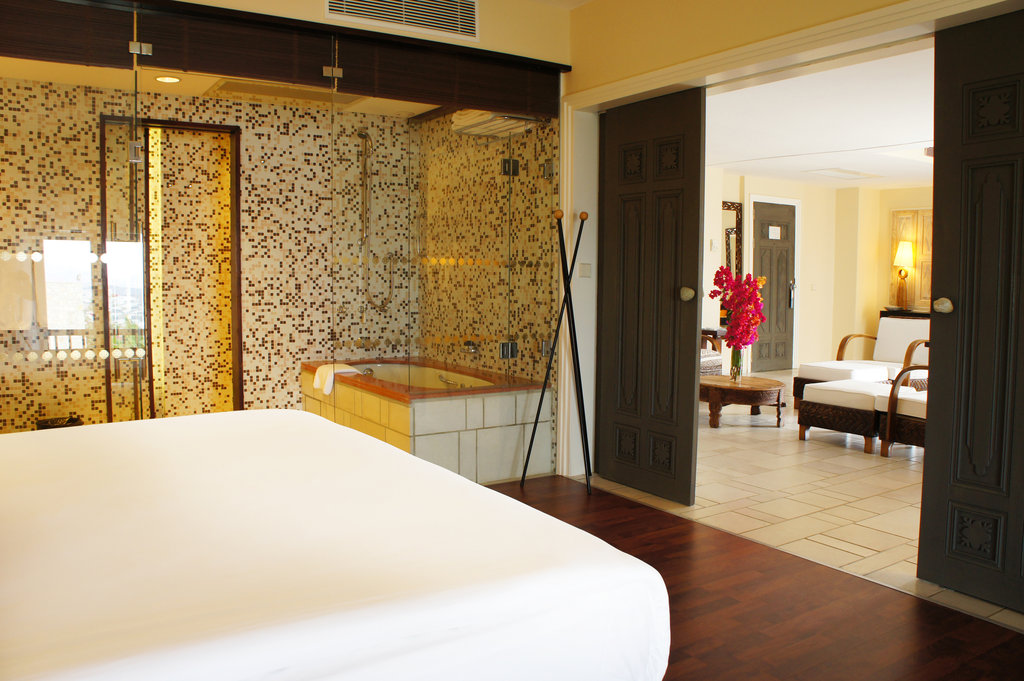 DOLCE VITA SUITE
Sleeps: 3 People.
The Dolce Vita Suite, with its 35-m2 bedroom, 45-m2 living room and 220-m2 terrace offers a total of 300 m2 of stylish yet minimalistic luxury accommodation.

The suite will redefine your concept of a vacation in Bodrum.This suite is fully equipped with an LCD television, DVD player, digital safety deposit box, air conditioner, minibar, turndown bed service and 24-hour room service.
From per night
Air conditioning
Lounges/bars
Sauna
Exercise gym
Parking
Pets allowed
Pool
24-hour room service
Wedding services
Join INVITED and get 10% off exclusive rates. Plus early check-in and late check-outs among other benefits.
24-hour front desk

24-hour room service

24-hour security

Accessible facilities

Accessible parking

Air conditioning

Audio visual equipment

Bell staff/porter

Buffet breakfast

Business Center Services

Catering services

Coffee shop

Computer

Computer rental

Concierge desk

Conference space

Continental breakfast

Currency exchange

Doctor on call

DVD/video rental

Exercise gym

Fax service

Free high speed internet connection

Free parking

From EUR 90 depend on season

Full service housekeeping

Gift/News stand

Hairdresser/barber

Half board/modified American plan

High speed internet access for laptop in public areas

Hotspots

Housekeeping - daily

Laundry/Valet service

Lounges/bars

Meeting rooms

Overhead projector

Parking

Parking fee managed by hotel

Pets allowed

Photocopy center

Post/parcel service

price in local currency. Per person per night

Restaurant

Room service

Safe deposit box

Security

Shoe shine stand

Slide projector

Sports trainer

Turndown service

Valet parking

Wakeup service

Water skiing

Water sports

Wedding services

Wireless internet connection
Air conditioning

Alarm clock

AM/FM radio

Balcony/Lanai/Terrace

Bathrobe

Bathroom amenities

Bathroom telephone

Bathtub

Cable television

Color television

Data port

Desk

Direct dial phone number

DVD player

Grab bars in bathroom

Hairdryer

High Definition (HD) Flat Panel Television

Internet access

Lighted makeup mirror

Minibar

Non-smoking

Phone in bathroom

Remote control television

Safe

Satellite television

Slippers

Smoke detectors

Sofa bed

Stereo

Telephone

TV

Voice mail
Jacuzzi

Outdoor pool

Pool

Sauna

Spa

Squash court

Tennis court
The hotel's acclaimed Tuti Restaurant offers fine dining in a relaxed and elegant atmosphere. Exquisite dishes are inspired by Mediterranean cuisine and crafted with the finest local ingredients – including just-caught fish. For a light lunch, the pool bar and sun terrace are the perfect place to rejuvenate.
Tuti Restaurant
Cuisine type: Mediterranean
Meals served: Breakfast, Lunch, Dinner
Serving leisurely buffet breakfast- a la carte lunch and dinner whilst overlooking the Bodrum Bay and Swimming Pool. Fresh local produce is used to create stylish Mediterranean cuisine- offered in the relaxed elegance of Tuti Restaurant. Number of seats- Winter 82 -in side- / Summer 168 -with terrace/ in side and out side-
Pool Bar
Cuisine type: International
Pool Bar- In the summer months- the doors open to one of our outdoor Swimming Pools- which is heated for mild winter evenings- Sun Terrace and Pool Bar where the panoramic view can be enjoyed 24 hours. The lounge and Pool Bars both offer delicious snacks.
Lounge Bar
Cuisine type: International
Lounge Bar- In winter- sit in front of the cosy fireplace or get last news in TV room.
Allow your body to relax and your mind to be revitalised in the Marmara Spa. Skilled therapists are on hand to bring you a tailor-made wellness experience. Unwind in a traditional Turkish bath, or immerse yourself in the calming outdoor Jacuzzi as you take in the cityscape below.
Reviews
These reviews are the real opinions of INVITED members and we have verified their stay at the hotel.
What I liked most :

Location (22)
General service (20)
Breakfast (19)
Welcome and departure (17)
Guestroom and bathroom (13)
Restaurant and dining (11)
Leisure facilities (9)
Local knowledge and experiences (8)
Internet and wifi (6)
Room service (5)
General Service (3)
Guest Room and Bathroom (3)

What I might improve :

Internet and wifi (7)
Restaurant and dining (5)
Breakfast (4)

Read Reviews

Finest view, good location and cute cats

June 2019

My Trip Type:

Couple

View from the room is amazing. Meals are delicious but affordable. Cats are friendly.

Top tip for other guests:

Don't hesitate to call a taxi due to steep slope around the hotel.

What I liked most

Location
General Service
Guest Room and Bathroom
Breakfast
Restaurant and dining

I really like this hotel. The staff is perfect. Location is great.

April 2019

My Trip Type:

Friends

I think I've alteady gave the answer above

Top tip for other guests:

Great location, friendly staff, clean and comfortable rooms

What I liked most

Welcome and Departure
Location
General Service
Local knowledge and experience
Guest Room and Bathroom
Breakfast
Restaurant and dining
Leisure facilities

September 2018

We love coming to Marmara in Bodrum. The view from the terrace is unforgettable.

Top tip for other guests:

Don't miss the sunset view from the terrace across the city and the sea.

What I liked most

Welcome and Departure
Location
General Service
Local knowledge and experience
Guest Room and Bathroom
Breakfast
Restaurant and dining
Leisure facilities

What I might improve

The place to be in Bodrum city

Stay date: August 2016

My Trip Type:

Couple

The Marmara is a wonderful place to stay in Bodrum city. In the middle of a well kept park, every corner smells "relax" and "holidays". Hotel staff has been very helpful, especially Ms Yulia and the people at the concierge desk. Breakfast is great and generous. Breakfast staff was almost always helpful and attentive, except on one or two days - was their boss missing? The hotel's cuisine is phantastic. We also liked the excellent bed and the clean and spacious room. Wifi was not optimal, and the room door was tricky to open.

Top tip for other guests:

Get a room with sea view, and rent a boat at the harbour to enjoy the sea side

Hotelier reply:

Dear Mr David Hans-U, Thank you very much for taking time to write your review. We are glad that your stay was memorable. Your kind review has been shared with our supervisor and all team members... Ms. Yulia and her team is sending you their best regards… Your kind reviews are helping us to improve our quality standards and motivation of team members. Thank you for your support. We hope to welcome you back in the future. Warmest regards from The Marmara Bodrum Hotel Team Nedim Akbayrak Hotel Manager

What I liked most

General service
Restaurant and dining
Breakfast
Guestroom and bathroom
Welcome and departure
Location

What I might improve

Very lovely hotel and great beach club

Stay date: May 2016

My Trip Type:

Couple

We really enjoyed the location and the beach club. The pool chairs were a little bit uncomfortable when lying fully down, but otherwise we had no other complaints at all. The breakfast was great too.

Top tip for other guests:

Use the beach club

Hotelier reply:

Dear Mr Einfeld, Thank you very much choosing our hotel and taking the time to write your review. We are very pleased to hear that your stay was enjoyable. We are looking forward welcoming you again in our hotel. With best wishes Nedim Akbayrak Hotel Manager

What I liked most

General service
Restaurant and dining
Breakfast
Welcome and departure
Location

The right place for relaxation.

Stay date: May 2016

My Trip Type:

Couple

Personnel were very helpful and friendly (All Over). Location is Fantastic especially with sea and garden views. Restaurant views are marvelous and relaxing.

Top tip for other guests:

Good to relax, quiet, location and friendly.

Hotelier reply:

Dear Mr Abdel-Rahim Charab, Thank you very much choosing our hotel and taking the time to write your review. I am very glad to hear that your stay was enjoyable and memorable. Your kind review has shared with team members. We are very pleased that you enjoyed our fantastic panoramic Bodrum Bay views from room and restaurant. We hope to welcome back in future. Warmest regards from The Marmara Bodrum Team. Nedim Akbayrak Hotel Manager

What I liked most

Location
Welcome and departure
General service
Leisure facilities

What I might improve

Breakfast
Internet and wifi

Stay date: March 2016

My Trip Type:

Couple

Very friendly staff and warm welcome and goodbye

Top tip for other guests:

Do it

Hotelier reply:

Dear Mr Yaqoub Almulla Thank you very much for taking the time to write your review. I am very please to hear that your stay was enjoyable. Your kind review has been shared with our team members. Thank your for choosing our hotel, we hope to welcome you back again in the future. Warmest Regards from The Marmara Bodrum Hotel Team. Nedim Akbayrak Hotel Manager

What I liked most

Restaurant and dining
Location
Welcome and departure
Breakfast
General service
Local knowledge and experiences
Guestroom and bathroom
Room service
Internet and wifi

What I might improve

Outstanding design and personalized service oriented Hotel w

Stay date: September 2015

My Trip Type:

Single

My stay exceeded expectations. The Marmara Hotel does not apply only stadards, The Marmara Hotel takes care of it guests individually and any request is attended fast and uncomplicated. I felt home and relaxed. The rooms are very comfortable and cozy and the outstanding fiew from the pollside, restaurant is amazing. The breakfast offers a huge variety of home made foods and the service is perfect. A place to come back and enjoy the Marmara experience again.

Top tip for other guests:

corner sea view rooms are really amazing

Hotelier reply:

Dear Mr Steinsberger, I would like to thank you very much for taking time to write very kind review about your recent stay. We are very please to hear that your stay enjoyable and memorable. Your nice review has been shared with our team members already. Your such nice review will motivate our team members…We are proud to be a very first hotel member of SLH in Turkey. We are glad that you felt yourself at home with delivery of our personalized service. I am happy that you had opportunity to enjoy our outstanding Bodrum peninsula panorama view from pool and Tuti Restaurant…Organic vegetables are served at the breakfast from our own organic garden… We are looking forward to welcome you back soon. Warmest regards from The Marmara Bodrum Team. Nedim Akbayrak Hotel Manager

What I liked most

Welcome and departure
General service
Breakfast
Guestroom and bathroom
Location
Restaurant and dining

Stay date: August 2015

My Trip Type:

Couple

A few years ago I read an article where the author's grandmother lamented that his (the author's) generation did not know the joy of travel. The author protested that he had indeed experienced many wonderful trips. 'Ah", said the grandmother, 'You know not the joy of travel, but the joy of arrival'. Well, after a miserable 15+ hour transatlantic trip, which included interminable security checks, delayed connections, and innumerable crying children, we arrived at the oasis that is the Marmara Bodrum. From the second you step out of the taxi, you are greeted with genuine, welcoming smiles, a cool towel, and you immediately know you have made the right choice. No children under 12 creates a tranquil, civilized atmosphere, which pervades every aspect of the hotel. Poolside is for luxuriating, not horseplay, breakfast is a genteel way to ease into the day, not for children running around while their parents do their best to ignore them. Dinner on the terrace, with the most magnificent view in town, is leisurely and romantic. Sunset cocktails are simply magical; would that we could live like this always. The staff is unfailingly excellent and well-trained. It's obvious they enjoy their work, and they do everything they can to make your visit flawless. Rooms are almost perfectly designed (I say almost, as I really dislike the new trend of a half-wall of glass separating the shower from the bathroom; water seems to get everywhere no matter what I try). The bed is extremely comfortable. Closets are spacious, you can unpack everything, hide your suitcases and pretend you live there. The only downside is that you are on top of a very steep hill (which accounts for the stunning views). We did not have a car, and after one attempt at walking, opted for taxis thereafter. A funicular would be a godsend. Had we not had firm ongoing plans, I would've considered tossing the itinerary in the trash and staying at the Marmara for our entire two weeks in Turkey.

Top tip for other guests:

Splurge for a room with a view of the sea and a terrace.

Hotelier reply:

Dear Mr Engel, Thank you very much for taking the time to write your detailed review. I am very please to hear that your stay was enjoyable. Thank you for mentioning our additional services such as cold towel services at the check in and especially genuine smiling at the entrance. I am very pleased that you felt you have made the right choice at the entrance. As you have mentioned we are an adult hotel. I am happy that you had opportunity to dine in our Tuti restaurant which has widest panoramic view of Bodrum town. I hope that you enjoyed our Mediterranean culinary selections from our menu. Thank your mentioning for our staff that they are well trained. Your valuable feed backs about our room and bathroom are highly appreciated. We will consider how we can avoid water from shower. Your funicular idea is great, maybe we cannot make it in soon but why not in long term! Your such kind positive review will encourage to our The Marmara Bodrum team to constantly to improve our quality of services. We are proud to be a member of SLH and welcoming SLH Club members. Your kind review has been shared with our team members. Thank your for choosing our hotel, We hope to welcome you back again in the future. Warmest Regards from The Marmara Bodrum Hotel Team, Nedim Akbayrak Hotel Manager

What I liked most

Leisure facilities
Breakfast
General service
Local knowledge and experiences
Restaurant and dining
Internet and wifi
Welcome and departure
Location
Guestroom and bathroom

Perfect Hotel with a beautiful view

Stay date: August 2015

My Trip Type:

Couple

Nice location above Bodrum Quiete place 2 beautiful swimming pools a great fitness center Friendly and efficient service

Top tip for other guests:

view, pool

Hotelier reply:

Dear Mr Badier, Thank you very for choosing our hotel. We are happy that you enjoyed your stay in The Marmara Bodrum Hotel. We are proud to be a member of SLH and welcoming SLH Club members. Thank you very much for taking the time to write your nice review. We are very please to hear that you enjoyed our panoramic view. Thank you for mentioning that our hotel is quiet, we are adult hotel we do accept only above 12 years old kids. We have two swimming pool and one tennis court and two squash court as well for sport activities. I hope that you will have opportunity to enjoy our massage services and very nice Turkish Hammam for your next visit. I am very pleased to hear that we were able to satisfy you with our friendly and efficient service. We hope to welcome you back again soon… Warmest Regards from The Marmara Bodrum Hotel Team, Nedim Akbayrak Hotel Manager

What I liked most

Location
General service
Internet and wifi

What I might improve

Breakfast
Guestroom and bathroom

Lovely pleasant stay at The Marmara

Stay date: June 2015

My Trip Type:

Couple

We enjoyed our stay at the Marmara hotel, it is lovely. The hotel is very welcoming with the most magnificent view over the city and sea. It really is an incredible view that is a wow factor. We were upgraded to a corner suite and we were very grateful as it was nice with again the magnificent view from the balcony. On our first night we were given Italian wine and chocolates as a welcoming gift which we enjoyed immensely. We had dinner at the hotels restaurant the first night but found the service very slow so we ate down town the other nights. To be fair it may have been due to the fact that the kitchen was also catering to a wedding. The only problem that we encountered was that the beds were very hard. The hotel helped by laying extra quilts down to soften the bed. The hotel reception has made a note of this and said they will try and purchase mattress toppers to have for other guest.Customer service is excellent. Private beach was delightful!

Top tip for other guests:

Pay extra for a room with a seaview

Hotelier reply:

Dear Valued Mrs Dobbie, We would like to thank you taking the time and share your review for your stay in The Marmara Bodrum Hotel. We are glad that your stay was enjoyable. Your valuable reviews regarding The Bed in the room and Restaurant service are highly appreciated to improve our quality of services. Your review has been shared with our team members. We look forward to welcoming you back soon. Best regards. Nedim AKBAYRAK Hotel Manager

What I liked most

General service
Location
Welcome and departure

What I might improve

Restaurant and dining
General service
Breakfast

Stay date: October 2014

My Trip Type:

Couple

This hotel really exceeded our expectations. From the welcome we received on arriving to the moment we left, we found all the staff so wonderfully friendly and helpful. We had booked a sea view room, but were upgraded to a sea view suite courtesy of SLH, I would definitely recommend paying the extra for a sea view, it is just so lovely sitting on the balcony watching the sun going down over the castle. The hotel sits above Bodrum and is an oasis of peace, the grounds are quite extensive with 2 swimming pools and a tennis court. We chose to walk down into Bodrum, 20 minutes downhill, but taxis are cheap. We felt we needed the walk, to exercise off the superb breakfast; a mention here has to go to Nino who oversaw the breakfast arrangements and told us what was happening in the town each day. We had a wonderful dinner in the restaurant, sitting on the edge of the balcony looking down over the twinkling lights to the sea. So I can summarise this as really being a superb hotel and we will certainly be visiting again

Top tip for other guests:

The cheapest rooms overlook beautiful gardens, but we felt the sea view rooms were worth the extra

Hotelier reply:

Dear Mrs.& Mr. Steel, Thank you very much for your time and review for The Marmara Bodrum. It is great to read that you had an enjoyable stay with us. We look forward to welcoming you back soon. With warmest regards, Onur Islam Hotel Manager

What I liked most

Local knowledge and experiences
Internet and wifi
General service
Leisure facilities
Welcome and departure
Location
Breakfast
Restaurant and dining
Guestroom and bathroom

Stay date: October 2014

My Trip Type:

Couple

We booked a 10 day stay in early October in a luxury room with balcony & sea view - well worth the extra cost, as the view was splendid. All members of staff were friendly & helpful. Great breakfast on the terrace, with lots of choice - the honeycomb was irresistible! The high quality design, layout and finish of the hotel created a sense of calm and relaxed ambience, without being ostentatious. Food & drink costs seemed expensive, so we ate out in Bodrum - the 20 minute walk back up the hill was not a problem. A most impressive hotel and we will return one day.

Top tip for other guests:

Recommended restaurants: Kocadon, Orfoz & Komodor

Hotelier reply:

Dear Mrs.& Mr. Robinson, Thank you very much for your time and review for The Marmara Bodrum. It is great to read that you had an enjoyable stay with us. We look forward to welcoming you back soon. With warmest regards, Onur Islam Hotel Manager

What I liked most

Leisure facilities
Breakfast
Location
Guestroom and bathroom
General service
Nino Good Fun Maitre D'

What I might improve

Breakfast Staff Forgetful
Wifi Ok But A Bit Patchy

Good hotel choice in Bodrum

Stay date: September 2014

My Trip Type:

Couple

Although a 20 minute walk from the centre of Bodrum, that walk allows a superb view of the port and city. The hotel is chic and comfortable, with exceptionally helpful staff. My only complaint is the constant overloud music by the swimming pool. Figer, on reception, was a consummate professional and could not have been more kind or helpful.

Top tip for other guests:

Good choice in Bodrum

Hotelier reply:

Dear Mr Hobbs, Thank you for your time and review for The Marmara Bodrum. It is great to read that you have enjoyed your stay with us. Your feedback about the volume of music by the pool has been brought into the attention of related department heads in order to take necessary actions and monitoring. We look forward to welcoming you back soon. Onur Islam Hotel Manager

What I liked most

Location
General service
Local knowledge and experiences
Welcome and departure

What I might improve

Very good Location, and friendly service

Stay date: September 2014

My Trip Type:

Couple

For you Honeymooners, marmara bodrum is really really high recomended. i stay on that hotel for my honeymoon on September 8 - 10, 2014. and we have an awesome experaince

Top tip for other guests:

yes

What I liked most

What I might improve

Stay date: May 2014

My Trip Type:

Couple

Sitting on the terrace at breakfast, looking out over the pool down to Bodrum Castle and the marina with a crystal blue sea beyond is only one of a number of reasons why the Marmara is the perfect place for a truly relaxing stay. The peace around the pool is sublime, thirst quenching granitas and other chef's delicacies brought to you throughout the day. In the evening, warmed rugs to put round your shoulders whilst enjoying a coffee and soaking up the sights and sounds of the town at night below. The rooms are large and airy, a feeling of opulence abounds. It's a steep 20 minutes walk to the waterfront restaurants and bars, and definitely requires a taxi back (about £5). Perfect for a few days away.

Top tip for other guests:

Just perfect.

Hotelier reply:

Dear Mr. Mark, Thank you very much for your time and review about your stay at the Marmara Bodrum. It is great to read that you had an enjoyable stay with us. We look forward to welcoming you back soon. With warmest regards, Onur Islam Hotel Manager

What I liked most

Breakfast
Location
Guestroom and bathroom

Panoramic Views of Bodrum

Stay date: July 2014

My Trip Type:

Couple

My wife and I just returned from 5 days at The Marmara Bodrum hotel. The hotel arguably has the best location in Bodrum, perched on a hilltop facing the port and the town, with fantastic wrap-round panoramic views from the pool, restaurant, and the sea-facing rooms. You simply cannot become tired of such views, with a cool summer breeze blowing, day or night. Hotel and rooms are clean and in excellent condition.The staff overall were courteous and always helpful. Particular mentions go to Ipek (Guest Relations) who gave us lots of good tips on locations to visit in and around Bodrum, Nino (always cheerful and all around companion to all the guests at breakfast), and the freindly and helpful Emir (pool/restaurant staff) and finally Erdicin (Food and Beverage manager). Already wishing we stayed more days there, and we would not hesitate to go back.

Top tip for other guests:

Pay a little extra and get the sea facing rooms, they are well worth it to enjoy the views. Rent a car and go to Yalikavak (30 mins away) and Palmarina

Hotelier reply:

Dear Mr. Mohammed Salih, Thank you very much for your time and review about your stay at the Marmara Bodrum. It is great to read that you had an enjoyable stay with us. We look forward to welcoming you back soon. With warmest regards, Onur Islam Hotel Manager

What I liked most

Welcome and departure
General service
Location
Breakfast
Local knowledge and experiences

What I might improve

Lovely hotel. Fantastic location

Stay date: July 2014

My Trip Type:

Family

Lovely 2 week stay with family. Children age 17 to 23. More suitable for older childern as sophisticated atmosphere. Charming ,helpful staff who really seemed to care. Hilltop position meant there was a lovely cooling breeze and stunning views. Would definetely go again.

Top tip for other guests:

Best massage ever. So relaxing.

Hotelier reply:

Dear Mrs. Ladbrooke, Thank you very much for your time and review about your stay at the Marmara Bodrum. It is great to read that you had an enjoyable stay with us. We look forward to welcoming you back soon. With warmest regards, Onur Islam Hotel Manager

What I liked most

General service
Welcome and departure
Location
Leisure facilities
Local knowledge and experiences
Restaurant and dining

Great service without encroaching

Stay date: June 2014

My Trip Type:

Couple

The staff are really friendly and warm. This is a smart hotel with excellent facilities but it has a cool vibe with amazing art everywhere. This meant we felt comfortable to dress up or dress down as we pleased. Very spacious comfortable room but small balcony's. The breakfast buffet is of a very high standard with an amazing array of fresh (mainly local) foods. Despite being a buffet the service available to bring you any coffee, fresh juices or anything else needed was great. This felt like a calm oasis overlooking the madness of Bodrum, the views out to the two harbours are amazing from such a height but you still feel in touch with the world as it's only a 15 minute walk down into town. Had a nice massage in the spa (lovely treatment rooms) but don't bother with a pedicure, more like foot care with a splash of bad polish at the end. Great cocktails at the pool bar. Don't overlook the large pool as not many people sit round it and it's great to do lengths. The 20 minute shuttle to the beach they use is a bit tiresome but the beds, service, food & drinks there are of an excellent standard. From the beach location hop in a taxi for a 5 minute journey to nearby Turkbuku, beautiful fishing village and harbour with fab Turkish sea food restaurants and some lovely shops.

Top tip for other guests:

Ask politely for an upgrade to a corner room if the hotel is quiet. They are very spacious. Not all rooms get good wi-fi so ask if this is important to you.

Hotelier reply:

Dear Valued Guest, Thank you very much for your time and review about the Marmara Bodrum. It is great to read that you had an enjoyable stay with us. We look forward to welcoming you back soon. With Warmest Regards, Onur Islam Hotel Manager

What I liked most

General service
Welcome and departure
Breakfast
Local knowledge and experiences
Guestroom and bathroom

What I might improve

Internet and wifi
Room service

Great hotel with excellent food

Stay date: April 2014

My Trip Type:

Couple

We spent 9 nights at the hotel and were very impressed with the service. Reception, spa and waiting staff were all 5*. We loved the food at the restaurant so much that we end up eating there most of the time and indulged in room service. My husband is gluten-free and dairy free and the menus and special foods have been purchased for him. I have had one of the best Oriental massages in the spa twice.

Top tip for other guests:

Spa treatments and the food is the best in Bodrum

Hotelier reply:

Dear Mrs. Hansen, Thank you very much for your time and review about the Marmara Bodrum. It is great to read that you had an enjoyable stay with us. We look forward to welcoming you back soon. With warmest regards, Onur Islam Hotel Manager

What I liked most

Restaurant and dining
Welcome and departure
Guestroom and bathroom
General service
Room service
Leisure facilities
Breakfast

What I might improve

Internet and wifi
Location
Local knowledge and experiences

Fantastic hotel with a great view!

Stay date: October 2013

My Trip Type:

Family

We stayed at the Marmara Bodrum in October of 2013. The weather at that time of year was great - +22C, not a cloud in the sky, nice and warm. The staff was very attentive and the overall atmosphere was great. The hotel is on top of the mountain, 15 min walking distance from downtown Bodrum. We received a complimentary SLH room upgrade, so our room had a balcony with a stunning view of the harbour. For those who travel with small kids, the hotel is highly recommended. We were there with our 6-month-old son and we enjoyed our stay at the Marmara Bodrum.

Top tip for other guests:

For best impression, book a room with a view

Hotelier reply:

Dear Valued Guest, Thank you very much for your time and review about the Marmara Bodrum. It is great to read that you had an enjoyable stay with us. We look forward to welcoming you back soon. With Warmest Regards, Onur Islam Hotel Manager

What I liked most

Room service
Internet and wifi
Welcome and departure
General service
Breakfast
Location
Local knowledge and experiences
Guestroom and bathroom

Great views, great service

Stay date: October 2013

My Trip Type:

Couple

We stayed in room 1437, a Corner Sea Suite, having declined the upgrade to Garden Sea Suite as the view from both the room and the balcony were over the castle and the bay which we would have lost with the upgrade. The hotel has a great position on the hill overlooking Bodrum and you can appreciate the views from the room, pool area and restaurant terrace. The hotel's position does mean though that it is a 20 minute walk down to the castle and town quay and a 15 TL taxi ride back up the hill. We went at the beginning of October and found the pool too cold to use which was a shame. All staff were friendly, helpful and efficient at all times. A very enjoyable stay.

Top tip for other guests:

Corner Sea Suite was a lovely room with a great view

Hotelier reply:

Dear Valued Guest, Thank you very much for your time and review about our property. It is great to read that you had an enjoyable stay with us. Please rest assured that your feedback has been brought into the attention of related department heads. We look forward to welcoming you back soon. With Warmest Regards, Onur Islam Hotel Manager

What I liked most

Breakfast
Welcome and departure
Location
Guestroom and bathroom
General service

What I might improve

Stay date: September 2013

My Trip Type:

Single

This really is a wonderful location, with a view of Bodrum Harbor that can't be beat. The pool, the service, the room, the breakfast - it all could not have been better. The staff was helpful in every way. Walking down into the town through the neighborhoods, then into the tourist area is neat as well. I definitely recommend this.

Top tip for other guests:

Bring your goggles if you are a swimmer - there is a legitimate lap pool here, in addition to the typical nice hotel pool for lounging.

Hotelier reply:

Dear Valued Guest, Thank you very much for your time and review about the Marmara Bodrum. It is great to read that you had an enjoyable stay with us. We look forward to welcoming you back soon. With Warmest Regards, Onur Islam Hotel Manager

What I liked most

Welcome and departure
Guestroom and bathroom
Breakfast
Location
Internet and wifi
General service

What I might improve

Local knowledge and experiences

Friendly service in a spectacular locati

Stay date: March 2013

My Trip Type:

Couple

This hotel was a highlight during our 3 week holiday in Turkey. The staff, especially Cem, on reception went out of their way to ensure that our stay was perfect. The hotel has a very peaceful ambience without being pretentious. We decided to extend our stay as we loved the "feel" of the hotel and the fabulous views. We thought that hotel represented exceptional value given the level of service provided. Thank you to all at the Mamara for a wonderful stay.

Top tip for other guests:

The corner sea view suite had wonderful views.

Hotelier reply:

Dear Judith, Thank you very much for your valued comments. We do appreciate them so much. We were so pleased to have you in The Marmara Bodrum, and looking forward to seeing you again Best Regards, Uygar Koçaş Bölge Genel Müdürü / Area General Manager

What I liked most

General service
Leisure facilities
Welcome and departure
Location
Guestroom and bathroom
Breakfast
Room service

What I might improve

Restaurant and dining
Internet and wifi

Great Retreat away from Hustle & Bustle

Stay date: September 2012

My Trip Type:

Couple

After spending a week in Bodrum city centre, going to the Marmara was quite a nice treat! Fantastic views, serene environment, quiet and well, equipped, the Marmara met all expectations. Only grouse was the food in the restaurant was not too up to expectations. We ordered pasta and Lahmacun, and they both failed with the pasta soaked in more cream than pasta, and the Lahmacun was not tasty.

Top tip for other guests:

The Marmara Beach is a great way to spend the afternoon!

Hotelier reply:

Dear Valued Guest, Thank you very much for your time and review about our property. It is great to read that you had an enjoyable stay with us. Please rest assured that your feedback about F&B products has been brought into the attention of related department heads. We look forward to welcoming you back soon. With Warmest Regards, Onur Islam Hotel Manager

What I liked most

General service
Breakfast

What I might improve