https://origin.slh.com/hotels/totem-madrid/
Hotel Highlights
Modern design with a hint of heritage
Tapas and creative cocktails in the ultra-stylish bar
Moments from Madrid's trendiest and eateries
TÓTEM Madrid - Luxury Hotel in Madrid
A cosmopolitan hub in Madrid's cultural heart
Infused with the spirit of new Madrid, TÓTEM feels a little like stepping inside a private members' club. There's a sense of heritage in the wooden panelling and parquet floors in many of the luxury rooms. But this is a modern design hotel through and through, with contemporary furnishings and works of art at every turn.
A dark, edgy colour palette downstairs and crisp, white colour schemes in the bedrooms introduce TÓTEM's sense of style. This style carries through into the hotel's bar and restaurant. Sit back and savour fine dining in the Mediterranean restaurant, La Parrilla del Pimiento Verde. Then finish the evening with a signature cocktail in the bar where you will be sure to find the city's in-crowd.
Much of what's on your sightseeing hit-list will be moments from TÓTEM. This city break retreat is in Barrio Salamanca, an exclusive address that puts the likes of Tiffany & Co and Manolo Blahnik on your doorstep. Escape into Parque del Retiro – or step it up and have the hotel personal trainer lead you around it. Be sure to squeeze in some art galleries and museums, too. The 'golden triangle' of Reina Sofia, Prado and Thyssen-Bornemisza are an excellent starting point.
64

rooms

2

restaurants

5

floors
The rooms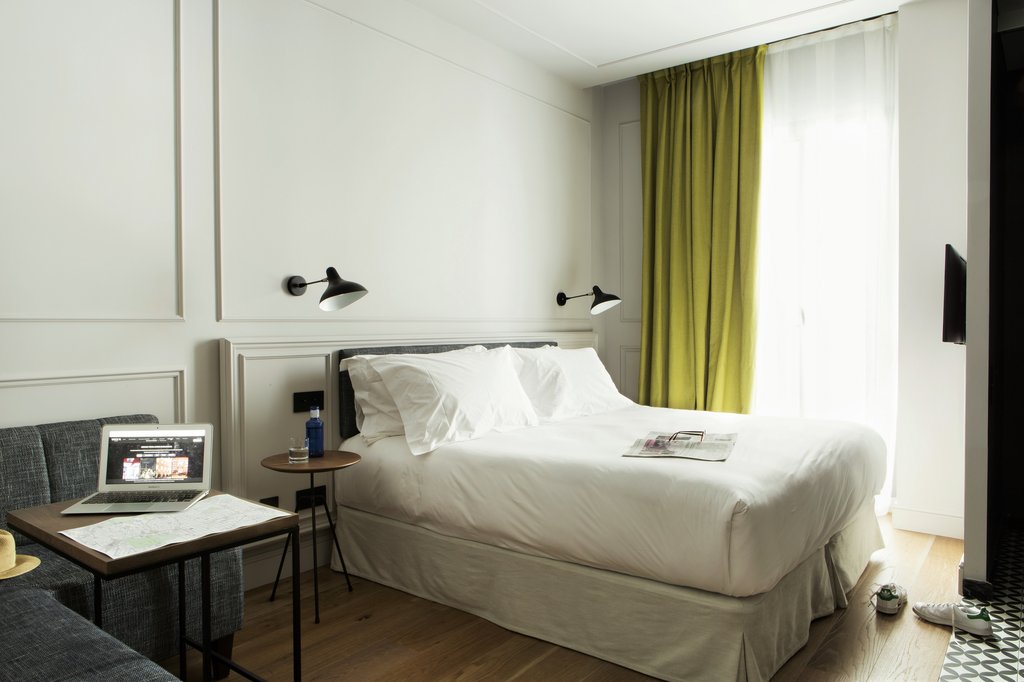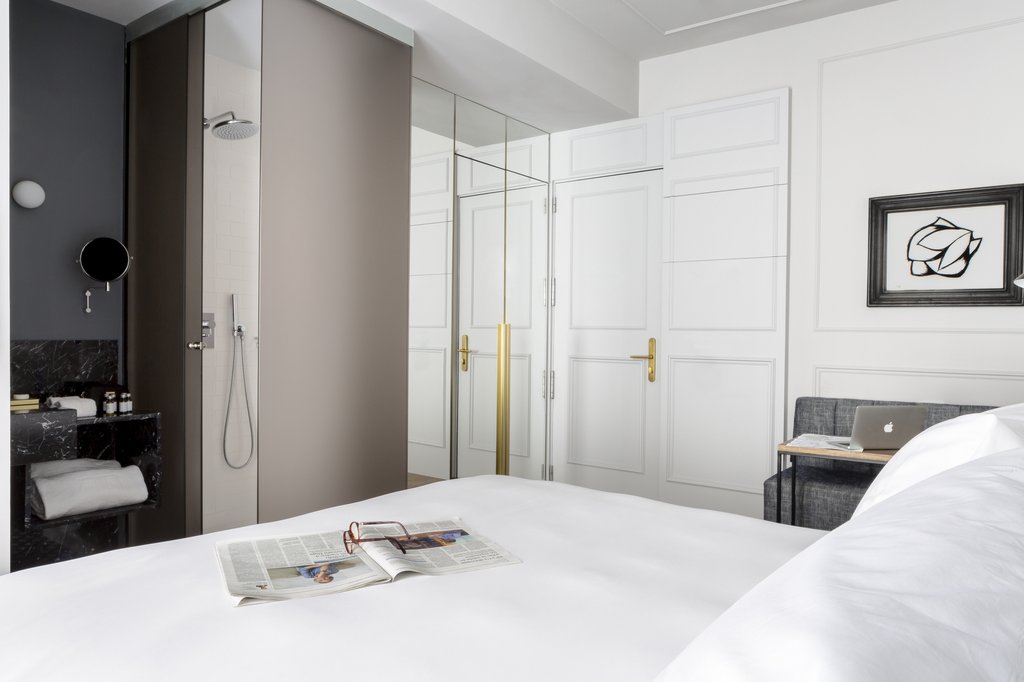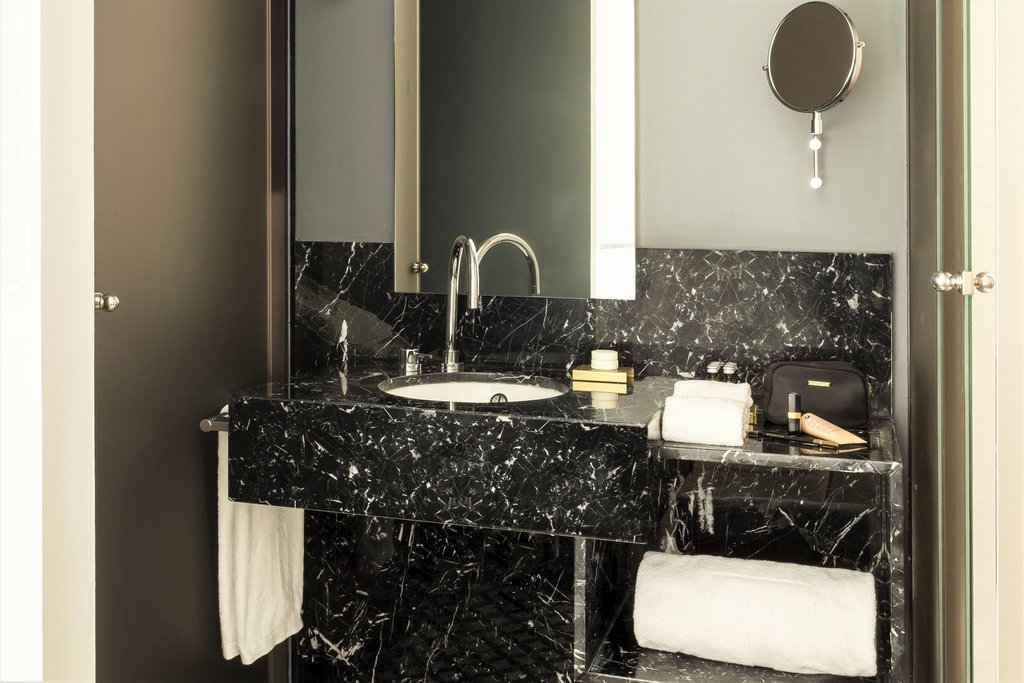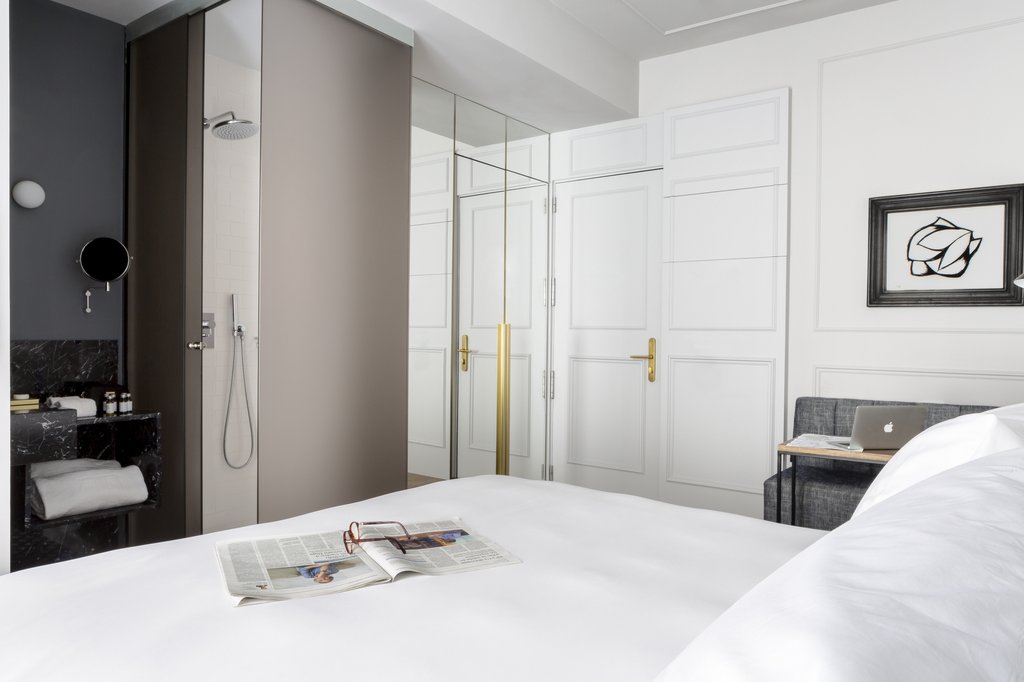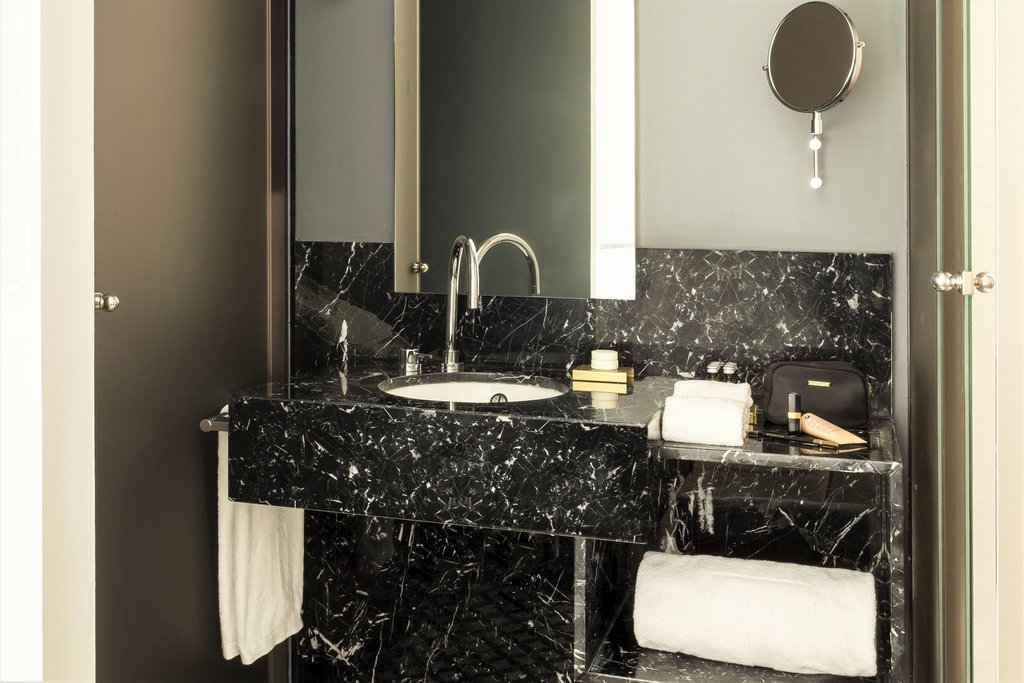 Totem Double Room
Sleeps: 2 People.
Totem Double Rooms have King or Twin beds, air conditioning and free WiFi. The room is elegant and comfortable with black marble open bathroom, walk in shower and fine woodwork throughout.
From per night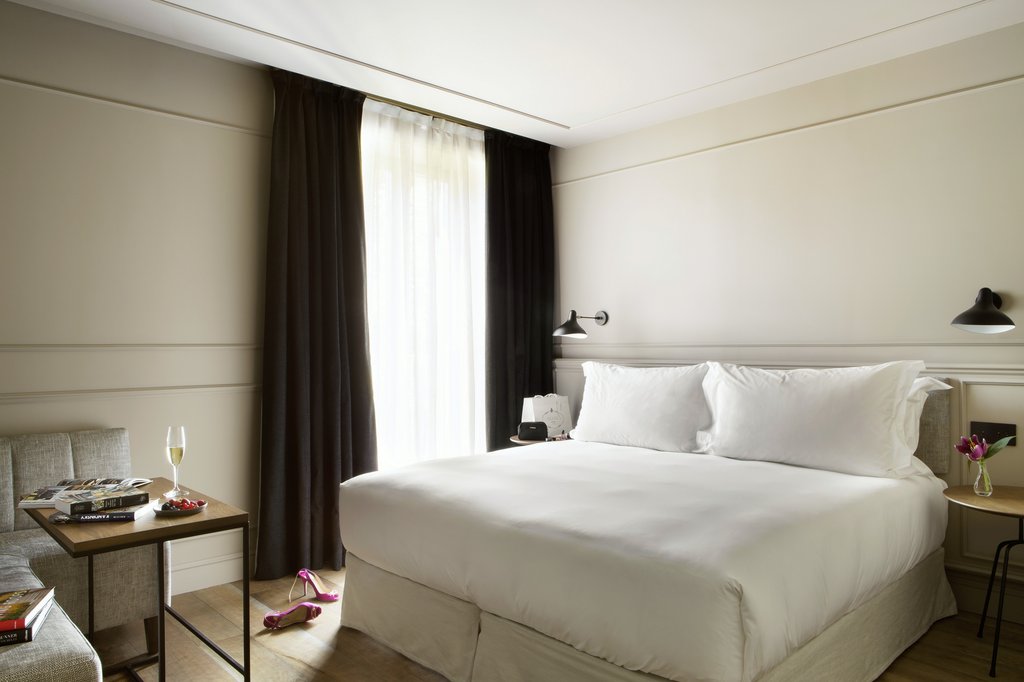 Exterior Deluxe Room
Sleeps: 2 People.
Exterior Deluxe Rooms are bright and spacious with floor-to-ceiling windows (some with balcony), King-size or Twin beds, A/C,free WiFi and views over the tree-covered Hermosilla Street.

Rooms with balcony are subject to availability.
From per night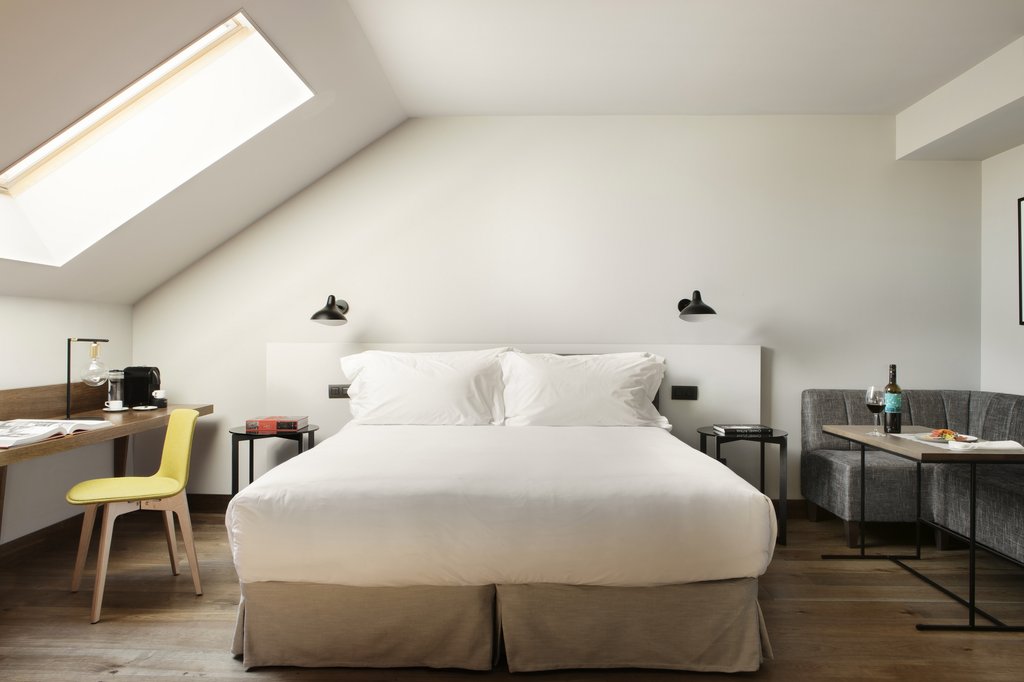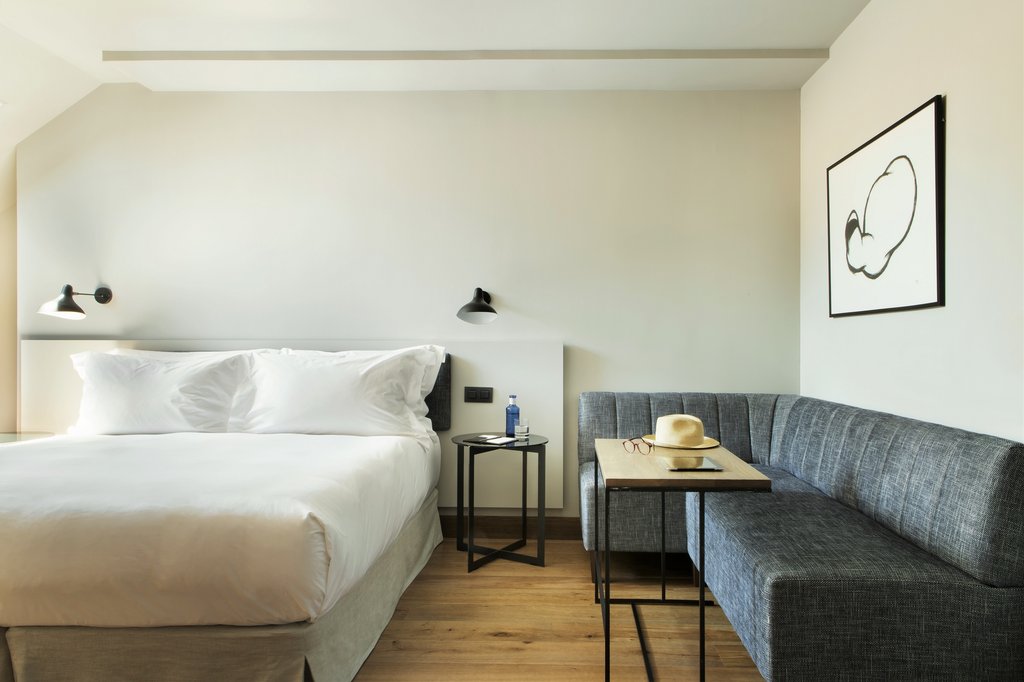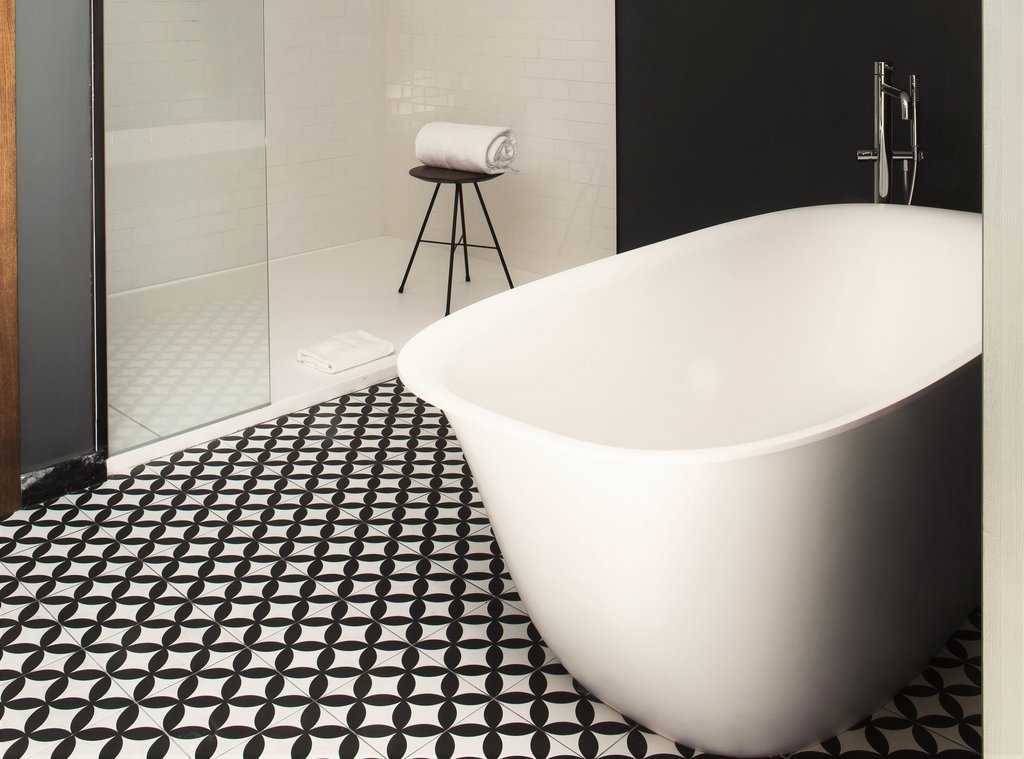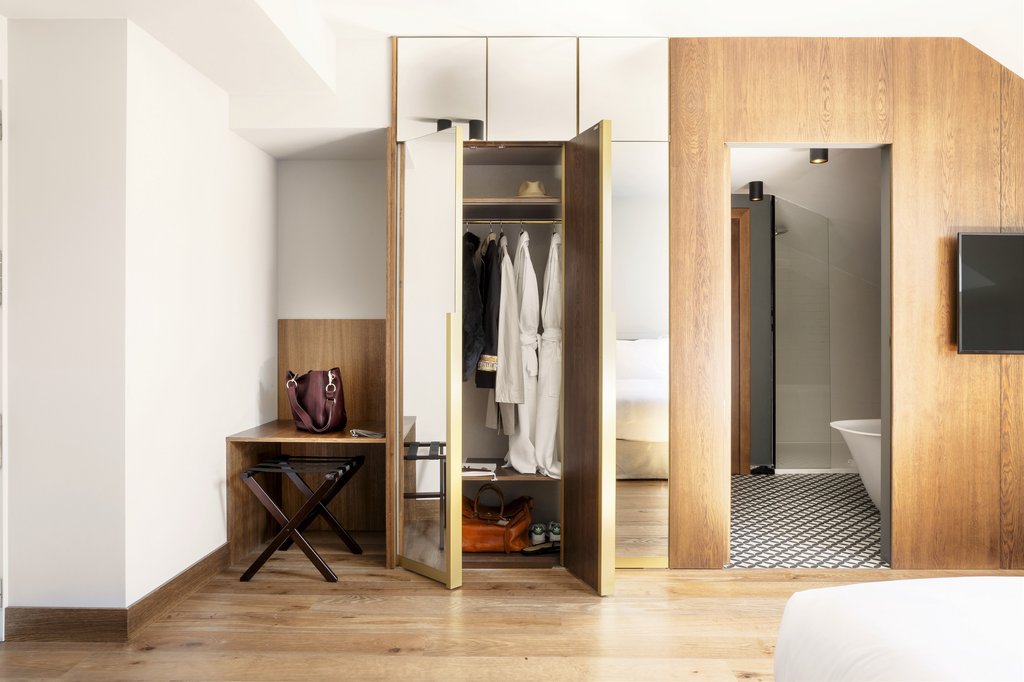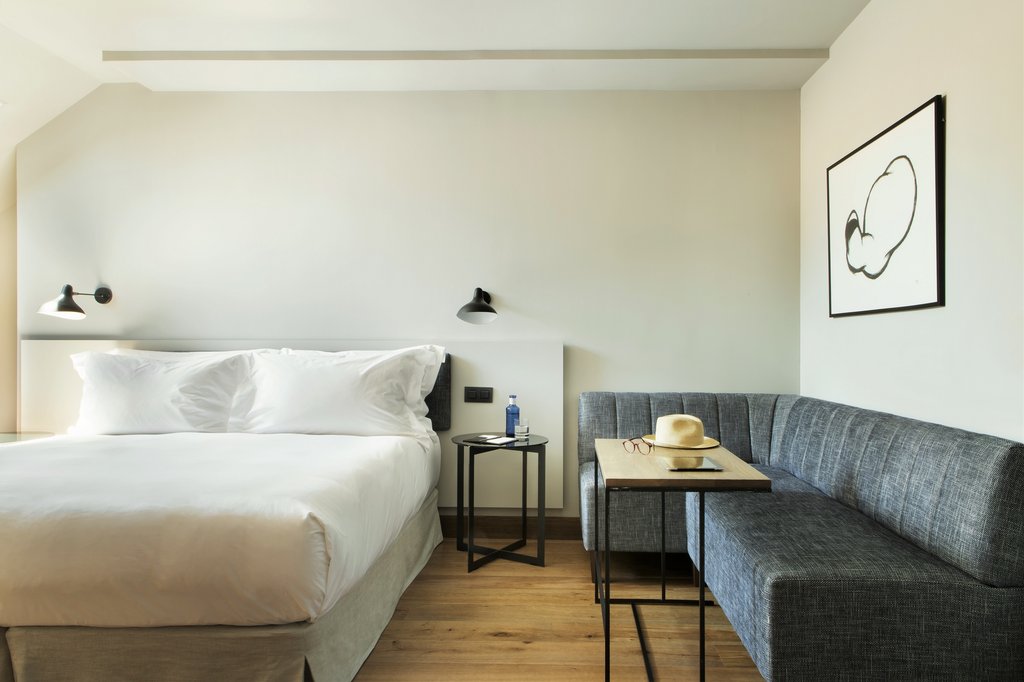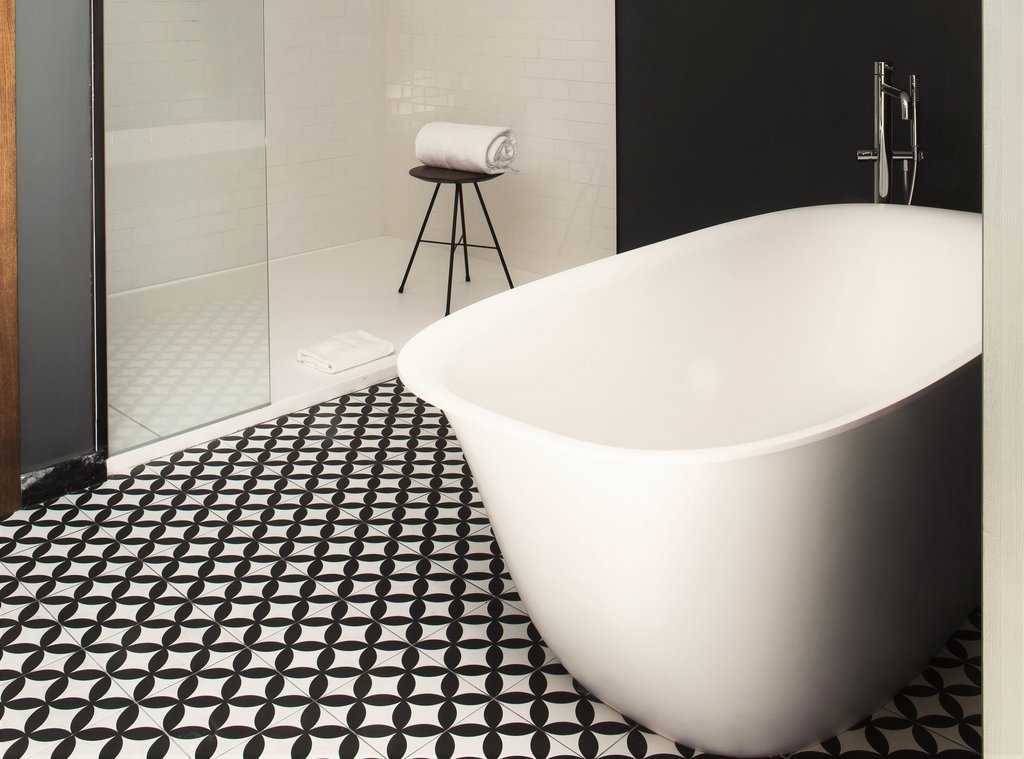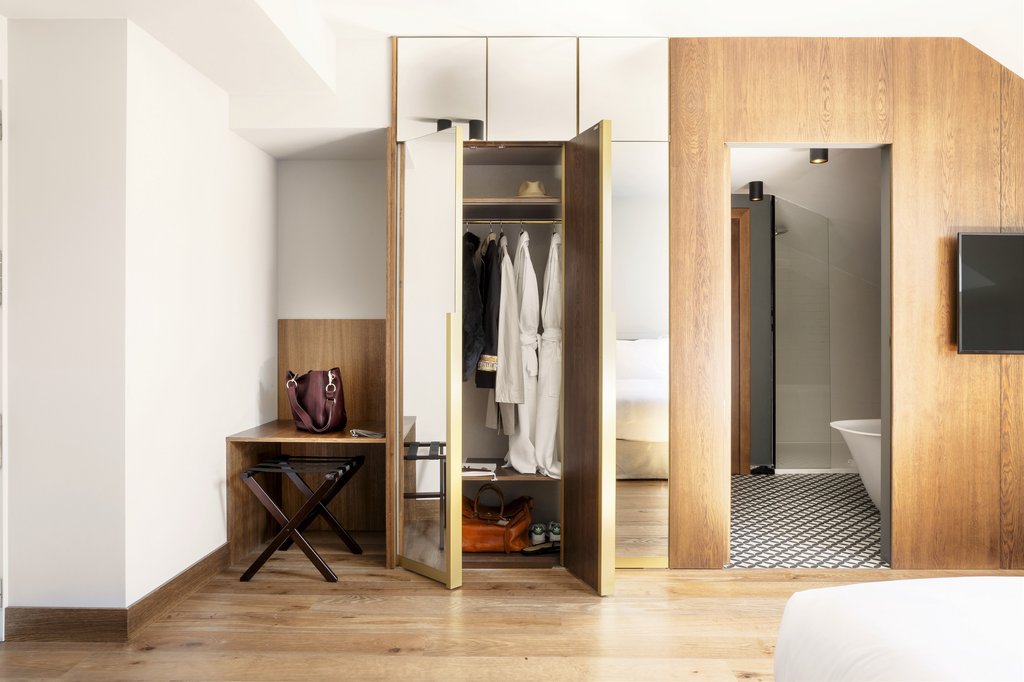 Attic Deluxe Room
Sleeps: 2 People.
Attic Deluxe Rooms are on the top floor, have a King or Twin beds, A/C and free WiFi. These delightful rooms are spacious, very quiet and offer a large bathroom with both rain shower and bathtub.
From per night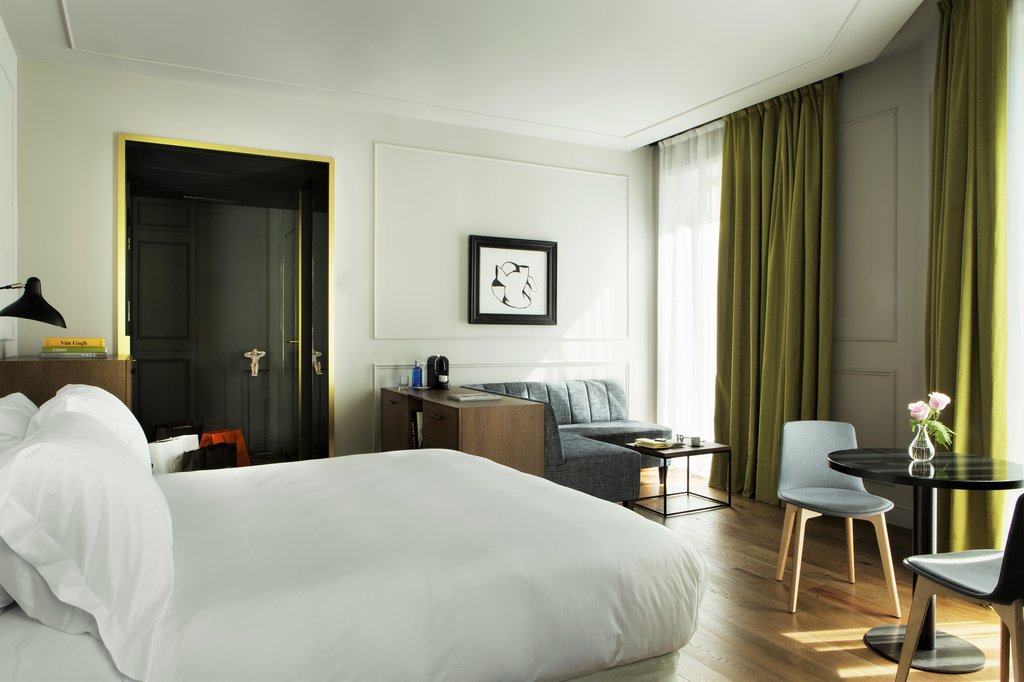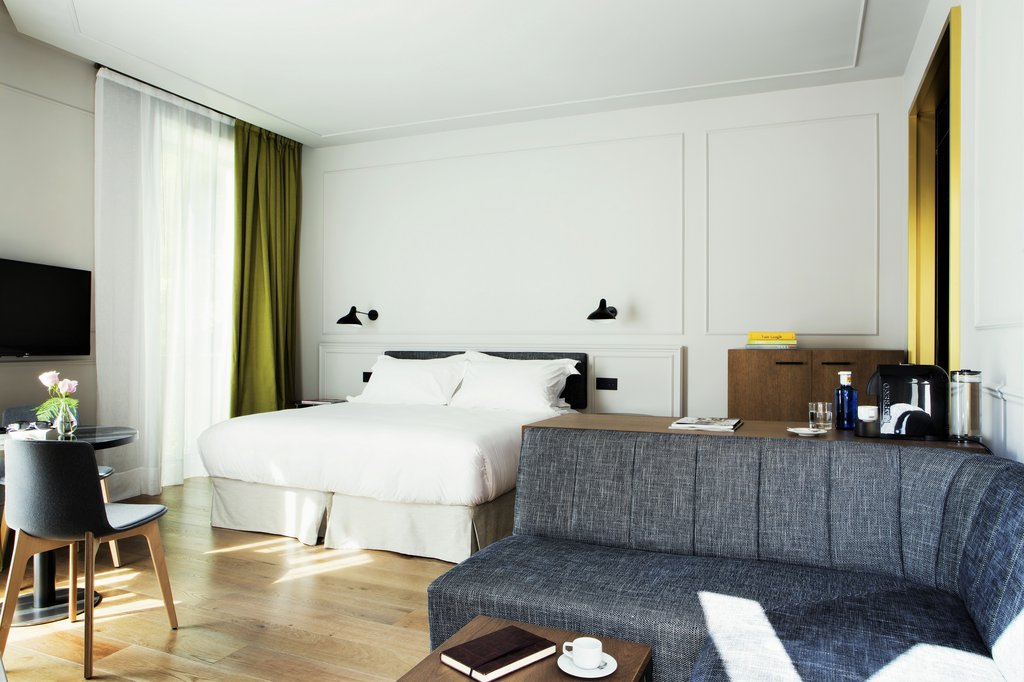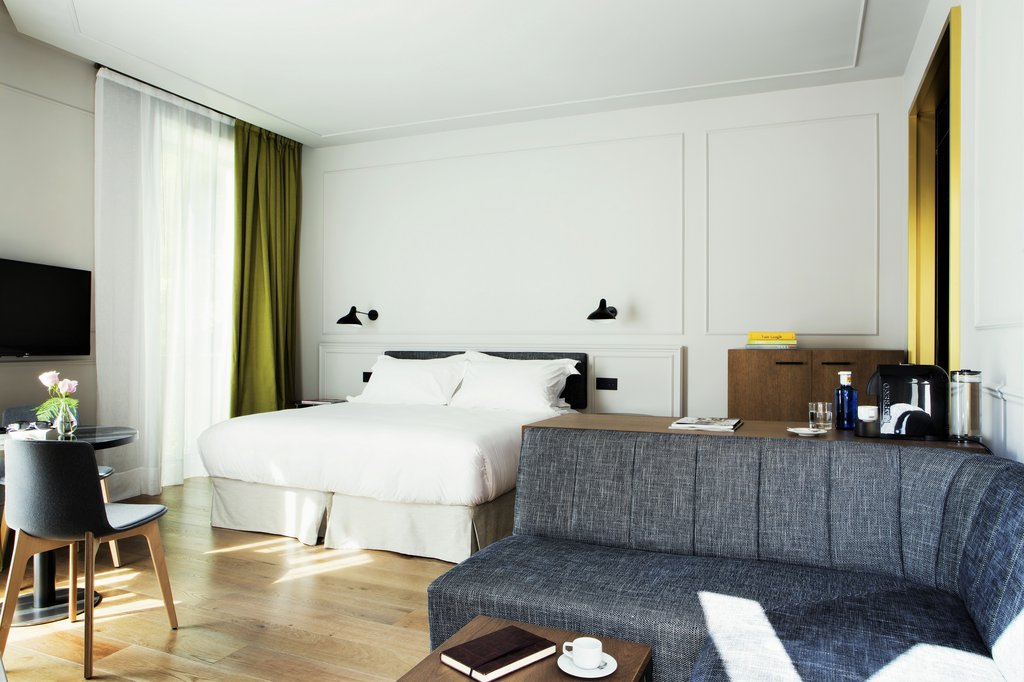 Junior Suite Corner
Sleeps: 2 People.
Junior Suite located on the main corner of the building and enjoy three windows which flood the room with the bright sun of Madrid. They have King or Twin beds,A/C and free WiFi. Extra bed available.
From per night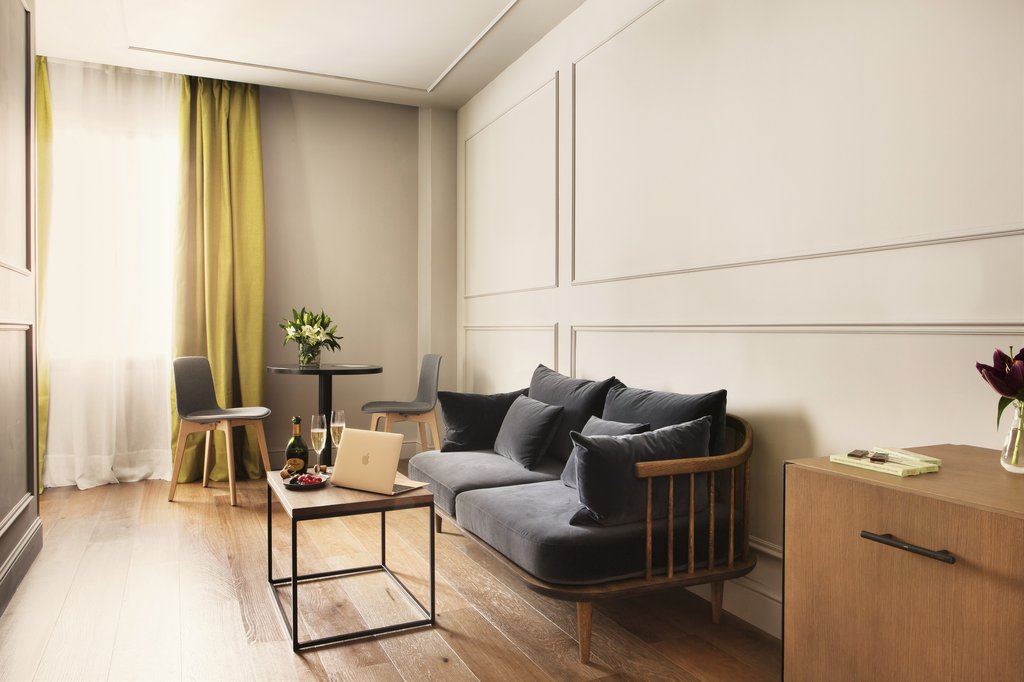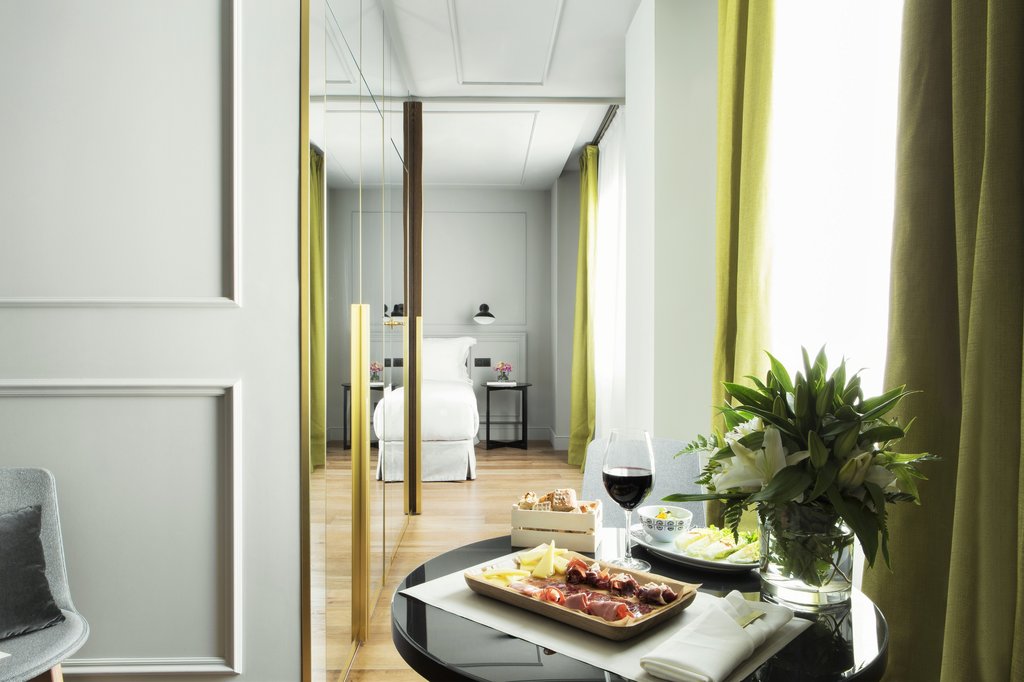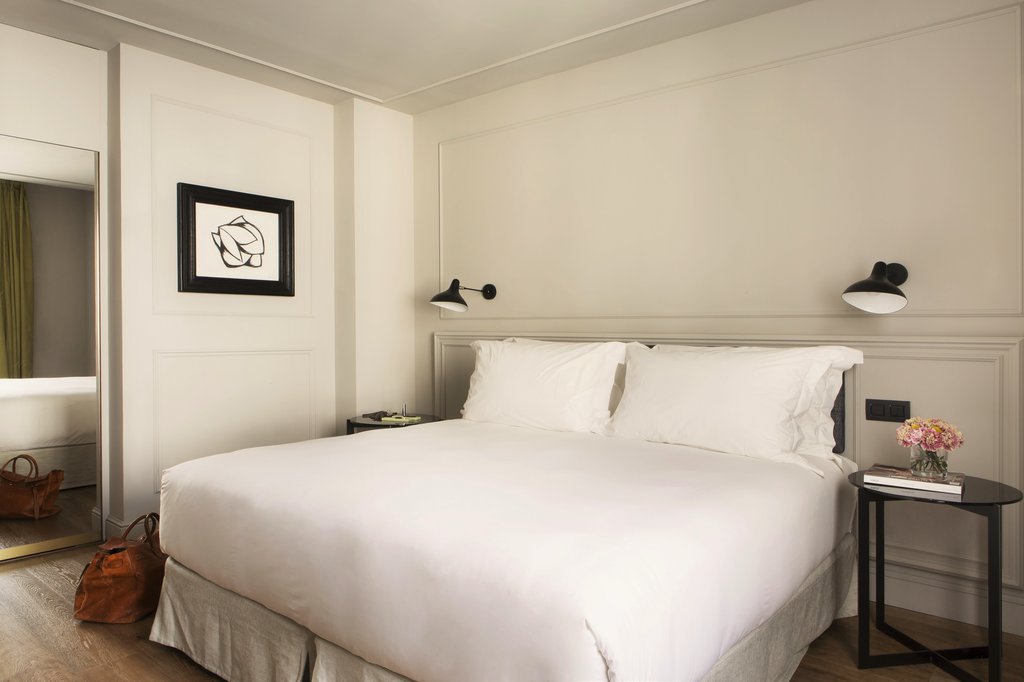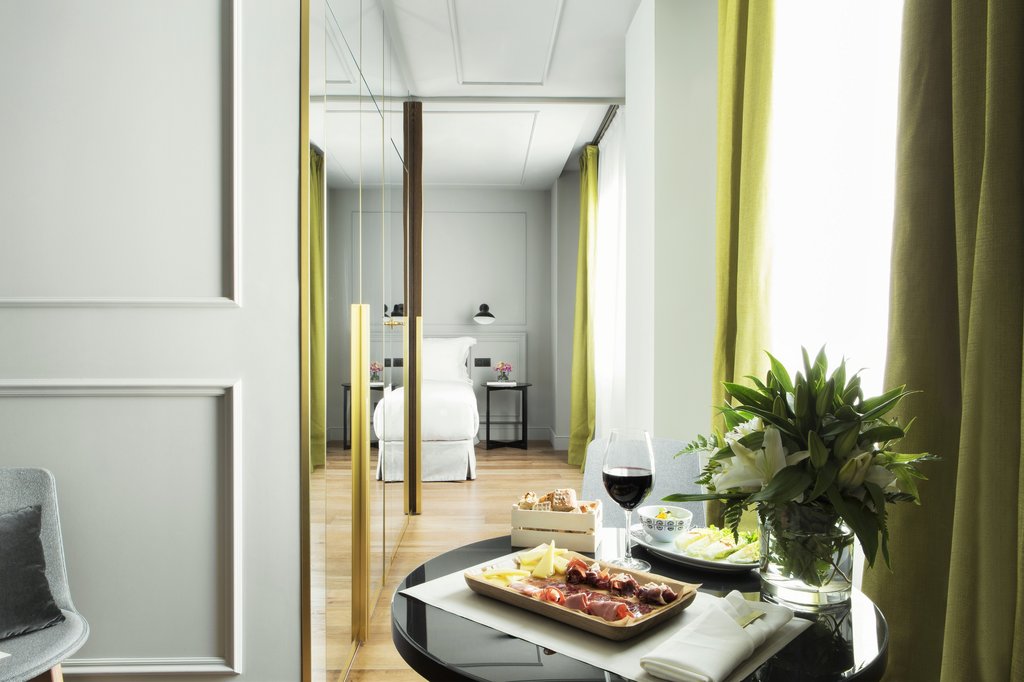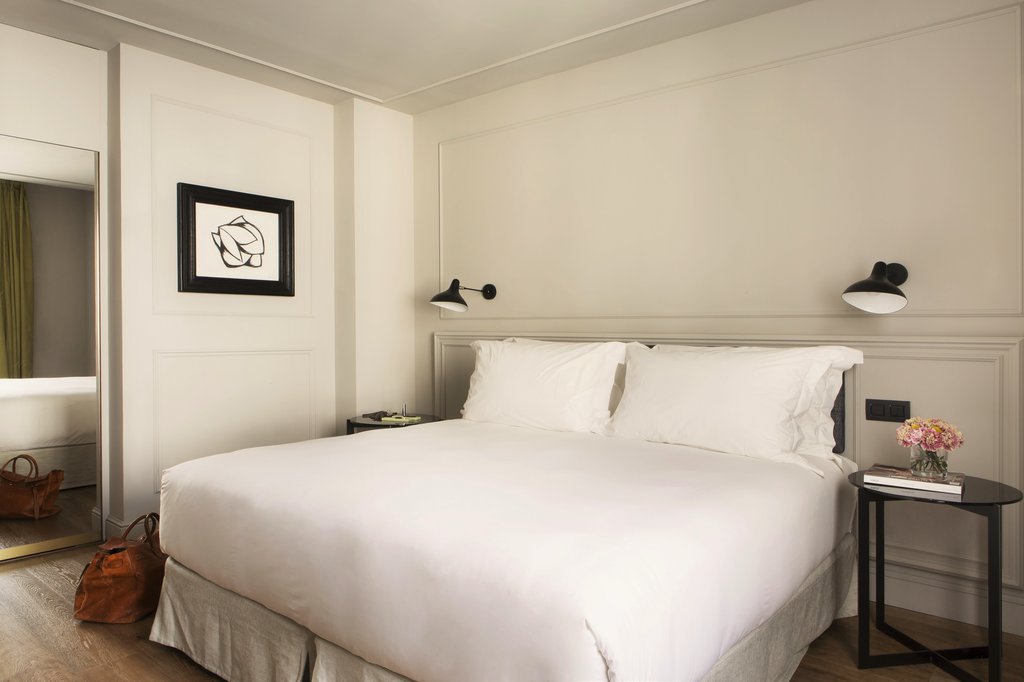 Superior Junior Suite
Sleeps: 2 People.
Superior Junior Suites are spacious rooms with a separate lounge and living room, King or Twin beds,A/C and WiFi. They are the perfect choice for long stays and extra bed is available on request.

.
From per night
Air conditioning
Lounges/bars
Exercise gym
24-hour room service
Join INVITED and get 10% off exclusive rates. Plus early check-in and late check-outs among other benefits.
24-hour front desk

24-hour room service

24-hour security

Accessible facilities

Air conditioning

Audio visual equipment

Bell staff/porter

Breakfast

Catering services

Children welcome

Concierge desk

Currency exchange

Doctor on call

Early check-in

Elevators

Exercise gym

Family plan

Fire safety compliant

Free high speed internet connection

Full service housekeeping

High speed internet access for laptop in public areas

High speed internet connection

Hotspots

Housekeeping - daily

Late check out guarantee

Late check-out available

Laundry/Valet service

Lounges/bars

Pets not allowed

Room service

Security

Shoe shine stand

Turndown service

Valet parking

Wakeup service

Wireless internet connection
Air conditioning

Balcony/Lanai/Terrace

Bathrobe

Bathroom amenities

Desk

Direct dial phone number

Grab bars in bathroom

Internet access

King bed

Minibar

Safe

Satellite television

Sitting area

Slippers

Smoke detectors

Telephone

TV

Twin bed
La Parrilla del Pimiento Verde
Meals served: Breakfast, Lunch, Dinner
With more than 20 years of experience- the contemporary version of El Pimiento Verde arrives to ToTEM Madrid. A new Basque cuisine restaurant where the product is the protagonist. With a modern and elegant decoration- La Parrilla del Pimiento Verde is the perfect place to have lunch- dinner or a snack in the heart of Salamanca District. Enjoy a variety of salads- rice dishes- stews- fish and grilled meats as well as a wide selection of wines.
Cocktail Bar
TOTEM MADRID serves cocktails prepared and mixed by our barman tailor-made according to your taste and right in the centre of the capital. The ideal place for a drink after work- appetizers before supper or a nice cocktail after the perfect evening.
Reviews
These reviews are the real opinions of INVITED members and we have verified their stay at the hotel.
What I liked most :

Location (30)
Welcome and Departure (20)
Guest Room and Bathroom (18)
Breakfast (17)
General Service (16)
Internet and wifi (16)
Restaurant and dining (13)
Local knowledge and experience (11)
Leisure facilities (6)
Guestroom and bathroom (4)
Welcome and departure (4)
General service (3)

What I might improve :

Breakfast (6)
Guest Room and Bathroom (4)
Leisure facilities (4)
General Service (3)
Local knowledge and experience (3)

Read Reviews

January 2020

My Trip Type:

Couple

This is the third time in as many years that we have stayed at the Totem hotel and everything is consistently wonderful. The front desk staff and porter are very welcoming and make helpful suggestions for dining and walking routes. The restaurant and bar staff are both friendly and accommodating and the food is excellent. The beds are comfortable and the rainfall showers are a real treat. Also, the area is fantastic with a wide variety of shops and restaurants at your doorstep. Museums are also only a 30 minute walk away.

Top tip for other guests:

The continental breakfast that is free for SLH guests is more than ample with many choices.

What I liked most

Welcome and Departure
Location
General Service
Local knowledge and experience
Guest Room and Bathroom
Breakfast
Restaurant and dining
Internet and wifi

Excellent stay in the heart of the capital

November 2019

My Trip Type:

Couple

I think it's an excellent choice in the heart of Madrid!! Excellent staff Definitely I will stay in my next visit in Madrid

Top tip for other guests:

Reception gives excellent choices for restaurants And the staff will please you with they're smile

What I liked most

Welcome and Departure
Location
General Service
Local knowledge and experience
Guest Room and Bathroom
Restaurant and dining
Room Service
Leisure facilities
Internet and wifi

Very Friendly and professional staff.

November 2019

My Trip Type:

Business

The whole stay was pleasant .

Top tip for other guests:

Walls are not well insulated for sound. Couple better ask for a quiet room.

What I liked most

Welcome and Departure
Location
General Service
Local knowledge and experience
Guest Room and Bathroom
Internet and wifi

What I might improve

Breakfast
Restaurant and dining
Leisure facilities

October 2019

My Trip Type:

Couple

Had a marvelous time at the Totem, highlights were a late night snack ordered at the bar which was delicious. Also the attentive front desk staff and bellboy who asked every single time we went out if we needed directions.

Top tip for other guests:

Only flaw was the lack of shower caps and hooks in the bathroom.

What I liked most

Welcome and Departure
Location
General Service
Local knowledge and experience
Guest Room and Bathroom
Breakfast
Restaurant and dining
Leisure facilities
Internet and wifi

What I might improve

October 2019

My Trip Type:

Individual

Top tip for other guests:

Hotel bar

What I liked most

Welcome and Departure
Location
General Service
Local knowledge and experience
Guest Room and Bathroom

What I might improve

Ideal location, design room

October 2019

My Trip Type:

Couple

Located in the best luxury area of Madrid, in walking distance to all the best restaurants and shops. Try te cocktails at the bar.

Top tip for other guests:

Ask the concierge to books tables and museum tickets in advance. This will ensure that your reservations are kept in busy venues and no lines at museums.

What I liked most

Location
Restaurant and dining
Internet and wifi

What I might improve

General Service
Local knowledge and experience
Guest Room and Bathroom

Chic without the fusiness

September 2019

My Trip Type:

Business

Well appointed and well-planned rooms, would certainly stay again!

Top tip for other guests:

Take advantage of the restaurant and breakfast, well worth it/great value

What I liked most

Location
Guest Room and Bathroom
Breakfast
Restaurant and dining
Internet and wifi

What I might improve

Great boutique hotel in a superb area

September 2019

My Trip Type:

Couple

The hotel is located in a great neighborhood in Madrid. It is a few minutes walk from the tourist areas. What distinguishes this hotel from many is just the outstanding service: absolutely an amazing front desk!

Top tip for other guests:

The hotel is located in a great residential area. A lot quieter than any hotel by the tourist areas.

What I liked most

Welcome and Departure
Location
General Service
Guest Room and Bathroom
Internet and wifi

It was a very relaxing stay. Staff were very helpful.

August 2019

My Trip Type:

Couple

It was like a home to us. We would shop and drop off the shopping. Take a rest in the room or chill at the bar. Staff were sharing places to see in some parts of Spain.

Top tip for other guests:

Good place to relax.

What I liked most

Welcome and Departure
Location
General Service
Local knowledge and experience
Guest Room and Bathroom
Breakfast
Room Service
Leisure facilities
Internet and wifi

What I might improve

Sweet people in great location. Restaurant is excellent local feel experience. Intimate friendly nice.

July 2019

My Trip Type:

Couple

Top tip for other guests:

Central low hassle location, great own local feel restaurant

What I liked most

Welcome and Departure
Location
General Service
Guest Room and Bathroom
Breakfast
Restaurant and dining

Great boutique hotel in a superb area

July 2019

My Trip Type:

Couple

This boutique hotel is located in a great area in Madrid, a bit away from the tourist bustling area. Service is super friendly, rooms are very nice and the area is quite.

Top tip for other guests:

At the hotel, their is an outstanding restaurant, very popular with locals. make sure you make a reservation.

What I liked most

Welcome and Departure
Location
General Service
Guest Room and Bathroom
Internet and wifi

City Escape and Celebrating

July 2019

My Trip Type:

Couple

Enjoyed Breakfast and Drinks at the bar. Friendly staff and modern, clean rooms.

Top tip for other guests:

Junior suites are spacious and have great views!

What I liked most

Welcome and Departure
Location
Guest Room and Bathroom
Breakfast
Internet and wifi

Beautiful Hotel in Great Location

June 2019

My Trip Type:

Individual

The hotel is in a quiet location about 20 minute walk from the centre but easily accessible by Madrid's excellent Metro trains. There are also a number of bars and restaurants close by that are full of locals rather than tourists. The staff were extremely helpful and went out of their way to help us organise our stay. Breakfast which was included in room rate was also very nice and available until 11am - just in case you had late night. The rooms were fine although a little small for two people.

Top tip for other guests:

Great if you want to stat away from the tourist centre (although easily reachable) and feel a little more like a local.

What I liked most

Welcome and Departure
Location
Breakfast
Internet and wifi

What I might improve

Is it really a 4* star hotel (I doubt it)

June 2019

My Trip Type:

Couple

Great location and surrounding area, delicious local breakfast which is served (good!), nice place for dinner too

Top tip for other guests:

Choose another hotel for Madrid on SLH.com

What I liked most

Location
Breakfast
Restaurant and dining
Internet and wifi

What I might improve

Welcome and Departure
General Service
Local knowledge and experience
Guest Room and Bathroom
Room Service
Leisure facilities
Other

June 2019

My Trip Type:

Business

The location is great. Very nice interior design and an excellent restaurant at the Lobby.

Top tip for other guests:

Don't forget to eat Alcachofas at El Pimiento Verde!

What I liked most

Welcome and Departure
Location
Restaurant and dining

What I might improve

General Service
Breakfast
Internet and wifi

April 2019

My Trip Type:

Friends

Friendly and competent staff, great room, comfortable bed and large Bathrooms. Drinks at the bar were good , sofa upholstery in the lounge need cleaning.

Top tip for other guests:

Rooms with street views are light and have mini balcony

What I liked most

Welcome and Departure
Location
General Service
Guest Room and Bathroom
Breakfast

What I might improve

April 2019

My Trip Type:

Business

Top tip for other guests:

Charge if 30 euros per night for parking

What I liked most

Location
General Service
Breakfast
Leisure facilities

What I might improve

good but could have been better

March 2019

My Trip Type:

Individual

+Breakfast and restaurant are quite nice. Beautiful design furniture. Great Bathroom. Helpful staff at reception desk -No atmosphere in the bar in the evening. Poor fitness equipement. Cleaning not properly made every day, unacceptable

Top tip for other guests:

*

What I liked most

What I might improve

Local knowledge and experience
Room Service
Leisure facilities

March 2019

My Trip Type:

Couple

Outstanding personal service. Beautiful, chic hotel in an upscale neighborhood. Timely follow-up to every request.

Top tip for other guests:

Our corner suite met all our needs and beyond.

What I liked most

Welcome and Departure
Location
General Service
Local knowledge and experience
Guest Room and Bathroom
Breakfast
Restaurant and dining
Leisure facilities

Good service, good location for shopping, Prado, Thyssen collection

January 2019

My Trip Type:

Friends

Artichoke flowers were delicious, Sangria was also very good. Reception staff were helpful and the room was comfortable

Top tip for other guests:

None

What I liked most

Welcome and Departure
Location

What I might improve

December 2018

My Trip Type:

Friends

We appreciate this contemporary hotel, which includes an extraordinary cocktail bar. It's very well situated near luxury shops, Retiro Park and Prado Museum. The design is beautiful and rooms are quite and very confortable.

Top tip for other guests:

Do not miss to order your favorite cocktail at the bar.

What I liked most

Welcome and Departure
Location
Guest Room and Bathroom

Excellent service, very nice rooms

October 2018

Came in from overnight flight from USA arriving at the hotel early morning. Staff was very helpful and courteous and worked to give us the room in an hour so that we could do an early check in.

Top tip for other guests:

Excellent location, very helpful well trained staff. Good for both business and couple stays. This is our third stay at Totem and will certainly return on our next trip to Madrid.

What I liked most

Welcome and Departure
Location
General Service
Local knowledge and experience
Guest Room and Bathroom
Breakfast
Leisure facilities
Internet and wifi

October 2018

The staff went above and beyond to secure reservations, get us transportation, suggest restaurants and sights to see. They were always professional, welcoming, friendly and knowledgeable.

Top tip for other guests:

The hotel is in a lovely area with shopping and restaurants nearby. There's also public transportation within a few blocks. It was a great location to get to most sights and museums.

What I liked most

Welcome and Departure
Location
General Service
Local knowledge and experience
Guest Room and Bathroom
Restaurant and dining
Internet and wifi

What I might improve

Great for both business and leisure travel it only allows to pick one category

October 2018

This is our second stay at Tótem as we have stayed for 8 nights las January. Everything about the hotel is excellent form room decor and friendly and very helpful and personable staff to location. Great breakfast and bar. We have already booked another stay. We go to Madrid once or twice a year and this has become our home away from home.

Top tip for other guests:

We like rooms with street view although the ones facing inner courtyard are also nice and a little smaller.

What I liked most

Welcome and Departure
Location
General Service
Local knowledge and experience
Guest Room and Bathroom
Breakfast
Restaurant and dining
Internet and wifi

Great Location and beautiful design

October 2018

El hotel está en una dirección muy conveniente tanto para viajeros de negocios o de placer. A pie se pueden visitar los monumentos y museos más importantes de Madrid, así como ir de compras en la "milla de oro". La acogida fue excelente, rápida y profesional. Las habitaciones están decoradas con muy buen gusto en estilo contemporáneo, con una cama muy cómoda y perfectamente insonorizadas.

Top tip for other guests:

Las habitaciones en el tercer piso con balcón dando a la calle.

What I liked most

Welcome and Departure
Location
General Service
Local knowledge and experience
Guest Room and Bathroom

What I might improve

Breakfast
Internet and wifi

Boutique hotel with great location

Moscow

My Trip Type:

Couple

Great location, nice bar at reception, very friendly staff. Had a honeymoon vacation with my wife, and we got a free bottle of cava.

Top tip for other guests:

Ceiling floor rooms will not have street view

What I liked most

Welcome and departure
Location
General service

Stay+date:+March+2017

My Trip Type:

Business

a most relaxing place to stay for a busy weekend trip

Top tip for other guests:

enjoy!

What I liked most

Guestroom and bathroom
Breakfast
General service
Internet and wifi
Restaurant and dining
Welcome and departure
Location

Stay date: October 2016

My Trip Type:

Couple

Nice hotel in great location. Good Service.

Top tip for other guests:

Top location in Madrid

What I liked most

Restaurant and dining
Room service
Location
Guestroom and bathroom

What I might improve

Welcome and departure
General service

A smart place in the fashion district

Stay date: August 2016

My Trip Type:

Couple

A nice place with a smart decoration mixing styles and origins. Breakfast are generous. Service is kind and efficient. Just a problem with those who came with a car : the parking place is a real nightmare. Forget it if you can

Top tip for other guests:

Go for the location

What I liked most

Guestroom and bathroom
Breakfast
Welcome and departure
Location

Quiet new place in the heart of Salamanca

Stay date: July 2016

My Trip Type:

Couple

After a complete make-over, the now newly opened private hotel is not only very stylish, but also state of the art, incl. modern "silent" air-conditioning, sleep function of the minibar fridge etc. The breakfast is à la card and not only delicious but also offers great healthy options. As we had breakfast included, we could order as much as we wanted. Restaurant will open for dining by end of August 2016. Personal was very friendly, professional and helpful. Metro is close & the area offers multiple dining options in 5min walking distance.

Top tip for other guests:

Peruvian restaurant A&G just around the corner!

What I liked most

Location
Breakfast
General service
Welcome and departure

Stay date: July 2016

My Trip Type:

Single

Top tip for other guests:

n/a